Increase or decrease font size for easier reading : A+ A-
Darunee Cheunsakul
Darunee Cheunsakul (195x) - ดรุณี ชื่นสกุล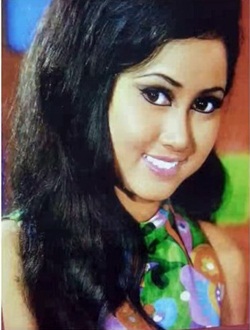 Darunee Cheunsakul was a Thai actress and singer
This Darunee Cheunsakul movie page contains 2 records.
---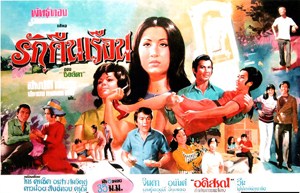 Year

: 1972



Thai title

:

รักคืนเรือน




English title

:



Rating

: 3/5


Director

:



Main actor

: Sombat Methanee,Prachuap Ruekyamdee,Songthong,Krai Kanchit,Daonoi Duangjai


Main actress

: Petchara Chaowarat,Somjit Sapsamruey,Chosri Misommon,Sisala Thongtara,Metta Roongrat,Orasa Isarangkul,Darunee Cheunsakul
Thai movie รักคืนเรือน was released in year 1972. Main actor is Sombat Methanee and main actress is Petchara Chaowarat. The movie is lost in Thailand but a sequence of one hour remains to be seen. The remaining sequence shows a high society party with Petchara singing a song. Petchara is then discussing with Somjit Sapsamruey, her mother. Her mother wants her to marry the son of a friend as they are poor. Veteran actors (Prachuap Ruekyamdee and Songthong), a doctor and a young man (ทม วิศวชาติ) are visiting them. Petchara and the young man appreciate each other. Veteran actress Chosri Misommon is playing a domestic helper. Sombat later on arrives. He is welcomed by Sisala Thongtara and Somjit, then also by Metta Roongrat and Petchara. Petchara is not so happy to meet Sombat. Somjit is feeling unwell and ends up at hospital. Certainly Somjit asks Petchara to really consider Sombat as engagement but Petchara loves already another man. Misunderstanding happens between Petchara and Sombat. A fire in the house happens. This is a romantic drama.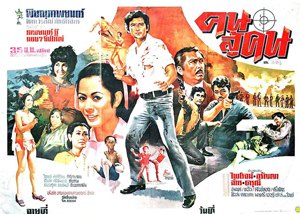 Year

: 1972



Thai title

:

คนสู้คน




English title

:



Rating

: 3/5


Director

:



Main actor

: Phairoj Jaising,Choomporn Theppitak,Chat Mongkolchai,Songthong,Paen Pleumsachai


Main actress

: Aranya Namwong,Marasri Bangchang,Sisala Thongtara,Donnapha Sophee,Darunee Cheunsakul
Thai movie คนสู้คน was released in year 1972. It features Phairoj Jaising as main actors and Aranya Namwong as main actress. It lasts 1h36mn. Two songs are featured in this movie. This is the first movie featuring Phairoj Jaising and Aranya Namwong together. Director is วิจารณ์ ภักดีวิจิตร. Often in 1960 or 1970s Thai movies, music from Italian spaghetti westerns (Ennio Morricone) or James Bond movies was used. Korakot (Phairoj Jaising) arrives in Udon Thani. The introduction sequence even shows old theater โรงหนังเฉลิมวัฒนา. Korakot is back to his village through a bus from Udon Thani. He gets robbed by two ruffians (นักเลงเจ้าถิ่น) including Yuan (Choomporn Theppitak). They steal a jewellery belonging to his mother. Krit (Chat Mongkolchai) rescues him. Some relief characters are played by Songthong and Sisala Thongtara (ศรีสละ ทองธารา). Krit's sister is played by "bad girl" Donnapha Sophee. Knowing his friend's problems, krit chases after the ruffians. Two are killed but Yuan succeeds to flee. Korakot is not able to hold a weapon or fight back (ใจต้องสู้). Khun Phiset is upset with Krit as two of his men were killed. Korakot shall go to Khun Phiset's home to get back his jewellery. On the way, he meets Plienjai, Khun Phiset's daughter (Aranya Namwong), expert in shooting with Daojai (Darunee Cheunsakul). Yuan claims he doesn't have it. Plienjai likes Korakot. Daojai and Krit (สุภาพบุรุษนักสู้) love each other. Yuan loves Plienjai also but it is not reciprocal so he tries to force her. Khun Phiset chases him away. Korakot gets a training from Krit (คนสู้คน). Yuan forges an alliance with another ruffian leader called Seua Sing (Paen Pleumsachai) to get revenge and plans to kidnap Plienjai. As they get pushed back by Krit and Korakot, Seua Sing prepares more men to join. Enticed to get back his mother's jewellery, Korakot is tortured by Sing and Yuan by being attached to a cross and forced to walk under harsh sun. Meanwhile Songthong is killed through an embuscade. Krit helps Korakot before a full dehydration. Korakot's mother is played by Marasri Bangchang. A double wedding happens, i.e. Korakot with Plienjai and Krit with Daojai. Yuan, Sing and their ruffians bring troubles to the party by kidnapping the ladies including Krit's sister. Korakot and Krit chase after the ruffians. Seua Sing rapes Krit's sister. As a bait, Korakot defies Yuan and defeats him while Krit releases the ladies. Through a final shooting, Seua Sing is shot by Krit's sister but she also dies. Newly-wed couples can now find happiness with the ruffians being neutralised.
---