Increase or decrease font size for easier reading : A+ A-
Darin Kornsakoon
Darin Kornsakoon (1967) - ดาริน กรสกุล
Darin Kornsakoon has played in around 10 movies. She was miss Thailand in year 1986. Darin Kornsakoon made big news in 1990 with a Mekong whisky (แม่โขง) nude calendar, which was forbidden and seized by the Police. Such nude calendars were not authorized. She was the first Thai actress daring a full nude body for a calendar. She then married an American citizen and opened her own beauty cream business
This Darin Kornsakoon movie page contains 10 records.
---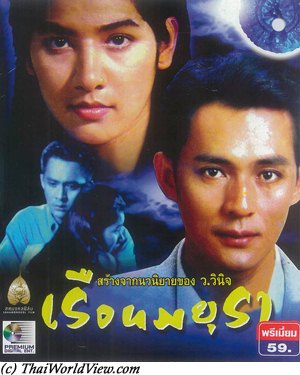 Year

: 1996



Thai title

:

เรือนมยุรา




English title

: House of the Peacock



Rating

: 4/5


Director

: Cherd Songsri



Main actor

: Saranyu Wongkrachang,Ruj Ronnapop


Main actress

: Darin Kornsakoon



Buy now

:

In 1775, a Brahmin priest casts an eclipse. It was during Ayuthaya period when fights with Burma were frequent. Lady Nok Yung and her suite stays in the house of the Peakcock (เรือนมยุรา), which is now out of the time realms and out of reach of Burmese soldiers. Lady Nok Yung made a wedding promise to a noble soldier called Wai Wongsa. Nowadays, on the way to Ayuthaya, a young man, called Pranai, just avoids bumping in a young lady crossing the road. She smiles and disappears in a tree. Is she a ghost or a tree spirit (นางไม้)? Pranai has same face as noble soldier Wai Wongsa. Pranai is the owner of a Siam antiques shop. Today it is Pranai's birthday. He is still single. His sister tries to marry him but to no avail. His sister tries to push young lady Fai. Pranai still wants to meet the mysterious girl. He stays near the tree. Nok Yung needs food for 20 people for one month. Pranai agrees to give but wants to know and understand. Nok Yung agrees to visit Ayuthaya area. She realizes that Sri Ayuthaya was burnt down. Nok Yung asks Pranai not to visit her again. Pranai learns meditation to see his past. Pranai's sister and Fai believes he is possessed by a ghost (ถูกผีเข้า). They use a sorcerer (หมอผี) to cure Pranai and chase the ghost. Meanwhile Arawee, a local young actor, lies to Yipoo, another lady staying in the house of the Peakcock, in order to seduce her by pretending he is an Ayuthaya soldier. He succeeds to enter in the house and so the spell protecting the house is broken. Inhabitants have to flee. The sorcerer and acolytes fight over the gold. Fai's father, called Fa Feun, prevents the robbing. Pranai helps Nok Yung and invites her in his home. Fa Feun loves Nok Yung and gives money to Pranai in order that he breaks up with Nok Yung. Pranai refuses and is looking for a way to send back Nok Yung into the past. Arawee is Waiwongsa's current reincarnation. Believing into karma (กรรม) and in order not to break her promise done 221 years ago, Nok Yung accepts to marry Arawee. Pranai is in despair. Finally Fa Feun convinces Arawee not to marry as Arawee is more interested in his acting career. Pranai is not willing to marry Nok Yung anymore as he believes she is too nice to live in 20th century. The house goes back to the past but Nok Yung finally stays happily with Pranai. This movie questions the old-fashioned morals that are being lost in modern Thailand. Some traditions are getting lost (smile, not speak loudly, no lies). Bangkok development threatens the country-side. We need to take care more of our heritage. The trailer is the TV serie shot in 2540.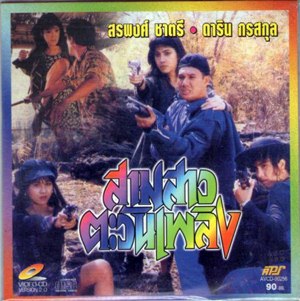 Year

: 1996



Thai title

:

สามสาวตะวันเพลิง




English title

:



Rating

: 3/5


Director

:



Main actor

: Sorapong Chatree,White Padungkan


Main actress

: Darin Kornsakoon
Thai movie สามสาวตะวันเพลิง was released in year 1996 and lasts 1h18mn. It was released under VHS and VCD versions. It was released on VCD by company APS. Hot scenes are censored so the remaining movie part lasts only 1h18mn. Border police led by Peuk (Sorapong Chatree) tries to catch traffickers led by Ton (ไวท์ ผดุงการ - White Padungkan) but they succeed to flee. Head of the police is upset with Peuk as he always fails. Three young ladies (Darin Kornsakoon, วิภาวดี รพีพันธ์, แสงดาว พรรณมณี) arrive in the remote city. They have issues with local ruffians. During a fight, one of the ruffians die accidently (รังแคผู้หญิง). Local subdistrict headman follows them (ตามไป) and asks Peuk to catch them. As their car is damaged, the three ladies flee through the forest. Peuk's leader is in fact helping the ruffians by providing insider information so no wonder that Pleuk's missions always fail. Ton wishes to get rid of the police leader as he shares only 60% with them. The three ladies plan to take refuge in a remote area and wait that the situation gets calm. Peuk arrests them. They meet Ton and shootings happen. Peuk escapes but the three ladies are captured by ruffians. Noi (Darin Kornsakoon) is Ton's former girlfriend. She broke up with him two years ago as he didn't want to stop being a ruffian. Local subdistrict headman is following behind. The three ladies need to escape from Ton but also need to escape from local subdistrict headman. During the escape, only two ladies Noi and Neui succeed to escape. The third one Noui is recaptured by the ruffians. The two ladies are back to release Noui (เป็นเพื่อนรัก). Peuk's boss is confirmed to be a corrupted policeman by the district sub headman. The ladies want to get justice, get back their money to start a new life and revenge (แก้แค้น) as Noui raped by the ruffians. The movie ends up in multiple shootings between Ton's ruffians, the three ladies, the subdistrict headman and his men, Peuk and his boss. Only Peuk and the three ladies survive. This is a grade B action movie targeted for Thai provinces and featuring action, a bit of erotism, a bit of humour.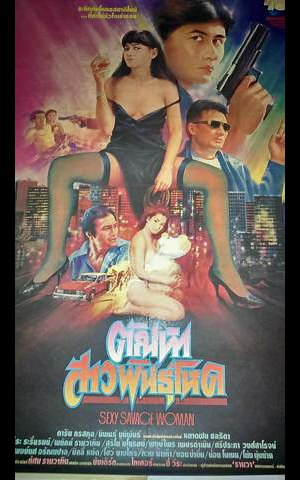 Year

: 1996



Thai title

:

ตัณหาสาวพันธุ์โหด




English title

: Sexy Savage Woman



Rating

: 3/5


Director

:



Main actor

:


Main actress

: Darin Kornsakoon
Thai movie ตัณหาสาวพันธุ์โหด / "Sexy Savage Woman" was released in year 1996 and lasts 1h16mn. It was released under VCD format by company APS. It is probably censored. Thai actors and actresses featured in this movie are Darin Kornsakoon, นิพนธ์ ยูนิพันธ์, หยาดฝน ชลธิดา, วีระ ระรื่นรมย์, พยัคฆ์ รามวาทิน, พงษ์ไพร เพชรดำเนิน, สุริโย มโนรมย์, ศรีประภา วงศ์สาโรจน์, พงษ์ยศ อรัณยปาล, บิลลี่ หงัด, กวง มาเก๊า, ไชว์ ช้างไทร. A young man, named Niphon, is back just on time for his wife's funeral. The father Kampon refused that his daughter Ann married with Niphon (นิพนธ์ ยูนิพันธ์). The daughter Ann (Darin Kornsakoon) was upset that her father had a new wife. As her father Kampon refused to break up with his new wife, she drank a poisonous drink. Ruffians shoot Niphon but he jumps from a bridge and disappears. Ruffians believe he is dead. The father has taken revenge as he believes Niphon is responsible of his daughter's suicide. Niphon is not yet dead and and while being injured, he recalls his childhood. His family was visited by ruffians. Ruffians wished to buy the family land, but the father refused. They shot the father and mother. The kids had time to flee. Niphon was separated from his younger brother. Uncle Ta helps Niphon, who is injured following his fall from the bridge. Eung (Darin Kornsakoon) has the same face as Ann. Eung is a relative of Ta. The ruffians' leader has a big ongoing deal. The goods are stolen by mysterious attackers. The leader Kampon suspects there is a traitor among them. Ta discloses that Eung and Ann are twins. When they were kids, Kampon killed their parents but only succeeded to kidnap Ann. Niphon has to take revenge against Kampon as he is responsible for his parents' deaths and causes Niphon to be separated from his younger brother. Niphon tries to kill Kampon but he fails. He gets injured in the leg. The younger brother is now working for Kampon. Niphon recognizes two hitmen working for Kampon and who killed his parents. The hitmen shoot Uncle Ta. They try to abuse Eung but she shoots them. Knowing the truth through Uncle Ta's death, it is time for Eung to get revenge over Kampon. Niphon's younger brother identifies Niphon as his lost elder brother as Niphon sings a song, he used to listen to when he was a kid. Eung, Niphon and his lost younger brother fight together to defeat Kampon.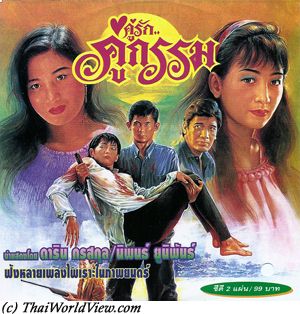 Year

: 1995



Thai title

:

คู่รัก คู่กรรม




English title

:



Rating

: 2/5


Director

:



Main actor

:


Main actress

: Darin Kornsakoon
Two friends in love with two ladies are confronting to bad tough guys who have interest in the two ladies also. This movie features three songs of the singer "Nipon Yunipan" (นิพนธ์ ยูนิพันธ์)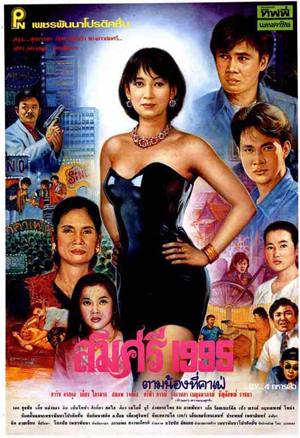 Year

: 1995



Thai title

:

สมศรี 1995 ตามน้องที่คาเฟ่




English title

:



Rating

: 3/5


Director

:



Main actor

: Sompop Wong Ko,Krissanapong Rachata,Jai Juntamooltree


Main actress

: Darin Kornsakoon
Thai movie สมศรี 1995 ตามน้องที่คาเฟ่ was released in year 1995 and lasts 82 minutes. This movie relates the plight of Isan migrants coming to Bangkok to earn money to support their family staying in remote villages. They often end up in low status jobs such as construction workers, server, singers... They are often abused. Relationships between couples are strained due to distance. Same acting team (Sompop, Krissanapong...) is featured as in Panna Rittikrai's action movies. Sri (Darin Kornsakoon) and Yot (Sompop Wong Ko) are going to marry. Sri's father has debts and has difficulty to reimburse as cows' value got down. Yot leaves the village to find a job and to help paying the debt. Mafia is giving them a warning. Krissanapong Rachata is also asking for 2000-baht debt. The father complains Sri is not helping enough. Sri leaves for Bangkok to find a job. She is aggressed in Bangkok and her bag is stolen. Luckily some other Isan migrants help her. She finds a job in a restaurant. She shares room with Pon. Pon's sister, a singer, Taew, has to accept Sia (เสี่ย) Jimmy's request to sleep with him. It is difficult for the restaurant owner to go against the influence of Sia Jimmy. Sri starts as server (เซิร์ฟเวอร์) with a 2000-baht salary and tips. She wishes to become a singer (นักร้อง). She sends money to her parents to support them to pay their debts. She forgets Sompop, who is still waiting for her letters. One of the orchestra musicians starts to have interest in Sri (คนบ้านนอก) as she has a good mindset. Aware of her singing skills, the manager promotes her as singer (นักร้องคาเฟ่). Yot, concerned of now receiving any news from Sri, decides to go back home. Jai Juntamooltree is a as customer. Yot learns from Sri's parents that she left to find a job to Bangkok. Sia Jimmy is interested by Sri but she refuses. He gives her one more chance to think about it. Sri's friends recommend her to back to countryside, but she refuses as she has not earned enough money to pay back the debt. Sri tries to find new excuses with Sia Jimmy but he is losing patience and tries to force her to follow him. Her friends interpose and the restaurant's owner has to calm down Sia again. Sri has no choice but to go back home. Meanwhile luckily Yot helps the musician aggressed by Jimmy's men. He brings Yot to Sri's house but she has just been kidnapped! Yot, the musician and his friends storm Jimmy's place. They defeat Jimmy's ruffians and Jimmy is arrested by Thai police. Yot and Sri can go back to countryside to marry.



Year

: 1990



Thai title

:

สวรรค์ชั้น 7




English title

: Life's little big man



Rating

: 1/5


Director

:



Main actor

:


Main actress

: Darin Kornsakoon
It deals about a movie director getting crazy with women.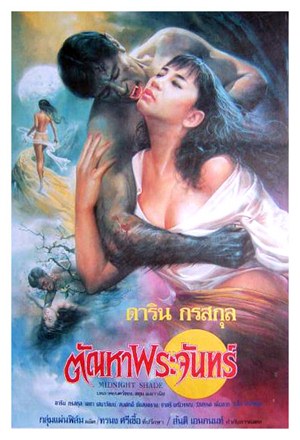 Year

: 1990



Thai title

:

ตัณหาพระจันทร์ 1




English title

: Midnights shade 1



Rating

: 2/5


Director

:



Main actor

: Somsak Chaisongkram


Main actress

: Darin Kornsakoon



Buy now

:

Thai movie ตัณหาพระจันทร์ 1 / Midnight Shade was released in year 1990 and last 1h24mn. It was released under VHS format and also VCD format by multiple companies (Lepso, Happy Time, APS). Thai actors and actresses featured are Darin Kornsakoon, เดชา เสนาวัฒน์, Somsak Chaisongkram, ชาตรี มณีวรรณ, วัสสรรค์ เพิ่มลาภ, จเด็จ อินทิแสง. Movie director is สันติ เอนกนนท์. Toranong Srichua was consulted as an advisor for this movie. Many Grade B Thai horror films from 1990s decade included erotic sequences and poor Fx effects. Budget was limited as the business target was often Thai provinces. A second opus of this movie was released in 1991. Young villager Yom is abused in her house by an invisible spirit (ผีเข้า). Sing (Somsak Chaisongkram), village leader, is living with his daughter Chaba (Darin Kornsakoon). Visitors from Bangkok are coming. Villager Mek loves Chaba but this love is not reciprocal. Mek doesn't like the Bangkokian guys to be around Chaba. Sing has a weird behavior… Sing recalls a relationship (ชู้) with another woman. He killed the husband during a fight as he was being uncovered. At nighttime Sing becomes a werecat following incantations and blood pouring on corpse oil (น้ำมันพรายเสือสมิง). He visits Yom again and kills her after having made love to her. He eats her flesh. Yom's husband has become crazy. Back home, Sing vomits so his daughter is concerned about his health. She asks one of the Bangkokian doctor to check him. Sing meets uncle Yong and asks him for help but Yong refuses as Sing is responsible of what is happening (ฅามกรรม). Sing wishes to avoid his daughter Chaba becoming a werecat like him. Sing finally dies and the spirit enters Chaba's body. As Chaba starts to vomit, Mek believes she is pregnant due to Bangkokian doctor. Villagers believe deaths are due to wandering tigers. Mek kills a villager and accuses the two Bangkokian visitors of being responsible for the deaths. Uncle Yong tries to convince people that the murders are linked to werecats (เสือสมิง). At nighttime Chaba, as werecat, kills Mek. Uncle Yong and the Bangkokian doctors help each other to chase the fearful spirit out of Chaba's body.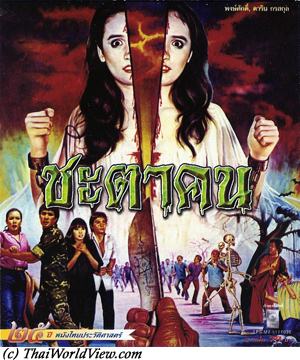 Year

: 1990



Thai title

:

ชะตาคน




English title

:



Rating

: 3/5


Director

:



Main actor

: Choomporn Theppitak


Main actress

: Darin Kornsakoon
Sia, local godfather, tries to corrupt a judge in a drugs case. As the judge refused, he gets killed (ไม่ยอมรับสินบน). Chem, his son, comes back from overseas. As the police is too slow, Chem takes his own revenge. He gets a list from his friend Thep regarding people that had issues with his father. Chem meets Kaet, a young lady, whose father is a small godfather. Chem has high interest into Kaet. Chem wishes to clean Thai society from bad people. He first check some liars pretending getting money for Buddhist temples (บริจาค). Those people harm Thai buddhism (จรทำร้ายศาสนา). Thep (รับจ้าง - คนกลาง) gets the job as middleman but Chem (มือปืน), the hitman, does the dirty job and gets paid. Chem always gives the money to a Buddhist temple. Kaet's father is threatened by Suthon, another mafiosi, who tries to force him to give his daughter as wife. The father uses Thep to find a solution to get rid of Suthon. Chem shall do the dirty job but doesn't want any money. Kaet sees him but Chem refuses to acknowledge his involvement. Kaet uses his name for a temple donation to thank him. Godfather (เจ้าพ่อ) Sunsit wants to get rid of Kaet's father. Chem refuses (ไม่ยอมรวมมือ) the job due to his personal honor code. Sunsit is unhappy that the hitman refuses the job and forces Thep to give his name by threatening his younger sister. Thep has to give up and is finally killed. Chem is shot and injured. Chen still wishes to clean society from bad people (สมควรตาย) but finally promises to Kaet to stop when Thep will be revenged. He finally punishes Sunsit and surrenders to the police to the despair of Kaet. Chem is played by actor พงษ์ศักดิ์ สวนศรี , who is more famous for his "Like" theatrical performances. (Nota: As often with Lepso Studio, the cover given with the VCD is wrong and belongs to another movie!).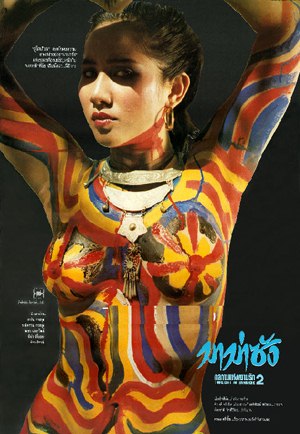 Year

: 1990



Thai title

:

มาม่าซัง กลกามแห่งความรัก 2




English title

: Twilight in Bangkok



Rating

: 1/5


Director

: Toranong Srichua



Main actor

:


Main actress

: Darin Kornsakoon
This is the second opus of "Twilight in Tokyo". The Thai lady is not dead but only hurt. Back to Bangkok, she takes revenge over her previous pimp by having her own business.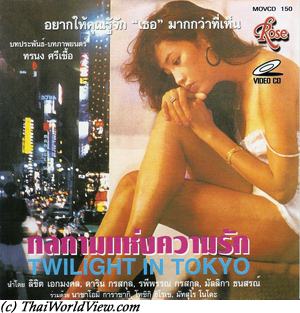 Year

: 1989



Thai title

:

กลกามแห่งความรัก




English title

: Twilight in Tokyo



Rating

: 3/5


Director

: Toranong Srichua



Main actor

: Likit Eakmongkol


Main actress

: Darin Kornsakoon
It deals about a young Thai lady, Waew, sent to Japan to become an escort girl (โสเภณี). Her parents are poor farmers. Waew is the elder sister and has decided to sell her body in Tokyo in order to support her parents and younger sister (น้องสาว). She discovers the sad life there, the huge debt to pay back. Anyway she supports her family by sending money back home. She wishes her father to build a new house instead of the shack, in which they are living. Homesick, she goes back home and discovers that her father has lost all the money she has sent due to unscrupulous investments and gambling (การพนัน), her mother has become a nun (บวชชี), her sister is partying everyday after learning that Waew is a prostitute. The younger sister's moraly is tarnished by living in Bangkok. Money has destroyed her family (เสียผู้เสียคน). Fed up by her family who doesn't understand and compassionate about her burden, she goes back to Japan. Disappointed by her pimp's selfishness, she kills herself. In 1989, the movie got Thai movie "best scenario" award (รางวัลตุ๊กตาทอง). In 1980s many Thai girls went to work as prostitutes in Japan so director Toranong Srichua wanted to show their fate through his movie. He went to Japan with a 32 people team during 15 days to shoot the movie. Even a Yakusa gang (แก๊งยากูซ่า) helped to close Shinjuku street (ถนนชินจูกุ) for 5 hours. Actress Darin Kornsakoon became famous thanks to this role. In 1980s, movies were shown in a limited number of cinemas in Bangkok. Toranong Srichua's movies often got only secondary grade cinemas but thanks to "Twilight in Tokyo" movie, the film was released in first grade cinemas and it was full at each session.
---