Increase or decrease font size for easier reading : A+ A-
Chusak Aiemsuk
Chusak Aiemsuk (1974) - ชูศักดิ์ เอี่ยมสุข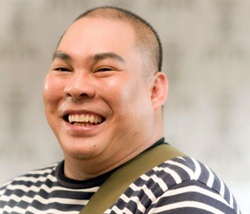 Chusak Aiemsuk surname is also โหน่ง ชะชะช่า. He is a comic actor
This Chusak Aiemsuk movie page contains 11 records.
---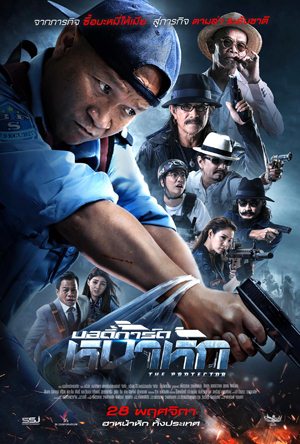 Year

: 2019



Thai title

:

บอดี้การ์ดหน้าเหลี่ยม




English title

: The Protector



Rating

: 3/5


Director

: Pipat Jomkoh



Main actor

: Mum Jokmok,Thep Po-ngam,Ekkachai Srivichai,Chusak Aiemsuk


Main actress

:
Thai movie บอดี้การ์ดหน้าหัก / The Protector was released in year 2019 and lasts 1h19mn. The movie director is Pipat Jomkoh. Mok Jokmok already played in the movies "Bodyguard" 1 in 2004 and 2 in 2007. It is a mix of comedy and action. Kam Kon (Mum Jokmok) is a guard in a bank. He is an expert with sling. Choon is an Indonesian businessman. One evening, an Indonesian man puts a USB key in Choon's pocket. Ruffians led by Ed Carabao try to kill him. Kam Kon meets Choon by luck in a noodle soup shop. As the ruffians shoot people in the shop, Kam Kon helps Choon's bodyguard to push back assaillants with his sling. As Choon's bodyguard is shot, Kam Kon becomes his protector. The ruffians, led by the Indonesian ambassador, capture Choon's daughter. Taking the profit that Kam Kon goes to buy some food, the ruffians capture Choon. Ruffians features the Carabao group members, Thep Po-ngam and singer Ekkachai Srivichai. Kam Kon meets Dim (หรินทร์ สุธรรมจรัส) and relates what happened. Mobile phones have been exchanged by mistake and the USB key is now with Kam Kon. Ruffians threaten Choon and his daughter, but the USB key is not with him anymore. The ruffians identify that Kam Kon is a former commando soldier. Both groups identify their location thanks to the phone. Kam Kon calls his friend Pai (สิตางศุ์ ปุณณภพ) to support him. The group led by Kam Kon attacks the ruffians' secret location. Ruffians are defeated and Choon agrees for his daughter to marry Dim.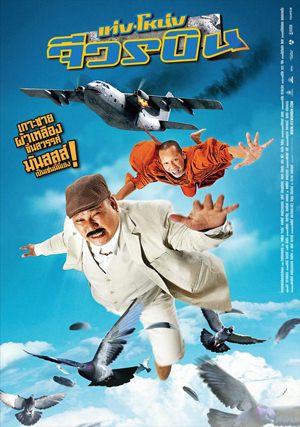 Year

: 2011



Thai title

:

เท่ง โหน่ง จีวรบิน




English title

:



Rating

: 3/5


Director

: Pongsak Pongsuwan



Main actor

: Pongsak Pongsuwan,Chusak Aiemsuk,Mum Jokmok,Somchai Sakdikul,Akom Preedakul


Main actress

: Tukkie



Buy now

:

Thai movie เท่ง โหน่ง จีวรบิน was released in year 2011. It lasts 1h26mn. Sia Nong (Chusak Aiemsuk) welcomes a Thai monk (Pongsak Pongsuwan) coming to Tibet by plane. A TV program announced that ruffians' leader Somchai Sakdikul has escaped from prison. Inside the plane, there are also Tukkie (ตุ๊กกี้ ชิงร้อย) as air hostess, Mum Jokmok as pilot, Amina (อมีนา พินิจ) as secretary. They board in the plane but it is hijacked by Somchai (สมชาย เข็มกลัด). He forces all the men to jump from the plane except the monk and the secretary. The robbers target a safe belonging to Sia Nong. The plane lands in the Golden Triangle but the robbers are unable to open the safe. Thanks to coded sentences, the monk succeeds to find the first code. As a comic interlude, Akom Preedakul comes to buy drugs and weapons. A second code is needed to open the safe but the secretary Amina asks for guarantee for her and the monk. By saving a child having fever, the monk gets reconnaissance from the villagers as they believed the kid was possessed (ผีเข้า). The monk gets mystic power recognition (บรามีหลวงพี่). He succeeds to change the villagers' mentality but Somchai is still his enemy. Somchai rebels against Sadikul. Sadikul lets them flee by plane. Fighting happens in the plane and the monk has to use a lingam (ลิงค์) to prevent petrol leaking. As a monk cannot touch a woman, he is unable to reenter in the plane… The plane finally succeeds to land miraculously. Sadikul goes to jail for 5 years and humbly recognised that having sacred amulets cannot help when you misbehave. Right behavior is inside the heart. This comedy still delivers a few key Buddhist messages.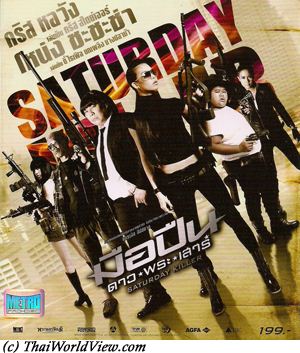 Year

: 2010



Thai title

:

มือปืน/ดาว/พระ/เสาร์




English title

: Saturday killer



Rating

: 4/5


Director

: Yuthlert Sippapak



Main actor

: Suchao Pongwilai,Chusak Aiemsuk


Main actress

: Sirin Horwang



Buy now

:

Tee Rifle is a hitman. He is shy with ladies. He likes to walk or run around Bangkok even passing by the Red Shirts barricades! As he is a hitman, he likes to wear wick to change his appearance. He has some sexual control issues with his little bird (ลูกพ่อ) when a beautiful woman touches him such as the gym dance teacher, Chris, whom he loves her secretly. He visits a doctor to get medicine but as the medicine fails and the doctor refuses to give back the money, he takes revenge over the doctor. The gym dance teacher has arguments with her father regarding green and purple clothes colors. Her father is the political leader of the Green Shirts. There is sarcastic irony and allusion from director Yuthlert Sippapak regarding the Yellow and Red Shirts fights in Thai modern politics. With Tee Rifle, the hitman symbol is demystified as he feels guilty each time (รู้สึกผิดทุกที่). Tee Rifle meets Chris in a bar and presents himself as Mark. Tee Rifle is hired for a new job. He shall shoot all the green leaders including Chris' father. A second medicine fails to recover his little bird (ฉันไม่ใช่กะเทยแต่ผู้ชายโชคร้าย). Political leaders use violence. Win hatred with hatred. Is it the solution to political problems? Brown, purple, green political parties. All leaders are shot by Tee Rifle. The next job is to shoot Chris! The hirer is the wife of Chris' boyfriend. Chris was not aware that her boyfriend was married already! She still meets Mark at the same usual bar and a friendship starts. Tee Rifle shots Chris' boyfriend to close the dispute! Thanks to a good friend, Chris is aware that Tee Rifle shot her father so she wishes to take revenge. Tee Rifle is recruited for a new contract. The target has rent a hotel for his birthday. Chris knowing that the hitman will act and so she enrolls herself as a coyote dancer to be able to catch him. Seeing Chris dancing lively, Tee Rifle has a control crisis and cannot execute his job. Chris now knows that Tee rifle and Mark are the same man. Following some shooting into impressive unfinished 1997 villas, Mark succeed to escape from Chris. Chris finally catches him in a Christian church. She spares his life not because of love but because Thai politicians are the real responsible. Thailand would be a better place without politicians so as a hitman, she shoots all Thai politicians leaders! This movie mixes comedy and action. It also gives a strong social message regarding politicians that are judged responsible of the current mess in Thailand (Yellow Shirts versus Red Shirts). It features a funky soundtrack. "Saturday killer" is part of a trilogy including "Sunday Killer" and "Friday Killer".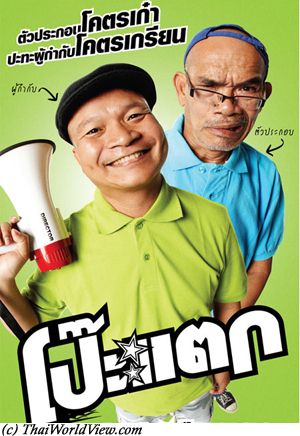 Year

: 2010



Thai title

:

โป๊ะแตก




English title

:



Rating

: 1/5


Director

: Mum Jokmok



Main actor

: Mum Jokmok,Pongsak Pongsuwan,Akom Preedakul,Thep Po-ngam,Chusak Aiemsuk


Main actress

: Tukkie



Buy now

:

This movie is a comedy that explores the lives in front and behind the camera of Thai's film industry. Mum Jokmok has invited all the comic actors from decade 2000s such as Tukkie, Pongsak Pongsuwan, Akom Preedakul, Thep Po-ngam... Certainly not a 100 millions baht movie, which is the new mark for box-office hit for decade 2000s movies. Thep Po-ngam is Mum Jokmok's mentor. In 2009, the Court of Justice of Thailand affirmed Thep Po-ngam bankrupt so there is self irony when he visits Mum Jokmok to produce a movie. He finally only gets a role as actor. Mum Jokmok is responsible of a company making movies. Same as comic TV programs, there is a funny noise at each gag. Mum Jokmok is the director (ผู้กำกับ) and faces many comic issues to have the movie shot. It includes the ceremony (งานเลี้ยงปิดกลอง) for the blessing of a new movie. Various comic sequences happing during shooting and behind the stage. This movies looks like more a succession of sketchs linked with a Thai movie shooting background. It looks like more a TV comic program put on a movie stage. There is no real story.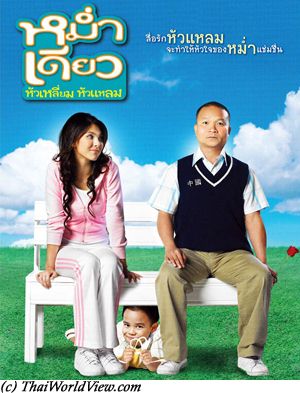 Year

: 2008



Thai title

:

หม่ำ เดียว หัวเหลี่ยม หัวแหลม




English title

: Mum Deaw



Rating

: 3/5


Director

:



Main actor

: Mum Jokmok,Akom Preedakul,Chusak Aiemsuk


Main actress

: Benjawan Artner



Buy now

:

Mam comes to Bangkok for the first time to search for a work. He can stay in the house of a relative. He come from Isan area and loves to eat Mama noodles. He wishes to learn Chinese language. One evening he found a child ghost called Dio in the house! He claims to be his son (ลูกพ่อ) but not yet born. In order to be born, he needs his father to seduce his mother! The future mother is as beautiful (งาม) as a model and is working as Chinese teacher in a language centre. Her name is Fa. Hopefully the son is helping with love letter, flowers but to no avail. Mam finally finds a job but only as manual people counter. If he doesn't succeed to seduce the mother, his son will be reincarnated into a dog. Mam tries to be a hero by helping Fa assaulted by ruffians but she punched them before he can help. He buys new clothes to be more modern. Fa only calls him "uncle" (ลุง). He is lucky to win a gold ingot thanks to Mama noodles. With the money he buys a motorbike to impress Fa and brings her home after work but as he doesn't know to drive well so she has to drive herself! One day he gives her drugged orange juice as her mother suggests her father has done this way 40 years ago to seduce her mother. Anyway when she is asleep he doesn't dare to do anything and gets drugged also by drinking the orange juice. When he wakes up, he gets punched by Fa. He finally realizes that Dio lied to him. Dio is a kid from a rich family (ลูกเศรษฐี) living in the neighbourhood and playing tricks to everybody. Mam forgives him as Dio's parents have no time to take care about him. After a Chinese opera performance, Fa's boyfriend wishes to bring her back home and tries to drug her. Hopefully Mam and Dio were passing by and help Fa. The movie finishes on good mood with Dio getting sincere interest from his busy parents and Mam having Fa as girlfriend. Mum Jokmok has already tried romantic comedies with movie "midnight love" in 2005. The issue regarding the orange juice to force a woman might prevent it to be a real family comedy.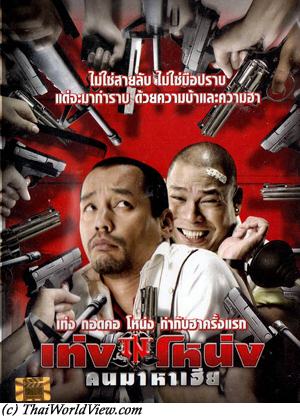 Year

: 2007



Thai title

:

เท่งโหน่ง คนมาหาเฮีย




English title

: Teng and Nong: The Movie



Rating

: 3/5


Director

:



Main actor

: Pongsak Pongsuwan,Mum Jokmok,Phairoj Jaising,Chusak Aiemsuk


Main actress

:



Buy now

:

Awkard parking valets Nong and Teng are assigned by their gangster boss to deliver a valuable Chinese statuette to another gangster boss. During the journey, they decide to take a side trip and what should have been a simple job turns into a major fiasco with a police chase and many funny jokes.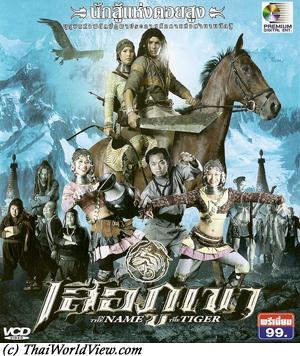 Year

: 2005



Thai title

:

เสือภูเขา




English title

: In the name of the tiger



Rating

: 2/5


Director

:



Main actor

: Krung Srivilai,Ekapan Banleurit,Note Chernyim,Somchai Sakdikul,Bin Banleurit,Chusak Aiemsuk


Main actress

:



Buy now

:

Two groups, led by Hua Jayae and Thao Lai Kan, are worshipping a tiger rock deity. They fight against each other for the control of the village. A volcano eruption happens. A mysterious man then appears on the rock. He is a great fighter. His name is Phi Seua. There is a belief that he is the one depicted on old drawings inside a local cave. The deity guardian mentions that Phi Seua is coming here to help Hua Jayae. In fact, Phi Seua accepts gold from both parties. Phi Seua meets Mai Tho, young lady, who is part of a Padaung giraffe women village. As she is assaulted by Thao Lai Kan's ruffians, Phi Seua helps her. As he protects the Padaung village, he is now hunted by the two groups. Phi Seua then faces various criminals, i.e. the hell twins (แฝดนรก) played by the real Banleurit twins, seven brothers with a face similar to famous actor Sangthong Sreesai (สังข์ทอง สีใส), a big and fat ruffian commanding a Godzilla monster. Phi Seua then becomes the Padaung villager's trainer. Phi Seua leaves the Padaung giraffe women village, which is then attacked. Mai Tho is kidnaped so Phi Seua has to come back to help and defeat the bad guys. This movie is similar to a Manga story. It mixes comedy and action. It has many references to famous movies such as Lord of the rings, the return of the Jedi, western spaghetti, the Magnificent Seven. It includes many famous comic actors from decade 2000s.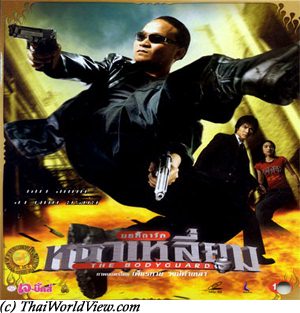 Year

: 2004



Thai title

:

บอดี้การ์ดหน้าเหลี่ยม




English title

: The bodyguard



Rating

: 3/5


Director

:



Main actor

: Mum Jokmok,Tony Jaa,Chusak Aiemsuk


Main actress

: Aranya Namwong,Pumwaree Yodkamol
After the bodyguard fails to save his father's life, a young man refuses to be protected anymore by this man. But the new bodyguard guard team is wiped out by unknown gunmen and the young man hides in a slum. Following the young man's disappearance, the bodyguard searches for him to prevent the gunmen to find him first... This movie mixes action and comedy.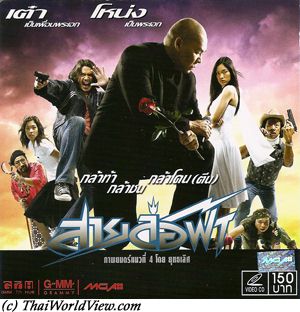 Year

: 2004



Thai title

:

สายล่อฟ้า




English title

: Pattaya Maniac



Rating

: 3/5


Director

: Yuthlert Sippapak



Main actor

: Somchai Sakdikul,Chusak Aiemsuk


Main actress

:



Buy now

:

Tun is a guy selling Buddha amulets. He has no girlfriend. One night at a Karaoke his best friend pays a girl, called Nok, to seduce him. Tun is not aware of the trick and falls in love with her. But Nok is already the girlfriend of a mafia boss, who asks for 3M Baht to release her. Tun and his best friend are getting in serious trouble to get the money...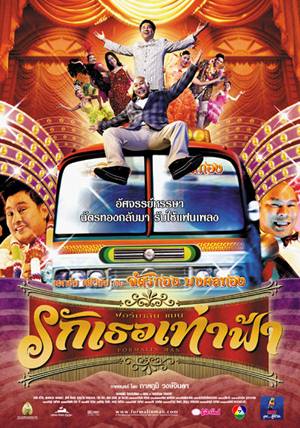 Year

: 2004



Thai title

:

รักเธอเท่าฟ้า




English title

: Formalin man



Rating

: 3/5


Director

:



Main actor

: Sithao Petcharoen,Chusak Aiemsuk


Main actress

:



Buy now

:

An owner of a "Luuk Tung" band is facing a difficult situation. He has to find money to pay for his debt and to save his band from being taken over. Unfortunately, he dies from a car crash accident before he could get the money. His spirit refuses to quit his body. His assistant keeps the secret and inject formalin in the body. The dead owner and his assistant are giving much efforts to keep the band united and find money.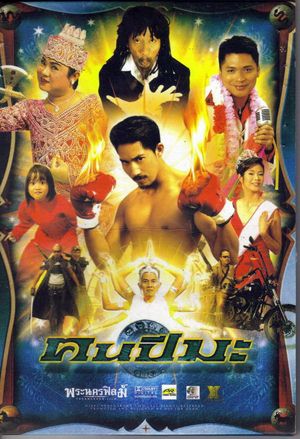 Year

: 2003



Thai title

:

คนปีมะ




English title

:



Rating

: 3/5


Director

: Note Chernyim



Main actor

: Jaturong Mokjok,Krung Srivilai,Note Chernyim,Chatchai Plengpanich,Akom Preedakul,Chusak Aiemsuk


Main actress

: Naowarat Yooktanun



Buy now

:

Thai movie คนปีมะ was released in year 2003. It lasts 1h59mn. Note Chernyim is the movie director. It is a musical Comedy. Four guys are having bad luck, i.e. Nok (นภัสกร มิตรเอม) a Thai boxer defeated and his girlfriend leaving him for an older richer man, Kung (Jaturong Mokjok) a Likay performer injuring incidentally his mother (Naowarat Yooktanun), David (ถั่วแระ เชิญยิ้ม) always failing magic tricks, Pao (ชูษี เชิญยิ้ม) wishing to be a singer. As they complain that gods are not helping them, the gods finally send an angel (เทวดา) called Sai Fa to help them. Same as Terminator movie scene, the angel comes to help them. All are born the horse year (คนปีมะ). Multiple country songs (ลูกทุ่ง) are happening during the movie. The five friends help a young lady called O (นิธิพร มั่นนาค). Her father is close to Nai Amnat (Krung Srivilai). Nai Amnat tries to be a nice man as he gives money to support the school, where O is a teacher, but he is in fact a ruffians' leader dealing with drugs. His friends tease Nok as he is only a poor guy (หมาวัด) and has little chance to win O's heart (ดอกฟ้า). Nok meets Chatchai Plengpanich, his idol. Chusak Aiemsuk is playing a small ruffian's role also. A woman has proofs against Nai Amnat's illegal activities. Before fleeing, she gives a CD to her son. He takes refuge with the five friends but the ruffians keep looking for the child. The five friends protect the child and the angle Sai Fa uses his special power to help them. Nai Amnat hires hitman Prakan (Akom Preedakul) to get rid of the five friends. Police finally intervenes to catch the ruffians. Nok gets rid of the leader through Thai boxing. Sai Fa has to go back to heaven and to leave his friends. The movie got a revenue of 25M Baht.
---