Increase or decrease font size for easier reading : A+ A-
Cherd Songsri
Cherd Songsri (1931-2006) - เชิด ทรงศรี
Cherd Songsri's first movie was Nora, a 16mm film in 1966. His ambitious film Phlae Kao (1977) became a smash hit and raked in more money than any other films produced before that time. In 1998, the movie was voted as one of the world's 360 classic movies. Cherd directed and produced a total of 18 films
This Cherd Songsri movie page contains 11 records.
---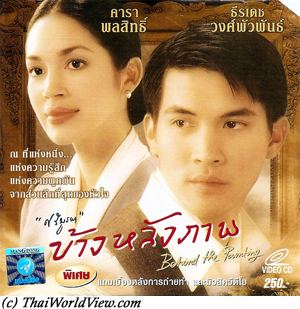 Year

: 2001



Thai title

:

ข้างหลังภาพ




English title

: Behind the painting



Rating

: 3/5


Director

: Cherd Songsri



Main actor

:


Main actress

:



Buy now

:

This movie is a remake of 1984 film about the impossible love between a young man and a married woman older than him.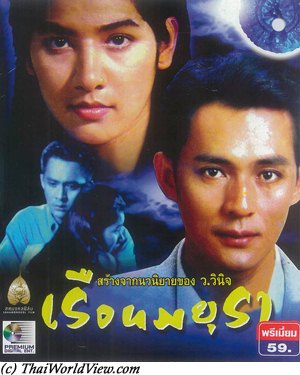 Year

: 1996



Thai title

:

เรือนมยุรา




English title

: House of the Peacock



Rating

: 4/5


Director

: Cherd Songsri



Main actor

: Saranyu Wongkrachang,Ruj Ronnapop


Main actress

: Darin Kornsakoon



Buy now

:

In 1775, a Brahmin priest casts an eclipse. It was during Ayuthaya period when fights with Burma were frequent. Lady Nok Yung and her suite stays in the house of the Peakcock (เรือนมยุรา), which is now out of the time realms and out of reach of Burmese soldiers. Lady Nok Yung made a wedding promise to a noble soldier called Wai Wongsa. Nowadays, on the way to Ayuthaya, a young man, called Pranai, just avoids bumping in a young lady crossing the road. She smiles and disappears in a tree. Is she a ghost or a tree spirit (นางไม้)? Pranai has same face as noble soldier Wai Wongsa. Pranai is the owner of a Siam antiques shop. Today it is Pranai's birthday. He is still single. His sister tries to marry him but to no avail. His sister tries to push young lady Fai. Pranai still wants to meet the mysterious girl. He stays near the tree. Nok Yung needs food for 20 people for one month. Pranai agrees to give but wants to know and understand. Nok Yung agrees to visit Ayuthaya area. She realizes that Sri Ayuthaya was burnt down. Nok Yung asks Pranai not to visit her again. Pranai learns meditation to see his past. Pranai's sister and Fai believes he is possessed by a ghost (ถูกผีเข้า). They use a sorcerer (หมอผี) to cure Pranai and chase the ghost. Meanwhile Arawee, a local young actor, lies to Yipoo, another lady staying in the house of the Peakcock, in order to seduce her by pretending he is an Ayuthaya soldier. He succeeds to enter in the house and so the spell protecting the house is broken. Inhabitants have to flee. The sorcerer and acolytes fight over the gold. Fai's father, called Fa Feun, prevents the robbing. Pranai helps Nok Yung and invites her in his home. Fa Feun loves Nok Yung and gives money to Pranai in order that he breaks up with Nok Yung. Pranai refuses and is looking for a way to send back Nok Yung into the past. Arawee is Waiwongsa's current reincarnation. Believing into karma (กรรม) and in order not to break her promise done 221 years ago, Nok Yung accepts to marry Arawee. Pranai is in despair. Finally Fa Feun convinces Arawee not to marry as Arawee is more interested in his acting career. Pranai is not willing to marry Nok Yung anymore as he believes she is too nice to live in 20th century. The house goes back to the past but Nok Yung finally stays happily with Pranai. This movie questions the old-fashioned morals that are being lost in modern Thailand. Some traditions are getting lost (smile, not speak loudly, no lies). Bangkok development threatens the country-side. We need to take care more of our heritage. The trailer is the TV serie shot in 2540.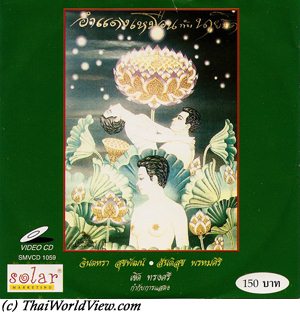 Year

: 1994



Thai title

:

อำแดงเหมือนกับนายริด




English title

: MUEN and RID



Rating

: 5/5


Director

: Cherd Songsri



Main actor

: Santisuk Promsiri,Man Teeraphol,Ron Rittichai


Main actress

: Jintara Sookkapat,Duangdao Jarujinda



Buy now

:

Prior to 1865, women had no status in Thai society. They were looked down on as object with no significant value. Their parents and husbands had the right in law to pawn or sell them, just as they could pawn or sell their cattle. Hence the old Thai saying: "Women are buffaloes, men are humans". Muen was the daughter of peasants in Nontaburi Province. During a storm, she almost drown and was saved by a young monk called Rid. As she was love with the monk, she wanted to be close to him and succeeded to convince the temple abbot to be able to go to the temple school. Despite Thai society obstruction that thought that knowledge was useless for women, she learnt how to read and write. Her parents were trying to force her to marry Poo, who had alread several wives. She managed to escape and took refuge with Rid, who has left the monkhood for her. When he discovered where she was, Poo claimed under the law that Rid had abducted his wife. Muen was arrested, and suffered abuse and mistreatment in Jail. But she never gave up hope, and managed to escape and submit a petition to King Mongkut. She condemned the law as being unfair, and condemned Thai society for condoning men's exploitation and abuse of women. She faced the death penalty for her temerity; Thai society had lived by and respected the laws she attacked for centuries. The King issued a Royal Decree granting her a pardon. Based on a true story, the film celebrates an early case of a struggle for women's rights in Thailand, which resulted in a decree promulgated by King Mongkut in December 1865.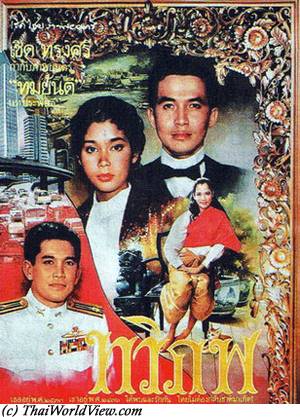 Year

: 1990



Thai title

:

ทวิภพ




English title

:



Rating

: 4/5


Director

: Cherd Songsri



Main actor

: Chatchai Plengpanich


Main actress

: Metta Roongrat
Mainee always dreams about a man from the past time. She buys an old mirror from Rama V (รัชกาลที่ 5) era. She has a fiance, who is officer. She identifies that the man from the past time is Khun Luang (คุณหลวง) Thet, who was involved in negotiation with French officials last century, when French soldiers tried to take away some Thai territories. She has visions. The old mirror becomes a bridge between the past and the present (กลับเวลาไปสู้อดีต). Her fiance is in competition with somebody from the past. Mainee navigates between the past and present. Love emerges between Mainee and Khun Thet. The movie highlights old traditions that have almost disappeared (children sitting below adults, no singing - ผู้ดีไม่ร้อง, No black clothes except for funerals - แต่งดำใครตาย, dress appropriately - ชุดสั้น, pray before sleeping - สวด). She is an human from future (มนุษย์จากอนาคต). As usual with director Cherd Songsri, there is a strong focus on culture with shown representations from the Thailand cultural Centre. Mainee keeps staying in her room. All her relatives are puzzled because she often disappeared (ไปในอดีตมา). They believe she is becoming crazy. Khun Thet goes to a meeting with French representatives to show them that Thai culture is deep and old. A French general believes that Thai people are uneducated. Mainee needs to choose between present or past. Mainee keeps giving advices to prevent Thailand becoming a French or English colony. The mirror is damaged. She decided to marry with Khun Thet but she misses her mum. Despite the damaged mirror she takes the risk to come back a last time to see her mum. Then she decides to stay in the past as it is more useful for the Thai Nation (ประโยชน์สำหรับชาติ). The mirror is broken. This movie mixes romance, Thai culture and Thai real history.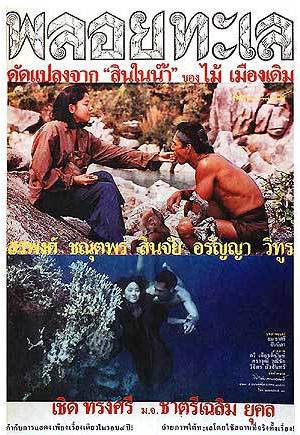 Year

: 1987



Thai title

:

พลอยทะเล




English title

: The Gem from the Deep



Rating

: 5/5


Director

: Cherd Songsri



Main actor

: Sorapong Chatree,Witoon Karuna


Main actress

: Sinjai Hongthai,Aranya Namwong,Juree Osiri,Chanutporn Wisitsopon
Thai movie พลอยทะเล was released in year 1987 and lasts 1h55mn. Movie director is famous director Cherd Songsri. Sorapong Chatree with his short haircut, killing smile and strong body really shines and plays in a great movie compared to the many average action flicks he played in 1980s. Happiness is present on a small island between Kratin (กระถิน), young lady (Sinjai Hongthai), and Rung (รุ่ง) a young man (Sorapong Chatree). They love each other but any wedding decision is linked to their parents. Kratin's parents reject this love. Rung is a diver, collecting seashells and fishies for a living. The movie shows nicely life of island, people collecting coconuts thanks to monkeys, collecting eggs from giant turtles. Beautiful landscapes are shot. Kratin is jealous of Sangpao (สำเภา), another young woman (Chanutporn Wisitsopon) that Rung considers as a sister only (น้องสาว). As Kratin's parents cannot accept such love and wedding, they consider fleeing to the city. While diving, Rung finds a red pure gem (พลอยทะเล, น้ำดี). He plans to sell it to cure his mother (Juree Osiri) but makes the mistake to show it to another villager, father of Kratin. This one and his sons, arguing that Rung behaves badly with his daughter, try to kill him to steal the gem. Rung gives the jewel to Kratin and fights back. In front of Kratin's eyes, he is left for dead. He is only injured and succeeds to reach his mother's home where Sangpao rescues him. Kratin is sent to the city. She meets Sieng, the fishery lady boss (นาย)(Aranya Namwong), who recruits her as domestic helper. Rung recovers slowly and is still upset that the gem is not anymore with him. Sangpao takes care about Rung. A love story is about to start but it doesn't bloom as Rung and Sangpao still have Kratin in mind. Kratin really believes Rung is dead so she is sad. Sieng's brother, Samrien (Witoon Karuna), likes Kratin a lot and starts to seduce her. They become lovers. Kratin shows him the gem. Samrien decides to keep it until their wedding in order to avoid it is stolen by somebody else. One day, Sangpao finds Kratin in the city and informs her that Rung is not dead. Samrien refuses to give back the gem, refuses to let Kratin go and promises her that she will become the fishery owner. The movie shows the fishery work from a cultural point of view. It is bad fate (เวรกรรม) that Kratin saw Rung dead but now it is too late as she needs to have gratitude over the boss and her family. Finally Rung discovers the truth about Kratin and Samrien. Sangpao has to intervene to avoid Rung becoming violent. Sangpao and Kratin have arguments as Kratin cannot give the gem back. Rung also asks Kratin as he needs to cure his mother but she tries to manipulate him. Samrien refuses to give it back to Rung as he believes half of it belongs to him. The fisherman, who brought Rung and his mother to the city, asks for his money but Rung cannot pay him as he hasn't got the gem yet. During a fight the mother is stabbed and dies. A big storm is now happening. Samrien is endangered on a boat. Kratin asks Rung to help Samrien as his boat is stuck. Samrien encourages him not to go but Rung accepts as he is kind hearted so he releases the boat but disappears in the sea. Countryside people have often bigger heart than city people. This gem has caused many people to die. In the morning, the sea sends back Rung's body. He is still alive and Sangpao had been waiting the whole night for him praying. Kratin finally finds Rung stranded on the beach. They promise love to each other. Kratin goes back to Samrien's home to get the gem from a safe but it is no longer in the box. Rung doesn't care about it anymore but Kratin refuses to follow him as she doesn't want to live poorly on the island. It causes Rung's ire as it shows she is more interested by the gem than Rung. He understands that only Songpao really loves him. Sangpao is the one, who gets the gem. A fight between Samrien and Rung occurs as Samrien still wants the gem. Rung defeats him and decides to go back to his island. Sangpao goes back with him. Samrien breaks up with Kratin. Rung sends the gem back in deep sea.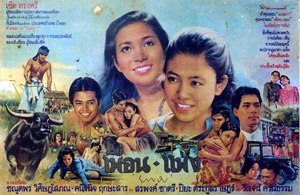 Year

: 1983



Thai title

:

เพื่อน-แพง




English title

: PUEN-PAENG



Rating

: 5/5


Director

: Cherd Songsri



Main actor

: Sorapong Chatree,Piya Trakulrard


Main actress

: Chanutporn Wisitsopon
During childhood, young boy Lor (ลอ) is educated in a house where the father has two daughters already, i.e. Pheuan and Phaeng. Lor is always helping and supporting the youngest girl Phaeng (กวนตั้งแต่เป็นเด็ก). Phaeng (แพง) is always crying when Lok and Pheuan (เพื่อน) start playing games without her. Lor considers her as a younger sister. All the three friends are now adults. The movie features a nice representation of Thailand countryside life, i.e. rice harvest as a community with songs to encourage themselves and to make the work more fun, catch fishes in traditional way with a ingenious fish net, get lotus from pond, traditional way of doing rice fields with buffalo cart. Phaeng always tries to ruin Lor's courtship with Pheuan. Both start to be upset with Phaeng. Ien, another villager, tries to seduce Phaeng during the temple fair (หนังใหญ่). Lor is a perfect bachelor as he does not drink, does not play cards and is working hard. He is fianced with Pheuan and his wedding shall happen soon. Ieng asks Phaeng for wedding through his father but Phaeng refuses categorically as she doesn't love him. Finally Lor finally smiles regarding Phaeng's stubbornness. Jealousy starts between the two women especially as Lor is fiance with Pheuan. Phaeng tries to conquer Lor back by doing dishes he likes. He eats all the sticky rice not because it is delicious but because she made efforts to do it. Lok is surprised to know through Pheuan that Phaeng also loves him as he always considered her as a younger sister (น้อง). Lor promises in front of Buddha amulet to love Pheuan. If he fails the promise, he shall die! Lor cannot talk to Phaeng anymore following promise to Pheuan. Phaeng disappears and Lor misses her. Lor falls severely sick as he catches malaria. The doctor's assistant, Boontim, is a former love of Pheuan. The doctor's assistant offers gifts to Pheuan. Her heart starts to tangle. The assistant makes Pheuan discover the modern life (cosmetics, tennis, dance, car). Boontim asks Pheuan in marriage. Phaeng challenges Pheuan regarding her love towards Lor. Pheuan and Boontim represent the urban Thailand. Phaeng and Lor represent the rural Thailand. Boonpheng is a liar and a butterfly. Pheuan goes back to Lor (ปลาตัวเล็ก) and get all credits when Lok recovers from malaria. It makes Phaeng sad. Lor discovers a letter where Phaeng's friend writes the whole story about Pheuan's bad behavior behind Lor's back. Lor knows Phaeng's real value. They finally spent a night together despite Lor being married to Pheuan. Phaeng is now pregnant and refuses to say who is the father despite being severely beaten by her father. Lor decides to flee with her. Pheuan is aware of this and intentionally forgets to tell Phaeng that a ladder level is broken. During early morning Phaeng falls and finally dies due to internal bleeding while trying to find Lor. Disgusted by Pheuan's behavior, Lok finally chooses to go back with Phaeng, the only woman who loved him more than her own life, and drowns himself. The movie got many awards in 1983 (best actress, best director...). Cherd Songsri is famous for such Thai period films showing the power of love. This movie highlights feelings such as love, belief, promise, faithfulness. Cherd Songsri previously also directed the movie "The Scar" (แผลเก่า). The Culture Ministry registers 25 Thai classic films each year at the National Film Heritage Registry. This movie is part of the 25 films heritage list announced on 04 October 2015, which is Thai Movies Conservation Day.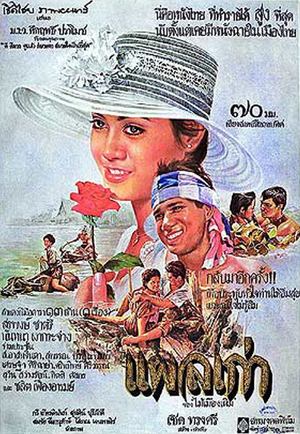 Year

: 1977



Thai title

:

แผลเก่า




English title

: The old scar



Rating

: 5/5


Director

: Cherd Songsri



Main actor

: Sorapong Chatree,Sor Asanajinda,Settha Sirachaya


Main actress

: Nantana Ngao Krajang,Sarinthip Siriwan
The movie is built same a theatrical "Likay" (ลิเก) with traditional music. It portrays the Thai culture and way of life though a romance. Peasant Riem loves Kwan but the love is not reprocical. He loves singing Likay. Traditional peasant way of life, watching over buffalo, rice planting, getting fish from rice fields, ceremonies where young men invite girls they like to dance, Songkran ceremony with small pagoda made of sand are gracefully shown. They finally love each other with a promise in front of the local deities tree. But Riem family refuses this love story. Choi, local gangster, injures Kwan with his sword making a scar. This scar is the symbol of their love that nothing can break. Riem's father wants to sell her to the local gangster Choi. Riem's father is local "Kamnan" (กำนัน) but has many debts with Choi as he likes to gamble and drink alcohol. Riem is enslaved with chains. Kwan infliges a scar to Choi also but when he tries to free Riem, it is too late. Her father and Choi have brought her to Bangkok. There she is integrated to a rich Bangkokian family as she has the same face as their deceased daughter. A young man called Somchai is courting her. Riem discovers high society Bangkokian life with balls and European orchestra. The contrast is flagrant with village life and Kwan playing flute on his buffalo. Kwan arrives in Bangkok and searches for Riem. He cannot find her. He chases Choi to know where he sent Riem but during a sword fight, Choi is killed. Three years have passed. Knowing that her mother is sick, Riem goes back to visit her. Kwan has chance to meet Riem but Kwan also understands that she forgot him. He asks again for the support of the local deities. Riem misses her home and Kwan. She finally comes back as her mother is dying. In the past, her mother marries her husband for money in order to be secure but was never happy with him. So she advises her daughter to listen to her heart as love is more important than money. Riem promises to tell Kwan her decision in front of the local deities tree. On the same day, seeing that his father is getting older and older, Kwan promises him to honor his wish to see his son in yellow robes (ชายผ้าเหลือง) as a monk. Learning that Riem is forced to go back to Bangkok, he decides to help her but faces opposition from Riem's family and Somchai. Finally Somchai shot Kwan fatally and he drowns in front the local deities tree. Riem stabs herself and drowns with her beloved Kwan. Kwan's father will never see his son in yellow robes (ชายผ้าเหลือง) as a monk. Historically, Cherd Songsri's movie is a classic tale of star-crossed lovers and was one of the first Thai films to be a success internationally due to the precise representation of rural Thailand. It got Top award at Festival des 3 Continents in Nantes, France in 1981. This movie is part of the first 25 films heritage list announced on October 4 2011, which is Thai Movies Conservation Day.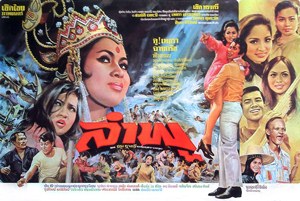 Year

: 1970



Thai title

:

ลำพู




English title

:



Rating

: 4/5


Director

: Cherd Songsri



Main actor

: Sombat Methanee,Choomporn Theppitak,Sawin Sawangrat,Lor Tok,Daonoi Duangjai,Songthong


Main actress

: Petchara Chaowarat,Prim Praphaporn
ลำพู is a Thai movie released in year 1970. 1h23mn is left so only three reels. Normally movies in decade 1960s~1970s often last two hours minimum. The picture is still colorful. The reels left are in 16mm format so the movie is mute as such format requires dubbing. Famous director Cherd Songsri is behind the camera. The below summary is based on understanding as there is no sound available. Choomporn (Choomporn Theppitak) and two young ladies, including Prim, have arguments in the market with local sellers. Few comics make fun of them. Sawin (Sawin Sawangrat), influential local man, is linked to Choomporn. Choomporn sees the comics during a fair and chases one of them. Petchara (Petchara Chaowarat) is dancing and wearing a beautiful traditional costume during this fair. Prim (Prim Praphaporn) is jealous of Petchara as Sombat (Sombat Methanee) is in relationship with Petchara. A few Isan songs are featured as singer is using a Kaen (แคน). The movie quits the countryside to the seaside where Sombat and Petchara have fun singing, playing unreal music instruments and playing in the water. Prim have arguments with Petchara while she is keeping her suitcase following her trip to seaside. Prim and Petchara are sisters? While Petchara is sick following overwork, her friends take care of her. Sombat is back from abroad. Prim wishes to become the official fiancee and to replace Petchara in Sombat's heart. She organizes Sombat's kidnapping but it fails. She finally drugs him. Meanwhile Petchara is kidnapped by Choomporn and Sawin. A huge storm is coming. Awaken, Sombat pushes back Prim and rushes to look for Petchara. People like Sawin struggles to bring their wealth with them but finally dies in house explosion following their greedy attitude. This movie is certainly one of the first Thai catastrophe movies. The movie includes real footage of a storm, i.e. Talumphuk storm in Nakhon Sri Thammarat on 27 october 1962. The severe storm called Talumphuk (ตะลุมพุก) devastated Pak Phanang coast and Talumphuk cape. It killed 769 inhabitants. Petchara falls from a passerelle during the storm. Sombat falls also during the storm. After the storm, many corpses can be seen. Sombat is looking for Petchara anxiously. She cannot be found. Petchara's friend blames Sombat. She is finally rescued by the hospital but her face is disfigured to the big delight of Prim. Petchara thinks about suicide but her mother prevents her. Sombat is still looking for Petchara despite her parents saying she has disappeared. Recognizing her clothes on a clothesline, he knows she is hiding in her parents' home. She refuses Sombat's love as she is now ugly. Sombat promises to take care and to pay for hospital bills regarding facial surgery. Prim hires Choomporn, promising sweet rewards, to pour acid on Petchara's face while she is recovering at hospital. He does so but does it on the wrong person! At a big party, Sombat is accompanied by Petchara back to her full beauty causing Prim's wrath. The movie stops here.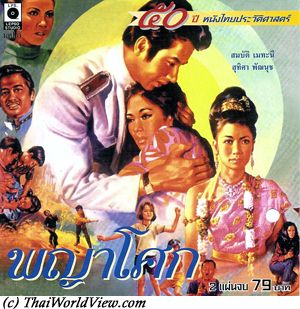 Year

: 1969



Thai title

:

พญาโศก




English title

:



Rating

: 4/5


Director

: Cherd Songsri



Main actor

: Sombat Methanee,Sawin Sawangrat,Prachuap Ruekyamdee,Choomporn Theppitak,Sukon Koewliam,Joomjim Khemlek


Main actress

: Suthisa Putnuch,Pawana Chanajit,Kaenjai Meenakanit
During World War 2, a man betrays his country (ขายชาติ) and even kills his wife Narinee as she refuses to keep silent. The father then disappears. His own daughter flees and is rescued by a young man called Boripat, who put her in a well off family. She is renamed Lamphap. A few years have passed. Lamphap (Suthisa Putnuch) is a beautiful grown up lady. Boripat plans to become deputy (ผู้แทน) in Phatalung province. Boripat and Lamphap love each other. Cheutchalao (Kaenjai Meenakanit), a jealous lady who wishes to marry Boripat, shows to Boripat's mother a picture of Lamphap's mother. Is it good that Boripat as a future deputy marry a country traitor? Following a night with Boripat, Lamphap flees away as she is ashamed of her background. Boripat looks for her. When he is aware of her parents' background, he breaks up with her and finally marries Cheutchalao. Lamphap is followed by her father's bad reputation. Boripat has become a member of parliament. Cheutchalao introduces Khun Yousapong (Prachuap Ruekyamdee), who is a salesman, to Boripat. Boripat needs to pay back the funding he receives from him through some sales advantages with government projects. Boripat rejects and resigns as he refuses to betray his own principles. Cheutchalao is very upset as Yousapong is in fact her hidden lover. She even refuses to keep the child she is currently having with Boripat! Cheutchalao has an argument with Boripat's mother causing her to fall from the stairs and dies. Boripat then indulged in alcohol and, being sick, decides to die in the place he met Lamphap the first time. He dies in her arms. Kenang is the child born of their brief union. Many years have passed. A young lady called Pen (Pawana Chanajit) stops by the village due to a flat tyre and is helped by Kenang (คนป้า). Pen is daughter of the salesman Yousapong. Salesman is still with stepmother (แม่เลี้ยง) Cheutchalao. Yousapong has always been concerned about money only (ไม่รู้ค่าความรัก). Pen dances on a show and displays her great dancing performing skills (รำไทย) to pay back his father as studies compensation. She gets a reward and wishes to offer it to Lamphap but Cheutchalao prevents her to do it as Lamphap is daughter of a country traitor (เป็นกรรม). Chatkalin, Lamphap's second son (Choomporn Theppitak) doesn't want anybody to mention he is Lamhap's son anymore as he wished to marry Pen. He is in fact Boripat and Cheutchalao's son. Cheutchalao left the child in an orphanage and Lamphap, having pity, raised him. Well off people (ผู้ดี), having status, are seeing down poor people. As a revenge Kenang kidnaps Pen and brings her to a remote place near seaside. Chatkalin burns Lamphap's house as retaliation. Kenang, having finally freed Pen, arrives on time to save his mother. Following a fight with Chatkalin, a passer-by is shot. They all accuse Kenang. Lamphap chases everybody. A policeman offers her an opportunity to clean her name but she has to give information regarding the secret place where her traitor father and his team are hiding. After reaching the place in the mountain, Lamphap's father wished to test her if she is not a spy. She shall kill her own son, Kenang, as he has been accused by Cheutchalao, Chatkalin and Yousapong of having killed the father's own son, i.e. the passer-by. Only Pen defends Kenang. Lamphap has to do a sacrifice (เสียสละ), i.e. Kenang's life against the four other lives (Cheutchalao, Chatkalin, Yousapong, Pen). Finally one of the ruffians revolts for the sake of his country preventing Lamphap to make an impossible choice. Bad characters are punished. Some episodes were cut in this Lepso VCD release, i.e. one episode where Sombat Methanee is singing and another climax episode when the ruffian forces the mother (Suthisa Putnuch) to shoot her own son (Sombat Methanee) but finally changes his mind. Sombat Methanee plays both the father Boripat and the son Kenang. This 1960s movie shows that faithfulness to country is more important that faithfulness to own family. It is typical of many 1960-1970s movies, which featured nationalist elements against the red communist threat. พญาโศก is a less known good movie from famous director Cherd Songsri. It also includes many references to the Thai royalty.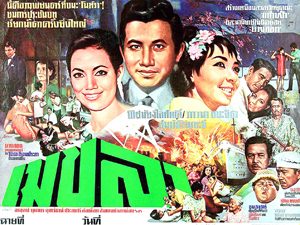 Year

: 1967



Thai title

:

เมขลา




English title

:



Rating

: 3/5


Director

: Cherd Songsri



Main actor

: Sombat Methanee,Adul Dulyarat,Choomporn Theppitak,Lor Tok,Sompong Phonmitr,Daonoi Duangjai


Main actress

: Pissamai Wilaisak,Pawana Chanajit,Mom Chan Phuangwan
Thai movie เมขลา was released in year 1967. It features Sombat Methanee as main actor and Pissamai Wilaisak as main actress. Director is Cherd Songsri. The movie is lost in Thailand but a sequence of 23 minutes is left to be seen. It is a drama movie. Other actors are Adul Dulyarat, Pawana Chanajit, Choomporn Theppitak, Lor Tok, Sompong Phonmitr, Daonoi Duangjai, Mom Chan Phuangwan. The summary is a below. A Japanese lady called Mitsuko (Pissamai Wilaisak) meets and loves a Thai man (Adul). He goes as a diplomat to Japan. They have a daughter called Mekala (Pawana Chanajit). Adul needs to go back to Thailand and bring Mekala also. Pissamai shall follow up later. Unfortunately Mitsuko gets irradiated by the nuclear bomb sent previously by USA on Japan. Her face is disfigured. When she finally arrives in Thailand, Mitsuko finds Adul has remarried and has another daughter. The new wife and her daughter keep trying defaming Mekala as they are jealous that Sombat (Sombat Methanee) is more interested in Mekala. Mitsuko is ashamed of her new appearance so doesn't dare showing up. The new daughter find evidences that the disfigured lady is in fact Mekala's mother and uses this information to humiliate Mekala. Mitsuko tries to reject the accusations and through an accident the new daughter loses her life. The new wife accuses Mitsuko to have killed her daughter. Truth is revealed during the following trial. Sompong Phonmitr and Choomporn Theppitak are playing lawyers. During the trial Sombat as witness is disclosing some truth that Mekala is the daughter of Mitsoko. Mitsuko is cleared and Adul hires the best surgeon to heal Mitsuko. Finally happiness is back as Adul and Mitsuko are back together. Sombat marries Mekala.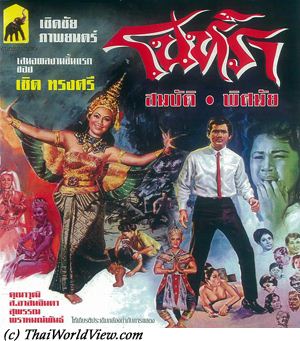 Year

: 1966



Thai title

:

โนห์รา




English title

:



Rating

: 4/5


Director

: Cherd Songsri,Wichit Khunawut,Sor Asanajinda



Main actor

: Sombat Methanee,Lor Tok


Main actress

: Pissamai Wilaisak,Preeya Roongrueng,Ratanaporn Intarakamhaeng
Tiew is a young man performing Nora (รำโนราห์ใต้) dance in Nakhon Sri Thammarat. The Nora is a traditional dance of South Thailand. In South Thai language it is called the "Chatri" (ชาตรี). Tiew is in love with a lady called Pimpa (Ratanaporn Intarakamhaeng). Pimpa is pregnant with him but her grandmother refuses this love. She drugs Pimpa with a sleep potion in order that a Bangkok lawyer becomes her husband instead of a Nora dance performer. Pimpa wishes to get suicide but her aunt convinces her to tell the truth to Tiew. She doesn't dare and Tiew rejects Pimpa. Pimpa decides to keep the child and gives her child the name "Nora". 18 years passed. Pimpa is only a minor wife (เมียน้อย) and works as a domestic helper to pay for Nora studies. The lawyer's daughter, called Kaekae (Preeya Roongrueng), dislikes Nora (Pissamai Wilaisak) and likes to spread rumours that Nora's mother works as prostitute. Other students mock Nora. Nora and her real father miss each other. Nora sells sweets in school to help her mother. Kanchit (Sombat Methanee) is Kaekae's boyfriend. Kanchit is seeing many girls as he is rich, single and handsome. Nora learns to perform Nora dance. Kanchit gets interest in Nora despite Nora has already a boyfriend called Sompop. Kanchit is fed up with hi-so girls (ร่างกายสวยแต่ใจไม่สวย). Kaekae's mother hires a ruffian to hurt Nora after a performance. He throws some acid on her face. Sompop is not willing to visit Nora anymore due to her ghost (ผี) face. Hopefully Nora succeeds to recover. Kanchit plans to marry Nora. Following Kaekae's mother orders, Nora is kidnaped. Kanchit follows up the kidnapers and the Thai police is giving a hand. Kaekae got punished as being raped instead of Nora and she becomes crazy. The mother is jailed. Tiew still performs Nora but gets no more interest from the public (โนราห์สมัยเก่า - โนราห์สมัยใหม่). Tiew dies on the stage following a lost bullet. Art (ศิลป์) needs to be kept. Nora needs to perform to honour her father's memory. There is a conflict with Nora and Kanchit wedding day. Kanchit cannot change the date and threaten to cancel the wedding. Nora chooses to go to Nakhon Sri Thammarat. The movie highlights cultural aspects, arts protection and conservation. It is a cherished theme by director Cherd Songsri. This movie is Cherd Songsri's first movie and has still an excellent color conservation. As often, Preeya Roongrueng plays the bad girlfriend. It is a typical 1960s movie with leading actor (พระเอก) coming from rich background, leading actress (นางเอก) coming from a poor background, villains (ตัวกง) wishing to hurt Nora, funny comedians supporting the leading actor (ตัวตลก - Lor Tok as Kanchit's driver), bad girls (นางอิจฉา) played by Kaekae and her mother. It mixes action, love, comedy and drama. It was the most successful Thai movie in 1966. This movie has also been adapted as a Thai TV serie (ละคร).
---