Increase or decrease font size for easier reading : A+ A-
Chaweewan Boonprok
Chaweewan Boonprok (196x) - ฉวีวรรณ บุญปรก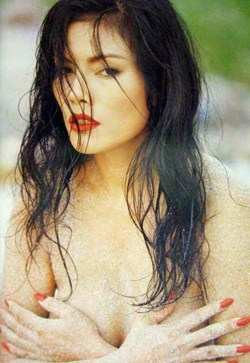 Chaweewan Boonprok is a Thai actress often playing hot roles
This Chaweewan Boonprok movie page contains 3 records.
---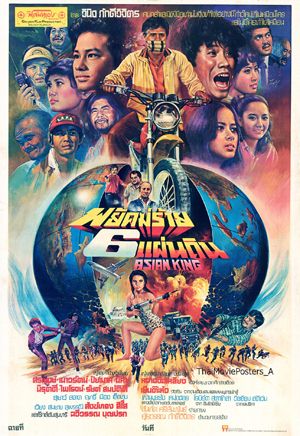 Year

: 1982



Thai title

:

พยัคฆ์ร้าย 6 แผ่นดิน




English title

: Asian King



Rating

: 3/5


Director

:



Main actor

: Sorapong Chatree,Sahat Piempongsan,Suchao Pongwilai,Songthong,Rith Luecha,Phairoj Jaising,Somchai Samipak,Nirut Sirijanya


Main actress

: Naowarat Yooktanun,Piyamas Monayakol,Suphanee Jitthieng,Chaweewan Boonprok



Buy now

:

Thai movie พยัคฆ์ร้าย 6 แผ่นดิน / Asian King was released in year 1982 and lasts 1h48mn (Thai PBS version is only 1h42mn as reduced version with smoking / drinking sequences blurred and violent or sexy sequences cut). It was released under VCD format by Lepso Studio. The movie was also released overseas under the name "Top Team Force" by Filmark movie. It was also released under the name "Deadly Hunt" under VHS format in Sweden by company Video World. An international police squad (Thailand, Indonesia, Malaysia, Hong Kong, Korea and Philippines) investigates on a crime ring called "Asian King". The Police squad (ตำรวจสากล) is led by Somchai Samipak. The "Asian King" gang is led by Bulap (Sahat Piempongsan) and เมือง อพอลโล่. In Hong Kong, Rith Luecha performs a robbery inside a jewellery. The owner is shot by Rith. David is against the shooting so he gets knockout by Rith. Rith and his men flee and meet with their local boss, Suchao Pongwilai. Police chase them but they succeed to escape by boat. David, arrested by Hong Kong police, is accused of international diamond robbery but released as proofs are not enough. Thai police follows him to spy his activities as they still have doubts on him. A whole international Police team is gathering to fight the Asian King gang. Win (Sorapong Chatree) is one of the Police team leader. Lady Napossa (Naowarat Yooktanun) joins the team as her jeweller father was killed by Asian King gang. David is back to Thailand as he wants to get revenge over the "Asian King" gang, who killed his family as retaliation. Diamonds are stolen again during a Bangkok diamond show despite the police presence. David saves Suwana's life (Piyamas Monayakol) by being shot instead of her. Catherine (Chaweewan Boonprok), part of Asian King team, gets the tasks to kill some male policemen. She targets David first but fails. Songthong is part of Thai police also. Rumours are heard that Asian King team needs to gather in Pattaya. Asian King team tries all ways to get rid of the special police force but to no avail. Asian King team's cache entrance is hidden under a hotel swimming pool. Two members are captured and Songthong is shot dead. Win and Napossa are also captured. The other members localise also the cache. All members succeed to escape. The Thai army comes to help the policemen to neutralize the Asian King tean. Through a final battle, many characters are injured or killed while assaulting the Asian King gang's fortress. Win's self sacrifice inside the fortress succeeds to destroy it. A Thai TV serie or Lakorn (ละคร) based on this story was also done in 2003. Despite a classic scenario, the highest value of this movie is to include the finest bunch of Thai actors from beginning of 1980s decade.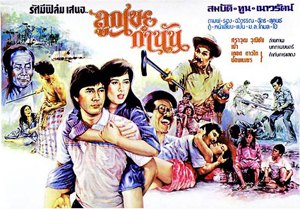 Year

: 1982



Thai title

:

ลูกเขยกำนัน




English title

:



Rating

: 3/5


Director

:



Main actor

: Sombat Methanee,Dam Datsakorn,Toon Hiransap,Sukon Koewliam,Doo Dook Kradon,Chat Mongkolchai,Paen Pleumsachai,Pao Porapak


Main actress

: Naowarat Yooktanun,Chaweewan Boonprok
Thai movie ลูกเขยกำนัน was released in year 1982. The movie is lost in Thailand but a 3 minutes trailer remains to be seen. Its image is unfortunately half damaged as the film was soaked with water and it has an inaudible sound. Various short sequences are shown in the trailer. Sombat Methanee is the subdistrict headman (กำนัน). Naowarat Yooktanun is his daughter. Dam Datsakorn and Toon Hiransap are fighting and punching each other. Naowarat is being kidnapped. Naowarat is fighting with veteran actress. It is a romantic action comedy movie. Similar to many Thai movies, it features various styles in order to please the whole family including with a hot love scene (featuring Dam and Chaweewan Boonprok). It uses the same ingredients as popular Thai movie ลูกสาวกำนัน (1981) but it was not as successful. Other actors seen in the trailer are Chat Mongkolchai and Pao Porapak, actor always playing tough ruffian roles. Other actors / actresses are รอง, Chaweewan Boonprok (ฉวีวรรณ บุญปรก), Sukon Koewliam, Doo Dook Kradon, หน่ำเลี๊ยบ, Paen Pleumsachai.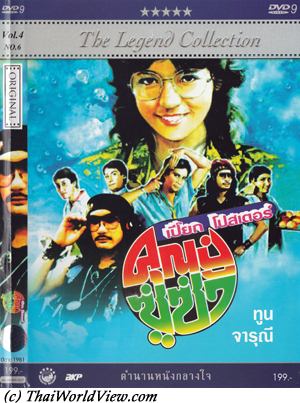 Year

: 1981



Thai title

:

คุณปู่ซู่ซ่า




English title

:



Rating

: 2/5


Director

: Piak Poster



Main actor

: Toon Hiransap,Der Doksadao,Somchai Samipak


Main actress

: Jarunee Sooksawad,Juree Osiri,Sulaleewan Suwanthat,Janthana Siriporn,Chaweewan Boonprok,Patama Panthong



Buy now

:

Thai movie คุณปู่ซู่ซ่า was released in year 1981 and lasts 1h59mn. It is available under DVD format released by BKP. Movie director is Piak Poster. Invited to a wedding party, Et (Toon Hiransap) is still single and is a playboy. He meets Juree Osiri. Et has inherited from his grandfather so he doesn't need to work. He doesn't want to marry as he likes freedom. He invites young lady Pat (Patama Panthong) to Pattaya. Kaew (Der Doksadao), his domestic helper, invites a lady (Janthana Siriporn) in his home while he is away. A little girl called Mot comes to their home. She is Et's relative daughter. As her family has financial issues, the relatives leave Mot with him. Et gets issues with police as he goes to teenager's party (ซวยจริงๆ). Mot's teacher is Thip (Jarunee Sooksawad). As there is nobody to stay with Mot, Thip stays to be her friend as both Kaew and Et are out every night. Et is going out with Chaweewan Boonprok. Enamoured with the teacher Thip (ครูสวยฉิบหาย), Kaew suggests bad ideas to Et in order to seduce Thip such as using sedative (ยานอนหลับ) or inviting her while there is nobody at home. All ideas fail and Thip is very upset with Et as she complains he lives a bad life only spending money and bringing no value to Thai society (ประโยชน์ต่อสังคม). Thip decides to change. Thip's father (Somchai Samipak) is a bakery's owner. Et succeeds to be hired in the bakery and launches successful cakes having tits shape. A co-worker (Sulaleewan Suwanthat) complains he is salacious (ลามก). Worried that Et will bring shame to his father and their business, Thip fires him. Apologizing for his behavior and feeling very sad, Et quits the bakery. While helping the father aggressed by two robbers, he is injured by them. Finally Thip understands Et is a good guy. Et promises to quit his bad behavior and acts as an adult. The second part of this Thai movie is named as คุณย่าเซ็กซี่ was released in year 1982.
---