Increase or decrease font size for easier reading : A+ A-
Charlie Trairattana
Charlie Trairattana (1993) - ชาลี ไตรรัตน์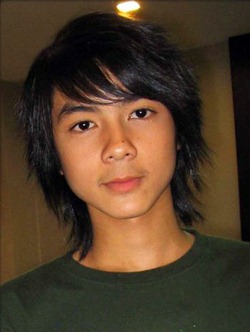 Charlie Trairattana
This Charlie Trairattana movie page contains 8 records.
---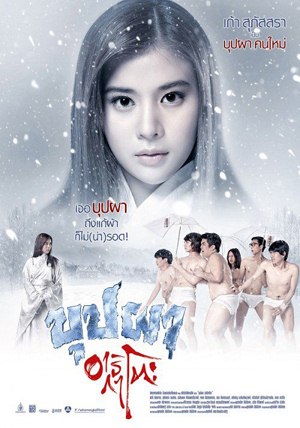 Year

: 2016



Thai title

:

บุปผาอาริกาโตะ




English title

: Buppah Arigato



Rating

: 4/5


Director

: Yuthlert Sippapak



Main actor

: Charlie Trairattana


Main actress

: Supassra Thanachat



Buy now

:

Thai movie บุปผาอาริกาโตะ was released in year 2016 and lasts 1h35mn. The movie takes place in Niseko, Japan. Movie director is Yuthlert Sippapak. Rose (Supassra Thanachat) finds her boyfriend Matt sleeping with another woman. She kills Matt by revenge. The action moves to Japan. Fake Thai Buddhist monks in Japan visit an inn in order to exorcise it as it has bad business. One of them is even carrying a Louis Vuitton bag as reminder of a religious scandal in 2013 in Thailand. There is really a ghost in the house, .i.e. a Japanese female ghost wearing a mask. Monks run away and the owner is still concerned that his inn is possessed. Rose is now staying in the same inn in Japan. The owner, called Mae, finally rents the inn to six young Thai men planning to film a movie in Japan. One of them is a singer called Jack (Charlie Trairattana). Two of them see a Japanese ghost (ผีญี่ปุ่นแม่ลูก). Jack just split with his girlfriend. Rose is also tenant in the same inn so they meet each other and love occurs. The mother's owner hires another master (อาจารย์) to chase the ghosts away. It is a fake master again, who flees after seeing the real ghosts. Rose has disappeared. Only her passport is left. Her name is displayed as Buppha Ratree! The six young men leave the house after seeing the ghosts also. They take refuge in the owner's house. Jack sees a lady lying in the cave after having a ski accident. It is Rose but her spirit is away. The owner Mae sends a Japanese master to get back their belongings. He identifies three ghosts in the house, i.e. Rose, the mother and her child. Funny interludes occur with the ghost playing Line (ผีLine) or cleaning the house with a vacuum cleaner. The guys have to go almost naked and hold an umbrella so that the ghosts cannot see them. Rose's body is in Mae's home but her spirit (วิญญาณ) is still in the inn. Jack has to help Rose. The owner Mae is responsible of the situation as he kidnapped Rose. The movie ends up tragically with Rose being strangled by Mae, the Japanese master killed by Mae and Rose's ghost saving Jack from Mae… Jack is back to Niseko to find Rose...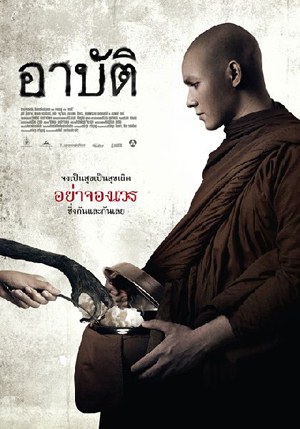 Year

: 2015



Thai title

:

อาปัติ




English title

: Arbat



Rating

: 5/5


Director

:



Main actor

: Charlie Trairattana,Sorapong Chatree


Main actress

:



Buy now

:

Thai movie อาปัติ was released in year 2015. It lasts 1h20mn. The movie อาบัติ was censored and finally renamed as อาปัติ after removing some controversial scenes. Thai movie "Arbat" (อาบัติ) was first banned in 2015. Thai Censorship Board objected to the movie not being respectful to Thai Buddhism (novice drinking alcohol, novices fighting, novice showing disrespect to the Buddha image, novice touching the face of a girl). Finally after cutting three minutes, the movie was unbanned and released under new name "Arpatti" (อาปัติ). The movie still shows young monks smoking and playing with their smartphone but those are typical scenes that can be seen nowadays in Buddhist temples. The movie director mentions it was a way to attract attention on issues happening in nowadays Thai Buddhism. Novice (เณร) San (Charlie Trairattana) just enters monkhood. San is back from prison after 2 years and his father still does not forgive him. In this Buddhist temple, they provide food and prayers for hungry ghosts (เปรต). Not everybody can see hungry ghost (One way to to see a ghost is to bend over, stick the head between legs and look behind). San still tries to contact his girlfriend through Line but she doesn't answer. Sorapong Chatree is playing a crazy guy. San meets a young teen girl called Fai. San has visions of ghosts in his room. San is upset as his girlfriend doesn't answer. She finally tells him that she wishes to break (เลิก). Upset San drinks alcohol and is discovered by other monks. He wishes to disrobe (สึก). Issues are happening with the crazy guy, who mentions a ghost is around San's cloister (กุฏิ) and is also stealing alms offering (บิณฑบาต) food. But as the abbot takes too long time to let him go, he wishes to remove the robe by himself (อย่าถอดผ้าเหลือง). He has often discussion with another Luang Phi, who had a sad childhood. His mother Pin hanged herself in the cloister, where San is now staying. Pin used to live in front of Fai's house. Pin used to love a monk but this love was impossible (บาป). Per local superstition, she should reincarnate in a hungry ghost. San decides to flee with Fai. The crazy guy was a Buddhist abbot and had an affair with Pin (อาบัติ - offence). As she hanged herself, the abbot buried her. He also killed Luang Phi, Pin's first son, to silence him. Following the crime, he becomes crazy being tormented by Pin's ghost. San needs to choose if he wants to be a holy man (นักบุญ) or a sinner (นักบาป). Luang Phi body is finally discovered and cremated properly. His half-brother is the now current abbot. San decides to stay in the monkhood.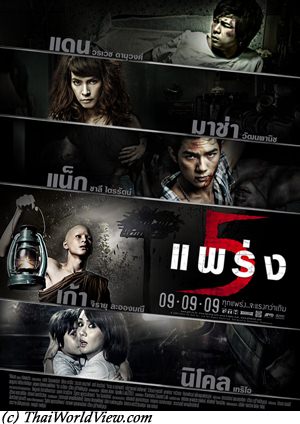 Year

: 2009



Thai title

:

5 แพร่ง




English title

: Phobia 2



Rating

: 5/5


Director

:



Main actor

: Charlie Trairattana,Choomporn Theppitak


Main actress

: Marsha,Nicole Theriault



Buy now

:

Phobia franchise is back with a new episode released on 09.09.09! This time, Phobia 2 is made of five different stories. First story is about a young rebel teen called Phae. His parents are separated following a divorce. He blames his mother for not loving him enough. He is now a Buddhist novice in order to hide as he has committed a crime. While walking in the forest, the abbot asks him to stay in a remote area as part of meditation training. The local people believe in ghosts but Phae doesn't. Phae neither likes to be commanded neither listens to advice and recommendation. He secretly eats food at night time committing a breach in Buddhist teachings. He has no respect for monkhood. He is responsable of his father death in a car accident. Pret (เปรต) ghosts are living there. He is facing death as a karmic retribution (กรรม) of his previous bad actions (เรื่องของกรรม). Second story is regarding a teen having a motorbike accident and recovering from his injuries in an hospital room shared with a dying man. At night time a ghost (ผีอำ) is roaming inside the room and wishes to kill him in order to exchange bodies. Third story is about Thai zombies. Two japanese tourists are taken in autostop by a truck. The truck is transporting mysterious goods as something is knocking from inside. There are immigrants from south of thailand. They have eaten small balls containing drug. Then the drug has leaked and they become zombies. The two tourists and truck drivers are running for their life... Fourth story is about a garage lady owner, Nut, who is selling second hand cars. Those cars already have a deadly accident. She is concealing the truth to her customers. Some customers died as the cars were nice outside but not repaired inside. Nut is looking for her daughter that always like hiding in cars. Ghosts come to have revenge of having been sold a broken car. They take revenge over her daughter. The fifth story is the most funny and Ironical. It takes place on the shooting of Thai horror movie "Alone 2" (แฝด 2). The actress playing the ghost dies at hospital. The show must go on. The team needs to finish the movie to ease the ghost. Thainess is well shown in those 5 small movies. Phobia 2 was very popular and did 113.5 millions baht revenue in 2009.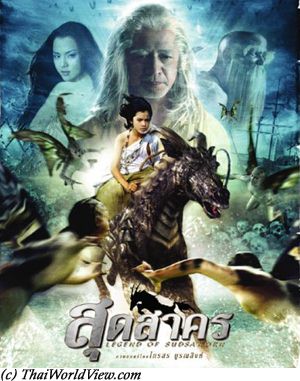 Year

: 2006



Thai title

:

สุดสาคร




English title

: Legend of Sudsakorn



Rating

: 3/5


Director

:



Main actor

: Suchao Pongwilai,Charlie Trairattana


Main actress

:



Buy now

:

This film is based on a story from Phra Aphai Mani, an epic poem by Sunthorn Phu. "Sudsakorn" is one of the best-known parts of the classic Thai epic poem. It was written by Thai poet Sunthorn Phu in the 1800s. A young boy is the son of a mermaid. He is sent on a mystical quest to find his father. The story was previously adapted in a Thai animated fantasy film, The Adventure of Sudsakorn (สุดสาคร). Released in 1979, it was the first and only Thai animated film until 2006 when the movie Khan Kluay (ก้านกล้วย) was released. Sudsakorn is raised in the ancient traditions of magic by his grandfather. He never knew his father. His mother, a mermaid, sends him on a quest to find his father. Armed with his grandfather's magical stick, Sudsakorn enters into mysterious worlds riding a half dragon - half horse. Sudsakorn encounters dangerous ghost creatures, faces an hermit who cheats him and steals his magical stick, fights against deadly vampire butterfly creatures, helps to defeat an army and finds his father. The film uses the very latest in special effects and has cost more than Bt80 million to make.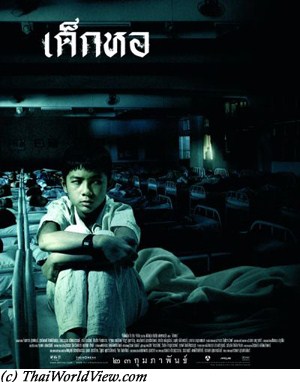 Year

: 2006



Thai title

:

เด็กหอ




English title

: Dorm



Rating

: 5/5


Director

: Songyos Sugmakanan



Main actor

: Charlie Trairattana


Main actress

: Jintara Sookkapat



Buy now

:

Chatree, young 7th grade pupil, is sent by his father in a dormitory in Chonburi. His father complains of his bad grades. Chatree doesn't want to go to the dormitory and be separated from his friends. The teacher Pranee (Jintara Sookkapat) welcomes him and emphasizes the strong rules to follow. Other pupils tell Chatree that the dorm is haunted as dogs howling can often be heard. Other students play jokes on him. Chatree refuses to answer to his father's phone calls. A few years ago a kid, called Vichien, drowned in the school's swimming pool. Chatree feels lonely and has only one friend Vichien. Only Chatree can see him as Vichien is a ghost. This week-end, his father cannot pick him up. He stays with his ghost friend Vichien. He escapes from school to assist to sport day and to meet the school cooker's daughter Pen. Chatree and Vichien have close relationship. At 6PM everyday Vichien jumps and drowns in the swimming pool. Vichien's father has been condemned for fraud and to 25 years of prison. Chatree wants to help Vichien to stop this infinite event and be able to rebirth again. The teacher Pranee feels bad as she believes she is responsable of Vichien's death. Vichien death was an accident. Chatree needs to risk and separates his spirit (วิญญาณ) from his body in order to be able to help his friend Vichien. Dorm movie has been nominated for 10 Thai Subhanahongsa awards. It got more than 50 millions baht revenue in Thai box office. It was directed by one of the 6 young directors from "แฟนฉัน" (My Girl).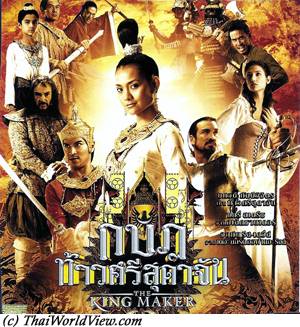 Year

: 2005



Thai title

:

กบฏท้าวศรีสุดาจัน




English title

: The King Maker



Rating

: 2/5


Director

:



Main actor

: Akara Amarttayakul,Charlie Trairattana,Nirut Sirijanya


Main actress

:
This movie takes place in 16th century when portuguese citizen were living in Ayuthaya kingdom. Following his ship sinkage, Fernando De Gama, traded as a slave, is rescued by Maria. As he's an experienced soldier, Fernando and Tong, a Thai soldier, become the Thai King's personal guards. Unfortunately the King is poisoned by his wife, who targets to set her lover as the new King. Fernando and Tong are accused and need to fight against each other. It was produced by UK, directed by a Thai and written by an English scriptwriter.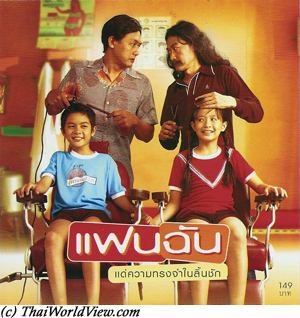 Year

: 2003



Thai title

:

แฟนฉัน




English title

: My Girl



Rating

: 4/5


Director

:



Main actor

: Charlie Trairattana


Main actress

:



Buy now

:

This nostalgia-ridden movie narrates a story of gangs of pre-teen friends. It grossed more than 100 million baht in Thailand. It deals with many subjects linked to childhood, i.e. pre-teen loves, separation from friends when parents move to other cities, games with boys and girls etc... The Culture Ministry registers 25 Thai classic films each year at the National Film Heritage Registry. This movie is part of the 25 films heritage list announced on 04 October 2014, which is Thai Movies Conservation Day.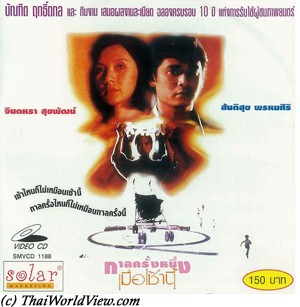 Year

: 1994



Thai title

:

กาลครั้งหนึ่ง เมื่อเช้านี้




English title

: Once upon a time... This morning



Rating

: 5/5


Director

: Bandit Ritthakol



Main actor

: Santisuk Promsiri,Charlie Trairattana


Main actress

: Jintara Sookkapat



Buy now

:

Nipha and Rong have three children, i.e. a teenage girl (Oh), a seven years old boy (Onn) and a young baby. They move to a new home but rapidly the children understand that they move with the mother and that their father is staying behind. Nipha and Rong are divorcing. The children are not happy to leave the father. The movie shows the divorce seen from the children's point of view and its impact on children. The children react badly when a new man tries to seduce their mother (ชู้). Nipha tries to eliminate all traces from their father's influence (games...). She has a busy schedule and uses a nursery to keep the baby. Oh and Onn decide to flee in order to live with the father. Meanwhile some young drug dealers chased by the police hide some drugs inside the baby cradle. Oh, unaware, takes the baby with the drug inside the cradle. They reach the father's home but he is not living there anymore. He has moved to Chiang Mai. Some homeless teens are used as drug traffickers by the local mafia. The teens need to get the drug back as the mafia head is very unhappy. Noklae is the teen group leader. Oh, Onn and the baby take the train to Chiang Mai. They alert their father through pager message (no mobile phone in 1994!). The mafia follows up also to Chiang Mai as one of the teen, Noklae, recognizes the cradle in Hualongpong train station. They miss each other at Lopburi. Next stop is at Lampang. Nipha drives up to Lampang and Rong also. Finally at Lampang, the mafia kidnaps the three kids to get back the drug. Nipha and Rong cannot prevent the kidnaping in time. The drug is destroyed as the baby had peeed on it. The mafia decides to sell Oh, the thirteen years girl, 30 000 baht to a whorehouse and to sell the baby to an illegal adoption centre in order to get back their initial drug investment. They abandon Onn as they have no interest in him. They also throw away Noklae as he was trying to protect Oh. All are back in Bangkok. The mamasan tries to force Oh and wishes to be called mother (แม่) but she only gets called witch (แม่มด). Noklae is taking care of Onn and decides to help Oh. Oh succeed to flee thanks to Noklae's help. They also succeed to get the baby back also but are finally captured by the mafia. To fend a customer, Oh has to cause a fire in the whorehouse. Noklae's friends inform Rong. The mafia and whorehouse members are arrested by the police. Nipha, Rong and the three children are reunited as a family. Noklae is put in a correction centre but finally escapes hopefully for a better life. This movie was 1995 Thailand oscar submission.
---