Increase or decrease font size for easier reading : A+ A-
Charin Nantanakorn
Charin Nantanakorn (1933) - ชรินทร์ นันทนาคร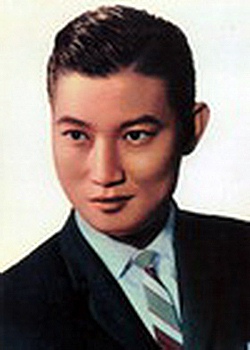 Charin Nantanakorn was a country music singer, actor and movie director. He is married to Petchara Chaowarat in 1975. He directed movies from year 1965 to year 1978. His first movie was เทพบุตรนักเลง and last one was ไอ้ขุนทอง
This Charin Nantanakorn movie page contains 4 records.
---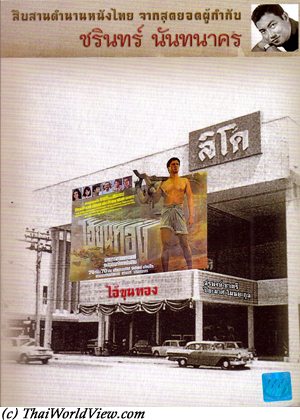 Year

: 1978



Thai title

:

ไอ้ขุนทอง




English title

:



Rating

: 5/5


Director

: Charin Nantanakorn



Main actor

: Sorapong Chatree,Lak Apichat,Prachuap Ruekyamdee,Krai Kanchit,Boo Wibunnan


Main actress

: Piyamas Monayakol,Petchara Chaowarat,Rewadee Pattaphong



Buy now

:

Kun Thong's mother is Mae Kaew (Petchara Chaowarat) but he has no father. Mae Kaew refuses to mention who the father is. Kun Thong's mother is very religious oriented (ทำบุญ). Other children such as Saen (Lak Apichat) scold him about the lack of father. Only young girl Phikun (Piyamas Monayakol) protects him. Years have passed. Phikun is the village headman's daughter (พ่อกำนัน). Saen is the son of a local rich influential man. Kun Thong (Sorapong Chatree) is a poor farmer. Romance is happening between Phikhun and Kunthong. Phikhun believes in kindness (ทำดีได้ดี). Kunthong helps Phikhun during the sacred cloth ceremony around the village chedi (ผ้าห่มพระธาตุ). Saen is jealous about Kunthong. Petchara recommends her son not to have hope about a wedding with Phikhun as he is poor. One day Kunthong helps a young lady called Than being aggressed by ruffians. As Than has no place to go as being sold by her family, Mae Kaew shelters her in her home. At night, while Kunthong and Than are away, Mae Kaew is aggressed by Saen and his ruffians. She losts her sight. She only remembers her aggressor wears a big specific ring. She doesn't have any enemies except Seua Yoi who killed her husband twenty years ago following cards debts. Kunthong wishes to buy eye medicine to a local doctor but pricing argument degenerates into a fight with the doctor's son, who is killed by accident (Krai Kanchit). Kunthong has to flee. Saen wishes to arrest Kunthong. Meanwhile Kunthong is looking for Seua Yoi to kill him. Nowadays Seua Yoi has become a solitary monk in a cave to expiate his past mistakes. He is not the one who hurts his mother. Kunthong misses his mum but finally becomes a thief (กรรมของเขา) but a Robin Hood like as he is only stealing from dishonest people. One day Kunthong has to kill a son in front of his mother to protect himself. He has hard feelings thinking about his own mum. Than has leper (โรคติดต่อ). Kunthong decides stopping being a thief. He gets smacked by Phikhun as he doesn't care about his mum. The one taking full care is Than despite Mae Kaew is not her mother. An engagement is arranged between Phikhun and Saen (ขันหมาก). Phikhun's father forbids her to visit Mae Kaew anymore. Mae Kaew recovers sight thanks to the eye medicine given by Kunthong (แม่มองเห็นแล้ว). Kunthong is aware of the engagement. On the evening, Phikhun disappears with Kunthong. Farmers including Mae Kaew are then expropriated. Their houses are burnt. Than is left behind due to her decease. Than dies in Kunthong's arms but has time to relate the ring story. Through a suspense final, Kunthong and Phikhun surrender to the village headman but Kunthong gets shot by Saen. Only injured, Kunthong shots back Saen. The village headman's thugs shot deadly Kunthong and Phikhun is caught in the crossfire. They die in each other arms. Both Mae Kaew and the village headman feel the pain of losing their child. This movie is really about love for mothers. It is also a tragedy as in real life Petchara Chaowarat became blind a few months after this movie released in 1978. It was her last movie.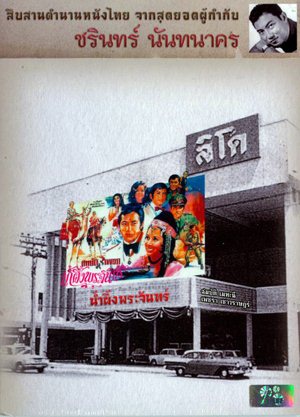 Year

: 1972



Thai title

:

น้ำผึ้งพระจันทร์




English title

:



Rating

: 3/5


Director

: Charin Nantanakorn



Main actor

: Sombat Methanee,Charin Nantanakorn,Sahat Piempongsan,Adul Dulyarat,Lor Tok,Prachuap Ruekyamdee


Main actress

: Petchara Chaowarat



Buy now

:

Movie น้ำผึ้งพระจันทร์ is 2h21mn long. Sae (Sombat Methanee) is a Thai soldier visiting Cairo. He is having a few drinks with Tai (Charin Nantanakorn). While back to his room, there is a Thai lady (Petchara Chaowarat) hiding in his bed. Her name is Honey. She claims to be chased by some Egyptian men as she refuses to marry a rich local man. Honey is in fact princess (เจ้าหญิง) Assama. She has to flee as some influential people want to coerce her father. Many beautiful area of Cairo are shown (Gizeh pyramids, mosques, Sphinx) and also local culture (belly dance, horse dance). She needs to exit Egypt to escape those ruffians. One way to exit Egypt is for Sae to marry Honey (นาทีคนไทยใจดี) ! But he refuses. Following a new kidnapping tentative over Honey, he feels pity over her and her tears. He finally proposes the wedding himself. They finally escape from Egypt and go in Italy through romantic places such as Venezia, Roma Colosseum, Trevi fountain. Love is emerging. They finally back to Thailand. A lady called Wassinee is waiting for Sae at the airport so they get separated abruptly. Sasemg (Sahat Piempongsan) is upset with his young brother's behavior. Sae's sister wants a wedding between Sae and Wassinee. Sae is concerned as he cannot forget Honey (คนที่มีความรักแท่จริงต้องชานะเสมอ). Many years ago Tai chose to flee away with his love as his girlfriend was rejected by his family. Sae's brother, Sasemg, highlights that soldiers have to follow up rules. Duty and love are sometimes on the opposite side. The movie also shows that Thailand has as many beautiful spots as Cairo or Roma. Honey has to do the guide promoting Thailand tourist spots. They are still upset towards each other (ความรักเป็นสิทธิ์หัวใจ). War emerges at the Thai border. Sae and Tai have to go. Tai wishes to prove he can also accomplish duties. Tai dies while washing his honor. Sae is injured but believed to be dead. Finally Honey accepts the wedding proposal of an Arab prince believing Sae is dead. Sae is back but he doesn't want to break the royal woes. The movie finally ends up happily for them as princess Assama surprises Sae at the place they made their love oath. A few songs are featured in the movie.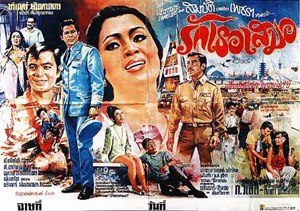 Year

: 1970



Thai title

:

รักเธอเสมอ




English title

:



Rating

: 3/5


Director

: Charin Nantanakorn



Main actor

: Sombat Methanee,Taksin Jampol,Prachuap Ruekyamdee,Adul Dulyarat,Lor Tok,Charin Nantanakorn


Main actress

: Petchara Chaowarat,Wassana Chalakorn
รักเธอเสมอ is a Thai movie released 1970. The movie is lost in Thailand except the last reel of the film, which lasts 35 minutes. The last reel is in 16mm format so it is mute as 16mm movies require to have live dubbing. When songs happen, the format is then changed to 35mm as this format allows image and sound together. It looks like a Western type movie and featuring 9 songs. Song รักเธอเสมอ remains famous and was sung many time by various singers. The movie features เพลงลูกกรุง. Sombat (Sombat Methanee) is visiting a police station to inform them about his friends kidnapping. Adul Dulyarat is police leader. Taksin (Taksin Jampol) and Wassana (Wassana Chalakorn) have kidnapped Petchara (Petchara Chaowarat) and Prachuap (Prachuap Ruekyamdee). Police is surrounding the ruffians. Police cannot attack as they have hostages. Shootings start and Sombat helps to release them. Taksin and Wassana try to flee. Adul is injured. Wassana is shot by Taksin as she tries to flee on her own. Petchara gives comfort to Adul as he is injured but her heart is split between Sombat and Adul. Taksin comes back for revenge. Following an ultimate fight with Sombat, he falls and dies in a hot spring water. Charin Nantanakorn produced and directed the movie. During a final engagement, Petchara shall choose between Adul or Sombat.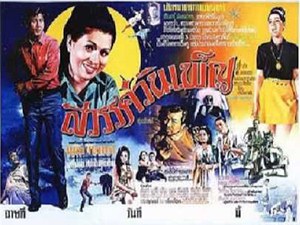 Year

: 1969



Thai title

:

สวรรค์วันเพ็ญ




English title

:



Rating

: 3/5


Director

: Charin Nantanakorn



Main actor

: Mitr Chaibancha,Lor Tok,Adinan Singhiran,Sithao Petcharoen,Charin Nantanakorn,Sukon Koewliam


Main actress

: Petchara Chaowarat,Somjit Sapsamruey,Wassana Chalakorn,Chadaporn Wachirapranee,Malee Wetpraseri
Thai movie สวรรค์วันเพ็ญ was released in year 1969. It features Mitr Chaibancha as main actor and Petchara Chaowarat as main actress. Other actors and actresses include Lor Tok, Somjit Sapsamruey, Adinan Singhiran, Sithao Petcharoen, Charin Nantanakorn. The movie is lost in Thailand but a sequence of 90 minutes and a song lasting 2mn30s remain to be seen. The song is in fact in 35mm format and the movie is in 16mm format. The song features Sithao Petcharoen and some dancers. The image has poor quality. The movie featured six songs written by Charin Nantanakorn. A dubbed version lasting 90mn was shown in Thai Film Archives in year 2017. A movie summary from old Thai magazines is still available. The movie director was Charin Nantanakorn. Wan Pen (Petchara Chaowarat) and Kwan (Adinan Singhiran) are close friends. Wan Pen's mother, Somjit Sapsamruey, is married to a drunkard. As her husband is trying to abuse Wan Pen, Somjit kills him by accident and ends up in jail. The family house burns in a fire. Having nowhere to go, she decides to go to Bangkok to search for her real father. She goes alone as Kwan misses the train. Mitr Chaibancha and Lor Tok are policemen in Bangkok. Wan Pen is looking for food. Having pity on Wan Pen, she becomes domestic helper in Mtr's house and takes good care of the house and children. Previously Charin Nantanakorn was the one helping to take care of two kids and the house. Wan Pen wins trust and love from Mitr. Mitr claims Wan Pen is his wife in front of his mother (Malee Wetpraseri). He said they have two children. Soi (Wassana Chalakorn), Mitr's fiancee, is upset. The mother finally realises everybody lied to her. Wan Pen decides to leave this crazy house (ดูถูก) and goes back to her home in Sukhothai. Soi is still pushing Mitr to marry but he is still pushing back. Soi and her mother (Chadaporn Wachirapranee) prepare a bad plan against Mitr. Aware, Wan Pen and Kwan inform him. Shootings happen during a concert. The kidnapping foils as Thai police shoot the ruffians. Mitr is now aware that Wan Pen helped him as she was worried and concerned. Seua Pon kidnaps Wan Pen and uses her as a bait to shoot Mitr. Seua Pon doesn't shoot after hearing her name. Seua Pon and Mitr have a final duel. Knowing that Mitr is injured at the hand, he has no chance against Seua Pon so Wan Pen shoots him with a rifle. Realising she killed her own father, Wan Pen feels bad and flees. Kwan acknowledges he was the one to shoot Seua Pon as both him and Wan Pen shot at same time. Mitr doesn't arrest Kwan as Seua Pon was a bad man. The movie ends up with a romance between Mitr and Wan Pen.
---