Increase or decrease font size for easier reading : A+ A-
Charin Nantanakorn
Charin Nantanakorn (1933) - ชรินทร์ นันทนาคร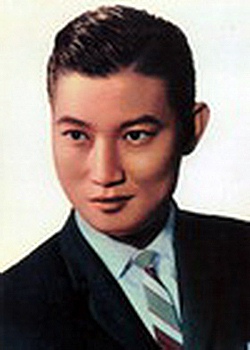 Charin Nantanakorn was a country music singer, actor and movie director. He is married to Petchara Chaowarat in 1975
This Charin Nantanakorn movie page contains 9 records.
---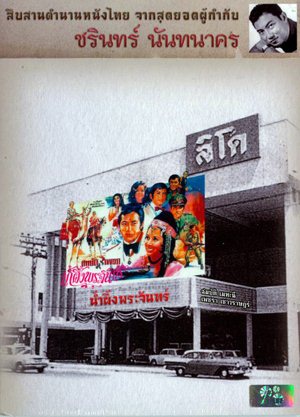 Year

: 1972



Thai title

:

น้ำผึ้งพระจันทร์




English title

:



Rating

: 3/5


Director

: Charin Nantanakorn



Main actor

: Sombat Methanee,Charin Nantanakorn,Sahat Piempongsan,Adul Dulyarat,Lor Tok,Prachuap Ruekyamdee


Main actress

: Petchara Chaowarat



Buy now

:

Movie น้ำผึ้งพระจันทร์ is 2h21mn long. Sae (Sombat Methanee) is a Thai soldier visiting Cairo. He is having a few drinks with Tai (Charin Nantanakorn). While back to his room, there is a Thai lady (Petchara Chaowarat) hiding in his bed. Her name is Honey. She claims to be chased by some Egyptian men as she refuses to marry a rich local man. Honey is in fact princess (เจ้าหญิง) Assama. She has to flee as some influential people want to coerce her father. Many beautiful area of Cairo are shown (Gizeh pyramids, mosques, Sphinx) and also local culture (belly dance, horse dance). She needs to exit Egypt to escape those ruffians. One way to exit Egypt is for Sae to marry Honey (นาทีคนไทยใจดี) ! But he refuses. Following a new kidnapping tentative over Honey, he feels pity over her and her tears. He finally proposes the wedding himself. They finally escape from Egypt and go in Italy through romantic places such as Venezia, Roma Colosseum, Trevi fountain. Love is emerging. They finally back to Thailand. A lady called Wassinee is waiting for Sae at the airport so they get separated abruptly. Sasemg (Sahat Piempongsan) is upset with his young brother's behavior. Sae's sister wants a wedding between Sae and Wassinee. Sae is concerned as he cannot forget Honey (คนที่มีความรักแท่จริงต้องชานะเสมอ). Many years ago Tai chose to flee away with his love as his girlfriend was rejected by his family. Sae's brother, Sasemg, highlights that soldiers have to follow up rules. Duty and love are sometimes on the opposite side. The movie also shows that Thailand has as many beautiful spots as Cairo or Roma. Honey has to do the guide promoting Thailand tourist spots. They are still upset towards each other (ความรักเป็นสิทธิ์หัวใจ). War emerges at the Thai border. Sae and Tai have to go. Tai wishes to prove he can also accomplish duties. Tai dies while washing his honor. Sae is injured but believed to be dead. Finally Honey accepts the wedding proposal of an Arab prince believing Sae is dead. Sae is back but he doesn't want to break the royal woes. The movie finally ends up happily for them as princess Assama surprises Sae at the place they made their love oath. A few songs are featured in the movie.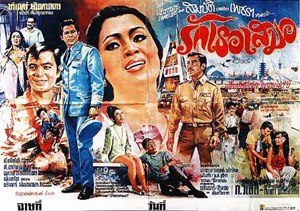 Year

: 1970



Thai title

:

รักเธอเสมอ




English title

:



Rating

: 3/5


Director

: Charin Nantanakorn



Main actor

: Sombat Methanee,Taksin Jampol,Prachuap Ruekyamdee,Adul Dulyarat,Lor Tok,Charin Nantanakorn


Main actress

: Petchara Chaowarat,Wassana Chalakorn
รักเธอเสมอ is a Thai movie released 1970. The movie is lost in Thailand except the last reel of the film, which lasts 35 minutes. The last reel is in 16mm format so it is mute as 16mm movies require to have live dubbing. When songs happen, the format is then changed to 35mm as this format allows image and sound together. It looks like a Western type movie and featuring 9 songs. Song รักเธอเสมอ remains famous and was sung many time by various singers. The movie features เพลงลูกกรุง. Sombat (Sombat Methanee) is visiting a police station to inform them about his friends kidnapping. Adul Dulyarat is police leader. Taksin (Taksin Jampol) and Wassana (Wassana Chalakorn) have kidnapped Petchara (Petchara Chaowarat) and Prachuap (Prachuap Ruekyamdee). Police is surrounding the ruffians. Police cannot attack as they have hostages. Shootings start and Sombat helps to release them. Taksin and Wassana try to flee. Adul is injured. Wassana is shot by Taksin as she tries to flee on her own. Petchara gives comfort to Adul as he is injured but her heart is split between Sombat and Adul. Taksin comes back for revenge. Following an ultimate fight with Sombat, he falls and dies in a hot spring water. Charin Nantanakorn produced and directed the movie. During a final engagement, Petchara shall choose between Adul or Sombat.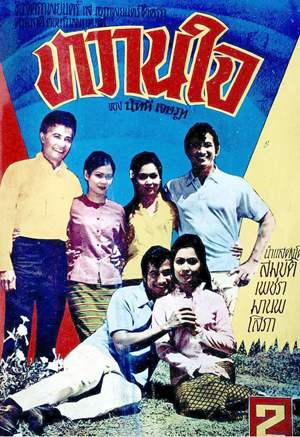 Year

: 1970



Thai title

:

หวานใจ




English title

:



Rating

: 3/5


Director

: Sor Asanajinda



Main actor

: Sombat Methanee,Manop Aussawathep,Charin Nantanakorn,Dokdin Kanyaman,Pramin Jarujareet


Main actress

: Petchara Chaowarat,Sopha Sataporn,Metta Roongrat,Sulaleewan Suwanthat,Namgneun Boonnak
Thai movie หวานใจ was released in year 1970. Sombat Methanee and Manop Aussawathep are playing the main actors. Petchara Chaowarat and Sopha Sataporn are playing the main actresses. Manop Aussawathep is playing one of his first roles. The movie is lost in Thailand but a 2mn30s trailer remains to be seen. Other actors are Charin Nantanakorn, Dokdin Kanyaman, Metta Roongrat, Pramin Jarujareet, Sulaleewan Suwanthat, Namgneun Boonnak, เทิด. Movie director is Sor Asanajinda. A movie summary extracted from Thai stars magazines is still available to be read. Five songs are featured in the movie. Three ladies (Sopha, Petchara, Metta) seem to love Sombat. As usual with 1960s and early 1970s movies, there is a mix of multiple tastes (หนังครบรส) in Thai movies, i.e. romance, action, comedy. Manop gets beaten by ruffians.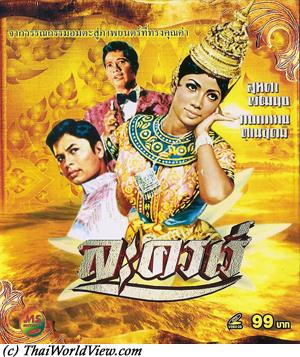 Year

: 1969



Thai title

:

ละครเร่




English title

:



Rating

: 5/5


Director

: Prince Bhanu Yukol



Main actor

: Manop Aussawathep,Dokdin Kanyaman,Charin Nantanakorn,Sompong Phonmitr


Main actress

: Suthisa Putnuch
A local troop plays traditional theater (เล่นละคร) in front of a pleased audience. The actors sing and dance well (รำดีดี). Middle age women give flower garlands (ดอกมาลัย) to the handsome main actor. Manager (ผู้จัดการ) Thongdam supervises the troop. Thongdam is fond of a young dancer called Maram but the love is not reciprocal. An old master is always teaching constantly the dancers and singers to look for perfection. Before representations actors pay respect to their master and spirits (ไหว้ครู). The two leading actors are handsome actor Boon Ek (พระเอก) and young lady Kathin (นางเอก). A high society young woman from Bangkok, called Waew, likes the handsome actor (เสียงดี - รูปหล่อ). She has a fiance called Prachalin already. Waew's father wishes to take Boon Ek to Bangkok to become a famous singer in nightclubs. Boon Ek refuses as he cannot leave his master but he falls under Waew's charm (ถูกเสน่ห์). It is the opposite of standard scenario as this time the rich lady seduces the poor man. The troop (โรงละคร) always moves from one temple to another. Beautiful representations with colorful costumes are shown. Manora (โนราห์) dance is like a bird dance. Waew brings Boon Ek to old style nightclub with singers and couples dancing. There is an opposition between traditional arts and modern songs, between Lakorn (ละคร) actors and Bangkok singers. A few beautiful 1960s romantic songs are featured in this two hours movie. Following a trip to Bangkok Boon Ek comes back drunk. He never missed a performance. His performance is a disaster (คนอะไร!) as he is too drunk. He has big hope (มีหวัง) for a career (ดารานักร้อง) in Bangkok and wishes for good money. Katin gives back to him her fiancee ring. The old master is very sick. Almost no spectators are paying to view the theather performances since Boon Ek left. The troop is out of cash. Vaew's heart balances between two men, her fiance and Boon Ek. The old teacher will not ask Boon Ek to come back (ยอมตายดีกว่า). Waew's fiancee, Prachalin, is a former singer and compositor. He prefers to lose Waew than a good singer! Thongdam is selling his own gold jewelry to simulate customers renting the troop. He even takes a life insurance (ประกันชีวิต) as he knows he is very sick. Waew doesn't love Boon Ek as he is a countryside guy. She is just having fun. Thongdam dies. He legates his money to the troop. To thank him, Malam decides to learn to dance to try to replace Boon Ek. Boon Ek is now a TV star (ดารา tv) and comes back to his province for singing. He declares his love again to Kathin through a song while she is the audience. She leaves the concert crying. He comes back during a lakorn representation and promises not to leave again. The Bangkok buzz is not for him. This is veteran actor Manop Aussawathep's first movie. It has a few similitudes with Cherd Songsri's movie Nora (โนห์รา) regarding traditional arts protection and conservation. It still features a very nice color picture for a 40 years old Thai movie. This movie was directed by the General Major His Royal Highness Prince Bhanu Yukol, a pioneering Thai filmmaker. He is the uncle of famous director Prince ChatriChalerm Yukol.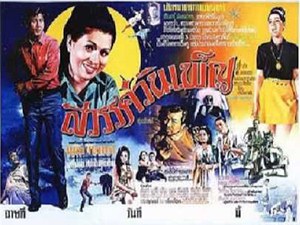 Year

: 1969



Thai title

:

สวรรค์วันเพ็ญ




English title

:



Rating

: 3/5


Director

: Charin Nantanakorn



Main actor

: Mitr Chaibancha,Lor Tok,Adinan Singhiran,Sithao Petcharoen,Charin Nantanakorn,Sukon Koewliam


Main actress

: Petchara Chaowarat,Somjit Sapsamruey,Wassana Chalakorn,Chadaporn Wachirapranee,Malee Wetpraseri
Thai movie สวรรค์วันเพ็ญ was released in year 1969. It features Mitr Chaibancha as main actor and Petchara Chaowarat as main actress. Other actors and actresses include Lor Tok, Somjit Sapsamruey, Adinan Singhiran, Sithao Petcharoen, Charin Nantanakorn. The movie is lost in Thailand but a sequence of 90 minutes and a song lasting 2mn30s remain to be seen. The song is in fact in 35mm format and the movie is in 16mm format. The song features Sithao Petcharoen and some dancers. The image has poor quality. The movie featured six songs written by Charin Nantanakorn. A dubbed version lasting 90mn was shown in Thai Film Archives in year 2017. A movie summary from old Thai magazines is still available. The movie director was Charin Nantanakorn. Wan Pen (Petchara Chaowarat) and Kwan (Adinan Singhiran) are close friends. Wan Pen's mother, Somjit Sapsamruey, is married to a drunkard. As her husband is trying to abuse Wan Pen, Somjit kills him by accident and ends up in jail. The family house burns in a fire. Having nowhere to go, she decides to go to Bangkok to search for her real father. She goes alone as Kwan misses the train. Mitr Chaibancha and Lor Tok are policemen in Bangkok. Wan Pen is looking for food. Having pity on Wan Pen, she becomes domestic helper in Mtr's house and takes good care of the house and children. Previously Charin Nantanakorn was the one helping to take care of two kids and the house. Wan Pen wins trust and love from Mitr. Mitr claims Wan Pen is his wife in front of his mother (Malee Wetpraseri). He said they have two children. Soi (Wassana Chalakorn), Mitr's fiancee, is upset. The mother finally realises everybody lied to her. Wan Pen decides to leave this crazy house (ดูถูก) and goes back to her home in Sukhothai. Soi is still pushing Mitr to marry but he is still pushing back. Soi and her mother (Chadaporn Wachirapranee) prepare a bad plan against Mitr. Aware, Wan Pen and Kwan inform him. Shootings happen during a concert. The kidnapping foils as Thai police shoot the ruffians. Mitr is now aware that Wan Pen helped him as she was worried and concerned. Seua Pon kidnaps Wan Pen and uses her as a bait to shoot Mitr. Seua Pon doesn't shoot after hearing her name. Seua Pon and Mitr have a final duel. Knowing that Mitr is injured at the hand, he has no chance against Seua Pon so Wan Pen shoots him with a rifle. Realising she killed her own father, Wan Pen feels bad and flees. Kwan acknowledges he was the one to shoot Seua Pon as both him and Wan Pen shot at same time. Mitr doesn't arrest Kwan as Seua Pon was a bad man. The movie ends up with a romance between Mitr and Wan Pen.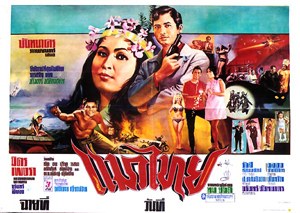 Year

: 1968



Thai title

:

แมวไทย




English title

:



Rating

: 3/5


Director

:



Main actor

: Mitr Chaibancha,Lor Tok,Adul Dulyarat,Charin Nantanakorn,Adinan Singhiran,Tat Ekathat,Somkuan Krajangsat


Main actress

: Petchara Chaowarat,Wassana Chalakorn,Preeya Roongrueng
Thai movie แมวไทย was released in year 1968. Main actors are Mitr Chaibancha and Petchara Chaowarat. Other side actors include Adul Dulyarat, Charin Nantanakorn, Tat Ekathat, Preeya Roongrueng, Wassana Chalakorn, Adinan Singhiran, Lor Tok, Somkuan Krajangsat. It is a spy movie. The movie is lost in Thailand and only a three minutes sequence remains to be seen. It still has a colorful picture. There is a famous sequence with Mitr Chaibancha talking over the phone to Wassana Chalakorn being in a lascivious pose on her bed. The story summary is still available from old Thai movie stars magazine but the available scans are in bad conditions. Rawin is played by Mitr Chaibancha. Rawin is back from overseas and spends his time partying with Ai Kha (Adinan Singhiran) and Ai Kruk (Lor Tok).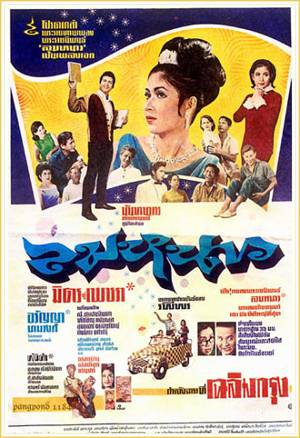 Year

: 1966



Thai title

:

ลมหนาว




English title

:



Rating

: 3/5


Director

: Phan Kam



Main actor

: Mitr Chaibancha,Sor Asanajinda,Taksin Jampol,Adul Dulyarat,Dokdin Kanyaman,Lor Tok,Charin Nantanakorn,Anucha Ratanaman


Main actress

: Petchara Chaowarat,Aranya Namwong,Preeya Roongrueng,Kingdao Daranee,Sarinthip Siriwan
Lom Nao - ลมหนาว (1966) is a lost movie. Only the poster and the movie song are left. Luckily there are still 13 minutes 'behind the scene' sequences in black and white to be seen. Movie director is Phan Kam. It is a movie in which many famous Thai actors and actresses played, i.e. Mitr Chaibancha, Petchara Chaowarat, Aranya Namwong, Sor Asanajinda, Taksin Jampol, Adul Dulyarat, Dokdin Kanyaman, Lor Tok, Preeya Roongrueng, Kingdao Daranee. It was Aranya Namwong's first movie. She was just awarded during a recent Miss Thailand beauty contest. An orchestra was used for the movie theme sung by Aranya Namwong. 16mm movies used a single camera for the shooting. Various sequences can be seen, i.e. Charin and Lor Tok helping Mitr Chaibancha and Taksin Jampol engaged in a fight with ruffians. Another sequence is involving Petchara Chaowarat wearing a beautiful dress and featuring the movie theme song. It is the dress that can be seen on the movie poster. A sequence of Charin and Aranya Namwong can be seen. Those sequences were recorded in 35mm format so that the original song was together with the movie reel. Other sequences are recorded in 16mm format so requesting a live dubbing. Other sequences feature Mitr Chaibancha and Petchara Chaowarat together on a small boat. A funny sequence with Dokdin Kanyaman singing can also be seen. Worth to notice that in real life Mitr Chaibancha and Kingdao Daranee were married. Petchara Chaowarat and Charin Nantanakorn married later in year 1975.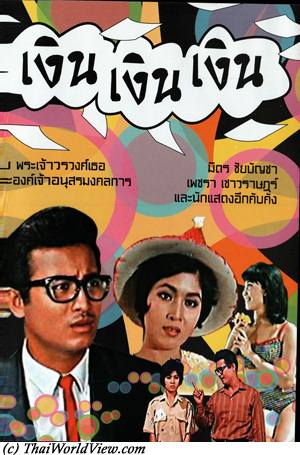 Year

: 1965



Thai title

:

เงิน เงิน เงิน




English title

: Money Money Money



Rating

: 5/5


Director

: Prince Anusorn Mongkolkarn



Main actor

: Mitr Chaibancha,Charin Nantanakorn,Lor Tok,Sukon Koewliam,Adul Dulyarat,Sawin Sawangrat,Daonoi Duangjai,Dokdin Kanyaman,Man Teeraphol,Ruj Ronnapop,Thuam Thoranong,Banglae


Main actress

: Petchara Chaowarat,Wilaiwan Watthanaphanit,Orasa Isarangkul,Chadaporn Wachirapranee,Mom Chan Phuangwan,Chosri Misommon,Sulaleewan Suwanthat



Buy now

:

The movie starts by a small introduction highlighting that everybody fights for money (เงิน เงิน เงิน). This introduction features many actors or actresses with cameo role such as Daonoi Duangjai, Dokdin Kanyaman, Man Teeraphol, Chadaporn Wachirapranee. Tu (Mitr Chaibancha) comes back to Thailand after overseas studies in USA. Tum (สุมาลี ทองหล่อ) is his sister. They are orphans. Their uncle Hirun is a creditor. Mom (Mom Chan Phuangwan) is Hirun's assistant. For Hirun, money is work and work is money. He has no feelings for his customers personal problems. Tu's uncle wants him to take over his duty but Tu doesn't like such job bringing suffering to people (สงสาร) so that is why he has done artistic studies as it can bring happiness to people. He meets Kingkaew (Petchara Chaowarat), a vagabond. Wishing to help poor people and teased by Kingkaew, he proposes to bring the A-ram boys band (เด็กวัด) in Bangkok to play music in a nightclub. His uncle chases him away as he cancelled all debt contracts. Tum is chased also. Teacher (ครู) Rangsun (Charin Nantanakorn) will help writing songs for the band. There is a crazy lady (Wilaiwan Watthanaphanit) in Hirun's house looking for her children. Tum wonders if she is her mother or not. They arrive in Bangkok but have little money. They met a restaurant owner's daughter (Chosri Misommon), willing to join them as a singer. Pa (Sulaleewan Suwanthat) is their house owner. They borrow 300 000 baht from Pa but Tu has to promise to marry her daughter (Orasa Isarangkul) Nataya. Pa knows that Tu is a potential rich heir. Lor Tok proposes ideas for their nightclub promotion. Tu's concept is that art belongs to everybody. Hirun wants to be sure his nephews will fail so he hires ruffians to destroy their nightclub. The ruffians steal their money so Tu and his friends decide to serve and cook by themselves. Hirun comes on the opening day with a bunch of tough ruffians to make noise and also kidnap the performing girls. Indian actor Banglae (บังเละ) is acting as nightclub guard. Kingkaew always find solutions to problems occurring. The ruffians drunk the cook and waiters to delay orders. Hirun takes the teacher (ครู) Rangsun's piano as he didn't pay his rent due to sickness. Adul Dulyarat is a doctor trying to save the teacher Rangsun. Hirun sends his ruffians to create a brawl in order to destroy the nightclub. Artist should be protected. The Thai King giving cinema awards inspires them not to stop fighting (ศีลปินไม่เคยตาย). By hazard, Tum and her friends have chance to release the crazy woman called Nat. Another uncle of Tu called Sompong is released from prison after twenty years. He narrates to Tu the story of his father betrayed by his own brother Hirun and who finally committed suicide. Nat is reunited with her two children, Tu and Tum. All the money of Hirun is coming from the one million baht that the father gave him to raise his children. They promise to take revenge on his 60th birthday coming soon. Hirun has to face the truth on his birthday turning to be a nightmare for him. He finally lost his whole fortune. The nightclub featuring arts becomes a huge success. This movie features 14 songs. A double DVD (3h20mn) including the 35mm movie fully restored was released by Thai Film Archives. The whole movie should even be a bit longer as the song หญ้าโลมดิน sung by Mitr and Petchara is missing. It is present on the VHS version and on a 16mm version left. Another movie version was released in year 1983. Two TV series were released in years 1997 and 2007. The producer is Prince หม่อมอุบล ยุคล. This movie includes more than 60 Thai actors, actresses and singers. Petchara got a Thai cinema reward for this movie. This movie is part of the second 25 films heritage list announced on October 4 2012, which is Thai Movies Conservation Day.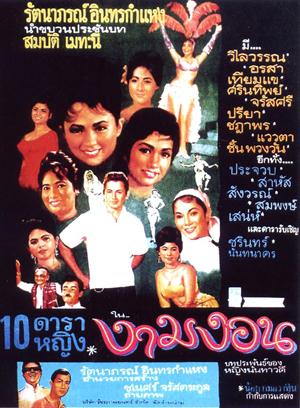 Year

: 1963



Thai title

:

งามงอน




English title

:



Rating

: 3/5


Director

:



Main actor

: Sombat Methanee,Prachuap Ruekyamdee,Charin Nantanakorn,Sompong Phonmitr,Preuhat Boonlong


Main actress

: Ratanaporn Intarakamhaeng,Sarinthip Siriwan,Mom Chan Phuangwan,Wilaiwan Watthanaphanit,Preeya Roongrueng,Orasa Isarangkul,Chadaporn Wachirapranee
Thai movie งามงอน was released in year 1963. It is a romantic comedy movie. It features Sombat Methanee as main actor and Ratanaporn Intarakamhaeng as main actress. The full movie is lost in Thailand but around three film reels are still available (more than 40 minutes). The movie is in 16mm format so it is in mute state as such movie requires live dubbers. No summary is available. This movie was produced by Ratanaporn and directed by her husband. Sombat Methanee's five first movies were produced by Ratanaporn's company (รุ้งเพชร - 1961...). In 1963, Sombat had a similar hairstyle as Mitr Chaibancha. Ratanaporn is playing two roles, i.e. two twin sisters. Sombat Methanee and Prachuap Ruekyamdee wish to seduce the two sisters. An evening party (masquerade ball) is organized. Ratanaporn is disguised as an old sorceress (แม่มด). She gives advices to Preeya Roongrueng. Sombat is getting confused between the two sisters at the masquerade ball. Orasa Isarangkul invites Sombat to dance. Prachuap simulates to have a leg injury to have opportunity to talk to Ratanaporn. He is wearing a fake moustache and works a waiter to be able to join the party. Sombat disguises also himself into a waiter to be close to Ratanaporn. Many Thai stars are playing in this movie, i.e. Sombat Methanee, Prachuap Ruekyamdee, Charin Nantanakorn, Sompong Phonmitr, Preuhat Boonlong, Ratanaporn Intarakamhaeng, Sarinthip Siriwan, Mom Chan Phuangwan, Wilaiwan Watthanaphanit, Preeya Roongrueng, Orasa Isarangkul, Chadaporn Wachirapranee. Chadaporn Wachirapranee is playing the wife of Preuhat Boonlong. 10 Thai feminine stars are present! Finally a romance starts between Sombat and Ratanaporn.
---