Increase or decrease font size for easier reading : A+ A-
Chanee Yotchai
Chanee Yotchai (19xx) - ชาณีย์ ยอดชัย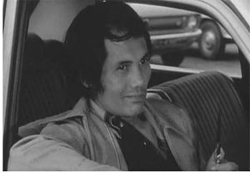 Chanee Yotchai is a Thai actor often playing ruffian role
This Chanee Yotchai movie page contains 11 records.
---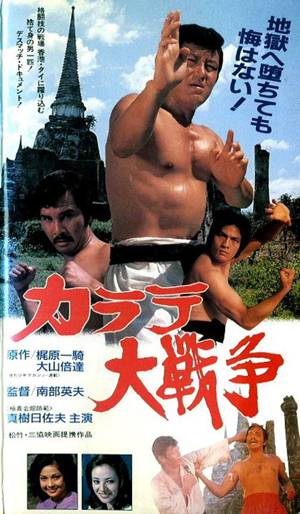 Year

: 1980



Thai title

:

ศึกคาราเต้




English title

: Karate Dai Senso



Rating

: 3/5


Director

:



Main actor

: Dam Datsakorn,Chanee Yotchai


Main actress

: Metta Roongrat
Thai Japanese movie ศึกคาราเต้ / カラテ大戦爭 / "Karate Dai Senso" was released in year 1980. It lasts 1h26mn. The movie was released under VHS and recently under DVD in year 2013. It is also known under the Thai name of คาราเต้บันลือโลก. A Japanese lady meets a man called Datsu (Hisao Maki), working as taxi driver. She hasn't met him for years. He was a karate teacher and she was a school student. He finally trains again and agrees to overseas to verify the superiority of Japanese Karate over other Asian martial arts. Some people in Japan try to ensure he will fail. He comes to Hong Kong and falls in a trap. It is fighting Kung Fu vs Karate. He is attacked many times but succeeds to survive despite being injured. He finally defeats the black dragon expert. Datsu then comes to Thailand. Dam Datsakorn as King Cobra is a Thai boxing champion. Metta Roongrat is his wife. Scenes in Thailand show Nakhon Pathom, Damnoen Saduak floating market, huge billboards with Thai movies posters. Chanee Yotchai as hitman tries to kill Datsu as ruffians fail to defeat him. Cobra prevents the hitman to hurt Datsu as he wishes for a fair fight. The Japanese lady tries to prevent Datsu to give up fighting by offering her charms but he still goes. Metta tries to prevent Cobra also but he still goes. Finally the two men fight until death happens for both of them.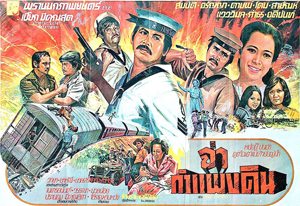 Year

: 1978



Thai title

:

จ่ากำแพงดิน




English title

:



Rating

: 3/5


Director

:



Main actor

: Sombat Methanee,Dam Datsakorn,Adinan Singhiran,Sayan Chantaravi​boon,Kamthorn Suwanpiyasiri,Rong Kaomulkadee,Chanee Yotchai,Wittaya Sukdamrong,Dom Singmoli


Main actress

: Aranya Namwong
Thai movie จ่ากำแพงดิน was released in year 1978. It lasts 1h28mn but the sound is partially inaudible. Dam Datsakorn is playing a role on the main actor side. It is pretty rare as most of the time, he is playing a thug leader. Mariners (ทหารเรือ) including Sombat Methanee (with a moustache and always eating betel), Dam Datsakorn and Adinan Singhiran are back to their home town. University student (Sayan Chantaraviboon) is involved in a brawl with thugs and gets support from mariners and Rong Kaomulkadee. Mariners are going back home. Aranya Namwong is a teacher. She is Sombat's girlfriend. The head of the ruffians (Kamthorn Suwanpiyasiri) is upset as his thugs were defeated. Among his ruffians, Chanee Yotchai (ชาณีย์ ยอดชัย) can be seen. Another brawl in a pub happens between mariners and thugs. The university student brings trouble to ruffians as he is catching a pickpocket in a market. Ruffians kidnap Aranya and her friends to work as prostitutes. Her mother is stabbed. The mariners storm the ruffians headquarters to rescue the ladies (น้องเอาคืนมา). They then search them into local brothels (อาละวาดบ่อน). The head of ruffians (พ่อเลี้ยง) is upset that his business is disrupted by those three guys. Two groups of ruffians then unify their efforts. The leader of the second group is played by Dom Singmoli (โดม สิงห์โมฬี). They keep kidnapping young girls or buying them from their parents promising fake jobs in Bangkok. They are also involved in drugs trafficking. Meanwhile the mariners unify their efforts with local police also. The university student is killed by ruffians while trying to stop the ruffians transporting the ladies in a train. Sombat and Dam chase the train. Fighting happens on the moving train. The head of the police is played by Wittaya Sukdamrong (วิทยา สุขดำรงค์). Finally following intense fightings, ruffians are neutralised by the three mariners and the police.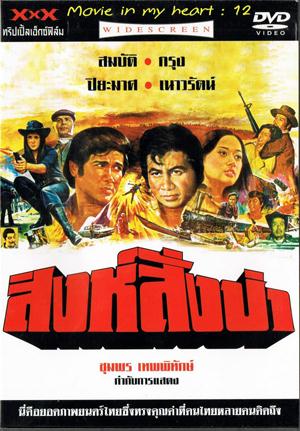 Year

: 1978



Thai title

:

สิงห์สั่งป่า




English title

:



Rating

: 3/5


Director

:



Main actor

: Sombat Methanee,Krung Srivilai,Chanee Yotchai,Kecha Plianvithee,Dam Datsakorn,Lak Apichat,Pipop Pupinyo,Choomporn Theppitak,Lor Tok,Chat Mongkolchai,Pumi Patanayut


Main actress

: Naowarat Yooktanun,Piyamas Monayakol,Ratanaporn Intarakamhaeng,Duangcheewan Komolsen



Buy now

:

Thai movie สิงห์สั่งป่า was released in year 1978. The movie lasts 1h47mn. Sing (Sombat Methanee) helps Pukong (ผู้กอง) Palee aggressed in the train by Chanee Yotchai and other ruffians. Sing goes home in his village Thung Kla as he hasn't seen his mother for years but his home has been robbed and burnt. Anan (Kecha Plianvithee) is the local ruffians' leader. The subdistrict headman (กำนัน) and the police headman are corrupted by Anan. Seua Thong (Dam Datsakorn) is his close hand doing the dirty job. Mae Chom (Ratanaporn Intarakamhaeng), restaurant owner and wife of Anan, encourages Sing to sell his mother's land. Sing meets Tap (Lak Apichat) and Duangcheewan Komolsen, who tell him the difficulties faced by villagers. Pipop Pupinyo is a small ruffians' leader. Chen (Krung Srivalai) is visiting a friend in Thung Kla. He meets Oon (Naowarat Yooktanun), daughter of Anan. Chen knocks out Pipop. Sing's car explodes. It looks like somebody wants to get rid of him. Sing ends up in jail after shooting two ruffians including Chanee. Choomporn Theppitak, as head of police, orders to transfer him to prison. Lor Tok, Chat Mongkolchai, Dao (Piyamas Monayakol) prepare a plan to release one of their inmate colleagues. Seua Dao helps a prisoner so Sing takes opportunity to flee also. Anan is upset as he was planning to have Sing killed during the transportation but his plan foils. Chen and Sing are friends but nobody knows it. A drug and money exchange is planned by Anan and shall be managed by Seua Thong. But the plan is foiled also as Sing and Seua Dao intervene. Chen is suspected to have warned them. Chen is tortured by Anan as he betrayed him. Sing and Tap successfully release him. Only one song is featured in this movie. Somebody from Bangkok insinuates that Seua Thong shall replace Anan. It fails. Finally Sing, Tap and Chen storm Seua Tong's place. Ruffians are killed and Seua Thong dies following a speed boat race. The same team now storms Anan's place. About to kill Anan, Sing listens to Mae Chom and Oon and spares Anan's life. Anan is arrested by Pukong Palee.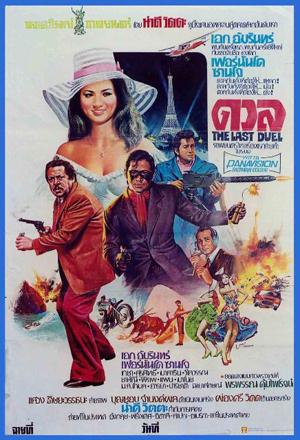 Year

: 1977



Thai title

:

ดวล




English title

: The last duel



Rating

: 2/5


Director

:



Main actor

: Ek Amarin,Kecha Plianvithee,Chanee Yotchai,Paen Pleumsachai,Pipop Pupinyo,Surasit Sattayawong


Main actress

: Wilaiwan Watthanaphanit
Thai movie ดวล (The last duel) was released in year 1977. It lasts 1h31mn. It seems that the movie was never released on VCD or DVD but only shown on Thai TV channel 11. The soundtrack is unfortunately very bad and barely audible. It features a bunch of actors always playing ruffians such as Kecha Plianvithee, Chanee Yotchai, Paen Pleumsachai and Pipop Pupinyo. Ek Amarin (เอก อัมรินทร์) is the main actor. Kecha and Surasit Sattayawong are friends with an overseas ruffian. They kill a couple to steal money and also take their daughter. Their teenage son promises to get revenge. 20 years have passed. Kecha's birthday is happening. Narin from France is present. Ek spoils the party and promises to get revenge against the ruffians one by one. He finally gets stopped by Narin (ไม่น่าเป็นโจร). Ek reverses the situation and brings Narin in a cave as a prisoner. He finds that Narin has a necklace and a birth tattoo on her back showing that she is his lost sister separated from him when their parents were killed by ruffians. Ek gets rid of Chanee and Surasit through duels. He also kills Pipop in one to one duel. One of the overseas ruffians leaders is chased by speed boat, then by car but Ek gets defeated. Ek is tortured, attached to a pole and left for dead. He is finally released by Narin. Ek is then chased by a motorcycle, a helicopter and then a F1 car but still survives! Finally Ek shots also Kecha. The movie moves to Spain into a with a five minutes corrida sequence that looks like more a documentary. He also shots the last ruffian, who was a Spanish citizen. Revenge cycle is over. This movie got limited success despite bringing some foreign stars. Ek Amarin is also less famous than other Thai cinema stars of the 1970s decade.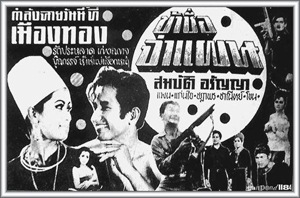 Year

: 1971



Thai title

:

ข้าชื่อจ่าแผน




English title

:



Rating

: 3/5


Director

:



Main actor

: Sombat Methanee,Chanee Yotchai,Sor Asanajinda,Krai Kanchit,Man Teeraphol


Main actress

: Aranya Namwong,Chadaporn Wachirapranee,Kaenjai Meenakanit
Thai movie ข้าชื่อจ่าแผน was released in year 1971. First the movie was called วีรกรรมภูขี้เถ้า and started to be advertised / promoted in August 1970. When it was finally released on the market in August 1971, the name was changed to ข้าชื่อจ่าแผน. Two posters are available. It features Sombat Methanee as main actor and Aranya Namwong as main actress. It is a movie in 16mm format so it is in mute state as such format requests live dubbing. The movie is lost in Thailand but a remaining sequence of 1h35mn is still available. Hill tribe Chanee Yotchai is holding a machine gun. Chadaporn Wachirapranee is found kissing Chanee by Sombat so Chanee gets punched and Chadaporn gets scolded. Sor Asanajinda stops them. Hill tribe Krai Kanchit sets side with Chanee. Chadaporn tries to seduce Sor but to no avail. Chanee promises to revenge over Sombat. Aranya is a hill tribe young lady. Chanee and his men embuscade Sombat and Sor but they are pushed back. Chanee becomes the new village leader following a putsch. An army helicopter lands and heavy fighting happens with Chanee's men. Sombat and two friends are kidnapped by a group of village women led by Aranya, who use them as their "toys". General actor Man Teeraphol is leading the soldiers. As the ladies throw their clothes away, the three men have to wear Tarzan clothes. The ladies end up in bikini also. Fighting happens with ruffians. They try to release the village leader but without success. One of Sombat's friends loses his girlfriend, being raped and killed by ruffians. Kaenjai Meenakanit is the real leader of the ruffians. She likes Sombat. Sombat has to be very careful as Chanee knows who he is. One of Sombat's friend disguises himself into a weird Chinese master. Aranya and her girls are captured while trying to meet Sombat. Krai changes side. Final heavy fightings happen. Krai and Chanee shot each other. Chadaporn, who holds a timer bomb, throws herself on Kaenjai as she understands she has been dumped by Chanee and Kaenjai.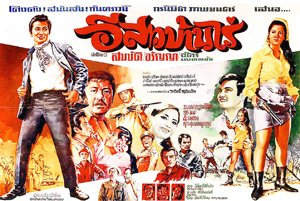 Year

: 1970



Thai title

:

อีสาวบ้านไร่




English title

:



Rating

: 3/5


Director

:



Main actor

: Sombat Methanee,Chat Mongkolchai,Anucha Ratanaman,Choomporn Theppitak,Adinan Singhiran,Chanee Yotchai,Sithao Petcharoen,Kokheng,Sukon Koewliam


Main actress

: Aranya Namwong,Prim Praphaporn,Khomapat Attaya,Marasri Isarangkul
Thai movie อีสาวบ้านไร่ was released in year 1970. It features Sombat Methanee as main actor and Aranya Namwong as main actress. The movie is lost in Thailand but a sequence of 15 minutes remains to be seen. It is a 16mm format movie so no sound is available as it requires live dubbing. A remake was released in year 1983 featuring Sorapong Chatree and Piyamas Monayakol. This movie is also lost except a trailer. Other actors and actresses include Chat Mongkolchai, Anucha Ratanaman, Prim Praphaporn, Choomporn Theppitak, Khomapat Attaya, Adinan Singhiran, โดม สิงห์โมฬี, Chanee Yotchai, Marasri Isarangkul, สาวิตรี สุวรรณจิต, เทิด, Sithao Petcharoen, Kokheng, เสนอ โกมารชุน, Sukon Koewliam. The summary is as below. Aranya is Sarinee. Her nickname is Isao (อีสาว). Sombat is Jainum. Sarinee is the land owner's daughter. Her father gets killed by the neighbour Virawilai (วรวิไล) as he refuses to sell his land. She replaces her father but her staff continues to get annoyed by the ruffians. Jainum gets hired and becomes part of the staff of Sarinee. He gives a tough lesson to the ruffians and is now responsible of the cows in the ranch. Jainum investigates on Sarinee's father death. He finds that those responsible of the murder want to build a runway for planes to bring weapons illegally inside Thailand. Love emerges between Jainum and Sarinee. Owner of ranch Virawilai tries to kidnap Sarinee to force her to transfer her land. While trying to help, Jainum is also captured but hopefully Thai police is coming behind. Ruffians flee in the mountain but Jainum follows them up in order to release Sarinee. The remaining left sequence is certainly happening in the middle of the film. Various scenes can be seen. Choomporn Theppitak is talking on a bed to a lady. Choomporn is a singer in a high end club. Sithao Petcharoen, Sukon Koewliam and two other men try to enter at nighttime in a women's dormitory. They are discovered, beaten and chased away by Prim Praphaporn. Aranya Namwong is meeting Adinan Singhiran in the countryside. He is giving her a letter. She is missing Sombat Methanee. Sombat is with Sukon Koewliam. Two ruffians including Chanee Yotchai kills a man (probably Sarinee's father) in cold blood. A four minutes trailer is also available. Additional scenes can be seen such as Chanee Yotchai trying to recover Sombat Methanee with rocks thanks to a bulldozer, various fightings involving Sombat Methanee or Aranya Namwong, Anucha Ratanaman kidnapping Aranya Namwong, Sombat Methanee fighting with Anucha Ratanaman in order to release Aranya...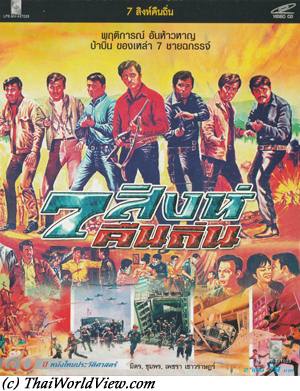 Year

: 1970



Thai title

:

7 สิงห์คืนถิ่น




English title

:



Rating

: 3/5


Director

:



Main actor

: Mitr Chaibancha,Choomporn Theppitak,Krai Kanchit,Chanee Yotchai


Main actress

: Petchara Chaowarat,Metta Roongrat



Buy now

:

Thai movie 7 สิงห์คืนถิ่น was released in year 1970. Saeng Rawee (แสงระวี)(Metta Roongrat), young lady, just weds with Sing's father but she still tries to seduce the son Sing (สิงห์) (Mitr Chaibancha). The father blames his son (ลูกอกตัญญู) and decides to break the relationship with him (เลิกเป็นลูกพ่อกัน). Saeng Rawee has another lover called Kam Maen (คำแมน), who is the local ruffians leader (ดินแดนอิทธิพล). Seua (เสือ)(สมชาย ศรีภูมิ) is Sing's younger brother and becomes a bad guy under Kam Maen's guidance. Finally the father dies and legates everything to Sing. Saeng Rawee and Kam Maen try everything to destroy the testament (พินัยกรรม). Ruffians ask for the testament from doctor Phan. As he fights back he is shot dead and his wife is kidnapped. Phum Reun (ภุมริน), a friend, informs Sing regarding the latest news regarding his father's death, the doctor death and his young brother becoming a bad guy (โจร). Doctor (หมอ) Phan was his friend so Sing needs to go home to investigate who killed him. Sing gathers 7 friends to fight back against Kam Maen. One of them is Dokrak (ดอกรัก)(Choomporn Theppitak). Doktoi (ดอกเตย), owner of a local bar, recruits Dokrak, good singer, as he protects her versus ruffians led by Chanee Yotchai. Doktoi is Kam Maen's minor wife but there is no real love so she provides useful information to Dokrak. Sing and his friends prepare a plan. Seua, Sing's young brother, drinks heavily. Sing wants to bring him back to the right path (สายเลือดเดียวกัน). The two brothers fight as Sing doesn't want his brother Seua to become a bad guy. Ruffians would like to get the whole money so push the two brothers against each other. Sing meets Thaephee (Petchara Chaowara), who is a teacher inside the village. Sing's team eliminates one ruffians team. But Sing is then kidnapped. Seua plans to help his brother by exchanging Sing versus Kam Maen's daughter Vick. Kam Maen sells weapons and bombs to reds insurrection in order to use for rebellion against Thai government. He is a traitor (ขายชาติ). Kam Maen needs the testament to get more money to buy weapons. He tortures Sing to know the truth. Thae Phee is ready to everything (ยอมเป็นเมีย) to avoid Sing to become blind. But hopefully his friends can help and free him. The movie finishes with various shootings in which Sing's friends die, Seua dies and Sarawee dies by saving Sing's life against Kam Maen. Villagers are fighting against the traitors and the Thai flag is shown as the final image. The reds menace was present during decade 1960s in Northeastern region of Thailand. So such films were part of governmental propaganda. The movie is more than 2 hours and 20 minutes long. Some parts of the movie are missing and have been cut. Either they were in bad condition or Lepso Studio has to cut the movie to fit into a limited VCD format. There is no more original soundtrack as it is a 16mm movie. It is too bad as original songs are lost. Movie colors are wiped out.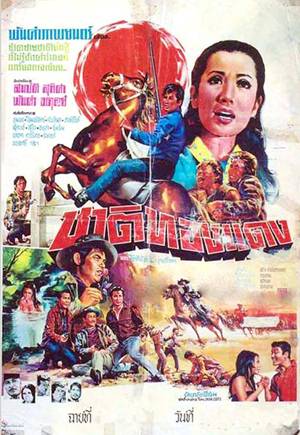 Year

: 1970



Thai title

:

ชาติทองแดง




English title

:



Rating

: 3/5


Director

: Phan Kam



Main actor

: Sombat Methanee,Adul Dulyarat,Chanee Yotchai,Choomporn Theppitak,Anucha Ratanaman,Sukon Koewliam,Joomjim Khemlek,Sawin Sawangrat


Main actress

: Suthisa Putnuch,Khomapat Attaya,Kantima Daraphan
Thai movie ชาติทองแดง was released in year 1970. Main actor is Sombat Methanee and main actress is Suthisa Putnuch. The movie is lost in Thailand but a 2mn14s trailer remains to be seen. The movie director is Phan Kam. The movie is a Thai Western. During the short trailer various sequences can be seen such as Chanee Yotchai hitting a man, a gun duel between Adul Dulyarat and Phan Kam, a fighting scene with Sombat against four men, Anucha Ratanaman flirting with a young lady, Vet actress sexy 1 and 2, a typical waterfall Thai movie scene with a naked lady swimming, a knife duel between Sombat Methanee and Chanee Yotchai, a scene with main actress Suthisa Putnuch. Other actors and actresses are Choomporn Theppitak, Khomapat Attaya, Sukon Koewliam, Joomjim Khemlek, Sawin Sawangrat, Kantima Daraphan.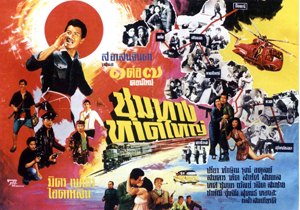 Year

: 1966



Thai title

:

ชุมทางหาดใหญ่




English title

:



Rating

: 4/5


Director

: Sor Asanajinda



Main actor

: Mitr Chaibancha,Sor Asanajinda,Tawan Siriwat,Ruj Ronnapop,Sukon Koewliam,Choomporn Theppitak,Taksin Jampol,Adul Dulyarat,Tat Ekathat,Somkuan Krajangsat,Chanee Yotchai


Main actress

: Petchara Chaowarat,Preeya Roongrueng,Sarinthip Siriwan
Thai movie Chum Hat Jai (ชุมทางหาดใหญ่), directed by Sor Asanajinda in year 1966, is lost in Thailand but luckily a sequence of 1h08mn (three last reels) is still left. It was stored in a museum of a Thai temple in the north of Thailand. Only incomplete summary is available. This movie is a mix of comedy, romance and action. This movie was shot in Songkhla area so showing how this southern city was fifty years ago. As the movie is in 16mm format, it requires live dubbing so the remaining extract is in mute state making it more difficult to understand. Sena Prachan (Mitr Chaibancha) is an army officer. Jing Gang (Petchara Chaowarat) is a fearsome young lady (ไม่กลัวใคร). Sena Prachan is pretending being crazy (อาคารเป็นบ้า) in order to spy Chao Likim's (Tawan Siriwat) activities. Ai Darling (foreign actress) is Chao Likim's daughter. Sena's kisses are able to calm down Ai Darling and also Jing Gang while he is investigating on ruffians. Many other characters are present such as Chanee Yotchai as ruffian, Ruj Ronnapop (Mayong), Sukon Koewliam, Choomporn Theppitak, Taksin Jampol (Bo Bang Rajan), Preeya Roongrueng, Adul Dulyarat (captain). Ai Darling and Jing gang fight over Sena Prachan. Tat (Tat Ekathat) is head of police. Mayong is shot facing seven ruffians. Chao Likim hits his own daughter considered as a traitor (ลูกสาวทรยศ). Sena Prachan helps but is also finally captured. Jing Gang's parents are Somkuan (Somkuan Krajangsat) and Thanyong (Sarinthip Siriwan). Thanyong gets shot while helping Bo Bang Rajan, who is also an undercover military officer. Sor Asanajinda is also playing. A train is chased by a car and an helicopter through Songkhla region landscape. Somkuan, a repent (ผู้ร้ายที่จะกลับใจ), is forced by Chao Likim to be part of a prisoner exchange deal (แลกตัว) but he is carrying a bomb. The movie ends up with multiple shootings between ruffians and the heroes. Somkuan gets shot by Chao Likim but this latter also gets shot by Jing Gang and Sena Prachan.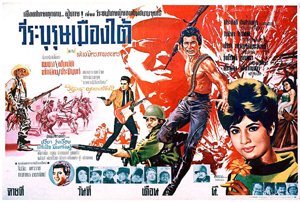 Year

: 1965



Thai title

:

วีระบุรุษเมืองใต้




English title

:



Rating

: 3/5


Director

:



Main actor

: Sombat Methanee,Taksin Jampol,Lor Tok,Pramin Jarujareet,Chanee Yotchai,Sithao Petcharoen,Adinan Singhiran


Main actress

: Petchara Chaowarat,Kaenjai Meenakanit,Preeya Roongrueng
Thai movie วีระบุรุษเมืองใต้ was released in year 1965. It features Sombat Methanee as main actor and Petchara Chaowarat as main actress. It is a lost movie in Thailand but a trailer lasting three minutes remains to be seen. Movie director is วิเชียร วีระโชติ. The trailer shows that the movie วีระบุรุษเมืองใต้ was a Western. The sequences show Sombat Methanee, Petchara Chaowarat as a teacher, Taksin Jampol, Lor Tok, Pramin Jarujareet as ruffians leader, some militaries using tanks, Chanee Yotchai, Preeya Roongrueng, shootings, horse rides, songs. Other actors and actresses include วิสูตร, โยธิน, กนกพร.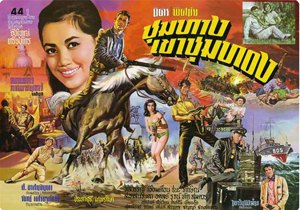 Year

: 1965



Thai title

:

ชุมทางเขาชุมทอง




English title

:



Rating

: 3/5


Director

: Sor Asanajinda



Main actor

: Mitr Chaibancha,Taksin Jampol,Adinan Singhiran,Adul Dulyarat,Tat Ekathat,Chanee Yotchai


Main actress

: Pissamai Wilaisak,Sulaleewan Suwanthat,Wilaiwan Watthanaphanit,Chadaporn Wachirapranee,Uamdeuan Uttsada
ชุมทางเขาชุมทอง movie with Mitr Chaibancha and Pissamai Wilaisak was released in year 1965. The movie director is Sor Asanajinda. The movie is lost in Thailand but a short extract was found in year 2013 thanks to a ThaiCine fan. The extract has still a colorful image and is only three minutes left. A few sequences are showing an ordination procession, a woman kidnapping, ruffians arguing, a few ruffians (ดาราร้าย) appear including Taksin Jampol, Tawan Siriwat (ถวัลย์ คีรีวัตร), Tat Ekathat and Chanee Yotchai (ชาณีย์ ยอดชัย). It is a romantic drama movie (หนังชีวิตรัก) with a bit of action. Mitr and Pissamai are also playing the parents role. Other actors are Sulaleewan Suwanthat, Adinan Singhiran, Adul Dulyarat, Taksin Jampol, Uamdeuan Uttsada, Wilaiwan Watthanaphanit, Chadaporn Wachirapranee, ประภาศรี เทพรักษา. ชุมทางเขาชุมทอง movie was a famous and popular release in year 1965. Another famous film with both Mitr Chaibancha and Pissamai Wilaisak is มงกุฏเพชร (1968) by director Sor Asanajinda again. Mitr Chaibancha and Pissamai Wilaisak played only a few movies together. Mitr also plays the main actor called Keng (เก้ง). He has a child with Pissamai called Kwang (กวาง). Mitr as father comes back looking for his son without knowing that ruffians follow to kill them.
---