Increase or decrease font size for easier reading : A+ A-
Chana Kraprayoon
Chana Kraprayoon (1945) - ชนะ คราประยูร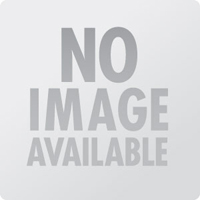 Chana Kraprayoon has directed 20 movies from 1973 to 1991. He has directed in 1990s and 2000s many Thai TV series or "LAKHON" (ละคร)
This Chana Kraprayoon movie page contains 5 records.
---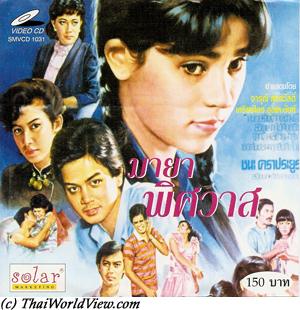 Year

: 1983



Thai title

:

มายาพิศวาส




English title

:



Rating

: 4/5


Director

: Chana Kraprayoon



Main actor

: Kriengkrai Unhanan,Suchao Pongwilai,Manop Aussawathep


Main actress

: Jarunee Sooksawad,Pissamai Wilaisak,Mayurachath Muarnprasitivej,Nipaporn Nongnuch
Dokbua (ดอกบัว), a young lady, is hurt by Chala's car. She is a poor girl coming from Chiang Mai to Bangkok in order to work but she was told a falsehood regarding the job nature. As she has nowhere to go, she can finally stay as a maid as Chala gets pity on her harsh life. Chala's HiSo family includes various members. Pen is a middle age woman. She is the new wife of Chon, who is paralyzed. Chita is Chon's sister. She never got married. Chon has three children, Chala, Chet and Lek. There is always a bad and oppressive ambiance in the family. Chala only spends money but does not earn anything. In fact Chala gives the money to a poor family. Chet and Pen are lovers. All men in the house fight over Dokbua. Pen wants to use Dokbua to take care about her paralyzed husband ardors so that she can have more free time with Chet. Dokbua played the stupid girl but she is in fact very intelligent. Only Chala knows Dokbua has entered the house with a specific idea. What is her goal and her hidden secret? This HiSo house is same as hell (นรก). People are doing bad deeds (มีบาป). Ten years ago, Chon, the father always partied in the house and brought girls. It only stopped when the father became paralyzed. Lek, the youngest daughter, has a boyfriend called Tat. Tat also tries to seduce Dokbua. Pen has a new plan and introduces Dokbua to a rich man called Tawat. Pen gets money in exchange of providing young girls to rich men. There are arguments between Tawat and Chon. Dokbua prefers to stay with Chon. Tawat takes over Chon's company as he looses face regarding Dokbua. It causes a heart attack to Chon. Dokbua talks to Chon privately on his hospital bed while he is dying. Chon is afraid about hell (กลัวนรก) due to his previous bad deeds. Before dying he updates his testament and gives nothing for his children. Everything goes for Dokbua. Chita relates Chon's story to Chala. Chon was behaving like a ruffian when he was young. After having a second kid the father starts to misbehave again with girls so the mother called Lamyong hanged up herself. Dusit was a former business associate of Chon but they had arguments. Chita and Dusit were in a love story and Chon made it broken up. Dusit later has another wife but Chon never forgave to Dusit and Dusit was shot in the back. Dokbua is Dusit's daughter. Dusit is still alive but is paralyzed. Tat still tries to seduce Dokbua as Lek is now a poor girl. Chet also tries to be nice. This hypocrisy causes Tat and Lek to break up. Pen and Chet also break up. Pen cannot stand it. Pen shots Chet and becomes crazy. Lek behaves as a bad girl. The whole family ends up in a turmoil even if Dokbua didn't intend to be such a mess. Finally Dokbua and Chala declares their love for each other. Dokbua gives all heritage to Chita. This movie highlight the high society hypocrisy. Chana Kraprayoon is famous for directing drama / romance movies and Thai TV series. This movie was adapted in a Thai TV serie in 2007. Jarunee Sooksawad got an award for her Best Actress performance in this movie.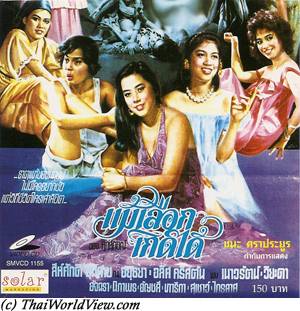 Year

: 1982



Thai title

:

แม้เลือกเกิดได้




English title

:



Rating

: 4/5


Director

: Chana Kraprayoon



Main actor

:


Main actress

: Naowarat Yooktanun,Wiyada Umarin
This movie is about prostitutes's hard life, i.e. rape, violent pimp, having a baby with no father, their life without hope and good future, the society disdain, their life as sex objects and without any consideration from their customers, the "MAMASAN" forcing to serve too many customers every night, the sadness of being old and still a prostitute, young prostitutes' suicide. One day a prostitute with a baby quits the bordel to live with a man, who really loves her. Unfortunately he is a killer ("MEU PEUN" - มือปืน). Will she ever find happiness?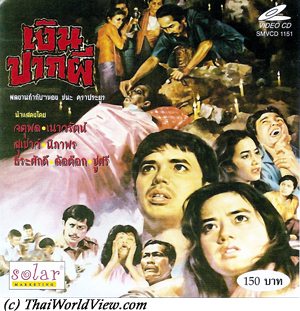 Year

: 1981



Thai title

:

เงินปากผี




English title

: Ghost Money



Rating

: 3/5


Director

: Chana Kraprayoon



Main actor

: Jatuphol Poopirom,Lor Tok,Suchao Pongwilai


Main actress

: Naowarat Yooktanun,Nipaporn Nongnuch,Chosri Misommon
Malee (Chosri Misommon) is married to Lor Tok, an alcoholic caretaker. Lor Tok has a daughter called Lao (Nipaporn Nongnuch) and a son called Lo. Malee has also a son from a previous wedding. He is called Mon (ทะลึ่ง). Lor Tok is a husband believing his wife more than his children so relationship is very bad between his children and the new wife. Teacher Awan (Naowarat Yooktanun) meets Pop (Jatuphol Poopirom) visiting the countryside per invitation from his friend, a policeman played by Suchao Pongwilai. The father doesn't give money anymore to his children so Lo thinks about stealing the coins from dead corpses (เงินปากผี). With two friends (Biaw and Pui), Lo goes in a Buddhist temple at night time to steal coins from corpses stored in a morgue. The teacher brings Pop to a famous sacred cave where birds can be heard but not seen. Many people died there. The three children spent all their pocket money so decide to go to the sacred cave to look for additional coins. They dig up a coffin with a corpse still in perfect condition (ผีเขมร). One of the kids forces to open the mouth in order to get the coin so causing the dead spirit to be very upset. Biaw dies because of the ghost. The boy Lo wishes to give back the coins to the spirit but Mon has stolen the coins and plan to sell them in Bangkok. The policeman enquiries on the coins found on Biaw. Biaw's mother gives the coins to the teacher. The spirit then possesses the teacher and frightens Pui at night time. Pui is found with burnt hands. As Lo recognises his stealing, the spirit doesn't hurt him but forces him to watch Pui digging endlessly. The spirit is now after Malee and sends hell birds (นกนรก) to punish her as she is a liar. Pui finally dies. A spirit doctor (หมอผี) arrives in the village and warns the teacher Awan that she is possessed. He asks to meet her in the sacred cave to perform an exorcist ceremony (พิธี) but he is found dead. The spirit kills both Malee and Mon. Villagers finally request the help of a Buddhist monk in order to neutralize successfully the evil ghost. In 2014, this movie was fully restored in beautiful colorful HD version by Five Star company.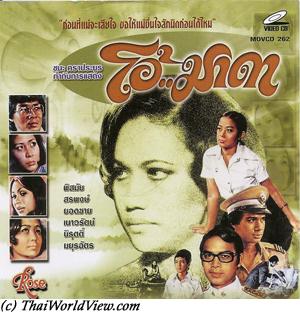 Year

: 1977



Thai title

:

โอ้มาดา




English title

:



Rating

: 3/5


Director

: Chana Kraprayoon



Main actor

: Sorapong Chatree,Yodchai Meksuwan,Nirut Sirijanya


Main actress

: Naowarat Yooktanun,Pissamai Wilaisak,Mayurachath Muarnprasitivej



Buy now

:

It is about a woman, who is tyrannizing her family by imposing her wishes in order to become a lady (คุณหญิง - "KHUN JING"). Fortunately for her family, her dreams are going to fail...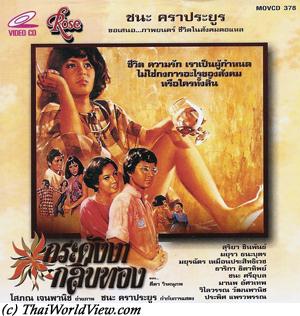 Year

: 1976



Thai title

:

กระดังงากลีบทอง




English title

:



Rating

: 3/5


Director

: Chana Kraprayoon



Main actor

: Manop Aussawathep,Chana Sriubon


Main actress

: Mayurachath Muarnprasitivej,Mayura Thanabutr
It is about a love story between a young boy and a woman older than him. The boy's parents refuse to let such a marriage. Will he follow his heart or the Thai society pressure?
---