Increase or decrease font size for easier reading : A+ A-
Chalong Pukdeewichit
Chalong Pukdeewichit (1932) - ฉลอง ภักดีวิจิตร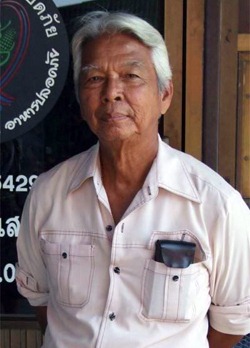 Chalong Pukdeewichit is a famous Thai action movies director. One of his main achievement is the serie "Gold" (ทอง) with 4 opus. The movie "Gold" (1973) was the first big success of Chalong Pukdeewichit. The film was a phenomenal success locally and made a profit internationally. It became the first Thai film to be widely sold to international markets. Later on "Gold 2" (Gold Raiders - 1982), "Gold 3" (The Lost Idol - 1988) and "Gold 4" (In Gold We Trust - 1990) were even released. Chalong Pukdeewichit put in place an effective marketing strategy, i.e. a large budget, sex, violence and involvement of a famous internationally known actor to attract buyers. Since 1996, he is directing successfully Thai actions TV series. In year 2013, he received a Lifetime Achievement Award during the Thai Film Director Association awards event
This Chalong Pukdeewichit movie page contains 15 records.
---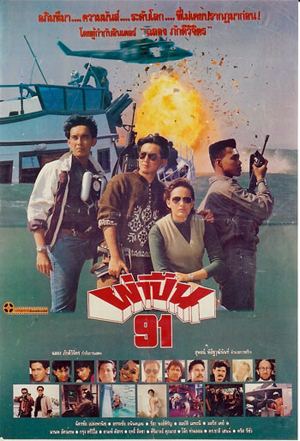 Year

: 1991



Thai title

:

ผ่าปืน 91




English title

:



Rating

: 4/5


Director

: Chalong Pukdeewichit



Main actor

: Chatchai Plengpanich,Morris K,Dam Datsakorn,Rith Luecha,Sombat Methanee,Manop Aussawathep,Krung Srivilai,Sithao Petcharoen


Main actress

:
Thai movie ผ่าปืน 91 was released in year 1991. Movie is directed by Chalong Pukdeewichit. The Thai cable TV version lasts 1h23mn. The original version lasts 1h38mn. Ruffians led by Dam Datsakorn and Rith Luecha storm a warehouse to steal weapons. The warehouse guardian (Sithao Petcharoen) is shot dead and two policemen are killed while ruffians flee. Sombat Methanee, company chairman, asks support from Police Captain (ผู้กอง) Passakorn (Chatchai Plengpanich) as they worked together before. Passakorn and his colleague Maurice (Morris K - มอริส เค) enquiry about the company managing the logistics. The secretary Pawinee (ริสา หงษ์หิรัญ) is not cooperative. The company manager Kangwan (ผู้จัดการ - Manop Aussawathep) is away. The secretary leaves with a briefcase. The briefcase is stolen following a robbing. Passakorn and the secretary follow the robbers. The robbers are led by Dam, seconded by Rith. Passakorn is captured and is about to be killed (เช็คบิลได้เลย) but the secretary Pawinee and a Japanese policeman called Ken (อรรถชัย อนันตเมฆ) save him. Ken is Pawinee's boyfriend. Passakorn meets again Sombat, who introduces him to his company manager Kangwan. Dam tries to get rid of Passakorn by threatening his girlfriend (อย่าให้พลาด) but it fails thanks to Maurice. Dam tries to embuscade Passakorn in a mall but he fails again as Krung Srivilai (คนที่หวังดี) provides some help to Passakorn. Passakorn wishes his girlfriend to find another job as she is working in a pub to welcome guests. Pawinee names Passakorn's girlfriend as Mae Nak! Ruffians try to kill Passakorn and chairman Sombat but they fail again. While in a pub, Rith and ruffians storm it to kill Passakorn. His girlfriend is shot dead by Rith. Upset, Passakorn chases Rith but he is stunned by Dam before able to get revenge on Rith. On a boat, Passakorn discovers that the ruffians' big boss is Kangwan! Tied, Passakorn is thrown in the water. Pawinee, being an outstanding diver, saves him again. Kangwan comes to Pattaya to do business for weapons (อาวุธร้าย M48) with foreigners. Chased by ruffians, Passakorn and Pawinee get help from Krung. Ken betrays Pawinee by failing to put a timing bomb on Kangwan's boat. Kangwan and Dam are doing business at the Cambodian border. Thai navy tries to stop them but they take hostages. Fighting happens causing Kangwan and Dam to be killed. Krung, showing his real face, wishes to take over the weapons. In a last move to show he wasn't a bad guy, Ken sacrifices his life to neutralize Krung.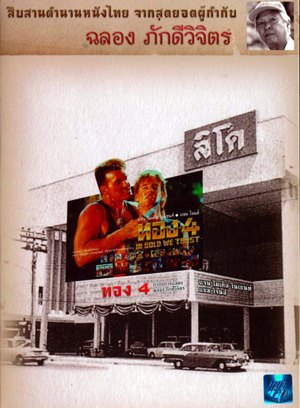 Year

: 1990



Thai title

:

ทอง ภาค 4




English title

: In Gold we trust



Rating

: 3/5


Director

: Chalong Pukdeewichit



Main actor

: Jan-Michael Vincent,Sam J. Jones,Christoph Klüppel,Toon Hiransap,Kowit Wattanakul,Rith Luecha,Boo Wibunnan,Somchai Samipak


Main actress

: Sherrie Rose



Buy now

:

Thai movie Thong 4 (ทอง 4 - In Gold we trust) was released in year 1990. The beautiful DVD version done by MGM lasts 1h13mn. The original Thai version in 35mm format lasts 1h36m. A group of foreign ruffians attack a convoy to steal the gold. Bodybuilder actor Christoph Klüppel, present in Thong 3, is back in Thong 4. They cannot open the safe. Leader of Hmong hill tribe Pol (Somchai Samipak) has two daughters. The Hmong have an agreement with the ruffians to share the gold as they need money to fight against the Vietnamese soldiers. The ruffians kill Pol betraying their promise and believing he has the key to open the safe. One of his daughter is captured. Moss is sent by US government to get back the gold and the captive US soldiers (เชลย). In fact, those US soldiers are treacherous MIA US soldiers. A team is made with foreigners and Thai actors as usual (Toon Hiransap as Yot, Rith Luecha, Kowit Wattanakul, Sherrie Rose...). Captain (ผู้กอง) Moss (Jan-Michael Vincent) is their leader. They jump by parachute near the Thai border and shall meet Pon's Hmong fighters. Enemies (ศัตรู) are waiting for them but Sai Kam, daughter of Pol, and his men help them. Hill tribe Hmong (ชาวม้ง) are suffering. The ruffians' leader sends one of his men as a bait to the Hmong village. As Vietnamese soldiers are aware of the safe, the ruffians' leader Jeff (Sam J. Jones) decide to hide it in the cave. The cave is also used as a den by Japanese soldiers. So fightings do happen. Thai veteran actor Boo Wibunnan is part of Japanese soldiers. The Thai-US team falls in the trap and they are all captured by the ruffians. The safe is now with the Japanese soldiers. The two teams have no choice but to collaborate. Jeff, the ruffians leader, is ruthless. A plane piloted by Boo Wibunnan kamikazes itself on US helicopter. Heavy fightings happen as Japanese soldiers are numerous. Almost all ruffians and soldiers die in fighting. Christoph tries to double everybody but is finally killed by the Japanese leader. Jeff shots Pol's daughter but is also killed by her. The gold is returned to the Hmong villagers. Moss decides to pass himself as dead to be able to stay with Sai Kam.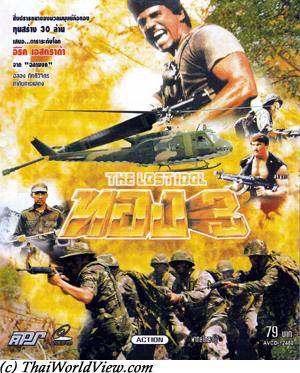 Year

: 1988



Thai title

:

ทอง ภาค 3




English title

: The lost idol



Rating

: 4/5


Director

: Chalong Pukdeewichit



Main actor

: Sorapong Chatree,Erik Estrada,Christoph Klüppel,Likit Eakmongkol,Sayan Chantaravi​boon,Krung Srivilai,Rith Luecha


Main actress

: Apiradee Pawaputanon



Buy now

:

Thai movie ทอง ภาค 3 / The lost idol (1988) lasts 89 minutes. Chalong Pukdeewichit is same director as previous sequels. A company of American soldiers is lost in Cambodia in 1975. They face Vietcong attack. They find a Brahma statue made of pure gold. The company carries it and their leader Oliver decides to hide it until the war is over. He betrays his own soldiers by shooting them but one, called Kirt (Erik Estrada), succeeds to flee despite being injured. The leader Oliver believes they are all dead. Meanwhile Red Khmer soldiers led by Sorapong Chatree are still chasing the US soldiers. They shoot Oliver and take for granted that he is dead. Kirt derives on a tree trunk and young Thai lady Lamyai helps him. He recovers and decides to stay with Lamyai. Meanwhile Oliver receives a promotion, a US medal and decides to go back to Thailand. He meets Catherine, his girlfriend, who is a US doctor working at the Thai Cambodian border. Colonel (ผู้พัน) Oliver asks Don (Likit Eakmongkol) to build a team in order to get back the statue from Cambodia. Part of this team are Krung Srivilai and Rith Luecha present in previous opus but with different roles. Christopher (Christoph Klüppel) is also part of the team. He was selected by Chalong Pukdeewichit thanks to his impressive bodybuilding. 1M baht is promised for each. Half now and half when the job is completed. Another group is following Oliver also. They threaten Katherine to get information. To force Kirt to join his team, Oliver kidnaps his daughter. Kirt has to accept to lead them through the Thai Cambodian border as it is full of mines. Meanwhile Katherine is going to Cambodian side to help poor people per her previous promise to Sorapong. It reminds the real story of Phanom Rung lintel stolen during Vietnam war and given back to Thailand in year 1988. Sayan Chantaraviboon and Apiradee Pawaputanon are part of the Red Khmer army. Sorapong's men are all killed during an embuscade and Katherine is captured. The Vietnamese soldiers wish to know why Oliver is back. Despite being tortured, Oliver refuses to speak. Kirt tells the Vietnamese about the gold statue (เทวดารูปทองคำ). The Vietnamese leader (นพพล โกมารชุน) plans to bring it back to Vietnam. One Cambodian man warns Sorapong that this statue belongs to Cambodian heritage and that it should stay here. They attack the truck convoy and the mercenaries free themselves. Sorapong asks mercenaries to join his team if they want to spare their life. If they survive, they will get freedom. The Khmer soldiers and the mercenaries attack the Vietnamese camp. Heavy fightings happen as Vietnamese soldiers have tanks. The Vietnamese leader succeeds to flee with the golden statue through an helicopter. Oliver sneaks in also. The statue finally falls in the lake and the helicopter crashes in the mountain. Chalong Pukdeewichit uses same recipe as previous sequels, i.e. famous Thai actors to be able to attract Thai audience and quite famous foreign actors to attract overseas audience.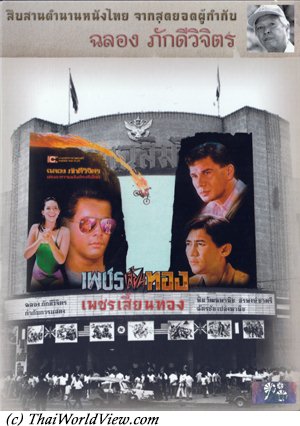 Year

: 1987



Thai title

:

เพชรเสี้ยนทอง




English title

:



Rating

: 4/5


Director

: Chalong Pukdeewichit



Main actor

: Sorapong Chatree,Chatchai Plengpanich,Adul Dulyarat,Rith Luecha,Somchai Samipak,Sayan Chantaravi​boon


Main actress

: Marsha,Jariya Anfone



Buy now

:

Thai movie เพชรเสี้ยนทอง was released in year 1987 and lasts 1h48mn. It was released under DVD format by Happy Home Entertainment company. Movie director is Chalong Pukdeewichit. It was actor Tin Settachoke's (ตฤณ เศรษฐโชค) first movie. Policeman Borapon (Sorapong Chatree) shoots a young ruffian being part of a biker gang. The young ruffian hit policemen trying to stop him. Borapon claims it was self-defense, but youngsters accuse Borapon of abuse of power. Those kids are coming from rich families so Borapon loses at court. He is separated from his wife Rutika (จริยา สรณคม - Jariya Anfone). At nighttime Borapon follows his former wife working as DJ in her nightclub. Songklam (Rith Luecha) and Chakrit (Chatchai Plengpanich) are acting as bodyguards of Nat (Marsha) in the nightclub. Borapon's wife is having a new boyfriend going to invest in her club. It makes Borapon very upset. Youngsters are playing fun of Nat, Songklam and Chakrit after seeing them in a mall. Somchai Samipak is uncle of one of the youngsters, i.e. Chetanan (Tin Settachoke). Borapon follows his wife and her boyfriend. While they are drinking, the boyfriend is shot by Songklam, who succeeds to flee. Borapon is accused. He has to take leave from Thai police (พักราชการ). Nat is businessman Orachun's daughter. Orachun (Adul Dulyarat) plans to transfer his business to Chakrit. It is Nat's birthday. Her father is always busy. The youngsters are part of the musicians performing at the birthday. Orachun is satisfied of the music group performance and wishes to greet the singer. When knowing that the singer, Chetanan, is son of former associate Wat, Orachun orders to kill him. The killing fails. Aware of this, Somchai orders his nephew Chetanan to come to Phuket. In Phuket, youngsters meet Borapon and promise to get revenge. Orachun stole money from Wat before when Wat and Orachun were business partners (ลงทุนด้วยกัน). Wat was killed by Orachun's ruffians. Chetanan kidnaps Nat while she is doing windsurf and holds her captured on a remote island in Krabi (ใช้กรรม). It is his plan to revenge against Orachun. Head of police in Phuket is Sayan Chantaraviboon, playing a cameo role. People believe Nat has drown. Rutika arrives in Phuket to ask for money to Orachun. Bullet analysis shows that Borapon is not guilty. Nat makes her captors drink. A fisherman, named Tim, helps her to flee but he has bad ideas in mind. Chetanan helps Nat on time but he gets severely beaten by Tim before. Romance starts between Chetanan and Nat. Tim warns Orachun that the youngsters are staying on a raft on Phi Phi island. While Chetanan is away, Orachun and his men storm the raft and release Nat. One of Chetanan's friends (เอ็ม สุรศักดิ์ วงษ์ไทย) is killed. Rutika comes again to get support from Orachun regarding her debts but she is chased away. Orachun is just looking to take over her business and has no intention to help her. Being ruined, she realized that only Borapon was always nice with her. While having diner, Songklam shoots Rutika. It is part of Orachun's plan to take over the discotheque. Both Borapon and Chetanan are looking for revenge and storm Orachun's home. Heavy shootings occur. Songklam is shot by Borapon. Chakrit and Chetanan shoot each other. Borapon prevents Orachun to shoot Chetanan by injuring him first. Orachun is arrested and admits he was wrong.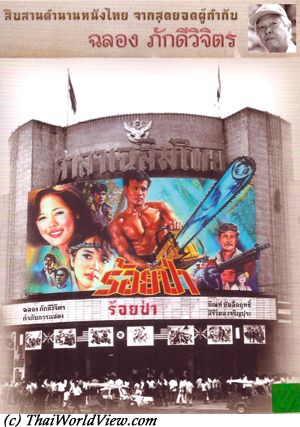 Year

: 1986



Thai title

:

ร้อยป่า




English title

:



Rating

: 5/5


Director

: Chalong Pukdeewichit



Main actor

: Bin Banleurit,Somchai Samipak,Taksin Jampol,Manop Aussawathep,Rith Luecha


Main actress

: Mai Charoeunpura



Buy now

:

Thai movie ร้อยป่า was released in year 1986 and directed by veteran Chalong Pukdeewichit. Luang Ta is taking care of an orphaned boy called Seua (ลูกศิษย์วัด). Seua (Bin Banleurit) sympathizes with young girl Paew but gets an enemy as Anirut (ลูกผู้ดี). Years passed. They are now adults. Luang Ta dies. Seua goes to Lampang to do forest staff studies. He meets Srinuan. In Srinuan's disco, he protects Somchai (Somchai Samipak) as พ่อเลี้ยง against a murder tentative. During studies, he finds that teck forest has few trees left (ตรวจป่า). He meets Boon Ying and presents himself as new forest staff (พนักงานป่าใหม่). He tries to prevent ruffians led by Theum (Taksin Jampol) to cut illegally trees (ทำรายป่าไม่ได้). Seua gets his degree and is sent at Thai Burmese border. He realises that Paew was the one to support him financially during his studies. พ่อเลี้ยง Ithi (Manop Aussawathep), owner of a company allowed to cut 2000 trees, tries to corrupt Seua (เก็บเงินของคุณเลย) to cut more trees. Ruffians are sent to kill Seua but Theum and Leum being around help him. แม่เลี้ยง Saenthong (Mai Charoeunpura) wishes to get authorisation for her trees. Seua has issues with Nok (Rith Luecha), leader of elephant keepers. Seua checks the trees deeply in the forest and gives approval (ราชการดีๆยังมีอยู่ครับ). Back to the village, they found that Nok has taken all elephants. Hopefully Theum lends them some elephants to ensure the company is not stuck. Seua rejects Saenthong's love as he still thinks about Paew. Ithi is the one trying to close Saenthong's company as he is joining shares (ร่วมหุ้น) with a Bangkok company led by Anirut, engaged with Paew. Leum is captured and killed by ruffians with a chainsaw. Saenthong is also kidnapped. Seua revenges Leum through a chainsaw fighting with Nok. It is time for Seua to neutralise Ithi. Hopefully พ่อเลี้ยง Somchai and Theum give a hand to Seua as he is in a bad situation versus many ruffians. All ruffians are killed. Police arrives. Theum prefers to die gun in the hand instead of surrendering. Suea leaves as a lonely cowboy saddened by the death of Theum. An earlier version with Mitr Chaibancha and Petchara Chaowarat was released in year 1963.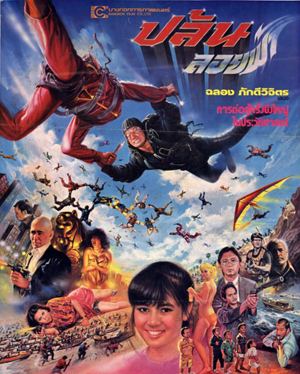 Year

: 1985



Thai title

:

ปล้นลอยฟ้า




English title

: Eye of the condor



Rating

: 3/5


Director

: Chalong Pukdeewichit



Main actor

: Sorapong Chatree,Sayan Chantaravi​boon,Thep Po-ngam,Krung Srivilai


Main actress

:
Many guests including Indian merchant Imadoo (Krung Srivilai) are invited to a diamond show to see the famous Diamond Rasamee. Komkrit (Sorapong Chatree), young playboy, is also present. Following a mess during the show, the power supply is cut and Komkrit succeeds to steal the big diamond. The diamond owner dies due to heart crisis. His son promises to take revenge. Komkrit flees thanks to a delta-plane. Komkrit is always accompanied by a dwarf. Komkrit has been hired by ruffian Araki to steal the diamond. Araki is dishonest and tries to get rid of Komkrit. Following a fight, the diamond falls from the window. Two skilled policemen, Den, coming back from America, and Ms Pisawat are responsible to catch Komkrit (โจรปล้นเพชร). Den is a blunderer. Komkrit and his dwarf assistant are looking for the diamond into a slum they believe it falls in. They are aggressively welcomed by a bunch of other dwarfs. Their younger sister (น้องสาว) is Pheung. A romance starts between Pheung and Komkrit. Araki is also looking for Komkrit. The diamond is finally found on the roof of Pheung's house. Following fights and chase with ruffians and police, the diamond is lost in an ice factory. Den forces Komkrit to help the police if he wants to escape prison. The diamond is found in soft drink ice bag. One of the dwarf swallows it. Araki's team and also Imadoo's team fight each other to get the dwarf. Imadoo claims this jewel is a sacred item for his Indian religion. Komkrit finally gets back the diamond following a fight with Araki's ruffian in the air on parachute. Meanwhile Pheung and the dwarfs are taken as hostages (ตัวประกัน) and have to be exchanged against the diamond to save their life. The police and Komkrit storm Araki's secret base at nighttime. It is also storing a huge stock of weapons. Final part of the movie is a typical James Bond sequence with an impressive number of jet- skis invading the island. Traitors to Thailand are punished. Diamond is finally given back to India. As usual with director Chalong Pukdeewichit, his movies include a mix of action, comedy, a few foreign actors and a spice of sexy actress. The movie ปล้นลอยฟ้า is known overseas under the name "Eye of the condor".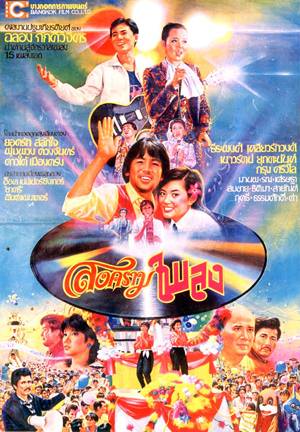 Year

: 1983



Thai title

:

สงครามเพลง




English title

:



Rating

: 4/5


Director

: Chalong Pukdeewichit



Main actor

: Krung Srivilai,Rith Luecha,Manop Aussawathep,Settha Sirachaya,Somchai Samipak,Sayan Chantaravi​boon


Main actress

: Pumpuang Duangchan,Naowarat Yooktanun,Thitima Sangkapitak



Buy now

:

Kata (Krung Srivilai) / Leuachai (Rith Luecha) and Manop Aussawathep always have music orchestra (วงดนตรี) competition (สงครามเพลง). Manop's group thinks it has won by using Settha Sirachaya as singer but the group led by Kata uses singer Pumpuang Duangchan. It degenerates and brawl fighting happens between the two groups. Everybody ends up in jail. Police inspector (Somchai Samipak) summon the two orchestra leaders by telling them that music orchestra (วงการเพลง) is an art (วงการศิลาปิน) and should not end up in fighting. Apika (Naowarat Yooktanun) pays the bailing fee (ค่าปรับ). Kata wishes to have the most famous orchestra with Pumpuang as superstar. Manop's group needs to find a new singer able to compete with Pumpuang. They decide to hire heartthrob singer Yotrak salakchai. Many Luk Thung (ลูกทุ่ง) songs are featured in this movie. Sayan Chantaraviboon is featured as the owner of a recording studio. Kampi is younger brother of Kata. Kampi loves secretly a lady called Tosaen (Thitima Sangkapitak). Kampi writes love songs towards Tosaen and those songs are used by Manop's orchestra. Apika, daughter of Manop, discovers that songs are written by Kampi and refuses to buy them anymore believing it is a trick of Kata again. Tosaen becomes lover with Kata. A romance starts between Yotrak and Pumpuang, between Apika and Kampi. It causes concerns to both Kata and Manop (น้องชายของศัตรู). Pumpuang flees so Yotrak leaves the orchestra to find her. Pumpuang is indebted to Kata but she chooses freedom and love towards being a singer. Kata and Manop decide to launch strong fighting (สงครามเพลง / สงครามเลือด) against each other. Amid a battle between the two groups, Pumpuang convinces them for a truce. Tosaen tries to get back Kampi. Leuachai is not ready for truce. Apika quits Kampi as Tosaen left on purpose a bra in his car. During a concert, Leuachai tries to shoot Kata and Manop but finally gets punched by Kampi and then slot by Police. It is the end of violence in music orchestra contest. Tosaen tells the truth to Apika so she can be reunited with Kampi.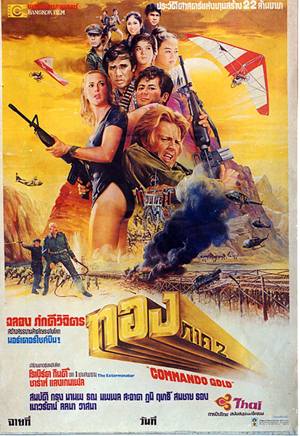 Year

: 1982



Thai title

:

ทอง ภาค 2




English title

: Commando Gold



Rating

: 3/5


Director

: Chalong Pukdeewichit



Main actor

: Sombat Methanee,Krung Srivilai,Sahat Piempongsan,Robert Ginty,Rith Luecha,Somchai Samipak,Manop Aussawathep,Ron Rittichai,Rong Kaomulkadee


Main actress

: Wassana Sitthiweth,Naowarat Yooktanun,Lalana Sulawan,Sarah Langenfeld



Buy now

:

ทอง ภาค 2 / Goldraider is a sequel of ทอง ภาค 1. It was released in year 1982. It lasts 1h33mn. It is a DVD featuring English language with Thai subtitles. The plane leaving Laos with gold bars is shot down. There is a stock valued 200M USD on board. Cheut (Sombat Methanee) and Satra (Krung Srivilai), both present in first sequel, succeed to jump by parachute. Cheut ends in a mountain village where Wassana Sitthiweth is a teacher. Satra ends in another village led by Somchai Samipak and is accused of being a spy. As one leader wishes to marry Naowarat Yooktanun, Satra's life is spared as he needs to offer gold for the wedding. So Satra must lead them. Another team led by Mark (Robert Ginty) and including Cordelia (Sarah Langenfeld), Penpoin (Lalana Sulawan) - explosive expert -, Rith Luecha – knife expert - and others is on the way to the border to prevent communists to grab the gold bars. The commando has to get back three big boxes containing weapons and delivered by planes. The Laotian leader is a general (Manop Aussawathep), who has a crippled leg. He has to catch the gold raiders and find the gold bars to give back to his commander Sahat Piempongsan. While crossing a ravine, the gold raiders get reunited with Satra and Naowarat, who were fleeing from the Laotian soldiers. They finally all get captured except Mark, who flees through his flying motorcycle. Penpoin recognises her former Thai boyfriend, who is now a captain in the communist army. At night time, Mark releases them and they storm the ruffians' camp. As the village chief was killed, Naowarat guides them to the plane. They succeed to steal the gold bars from the laotian soldiers and rush to the Mekong river to wait for US helicopters. Manop Aussawathep tries to steal the gold from his own commander Sahat Piempongsan. Laotian army reinforcement arrives but the gold raiders succeed to slow them down. Gold is finally extracted but 5 of the gold raiders have lost their lives during the expedition.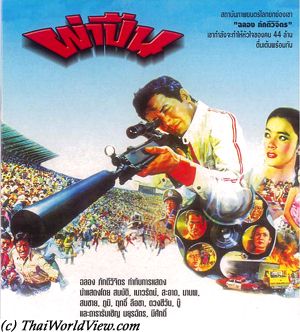 Year

: 1980



Thai title

:

ผ่าปืน




English title

: CRIME TARGET



Rating

: 3/5


Director

: Chalong Pukdeewichit



Main actor

: Sombat Methanee,Rith Luecha,Manop Aussawathep,Sahat Piempongsan,Boo Wibunnan


Main actress

: Naowarat Yooktanun,Duangcheewan Komolsen



Buy now

:

Chatree (Sahat Piempongsan) and Boo (Boo Wibunnan), two rich men, take part to social activities implying donations. Chatree's wife (Duangcheewan Komolsen) is a former bar singer. Their relationship is not going on well. Meanwhile ruffians rob a jewelry. Police inspector (สารวัตร) Kampan shots them (จับตาย 3 ศพ). Manop, brother of two deceased ruffians, is upset and looks for revenge towards Kampan. Naowarat, new young female policeman, has to work with Kampan (Sombat Methanee) known as "pitiless gun" (ปืนโหด). Kampan has lost his wife during an intervention. Since that time, he is a lonely policeman and is well known to kill bad guys with one bullet only with his magnum 357. Naowarat's father is the head of Thai police. Naowarat just comes back from Chicago after high successful studies. Chatree is the owner of a nightclub but he is losing money. Outside the nightclub, two thugs try to kill Kampan but they get finally shot by him. Reut and Manop try to kill inspector Kampan again. As they fail, they flee through a school minibus. Without knowing it, there are Chatree and Boo's sons in the minibus! Children are used as protection (ตัวประกัน). The ruffians ask for a ransom of 10M baht that shall be carried by Kampan (มือดี). Kampan brings no gun but has a special watch in order to be located anywhere. Chatree is in fact Manop's boss (เจ้านาย). Kampan's watch is discovered and after some torture, he is put in a sealed hole with Chatree's wife and her lover dead bodies. Buried alive, Kampan escapes death thanks to some workers finishing Chatree's house canalisations. The ruffians ask 1M USD to the Chinese businessman against his son's life. Money exchange shall happen in a full football stadium but Kampan and Naowarat make their plan foiled. Reut is killed. Chatree and Manop bring the kids into a disaffected factory. Following his own son pleas, Chatree surrenders. Kampan shots Manop. Children are freed. It could be the Thai version of "Dirty Harry" as Kampan also does self justice. The Thai version lasts 1h38mn. An international version was also released by Filmark production and is lasting 1h30mn. The international name is "CRIME TARGET".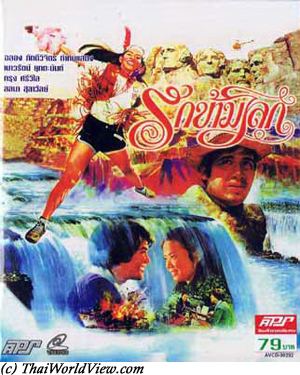 Year

: 1978



Thai title

:

รักข้ามโลก




English title

:



Rating

: 3/5


Director

: Chalong Pukdeewichit



Main actor

: Krung Srivilai,Somchai Samipak,Witoon Karuna


Main actress

: Naowarat Yooktanun,Piathip Kumwong,Lalana Sulawan,Juree Osiri



Buy now

:

Thai police inspector (สารวัตร) Ton (Krung Srivilai) is chasing drug traffickers. Heroin traffickers are shot dead by a mysterious helicopter while trying to flee police in USA. 20M baht are lost. To compensate their loss, traffickers need to get drugs directly from Golden Triangle in Thailand. Anong (Piathip Kumwong) is married to a drunkard foreigner. Nit (Naowarat Yooktanun) is her daughter. The husband Mike has a secret arrangement with the US ruffians as he becomes rich suddenly. They all travel to USA. The drug traffic is coming from Thailand to USA through antics. Maem Clara is a small antics shop's owner. She is working with Pai (สมชาย สามิภักดิ์ - Somchai Samipak), who is the driver, and with Fon (Witoon Karuna). Noon (Lalana Sulawan) is Pai's daughter. Even Osiri, veteran actress and Somchai Samipak's wife, has a small role. Pai's van is followed up by Mike. Mike tries to stop Pai's van. Finally Ton helps to push back the ruffians but they all have to flee. Unfortunately Anong is captured by Mike (เป็นตัวประกัน) while fleeing. While running away from the ruffians, romance starts between Noon and Ton, between Fon and Nit. Ton fails to find heroin in uncle Pai's van. Maem Clara is the real master behind the traffic. As usual, Krung can defeat his opponents thanks to his powerful kicks. Heroin is finally hidden inside the teak wood that uncle Pai ordered from Thailand. Mike is dropped and shot by his friends. Nit and Noon are also captured. Before dying, Mike discloses to Ton where the ruffians are heading to. Police is then chasing their boat. Through final shootings and bombings, ruffians are all killed, Mit and Noon are released but Nit's mother is losing her life. Thai movie รักข้ามโลก, directed by Chalong Pukdeewichit, was mainly shot in USA in 1978. This romance and action movie includes one love song by Witoon Karuna. Another movie called ล่าข้ามโลก directed by Chalong Pukdeewichit was also shot in USA in 1983.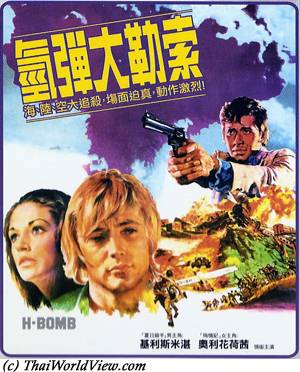 Year

: 1975



Thai title

:

ตัดเหลี่ยมเพชร




English title

: Great Friday



Rating

: 3/5


Director

: Chalong Pukdeewichit



Main actor

: Krung Srivilai,Phairoj Jaising,Pipop Pupinyo,Robert Mitchum,Kecha Plianvithee


Main actress

: Pawana Chanajit,Mayurachath Muarnprasitivej,Olivia Hussey



Buy now

:

Two CIA agent are slain in Pattaya by a mysterious scarface man. A CIA top management meeting is organised in Washington. A nuclear missile called Alpha has been stolen. Suspects are a communist terrorist group called Fuji and led by a Cambodian General named Keng, the KGB and an influential Thai businessman called Koo. All of them are implicated in this Alpha project. Another American agent called Reddy is flying from Hong Kong to find the missile hidden somewhere in Thailand. Reddy tries to meet Koo's daughter, Erica. Reddy and Erica had a former romantic relation and still love each other after 4 years of separation. Zee (Krung Srivilai) is like a son for Koo and also his favorite henchman. Zee loves Erica also. He doesn't trust Reddy and believes he is a undercover CIA agent. Two secret agents of Thailand are also supporting Reddy in his quest. Koo's mistress is played by Pawana Chanajit, the Pearl of Asia. She is in fact working for Fuji group. Koo doesn't want his daughter to see Reddy. An impressive car chasing and shootings takes place during Chiang Mai Songkran festival between Ruddy, Erica and Fuji members. Reddy is captured while entering Koo's house. Erica helps Reddy to flee as he has been drugged. Reddy finally finds the missile after multiple fighting scenes against Fuji group and against Zee. Zee really loved Erica as he sacrifices his own life to avoid her being shot by Fuji members. This movie is fully packed with actions sequences such as train collision, boat chase, shooting, car chase, helicopter gunned down... The movie includes multiple treacheries and double agents. It is nice to see so many Thai actors in this international Hong Kong / Thai movie. Two international stars Robert Mitchum and Olivia Hussey brought more international exposure to this movie. In 1970s Krung Srivilai always played the good guy but in this international production, he is playing well the bad guy. The English dubbing is quite weird but the movie has really a nice budget. This movie is a Bangkok film production. It is available in Thailand as "ตัดเหลี่ยมเพช" and in Hong Kong on VCD format under the title "H-Bomb".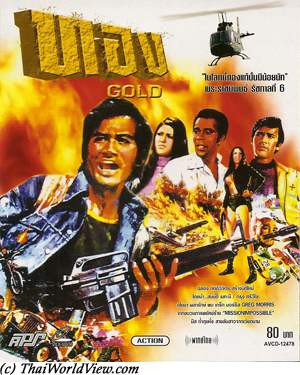 Year

: 1973



Thai title

:

ทอง




English title

: Gold



Rating

: 3/5


Director

: Chalong Pukdeewichit



Main actor

: Sombat Methanee,Krung Srivilai,Greg Morris,Pipop Pupinyo,Dam Datsakorn,Somsak Chaisongkram


Main actress

: Tham Thuy Hang,Donnapha Sophee



Buy now

:

A huge quantity of Thai gold is stolen. An American agent recruits some Thai mercenaries to build a tough team of experts. The team is responsible to get the gold back in Thailand. The gold is currently in Communist Vietnam. The team is parachuted there. A young woman is waiting for them to guide them into the jungle. On their way they met two other women that are trying to free their father imprisonned in the jungle by Vietnamese soldiers. It seems that one of the three ladies is a spy. Many difficulties happen before being able to retrieve the gold and not all of them can go back alive to Thailand... The movie "Gold" was the first big success of Chalong Pukdeewichit. The film was a phenomenal success locally and made a profit internationally. It became the first Thai film to be widely sold to international markets. Later on "Gold 2" (Gold Raiders - 1983), "Gold 3" (The Lost Idol - 1990) and "Gold 4" (In Gold We Trust - 1992) were even released. Chalong Pukdeewichit put in place an effective marketing strategy, i.e. a large budget, sex, violence and involvement of a famous internationally known actor to attract buyers. In movie Gold, American actor Greg Morris from the Mission Impossible TV series played alongside with Thai stars Sombat Methanee, Krung Srivilai. Same recipe was applied later to "H-Bomb". The Mission Impossible soundrack is even used a few times during the movie.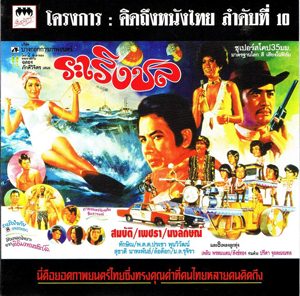 Year

: 1972



Thai title

:

ระเริงชล




English title

: Ra Rueng Chon



Rating

: 5/5


Director

: Chalong Pukdeewichit



Main actor

: Sombat Methanee,Songthong,Rujira Isarangkul,Lor Tok,Pan Borapet,Taksin Jampol,Paen Pleumsachai


Main actress

: Petchara Chaowarat,Somjit Sapsamruey,Marasri Isarangkul,Orasa Isarangkul,Wassana Chalakorn
Thai movie ระเริงชล was released in year 1972 and lasts 2h07mn. It was released under VCD format by XxX company in year 2001. Director is Chalong Pukdeewichit. The movie was found overseas and the picture is sharp and colorful. Unfortunately the first part of the movie (around 20 minutes) was missing. So in order to be able to release the movie, a remaining 35mm film was digitized. As the film reel was almost 30 years old, the colors were gone and scratches could be seen. But at least the first 20 minutes were recovered and VCD was released. Eight songs are featured including the group "Impossible" (วงดิอิมพอสซิเบิ้ล), Songthong and เพลิน พรหมแดน... Petchara wears extraordinary hats in this movie. Pak (Sombat Methanee) is back from overseas. Per his parents' arrangement, he needs to marry a young lady called Rareung (Petchara Chaowarat). His father (Rujira Isarangkul) and his mother (Somjit Sapsamruey) have a debt towards Thon (Lor Tok) and his wife (Marasri Isarangkul), who helped them financially. They must have gratitude (บุญคุณ) towards this family. It is the overseas student versus the upcountry lady (เด็กบ้านนอก). Pak is not willing to marry Rareung and wishes to break the engagement (ถอดหมั้น) as he has a fiancee, called Sopha (นงลักษณ์ โรจนพรรณ), still being overseas. The young lady, Rareung, is behaving like a hippy. If no wedding, Pak's father has to pay back the debt but he doesn't have the money. Pak agrees to work for Thon one year in order to pay back his father's debts. The engagement is maintained. They have to move back to Rayong. Pak met Pleun (เพลิน) as local architect and Sang (Songthon). Plaem (Orasa Isarangkul) is aggressed by ruffians including Pan Borapet. Pleun and Rareung help her on time. Sopha is back from USA and is willing to pay the 1M Baht debt. Pak refuses as he is not a thing that can be purchased. Rareung calls him "golden pimp" (แมงดาปิดทอง)! Pak is authorised by Thon to go to Sopha's birthday. A fight occurs during Sopha's birthday. Bouleu (พ.ต.ต.ประชา พูนวิวัฒน์) hires ruffians to beat Pak as he sees him as a rival. Rareung and his friends help him. Sopha's mother (ประพิศ พราวพรรณ) wishes her daughter to marry Bouleu, a rich businessman. Bouleu has a mistress already (Wassana Chalakorn). Den (ปรีดา จุลละมณฑล) has a car accident with Sopha so he tries to seduce her and comes to her house. Rareung's mother is suddenly dead. Thon has a mistress. Her brother Chu (Taksin Jampol) pushes her to become official wife. Pak refuses that Rareung's breaks her debt contract. Rareung is aggressed by three ruffians but Pak helps her on time. Bouleu hires Chu to recover some drugs fallen in the sea. A party (งานฉลอง) is organised to celebrate new bungalows opening so many families are gathering. Sopha knows she lost to Rareung. Bouleu proposes to help her by damaging the parachute. While Rareung is parasailing, Paen Pleumsachai shoots the parachutes and ruffians kidnap the ladies. They ask for 1M baht ranson to Thon. Bouleu is the mastermind behind. The ransom fails as the police intervenes. Chu is involved but he is doubled. Plaem (sister of policeman Den) and Thon's mistress are also captured. Police is about to storm the island where Bouleu and his team is hiding. Wassana is disappointed that Bouleu still loves Sopha. She warns Pak and the police regarding mines hidden under the beach. Bouleu shoots her. Police led by Den and Pak succeed to storm the HQ and to release the ladies. They have to flee as a time bomb shall destroy the HQ. A final fight occurs between Pak and Bouleu. Wassana harpoons Bouleu. Happy romance can happen between Pak and Rareung, between Den and Sopha, between Pleun and Plaem.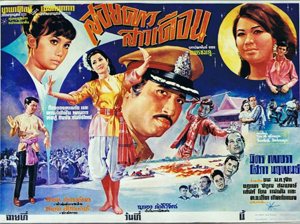 Year

: 1969



Thai title

:

สอยดาวสาวเดือน




English title

:



Rating

: 3/5


Director

: Chalong Pukdeewichit



Main actor

: Mitr Chaibancha,Chana Sriubon,Sorapong Chatree,Jamroon Nuatjim


Main actress

: Petchara Chaowarat,Sopha Sataporn,Viphavadi Triyakul
Saming (สมิง) is a local ruffian. He loves a young lady called Srinuan (ศรีนวล) (Petchara Chaowarat). While trying to get back a necklace belonging to his family, Saming is injured so he cannot stay close to Srinuan. Neung (หนึ่ง) (Mitr Chaibancha), a Bangokian young man, comes to visit the village one week for a local yearly dance contest festival. Saming loves Srinuan but Srinuan is more interested in Neung. It is reciprocal. Saming is unhappy with Neung. During the dance contest, competitors try to hurt Srinuan but Neung protects her and gets injured. Srinuan spends the night with Neung. As Srinuan's father, Kamnan Tong (กำนันธง), is aware, Neung needs to take responsability (ต้องรับผิดชอบ). Neung is coming from a rich family. His father is disappointed by his son's behavior but wants his son to finish his studies first and get approval from the grandmother. Neung needs to leave. Srinuan promises to wait (ค่อยพี่นะ). Behind the curtain, Neung's father promises land and money to Srinuan's father to forget about this union. 18 years have passed. A daughter is born from their brief union. Her name is Soi (สอยดาว), who is now a beautiful teen. Neung's father sends his grand children to check the land he gave to subdistrict headman Tong. It includes Deuan (สาวเดือน ) and Kla (ลูกเมียแต่ง / ลูกเมียหลวง). Saming (โจร เสือ) is now the ruffians leader. Srinuan doesn't want Soi to meet the Bangkokian people as they might have bad intentions. Soi helps Deuan, her half sister, who falls in the river (ด้วยน้ำใจ). She is sad that her real father never visited her. Kla, the brother, has a bad mindset denigrating countryside people and gets smacked by Soi. Neung wishes to know who hit Kla. Neung meets Soi and understands she is her daughter. Neung wishes to know the truth about Soi. The father, subdistrict headman Tong, doesn't wish to let Neung meet Srinuan again but Neung insists. After 18 years passed Srinuan doesn't want to meet him again also (ไม่อยากเป็นเมียที่สอง! ไปขอทานที่อื่น!). Finally Neung recognizes officially Soi as her daughter and she moves to Bangkok to become an upper class lady (เลือดควาย / เลือดผู้ดี). Neung's wife, Soi Phet, doesn't accept this as it means to share heritage with another family member. Many troubles happen. Kla sends two ruffians to rape Soi. The grandmother falls from stairs while trying to help. Soi is accused and goes back to countryside with her mother. Neung's wife wishes to get back the land. Following a boat assault, Neung's wife is shot. Saming is responsible. Following gun fights between Police and ruffians, a final duel happens between Neung and Saming. Neung wins. Kla is injured and is forgiven by his father and Soi. Neung and Srinuan can now live happily together. Interesting to find that Sorapong Chatree, Thailand's most famous actor, is playing a young stunt during a few minutes at the beginning of the movie.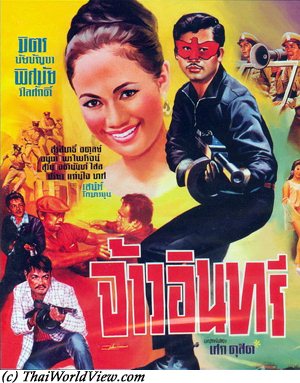 Year

: 1968



Thai title

:

จ้าวอินทรีย์




English title

:



Rating

: 3/5


Director

: Chalong Pukdeewichit



Main actor

: Mitr Chaibancha,Adul Dulyarat,Sawin Sawangrat


Main actress

: Pissamai Wilaisak,Preeya Roongrueng,Kaenjai Meenakanit



Buy now

:

Insee Daeng is the famous vigilant hero that appears during decade 1960s in Thailand. When Rom wears a red mask, he becomes Insee Daeng. One night, Rom simulates being drunk in a nightclub but Wassana, his girlfriend, is taking care of him. Nobody never thought that Rom, often seen drunk, can be Insee Daeng. They meet influent wealthy man (พ่อเลี้ยง) called Sombun. Following an altercation between Rom and some ruffians, Sombun is found stabbed with a knife featuring a skull pommel. A mysterious organisation signs its crimes with this specific knife. Police inspector Montree and his subordinate Chat are investigating. They are looking for the ruffians and try to catch Saeng, their supposed leader, but he succeeds to flee. At nighttime the mysterious organization also tries to stab the police inspector (สารวัตร) Montree. Chat doesn't like Insee Daeng but the police inspector Montree admits he is useful for the society (ผิดแต่มีประโยชน์สำหรับสังคม) but his duty is still to catch him. Insee Daeng finds one of the ruffian and follows him to a big house. A mysterious woman is found stabbed there. Chat has a fight there with Insee Daeng but is defeated. Chat believes the murderer is Insee Daeng but mysteriously the body has disappeared. The house is owned by a wealthy man called Thiem. Rom disguises himself as a ruffian named Sing in order to infiltrate the organisation. He found that Thiem is one of the head (นาย) of the ruffians. Sing claims he is coming from the South of Thailand and that he is fleeing the police. Sing accepts to work for Thiem (คนของฉัน). Sing speaks a lot and is not appreciated by other ruffians. A social party is organized. Rom, Wassana and the policemen meet Chamanchai Suk, a powerful businessman. Another businessman is killed during the party. Montree and Chat are captured while trying to catch the killers. Hopefully a mysterious masked heroine frees them on time and gives them the address of a storage place containing heroine. Thiem asks Sing to get back an important letter. He goes there as Insee Daeng and succeeds thanks again to the help of the mysterious masked heroine. Thiem is pleased with Sing and would like him to join (สมาชิก) the mysterious organisation (ชาติชั่ว) called "Dead demon" (ภูตมรณะ). Sing meets Kanda (Preeya Roongrueng), a dangerous beautiful sexy lady working for Thiem. Oh Oh is the big boss but nobody ever saw his face. While visiting 'Blue Birds' bar, the two policemen are captured again. Chat shall be drown slowly and Montree's death shall be disguised as an accidental fall from a building. Hopefully Insee Daeng can help them on time as Sing is now member of the organisation. Finally internal conflicts cause the failure of the organisation. Kanda surrenders to the Police and gives them the address of the hidden lair. The movie ends with various gun fights involving Montree, Chat, Insee Daeng and the ruffians. Oh Oh, who is in fact Chamanchai Suk, is also shot. The mysterious masked heroine is Wassana. The police failed once again to catch Insee Daeng. The movie (Lepso Studio VCD version) has a damaged picture with lack of colors but the Phanmitr DVD version has been remastered so offering a very good quality. It reminds of 1960s decade movies involving mysterious organizations such as James Bond movies with Sean Connery or Fantômas with Jean Marais. There is a very good performance from Mitr Chaibancha as he is playing three roles (Rom, Insee Daeng and Sing). It is a long movie, i.e. around 2h20.
---