Increase or decrease font size for easier reading : A+ A-
Chaiya Suriyun
Chaiya Suriyun (1935-1990) - ไชยา สุริยัน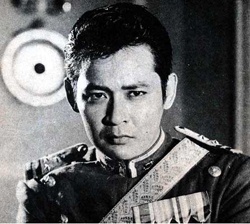 Chaiya Suriyun was the first star to win three consecutive Thai oscars (รางวัลตุ๊กตาทอง) in years 1962-1964. His first movie was เห่าดง released in year 1958. His first oscar was with movie เรือนแพ (1962). Chaiya didn't play a lot of movies as he always chose the stories. He played only 3 movies with Mitr Chaibancha, i.e. เก้ามหากาฬ (1964), อินทรีมหากาฬ (1965), จามรี-สีฟ้า (1965). He made a comeback in year 1970 with famous movie โทน
This Chaiya Suriyun movie page contains 33 records.
---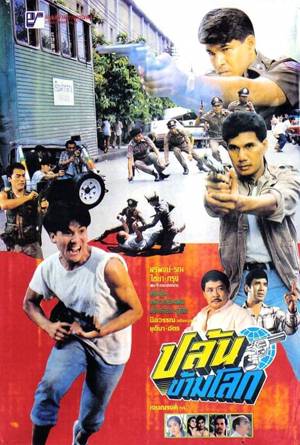 Year

: 1987



Thai title

:

ปล้นข้ามโลก




English title

: Faithful Spirit



Rating

: 3/5


Director

:



Main actor

: Sorapong Chatree,Krung Srivilai,Chaiya Suriyun,Chat Mongkolchai,Somchai Samipak,Ron Rittichai,Lau Wan-Fung


Main actress

: Chutima Kawinla
Thai movie ปล้นข้ามโลก / Faithful Spirit / 手足情 was released in year 1987 and lasts 1h36mn. It is a Hong Kong Thai coproduction. A VHS was also released in Japan and lasts 1h30mn featuring a sharp picture. In Hong Kong, during a police operation, a policeman Saichai (Hong Kong actor Lau Wan-Fung) is surprised to see one of his friends being part of the gangsters they are chasing. He prevents another policeman to shoot his friend, who can flee. The head of the police has now doubt on Saichai's integrity and suspends him from police duty. Saichai is very upset. He has a fight with some gangsters and during the fight, a policeman, trying to arrest them, is killed accidentally. Saichai is accused to have killed this policeman. His friend proposes to Saichai to flee to Thailand and to stay with uncle Chuan. In Thailand, ผู้กอง Sorapong Chatree tries to catch a kidnapper having taken two foreign teachers in hostage. Inspector (สารวัตร) Ron Rittichai (รณ ฤทธิชัย) succeeds to enter in the room and shoots the kidnapper. Uncle Chuan is involved in diamond trade. Palang (Chat Mongkolchai) is disappointed that Chuan wishes to retire. Three ruffians belonging to Palang shoot uncle Chuan and his wife. Khun Kamton (Krung Srivilai) is the big boss. Kamton asks for additional money from all godfathers. Fed up, the godfathers pushed by khun Prasong (Chaiya Suriyun) gather 200 000 baht to get rid of him and a hitman kills Kamton. Uncle Chuan recovers gradually. Saichai promises to take care of Palang. Following a fight in a restaurant, Saichai kills Sia Palang. Godfather Prasong knows that the killer is a former Hong Kong policeman. By threatening Saichai to have him expelled from Thailand, Godfather Prasong hires him to kill other godfathers. One time, he fails as police intervenes. Saichai believes Prasong tried to betray him. Police fails to catch Saichai. Saichai gets a Thai girlfriend called Mary (ชุติมา กาวินละ). Three Hong Kong men are sent to jail following a failed robbery. Saichai knows them. Godfather Prasong is finally arrested by Sorapong following a drug case foiled by Thai police. Somchai Samipak is playing head of Police. Saichai succeeds to release two of his friends. The third one succeeds to escape as police intentionally wants to find other Hong Kong men thanks to him. Police surrounds the house where the Hong Kong men are hiding. They refuse to surrender. Ron Rittichai has to do the dirty job to neutralize the Hong Kong robbers...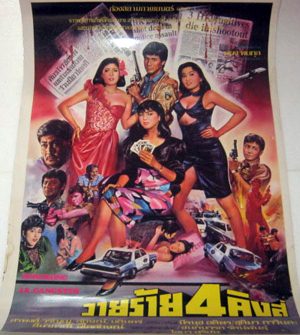 Year

: 1986



Thai title

:

วายร้าย 4 คิงส์




English title

:



Rating

: 2/5


Director

: Payoong Payakul



Main actor

: Sorapong Chatree,Chaiya Suriyun,Lak Apichat


Main actress

:
Thai movie วายร้าย4คิงส์ was released in year 1986. It was released under VCD format by Lepso Studio Company and lasts 1m27mn. Movie director is famous action movie director Payoong Payakul. Main actors and actresses featured in this movie are Sorapong Chatree,Chaiya Suriyun,Lak Apichat, นีรนุช อติพร. Some sequences of the movie (four minutes) are censored in Thailand as it features various daring sequences such as the three robbers with three prostitutes. Those sequences can be seen in the international release "Shoot Out" done by Filmark production. "Shoot Out" movie mixes the Thai movie "วายร้าย4คิงส์" and some action sequences shot in Hong Kong. During a jewelry robbery, two women are kidnapped. The three robbers finally release their hostages and flee inside the forest. By using grenades, the robbers succeed to flee the police. The head of police is Chaiya. Sarawat Sorapong receives duty to catch them. The head of police recommends him to check with a singer called Riem in a bar frequented by Hong Kong and Singapore citizens. Apichat provides support to the robbers, who are coming from Hong Kong. Riem is in fact undercover policewoman. Despite bring identified by Riem, the Hong Kong thieves succeed to flee and try to catch a plane to Saudi Arabia. They are caught at embarking gate in Don Meuang airport. The head of ruffians sends two Charlie's angels to get back the three Hong Kong men. On trial day, Apichat succeeds to release two Hong Kong guys through a daring escape. One fails to escape and is caught back by the police. Fai Chai is another local Thai helping them. The boss doesn't leave his teammates (ลูกน้อง) in difficulty. As Fai Chai is identified, Thai police storms the house where ruffians are hiding. All are killed. Thai police saves face (ตำรวจไทยไม่ขายหน้า).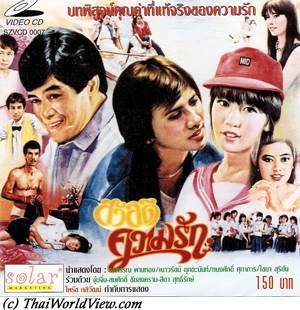 Year

: 1985



Thai title

:

สวัสดีความรัก




English title

:



Rating

: 3/5


Director

:



Main actor

: Chaiya Suriyun


Main actress

: Naowarat Yooktanun
A girl and her young mother-in-law are living together after her father's death. This movie deals about their relation with men, love and wealth.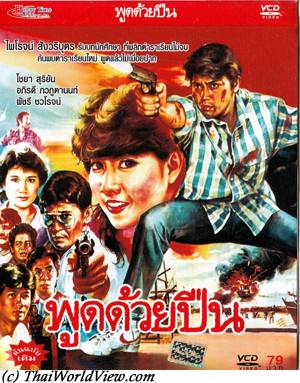 Year

: 1984



Thai title

:

พูดด้วยปืน




English title

:



Rating

: 3/5


Director

:



Main actor

: Phairoj Sangwaribut,Chaiya Suriyun,Lak Apichat,Pinyo Parnnui,Krailat Kriengkrai


Main actress

: Apiradee Pawaputanon



Buy now

:

Thai action movie พูดด้วยปืน was released in year 1984 and it lasts 89 minutes. Eh (Phairoj Sangwaribut) is a student. His friend Tor is beaten by two thugs. The leader takes revenge as Tor sent him to jail 3 years ago. The two thugs then try to attack Eh but he succeeds to get rid of them. His girlfriend is Sa (Apiradee Pawaputanon). Tor is back home but he is blamed by his father for being useless and being a gay. Eh is back to Choomporn as his parents have been killed. His father, a politician, was killed by ruffians (Lak Apichat, Pinyo Parnnui) as he refused to withdraw from next election. His wife was killed also. Police inspector (สารวัตร) suspects Ah Kadet (Chaiya Suriyun) but he has no proofs. Eh has to sell the house and land as his parents were indebted. He entrusts his sister Eoh to his father's friend. He decides to stop studying. Eh stays with Chom (Krailat Kriengkrai). Eh gets a shot gun and gets revenge by shooting one of the killers. Ruffians get revenge by shooting Eh's parents' friends but Eh refuses to provide hints to the police. Lak is shot but Eh is injured. The boss hires two thugs from Bangkok to work with Pinyo to get rid of Eh. They are the two thugs, who got beaten by Eh so they want to take their revenge. Pinyo (สัตว์นรก) is then killed also. The two thugs get punished again. Ah Kadet pushes Tor to kill Eh if he wants to get back his parents' belongings. Finally Eh gets rid of Ah Kadet in a shipyard. Eh shall marry with Sa next month but Tor, unaware of Ah Kadet's death, shall still execute his orders...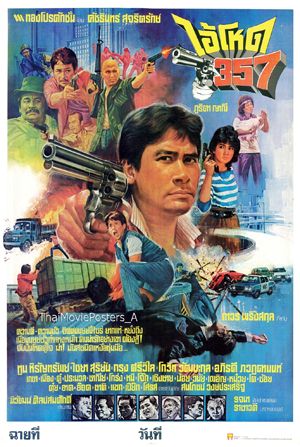 Year

: 1984



Thai title

:

ไอ้โหด 357




English title

:



Rating

: 2/5


Director

: ถาวร พริ้งสกุล



Main actor

: Toon Hiransap,Krung Srivilai,Chaiya Suriyun,Kowit Wattanakul,Kecha Plianvithee,Doo Dook Kradon,Boo Wibunnan,Chanee Yotchai


Main actress

: Apiradee Pawaputanon
Thai movie ไอ้โหด 357 was released in year 1984 and only lasts 1h13mn. It was released under VHS format. Probably some parts of the movie were lost when the movie was transferred to VHS format. As some parts of the movie are missing the storytelling is sometimes awkward. Movie director is ถาวร พริ้งสกุล. Doo (Doo Dook Kradon) is captured by a group of men and is forced for a wedding. The daughter's father, Boo Wibunnan, is the owner of a big hotel in Bangkok and wishes Doo to move to Bangkok to help take care of the hotel. The wedding is a failure. Cheut (Kowit Wattanakul) works with his father in the car repair business. The elder brother is absent. Ruffians including เมือง อพอลโล่ kill the father and mother but Cheut succeeds to flee. Bancha (Kecha Plianvithee) is the mastermind as he wants the land (ที่ดิน). Cheut's girlfriend (ทิพย์มณี ญาณี), teacher Manee, informs him. Ruffians ask him to leave the city but he refuses. Cheut's brother is Chat (Chaiya Suriyun), a small policeman. Ruffians try to kill the two brothers but fail. Linda, ผู้ช่วย (Apiradee Pawaputanon), is nominated to help Chat. Linda arrives by boat driven by Chot (Toon Hiransap). As the two brothers are surrounded by ruffians (หมาหมู), they get support from policeman Krung Srivilai. The two brothers promise to get revenge for their parents. Linda, the subdistrict officer's daughter, asks villagers not to be afraid of ruffians as Thai police are on their side. Bancha warns the sub district officer, his daughter Linda, Chot and Doo not to interfere in their business. Chot is not willing to help so he gets scolded by Chat and Cheut. Linda and Manee are kidnapped by ruffians. Cheut and Chat succeed to release Linda. Policeman Krung tries to arrest ruffians. As some ruffians are found dead, he suspects Cheut. The sub district officer is killed. Krung, Chot and Linda try to embuscade Bancha to arrest him but it fails. Somebody is shooting the ruffians with a magnum 357 but nobody knows who the shooter is. Deputy Panom is involved. Bancha is his younger brother so he protects him. Finally ruffians are neutralized and Bancha is shot dead.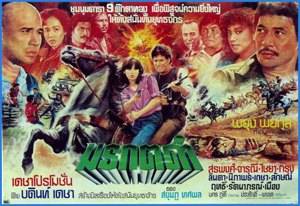 Year

: 1983



Thai title

:

มรกตดำ




English title

:



Rating

: 2/5


Director

:



Main actor

: Sorapong Chatree,Chaiya Suriyun,Rith Luecha,Krung Srivilai,Kecha Plianvithee,Lak Apichat


Main actress

: Jarunee Sooksawad,Nipaporn Nongnuch,Ratanaporn Intarakamhaeng,Linda Khatancharoen
Fighting is happening in a village. All villagers are killed by mercenaries led by Rith (Rith Luecha). Fighters, riding horses and wearing black clothes, led by Maneerak (Jarunee Sooksawad) are chasing them away. Maneerak has a mixed of Ninja and cowboy skills. Two groups are fighting for this area control as it contains precious gems. One group includes Maekin (Krung Srivilai), Kecha (Kecha Plianvithee), Maneewong (Nipaporn Nongnuch) and Maneerak. The opposite group includes Rith, Lak (Lak Apichat) and Runfa (Linda Khatancharoen). Maneerak, Maneewong and Runfa are three sisters. Their father died before. Rith's ruffians are looking over workers digging for gems. Yutta (Sorapong Chatree) finds a big black emerald (มรกตดำ) and flees away but is chased by the guards. The black stone (ก้อนหิน) is a sacred item. It helps to get rid of the guards and a blind monk appears to Yutta to encourage him to take good care of the stone. A mysterious man called Chaiya (Chaiya Suriyun) keeps surveying the two groups. Yutta is involved despite him in the fightings between the two groups as he helped Maneewong and then sold some gems. Yutta loves Runfa but she cannot be trusted as she steals the black stone while he is sleeping. This time, Yutta helps Maneerak, younger sister of Maneewong. The black stone belongs to Tibet and Runfa tries to sell it. Maneerak is able to get the black stone as Rufa's domestic helper stole it. Maneewong wishes to get the full heritage of her father. Maneerak visits her mum (Ratanaporn Intarakamhaeng) in a Buddhist retreat on a hill. Yutta follows her but Maneewong and her lover Maekin are just behind. Duel happens between Yutta and Maekin. Everybody is now looking for the black stone. Maekin kills Rith during the fighting between the two groups. Yutta gets rid of Lak. Finally both Yutta and Maekin are discovered to be undercover police officers (ผู้กอง). Chaiya(Chaiya Suriyun) is an undercover military officer. Chaiya and the mother make everybody realize greed. Understanding is back in the family and Yutta will bring back the black stone to Tibet with Maneerak. This 1h37mn movie is part of Thai Tom Yam western style. The Thai movie poster mentioned that nine Thai stars, having received Thai cinema awards before, are featured in this movie.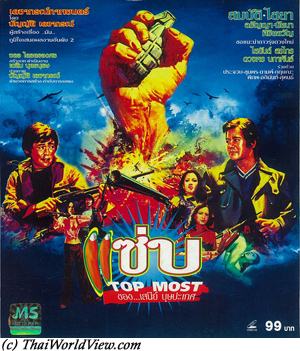 Year

: 1976



Thai title

:

แซ่บ




English title

: Top most



Rating

: 3/5


Director

:



Main actor

: Sombat Methanee,Chaiya Suriyun,Prachuap Ruekyamdee,Dam Datsakorn


Main actress

: Aranya Namwong,Naiyana Shewanan,Sirikwan Nanthasiri
Prakan (Sombat Methanee) and Wi Ok Hen Lom (Chaiya Suriyun) are Pa Wieng's sons. Pa Wieng is the head of a team of bandits (โจร). Once Prakan knows Pa Wieng is not his real father, he flees to find his real father, Sing. A couple, Karn and his girlfriend Duang, is fleeing as Pa Wieng's ruffians are following them up. Karn dies but Duang is saved by Prakan (Sombat Methanee). Pa Wieng is Prakan's stepfather (พ่อเลี้ยง). Prakan is now considered as a traitor (ลูกหมา, ทรยศ) as he tried to flee. Wi Ok Hen Lom is always following Prakan remotely and helps him when needed. Prakan and Duang arrive in the adjacent district. Luang (Dam Datsakorn) is the subdistrict headman (กำนัน) and her sister Deuan (Aranya Namwong) is the village headman. They control very strictly the subdistrict. Sing was the former village headman but his authority has been neutralized. Prakan wants to find the former village headman (ผู้ใหญ่บ้าน) Sing, who is his real father. But Sing refuses to recognize him as his son. Prakan and Duang (เพื่อนรัก) are captured by Deuan (คนเก่ง). Sing's daughter, Kotko, supports them. Prakan helps to protect their oil stock and gets back his freedom. Finally Sing recognises Prakan (ลูกพ่อ). Luang believes Prakan is a undercover policeman (ตำรวจชายแดน). Saming is another mafia leader and is Luang's best friend. Saming and Luang destroy Prakan's house but Deuan doesn't agree (ไม่เห็นด้วย, ไม่ยุติธรรม). It is war declaration with Prakan. Prakan uses rape as weapon to revenge himself against Deuan. Luang asks the district officer (นายอำเภอ) to arrest them but Deuan provides an alibi to Prakan. Luang decides to give Deuan to Saming but Prakan rescues her on time (มารับเมีย). Now Prakan has two wives (มีเมีย2คน), Deuan and Duang! Kotko and Duang are kidnapped. Pa Wieng comes to help but dies in the fight against Luang and Saming. As expected, ruffians are defeated. It is a typical action movie from 1970s decade when local authorities were not respecting the law and were local kingpins. It is also a very bad habit in Thai movies and Thai TV series (ละคร) to use rape as an expression of love. In 2006, a Thai movie with the same name was released but it was a comedy.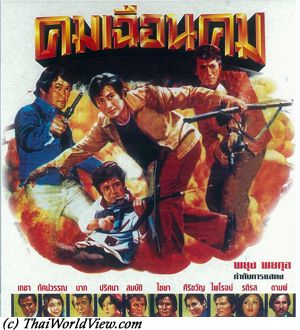 Year

: 1976



Thai title

:

คมเฉือนคม




English title

: The outlaw man



Rating

: 3/5


Director

: Payoong Payakul



Main actor

: Sombat Methanee,Phairoj Jaising,Nard Poowanai,Chaiya Suriyun,Kecha Plianvithee,Dam Datsakorn


Main actress

: Tasawan Saneewong,Prissana Chabaprai,Sirikwan Nanthasiri



Buy now

:

Three men are arrested by the Thai police following a trip to Hong Kong as they are suspected to sell drugs. They are released as no proofs are found. They met a guy called Daeng in the cell and befriended together. A young lady, Maria, Tawai's assistant, pick them up. Daeng is trying to join Tawai's secret organization, which is buying and selling weapons and drugs. Such organization undermines Thailand. As Tawai orders Daeng to kill Krit (Sombat Methanee), Daeng reveals that he is a hidden policeman and convinces Krit, who is a drug smuggler, to join his side. Policemen and gangster groups go to the golden triangle, border between Thailand, Laos and Burma. Heavy fightings happen between both groups. The country traitors are killed or captured. Some policemen are killed but they didn't die in vain as they give their life for the nation, the religion and the monarchy. It is a typical action movie of mid 1970s in which Thailand needs to be protected against external red communist threat. There is a rupture with traditional movies as Thai actors shake hands, listen to western music and kiss ladies in front of spirits shrines.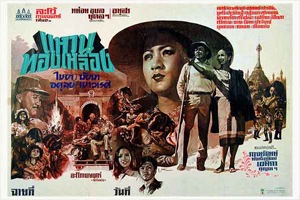 Year

: 1973



Thai title

:

แหวนทองเหลือง




English title

:



Rating

: 4/5


Director

: พระเจ้าวรวงศ์เธอ พระองค์เจ้าอนุสรมงคลการ



Main actor

: Chaiya Suriyun,Adul Dulyarat,Chao Klaewklong,Sukon Koewliam,Sompol Kongsuwan


Main actress

: Naiyana Shewanan,Yaowaret Nisakorn,Marasri Isarangkul,Juree Osiri,Chosri Misommon,Chadaporn Wachirapranee
Thai movie แหวนทองเหลือง was released in year 1973 and lasts 2h56mn. The movie was never released on VCD / DVD formats but was shown on Thai TV cable. Director is Thai prince พระเจ้าวรวงศ์เธอ พระองค์เจ้าอนุสรมงคลการ. The production of this movie last almost 2 years. Many actors and actresses are featured in this movie, i.e. Chaiya Suriyun, Naiyana Shewanan, Adul Dulyarat, Yaowaret Nisakorn, Chao Klaewklong, Marasri Isarangkul, Juree Osiri, Sukon Koewliam, เมืองเริง ปัทมินทร์, Sompol Kongsuwan, เสถียร ธรรมเจริญ, Chosri Misommon, ภาณุวัฒน์ มังคลารัตน์, เขมิกา กุญชร ณ อยุธยา, Chadaporn Wachirapranee. In North of Thailand, Sai Kam (Chosri Misommon) and her young sister Duang Jai (Naiyana Shewanan) are domestic helpers in a beautiful mansion. Krissada (Chaiya Suriyun) (คุณผู้ชาย) is the owner. The subdistrict headman Prem (Chao Klaewklong) is Duang's father. Uuan (Juree Osiri) and Noi (Marasri Isarangkul) dream to marry Krissada. Krissada is gone to visit waterfalls with Duang. A snake bites Krissada and Duang Jai saves him. A romance starts, and a wedding promise happens. Krissada gives a ring to Duang Jai. Krissada has to leave urgently to Bangkok after receiving a telegraph. Sukon Koewliam loses Krissada's letter he was supposed to give to Duang Jai. Duang Jai stays in a relative home to hide her pregnancy. Finally, Prem discovers that his daughter Duang Jai is pregnant. To hide his shame, the father plans to marry Duang as soon as possible. Prem wants to hide that Krissada is the father as he doesn't believe Duang Jai is telling the truth. As he owns a lot to Krissada's father, he nevertheless refuses to damage Krissada's honor. Sai Kam and Duang are enchained but Duang succeeds to flee. She tries to go to Bangkok but has no money, so she walks by following the railway tracks to Bangkok! Railway workers and doctor Metta (Adul Dulyarat) find her. She is about to deliver. A daughter is born. It is war time, so Bangkok is not a good place to stay. Doctor Metta proposes to send her. During two years, Duang Jai is looking for Krissada's house in Bangkok. She finally finds it. Sukon tells her Krissada's story. Krissada has disappeared. Metta asks her to decide about her future but Duang Jai refuses to marry him per her promise to Krissada. Chadaporn Wachirapranee is playing a brothel owner. Duangjai is working there as she needs money to survive. Bombs destroy the brothel house and her friends are killed. A Japanese officer helps her. As she has nowhere to go, being a ผู้หญิงชัว, he proposes her to be his domestic helper and wife (เมีย). The war is going to be finished soon. The Japanese officer promises to keep sending money to her. He dies on the way to Japan. Duangjai needs to resume being a prostitute (โสเภณี). The house owner wishes to expel Duang Jai and Taew as they cannot pay the rent anymore. The Japanese officer helped the owner during war, but gratitude is useless according to the house owner! Duang Jai and Taew find gold hidden under the carpet. Many years passed. Taew (Yaowaret Nisakorn) and Duangjai have set up their own company. Duangjai has a new name, i.e. เศรษฐีโสเภณี. Taew recommends her to look for her lost daughter and to look for happiness. Duang Jai meets Krissada again as her car hits a passerby. He has become a beggar. His father had many debts. Krissada was part of Seri Thai (resistance to Japanese invaders) but had chosen the wrong boss so had to flee to Laos. Duangjai proposes to help. She doesn't dare to tell who she is. Thai newspapers start to give bad rumours about her previous status as prostitute (ปากเสีย). Nattaya, one of the employees, is a drug addict (ติดยา). Krissada proposes to help. Nattaya has difficulties to get rid of drugs. She succeeds to flee from Krissada's home. She is then kidnapped as ruffians want to get money from Duang Jai and Taew. Krissada helps. During fightings with ruffians, Phi Taew is shot and wishes Duang Jai to disclose the truth but Duang Jai still has concerns about her past (ชีวิตโสเภณีมีค่าเพราะว่าเงิน). Nattaya announces to Duangjai that she is going to marry with Krissada. Duangjai tries to break the relationship but Nattaya refuses. Finally, Duangjai asks to be with Krissada a few hours. She wears Northern clothes again. Krissada is not able to link Duang Jai and Aitit, Duang Jai new name. Duangjai leaves and gives a gift for the wedding. The gift is the ring given twenty years ago. Finally doctor Metta is able to explain that Nattaya is Duangjai's daughter and so Krissada's daughter so a wedding cannot happen. Now it is Krissada turn to look for Duang Jai...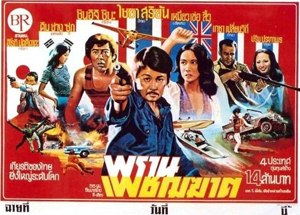 Year

: 1973



Thai title

:

พรานเพชฌฆาต




English title

: TOKYO-SEOUL-BANGKOK



Rating

: 3/5


Director

:



Main actor

: Sonny Chiba,Chaiya Suriyun,Kecha Plianvithee,Pipop Pupinyo


Main actress

: Chosri Misommon
Thai movie พรานเพชฌฆาต (TOKYO-SEOUL-BANGKOK - 東京-ソウル-バンコック_実録 麻薬地帯) was released in year 1973. It lasts 1h42mn. This co production movie is lost in Thailand but still available in Japan. As the movie is in Japanese language only, below summary might not be fully correct. Two cars are chasing and the lady's car is pushed in a ravine. She was Sonny Chiba's girlfriend. In the remainings of the car, a camera is found. It contains a picture of the girlfriend and another younger Korean lady. Ruffians are following Sonny and beat him seriously. He gets help from a detective. The ruffians become the ones chased but their leader succeeds to escape. The movie continues to Hong Kong where the leader does his drug trafficking. The action ends up in Thailand. Pipop Pupinyo is the right hand of the Japanese ruffian in Thailand. Chosri Misommon is playing a domestic helper. The ruffian leader's girlfriend sees Sonny in a market. Sonny meets Chaiya Suriyun but this latter dislikes Japanese people. Finally Chaiya helps Sony when he is overwhelmed by thugs sent by Pipop Pupinyo. Ruffians leader wishes to buy heroin and gets introduced to Kecha Plianvithee by Pipop. Heroin shall be available in north of Thailand. Chase is happening between Sony and the ruffians leader. Kecha through a small airplane tries to kill all of them. Chaiya is also involved in the shootings. The girlfriend is shot. The ruffians leader is killed but Kecha gets also killed. Before dying the Japanese ruffians leader gives important information about the gang location in Japan. Sony accepts to bring Chaiya to Thailand and they destroy their secret laboratory and the leader dies. The Thai poster mentions 4 countries for a budget of 14M Baht. Chaiya Suriyun is put in the centre of the poster despite not being the main actor of the movie.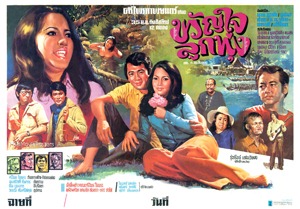 Year

: 1972



Thai title

:

ขวัญใจลูกทุ่ง




English title

: My sweet heart



Rating

: 3/5


Director

: ศรีไพร ใจพระ



Main actor

: Nard Poowanai,Kamthorn Suwanpiyasiri,Sukon Koewliam,Lor Tok,Chaiya Suriyun,Rujira Isarangkul,Op Boonthit,Paen Pleumsachai,Songthong,Sithao Petcharoen


Main actress

: Chosri Misommon
Thai movie ขวัญใจลูกทุ่ง / My sweet heart was released in year 1972 and lasts 2h27mn. Movie director is ศรีไพร ใจพระ. The movie was never released on VHS, VCD, DVD in Thailand. It is only available under 35mm film format, but it was very damaged with colors almost lost. ศรีไพร ใจพระ and บุปผา สายชล were famous singers (นักร้องลูกทุ่ง) since movies ชาติลำชี and มนต์รักลูกทุ่ง shot by รังสี ทัศนพยัคฆ์. They were husband and wife. Movie ขวัญใจลูกทุ่ง was the first movie directed and produced by ศรีไพร and featuring his wife บุปผา as main actress. Chaiya Suriyun was supposed to the main actor in this movie. He started to play in a few sequences, but problems occurred. So, the main actor was changed to Nat Poowanai, who was a new actor who just played in a few movies. Surprisingly Chaiya can still be seen on the movie poster and in a few sequences of the movie. Chot character, played by Chaiya, is killed after a fighting sequence where Chaiya is shot by ruffians. The movie features many actors and actresses such as Kamthorn Suwanpiyasiri, Chosri Misommon, Sukon Koewliam, Lor Tok, Chaiya Suriyun, Nard Puwanai, Rujira Isarangkul, Op Boonthit, Paen Pleumsachai, Songthong, Sithao Petcharoen, วงศ์ทอง ผลานุสนธิ์, พูนสวัสดิ์ ธีมากร, ทานทัต วิภาตะโยธิน,แคหลอ, ชูศรี โรจนประดิษฐ์, ขุนแผน, ถนอม นวลอนันต์, เปี๊ยก, พิม พิไลลักษณ์. 12 songs are featured in this musical movie. Kamthorn Suwanpiyasiri (ลูกกำนัน) wants to seduce Kratin (บุปผา สายชล). Kratin watches boat races with Champi (Chosri Misommon). Sithao Petcharoen is the referee. Uncle Khaem (Rujira Isarangkul) prevents Kratin to meet Yot (Nard Poowanai). He has already a planned engagement with Kamthorn as Yot is a poor man. Kratin is Khaem's granddaughter. Chot (Chaiya Suriyun) and Sri Phrai (ศรีไพร ใจพระ) arrive in the village. Thai boxing match free style is organized and Sri Phrai, despite being a weak opponent, wins. Khaem loses a lot of money. He is upset that Kamthorn makes profit on him. Sri Phrai wishes to marry Kratin. Kamthorn and his ruffians (including Paen Pleumsachai) agress Kratin. Phi Chot and his friends help. Kamthorn gets defeated but one of the ruffians shoots Phi Chot. Op Boonthit plays a Chinese merchant. Hippy Songthong arrives from Bangkok. Uncle Khaem wishes to marry Kratin with Songthong. He is fired as he misbehaves. Next day, a man similar to Songthong with a lady Lin, claiming to be Yot's girlfriend, is having a drink in a cafe. Khaem and his team capture him. The lady flees and meets Kamthorn, who tells her that Yot has already another girlfriend named Kratin. Songthong is covered with flour and chased away. Lin visits Yot and Kratin sees them together so it is causing a misunderstanding. Khaem has to excuse towards Songthong. As a revenge, Songthong is parading the uncle through the city. Following Kratin and Yot pleas, Songthong releases him. The movie ends up happily with uncle Khaem allowing Yot and Kratin to marry, Kamthorn having a romance with Lin.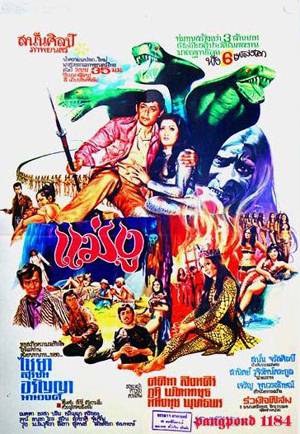 Year

: 1972



Thai title

:

แม่งู




English title

: Snake Queen



Rating

: 3/5


Director

:



Main actor

: Chaiya Suriyun,Ruj Ronnapop,Sithao Petcharoen,Sukon Koewliam,Lor Tok,Sawin Sawangrat,Krai Kanchit


Main actress

: Aranya Namwong,Metta Roongrat,Prim Praphaporn,Sasima Singsiri,Orasa Isarangkul
Booloi and Chom are chased by ruffians. They take refuge in the snake cave (ถ้ำแม่งูสักศีษ). Booloi is pregnant. Ruffians flee as the snake cave has bad reputation. Chom loses trace of his wife. Some snakes transform themselves into young ladies and help Booloi to deliver a baby girl called Haofa. 18 years have passed. Haofa (Aranya Namwong) is now a grown up adult. Haofa still misses her parents. The snake queen selects her as the next queen. This decision makes Haodam (Metta Roongrat) upset. There are fights between ladies during Haofa's crowning. The snake kingdom only includes young ladies and an old sorceress (แม่มด). No men in the cave. In Bangkok, a young man called Tira wishes to ask for young lady Mareudi's hand. Some ruffians, specialized in human trade overseas (รับแขก), keep asking Mareudi to join them for a trip to Japan. She always refuses. Tira's boss called Phanom (Chaiya Suriyun) is playing the matchmaker (เฒ่าแก่) for Pira. Phanom and Pira go to Mae Sai for scientific studies. The ruffians are also going in Mae Sai area to recruit young girls. Ruffians hear about a place near a waterfall with many beautiful girls swimming. So they are hanging around as beautiful girls have been seen bathing. The girls are then attacked by the ruffians but Phanom, being around, is helping and protecting Haofa. They are snakes but Haofa is an human being. A romance is starting between Phanom and Haofa but he cannot go in the cave as it is guarded by snakes. Haodam discloses the incident to the snake queen. According to the snake Queen's rules, nobody is allowed to meet human beings. Chom is accompanying Phanom and is still longing for his lost wife and baby. There is a funny interlude when veteran comic actor, Sithao Petcharoen, is tortured by a fat amazon. Phanom is captured when entering the cave. The Snake Queen condemns him to death but Haofa helps him to flee. Meanwhile snake hunters are back again to attack the hill around the cave. The ruffians are using experts (Lor Tok! Sukon Koewliam!) able to catch snakes (หมองู). Comic sequences happen as they are all useless to charm snakes. The ruffians finally capture the snake girls and the Queen is even shot. The end of the snake kingdom is a disaster. Phanom promises to take care of Haofa and helps to find her father. Haofa wishes to release her other snake sisters. The ruffians try to abuse the snake girls and use them as prostitutes but they transform themselves into venomous snakes. Police finally catches all the ruffians but it is too late as all snakes have been killed. Snakes are really killed and cut in this movie. Only one snake girl, Haodong, survives and she goes back to the snake cave. Haofa is finally reunited with her father. This movie can also be found under Chinese name "蛇國女王'' in China and distributed by Great China Film Co (H.K.). Different character names are used in the Chinese version (Ng Chung for Phanom, Ho Hua for Haofa, Hsiao Hua for Haodam, Chung Shan for Chom, Mei lee for Booloi). The original Thai version of แม่งู lasts 2 hours 50 minutes. The Chinese version has been reduced to 1h30mn only. "Once upon the west" soundtrack is used in the Chinese version. All songs have cut in the Chinese version. Similar to many 1960-1970s Thai movies, it features a long running time and a dozen of songs.



Year

: 1971



Thai title

:

น้องนางบ้านนา




English title

:



Rating

: 3/5


Director

:



Main actor

: Chaiya Suriyun,Chat Mongkolchai,Choomporn Theppitak,Op Boonthit,Anucha Ratanaman,Sawin Sawangrat,Sompong Phonmitr


Main actress

: Aranya Namwong,Wassana Chalakorn,Chosri Misommon,Khomapat Attaya
Thai movie น้องนางบ้านนา is a Thai movie released in year 1971. It features Chaiya Suriyun as main actor and Aranya Namwong as main actress. The movie was started with Mitr Chaibancha but it was incomplete due to his premature death. So the main actor was replaced by Chaiya Suriyun. The movie features nine songs but none are left. Many famous singers from beginning of 1970s decade are acting in this movie. No movie summary is available anymore. The movie is lost in Thailand but luckily an extract of 56 minutes is still left. Other actors are Chat Mongkolchai, Choomporn Theppitak, Wassana Chalakorn, Khomapat Attaya, Anucha Ratanaman, Sawin Sawangrat, Marasee (มารศรี), Sompong Phonmitr, Chosri Misommon, Op Boonthit. Without a summary and the movie being in mute state as it is in 16mm format, the story is difficult to understand. Aranya Namwong receives a letter from her fiance studying at university. Wassana Chalakorn is jealous and steals the photograph. Op Boonthit and his daughter Chosri Misommon are bar owners. Sompong is their regular customer. Choomporn Theppitak is agressed by a ruffian, who is finally an old friend. Sawin Sawangrat and Rujira (ม.ล. รุจิรา) seem to have bad plans but are spied by Choomporn and Anucha. Chaiya is back from his studies. Chaiya and Wassana Chalakorn are in a rice field having romantic talk. Khomapat Attaya is with them. Wassana Chalakorn tries to prevent Chaiya to meet Aranya. Anucha is trying to abuse Wassana Chalakorn. Heated arguments happen during a wedding colorful procession. This movie reminds of famous movie "Mon Rak Luk Thung" (มนต์รักลูกทุ่ง - 1970) as it features many songs and various couples involving romance and jealousy. Following movie "Mon Rak Luk Thung" success, many romantic song movies (หนังเพลง) were released in the following months and years trying to surf on a similar popular wave.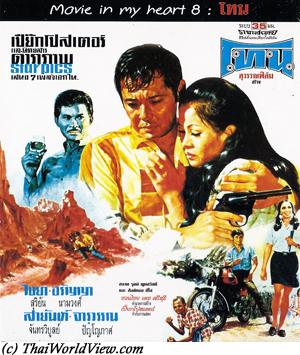 Year

: 1970



Thai title

:

โทน




English title

: Tone



Rating

: 4/5


Director

: Piak Poster



Main actor

: Chaiya Suriyun,Ruj Ronnapop,Sahat Piempongsan,Songthong,Sayan Chantaraviboon


Main actress

: Aranya Namwong,Jaruwan Panyopas



Buy now

:

Thai movie โทน / Tone is the first movie done by Piak Poster. It was released under VCD format by company XxX (Triple X). It features many Thai modern 1970s songs from 'The Impossible' group (วงดิอิมพอสซิเบิ้ล), some classical and traditional Thai songs, and even some American songs including 'Scarborough Fair' in Thai. The main characters are living in a provincial village, i.e. Pon (Chaiya Suriyun), Sang Thong (Songthong) and Nong Kulap (Jaruwan Panyopas). Sang is Pon's best friend following up everywhere. Pon loves Nong Kulap sincerely but Kulap sees him as a close friend only. She also needs to go to Bangkok to continue her studies, so they will be separated (ห่างกัน). Pon didn't do high studies and is living in a Buddhist temple with Luang Ta as a monk's attendant (ลูกศิษย์วัด). He was an orphan (เด็กกำพร้า). Ot (Sayan Chantaraviboon) is a Bangkokian young man visiting some relatives in the village. While having a drink, some ruffians (นักเลง) led by Amnat provoke him and a fight erupts. Pon is involved as he was just passing by and finally, he is helping Ot to get rid of the ruffians. The abbot wishes Pon to continue his studies in Bangkok. Ot proposes to help and Pon is now relocated in Bangkok. He meets Rut, Ot's elder brother (Ruj Ronnapop) and Daeng (Aranya Namwong), Ot's modern young sister. Daeng hates (เกลียด) Pon immediately. It seems Kulap has forgotten Pon. Sang is having quarrels with ruffians, who shot him. Ot meets Kulap randomly in Bangkok. Ot loves Kulap but Pon is not aware that Kulap is now in Bangkok. Daeng's boyfriend Long (Sahat Piempongsan) is a ruffian trying to take advantage of her. Hopefully Pon sees the stratagem and helps her. He gets injured. Daeng starts to see Pon's kindness and now loves secretly Pon. It is Ot's birthday (วันเกิด). Kulap (แฟน) comes to his birthday. It is the first Thai movie showing the 1970 youth with modern Thai and English music, dances and mini dresses. Daeng understands that Pon still loves Kulap and suffers. After a discussion between Pon and Ot, Ot accepts it (ทำใจ) and takes care about Daeng. Love story starts. Long is still cross with Daeng and Pon. He kidnaps Daeng and Kulap. Pon, trying to help, is also captured. Ot is chasing them. Long wishes to sell the two ladies to his friend Amnat. They will work as forced prostitutes. Daeng and Pon fail to escape and Long rapes Daeng. Thanks to Ot, Long is neutralized and is shot by Daeng. Pon shots Amnat so avenging his friend Sang Thong. It is time to forget the bad past and look forward to the bright future. Piak Poster began as a painter of movie posters. He painted 'Tone' movie poster. Tone was Piak Poster's first movie as director. The movie features seven songs. Songthong became famous thanks to the songs he performed in 'Tone' movie. It was the first movie in which the leading actress is raped. Thanks to the modern songs, 'Tone' movie reaped 6M Baht. It was the second biggest success in year 1970 after 'Mon Rak Luuk Thung' with Mitr / Petchara. It was also one of the first movie to use 35mm film instead of 16mm. 'Tone' movie was adapted two times for TV as a lakorn, i.e. in 1992 with Santisuk Promsiri and more recently in 2000s decade with Vinai Kraibutr and Metinee Kingpayome. Tone was the first movie in Thailand to break the monopoly of Mitr-Petchara movies. This movie is part of the first 25 films heritage list announced on October 4 2011, which is Thai Movies Conservation Day. The swimming suit worn by Aranya Namwong became a hit also as it shown the belly. All young ladies in year 1970 bought it. A promotional movie, lasting 17 minutes, shot in black and white, in 16mm format, can be seen online and is showing behind the screen sequences. The movie shooting was done over two years as Piak Poster liked perfection, details and used a lot of film. The film was developed in Japan and 11 copies travelled all over Thailand. It was two times more than usual.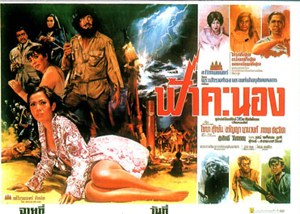 Year

: 1970



Thai title

:

ฟ้าคะนอง




English title

:



Rating

: 4/5


Director

:



Main actor

: Chaiya Suriyun,Sorapong Chatree,Sukon Koewliam,Ruj Ronnapop,Surasit Sattayawong


Main actress

: Aranya Namwong,Pawana Chanajit,Chosri Misommon,Wilaiwan Watthanaphanit
Thai movie ฟ้าคะนอง was released in year 1970 and lasts 1h22mn. It features main actors Chaiya Suriyun, Aranya Namwong and Pawana Chanajit. Movie ฟ้าคะนอง was restored and shown on Thai cable TV. It features a beautiful colorful image. Sorapong Chatree and Charika (Pawana Chanajit) take a bus to go to Fa Khanong pier. Sorapong Chatree, one of the most famous Thai actors with Mitr Chaibancha and Sombat Methanee, was still an unknown actor at that time and was playing side roles. Everybody discourages Charika to go to Fa Khanong island. People are talking about ghosts... It seems many people died before due to pirates. Spirits (วิญญาณ) are said to be around. Chosri Misommon is playing Charika's domestic helper (คนรับใช้). Mysterious deaths happened previously on the island. People, who took the job of nurse (นางพยาบาล) before Charika, all died... Ruj (Ruj Ronnapop) is playing a crazy disabled man (เล่นตุ๊กตา) always scold by the governess. Khun Phujing (Wilaiwan Watthanaphanit) is disabled. Her mother needs also to take medicine. Charika is responsible to take care of them as a nurse. Khun Lek (Aranya Namwong) is Khun Phujing's younger sister. During a storm, Charika has a vision, i.e. she sees a hirsute man entering in her room. The following day, Charika meets Turatee (Chaiya Suriyun) and believes the hirsute man and he are the same person (Chaiya Suriyun plays both roles). At nighttime, the hirsute man enters in the grandmother's room to steal a map. The hirsute man is recognized as Khun Phuchai, who died many years ago. The island superintendent Durong (Surasit Satayawong) and his mistress, the governess, are worried as it could be the map leading to the pirates' treasure of Plao island. The next day, crazy Ruj harass again Chosri and Charika. The governess scolds and beats again but it turns badly as Ruj cuts the governess head! During this messy situation, Charika loses conscience and disappears carried by the hirsute man. Durong is hoping to find a secret pirates' treasure (สมบัติ). He has also a relationship with Khun Phujing. Willing to know what is really happening on Plao island, Chaiya and Lek try to reach the island by boat. The superintendent, a few tough men, Chosri and Khun Phujing follow them by boat also. Both boats capsize but they can all avoid the sharks. Stranded on Plao island, the superintendent is trying to locate the treasure and to catch Turatee, Lek's fiance, and Lek. Durong believes Turatee has the treasure map. An old man Tao is helping Turatee about to be killed. Charika wakes up in a cave with the hirsute man. The hirsute man is Khun Phuying's younger brother, who is still alive. He mentions that Durong killed all nurses. He knows about the pirates' gold hidden in the cave. italian actor. Durong tries to abuse Khun Lek but is injured by Khun Phujing. Durong then shoots and kills Khun Phujing. Tao leads Durong and his men to the treasure. Finally, Durong and his ruffians die as they are more obsessed by collecting gold than running for their life as the cave is collapsing. Lek, khun Phuchai, Charika and Turatee succeed to escape on time. Romance can happen between Lek and Turatee, between Charika and Khun Phuchai.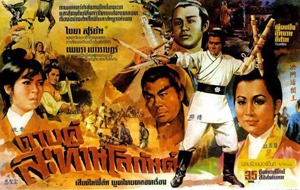 Year

: 1970



Thai title

:

ดาบคู่สะท้านโลกันต์




English title

: The Devilish Killer



Rating

: 3/5


Director

:



Main actor

: Chaiya Suriyun


Main actress

: Petchara Chaowarat
Devilish killer can defeat 15 men in a single combat thanks to his iron hands, strong kick and powerful nine ring golden blade. He requests a thunderbolt sword to a clan leader. The clan leader refuses as it is the Clan sacred sword. He sends his two sons Chi Wen (Chaiya Suriyun) and Chi Wu away with the sword. The devilish killer defeats the clan leader and its men. He is now looking after Chi Wen and Chi Wu. Chi Wen is also defeated but the godly beggar helps him to escape death and to flee. Chi Wu is also defeated but gets help from a mysterious blind fighter. Chi Wen is taught by the godly beggar how to better fight. He helps princess Ju Yen (Petchara Chaowarat) attacked by two ruffians. Love emerges between both of them. Her father has promised her to devilish killer. Aware of Chi Wen, the father makes him pass difficult but successful tests. He finally drugs him, disfigured him and throws him from a cliff. Chi Wen refuses to see Ju Yen again as he feels ashamed to be disfigured. Meanwhile Chi Wu meets a young lady miss Chow selling flowers in a temple. She is skilled in sword handling. Following altercation with ruffians, Chi Wu is about to be defeated by them but finally secured by his own masked brother. Chi Wen refuses to disclose his identity and trains Chi Wu to improve his skills. This time it is Chi Wu helping miss Chow in a fight against ruffians. Ju Yen also joins us as she hopes to get news of Chi Wen from Chi Wu. Chi Wu notices miss Chow has the same sword. Only twin thunderbolt blades can defeat devilish killer. Chi Wen takes the two swords in order to train himself. Chi Wu, miss Chow and Ju Yen defy the devilish killer. Will Chi Wen join them on time? They are finally defeated despite using tricks such as armor or water to extinguish fire bombs. Chi Wen arrives on time to defeat the devilish killer thanks to the twin thunderbolt blades. They are finally all safe and Chi Wen's face is restored thanks to his master. This Taiwanese movie 活閻王 was supposed to feature Thai famous actor Mitr Chaibancha but following his sudden death in 1970, he was finally replaced by Chaiya Suriyun. Mitr Chaibancha went to Hong Kong to play in three Wuxia films in his last year. But only "Flyer and Magic Sword" was completed. "Sword of Emei", "The Tiger and the Dragon" and "The Devilish Killer" were finished with other leading actor. This movie is also called " L'uomo della grande muraglia" overseas.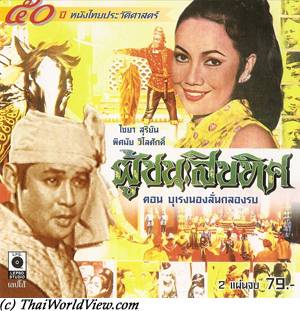 Year

: 1967



Thai title

:

ผู้ชนะสิบทิศ ภาค 2 ตอนบุเรงนองลั่นกลองรบ




English title

: The Conqueror of Ten Directions II



Rating

: 4/5


Director

: Neramit



Main actor

: Chaiya Suriyun,Chana Sriubon,Man Teeraphol,Rujira Isarangkul


Main actress

: Pissamai Wilaisak,Metta Roongrat,Karuna Yuwakorn



Buy now

:

This part of the second part of the "The Conqueror of Ten Directions" trilogy. Sadet (จะเด็ด) starts to be also named as Buren Nong (บุเรงนอง), his future name as a King. Sadet (จะเด็ด)(Chaiya Suriyun) is now staying in the kingdom of Phrae. Prince Sopinya from the kingdom of Hongsawadee is coming for an official visit to the kingdom of Phrae. Katima (Metta Roongrat) is also in Phrae. She is doing sword street performances to make a little money as she lost her purse. Khairoo, head of Hongsawadee swordmen, wishes to buy Katima's sword and has arguments with her. A soldier helps Katima. Katima is dressed like a man. Sadet doesn't recognize Katima and befriends with her. Sadet still uses sweet words with various princesses. Arguments happen between Sadet and Sopinya. Sadet succeeds to have Khairoo judged for malversation causing Sopinya's ire. The king of Phrae uses Sadet as councillor. Sadet is called under the name of Wang. Following Sopinya's bad influence, the king of Phrae finally decides to arrest Sadet. Sopinya proposes to the king of Phrae an alliance against the kingdom of Taungoo. Princess Kusuma (กุสุมา)(Pissamai Wilaisak) tries to warn Sadet and finds Katima in Sadet's room. It is too late. Sadet is imprisoned. Mangtra's help is needed. Mangtra is now the king of Taungoo. Taungoo's army besieges Phrae but needs to retreat. Taungoo's army is swapped away as night time in their encampment. Hongsawadee henchmen brings troubles during the blocus and Sopinya convinces Kusuma to follow him. Sopinya takes advantage over Kusuma while she is sleeping. Meanwhile taking profit of the mess, Katima succeeds to free Sadet and the other prisoners following fierce fights. Mangtra is angry with Sadet and claims he is a traitor (ทรยศ) as he stayed with Phrae instead of Taungoo. He threatens to cut his head following the 40 000 soldiers, who died for nothing. Hopefully the old monk can interfere and saves Sadet offering his own head as a guarantee. Sadet is ordered to seize Phrae and is offered 60 000 soldiers but he only requests 20 000 soldiers. If he fails, his head will be cut. Sadet wins a first battle over a fort on the way to Phrae thanks to a better strategy. Learning that Kusuma has been sent to Hongsawadee, he leaves the army and decides to go there. Sadet gets the confidence of king of Hongsawadee while Sopinya is away. Kusuma still loves Sadet and wishes to die as Sopinya forced her. A fire is provoked in Hongsawadee by Sadet's henchmen. Sadet steals Sopinya's boat and takes back Kusuma with him. The second opus features an impressive performance by actor Chaya Suriyun. The movie continues to mix romance and historical characters.



Year

: 1967



Thai title

:

ผู้ชนะสิบทิศภาคสมบูรณ์ บุเรงนองถล่มหงสาวดี




English title

: The Conqueror of Ten Directions III



Rating

: 4/5


Director

: Neramit



Main actor

: Chaiya Suriyun,Chana Sriubon,Man Teeraphol,Rujira Isarangkul


Main actress

: Pissamai Wilaisak,Metta Roongrat,Karuna Yuwakorn



Buy now

:

This is the last opus of The Conqueror of Ten Directions trilogy. Sadet receives armors and award from Chantra, king of Taungoo kingdom. Chantra, Chantra's sister, still loves Sadet. Kusuma, Phrae kingdom princess, who also loves Sadet, hears everything and leaves for Phrae kingdom. Despite honors given, Mantra is still unhappy with Sadet, following the former military defeats but can do nothing against Sadet as he is seen as a soldier with many virtues (ทหารบารมี). Sadet comes back officially to Taungoo kingdom. The monk mentor protects Sadet as Mantra has still not decided what to with Sadet. Recently Mantra indulges in alcohol. The two men are angry against each other. The war is still ongoing between Hongsawadee and Taungoo kingdoms. Sadet decide to ordain (บวช) to wash his sins and mistakes. Chantra visits him before ordination. They declare their love towards each other once again. Chantra refuses that Sadet ordinates as the kingdom is on war. Sadet captures Khairoo, head of Hongsawadee swordmen. Then Sadet visits Kusuma in Phrae kingdom. Sadet wishes to take Kusuma to Taungoo kingdom. Sadet wants to have both ladies, Chantra and Kusuma, as wives. Khairoo, head of Hongsawadee swordmen, flees from jail and kills the monk, who was the mentor of Sadet and Mantra. Sadet decide to destroy Hongsawadee kingdom as retaliation and defeats their army. Sopinya, Hongsawadee kingdom prince, and Khairoo make an alliance with another warlord to fight Taungoo kingdom. Sadet captures the warlord. The warlord changes alliance and Hongsawadee city is definitively destroyed. Mantra defeats and kills Hongsawadee's king (พระเจ้าสการะวุตพี). Sopinya and Khairoo pay for their sins and are killed. Sadet is also loved by another lady called Katima, who is commoner. Unfortunately seeing that there is no way she can get Sadet's love for her alone, Katima gets suicide. Mantra finally renunciates to the kingdom and Sadet becomes the new king of the three unified kingdoms. The whole trilogy is more than 7 hours long. Even if the 3 VCDs are full, the original movies were in fact cut to fit the VCD format, which means 2h30mn maximum. What a pity Lepso company never releases them in DVD format!



Year

: 1966



Thai title

:

ผู้ชนะสิบทิศ ตอน ยอดขุนพล




English title

: The Conqueror of Ten Directions I



Rating

: 4/5


Director

: Neramit



Main actor

: Chaiya Suriyun,Man Teeraphol,Rujira Isarangkul


Main actress

: Pissamai Wilaisak,Metta Roongrat,Kaenjai Meenakanit,Karuna Yuwakorn



Buy now

:

This story takes place during Ayuthaya period around 1530. It is about politics regarding three kingdoms, i.e. Taungoo - ตองอู (Burma), Phrae (Thailand) and Hongsawadee - หงสาวดี (Mon). It relates the fabulous destiny of Sadet (จะเด็ด) (Chaiya Suriyun). One day he will become King Bayinnaung (พระเจ้าบุเรงนอง), Burmese King, known as "The Conqueror of Ten Directions" as his empire extended up to a big part of Southeast Asia including Thailand. When he was a baby, a monk promised to Sadet a bright future. He was brought up by a royal wet nurse in Kingdom of Taungoo. Mingyinyo (พระเจ้าเมงจีโย) was the King of Taungoo from 1486 to 1531. Sadet becomes very close with King Mingyinyo's children, i.e. Mangtra, the son, and Chantra (จันทรา), the daughter. Sadet is brave, has a nice presence, speaks well so all ladies like him and fall in love with him. Sadet needs to be separated from princess Chantra. He is surprised with Chantra in his room. Their different social status doesn't allow such behavior. He leaves for Hongsawadee. Mangtra wants Sadet to speak to princess Thavadee on his behalf. Princess Thavadee loves Sadet also despite Sadet's attempts to tell how good Mangtra is. Sopinya, Princess Thavadee's brother, is angry with Sadet's behavior and would prefer to have Mangtra as brother-in-law. Khairoo, head of Hongsawadee swordmen, prepares a plan. Jewelry is stolen and found in Sadet's room. Sadet has to flee. The monk tells Sadet to take refuse at Thayaki's sword school. Sadet fights with some ruffians in a restaurant. Those are part of Thayaki's sword school. Sadet has chance to meet Thayaki, his son and his daughter Katima (Metta Roongrat), who likes Sadet a lot. Sadet has opportunity to defeat Khairoo, who was treacherous with him in Hongsawadee. In 1531, Mangtra becomes new king of Taungoo and is now called King Tabinshwehti (พระเจ้าตะเบ็งชะเวตี้). As an acquinted childhood friend to the new king, Sadet gains the royal trust and is made the royal brother-in-law. Sadet then goes to Phrae and meets princess Kusuma (กุสุมา)(Pissamai Wilaisak), whom he tries to seduce also. The movie is divided into three parts. ผู้ชนะสิบทิศ ตอน ยอดขุนพล is part 1. It is based on Thai novel "ผู้ชนะสิบทิศ" or "The Conqueror of Ten Directions" from writer Chote Phraepan (pen name "Yacob" - ยาขอบ). There are ten directions as it includes eight compass directions and it also counts heaven and hell. The Thai novel was adapted to a TV serie, a movie serie and a musical comedy. The song of the same name from the movie series, performed by Charintra Nanthanakorn (ชรินทร์ นันทนาคร) remains one of the most recognizable and popular songs in Thailand. This 1960 old movie has still colorful and clean image that allows enjoying the nice costumes. It lasts 2h30. Old Thai and royal language (ราชาศัพท์) is used during the long dialogues. Big part of the movie is shot indoor.



Year

: 1966



Thai title

:

โสนน้อยเรือนงาม




English title

:



Rating

: 3/5


Director

:



Main actor

: Chaiya Suriyun,Sor Asanajinda


Main actress

: Petchara Chaowarat,Chadaporn Wachirapranee
Sadet Phi and Nong Jing have a daughter called Sa No Noi (Petchara Chaowarat). She gets a golden house (เรือนทอง) as a gift. Astrologers predict her a great future. A demon follows the family and wishes to kidnap Sa No Noi. Sa No Noi needs to leave the kingdom. She meets an hermit, who gives a magical medicine (ยาวิเศษให้คนตายฟื้นได้). Sa No Noi is coming from a palace (ชาววัง ) so she is not used to harsh life. She helps a poor girl called Kula, who has been bitten by a snake. They need to steal food to eat. They arrive in a city where the prince (Chaiya Suriyun) is sleeping for 7 years. Sa No Noi helps to prepare the magical medicine to wake him up. As Sa No Noi doesn't feel well while the Prince is awakening, Kula changes her clothes and pretends to be the one who saves the Prince (พระราชบุตร). Sa No Noi is disappointed (น้อยใจ) with Kula as she saved her life before. She becomes Kula's servant. Kula refuses to give back the medicine to Sa No Noi. The Prince wishes to help Sa No Noi. This movie features typical characters from 1960s movies. The leading actress (นางเอก) is a nice polite shy princess coming from a good family lady. The jealous lady (นางอิจฉา) seduces men first, kisses them or is ready to make love immediately without waiting the wedding. She has no education. She is poor, lazy and deceitful. To try to prevent the wedding the family gives difficult tasks for Kula to do (flower composition...). Only a good educated lady can execute such tasks so Kula forces Sa No Noi to do it for her. The prince leaves the palace for a government mission but in fact he wishes to find Sa No Noi's golden house to prove her real identity. He faces a typhoon but finally reaches Sa No Noi's kingdom and brings back the house. Under Sa No Noi's guidance, the golden house become a real house with servants. Sa No Noi's real identity is revealed and she forgives Kula. On the way back to her kingdom with the Prince, their boat is wrecked and they are separated. The prince meets an hermit. Sa No Noi meets again Kula who plays a trick with her despite all of her previous goodness. A noble man called Wilai meets Kula. She lies to him pretending she is a princess. Meanwhile Sa No Noi has been rescued by Wilai's parents. Sa No Noi delivers a baby, whose father is the Prince. Kula kidnaps the baby. The baby is rescued by another hermit. The baby is called Paiwan. Kula is captured by some robbers and become the leader's wife. While Sa No Noi is going back home, her convoy is attacked by the ruffians. The Prince just comes back and helps on time. The whole family is reunited. Kula is punished and transformed as a cow. The story of Sa No Noi is part of Thai folklore. This story is also available through a TV Thai serie (1984) and many cartoons. This old movie last two hours and fifteen minutes. It has a very good and colorful image quality. The last part of the movie is certainly too fast paced as it is difficult to narrate such a long story in only two hours.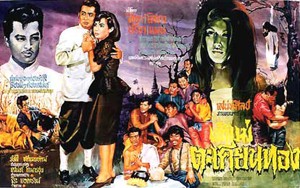 Year

: 1966



Thai title

:

เจ้าแม่ตะเคียนทอง




English title

:



Rating

: 3/5


Director

:



Main actor

: Chaiya Suriyun,Lor Tok


Main actress

: Sopha Sataporn,Preeya Roongrueng
This movie takes place in 1905. Yod is a slave. His girlfriend is called Khun. The master beats Yod because he finds his new wife with Yod. The master's wife, called Nang Neuan, accuses Yod of trying to seduce her but she is the seductress offering sweets (ขนมหวาน). The daughter, called Kalong, tries to protect Yod and asks for forgiveness. Kalong's father wants his daughter to marry a noble man called Bouleut but she doesn't love him. This is the old traditional Thai way, i.e. marry first, be together and then love will come later. The daughter is not willing. Yod and Khun may have bad sins (กรรม) in their previous life as they cannot have happiness together. They have a promise of forever love in front of a Takhian tree. Nang Neuan sends a ruffian to try to rape Khun but Yod protects her. The ruffian is killed so Yod has to flee. Still wishing to hurt Yod, Nang Peuan suggests that Khun becomes the master's mistress (เมียน้อย). Nang Peuan pays mercenaries to catch Yod. They succeed to overcome him. As the next day is end of slavery in Thailand so the master wants to beat him until death today. Khun accepts to become the master's mistress in order to save Yod's life. Later on Yod rejects Khun and breaks up with her accusing her of being unfaithful (หลายใจ). Disappointed and sad over Yod's reaction, Khun hangs up herself at the Takhian tree. Once Yod understands Khun's body sacrifice to save his life, it is unfortunately too late. Kalong puts money in her hands to spend in the death world. She is buried by Yod under the Takhian tree and is not cremated. Some people hear a woman crying near the Takhian tree. Khun is back as a ghost. Villagers get tricked (โดนผีหลอก) by the ghost. The master decides to cut the Takhian tree but the ghost prevents this to happen. The master decides to use a sorcerer (อาจารย์) to cut the tree. He settles a ceremony to call for the ghost (วิธีเรียกผี) but the ghost chases them away and terrorize the master, who has a serious fever. In almost old Thai horror movies, sorcerers are useless comical characters that always fail to chase ghosts. Kalong decides to call a westerner doctor (หมอฝรั่ง) to cure her father as Thai sorcerers (หมอผี) are useless. Yod works now for the westerner doctor and has been trained to be a doctor also. He cures the master and it is a satisfaction as the slave cures his former master. But the master still hates Yod. Another sorcerer is used but he is a charlatan. He tries to catch a fake spirit (ลงหม้อ). The real ghost chases the fake one. Traditional chase in accelerated motion happens between ghost and humans. This is typical from Thai horror movies from 1960s to 1990s. The master defies Khun but gets strangulated and dies. Nang Peuan decides to kill Kalong to get full heritage but Khun protects Kalong and strangulates Nang Peuan. Bouleut is in fact a bad guy that is already married but wants to marry Kalong because she is coming from a rich family. Love story happens between Kalong and Yod. The ghost Khun is now angry with Kalong accusing her to take away Yod from her. They cannot stay together (คนละโลก). A sorcerer helps to chase the ghost by performing a ceremony (พิธีสะกดวิญญาณ) and neutralizing the tree spirit. This two hours length old movie has a new soundtrack including music from Ennio Morricone. Many 1960s movies were shot in 16mm without synchronised sound. The image is damaged but still fine even if some colors are gone. As many horror movies from 1960s to 1990s, it mixes horror and comedy gags.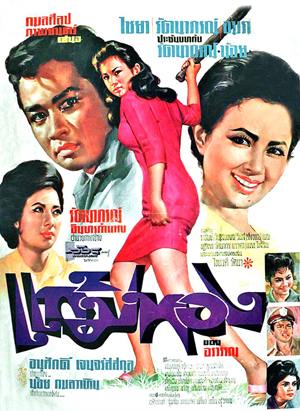 Year

: 1966



Thai title

:

แก้มทอง




English title

:



Rating

: 3/5


Director

: Ratanaporn Intarakamhaeng



Main actor

: Chaiya Suriyun,Sukon Koewliam,Sompong Phonmitr,Adinan Singhiran,Choomporn Theppitak


Main actress

: Ratanaporn Intarakamhaeng,Ratanaporn Noi,Amara Asavananda
Thai movie แก้มทอง was released in year 1966. The movie is lost in Thailand but a sequence of 9mn30s is still available. The movie features Chaiya Suriyun as main actor and Ratanaporn Intarakamhaeng / Ratanaporn Noi (รัตนาภรณ์น้อย). In this movie, Ratanaporn Noi is the main actress. Ratanaporn Intarakamhaeng is playing Ratanaporn Noi's mother. Other actors include Sompong Phonmitr and Sukon Koewliam. Chaiya is not seen in the remaining sequence except in a still picture inside the credits. Ratanaporn Intarakamhaeng was the producer of this movie. Various sequences show two sexy women talking to each other, police raiding a prostitution joint (ซ่องโสเภณี) including comic scenes with Sukon Koewliam and a fat lady. A few comic sequences are still shown including Sompong are still present.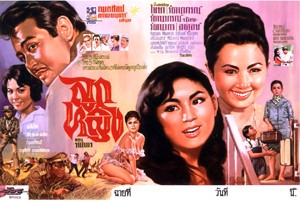 Year

: 1965



Thai title

:

ลูกหญิง




English title

:



Rating

: 3/5


Director

: น้อย กมลวาทิน



Main actor

: Chaiya Suriyun,Sompong Phonmitr,Somkuan Krajangsat,Adul Dulyarat,Sukon Koewliam,Sompol Kongsuwan,Pramin Jarujareet,Kokheng


Main actress

: Ratanaporn Intarakamhaeng,Chadaporn Wachirapranee,Mom Chan Phuangwan
Thai movie ลูกหญิง was released in year 1965. Main actors and actresses include Chaiya Suriyun, Ratanaporn Intarakamhaeng, รัตนาภรณ์ น้อย อินทรกำแหง, รัตนากร อินทรกำแหง, Adul Dulyarat, Chadaporn Wachirapranee, Somkuan Krajangsat, ราชันย์ กาญจนมาศ, Sompol Kongsuwan, Pramin Jarujareet, สังวรณ์, Sompong Phonmitr, พูนสวัสดิ์ ธีมากร, Sukon Koewliam, ทองฮะ, ทองแถม, Mom Chan Phuangwan, ปราณีต คุ้มเดช, Kokheng. Actresses รัตนาภรณ์น้อย (Ratanaporn Noi) and รัตนากร (Ratanakorn) were molded by Ratanaporn Intarakamhaeng. Luk Ying is played by actress รัตนาภรณ์น้อง or รัตนาภรณ์น้อย, i.e. young Ratanaporn. Her first movie was in ลูกนก. She played in other movies such as แก้มทอง, บัวหลวง, ชาละวัน. At that time, Ratanaporn Intarakamhaeng was very famous but started to be too old for romance movies (being more than 30 years old). So marketers wanted to introduce a new actress with a younger face similar to Ratanaporn Intarakamhaeng to play the role of daughter / mother. Movie director is น้อย กมลวาทิน. Movie producer is Ratanaporn Intarakamhaeng. The film was never released on VHS / VCD / DVD format but the movie in 16mm format can still be seen in Thailand. It was found in the South of Thailand in Surat Thani thanks to a teacher and collector of old items in Songkhla area. Two reels are left so only 48 minutes can be seen. A dubbed version was shown in Thai Film Archives in 2020. The remaining film is very damaged but still colorful. The movie takes place in Chiang Mai and then in Bangkok. Chaiya Suriyun plays two roles as a father and a younger man (wearing a moustache) being a musician. Following a fight in a bar, Wissanoo (Chaiya Suriyun) is injured and left for dead. His daughter, Luk Ying (Ratanaporn Noi), asks for help. Pol passing by with Thipsuda (Chadaporn Wachirapranee) decides to help. At the hospital, Thipsuda helps to pay for the bill. Thipsuda becomes finally Wissanoo's new wife (เมียใหม่). Years have passed. Luk Ying is now an adult. Thipsuda is always jealous about Luk Ying (ลำบากใจ). Wissanoo decides to send his daughter to her grandfather's (Somkuan Krajangsat) home in Chiang Mai. Adul (Adul Dulyarat), a policeman, is injured and cured at the grandfather's house so he has the chance to know Luk Ying (ลูกหญิง). Adul is going to marry Luk Ying so the father Wissanoo (นักดนตรี) is invited to the wedding. Arriving there, he recalls his relationship with Walai (Ratanaporn Intarakamhaeng), Luk Ying's mother. He feels bad to have sent his daughter in Chiang Mai. He recalls he met Walai in similar condition in an event in Chiang Mai many years ago and asked her to live in Bangkok with her. They fled to Bangkok as Wissanoo was a poor musician and Walai, the unique granddaughter of a rich man (Somkuan Krajangsat). Wissanoo and Walai had a daughter called Luuk Ying. After a few years for unclear reasons, Walai left back to Chiang Mai and left behind her husband and daughter. She wrote a letter but Wissanoo burnt before reading it. The 48 minutes ends when they meet again at Luk Ying's wedding and their love is still here.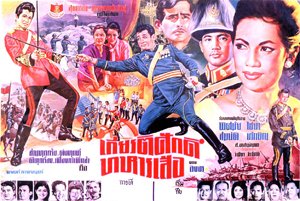 Year

: 1965



Thai title

:

เกียรติศักดิ์ทหารเสือ




English title

:



Rating

: 3/5


Director

: Sor Asanajinda



Main actor

: Sombat Methanee,Chaiya Suriyun,Sor Asanajinda,Adul Dulyarat,Taksin Jampol,Ruj Ronnapop,Anucha Ratanaman,Sompong Phonmitr


Main actress

: Pissamai Wilaisak,Kingdao Daranee,Somjit Sapsamruey
เกียรติศักดิ์ทหารเสือ is a Thai movie released in year 1965. Sor Asanajinda is movie director and actor. The film is lost in Thailand but luckily there is still a "Behind the screen" sequence lasting 20mn. It is in 16mm format so there is no sound and is in black and white color. Main actors are Sombat Methanee, Chaiya Suriyun and Pissamai Wilaisak. A few sequences are featured, i.e. Sor Asanajinda giving orders to Taksin Jampol, Sombat Methanee and Chaiya Suriyun, Pissamai crying, soldiers meeting in which Sombat is stripped of his medals by the general himself and gets slapped also, meeting between Sor Asanajinda and Adul Dulyarat. A general comes and strips himself of his medals. He wishes to kill himself but Sor Asanajinda prevents him to do so. They are all disrupted by an event. During a big assembly in full uniforms, Sor Asanajinda is repeating spade fighting. While Adul is writing, an officer is going to shoot him. Hopefully Sombat intervenes at same time to stop him. The soldier has same face as Sombat! Sequences riding horses. Fight between Sombat and Chaiya. Sequence under the rain where Sombat carries Pissamai. Chaiya helps to get a flag back to avoid Sombat to be executed. The story is inspired by the Three Musketeers from French author Alexandre Dumas. Another version was released in year 1983 and directed again by Sor Asanajinda with actors Toon Hiransap, Kowit Wattanakul, อนุสรณ์ เตชะปัญญา and Pissamai Wilaisak. Finding and watching the 1983 version would allow better understanding of the 1965 behind the screen sequences. Protagonists names are พ.ท.พิสุทธิ (Taksin Jampol), พ.ต.นิเวศน (Chaiya Suriyun), ร.อ.ภูเบศร (Sombat Methanee), หญิงใหญ (Pissamai Wilaisak), หญิงเล็ก (Kingdao Daranee).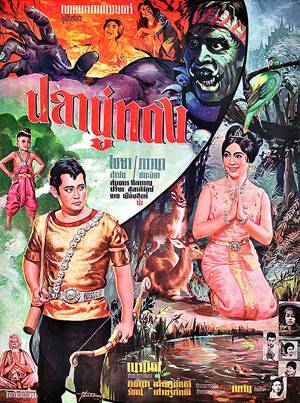 Year

: 1965



Thai title

:

ปลาบู่ทอง




English title

:



Rating

: 3/5


Director

:



Main actor

: Chaiya Suriyun,Daonoi Duangjai,Sukon Koewliam,Somkuan Krajangsat


Main actress

: Pawana Chanajit,Preeya Roongrueng,Malee Wetpraseri,Wilaiwan Watthanaphanit,Sulaleewan Suwanthat
Pla Boo Tong (ปลาบู่ทอง) movie with Chaiya Suriyun and Pawana Chanajit was released in year 1965. The movie is lost in Thailand but a short extract was found in year 2013 thanks to a ThaiCine fan. The extract has still a colorful image and is only three minutes left. Other actors are Daonoi Duangjai, Preeya Roongrueng, Sukon Koewliam, Malee Wetpraseri, Somkuan Krajangsat, Wilaiwan Watthanaphanit and Sulaleewan Suwanthat (ป้า สุลาลีวัลย์ สุวรรณทัต) as a witch. The short extract shows a "kuman thong" child, the mother spirit imprisoned in a bird and Chaiya Suriyun and Pawana Chanajit together. Old still pictures of this last sequence can still be found. This story has been played many times through TV series and through movies (1965, 1972 from TV to cinema, 1979 with Lalana Sulawan, 1984 with Suriya, 1994). Certainly there is a need to find a more recent version in order to better understand this three minutes old trailer. In the past, such movies needed four people to perform the dubbing.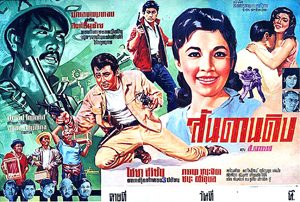 Year

: 1965



Thai title

:

สันดานดิบ




English title

:



Rating

: 3/5


Director

:



Main actor

: Chaiya Suriyun,Chana Sriubon,Lor Tok


Main actress

: Pawana Chanajit,Kaenjai Meenakanit
สันดานดิบ is a Thai western movie released in year 1965. It features three famous awarded Thai actors, i.e. Pawana Chanajit, Chana Sriubon and Chaiya Suriyun. The whole 2 hours movie is still available amid local Thai collectors but was never released on the movie market. A 25mn sequence can be seen online. This old movie still has a colorful image. It is a 16mm movie so there is no sound as it requires dubbing. Below summary is based on the 25mn sequence available online. Pawana is a doctor always willing to help poor people. Chaiya plays a ruffian (นักเลงผมทอง) always holding two guns. Chaiya tries to seduce Pawana but it causes Kaenjai Meenakanit, playing the sexy girl role, to be jealous. Two groups of ruffians shoot each other for the possession of a mysterious box probably containing drugs. Even Kaenjai is shot. The movie ends up with a ruffian kidnapping Pawana but Chaiya rescues her on time following final shootings. Many gun duels happen in this movie as it was an era where westerns movies were very popular.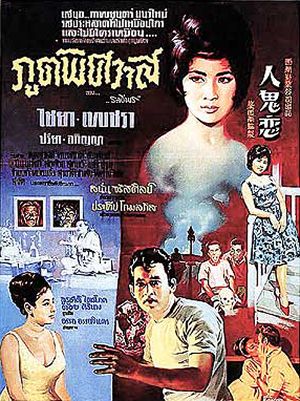 Year

: 1964



Thai title

:

ภูตพิศวาส




English title

:



Rating

: 3/5


Director

:



Main actor

: Chaiya Suriyun,Lor Tok,Sukon Koewliam


Main actress

: Petchara Chaowarat,Preeya Roongrueng,Mom Chan Phuangwan,Malee Wetpraseri
The movie name "ภูตพิศวาส" means "ghost love". Three young men students with suitcases are looking for a place to sleep. One of them is called Marut. They stay in a temple but the temple keeper asks them not to open door or windows at night time or go out if somebody calls them. Marut doesn't listen and sees a beautiful lady. In the morning one of the three students is found dead. There is two holes in the arm as if somebody sucked his blood (ผีดิบ). The next night sounds of a lady crying can be heard. Then in the morning the second friend is found dead also. According to the temple keeper, they die because of lying and unfaithful behavior with ladies. The temple keeper is a sorcerer (หมอผี) also. Marut meets Dao (Petchara Chaowarat), who is a ghost. A love story happens between human and ghost. Marut's mother wants to fiance him with a young lady called Buma (Preeya Roongrueng) coming from a rich family. The fiancee Buma is invasive and strongly encourages Marut to kiss her. Marut presents Dao, the ghost, to her mother, who faints when understanding that Dao is a ghost. Lor Tok plays an exorcist master (อาจารย์) again. The grandmother uses him to chase the ghost. Buma supports the idea. Marut wants to bring Dao back to life (เกิดใหม่) but other ghosts try to prevent this. Marut needs to pray every night one hour during 20 days, eat vegetarian (กินเจ), drop blood drops inside the food offered to Dao. Evil ghosts prevent Marut to free Dao but the temple keeper provides support. 20 days have passed. The temple keeper does a ceremony. Dao is now an human (เป็นคน). Issue with Buma arises. Following the kiss, she complains she is soiled (ตัวเสีย) as she wants to accelerate wedding date. The wedding happens but on the night before the wedding Dao becomes Marut's real wife. Buma wants to secure Marut's love by using magic spells so she contacts again the exorcist master. This one provides love filter (น้ำมันพราย). Buma wants to chase Dao. Marut accepts as Buma uses charm filter (ถูกเสน่ห์). Finally as Dao is pregnant with Marut and being already Marut's wife, Buma has to retreat and is finally arrested by police for colluding against Dao. This old movie has an image damaged but still colorful. It also has a new soundtrack as many 1960s movies were shot in 16mm without synchronised sound. It is a pleasure to watch Thai stars Chaiya Suriyun and legendary Petchara Chaowarat. Chaiya Suriyun received a Thai oscar (รางวัลตุ๊กตาทอง) for his best actor performance.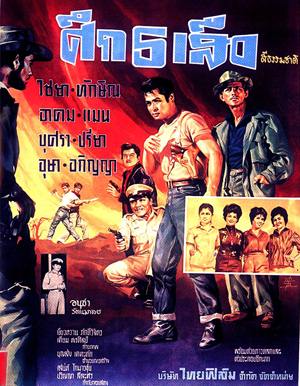 Year

: 1963



Thai title

:

ศึก 5 เสือ




English title

:



Rating

: 3/5


Director

:



Main actor

: Chaiya Suriyun,Taksin Jampol,Sukon Koewliam,Man Teeraphol,Anucha Ratanaman


Main actress

: Preeya Roongrueng,Boosara Narumit,Usa Atcharanimit
Thai movie ศึก 5 เสือ was released in year 1963. It features Chaiya Suriyun as main actor. The movie is lost in Thailand but eleven minutes of various sequences remain to be seen. 4 ladies are featured in this movie, i.e. Preeya Roongrueng, Boosara Narumit, Usa Atcharanimit and อภิญญา วีระขจร. Other actors featuring in this movie are Taksin Jampol, Sukon Koewliam, Man Teeraphol, Anucha Ratanaman as policeman. The movie is in 16mm format so no sound is available as this format requires live dubbing. There is a sequence when Chaiya Suriyun's character is still a kid. Preeya Roongrueng is then the mother. A man is worried in his home despite being protected by police. Taksin Jampol is shot by the police while he was threatening this man (อาคม มกรานนท์) in his house. Chaiya visits Usa Atcharanimit in her room but gets pushed back. He kidnaps two ladies. Shootings with police happen. One of the lady trying to protect him against the shots but dies in his arms. Chaiya finally dies also following a duel with Man Teeraphol. This is mainly a story of police catching thieves but it involves some police-thief couple. In one case, the father is a policeman and the son is a thief. In another case the father is a thief and the son is a policeman! It can only end sadly... Another version of ศึก 5 เสือ was released in year 1977 with Sombat Methanee.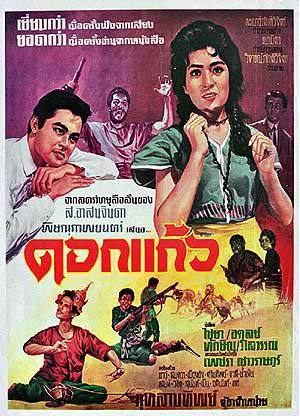 Year

: 1962



Thai title

:

ดอกแก้ว




English title

:



Rating

: 3/5


Director

: Neramit



Main actor

: Adul Dulyarat,Chaiya Suriyun,Adinan Singhiran,Taksin Jampol,Chao Klaewklong,Somkuan Krajangsat


Main actress

: Petchara Chaowarat,Wilaiwan Watthanaphanit,Sarinthip Siriwan,Namgneun Boonnak
Thai movie ดอกแก้ว was released in year 1962. It features Petchara Chaowarat as main actress and Adul Dulyarat / Chaiya Suriyun as main actors. The movie was produced by กุหลาบทิพย์ ภาพยนตร์ (Celestial Rose Movies). The movie is lost in Thailand but a sequence of twelve minutes is left to be seen. Other actors and actresses are Chao Klaewklong , วิชิต ไวงาน, เมืองเริง ปัทมินทร์. A man (Somkuan Krajangsat) is found dead. He has been shot by a ruffian. Adinan tries to protect him but he is also shot. It looks like there is a testament left behind. Next sequence shows Wilaiwan Watthanaphanit and Adinan Singhiran, who is injured. Wilaiwan is holding a baby. Adinan dies so Wilaiwan flees with the baby but meets robbers. Shootings happens with the Police. The robbers' leader protects Wilaiwan. Next sequence shows Taksin Jampol and Petchara as mountain people. Maybe Petchara was the baby seen in the earlier part of the movie. While going to the city, Taksin and Petchara give a hand to Adul being aggressed by ruffians. Next sequence shows Chaiya and Sarinthip Siriwan. It looks like Adul and Chaiya are brothers. Petchara is now living in a nice house and wears beautiful clothes. Taksin is upset that Chaiya and Petchara are friends. Chaiya helps Petchara aggressed while taking care of a baby. Petchara uses a gun to protect Taksin also being threatened by a ruffian. A remake of ดอกแก้ว was released in year 1981 and featured Sorapong Chatree. At that time Dok Kaew was a famous movie and was projected as same time บันทึกรักพิมพ์ฉวี. Having two famous actors such as Mitr and Chaiya helped to boost Petchara's career.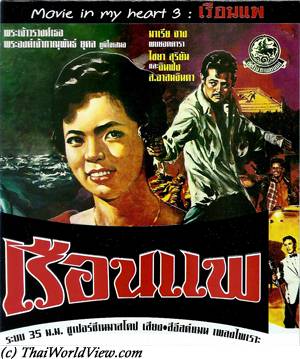 Year

: 1961



Thai title

:

เรือนแพ




English title

: Houseboat



Rating

: 5/5


Director

: Neramit



Main actor

: Sor Asanajinda,Chaiya Suriyun,Jin Fong,Preuhat Boonlong,Jamroon Nuatjim


Main actress

:



Buy now

:

Four friends are living together, 3 men and one woman, Pen (เพ็ญ). They rent an old boat from Pen's father and repair into a boat house to live on it (เรือนแพ). Kaew (แก้ว) wishes to become a Thai boxing champion (นักมวย). Lin (รินทร์) wishes to become singer and songs compositor. Chen (เจน) wishes to finish first grade his studies and become a policeman. Pen is the lady. All three friends secretly love Pen. Many songs are featured in the movie. Kaew wishes to participate to real Thai boxing competition instead of only doing trainings. He is very hot temper. A local ruffian head, Ekarat, finds a fight for him and he wins. A song master hears Lin's beautiful voice and wishes to recruit him. A thunderstorm wrecks their home and they nearly escape to death. Kaew saves Pen from drowning so winning her heart and love (หนูเป็นของเขาแล้ว). Kaew wants to win big money to take care about Pen but he needs to do illegal things such as losing a match. He refuses to do so causing Ekarat's ire. He meets another Lopburi influant man. He gives 40 000 baht for his wedding with Pen. On the way to Chiang Mai for the wedding, Kaew discovers that Pen's father is preparing the wedding with somebody else! Upset he disturbs the ceremony and shots the groom. He has to flee and becomes an outlaw (ผู้ร้าย). The four friends have gone different paths (ตามดวง). Kaew gets friend with another ruffian. They rob banks and barges together. Chen, who is now a policeman, needs to catch Kaew as it is his duty. He tries to convince him to surrender but no to avail as Kaew is afraid to go twenty years in jail. Kaew and Pen still meet together. Pen wishes Kaew to stop robbing (หยุดปล้น). Even if Kaew wishes to stop, his ruffians friends discourage him saying no woman will wait for him so long in jail. On top of this they are still chased by the police so no time to rest and think. During a singing performance, Lin is shot and killed by one of the ruffians. Kaew cannot help on time. Chen believes Kaew is the one who shot Lin. They all meet on their format boat house. Kaew accepts to surrender but other ruffians shot him and Chen. The movie ends tragically, Kaew dying while sending the boat on the ruffian to smash him. Only Pen survives. The friendly happiness is no more. เรือนแพ is the first officially restored Thai movie by USA in years 2006-2007. It is a 50 years old movie and the VCD from "Phanmitr" (พันธมิตร) collection company includes a copy in very good condition. It was the first Thai movie in 35mm with songs and not dubbing like 16mm movies. Even the Thai King went to watch the movie in 1961! Chaiya Suriyun was the first star to win three consecutive Thai oscars (รางวัลตุ๊กตาทอง) in years 1962-1964. His first Thai oscar was thanks to this movie "เรือนแพ". The movie got 3 oscars (best actor, best supporting actor, best movie). It was adapted many times as Thai TV series and another time for cinema in 1989 with Santisuk Promsiri.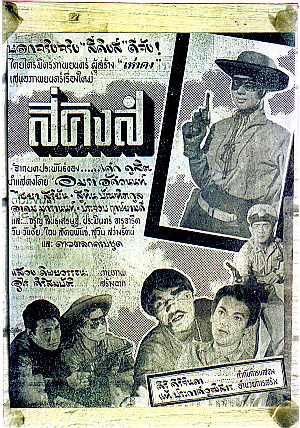 Year

: 1959



Thai title

:

สี่คิงส์




English title

:



Rating

: 3/5


Director

: Tae Prakardwutthisan



Main actor

: Chaiya Suriyun,Dokdin Kanyaman,Prachuap Ruekyamdee,Sompong Phonmitr,Sawin Sawangrat,Lor Tok


Main actress

: Amara Asavananda,Chosri Misommon
สี่คิงส์ or "See King" is a Thai crime movie produced by Tae Prakardwutthisan. The 1959 movie is lost in Thailand but hopefully a 16mm "behind the screen" sequence of 10 minutes is still available. It was given by Tae Prakardwutthisan himself in year 1988 to the Thai Film Archives. Despite using same actors as "Hao Dong" (1956), "See King" movie was not a commercial success. The sequence shows the actors and actresses during the first projection in year 1959. Those actors are Amara Asavananda, Chaiya Suriyun, Dokdin Kanyaman, Prachuap Ruekyamdee, Sompong Phonmitr, Sawin Sawangrat, Lor Tok. The movie trailer is also included. A few fights are featured with Chaiya. Dokdin Kanyaman is acting as a journalist. Somphong and veteran comic actress Chosri Misommon (ชูศรี มีสมมนต์) are featured together. Both the main actor and main actress are nice outlaws. Similar as in movie "Hao Dong", Amara is wearing a mask. The sequence is coming from a DVD that can be bought at Thai Film Archives. The movie advertisement song radio is set as soundtrack (เพลงโฆษณาหนัง) and highlight it is a good movie (สี่คิงส์ หนังดี สี่คิงส์ ยิ่งใหญ่ เด็ดจริง ถึงใจ ใช่ใคร สี่คิงส์). A remake version was released in year 1982 featuring Sorapong Chatree and Naowarat Yooktanun. It was not also a great commercial success.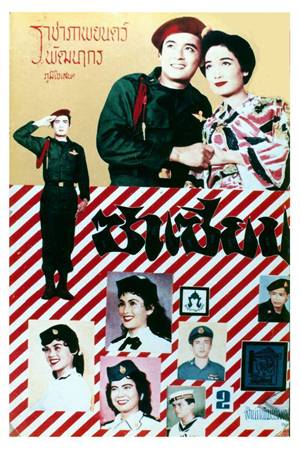 Year

: 1959



Thai title

:

ซาเซียน




English title

: Sasean



Rating

: 3/5


Director

:



Main actor

: Chaiya Suriyun,Sukon Koewliam,Tawan Siriwat


Main actress

: Raodee Sririwilai,Mom Chan Phuangwan,Rewadee Siriwilai
Sasean (ซาเซียน) is a Thai movie released in year 1959 and featuring main actor Chaiya Suriyun and main actress Rewadee Siriwilai. The movie is lost in Thailand but a four minutes sequence as a trailer is still available. The image is still sharp and quite colorful. The short sequence includes war sequences, fist fighting scenes. Other actors include Sukon Koewliam, Tawan Siriwat. A lady is kidnapped but helped by a marine boat soldier. The movie is mute. No summary is available.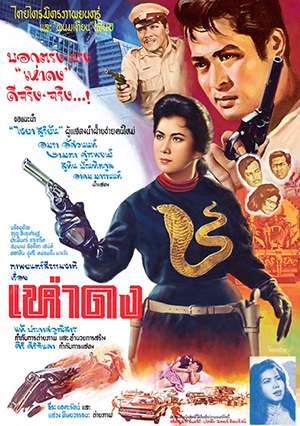 Year

: 1958



Thai title

:

เห่าดง




English title

: Hao Dong



Rating

: 3/5


Director

: Tae Prakardwutthisan



Main actor

: Chaiya Suriyun,Lor Tok,Dokdin Kanyaman,Sompong Phonmitr


Main actress

: Amara Asavananda,Chosri Misommon,Marasri Bangchang
เห่าดง (Hao Dong) is a 1958 Thai movie by director Thae Pragartvuthisarn. It features famous Thai actor Chaiya Surin (his first movie) and actress Amara Asavananda. Other actors include Lor Tok, Dokdin Kanyaman, Sompong Phonmitr, Chosri Misommon. A remake was released in year 1983 with Sorapong Chatree and Suriwan Suriyong. No extract of the movie is left anymore. But there is still a short 1mn22s sequence from 1958 Thai news showing a huge crowd waiting to see Hao Dong movie. A few still pictures are still available showing Amara Asavananda wearing color Hao Dong costume. It was a big commercial success thanks also to great advertisements including radio, TV, huge billboards up to 12 meters (คัทเอาต์ขนาดยักษ์) of actress Amara Asavananda in popular areas of Bangkok. Three gangs of robbers are bringing trouble in Bangkok. Hao Dong works alone. Hao Dong is a former military (ทหารม้า). He is not a ruthless gangster like the two other groups. Feeling betrayed, the other groups (เล็บเหล็ก, แสงเทียน) wish to get rid of Hao Dong. As he dies, his daughter (Amara Asavananda) takes over. Chaiya is playing a policeman and love will emerge with Amara. The success of movie Hao Dong is due to the presence of 3 famous Thai comic stars (Lor Tok, Dokdin Kanyaman, Sompong Phonmitr). Tae Prakardwutthisan had also the good idea to make a simple but entertaining song to be diffused on radios for movie promotion. It mentions Dokdin as ตัวดำๆ. A movie as that time was always a financial risk due to potential military coup d'etat as it could ruin all investments on a movie. Hao Dong generated 1.3M baht revenue.
---