Increase or decrease font size for easier reading : A+ A-
Chai Meekunsut
Chai Meekunsut (19xx) - ชาย มีคุณสุต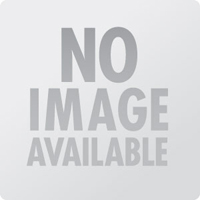 Chai Meekunsut has directed around 30 movies. Most of his movies were action movies
This Chai Meekunsut movie page contains 4 records.
---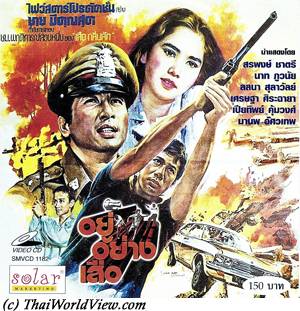 Year

: 1979



Thai title

:

อยู่อย่างเสือ




English title

:



Rating

: 3/5


Director

: Chai Meekunsut



Main actor

: Sorapong Chatree,Settha Sirachaya,Manop Aussawathep,Nard Poowanai


Main actress

: Piathip Kumwong,Lalana Sulawan,Duangcheewan Komolsen
An intensive deforestation is taking place in North of Thailand. Seua (Sorapong Chatree), young man, is back to his native city and is looking for a job. He met Duang, a former girlfriend. Priaw, Duang's brother, drives him to a neighbouring city, Mae Sot, where job opportunities are soaring. Seua meets Pop, an old friend, in order to get job recommendations. Seua is married but he comes alone. They have a drink in a bar. Two interesting characters are working in the bar, i.e. lady Toi (แม่เพลิงไฟ) and ladyboy (กะเทย) Aree, who is a musician and singer. Pop is shot while they are having a drink. A Police inspector (สารวัตร) is investigating the murder but no clues can be found regarding the murderer and cause. It seems to be linked to a corruption and bad influence case. Kamsaen, rich and influential man (พ่อเลี้ยง) , has a beautiful daughter called Kamyat. Pop was a family member but he was not well appreciated as he tried to seduce Kamyat. Seua tries to meet Kamsaen but to no avail. Some ruffians sent by Sinkon, Kamsaen's close assistant, try but fail to drub Seua. Truth has to be hidden and it is a strong message that Seua should stop investigating on Pop's death. The bar manager is shot also. Seua is seriously beaten at the head as he refuses to stop investigating. While driving, Sinkon is also shot by the hitman. A former policeman, Natheum, passing by, sees the hitman's face. All witnesses are killed one by one. Illegal forest concessions (ตัดไม้เถื่อน) business is suspected. Threatening letters are now received by Seua. A plan is prepared with the police inspector. They break over the ruffians directly inside the forest. Shootings happen between police and the ruffians. They release Kamsaen and his daughter held prisoners inside a hut. The ruffian leader succeeds to escape and is still unknown. Natheum is Seua's old friend. While having a drink in the bar, he recognizes Aree as the hitman. Kamsaen has been simulating his capture and is in fact the real headmaster. Toi is his mistress. Kamsaen is killed while trying to resist to the police. Seua, carrying a Magnum 357 gun, revenges his friend Pop by shooting Aree. The magnum 357 is certainly influenced by inspector Harry movies with Clint Eastwood. This movie is a typical action movie from decades 1970s-1980s and features the finest Thai actors and actresses.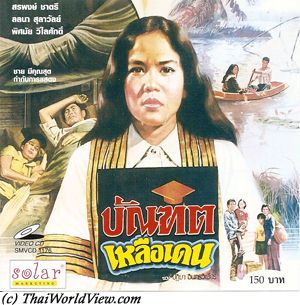 Year

: 1979



Thai title

:

บัณฑิตเหลือแดน




English title

:



Rating

: 5/5


Director

: Chai Meekunsut



Main actor

: Sorapong Chatree,Manop Aussawathep


Main actress

: Pissamai Wilaisak,Lalana Sulawan,Nipaporn Nongnuch
A farmer couple with two young daughters quit their land to find jobs and a better life in Bangkok. Wan and her younger sister Wannee have now grown up. Their father wants them to study up to university and become บัณฑิต (graduate). Unfortunately he died before during an accident on a construction site. The mother is working in a short time motel and washes bed sheet. As Wan studies are expensive and the mother has a small salary, the mother has no choice but to accept sexual proposals from a customer called Atasit in order to get money for her daughter studies. Meanwhile Wan meets a young man called Narat and a love story starts. Following her mother disease and expensive hospital fees, Wan has also no choice than to sell her body to Atasit to get money. Atasit wants to meet her again but this transaction was only financial and based on necessity (ความจำเป็น). Narat asks to marry Wan. Meanwhile Atasit also seduces the younger sister Wannee for similar financial issues. Wan asks him to stop but he refuses. All the women of the same family have the same fate with Atasit because they are coming from a poor background. The mother tries to help her daughters. The daughters try to help their mother. The movie ends up tragically. Wannee dies due to miscarriage and heavy loss of blood. Wan decides to kill Atasit to have him pay for his sins but her mother kills him first in order to take the judicial blame and avoid ruining all the efforts done by her and her former husband to have Wan become a successful graduate. Finally Atasit was Narat's father... This damned life mixing poor people from the country side and rich Bangkokian people ends up in a wreckage for all.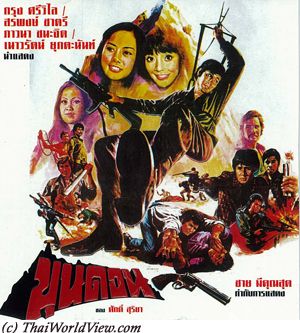 Year

: 1978



Thai title

:

ขุนดอน




English title

:



Rating

: 3/5


Director

: Chai Meekunsut



Main actor

: Sorapong Chatree,Krung Srivilai,Manop Aussawathep,Phairoj Jaising,Kanchit Kwanpracha


Main actress

: Naowarat Yooktanun,Duangcheewan Komolsen,Pawana Chanajit
In Isan area, during a traditional dance (รำวง) party in a village, young man Pui (Sorapong Chatree) and young woman Bulai (Naowarat Yooktanun) are agressed by local ruffian (ผู้ร้าย). Khun Don, local Robin Hood thief, chases the thugs (นักเลง) away. The ruffians' leader is subdistrict headman (กำนัน) Phichit. Two Bangkokian friends come to visit Bulai, i.e. Phanit (Pawana Chanajit) and Thantip (Duangcheewan Komolsen). Phanit mistakes Khun Don with another man called Paradorn that she loved before. Phichit, lewd (ลามก) headman, wants Bulai as his wife. Phichit accuses the two Bangkokian ladies to be linked to Khun Don. Subdistrict headman Phichit is using bad influence (อิทธิพล), strong power (อำนาจ) and money to control the area and performs robbery (ปล้น). His team commits bus burglary under Khun Don name. Pui is accused of roberry and jailed by police officer (ผู้กอง) Thanu (Phairoj Jaising). Mysteriously the district offer orders to free Pui. Bulai joins Khun Don's team to fight subdistrict headman Phichit. Amorous jousts happens between the main characters. Infiltering Phichit's team, Bulai provides information to catch him and his ruffians. Police and army join. Following heavy gun fights, Phichit and his thugs are neutralized (ทำร้ายชาติ). As often during such Thai action movies, it is revealed that three young ladies were undercover policewomen. Pui is a also a policeman and Khun Don is a soldier. Couples are formed and weddings are announced. It is a typical movie 1970s mixing action, romance and songs (Country style Luk Thung - ลูกทุ่ง - and Molam - หมอลำ - music). Eight major actors from 1970s decade are present in this movie.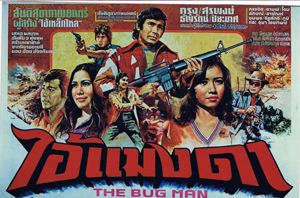 Year

: 1976



Thai title

:

ไอ้แมงดา




English title

: The Bug Man



Rating

: 3/5


Director

: Chai Meekunsut



Main actor

: Krung Srivilai,Sorapong Chatree,Kanchit Kwanpracha,Pipop Pupinyo,Dam Datsakorn,Sayan Chantaravi​boon,Lak Apichat,Chat Mongkolchai


Main actress

: Tanyarat Lohanan,Piyamas Monayakol
A Thai man just marries a hill tribe girl called Bokram. His wife is kidnapped by ruffians. He is in fact a man collecting girls for brothels! A mysterious man raid two brothels looking for a lady called Choimai. He is a strong puncher. His name is doctor Chai (Krung Srivilai) and is fiance with Vui, a gym sport woman (นักกีฬาgym). He has lost memory and cannot remember his own fiancee. Hong (Sorapong Chatree) is a well-off son involved with ruffians. Choimai is now prisoner in the prostitution ring leader's house. His name is Yai (Dam Datsakorn) and he is also smuggling weapons. Choimai is in fact Chai's sister. She escapes (ขายตัวกับผู้ชาย) and takes refuge in Dong's home, another ruffian, who is also a brothel owner. Trap is put in place by Yai to capture Chai at Turkish massage place (อาบอบนวด). An electronic device is put near his brain to force him acting on any orders from Yai. Yai uses Chai to give a punchy lesson to Hong. Brothels are similar to slavery as women are chained together. The mamasan (มาม่าซัง) pretends to help Choimai but it is another trap also. She is only interested by her ring and necklace. Brought by three ruffians in a remote place, Hong luckily drives by and helps her. She is welcomed in Hong's parents home (คนสตรี). Hong decides to change his behavior and stop frequenting ruffians. Inside Yai's group, Chai takes revenge over those who kidnapped Choimai. Dong traps Hong (เพื่อนทรยศ) as he has betrayed them. Hong tries to crash him with an old French Citroën DS car. It fails but Hong is finally captured by Yai. Choimai surrenders to Yai to spare Hong's life. Vui is also kidnapped. Chai only simulated being a robot following Yai's orders. Chai succeeds to release Vui. They enter inside Yai's remote camp and gun fights, explosions occur between Yai's ruffians and Chai's friends. Ruffians are defeated. The Lepso VCD image is quite damaged and colorless. It is a recording from TV. Anyway this Thai action movie features part of the finest bunch of 1970s Thai actors. In this movie, Krung Srivilai, best Thai actor in 1974, meets Sorapong Chatree, best Thai actor in 1975. This movie was the most popular movie in 1976. In the title แมงดา means pimp.
---