Increase or decrease font size for easier reading : A+ A-
Boosara Narumit
Boosara Narumit (194x) - บุศรา นฤมิตร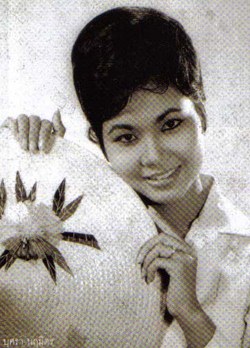 Boosara Narumit played in many Thai TV lakorns and also in around 40 movies. She played in movies during same era as Pawana and Petchara
This Boosara Narumit movie page contains 14 records.
---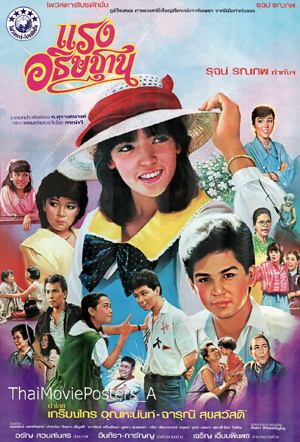 Year

: 1984



Thai title

:

แรงอธิษฐาน




English title

:



Rating

: 4/5


Director

: Ruj Ronnapop



Main actor

: Kriengkrai Unhanan,Adul Dulyarat,Ruj Ronnapop,Porjed Kaenpetch


Main actress

: Jarunee Sooksawad,Anchalee Chaisiri,Sarinthip Siriwan,Sulaleewan Suwanthat,Ratanaporn Intarakamhaeng,Phong Lada Pimolpan,Boosara Narumit
Thai movie แรงอธิษฐาน was released in year 1984 and lasts 1h57mn. Movie director is Ruj Ronnapop. A remastered version was released by Five Star Production (ไฟว์สตาร์โปรดักชั่น) in the decade 2010s and shown on Thai TV cable. The movie was released on VHS format. Thai actors and actresses featured in this movie are Jarunee Sooksawad, Kriengkrai Unhanan, Anchalee Chaisiri, Sarinthip Siriwan, Adul Dulyarat, Ruj Ronnapop, Sulaleewan Suwanthat, Ratanaporn Intarakamhaeng, Phong Lada Pimolpan, Porjed Kaenpetch, ปาหนัน ณ พัทลุง, วรารัตน์ เทพโสธร, Boosara Narumit, รจิต ภิญโญวนิช, ออยา นาวิน, ไพลิน จินดานุช, ลินดา สิริเดชภิญโญ. Manee (Anchalee Chaisiri) and Ruj Ronnapop love each other. Manee is pregnant. Ruj's sister (Sulaleewan Suwanthat) rejects this love story as she is worried about the family status and wishes Ruj to marry a rich lady. Their family has no more wealth. Mae Nom (Ratanaporn Intarakamhaeng) helps Manee but Manee dies while delivering the baby. Ruj is now married to Rattana (Phong Lada Pimolpan) but still sends money for the baby education. Ruj also dies later. The baby is named Pat and is raised by Mae Nom and her husband. Years have passed. Pat is now a teenager played by Jarunee Sooksawad. Adul Dulyarat, knowing Mae Nom, proposes to send Pat to Bangkok as he knows the parents are poor and Pat is willing to study in university in Bangkok. Adul recommends her to stay in Krongkan's house. Ut (Porjed Kaenpetch) loves Pat but his mother is unhappy that her son tries to befriend with Pat, seen as a poor child without biological parents. Ot (Kriengkrai Unhanan) and เอกลักษณ์ ยลระบิล are visiting a local Buddhist temple and take pictures of children playing. Among the children, there is Pat. Pat comes to the Buddhist temple to pray (อธิษฐาน) and asks the famous Buddha Luang Pho to help her to find her family relatives. Ot's mother (Sarinthip Siriwan) tries to find a rich bride for his son but he is not interested. The mother introduces Rattana's daughter, Prakairat, but to no avail. Ot likes books so he is working for Krongkan in her newspaper. Another lady asks her daughter Oya to stay with Krongkan, her aunt. Oya dislikes Pat and a fight occurs as she treats Pat as a domestic helper. While trying to slap Pat, she falls in wet laundry. Oya complains to her mother but Krongkan refuses accusations as she is always fair to everybody. Upset, Oya leaves the house. Ot feels that Prakairat has same look and way of talking as Pat. He thinks they might have the same father. Prakairat is jealous of Pat as Ot is more interested by her. The mother tries to push for engagement between Praikairat and Ot but even Ot's sister said that Pat would be a better choice. The mother just wants a rich bride. Ut proposes Pat to stay in his aunt's house if it is too troublesome to stay in Krongkan's house. Pat meets the aunt being the one, who broke the relationship between Ruj and Manee. She recognizes the pendant that Pat is wearing as it belongs to her family. She believes Pat stole it, but Pat mentioned it is a gift from her father. Finally, an enquiry is done, and it is confirmed that Pat's father is Ruj. Prakairat and her mother are concerned to lose a big part of Ruj's heritage. Ot asks Pat's hand and wishes to marry once she has finished her studies. The aunt wishes to meet Pat again to correct her past mistakes. Finally, a family meeting is organised regarding heritage sharing. The aunt does not apologize for anything and believes she has done the right thing to cause Ruj and Manee to split. Upset and disappointed by her family members behaviour, Pat rejects any rights she has on her father Ruj's heritage as she considers Mae Nom and her husband as her parents. Ot announces he will marry Pat. Love is more important than wealth. The family members are left with their wealth and unhappiness. Luang Pho has realized Pat's wishes as she found her relatives and even more as she met love (แรงอธิษฐาน).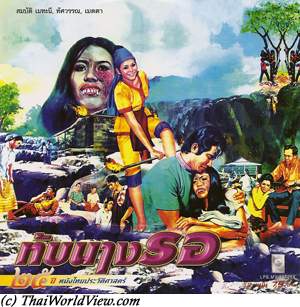 Year

: 1973



Thai title

:

ทับนางรอ




English title

:



Rating

: 3/5


Director

: Chutima Suwannarat



Main actor

: Sombat Methanee,Kamthorn Suwanpiyasiri,Jamroon Nuatjim,Tat Ekathat,Rong Kaomulkadee,Pan Borapet


Main actress

: Tasawan Saneewong,Boosara Narumit,Metta Roongrat,Malee Wetpraseri
Thai movie ทับนางรอ was released in year 1973 and lasts 1h43mn. It was released under VCD format by Lepso Company. Sombat Methanee, Kamthorn Suwanpiyasiri, Pan Borapet, Jamroon Nuatjim, Tasawan Saneewong, Boosara Narumit, Tat Ekathat, Metta Roongrat, Malee Wetpraseri, Rong Kaomulkadee are the main actors and actresses featured in this movie. Movie director is ชุติมา สุวรรณรัต. A baby girl is abandoned in the forest as she has a deformed face (ลูกผี). She is rescued by Tat Ekathat and is named Sopi. At school, she is rejected by other children. Being an adult, her face becomes normal but a awful decease endangers her (อย่าพบความรัก). If she gives life to a baby, she shall die. Her parents (played by Boosara Narumit and Kamthorn Suwanpiyasiri) prevent her from seeing any boy. Chakapan (Sombat Methanee), a Bangkok young man, falls in love with her and asks for her hand but Sopi's parents refuse (เรื่องหัวใจ). Pim (Metta Roongrat) and Rong Kaomulkadee are having a romance. They keep helping Chakapan and Sopi. Sopi is aggressed by two ruffians, including Pan Borapet, working for the village leader. She flees but falls from a cliff. Chakapan saves Sopi's life so her parents finally accept the wedding but knowing that she shall die following a pregnancy. Sopi is now pregnant. Following delivery, Sopi's deformed face is back, so she flees from home with her child. She ends up dying in Chakapan's arms per the doomed prediction.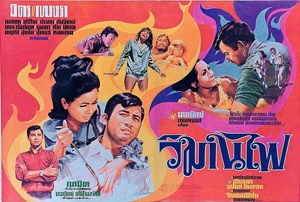 Year

: 1969



Thai title

:

วิมานไฟ




English title

:



Rating

: 3/5


Director

: Neramit



Main actor

: Mitr Chaibancha,Prachuap Ruekyamdee,Sukon Koewliam,Joomjim Khemlek,Choomporn Theppitak,Pipop Pupinyo,Preuhat Boonlong


Main actress

: Petchara Chaowarat,Metta Roongrat,Somjit Sapsamruey,Boosara Narumit
Thai movie วิมานไฟ was released in year 1969. This movie features Mitr Chaibancha as main actor and Petchara Chaowarat as main actress. The movie is lost in Thailand but a trailer sequence of four minutes is left to be seen. Other actors and actresses are Metta Roongrat, Prachuap Ruekyamdee, Somjit Sapsamruey, Sukon Koewliam, Joomjim Khemlek, Choomporn Theppitak, Pipop Pupinyo, Boosara Narumit, Preuhat Boonlong. During a short sequence online, Petchara is cutting Mitr's arm with a knife as it looks like Mitr is behaving as butterfly with other women.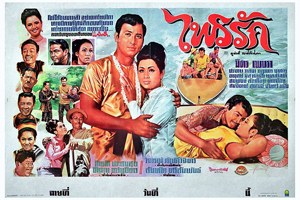 Year

: 1969



Thai title

:

ไพรรัก




English title

:



Rating

: 3/5


Director

:



Main actor

: Mitr Chaibancha,Adul Dulyarat,Prachuap Ruekyamdee,Daonoi Duangjai,Sukon Koewliam,Lor Tok,Sompong Phonmitr


Main actress

: Petchara Chaowarat,Wassana Chalakorn,Chadaporn Wachirapranee,Boosara Narumit,Somjit Sapsamruey
Thai movie ไพรรัก was released in year 1969. This movie features Mitr Chaibancha as main actor and Petchara Chaowarat as main actress. The movie is lost in Thailand but a four minutes trailer is left to be seen. The remaining sequences allow seeing various other actors and actresses such Adul Dulyarat offering flowers to Wassana Chalakorn, Prachuap Ruekyamdee, Somjit Sapsamruey, Sukon Koewliam, Lor Tok, Chadaporn Wachirapranee, Daonoi Duangjai, Boosara Narumit, Sompong Phonmitr.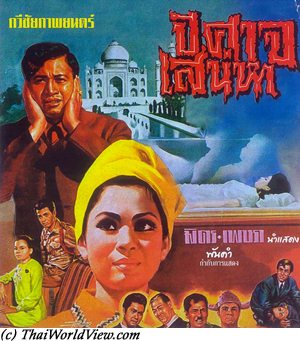 Year

: 1969



Thai title

:

ปีศาจเสน่หา




English title

:



Rating

: 4/5


Director

: Phan Kam



Main actor

: Mitr Chaibancha,Sukon Koewliam,Choomporn Theppitak,Preuhat Boonlong,Krai Kanchit


Main actress

: Petchara Chaowarat,Kaenjai Meenakanit,Boosara Narumit,Wilaiwan Watthanaphanit
Kangwan (กังวาน) and Karaket (การะเกด) meet each other in a Buddhist temple at night time. Kangwan, young and rich bachelor, is studying magic and ghosts knowledge (วิชาชุบชีวิต). Karaket brings flowers to her mother grave, Nang Sopha. Ladies O and Karaket are half sisters, i.e. same father but different mothers. O's mother was the main wife. Karaket's mother, Nang Sopha, was the minor wife (เมียน้อย). Kangwan's father and the two daughters' father agreed to have Kangwan marry one of the two daughters. O and her mother are jealous towards Karaket especially as Kangwan has more interest into Karaket than into O. The mother decides to have Karaket killed. She is already responsible of Karaket's mother death twenty years ago by poisoning. The mother and her maid try to poison Karaket's drinking water. Nang Sopha ghost protects her daughter but no killing shall be done to avoid adding more sins to her karma (กรรม). The poisoning attempt fails thanks to the ghost intervention. The bad mother then uses a monk to purify the house and install a sacred thread around the house to prevent ghosts from entering. Kangwan has to go to India to continue his studies. Meanwhile the bad mother attempts another trial to kill Karaket by putting a snake inside a box. This time due to sacred tread (สายสิญจน์) the ghost cannot help her and she dies following the snake bite. Kangwan is at Taj Mahal when Karaket's spirit asks for help. It is time for judgement in hell and Phra Yom (God of the underworld) takes Karaket with him. Kangwan has to fulfill the earlier promise between both families and is forced to marry O. But thanks to his knowledge in white magic, his soul (วิญญาณ) goes to hell to pick up Karaket and brings her back in the living world. The trueness behind Karaket's death is known. The mother sizes a gun and kills her maid, who has revealed the truth, and is strangled by Nang Sopha ghost before being able to kill Karaket a second time. Kangwan and Karaket can marry happily. In this old movie, there are typical dog howlings to indicate ghosts coming and Fx effect are limited to images superposition for ghosts apparition. This great old 1960s movie with superstars Mitr Chaibancha and Petchara Chaowara is typical of old Thai movies with the bad girl (นางอิจฉา) trying everything to be the main actor's girlfriend and always trying to get rid of the leading actress (นางเอก).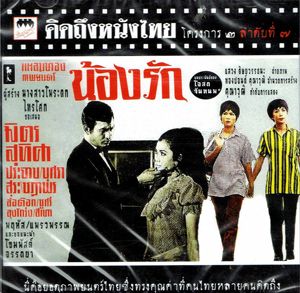 Year

: 1969



Thai title

:

น้องรัก




English title

:



Rating

: 3/5


Director

: Wichit Khunawut



Main actor

: Mitr Chaibancha,Prachuap Ruekyamdee,Lor Tok,Sithao Petcharoen,Preuhat Boonlong


Main actress

: Suthisa Putnuch,Chosri Misommon,Boosara Narumit,Chadaporn Wachirapranee,Khomapat Attaya,Marasri Bangchang



Buy now

:

Thai movie น้องรัก was released in year 1969 and lasts 1h13mn. It is available under VCD format by famous company XxX owned by Toh Pantamit. The original movie is certainly longer as movies in decade 1960s could last up to 2h30mn. It is probably the last 3 reels of the film. Movie director is Wichit Khunawut. One 35mm reel is also still available. Sri (Chadaporn Wachirapranee) brings her niece Kate (Boosara Narumit) in a massage parlour for work but arguments occur as other masseuses complain she is too beautiful so she will take away their customers such as Lor Tok. Sithao Petcharoen is the parlour manager. Fight occurs between Chosri Misommon and Sri. Young lady Dao (Suthisa Putnuch) meets doctor Wut (Mitr Chaibancha) in Neramit's house. Khomapat Attaya is the niece. Shot (Prachuap Ruekyamdee), car driver, knows Kate and loves her. Shot punches his own boss after seeing him with Kate in the massage parlour. She works to be able to raise her younger sister Dao. Marasri Bangchang is playing the owner of rental house. Lying to Shot, Kate has to prostitute herself (ทำงานพิเศษ) in order to find money to pay the rent. Meanwhile Dao tries everything to meet Preuhat Boonlong, her lost grandfather. Neremit proposes to pay Dao's birthday party as he knows she is not rich. It causes the mother and niece's ire. They ruin the party. To help her, Wut pays for the expense and proposes to transform her into an ugly nurse so she can be close to her grandfather. Meanwhile Kate is abused by another man at night time believing it was her lover. She feels so ashamed (ความชั่ว). Thanks to a ring, the grandfather identifies Dao as his granddaughter. Meanwhile Kate is arrested by Police and sent to prison for rehabilitation. Everybody is looking for Kate but she forbids her aunt to tell the truth to anybody. Kate gets seriously sick in the prison. Doctor Wut is the one to treat her. He identifies an incurable cancer (มะเร็งมดลูก). Kate was behaving same as a mother for Dao. Before dying, Kate asks to give her blessings (อวยพร) to the future wedding of Dao and Wut.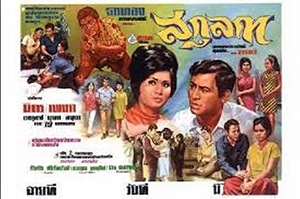 Year

: 1968



Thai title

:

สกุลกา




English title

:



Rating

: 3/5


Director

:



Main actor

: Mitr Chaibancha,Pisarn Akraseranee,Adul Dulyarat,Man Teeraphol


Main actress

: Petchara Chaowarat,Prim Praphaporn,Boosara Narumit
Dara, Deuan (Boosara Narumit) and Dao are three ladies living together. They are not rich. Deuan works in a club as a partner to earn money for her younger niece Dao (Petchara Chaowarat) to study. Anong (Mitr Chaibancha) and Poon (Pisarn Akraseranee) are brothers. The club manager (ผู้จัดการ) loves Deuan. Another young man Trin loves secretly Deuan also. The manager warns Poon about Deuan. Poon respects Deuan and helps her financially. Dara and Deuan prefer avoid coming to school events to avoid Dao losing face. A rich family wishes to adopt Dao as their daughter (อุปกรณ์) as she is coming from a poor family without a father and she has very good behavior. The parents are Kanchanarot (Adul Dulyarat) and Varee. Dara and Deuan are not willing as they have a secret animosity against this family. Anong wishes his brother to stop seeing Deuan as the manager even sent ruffians to hit Poon due to jealousy. Finally Anong sent his brother abroad for study. Wadee is Varee's daughter. It is scheduled that Anong and Wadee will certainly marry. Dara is hit by a car and dies. Kanchanarot meets Deuan. They had an affair long time ago. Kanchanarot believes Dao is his own daughter with Deuan. Choem is her old name. Meanwhile Sia, a ruffian, falls in love with Dao and offers 150 000 baht to Deuan to marry Dao. Sia and the club manager wish to take Dao and Deuan as wives. Deuan flees before the one month deadline expiry and accepts Dao to stay in Kanchanarot 's family. Valai, Varee's sister, tries to bring jealousy in Varee and Wadee's heart against Dao (จะรักมากจะลืมคนอื่น). Poon loves also Dao but got another love, Pen, while studying abroad. He requests help from his elder brother. Anong has the difficult task (พ่อซื้อ) to ask Dao's hand for his younger brother despite he loves secretly Dao. Dao cries as she also loves secretly Anong. Deuan contacts Dao and assures Anong is much better than Poon. Dao decides to marry Trin as she doesn't want to hurt Wadee. Poon and Pen finally marry. Trin refuses to marry Dao as he knows Dao doesn't love him. Finally Sia kidnaps Dao to have her becoming his wife. The movie ends tragically with Trin giving his life to protect Dao and taking the blame regarding the knife used by Deuan to stab Sia. Mothers have often similar age as daughters in old Thai movies! It was Pisarn Akraseranee first movie. A Thai TV serie สกุลกา was made in 2009 based on a similar scenario.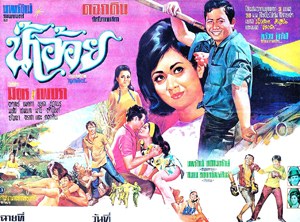 Year

: 1968



Thai title

:

น้ำอ้อย




English title

:



Rating

: 3/5


Director

: Dokdin Kanyaman



Main actor

: Mitr Chaibancha,Dokdin Kanyaman,Adul Dulyarat,Sawin Sawangrat


Main actress

: Petchara Chaowarat,Boosara Narumit,Chadaporn Wachirapranee,Metta Roongrat,Manee Maneewan
Thai movie น้ำอ้อย was released in year 1968. It features Mitr Chaibancha as main actor and Petchara Chaowarat as main actress. The movie is lost in Thailand but a sequences of 3 minutes remains left to be seen. The sequence left is showing Mitr and Petchara through 2 songs in 35mm format. Main other actors and actresses are Dokdin Kanyaman, Adul Dulyarat, Boosara Narumit, Chadaporn Wachirapranee, Metta Roongrat, Sawin Sawangrat. Director is Dokdin Kanyaman. Two movies cameras were used for such movies, i.e. one in 16mm format requiring later live dubbing (no sound is recorded in 16mm format) and one in 35mm format to record the songs.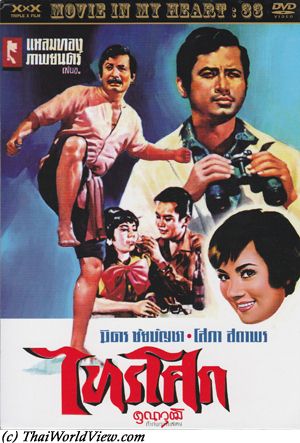 Year

: 1967



Thai title

:

ไทรโศก




English title

:



Rating

: 5/5


Director

: Wichit Khunawut



Main actor

: Mitr Chaibancha,Adul Dulyarat,Adinan Singhiran,Choomporn Theppitak


Main actress

: Boosara Narumit,Namgneun Boonnak,Marasri Bangchang,Sopha Sataporn
Thai movie ไทรโศก was released in year 1967. It is directed by Wichit Khunawut. It lasts 2h06mn. Yen (Boosara Narumit) is being raised since childhood by a stepfather but was never officially adopted. Bai (Mitr Chaibancha) is a dumb and a bit retarded adult (เด็กวัด) accompanying the monk during morning alms. Kitty (Adul Dulyarat) is the real son. Adinan Singhiran is helping for everything in Thorasok domain. The father is sick. Urai (Namgneun Boonnak) is pregnant with Kitty. Usa (Marasri Bangchang) is Urai's mother. Bai is named as ผีทะเล. Kitty is always upset with Yen. The father finally dies and the testament is opened. It is a shock for the family to learn that no money is given to Kitty if he doesn't marry Yen and have a child with her! The mother and Urai are upset. The mother prepares the wedding of Yen and Kitty to follow the testament. But it is a forged plan. They drunk Bai so that Bai enters in Yen's bedroom at nighttime. Yen becomes pregnant. Kitty goes to live with Urai in Bangkok. A child is born from Yen. The mother names it as Ying Yong and takes it to Bangkok to raise it. Meanwhile on countryside, some ruffians shot a couple and a baby is left behind. Yen decides to adopt and raise the baby. Many years have passed. Kittikorn, son of Urai and Kitty, tries to seduce Dao (Sopha Sataporn), Yong Yot's daughter. Ying Yong (also played by Mitr Chaibancha) is younger brother (น้อง) of Kittikorn. Kittikorn is insolent (ทะลึ่ง) and lazy. The daughter of Yen, called Srai Gnam (รักชนก จินดาวรรณ), is now a doctor. The man who killed the two parents many years ago is now released from jail. His son is Thep (Choomporn Theppitak). He spent 20 years in jail. He wishes to get revenge over Yong Yot who sent him to jail. Dao sees that Srai Gnam is wearing same pendant as her. Ying Yong and Dao are close together so Kittikorn realises he has no chance with Dao so his parents think about Srai Gnam who is a doctor. Thep befriends with Kittikorn. Ying Yong meets Bai but doesn't realize Bai is his father. Kitty wishes his son Kittikorn to marry the daughter of Yen. Yen refuses. Kitty loses his nerves so hits both Yen and Ngam Sai. Before Ying Yong can do anything, Bai intervenes and punches violently Kitty. Kitty becomes half paralyzed due his fall. Ngam Sai as doctor treats him. Ying Yong realises the kindness of Ngam Sai. The grandmother now wants to have Ying Yong to marry Ngam Sai. Urai cannot support this and tells the truth about Ying Yong to her son Kittikorn. She then quits Kitty and goes back to Bangkok. With the help of Kittikorn and Thep, the ruffians wish to storm Thorasok domain and gets the 200 000 baht stored there. Kittikorn wants them to kill Ying Yong also. Kittkorn hits Dao (หลานสาว Yong Yot) and kidnaps her. Meanwhile ruffians attack the house at nighttime (ถูกปล้น). Bai is killed by Kittikorn (ชาติชั่ว). Kitty is shot during the fighting and discloses the truth to Ying Yong before dying. Ngam Sai is identified as second daughter of Yong Yot. As it turns badly, Kittikorn escapes and wishes to flee with Dao. Dao shots Kittikorn and becomes crazy. Peace can finally happens in Srai Sok domain. Some mute sequences lasting 16 minutes haven't been released on the DVD. Maybe because the dubbing was missing for those parts? Maybe the VCD and DVD versions had to last the same time? Those sequences show the baby found by Adinan, Kitty having heated discussion with his mother and Adinan, Yen treated as a domestic helper by Kitty and Urai, Bai carrying big jar, Urai and Kitty showing their son to the mother, Kitty and her mother in front of the father's corpse, Kittikorn punching Ying Yong.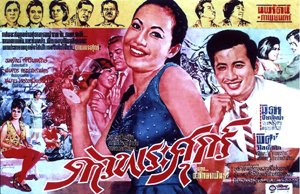 Year

: 1966



Thai title

:

ดาวพระศุกร์




English title

:



Rating

: 3/5


Director

: Somkuan Krajangsat



Main actor

: Mitr Chaibancha,Choomporn Theppitak,Sompong Phonmitr,Sukon Koewliam


Main actress

: Pissamai Wilaisak,Boosara Narumit,Chadaporn Wachirapranee,Chosri Misommon
ดาวพระศุกร์ is a Thai movie released in year 1966 and featuring main actors Mitr Chaibancha and Pissamai Wilaisak. The movie was lost in Thailand but finally a partial reel was found in year 2013 thanks to a teacher and collector of old items in Songkhla area. It is the movie last reel, which is lasting 21 minutes. Dao Prasuk is played by Pissamai. Sasi (Boosara Narumit) is her mum refusing to recognise as her daughter as she has a new husband. Khun Pak (คุณภาคย์) is played by Mitr. Dao Prasuk had a difficult life. Mitr has already a fiancee Rassamee (Chadaporn Wachirapranee) but he loves secretly Dao Prasuk. Uncle At opens a flowers shop for Dao Prasuk and offers an engagement ring without knowing that Dao Prasuk is his own daughter! Knowing that Dao Prasuk has a ring, Mitr gets upset and has a fight with Uncle At despite Choomporn Theppitak trying to interpose. Sasi tells the truth to At and Dao Prasuk is now also aware. Pak learns it also. Pak has an accident and finally reconciles with Dao Prasuk. The last reel is still in quite good condition and colorful. This first version of Dao Prasuk was adapted many times in cinema (Version in 1981 with Sorapong Chatree and Apaporn Kornthip, version 1995) and TV releases (พล and Monrudee Yamaphai in 1981 - this TV serie was also released in a cinematographic version - 1995 and 2003). The summary is as below. Dao Prasuk has been rejected by her mother since youth and abandoned in a hospital. She is adopted but her stepmother is cruel. Dao Prasuk is used as a slave to take care about the home and the other children. She learns that her real mother is called Sasi. One day Dao helps a boy called Kae begging in the street. It is misunderstood by her stepfather believing she has a boyfriend. Dao flees from home. Sasi (ศศิ) has a new husband and a son called Daeng. Sasi misses Dao and gets some news through the beggar called Kae. She knows Dao has fled from home. On the street Dao faces many difficulties, then she meets King Kaew (กิ่งแก้ว) a prostitute and then Arathai (อรทัย), the nurse who gave birth to her. So Dao knows now who her real mother is. Dao is finally bought as maid by Pak (ภาคย์). Pak is a good man so Dao gets education in his home, i.e. English lessons by Sasi who is a relative of Pak and music lessons by Rassamee (รัศมี), Pak's fiancee! Dao doesn't disclose her real identity to Sasi. Dao starts to love Pak. Rassamee, aware of this, tries to get rid of her. It fails and on the opposite, it increases Pak's love over Dao. He takes care of her when she gets sick. Meanwhile older man At (อรรถ) starts to appreciate Dao a lot. He gives 100 000 baht to buy back Dao. It causes Pak's ire. Being disappointed by her real mother, her stepmother, her impossible love with Pak, Dao final accepts At's wedding proposal. In reality, At is Dao's biological father! Disappointed and fed up, Dao flees again. Pak is looking for her and has a car accident. Meanwhile At and Rassamee marry! Sasi's husband divorces as she lied to him regarding the child she had from a previous wedding. Dao settles in Ratchaburi. Pak learns about it and asks for forgiveness. They finally marry.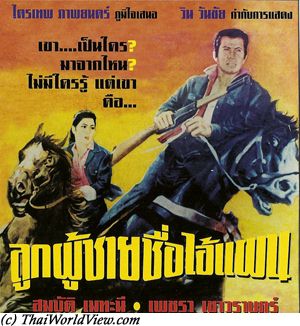 Year

: 1965



Thai title

:

ลูกผู้ชายชื่อไอ้แผน




English title

:



Rating

: 2/5


Director

:



Main actor

: Sombat Methanee,Prachuap Ruekyamdee


Main actress

: Petchara Chaowarat,Preeya Roongrueng,Boosara Narumit



Buy now

:

This old Thai western movie, taking place in Chiang Mai area, has a complete new soundtrack. A man is surprised sleeping in the forest. He is injured by a young lady called Chalong (Petchara Chaowarat) believing he is a thief. Nobody knows his name and why he is coming here. His real name is Pen Moradok (Sombat Methanee). In fact he is sent by central government to neutralize a local mafia head called Salapan. Pen meets many girls, i.e. Chalong, Fong and Peri, owner of a bar who all love him. Pen receives a threat to leave city within 24 hours or face death. Fights happen between Pen and Salapan's ruffians. Peri dies when helping to fight the ruffians. Finally Salapan is captured and Pen wins Chalong's heart. It is a typical 1960s movie where the leading actor seduces many actresses (James Bond syndrome?). This is a very old Thai movie compared to Thai standards. The digitalization has been poorly done. The movie is only 15 fps and some scenes are strangely cut. It should be seen for historical purpose and enjoy the chance to see famous stars Petchara Chaowarat and Sombat Methanee acting. This movie follows the Thai traditional drama precepts with a clown always following the leading actor and the leading lady having a maid of honor.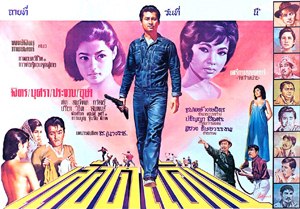 Year

: 1964



Thai title

:

เลือดแค้น




English title

:



Rating

: 3/5


Director

: Sompong Phonmitr



Main actor

: Mitr Chaibancha,Sompong Phonmitr,Prachuap Ruekyamdee,Pipop Pupinyo,Tat Ekathat,Tawan Siriwat


Main actress

: Boosara Narumit,Somjit Sapsamruey,Preeya Roongrueng
เลือดแค้น is a Thai movie released in year 1964 with Mitr Chaibancha and Boosara Narumit. It is directed by Sompong Phonmitr who is also a famous comic actor and national artist. Other actors include Prachuap Ruekyamdee, Pipop Pupinyo (not yet with a shaved head), Somjit Sapsamruey, ดารายั่ว Preeya Roongrueng, leader of the ruffians played by Tawan Siriwat, Tat Ekathat. The movie was lost in Thailand but finally a partial reel was found in year 2013 thanks to a teacher and collector of old items in Songkhla area. A trailer of 2mn40 is left only but many short sequences showing many fist fightings and shootings in this action movie. The trailer is in bad quality but still watchable. The song advertising for the movie is still available.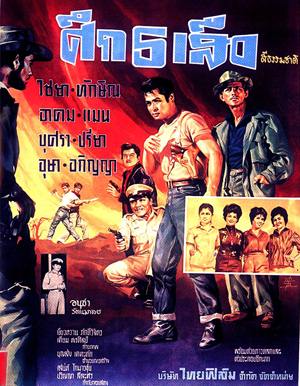 Year

: 1963



Thai title

:

ศึก 5 เสือ




English title

:



Rating

: 3/5


Director

:



Main actor

: Chaiya Suriyun,Taksin Jampol,Sukon Koewliam,Man Teeraphol,Anucha Ratanaman


Main actress

: Preeya Roongrueng,Boosara Narumit,Usa Atcharanimit
Thai movie ศึก 5 เสือ was released in year 1963. It features Chaiya Suriyun as main actor. The movie is lost in Thailand but eleven minutes of various sequences remain to be seen. 4 ladies are featured in this movie, i.e. Preeya Roongrueng, Boosara Narumit, Usa Atcharanimit and อภิญญา วีระขจร. Other actors featuring in this movie are Taksin Jampol, Sukon Koewliam, Man Teeraphol, Anucha Ratanaman as policeman. The movie is in 16mm format so no sound is available as this format requires live dubbing. There is a sequence when Chaiya Suriyun's character is still a kid. Preeya Roongrueng is then the mother. A man is worried in his home despite being protected by police. Taksin Jampol is shot by the police while he was threatening this man (อาคม มกรานนท์) in his house. Chaiya visits Usa Atcharanimit in her room but gets pushed back. He kidnaps two ladies. Shootings with police happen. One of the lady trying to protect him against the shots but dies in his arms. Chaiya finally dies also following a duel with Man Teeraphol. This is mainly a story of police catching thieves but it involves some police-thief couple. In one case, the father is a policeman and the son is a thief. In another case the father is a thief and the son is a policeman! It can only end sadly... Another version of ศึก 5 เสือ was released in year 1977 with Sombat Methanee.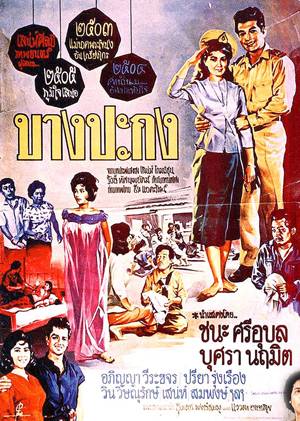 Year

: 1961



Thai title

:

บางปะกง




English title

:



Rating

: 3/5


Director

:



Main actor

: Chana Sriubon,Sompong Phonmitr


Main actress

: Boosara Narumit,Preeya Roongrueng,Malee Wetpraseri
Thai movie บางปะกง was released in year 1961. The movie is lost in Thailand but a sequence of 35 minutes (two reels) remains to be seen. In the first part of the movie Chana Sriubon and Boosara Narumit are having the main roles and then are playing the parents' roles in the second part of the movie. New actors as main actor (ชุมพร พงษ์ชมพู) and main actress (แววตา อาษาสุข) are playing in the second part of the movie. A wedding ceremony involving Chana Sriubon and Preeya Roongrueng happens. Chana is not happy to marry her as he was forced by his mother (Malee Wetpraseri). A child is born with Boosara Narumit, Chana's real love. At nighttime the husband leaves Preeya to find Boosara. Malee Wetpraseri engages a robber to attack Boosara at nighttime but her father (เสน่ห์ โกมารชุน) protects her. But the robber lies so the father and Boosara are finally chased from the home and take refuge in Bang Pakong. Boosara's child is kidnapped per the mother's orders. Boosara has to kill her boss trying to abuse her but ends up in jail. Her father finally dies also. Twenty years have passed. Boosara is released from jail. She is welcome to stay in Win's home. Win (วิน วิษณุรักษ์) is now married to อภิญญา วีระขจร. She finally meets a young lady (แววตา อาษาสุข) having a pendant with a picture of Chana. She understands the young lady is her daughter (ลูกแม่). Her boyfriend (ชุมพร พงษ์ชมพู) is also a soldier similar to Chana's position twenty years ago. She gives her a gift offered by Chana before. When Chana sees this gift, he knows Boosara is still alive. Disappointed by life, Boosara tries to get suicide by jumping from a bridge but she is rescued by Win. She is finally reunited with her daughter. The movie was done by the same producer of movie Mae nak Phra khanong with actress Preeya Roongrueng already.
---