Increase or decrease font size for easier reading : A+ A-
Banglae
Banglae (192x) - บังเละ วงศ์อาบู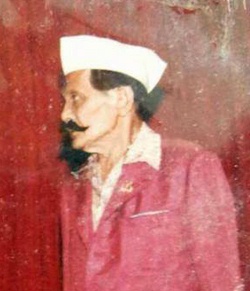 Banglae was always playing the comic Indian guy in Thai movies from decade 1950s and 1960s
This Banglae movie page contains 6 records.
---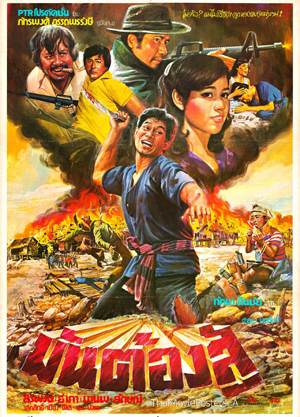 Year

: 1980



Thai title

:

มันต้องสู้




English title

:



Rating

: 3/5


Director

:



Main actor

: Sorapong Chatree,Manop Aussawathep,Lak Apichat,Banglae


Main actress

: Ampha Pusit
Thai movie มันต้องสู้ was released in year 1980 and lasts 1h24mn. It was released under VHS format. Part of the movie is certainly cut as movies in 1970s~1980s were often lasting two hours. It was shown two times in year 1980 as มันต้องสู้ and in year 1982 as ฆ่าเพราะแค้น. Thai (Sorapong Chatree), his wife Kaew and his sick mother are harassed by ruffians, who wish to buy their land. They refuse to sell as their land is an asset to be given from old generation to new generation. Money disappears but land stays. Ruffians' leader Palat (เมือง อพอลโล่) is upset against them. Other villagers also refuse to sell to them, so they kill them and accuse Thai regarding the murder. Thai must flee. Meanwhile Palat tries to force the mother to sign a paper. As she refuses, Palat kills her then rapes and kills Kaew. Coming back home, Thai decides to take revenge (แก้แค้น) after seeing the corpses. Thai is shot by Palat and left for dead. Other ruffians led by Klam (Manop Aussawathep) finds Thai and helps him. After recovery, Thai still wishes to take revenge so Klam sends a few men to help him. Thai takes revenge over Palat by killing him. Kit (Lak Apichat), head of the Northern ruffians, meets Thai and they become friend. The big boss (นายใหญ่) orders his ruffians to disrupt the Thai scouts. In 1970s the Thai scouts were protecting Thai villages against Thai communism. Thai moves to a new district and joins the Thai scouts (ลูกเสือ). Thai meets Kanda (Ampha Pusit). Kit plays a crazy beggar. Thai understands that Thai scouts are good people and help each other. He meets a woman reminding him about his mother's kindness. A lovestory starts between Thai and Kanda. Ready for action, Klam storms the village to get rid of the scout's leader but the scouts prevent him to be shot. Klam warns them he has a hidden man ready to kill the leader if he doesn't surrender by himself. Thai is identified as the traitor and blamed by the scouts (ขายชาฅิ, slapped by Kanda, having same name as Thailand...). Thai acknowledges to be a former ruffian and accepts any arbitration as he didn't plan to hurt the scouts. They reintegrate him. On next day, the leader quits the village and the ruffians plan to kill him. Thai, aware of it, tries to prevent the killing but gets shot. Thai soldiers arrive but too late. Kit and Klam shot each other.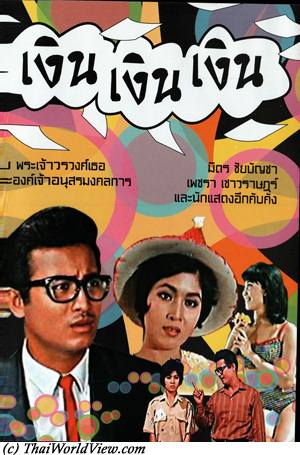 Year

: 1965



Thai title

:

เงิน เงิน เงิน




English title

: Money Money Money



Rating

: 5/5


Director

: Prince Anusorn Mongkolkarn



Main actor

: Mitr Chaibancha,Charin Nantanakorn,Lor Tok,Sukon Koewliam,Adul Dulyarat,Sawin Sawangrat,Daonoi Duangjai,Dokdin Kanyaman,Man Teeraphol,Ruj Ronnapop,Thuam Thoranong,Banglae


Main actress

: Petchara Chaowarat,Wilaiwan Watthanaphanit,Orasa Isarangkul,Chadaporn Wachirapranee,Mom Chan Phuangwan,Chosri Misommon,Sulaleewan Suwanthat



Buy now

:

The movie starts by a small introduction highlighting that everybody fights for money (เงิน เงิน เงิน). This introduction features many actors or actresses with cameo role such as Daonoi Duangjai, Dokdin Kanyaman, Man Teeraphol, Chadaporn Wachirapranee. Tu (Mitr Chaibancha) comes back to Thailand after overseas studies in USA. Tum (สุมาลี ทองหล่อ) is his sister. They are orphans. Their uncle Hirun is a creditor. Mom (Mom Chan Phuangwan) is Hirun's assistant. For Hirun, money is work and work is money. He has no feelings for his customers personal problems. Tu's uncle wants him to take over his duty but Tu doesn't like such job bringing suffering to people (สงสาร) so that is why he has done artistic studies as it can bring happiness to people. He meets Kingkaew (Petchara Chaowarat), a vagabond. Wishing to help poor people and teased by Kingkaew, he proposes to bring the A-ram boys band (เด็กวัด) in Bangkok to play music in a nightclub. His uncle chases him away as he cancelled all debt contracts. Tum is chased also. Teacher (ครู) Rangsun (Charin Nantanakorn) will help writing songs for the band. There is a crazy lady (Wilaiwan Watthanaphanit) in Hirun's house looking for her children. Tum wonders if she is her mother or not. They arrive in Bangkok but have little money. They met a restaurant owner's daughter (Chosri Misommon), willing to join them as a singer. Pa (Sulaleewan Suwanthat) is their house owner. They borrow 300 000 baht from Pa but Tu has to promise to marry her daughter (Orasa Isarangkul) Nataya. Pa knows that Tu is a potential rich heir. Lor Tok proposes ideas for their nightclub promotion. Tu's concept is that art belongs to everybody. Hirun wants to be sure his nephews will fail so he hires ruffians to destroy their nightclub. The ruffians steal their money so Tu and his friends decide to serve and cook by themselves. Hirun comes on the opening day with a bunch of tough ruffians to make noise and also kidnap the performing girls. Indian actor Banglae (บังเละ) is acting as nightclub guard. Kingkaew always find solutions to problems occurring. The ruffians drunk the cook and waiters to delay orders. Hirun takes the teacher (ครู) Rangsun's piano as he didn't pay his rent due to sickness. Adul Dulyarat is a doctor trying to save the teacher Rangsun. Hirun sends his ruffians to create a brawl in order to destroy the nightclub. Artist should be protected. The Thai King giving cinema awards inspires them not to stop fighting (ศีลปินไม่เคยตาย). By hazard, Tum and her friends have chance to release the crazy woman called Nat. Another uncle of Tu called Sompong is released from prison after twenty years. He narrates to Tu the story of his father betrayed by his own brother Hirun and who finally committed suicide. Nat is reunited with her two children, Tu and Tum. All the money of Hirun is coming from the one million baht that the father gave him to raise his children. They promise to take revenge on his 60th birthday coming soon. Hirun has to face the truth on his birthday turning to be a nightmare for him. He finally lost his whole fortune. The nightclub featuring arts becomes a huge success. This movie features 14 songs. A double DVD (3h20mn) including the 35mm movie fully restored was released by Thai Film Archives. The whole movie should even be a bit longer as the song หญ้าโลมดิน sung by Mitr and Petchara is missing. It is present on the VHS version and on a 16mm version left. Another movie version was released in year 1983. Two TV series were released in years 1997 and 2007. The producer is Prince หม่อมอุบล ยุคล. This movie includes more than 60 Thai actors, actresses and singers. Petchara got a Thai cinema reward for this movie. This movie is part of the second 25 films heritage list announced on October 4 2012, which is Thai Movies Conservation Day.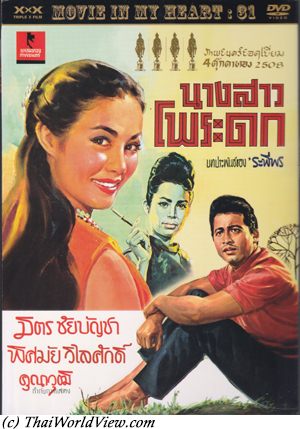 Year

: 1965



Thai title

:

นางสาวโพระดก




English title

:



Rating

: 4/5


Director

: คุณาวุมิ



Main actor

: Mitr Chaibancha,Lor Tok,Prachuap Ruekyamdee,Adul Dulyarat,Banglae


Main actress

: Pissamai Wilaisak,Sopha Sataporn,Namgneun Boonnak,Wilaiwan Watthanaphanit,Sarinthip Siriwan,Sulaleewan Suwanthat,Yaowaret Nisakorn



Buy now

:

Thai movie นางสาวโพระดก was released in year 1965 and lasts 2h18mn. The movie was released on VCD and DVD formats in Thailand by company XxX (Triple X). It features a colorful image. Movie director is คุณาวุมิ. The movie got four Thai cinema awards (ตุ๊กตาทอง) including best movie, best movie director, best costumes, best second role for Namgneun Boonnak. Two songs are featured. A remake was released in year 1981 with Jarunee Sooksawad. Pim (Wilaiwan Watthanaphanit) has a child, named Poradok, with her husband. Unfortunately her husband died. Pim remarries again. Her husband has already two boys from a first wedding. Those two boys from first wedding are Prachuap Ruekyamdee and At (Adul Dulyarat). The new husband also dies when Poradok (Pissamai Wilaisak) is 18 years old. Heritage discussion occurs. Aunt Sarinthip Siriwan is upset by the testament sharing. Saisamon (Sopha Sataporn) is a student and friend with Poradok. Her mother Saichai (Namgneun Boonnak) is sick and is identified with a cancer by doctor. Nephew Sun (Mitr Chaibancha) is living with them. Saichai loves Sun but Sun considers her as a mother. At has a mistress named Prissana (Yaowaret Nisakorn) with one child. Prissana is pregnant again but At is not taking good care of her. Porakdok is aware and promises to help. At is upset that Prissana discloses this to Poradok. Poradok travels to countryside to meet Saisamon. Aunt Saichai is upset to see Sun close to Poradok. Poradok and Sun start to know each other but Poradok believes Sun has a love relationship with Saichai. At and Prachuap arrive in countryside. Poradok has to go back to Bangkok. Aunt Saichai is upset that Sun misses Poradok. Aunt Saichai is entering final cancer phase. Her testament mentions that Sopha and Sun have to marry if they want to get any parts of the heritage. Aunt Saichai recognizes that there was nothing between her and Sun (คนกตัญญู). Sun and Saisamon have to choose between love or money. A party happens at Poradok's parents house. Krissada sings a song. At and his aunt lose face as Krissada sings about bad men unable to respect their engagement. At follows Krissada to her home and hits her. Luckily Poradok was also following behind and punches At. Sun and Saisamon agree to reject the heritage. Sun considers Saisamon as her sister. Saisamon keeps drinking as Sun doesn't love her but loves Poradok. The movie ends happily. At changes religion and marries again with Krissada. Saisamon has a love story with Prachuap. Poradok and Sun finds that the mother's lawyer was stealing money with aunt Sarinthip. Both are chased from the home. Poradok reconciles with her mother Pim. Romance Sun and Poradok can happen.



Year

: 1958



Thai title

:

ม่วยจ๋า




English title

:



Rating

: 3/5


Director

: Sor Asanajinda



Main actor

: Adul Dulyarat,Sukon Koewliam,Banglae


Main actress

: Wipha wattanathamrong
ม่วยจ๋า is a Thai movie filmed in year 1956 but released in year 1958 and featuring Adul Dulyarat and Wipha wattanathamrong (วิภา วัธนธำรง). The movie was lost in Thailand but finally a partial last reel was found in year 2013 thanks to a teacher and collector of old items in Songkhla area. So only 14 minutes left can be seen. There is a still a colorful and sharp picture. Director is Sor Asanajinda. Four friends are renting a house. Adul Dulyarat is playing the main star. Before the rise of Chaiya, Mitr and Sombat, veteran actor Adul Dulyarat was the main star in Thai movies. After he continues to play only second role but it didn't prevent him to do a long career including receiving a lifetime achievement award during Subhanahongsa Awards ceremony 2012. Banglae (บังเละ) is playing the comic Indian guy as usual. So the movie features gags about India and Chinese migrants in Thailand. Even Sukon Koewliam is present but without his famous moustache! Young girl Muay (name used in the movie title ม่วย) is coming from a Chinese family. Adul tries to seduce khun Muay and asks his friend to also befriend with Muay's friend (คนรับใช้).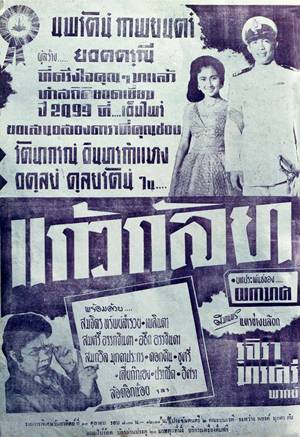 Year

: 1958



Thai title

:

แก้วกัลยา




English title

:



Rating

: 3/5


Director

:



Main actor

: Adul Dulyarat,Lor Tok Noi,Banglae,Dokdin Kanyaman,Banglae


Main actress

: Ratanaporn Intarakamhaeng,Chosri Misommon,Somjit Sapsamruey
Thai movie แก้วกัลยา was released in year 1958. It features Adul Dulyarat as main actor and Ratanaporn Intarakamhaeng as main actress. The movie is lost in Thailand but a damaged sequence of five minutes remain to be seen. Adul is playing an officer. In 1958 he was still a main actor. Other actors include Lor Tok Noi, Banglae (บังเละ) playing the comic Indian guy as usual, Dokdin Kanyaman playing a mariner, Chosri Misommon, Somjit Sapsamruey. A middle age lady makes Ratanaporn crying. The middle age lady is using her as a servant. Ratanaporn is working later on boats.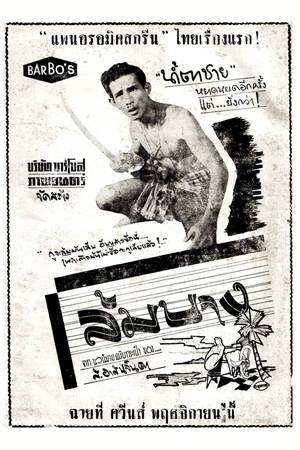 Year

: 1955



Thai title

:

ล้มบาง




English title

:



Rating

: 3/5


Director

:



Main actor

: Taksin Jampol,Tat Ekathat,Lor Tok,Sompong Phonmitr,Banglae


Main actress

:
Thai movie ล้มบาง was released in year 1955. Main actors and actresses are Taksin Jampol, มาลิน เลขะวัฒนพิจารณ์, Tat Ekathat, สวลี ผกาพันธ์, Lor Tok, Sompong Phonmitr, Banglae, สมถวิล มุกดาประกร, เมืองเริง ปัทมินทร์, สุนิภา พิศนุรักษ์, วิชิต ไวงาน, ไฉน สัตยพันธ์. Movie director is วิเชียร ฉวีวงษ์. The story was written by Sor Asanajinda. The movie is lost in Thailand but a sequence in 16mm format can still be seen. It lasts three minutes. The colorful and sharp remaining sequence shows a romance sequence between Thaksin and สวลี ผกาพันธ์ happening probably during the Ayutthaya period. ไฉน สัตยพันธ and a few armed men surround them. Thaksin fights back, then as he is outnumbered, he escapes by diving into the river. A summary of the movie is still available. Tuan (ทวน) (Taksin Jampol) and สี (Lor Tok) are servants of village leader Ouam (อ่วม) (วิชิต ไวงาน). He is leader of the village Bang Sue (บางซื่อ). Their job is to sell rice in various areas around the village. One day while returning to the village, they are attacked by robbers. Tuan kills a robber and reports it to the บ้านทุ่งเสือข้าม subdistrict headman. The subdistrict headman is negligent to manage this case as he is the one behind the robbery. The subdistrict headman อั้น and village leader Ouam work together to get rid of Tuan as Ouam wishes อั้น (เมืองเริง ปัทมินทร์) to be become his son-in-law but Jampa (จำปา) (สวลี ผกาพันธุ์), his daughter, loves Tuan. Seua Kaem (เสือเข้ม) (Tat Ekathat) travels from ทุ่งเสือข้าม and carries his wife's treasure to deposit it to Ouam, his old friend. His wife is Jom (โฉม) (มาลิน เลขะวัฒนพิจารณ์) and is having an affair with with Plat Sak. Village leader Uam and Plat Sak plan to capture Seua Kaem and steal his belongings. Luckily Tuan is around and can help Seua Kaem. Tuan hurries back to meet Jampa but village leader Ouam and อั้น bring Plat Sak (ปลัดศักดิ์) (ไฉน สัตยพันธ์) to catch Tuan for murder (as he killed a robber before). Tuan flees (this is the short movie sequence left to be seen) and return to help สี but is not successful. He finally brings Jampa with him causing อั้น to be very upset. Ruffians release สี in order to follow him and to find Tuan. Tuan is then arrested but succeeds to escape again and prevents เพิ่ม (สมถวิล มุกดาประกร) trying to rape Jampa. Tuan kills เพิ่ม by sword. Village leader Ouam captures again Tuan. But Jampa asks Ouam not to kill Tuan as she agrees to go back to the village. Tuan is angry by Jampa's decision. Seua Kaem is killed by Plat Sak. In village Bang Sue, the village leader prepares the wedding between his daughter Jampa and อั้น. Ouam is surprised when seeing the ring that Champa is wearing. He is even more surprised when learning that this ring was offered to Champa by Tuan. This ring was offered by Ouam to his previous wife so he understands that Tuan is his son!
---