Increase or decrease font size for easier reading : A+ A-
Apiradee Pawaputanon
Apiradee Pawaputanon (1965) - อภิรดี ภวภูตานนท์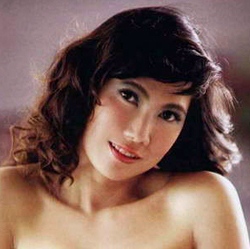 Apiradee Pawaputanon
This Apiradee Pawaputanon movie page contains 30 records.
---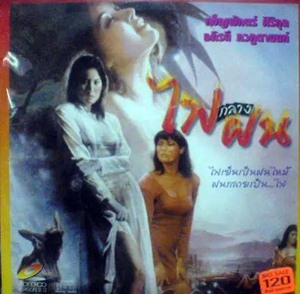 Year

: 1991



Thai title

:

ไฟกลางฝน




English title

: Triangle's rose



Rating

: 3/5


Director

:



Main actor

:


Main actress

: Penpak Sirikul, Apiradee Pawaputanon
Thai movie ไฟกลางฝน / Triangle's rose was released in year 1991 and lasts 1h29mn. It was released under VCD format by Lepso Studio. Picture is still colorful and sharp. The movie seems not to be censored but love scenes are pixelated. Movie director is สุทัศน์. Main actors and actresses are ชนาวุธ ศรีอุบล, อิทธิฤทธิ์ สิงหรัตน์, กลิ่นสี ชลิต, แก้ว มาลัยกร, อ๋อง ลิปตัน, Penpak Sirikul, Apiradee Pawaputanon. Rose calls her friend Fong to warn her about Penpak Sirikul. It is too late as Fong and her lover get shot by a hitman during a love scene. A drunk young man called Awut helps a sexy lady called Rose aggressed by two ruffians. He is former policeman (ผู้กอง). He gets injured. Rose gets sheltered in his home and tells her sad story. She is the daughter of a Laotian ambassador. When he fled from Lao, his treasure worth 18M baht fell in the Mekong river. Awut decides to help Rose to recover the treasure. Meanwhile ruffians try to kill Awut. Rose's hotel room is ransacked so they take refuge in brothel hotel to stay incognito. Awut recruits a boat captain to bring them to the remote place on the Mekong river. A former Laotian general contacts Awut but he refuses to be involved. Rose is kidnapped by Penpak Sirikul and her team. Awut succeeds to release her. See Proy (Apiradee Pawaputanon) is the captain's girlfriend. Awut hires additional friends to join him on this dangerous journey. One of them is alcoholic but he promises to stop drinking but he, of course, fails his promise. They are going inside the forest to search for the boat. Rose and Awut finally become lovers. They find a boat thanks to a Laohu villager. See Proy (Apiradee Pawaputanon) and the Laohu villager are captured by mercenaries. Willing to release See Proy, Awut and Rose are also captured by mercenaries led by the Laotian general. The Laotian general found them as See Proy is his mistress! Following multiple rebounds, Rose and Awut succeed to escape with the treasure thanks to the alcoholic teammate. Awut agrees to give away the treasure to help poor people.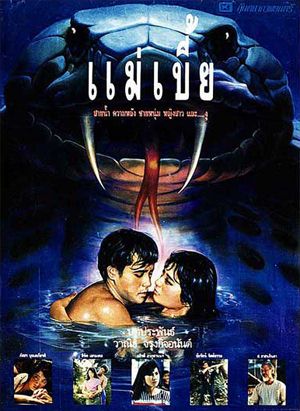 Year

: 1989



Thai title

:

แม่เบี้ย




English title

: MaeBia



Rating

: 3/5


Director

:



Main actor

: Likit Eakmongkol,Sor Asanajinda


Main actress

: Passorn Boonyakiat,Apiradee Pawaputanon
Mekhala is a rural young attractive lady living in a old house. Tourists groups are frequently visiting the house to buy local products. Chanachol, urban educated businessman, is visiting the house and there is an immediate match between Mekhala and him. Mekhala is living with Pa, Lung and a little girl. The previous owners of the house and their child drowned but the corpse of the child was never found. Chanachol has the feeling that he already comes before in this old house. Chanachol is already married and have two children. Finally Chanachol has a liaison with Mekhala. A supernatural jaleous cobra is protecting Maekala. The cobra tries to send Chanachol away but Mekhala refuses and protects Chanachol against the snake. Phot, a local resident, also wishes to marry Mekhala but she refuses. The cobra sends him away. Phot comes back to Mekhala's house in order to catch and kill the cobra. He gets bitten and dies. Meanwhile Chanachon's wife realises that her husband has an extra-marital affair. She tries to threathen Mekhala. Still loving strongly Chanachon, Mekhala decides to break with him in order not to wreck his family. Chanachol cannot stand this separation and go back to the old house. On the way back, the cobra makes him fall from the boat and he drowns. It seems that Mekhala's previous suitors ended up dead and a new one is already courting Mekhala...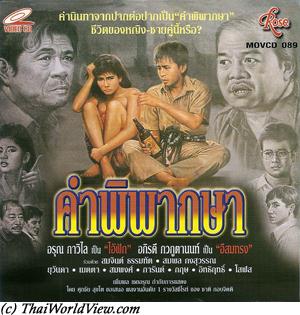 Year

: 1989



Thai title

:

คำพิพากษา




English title

: The judgement



Rating

: 5/5


Director

: Permpol Choei-arun



Main actor

: Somjin Thammatat


Main actress

: Apiradee Pawaputanon
Fak is a brilliant Buddhist novice and villagers expect him to become the next village abbot but Fak decides to defrock in order to take care about his aging father, who is working as a school caretaker. Fak is sent to military duties. When he is back, his father has a new young wife, Somthong, who has mental deficiency. His father dies of a heart attack. As Somthong doesn't remember her address, Fak pities her and let her stay. During a temple fair, she brings trouble by announcing she is Fak's wife. Fak loses face and is bullied by the whole village. After the father, she takes the son!! Some bad words are even censured in the movie by a blank. Stepmother (แม่เลี้ยง) or wife(เมีย)? It becomes the local joke and villagers believe she is Fak's wife already. Nobody believes him when he claims the opposite. Fak is a nice guy that can never say no. So he is exploited by the headmaster (ครูใหญ่) and other villagers. Somthong is half crazy but nobody believes she has a mental deficiency. She is looking for Fak (เห็นฟักไหม) and shows her breast. She gets beaten by villagers as she behaves crazily and is irrespective to elders (เกรงใจหมาดีกว่า). Once again Fak pities her behavior issues with villagers. Officials keep complaining on her. Fak starts to be rejected (รังเกียจ) by villagers. For New Year Fak gives to subdistrict headman (กำนัน) an envelope with money as tradition. The story highlights the corruption of local officials. It is time to cremate (เผาศพ) his father's body but nobody wants to join despite all efforts done by the father for the community. Only one villager joins, i.e. the cremator. The headmaster doesn't join also. Same as the cremator, Fak is rejected by the villagers. Fak starts to drink heavily to forget his problems as he lost face. Society (ชาวบ้าน) did bad with him so it forces him to change his behavior. Every month he saves some money from his salary and the amount is managed by the headmaster. The Buddhist abbot tries to convince him to stop drinking (อายคน) but Fak cannot fulfill his promises. If he lies to monks, then who can trust him? One day he wakes up late as he was drunk. The school children wake him up to open the school door and tease him as Somthong has fallen asleep close to him. He is cross and throws a rock to them. One kid is hurt on the face. As the child's father has complained, the headmaster forces him to leave his job (โดนไล่ออก). He has 5000 baht left with the headmaster. His only remaining friend is the cremator. People on the margins of society stay together. Fak gets beaten by villagers so his leg is stiff forever. Modern development through electricity arrives in the village. The headmaster's wife wants a television and a fridge. The headmaster uses Fak's savings. On one side those officials look good as they collect money for the Buddhist temple, on the other side they are taking profit on Fak. Fak has become a real alcoholic. Nobody believes him when he claims that the headmaster stole his money (โกงเงิน) as he is a drunkard. He acts outside the society norms (ไม่เคารพผู้ใหญ่). As Fak keeps repeating the robbery to everybody, he becomes a nuisance. He is caught by the police. A villager group comes to put pressure on Fak. He needs to show gratitude (น้ำใจ) as the headmaster is a good citizen (คนดีฯหายาก). There is a sad music to announce Fak's coming death as strong alcohol has its toll. Somthong doesn't understand that Fak is dead. Now everybody is afraid of her in the village. The movie is about people judging the others without knowing all the circumstances, about hypocrite people (ผู้ดี), who behave well face to society but badly behind the society, about how rumours and gossiping can hurt people. This movie is based on the novel 'คำพิพากษา' by Chart Korpjitti. Chart Korpjitti was only 27 years old when he wrote this great novel in 1981. Following the success of the novel, this movie and a ten-hour television series were done but both were award-winning commercial flops!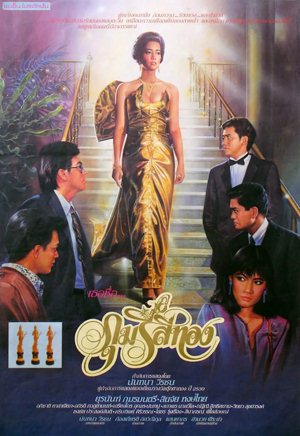 Year

: 1988



Thai title

:

ภุมรีสีทอง




English title

:



Rating

: 3/5


Director

:



Main actor

: Yuranan PamornMontri,Kriengkrai Unhanan,Apichat Halamjiak,Wittaya Sukdamrong


Main actress

: Sinjai Hongthai,Apiradee Pawaputanon,Natanee Sitthisaman,Sarinthip Siriwan
Nam Pheung (Sinjai Hongthai) and Payon are in love. Payon needs to go overseas to study. While rowing on a lake, a storm happens so they take refuge in a small cabana. They become lovers. On the day of leaving overseas, while meeting Nam Pheung at the train station, Payon is hit by a train and dies. Veteran actress Natanee Sitthisaman is the one who warns Nam Pheung. Shocked and while walking along the path, she is kidnapped by two songthaew drivers and raped. Shortly after their wrongdoing, they both die in a traffic accident. Nam Pheung's father is played by veteran actor Wittaya Sukdamrong. The movie ภุมรีสีทอง (the golden queen bee) is narrating the story of a woman that causes the death of all her lovers. Will she ever find true love? This movie received three Thai awards.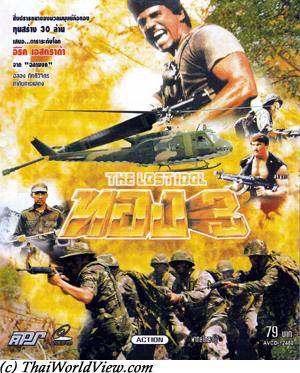 Year

: 1988



Thai title

:

ทอง ภาค 3




English title

: The lost idol



Rating

: 4/5


Director

: Chalong Pukdeewichit



Main actor

: Sorapong Chatree,Erik Estrada,Christoph Klüppel,Likit Eakmongkol,Sayan Chantaraviboon,Krung Srivilai,Rith Luecha


Main actress

: Apiradee Pawaputanon



Buy now

:

Thai movie ทอง ภาค 3 / The lost idol (1988) lasts 89 minutes. Chalong Pukdeewichit is same director as previous sequels. A company of American soldiers is lost in Cambodia in 1975. They face Vietcong attack. They find a Brahma statue made of pure gold. The company carries it and their leader Oliver decides to hide it until the war is over. He betrays his own soldiers by shooting them but one, called Kirt (Erik Estrada), succeeds to flee despite being injured. The leader Oliver believes they are all dead. Meanwhile Red Khmer soldiers led by Sorapong Chatree are still chasing the US soldiers. They shoot Oliver and take for granted that he is dead. Kirt derives on a tree trunk and young Thai lady Lamyai helps him. He recovers and decides to stay with Lamyai. Meanwhile Oliver receives a promotion, a US medal and decides to go back to Thailand. He meets Catherine, his girlfriend, who is a US doctor working at the Thai Cambodian border. Colonel (ผู้พัน) Oliver asks Don (Likit Eakmongkol) to build a team in order to get back the statue from Cambodia. Part of this team are Krung Srivilai and Rith Luecha present in previous opus but with different roles. Christopher (Christoph Klüppel) is also part of the team. He was selected by Chalong Pukdeewichit thanks to his impressive bodybuilding. 1M baht is promised for each. Half now and half when the job is completed. Another group is following Oliver also. They threaten Katherine to get information. To force Kirt to join his team, Oliver kidnaps his daughter. Kirt has to accept to lead them through the Thai Cambodian border as it is full of mines. Meanwhile Katherine is going to Cambodian side to help poor people per her previous promise to Sorapong. It reminds the real story of Phanom Rung lintel stolen during Vietnam war and given back to Thailand in year 1988. Sayan Chantaraviboon and Apiradee Pawaputanon are part of the Red Khmer army. Sorapong's men are all killed during an embuscade and Katherine is captured. The Vietnamese soldiers wish to know why Oliver is back. Despite being tortured, Oliver refuses to speak. Kirt tells the Vietnamese about the gold statue (เทวดารูปทองคำ). The Vietnamese leader (นพพล โกมารชุน) plans to bring it back to Vietnam. One Cambodian man warns Sorapong that this statue belongs to Cambodian heritage and that it should stay here. They attack the truck convoy and the mercenaries free themselves. Sorapong asks mercenaries to join his team if they want to spare their life. If they survive, they will get freedom. The Khmer soldiers and the mercenaries attack the Vietnamese camp. Heavy fightings happen as Vietnamese soldiers have tanks. The Vietnamese leader succeeds to flee with the golden statue through an helicopter. Oliver sneaks in also. The statue finally falls in the lake and the helicopter crashes in the mountain. Chalong Pukdeewichit uses same recipe as previous sequels, i.e. famous Thai actors to be able to attract Thai audience and quite famous foreign actors to attract overseas audience.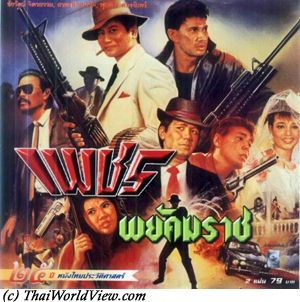 Year

: 1988



Thai title

:

เพชรพยัคฆราช




English title

:



Rating

: 3/5


Director

:



Main actor

: Sombat Methanee,Sorapong Chatree,Krailat Kriengkrai,Krung Srivilai,Tuanton Kammeesri


Main actress

: Pumpuang Duangchan,Apiradee Pawaputanon



Buy now

:

Chat (Sorapong Chatree) and Thanong (Sombat Methanee) are mafia members (นักเลง) and friends. Thanong is a mafia head (เจ้าพ่อ). There are always internal fights with other mafia leaders. Nancy (Apiradee Pawaputanon) is Chat's girlfriend. Chat and Thanong are dressed like Chicago gangsters and are always smoking cigars. Thanong's younger brother, Rut, is a policeman but he is not fully aware about his brother's activities. Pen (Pumpuang Duangchan) is a nurse. Thanong likes her a lot (นักรัก). Thanong wishes to change his job but he cannot leave his subordinates (ลูกน้อง). Thanong asks Pen for wedding. A shooting happens during the wedding but none is injured. Chat escapes to Shing, who is now a traitor and wishes to get rid of Thanong to take his position (บ้าอำนาจ). Thanong, through a Typical Rambo 2 scene with big guns, wishes to punish Shing. Thanong is captured by the police following a rampage at Shing's home and sent to jail. Chat needs to send Nancy away so that he can handle the situation. She is finally killed. Chat wishes to revenge her. There is a famous scene featuring a killing rampage by Chat in a restaurant with guns hidden in each flower pot. Three years have passed. Thanong is released from prison but he doesn't want to return to underworld mafia. Chat was injured to the ankle so he cannot walk properly anymore. Chat is now a car glass washer. Without their boss, Thanong's men are wrecked (กูรอมึง). Thanong is accused of Rut's sister murder. Rut is upset because his brother is a ruffian (เป็นพี่เป็นโจร) so his management doesn't trust him. Thanong's men including Chat are disappointing that Thanong wants to be out of mafia business (วางมือจากวงการ) and doesn't want to give a lesson to Shing. Shing wants Thanong to be back in business as partner but Thanong refuses. Shing's men beat severely Chat and also threaten Rut to convince Thanong to change his mind. Chat succeeds to get proofs regarding Shing's illegal activities. Those proofs are given to Rut. Before fleeing, Chat and Thanong wish to face Shing a last time for an ultimate revenge. It is the last movie where Sombat Methanee had the leading role. This Thai movie is based on the Hong Kong movie "A Better Tomorrow" (1986) shot by John Woo. The scenario is very similar. It involves strong action and some comedy. Sorapong Chatree plays same role as Chow Yun-Fat. The movie is entertaining but the realisation is not as good as the one from John Woo. The end of the movie is very weird. It stops abruptly when Thanong is going to face Shing. Thanong is expected to die. There is unfortunately a weird movie abrupt ending.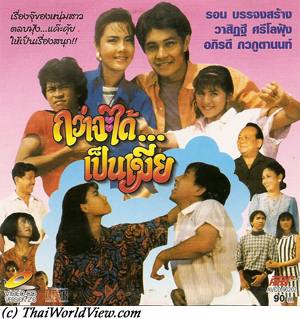 Year

: 1988



Thai title

:

กว่าจะได้เป็นเมีย




English title

:



Rating

: 1/5


Director

:



Main actor

:


Main actress

: Apiradee Pawaputanon
Parents want to arrange a wedding between two young people, who never see each other before. As their parents must go abroad during a few weeks, the two young people ask friends to play their role. As both of them do this trick, this is leading to funny acting.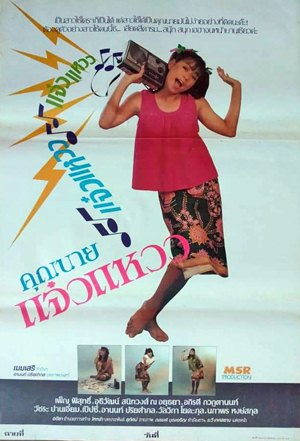 Year

: 1988



Thai title

:

คุณนายแจ๋วแหวว




English title

:



Rating

: 1/5


Director

:



Main actor

:


Main actress

: Apiradee Pawaputanon,Pen Pisut



Buy now

:

Thai movie คุณนายแจ๋วแหวว was released in year 1988 and lasts 1h34mn. Thai actors and actresses featured in this movie are Pen Pisut, อธิวัฒน์ สนิทวงศ์ ณ อยุธยา, Apiradee Pawaputanon, วัชระ ปานเอี่ยม, รวัฒน์ ทองจิตติ, วัลวิภา โยคะกุล. The movie was released under VCD format by company Lepso Studio LTD. Chaew (Pen Pisut) is engaged as a new maid in a big house. She has no experience so makes silly and funny mistakes. The employer's son (อธิวัฒน์ สนิทวงศ์ ณ อยุธยา) starts to get fond of Chaew. Of course his girlfriend tries to oppose. But such a wedding between a maid and the son of a rich family is socially impossible. Chaew has to flee. Hopefully it is discovered that in fact Chaew is coming from a rich family...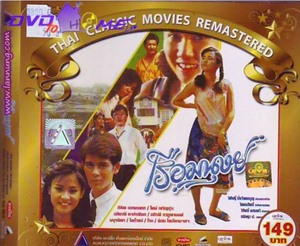 Year

: 1988



Thai title

:

เรือมนุษย์




English title

:



Rating

: 4/5


Director

:



Main actor

: Likit Eakmongkol,Apichat Halamjiak,Phairoj Jaising


Main actress

: Thitima Sangkapitak,Mai Charoeunpura,Apiradee Pawaputanon,Natanee Sitthisaman
Thai movie เรือมนุษย์ was released in year 1988 and lasts 1h57mn. This movie is a critic of Thai high society (ผู้ดี) and karmic retribution. Young lady Pim is pregnant with young lad Chayapon. Pim is the daughter of Plao (Apichat Halamjiak) and Rose (Thitima Sangkapitak). Parents never have time for their daughter so she was mainly raised by younger aunt Nitima (สรารัตน์ หรุ่มเรืองวงศ์). Parents are worried about face. A meeting occurs with Dam, uncle of Chayapon, (Likit Eakmongkol). Pim refuses to marry Chayapon as he is also issued from a sad family without love. Khiaw (Mai Charoeunpura) is hired as domestic helper by Rose. Khun Det, Chayapon's father, is currently abroad. Choo is his mistress (Apiradee Pawaputanon). Chayapon asks money to her to hire an illegal doctor to perform abortion. Rose finally is interested in pushing for a wedding as Khun Det (Phairoj Jaising) is rich. Na Feuang (Natanee Sitthisaman) helps for the abortion money as she doesn't agree with this wedding. The abortion doesn't happen. Khun Det is back and agrees to recognize the child. Det rents a house for Pim and Nitima to have them near him. Fed up with Rose, Plao takes Kiaw as mistress and they move out in a rented house. Khun Det goes to Nitima's office every day as he tries to seduce her. It makes Dam to be upset. Choo complains about Det (ความยุติธรรม - justice between man and woman) as he has many flirts, but she cannot satisfy her own desires. Dam refuses to be a proxy. Det offers a diamond ring to Nitima and gives bad rumors about Dam and Choo. Pim helps Det so Dam believes a romance has started between Nitima and Det so he gets drunk. Choo tries to take advantage of Dam being drunk. Det chases Choo and Dam, his half-brother, of his house. Rose tries to get suicide as Kiaw is pregnant, so she lost face. Nitima and Dam become friends again as misunderstanding is clarified. It is a sin (บาปกรรม) to abort so Rose authorises Kiaw to stay in their home. Pim's child is born. Det still wishes to seduce Nitima. Kiaw is feeling unwell as Plaew is split between his old (ทำตัวเป็นแม่พระ) and new wife. Det understands excession passion (กิเลส) towards Nitima was wrong and apologises. Feuang is hit by a car as she sees Choo with her husband (ทำประชด). The child born from Kiaw is infirmed. Happiness is back in all couples. Kiaw has even a new husband, i.e Chayapon!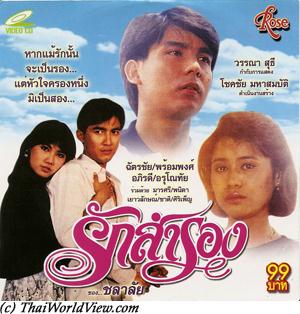 Year

: 1988



Thai title

:

รักสำรอง




English title

:



Rating

: 1/5


Director

:



Main actor

: Chatchai Plengpanich,Prompong Nopparith


Main actress

: Apiradee Pawaputanon
Two sisters hate each other. One is hard worker, the other behaves quite badly. The hard worker sister has a nice fiance but the bad sister seduces him. Finally the hard worker sister marries another man but the bad sister also starts to seduce him. Will the hard worker sister ever find happiness?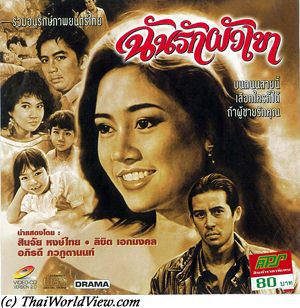 Year

: 1987



Thai title

:

ฉันรักผัวเขา




English title

:



Rating

: 4/5


Director

: Manop Udomdej



Main actor

: Likit Eakmongkol,Apichat Halamjiak


Main actress

: Sinjai Hongthai,Apiradee Pawaputanon
Am is singer in a music club. A young mysterious man called Win is coming every evening. Am refuses to sing a specific song "The last night" (คืนสุดท้าย) for him as it reminds her bad memories. She is living with her mother. She often thinks about her previous fiance, who lied to her as he had already a wife. She is now a singer and needs to be hostess with customers. A producer and a journalist are looking for new singers. They notice Am. Nowadays being capable (สามารถ) is not enough, the journalist would like to request more from Am but she doesn't play such bad game. She made a first music album with the producer. The journalist writes a bad article on Am regarding her relationship with a married man in order to boost record sales. She feels bad and drinks too much. Win brings her home. It is bad journalism. The journalist gets 2 baht per record sold. The journalist claims that nowadays talent (สามารถ) is nothing without advertisement (โฆษณา). The producer makes new songs for her, i.e "I love her husband" (ฉันรักผัวเขา) and "My heart hurts because of you" (ใจเจ็บเพราะว่าเธอ). Am accepts to sing these two songs even if she is worried that it will only corroborates the false news. Am is invited at the journalist's birthday in Cha Am. He tries to force her as he claims her success is due to him but Win knocks out the journalist and helps her. Win and Am become friends and start a relation (แฟน). The journalist continues to write bad news article on Am's love life. ช่างมันฉันไม่แคร์ - she decides to ignore the news. Am discovers that Win has two children already with a woman called Kae. They are married but live separately. Kae has already a new boyfriend (มีใหม่แล้ว). As Win is not yet divorced, Am refuses to go inside his house to protect her honor (ขายหน้า). Win's wife refuses to divorce in order to bring him troubles and to get more money. It is a difficult situation for Am as she is a middle of a broken family. The kids want the mother to stay. Kae calls the journalist. Another dirty (สกปรก) news article is published. Kae takes the two kids to use them as a means (เครื่องมือ) to force Win. She teases (แกล้ง) Win to prevent any happiness for him. She finally agrees for divorce as her children don't love her and her new boyfriend threatens to leave her. Unfortunately when happiness seems to be possible, Win dies in a car accident when going to Pattaya to meet Am. She sings his song "The last night" (คืนสุดท้าย) as a last homage for Win while crying. This movie highlights modern items in Thai society, i.e. the bad journalism, the stigmata of being a woman breaking a married couple.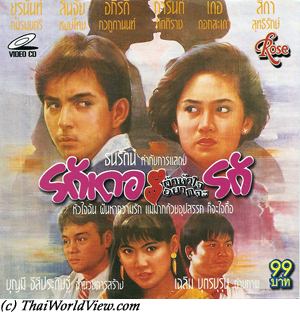 Year

: 1987



Thai title

:

รักเธอถ้าหัวใจอยากจะรัก




English title

:



Rating

: 2/5


Director

:



Main actor

: Yuranan PamornMontri


Main actress

: Sinjai Hongthai,Apiradee Pawaputanon
A woman becomes suddenly very rich after a legacy. Many men are trying to seduce her. A notorious womaniser is also trying and almost win her heart. But the woman discovers this bad reality and breaks up. The man decides to change his behavior and tries to reconquest her. Will he succeed?



Year

: 1987



Thai title

:

ฆ่าด้วยเสน่หา




English title

:



Rating

: 3/5


Director

:



Main actor

: Chatchai Plengpanich


Main actress

: Apiradee Pawaputanon
One night a woman is killed and her body is chopped in several pieces. A policeman is investigating the woman's life in order to find the culprit.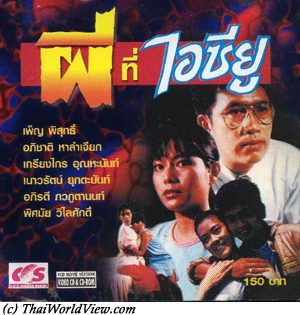 Year

: 1987



Thai title

:

เหตุเกิดที่ห้องไอซียู




English title

: Ghost in ICU room



Rating

: 3/5


Director

:



Main actor

: Apichat Halamjiak,Kriengkrai Unhanan


Main actress

: Pissamai Wilaisak,Naowarat Yooktanun,Apiradee Pawaputanon,Pen Pisut
Doctor (หมอ) Bucha saves Mrs Kamala life through reanimation. Mrs Kamala has heart problems since years and had helped to donate (บริจาค) money for the hospital construction. Mrs Kamala and her family, including her two daughters Koi and Kung, come to rest at a seaside resort. Doctor Bucha is married to Noon, who is always very jealous and doesn't like he spends too much time with patients. Koi and Kung are dragged in a dirty trick by Noon's brother following a party but the doctor, aware, can help the two sisters. Noon is jealous of Koi and Kung as she has concerns to protect her husband. Koi knows Bucha before Noon. Bucha and Noon is an arranged wedding and not a love wedding. Korn's brother, Nat, is a lazy guy, who wishes to marry Koi as she is coming from a rich family. A ceremony is organised for the new hospital building offered by Kamala. Noon jokes about entering ICU room to be close to her husband. This is a bad omen as she has a car accident while following her brother stealing goods from her home. But Noon spirit (วิญญาณ) is still around (พี่หมอค่ะ). A nurse trying to seduce Doctor Bucha is found dead. Bucha is accused by the police. Noon now threatens Koi and asks her to stop seeing doctor Bucha. At nighttime Noon frightens Mrs Kamala causing her to have a heart attack. Mrs Kamala seems to be dead but she suddenly resurrects being possessed by Noon. Mrs Kamala starts to behave like Noon and tries to seduce Doctor Bucha. A domestic helper understanding that Mrs Kamala is now a ghost gets killed also. Mrs Kamala's husband decides to consult a monk on spirit chasing. A sacred cloth is given. Mrs Kamala tries to kill her own daughter Koi but the usage of the sacred cloth neutralizes successfully the evil spirit. Bucha and Koi can now have happiness. This movie is 1h16mn only.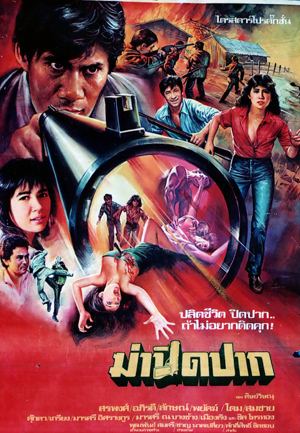 Year

: 1987



Thai title

:

ฆ่าปิดปาก




English title

:



Rating

: 3/5


Director

:



Main actor

: Sorapong Chatree,Lak Apichat,Sahat Piempongsan


Main actress

: Apiradee Pawaputanon,Sarinthip Siriwan
Ithipon (Sahat Piempongsan) and Decha are two mafia leaders fighting for drugs control. They have a deal worth of 4M baht but Ithipon doesn't go by himself and sends a bait. It was a trick as the bait is killed and Ithipon doesn't get the drug in exchange of the money. Sa (Apiradee Pawaputanon) and Jak (Sorapong Chatree) are loving each other but Jak is coming from a poor background (ธานะไม่เหมือนกัน) so Sa's mother doesn't like him so much. Mot is a local police inspector always looking for proofs to arrest Ithipon and Decha. Jak's mother is played veteran actress Sarinthip Siriwan. It was one of her last movies. Protection fee (ค่าคลุม) needs to be paid by the mother, small restaurant owner, to the mafia led by Ithipon. As Jak refuses to pay, a fight erupts and one of the thugs is killed with his own knife while trying to stab Jak. Jak takes refuge in Decha's clan. His father is killed as a revenge by Ithipon's ruffians. A rich businessman fed up by Ithipon's continuous requests asks Decha to get rid of him. Ithipon is shot at his home. Jak and Jon (Lak Apichat) are seen there despite Jak only injured Ithipon. A hitman being there is the one who killed Ithipon. Police inspector Sak is Sa's promised fiance but she doesn't love him. Sa's father is kidnapped. Following arguments with Jon and other thugs to release Sa's father, Jak gets injured (เพื่อนทรยศ) but succeeds to help the father. Jon promises to get revenge. Sa's parents thank Jak for having released the father and wish him good luck. Jon finds Jak and tries to kill him. Following fierce fighting, Jon is finally the one to die. Jak wishes to take revenge over Ithipon. He shoots him and his remaining thugs. But police is now chasing Jak, Afraid he flees but finally surrenders when the police reminds him his duties over his mother and girlfriend Sa. Thai movie ฆ่าปิดปาก released in year 1987 has a length of 1h23mn. The original film is certainly longer but may have been cut by Lepso to fit in VCD format.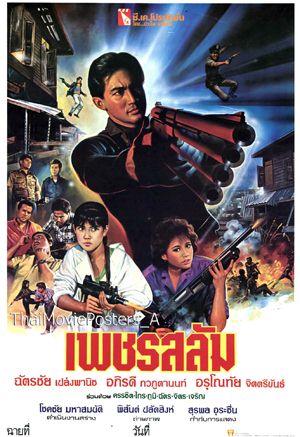 Year

: 1987



Thai title

:

เพชรสลัม




English title

:



Rating

: 2/5


Director

: สุรพล อุระชื่น



Main actor

: Chatchai Plengpanich,Kanchit Kwanpracha,Krai Kanchit,Chat Mongkolchai,Pumi Patanayut


Main actress

: Apiradee Pawaputanon,อรุโณทัย จิตรีขันธ์
During a parliament session inauguration, two members of a party are shot by a hitman. One dies. The son, called Ek (Chatchai Plengpanich), decides to investigate in order to find the murderer and motive. Ek locates Saeng, the hitman but this one is killed as he didn't do his job properly. Saeng's sister, Sopha, sees Ek's face and believes he shot her brother. Damrong, deputy (ผู้แทน) of the same party is also shot and killed. Wadee (Apiradee Pawaputanon), his girlfriend, also wishes to know the motive. Police suspects bad politics motives. Pramod is the political opponent of Damrong. San, policeman, is investigating on this case. Ek is captured by some ruffians while investigating. Chat is the ruffians' leader who killed Saeng. San helps Ek on time but Chat is shot before disclosing any information. Sopha comes to apologize to Ek on her behalf of her dead brother. Wadee wishes to continue Damrong's goal to build a school in a slum. There is style opposition between Sopha, pure lady working as singer at nighttime and Wadee. A romance starts between Ek and Sopha. Ek needs also to spend time with Wadee on the project to build a school. Ek identifies that the head of ruffians was driving the motorbike used by Saeng to shot Damrong. He is linked to Pramod and his acolyte Vinai, highly suspected as corrupted politicians. By investigating on Pramod and Vinai, Ek is captured but released by Wadee. Pramod gets rid of Vinai as he is getting too cowardly and afraid of investigations so he cannot be trusted anymore. Ek is accused of Vinai murder. Meanwhile Sopha succeeds to get Pramod's secret documents showing his involvement in illicit business. Ek's uncle is killed while trying to protect Sopha. Sopha is kidnapped. As they cannot wait for the police, Ek and Wadee have no choice but to storm Pramod's home in order to rescue Sopha. It is a typical action movie from 1980s decade related to ruffians and featuring many shootings and fights.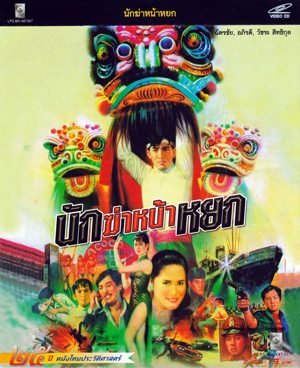 Year

: 1987



Thai title

:

นักฆ่าหน้าหยก




English title

: Ninja Force of Assassins



Rating

: 3/5


Director

:



Main actor

: Chatchai Plengpanich,Krai Kanchit,Pumi Patanayut,Somsak Chaisongkram


Main actress

: Kanchana Jindawat,Apiradee Pawaputanon,Marasri Bangchang



Buy now

:

Thai movie นักฆ่าหน้าหยก was released in year 1987 and lasts 1h33mn. It was released under VCD and VHS format in Thailand. Parts of the movie are censored. An international version released by Filmark is named as "Ninja Force of Assassins". It is a mix of the Thai movie นักฆ่าหน้าหยก and Ninja sequences shot in Hong Kong. The Filmark version is shorter but it keeps violence and nudity sequences removed from Thai VCD. Film director is ศุภสิทธิ์. Actors and actresses include Chatchai Plengpanich, Kanchana Jindawat, Krai Kanchit, Pumi Patanayut, Apiradee Pawaputanon, Somsak Chaisongkram, Marasri Bangchang, วัชระ สิทธิกูล, เทิดพร มโนไพบูลย์, เพชร, เด่น ปรีชา, โจ๊ก ท่าฉลอม. Kata's father is hit by a car and dies. He was refusing to bend to ruffians' bad influence. Kata (Chatchai Plengpanich) wishes to revenge his father, who was a policeman. Ruffians' leader Tong is shot during a lion dance performance by Kata and his acolyte Yot. New leader is Krai Kanchit. Police suspects the killer to be a professional hitman (มือปืนรับจ้าง). Wee (Kanchana Jindawat) sees Kata shooting a ruffian's leader in Don Muang. Kata earns the name as มือปืนหน้าหยก as he is handsome. Wee's brother is police leader Chatree (Pumi Patanayut). Krai, Lin Jung (Apiradee Pawaputanon) and his team are also concerned about who is shooting them one by one. Kata gets close (ร่วมมือ) to Lin Jung. Wee knows that Kata is a hitman but doesn't disclose the truth to her brother as Kata is doing good for the society by getting rid of bad men. Ruffians, having clarified that there is no internal war between them, decide to gather to get rid of Kata. Somsak Chaisongkram chases him in a mall and Kata is beaten. Police head Chatree is upset to see Wee having issues when being with Kata. She was shot and almost kidnapped. Wee is hiding something to him. Lin is upset to see Kata with Wee. Lin loves Kata, but she knows she has no way to become his official girlfriend (แฟน). She is playing double game. She is helping Wee, being captured by ruffians to attract Kata in a trap. She is identified as traitor by ruffians and later Lin is found dead. Ruffians take revenge on Yot's aunt (Marasri Bangchang). Chatree has no proofs but reminds Kata that law shall be applied for all (หน้าที่ของกฎหมาย) but Kata refuses. Kata and Yot storm the hangar where ruffians are exchanging drugs. Fiercely fighting is occurring as Kata is having a submachine gun. Ruffians are defeated but Yot is killed. Krai is finally captured by Chatree.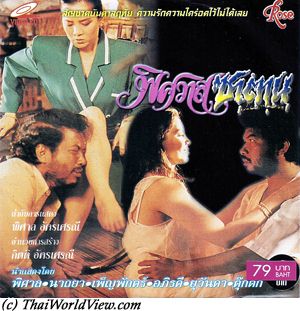 Year

: 1986



Thai title

:

พิศวาสซาตาน




English title

:



Rating

: 1/5


Director

:



Main actor

: Pisarn Akraseranee


Main actress

: Penpak Sirikul,Nardtaya DaengBunga,Apiradee Pawaputanon
A dangerous man and some teammates try to escape during a prison transfer. Only the man can escape but is seriously injured. He finally ends up in a strange house where only a few women are living. Despite his bad past, the women do believe in his redemption and will fight among each other for him.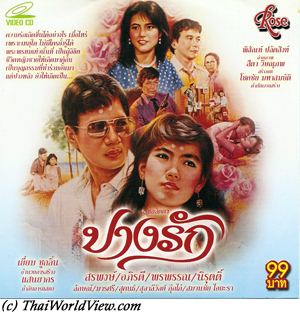 Year

: 1985



Thai title

:

ปางรัก




English title

:



Rating

: 3/5


Director

:



Main actor

: Sorapong Chatree,Nirut Sirijanya,Lak Apichat


Main actress

: Apiradee Pawaputanon
The father of a young lady is killed during a car accident by a rich young man. The young lady becomes a staff in his company to get her revenge. In fact two brothers are leading the company and she confuses them. She refuses the love of one of the brother assuming he is responsible of her father's death. Will love be the strongest?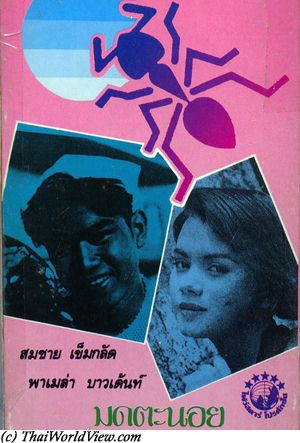 Year

: 1985



Thai title

:

มดตะนอย




English title

:



Rating

: 3/5


Director

:



Main actor

: Toon Hiransap,Settha Sirachaya,Lak Apichat,Sithao Petcharoen,Rong Kaomulkadee


Main actress

: Apiradee Pawaputanon,Pissamai Wilaisak,Thitima Sangkapitak
Young lady Tanoi comes unexpectedly in Khun Nai's house. She claims to be part of the family and wishes to get her share of heritage (มรดก). A lawyer acknowledges the fact but Tanoi will get full heritage when getting married only. Until this date, the heritage is still under Khun Nai's guidance. Tanoi is coming from countryside and is strong at boxing (ต่อย). She has arguments with the neighbour Doctor Chiwan. Tanoi's mother was chased from home twenty years ago by Khun Nai. She doesn't want to take revenge (อย่าชนะความชั่วกับความชั่ว). Tanoi decides to study abroad to show her worthiness to all including Doctor Chiwan. Chakrin, son of Khun Nai, has high interest into Tanoi. There is opposition between countryside lifestyle and Bangkok city lifestyle as Tanoi is coming from salt fields area. She goes back to visit her village with Chakrin. One of the villagers still loves Tanoi. An usual fight between ladies happen. Those fights are always a success with Thai audience with lakorn or 1960-1980s decades movies. Following a car accident, the villager and his sister Saen Dao stay in Doctor Chiwan's home to be closer to Tanoi. While Tanoi is studying abroad, the mother Khun Nai plays cards and sells the furnitures belonging to Tanoi. Khun Nai's daughter indulges herself in alcohol. The mother needs to flee as she cannot pay her debts. After five years abroad, Doctor Chiwan doesn't recognize Tanoi and is mistaken by her as a driver. She is a new Tanoi. She even forgives Khun Nai and her daughter but this latter accepts only to plan to kill Tanoi in order to get the full heritage. Tanoi is kidnapped but saved by Doctor Chiwan and the police. The movie ends happily and bad people are punished. Khun Na's daughter receives the acid she wanted to throw on Tanoi. Saen Dao and the villager have to accept that their love to the doctor and Tanoi are impossible. Doctor Chiwan recognizes his mistake to having looked down poor Tanoi. It is a typical 1980s movie with the leading actress being cross with the leading actor and facing issues with the jealous mother and her daughter. This movie shows the social ascension of a poor lady and that through education the poor lady can become a good person (ผู้ดี). Bad and rich people seem to win over good and poor people but finally there are justice and karma impacts (กรรม).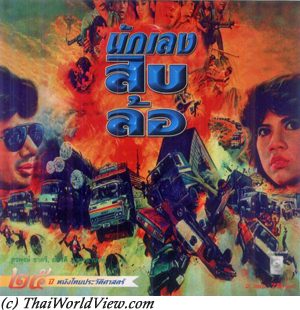 Year

: 1985



Thai title

:

นักเลงสิบล้อ




English title

:



Rating

: 2/5


Director

: Choomporn Theppitak



Main actor

: Sorapong Chatree,Rith Luecha,Nard Poowanai,Lak Apichat,Sayan Chantaraviboon,Somkuan Krajangsat,Doo Dook Kradon,Choomporn Theppitak


Main actress

: Apiradee Pawaputanon,Wiyada Umarin



Buy now

:

Thai movie นักเลงสิบล้อ was released in year 1985 and it lasts 1h37mn. Wut (Sorapong Chatree)(ลูกพี), son of owner of a truck company (รถสิบล้อ), comes urgently from Thailand following request from Lak (Lak Apichat) as his father just died (งานศพ). Sarawat (Nard Poowanai) tries to arrest him as he is over speeding to be on time to the funeral. A bomb explodes during the funeral. His mother (เจ้าภาพ) dies also. Revenge shall happen as his parents' death is a murder. The one, who carried the bomb, is identified as a lady, called Pim (พิมพ์ใจ พรหมมาลี), working in a karaoke. Sia Song (Somkuan Krajangsat), her boyfriend, is aware they spend the night together. Decha (Rith Luecha) is his right hand. Young lady Suntalee (Apiradee Pawaputanon) is leading a mining site and also selling durians (ทุเรียนแม่ค้า). Through a daring tentative, Wut and his team empty Decha's truck causing Sia to lose a lot of money. Umarin is selling trucks. Sia Song is also the shop owner. Wut enquiries on Sia through Song. Sarawat has arguments with tough men but refuses corruption money. As he is always accused to be too strict, he removes his policeman insignia to teach a lesson to the tough drivers. Sia Song orders to shoot Wut but he is only injured him. He gets closer to Suntalee and tells her that he is an undercover policeman. Four men, part of Suntalee's team, plan to betray her in order to steal precious stones (พลอย). Challenged and overwhelmed by the ruffians (คุณจะไม่มีโอกาสเห็นขาอ่อนฉัน), she gets help from Choomporn Theppitak. The traitors join Sia Song's team. Sarawat and Wut try to prevent ruffians doing dirty business at the border. Weapons are hidden in rice bags. They chase Decha driving a big truck carrying teak trees. Drug is hidden in teak trees. Wut and the trucks encircle Sia Song forcing him to surrender. Many great famous Thai actors are present in this movie but the directing is a bit weak. Luk Thung (ลูกทุ่ง) countryside music about trucks is featured in this movie. Trucks (สิบล้อ) in Thailand are ornamented with many drawings and colors.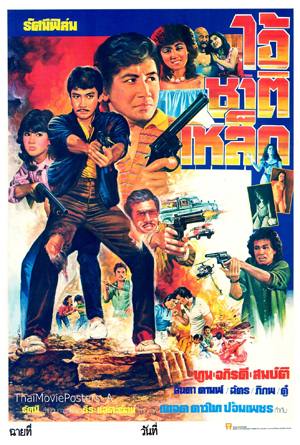 Year

: 1984



Thai title

:

ไอ้ชาติเหล็ก




English title

:



Rating

: 4/5


Director

:



Main actor

: Toon Hiransap,Dam Datsakorn,Sombat Methanee,Doo Dook Kradon,Pipop Pupinyo,Chat Mongkolchai


Main actress

: Linda Khatancharoen,Apiradee Pawaputanon
Thai movie ไอ้ชาติเหล็ก was released in year 1984 and lasts 1h50mn. It is available under VHS format. The picture quality is very sharp. Policeman Ran (Toon Hiransap) has to take over an important task, i.e. intercept a truck hiding illicit goods. Cannabis (กัญชา) is seized. The ruffians' leader Linda (Linda Khatancharoen) is upset so she wants to meet Police inspector Ra (หัวใจเป็นเหล็ก). Tanum (Dam Datsakorn) is working for her. Doo Dook Kradon and Tiu (Sombat Methanee) are playing foreign tourists and visit a gogo bar. Back to countryside, Tiu learns that his wife Jan was raped and killed while he was away. Doo discovers that his wife is living with Pipop Pupinyo now (เมียพี่มีชู้). Unable to give a lesson to Pinyo, Doo receives help from Tiu! Both Ran and policewoman Apiradee Pawaputanon are given to mission to find the drug traffickers in Isan. Waew (Chat Mongkolchai) has arguments with Ran, disguised as a ruffian (นักเลง อาละวาด). Waew receives some help from Tiu and Doo. Tanum, following a recommendation from Waew, hires Tiu and Doo as drivers. Following some shootings and fightings, Ran is framed by Waew and Tanum. As Ran's gunshot unfortunately another policeman and a ruffian, Ran is accused in front of other policemen to be a rogue policeman. Ran is arrested and dismissed as police officer. Anyway he continues his investigation in order to clean his name. Waew takes profit of the ruffian's death to abuse his wife. Tiu kills Waew as he is one, who raped his wife. Tiu and Doo flee. They take refuge in Linda's house per Tanum's advice. As Tanum fails a few times during drug transportation, a waitress played by Apiradee is suspected. She is kidnapped. Seeing Tiu and Linda close together, Tanum is upset and frames him by warning the Police regarding the next drug transportation. Ran releases Apiradee. Tiu escapes to the Police. Tiu is very upset as nobody told him what was inside the truck. This time, Tanum tries to shoot him but Doo is killed instead. Tiu kills Tanum through a fierce fight. Linda's birthday happens in weird conditions. Ran is captured and refuses to join the ruffians in drug trafficking. This time Apiradee releases Ran and they quickly go to the pier to catch all ruffians. Tiu and Linda are arrested. It is seldom seeing Sombat Methanee playing a bad guy. Life conditions push Tiu to become a bad guy as he followed Linda's asking for help. Being arrested, Linda asks Ran for compassion towards Tiu as she is the one sole responsible but Tiu will still have to answer about his acts to Thai justice.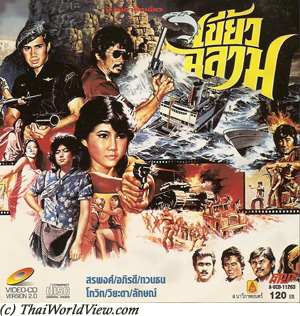 Year

: 1984



Thai title

:

เขี้ยวฉลาม




English title

:



Rating

: 2/5


Director

:



Main actor

: Sorapong Chatree,Rith Luecha,Lak Apichat,Pipop Pupinyo,Tuanton Kammeesri,Kowit Wattanakul


Main actress

: Apiradee Pawaputanon,Wiyada Umarin
A policeman's wife and son are killed during a gun fight. The policeman enquires and discovers that a mysterious organization, which is going to betray Thailand, is responsible of their deaths.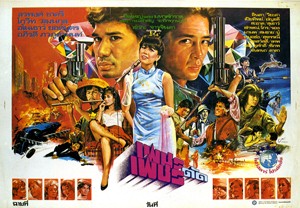 Year

: 1984



Thai title

:

เพชรตัดเพชร




English title

: Diamond vs Diamond



Rating

: 4/5


Director

: สักกะ จารุจินดา



Main actor

: Sorapong Chatree,Kowit Wattanakul,Somchai Samipak,Paen Pleumsachai,Krai Kanchit,Pipop Pupinyo,Manop Aussawathep,Boo Wibunnan,Pao Porapak,Rong Kaomulkadee,Lak Apichat,Sahat Piempongsan,Thep Po-ngam,Suchao Pongwilai


Main actress

: Apiradee Pawaputanon,Piathip Kumwong,Wiyada Umarin,Anchalee Chaisiri,Linda Khatancharoen,Janthana Siriporn,Suphanee Jitthieng



Buy now

:

Thai movie เพชรตัดเพชร was released in year 1984 and lasts 2h07mn. It was released under VCD format by Solar company and under VHS format. A remastered HD version was released during decade 2010s by Five Star Production. This movie features an impressive number of famous Thai actors and actresses from decade 1980s including less known actors หมอซ้ง, พุนสวัสดิ์ ธีมากร, วุมิ คงคาเขตร, ชูศักดิ์ สุธีรธรรม, ดาดา. Movie director is สักกะ จารุจินดา. Thai movie เพชรตัดเพชร was originally released in the year 1966 with Mitr Chaibancha, Luechai Natnat and Petchara Chaowarat. It was also released as Thai TV series in the years 2011 and 2016. Suchao Pongwilai is drunk inside a disco with a partner (Linda Khatancharoen). Mo Sing (หมอซ้ง) tries to seduce the partner so it makes Suchao angry and a fight erupts. Mo Sing loses a two colours denture and gets angry. He shoots Suchao and flees. The partner is found back by Mo Sing, but she claims she doesn't have the denture. Pailin (Piathip Kumwong) is the gang's leader. Yot (Kowit Wattanakul) is her right hand. During a drug exchange, Cheut (Sorapong Chatree) is killed by Yot keeping both drugs and money. Head of police Somchai Samipak talks to police officer Naresuan (Sorapong Chatree). He needs him to neutralise a drug gang working in Thailand, Hong Kong and Macau. Cheut is Naresuan's twin. They were separated when they were 12 years old. Naresuan wishes to revenge his dead brother. Naresuan accepts the mission and will act as Cheut in order to catch Yot. In a bar, Cheut meets Paen Pleumsachai, Pipop Pupinyo as he is looking for Yot. Cheut meets his previous girlfriend Yoi (Wiyada Umarin) having Manop Aussawathep as new husband. Fighting occurs in the bar. Back to Yaowarat district, Cheut ends up in Boo Wibunnan's entertainment centre and meets Anchalee Chaisiri. She suggests him to go to Jumbo bar to find Yot. There, Cheut is facing Pao Porapak. Cheut finally finds Yot with his girlfriend, then steals his suitcase full of drugs and gives it back to the police. Cheut flies to Hong Kong. He meets Pailu (Apiradee Pawaputanon), a singer. Pailu introduces him to Cheng (Krai Kanchit). On a boat in Sai Kung, Cheut meets Cheng again. Coming for a drug exchange, Cheut steals money from Cheng. He gets help from Jo (อโนเชาว์ ยอดบุตร), an undercover HK policeman. HK Police recommends to Cheut to leave Hong Kong as soon as possible for his own safety. Rong Kaomulkadee and Lak Apichat are working for Sahat Piempongsan, former boss of Cheut. Sahat thought Cheut was dead. Knowing Cheut is still alive, he decides to help him. Yot sends a killer to get rid of Cheut but he fails. Cheut learns from head of Police Somchai that Pailu is from Interpol. Another tentative to kill Cheut fails again. Cheut gets help from Rong. Thai police uses a stratagem for Jo to join Cheng's team. Facing a fight with ruffians, Cheng is helped by Jo in a bar. Convinced by his skills, Cheng asks him to join his team. Pailin is business partner with Cheng. Per Pailin's order, Yot captures Cheut. Cheng wants to get back his money. Meanwhile, Sahat captures Pailin's men in order to know where they keep Cheut. Cheut claims the money was confiscated by the HK Police but the drug is still stored in a suitcase hidden in Pailu's home. Pailu gets help from Somchai so that drug is given back to ruffians. Cheng starts to suspect Pailu also. She fails to escape. Meanwhile Thai police surrounds the ruffians' den. Yot plans to kill Cheut but it fails through a final epic fight between Cheut and Yot. Finally Thai police arrests all ruffians. Sahat fails to flee.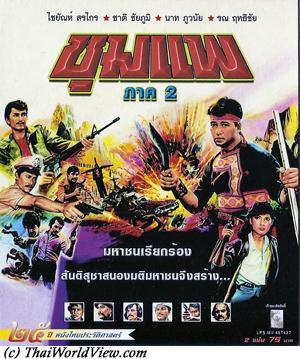 Year

: 1984



Thai title

:

ชุมแพ 2




English title

: Chom Phae 2



Rating

: 3/5


Director

:



Main actor

: Nard Poowanai,Kecha Plianvithee,Chat Mongkolchai,Manop Aussawathep,Chaiyan Sorakrai,Ron Rittichai


Main actress

: Apiradee Pawaputanon



Buy now

:

Chom Phae 2 (ชุมแพ ภาค 2) movie starts by a 5mn section of Chom Phae 1 with actors Sombat Methanee, Dam Datsakorn and actress Piyamas Monayakol. Chatom, the ruffians leader, is captured by the police. Duangjai and Duangpol are his daughters. Police Officer Chayo, promised to Duangpol, refuses to release Chatom. Duangjai hires Chat, a famous thief, in order to help liberate her father. The plan is audacious but successful. Chatom needs now to buy weapons for 20M baht to ruffian leader พ่อ Saen. Weapons are finally stolen (โปลน) and not paid. Saen is upset by Chatom's outrageous beahavior and his daughter Surin tries to calm him down. Both Surin and Duangjai want their fathers to stop being ruffians leaders but they just cannot stop. Chatom's ruffians try to kill Saen but a mysterious masked fighter (Surin!) helps him. Every time Chatom tries to sell the weapons, police is aware. Chatom suspects Chat to inform Chayo. Chatom resurrects Seua Sing (from Chom Phae part 1) as his twin brother to try to kill Police Officer Chayo. Chatom's ruffians try to sell weapons to neighbouring guerrilla (คนเลวชาติ) in the jungle but Saen's team led by Surin fights back. Chatom ruffians kidnap Surin to know who is the spy inside their team. Hopefully Yot helps to release Surin. Chat is finally captured but released by Surin. He joins Saen's team. To get rid of him, Chatom wishes to recruit Hamuyan, a strong hill tribe fighter. Hamuyan is coming from a hill tribe (พี่น้องแมว) and is expert in fighting skills. Hamuyan is recruited by Chatom to kill Chat. Hamuyan accepts as Chat is supposed to be a bad guy and Hamuyan needs money. Police officer Chayo intervenes before they can kill each other. Surin (Apiwadee) is doing well in fighting skills also. Following the failure, Chatom orders to kill Hamuyan but his sbires fail to execute properly. Later on Hamuyan helps Chat and Surin in difficulty against some ruffians. Chat and Hamuyan decide to go back to the mountain to prevent retaliation from Chatom on the hill tribe. Hamuyan's sister Nai Ying prevents a bomb to explose when Chat's car with Hamuyan passes by but she gets shot. Chatom and his ruffians attack the hill tribe village but are welcome by an explosive reception from Chat, Hamuyan and the hill tribe fighters. Police led by Chayo arrives on time. Even Surin joins the shootings. Finally Chatom and Saen kill each other. Chat was finally an undercover policeman. It is a typical 1980s Thai action movie featuring multiple fights, shootings, undercover policeman. Chomphae 1 was released in 1976. The real part 2 is supposed to be movie "ทุ่งลุยลาย" with Sombat Methanee released in 1978. This Chom Phae 2 doesn't feature the main leading actor, i.e. Sombat Methanee and tries to bank on the box office success of part 1.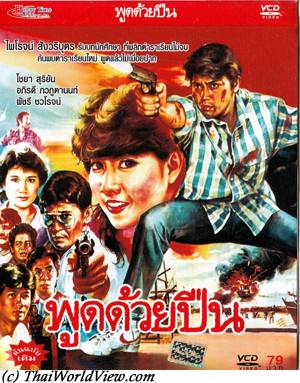 Year

: 1984



Thai title

:

พูดด้วยปืน




English title

:



Rating

: 3/5


Director

:



Main actor

: Phairoj Sangwaribut,Chaiya Suriyun,Lak Apichat,Pinyo Parnnui,Krailat Kriengkrai


Main actress

: Apiradee Pawaputanon



Buy now

:

Thai action movie พูดด้วยปืน was released in year 1984 and it lasts 89 minutes. Eh (Phairoj Sangwaribut) is a student. His friend Tor is beaten by two thugs. The leader takes revenge as Tor sent him to jail 3 years ago. The two thugs then try to attack Eh but he succeeds to get rid of them. His girlfriend is Sa (Apiradee Pawaputanon). Tor is back home but he is blamed by his father for being useless and being a gay. Eh is back to Choomporn as his parents have been killed. His father, a politician, was killed by ruffians (Lak Apichat, Pinyo Parnnui) as he refused to withdraw from next election. His wife was killed also. Police inspector (สารวัตร) suspects Ah Kadet (Chaiya Suriyun) but he has no proofs. Eh has to sell the house and land as his parents were indebted. He entrusts his sister Eoh to his father's friend. He decides to stop studying. Eh stays with Chom (Krailat Kriengkrai). Eh gets a shot gun and gets revenge by shooting one of the killers. Ruffians get revenge by shooting Eh's parents' friends but Eh refuses to provide hints to the police. Lak is shot but Eh is injured. The boss hires two thugs from Bangkok to work with Pinyo to get rid of Eh. They are the two thugs, who got beaten by Eh so they want to take their revenge. Pinyo (สัตว์นรก) is then killed also. The two thugs get punished again. Ah Kadet pushes Tor to kill Eh if he wants to get back his parents' belongings. Finally Eh gets rid of Ah Kadet in a shipyard. Eh shall marry with Sa next month but Tor, unaware of Ah Kadet's death, shall still execute his orders...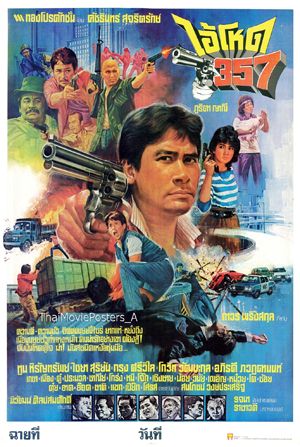 Year

: 1984



Thai title

:

ไอ้โหด 357




English title

:



Rating

: 2/5


Director

: ถาวร พริ้งสกุล



Main actor

: Toon Hiransap,Krung Srivilai,Chaiya Suriyun,Kowit Wattanakul,Kecha Plianvithee,Doo Dook Kradon,Boo Wibunnan,Chanee Yotchai


Main actress

: Apiradee Pawaputanon
Thai movie ไอ้โหด 357 was released in year 1984 and only lasts 1h13mn. It was released under VHS format. Probably some parts of the movie were lost when the movie was transferred to VHS format. As some parts of the movie are missing the storytelling is sometimes awkward. Movie director is ถาวร พริ้งสกุล. Doo (Doo Dook Kradon) is captured by a group of men and is forced for a wedding. The daughter's father, Boo Wibunnan, is the owner of a big hotel in Bangkok and wishes Doo to move to Bangkok to help take care of the hotel. The wedding is a failure. Cheut (Kowit Wattanakul) works with his father in the car repair business. The elder brother is absent. Ruffians including เมือง อพอลโล่ kill the father and mother but Cheut succeeds to flee. Bancha (Kecha Plianvithee) is the mastermind as he wants the land (ที่ดิน). Cheut's girlfriend (ทิพย์มณี ญาณี), teacher Manee, informs him. Ruffians ask him to leave the city but he refuses. Cheut's brother is Chat (Chaiya Suriyun), a small policeman. Ruffians try to kill the two brothers but fail. Linda, ผู้ช่วย (Apiradee Pawaputanon), is nominated to help Chat. Linda arrives by boat driven by Chot (Toon Hiransap). As the two brothers are surrounded by ruffians (หมาหมู), they get support from policeman Krung Srivilai. The two brothers promise to get revenge for their parents. Linda, the subdistrict officer's daughter, asks villagers not to be afraid of ruffians as Thai police are on their side. Bancha warns the sub district officer, his daughter Linda, Chot and Doo not to interfere in their business. Chot is not willing to help so he gets scolded by Chat and Cheut. Linda and Manee are kidnapped by ruffians. Cheut and Chat succeed to release Linda. Policeman Krung tries to arrest ruffians. As some ruffians are found dead, he suspects Cheut. The sub district officer is killed. Krung, Chot and Linda try to embuscade Bancha to arrest him but it fails. Somebody is shooting the ruffians with a magnum 357 but nobody knows who the shooter is. Deputy Panom is involved. Bancha is his younger brother so he protects him. Finally ruffians are neutralized and Bancha is shot dead.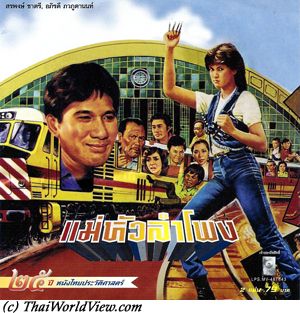 Year

: 1983



Thai title

:

แม่หัวลำโพง




English title

:



Rating

: 3/5


Director

:



Main actor

: Sorapong Chatree,Lor Tok,Nard Poowanai


Main actress

: Apiradee Pawaputanon,Wiyada Umarin,Mayura Thanabutr
Aissa is a girl coming from a poor family in a slum. She acts and fights like a boy. Her best friend is a boy called Tom. while still being young children, they are separated as Tom's parents are moving away but they promise each other to be united again. Once becoming an adult, Aissa has to face mafia people in the slum where she is living. Matter turn worse when her sister is kidnapped by the mafia. She then tries to fight them in her own way. Tom, now being a policeman, also fights against the local mafia. They help each other ignoring their real identity.



Year

: 1983



Thai title

:

แก้วขนเหล็ก




English title

: The Dracula



Rating

: 3/5


Director

:



Main actor

: Toon Hiransap,Somphob Benjatikul,Rith Luecha,Somchai Samipak


Main actress

: Apiradee Pawaputanon,Mayura Thanabutr,Pornpan Ketmamatsu
Thai movie แก้วขนเหล็ก / The Dracula was released in year 1983 and lasts 1h22mn. It features some background music by Jean-Michel Jarre and also from James Bond movies. Movie director is สุริยน ดวงทองดี. Wat (Toon Hiransap), Dom (Somphob Benjatikul) and Nin (Apiradee Pawaputanon) are discussing. Dom just gets a heritage (มรดก). It is an old haunted abandoned house. He decides to stay there and so starts restoring it (ตกแต่งห้อง). Rose (Mayura Thanabutr), his fiancee (คู่หมั้น), finds that he changed a lot. An old uncle tells the story of the house. Sir Maekin (ท่าน เมฆินทร์) (Rith Luecha), previous prince (ลูกเจ้าพระยา), wished to marry a young lady (played by Apiradee) but the father refused as the lady was already promised to somebody else. So Maekin kidnapped the lady. His father (Somchai Samipak) imprisoned him for a few days until the wedding was over but Maekin disappeared. Legend said that he become a ghost. Toon helps an old uncle aggressed by two ruffians. He gives him a ring supposed to push back ghosts. One night, Dom is possessed by vampire Maekin. Rose's birthday will happen soon. Dom places a transparent coffin in the house's underground (ห้องใต้ดิน). Dom becomes normal while holding a Buddha amulet, which burns his hand. Maekin possesses him again. Wat uses Tibetan prayers to neutralize the vampire (ผีดิบ). The vampire possesses Wat's young brother (ปรัชญา) in order to shoot Wat. Under Maekin's influence, Dom kidnaps Nin. Wat has no choice but to affront the vampire and use the special ring… A first version was released in year 1971 with Petchara Chaowarat and a later one in year 2003.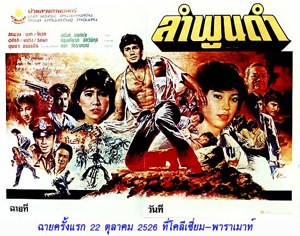 Year

: 1983



Thai title

:

ลำพูนดำ




English title

: Desconocida



Rating

: 4/5


Director

:



Main actor

: Sorapong Chatree,Nard Poowanai,Kowit Wattanakul,Suchao Pongwilai,Pipop Pupinyo,Paen Pleumsachai,Krai Kanchit,Rith Luecha,Somjin Thammatat,Pumi Patanayut,Somsak Chaisongkram


Main actress

: Apiradee Pawaputanon,Thitima Sangkapitak,Piathip Kumwong,Ampha Pusit,Mayura Thanabutr
Thai movie ลำพูนดำ was released in year 1983. The movie was also released in Taiwan under the name "Desconocida" in VHS format. This version was released by Taiwanese company New Ship Film Enterprise Co Ltd and lasts 1h26mn. The movie is in Mandarin language. The original movie has been cut to fit in standard TV format so making the story cutting to be awkward. Other versions released in Thailand last 1h30mn (Cable TV version) or 1h47mn (VHS version). This movie features many famous actors / actresses from decade 1970s~1980s. Young lad, called Paen (Sorapong Chatree), visits famous monk (หลวงพ่อ) in a local Buddhist temple to discuss about his problems. His mother and sister are treated as mistresses by local kingpin Mek. Mek (Somjin Thammatat) also tries to steal the family land. The monk gives to Paen an unique Buddhist amulet called ลำพูนดำ to protect him. Paen is arrested by four policemen led by Paen Pleumsachai. They bring him to a remote area to execute him per Mek's orders but bullets don't enter (นั่งเนี่ยว) as he is protected by the sacred amulet given by the monk. Paen shoots them back. Policeman Nard Poowanai, as หมวด, is also trying to catch him. Kingpin Mek and subdistrict headman Chat (Krai Kanchit) (ลูกน้องมือขวา) are concerned that Paen succeeded to escape. Paen has many enemies (ศัตรูเยอะ). Two ladies Lom (Piathip Kumwong) and Phit (Thitima Sangkapitak), Paen's mother and sister, are visiting the village leader. Both are the village leader's mistresses and Lom is also seduced by Chat (เป็นชู). Thai police is still looking after Paen. Paen takes refuge in a village but the village leader (Pumi Patanayut) warns the police. Paen succeeds to flee by having an hostage called Lamai (Mayura Thanabutr). Paen learns who are his enemies through Somsak Chaisongkram. Paen kills three ruffians (มือปืน). Ruffians kidnap young lady Lamai but Paen releases her and injures the village leader trying to abuse her. Young lady Booklee is kidnapped to become Mek's new minor wife. Khun Mom Sasingha (Kowit Wattanakul) meets Chaba (Ampha Pusit), niece (หลานสาว) of Kamnan Chat. He presents himself as a customer of the underground casino (บ่อน). Pipop Pupinyo is looking for troubles with Sasingha but gets beaten. Chat is then jealous that Sasingha is too close to Chaba. Seua Rit (Suchao Pongwilai) is hired by the village leader to get rid of Paen. Mek's daughter, Pumarin (Apiradee Pawaputanon), is coming back from overseas following successful studies. Her real father is Rit but he doesn't want her daughter to know that her father is a thief so the truth was never disclosed to Pumarin. Paen behaves as a Robin Wood (โจร) by giving free goods to poor villagers. A pact is agreed between Paen, Khun Mom Sasingha and Klot (Rith Luecha). Klot wishes to get revenge on Mek as he killed all his family members and kidnapped his niece Booklee. Paen refuses to meet his sister Phit anymore. Both Chat and Lom are buried alive as Mek discovers they are having an affair. Meanwhile Rit kills pregnant Lamai and her mother as they refused to disclose where Paen is hidden. Phit is having an affair with Seua Rit. Per her strategy to protect her brother, Phit claims to Mek that she has been raped by Rit so that Rit cannot harm Paen anymore. Paen releases Pumarin aggressed by ruffians kidnapping her. Klot gains the trust of Mek in order to better spy him. Paen wishes to get revenge on Mek but police surrounds him. The Buddhist amulet saves Paen one more time. Phit protects Paen a last time by shooting Mek but this latter shoots her before dying. Paen listens to Pumarin and surrenders peacefully to the police. A sequel released in year 1988 was called ลำพูนแดง.
---