Increase or decrease font size for easier reading : A+ A-
Apichatpong Weerasethakul
Apichatpong Weerasethakul (1970) - อภิชาติพงศ์ วีระเศรษฐกุล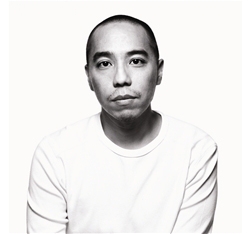 Apichatpong Weerasethakul, at both local and international levels, is the icon of the indie spirit who has pursued his unique cinematic vision. His films Blissfully Yours (2001) and Tropical Malady (2004) both won awards at Cannes Film Festival. Apichatpong's 2008 film Syndromes and a Century raised issues regarding free creativity in Thailand as the censorship board ordered four scenes to be cut. In 2010, Apichatpong Weerasethakul wins Cannes Film Festival's Palme d'Or for Uncle Boonmee Who Can Recall His Past Lives
This Apichatpong Weerasethakul movie page contains 5 records.
---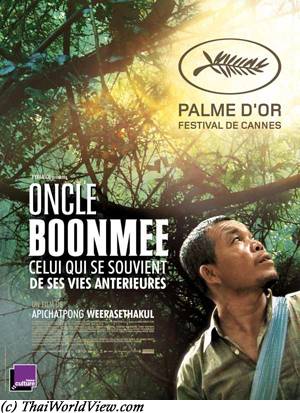 Year

: 2010



Thai title

:

ลุงบุญมีระลึกชาติ




English title

: Uncle Boonmee Who Can Recall His Past Lives



Rating

: 3/5


Director

: Apichatpong Weerasethakul



Main actor

:


Main actress

:
As usual, Apichatpong Weerasethakul's movies are not easy to understand. "Uncle Boonmee Who Can Recall His Past Lives" is no exception. On top of this, most of this movie is narrated in Lao language so it makes it more difficult to understand. A family, aunt Jane and her son Tom, arrive from Bangkok into a Isan village. The car is passing by Isan villages through long sequences without any dialogs. They are visiting Uncle Boonmee. The uncle is seriously sick and needs to receive caring and medication. At evening time during a diner, a spirit is visiting them. It is Uncle Boonmee's former wife. She is happy to receive good deeds from donations made to Buddhist temple. Then another spirit comes also. It is a half man half monkey with red eyes (ผีลิง). It is Uncle Boonmee's son. His son, photographer, had been trying to shoot a weird spirit in the forest since a long time. They are looking at old pictures together. Many following sequences in the movie are about Uncle Boonmee recalling his previous incarnations. It is a film about recollection and death, about death and rebirth. Many sequences are beautifully shot especially night photography scenes but the sequences meaning is not easy to understand. Various sequences include 1) a buffalo is tied to a tree. He succeeds to break the rope and flees away. His owner is looking for it and finally finds it 2) weird spirit with red eyes seen in the jungle 3) A mysterious old woman is carried in a palanquin by a whole troupe. She is then talking to the waterfalls spirit. There is a love sequence with a fish. There are many spirit beliefs around Isan countryside. Discussion between uncle Boonmee and his wife about after life happen. The aunt and his son are going inside the jungle and a cave looking for the spirit with red eyes. Uncle Boonmee is finally found in the cave. He has finished to recall his past lives and dies. A Buddhist ceremony for his funeral is organised. The nephew Tom is a monk. He decides to disrobe not able to withstand quiet life in the Buddhist temple. It seems that everybody is back to a normal life. This movie won Cannes 2010 festival palme d'or. Apichatpong Weerasethakul became the first Thai director to receive such award. The movie was shot in 16mm format. It seems to also be an homage to the dying film cinema replaced by digital cinema. People often hate or like Apichatpong Weerasethakul's movies but they are worth seeing as offering a refreshing breath outside the modern Thai cinema stream.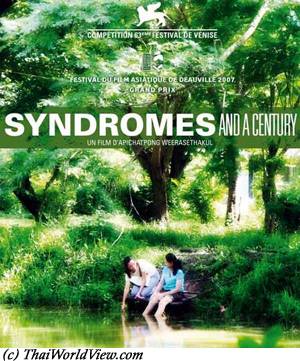 Year

: 2006



Thai title

:

แสงศตวรรษ




English title

: Syndromes and a Century



Rating

: 4/5


Director

: Apichatpong Weerasethakul



Main actor

:


Main actress

:
The film is a tribute to the Apichatpong Weerasethakul's parents and is divided into two parts. A new doctor is coming from the Army and apply for a position in a provincial hospital. Weirdly he is afraid of blood. Monks come for health tests also. One elder monk is having bad dreams about chicken. He tortured them when he was young. He wants to get medicine for the whole village and finally provide some natural herbs for the doctor. Another monk goes to dentist for the first time in his life. He wishes to be a DJ, the dentist wishes to be a country music singer. A special relationship happened between them. The monk plays guitar. Even the monk said he is an ordinary person. A shy doctor asks for engagement to a lady doctor Dr Toey. She doesn't say yes or no but narrates her own story with Noon, boss of an orchid farm, who is only interested in his flowers. Those relationships don't complete. The second part of the movie happens in an hospital inside the city. Same actors are playing but talks are different inside the city. The dental yard is like an industry. The dentist just focus on his work, there is no talk with the monk. Another relationship between a doctor and his girlfriend seems to go nowhere as he wants to stay in Bangkok but she wishes to work in Rayong inside an industrial park under development. Finally the movie ends up in Lumpini park, nature inside Bangkok city, where people do their evening aerobic dance together but they are dancing alone. Thai Censorship Board objected to depictions of monks and doctors in this movie. Cut scenes include a monk playing guitar, monks playing kite and a monk being treated by a dentist. Other cut scenes include four doctors drinking whisky in a hospital room, a scene of a male doctor kissing his girlfriend in the hospital's locker room and having an erection. Like all movies by Apichatpong Weerasethakul, people either like or dislike them. There are beautiful lengthy sequences characteristic of Apichatpong Weerasethakul's work.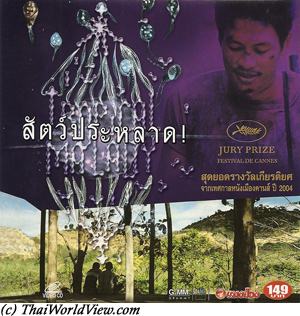 Year

: 2004



Thai title

:

สัตว์ประหลาด




English title

: Tropical Malady



Rating

: 3/5


Director

: Apichatpong Weerasethakul



Main actor

:


Main actress

:



Buy now

:

Tropical Malady is the first Thai film to win a Special Jury Prize at the Cannes International Film Festival. The two-part story begins with a love affair between a young soldier and a country boy in a remote village in Isan. The village's tranquillity is harmed by a wild beast slaughtering cattles. The second part involves the hunt for the wild beast in the jungle. The beast alternately resembles a tiger and the country boy. Viewers either love or hate this film!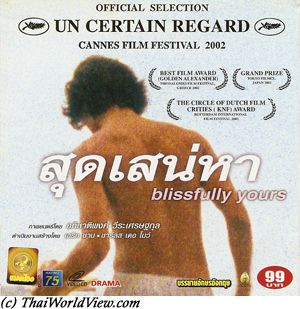 Year

: 2001



Thai title

:

สุดเสน่หา




English title

: blissfully yours



Rating

: 3/5


Director

: Apichatpong Weerasethakul



Main actor

:


Main actress

:



Buy now

:

Main characters are Min, an illegal immigrant from Burma, his Thai lover Roong, and Orn, a woman who assists them. The movie builds a lyrical story around their longing for an afternoon's escape from the complications of daily life. This movie won "Un Certain Regard" award at 2002 Cannes Film Festival. This movie has also been registered as National Heritage per the 2016 list released by the Thai Film Archive.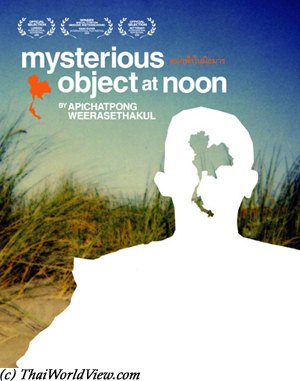 Year

: 2000



Thai title

:

ดอกฟ้าในมือมาร




English title

: Mysterious Object at Noon



Rating

: 2/5


Director

: Apichatpong Weerasethakul



Main actor

:


Main actress

:
It is a Thai independent experimental documentary film directed by Apichatpong Weerasethakul. It is shot in black and white. It narrates the life of an Isan teacher called Dok Fa. Her father has ear problems and is paraplegic. She doesn't have enough money to cure him. A strange scar appears on her neck. While teaching a crippled kid, she faints. A mysterious round object is found close to her. A kid is inside the object. Dok Fa is dead. The mysterious kid transforms himself into the teacher. As Dok Fa is back to life, there are now two teachers. The story is disjointed. There is indirect narration through various people and also Molam (หมอลำ) song. Everybody has their own bits of the story. We never know it is true or not. A Thai boxing event is organized to raise money to cure Dok Fa's neck scar. Then various themes are raised (respect of others difference, politics : a war is ended and advantage to American business is given. There is opposition from Thai people promoting "Thai buy Thai" - reference to slogan ไทยช่วยไทย after 1997 economic crisis). It was shot in 1998 in South and Northeast of Thailand. The Culture Ministry registers 25 Thai classic films each year at the National Film Heritage Registry. This movie is part of the 25 films heritage list announced on 04 October 2014, which is Thai Movies Conservation Day.
---