Increase or decrease font size for easier reading : A+ A-
Apichat Halamjiak
Apichat Halamjiak (1954-2008) - อภิชาติ หาลำเจียก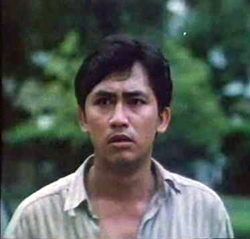 Apichat Halamjiak is a veteran actor and a former MP
This Apichat Halamjiak movie page contains 23 records.
---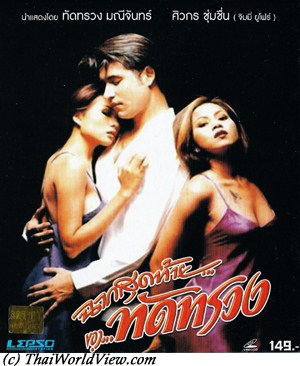 Year

: 1995



Thai title

:

ฉากสุดท้าย ของ ทัดทรวง




English title

:



Rating

: 3/5


Director

:



Main actor

: Apichat Halamjiak


Main actress

:



Buy now

:

Thai movie ฉากสุดท้าย ของ ทัดทรวง was released in year 1995 and lasts 1h36mn. Actors and actresses are ทัดทรวง มณีจันทร์, ศิวกร ชุ่มชื่น, ประกายกานต์ กอบเกื้อกูล, โรเบิรต์ ฟองออเดรซ, น้อย โพธิ์งาม, เทพยุดา ศรียาภัย. That Sruang (ทัดทรวง มณีจันทร์) comes from Nakhon Ratchasima. She is a sales lady. She quit her job in Bangkok as her former boss had a bad mentality. She has difficulties to find a new job. She is finally hired as secretary in a company whose boss knows one of her friend. The boss, called Rath, seems to like her a lot. That refuses his advances. He claims his innocence and covers her with gifts. Finally romance starts as That believes that her boss is sincere. A few hot scenes are subtitled by a warning that audience shall be advisable when watching them (วิจารณญาณในการชม). It is very first time for this countryside girl to meet high level society people from Bangkok. During a diner, everybody presents his wife or girlfriend but Rath, being drunk, presents That as being a sales lady only. She is upset and leaves. As Rath (เจ้านาย) only follows his impulsions, she leaves to go back to Isan. Back to Bangkok, he finally accepts to marry That (ลงทะเบียน). That opens a small shop. As That has difficulty to have her niece entering international school, she asks Rath a sum of 150 000 baht for the school debenture. Meanwhile young lady Sa is back from overseas and has already a lover. Sa shall marry with Rath. Both Rath and Sa are from high society and both have lovers from low society. Sa is upset as she finds a picture of That in Rath's bedroom. Rath doesn't come back so often to That's home as he is butterflying (ชีวิตของผมเป็นของผม). Sa discovers That as minor wife (เมียเก็บ) and announces to her that she is his fiance already but Rath and That are already officially married! This is causing Rath's father ire (Apichat Halamjiak) as he asks his son to divorce from That in order not to jeopardise his business with Sa's father. Her niece has issues at school with schoolmates as she is called country bumpkin (คนบ้านนอก). That is pregnant but Rath wishes she aborts. She moves to another place. As Rath's father cuts his money and job, Rath has to ask That for divorce. She accepts without any compensation. Rath marries Sa. That becomes a singer and sexy model. Sa is pregnant but the father is not Rath. Seeing a sexy magazine with pictures of That, he realises how stupid he was to believe high society girls will behave properly. He tries to get back with That but she doesn't need anybody now as she is able to raise her niece thanks to sexy pictures sales. One evening, during heavy rain, That and her niece are aggressed and beaten. The thugs were hired by Sa. That refuses any help from Rath. Rath's father is aware of the situation but they have to stay together (ต้องดูดี) and show good face to the Thai society. Rath goes to see That a last time to apologise about his behavior. She accepts his excuses. But they cannot go back together.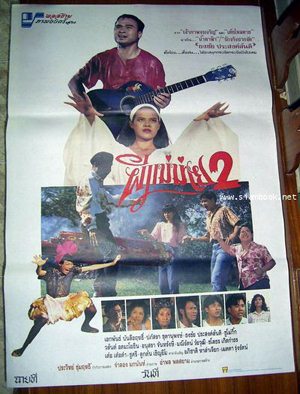 Year

: 1991



Thai title

:

ผีแม่ม้าย 2




English title

:



Rating

: 2/5


Director

:



Main actor

: Ekapan Banleurit,Tongchai Prasongsanti,Kiet Kijcharouen,Apichat Halamjiak


Main actress

: Metta Roongrat



Buy now

:

Thai movie ผีแม่ม่าย 2 เต้ยไหลตาย was released in year 1990 and lasts 1h14mn only. Some scenes are probably cut or censored. ผีแม่ม่าย serie includes 4 movies (Part 1, 2, 3, 5). Actors and actresses featured in this movie are Ekapan Banleurit, Tongchai Prasongsanti, Kiet Kijcharouen, ปภัสรา ชุตานุพงษ์ and a few cameo appearances by Metta Roongrat and Apichat Halamjiak. ผีแม่ม่าย 2 movie is a mix of comedy, action, horror, light erotism and a few songs such ฟ้าร้องไห้ sung by Tongchai Prasongsanti. The village is calm now. Young lady Choompu arrives in the village and meets Vina (Ekapan Banleurit). She stays with Tung, the funny katoey. Tongchai Prasongsanti is back and is wearing woman clothes as he is still worried about ghost widow (ผีแม่ม่าย). Tongchai is fond of Choompu. Romantic song ฟ้าร้องไห้ is performed by Tongchai to seduce Choompu. Kiet Kijcharouen arrives in the village and is looking for Choompu. He asks Choompu to go back with him. Four ghost widow ladies are sent to the village to bring men for their queen, who is living in เมืองผีแม่ม่าย. They possess bodies of village ladies (เข้าสิง) and tries to capture men by tiring them in bed. Sad sequence features the Hell guardian ยมบาล, who sentences the Phetburi Road driver to hell (in year 1990, a liquid petroleum gas tanker truck crashed at Phetchaburi Road, causing large explosion. 90 people died). Funny sequences of villagers chased by ghost widow ladies occur. Mina comes back and warns Vina about the ghost widow ladies. Pranee, head of ghost widow ladies, complains to Hell guardia (ท่านพี่), that men are now more wary of ghost widow so it is hard to capture them. A doctor (Apichat Halamjiak) is coming to cure people in the village but he is the first one to get sick! Pranee decides to send all her ghost widow ladies in the village. Choompu is possessed by a ghost widow but Mina intervenes to prevent she kills Vina. Villagers decide to fight (สู้ๆ) against the ghosts. Part of the movie is probably missing as the movie ends up with villagers organising a fireball contest (บั้งไฟ).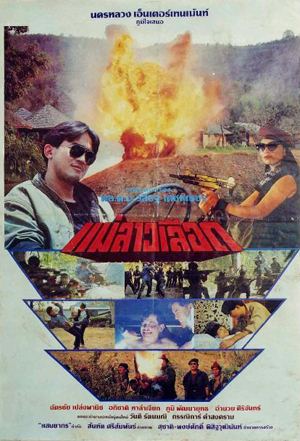 Year

: 1990



Thai title

:

แม่ลาวเลือด




English title

:



Rating

: 3/5


Director

:



Main actor

: Chatchai Plengpanich,Apichat Halamjiak


Main actress

:
Thai movie แม่ลาวเลือด was released in year 1990 and lasts 1h29mn. Tanoot (ธนุส) (Chatchai Plengpanich) has only two loves, his work and Thailand. Tanoot was commander of a special military unit called Bravo responsible to clean up corrupted people. He quits his job hoping to be able to start a new life. Tanoot goes to Chiang Mai in a guest house owned by a former subordinate called Kiet. He remembers many years ago when he helped mountain villagers in the area attacked by ruffians. At nighttime Kiet is stabbed by three men but he has time to tell a few words to Tanoot before dying. As a bloody knife is found under Tanoot's bed, he is accused by local police of the murder. Police beats Tanoot to force for some evidences. Finally Tanoot is released from police station thanks to the guarantee of a wealthy man (พ่อเลี้ยง). Some ruffians try to kill Tanoot. Some former colleagues join Tanoot. Later on, Tanoot and his colleagues including Sandy capture one ruffian and torture him to get information. Sandy is captured by the ruffians led by Sonmai. Tanoot is also captured while trying to locate her. Finally Tanoot is released by his colleagues. Drug organisation (องค์การ) gives three days to Soto get rid of Tanoot and his colleagues. Three explosions happen in malls. Siriwon (Apichat Halamjiak) is the big leader of the drug organisation. Sonmai hires a complete resort to attack Tanoot. Fighting happens in this resort but ruffians get defeated. Tanoot defeats Sonmai through a duel. Sandy and Tanoot can leave to enjoy happiness. Siriwon also dies. This story is the following opus of สารวัตรเถื่อน.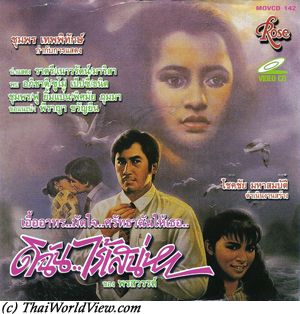 Year

: 1989



Thai title

:

ดิฉันไร้เสน่หา




English title

:



Rating

: 2/5


Director

:



Main actor

: Apichat Halamjiak


Main actress

: Naowarat Yooktanun
Jenkila is a dynamic business woman. Following a business conflict, some adversaries try to kill her by throwing her body in the sea. Fortunately, a fisherman called Pukthon rescues her. Despite their social background differences, she marries him. Pukthon is entitled as company manager. But the fisherman is deceitful and flirts with many women. Disappointed by her husband, Jenkila has an accident and is handicapped. Her husband still continues to flirt and leave alone his disabled wife. The company lawyer asks him to stop his shameful behavior but he refuses. Jenkila lets him do as he previously saved her life. Finally exasperated as he didn't bother to stay with her on her birthday diner, she shoots him. This movie can also be identified through another name "บุญหล่นทับ".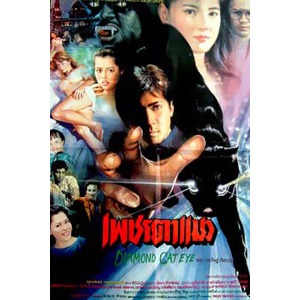 Year

: 1989



Thai title

:

เพชรตาแมว




English title

: Diamond Cat Eye



Rating

: 3/5


Director

:



Main actor

: Apichat Halamjiak,Dam Datsakorn,Yuranan PamornMontri


Main actress

: Thida Thidarat
Thai movie เพชรตาแมว (1989) lasts 1h34mn. Chai (Apichat Halamjiak), Chat coming with his daughter, Dam (Dam Datsakorn) are involved to catch a mystic cat spirit (แมวดำตาเพชร). They wish to get a diamond located in the cat's eyes. Some hunters fail to kill it so they are going in a remote mountain to catch it in his cave. The cat makes the hunters to kill each other. Chat finally gets the diamond and before dying, he asks Chai to give it to his daughter when she is adult. Years have passed. Kong Yot (Yuranan PamornMontri) is a policeman (หมวด) and Chai's good friend. Busarat (Thida Thidarat), Chat's daughter, is the real owner of the diamond. She was raised by Dam. Sia, older man, wishes to marry Busarat but she doesn't love him. Niphon uses a professional masseuse (หมอนวด) as a fake nurse to take care about Chai. He wishes to get the diamond also. But the nurse is thinking about a wedding being interested by the heritage but Kong Yot is around. Kong Yot hires real Busarat as nurse as he knows she is dedicated as he met her before in hospital. Three ladies now claim to be Busarat. One dies by falling in the stairs being shocked seeing somebody disguised like a ghost. Niphon (Kowit Wattanakul) gets blamed as he guaranteed she was real Busarat. Another supposed young lady, foreigner Natalie, asks for the diamond also. She is lover with the house driver. They end up in jail as identified as dishonest people by Kong Yot. Chai finally gives the diamond to another Busaba following nightmares. Chai wishes Busaba's father to be with her. Back to her province, gun shooting happens with Sia as he still wants Busaba to be his wife. Dam is injured during the shooting and Busaba realises she is the real daughter of Chai as she doesn't have the same blood group as Dam. Niphon and fake Busaba are lovers. Finally Niphon's wife, Niphon and fake Busaba kill each other due to greed. Only the real owner can keep the diamond safely. Busaba, identified as Chat's daughter, receives the diamond and following a dream involving the spirit (วิญญาณ), she brings it back to the cave. She can have now happiness with Krong Yot. A former version of this movie was released in year 1972 featuring Phairoj Jaising and Naiyana Shewanan. A TV adaptation through a ละคร was released in year 1999.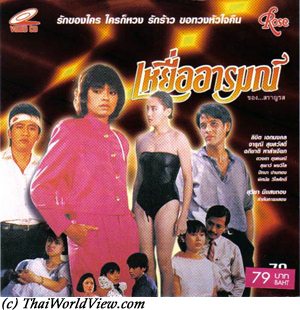 Year

: 1988



Thai title

:

เหยื่ออารมณ์




English title

: Victim of lust



Rating

: 4/5


Director

:



Main actor

: Likit Eakmongkol,Apichat Halamjiak,Suchao Pongwilai


Main actress

: Jarunee Sooksawad,Pissamai Wilaisak,Duangta Tungkamanee,Patama Panthong
A middle age lady Tien (Pissamai Wilaisak) has two children, Yetha (Duangta Tungkamanee) and Takasit (Likit Eakmongkol). The mother is having a young lover Somrit (Apichat Halamjiak) so getting disapproval from her both children (แม่ไม่อาย). Arop (Suchao Pongwilai) is having two families, one with the major wife Oon (daughter Pim but from another wedding) and one with a minor wife Plaew (daughter Leu). Takasit has just divorced with Yaboot (Jarunee Sooksawad). Somrit is having diner with Yaboot. Somrit is a seducer (ต้นไม้หลายดอก). Pim has seen Arop with Plaew and threatens to do everything she can to break this relationship (ช่วยไม่ได้). Takasit, aware that Somrit is seeing Yaboot, asks her to stop this before she gets disappointed. Yetha also sees Somrit in a disco with Yaboot. She is worried about her mother (บัดซบ / เกลียด). Yaboot's mother sees Somrit with Taen in a restaurant. Both Takasit and Yetha dislike Somit (แมงดา) and are afraid of the consequences on their mother (ไม่ยุติธรรมสำหรับแม่) as she gets love only because of her money. Tien offers a business to Somrit but there is a need to spend a lot of money on promotion. Misunderstanding increases between Yeuta, Tien, Yaboot and Takasit. Somrit is claiming nobody understands him. Yaboot is confused between Somrit and Takasit. Who does she really love? Could she marry again the husband she just divorced? Pim declares her love to Arop. Arop cannot accept this but Oon hears everything, i.e. a daughter loving her step father! Those two families are in middle of serious love crisis. Oon is the traditional Thai wife forgiving his husband's mistakes such as minor wife. Finally the crisis are solved. Pim decides to go studying abroad and gets pardon from her parents Oon and Arop. Somrit's double game is unmasked as he asks Yaboot for wedding. The love story with Tien is over and Somrit is chased by Yetha (ไม่ลูกผู้ชาย) under a weapon threatening without any indemnities. Yaboot finally goes back with Takasit and stops listening to her mother. Morality is safe. Somrit remains alone without anything. The movie เหยื่ออารมณ์ (1988) is about love (รัก), separation (เลิก), appearance and society constraints, i.e. no divorce in older age, no young lover for a woman. A previous version with Krung Srivilai, Aranya Namwong, Sahat Piempongsan was released in 1975.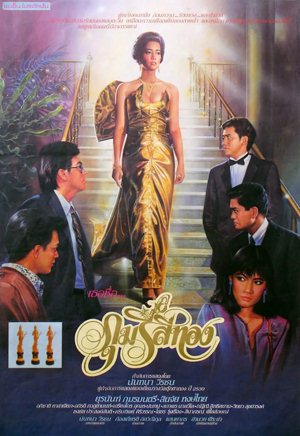 Year

: 1988



Thai title

:

ภุมรีสีทอง




English title

:



Rating

: 3/5


Director

:



Main actor

: Yuranan PamornMontri,Kriengkrai Unhanan,Apichat Halamjiak,Wittaya Sukdamrong


Main actress

: Sinjai Hongthai,Apiradee Pawaputanon,Natanee Sitthisaman,Sarinthip Siriwan
Nam Pheung (Sinjai Hongthai) and Payon are in love. Payon needs to go overseas to study. While rowing on a lake, a storm happens so they take refuge in a small cabana. They become lovers. On the day of leaving overseas, while meeting Nam Pheung at the train station, Payon is hit by a train and dies. Veteran actress Natanee Sitthisaman is the one who warns Nam Pheung. Shocked and while walking along the path, she is kidnapped by two songthaew drivers and raped. Shortly after their wrongdoing, they both die in a traffic accident. Nam Pheung's father is played by veteran actor Wittaya Sukdamrong. The movie ภุมรีสีทอง (the golden queen bee) is narrating the story of a woman that causes the death of all her lovers. Will she ever find true love? This movie received three Thai awards.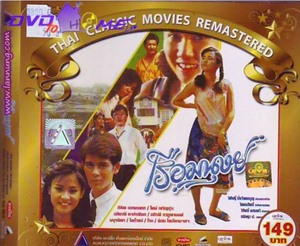 Year

: 1988



Thai title

:

เรือมนุษย์




English title

:



Rating

: 4/5


Director

:



Main actor

: Likit Eakmongkol,Apichat Halamjiak,Phairoj Jaising


Main actress

: Thitima Sangkapitak,Mai Charoeunpura,Apiradee Pawaputanon,Natanee Sitthisaman
Thai movie เรือมนุษย์ was released in year 1988 and lasts 1h57mn. This movie is a critic of Thai high society (ผู้ดี) and karmic retribution. Young lady Pim is pregnant with young lad Chayapon. Pim is the daughter of Plao (Apichat Halamjiak) and Rose (Thitima Sangkapitak). Parents never have time for their daughter so she was mainly raised by younger aunt Nitima (สรารัตน์ หรุ่มเรืองวงศ์). Parents are worried about face. A meeting occurs with Dam, uncle of Chayapon, (Likit Eakmongkol). Pim refuses to marry Chayapon as he is also issued from a sad family without love. Khiaw (Mai Charoeunpura) is hired as domestic helper by Rose. Khun Det, Chayapon's father, is currently abroad. Choo is his mistress (Apiradee Pawaputanon). Chayapon asks money to her to hire an illegal doctor to perform abortion. Rose finally is interested in pushing for a wedding as Khun Det (Phairoj Jaising) is rich. Na Feuang (Natanee Sitthisaman) helps for the abortion money as she doesn't agree with this wedding. The abortion doesn't happen. Khun Det is back and agrees to recognize the child. Det rents a house for Pim and Nitima to have them near him. Fed up with Rose, Plao takes Kiaw as mistress and they move out in a rented house. Khun Det goes to Nitima's office every day as he tries to seduce her. It makes Dam to be upset. Choo complains about Det (ความยุติธรรม - justice between man and woman) as he has many flirts, but she cannot satisfy her own desires. Dam refuses to be a proxy. Det offers a diamond ring to Nitima and gives bad rumors about Dam and Choo. Pim helps Det so Dam believes a romance has started between Nitima and Det so he gets drunk. Choo tries to take advantage of Dam being drunk. Det chases Choo and Dam, his half-brother, of his house. Rose tries to get suicide as Kiaw is pregnant, so she lost face. Nitima and Dam become friends again as misunderstanding is clarified. It is a sin (บาปกรรม) to abort so Rose authorises Kiaw to stay in their home. Pim's child is born. Det still wishes to seduce Nitima. Kiaw is feeling unwell as Plaew is split between his old (ทำตัวเป็นแม่พระ) and new wife. Det understands excession passion (กิเลส) towards Nitima was wrong and apologises. Feuang is hit by a car as she sees Choo with her husband (ทำประชด). The child born from Kiaw is infirmed. Happiness is back in all couples. Kiaw has even a new husband, i.e Chayapon!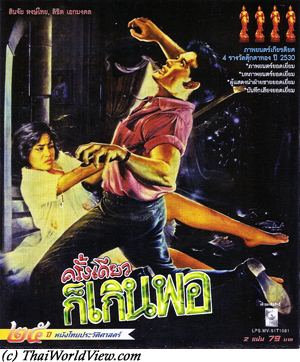 Year

: 1988



Thai title

:

ครั้งเดียวก็เกินพอ




English title

:



Rating

: 4/5


Director

: Manop Udomdej



Main actor

: Likit Eakmongkol,Apichat Halamjiak,Somsak Chaisongkram


Main actress

: Sinjai Hongthai



Buy now

:

Lak is a modern Thai lady. She is fianced since two years but her fiance (คู่หมั้น) is always busy with his work and has no time for her. There is still no confirmed date for the wedding and she is upset by this. In Pukhet, to escape to boredom, Lak (Sinjai Hongthai) meets young bachelor Samon (Likit Eakmongkol). Samon is hot temper and asks for wedding with Lak after a few days of friendship only but she refuses as she has already a fiance. She starts to be fed up with Samon as she doesn't love him. Samon is a butterfly man. Samon invites himself (รังควาน) to Lak's appartement in Phuket. She refuses to tell anything to her fiance as there is nothing to say! Lak accepts to kiss Samon but nothing more. Then Samon forces her and she gives way to Samon. Despite her friend advice, Lak refuses to go to police to file a claim (แจ้งความ) as she is afraid and feels shameful. Lak is back to Bangkok. Samon continues to chase her in Bangkok. Samon contacts Lak's fiance and tell him he and Lak love each other and that he and Lak are lovers. A discussion happens between Lak and her fiance. She cannot stand his kindness and gives back her fiancee ring. He leaves to Indonesia. As Samon is still chasing her, she goes to police to complain. Samon is arrested. Samon's lawyer asks for compromise outside the court to protect her name but she refuses. She claims she was not consenting (ไม่เต็มใจ). Samon's lawyer tries to convince the tribunal that it was not a rape but a common acceptance. Lak changes home and quits Bangkok. She doesn't care anymore about the trial. She is now pregnant. Shall she keep the future baby or not? She doesn't want to destroy the baby future as it is still a life so she decides to keep it. She doesn't want to be forced again by Salmon's acts so she keeps behaving same as before, i.e. doing intensive gym. The foetus dies. She is now freed. She loses the trial as Samon is only condemned to a 600 baht fine. She meets him in an hotel again. He challenges her again. At night time, he succeeds to enter in her house but gets severely beaten and dies when falling from the stairs. She is sent to prison but released promptly. Her former fiance is waiting for her. This Manop Udomdej's movie is related to women position in Thai society (difficulty to prove a rape, abortion difficulty for single woman). This movie received four gold statuette awards (รางวัลตุ๊กตาทอง) in 1987.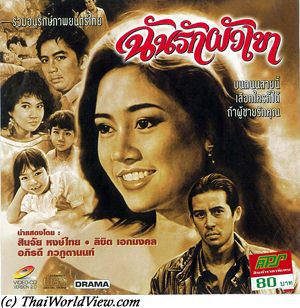 Year

: 1987



Thai title

:

ฉันรักผัวเขา




English title

:



Rating

: 4/5


Director

: Manop Udomdej



Main actor

: Likit Eakmongkol,Apichat Halamjiak


Main actress

: Sinjai Hongthai,Apiradee Pawaputanon
Am is singer in a music club. A young mysterious man called Win is coming every evening. Am refuses to sing a specific song "The last night" (คืนสุดท้าย) for him as it reminds her bad memories. She is living with her mother. She often thinks about her previous fiance, who lied to her as he had already a wife. She is now a singer and needs to be hostess with customers. A producer and a journalist are looking for new singers. They notice Am. Nowadays being capable (สามารถ) is not enough, the journalist would like to request more from Am but she doesn't play such bad game. She made a first music album with the producer. The journalist writes a bad article on Am regarding her relationship with a married man in order to boost record sales. She feels bad and drinks too much. Win brings her home. It is bad journalism. The journalist gets 2 baht per record sold. The journalist claims that nowadays talent (สามารถ) is nothing without advertisement (โฆษณา). The producer makes new songs for her, i.e "I love her husband" (ฉันรักผัวเขา) and "My heart hurts because of you" (ใจเจ็บเพราะว่าเธอ). Am accepts to sing these two songs even if she is worried that it will only corroborates the false news. Am is invited at the journalist's birthday in Cha Am. He tries to force her as he claims her success is due to him but Win knocks out the journalist and helps her. Win and Am become friends and start a relation (แฟน). The journalist continues to write bad news article on Am's love life. ช่างมันฉันไม่แคร์ - she decides to ignore the news. Am discovers that Win has two children already with a woman called Kae. They are married but live separately. Kae has already a new boyfriend (มีใหม่แล้ว). As Win is not yet divorced, Am refuses to go inside his house to protect her honor (ขายหน้า). Win's wife refuses to divorce in order to bring him troubles and to get more money. It is a difficult situation for Am as she is a middle of a broken family. The kids want the mother to stay. Kae calls the journalist. Another dirty (สกปรก) news article is published. Kae takes the two kids to use them as a means (เครื่องมือ) to force Win. She teases (แกล้ง) Win to prevent any happiness for him. She finally agrees for divorce as her children don't love her and her new boyfriend threatens to leave her. Unfortunately when happiness seems to be possible, Win dies in a car accident when going to Pattaya to meet Am. She sings his song "The last night" (คืนสุดท้าย) as a last homage for Win while crying. This movie highlights modern items in Thai society, i.e. the bad journalism, the stigmata of being a woman breaking a married couple.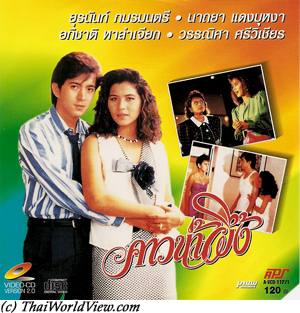 Year

: 1987



Thai title

:

คาวน้ำผึ้ง




English title

:



Rating

: 2/5


Director

:



Main actor

: Yuranan PamornMontri,Apichat Halamjiak


Main actress

: Nardtaya DaengBunga,
After a few years abroad, a man is coming home to Thailand. His former fiancee is now married to another man but the marriage is a failure. Will they ever find happiness together?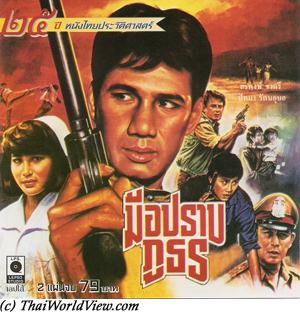 Year

: 1987



Thai title

:

มือปราบภูธร




English title

:



Rating

: 2/5


Director

:



Main actor

: Sorapong Chatree,Apichat Halamjiak


Main actress

:
One important political man is responsible of a forest illegal logging. His tough men threaten villagers living close to the forest. Three men, including two former policemen, are helping to get rid of the tough men.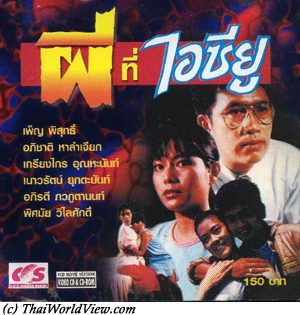 Year

: 1987



Thai title

:

เหตุเกิดที่ห้องไอซียู




English title

: Ghost in ICU room



Rating

: 3/5


Director

:



Main actor

: Apichat Halamjiak,Kriengkrai Unhanan


Main actress

: Pissamai Wilaisak,Naowarat Yooktanun,Apiradee Pawaputanon,Pen Pisut
Doctor (หมอ) Bucha saves Mrs Kamala life through reanimation. Mrs Kamala has heart problems since years and had helped to donate (บริจาค) money for the hospital construction. Mrs Kamala and her family, including her two daughters Koi and Kung, come to rest at a seaside resort. Doctor Bucha is married to Noon, who is always very jealous and doesn't like he spends too much time with patients. Koi and Kung are dragged in a dirty trick by Noon's brother following a party but the doctor, aware, can help the two sisters. Noon is jealous of Koi and Kung as she has concerns to protect her husband. Koi knows Bucha before Noon. Bucha and Noon is an arranged wedding and not a love wedding. Korn's brother, Nat, is a lazy guy, who wishes to marry Koi as she is coming from a rich family. A ceremony is organised for the new hospital building offered by Kamala. Noon jokes about entering ICU room to be close to her husband. This is a bad omen as she has a car accident while following her brother stealing goods from her home. But Noon spirit (วิญญาณ) is still around (พี่หมอค่ะ). A nurse trying to seduce Doctor Bucha is found dead. Bucha is accused by the police. Noon now threatens Koi and asks her to stop seeing doctor Bucha. At nighttime Noon frightens Mrs Kamala causing her to have a heart attack. Mrs Kamala seems to be dead but she suddenly resurrects being possessed by Noon. Mrs Kamala starts to behave like Noon and tries to seduce Doctor Bucha. A domestic helper understanding that Mrs Kamala is now a ghost gets killed also. Mrs Kamala's husband decides to consult a monk on spirit chasing. A sacred cloth is given. Mrs Kamala tries to kill her own daughter Koi but the usage of the sacred cloth neutralizes successfully the evil spirit. Bucha and Koi can now have happiness. This movie is 1h16mn only.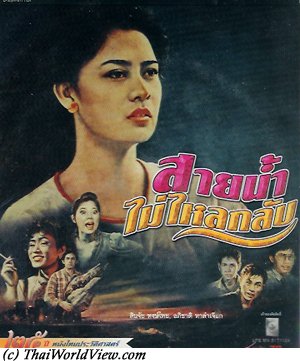 Year

: 1987



Thai title

:

สายน้ำไม่ไหลกลับ




English title

:



Rating

: 5/5


Director

:



Main actor

: Apichat Halamjiak,Somsak Chaisongkram


Main actress

: Sinjai Hongthai,Piathip Kumwong,Linda Khatancharoen
A young lady called Feun (Sinjai Hongthai) is working in a hairdresser shop and washes customers' hair. Khun Warut (Apichat Halamjiak), one customer, has interest in Feun. Phaen (Piathip Kumwong), Feun's stepmother, tries to push her to go out with Warut. Feun's father (Somsak Chaisongkram) indulges in alcohol and is seriously sick. Aniwat is Feun's close friend and wishes to marry her when he finishes his studies. Pressured by Phaen, Feun accepts a dinner invitation from Warut. Aware of this, Aniwat feels betrayed. Warut asks for Feun's hand. Phaen pushes her to accept. Troubled, she wishes to talk to Aniwat. But seeing him with another lady, she finally accepts Warut's offer. Warut starts to be more daring with Feun knowing they will marry soon. The wedding shall be a very small ceremony without Warut's parents. In fact, Warut is already married with three children. Phaen was aware. Warut and Feun don't understand each other. Feun likes to stay home but Warut likes to go to disco. Phaen is not interested in Feun's father but only in money that Warut gives to Feun. Warut doesn't come back home a few days already. While doing shopping with Warut, Warut and Feun meet Warut's wife. Feun understands that Warut lied to her (โลกลวง). She flees but is hit by a car. She is rescued by a DJ who introduces her to another lady called Luang. Feun cannot go back home as she doesn't want to be forced by Phaen again or to meet Warut again. Luang is working as a call girl. First Feun looks for normal jobs (waitress) but she still faces men harassment. She cannot find proper jobs (อยากเป็นคนดีแต่สังคมไม่ยอม). So she has finally no choice than working same as Luang as she is worried about her father. It is a difficult job as some men are crazy or violent. She enters in a whirlpool of sex and easy money. One day, one of her guest is Aniwat! Aniwat still believes Feun is a good person despite doing this job (ต้องการเงิน). Aniwat still loves Feun. Feun accepts to start a real love relationship with Aniwat. Their love is spoilt by meeting some former customers while dining and by a liver disease due to alcohol high level of consumption. Aniwat's friend tries to break this relationship. Feun's friend finds that Aniwat is already fiance with a teacher. Knowing this, she indulges in alcohol again and ends up in hospital. Despite cutting part of her liver, she will not survive long. She leaves the hospital and stays near the sea. Knowing Aniwat's wedding, she ends up in hospital again. Her friend forces Aniwat to visit her to hospital so that he can understand her real love and the pain he caused her. Feun dies in front of him. Movie สายน้ำไม่ไกลกลับ highlights society hypocrisy as it is allowed or understood that a man can have multiple mistresses but the opposite is not accepted. It highlights a society where men harassment is still excessive.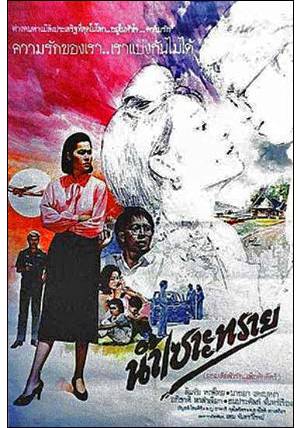 Year

: 1986



Thai title

:

น้ำเซาะทราย




English title

:



Rating

: 3/5


Director

:



Main actor

: Apichat Halamjiak


Main actress

: Sinjai Hongthai,Nardtaya DaengBunga
Teacher Wan (วรรณรี) is married with Pim (ภีม) and has two kids. She is quite old fashioned. She is a dedicated housewife, spends a lot of time to educate kids and take care of the home (เป็นคนดี). She has a high self esteem of herself as she believes she has never done anything wrong. Pim doesn't value his wife's kindness and efforts. He starts to be fed up with Wan. Wan's closest friend is Pukrong (พุดกรอง), a lonely (ความว้าเหว่) and young rich widow (แม่มาย). They know each other for 20 years. Pong, Pim's friend, tries to seduce Pukrong but she is not interested beyond friendship. Pukrong is somebody who dares (คนกล้า). Pim is seduced. Pukrong and Pim become lovers. They have to see each other in discreet places to avoid being seen by others (ขาดกันไม่ได้). Pong starts to be a nuisance as he tries to follow Pukrong everywhere so hindering her love with Pim. Pim has rent a house (บ้านของเรา) so that they can see each other discreetly and happily (รางรัก). Back home, Wan notices a perfume smell on Pim's shirt similar to Pukrong's expensive perfume. Meanwhile Pukrong has decorated "their" home with expensive furniture. Pong announces to Wan that he is aware that Pim and Pukrong are having an affair (เป็นชู้กัน). Pukrong admits in front of Wan and Pim. Pim is seen as a traitor (ผัวทรยศ). Pim is unable to make a proper decision. Wan asks for divorce (ไม่มีทางตกลง) and Pim goes back to Pukrong. Pong pushes Wan to fight back Pukrong to get her husband back (ภรรยาถูกต้อง). Pong pushes Pukrong to go out to have a new life. He presents to her a handsome and honest military colonel called Neephon. If Pim is having happiness outside why Wan cannot have happiness? Pukrong is now pregnant. Pim is upset that another man is inside Wan's life and is taking over his own duty as father. Pukrong starts to be upset by this situation and makes the link with her own son she haven't seen for years. Pukrong misses her son in America and finally decides to go there with her new born child. This way she also gives a chance to Pim and Wan couple. Wan refuses to accept Pim to come back. Pim remains alone. It is a remake of 1973 "น้ำเซาะทราย" movie. The scenario is almost identical. Sinjai Hongthai has always played the modern and liberated woman in many 1980s movies.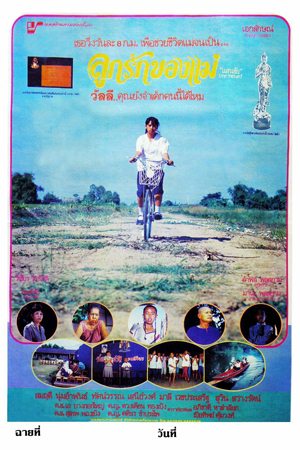 Year

: 1986



Thai title

:

ลูกรักของแม่




English title

: Walli 2



Rating

: 3/5


Director

:



Main actor

: Apichat Halamjiak,Sawin Sawangrat


Main actress

: Tasawan Saneewong,Piathip Kumwong



Buy now

:

As Wally is living without a mother and with a blind grandmother, her father stops being a monk in order to take care about his daughter. Many people gossip that he is interesting by donations given by many Thai people. Wally's sad life continues with the loss of her father and then grandmother. She finally succeeds her university graduation.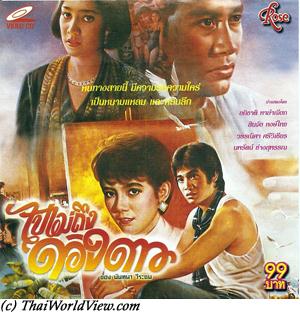 Year

: 1986



Thai title

:

ไปไม่ถึงดวงดาว




English title

:



Rating

: 2/5


Director

:



Main actor

: Apichat Halamjiak


Main actress

: Sinjai Hongthai,Duangta Tungkamanee
A married couple is having bad time as there is no more love between them. Each partner is looking for a new mate. As the husband is finding a new lovely woman but the wife is having trouble with her new lover, this is leading her to a tragic madness.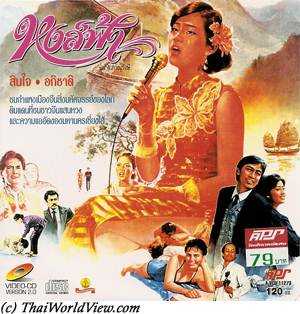 Year

: 1985



Thai title

:

หงส์ฟ้า




English title

:



Rating

: 3/5


Director

:



Main actor

: Apichat Halamjiak,Thuam Thoranong


Main actress

: Sinjai Hongthai,Piathip Kumwong
A Thai man meets a poor Chinese lady called Hong Fa during a business trip, gets married and brings her back to Thailand. But his mother has high ambition and wants him to marry a Thai influent political man's daughter. So she does everything to break the relationship and also keeps their child. Hong Fa becomes a singer and is finally sent to prison after her manager tries abusing her. The wedding with the Thai influent political man's daughter is finally a failure. After 15 years, Hong Fa is released from jail. Will she be able to see her child again?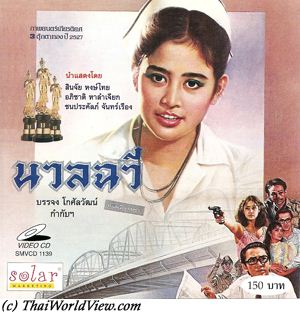 Year

: 1985



Thai title

:

นวลฉวี




English title

:



Rating

: 3/5


Director

:



Main actor

: Apichat Halamjiak,Krailat Kriengkrai,Somsak Chaisongkram,Sompong Phonmitr,Somkuan Krajangsat


Main actress

: Sinjai Hongthai,Sarinthip Siriwan,Wiyada Umarin



Buy now

:

Thai movie นวลฉวี was released in year 1985 and lasts 1h56mn. It has received three Thai awards. Somsak Chaisongkram and two other men carry a dead body at nighttime. Utit (Apichat Halamjiak) is waiting for them and they take the body away by car. On the following day, Sompong Phonmitr finds a woman body floating in the river. It makes news headlines. The body is identified to be a nurse called Nuan Chawee (Sinjai Hongthai). This movie deals about the police enquiry to find who has killed the nurse. Utit (Apichat Halamjiak) is her husband, a doctor, and is claiming her dead body. Utit is interrogated by police. นาย Cheut and his wife, also a nurse, are suspected. Tuwit (Krailat Kriengkrai) is suspected as he used to love Nuan but as this love was not reciprocal, he married another lady. The movie has flashbacks between the investigation and Nuan's story. Nuan and the doctor met each other in the hospital. Nuan fell in love with him and accepted to become his girlfriend. The doctor was going to be sent to Lampang. Nuan was waiting eagerly for the doctor to be back. Nuan presented her father (Somkuan Krajangsat) to doctor Utit as she hoped Utit would ask her hand for wedding. The love was not shared. Utit started to be fed up with Nuan (รำคาญ). Nuan was upset. Fed up by the doctor's lack of responsibility (ไม่ยอมรับผิดชอบ), she threatened to shoot him if he didn't marry. Under pressure, doctor Utit accepted. But the doctor's mother (Sarinthip Siriwan) refused to accept Nuan. Nuan and her father complained to the hospital's director. It caused Utit to be very upset and he hit Nuan. Nuan saw doctor Utit with another girl (Wiyada Umarin). Two brothers were involved in the murder. As Nuan learnt Utit had also married Umarin 6 days after her, she threatened the doctor to go to justice. Utit was fed up with Nuan as she could really mess up his future and position in the society. Wiyada saw her a competitor. So everything was in place to get rid of Nuan and to kill her with the help of the local undertaker (สัปเหร่อ) Somsak and the two brothers as intermediates. Wiyada and doctor Utit finally recognize their culpability. It is based on a real story, which happened in year 1959.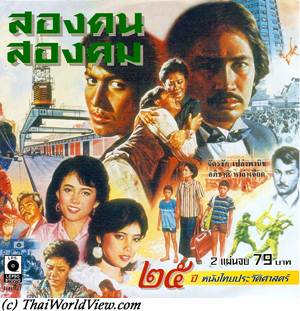 Year

: 1985



Thai title

:

สองคน สองคม




English title

:



Rating

: 3/5


Director

:



Main actor

: Chatchai Plengpanich,Apichat Halamjiak


Main actress

: Pissamai Wilaisak
It is the story of two brothers. One is a heroin mafia boss, who wants his brother to study at university and supports him with the money earned from dealers. Once studies finished, the brother becomes a policeman and discovers his brother's job. What is he going to do?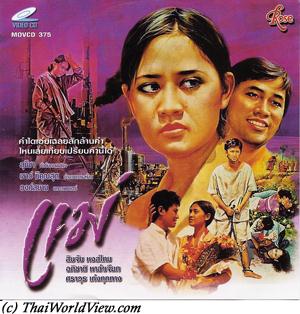 Year

: 1985



Thai title

:

แม่




English title

:



Rating

: 3/5


Director

:



Main actor

: Apichat Halamjiak


Main actress

: Sinjai Hongthai
It is about the strong love between a mother and its child.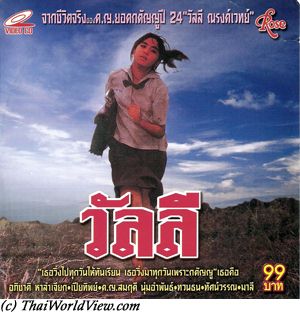 Year

: 1985



Thai title

:

วัลลี




English title

: Walli



Rating

: 4/5


Director

:



Main actor

: Apichat Halamjiak


Main actress

: Piathip Kumwong,Tasawan Saneewong,Malee Wetpraseri



Buy now

:

It is based on a true story. Wally is a girl living with her blind grandmother and mother. Her mother is sick and Wally has to run every day 8 kilometers to go to school and go back to take care of her mother. Villagers think that there is an evil spirit "PHI POP" (ผีปอบ) in the mother's body and hurt her badly. Unfortunately Wally doesn't have money to cure her mother. Wally's bad fate and gratitude ("KATANJOO" - กตัญญู) towards her mother stirs up Thai people and she receives many donations including money and bicycles. But it is too late to cure her mother...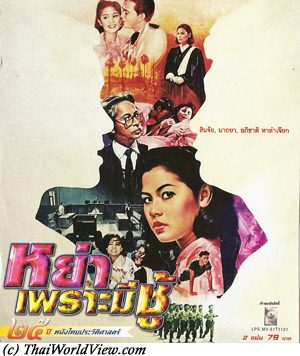 Year

: 1985



Thai title

:

หย่าเพราะมีชู้




English title

: The Accusation



Rating

: 5/5


Director

: Manop Udomdej



Main actor

: Apichat Halamjiak


Main actress

: Sinjai Hongthai,Nardtaya DaengBunga
The English title is the Accusation. Phan is a modern woman, teacher and writer. She is married with Phukphan and there is no love in the couple anymore (ชีวิตคู่น่าเบื่อ) but she needs to endure. They have strong arguments and her husband wishes to push her for divorce. He is an army officer. She finally receives a registered letter suing her for divorce due to adultery (ชู้). It makes newspaper headlines. She wishes to fight back and asks her friend Wan, a lawyer, to help but she refuses as Phan doesn't have strong evidences to refute the accusation. Wan finally changes her mind but has to face a famous lawyer on the other side. They start enquiries on Phukphan's past. The trial starts. The judge would like them to divorce silently to avoid noise and shame but it is too late. They both had a very busy schedule. Phukphan accuses his wife to have an affair with soldier Chayo. The trial raises issues related to sex affairs and private diseases (ติดเชื้อ). Crude details are given during the trial regarding intimate preferences of the husband such as a sadism. He blames his wife for not giving him what he wanted (อารมณ์เพศ). Real crude details are given during the trial. It was quite shocking during 1980s Thai society period. The lawyer is a woman. The defendant is a woman facing the establishment and men hostility. The accuser even tries to use fake testimony involving a policeman. Phukphan wishes to go with another woman. As Phan doesn't want to initiate the divorce, he planned to accuse her of adultery. Who wants to marry a woman who divorces her husband? it is wrongly seen as shameful by Thai society. A woman that asks for divorce is seen as a bad woman. She tried to support hoping her husband would change but he didn't. The movie exposes the horrible realities of her relations and his own sordid sexual life. Phukphan's lawyer claims that Phan's bad behavior is coming from the modern Thai novels she is writing. She finally wins the trial. This movie is widely admired by younger educated and intellectual Thai people. It nevertheless caused a major scandal by its sexual frankness and by the implication that a senior military figure could be guilty of socially inadmissible practices. In 1980s, Sinjai Hongthai played the modern woman in many movies (ฉันรักผัวเขา, ครั้งเดียวก็เกินพอ) directed by Manop Udomdej. She always has to fight for her rights.
---