Increase or decrease font size for easier reading : A+ A-
Anchalee Chaisiri
Anchalee Chaisiri (1956-2013) - อัญชลี ชัยศิริ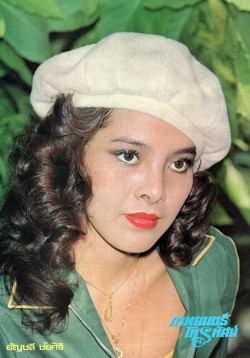 Anchalee Chaisiri
This Anchalee Chaisiri movie page contains 12 records.
---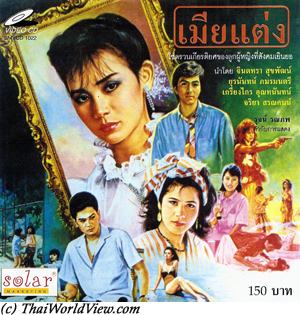 Year

: 1986



Thai title

:

เมียแต่ง




English title

:



Rating

: 4/5


Director

: Ruj Ronnapop



Main actor

: Kriengkrai Unhanan,Yuranan PamornMontri


Main actress

: Jintara Sookkapat,Pissamai Wilaisak,Sarinthip Siriwan,Phong Lada Pimolpan,Wilaiwan Watthanaphanit,Anchalee Chaisiri
Thai movie เมียแต่ง was released in year 1986 and lasts 1h53mn. It was released under VHS format and also under VCD format by Solar. Movie director is Ruj Ronnapop. Guest stars are Phong Lada Pimolpan and Wilaiwan Watthanaphanit. KongKrai (Yuranan PamornMontri) and Plung (จริยา สรณคมน์), liberale and modern lady, are having a relationship. Plung doesn't want to marry despite KongKrai's request. She enjoys free sex. KongKrai's mother is Pissamai Wilaisak. Prai (Jintara Sookkapat), young lady, and Plung know each other. The mother chooses Prai as wife for her son KongKrai. Plung is going to America. Chom (Kriengkrai Unhanan), ปลัดอำเภอ, wished to marry Prai. Prai doesn't want to break Chom's wedding. Chom's wife is pregnant despite they are separated. Aunt Lam (Sarinthip Siriwan). KongKrai doesn't want to marry Prai but wedding happens due to gratitude obligation (บุญคุณ) between families. Clash occurs between KongKrai and Prai. They finally marry. KongKrai keeps drinking on the wedding day. Chom wishes the best to the newlyweds. First night is a disaster. Back from America, Plung learns that KongKrai is married. Back to his work, Plung kidnaps KongKrai. It is traditional wife versus modern wife. Prai prepares clothes, does the cooking. It is an arranged wedding but the mother Pissamai tried to find the best wife for her son. Plung is acting for a divorce. Prai and Plung meet for the first time officially since Prai is married. Plung brings drunk KongKrai back home and stays over night! Pissamai calls her นางบำเรอ. It is เมียแต่ง versus เมียไม่แต่ง. Progressively KongKrai starts to see Prai's kindness and endurance. Being often drunk, he forces his way to his Prai's room during the night. Chom has divorced. Pissamai refuses a divorce between Prai and KongKrai. The mother finally accepts but she asks KongKrai to give her 5M Baht! While KongKrai being drunk again, he is offered the virginity of a poor student for 10k baht (ความบริสุทธิ์). Realizing his mistake, he gives 10k Baht to the student for her to recover her debts and pay her final studies quarter. KongKrai is old sin (กรรมเก่าของ) of Prai. KongKrai brings Plung to Japan. KongKrai starts to be jealous of Chom. Willing to improve situation with Prai and fed up by Plung's continuous jealousy crisis, KongKrai brings his wife Prai out for diner. Plung erupts on the house and announces she is pregnant. Prai agrees to divorce for Plung's child to have a father. Prai doesn't want a single baht as compensation. KongKrai is unable to take a decision. He doesn't want to divorce his good wife but is pushed by his responsibilities of future father. Seeing Prai being sick, Chom brings her to hospital and Prai is diagnosed as pregnant. Meanwhile after enquiries, KongKrai finds that Plung is lying. She is not pregnant. Willing to announce the good news to Prai, he is rejected by her and learns from Chom that she is pregnant! Despite knowing she was pregnant, Prai (เมียแต่ง) sacrificed herself towards Plung (เมียน้อย). Knowing she is losing KongKrai, Plung rushes and brings a gun. KongKrai interposes to protect Prai and is shot. Prai forgives to KongKrai and they can have a happy married life.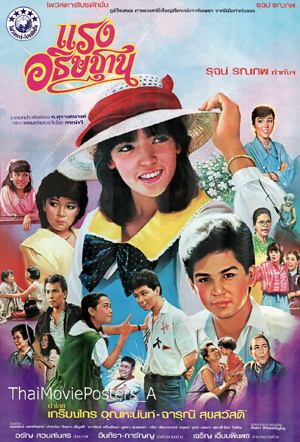 Year

: 1984



Thai title

:

แรงอธิษฐาน




English title

:



Rating

: 4/5


Director

: Ruj Ronnapop



Main actor

: Kriengkrai Unhanan,Adul Dulyarat,Ruj Ronnapop,Porjed Kaenpetch


Main actress

: Jarunee Sooksawad,Anchalee Chaisiri,Sarinthip Siriwan,Sulaleewan Suwanthat,Ratanaporn Intarakamhaeng,Phong Lada Pimolpan,Boosara Narumit
Thai movie แรงอธิษฐาน was released in year 1984 and lasts 1h57mn. Movie director is Ruj Ronnapop. A remastered version was released by Five Star Production (ไฟว์สตาร์โปรดักชั่น) in the decade 2010s and shown on Thai TV cable. The movie was released on VHS format. Thai actors and actresses featured in this movie are Jarunee Sooksawad, Kriengkrai Unhanan, Anchalee Chaisiri, Sarinthip Siriwan, Adul Dulyarat, Ruj Ronnapop, Sulaleewan Suwanthat, Ratanaporn Intarakamhaeng, Phong Lada Pimolpan, Porjed Kaenpetch, ปาหนัน ณ พัทลุง, วรารัตน์ เทพโสธร, Boosara Narumit, รจิต ภิญโญวนิช, ออยา นาวิน, ไพลิน จินดานุช, ลินดา สิริเดชภิญโญ. Manee (Anchalee Chaisiri) and Ruj Ronnapop love each other. Manee is pregnant. Ruj's sister (Sulaleewan Suwanthat) rejects this love story as she is worried about the family status and wishes Ruj to marry a rich lady. Their family has no more wealth. Mae Nom (Ratanaporn Intarakamhaeng) helps Manee but Manee dies while delivering the baby. Ruj is now married to Rattana (Phong Lada Pimolpan) but still sends money for the baby education. Ruj also dies later. The baby is named Pat and is raised by Mae Nom and her husband. Years have passed. Pat is now a teenager played by Jarunee Sooksawad. Adul Dulyarat, knowing Mae Nom, proposes to send Pat to Bangkok as he knows the parents are poor and Pat is willing to study in university in Bangkok. Adul recommends her to stay in Krongkan's house. Ut (Porjed Kaenpetch) loves Pat but his mother is unhappy that her son tries to befriend with Pat, seen as a poor child without biological parents. Ot (Kriengkrai Unhanan) and เอกลักษณ์ ยลระบิล are visiting a local Buddhist temple and take pictures of children playing. Among the children, there is Pat. Pat comes to the Buddhist temple to pray (อธิษฐาน) and asks the famous Buddha Luang Pho to help her to find her family relatives. Ot's mother (Sarinthip Siriwan) tries to find a rich bride for his son but he is not interested. The mother introduces Rattana's daughter, Prakairat, but to no avail. Ot likes books so he is working for Krongkan in her newspaper. Another lady asks her daughter Oya to stay with Krongkan, her aunt. Oya dislikes Pat and a fight occurs as she treats Pat as a domestic helper. While trying to slap Pat, she falls in wet laundry. Oya complains to her mother but Krongkan refuses accusations as she is always fair to everybody. Upset, Oya leaves the house. Ot feels that Prakairat has same look and way of talking as Pat. He thinks they might have the same father. Prakairat is jealous of Pat as Ot is more interested by her. The mother tries to push for engagement between Praikairat and Ot but even Ot's sister said that Pat would be a better choice. The mother just wants a rich bride. Ut proposes Pat to stay in his aunt's house if it is too troublesome to stay in Krongkan's house. Pat meets the aunt being the one, who broke the relationship between Ruj and Manee. She recognizes the pendant that Pat is wearing as it belongs to her family. She believes Pat stole it, but Pat mentioned it is a gift from her father. Finally, an enquiry is done, and it is confirmed that Pat's father is Ruj. Prakairat and her mother are concerned to lose a big part of Ruj's heritage. Ot asks Pat's hand and wishes to marry once she has finished her studies. The aunt wishes to meet Pat again to correct her past mistakes. Finally, a family meeting is organised regarding heritage sharing. The aunt does not apologize for anything and believes she has done the right thing to cause Ruj and Manee to split. Upset and disappointed by her family members behaviour, Pat rejects any rights she has on her father Ruj's heritage as she considers Mae Nom and her husband as her parents. Ot announces he will marry Pat. Love is more important than wealth. The family members are left with their wealth and unhappiness. Luang Pho has realized Pat's wishes as she found her relatives and even more as she met love (แรงอธิษฐาน).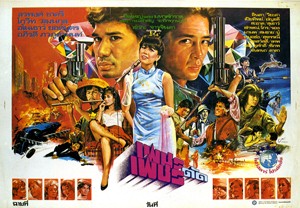 Year

: 1984



Thai title

:

เพชรตัดเพชร




English title

: Diamond vs Diamond



Rating

: 4/5


Director

: สักกะ จารุจินดา



Main actor

: Sorapong Chatree,Kowit Wattanakul,Somchai Samipak,Paen Pleumsachai,Krai Kanchit,Pipop Pupinyo,Manop Aussawathep,Boo Wibunnan,Pao Porapak,Rong Kaomulkadee,Lak Apichat,Sahat Piempongsan,Thep Po-ngam,Suchao Pongwilai


Main actress

: Apiradee Pawaputanon,Piathip Kumwong,Wiyada Umarin,Anchalee Chaisiri,Linda Khatancharoen,Janthana Siriporn,Suphanee Jitthieng



Buy now

:

Thai movie เพชรตัดเพชร was released in year 1984 and lasts 2h07mn. It was released under VCD format by Solar company and under VHS format. A remastered HD version was released during decade 2010s by Five Star Production. This movie features an impressive number of famous Thai actors and actresses from decade 1980s including less known actors หมอซ้ง, พุนสวัสดิ์ ธีมากร, วุมิ คงคาเขตร, ชูศักดิ์ สุธีรธรรม, ดาดา. Movie director is สักกะ จารุจินดา. Thai movie เพชรตัดเพชร was originally released in the year 1966 with Mitr Chaibancha, Luechai Natnat and Petchara Chaowarat. It was also released as Thai TV series in the years 2011 and 2016. Suchao Pongwilai is drunk inside a disco with a partner (Linda Khatancharoen). Mo Sing (หมอซ้ง) tries to seduce the partner so it makes Suchao angry and a fight erupts. Mo Sing loses a two colours denture and gets angry. He shoots Suchao and flees. The partner is found back by Mo Sing, but she claims she doesn't have the denture. Pailin (Piathip Kumwong) is the gang's leader. Yot (Kowit Wattanakul) is her right hand. During a drug exchange, Cheut (Sorapong Chatree) is killed by Yot keeping both drugs and money. Head of police Somchai Samipak talks to police officer Naresuan (Sorapong Chatree). He needs him to neutralise a drug gang working in Thailand, Hong Kong and Macau. Cheut is Naresuan's twin. They were separated when they were 12 years old. Naresuan wishes to revenge his dead brother. Naresuan accepts the mission and will act as Cheut in order to catch Yot. In a bar, Cheut meets Paen Pleumsachai, Pipop Pupinyo as he is looking for Yot. Cheut meets his previous girlfriend Yoi (Wiyada Umarin) having Manop Aussawathep as new husband. Fighting occurs in the bar. Back to Yaowarat district, Cheut ends up in Boo Wibunnan's entertainment centre and meets Anchalee Chaisiri. She suggests him to go to Jumbo bar to find Yot. There, Cheut is facing Pao Porapak. Cheut finally finds Yot with his girlfriend, then steals his suitcase full of drugs and gives it back to the police. Cheut flies to Hong Kong. He meets Pailu (Apiradee Pawaputanon), a singer. Pailu introduces him to Cheng (Krai Kanchit). On a boat in Sai Kung, Cheut meets Cheng again. Coming for a drug exchange, Cheut steals money from Cheng. He gets help from Jo (อโนเชาว์ ยอดบุตร), an undercover HK policeman. HK Police recommends to Cheut to leave Hong Kong as soon as possible for his own safety. Rong Kaomulkadee and Lak Apichat are working for Sahat Piempongsan, former boss of Cheut. Sahat thought Cheut was dead. Knowing Cheut is still alive, he decides to help him. Yot sends a killer to get rid of Cheut but he fails. Cheut learns from head of Police Somchai that Pailu is from Interpol. Another tentative to kill Cheut fails again. Cheut gets help from Rong. Thai police uses a stratagem for Jo to join Cheng's team. Facing a fight with ruffians, Cheng is helped by Jo in a bar. Convinced by his skills, Cheng asks him to join his team. Pailin is business partner with Cheng. Per Pailin's order, Yot captures Cheut. Cheng wants to get back his money. Meanwhile, Sahat captures Pailin's men in order to know where they keep Cheut. Cheut claims the money was confiscated by the HK Police but the drug is still stored in a suitcase hidden in Pailu's home. Pailu gets help from Somchai so that drug is given back to ruffians. Cheng starts to suspect Pailu also. She fails to escape. Meanwhile Thai police surrounds the ruffians' den. Yot plans to kill Cheut but it fails through a final epic fight between Cheut and Yot. Finally Thai police arrests all ruffians. Sahat fails to flee.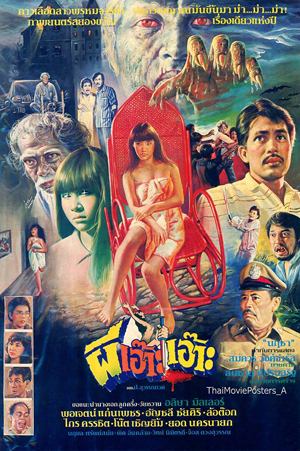 Year

: 1984



Thai title

:

ผีเอ๊าะ เอ๊าะ




English title

:



Rating

: 3/5


Director

: นฤชา



Main actor

: Porjed Kaenpetch,Lor Tok,Note Chernyim,Krai Kanchit


Main actress

: Anchalee Chaisiri
Thai movie ผีเอ๊าะ เอ๊าะ was released in year 1984. It was released under VCD format by Rose company. Movie director is นฤชา. A Thai husband called Sankap (Krai Kanchit) comes to rest in a remote house with his wife Oon (Anchalee Chaisiri), a domestic helper and his teenage daughter, Kaew (วัยหวาน อลิษา มิลเล่อร์). Ting is the mute (ใบ้) guardian of the old house. He is similar to a Quasimodo. Strange and scary noises can be heard at nighttime especially in the attic. Bones (ที่เก็บกระดูก) are found there. Kaew has her periods for the first time (เป็นสาวแล้ว). Through hidden passages in the house walls, the guardian spies the family. Through incantations, the guardian is calling an old spirit (ปลุกวิญญาณ) in front of a skeleton. The spirit needs a virgin (หญิงพรหมจารี) and pure blood. The spirit extended his life since more than 100 years thanks to virgin blood (บริสุทธิ์). Kaew is finally possessed (ถูกผีเข้า), speaks with a male voice and has extreme strength (แรงมาก). She tries to strangle the domestic helper. While her father is out to get a doctor, Kaew continues her rampage towards her mother and the domestic helper. The mother and domestic helper are not strong enough to face such a hell spirit (ผีนรก). The domestic helper is killed. Sankap arrives too late with a doctor. The doctor is even thrown out of the window and dies. Vichan (Porjed Kaenpetch), Sankap's friend, visits them and is surprised to find the house very quiet. He also sees the two corpses. He has difficulties to believe in ghosts until the spirit wakes up. Vichan suspects the guardian so he follows him up inside his hut. Oon suggests to call a shaman (หมอผี). The guardian is neither mute neither handicapped. Some zombies try to catch Vinchan. Meanwhile the spirit lies to Oon and convinces her to open the locked door. A fight happens between the spirit and Sankap. Despite cutting its arms and head, Sankap is overcome by the spirit. Sankap and Oon are killed. A purification fire started by Vichan burns the skeleton and wax effigies. Spirits are defeated. Vichan promises to take care of Kaew. Compared to other contemporary 1980s Thai horror movies, this movie doesn't have much comic relief despite Lor Tok and Note Chernyim acting, so it is more similar to western standards despite having simple Fx. It could be the Thai version of "The Exorcist"!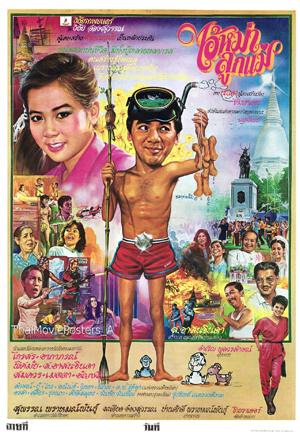 Year

: 1984



Thai title

:

ไอ้หม่าลูกแม่




English title

:



Rating

: 5/5


Director

: Sor Asanajinda



Main actor

: Somkuan Krajangsat,Lak Apichat,Boo Wibunnan,Sor Asanajinda,Pipop Pupinyo,Krai Kanchit,Wittaya Sukdamrong


Main actress

: Pissamai Wilaisak,Orasa Isarangkul,Metta Roongrat,Apaporn Kornthip,Malee Wetpraseri,Anchalee Chaisiri
Thai movie ไอ้หม่าลูกแม่ was released in year 1984 and lasts around two hours. The TV cable version lasts 1h40mn and the VHS version lasts 1h42mn. They include various different sequences so the original movie should last around two hours. Sor Asanajinda is movie director. This movie is a drama comedy movie. This movie features many actors and actresses including ด.ช.ไอ้จุก (แห่งขวานฟ้าหน้าดำ), ศศิธร, รุ่งนภา กลมกล่อม, ศักดิ์สมุทร, วันชัย วันเพ็ญ, new actress รุ่งทิพย์ เนตรวงศ์งาม. Father Nio (Somkuan Krajangsat) is married to Yui (Pissamai Wilaisak). They have two children, i.e. a daughter called Nuan (Orasa Isarangkul) and a boy called Neun (ไกรสร แสงอนันต์). Nio is very avaricious and complains that his wife is doing temple donations too often (ทำบุญ). Another family has lady See (Metta Roongrat) as family leader. She has two children i.e. Oi (Lak Apichat) and Pae (Apaporn Kornthip). Neun is going to temple fair with Pae. See wishes her daughter Pae to marry Boo (Boo Wibunnan), a rich but old bachelor. The two families are always in conflict so a wedding between Neun and Pae is a challenge to happen. Sor Asanajinda and Malee Wetpraseri visit relatives with their daughter Kaet (Anchalee Chaisiri). Kaet (นางฟ้า) shall stay in countryside a few months as she is pregnant... Pae is also pregnant with Neun. Father Nio refuses to pay the dowry (สินสอด). See asks for 10,000 THB. Nio only offers 1 baht! Finally, Yui steals 5,000 THB from her husband. Oi steals 5,000 THB from his mother See. So, wedding can happen. But due to Nio and See conflicting, it fails and both Neun and Pae are chased away from their families as they stole money from their parents. Thanks to a recommendation, Neun finds a job by working for Pipop Pupinyo. Kaet goes back for Bangkok and leaves the child behind. As there is a need for money to pay for house windows, Neun asks Pipop for money advance. His wife agrees but she asks for endearment from Neun. Pipop comes back home and fighting occurs with Neun. The wife tries to interpose and gets stabbed by accident. Pipop accuses Neun of having murdered his wife. Neun must flee. Pae and Neun's child is born. Krai (Krai Kanchit) and Pipop commit burglary and murders under the name of Neun. See, Pae's mother, is indebted by playing cards. See and Oi arrange a wedding with Boo. They lie that Neun has a new wife to convince Pae. It makes Neun upset. Wittaya Sukdamrong recommends him to calm down. Neun needs to flee police called by Oi. Neun takes refuge in Bangkok in Kaet's family as a car driver. Kaet's husband, Anoon (อนันต์ สัมมาทรัพย์), has another wife so Kaet is heartbroken and Sor recommends her to build a new life (ตั้งต้นไม้). Oi sympathises with Kaet's husband being a teacher. หมอเสน่ห์ is hired by Pae's family so Boo fires them. A romance between Kaet and Neun happens. Grandma Malee doesn't accept it. Nio is killed by Krai following an external affair. Yui's house is burgled. Neun arrives too late but hopefully Nio's money was well hidden. Neun meets Pipop and Krai fleeing after the robbery. They finally shoot each other unable to share the money. Yui, Neun's mother, sends a parade to ask for Kaet's hand. Neun gives 100,000 THB as promised for Kaet's hand and builds a big house on the land given by Sor. During a drinking session, Anoon discloses to Oi, that Neun is a stupid countryside man as he is marrying Kaet while both of her children are from himself! Despite having university diploma, Anoon behaves badly and the diploma has no value (กระดาษชำระ) as it didn't teach him to behave correctly in life. Informed by Oi, Neun keeps drinking and meets Pae, working in a club as partner. Pae ended up as Prostitute (กะหรี่) and lost her childcare. Anoon even receives 100,000 THB from Sor to keep quiet. Anoon gets beaten by Neun but is only worried about the money. Upset that Kaet lied to him (หลอกลวงเขา), Neun burns the new house (ไฟไหม้เรือนหอ) and surrenders to the Thai Police. Before being arrested, Neun asks Kaet to give money to Pae every month so that she can stop working and take care about their child. This movie highlights poor people versus rich people. Poor people have better heart than rich people.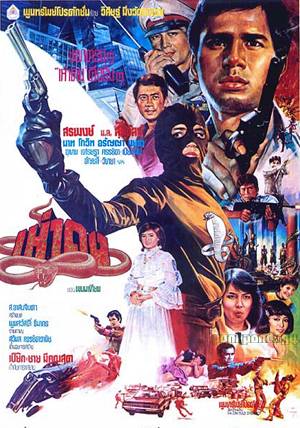 Year

: 1983



Thai title

:

เห่าดง




English title

:



Rating

: 4/5


Director

: เปี๊ยก มีคุณสุต



Main actor

: Sorapong Chatree,Nard Poowanai,Pipop Pupinyo,Kanchit Kwanpracha,Kowit Wattanakul,Settha Sirachaya,Uten Boonyong


Main actress

: Suriwan Suriyong,Aranya Namwong,Piathip Kumwong,Mayura Thanabutr,Marasri Bangchang,Anchalee Chaisiri
Thai movie เห่าดง was released in year 1983 and last 1h55mn. A remastered version was released by Five Star Production (ไฟว์สตาร์โปรดักชั่น) in the decade 2010s and shown on Thai TV cable. As usual on Thai television programs, bad things are blurred such as smoking a cigarette, alcohol bottle or putting a gun on a temple. The movie was also released under VHS format. The movie director is เปี๊ยก มีคุณสุต. A first version of movie "เห่าดง'' was released in 1958 with leading actress Amara Asavananda. The 1983 version featured leading actress Suriwan Suriyong and it was her first movie. The movie song is "จะไปดูหนังไทย บ๊ะ ต้องเห่าดง ดาวดัง สรพงษ์ ผิวคล้ำ นำแสดง สุรีย์วัล สุริยง มาประชันขันแข่ง อรัญญา ก็มา ร่วมกันในเห่าดง". Pleng (เพลิง)(Nard Poowanai) and Kam (Piathip Kumwong) have arguments. Kam complains Pleng is not sincere. Pleng must choose between being a ruffian (นักเลง, การพนัน) versus being an honest military officer (ยุติธรรม). They break up. The military head, Prachom (Kanchit Kwanpracha), promises to help Pleng but this latter refused due to his strong character (กระดูกแข็ง). Pleng has arguments with a debtor, who insults his mother. He stabs him, flees and quits the army. Finally, Pleng becomes a ruffian (เสียคน). Both Prachom and his wife (Marasri Bangchang) are upset by Pleng's decision. Pleng meets dancer Anchalee (Anchalee Chaisiri) in a restaurant. Pleng has a fight with the restaurant owner Prayak (Uten Boonyong) and gets injured. Anchalee takes care of him. Pleng is accepted in the ruffians' team by leader Prayak. Prayak and Chinta (จินดา)(Aranya Namwong) have a child called Bayan. Bayan is in fact a child being kidnapped. Prayak and Chinta need to flee the police and go overseas. Pleng promises to take care of Bayan. Many years have passed. Bayan has now grown up and is renamed Prao (พราว)(Suriwan Suriyong). She has learnt fighting skills (การต่อสู้). While doing shopping, a young policeman called Wut (วุฒิ)(Sorapong Chatree) contacts Prao as Prissana but it is a mistake. But in fact, Prao and Prissana are twins (ลูกแฝด)! They were separated 15 years ago following a robbery by Prayak in Prachom's home. Prissana is Wut's sister. She is engaged to a policeman (Kowit Wattanakul). Hao Dong is a mysterious judiciary punishing ruffians and warning police in advance (ผู้หวังดี). Behind it is Pleng, who always felt guilty to have quit the army. During a last event, Pleng gets shot and killed while helping Wut. Young lady Prao replaces her father Pleng as judiciary. She avenges Pleng by putting a bomb in ruffian leader's car. Wut pretends to be Niwat, insurance representative, in order to investigate the daughter, Saisree (ไซซี)(Mayura Thanabutr), regarding her father's death. In a discotheque, Saisree recognises Prao as they studied together in Japan. Prao studies martial arts including Ninja skills. Wut suspects Prao to be Hao Dong but proofs are not enough. Wut likes Prao (ตํารวจมีหัวใจเหมือนกัน!). Chita and Phayak come back from overseas to support Prao. Prao still wants to catch the real leader of the mysterious society (วงการ). Saisree is now the head of a Chinese style secret society. Both Prao and Saisree want to avenge their father's death. Ruffians are aware that Hao Dong is behind Saisree's father's death, so they want to avenge. Saisree asks Wut to lie to Prao and to attract her in a trap. He refuses. As Saisree loves Wut, she protects him while the ruffians wish to shoot him. Saisree is shot, but Wut succeeds to escape. Prissana is kidnapped by ruffians in order to attract Prao. Wut, the police and Prao storm the ruffians' headquarters. Chita and Phayak, wearing Hao Dong uniforms, are also killed in the fighting, so Prao cannot be accused. Prao is reunited with her parents. A double wedding Prissana / Chao and Prao / Wut can happen.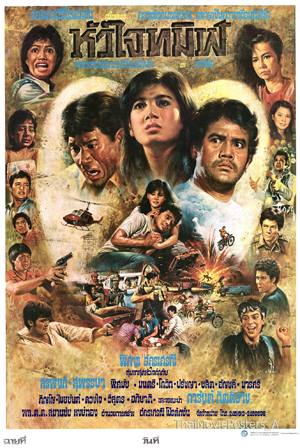 Year

: 1983



Thai title

:

หัวใจทมิฬ




English title

:



Rating

: 3/5


Director

: Pisarn Akraseranee



Main actor

: Sorapong Chatree,Kowit Wattanakul,Pinyo Parnnui,Chaiyan Sorakrai


Main actress

: Supansa Nuengpirom,Pissamai Wilaisak,Marasri Isarangkul,Duangjai Hathaikarn,Anchalee Chaisiri
Thai movie หัวใจทมิฬ was released in year 1983 and lasts 1h17mn. It was released under VCD format by Lepso Company and Rose Company. Movie director is Pisarn Akraseranee. Pissamai Wilaisak and her mother Marasri Isarangkul are heads of a drug cartel. A drug exchange occurs but it is a trick by the Thai police led by officer Kincha (Sorapong Chatree) and Kowit Wattanakul. They surround the ruffians' den. Heavy fighting occurs as ruffians are using war weapons such as machine guns. Marasri, seriously injured, takes grenades and races towards police cars. Kincha ends up at hospital and remaining ruffians flee. Kincha's wife (Duangjai Hathaikarn) asks him to stop as she is worried her children will have no father. Knowing who is the policeman leading the assault in the newspaper, Thong Kam (Pissamai Wilaisak) promises to get revenge. Sifa (Anchalee Chaisiri), Pinyo Parnnui, Montree Jenuksorn (มนตรี เจนอักษร), ปรัชญา อัครพล, ชลิต เฟื่องอารมย์, อภิชาติ อรรถจินดา and Chaiyan Sorakrai are part of the crazy ruffians. Sifa, being pregnant, gets married with วิสูตร ตุงคะรัตน์ (Thai Elvis Presley). The wedding doesn't end up well as the husband has a mistress. He sets up a bomb in the car. Both Sifa and her brother Chaiyan die. Montree gets revenge over Elvis but gets shot by Kincha. Another ruffian is captured. Mother Thong Kam is very upset. Kowit and Waen (Supansa Nuengpirom), Kincha's younger sister, are close friends. Ruffians kidnap by mistake Waen as she used her brother's car. Back home Kincha finds his family was killed. Thai police use the captured ruffian and organises a fake escape to identify where ruffians are hidden. Thai police storms the area and all ruffians are killed including the mother. One ruffian, named Karan (การันต์ กิตติราช), succeeds to escape with the younger sister Waen. He follows his mother's orders despite she is dead. He helps when Waen is bitten by a snake. Thong Kam was a raising mother, who trained them to be tamil. Waen starts to understand and to pity her kidnapper. He is injured by Kowit but still able to flee. He helps again Waen aggressed by crazy campers. Love occurs. Finally, Thai police surrounds the Buddhist cave, where they are hiding. Waen tries to convince her brother Kincha not to shoot at เจนอักษร. He doesn't understand her sister. Karan has to exit from the cave hearing Waen crying. As he is carrying a gun, Thai police shoots him. หัวใจทมิฬ is another violent movie shot by Pisarn Akraseranee.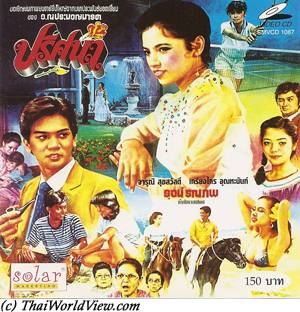 Year

: 1982



Thai title

:

ปริศนา




English title

:



Rating

: 4/5


Director

: Ruj Ronnapop



Main actor

: Kriengkrai Unhanan,Suchao Pongwilai,Adul Dulyarat,Ruj Ronnapop


Main actress

: Jarunee Sooksawad,Linda Khatancharoen,Marasri Bangchang,Sarinthip Siriwan,Marasri Isarangkul,Sulaleewan Suwanthat,Anchalee Chaisiri



Buy now

:

Thai movie ปริศนา was released in year 1982 and lasts 2h08mn. Movie director is Ruj Ronnapop. The movie was released under VCD format by Solar Marketing company. In mid 2010s, it was re-mastered by Five Star production company and shown on True Thai Film cable TV channel. Prisana (Jarunee Sooksawad) is a young Thai lady coming back from USA. Her life vision is influenced by her American education. Her future mate choice should be based on love and not based on family choice or wealth. Will she overcome Thai high society rules? Her father was dead before she was born so her grandmother even refused to recognize Prisana as her granddaughter. Prisana's mother (Marasri Bangchang) welcomes her daughter back from USA after studying 12 years there. It is hard for Prisana to get used to conservative Thai behavior. Fed up at home, Prisana decides to become a teacher (ครู) so she makes herself older. She has two sisters, Seri and Anong. Her older sister has a boyfriend called Sameu (Suchao Pongwilai). One of the student is daughter of a high-level family (ท่านหญิง). Prisana has authority issue with students as the daughter organises rebellion. Prisana teaches her a strong lesson so her brother, Chai, hears about Prisana for the first time. Prawit (เอกลักษณ์ ยลระบิล) meets Anong (ปัทมา ปานทอง) again. Seeing Prisana, Prawit forgets Anong and focus on Prisana only. Chai (Kriengkrai Unhanan) is Prawit's close friend. Chai invites all of them at a party at his home. Ratree (Linda Khatancharoen), Chai's fiance, is upset as Chai dances with Prisana. Ratree is expecting to marry Chai. It is Prisana's birthday. Chai offers her a dog. Prawit offer her a bracelet. Both men are enamoured with Prisana. Following a family trip in Hua Hin, Prisana announces she will not marry Prawit so Anong is happy. Chai is getting closer to Prisana (น่ารักที่สุด). Seeing Ratree unsuccessful to get Chai's love, Sameu tries his luck and kisses Ratree (มนุษย์หลอกลวง). Seri (Anchalee Chaisiri) sees them and is disappointed. Neighbour Anoon (ปรัชญา อัครพล) is back from America and tries to become close to Prisana. Chai tells Prisana that Prawit wants to marry her, so she becomes very upset. Finally, Prawit accepts to marry Anong as he knows he has no more chance with. Chai's aunt (Sarinthip Siriwan) is also very upset as she understands Chai's plan to marry Prisana instead of Ratree, his fiancee. Chai has arguments with his aunt as he refuses to marry Ratree. He doesn't love her and consider her as a younger sister (น้อง). The aunt and Ratree threaten Prisana. Prisana is seen by them as low status girl. The aunt wants this wedding to occur in order to keep money inside the family. At Prawit's wedding, Chai asks Prisana's hand but she doesn't believe him. Prisana is fed up by those high society people. Chai finally offers her a ring for engagement. Pushed by the aunt and Ratree, elder lady Marasri Isarangkul summons both Chai and Prisana. Prisana is looked down again but hopefully her uncle Adul Dulyarat can testify she is the real daughter of his defunct brother. Both the aunt and Ratree lose face and love can blossom between Prisana and Chai.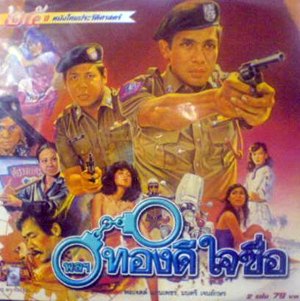 Year

: 1982



Thai title

:

พลฯ ทองดีใจซื่อ




English title

:



Rating

: 5/5


Director

: ยอด มาลา



Main actor

: Porjed Kaenpetch,Tuanton Kammeesri,Somchai Samipak,Krailat Kriengkrai,Wittaya Sukdamrong


Main actress

: Moeifa,Anchalee Chaisiri
Thai movie พลฯ ทองดีใจซื่อ was released in year 1982 and lasts 1h43mn. It was released under VCD format by Lepso company. Movie director is ยอด มาลา. This is a social movie about Thai police (หนังสะท้อนชีวิต). Actors and actresses are Porjed Kaenpetch, Tuanton Kammeesri, Somchai Samipak, Krailat Kriengkrai, Moeifa, Montree Jenuksorn (มนตรี เจนอักษร), Wittaya Suk Damrong, Anchalee Chaisiri. The movie took place during Bangkok 200 years anniversary. Somchai Samipak welcomes a new promotion of fresh policemen including Thongdee, Samak, Krailat. They work in parallel with experienced policemen. Three addicts kidnap a child and ask for a car to flee. Child is released and Thongdee (Porjed Kaenpetch) even saves one of the ruffians jumping from the bridge. One policeman has seventeen years' experience but never took bribes to make additional revenue (มือสะอาด) or additional job to make ends meet. Some policemen accept bribery and let truck drivers to go even if they committed infraction. Police inspector's wife (Anchalee Chaisiri) doesn't follow law. Thongdee and his colleague have issues with her but her husband Tuanton Kammeesri agrees with the policemen's actions. Tuanton Kammeesri got his position thanks to his wife. She is upset and is having an affair with drug addict. Krailat Kriengkrai is a policeman drinking alcohol. Thongdee and his colleague have issues with a child of a deputy. Rich kid believes relations can help them to avoid police. His mother is Moeifa (คุณหญิง). Even Thongdee's boss is on Moeifa's side and is blaming his own men. The deputy finally forces his wife and son to apologize. He blames the police boss saying that people, who build the country, are not the police inspector who stays in the air-conditioned room. Thongdee and nurse Duangjai are going to marry. Unfortunately, Thongdee is shot while police is trying to catch some robbers. Thongdee cannot speak anymore due to the injury and has to leave Thai police. Policeman salary (เงินเดือนหลวง) is very low. Two policemen families are living in a slum. One policeman, Samak, is fair. The other one is corrupted and gets extra money by getting money from citizen. Samak's wife is fed up with her poor life and is seeing the corrupted policeman enjoying good life. Thai police help citizen and ensure law is applied (ระเบียบกฎหมาย). Police catches one deputy's wife who was playing cards. Thai police helps a pregnant woman and a birth happens in a police car. Two Thai policemen save a lady wishing to get suicide as her husband has a minor wife. Finally, the corrupted policeman gets caught by his wife as he was having a minor wife, i.e. rich people problems... Samak is shot during a last mission before heading to his wife's birthday. Krailat is also killed in front of Thongdee while trying to stop an altercation between small ruffians. This movie shows that they are good and dedicated Thai policemen to do their duty also and not only corrupted ones.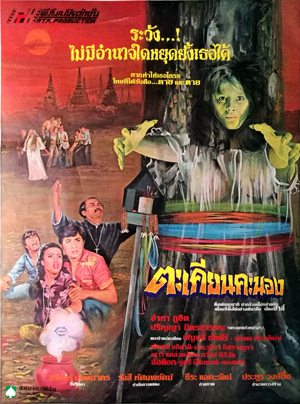 Year

: 1979



Thai title

:

ตะเคียนคะนอง




English title

:



Rating

: 3/5


Director

:



Main actor

: Lor Tok,Lak Apichat,Chao Klaewklong,Lor Tok,Tawan Siriwat


Main actress

: Ampha Pusit,Anchalee Chaisiri,Chosri Misommon
A young woman is coming to her village to see her father. She announces him that you will soon marry with a Bangkok teacher (ปริญญา มิตรสุวรรณ). A tough guy, who is fond of her, rapes her and she dies. But her spirit is back and threatens villagers. The spirit looks for justice and wants to stay with the Bangkok teacher forever...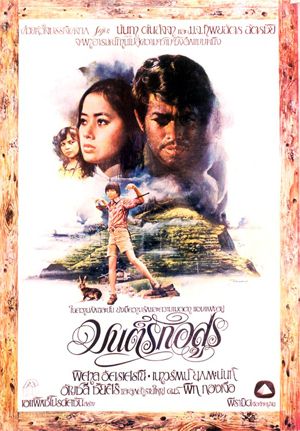 Year

: 1978



Thai title

:

มนต์รักอสูร




English title

:



Rating

: 4/5


Director

:



Main actor

: Pisarn Akraseranee,Pete Thongjure,Sompong Phonmitr


Main actress

: Naowarat Yooktanun,Sulaleewan Suwanthat,Anchalee Chaisiri
มนต์รักอสูร is a Thai movie released in year 1978. Nam Pheung (Naowarat Yooktanun) is a teacher but she needs to miss school often as her parents are sick. The father (เชาว์ แคล่วคล่อง) cannot see anymore. The mother (Sulaleewan Suwanthat) is sick also. The school headmaster (ครูใหญ่) cannot keep her in the school but proposes his help as he loves Nam Pheung. She refuses. Phan (Sompong Phonmitr) recommends Nam Pheung to Teut (Pisarn Akraseranee), a rich man looking for a domestic helper and teacher for his son. The son (Pete Thongjure) is very badly educated and doesn't listen to anybody (เด็กอาละวาด). The father is alcoholic and has a bad temper (คนใจยักษ์ใจหมา). Nam Pheung shall get 30 000 bath for one year and her parents to be sent to hospital in Bangkok so she accepts. Villagers comment that Teut bought Nam Pheung. The son Nan dislikes her as he is worried she wants to replace his deceased mother (อีตาหวาน). Despite her willingness to improve the house (better food, birds), Nan still dislikes her (เกลียดมัน, อยากเป็นแม่เลี้ยงของฉัน, พ่อเอาเป็นเมีย). The headmaster is still chasing Nam Pheung for wedding but she still refuses. Nan invents that he saw them kissing. So Teut is upset by Nam Pheung and forces her one night treating her like a slave (นาย / ทาส). Theuan (Anchalee Chaisiri), sister of the deceased wife, still dreams of making Teut her husband. She receives a letter sent by Nan asking for help. While visiting his tea factory, Teut is injured at the head. Nam Pheung is acting as nurse. Theuan hasn't a good behavior (beer, smoking) compared to Nam Pheung. Theuan arranges to chase away the domestic helpers close to Nam Pheung and Nam Pheung herself. Theuan has to do the cooking and cleaning by herself as she has chased everybody out of the house and it turns to be a disaster. Teut misses Nam Pheung. Theuan wishes to go back to Bangkok. Finally Teut declares his love to Nam Pheung and Nan considers her as his new mother. The movie is ending too fast. Probably part of the movie end has been cut. The movie is lasting 1h43mn and this version is coming from a Vhs copy. A first movie version was released in year 1954 and Thai TV series were released in years 1989 and 2004. Following the success of romantic movie รักเอย, the movie producer used the two same main actors. The movie was shot in 9 days only.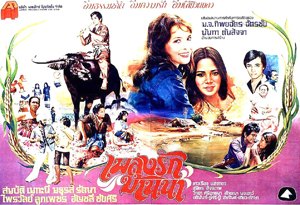 Year

: 1977



Thai title

:

เพลงรักบ้านนา




English title

:



Rating

: 3/5


Director

:



Main actor

: Sombat Methanee,Boo Wibunnan,Adinan Singhiran,Doo Dook Kradon


Main actress

: Chosri Misommon,Anchalee Chaisiri
Thai movie เพลงรักบ้านนา was released in year 1977. It features Sombat Methanee as main actor, มธุรส รัตนา and Anchalee Chaisiri as main new actresses. A four minutes trailer and a 1h30mn movie are still available. The full movie with 12 songs including 3 by Sombat is not available anymore. A partial version was released many years ago on Thai TV CH7 but in a shorter release with only one song featured. Other actors featuring in this movie are Boo Wibunnan, Adinan Singhiran, Doo Dook Kradon, Chosri Misommon. A young man (ไพรวัลย์ ลูกเพชร) from Suphanburi is sheltered in Sri Prai and her sister's home as he has nowhere to go but he has nice singing skills. Worrying he would seduce his two daughters, the father finally chases him. Duan (Sombat Methanee) rescues Sri Prai aggressed by ruffians. Romance between Duan and Sri Pai happens. The story is about two sisters coming from a rich family and who love two poor men to the despair of their father. Finally the two poor men help their future father in law as a businessman is trying to buy his land knowing that a road is going to be built soon. The two new actresses are Anchalee Chaisiri born in 1956 and มธุรส รัตนา born in 1957.
---