Increase or decrease font size for easier reading : A+ A-
Ananda Everingham
Ananda Everingham (1982) - อนันดา เอเวอริ่งแฮม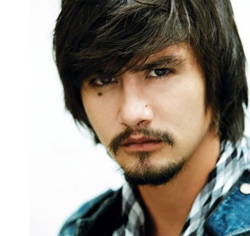 Ananda Everingham is a Laotian-Australian film actor who was born in Thailand. He is working primarily in Thai movies
This Ananda Everingham movie page contains 15 records.
---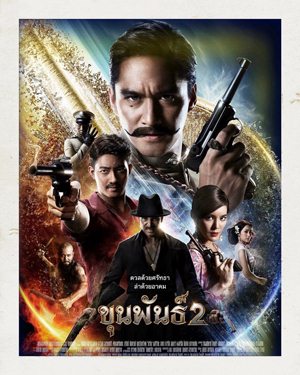 Year

: 2018



Thai title

:

ขุนพันธ์ 2




English title

:



Rating

: 4/5


Director

: Kongkiat Khomsiri



Main actor

: Ananda Everingham,Suchao Pongwilai,Pao Porapak


Main actress

:



Buy now

:

Thai movie ขุนพันธ์ 2 was released in year 2018 and lasts 2h05mn. Movie director is Kongkiat Khomsiri. The movie takes place during World War 2. Taking profit of ongoing confusion due to war, bandits (เสือ) are committing robberies all over Thailand. Police officer Khunphan (Ananda Everingham) and his men are on the way to neutralise a gang. They fall into an ambush and all of his men are shot. Local sub-district headman doesn't help Khunphan and his men. Khunphan cannot be killed by bullets as a monk made special tattoos for him. Through correct behaviour and prayers to Buddha, tattoos are effective. Seeing the sub-district headman's men keeping the money stolen by the bandits, a conflict happens and Khunphan has to shoot him. Following the death of all his men and the sub-district headman's death, Khunphan has to stop being a policeman for a while (พักราชการ). Suchao Pongwilai is head of police. Some ruffians perform a rampage in a village killing many targeted policemen. They belong to Seua Fai's group. Khunphan is checking why as the killed policemen are only small grade policemen. As Khunphan cannot help officially as he is no longer a policeman, he decides to infiltrate Seua Fai's group. Khunphan has to cut his moustache. Seua Fai is a famous ruffians' leader and his right hand is Seua Bai. Villagers protect them as they always redistribute money to them (นับถือโจร). A new police inspector (สารวัตร) Uui is nominated in Suphanburi. Phi Bai (อารักษ์ อมรศุภศิริ) steals money from Japanese train. They are captured by Japanese soldiers. Khunphan, by making himself invisible through incantations, helps Seua Bai and his men. Multiple bandits leaders (เสือ) are fighting each other as some enter politics. Khunphan follows Seua Bai and his men but they are not aware. Khunphan goes to Suphanburi and finally meets Seua Bai in a cafe owned by lady รัชวิน วงศ์วิริยะ. New police inspector Uui threatens them. Khunphan joins Seua Fai and robberies are performed. Through a special ceremony, they promise to support each other with Bai and Fai (พันเอกวันชนะ สวัสดี). Khunpan (ไอ้เสือบุตร) is part of the gang now (สายเลือดเดี่ยวกัน). Fai is shot in an ambush set up by Pao Porapak and survives. During a retaliation, a test for Khunphan is to kill policeman. He shoots him in the jaw. During an unfortunate accident, Uui gets seriously burnt and his body is disfigured. He is now wearing a mask and promises himself to get revenge towards Seua Fai and his men. Money redistribution is done towards poorer villagers. Khunphan gives the location of the camp to police head and asks him not to use strong force to catch them. Bai's girlfriend (อาภา ภาวิไล) is captured and used as bait to bring Bai and Khunphan. Khunphan has to disclose he is a policeman. Behind it is the disfigured policeman looking for revenge. Head of police is friends with Seua Fai. Seua Fai betrays Bai as he has no choice. He shoots both Bai and Khunphan. Through a Buddhist ceremony, bullets exit Bai's body. Bai accepts to help Khunphan. Policemen were killed as they discovered a business to transform land titles. Seua Fai is killed by disfigured policeman. He uses his skin tattooed as additional protection. Bai and Khunphan now need to neutralize the disfigured policeman. It is not over as Khunphan still needs to find proofs against the corrupted head of police...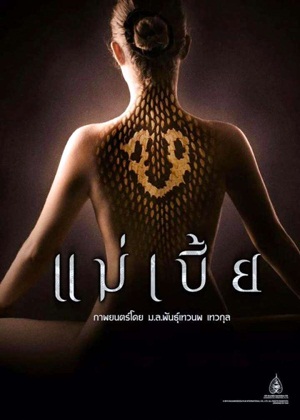 Year

: 2015



Thai title

:

แม่เบี้ย




English title

: Maebia



Rating

: 4/5


Director

: Pantewanop Tewakul



Main actor

: Shahkrit Yamnarm,Ananda Everingham,Kriengkrai Unhanan


Main actress

: Karnpithchar Katemanee



Buy now

:

Thai movie แม่เบี้ย was released in year 2015. It lasts 2h. Miss Thailand World 2009 second runner-up Karnpithchar "Oam" Katemanee was selected for the challenging role of Mekhala. Compared to previous versions in 1988 and 2001, this version is highlighted by a beautiful picture as usual with movies from director Pantewanop Tewakul and also an important dose of erotism with many love scenes. The elder brother khun Charachon (Shahkrit Yamnarm) wishes to buy an old house (เรือนโบราณ). The owner of the house is a beautiful lady called Mekhala. Charachon visits the house with his younger brother Prapoum. The house is showing traditional puppet events. While the elder brother enjoys the show and is attracted by the beautiful owner, the younger brother is having an affair with one of the dancers. Charachon wishes to meet Mae again. Charachon is married to Kaew and has a daughter. Mekhala is having a lover called Pot already but he dislikes a snake always around. Pot is the son of political party owner. Charachon wishes to have a diner with Mekhala but she prefers to organise it in her home... Pot cannot come that night as Mekhala is busy already. Pot sends some men to get rid of the snake (งูผี) but they die. Pot is also married. The snake ghost is jealous about men being close to Mekhala. Charachon has to meet again Mekhala as he fully attracted by her. While riddling on the river, they fall from the boat as the snake (งูเห่า) was about to attack. Charachon doesn't know how to swim. Charachon feels so well in Mekhala's old house that he forgets going home (ไม่เหมาะ) despite his wife waiting. The spirit has the appearance of a beautiful young lady at nighttime. Charachon has weird dreams and wishes to understand the significance. Charachon sees Mekhala talking to a big snake (ทีนี้ไม้ใช่ที่ของคุณ). They finally become lovers. Mekhala tells the story of the snake (คุณ), who was already protecting her mother. On his side, Charachon is an adoptive child. He doesn't know his biological parents. In the morning, while wandering with Mekhala, the cobra attacks Charachon again. Thanks to the spade (ดาบพิเศษ) given by Lung Tim, Charachon pushes back the snake. Lung Tim warns Charachon not to come back to this house. Pot is chased away by Mekhala as she has Charachon now. Aware of Charachon's outside activities with Mekhala, Charachon's wife, Kaew, asks her to stop taking her husband (แย่งผัวชาวบ้าน). Meanwhile Pot dies while trying to kill the snake. The house is damned (บ้านของบาป, บ้านมีกรรม) with lust and death. Charachon realises he is not the real son of Kriengkrai Unhanan. Perplex, he finds his own brother Prapoum in bed with his wife Kaew. Deceived by life, Charachon goes back to Mekhala's home knowing she is not here and knowing that death is waiting for him there. A few months later, Prapoum brings his new boss (Ananda Everingham) to visit Mekhala...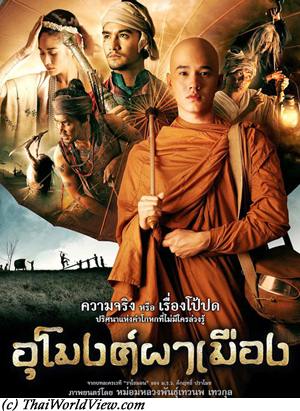 Year

: 2011



Thai title

:

อุโมงค์ผาเมือง นางยั่วสวาท




English title

: The Outrage



Rating

: 5/5


Director

: Pantewanop Tewakul



Main actor

: Ananda Everingham,Phongphat Wachirabanjong,Mum Jokmok,Dom Hetrakul,Mario Maurer


Main actress

: Chermarn Boonyasak



Buy now

:

A young monk Anoon goes to visit his father as wandering monk (พระธุดงค์). He recalls his life while walking home. He remembers his twin brother, Anan, whose wife died while delivering a baby. He wishes to disrobe (สึก) as he lost abilities to find answers to people regarding life. While wandering in the forest, he meets a noble couple on horse and palanquin. The husband is found later dead in the forest. Bandit Singkham is caught. Before being sentenced, he narrates the story. Bandit (โจรป้า) Singkham, seeing the beautiful lady in the palanquin, wishes to have her becoming his wife so he needs to get rid of the husband Khun Seuk (Ananda Everingham). He claims to have some golden swords to sell. It is a trick to knock out the husband and then kills all guards. He rapes her in front of the husband and she takes pleasure at it. He doesn't kill them but the lady complains the bandit doesn't give credit to their rank (เกียรติ). Singkham finally releases the husband and offers him a duel to avenge his honor. Despite being a strong swordsman, the husband is defeated by the smart forest bandit. During the trial, the wife also narrates her story. She was the daughter of a domestic servant. Khun Seuk was fond of her because of her beauty and married her four years ago. Following the rape, Khun Seuk desigrates his wife. She is no longer worth causing her heart to broken as she is not responsible of this event. Did she kill her own husband as she claims? The tribunal uses a medium to know the truth from the spirit (ผี). Khun Seuk's wife asks bandit Singkham to take her with him and to kill Khun Seuk also (ใจดำ). Singkham refuses to do so. The wife flees. Singkham releases Khun Seuk but he cannot stop crying knowing his wife treachery. He finally kills himself. Who is telling the truth? A domestic helper Prasok passing by during the event finally tells the truth. The wife denigrates Singkham refusing to go either him or glare him. To proof his worthiness, the wife Sampai asks him to defeat Khun Seuk in a fight. Khun Seuk refuses to fight with Singkham as it is below his status. He complains his wife still remains a low level woman (ลูกคนครัว) as she accepted the rape instead of killing herself avoid him to lose face (ขายหน้า). Sampai remains alone as both men refuse to take her anymore. Both of them are not real men (ไม่ใช่ลูกผู้ชาย). Following a duel, Khun Seuk impales himself. The one getting the blade was Prasok himself to sell it to get money for his poor family. Prasok and the beggar teach the young monk a lot on humanity. The young monk finally stays in the monkhood. Movie "Kon Khon" (คนโขน) was Thailand's submission to 2012 Academy Awards. It was a controversial choice because of lack of critical acclaim and box-office success. Movie อุโมงค์ผาเมือง นางยั่วสวาท / The Outrage was not chosen as it is a remake of Akira Kurosawa's award-winning "Rashomon" (1950). "Rashomon" was translated into Thai by the statesman MR Kukrit Pramoj. The movie includes Buddhist themes related to jealousy, greed for women or for jewels, lies, human behaving like animal (สัตว์), hatred, ire, lie, lazy, simulation, cowardliness, weakness towards women cries, death, unhappiness (ความทุกข์), status of high people (ผู้ดี). Greed causes to lose finally everything.



Year

: 2010



Thai title

:

ชั่วฟ้าดินสลาย




English title

: Eternity



Rating

: 5/5


Director

: Pantewanop Tewakul



Main actor

: Ananda Everingham


Main actress

: Chermarn Boonyasak



Buy now

:

The story is taking place in an old palace close to Burma. The Northern house offers a beautiful setting for the shooting. It is based on Malai Choopinij's classic 1943 novel. A visitor is coming and hears a very sad human crying at nighttime. It is an old man, who is crying in front of a grave. The intendant of the palace tells the visitor about the sad story behind. In 1933 Sammong, stepson of the the palace owner, was back from studies done abroad. His father was Nai Hang. Nai Hang met Yupadee, a beautiful sexy modern and independent young lady and they finally married. She met Sammong. Yupadee loved freedom, always spoke directly and without any taboo. She didn't want to be linked by any ties to Thai society. She gave Sammong books "doll house" and "the prophet" that reflected her mindset. Sammong was still single and never had any girlfriend. He enjoyed the nature only. Yupadee always teased him. They started to be closer and closer (สนิท). Nai Hang realized this. He invited some important guests, who had an eighteen years old daughter, Panthip. Yupadee was expert at creating jealousy in Sammong's heart to test his love. The mother tried to push Panthip towards Sammong's heart but Panthip had already a love in her heart (ต้องใช้ชีวิตของนตัวเอง). Sammong caught a malaria fever (ไข้ป้า) but Yupadee took care about him and even wiped his body (อย่าบังคับความรู้สึกของตัวเอง). Nai Hang needed to go to the city to arrange for Sammong's wedding. Yupadee simulated to be pregnant to avoid going with him so that she could stay. At the waterfall she teased Sammong utmost so that they finally became lovers (ชู้). Sammong had become lover with his stepfather's wife (เป็นเวรเป็นกรรม). They couldn't stand to be separated anymore and always hid. Intendant Thip and servants were aware of their relationship. Nai Hang refused to believe this extramarital story or maybe expected that Sammong's own wedding would put back everything to normal. Nai Hang went for a trip again but came back at nighttime to find the lovers. They promised to each other not to be separated until end of eternity (ชั่วฟ้าดินสลาย). Nai Hang summoned them and put them a chain linking them. It was his bad karma that his wife and son loved each other. Due to the chain the love was slowly becoming hate as they were chained together all the time. Nai Hang refused to forgive as they had done a big sin. They tried to flee but it failed as Yupadee was afraid that Sammong would dump her once they were free. Love had become hatred. Nai Hang refused to give the chain key but gave one pistol. Yupadee was now pregnant. Sammong wished to kill himself so that Nai Hang forgave Yupadee and took care of his child. But finally Yupadee shot herself. Sammong became crazy and cries every night on Yupadee's grave. A director's cut running for 3 hours and 10 minutes, one hour longer than the theatrical version, was released end of 2010. Two other Thai movies based on the same story were done in 1956 and 1980.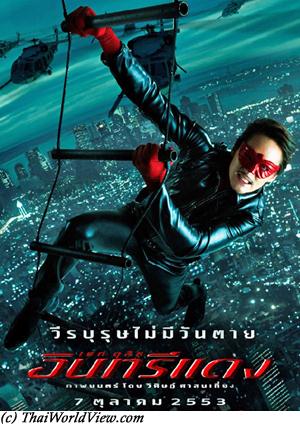 Year

: 2010



Thai title

:

อินทรีแดง




English title

: The Red Eagle



Rating

: 5/5


Director

: Wisit Sasanatieng



Main actor

: Ananda Everingham


Main actress

:



Buy now

:

In 2013 a nuclear plant construction is ongoing in Chumphon. Elections will happen soon. The candidate to be prime minister promises to stop the plant. The Thai society is getting worst and worst with many aggression and drug trafficking. As government cannot stop this, it is time for citizen to handle by themselves. Three years have passed. The nuclear plant construction is almost finished and nuclear opponents have been chased away. Young lady Wassana tries to convince her former boyfriend, now prime minister, to do something but he refuses. He argues that destruction of country side (เสียสละ) is needed for the welfare of the whole country (ประโยชน์ชาติ). He also acknowledges that he lied to be elected. Meanwhile police is investigating on a mysterious man called "Insee Daeng" as a group of drug dealers have been found violently butchered. Insee Daeng also enters in a senator house and kills him violently. The senator was always bringing underage girls to his home. If the Thai police and the law cannot perform properly their duty, then Insee Daeng will have to intervene. Insee Daeng is a modern justiciary hero fighting against corrupted men. A policeman called Chat wishes to catch him. Rom, young man, is "Insee Daeng". He got a bullet in the brain and needs to take morphine often to ease the pain. Wassana knows him as she helped him to escape before. A mysterious organisation, a group of masked men (การเมืองเลว), want to get rid of Insee Daeng and recruits a dangerous assassin to kill him. Chat, the policeman, is assigned to protect a corrupted businessman. It turns bad in a nightclub. There is impressive shooting in Bangkok, dark and modern city and an epic fight with the assassin on a billboard and inside a department store. On top of this Chat and SAWT forces are chasing him. The corrupted prime minister, who got his campaign paid by the nuclear plant company, needs to prevent any stop of the construction by getting rid of the opponents to the project including his former girlfriend Wassana. Rom and Chat know each other as Rom was previously a policeman but Chat is unaware that Rom and Insee Daeng are the same man. A team of bikers try to kill Wassana but Insee Daeng helps her on time. The prime minister is the head of the cabal. Despite being a violent gory bloody and modern movie, there are still funny moments such as the car chases between a taxi and ice cream motorbike. He needs to finish the job against the Prime Minister and get rid of the punisher (ปีศาจดำ). Through an epic final the punisher is defeated. In Chumphon, the peaceful demonstration is crushed by the police. Wassana is in danger. Can Insee Daeng help her on time? This movie got disillusions at box office with only 13M baht. It was released on October 07 2010, one day before the 40th anniversary of the death of Mitr Chaibancha following the tragic deadly accident in Golden Eagle (อินทรีทอง) movie. It is still unlikely if the second part of the movie will be produced. Wisit Sasanatieng had issues when directing the film as he had to juggle between his artistic wishes and the commercial producer wishes. Some contemporary political elements could easily be interpreted as the movie casts politicians as the villains.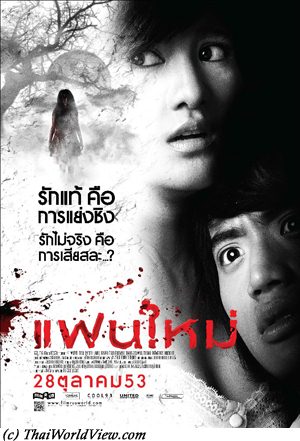 Year

: 2010



Thai title

:

แฟนใหม่




English title

: Fan Mai



Rating

: 4/5


Director

: Piyaphan Chuphet



Main actor

: Pete Thongjure,Ananda Everingham


Main actress

:



Buy now

:

A young lady called Sree sees her boyfriend Oof going to cinema with another girl called Ying. Oof is a rich young playboy and also a liar. Hearing Oof speaking to Sree that she has no value for him, Ying, sad and disappointed, gets suicide. Oof and Sree start to have many frightening visions and see Ying ghost. Mo, Sree's sister, helps her to find a role in a horror movie. The film producer (played by Pete Thongjure) likes Sree a lot. Meanwhile Oof still tries to resume relationship with Sree as he feels lonely. To have a break, Mo brings Sree and her friends on a remote island accessible by a ferry carrying cars. The horror movie will be shot there. A bad omen is welcoming them as police is just extracting a dead body from the sea. Their hotel resort is quite empty as it is low season. The film producer is also the owner of the resort. The friends leave the hotel after seeing a ghost at nighttime. Going back, they inform Sree that they read in a newspaper that Oof jumps to his death from a building! Once the movie is shot, a romance starts between Sree and the film producer. Back to her room, Oof is waiting for her. They have arguments as Sree was in fact the one having pushed Ying from the roof. It was not a suicide. But Oof didn't stop or prevent Sree to push Ying. Following a fight, Sree stabs Oof. When her sister is back to the room, Sree also kills her. Sree always had animosity against her beloved sister as she loves stealing things from her such as her doll many years ago or recently the resort owner... Having another ghostly vision, she stabs the resort owner trying to help her. While putting the bodies inside a big hole, she falls inside due to the sloppy soil caused by heavy rain. She gets crushed by a spirit house. Ananda Everingham appears after the credits. He was a former boyfriend of Sree. The same director made the movie "My Ex" (แฟนเก่า) in 2009 related also to a former girlfriend coming from grave and looking for revenge.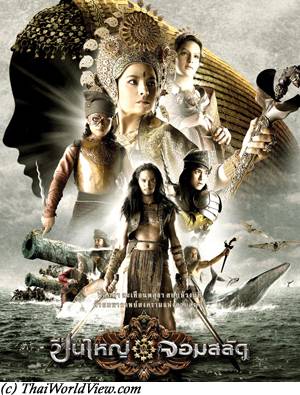 Year

: 2008



Thai title

:

ปืนใหญ่จอมสลัด




English title

: Queens of Langkasuka



Rating

: 3/5


Director

: Nonzee Nimitbut



Main actor

: Ananda Everingham,Jesdaporn Pholdee,Sorapong Chatree,Vinai Kraibutr


Main actress

: Jarunee Sooksawad



Buy now

:

Langkasuka is a small kingdom in South of thailand during Ayuthaya period. A Queen is managing the city as the King of Langkasuka was assassinated. The Queen is under threat as several assassination tentatives are performed. She wants her daughter to marry the Prince of Pahang to get more protection for Langkasuka city. Her daughter is not willing to marry the Prince of Pahang but finally accepts. Langkasuka is under threat and the Queen is looking for big cannons to protect the city. Pari is a young skilled man that has been trained since his chilhood in order to swim fast under the sea, to able to breathe under the sea and listen to noise under the sea. With local villagers, he has to often confront pirate boats. In their village a Chinese cannon expert is living. One day, all villagers are killed by Black Raven pirates who kidnap the Queen's daughters coming to convince the Chinese expert to make cannons for Langkasuka city. Pari, whose wife has been killed, follows the pirates and help to free the Queen's daughters. Pari and one daughter are separated from the group and then rescued by Master White Ray, who teachs him some black magic and to be able control sea creatures. The master has a white and black personalities. Black Raven pirates succeeds to make cannons and through an alliance with other local kings decide to take over Langkasuka. A Langkasuka soldiers team tries to destroy the cannons but fails. The Master, under his black personality, helps the pirates to retrieve a big cannon under the sea to destroy Langkasuka. Hopefully the intervention of Pari will be decisive during the battle.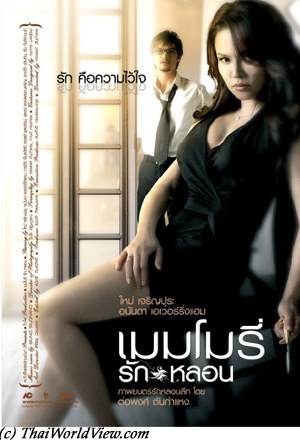 Year

: 2008



Thai title

:

เมมโมรี่ รักหลอน




English title

: Memory Love Haunt



Rating

: 4/5


Director

:



Main actor

: Ananda Everingham


Main actress

: Mai Charoeunpura



Buy now

:

A policeman calls his friend and doctor Krit (Ananda Everingham) to investigate on a weird case. Prae, 8 years old girl, claims she can see ghosts. One ghost is always frightening her but her mother, Ingorn (Mai Charoeunpura) believes it is only dreams that will disappear. Krit is specialized in difficult cases and psychic issues. He is puzzled by the bruises on Prae body. The doctor has lost his daughter before also and sometimes indulge in alcohol. He doesn't talk a lot to his wife being focus only on his job. Ingorn doesn't bring her daughter to school to avoid remarks on her daughter madness. She has quit her husband before as he was very violent. The doctor is worried Prae could hurt herself. He visits her at her home. She has scars on the face. When she does a drawing, there is Prae and her mother but also another small child in the house. The doctor starts to have visions also, seeing Ingorn face instead of his wife face. He is seeing a child being smashed by a car. He starts to be very close to Ingorn and Prae. He has finally a relationship with Ingorn. It seems that Ingorn has a relationship problem with men and she forbids her daughter to see any boy. Her own problems reflects in her daughter problems. The doctor decides to bring Prae to the hospital but Ingorn poisons him before. His wife quits Krit. Krit finds Ingorn again. Krit is really wishing to help Ingorn but she refuses any help and doesn't trust anybody. Up to the point, she prefers to die instead of having somebody else taking care of her daughter. Main actress is famous Thai pop singer Mai Charoeunpura.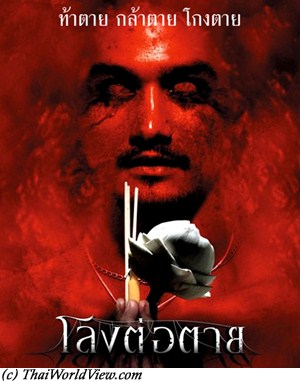 Year

: 2008



Thai title

:

โลงต่อตาย




English title

: The Coffin



Rating

: 3/5


Director

: Ekachai Uekrongtham



Main actor

: Ananda Everingham,Suchao Pongwilai


Main actress

: Karen Mok,Tasawan Saneewong



Buy now

:

This movie is inspired by the Thai Buddhist ritual of lying in coffins to get rid of bad luck (นอนโลงให้โชค). A young Thai man, Chris, and a young Hong Kong woman, Sue, decide to go through this ritual. Chris does it in the hope of saving his Japanese fiancee who is dying of terminal cancer. Sue does it to save her own life after being diagnosed with a brain tumor one week before her wedding with Jack. After the ritual, Chris and Sue experience some miracles in their respective lives. Soon they find themselves confronted by a series of scary events. Chris always see a woman and her baby. She is his ex-girlfriend who died along with her child. Sue learns that her fiancee is dead and gets haunted by him. Sue consults an expert in the paranormal and later Chris to try to solve her supernatural difficulties. Chris and Sue decide to go again a last time through the ritual to reverse the wheel of Karma...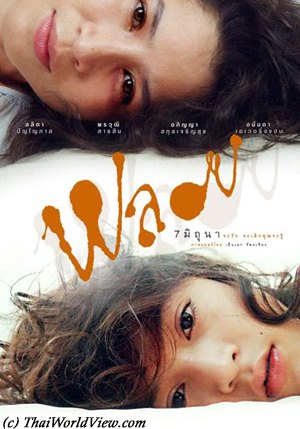 Year

: 2007



Thai title

:

พลอย




English title

: Ploy



Rating

: 3/5


Director

: Pen-Ek Ratanaruang



Main actor

: Ananda Everingham


Main actress

: Lalita Panyopas



Buy now

:

Wit comes from America with his wife Daeng (Lalita Panyopas) for funerals. He has been living there for 10 years. Daeng finds a paper with a phone number related to a lady called Noi in Wit's pocket. He meets a young 19 years old teen girl called Ploy at the hotel coffee shop and invites her to rest in his room while waiting 4 hours for her mother. She has a black eye. A mysterious hotel maid taking good care of a suit. Daeng disagrees to let Ploy stay in their hotel room but doesn't dare to tell her frankly. The hotel barman (Ananda Everingham) wears the suit. He meets the maid in a hotel bathroom. They made love in the room. There is contrast between this new relationship and jealousy happening between Daeng and Wit regarding Ploy. While Wit is sleeping, Daeng tries to suffocate Ploy and kills her. Meanwhile a lady called Noi knocks at the door with a child. Everything was a dream. Daeng argues with Wit about his feelings as he is always busy at the restaurant or watching football late with his friend. Wit refuses to explain who is Noi. Daeng leaves the hotel room. Discussions about end of relationship love happen between Wit and Ploy. Daeng indulges in alcohol as she is a former Thai actress. She stopped acting 10 years ago. She follows a man claiming to be a former fan. Some parts might be dream or reality. The movie keeps the ambiguity. She follows him until his warehouse home. She starts to be worried. She cannot contact Wit as he has gone out with Ploy. The man drugs Daeng, starts to be more daring and tries to rape her. Wit is worried about Daeng (อย่าทิ้งพี่นะ). In the morning, Daeng flees but the man gets a gun to chase her. Following a fight, a gun shot is heard. Who gets shot? Finally Daeng arrives on time for the funeral and Wit confirms his love for Daeng. Ploy (พลอย) is a 2007 movie directed by Pen-Ek Ratanaruang. It mixes love, couple crisis and expiration of relationship.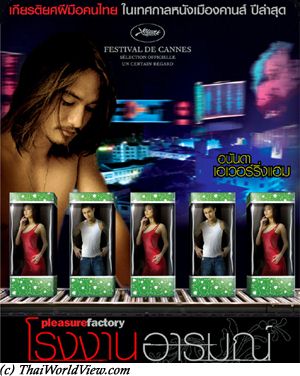 Year

: 2007



Thai title

:

โรงงานอารมณ์




English title

: Pleasure Factory



Rating

: 4/5


Director

: Ekachai Uekrongtham



Main actor

: Ananda Everingham


Main actress

:



Buy now

:

This Singaporean-Thai docudrama was shot in 2 weeks in red district Singapore Geylang. It is about two groups of people, the pleasure seekers and the pleasure providers and how their lives cross and interact. Three stories take place in parallel. In first story, two friends come together to brothel but one of them is too shy to select and go with a girl. His friend pushes him to get some experience as first time initiation. Finally he chooses a girl from Mainland China. He enquiries why she has to do such job. Her father died so she needs to support her home. Both are crying. Will she see him again? A girl shall not love her customer. In the second story, a man follow up a young girl to a hotel room. The girl is joining an older woman, who is already with a customer. It is related to initiation of the young girl as a prostitute. She discovers the brutaly of the job but gets some support from the older jaded woman. There is a temporary communion between the man and the two ladies. The jad woman listens to love songs as love is not possible for her and cries. The man brings the young girl home but the wallet is still the transactional basis. In third story, one girl has a rich patron but she is not happy. She finally brings a young guy, making his living by singing songs in the streets, with her. Both of them are drop-outs. She always gives pleasure but this time she receives. In the old days, the Geylang area used to be populated by processing factories for the coconut plantations. These days, the machines are still running at full steam but producing pleasure for those seeking it, night after night. What would happen if the pleasure factory stops and if humans stop being pleasure seeking / giving machines? Due to censure, two minutes were cut.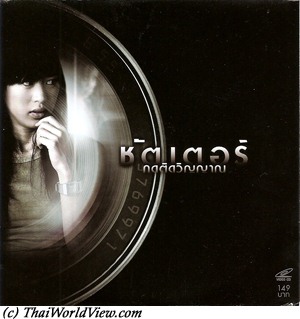 Year

: 2004



Thai title

:

ชัตเตอร์ กดติดวิญญาณ




English title

: Shutter



Rating

: 4/5


Director

: Parkpoom Wongpoom



Main actor

: Ananda Everingham


Main actress

:



Buy now

:

A young photographer, Thun, and his girlfriend, Jane, accidentally crash a young woman with their car on their way back from a party. They decide to leave the dead woman and drive away. They start discovering mysterious shadows in their photographs. As they investigate the phenomenon, they find other photographs contain similar supernatural images linked to the young woman. Thun's best friends are also being haunted and Jane discovers that her boyfriend has not told her everything... Shutter was Thailand's Number One local box hit for 2004. A Hollywood remake of Shutter was done in 2008. The Culture Ministry registers 25 Thai classic films each year at the National Film Heritage Registry. This movie is part of the 25 films heritage list announced on 04 October 2015, which is Thai Movies Conservation Day.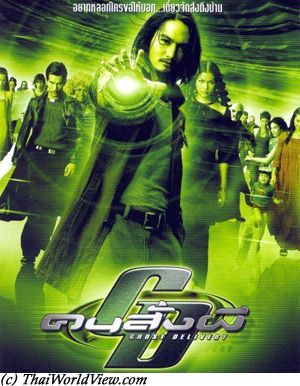 Year

: 2003



Thai title

:

คนสั่งผี




English title

: Ghost delivery



Rating

: 2/5


Director

:



Main actor

: Ananda Everingham


Main actress

:
A young man called Piroyan has set up a worldwide collection of ghosts for specified jobs. When you want to haunt someone, just tell his company and they'll deliver ghosts! This movie shows a modern revision of traditional ghosts, i.e. Kuman Thong (กุมารทอง), Kraseu (ผีกระสือ), Phop (ผีปอบ)... Ghosts are beautiful and wear modern clothes. Kuman Thong wears a superman tee-shirt! A new boss takes over the ghost company Ghostkey.com A lady ghost is helping Piroyan and a love story happens between them. Hopefully Piroyan can use a mysterious ghost book to neutralize the evil ghosts.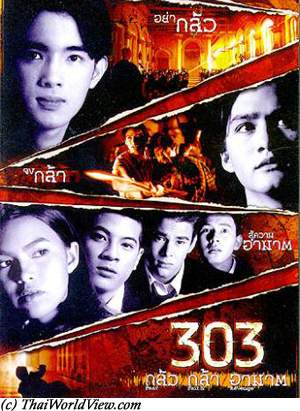 Year

: 1998



Thai title

:

303 กลัว กล้า อาฆาต




English title

: 303 Fear Faith Revenge



Rating

: 3/5


Director

:



Main actor

: Ananda Everingham,Jesdaporn Pholdee,Suchao Pongwilai


Main actress

:
In 2503, it is the start of the new school year at St George School. All young boys are from rich noble families (ผู้ดี) except one poor boy, Chaiden, from North of Thailand. He needs to help cleaning the church. There are strong rules and hazing. Chaiden and 4 teens from the same room declare friendship. By checking old school pictures, they found that a former student, Mum Rachawong, who was a model of excellence, kills himself in 2495. Nobody neither wants to know more, neither wants to speak to them more on this topic. They become friend with Nam Khaeng, young daughter of the director. They decide to call Mum Rachawong's spirit (วิญญาณ) to know the truth through an occult ceremony. They learn he was killed. The students decide to enquiry to know the truth. The 2495 school record miss many signatures. Weird crimes start to happen. One student dies by falling from balcony. A second student dies by electrocution in shower room. The main priest (หลวงพ่อ) would like all students to exit the school but the bad weather prevents it. A third student dies killed by a spade. Sisamut, one of the teen, is always afraid, weak, always follow orders and is the other teens' black sheep. Chaiden and two friends are arrested due to Sisamut's delation. Murders continue. Nam Khaeng has disappeared. Sisamut performs killings in the school as a revenge of being others' black sheep. Sisamut is possessed by a ghost who already committed a killing rampage a few years ago as the school management, including the main priest, was pushing for student hard selection and elite perfection. During this rampage many teens were killed including Mum Rachawong. Chaiden and his friends help to release Nam Khaeng just in time and succeed to defeat the ghost thanks to Mum Rachawong's supernatural help. A new management team now rules St George school. There is no more forced hazing.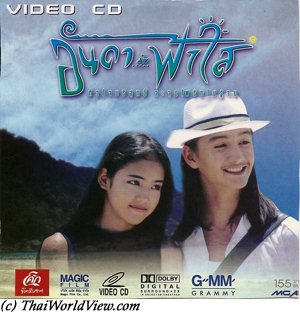 Year

: 1997



Thai title

:

อันดากับฟ้าใส




English title

: Anda and Fasai



Rating

: 3/5


Director

: Pantewanop Tewakul



Main actor

: Ananda Everingham,Phongphat Wachirabanjong,Shahkrit Yamnarm,Krung Srivilai


Main actress

: Sinjai Hongthai,Aranya Namwong
It is about first love between two teens. Their parents claim they shall not follow a first and sudden feeling. Despite their bad parents example who apply for themselves the opposite, they decide to help their parents to find happiness first. It features very nice shooting in South Thailand beaches.
---