Increase or decrease font size for easier reading : A+ A-
Amphol Lumpoon
Amphol Lumpoon (1963) - อำพล ลำพูน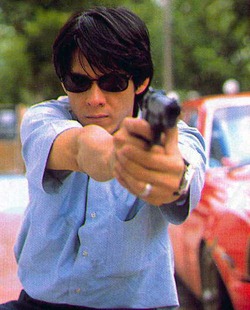 The former rocker turned screen star Amphol Lumpoon has already received three Best Actor Awards
This Amphol Lumpoon movie page contains 9 records.
---



Year

: 2004



Thai title

:

102 ปิดกุรงเทพปล้น




English title

: Bangkok Robbery



Rating

: 3/5


Director

: Thanit Jitnukul



Main actor

: Chatchai Plengpanich,Amphol Lumpoon


Main actress

:



Buy now

:

The Thai Government's declaration to settle debts with the IMF inspires a powerful secret organization to plan a robbery of the national properties. Leader Nawin, a former experienced soldier, heads up the mission, and must go head-to-head with talented undercover detective Pakorn, who's bidding to halt Nawin and his team. Both men have just 102 hours to successfully complete their respective missions.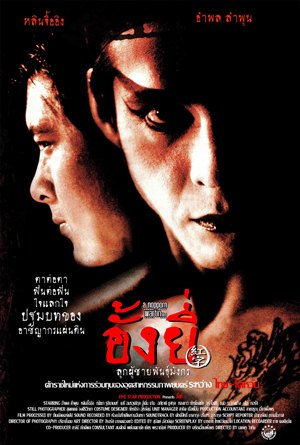 Year

: 2000



Thai title

:

อั้งยี่ ลูกผู้ชายพันธุ์มังกร




English title

: Ang Yee



Rating

: 4/5


Director

: นพพร วาทิน



Main actor

: Amphol Lumpoon,Jimmy Lin


Main actress

: Juree Osiri



Buy now

:

Thai movie อั้งยี่ ลูกผู้ชายพันธุ์มังกร / Ang Yee was released in year 2000 and lasts 1h53mn. It was released under VCD and DVD format. A remastered version was released by Five Star Production in the decade 2010s and shown on Thai TV cable. This movie takes place in 1937 in the Thai Chinese community. Two Chinese secret societies are confronting each other. This violent and bloody movie is a Taiwanese – Thai cinematographic cooperation. Leng (Amphol Lumpoon), a triad disguised as a Chinese opera performer, kills a prominent member of Tang clan and his men but he is severely injured. Hong (ฌัชชา รุจินานนท์), a young lady, impressed by his fighting skills, helps him as he is about to die. Her grandmother (Juree Osiri) is reluctant but accepts to help. Aware, her brother Howe (Jimmy Lin - Taiwanese actor) wishes to chase him away as he is afraid of the impacts on his family. Tang members are looking for Leng. Leng's boss is cruel and wishes to get rid of him also as he is afraid he will take his place one day. The boss (อภิชาติ ชูสกุล) empowers Tua Tao (ทองขาว ภัทรโชคชัย) to find virgins for him. Chaba likes Howe. Joong (เมธี อมรวุฒิกุล), a member of the Tang clan, likes Chaba also. While visiting his friend Howe, Joong meets Leng. Fighting erupts and Leng is defeated as he is still injured. Joong lets him go as Hong begs him. The boss and Tua Tao are disappointed that Leng is still alive. Hong visits Leng to give him back a jade pendant. Tua Tao is now aware about Hong. Tua Tao follows Hong and captures her for his boss. Grandma is killed while trying to protect her. Leng succeeds to release Hong but Howe is upset and considers Leng as responsible. Howe joins the Tang clan in order to avenge his grandmother. Despite promising to his grandmother not to become a ruffian, he becomes a fierceful clan member and attacks the triad. Fightings happen between the two groups. Leng spares Howe and Joong's lives. The boss, being aware, orders Leng to be beheaded. The other clan members led by Kiu oppose so the boss has to retract. Leng injures himself to recognize his failure. The boss orders Kui to be killed and Tua Tao tries to kill Leng. Leng, seriously injured, falls in the river and disappears. He becomes a beggar. Meanwhile Howe refuses to quit the Tang clan despite Hong's request. Howe and Joong find Leng and bring him back to their home. Together they decide to get revenge over the three men leading the triad clan. Leng promises to Hong to quit the triad once his revenge is over. Tua Tao and the third leader are killed but the triad leader is more skilled. Heavy fighting occurs between the leader, Leng, Howe and Joong. Howe and Joong die. Leng defeats the leader but he is seriously injured. He dies in Hong's arms, waiting for him at the train station.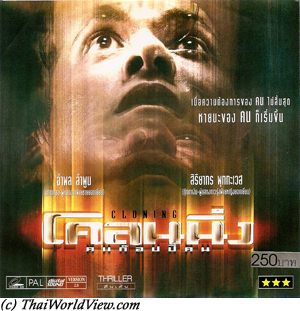 Year

: 1999



Thai title

:

โคลนนิ่ง คนก๊อปปี้คน




English title

: Cloning



Rating

: 3/5


Director

:



Main actor

: Amphol Lumpoon


Main actress

: Siriyakorn Pukkaves



Buy now

:

Niwat is a software engineer. During an exposition, he is hurt and sent to hospital. The doctor keeps a blood sample as he is secretly working on cloning. Thanks to a foreign professor, they succeed to clone humans. The experience goes wrong and Niwat's clone succeeds to escape. A bad businessman is also trying to catch the clone. The clone tries to get rid of Niwat and threatens Niwat's girlfriend. Will Niwat overcome his clone?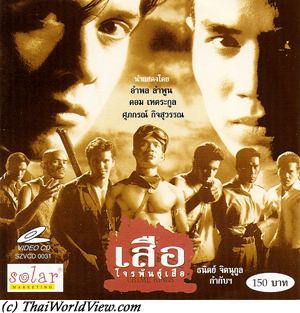 Year

: 1998



Thai title

:

เสือ โจรพันธุ์เสือ




English title

: Crime King



Rating

: 4/5


Director

: Thanit Jitnukul



Main actor

: Amphol Lumpoon


Main actress

:



Buy now

:

Thai movie เสือ โจรพันธุ์เสือ / Crime King was released in year 1998. It lasts 2h04mn. Just after World War II, many gangs were active in Thailand. One gang led by Seua Bai (เสือใบ) was robbing rich bad men to redistribute their money to poor peasants. This movie is based on a real story. This movie deals about the police chase towards Seua Bai and his gang. The former rocker turned screen star Amphol Lumpoon received a Best Actor Award for this movie. Thai Police has to catch Seua Bai (Amphol Lumpoon) and his team within 6 months. Two of his men steal villagers' money to gamble. They have to be punished. His girlfriend Lai wishes Bai to stop being given a robber and asks for their forgiveness. Police tries to locate Seu Bai and his team. Villagers don't speak as Seua Bai supports poor people. Fighting is happening in a gambling den as his men (ลูกน้อง) misbehave. Seua Bai is a smart robber so police fails to catch him. Soldiers attack a village, where they believe Seua Bai and his men are hiding during day time. Police and soldiers know the place as two members of Seua Bai's team disclosed the exact location against money. Seua Bai wishes to take revenge but he falls in a trap. During the fightings, Lai is killed. Seua Bai is finally captured while paying respect to Lai's funeral urn. Following the 1932 Thai revolution which transformed the government from an absolute to a constitutional monarchy, some people were unhappy to lose power. Some people wished to kill Bai as he was an Oxford erudite but they killed his wife instead. Bai had to become a thief to protect citizen against people abusing power. Seua Bai's teammates succeed to release him from prison following a daring escape. Seua Bai flees with Phi Bun to the South in Betong area. He tries to have a normal life but the family, who shelters him, faces issues with a local kingpin. Boolong, Phi Bun's girlfriend, is killed. Revenge is needed. Police ask Seu Bai to surrender but he doesn't want to give up as all his friends are dead...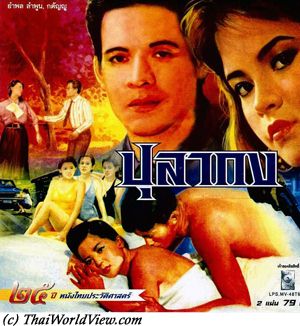 Year

: 1989



Thai title

:

ปุลากง




English title

: Pulakong



Rating

: 3/5


Director

:



Main actor

: Amphol Lumpoon,Ruj Ronnapop


Main actress

:



Buy now

:

Khaem (เข้ม)(Amphol Lumpoon) is playing in an underground casino (บ่อนพนัน). He is a young man coming from a good family. His father has never time to take care about him as he is busy with his factory. The father is worried about his family name as Police often raids casinos but Khaem has no choice to find money (ไม่มีทางเลือก). The father is divorced. Khaem decides to go his own way and wishes to be a policeman. He has a good personality (บริสุทธิ์ทั้งใจทั้งกาย). Khaem is a new policeman (ผู้กองใหม่ ) sent in far South. He meets Toon (ตุ่น), who is a female teacher (ครู) in south of Thailand. Toon and Khaem know each other since childhood. Toon has come to far South of Thailand as she likes countryside life (ชีวิตบ้านนอก) despite harsh life (no electricity at night time, robbers). They were both sent to Pulakong (ปุลากง), which is a remote district in South of Thailand, where villagers are muslim and mainly speak Malaysian. Teacher Toon is helping the village to develop. She helps to resolve villagers problems. There is reminder that they are all Thai whatever the religion they follow. There are many robbers (โจร) and ruffians in the far south (คนร้ายไม่ชอบคนดี, สัตว์นรก). The teacher helps a robber Saliman but it turns bad. Hopefully Khaem can help on time. Saliman loves Noon also. He changes his behavior (เปลี่ยนตัวให้มีค่าสำหรับสังคม) but Toon sees him as a friend only. Khaem and Toon have love for each other but none dares to speak the first. A drama happens in the village. Toon's best Muslim friend suicides herself after an unwanted pregnancy with a Buddhist teacher. Shocked she decides to go back to Bangkok. Meanwhile Khaem is injured at the border. He is cured in Bangkok and a personal nurse is taking care of him. Believing there is no possible love with Khaem, Toon goes back to south of Thailand. Khaem follows her there and declared her love to her. This romance movie includes a few themes related to South of Thailand (different religion but same nation, help to local development, living in harmony), to people redemption (Saliman the robber can become a good man), to the family (parents to give time to their children).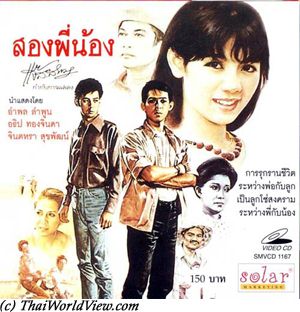 Year

: 1985



Thai title

:

สองพี่น้อง




English title

:



Rating

: 4/5


Director

:



Main actor

: Amphol Lumpoon,Chana Sriubon


Main actress

: Mayurachath Muarnprasitivej,Pissamai Wilaisak,Jintara Sookkapat
Ken's mother left early when he was a baby as she has a mysterious decease. Even the father doesn't know the real reason. The father marries again and has another boy called Ann (Amphol Lumpoon). Growing up, there is always animosity between Ann and Ken. Ann believes their father loves Ken much more than him. Having hot and bad temper, it creates jealously up to the point Ann hits Ken. Willing to clarify with Ann, the father chases him and has a serious car accident. He is disabled. A friend doctor sends his fresh graduate daughter Bin Kaew (Jintara Sookkapat) to help for his recovery. The father is the head of a big farm. Being disabled, the intendant Tiu needs to replace him. The father is strong and strict with his son Ann. The father does not forgive his son's past mistakes. One brother is doing everything good. One brother is doing everything bad. Ken has difficulty to live without knowing why his mother left many years ago. A love story starts between Ann and Bin Kaew. Ann discovers that every month Tiu is going in a remote area in the mountains. Puzzled, he follows secretly Tiu and finds he brings food to a lady. This lady is Ken's mother. She has leprosy disease so hides her-self since 20 years. She is ashamed and doesn't want anybody to know she is still alive. Thinking doing good, Ann brings Ken to see his mother. Ken has still in mind his beautiful mother picture. He cannot stand the vision of his mother aged and disfigured by the leprosy. He flees away. Nobody knows where he is. A few days later, he decides to go to see his mother again but she has commited suicide already disappointed by her son rejection. Ann and Bin Kaew finds Ken on top of the mountain trying to suicide. Unfortunately despite Ann's desperate efforts, Ken falls from the cliff and dies. Ann brings Ken's body to his father and this one has an hemorrhage in the brain. On his bed, before dying, he forgives to his son Ann so that Ann can move forward in his life and not be eaten by remorses.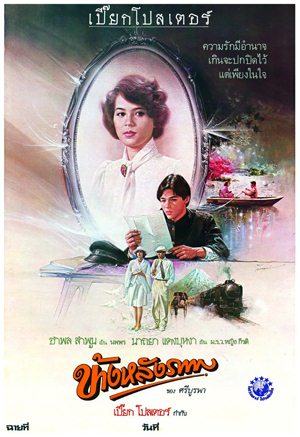 Year

: 1984



Thai title

:

ข้างหลังภาพ




English title

: Behind the Painting



Rating

: 3/5


Director

: Piak Poster



Main actor

: Amphol Lumpoon


Main actress

: Nardtaya DaengBunga
This movie is about the impossible love between a young man and a married woman older than him. The action takes place in Japan. The movie highlights the restricted existence of unmarried women and the pressure for them to marry, whatever the circumstances. This movie is based on a romantic novel written by Kulap Saipradit (กุหลาบ สายประดิษฐ์). Behind the Painting is widely regarded as one of the best-written novels in the Thai language.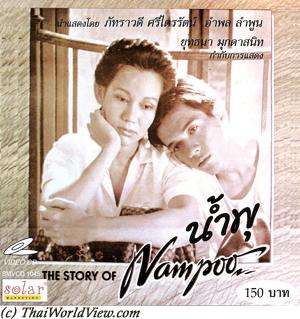 Year

: 1984



Thai title

:

น้ำพุ




English title

: The story of Nampoo



Rating

: 4/5


Director

: Euthana Mukdasanit



Main actor

: Amphol Lumpoon,Suchao Pongwilai


Main actress

:



Buy now

:

It deals about a young man entering the drug realm and his lapse until death. It is a real-life story of a teenage heroin addict, who is neglected by his middle-class parents. The former rocker turned screen star Ampol Lumpoon received Best Actor Awards for this movie. In 1984, Ampol Lumpoon snatched Best Actor award at The First Southeast Asian Film Festival for his role as a drug-addicted teenager. He eventually made his name known in 1984 with Namphoo, which broke the blockbuster record held by the classic Phlae Kao and made Bt17 million at the box office. It was to be his most successful movie. This movie was praised by critics, academics and intellectuals.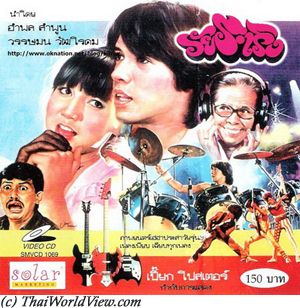 Year

: 1984



Thai title

:

วัยระเริง




English title

:



Rating

: 3/5


Director

: Piak Poster



Main actor

: Amphol Lumpoon


Main actress

: Sulaleewan Suwanthat
Students in class 650 are teenagers. They spend time to make jokes. Their new teacher (อาจารย์) Sri Nuan doesn't understand them and only blame them. So they often flee school and spend time in Siam Square. Teachers have difficulties to educate this class. Teenager Phong uses money from his school fees to buy music instrument and doesn't wish to pursue business studies to replace one day his father as the head of recording studio company. He doesn't go to school anymore. His father is upset. Phong stops going back home and spends time playing music. His grandmother, Pradit, who is also a teacher, blames his father for not giving enough time for his son. She knows the difficulties to teach teenagers. She asks Phong and his friends to stay and play music in her backyard so that she knows where they are. She asks Phong to create a song regarding Europe countries location with a modern rock music. It is an immediate success with the teenagers. They learn and have fun at same time. The grandmother is smart. She knows that teenagers need to study what they like in order to get better results. During a school outing, one of the children of class 650 saves another teen from drowning. The teacher Sri Nuan must acknowledge her mistake and that those kids have also a positive added value to Thai society. During the year end exams, the children of class 650 have very good results thanks to the songs of teacher Pradit. The songs start to be well known but Thai kids cannot buy them. Record producers including Phong's father are queueing for a contract but the group manager is the grandmother so she knows how to defend the kids rights and interests again the business vultures. Finally the father accepts to sign a contract to avoid a competitor to get the deal. They become stars now. Finally they come back to the school year end spectacle to perform. To the puzzlement of all, they perform traditional Thai music. Elders shall respect youth aspirations but youth shall also respect elders achievements as both of them have values. It is Amphol Lumpoon's first role.
---