Increase or decrease font size for easier reading : A+ A-
Ampha Pusit
Ampha Pusit (1960) - อำภา ภูษิต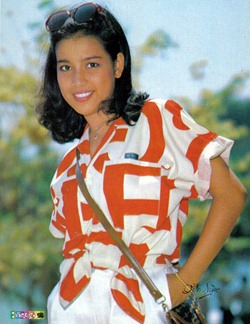 Ampha Pusit
This Ampha Pusit movie page contains 23 records.
---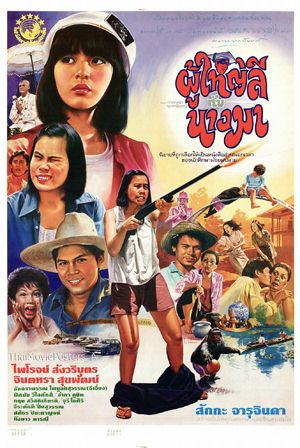 Year

: 1985



Thai title

:

ผู้ใหญ่ลีกับนางมา




English title

:



Rating

: 3/5


Director

: สักกะ จารุจินดา



Main actor

: Phairoj Sangwaribut,Tongchai Prasongsanti


Main actress

: Jintara Sookkapat,Ampha Pusit,Pissamai Wilaisak,Juree Osiri,Kingdao Daranee
Thai movie ผู้ใหญ่ลีกับนางมา was released in year 1985 and last 1h35mn. It was released under VCD format by Solar company. A remastered version was released by Five Star Production (ไฟว์สตาร์โปรดักชั่น) in the decade 2010s and shown on Thai TV cable. It was the first movie of actress Jintara Sookkapat. Other actors and actresses are Phairoj Sangwaribut, Tongchai Prasongsanti, Ampha Pusit, Pissamai Wilaisak, Juree Osiri, Kingdao Daranee, กฤษ สวัสดิเกียรติ, จิระศักดิ์ ปิ่นสุวรรณ, ศศิธร ปิยะกาญจน์, สักกะ จารุจินดา. Movie director is สักกะ จารุจินดา. ผู้ใหญ่ลีกับนางมา story has been produced as Thai TV series six times already (1971, 1977, 1987, 1996, 2003, 2009). Ma's grant- mother (Juree Osiri) just died so Ma (Jintara Sookkapat) comes back from Bangkok to visit her domain in Isaan region. She had not met her grant-mother for many years as she went to Bangkok to study. A man called Phujai Li (Phairoj Sangwaribut) has organized all funerals without consulting her. Ma already has a fiance called Pradit but she discovers he is unfaithful, so she breaks up and goes back to the countryside. She does not want to sell her 300-rai land. She wants to handle by her-self. A local farmer called Wao helps her. Wao is in fact Phujai Li, spying secretly to see how Bangkokian people can adapt to countryside. Phujai Li's mother (Pissamai Wilaisak) sends a local lady, called Pin, to help Ma. Ma accepts this lady (อัจฉราพรรณ ไพบูย์สุวรรณ) with her two children to stay in her home to help her as she was also dumped by her husband. There is often no official wedding in the countryside. People just stay together so social problems occur when separation happens. She finally works hard to maintain the farm. Anger happens when Ma understands that Phujai Li and Wao are the same person. Finally, Ma forgives Phujai Li. The Isaan village uses a cat in their rain-making procession (ประเพณีแห่นางแมว). The cat is carried around the village in a small cage, while the villagers make noise with musical instruments, to attract the attention of celestial gods. It works as rain is coming. Ma is busy preparing rice fields. Phujai Li loves Ma but she is still shocked by her fiance's behavior. On top of this, Phujai Li is chased by another local lady (Ampha Pusit). Phujai Li asks his mother to ask for Ma's hand as he does not dare. Ma accepts to become Phujai Li's fiancee even if she is not happy that he did not ask himself. Phujai Li decides to become a monk for one rainy season. As Pradip, older fiance of Ma, tries to befriend her, Phujai Li refuses to enter monkhood. Finally, Phujai Li becomes a monk for three months following his mother's wish to see him in yellow robes (ชายผ้าเหลือง). Pradip is chased away. Phujai Li and Ma can marry happily.



Year

: 1985



Thai title

:

ไกรทอง 2




English title

: Kraithong 2



Rating

: 3/5


Director

: Sompote Sangduenchai,Neramit



Main actor

: Sorapong Chatree,Sombat Methanee,Sor Asanajinda,Lor Tok,Lak Apichat,Der Doksadao


Main actress

: Ampha Pusit,Aranya Namwong,Supansa Nuengpirom,Duangcheewan Komolsen



Buy now

:

Thai movie ไกรทอง 2 was released in year 1985. It was released under VCD and DVD format by Tiga Company and lasts 1h33mn. The Betamax version lasts 1h49mn. The main difference is longer sequences with a Chinese master (อาจารย์). Main actors and actresses featured in this movie are Sorapong Chatree, Sombat Methanee, Sor Asanajinda, Lor Tok, Lak Apichat, Ampha Pusit, Aranya Namwong, Supansa Nuengpirom, Der Doksadao, Duangcheewan Komolsen. This time Kraithong faces a man, who has also the power to change himself into a fearful crocodile. Thong (Suphansa Nuengpirom) and Kaew (Ampha Nuengpirom) are Kraithong's wives. Wimala (Aranya Namwong) and Malaiwan (Duangcheewan Komolsen), former Chalawan's wives, are staying in a cave under the river. Sor Asanajinda is a powerful hermit. Sor asks Wimala (แม่นาง) not to disturb humans anymore. Meanwhile a crocodile takes away a baby and his father. The mother goes to Chinese shrine to ask help from a Chinese master (Lor Tok). Der Doksadao and เหี่ยว are playing medium assistants in the Chinese shrine. A funny and long sequence featuring the master showing his surnatural skills towards Der Doksadao is present in the betamax but cut in the VCD version. A government official offers a reward to kill the crocodile. The crocodile continues his rampage and attacks a floating market, humans and even a buffalo. Kraithong visits a master mentioning that crocodile Chalawan is back. The crocodile is in fact half human (Lak Apichat) half spirit (จระเข้ผีสิงห์). Lak agresses Chalawan's wives in the cave. The Chinese master, despite his supernatural skills, is killed by the crocodile. Some scenes where Lor Tok is featuring his flying skills are cut from VCD but present on the BetaMax. The crocodile then attacks the house where Thong and Kaew are living. After a rampage, Kaew is kidnapped by the crocodile played by Lak Apichat. Wimala wishes to use Lak to take revenge over Kraithong. Chalawan is back per incantations from Sor. He is upset that his wife Wimala replaces him so fast. So Wimala pushes Lak to kill Chalawan. Upset about Kaew, Kraithong heads towards the cave. He faces Lak, already injured by Chalawan, and succeeds to defeat him. Chalawan then defies him again. Following an epic fight, Chalawan is defeated again and Kraithong brings Kaew back.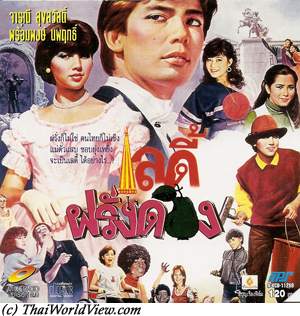 Year

: 1984



Thai title

:

เลดี้ฝรั่งดอง




English title

: Lady Farang dong



Rating

: 3/5


Director

:



Main actor

: Prompong Nopparith,Settha Sirachaya


Main actress

: Jarunee Sooksawad,Aranya Namwong,Ampha Pusit
Vickie, Thai lady, is seduced by an Austrian man, who is already married. Being pregnant, she decides to go back to Thailand. Before leaving, she leaves her daughter, Diana, to the Austrian man. Being an adult, Diana decides to go back to Thailand to find her mother. Will she succeed?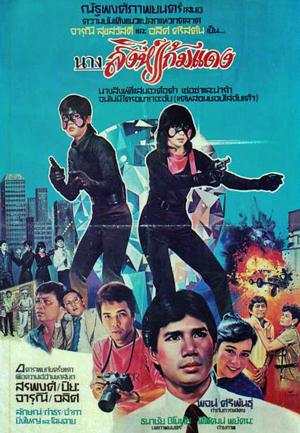 Year

: 1983



Thai title

:

นางสิงห์แก้มแดง




English title

:



Rating

: 3/5


Director

:



Main actor

: Sorapong Chatree,Kamthorn Suwanpiyasiri,Lak Apichat,Piya Trakulrard


Main actress

: Jarunee Sooksawad,Ampha Pusit
Witaya (Sorapong Chatree) is responsible of the security inside Pa's company. Pa has two daughters, Plaew and Fai. They rob their father's money from a safe and donate (บริจาค) 500 000 baht to a blind pupil school. The two sisters give the money under the father's name (กุศล)! While robbing money, they do wear mask with red cheeks (แก้มแดง). They sign their crime with a name card displaying a lioness logo (นางสิงห์). The father is rich and selfish. He never gives any money to charitable organizations but is very generous with his minor wife (เมียน้อย), Toi. Thep, Toi's brother, is part of the company administration council. Plae is also accepted in the company council. The two sisters steal clothes and personal effects from Vitaya to offer them to a poor school (คนยากคนจร). Another time they steal his BMW car. The two sisters continue to harass him but understand that he is a good man. Meanwhile Thep needs more money as he is gambling a lot. Toi has another boyfriend. As Toi cannot always ask money to Pa, Thep decides to steal money from the company safe and uses the lioness logo to accuse them. As the money is not given to a charitable organization, police and Witaya are puzzled regarding the robbers. The two sisters, as the mysterious lionesses, also make a statement about their innocence. A new exhibition showing old artifacts is organized. Thep and Witaya are responsible of the security. Honor of the company (เสียชื่อ) is engaged so a new robbery cannot happen. Thanks to video surveillance, Thep knows who is hiding behind the lionesses' masks and plans to accuse them about the old artifacts successful robbery. Plaew and her sister are aware of the plan thanks to a hidden microphone. They succeed to get back the artifacts but Thep knows and threatens to announce their real identity to the press. He asks for salacious favor to Plaew, who calls his wife Wilai to join them in order to be safe. Thep wants to marry Plaew and becomes the son-in-law (ลูกเขย). Wilai heards his plans and shares the information with Plaew. Thep is finally caught by the police while trying to rob things (ปล้นสินค้า). Hopefully the video tape has been replaced by Wilai (ทำดีได้ดีทำชั่วได้ชั่ว) so Thep cannot prove his accusations over Plaew and his sister. Pa dumps his minor wife. Witaya knows the lionesses' real identity but keeps the secret as love emerges with Plaew.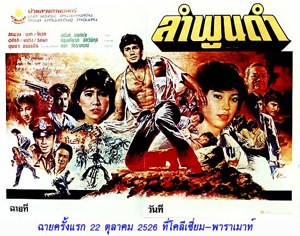 Year

: 1983



Thai title

:

ลำพูนดำ




English title

: Desconocida



Rating

: 4/5


Director

:



Main actor

: Sorapong Chatree,Nard Poowanai,Kowit Wattanakul,Suchao Pongwilai,Pipop Pupinyo,Paen Pleumsachai,Krai Kanchit,Rith Luecha,Somjin Thammatat,Pumi Patanayut,Somsak Chaisongkram


Main actress

: Apiradee Pawaputanon,Thitima Sangkapitak,Piathip Kumwong,Ampha Pusit,Mayura Thanabutr
Thai movie ลำพูนดำ was released in year 1983. The movie was also released in Taiwan under the name "Desconocida" in VHS format. This version was released by Taiwanese company New Ship Film Enterprise Co Ltd and lasts 1h26mn. The movie is in Mandarin language. The original movie has been cut to fit in standard TV format so making the story cutting to be awkward. Other versions released in Thailand last 1h30mn (Cable TV version) or 1h47mn (VHS version). This movie features many famous actors / actresses from decade 1970s~1980s. Young lad, called Paen (Sorapong Chatree), visits famous monk (หลวงพ่อ) in a local Buddhist temple to discuss about his problems. His mother and sister are treated as mistresses by local kingpin Mek. Mek (Somjin Thammatat) also tries to steal the family land. The monk gives to Paen an unique Buddhist amulet called ลำพูนดำ to protect him. Paen is arrested by four policemen led by Paen Pleumsachai. They bring him to a remote area to execute him per Mek's orders but bullets don't enter (นั่งเนี่ยว) as he is protected by the sacred amulet given by the monk. Paen shoots them back. Policeman Nard Poowanai, as หมวด, is also trying to catch him. Kingpin Mek and subdistrict headman Chat (Krai Kanchit) (ลูกน้องมือขวา) are concerned that Paen succeeded to escape. Paen has many enemies (ศัตรูเยอะ). Two ladies Lom (Piathip Kumwong) and Phit (Thitima Sangkapitak), Paen's mother and sister, are visiting the village leader. Both are the village leader's mistresses and Lom is also seduced by Chat (เป็นชู). Thai police is still looking after Paen. Paen takes refuge in a village but the village leader (Pumi Patanayut) warns the police. Paen succeeds to flee by having an hostage called Lamai (Mayura Thanabutr). Paen learns who are his enemies through Somsak Chaisongkram. Paen kills three ruffians (มือปืน). Ruffians kidnap young lady Lamai but Paen releases her and injures the village leader trying to abuse her. Young lady Booklee is kidnapped to become Mek's new minor wife. Khun Mom Sasingha (Kowit Wattanakul) meets Chaba (Ampha Pusit), niece (หลานสาว) of Kamnan Chat. He presents himself as a customer of the underground casino (บ่อน). Pipop Pupinyo is looking for troubles with Sasingha but gets beaten. Chat is then jealous that Sasingha is too close to Chaba. Seua Rit (Suchao Pongwilai) is hired by the village leader to get rid of Paen. Mek's daughter, Pumarin (Apiradee Pawaputanon), is coming back from overseas following successful studies. Her real father is Rit but he doesn't want her daughter to know that her father is a thief so the truth was never disclosed to Pumarin. Paen behaves as a Robin Wood (โจร) by giving free goods to poor villagers. A pact is agreed between Paen, Khun Mom Sasingha and Klot (Rith Luecha). Klot wishes to get revenge on Mek as he killed all his family members and kidnapped his niece Booklee. Paen refuses to meet his sister Phit anymore. Both Chat and Lom are buried alive as Mek discovers they are having an affair. Meanwhile Rit kills pregnant Lamai and her mother as they refused to disclose where Paen is hidden. Phit is having an affair with Seua Rit. Per her strategy to protect her brother, Phit claims to Mek that she has been raped by Rit so that Rit cannot harm Paen anymore. Paen releases Pumarin aggressed by ruffians kidnapping her. Klot gains the trust of Mek in order to better spy him. Paen wishes to get revenge on Mek but police surrounds him. The Buddhist amulet saves Paen one more time. Phit protects Paen a last time by shooting Mek but this latter shoots her before dying. Paen listens to Pumarin and surrenders peacefully to the police. A sequel released in year 1988 was called ลำพูนแดง.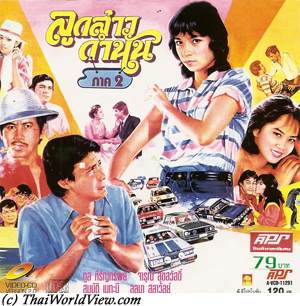 Year

: 1983



Thai title

:

ลูกสาวกำนัน 2




English title

:



Rating

: 3/5


Director

:



Main actor

: Toon Hiransap,Sombat Methanee,Rong Kaomulkadee


Main actress

: Jarunee Sooksawad,Lalana Sulawan,Ampha Pusit
This funny movie is the second opus about the daughter of a district officer. Teng Mo has just married when another woman claims that she is already the wife of her husband! Funny moments happen until Teng Mo and her husband fall in love again.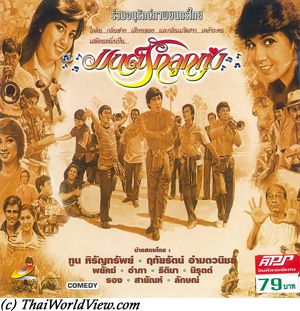 Year

: 1982



Thai title

:

มนต์รักลูกทุ่ง




English title

:



Rating

: 3/5


Director

:



Main actor

: Toon Hiransap,Nirut Sirijanya


Main actress

: Ampha Pusit,Thitima Sangkapitak,Reuthairat Amatawanit



Buy now

:

This folk-music movie is a remake of one of the most famous Thai movie (มนต์รักลูกทุ่ง) shot in 1970. It features 14 folk songs or "LUUK THUNG" songs. It is about a love story between a poor peasant, Klao, and a young woman, Thong Kwao, coming from a rich family. It includes also three other side love stories between Bupfa, Thong Kwao's sister, and Waen, Klao's friend, between Sai Chai and a policeman and between a Northeaster worker and Sai Chai's sister. Both Sai Chai and Thong Kwao are arguing over Klao as both of them love him. Klao promises to marry Thong Kwao as soon as he has enough money for the dower. A local godfather is lending money to poor peasants and get their land title when they are not able to refund the money. Klao's mother has debts with the godfather. Hopefully Tong Kwao is able to help. This upsets the godfather as he cannot get the land title. To ease the situation with the godfather, the parents send Thong Kwao and her sister to Bangkok to learn clothes fashion design. In fact Thong Kwao's parents are worried about the family assets if their daughter marries a poor man so they send her to Bangkok so that she can be far away from Klao. They promise Thong Kwao that they will accept Klao's proposal for marriage if it happens. Floods happen and rice crops is destroyed. Thong Kwao can only offer a small dower. Thong Kwao's parents refuse Klao's proposal for marriage and request an expensive dower (ค่าสินสอด), i.e. 100 000 Baht (สิบหมื่น). while in Bangkok, a bad businessman is courting Thong Kwao. He has already a girlfriend but is interested to marry Thong Kwao in order to get money to save his non prosper company. Various misunderstandings happen between Klao and Thong Kwao as they both believe they didn't keep their promise but love will win.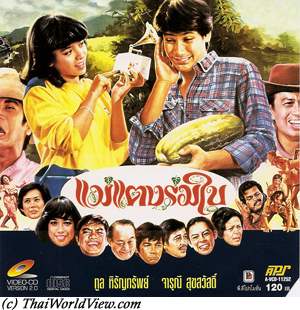 Year

: 1982



Thai title

:

แม่แตงร่มใบ




English title

:



Rating

: 3/5


Director

: Sombat Methanee



Main actor

: Toon Hiransap,Sombat Methanee,Suchao Pongwilai,Boo Wibunnan


Main actress

: Jarunee Sooksawad,Ampha Pusit,Duangdao Jarujinda
Two families making a living on agriculture don't esteem each other. They unite when some gangsters threaten them in order to buy goods at low price. Love stories happen between young people from both families.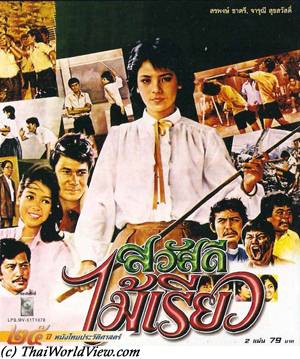 Year

: 1982



Thai title

:

สวัสดีไม้เรียว




English title

:



Rating

: 4/5


Director

: Phan Kam



Main actor

: Sorapong Chatree,Sor Asanajinda,Suchao Pongwilai


Main actress

: Jarunee Sooksawad,Ampha Pusit,Namgneun Boonnak
A new teacher (ครูใหม่) called Sirin (Jarunee Sooksawad) is recruited. She notices that two students always arrive late. One is a boy called Satit coming from a rich family (ลูกเศรษฐี). One is a girl called Kalaya coming from a slum family (สลัม). The movie highlights the importance to study for teens but also the importance for teachers to keep interest from their students (รักเรียน). This school has a strict director and strict teachers keeping the same program and activities without changes over years. Sirin tries to change this mindset. In Thai schools students show respect to their teachers in the mornign and evening (ไหว้ครู) and get hit with a stick (ลงโทษ) when they fail to obey to the school rules. Sirin faces opposition from the teacher head when she wishes to punish Satit for his bad behavior. Only the poor child Boonmee gets punished. Sirin wants to have same treatment for all children either rich or poor. A fight happens between Satit and Boonmee. Satit's elder brother, called Narit, comes to complain about the new teacher at the shool. He trusts Satit and doesn't know he is behaving badly. Kalaya has no time to study. Every early morning she has to deliver newspapers. Her father is always drunk and hit his wife. Kalaya is too ashamed to say why she is late everyday. Teachers decide to buy a bicycle for her so she doesn't have to run in the morning (same as movie Walli - วัลลี). Satit keeps stealing things. This time he steals teacher belongings and accuses Boomee. Hopefully Sirin is aware of the stratagem but Narit refuses to believe that his younger brother has problems as he is coming from a rich family. Money doesn't buy happiness... Kalaya didn't come to school since many days as her father sold the bicycle to buy alcohol. She now works in a construction site. Students decide to share the workload regarding newspapers distribution so that she can be on time in school. Following a brawl, Satit is sent to Police station. Teacher Sirin confirm (รับรอง) her students integrity so that they can be released. The school is going to take part in sport competition with other schools. They have big hope in cycling with Kalaya and Thai boxing with Boonmee. Poor children train hard while rich children just enjoy beach. Sirin sees Satit stealing the director's ring. She prevents the robbing but gets injured as Satit pushes her violently. The director doesn't believe Satit could be a robber. Losing trust in her director, Sirin resigns. Students refuse to study until Sirin is back. Finally Satit tells the truth to his brother. This one asks the director to recruit back Sirin. Sirin refuses to acknowledge the director's requests but accepts when students implore her. Competition starts. The school wins in boxing and cycling. Satit becomes a good boy. Despite strange cuts in the editing, this movie is full of good feelings, i.e. school importance, teacher dedication, studies, rich and poor society opposition...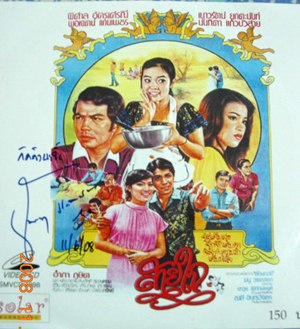 Year

: 1981



Thai title

:

สายใจ




English title

:



Rating

: 3/5


Director

:



Main actor

: Pisarn Akraseranee,Porjed Kaenpetch,Sawin Sawangrat,Somsak Chaisongkram


Main actress

: Naowarat Yooktanun,Sarinthip Siriwan,Nanthida Kaewbuasai,Ampha Pusit,Janthana Siriporn
Thai movie สายใจ was released in year 1981. It lasts 1h45mn. Yae Suk (Naowarat Yooktanun) and Den (Pisarn Akraseranee) have a car accident. They find an arrangement for the damages (ค่าเสียหาย). Her parents are Sarinthip Siriwan (คุณหญิง) and Sawin Sawangrat. Da (Nanthida Kaewbuasai) is her sister. Yae Suk is selling old items from her grandfather to allow the family to survive (หมดตัวแล้ว). But the parents either gamble the money or bet on horses. The father meet Somsak Chaisongkram and Saksit (Porjed Kaenpetch) while playing cards. The father invites them for lunch as he has the idea to marry his daughters in order to get money from the dowry (ค่าสินสมรส). A family gathering for all parties including Ampha Pusit happens to know each other. Da doesn't like Saksit as she believes he is just a gambler. He loses on purpose. Saksit pretends he can buy anything (ซื้อความนับถือความรักไม่ได้). Pho Lieng is also interested by Da and even tries to abuse her. Saksit helps her on time. They all go for a hike in the mountain but accidents occur. Finally Saksit and Da sympathize. Pho Lieng sends men to get rid of them. They have to spend the night in the forest but finally defeat the ruffians. As his daughters spent night outside home, the father claims his family name is tarnished (ขายหน้า). Da refuses to get sold (ถูกขาย). One old family friend mentions that the family name is already tarnished since a long time as the father and mother are strong gamblers. It shouldn't be the daughters' duty to pay for their gambling vice. Misunderstanding happens between Da and Saksit. Den helps to solve the issue. They finally get reunited also.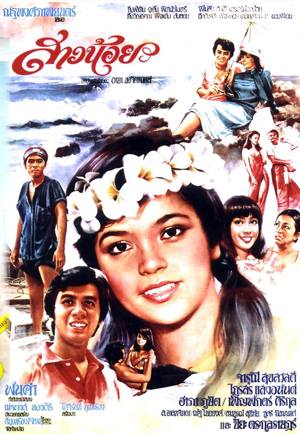 Year

: 1981



Thai title

:

สาวน้อย




English title

:



Rating

: 4/5


Director

: Phan Kam



Main actor

: Piya Trakulrard,Sor Asanajinda,Kraison Saenganan,Boo Wibunnan,Sompong Phonmitr


Main actress

: Jarunee Sooksawad,Ampha Pusit,Penpak Sirikul,Chosri Misommon
Thai movie สาวน้อย was released in year 1981. Main actors are Jarunee Sooksawad, Kraison Saenganan (ไกรสร แสงอนันต์) and Piya Trakulrard. Other actors are Ampha Pusit, Penpak Sirikul, Sor Asanajinda, Chosri Misommon as friendly governess, Boo Wibunnan as film producer, Sompong Phonmitr. Movie director is Phan Kam. The movie lasts 1h43mn. A first version was released in year 1958 with Charin Nantanakorn as main actor and ทรงศรี เทวคุปต์ as main actress. The 1958 movie is still available in Thailand. It was shot in Koh Si Chang but the 1981 version happens in Koh Samet. The shooting took one week there. Sao Noi is a romantic movie. Suwalee (Ampha Pusit) is engaged with Siem (Kraison Saenganan). Siem's father called Pla wishes to marry a young lady called Marasee (Penpak Sirikul)(แม่เลี้ยง) but Siem knows she is a bad lady. Marasee uses ruffians to hit Siem. He loses memory, ends up on a remote island and meets Nit (Jarunee Sooksawad). Love emerges between them causing Nit's friend, Cheut (Piya Trakulrard), to be disappointed. Pla finds back his son. Siem brings Nit to Bangkok to his father's home. Following surgery, Siem (Kraison) remembers Suwalee but forgets Nit. As Nit sees Marasee having an affair with another man, Nit is accused of stealing jewellery and leaves their home. Luckily she succeeds to become a movie star. Real old standalone theaters are shown with huge real billboards of Jarunee Sooksawad (โรงเพชรรามา - Pratunam, โรงเมโทร - Ratchathewi, โรงหนังแกรนด์ - Wang Uurapha). She even wins a Thai oscar award. Disappointed by Siem and despite fame, Nit wishes to go back to her island. Cheut, looking for Nit, punches Siem, who then recovers his memory. He rushes to the island to find Nit. They finally reconcile. Cheut ends up with Suwalee.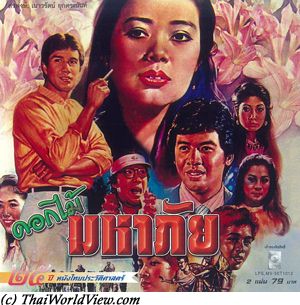 Year

: 1981



Thai title

:

เสือมังกร




English title

:



Rating

: 3/5


Director

:



Main actor

: Sorapong Chatree,Manop Aussawathep


Main actress

: Naowarat Yooktanun,Ampha Pusit
This movie deals about a group of Chinese refugees in North of Thailand area, who are the survivors of the 93rd Division of Chiang Kai Chek's Nationalist Army, the Kuomintang, who fled from China after communist victory and settled in these mountains in 1949. They live close to the borders with Laos and Myanmar in the middle of the poppy-growing area of the Golden Triangle. In return for the Kuomintang's military help, the soldiers and their families were given Thai ID papers that permitted them to live in this area. These ex-soldiers of the Kuomintang had to find ways to survive. They grow poppy and also levy a forfeit on the opium convoys that passed through their territory. In this movie, Thai villagers are fed up with Chinese villagers behavior that grow poppy to make opium. They want them to stop to harm Thai society. A group of Chinese villagers kidnap Lannoi, a young Thai lady. Her brother, Seua, a strong Thai young man, fights and wins to get her back but finally encourages her to stay to better know Chinese customs and marry a Chinese villager. She marries Fong Fong but there is no love. She discovers some Chinese customs (concubines, smoking opium, foot binding, women doing hard chores, cemetery with tombs, Chinese food...). She finally understands that Fong Fong loves her. Knowing that an opium convoy will exit soon from the village, she alerts the Thai villagers. A fight occurs and Chinese villagers have to step back. Lannoi admits she is the one to have warned the Thai people because Chinese people should stop opium commerce that harm society. Arguing happens between pro and con opium people. Finally Lannoi is condemned to death and shall be shot by Fong Fong, who do it dejectedly. Seua comes back to Chinese village for vengeance. Many pro opium fighters are killed and even Fong Fong is killed by one Chinese fighter. Following this disaster, Fong Fong's father promises they will stop growing poppy from now on.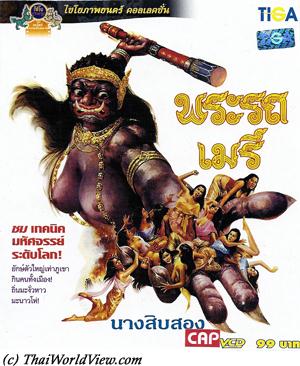 Year

: 1981



Thai title

:

พระรถเมรี




English title

:



Rating

: 3/5


Director

: Sompote Sangduenchai,Neramit



Main actor

: Toon Hiransap,Dam Datsakorn,Ron Rittichai,Sithao Petcharoen,Sompong Phonmitr,Sukon Koewliam


Main actress

: Ampha Pusit,Supansa Nuengpirom,Duangcheewan Komolsen,Janthana Siriporn,Metta Roongrat



Buy now

:

This movie is based on Southern Thai Local Literature. Twelve daughters are abandoned by their parents, who are too poor to educate so many children. The twelve daughters are rescued by a "Yak" woman who promises to take care about them as her own daughters. She deceived them and force them to drink a potion that transform the young girls into beautiful maidens. They escape and are rescued by a Prince, who falls in love with the youngest girl, called Sip Song. He agreed to marry the twelve girls. Once again, the "Yak" woman deceived and force them to drink a potion that makes them 8 months pregnant. The Prince, disappointed by this unexpected pregnancy, expels them and they are imprisoned in a cave, where the "Yak" woman has their eyes removed in order to make an ever young potion for her. Blind and with no food no eat, the ladies eat their new born babies except the son of Sip Song who is raised by a gentle "Yak". The son is called Phrae Rot Meri. Getting older he ran a cock fight to make a living for the 12 ladies. Becoming an adult, he has a deal with the Prince and goes to the "Yak" country to get more magic potions in order to get freedom for the 12 ladies including his mother. But the "Yak" woman is doing all possible tricks to stop him...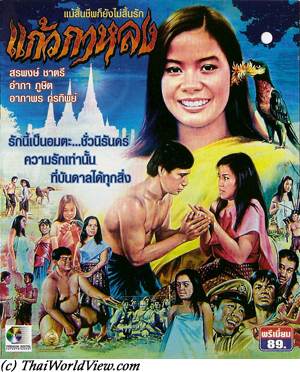 Year

: 1981



Thai title

:

แก้วกาหลง




English title

:



Rating

: 3/5


Director

:



Main actor

: Sorapong Chatree,Joomjim Khemlek


Main actress

: Apaporn Kornthip,Ampha Pusit
Kaew is a slave at the beginning of 20th century. He has an affair with Kalong, his master's daughter. They love each other and she becomes pregnant. Being aware of the situation, the master beats Kaew every day and Kalong is secretly hidden and kept by the master's servants. One of them, drunk, kills Kalong while she is giving birth. Kalong becomes a ghost and kills those who hinder her. Following the abolition of slavery by Rama V, Kaew quits his master's home and settles in another village where he meets a lady called Sonklin. Love goes beyond death and Kalong searches for Kaew. She finally finds Kaew and stays with him. Kaew ignores that his wife is a ghost. Finally Kalong is recognized as a ghost and wants to kill Sonklin and brings Kaew with her. A buddhist monk has to calm down Kalong so that she accepts her death and wishes to meet Kaew again in their next life. The scenario has many similarities with "MAE NAK" ghost (แม่นาค) story. Same as Mae Nak, there is art of compromise in film ending instead of one party winning. This is part of Thai culture. It is a remake of the movie shot in 1967 with legendary stars Mitr Chaibancha and Petchara Chaowarat.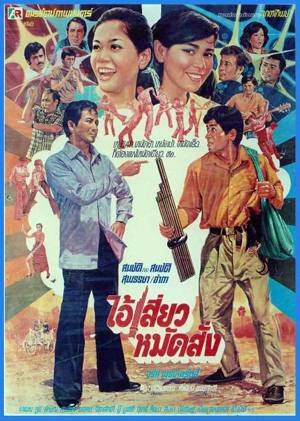 Year

: 1981



Thai title

:

ไอ้เสี่ยวหมัดสั่ง




English title

:



Rating

: 3/5


Director

:



Main actor

: Sombat Methanee,Lak Apichat,Boo Wibunnan,Adul Dulyarat,Manop Aussawathep,Sayan Chantaraviboon,Rith Luecha


Main actress

: Supansa Nuengpirom,Ampha Pusit,Chosri Misommon
Thai movie Ai Sio (ไอ้เสียวหมัดสัง) was released in year 1981 and lasts 2h03mn. Sio (Sombat Methanee) from Isan area is going to Bangkok for the first time to find a job. Some people promise him a fake job in Saraburi. They drug him with sedative pills (ยานอนหลับ) and steal his money. Sio speaks Isan language only. Sio finds the three men again and a fight erupts. Very strong, Sio kills them during the fight thanks to his strong punch. Sio ends up in jail with two other men, Lak Apichat and Boo Wibunnan, who are pickpockets. They become friends. Released from prison, Lak and Boo meet Phi Kang (Adul Dulyarat), who has serious issues with ruffians led by Boonchai (Manop Aussawathep) wishing to buy his garden. There are gems (พลอยแดง) in his garden soil. His children are Sayan Chantaraviboon, Supansa Nuengpirom and her elder sister played by Ampha Pusit. Sombat is having two roles in this movie, i.e. Sio and Sia! Sia Songsak is another local ruffian and his mother is played by Chosri Misommon. Some people confuse Sio and Sia. Sio has to punch people mistaking him as Sia. Sia finally finds Sio. Fighting erupts between both of them. Through the fight, Sio kills Sia due to his strong fist punch. Each time he gets hit below the stomach, Sio loses his temper. Afraid of being arrested by police again, both Sio and Boo leave for Chantaburi. Arriving there, they are involved in another fight and befriend with young men. Boo brings them to work with him. Sio likes fair justice (รักความยุติธรรม). Ruffians propose a 5 to 5 fight. Rith Luecha is one of the fighters. If they lose, they have to sell the garden. Thanks to Sio, they win. Trying a last solution, the ruffians kidnap the two daughters. Even Saran, now able to fight, joins them. Through final fighting, ruffians are neutralized. Sio is injured while protecting Supansa. US movie Rocky soundtrack is used.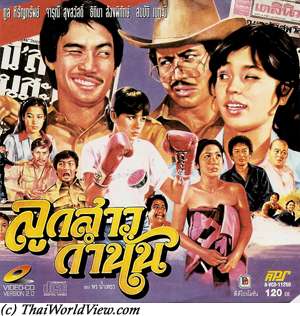 Year

: 1981



Thai title

:

ลูกสาวกำนัน




English title

:



Rating

: 3/5


Director

:



Main actor

: Toon Hiransap,Sombat Methanee,Lak Apichat,Boo Wibunnan


Main actress

: Jarunee Sooksawad,Ampha Pusit,Thitima Sangkapitak
This funny movie is about Teng Mo, the daughter of a district officer.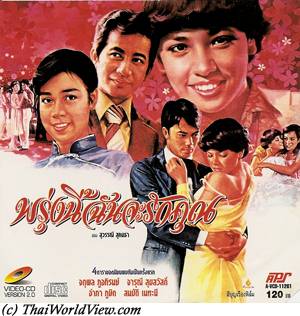 Year

: 1980



Thai title

:

พรุ่งนี้ฉันจะรักคุณ




English title

:



Rating

: 3/5


Director

: Phan Kam



Main actor

: Sombat Methanee,Jatuphol Poopirom


Main actress

: Jarunee Sooksawad,Ampha Pusit,Yotsoi Komarachoon



Buy now

:

A man called Non helps a woman, called Oon, drugged by a taxi driver, who wants to rape her. Oon believes that Non raped her and flees. Non loves Oon but cannot find her anymore as she leaves for France. Oon's sister meets Noon and is fond of him. Non asks her in marriage. When Oon comes back from France, many confusions happen until love emerges between Non and Oon.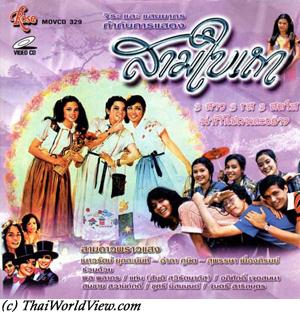 Year

: 1980



Thai title

:

สามใบเถา




English title

:



Rating

: 3/5


Director

:



Main actor

:


Main actress

: Naowarat Yooktanun,Supansa Nuengpirom,Ampha Pusit
A middle age father has three beautiful daughters, i.e. Thiep, Aew and Sa. They have been educated abroad. They get on well with Cherry, daughter of the house's maid. Happiness is daily present in the house. They play tricks to each other and rediscover Thailand (spicy food, usage of chopstick) after so many years abroad. Their father wants to send them to school to learn Thai customs and culture (เรียนเป็นคนไทย). They are not willing to go so Cherry teaches them. The father's best friend has three sons, i.e. Pol, Ten and Kiat. The three young men court the three ladies. The father decide to bring his three daughters to Chiang Mai to show them Thai countryside. The three young men also follow up. They go back together to Bangkok driving a van. A traffic accident happens. Aew is paralyzed and cannot walk again. Thiep becomes blind and cannot see again (มืดเกินไป). Sa doesn't have major injuries. The father believes it is linked to his karma and it doesn't change his love for his children. The three young men have only minor injuries. Thiep believes she has no use for society anymore. The romantic comedy evolves to a drama mixing happiness and sadness. Tensions erupt between the three sisters especially from Thiep. Before there were only smiles and laughters but now there is no more. Thiep thinks about suicide. Thiep rejects Sa as sister (เสียดวงตา - เสียดวงใจ) as she believes Sa is mean with her. The only way to cure Thiep is to find a eye donator for her. The three actresses provide an impressive dramatic performance with many teardrops. Sa wants to suicide in order that her eyes can be reused for Thiep. Thiep prevents the suicide. A donator is finally found by the hospital. The family is reunited and happiness is back. This movie is similar to a Piek poster movie with songs and reflection of Thai society with its good aspects and bad aspects.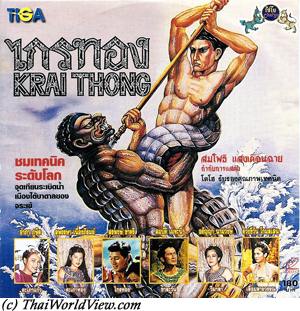 Year

: 1980



Thai title

:

ไกรทอง




English title

: Kraithong



Rating

: 3/5


Director

: Sompote Sangduenchai



Main actor

: Sorapong Chatree,Sombat Methanee


Main actress

: Ampha Pusit,Supansa Nuengpirom,Aranya Namwong,Duangcheewan Komolsen



Buy now

:

Kraithong is an old Thai tale based on an aggressive, violent and male-dominated world. Kraithong movie is based on Thai traditional folklore story relating a love story between a crocodile and human beings. A spirit living in the river has the possiblity to change himself into a crocodile. He uses his powers to terrify the population by killing inhabitants and kidnaps young girls for his harem. His name is Chalawan (ชาละวัน). One day Chalawan sees the two daughters of a rich local trader and falls in love with them. The two daughters are called Takao Kaew and Takao Thong. He kidnaps Takao Kaew and brings her to his cave under the river. The father is very angry and recruits a crocodile master (หมอจระเข้) called Kraithong. He promises to give his two daughters if Kraithong can stop Chalawan. Kraithong finds the way to Chalawan's underwater cave. A fight happens between Kraithong and Chalawan. Kraithong movie raises the Thai polygamy theme as Chalawan has already crocodiles wives in his underwater cave but still desires human being wives.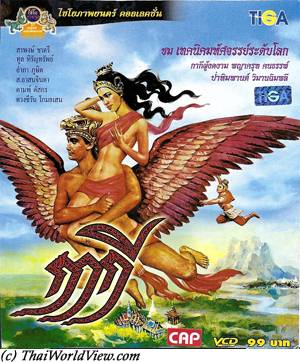 Year

: 1980



Thai title

:

กากี




English title

: Kaki



Rating

: 3/5


Director

:



Main actor

: Sorapong Chatree,Toon Hiransap,Sor Asanajinda,Dam Datsakorn,Sithao Petcharoen


Main actress

: Ampha Pusit,Duangcheewan Komolsen,Janthana Siriporn



Buy now

:

Beautiful young woman Kaki (กากี) is created from a magnolia flower by an hermit (ฤาษี) for the old King Prommathat (ท้าวพรหมฑัต). So Kaki becomes the beautiful wife of King Prommathat. One of the King's musician, Than (คนธรรพ์) (Sorapong Chatree), loves Kaki and composes songs to ease her heart. King Garuda (พญาครุฑ) comes down from his celestial residence to gamble with the King Prommathat in a dice game. King Garuda sees the beautiful Kaki and loves her immediately. King Garuda and Than love Kaki. Following a battle between Than and King Garuda, Kaki is kidnapped by King Garuda. King Garuda is a supernatural half-bird half-man creature living in a world different from the human beings world. Both the King Prommathat and the musician Than are sad. King Garuda visits again King Prommathat's palace believing nobody knows he kidnapped Kaki. King Garuda is demystified by the musician Than. Following a poetry wording fight, King Garuda is defeated. The deity needs to send Kaki back to the human world. The King Prommathat is shocked to learn that Than and Kaki love each other. Kaki is sentenced to harsh punishment. Finally Than succeeds to find Kaki and confirms his love to her despite Kaki claims that she is not worth as she had three husbands (หลายผัว, เป็นกะหรี่). It based on a great Thai classical literature written by Jao Praya Praklang Hon. Nowadays in Thai language, the word Kaki (กากี) is still used to mention a woman, who has an adulterous behavior.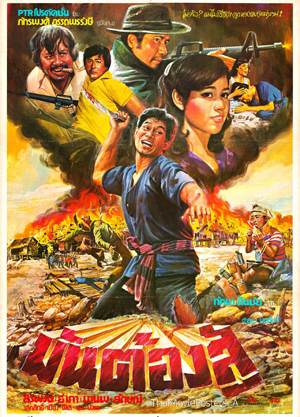 Year

: 1980



Thai title

:

มันต้องสู้




English title

:



Rating

: 3/5


Director

:



Main actor

: Sorapong Chatree,Manop Aussawathep,Lak Apichat,Banglae


Main actress

: Ampha Pusit
Thai movie มันต้องสู้ was released in year 1980 and lasts 1h24mn. It was released under VHS format. Part of the movie is certainly cut as movies in 1970s~1980s were often lasting two hours. It was shown two times in year 1980 as มันต้องสู้ and in year 1982 as ฆ่าเพราะแค้น. Thai (Sorapong Chatree), his wife Kaew and his sick mother are harassed by ruffians, who wish to buy their land. They refuse to sell as their land is an asset to be given from old generation to new generation. Money disappears but land stays. Ruffians' leader Palat (เมือง อพอลโล่) is upset against them. Other villagers also refuse to sell to them, so they kill them and accuse Thai regarding the murder. Thai must flee. Meanwhile Palat tries to force the mother to sign a paper. As she refuses, Palat kills her then rapes and kills Kaew. Coming back home, Thai decides to take revenge (แก้แค้น) after seeing the corpses. Thai is shot by Palat and left for dead. Other ruffians led by Klam (Manop Aussawathep) finds Thai and helps him. After recovery, Thai still wishes to take revenge so Klam sends a few men to help him. Thai takes revenge over Palat by killing him. Kit (Lak Apichat), head of the Northern ruffians, meets Thai and they become friend. The big boss (นายใหญ่) orders his ruffians to disrupt the Thai scouts. In 1970s the Thai scouts were protecting Thai villages against Thai communism. Thai moves to a new district and joins the Thai scouts (ลูกเสือ). Thai meets Kanda (Ampha Pusit). Kit plays a crazy beggar. Thai understands that Thai scouts are good people and help each other. He meets a woman reminding him about his mother's kindness. A lovestory starts between Thai and Kanda. Ready for action, Klam storms the village to get rid of the scout's leader but the scouts prevent him to be shot. Klam warns them he has a hidden man ready to kill the leader if he doesn't surrender by himself. Thai is identified as the traitor and blamed by the scouts (ขายชาฅิ, slapped by Kanda, having same name as Thailand...). Thai acknowledges to be a former ruffian and accepts any arbitration as he didn't plan to hurt the scouts. They reintegrate him. On next day, the leader quits the village and the ruffians plan to kill him. Thai, aware of it, tries to prevent the killing but gets shot. Thai soldiers arrive but too late. Kit and Klam shot each other.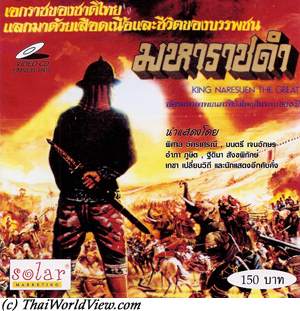 Year

: 1979



Thai title

:

มหาราชดำ




English title

: King Naresuen The Great



Rating

: 3/5


Director

: Toranong Srichua



Main actor

: Pisarn Akraseranee,Kecha Plianvithee,Somsak Chaisongkram,Pumi Patanayut


Main actress

: Ampha Pusit,Thitima Sangkapitak



Buy now

:

This movie is about King Naresuen The Great. The King Naresuan was famous for having a duel on elephants with the Burmese Crown Prince and won against him in year 1593. King Naresuan regained independence from Burma for the kingdom of Ayuthaya.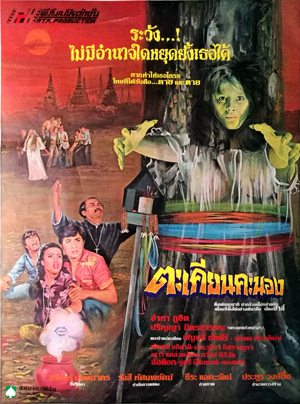 Year

: 1979



Thai title

:

ตะเคียนคะนอง




English title

:



Rating

: 3/5


Director

:



Main actor

: Lor Tok,Lak Apichat,Chao Klaewklong,Lor Tok,Tawan Siriwat


Main actress

: Ampha Pusit,Anchalee Chaisiri,Chosri Misommon
A young woman is coming to her village to see her father. She announces him that you will soon marry with a Bangkok teacher (ปริญญา มิตรสุวรรณ). A tough guy, who is fond of her, rapes her and she dies. But her spirit is back and threatens villagers. The spirit looks for justice and wants to stay with the Bangkok teacher forever...
---