Increase or decrease font size for easier reading : A+ A-
Amara Asavananda
Amara Asavananda (1936) - อมรา อัศวนนท์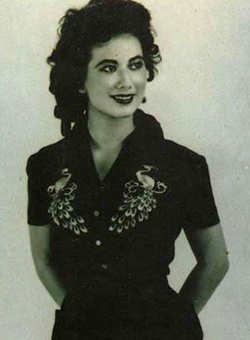 Amara Asavananda is a former runner-up of Miss Thailand in 1953. Her mother was French. She played in more than 50 movies. She became famous starting year 1957. She married in year 1966 so received less roles. After 1973, she still played in movies but as supporting roles
This Amara Asavananda movie page contains 16 records.
---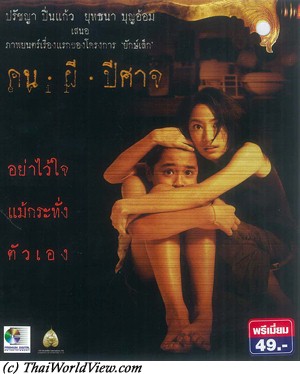 Year

: 2004



Thai title

:

คน ผี ปีศาจ




English title

: Evil



Rating

: 4/5


Director

: Chookiat Sakweerakul



Main actor

:


Main actress

: Pumwaree Yodkamol,Amara Asavananda



Buy now

:

Young teenage girl Oui has lost her two parents. She is coming to stay in a relative's home (Pa Bua), which is located in the upper floors of a printing factory. Oui needs to share room with youngster Nong am. Only three people stay at home at night time (Pa Bua, Oui and Nong Am). Nobody else dares to stay. Pa Bua forces Nong Am to eat mysterious liver (บำรุงเลือด). Nong Am claims there are ghosts in the house. Oui often dreams about her parents. One night, while the father was changing a tyre on their car, two youngs men killed her parents to rob their belongings. So she eats medicine to forget and not to see things that she doesn't want to see. Nong Am has scars in the back. Pa Bua is also an Indian sorcerer (หมอผีแขก) and medium (คนทรง). While cleaning the Buddhist altar room (ห้องพระ), Oui hears mysterious voices. Pa Bua is in trance. Tiger shouts can be heard. Each morning all workers are amazed Oui is still here and alive. Oui has visions regarding her parents' killer. She believes he is waiting outside. What is the most dangerous? Being inside with ghosts or outside with the killer? Strange noises can be heard in the house when Pa Bua is outside. Pa Bua has locked the house. Oui decides to go on the second floor to decide if people or ghosts are staying there. Two people are furtively seen. One worker, Phi Sutchai, is helping her. Pa Bua comes back. She becomes crazy. Oui has visions as she cannot distinguish truth and dreams. Finally Pa Bua was killing the babysitters that were mistreating Nong Am and was hiding the bones inside the walls. When she was outside, the spirits were wandering and terrifying Nong Am. First-time director Chookiat Sakweerakul has made a smarter Thai horror movie. His impressive debut took only about 10 million baht in Thai box office.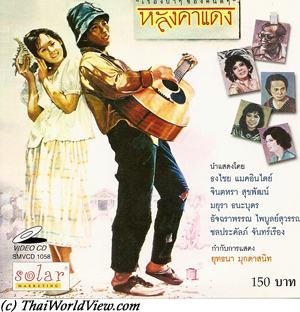 Year

: 1987



Thai title

:

หลังคาแดง




English title

: The Red Roof



Rating

: 3/5


Director

: Euthana Mukdasanit



Main actor

: Thongchai McIntyre


Main actress

: Jintara Sookkapat,Mayura Thanabutr,Amara Asavananda



Buy now

:

A man is wrongly sent in asylum by a greedy woman, who wants to get her husband's fortune. There he meets another woman left alone by a family in the asylum and decides to help her to get away. This movie features a few songs by Bird.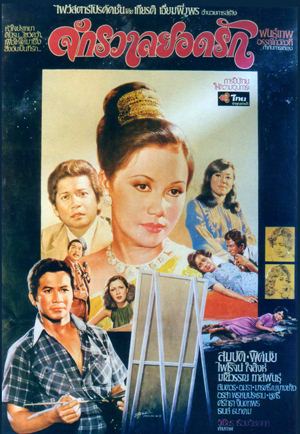 Year

: 1976



Thai title

:

จักรวาลยอดรัก




English title

: My dearest world



Rating

: 3/5


Director

: พันธุ์เทพ อรรถไกวัลวที



Main actor

: Sombat Methanee,Somkuan Krajangsat,Phairoj Jaising


Main actress

: Pissamai Wilaisak,Marasri Bangchang,Chosri Misommon,Amara Asavananda
Thai movie จักรวาลยอดรัก was released in year 1976 and lasts 1h59mn. Movie director is พันธุ์เทพ อรรถไกวัลวที. Chakawan (Sombat Methanee) meets young lady Sakuna overseas when hanging around a red district. Chakawan asks Sakuna (Pissamai Wilaisak) to be her painting model before he leaves for Philippines. Urot (มณีวรรณ ภาสพันธุ์), Sakuna's friend, recommended her to work at nighttime. Sakuna accepts the model job as she is not interested in nighttime working job. Chakawan forces her to have a relation in his hotel room. Sakuna refuses to meet him anymore. Later on, Sakuna receives a letter from her fiance Khanat, who is studying overseas. Back to Thailand, Sakuna starts to work as a secretary in a company owned by Somkuan. Somkuan Krajangsat is Chakawan's father! Amayichi (Phairoj Jaising) is a new manager from Japan and is working in Somkuan's company with Chakawan. Sakuna is pregnant but she refuses to tell who the father is (ลูกไม่ตั้งใจ). Chakawan wishes to take responsibility but he has another wife, Linda, in the Philippines. Vadika, Kaem's (Marasri Bangchang) daughter, is hired as a new secretary. Chosri Misommon, Sakuna's mother, asks for money. Amayichi gives a lot of tasks to the new secretary as he saw her with Chakawan so he is concerned for Sakuna. By keeping her busy, she will have no time to be around Chakawan. Sakuna's mother spends a lot of money gambling (30,000 THB). She asks her daughter to pay her debt. Sakuna still thinks about doctor Khanat. For the sake of her future child, Sakuna moves in a house rented by Chakawan (ทำหน้าที่). Mother (Amara Asavananda) visits Chakawan and Sakuna. Somkuan and Amara had Chakawan as son but finally Somkuan stayed with Kaem. Somkuan doesn't want his son to do the same mistake as he did. Khanat asks Sakuna to fly to Canada as he received a worrying letter from Sakuna's mother. Upset by her situation, Sakuna tries to get suicide. Amayichi takes care of her. Linda stops her relationship with Chakawan knowing he has another pregnant wife. Chakawan disappears for a few days. Sakuna has an accident as she jumps out of the car after an argument with Kaem. The baby dies. Chakawan is upset as he believes she did it on purpose. Chakawan pays Sakuna's mother expenses so the mother doesn't want to lose such a good son-in-law. She wants her daughter Sakuna to forget Khanat. Amayichi tries to help (ความเข้าใจ). Situation is difficult as both still love each other but nobody is willing to disclose his heart, so they remain blocked on misunderstanding. Everybody wants to find solutions for them, i.e. Somkuan, the mother and Amayichi. Sakuna announced to Khanat that she will not follow him overseas. Chakawan is going to leave Thailand for Australia. Amayichi is saying goodbye at the airport. He announces he is going to marry Vadika. Inside the plane to Australia, Chakawan is reading a farewell letter from Sakuna saying she is sitting the row behind Chakawan...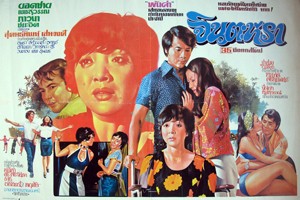 Year

: 1973



Thai title

:

จินตะหรา




English title

:



Rating

: 4/5


Director

: Phan Kam



Main actor

: Yodchai Meksuwan,Choomporn Theppitak,Adul Dulyarat,Preuhat Boonlong


Main actress

: Pawana Chanajit,Amara Asavananda,Marasri Bangchang,Juree Osiri
Thai movie จินตะหรา was released in year 1973 and lasts 1h50mn. It was released under VHS format. Movie director is Phan Kam. It is a romance drama (หนังชีวิตรัก). Montree (Yodchai Meksuwan) is a famous sport student in the university. Kesa (Choomporn Theppitak) introduces him to sexy lady Kha (อภิญญา วีระขจร). Basaba (สุคนธ์ทิพย์ เสนะวงศ์) and Jintara (Pawana Chanajit) are close friends and are joking about Montree. Kha makes Montree drinks a lot. Montree flees before sleeping with her making her very upset. Busaba's father and Jintara's mother have decided to marry. This is a new wedding for the parents (Amara Asavananda and Adul Dulyarat). The grandfather (Preuhat Boonlong) hopes to have a grandson (หลาน) so that his son's life is useful (เสียชาติเกิด)! Busaba and Jintara become half-sisters but from different father and mother! Jealousy often occurs between the two sisters as Jintara likes to have or to use everything that Busaba has. Busaba has interests in Montree. Jintara hides to read playboy. Jintara starts to be jealous to see Busaba and Montree together. Jintara tries to take Montree away from Busaba. Montree is confused. The grandfather wants a son to keep the family lineage. He pushes his son to take a minor wife as the new wife is still not pregnant. Jintara is blamed by her mother as she keeps having bad behavior, i.e. เอาแต่ใจตัวเอง. Jintara collapses (เป็นลม) due to big headache. A doctor finds she has a brain cancer. She has only six months to live. She changes her behavior and becomes a nice person (ความหวังดี). She tries to reunite Montree and Busaba but it fails. In order to push back Montree to Busaba, she stops showing interest to Montree and simulates to be interested in another student called Asawin. Fighting occurs between Asawin and Montree. Montree is injured. Montree's mother, Juree Osiri, complains that Jintara brings troubles to her son (ลูกไม่รักดี). Jintara's mother is finally pregnant. Montree wishes to know the truth behind Jintara's behavior change. Jintara's health is getting worse. Her mother is about to deliver and Jintara has still to perform the school theater performance for orphelin children. Her theater performance becomes similar to her real life as she collapses during the last scene (ฉากสุดท้าย). The new child is a daughter and is named Jintara as the first Jintara is leaving this world… Jintara makes Montree and Busaba promise to love each other.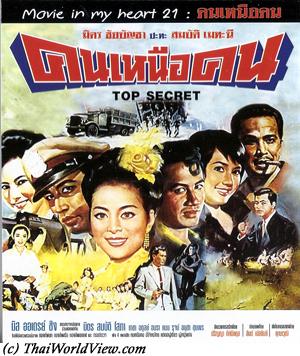 Year

: 1967



Thai title

:

คนเหนือคน




English title

: Top secret



Rating

: 3/5


Director

: Wichit Khunawut



Main actor

: Mitr Chaibancha,Sombat Methanee,Adul Dulyarat,Kecha Plianvithee,Boo Wibunnan,Choomporn Theppitak,Ruj Ronnapop,Man Teeraphol


Main actress

: Sopha Sataporn,Amara Asavananda



Buy now

:

A mysterious Dakota airplane drops a big parcel in the sea, containing in fact the ruffians leader (หัวหน้าใหม่) called Adamcha (Kecha Plianvithee). Meanwhile two Royal Thai airplanes intercept the plane forcing it to land at Don Meuang airport. Thai Army is then aware that a mysterious organisation is preparing plans to harm Thailand so Thai army chief asks his officers to do their best to protect Thailand, Buddhism and the King. Police inspector (สารวัตร) Chet (Mitr Chaibancha) needs to help also and to find an agent called double X. Double X is in fact a police woman called Chin Chin. Adul (Adul Dulyarat) steals some documents in governmental building. Amara (Amara Asavananda), a young lady, supports Adul as part of the organisation. The secret organisation (ผู้ก่อการร้าย) brings disorder in Thailand through bombs and Thai police seems unable to stop them. Chet follows Adamcha's car but gets captured when entering in Adamcha's house. The police chief asks another policeman to help, i.e. Chet's younger brother called Sombat (Sombat Methanee). Real actor names are used in this movie as anyway it was a 16mm movie with dubbing. During an evening party to celebrate their bad achievements, double X's team kidnaps Amara and asks for a ransom. Adul follows the police ladies and after being summoned by Chin Chin (Audrey Sing) regarding his treacherous behavior over Thailand, he accepts to change side. He works for the organisation because of his love for Amara. Sombat helps to release Amara and shoot some policemen (แสดงหนัง). Sombat is finally accepted in the secret organisation following a test. A bank attack turns to a fiasco as police was aware. Sopha (Sopha Sataporn), Sombat's love, is injured. It seems there is spy in the organisation. Sombat helps his brother Chet to flee. Chet is back to the house with full Police squad but Adamcha and his clique have already left. Chet succeeds to get the plan of their new retreat but the ruffians, seeing army soldiers, retreat to a well hidden place. Adul provides the location to the police but is identified as traitor. He is imprisoned and refuses any help from Amara, his former love. Police and army storm the hidden place of their organisation. Following various shootings and Adul's sacrifice, the secret organisation is vanquished. It is another nationalist 1960s movie with police and army protecting Thailand against external threats. The picture quality features many red and green lines (เส้นฝนตกมาก) as company Phanmitr has used the latest film reels available for this movie, which was very popular in 1960s. คนเหนือคน (Top Secret) is a 2h15mn movie. It is also features a few popular songs including a duo Sombat and Sopha.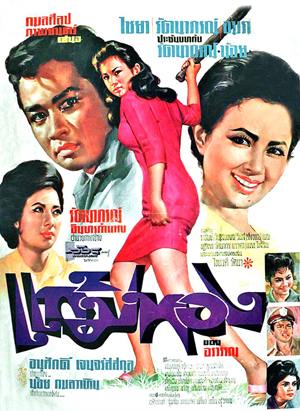 Year

: 1966



Thai title

:

แก้มทอง




English title

:



Rating

: 3/5


Director

: Ratanaporn Intarakamhaeng



Main actor

: Chaiya Suriyun,Sukon Koewliam,Sompong Phonmitr,Adinan Singhiran,Choomporn Theppitak


Main actress

: Ratanaporn Intarakamhaeng,Ratanaporn Noi,Amara Asavananda
Thai movie แก้มทอง was released in year 1966. The movie is lost in Thailand but a sequence of 9mn30s is still available. The movie features Chaiya Suriyun as main actor and Ratanaporn Intarakamhaeng / Ratanaporn Noi (รัตนาภรณ์น้อย). In this movie, Ratanaporn Noi is the main actress. Ratanaporn Intarakamhaeng is playing Ratanaporn Noi's mother. Other actors include Sompong Phonmitr and Sukon Koewliam. Chaiya is not seen in the remaining sequence except in a still picture inside the credits. Ratanaporn Intarakamhaeng was the producer of this movie. Various sequences show two sexy women talking to each other, police raiding a prostitution joint (ซ่องโสเภณี) including comic scenes with Sukon Koewliam and a fat lady. A few comic sequences are still shown including Sompong are still present.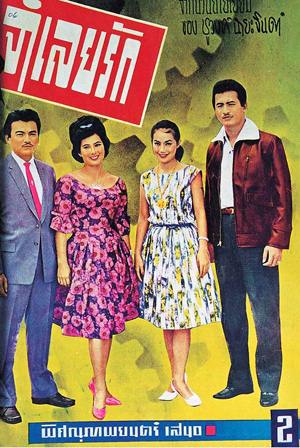 Year

: 1963



Thai title

:

จำเลยรัก




English title

:



Rating

: 5/5


Director

:



Main actor

: Mitr Chaibancha,Prachuap Ruekyamdee,Preuhat Boonlong


Main actress

: Pissamai Wilaisak,Amara Asavananda,Sulaleewan Suwanthat,Manat Boonkiet,Malee Wetpraseri
Thai movie จำเลยรัก was released in year 1963. This movie features Mitr Chaibancha as main actor and Pissamai Wilaisak as main actress. The movie is lost in Thailand but a succession of sequences lasting one hour and 20 minutes is left to be seen. It is remaining out take sequences session (หลุด). The remaining film was dubbed and shown in Thai Film Archives in year 2017. Another version of จำเลยรัก was released in year 1978 through a DVD still available. It features Phairoj Sangwaribut and Naowarat Yooktanun. Two brothers, Narin and Narit (Mitr Chaibancha), are arguing. The youngest brother Narin loves a woman called Satsanee. As the love is not blossoming, he gets suicide. Satsanee (Amara Asavananda) and younger sister So (Pissamai Wilaisak) are part of a rich family. Her parents are played by Preuhat Boonlong and Manat Boonkiet. Her aunt by Malee Wetpraseri. Domestic helper is played by Sulaleewan Suwanthat. Believing So is Satsanee, the elder brother Narit blames So and announces to her that Narin is about to die. It is her last chance for her to see him. She follows Narit without warning her other family members. She understands too late that Narit kidnaps her. Narit wants her to pay for her sins (การใช้บาป). She claims she is not Satsanee but So! He doesn't listen. Satsanee meets Wat (Prachuap Ruekyamdee). Narit doesn't want to release So as he is concerned she would lie to other men again. Ruffians led by Khun Wiset threatens Narit to sell his tin mine but he refuses. On the way to the city, Narit helps Wat, whose car has a flat tire. While having a drink, he learns that Narit just engaged with a young lady called Satsanee! Lady Boonkrai tries to frame So by pushing Bai to rape her. Narit is very upset with So as he believes she keeps seducing men such as his brother Narin, Bai and Wat so he keeps her captive so that she pays her moral debts (ชดใช้). Narit knows the truth as So speaks while having a nightmare. Narit excuses himself about his behavior. So asks him to give pardon (ขออภัย) but Narit refuses as he lost his brother. Love emerges between Narit and So. Ruffians attack the tin mine. Narit defeats their leader and confronts the owner of another mine, khun Wiset, that tried to steal his belongings. So cares for Narit, who was slightly injured during the fightings. Narit offers a pendant to So. So is back to her home. Satsanee wants to know where So has disappeared. Satsanee is engaged with Wat. Nariti finally meets Wat and the real Satsanee. Satsanee borrows So's pendant. Bai realizes that Boonkrai was lying to him. Boonkrai also lies to Satsanee about Wat having an accident. Boonkrai and Hin have a plan. Narit and Wat storm the ruffians' place to release Satsanee. Narit defeats Hin. Satsanee wishes to stay her whole life with Narit. Wat and Narit go back to Bangkok by train. Satsanee breaks up with Wat and gives back her engagement ring (ถอดหมั้น). Narit buys an engagement ring. Narit visits Satsanee's parents and Satsanee believes Narit is asking for her hand. Narit asks for So's hand causing Satsanee's despair! It was a trick for Satsanee to suffer and understand the suffering she caused to others. Narit doesn't want to meet Satsanee anymore and chases her away. Satsanee finally goes to see Wat back at the hospital and they engage again. Narit and So can have happiness. Three songs are featured in the movie.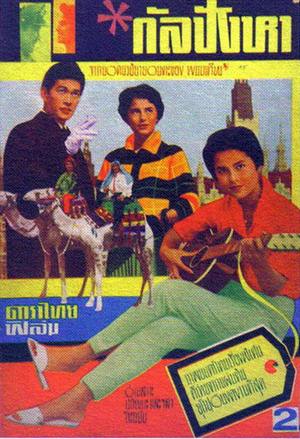 Year

: 1962



Thai title

:

กัลปังหา




English title

:



Rating

: 3/5


Director

: Wichit Khunawut



Main actor

: Chana Sriubon,Ruj Ronnapop,Sukon Koewliam,Preuhat Boonlong,Boo Wibunnan


Main actress

: Kesarin Patamawan,Amara Asavananda,Manat Boonkiet
Thai movie กัลปังหา was released in year 1962. It features Chana Sriubon as main actor and Kesarin Patamawan as main actress. Back from overseas, Kung (Kesarin Patamawan) doesn't want to study anymore as she is old enough. His parents are worried she just wants to have fun with friends. Kung has met Chris (Chana Sriubon) in Italy. Back to Thailand, she meets a fisherman called Naemai (also played by Chana Sriubon) near her home and sympathizes with him. Other actors are Ruj Ronnapop and Boo Wibunnan. She even forces her way (คนดือ) on his boat to see how the life on a boat is. But she takes unreasonable risks. Romance starts between them. Kung receives a request for engagement from Chris. Naemai is arrested by the police. Naemai is Chris' younger brother. Finally aware of the love between Naemai and Kung, Chris breaks his engagement with Kung and lets them having happiness. A VHS from the 16mm film was released in 1992 at the same time as Thai movie สาวน้อย. Director of this movie is famous director Wichit Khunawut. Thai actress Kesarin Patamawan (เกศริน ปัทมวรรณ) played in less than 10 movies before moving to USA. Chana Sriubon played in many other movies with various famous actresses such as in แม่ (with Ratanaporn Intarakamhaeng), ยอดพิศวาส (with สุทิน บัณฑิตกุล), จอมใจเวียงฟ้า (with Metta Roongrat), ก่อนอรุณจะรุ่ง (with Prapan Narkthong), โรงแรมนรก (with Sarinthip Siriwan), สองฝั่งฟ้า (with Pissamai Wilaisak), หมอกสวาท (with Petchara Chaowarat). A remake of movie กัลปังหา with Jarunee Sooksawad, Sorapong Chatree and Nirut Sirijanya was released in year 1985.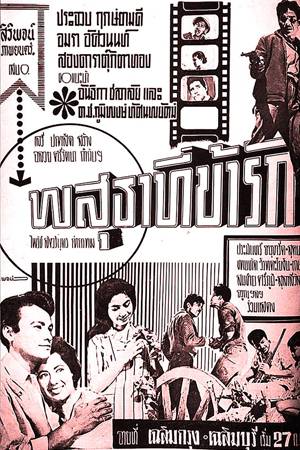 Year

: 1961



Thai title

:

พสุธาที่ข้ารัก




English title

:



Rating

: 3/5


Director

:



Main actor

: Prachuap Ruekyamdee,Sukon Koewliam


Main actress

: Amara Asavananda,Sulaleewan Suwanthat
Thai movie พสุธาที่ข้ารัก was released in year 1961 with Prachuap Ruekyamdee as main actor and Amara Asavananda as main actress. The movie is lost in Thailand and only a trailer lasting 5 minutes is left to be seen. Other actors include Sukon Koewliam, a little boy as new actor (ดาราเด็กๆ). He looks like the son of Prachuap and Amara. It is an action movie and the trailer features sequences showing many fightings and shootings. Prachuap Ruekyamdee did have a short time as main actor as other actors such Mitr Chaibancha, Sombat Methanee and Luechai Natnat emerged also and became more popular.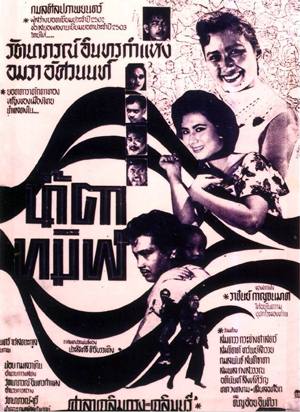 Year

: 1960



Thai title

:

น้ำตาทมิฬ




English title

:



Rating

: 3/5


Director

:



Main actor

: Ratchan Kanchanamat,Somkuan Krajangsat,Lor Tok,Adinan Singhiran,Sompol Kongsuwan


Main actress

: Ratanaporn Intarakamhaeng,Amara Asavananda,Somjit Sapsamruey
Thai movie น้ำตาทมิฬ was released in year 1960. Main actor is Ratchan Kanchanamat (ราชันย์ กาญจนมาศ) and main actress is Ratanaporn Intarakamhaeng. Other actors and actresses are Amara Asavananda, Somkuan Krajangsat, Lor Tok, Somjit Sapsamruey, กมลพันธ์ สันติธาดา, Sompol Kongsuwan, Adinan Singhiran, ทศ วงศ์งาม. The movie is lost in Thailand but a ten minutes sequence remains to be seen. It is still very colorful. A three minutes sequence online shows Ratanaporn Intarakamhaeng talking to Ratchan Kanchanamat, Amara with Somkuan Krajangsat, Amara drinking alcohol and starting to be drunk, a boat speeding on the Chao Praya river. The movie was produced by Ratanaporn Intarakamhaeng. Ratchan Kanchanamat is a main actor from decade 1950s. He played in อกสามศอก (1958) and later on in ชีวิตบัดซบ (1976).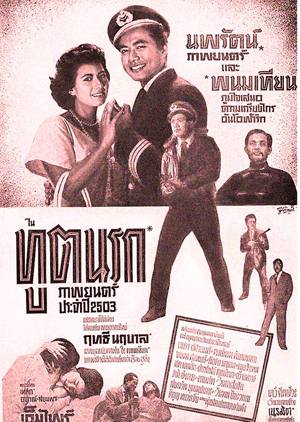 Year

: 1960



Thai title

:

ฑูตนรก




English title

:



Rating

: 3/5


Director

: Neramit



Main actor

: Luechai Natnat,Man Teeraphol,Tat Ekathat,Phirapon Piyawan,Jamroon Nuatjim


Main actress

: Amara Asavananda
Thai movie ฑูตนรก (เล็บครุฑ ภาคสมบูรณ์) was released in year 1960. The main actor is ฤทธี นฤบาล and main actress is Amara Asavananda. This movie is supposed to be a sequel of Thai movie "เล็บครุฑ" released in year 1957 and featuring Luechai Natnat. Luechai got a Thai cinema award for his first movie. In this sequel, the main actor is new and his name is ฤทธี นฤบาล. Others actors and actresses are พงษ์ลดา พิมลพรรณ, งามตา ศุภพงษ์, Luechai Natnat, Man Teeraphol, Tat Ekathat, ประศาสน์ คุณะดิลก, กวี นาคราช, ชาติ เชิงชาย, สมถวิล มุกดาประกร, Phirapon Piyawan, Jamroon Nuatjim (จำรูญ หนวดจิ๋ม). Director is Neramit (ครูเนรมิต). It was not a big success as the main actor was more known for second roles in other movies. The movie is lost in Thailand but a 5 minutes sequence is is left to be seen. Luechai Natnat has certainly a small role to make the transitions between the two movies. Various small sequences can be seen such as scenes including actors Tat Ekathat and Man Teeraphol, Jamrun Nuatchim hiding under the bed, Amara threatened by a man with a bottle full of acid, Amara and a captain in front of a paquebot, the captain leaving, veteran sexy actress (ดาวยั่ว) seducing a man.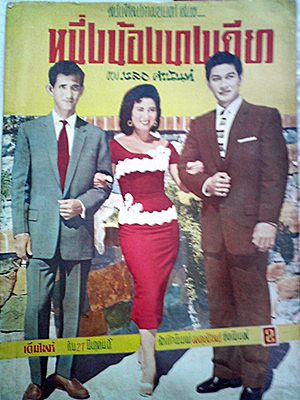 Year

: 1959



Thai title

:

หนึ่งน้องนางเดียว




English title

:



Rating

: 3/5


Director

:



Main actor

: Chana Sriubon,Taksin Jampol,Dokdin Kanyaman


Main actress

: Amara Asavananda
Thai movie หนึ่งน้องนางเดียว was released in year 1959. The movie is lost in Thailand but luckily a sequence of 1h06mn30s remains to be seen. Main actor Chana Sriubon is and main actress is Amara Asavananda. This is a movie in 16mm format so requiring live dubbing so the left sequence is in mute state. The remaining sequence is still colorful. Amara Asavananda and her hunchbacked brother (Taksin Jampol) are living in the forest. They find Chana Sriubon, who is injured. Dokdin Kanyaman is looking for Chana. Amara takes care of Chana while he is sick. Love emerges between Amara and Chana. Fighting happens with the hunchbacked brother as he doesn't trust Bangkok people. Chana finally leaves but promises to come back. Amara has now a child from him but Chana is not yet back. They visit Chana in Bangkok but are chased away as he is already married or engaged. They move to South of Thailand. Amara finds a treasure full of expensive jewels. While visiting South of Thailand, Chana meets a beautiful lady but he doesn't recognise she is Amara. Amara starts to create remorses about his previous behavior and Chana has nightmares. A local shaman (หมอผี) is used by the hunchbacked brother. Chana flees his house and takes refuge in Amara's place. Amara falls again for Chana and this makes Taksin upset. He is looking for revenge. Taksin has no more hunch. They have moved to a new beautiful house. The hunchbacked brother brought chance. Is Chana dreaming as he cannot believe that the previous people from the forest are now rich people? He is confused. The remaining sequence stops here. A remake was released in year 1980. It was featuring Sombat Methanee and Pissamai Wilaisak. It is still available on VCD format. The story is very similar.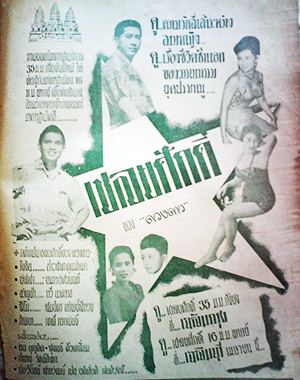 Year

: 1959



Thai title

:

เชลยศักดิ์




English title

: Chaleuy Suk



Rating

: 3/5


Director

: Mom Ubon Yukol



Main actor

: Sukon Koewliam


Main actress

: Amara Asavananda
The first version of the movie เชลยศักดิ์ was shot in 1959. After 1932 events where absolute monarchy was abolished, sharp fighting among the new ruling elites happened. Lieutenant Yothin (โยธิน), who is part of lineage อัศวรัช, becomes another lineage's slave (รับใช้) for one year. Alissa (ม.ร.ว. อลิสา) and his brother Atisak (ม.ร.ว. อติศักดิ์) are part of the lineage (สันตติวงศ์), which won after 1941 events. They want to force Yothin to behave like them (ผู้ดี) and also humiliates him. Despite this bad atmosphere, friendship starts between Anoun, youngest brother of Atisak, and Yothin. Yothin was part of เสรีไทย. The Seri Thai (Free Thai Movement) was an underground resistance movement against Japan. Piromya, school friend of Alissa, is going to visit their home soon. Alissa orders Yothin to give an invitation letter to SaenThai and to bring back some expensive clothes from the tailor. It shall be done within an impossible timing. Yothin succeeds to perform the task but clothes are ruined due to a storm. Not recognizing his efforts, Alissa brashes him and teases him about his fiancee Piromya coming to her home and yet unaware of Yothin's new status. Yothin faints. Guests arrive for a few days. Anoun tells Piromya regarding Yothin's presence. Piromya is now aware of Yothin's new status and breaks up with him. Prince Kwanfa has Kaew, Alissa's governant, as mistress. He wishes to marry Alissa as he has debts. Kaew is upset by his plans. Piromya finds consolation with Prince Kwanfa and becomes also his mistress at the waterfall. Piromya is still confused with her feelings as she still loves Yothin but also identifies some subtle feelings between Alissa and Yothin. Piromya refuses to marry Kwanfa. Alissa decides to visit Piromya, who is now 5 months pregnant. On the way, she is kidnapped by Kwanfa. Kwanfa wishes Alissa to become his new wife (เมียใหม่). She refuses and fights back. Kwanfa is seen as evil (ใจสัตว์) as the has already deceived Kaew and Piromya. Yothin convinces Kaew to help him in order to spare Kwanfa's life. Seeing Alissa as the cause of her love problems, Kaew tries to stab her but finally as Kwanfa interferes to protect, he is the one stabbed to death. Alissa and Yothin flee. Kaew sends Kwanfa's guards after them. In the 1980 remake version, she kills herself on Kwanfa body. Alissa, Yothin and Anoun escape through some rapids but Anoun dies of cold and fatigue. Atisak recognizes Yothin's efforts despite Anoun death and finally gives back his freedom to Yothin. Yothin declares his love to Alissa. This old Thai movie is still in good condition with nice colored image. It features indoor and outdoor sequences. This movie was available in 35mm and 16mm format. It was directed by Mom Ubon Yukol, father of Thai director ChatriChalerm Yukol. Main actress is Amara Asavananda, who had her fame in 1950s.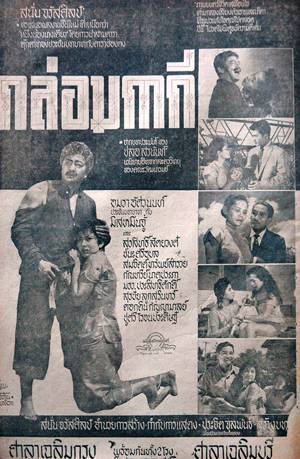 Year

: 1959



Thai title

:

กล่อมกากี




English title

:



Rating

: 3/5


Director

:



Main actor

: Chana Sriubon,Surasit Sattayawong,Dokdin Kanyaman


Main actress

: Amara Asavananda,Somjit Sapsamruey,Chosri Misommon,Sulaleewan Suwanthat
Thai movie กล่อมกากี was released in year 1959. It features Amara Asavananda as main actress and Chana Sriubon as main actor. Thong (Surasit Sattayawong) helps a pregnant woman called Yinfa (Somjit Sapsamruey). She is going to jump from a bridge. He saves her life. Her born daughter is called Buakim (Amara Asavananda) and is raised by Thong. Being adult, Buakim finds a job in an office but issues happen. Chana (Chana Sriubon), the staff manager, solves the issues. As uncle Thong is sick, Buakim asks for a three days off and salary advance to the boss (เป็นพิเศษ). Buakim ends up being domestic helper (แม่บ้าน) for Chana's family. Chana doesn't have any mother. Buakim doesn't have any father. So they have a common understanding. Buakim is poor (ยากจน / พบแค่ความทุกข์). She is accused of having stolen money in the house. It is in fact a plan by the younger wife of the boss asking Mae Nim (Sulaleewan Suwanthat) to play trick to Buakim. When Chana finishes his university degree, he wishes to marry with Buakim. Buakim is reluctant as she is only a domestic helper. Thong warns the boss' wife to stop harassing Buakim. Yinfa realises that Chana is her lost son so she asks Buakim to stop seeing Chana. Upset Chana feels betrayed and slaps Buakim. Thong protects Buakim. Chana understands the truth and visits his lost mother. Finally they are all reunited thanks to Thong. Chana loses a wife but gains a mother and sister. Part of the movie is dubbed as it was released earlier in video tape format. It was never released in another format as the movie was not successful enough in VHS format. It lasts around 1h30mn. A Hong Kong actress is also involved, i.e. Miss Minchoo (หมิ่นจู้).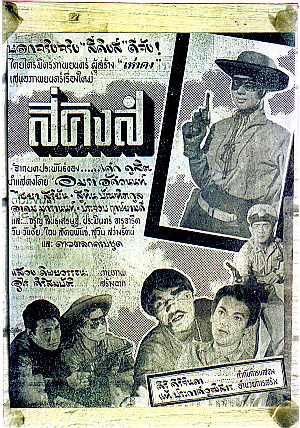 Year

: 1959



Thai title

:

สี่คิงส์




English title

:



Rating

: 3/5


Director

: Tae Prakardwutthisan



Main actor

: Chaiya Suriyun,Dokdin Kanyaman,Prachuap Ruekyamdee,Sompong Phonmitr,Sawin Sawangrat,Lor Tok


Main actress

: Amara Asavananda,Chosri Misommon
สี่คิงส์ or "See King" is a Thai crime movie produced by Tae Prakardwutthisan. The 1959 movie is lost in Thailand but hopefully a 16mm "behind the screen" sequence of 10 minutes is still available. It was given by Tae Prakardwutthisan himself in year 1988 to the Thai Film Archives. Despite using same actors as "Hao Dong" (1956), "See King" movie was not a commercial success. The sequence shows the actors and actresses during the first projection in year 1959. Those actors are Amara Asavananda, Chaiya Suriyun, Dokdin Kanyaman, Prachuap Ruekyamdee, Sompong Phonmitr, Sawin Sawangrat, Lor Tok. The movie trailer is also included. A few fights are featured with Chaiya. Dokdin Kanyaman is acting as a journalist. Somphong and veteran comic actress Chosri Misommon (ชูศรี มีสมมนต์) are featured together. Both the main actor and main actress are nice outlaws. Similar as in movie "Hao Dong", Amara is wearing a mask. The sequence is coming from a DVD that can be bought at Thai Film Archives. The movie advertisement song radio is set as soundtrack (เพลงโฆษณาหนัง) and highlight it is a good movie (สี่คิงส์ หนังดี สี่คิงส์ ยิ่งใหญ่ เด็ดจริง ถึงใจ ใช่ใคร สี่คิงส์). A remake version was released in year 1982 featuring Sorapong Chatree and Naowarat Yooktanun. It was not also a great commercial success.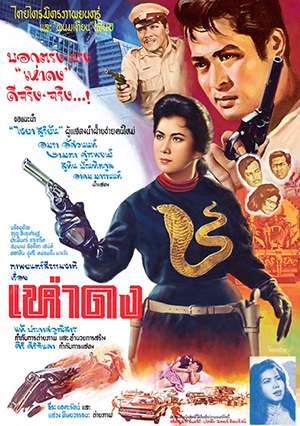 Year

: 1958



Thai title

:

เห่าดง




English title

: Hao Dong



Rating

: 3/5


Director

: Tae Prakardwutthisan



Main actor

: Chaiya Suriyun,Lor Tok,Dokdin Kanyaman,Sompong Phonmitr


Main actress

: Amara Asavananda,Chosri Misommon,Marasri Bangchang
เห่าดง (Hao Dong) is a 1958 Thai movie by director Thae Pragartvuthisarn. It features famous Thai actor Chaiya Surin (his first movie) and actress Amara Asavananda. Other actors include Lor Tok, Dokdin Kanyaman, Sompong Phonmitr, Chosri Misommon. A remake was released in year 1983 with Sorapong Chatree and Suriwan Suriyong. No extract of the movie is left anymore. But there is still a short 1mn22s sequence from 1958 Thai news showing a huge crowd waiting to see Hao Dong movie. A few still pictures are still available showing Amara Asavananda wearing color Hao Dong costume. It was a big commercial success thanks also to great advertisements including radio, TV, huge billboards up to 12 meters (คัทเอาต์ขนาดยักษ์) of actress Amara Asavananda in popular areas of Bangkok. Three gangs of robbers are bringing trouble in Bangkok. Hao Dong works alone. Hao Dong is a former military (ทหารม้า). He is not a ruthless gangster like the two other groups. Feeling betrayed, the other groups (เล็บเหล็ก, แสงเทียน) wish to get rid of Hao Dong. As he dies, his daughter (Amara Asavananda) takes over. Chaiya is playing a policeman and love will emerge with Amara. The success of movie Hao Dong is due to the presence of 3 famous Thai comic stars (Lor Tok, Dokdin Kanyaman, Sompong Phonmitr). Tae Prakardwutthisan had also the good idea to make a simple but entertaining song to be diffused on radios for movie promotion. It mentions Dokdin as ตัวดำๆ. A movie as that time was always a financial risk due to potential military coup d'etat as it could ruin all investments on a movie. Hao Dong generated 1.3M baht revenue.
---