Increase or decrease font size for easier reading : A+ A-
Year 2018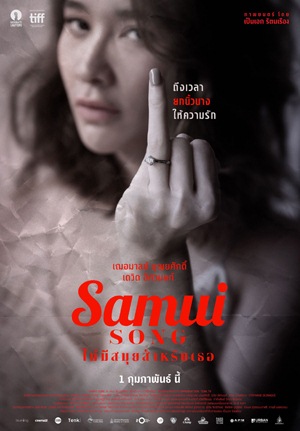 Year

: 2018



Thai title

:

ไม่มีสมุยสำหรับเธอ




English title

: Samui song



Rating

: 5/5


Director

: Pen-Ek Ratanaruang



Main actor

: David Asavanond


Main actress

: Laila Boonyasak
Thai movie ไม่มีสมุยสำหรับเธอ / Samui song was released in year 2017 and lasts 1h48mn. Movie director is Pen-Ek Ratanaruang. A car accident happens as the driver tries to avoid a body on the ground. The lady driver Wee (Laila Boonyasak) is injured and ends up at hospital. She meet a man called Kai (David Asavanond) and tells him about her personal problems. Her French middle age husband, Chalom, is being influenced by a local guru (ท่าน) and is spending a lot of time in his meditation retreat. The master has bad reputation of being a butterfly man with his lady disciples. Wee doesn't believe in him. Wee talks on the phone through a toilets scene. Wee is a former Thai TV serie (ละครโทรทัศน์) star. The couple argued about this master (บ้าๆ) so she fled as her husband slapped her. While fleeing from home, she had a car accident. Kai suggests she should divorce but she is stuck as she would get nothing if she is the one initiating the divorce. Back from hospital, she stays home, and her husband is upset as the car is severely damaged. The French husband invited the master and two of his close disciples to his home. After talking religion, they ask for beer! After a while, the master asks to go to Wee's room (she is all yours). The husband tried to have masturbation while watching his wife and the guru, but he is impotent. She decides to call Kai. Kai asks for 800 000 THB. Kai needs money as his mother has Alzheimer disease. The killing doesn't end up as scheduled. Due to rainy day, he slips while going to shoot the husband. He must kill him with a heavy bronze object. In the morning, the body has disappeared. The police finds the injured body on the road. While her husband is at hospital, the master invites himself to Wee's home, but she asks him to leave. Later, buried items used during the murder tentative are found in the forest. Two ruffians follow Kai and enter in his home. He is able to get rid of them and flees with his sick mum. They take refuge in a Buddhist temple. About to steal money from the temple, he is captured by ruffians. The story moves to a movie projection on an island. A teenage girl Noi is aggressed by a man. The teenage girl is rescued and finds shelter in a young lady having a child already. They become lovers. Back home, Kai is waiting for the lady. It is Wee, who changed appearance! A fight occurs as Kai comes for revenge. The movie ends with a confusion between real life and TV series life. What is the story real or just a TV series? The movie theater release was forbidden in Thailand below 18 years old due to some troubling scenes.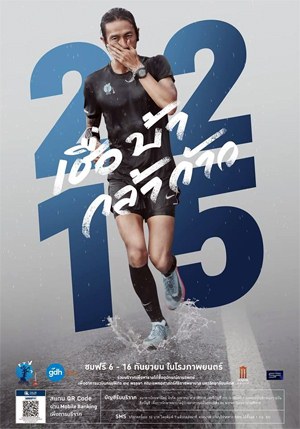 Year

: 2018



Thai title

:

2,215 เชื่อ บ้า กล้า ก้าว




English title

:



Rating

: 4/5


Director

:



Main actor

:


Main actress

:
Thai movie and documentary "2,215 เชื่อ บ้า กล้า ก้าว" was released in year 2018. It lasts 1h30mn. Toon Bodyslam (Athiwara Kongmalai), famous Thai rock star singer, ran from South Thailand (Betong) to North Thailand (Mae Sai) to get charity from Thai people giving money to help 11 public hospitals to buy equipment. Toon ran 50 kms a day and did it in 55 days. He took one rest day for every four running days. Toon gave hope and energy to people showing that they could achieve their dreams. More than 1400M THB were received. The movie shows the challenges and difficulties he faced to achieve this target. It shows people, who help him around such as his mother, doctor and friends. It also shows Thai people enthusiasm and generosity to support him during his run.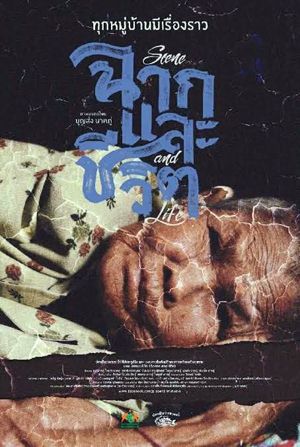 Year

: 2018



Thai title

:

ฉากและชีวิต




English title

: Scene and Life



Rating

: 3/5


Director

: Boonsong Nakphoo



Main actor

: Boonsong Nakphoo


Main actress

:



Buy now

:

Thai movie ฉากและชีวิต - Scene and Life was released in year 2018 and lasts 1h26mn. Movie director is Boonsong Nakphoo. The movie features many small scenes of rural life in a remote Isan village. Isan is the Northeastern region of Thailand. This region is still heavily relying on agriculture and a big part of its workforce is living in big cities such as Bangkok. Phi Son is living a simple day by day life in the village. His girlfriend is leaving him as she is going to work in Bangkok. An older farmer has a crisis while putting insecticide on rice. As most of the people are gone to work in cities, there is nobody to help him. Only old people and children stay behind in the village. Children interview an old lady about the life in the village before. Nowadays farmers only grow rice species giving harvest in 3 to 4 months and use a lot of pesticide. A man is selling the house in which his father is still living as it is made of old teak, so it has some reselling value. A man has family issue as his wife left him. His car runs of petrol and stops by near a Buddhist temple. Nobody from his family is willing to help him as he calls them by phone. Only the temple abbot gives help, i.e. allowing him to sleep, preparing a bed for him, giving him food for breakfast, giving him petrol for him to continue his journey. A teacher is dedicated to his job despite the children seem not to care. In parallel he needs to manage his own kids. A father (Boonsong Nakphoo) is teaching his son to cook but it is a disaster as the meal is not good. Youngsters are not willing to cook by themselves anymore while their mother is working in Bangkok. So a vegetable merchant has poor business as most people are buying cooked meals. A father is sending his daughter to the bus station as she is going to work in Bangkok to pay debts.
---