Increase or decrease font size for easier reading : A+ A-
Year 2018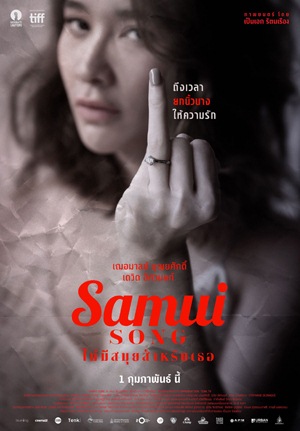 Year

: 2018



Thai title

:

ไม่มีสมุยสำหรับเธอ




English title

: Samui song



Rating

: 5/5


Director

: Pen-Ek Ratanaruang



Main actor

: David Asavanond


Main actress

: Laila Boonyasak
Thai movie ไม่มีสมุยสำหรับเธอ / Samui song was released in year 2017 and lasts 1h48mn. Movie director is Pen-Ek Ratanaruang. A car accident happens as the driver tries to avoid a body on the ground. The lady driver Wee (Laila Boonyasak) is injured and ends up at hospital. She meet a man called Kai (David Asavanond) and tells him about her personal problems. Her French middle age husband, Chalom, is being influenced by a local guru (ท่าน) and is spending a lot of time in his meditation retreat. The master has bad reputation of being a butterfly man with his lady disciples. Wee doesn't believe in him. Wee talks on the phone through a toilets scene. Wee is a former Thai TV serie (ละครโทรทัศน์) star. The couple argued about this master (บ้าๆ) so she fled as her husband slapped her. While fleeing from home, she had a car accident. Kai suggests she should divorce but she is stuck as she would get nothing if she is the one initiating the divorce. Back from hospital, she stays home, and her husband is upset as the car is severely damaged. The French husband invited the master and two of his close disciples to his home. After talking religion, they ask for beer! After a while, the master asks to go to Wee's room (she is all yours). The husband tried to have masturbation while watching his wife and the guru, but he is impotent. She decides to call Kai. Kai asks for 800 000 THB. Kai needs money as his mother has Alzheimer disease. The killing doesn't end up as scheduled. Due to rainy day, he slips while going to shoot the husband. He must kill him with a heavy bronze object. In the morning, the body has disappeared. The police finds the injured body on the road. While her husband is at hospital, the master invites himself to Wee's home, but she asks him to leave. Later, buried items used during the murder tentative are found in the forest. Two ruffians follow Kai and enter in his home. He is able to get rid of them and flees with his sick mum. They take refuge in a Buddhist temple. About to steal money from the temple, he is captured by ruffians. The story moves to a movie projection on an island. A teenage girl Noi is aggressed by a man. The teenage girl is rescued and finds shelter in a young lady having a child already. They become lovers. Back home, Kai is waiting for the lady. It is Wee, who changed appearance! A fight occurs as Kai comes for revenge. The movie ends with a confusion between real life and TV series life. What is the story real or just a TV series? The movie theater release was forbidden in Thailand below 18 years old due to some troubling scenes.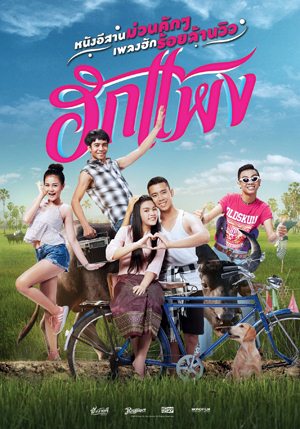 Year

: 2018



Thai title

:

ฮักแพง




English title

:



Rating

: 3/5


Director

: ธีรเดช สพันอยู่



Main actor

: Akom Preedakul


Main actress

:
Thai movie ฮักแพง was released in year 2018 and lasts 1h52mn. It is an Isan romance musical movie. Isan language is used. Multiple comic sequences are featured including Thai typical flatulence jokes. Movie director is ธีรเดช สพันอยู่. Two singers, Saep (แซ็ค ชุมแพ) and Ton (เบิ้ล ปทุมราช อาร์สยาม), from a Molam troupe, love the same lady Pim (ลำไย ไหทองคำ), but her father opposes. A female singer from the same Molam troupe, Muk (ธัญญ่า อาร์สยาม), loves Ton. Akom Preedakul is playing a music producer. Pim's parents want to marry their daughter to a rich groom. They wish to marry Pim to Tom, the music producer's son. They believe love will come by itself. The music producer convinces his son to drop his girlfriend Fan in favor of Pim. Saep and Ton try to oppose the wedding, but the father chases them. Muk loves Ton, but it is not reciprocal as Ton considers her as a younger sister only. Pim doesn't dare to conflict with her mother. Fan is the former girlfriend of Son (ก้อง ห้วยไร่). He is heartbroken but overcomes his sadness to become a singer hired by the music producer. The music producer is very mean and gives him a small salary. Ton finally understands Muk's love towards him. He intervenes when the music producer wishes Muk, as Molam singer, to wear a coyote outfit. As the music producer insists too much, he punches him. The music producer promises to avenge. Pim has to marry soon with Tom. As Saep and Ton have great success on YouTube, the music producer hires them but lies on the contract amount, so they punch him. Pim stops the wedding with Tom and Tom gets punched by all his former girlfriends including Fan. Son, fed up to get a small salary from the music producer, also quits. The three friends organise a big concert ฮักแพง. To disrupt their efforts, the music producer kidnaps them, but they succeed to flee through modified farm trucks (รถอีแต๋น). Meanwhile fans are waiting for the singers. Ekkachai Srivichai, believing he is in Nakhon Sri Thammarat and not in Nakhon Ratchasima, is willing to help, but Isan fans want Molam music. Hopefully the three friends arrive before the fans leave the concert. It ends up as a huge success. The concert is doing the transition between teacher and new singers.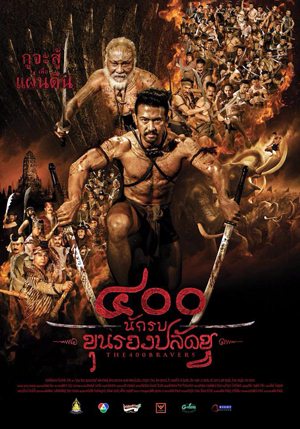 Year

: 2018



Thai title

:

400 นักรบขุนรองปลัดชู




English title

: The 400 Bravers



Rating

: 4/5


Director

: จตนิพัทธ์ สาสิงห์



Main actor

: เอ็กซ์ พรเลิศ


Main actress

:



Buy now

:

Thai movie 400 นักรบขุนรองปลัดชู / The 400 Bravers was released in year 2018 and lasts 2h37mn. It is based on a real story. Khun Rong Palat Chu is a strong fighter skilled in swords and is also teaching the villagers. Burmese army prepares an attack as they plan to destroy Ayutthaya a second time in 1767. The Burmese king nominates his three sons to lead the attack. Villagers enjoy life through festivals, trade... Kom studied with Chu but Chu won Pikul's heart. Multiple villages gather for a ceremony ไหว้ครู highlighting the teacher being venerated by numerous disciples (ลูกศิษย์). The local lord asks Chu help to slow down the Burmese army with as many men as he can. The other lords are unable to reach agreement and nobody takes leadership to protect their motherland. To ensure children have a future, Chu accepts a royal order to help the army. Chu has to gather men. Kom finally accepts to join, putting aside his love deception with Pikul. Seeing there is no resistance, Burmese army reduces their speed. 400 brave fighters gather under Chu's leadership. The 400 fighters are concerned that they need to stop the Burmese army by themselves, but they do it to protect their motherland. They receive blessings from their teacher. Meanwhile Pikul and other women decide to learn using swords as there are only kids, women and old men left in the village. They need to defend themselves if Burmese soldiers reach the village. The 400 beavers have to defend Kui Buri city until the local lord sends the royal army for support. They succeed to disrupt the Burmese army through some ambushes targeting advanced posts but the main Burmese army, made of 8000 men, is much bigger than them. People from the 'Sua Kui' clan join them. Finally, the 400 bravers have to face the Burmese army. They are pushed on a beach, then they are all killed and outnumbered by the Burmese soldiers. Their magic tattoos are not enough as Burmese soldiers use big hammer to defeat them. Despite strong resistance, Chu is captured and spared by the Burmese. The Burmese king wishes Chu to surrender officially to him and to pay allegiance to him. Chu pays allegiance to Ayutthaya kingdom. The king orders to kill him but Chu defeats his opponents. Meanwhile Burmese troops attack his village. Despite fierce defence, his wife is killed. Chu is finally crushed between two elephants. The Burmese King announces the body will be sent back to Thailand with all deserved honors. The teacher (ครู) announces resistance to invaders and the remaining men are joining Bang Rajan villagers to fight against Burmese army...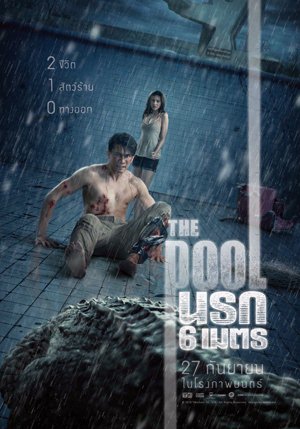 Year

: 2018



Thai title

:

นรก 6 เมตร




English title

: The Pool



Rating

: 3/5


Director

:



Main actor

: Theeradej Wongpuapan


Main actress

:
Thai movie The Pool / นรก 6 เมตร was released in year 2018 and lasts 1h30mn. It is a thriller movie mainly shot in a pool. Aet (ธีรเดช วงศ์พัวพันธ์) is taking care of lighting during movies shooting. A movie was just shot in a disaffected 6 meters deep swimming pool. All are gone but Aet is having a rest on an inflated mattress in the pool. Somebody cuts the power and the water is gradually evacuated. As Aet sleeps on an inflated mattress, the water drops a few meters. When he wakes up, he is not able to exit the old swimming pool as there is no ladder to climb. His pregnant girlfriend Koi (รัชย์ณมนทร์ รัชย์จิราธรรม), unaware of the situation, prepares to jump but she misses her jump as Aet tells her not to jump. She hurts her neck and is unconscious for one day. Their dog is attached. A crocodile falls in the pool. The pool is disaffected so nobody walks around. Only a pizza seller comes but he doesn't see Aet. They try all ways to exit from the pool. The crocodile is a female and has eggs. They succeed to get rid of the crocodile as it falls in the water evacuation hole. They eat crocodile eggs. Aet needs to get insulin. Luckily his colleague made his wallet fell in the machinery area. Seeing a drone, Aet is back in the pool. Due to wind, wired cable falls in the swimming pool. By trying to climb it, Aet breaks his leg. The crocodile attacks him. The movie features great Fx animation effects with the crocodile. Canalizations are under the swimming pool. It is linked to machinery area. A drone falls in the swimming pool. Owners come to get it in the swimming pool. Koi is staying in the machinery area to avoid the crocodile. How can Aet escape the swimming pool with a broken leg and save Koi being drowned in the machinery area being filled by water due to strong storms?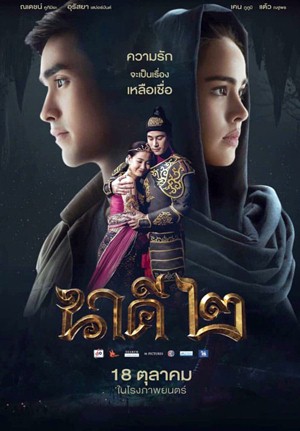 Year

: 2018



Thai title

:

นาคี 2




English title

: Naki 2



Rating

: 4/5


Director

: Phongphat Wachirabanjong



Main actor

: Piya Trakulrard


Main actress

:



Buy now

:

Thai movie นาคี 2 / Naki 2 was released in year 2018 and lasts 1h30mn. It made 440M THB revenue. It is one of the biggest success in Thai movies history. Movie director is Phongphat Wachirabanjong. It is based on a Thai TV serie นาคี who was aired in year 2016 on CH3 TV channel. The original idea was to do another TV series called นาคี 2 but it finally became a movie. Main actor as Thosapon (ภูภูมิ พงศ์ภาณุภาค) and actress as Naki (ณฐพร เตมีรักษ์) from TV serie นาคี are still in นาคี 2 / Naki 2 making the link between the two versions. The TV series Naki is based on Thai movie Nakee / นาคี released in year 1979. This movie takes place in Loei, where a local shrine is dedicated to local deity Mae Naki (แม่นาคี). A new police inspector (สารวัตร) Pong Prap (ณเดชน์ คูกิมิยะ) arrives in the city. People died recently so the new police inspector has to investigate. A man pushes young lady Soi (อุรัสยา เสปอร์บันด์) trying to protect the statue. The man, who insulted the statue, is found dead. Villagers believe it is due to Phajanak (พยานาค), a huge mystic snake. Pong Prap doesn't believe this despite big bites are found in the dead body. It is only a traditional belief of local people. A man is suspected. Pong Prap captures him but he later died in his cell. Soi is a medium and has vision if people are going to die. Huge snake prints are found. Deity Mae Naki (ณฐพร เตมีรักษ์) performs a rampage (อาละวาด). A foreigner arrives to catch Mae Naki. Soi tries to discourage him. Four tourists are found dead as they were taking incorrect pictures near the Chao Mae Naki statue. Soi is seen on their pictures so villagers suspect her. Pong Prap has to stop villagers trying to do justice by themselves. The police inspector visits the statue at nighttime and is attracted by Soi. A monk visits the statue also. The foreigner and his assistant are found dead. Seven deaths occurred so the village leader (Piya Trakulrard) decides to recruit a spirit doctor (หมอผี). The spirit doctor warns them about the Phajanak. They suspect Soi to be the vector of Chao Mae Naki (นาคน้อย). They decide to chase Soi out of the village. Villagers are looking for Soi and finally capture her. Police cannot stop them. They prepare to burn her. Another lady, called Lamjiek (ลำเจียก), who died already and had wished to be reincarnated as a mystical snake, is the one behind the multiple deaths. The monk, being Thosapon, confirms. Burning Soi would a sin (บาปกรรม). Lamjiek, being upset by the monk Thosapon, transforms herself in Phayanak and kills him. Nakee, saddened by Thosapon death, also transforms her into a mystic snake. Finally, both mystical snakes are fighting, i.e. one lead by Naki and one lead by Lamjiek (นางพญานาคี). Naki is defeated but Soi transforms herself in a smaller mystical snake to protect Naki but to no avail. About to be killed by Lamjiek, a giant garuda deity captures and takes away the evil snake. Peace is back in the village. Reincarnations of Naki and Thosapon can love each other again.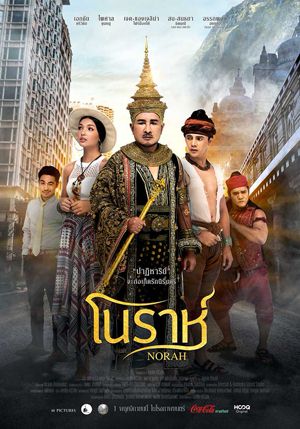 Year

: 2018



Thai title

:

โนราห์




English title

: Norah



Rating

: 4/5


Director

: Ekkachai Srivichai



Main actor

: Ekkachai Srivichai


Main actress

:
Thai movie โนราห์ / Norah was released in year 2018 and lasts 1h35mn. It was released under DVD format. It is directed by Ekkachai Srivichai. A Thai US family is welcomed in South of Thailand to buy a resort. Inside the resort, there is an old house belonging to a famous local former Norah master. The old house is going to be destroyed. The young daughter, Nora (แองเจลิน่า โฟรม็องโต้), has unexpected feelings when listening to Norah music inside the old house. In the past, a princess family is attacked by crocodiles. They end up stranded on an island. The mother teaches her son, Singhong (ไพศาล ขุนหนู), how to perform Norah dance while the guard teaches him to fight. By mistake, Nora takes the top part of a Manorah golden crown, placed on an altar in the old house. Later on, Nora falls in the water while taking pictures of lotus. She reappears on island Ko Si Chang and meets Singhong (ชายน้อย)! A time window is opened between present and past thanks to the top part of the Manorah golden crown. Singhong trains her on Norah dance. Singhong's mother doesn't want Nora to stay. At nighttime, Nora is put on a raft. She finally comes back in year 2018. A tattoo on her hand shows she hasn't dreamed. Nora goes to visit Buddhist temple Wat Tha Khae (วัดท่าแค), in Phatthalung. It is one of the symbols of Norah dance culture. She is back to the past again when visiting this old Buddhist temple. She meets Singhong in old Phatthalung city. He helps her as she is being aggressed. The local King (Ekkachai Srivichai) asks for his advisors to find a dance that could represent his kingdom legacy. Only Singhong can do that. Working on Norah dance would mean to be separated from Nora. Nora asks Singhong to sacrifice their love to ensure Norah dance can prosper. If not, changes in the past will impact future. Even Nora's future would be changed. There is no life without proper culture. The old house in the resort is preserved and Norah culture can continue to be promoted. This movie is a regional movie by singer / comic / director Ekkachai Srivichai about his native region, i.e. South of Thailand, and doing Manorah dance legacy promotion.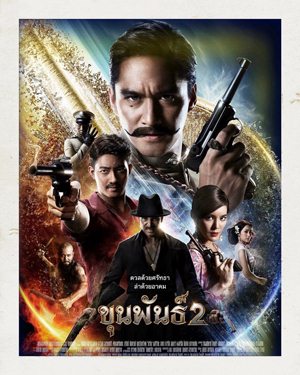 Year

: 2018



Thai title

:

ขุนพันธ์ 2




English title

:



Rating

: 4/5


Director

: Kongkiat Khomsiri



Main actor

: Ananda Everingham,Suchao Pongwilai,Pao Porapak


Main actress

:



Buy now

:

Thai movie ขุนพันธ์ 2 was released in year 2018 and lasts 2h05mn. Movie director is Kongkiat Khomsiri. The movie takes place during World War 2. Taking profit of ongoing confusion due to war, bandits (เสือ) are committing robberies all over Thailand. Police officer Khunphan (Ananda Everingham) and his men are on the way to neutralise a gang. They fall into an ambush and all of his men are shot. Local sub-district headman doesn't help Khunphan and his men. Khunphan cannot be killed by bullets as a monk made special tattoos for him. Through correct behaviour and prayers to Buddha, tattoos are effective. Seeing the sub-district headman's men keeping the money stolen by the bandits, a conflict happens and Khunphan has to shoot him. Following the death of all his men and the sub-district headman's death, Khunphan has to stop being a policeman for a while (พักราชการ). Suchao Pongwilai is head of police. Some ruffians perform a rampage in a village killing many targeted policemen. They belong to Seua Fai's group. Khunphan is checking why as the killed policemen are only small grade policemen. As Khunphan cannot help officially as he is no longer a policeman, he decides to infiltrate Seua Fai's group. Khunphan has to cut his moustache. Seua Fai is a famous ruffians' leader and his right hand is Seua Bai. Villagers protect them as they always redistribute money to them (นับถือโจร). A new police inspector (สารวัตร) Uui is nominated in Suphanburi. Phi Bai (อารักษ์ อมรศุภศิริ) steals money from Japanese train. They are captured by Japanese soldiers. Khunphan, by making himself invisible through incantations, helps Seua Bai and his men. Multiple bandits leaders (เสือ) are fighting each other as some enter politics. Khunphan follows Seua Bai and his men but they are not aware. Khunphan goes to Suphanburi and finally meets Seua Bai in a cafe owned by lady รัชวิน วงศ์วิริยะ. New police inspector Uui threatens them. Khunphan joins Seua Fai and robberies are performed. Through a special ceremony, they promise to support each other with Bai and Fai (พันเอกวันชนะ สวัสดี). Khunpan (ไอ้เสือบุตร) is part of the gang now (สายเลือดเดี่ยวกัน). Fai is shot in an ambush set up by Pao Porapak and survives. During a retaliation, a test for Khunphan is to kill policeman. He shoots him in the jaw. During an unfortunate accident, Uui gets seriously burnt and his body is disfigured. He is now wearing a mask and promises himself to get revenge towards Seua Fai and his men. Money redistribution is done towards poorer villagers. Khunphan gives the location of the camp to police head and asks him not to use strong force to catch them. Bai's girlfriend (อาภา ภาวิไล) is captured and used as bait to bring Bai and Khunphan. Khunphan has to disclose he is a policeman. Behind it is the disfigured policeman looking for revenge. Head of police is friends with Seua Fai. Seua Fai betrays Bai as he has no choice. He shoots both Bai and Khunphan. Through a Buddhist ceremony, bullets exit Bai's body. Bai accepts to help Khunphan. Policemen were killed as they discovered a business to transform land titles. Seua Fai is killed by disfigured policeman. He uses his skin tattooed as additional protection. Bai and Khunphan now need to neutralize the disfigured policeman. It is not over as Khunphan still needs to find proofs against the corrupted head of police...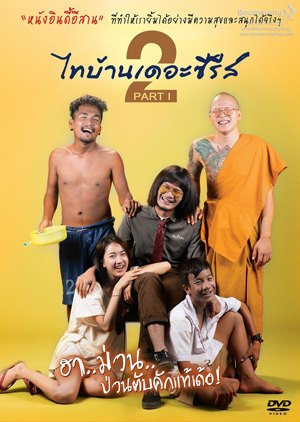 Year

: 2018



Thai title

:

ไทบ้านเดอะซีรีส์ 2.1




English title

: Thibaan The Series 2 Part I



Rating

: 4/5


Director

: Surasak Pongsorn



Main actor

: Nattawut Sanyabut,Chatchai Chinsri,Somchai Saiuatha


Main actress

: Tunwaporn Nasombat,Siriamorn Ornkoon



Buy now

:

Thai movie ไทบ้านเดอะซีรีส์ 2.1 / Thibaan The Series 2 Part I was released in year 2018 and lasts 2h03mn. It is a romantic comedy movie taking place in an Isan village (Northeast of Thailand). Thibaan became a popular movie series in Isan region. Opus 1.0, 2.1 were released but opus 2.2 was temporary censored in November 2018. Isan language is used with Thai subtitles. Isan music is also featured. Director is Surasak Pongsorn. Chieng (Chatchai Chinsri) sets out to hit on 100 women but he becomes a monk after being disappointed that his girlfriend marries another man. It is more by deception than religious belief that he becomes a monk. Pong (Somchai Saiuatha) changes his initial plan to open a 7-Eleven in the village. Pong finally dreams to open a vegetable shop as the trend is to eat organic vegetables. Monk (พระ) Chieng doesn't believe in this project. Pong wishes to buy land, but land is too expensive in the city to build his vegetable store. He quits his home as he refuses help from his father complaining he cannot do anything without paternal help. Pong stays in a Buddhist temple as he has no money. Pong ends up in monk Chieng's hut but has to help for Buddhist temple's daily activities. He finally buys a rice field as it is cheap, but it is far from the city. He has now to convince investors. Lot (Nattawut Sanyabut) and teacher Kaew (Tunwaporn Nasombat) are having a romance. Lot is having issue with his younger brother, looking for a replacement of his bicycle into a motorbike in order to impress a young lady. Hop, a foreigner married to a Thai lady (Suey), is a small shop owner. His pregnant wife is worried about her younger sister's studies as she is having a boyfriend sending her at home. Hop buys a car as he is worried for Suey riding motorbike while being pregnant. Bird becomes a crazy guy as his mother dies in a fire. Pong is asking the Buddhist temple abbot (หลวงพ่อ) to help the crazy guy but finally Bird is just thrown away in the Buddhist temple.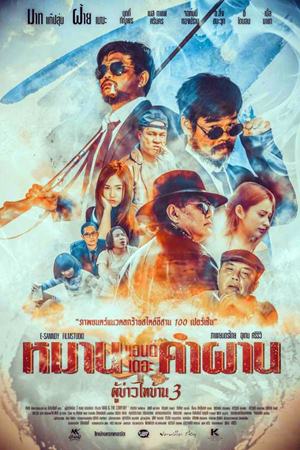 Year

: 2018



Thai title

:

ผู้บ่าวไทบ้าน 3




English title

: Man and the Company



Rating

: 3/5


Director

: อุเทน ศรีริวิ



Main actor

: Nattawut Sanyabut,Chatchai Chinsri


Main actress

:
Thai movie ผู้บ่าวไทบ้าน 3 / Man and the Company was released in year 2018 and lasts 1h35mn. It was released under DVD format. This movie is an Isan movie, so language used is Isan language. Movie director is อุเทน ศรีริวิ. Movie ผู้บ่าวไทบ้าน อีสานอินดี้ ภาค 3 has limited success and made only 1M THB in Bangkok. A local influential man is promoting sugar cane instead of rice to Thai farmers. His right hand is hitman Johnny. To cultivate sugarcane, farmers need expensive fertiliser. Many of them have to mortgage their land to buy fertiliser. Young lad Man even gets 1M THB instead of 300,000 THB he was hoping for. He plans to marry lady Porn. Thibaan The Series' famous actors (ณัฐวุฒิ แสนยะบุตร and ชาติชาย ชินศรี from ไทบ้าน เดอะซีรีส์) are playing two funny characters doing nothing except sniffing glue. Ruffians lend money and then grab the land when farmers are unable to pay back the debts. Due to card games, the 1M THB is lost by Man (หมาน) and his close friend Kam Phan (คำผาน) during one night. His girlfriend Porn is upset and chases him away. Finally, they are hired by Tak to do own business (รวยๆ) and to sell a medicine that cure everything! A bottle costs 1500 THB. They have to wear suits. Girlfriend Porn is now with another man, so Man is disappointed and heartbroken. Man wishes to kill himself. Hitman Johny shoots a man having the same suitcase as Man. Wrong suitcase are exchanged as Man and Kam Phan tries to help. The suitcase contains money. They hide the suitcase in a rice bag. Words "Man and Company" is written on the bag. Nattawut and Chatchai steal the bag of rice. Johny finds Man and Kam Phan, and ask for his money. They have one day to find back the money. Leader is shot by Tak. Chot shots finally Johnny. All land titles are given back to villagers that were abused by the ruffians thanks to Nattawut Sanyabut and Chatchai Chinsri. Small characters finally are the smarter people.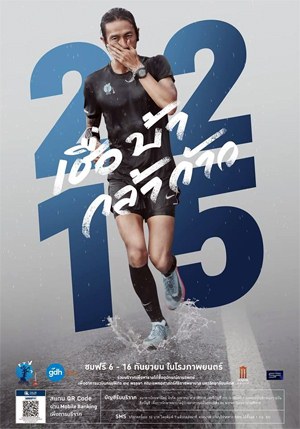 Year

: 2018



Thai title

:

2,215 เชื่อ บ้า กล้า ก้าว




English title

:



Rating

: 4/5


Director

:



Main actor

:


Main actress

:
Thai movie and documentary "2,215 เชื่อ บ้า กล้า ก้าว" was released in year 2018. It lasts 1h30mn. Toon Bodyslam (Athiwara Kongmalai), famous Thai rock star singer, ran from South Thailand (Betong) to North Thailand (Mae Sai) to get charity from Thai people giving money to help 11 public hospitals to buy equipment. Toon ran 50 kms a day and did it in 55 days. He took one rest day for every four running days. Toon gave hope and energy to people showing that they could achieve their dreams. More than 1400M THB were received. The movie shows the challenges and difficulties he faced to achieve this target. It shows people, who help him around such as his mother, doctor and friends. It also shows Thai people enthusiasm and generosity to support him during his run.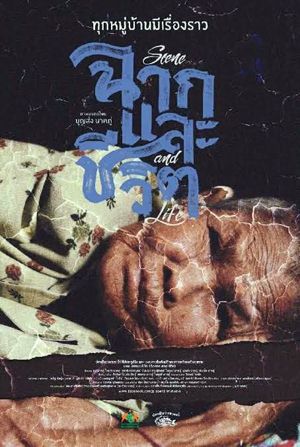 Year

: 2018



Thai title

:

ฉากและชีวิต




English title

: Scene and Life



Rating

: 3/5


Director

: Boonsong Nakphoo



Main actor

: Boonsong Nakphoo


Main actress

:



Buy now

:

Thai movie ฉากและชีวิต - Scene and Life was released in year 2018 and lasts 1h26mn. Movie director is Boonsong Nakphoo. The movie features many small scenes of rural life in a remote Isan village. Isan is the Northeastern region of Thailand. This region is still heavily relying on agriculture and a big part of its workforce is living in big cities such as Bangkok. Phi Son is living a simple day by day life in the village. His girlfriend is leaving him as she is going to work in Bangkok. An older farmer has a crisis while putting insecticide on rice. As most of the people are gone to work in cities, there is nobody to help him. Only old people and children stay behind in the village. Children interview an old lady about the life in the village before. Nowadays farmers only grow rice species giving harvest in 3 to 4 months and use a lot of pesticide. A man is selling the house in which his father is still living as it is made of old teak, so it has some reselling value. A man has family issue as his wife left him. His car runs of petrol and stops by near a Buddhist temple. Nobody from his family is willing to help him as he calls them by phone. Only the temple abbot gives help, i.e. allowing him to sleep, preparing a bed for him, giving him food for breakfast, giving him petrol for him to continue his journey. A teacher is dedicated to his job despite the children seem not to care. In parallel he needs to manage his own kids. A father (Boonsong Nakphoo) is teaching his son to cook but it is a disaster as the meal is not good. Youngsters are not willing to cook by themselves anymore while their mother is working in Bangkok. So a vegetable merchant has poor business as most people are buying cooked meals. A father is sending his daughter to the bus station as she is going to work in Bangkok to pay debts.
---