Increase or decrease font size for easier reading : A+ A-
Year 2017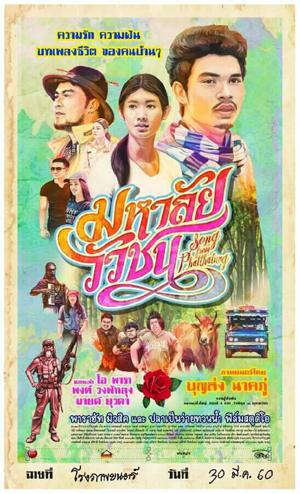 Year

: 2017



Thai title

:

มหาลัยวัวชน




English title

: Song from Phatthalung



Rating

: 5/5


Director

: Boonsong Nakphoo



Main actor

:


Main actress

:
Thai movie มหาลัยวัวชน / Song from Phatthalung was released in year 2017 and it lasts 2 hours. Director is Boonsong Nakphoo / บุญส่ง นาคภู่. The movie is using local Thai southern language, so it has even subtitles in Thai and English. Pong (เทอดพงศ์ เภอบาล) is a young lad being 18 years old. He is is disappointed as his girlfriend Beer needs to leave to Bangkok to study. She then stops answering his phone calls. Pong has no interest in local young lady Mind (ยุวดา โอฬาร์กิจ) bringing him food and proposing to go to see movies together. He just cannot forget Beer. Pong is keeping cows in Phatthalung's area. He gathers with a group of friends with Phi O (ทิวากร แก้วบุญส่ง), being the leader and writing songs. Phi O is also driving a songthaew as part job. Pong has difficulties to forget Beer so it makes him singing songs. His dream is to be a singer. Noi, owner of a pub, asks for Phi O's help. The pub is having financial issues since the military coup. The concert is a failure as people fight. Rubber price go down so life is tough in South Thailand. Phi O asks Pong to be himself on the stage and to stop copying others. All the musicians are working and have small jobs. They are trying to make easy money on fighting bulls but are still losing. They are a bunch of losers but have happiness being together. Phi O wishes to release a new album but they have no money. Phi O girlfriend is a teacher and is now 30 years old already, so she cannot wait any longer for him, but O is concerned as he hasn't achieved anything in his life. Their music is a bit similar style to Carabao with engaged songs. Phi O opens a music school and they prepare their own concert for villagers and family members. Beer is back with a new boyfriend, but it ends up badly as Pong gets beaten as he was complaining too hard that she dropped him as he is a poor non-handsome lad from countryside. Pong is fed up and decides to stop being a singer. Phi O complains about his childish behavior, but Pong flees as he cannot stand being lectured. He finally comes back and the concern is a success with a limited audience. All parents and relatives understand and appreciate their children's skills. Phi O gets an offer from a Bangkok studio, but he prefers to stay in Phatthalung having happiness with his family and friends.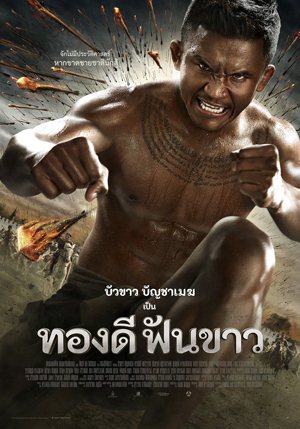 Year

: 2017



Thai title

:

ทองดีฟันขาว




English title

: Thong Dee Fun Khao



Rating

: 4/5


Director

: Bin Banleurit



Main actor

: Buakaw Banchamek,Kanchit Kwanpracha,Manop Aussawathep


Main actress

: Sornsin Maneewan



Buy now

:

Thai movie ทองดีฟันขาว / Thong Dee Fun Khao was released in year 2017 and lasts 1h57mn. Movie director is Bin Banleurit. It is based on the real story of Siamese general Phraya Phichai. Cheut is the son of local noble (เจ้าเมือง). Choi, son of Thai boxer, has always issues with him since childhood. Both of them are now grown up. Cheut and his men are trying to catch Choi (Buakaw Banchamek) but he succeeds to flee. Kanchit Kwanpracha is Cheut's father. Choi joins a group of people organising Thai boxing fights. He becomes their champion. One day, Choi is defeated by a strong opponent being a spade teacher. The group leaves Choi for dead as he is now useless to them. A drunkard helps him and tells him he needs to improve his skills such as speed. Choi renames himself as Thong Dee. He joins Manop Aussawathep as teacher (ครู). Cheut finally finds again Thong Dee. Thong Dee surrenders to avoid villagers being harassed. He is captured but then the soldiers still burn the village. The fighters and Thong Dee rebel and chase the soldiers thanks to their Thai boxing skills. Thong Dee leave the village to avoid the villagers being harassed again. A teenager accompanies him. Seeing Chinese opera performance (งิ้ว) and their master's great skills, Thong Dee asks him to become his disciple (ลูกศิษย์). Later on, Thong Dee helps young lady Rayong (Sornsin Maneewan) and her master attacked by ruffians. Thong Dee gets a new teacher and keep improving his skills. Thong Dee has white teeth. Other actresses have black teeth as Thai people were eating betel nut at that time. At a temple fair, he meets Rayong again. A tournament occurs and the spade teacher is this time defeated by Thong Dee. An attack on the local leader ends up in a fight between the lord Phraya Tak and Thongdee. The Phraya Tak wanted to test Thongdee's loyalty. If Thong Dee loses, he needs to join Phraya Tak's army… Phraya Tak became later King Taksin. Later on, Thongdee became general Phraya Phichai. Thong Dee's role is played by Buakaw Banchamek, a real Thai boxing champion.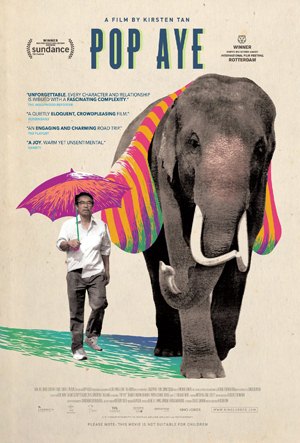 Year

: 2017



Thai title

:

ป๊อบอาย มายเฟรนด์




English title

: Pop Aye



Rating

: 4/5


Director

: Kirsten Tan



Main actor

:


Main actress

: Penpak Sirikul
Thai Singapore movie Pop Aye / ป๊อบอาย มายเฟรนด์ was released in year 2017 and lasts 1h42mn. A middle age architect, called Thana, sees his work, i.e. a building built 30 years ago about to be destroyed and to be replaced by a new one. He sees his love with his wife becoming indifference. He is facing middle age crisis. Thana sees an elephant wandering in Bangkok. Back to office, he understands he is put on the side by his young boss and his advice has no longer importance. Seeing again elephant Popeye, that he first met 50 years ago, Thana decides to buy it and bring it back to Loei. On the way, he meets a weird man, called Dee, living in an abandoned petrol station and waiting for death. Dee joins the architect Thana on his journey to Loei. The weird man has a wish, i.e. to go on a motorbike ride with his girlfriend Ja. Meanwhile, the elephant flees, and the police starts to be involved. Police captures Thana and his elephant. Police needs to bring them to an animal detention center, but it is far away. As Thana gets fainted, they stop in a bar being along the road. An old lady boy keeps talking to Thana and reminds him that nothing lasts forever. Finally, as Thana is not showing indifference to the lady boy, this one helps him to get the key locks and he can flee with his elephant. Dee has a deadly accident with a motorbike he bought thanks to Thana's money. Thana is about to reach Loei. He finally meets Ja, who is now married. Ja is reluctant to accept Dee's ashes as they haven't met for twenty years. As she is good hearted, she finally takes the ashes on a motorcycle trip around the village and so accomplishes Dee's last wish. Thana meets his uncle Piek, who sold the family land, to get a condo inside the complex. He blames his uncle to have sold family assets but himself he sold Popeye many years ago to go to Bangkok! Finally, Thana is back to Bangkok and visits with his wife a last time the building going to be destroyed. She recalls how proud she was when it was built. A new blood in their relationship can start following this journey.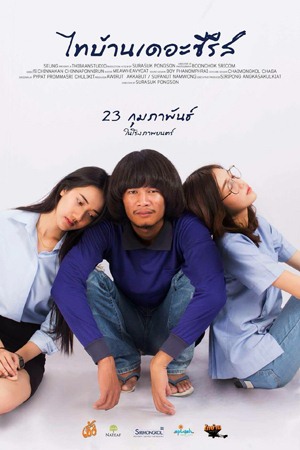 Year

: 2017



Thai title

:

ไทบ้านเดอะซีรีส์ 1




English title

: Thibaan 1



Rating

: 4/5


Director

: Surasak Pongsorn



Main actor

: Nattawut Sanyabut,Chatchai Chinsri


Main actress

: Tunwaporn Nasombat,Siriamorn Ornkoon



Buy now

:

Thai movie ไทบ้านเดอะซีรีส์ 1 / Thibaan 1 was released in year 2017 and lasts 2h07mn. Isan music, Isan traditions (บุญบังไฟ, getting frogs at nighttime, respect to spirit in a small shrine) are featured. Many stories happen in the village and characters interact through them. Chieng (เชียง)(Chatchai Chinsri) has multiple girlfriends. His friend Lot is not able to find a girlfriend despite all his efforts. Chieng does a relooking for Lot (ลอด)(Nattawut Sanyabut). Lot likes the lady doctor. A new female teacher, named Kaew, is arriving in the village. She is looking for a helper to clean her room. Chieng recommends Lot to take the job as the teacher looks beautiful. Pong (ป่อง) has finished his studies and is back from Bangkok. He wishes to open 7-Eleven but his father asks him to help in the rice fields first. Pong uses a two wheeled, motorized stand-on device to go to the rice field. Lot has some dating meetings. It is first time in KFC for Lot. Lot is helping Pong to plow the rice field. Teacher Kaew is jogging inside the Isan village. Knowing Lot helped Pong, Pong's father finds a job for Lot as school cleaner. Pong wishes to simplify the rice field planting process. Chieng pushes Lot to seduce girls. Lot tries during Makha Bucha day, traditional ceremony where people walk three times around the Buddhist chapel. He also goes with the doctor to see the Aquarium and observation deck in Khon Kaen. It shows Isan region is prosperous. Lot continues to try seducing the teacher Kaew. Thai lady Suey, married to a foreigner called Hop, is worried about her younger sister's studies as a pizza delivery boy is dating her. Lot prefers the teacher to the doctor. Another lady is also wandering around Lot. Lot helps the teacher Kaew (แก้ว) for many things. Lot tries to announce his love to teacher Kaew. As the other girls he was trying to seduce continue to contact him, Lot is in a bad situation. Chieng recommends him to announce to all the girls that he has to break and to remain friend only. Wishing to excuse himself, he finds a policeman offering flowers to Kaew. Meanwhile Pong has arguments with his father accusing him to be lazy and to be a dreamer about opening a 7-Eleven in the village. Kaew quits the village to follow the policeman, her fiance but she feels bad to leave Lot. Lot is heartbroken. The doctor lady is also heartbroken as she knows Lot loves another woman. Finally, the policeman breaks with Kaew. Kaew is back to Isan but Lot is not willing to forgive her. Chieng has to tell Lot to be smart as love is always complex. Romance can finally start between Lot and Kaew. Meanwhile Chieng receives a wedding invitation letter...
---