Increase or decrease font size for easier reading : A+ A-
Year 2016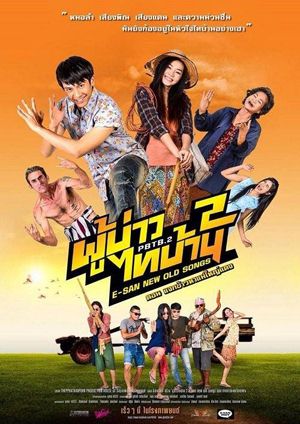 Year

: 2016



Thai title

:

ผู้บ่าวไทบ้าน 2 ตอน แจกข้าวหาแม่ใหญ่แดง




English title

: E-san new old songs



Rating

: 3/5


Director

:



Main actor

:


Main actress

:



Buy now

:

Thai movie E-san new old songs / ผู้บ่าวไทบ้าน 2 ตอน แจกข้าวหาแม่ใหญ่แดง was released in year 2016. It lasts 1h57mn. The movie is shot in Isan region. The movie is featured in Lao language and includes Thai subtitles. Daeng, a mother (แม่ใหญ่แดง), wishes that her daughter Pranee gives birth to her child in Isan instead of going overseas as suggested by her foreign husband. To find an excuse for her daughter to stay, the mother organise a feast to do blessings for herself and the local ancestors (งานใหญ่ทำบุญอุทิศ). Arguments between the mother and foreign son-in-law happens, i.e. having Molam music or outdoor movie at the feast. The mother Daeng needs to find an orchestra to perform Molam music but the usual Molam orchestra in the village doesn't exist anymore. Kaen (เคน) is a young Thai man fan of Korean music or K-Pop. The former orchestra leader Lung (พ่อคูณ) refuses to train Kaen as Molam leading singer (พระเอกหมอลำ). Nevertheless Lung still wants to recreate an old Molam group. A few young girls including Wan (วรรณ), aware of this, ask to join Lung's Molam group. Women, talking together, complain about Thai men drinking compared to foreigners. Children will have also a nicer face (หน้าตาดี) also! This movie features Molam Traditions passed to younger generation. Romance starts between Kaen, fan of K-Pop, and Isan girl Wan, fan of Molam. Wan is willing to stay here and doesn't want to go to Bangkok to work. The father doesn't want his daughter to become Molam singer so he plans to send her to Bangkok to work with her aunt. Misunderstanding happens as Kaen carries Som, another young lady, who is injured at the foot. Disappointed, Wan plans to go to Bangkok. Similar to movie สวรรค์บ้านนา (1983), Kaen sings a song to show his love to Fan live on the local radio station. They get reunited. Big molam orchestra (ถอกคูน เสียงแคน) is finally featured at the festival organised by Daeng. Both Kaen and Fan are the main singers. Once all youngsters are gone, only old ladies remain in Isan villages...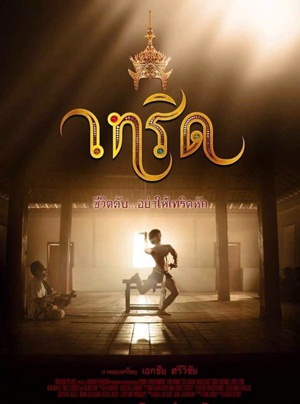 Year

: 2016



Thai title

:

เทริด




English title

: Terd



Rating

: 4/5


Director

: Ekkachai Srivichai



Main actor

: Ekkachai Srivichai,Vinai Kraibutr


Main actress

:
Thai movie เทริด was released in year 2016 and lasts 1h39mn. A father Satta (Ekkachai Srivichai), almost blind, is a Manora teacher (ครู). He gives high respect to the Manora crown (เทริด). He has serious arguments with his son Sing as this one prefers guitar to Manora art (มโนราห์) and doesn't involve in heritage transmission. The son finally quits the home. Sing survives by playing music on the street and joins a group. He meets a young lady called Saithip, who is a Manora / Nora (โนราห์) dancer. Saithip's mother Mae Duangjai would like to marry her daughter to a rich man but she refuses. Meanwhile Sing also refuses to go back with his father. This causes a malaise and the father ends up at hospital. The father of the fiance Prap is Vinai Kraibutr. He is involved in dirty business. If everybody thinks same as Sing, only the name of Manora art will remain. Romance starts with Saithip but Sing gets punched by the father and slapped by mother as Saithip is going to marry soon Prap. The father Satta is getting sicker but still has to perform as the troupe is lacking money. Two ladies, part of his troupe, now are coyote dancers as it brings more money. Sing learns Thai boxing to be able to defend himself. Things get worse as Sing punches Prap trying to kidnap Saithip. A friend reminds Satta that a body can be raised but a heart cannot be raised (ตัวเลี้ยงได้ หัวใจเลี้ยงไม่ได้). As the father is very sick, Sing goes back home and accepts to be a Norah dancer (หนีโนราห์ไม่ได้). Prap and his father still chase Sing and Saithip. As Saithip is pregnant with Sing, the father Vinai accepts to cancel the wedding but his son Prap remains unhappy. A "Wat Takae" ceremony (crowning initiation ceremony) is happening with Sing to be certified as Manora leader by wearing the Manora crown. Satta is transmitting the power and knowledge of Manora tradition to his son Sing. Vinai is also watching proudly the ceremony. The movie ends up tragically with Prap, as a masked killer, shooting Sing, while he receives the crown. The father Vinai shoots Prap unaware that the man behind the mask is his own son. Vinai becomes a monk. A long story unifies Satta and Vinai. Satta married Vinai's former girlfriend, a Nora dancer, who was pregnant. Sing was in fact Vinai's son. Saithip transmits Nora traditional to her young son... Ekkachai Srivichai is a famous singer from the South of Thailand. His songs are often sad romances. His movie shows the great culture of Manora art and spirit possession.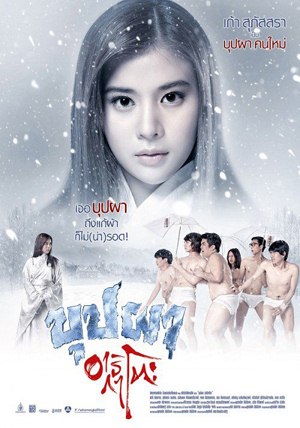 Year

: 2016



Thai title

:

บุปผาอาริกาโตะ




English title

: Buppah Arigato



Rating

: 4/5


Director

: Yuthlert Sippapak



Main actor

: Charlie Trairattana


Main actress

: Supassra Thanachat



Buy now

:

Thai movie บุปผาอาริกาโตะ was released in year 2016 and lasts 1h35mn. The movie takes place in Niseko, Japan. Movie director is Yuthlert Sippapak. Rose (Supassra Thanachat) finds her boyfriend Matt sleeping with another woman. She kills Matt by revenge. The action moves to Japan. Fake Thai Buddhist monks in Japan visit an inn in order to exorcise it as it has bad business. One of them is even carrying a Louis Vuitton bag as reminder of a religious scandal in 2013 in Thailand. There is really a ghost in the house, .i.e. a Japanese female ghost wearing a mask. Monks run away and the owner is still concerned that his inn is possessed. Rose is now staying in the same inn in Japan. The owner, called Mae, finally rents the inn to six young Thai men planning to film a movie in Japan. One of them is a singer called Jack (Charlie Trairattana). Two of them see a Japanese ghost (ผีญี่ปุ่นแม่ลูก). Jack just split with his girlfriend. Rose is also tenant in the same inn so they meet each other and love occurs. The mother's owner hires another master (อาจารย์) to chase the ghosts away. It is a fake master again, who flees after seeing the real ghosts. Rose has disappeared. Only her passport is left. Her name is displayed as Buppha Ratree! The six young men leave the house after seeing the ghosts also. They take refuge in the owner's house. Jack sees a lady lying in the cave after having a ski accident. It is Rose but her spirit is away. The owner Mae sends a Japanese master to get back their belongings. He identifies three ghosts in the house, i.e. Rose, the mother and her child. Funny interludes occur with the ghost playing Line (ผีLine) or cleaning the house with a vacuum cleaner. The guys have to go almost naked and hold an umbrella so that the ghosts cannot see them. Rose's body is in Mae's home but her spirit (วิญญาณ) is still in the inn. Jack has to help Rose. The owner Mae is responsible of the situation as he kidnapped Rose. The movie ends up tragically with Rose being strangled by Mae, the Japanese master killed by Mae and Rose's ghost saving Jack from Mae… Jack is back to Niseko to find Rose...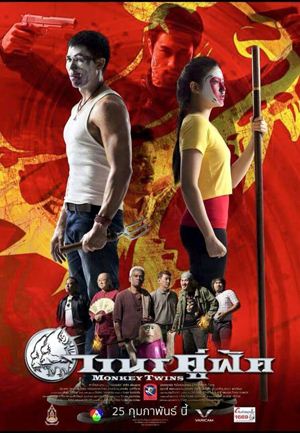 Year

: 2016



Thai title

:

วานรคู่ฟัด




English title

: Monkey Twins



Rating

: 4/5


Director

:



Main actor

:


Main actress

:



Buy now

:

Thai movie วานรคู่ฟัด / Monkey Twins was released in year 2016 and lasts 1h43mn. Young man Neua is selling coconuts and is having a smart monkey. Neua has issues with local ruffians. He luckily gets help from a young lady called Lin. So has been released from prison thanks to the bad influence of his father, trying to become local deputy. So has an old debt against Neua and tries to have him killed a few times. Lin's father doesn't want Neua to meet his daughter. The father had two daughters, Lin and Apple. He believes Neua has some responsibilities in his eldest daughter's death. A friendly policeman always protecting Neua is seriously injured by ruffians. A friend recommends Neua and his grandfather (ปู่) to leave the place temporary. Lin's father wishes her to sing Chinese Opera like her elder sister Apple did but she likes martial arts much more (ร้องงิ้วไม่เป็น). Neua wishes to learn real Thai boxing from his grandfather but this latter is worried he cannot learn properly as he has always bad temper. Seeing that Chinese opera as no success, Lin's father opens a restaurant featuring martial arts performance involving monkey fighters. Characters are played by Lin and Neua. During an accident in a pub a few years ago, Apple died. During fighting, Neua thrown alcohol bottle causing a disfiguration to So so he is still looking for revenge. During those shootings, Apple received a lost bullet. Ruffians try to kill the grandfather and also to disrupt business in the restaurant. This time, So kidnaps the grandfather and also Lin in order to attract Neua. Fierce fightings do happen between Neua, Lin and So's henchmen. So injures Neua and Lin but finally gets defeated. So ends up in jail again and his father's reputation is forever tarnished so getting him to commit suicide. Neua and Lin continue to do art martial shows in the restaurant.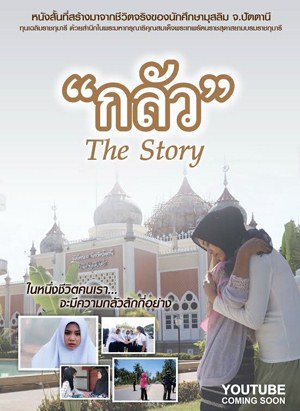 Year

: 2016



Thai title

:

กลัว




English title

: The Story



Rating

: 4/5


Director

:



Main actor

:


Main actress

:
Thai short film กลัว / The Story was released in year 2016 on YouTube and on Thai TV NBT ช่อง 11. It lasts 32 minutes and is based on a real story. Sa, a young Muslim teen living in Pattani, is in grade ม.6. Her mother is working in Malaysia. Sa needs to stop her study and to find a job as her family is poor. She was mainly raised by her grandparents. Due to insurrection in South of Thailand, insecurity and fear (กลัว) are always present. One day, she carries a small boy injured during a bombing. She finally gets a chance to go to university (ได้ทุน) in Nakhon Thammarat to study medicine. Fear (ความกลัว) is present in daily life through anti-intrusion barriers in front of Buddhist temples, Thai armed soldiers controlling circulation. The university includes Buddhist and Muslim students so they have to work together and to go beyond cultural issues. Friendship can be built through love (มิตรภาพยนตร์สร้างได้และ หล่อหลอมด้วยความรัก). Both Muslim (ไทยมุสลิม) and Buddhist (ไทยพุทธ) students love the same land. One day, one of her Muslim friend's father, is killed so misunderstanding does happen again between Muslim and Buddhist students. Finally friendship is stronger than misunderstanding as Fatima is back. Nobody understand Muslims as well as another Muslim, so Sa wishes to go back to her village to take care of people by being a doctor.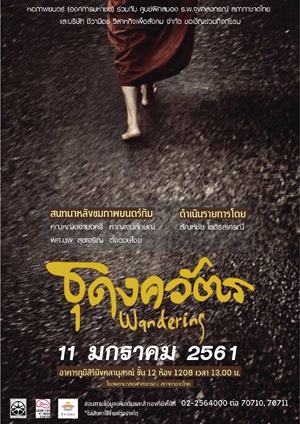 Year

: 2016



Thai title

:

ธุดงควัตร




English title

: Wandering



Rating

: 4/5


Director

: Boonsong Nakphoo



Main actor

:


Main actress

:



Buy now

:

Thai movie Wandering / ธุดงควัตร was released in year 2016 and lasts 2h01mn. The movie director is Boonsong Nakphoo. The movie was shot with a budget of only 1M Baht so film students were part of the crew. This movie was mainly shown in independent theaters. Boonsong Nakphoo has been monk for ten years so he wanted to make a movie showing the essence of Buddhism. Ngoh loses his job as rubber tapper. He keeps drinking alcohol. His wife has dumped him, and his son is dead. He seems in a negative spiral and nothing is going on well... He finally meets a monk, who asks if alcohol will really help him to solve his problems. Later, after found being beaten by thugs, the monk proposes him to visit his temple located inside a forest. Ngoh goes there and even borrows money from the temple to pay back some debts. Visiting his dead son's tomb, he promises to him to stop drinking. He finally goes back to the Buddhist temple to help the monk. After a while and deep thinking, he asks to become a monk. It takes time for him to adjust to new monk life, so he follows what the master (อาจารย์) is doing first. He ordained to bring merit for his dead son. The master brings him in the jungle in a remote meditation center. Many old venerable masters stayed there before. The master is not speaking a lot. Back in the meditation center, he hallucinates and see his son. A young lady starts to visit the temple, but he feels uneasy. She represents the temptation. The monk decides to go on the top of the mountain as he knows it is too high and too hard for the tempters. The movie ends up while the monk is meditating on the top of the mountain. Same as Buddha, he defeats the demon Mara pushing for temptation.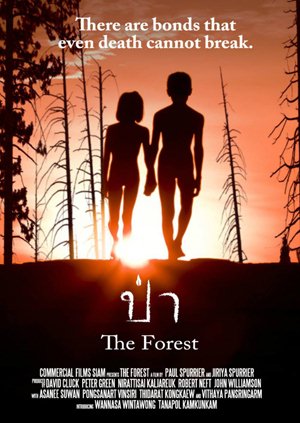 Year

: 2016



Thai title

:

ป่า




English title

: The Forest



Rating

: 4/5


Director

: Paul Spurrier



Main actor

: Asanee Suwan


Main actress

: Thidarat Kongkaew
Thai movie The Forest / ป่า was released in year 2016 and lasts 1h44mn. Isan language is used in this movie, which features Thai language subtitles. Movie director is Paul Spurrier. Pricha (Asanee Suwan) is a new teacher arriving in a remote school in Isan area. He just disrobed 7 months ago. One of his students is named Ja (จ๋า) and is mute. Other kids dislike her. The school has three teachers, i.e. the headmaster (ครูใหญ่), a female teacher named Nitaya (Thidarat Kongkaew) and Pricha. Ja's house is inside the forest. Her father is retarded (ปัญญาอ่อน). She meets a naked boy (บอย) in the forest and is able to talk to him. He claims to be the forest spirit. Pricha understands Ja as he had a difficult childhood also. Nitaya mentions many children are not educated by their parents, who left to work in cities. They are educated by grandparents and sad issues do occur. As three girls keep teasing Ja, teacher Pricha punish them. One of them, called Wan, is the daughter of local subdistrict headman so he comes to complain at school. Pricha has to apologize. Nitaya warns Pricha not to have too much compassion (เมตตา) here as he will suffer. Society here is different from the Buddhist temple society he is used to. The headmaster warns Nitaya not to be too close to Pricha as he believes he won't stay long. Pricha wishes to help children to become good citizen. Two men enter in the forest to cut illegally trees. One of them is killed by the young boy. Pricha and Nitaya become lovers during a stormy night. Boy comes to find Ja also. The three girls tease Ja again as they hear Ja calling Boy. She hits one of them with a stone to be able to flee. The subdistrict headman complains to the school and the headmaster punishes Ja (ลองโทษ) despite Pricha disagreeing. Ja decides not to go to school again and she spends time in the forest with Boy. Nitaya has decided to quit school as she wishes another life but Pricha wishes to stay to help children. He apologizes for that night… Beauty of the forest and importance of the forest are featured in this movie (ทำลายป่า). Knowing that Wan always teases Ja, Boy kills her at nighttime. Ja's father tells her that Boy is her brother, who died many years ago while saving his sister from drowning. The father got mad as his wife got suicide. The subdistrict headman decides to burn the forest, where Ja is living, as a revenge. Pricha cannot prevent him. Ja and Boy spirits are seen walking away...
---