Increase or decrease font size for easier reading : A+ A-
Year 2015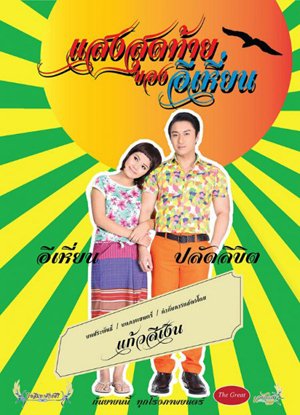 Year

: 2015



Thai title

:

แสงสุดท้ายของอีเหี่ยน




English title

:



Rating

: 3/5


Director

: แก้ว สีเงิน



Main actor

: Choomporn Theppitak


Main actress

:
Thai movie แสงสุดท้ายของอีเหี่ยน was released in year 2015 and lasts 1h33mn. Movie director is แก้ว สีเงิน. Thai actors and actresses are เอ พศิน , นรีรัตน์ สีหราชนิเวศน์ , เจเน็ต เขียว, อี๊ด โปงลาง, รุ้งลาวัลย์, Choomporn Theppitak. Isan language is used. Many movies are about young Isan ladies going to Bangkok. This time it is about a Bangkokian man living in Isan. Recently many Isan movies were done showing Isan people and Isan culture in Isan and no longer in Bangkok. A local ruffians' leader Loi (อี๊ด โปงลาง) likes young lady Yien (นรีรัตน์ สีหราชนิเวศน์) but it is not reciprocal. Lampran is Yien's aunt. Yien leaves for Bangkok, but she has no money for the ticket. She bumps into the new District Permanent Secretary Likhit while trying to get rid of Loi. A transgender women (กะเทย) proposes a job to her. Yien works as a waitress in a club, but loses her job as she slaps a man for being incorrect with her. The transgender women finds a new job for Yien in a restaurant. Yien is very tired but needs to be strong. She meets again the new District Permanent Secretary (อําเภอปลัด) Likhit (เอ พศิน). The new District Permanent Secretary wishes to clean his territory and to eradicate corruption. Yien's aunt (เจเน็ต เขียว) warns him. Likhit meets young lady Bua, being the daughter of the local money lender. Local subdistrict headman Ming is upset that Bua likes Likhit. Sia Kalasin likes Yien, but he gets a kick punch from her. A beauty contest is happening in the village so Lampran and her mother ask Yien to come back. Strong colorful clothes are worn reminiscent of Mon Rak Luk Thung (มนต์รักลูกทุ่ง) and Yam Yasothon (แหยมยโสธร) movies. Meanwhile some local ruffians steal the local Buddha footprint (พระพุทธบาตร). Finally Yien is the one to win. Not because she is the most beautiful but because she helped the village community to look for the Buddha footprint. Romance happens between Yien and Likhit. Likhit invites Yien to visit Bangkok. Yien is kidnapped by the subdistrict headman's men when buying goods in the market. Yien is released thanks to Bua, the mother, her aunt, Likhit's efforts. Aware that the subdistrict headman Ming was involved in the robbery with Loi, Likhit warns him to help to recover the sacred item or to face jail. Bua promises her love if Ming becomes a good man. They chase Loi and successfully recover the Buddha footprint. Luang Pho (Choomporn Theppitak) thanks all of the protagonists for helping to recover the Buddha footprint.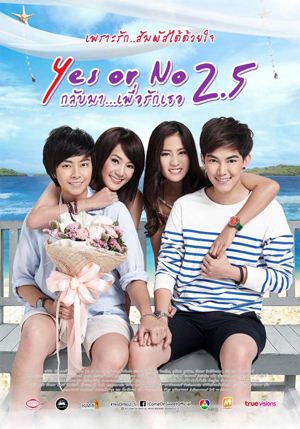 Year

: 2015



Thai title

:

เพื่อรักเธอ ภาค 3




English title

: Yes or No 2.5



Rating

: 3/5


Director

:



Main actor

:


Main actress

: Suppanad Jittaleela



Buy now

:

Thai movie Yes or No 2.5 (เพื่อรักเธอ ภาค 3) was released in year 2015. It lasts 1h43mn. Pii is roommate with Wine (Suppanad Jittaleela). Both are tomboys. Young girls called Fah and Pim are moving in front of Pii's flat. Fah is university student. Pim has a boyfriend called Jet. Wine cannot forget Pim. Pii tries to use Fah in order for Wine to forget Pim. But it looks like Pii falls for Fah. It is reciprocal. But Pii only wants to stay as friendship level (พี่น้อง). Both cry when alone. Back to home, Wine announces to Pii that she will follow her advice to ask Fah to become her girlfriend. Pii also blames Pim for being unfair and unclear with Wine. Previously Pim took care of Wine when she was sick and also declared being fond of Wine but still stayed with Jet as it was more natural to be with a boy. Pii tells her to follow what she likes and not what others like. As they are going to be graduated soon, Jet asks for Pim's hand. Confused, Pim accepts to follow her parents' wishes. Wine is getting sick again. Finally Wine and Fah splits together and Pii can be with Fah. Pii discovers that Pim is still wearing the ring that Wine gives her 3 years ago. Pim has to decide what she wants to do, be unhappy her whole life with Jet or follow her true nature. Pim flees from her engagement party. A few days Pim goes back to her home with Wine to explain the situation. The father is very upset (จะเอาหน้าไหวที่ไหน? เป็นผู้หญิงทั้งคู่) but the mum promises to talk to him. Wine asks they give them a chance. Wine may not be a man but can still bring happiness to Pim. The movie ends with same-sex marriages. Suppanad Jittaleela has become a teen heart-throb in China after the two first opus of "Yes or No". Part 3 is not a sequel to the original two movies. Thai gay movies are rare. Thai lesbian movies are even rarer.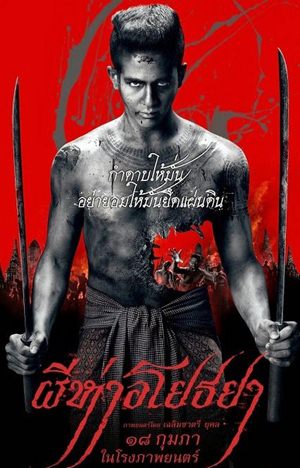 Year

: 2015



Thai title

:

ผีห่า อโยธยา




English title

: The Black Death



Rating

: 4/5


Director

: Chalermchatri Adam Yugala



Main actor

:


Main actress

:



Buy now

:

Thai movie ผีห่า อโยธยา / The Black Death was released in year 2015 and lasts 1h20mn. It deals about Zombies during Ayutthaya period. A zombie disease is coming from Portugal through the caravelle boats. Dead people don't die, they become zombies. A noble refuses the love of his daughter Mien with a young man (เด็กวัด) called Kong. Bua, young lady, is an ironsmith. She gets help from strong fighter Thep as she is harassed by a rich man called Jun. Zombies arrive in the village. Bai, a mute prostitute, gets beaten with a whip. A man called Kwan supports her. People have to move to a fort. Mien tries to flee while her parents are moving to the fort. Rich but coward Jun is protected by two colossus. The villagers take finally refuge in the Buddhist temple but the zombies storm inside and all die. Only a small group succeed to get refuge in the house of the rich man Jun as it has strong walls and doors. Kwan is bitten by a zombie in the house. People bitten also become zombie (ผีห่า). Bai prevents Kong from cutting Kwan's head. Mien is sick. They finally all go their ways as zombies succeed to enter. Mien has been bitten by a zombie. As Kong refuses to kill her, she impales herself on his sword to avoid being a hindrance for him. Bai and Bua are killed. Only Thep and Kong remain to stop the zombies... The movie provided 3000 jobs and cost hundreds of thousands of hours. This statement is shown as a plea against piracy. Film director is Chalermchatri "Adam" Yugala is the son of famous movie director M.J. Chatrichalerm Yugala.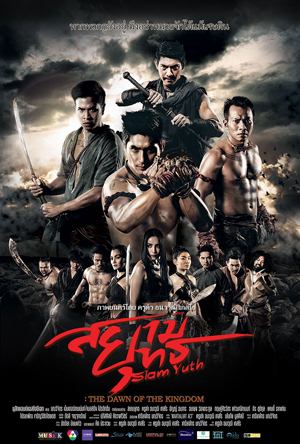 Year

: 2015



Thai title

:

สยามยุทธ




English title

: The Dawn Of The Kingdom



Rating

: 3/5


Director

:



Main actor

: Than Thanakorn


Main actress

:



Buy now

:

Thai movie สยามยุทธ / The Dawn Of The Kingdom / Siam Yuth was released in year 2015 and lasts 1h25mn. Heavy FX effects are featured to make battles look bloody. It is a nationalist and historical movie. Old Thai language is used. Warlord (ขุนศึก) Ram, from Kamphaeng Phet, is behaving badly and is attacking emissary from the North. He then puts the blame on others such as his opponents. He also abuses his own people. Thap, fed up by Ram's behavior, decide to stop him before he could jeopardize the whole Kingdom. Thap's team delivers two ladies (แม่หญิง) captured by Kun Ram. Heavy politics among Kun Ram's men is happening. Thap's men receive tattoos. Ram sends Thap's old girlfriend to destabilize him. Battle between Thap's soldiers and Ram's troupes shall happen. Last dinner for Thap's soldiers as they know that tomorrow they may all die. They finally attack Kamphaeng Phet prince. Thap's old girlfriend finally fights back and sends dynamites on Ram's troupes and canons. There is dissension inside Ram's team. Heavy fighting occurs as Ram's troupes include bodybuilder giants and a Japanese samurai. Many Thap's soldiers die. Kun Ram is captured and blamed as he caused Thai people to fight against Thai people. Remaining fighters are spared and after admitting their mistake, they join Thap's team.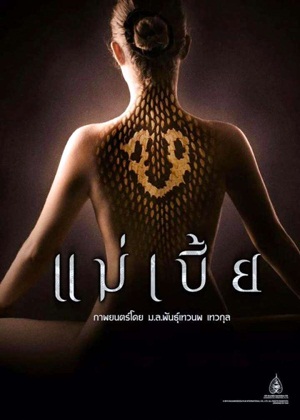 Year

: 2015



Thai title

:

แม่เบี้ย




English title

: Maebia



Rating

: 4/5


Director

: Pantewanop Tewakul



Main actor

: Shahkrit Yamnarm,Ananda Everingham,Kriengkrai Unhanan


Main actress

: Karnpithchar Katemanee



Buy now

:

Thai movie แม่เบี้ย was released in year 2015. It lasts 2h. Miss Thailand World 2009 second runner-up Karnpithchar "Oam" Katemanee was selected for the challenging role of Mekhala. Compared to previous versions in 1988 and 2001, this version is highlighted by a beautiful picture as usual with movies from director Pantewanop Tewakul and also an important dose of erotism with many love scenes. The elder brother khun Charachon (Shahkrit Yamnarm) wishes to buy an old house (เรือนโบราณ). The owner of the house is a beautiful lady called Mekhala. Charachon visits the house with his younger brother Prapoum. The house is showing traditional puppet events. While the elder brother enjoys the show and is attracted by the beautiful owner, the younger brother is having an affair with one of the dancers. Charachon wishes to meet Mae again. Charachon is married to Kaew and has a daughter. Mekhala is having a lover called Pot already but he dislikes a snake always around. Pot is the son of political party owner. Charachon wishes to have a diner with Mekhala but she prefers to organise it in her home... Pot cannot come that night as Mekhala is busy already. Pot sends some men to get rid of the snake (งูผี) but they die. Pot is also married. The snake ghost is jealous about men being close to Mekhala. Charachon has to meet again Mekhala as he fully attracted by her. While riddling on the river, they fall from the boat as the snake (งูเห่า) was about to attack. Charachon doesn't know how to swim. Charachon feels so well in Mekhala's old house that he forgets going home (ไม่เหมาะ) despite his wife waiting. The spirit has the appearance of a beautiful young lady at nighttime. Charachon has weird dreams and wishes to understand the significance. Charachon sees Mekhala talking to a big snake (ทีนี้ไม้ใช่ที่ของคุณ). They finally become lovers. Mekhala tells the story of the snake (คุณ), who was already protecting her mother. On his side, Charachon is an adoptive child. He doesn't know his biological parents. In the morning, while wandering with Mekhala, the cobra attacks Charachon again. Thanks to the spade (ดาบพิเศษ) given by Lung Tim, Charachon pushes back the snake. Lung Tim warns Charachon not to come back to this house. Pot is chased away by Mekhala as she has Charachon now. Aware of Charachon's outside activities with Mekhala, Charachon's wife, Kaew, asks her to stop taking her husband (แย่งผัวชาวบ้าน). Meanwhile Pot dies while trying to kill the snake. The house is damned (บ้านของบาป, บ้านมีกรรม) with lust and death. Charachon realises he is not the real son of Kriengkrai Unhanan. Perplex, he finds his own brother Prapoum in bed with his wife Kaew. Deceived by life, Charachon goes back to Mekhala's home knowing she is not here and knowing that death is waiting for him there. A few months later, Prapoum brings his new boss (Ananda Everingham) to visit Mekhala...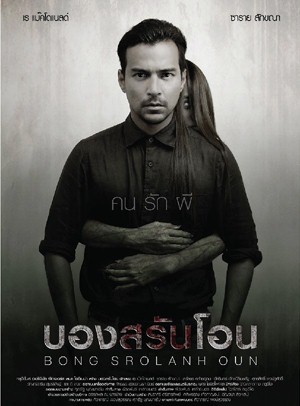 Year

: 2015



Thai title

:

บองสรันโอน




English title

: Bong Srolanh Oun



Rating

: 3/5


Director

:



Main actor

: Ray McDonald


Main actress

:



Buy now

:

Thai movie Bong Srolanh Oun / บองสรันโอน was released in year 2015. It lasts 1h45mn. Don (Ray McDonald) is a computer artist. A new young lady worker น้อง Jaem arrives in his office. Don is single (บ้างาน) and seems to have difficulties to forget his earlier girlfriend. It looks like somebody is always following Don. Jaem likes Don. Don has to see somebody at hospital so he misses job one day. His twin brother is at hospital. A lady seems to always be present in his flat. Worried that Don didn't come to office and cannot be contacted, Jaem heads to his home. On the following day, she is found dead having fallen from Don's flat. Later, when his colleagues organize a party for him, heavy drinking happened in his flat. One of his female colleagues hides to play a peekaboo to him. Unaware of this, Don leaves the flat to bring back a drunken colleague at his home. When back, the female colleague is found dead. Believing something is wrong with his flat, Don inquiries regarding the previous owner. It was a girl coming from Cambodia, who disappeared suddenly. Don goes to Cambodia to see her mother in order to find the truth. The young lady had a Thai boyfriend. He dumps her so she had to find a job. Being pregnant and injured, she hid herself in a suitcase in the flat and died there. Don then stayed over in the flat. It seems that Don's twin brother stayed in this flat before so the Cambodian spirit, believing it is the brother, keeps following Don. Don incinerates the dead body and sent back ashes to Cambodia. But the ghost stays in the flat...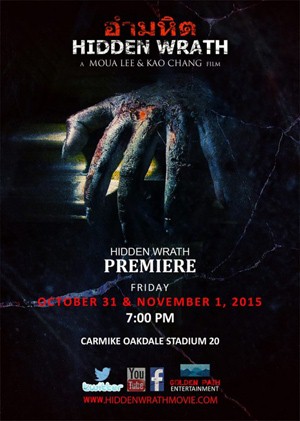 Year

: 2015



Thai title

:

อำมหิต




English title

: Hidden Wrath



Rating

: 3/5


Director

: Moua Lee,Kao Chang



Main actor

:


Main actress

:
Thai movie Hidden Wrath / อำมหิต was released in year 2015. It is the first Hmong horror movie released through DVD and later on on YouTube. The movie lasts 1h19mn. A couple is chased by three men in the jungle. They are savagely killed. Bua is mute (ใบ้). She is living with her mum as the father quit them for another woman. Yod, a young man, is her boyfriend but their love is disapproved by many people including his parents. Chang is a small lazy ruffian spending most of his time with two other drunkards instead of taking care of his pregnant wife. They are stealing fishes and even harass Yod and Bua. Later on, while they are catching fishes, Chang and his two thugs (Lek and Phet) rape Bua and kill both Yod and Bua. The parents suspect Chang but they have no proof. Later on while hunting in the forest, the thugs have visions and see spirits. At nighttime, while being drunk, they all see Bua as a ghost. They have all nightmares. Lek dies in the forest while fleeing Bua ghost. Phet wishes to tell the truth but Chang threatens him. Phet finally drowns while fishing. His father is the village's leader (ผู้ใหญ่บ้าน) so he tries to get protection from his father. Anyway it is time to pay for his bad karma (กรรม). Chang hears strange noises at nighttime. While trying to stab the ghost, he kills his own pregnant wife. Finally Yod and Bua take their revenge against Chang...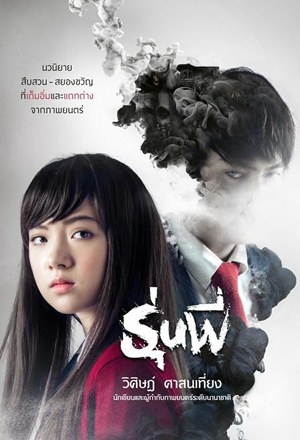 Year

: 2015



Thai title

:

รุ่นพี่




English title

: Senior



Rating

: 4/5


Director

: Wisit Sasanatieng



Main actor

: Sahat Piempongsan


Main actress

: Piathip Kumwong



Buy now

:

Thai movie รุ่นพี่ / Senior was released in year 2015. The movie lasts 1h47mn. Movie director is Wisit Sasanatieng. Mon, student in a convent, is a lonely girl talking alone. Both her parents die 12 years ago. Since that time, she can see and feel spirit's presence. One young male spirit keeps asking for her help but she refuses. She sympathises with another girl called Ann. Both of them are always harassed by other school girls. Mon finally accepts to help the spirit Run Phi to resolve a murder and a burglary (มรดก). Mon is able to feel spirits (สัมพันธ์). Mon contacts people involved such as Doctor Saneu (Sahat Piempongsan) and Mrs Wipha (Piathip Kumwong) but they don't appreciate that such old case is reopened 50 years after. The spirit needs her help as he is not able to go through walls or doors if the building mapping has changed. The murderer (ฆาตกร) is still unknown. Her friend Ann is pregnant. A teacher is her boyfriend but he refuses to take responsibility (ช่วยไม่ได้). Romance does happen between Mon and the spirit despite they cannot see each other. An evil spirit tries to prevent Mon to investigate. Ann gets suicide as she was harassed by other schoolmates and humiliated by the teacher uploading a naked picture of her on Facebook. Mon asks the spirit to help her. Frightened by ghost visions, the teacher goes to Police and unveils he is the one, who uploaded the picture. At the same time, Mon discovers who killed Run Phi. A Thai princess (ท่านหญิง) loved a common man, i.e. Doctor Saneu. Their daughter (หนู) Daeng was terrorized by the princess so she pushes her in the swimming pool. Daeng became the Catholic school headmistress. Doctor Saneu always wishes to protect his daughter Daeng so killing all who investigate this murder case. As the case is now resolved, Run Phi can now quit this world. This movie got a few Thai cinema awards such as Best director.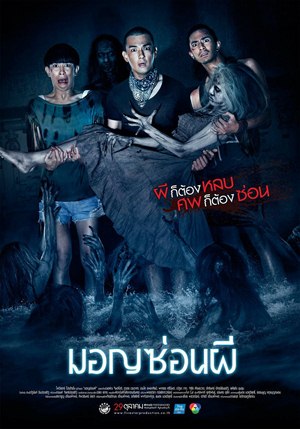 Year

: 2015



Thai title

:

มอญซ่อนผี




English title

: Ghost Ship



Rating

: 3/5


Director

: Phontharis Chotkijsadarsopon



Main actor

:


Main actress

:



Buy now

:

Thai horror comedy movie มอญซ่อนผี / Ghost Ship was released in year 2015 and lasts 1h30mn. It is a Five Star production. The movie director is Phontharis Chotkijsadarsopon. As often in modern Thai comedies, it features a flatulence scene in the toilets and also an exuberant gay character. Three young men including Lui, Suk and Nella (a funny gay character), are working on a cargo boat. Some crew men bring goods to the boat. The three young men find a dead young lady in a box. They are not willing to tell other members as they are worried to be killed. A woman can be heard crying. Weird events happen on the boat. They all have horrific ghost visions (โดนผีหลอก). The young lady body has disappeared (ศพหาย!). They suspect the son of the boat's owner as he was seen having arguments with his girlfriend, called Mia, and his hand is stained with blood. If they bring more troubles, the boat owner threatens to throw them in the deep sea. Finally the three friends find that Nit was hiding his wife Mia in his room (หนี). She was not dead but simulated to be a ghost to frighten the crew. The father is upset and jails his son and wife. Another crew Phi Bi is behaving weirdly. It seems there are real ghosts on the boat. A ceremony is organised to detect who the ghost is. Multiple ghosts are in fact present on the boat. The engine is now off. Phi Noon killed Phi Bi so Phi Bi is looking for revenge. His body is found. Ruffian Tao arrives by speed boat and threatens the father. Nit is found to be dead already. Shooting happens and Nella is injured. The father is shot. Suk has betrayed his friends with Tao. Tao gets lynched by the ghosts led by Nit. Through a final scene, Nit and Mia have to split as they belong to different worlds.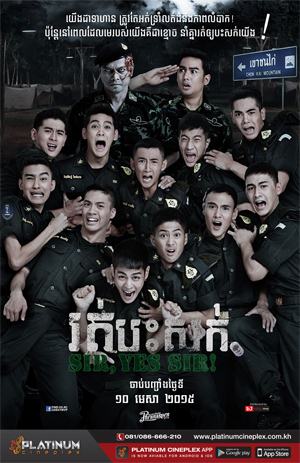 Year

: 2015



Thai title

:

รด เขาชนผีที่เขาชนไก่




English title

:



Rating

: 1/5


Director

:



Main actor

:


Main actress

:



Buy now

:

Thai movie รด เขาชนผีที่เขาชนไก่ was released in year 2015 and lasts 1h20mn. It is a Phranakorn Film production. It is a ghost teen comedy taking place in an army background. It is a modern teen movie with sexual jokes, burp gags, flatulences, toilets jokes and using modern teen language. It was forbidden under 13 years old. Soldier comedy movies were very popular during 1980s decade, but they were family movies. In this movie, various characters are featured including one always bullied by others, gay characters... A group of young soldiers call for ghost. A dead instructor ghost (Somchai Kemglad) is seen (ผีหลอก). Some ghost appearances are in fact jokes done by some young soldiers, but some are linked to the instructor ghost... The instructor ghost is probably looking for justice. Some parts of the movie remind of the บ้านผีปอบ serie movies where villagers were trying to escape ghosts chasing them. This movie even features Boys band group music. Finally, another ghost is protecting the young soldiers against the instructor ghost (ครู), i.e. Dalai. A young soldier had heart disease and died as instructor Dalai forced him to do too much exercices. Being responsible, instructor Dalai got suicide.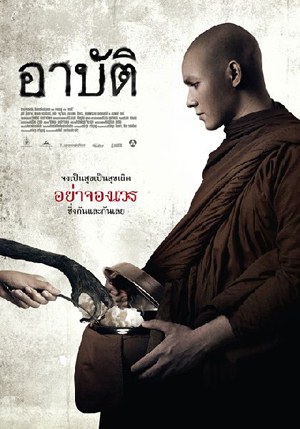 Year

: 2015



Thai title

:

อาปัติ




English title

: Arbat



Rating

: 5/5


Director

:



Main actor

: Charlie Trairattana,Sorapong Chatree


Main actress

:



Buy now

:

Thai movie อาปัติ was released in year 2015. It lasts 1h20mn. The movie อาบัติ was censored and finally renamed as อาปัติ after removing some controversial scenes. Thai movie "Arbat" (อาบัติ) was first banned in 2015. Thai Censorship Board objected to the movie not being respectful to Thai Buddhism (novice drinking alcohol, novices fighting, novice showing disrespect to the Buddha image, novice touching the face of a girl). Finally after cutting three minutes, the movie was unbanned and released under new name "Arpatti" (อาปัติ). The movie still shows young monks smoking and playing with their smartphone but those are typical scenes that can be seen nowadays in Buddhist temples. The movie director mentions it was a way to attract attention on issues happening in nowadays Thai Buddhism. Novice (เณร) San (Charlie Trairattana) just enters monkhood. San is back from prison after 2 years and his father still does not forgive him. In this Buddhist temple, they provide food and prayers for hungry ghosts (เปรต). Not everybody can see hungry ghost (One way to to see a ghost is to bend over, stick the head between legs and look behind). San still tries to contact his girlfriend through Line but she doesn't answer. Sorapong Chatree is playing a crazy guy. San meets a young teen girl called Fai. San has visions of ghosts in his room. San is upset as his girlfriend doesn't answer. She finally tells him that she wishes to break (เลิก). Upset San drinks alcohol and is discovered by other monks. He wishes to disrobe (สึก). Issues are happening with the crazy guy, who mentions a ghost is around San's cloister (กุฏิ) and is also stealing alms offering (บิณฑบาต) food. But as the abbot takes too long time to let him go, he wishes to remove the robe by himself (อย่าถอดผ้าเหลือง). He has often discussion with another Luang Phi, who had a sad childhood. His mother Pin hanged herself in the cloister, where San is now staying. Pin used to live in front of Fai's house. Pin used to love a monk but this love was impossible (บาป). Per local superstition, she should reincarnate in a hungry ghost. San decides to flee with Fai. The crazy guy was a Buddhist abbot and had an affair with Pin (อาบัติ - offence). As she hanged herself, the abbot buried her. He also killed Luang Phi, Pin's first son, to silence him. Following the crime, he becomes crazy being tormented by Pin's ghost. San needs to choose if he wants to be a holy man (นักบุญ) or a sinner (นักบาป). Luang Phi body is finally discovered and cremated properly. His half-brother is the now current abbot. San decides to stay in the monkhood.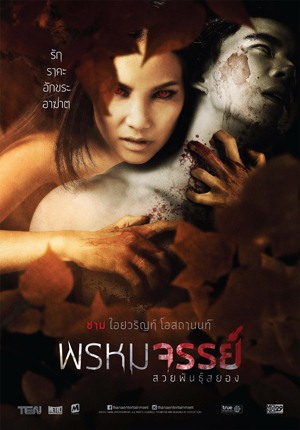 Year

: 2015



Thai title

:

พรหมจรรย์ สวยพันธ์สยอง




English title

:



Rating

: 2/5


Director

:



Main actor

:


Main actress

:



Buy now

:

Thai movie พรหมจรรย์ สวยพันธ์สยอง was released in year 2015 and lasts 1h17mn. This horror erotic was released by Phranakorn Film production. In year 1937, a man is chasing demon tiger lady spirits (เสือสมิง). Time flies to year 2015. Three ladies friends (Tida, Plaew and Neiya) go on weekend with male friends in North of Thailand. Neiya doesn't trust men. They go to a lake. Only Neiya is not swimming. She goes deep in the jungle and meets a demon tiger lady spirit despite the uncle warning her not to go inside the forest. As she gets lost, one of the young men, called Pim, hopefully finds her. Neiya finally sympathizes with Pim. Neiya recalls the time when she was raped so she didn't trust men for long time. Seeing Pim making love with another girl in a car, she feels hurt again and leaves into the forest. She meets a demon tiger lady, who tattoos a tiger on her back. She accepts to be tattooed as she wishes to get revenge over men. After being tattooed, Neiya loses her inhibitions, remove her glasses, wear sexy clothes, dance languorously and tease all men. Wit, one of the young men, bloody body is found after he follows Neiya in the forest. The uncle feels confused. Something is bad in the forest... Another lady Plaew dies in the house. She was killed by Neiya, possessed by the demon tiger lady spirit. The movie ends up in a Bangkok club where two men hunt for the demon tiger lady spirits...
---