Increase or decrease font size for easier reading : A+ A-
Year 2014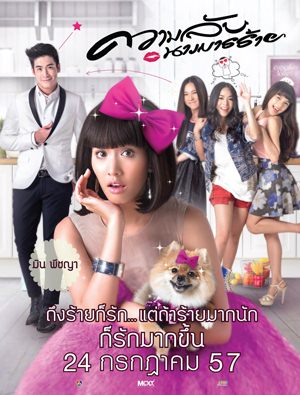 Year

: 2014



Thai title

:

ความลับนางมารร้าย




English title

: Call Me Bad Girl



Rating

: 3/5


Director

:



Main actor

:


Main actress

: Penpak Sirikul,Pechaya Wattanamontree



Buy now

:

Thai movie ความลับนางมารร้าย / "Call Me Bad Girl" was released in year 2014 and it lasts 1h48mn. It is a romance comedy. Young lady Busaba (Pechaya Wattanamontree) meets young lad Neuasamut in a discotheque. Neuasamut (หนู) is very close to his mum (Penpak Sirikul). Other girls are interested in Neuasamut also. Busaba tests Neuasamut to see if he really loves her. As she likes partying with her friends (ใช้ชีวิตเป็นวันๆ), she is shocked by the wedding request from Neuasamut but accepts it. It is discovered that Busaba has a cancer in terminal phase. She cannot accept it and flees to party. She gives back her engagement ring to Neuasamut. She later regrets her decision. She has now to work hard and to convince Neuasamut that she really loves him...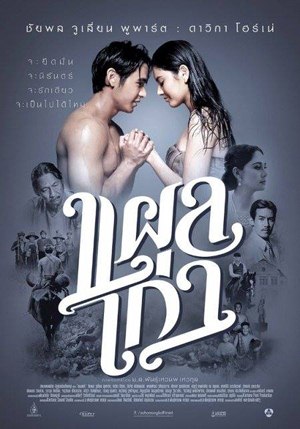 Year

: 2014



Thai title

:

แผลเก่า




English title

: The Scar



Rating

: 4/5


Director

: Pantewanop Tewakul



Main actor

: Phongphat Wachirabanjong,Krung Srivilai,Chaiyapol Pupart


Main actress

: Davika Hoorne,Sinjai Hongthai



Buy now

:

Thai movie แผลเก่า (The Scar) was released multiple times over 50 years. This version was released on mother's day 2014. It really features a beautiful image. The movie action takes place in year 1936. Kwan loves Riem (Davika Hoorne), daughter of the local subdistrict headman called Somyong. Kwan's father (Phongphat Wachirabanjong), village headman, doesn't want his son to love Riem. Riem's father doesn't want Kwan to be around his daughter. Families are enemies. Riem is also in the interest of a Bangkokian young man called Choi. Fighting erupts during a temple fair between Kwan and Choi as Kwan is dancing with Riem. Krung Srivilai as Buddhist temple abbot stops them. Choi gives money to the subdistrict headman as corruption way. He wishes to marry Riem as soon as possible. Kwan and Riem promise to love each other forever in front of local spirit (ศาลเจ้า). Her father announces to Riem that she has to marry Choi. Choi already has many mistresses and children. So Riem and Kwan decide to flee. Choi and the subdistrict headman prevent them. Choi hits Kwan causing him a scar (แผลรักของเรา). Kwan promises revenge. While Kwan is still recovering from injury, Choi and the subdistrict headman bring Riem to Bangkok. Khun Ying (Sinjai Hongthai) buys Riem from the subdistrict headman for 500 baht but forbids her nephew Choi to touch her as he has already many wives and he doesn't care well about them! Kwan's father loved Riem's mother twenty years ago but finally she was forced to marry the subdistrict headman so antagonism stayed between both men. Riem has same face as the lost daughter of the aunt so she raises her same as her daughter to become a noble (ผู้ดี). Kwan goes to Bangkok to find Riem but he is too late as Khun Ying brings Riem overseas for three years. Choi is found injured in Bangkok with a scar... Kwan indulges in alcohol. Kwan promises to his father and to the local spirit shrine to stop drinking. He works hard to keep money, i.e. 500 baht to buy back Riem. Three years have passed. It is year 1939 and World war 2 is starting. Riem is back (ลูกชาวนา) and meets Somchai, member of Thai government. The aunt decides to visit Riem's birthplace again. Kwan meets Riem again. 500 baht is the cost of her shoes only (เจ้าเปลี่ยนไปแล้ว). Somchai (ผู้ชาย Bangkok) takes opportunity to have the aunt and subdistrict headman together to ask Riem's hand. She accepts. Somchai was engaged with the aunt's daughter since childhood. Back to Bangkok, Riem understands that Somchai has already another lover. The wedding is just for principles as she is only a farmer daughter. Only Riem's love was pure and sincere. Riem decides to go back to countryside. It is too late as her mother, Mae Ruay, died already. Kwan has promised to his father to ordain and after ordination he wishes to marry Riem. The Bangkok people try to get back Riem but she refuses. Fighting occurs and Kwan gets shot fatally. Wishing to die in the river, Riem joins him.



Year

: 2014



Thai title

:

สมิง พรานล่าพราน




English title

: Sming



Rating

: 3/5


Director

:



Main actor

:


Main actress

:



Buy now

:

Thai movie Sming / สมิง พรานล่าพราน was released in year 2014. It lasts 1h40mn. This movie features impressive Fx with the tigers. This Thai movie was also released in India. Pat is a killer of tiger spirits (สมิง). His wife is killed by a fierce tiger spirit. Lam Duan, his daughter, escapes to death as he brings her out of the burning house. He wishes to get revenge and tries to kill the tiger (เสือนรก) but he only succeeds to damage its eye and gets seriously injured. Many years have passed. A little boy comes to the Thai forest administration and asks for help against the tigers. A new worker Pamai is allocated to solve this issue happening in a remote village. Tigers keep attacking and killing villagers. Three heavily armed foreigners wishing to go to this village also join them. Pamai always takes pictures and looks useless to villagers looking for help. The village population is a mix of Chinese people, Cambodian and Thai people. Pamai discovers the reality of the tiger spirits. Pat is still looking for the tiger, which killed his wife. It is now half blind (ตาบอด). The foreigners are hunters. Saming / Tiger spirits can change their appearance so they can lie to people and fool them. Two foreigners are killed as the tiger spirit transforms itself in an attractive Thai young lady. Pamai saves the young boy from the tiger spirit. The Chinese guys including พี่ใหญ่ try to kill the tiger spirit by using special monkey dance but they fail and the villager leader dies. It is finally discovered that Pat is already dead. His daughter Lam Duan and Pamai succeed to kill the tiger thanks to Pat's spirit.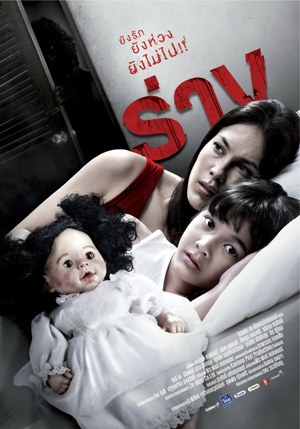 Year

: 2014



Thai title

:

ร่าง




English title

: The Parallel



Rating

: 4/5


Director

:



Main actor

:


Main actress

: Paula Taylor



Buy now

:

Thai movie The Parallel / ร่าง was released in year 2014. Mobai's mother dies in her shop while fighting against a robber. Amy's boyfriend drugs her to force an illegal abortion while she is not aware. Mobai's mother as a ghost continues to protect her daughter whenever she faces adversity. Mobai is mute since the murder. A nurse in the orphanage dies as she tries to slap Mobai. Amy (Paula Taylor) always calls her mum on the phone. Mobai only talks to her doll since her mother is dead. Finally Amy welcomes Mobai in her home. Both have been hurt by life. Police is also investigating on the mysterious deaths linked to Mobai's presence. Amy finds the illegal abortion clinic and realises that her former boyfriend Am brings another girl for abortion. He chases her away (เลิกยุ่ง). The same night he dies emasculated (ช้างน้อย). Amy has difficulties to have Mobai studying at home. Amy's friend brings a modern medium (หมอผี) to inspect her home. The house is full of anxiety (บ้านเต็มความห่วง). The abortion clinic doctor is also killed. Police inspector (หมด) finds strange that Amy's car is often seen around that clinic (อย่าจ้องเวรกับคนที่ทำร้ายคุณ). Will Amy be the one taking revenge? Finally it is discovered that \Amy's own mother, who also died tragically, was also still protecting her daughter... Mobai and Amy can finally live happily.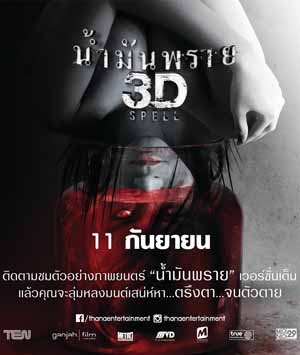 Year

: 2014



Thai title

:

น้ำมันพราย




English title

: Spell



Rating

: 3/5


Director

:



Main actor

: Kowit Wattanakul


Main actress

: Wanida Termthanaporn



Buy now

:

Thai horror movie น้ำมันพราย (Spell) was released in 3D version in year 2014. A monk is coming from Cambodia bringing real oil corpse. A young lady called Phrae (Wanida Termthanaporn) is working in an office. The boss always tries to seduce her. Phrae's mother is at hospital and is paralysed. The uncle (Kowit Wattanakul) would like to sell the house but Phrae is not willing. A coworker called Lek is fond of Phrae but she treats him as a friend only. Somebody suggests him to try oil corpse (น้ำมันพราย) to attract Phrae. Lek tries it on Phrae but it ends up tragically as Phrae becomes a fearful spirit (พี่หลอก) without being aware. Lek dies and his body disappears. Police enquiries and is wary about Phrae as she is the last to have seen Lek. The boss lies about Phrae hoping to get favour (บุญคุณ) from her. He brings her to a restaurant and drugs her. The boss tries to rape her but Phrae becomes a fearful spirit again causing the boss to flee. Meanwhile her stepfather tries to sell the house and is having affair with a younger girl. Surprising her stepfather, he finally expels her. Phrae meets again a former friend Thana that she loved when being a student many years ago. Love happens again. The boss finally gets suicide in the police station. The Cambodian monk being in jail at the same time explains to the police inspector the origin of the corpse oil. The policeman informs Phrae that she is probably possessed (โดนของ). Lost, Phrae finally finds Thana in bed with another woman. Upset, the spirit causes Thana to die also. Phrae finally flees away asking the policeman to focus on more important cases than flirtatious men (ผู้ชายเจ้าชู้).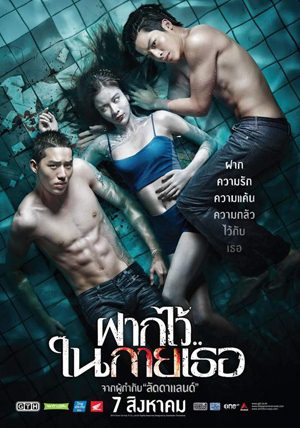 Year

: 2014



Thai title

:

ฝากไว้...ในกายเธอ




English title

: The Swimmers



Rating

: 4/5


Director

:



Main actor

:


Main actress

:



Buy now

:

Thai movie "The Swimmers" / ฝากไว้...ในกายเธอ was released in year 2014. It lasts 1h55mn. Tan and Perth are close friends. They are both joining swimming competitions. Ice was Tan's girlfriend. Ice jumped to death from the swimming pool high diving board. It looks like a suicide. Perth wins gold medal at the Thai national competition but Tan wasn't competing. Perth has a new girlfriend called Mint. It is almost Ice's 100th death commemoration. There is only one place left for the sport university. Tan is perturbed. He finds that Ice was pregnant. He wants to kill the one who caused Ice to commit suicide. There are movies flashbacks. Perth always liked Ice before. As Tan had no time to teach Ice how to swim, Perth did it. Perth loved Ice but it couldn't be reciprocal as Tan was already her boyfriend. Ice's mother lits a big incense stick to let Ice spirit find back her home. Finally as the story goes forward, it is found that Ice broke up with Tan. As it wasn't really official, Tan still wishes to enquiry and repair Ice's mobile phone to find data on her facebook account. Perth's mother is pregnant with Perth's swimming teacher. As Ice was pregnant, they finally resolved to abortion. Ice changed mind at last minute. To avoid being suspected by Tan, Perth puts the blame on another university student, who is beaten. Perth starts to have terrific visions and even to believe he is pregnant himself. Suspicion goes on Perth. Perth starts to believe Ice spirit wants to rebirth. Ice took a strong medicine to kill the fetus and Perth buried it. Finally it is understood that Ice wanted to go back with Tan. As Perth refused, a fighting happened and Ice broke accidentally her neck. Perth transformed this into a suicide. Perth doesn't join the Thai competition to defend his title as he knows he cannot defeat Tan. Tan is waiting Perth at the swimming for a final deadly confrontation... The movie made 67M Baht revenue.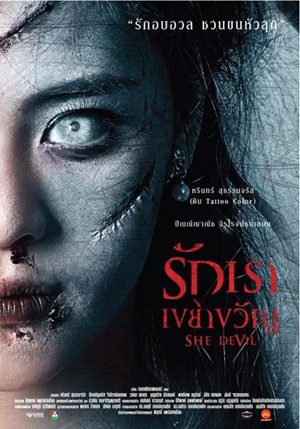 Year

: 2014



Thai title

:

รักเราเขย่าขวัญ




English title

: She Devil



Rating

: 3/5


Director

:



Main actor

:


Main actress

:



Buy now

:

Thai movie รักเราเขย่าขวัญ / She Devil was released in year 2014. It lasts 1h39mn. This movie mixes horror and comedy similar to the 1990s movies but with a much higher budget. Four comic relief characters are part of the movie. A mother is trying to marry her son Veun, who is a nice simple guy but still single. His mother is very possessive. He finally married a young lady called Ploy but she never smiles. It is an arranged marriage. Ploy's mother asks her to never remove her necklace (สายสิญจน์แม่). On the wedding day, she is crying at night time and mumbling mantra while holding the necklace. The bed is shaking and it seems there is somebody in the wardrobe. On following days, wishing to make a surprise to Ploy, Veun removes her necklace to replace it by a gold necklace. It causes a big mess as she asks it back immediately. Veun realises Ploy becomes a ghost at nighttime and hits her trying to escape the ghost. Ploy tells it started to happen when she visited Kalong waterfall a few years ago. Her own mother is aware but hid this to Veun's family. Not willing to cause any more problems, Ploy decides to leave. She finally gets reunited with Veun. Ploy and Veun decide to see a monk and also a witch doctor (หมอผี) to get hints to get rid of ghost. The monk believes Ploy is facing double personality syndrome. A little monk is seen near Ploy when she faints near the river bank. Veun brings Ploy to honeymoon in order to find a solution far from his mother. While possessed, Ploy always says a weird sentence. Later on, a policeman identifies that it means "i want to go home" in Burmese language. Veun brings Ploy to Kalong waterfall and has to face the Burmese spirit wishing to bring Ploy with him. Thanks to the little monk's support, the spirit is pushed back and finally leaves this world with the little monk. Ploy and Veun can be happy and have a child for the grandmother.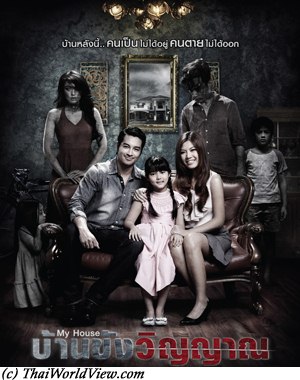 Year

: 2014



Thai title

:

บ้านขังวิญญาณ




English title

: My House



Rating

: 3/5


Director

:



Main actor

: Akara Amarttayakul


Main actress

:



Buy now

:

Thai movie บ้านขังวิญญาณ / My House was released in year 2014 and it lasts 1h25mn. A man destroyed a house spirit (ศาลพระภูมิ) as the spirit didn't protect his family. His wife was having an affair. Upset and crazy, he drown his own child in the bathroom. Few years passed. Young lady Ann, married to In (Akara Amarttayakul), has nightmares (ฝันร้าย). They have a daughter called Cherry. They move to a new house with Ann's mother. The neighbour Pon is reluctant to go inside their new house. Problems at office start to happen for both of them. Food is suddenly rotten (เสีย). The grandmother ends up in hospital after seeing a hanged lady in a room. She finally dies. Ghost children always push Cherry to play in the bathroom. Both Ann and In lose their job. In becomes a taxi driver but nobody enters his taxi. Pon tells Ann the story about the previous families staying in the family but gets her tongue cut. They use a master (อาจารย์) to chase the bad spirit but to no avail. They decide to quit the house as it becomes too dangerous (ผีบ้า). Ann comes a last time and has horrible visions of the murders that occurred before. Another medium tells her that the spirit doesn't want a house spirit anymore but the whole house (บ้านกู) as his strength has been increased by the previous deaths. The movie ends tragically with Inn possessed by the spirit and hurting his own family...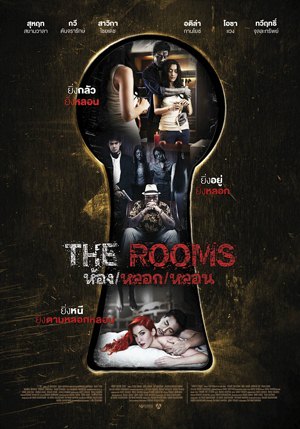 Year

: 2014



Thai title

:

ห้อง หลอก หลอน




English title

: The Rooms



Rating

: 3/5


Director

:



Main actor

:


Main actress

:



Buy now

:

Thai horror movie "The Rooms" / ห้อง หลอก หลอน was released in year 2014. It lasts 1h47mn. It features three short stories. The first one is "Green Sonata". Two people wishing to buy an old house are having ghosts vision. They ask the salesman to tell them the story of this house. Khun Luang was a musician having little time for his family. He was married to Anna. She was sick due to a specific rare syndrome that made her paralyzed. Phi Boonleu used young lady Phupan, whom he saved from fire, to pay back his debts. Phi Boonleu was disfigured due to that fire. A brothel owner used Phupan as domestic helper. Khun Luang started to be fed up to wait for improvement regarding Anna's health. Khun Luang visited the brothel and went with Phupan. Phupan accepted as she could pay back her debts in one time. When Boonleu learnt this, he chased Phupan away. Phupan had no choice but to go to Khun Luang's home. Anna was fully aware when they made love near her. Boonleu was aware that Phupan was now with Khun Luang. The love stories ended up tragically and bloodily... The second one is "Yesterday". A ruffian leader stays in a hotel room with his bodyguard. Seeing a ghost, the bodyguard kills his boss by mistake. Unable to get rid properly of the body, he finally gets suicide as he keeps seeing the ghosts linked to previous deaths in this hotel room. This story mixes horror and comedy. The third one is "Honeymoon suite". Three girl friends arrive in Bangkok and stay in a Honeymoon suite. One has been dropped by her boyfriend. While waiting for her friends doing shopping, she meets a young handsome man. There is immediate attraction between them. Following an old tale, the friends decide to cut apple skin at midnight in order to see their life mate in a mirror but it turns badly. Finally the young man doesn't come to the next date with her. Her friends learn that he dies during the day during a car accident. The young lady also realizes she died from a boat accident as she vomits sea water only...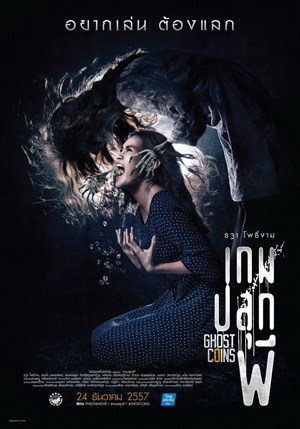 Year

: 2014



Thai title

:

เกมปลุกผี




English title

: Ghost Coins



Rating

: 4/5


Director

:



Main actor

:


Main actress

:



Buy now

:

Thai movie Ghost Coins / เกมปลุกผี was released in year 2014 and it lasts 1h34mn. It is Five Star Production. It reminds a bit about Thai movie เงินปากผี released in year 1981 by Five Star Production also. Teens Ton and Jack like to play new games such as catching ghosts (ตกผี). The best school student Tor is brought forcibly by two other students, Ton and Jack, as he misbehaved with a young girl called Bi (ชดใช้ความผิด). Tor has to dig inside a cemetery (ป่าช้า) while Ton is filming him with his smartphone. Things get worse as Ton wakes up ghosts through his game as he steals a gold coin from a corpse (เงินปากผี). He ends up chained with Tor. Meanwhile Jack has disappeared looking for Bi. Ton and Tor take refuge in a remote Buddhist temple but Ton doesn't want to stay as he is looking for Jack. They see a man stealing gold teeth from corpses. Everybody has his karma to pay for (กรรมมัน กรรมใคร). Ton has horrific visions as he stole the gold coin. A lady visits the monk asking him to disrobe (ศึก) and to honour his promise to marry her. As he refuses, she intends to do whatever necessary to have him disrobed. Ton vomits a coin. Ton, Tor and Bi are linked together in a previous life (กรรมในอาทิตย์) through the father, the monk and the lady. They need to give back the coin. The father imprisoned the young lady as she refused to forget his son. He hit and raped her. He finally attached her to a drowning boat and the young monk didn't help her. During this life, it is time for Ton to pay for his bad karma from previous life. The ghost of the lady prevents him to escape from his car sinking in the river. Tor survives as he helps the lady in this life.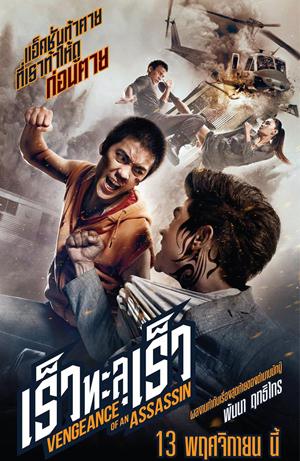 Year

: 2014



Thai title

:

เร็วทะลุเร็ว




English title

: Vengeance Of An Assassin



Rating

: 3/5


Director

: Panna Rittikrai



Main actor

: Kowit Wattanakul,Dam Datsakorn


Main actress

:



Buy now

:

Thai movie เร็วทะลุเร็ว / Vengeance Of An Assassin was released in year 2014. It is the last movie directed by Panna Rittikrai before his death. This movie lasts 1h30mn. A young boy called Phiti wishes to know what happened to his parents, who died earlier. The uncle has been raising the two children but refuses to disclose anything as it can only bring troubles to them. The uncle keeps indulging in beers to forget. He holds a key to a secret cabinet. It includes secret documents and VHS tapes featuring military trainings. Dam Datsakorn, now a monk, was former colleague of the father. Phiti wishing to know the truth leaves the uncle's home and goes to find Dam. Than, his younger brother stays with the uncle. Phiti meets also Athong, former friend of his father and now understands the truth. He gets revenge one by one through some impressive killings (in a restaurant with shootings happening at waist level, in a golf course...). The ruffians' leader is traitor Kowit Wattanakul, who was also one of the father's former friends. The boy helps a young lady wearing blond wig, in traditional costume (นางรำ) and chased by a killer. The girl was used as bait. Her teacher (ครู) is killed. Dam is also killed. The boy succeeds to defeat the ruffians but is severely injured. A doctor (หมอจีน) helps them and they take refuge in the uncle's house. Ruffians follow them there. The young lady is kidnapped and fightings happen on a moving train. Through daring final fightings, ruffians are defeated.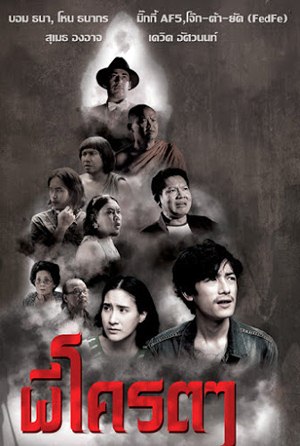 Year

: 2014



Thai title

:

ผีโครตๆ




English title

: The ghost father



Rating

: 4/5


Director

:



Main actor

:


Main actress

:
Thai movie ผีโครตๆ / The ghost father was released in year 2014 and lasts 1h45mn. A painter and his pregnant wife are staying in a Buddhist temple as the husband has to decorate the main chapel for one month. They are not rich, so they cannot afford to rent a house inside the city. The abbot proposes to them to stay in an abandoned traditional house behind the temple. The house needs serious cleaning. Jong, a strange old temple boy (เด็กวัด) living in the temple, guides them. The house is located above an old cemetery (ป่าช้าเก่า) so an old aunt warns them. At night time, they hear strange noise. Meanwhile a young adult is trying to escape police as he stole a rare Buddha statue having a value of 2M Baht. While fleeing the police, he reaches the old house and hides it in a jar. He is then arrested by the Thai Police. He concludes a deal with the corrupted head of police to share the resale value 70%-30%. They go back to the house to get the statue. Meanwhile the husband has found the Buddha statue. As the police enters in the house, the husband and wife have to hide. Finally, there is no ghost in the house… but concurrent unfortunate events between the corrupted policemen looking for the Buddha statue and some illegal gamblers looking to get back the money they had to hide in the old house while fleeing the police...



Year

: 2014



Thai title

:

เพลงของข้าว




English title

: The songs of rice



Rating

: 5/5


Director

: Uruphong Raksasad



Main actor

:


Main actress

:
Thai movie เพลงของข้าว / The songs of rice was released in year 2014 and lasts 1h15mn. This movie has also been registered as National Heritage per the 2016 list released by the Thai Film Archive. That is a big achievement as it was only released two years before. Director is Uruphong Raksasad. Two rice farmers see a procession from far away. A father and his two young sons are preparing the rice fields by using a buffalo. Farmers are working hard under the rain to plant the rice seedlings. Local festivals related to rice are then taking place during the year such as Chonburi buffalo race in east of Thailand or Nora dances in south of Thailand. Food preparation and dances always have a big part in Thai traditional festivals. Rice harvest and threshing do happen. Rats are caught up during harvest and are barbecued. Donation of money or rice bag is done during Buddhist festivals (ทำบุญ). There is even a rice goddess festival. Festivals do happen after the rice harvest period. Many festivals have fertility aspects related to man / woman, water / soil / rice. The movie shows the famous Rocket Festival featuring rockets launch in the clouds to bring rain to fertilize the fields. Donation to ancestors and food offering to monks are occurring during Buddhist festivals. Rice is always offered to monks as it is basis of Thai food. Rice is also offered to ancestors. The movie features great music composed by Thai composer วุฒิพงศ์ ลี้ ตระกูล. But wind going through rice fields is the real song of rice... It is the last part of a trilogy started with Stories from the North / เรื่องเล่าจากเมืองเหนือ (2005) and Agrarian Utopia. The third part of the trilogy is much shorter, i.e. 75 minutes but the movie picture remains as great as in the previous episodes.
---