Increase or decrease font size for easier reading : A+ A-
Year 2013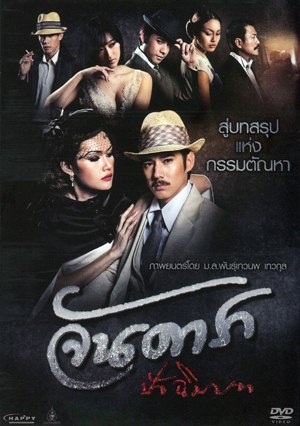 Year

: 2013



Thai title

:

จันดารา ปัจฉิมบท




English title

: Jan Dara The Finale



Rating

: 4/5


Director

: Pantewanop Tewakul



Main actor

: Mario Maurer,Chaiyapol Pupart,Kriengkrai Unhanan,Phongphat Wachirabanjong


Main actress

: Bongkoj Kongmalai



Buy now

:

Thai movie จันดารา ปัจฉิมบท - The Finale was released in year 2013 and lasts 2 hours. Jan and Ken flee to Phichit. Back to Phichit, Jana identifies that he is not a child issued from a rape but through a common agreed relationship. He learns the truth through his grandmother and a former policeman. Twenty years ago, the grandmother had no choice but to accept the conditions given by Khun Luang (สัตว์นรก) in order to marry Dara. Ken gets married and has a child. Jan keeps sending letters to Aisin. In Bangkok, Kaew continues to misbehave with men. She also starts a relationship with Krajon, the son of Bee. When Bee and Khun Luang are back from Singapore, Kaew and Krajon announce to them that they want to get married as Kaew is 3 months pregnant. The wedding is impossible as Krajon is the hidden son of Khun Luang with Bee. Bee never told the truth to them. Khun Luang has a serious attack. To solve this mess, Khun Luang has no choice but to ask Jan to marry Kaew. Per his grandmother's orders, Jan accepts but Khun Luang has to give back all the family belongings (land, house, company) that he took 20 years ago. Jan visits Aisin but she just died from disease. Jan is heart broken. Kriengkrai Unhanan is invited to the wedding of Jan and Kaew. Kaew keeps calling him Ai Jan (ไอ้จัน). Bee and Jan become lovers. Kaew is about to deliver her child (เด็กอัปรีย์). Being older, the child is identified as retarded. Jan wishes to have a child with Bee but she is now sterile. Khun Luang, seeing Jan and Bee making love, has another attack and becomes fully paralyzed. Aunt Nawat goes back to Phichit. Bee refuses to make love to Jan anymore as she was doing it only to protect Khun Luang. There was no real love with Jan. Upset, using a mask to hide his face, Jan rapes Kaew and hits Khun Luang with a whip. Ken also decides to leave for Pichit as Jan has become unlivable. War happens in Bangkok. US planes send bombs. Khun Krajon saves Khun Jan's life and dies. Khun Luang also dies. Kaew becomes a Tom, following Jan's aggression. Bee decides to leave the house. Kaew is pregnant with Jan. Complaining that Bee leaves her with Jan, Kaew gets suicide by jumping from high floor as she doesn't want to give a child to Jan. Jan ends up alone and never marries again.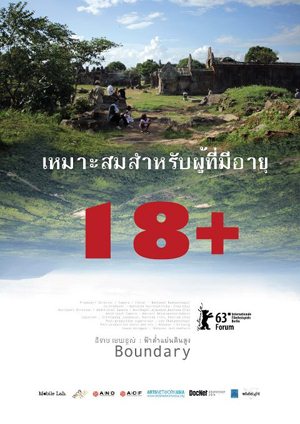 Year

: 2013



Thai title

:

ฟ้าต่ำแผ่นดินสูง




English title

: Boundary



Rating

: ?/5


Director

: Nontawat Numbenchapol



Main actor

:


Main actress

:
Thai movie ฟ้าต่ำแผ่นดินสูง / "Boundary" was temporarily banned in year 2013. An official movie trailer lasting three minutes can still be seen. Director Nontawat Numbenchapol made a documentary movie about the Preah Vihear temple and the Thai-Cambodian border dispute about it. The movie was banned as it could "persuade viewers to falsely believe" incorrect information. The director argued that the film shows the point of view of every side and so that his movie is neutral. After one week, the Thai censors have admitted they were wrong and removed the ban. The censors also asked the director to remove two seconds of ambient sound in an early scene of the movie. That scene was during the New Year's celebration at the Ratchaprasong Intersection during which a master of ceremonies announces on stage: "Let's countdown to celebrate HM the King's 84th anniversary". The censors expressed concerns that this might lead to misinterpretation. The movie background is related to Preah Vihear temple located at Thai Cambodian border and this issue has been dragging since decades. The International Court of Justice ruled in year 1962 that Preah Vihear temple belongs to Cambodia but disputes over ownership are still happening.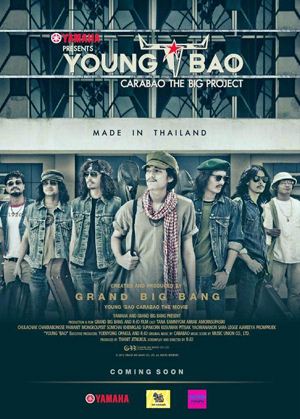 Year

: 2013



Thai title

:

ยังบาว




English title

: Young Bao



Rating

: 3/5


Director

:



Main actor

: Bom Tana


Main actress

:



Buy now

:

The movie ยังบาว (Young Bao) relates the beginning of the famous Thai music group, the Carabao. In year 1977, key members Khiaw and Ed met each other in Philippines while being students there. They were also musicians and were playing in bars / nightclubs. They decided to form a band and Ed chose there the name of their band, i.e. Carabao, meaning buffalo, being a hard worker symbol. Once their studies finished, they went back to Thailand and arrived at a time of political instability due to 6th October 1976 students massacre. Ed supported the students insurrection by providing some clothes and necessities. Ed wrote some songs-for-life / engaged songs (เพลงเพื่อชีวิต). Their first tape was launched in 1980. Success was not coming as they were not as popular as other bands (not handsome or not wearing flashy clothes). Some bars or clubs only accepted foreign music (ห้ามเล่นเพลงไทย) as Thai music was a rebellion symbol. One of the member of famous group called President, Lek, quit his band to join Carabao as he hated commercial funk music. They were looking for additional members for their group Carabao. Thanks to Lek negotiating with the President band's producer, they got their new tape released and a tour was organized. But they also needed to play in the orchestra of a Luk Thung star. A romance was starting with the singer but it didn't succeed due to the remembrance of an old love story of Ed that ended tragically. Commercial success finally happened. Ed liked big groups. Jealousy and misunderstanding happened inside the group made of seven musicians. They finally stayed together thanks to Ed and made famous songs still popular and played 30 years after. Some famous Carabao songs (Made in Thailand…) were created by Ed following real life events. A first movie about Carabao band was released in year 1985. This movie is part of the buzz around the 30th years anniversary of Carabao band. Ed's nephew was supposed to take his role but finally it ends up to Bom Tana. This movie will be appreciated by Carabao fans even if Ed's role is not as engaged as the real character.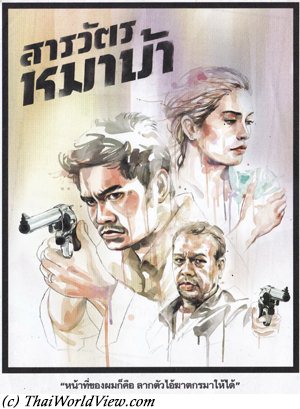 Year

: 2013



Thai title

:

สารวัตรหมาบ้า




English title

: The Cop



Rating

: 4/5


Director

: MR Chalermchatri Yukol



Main actor

: Note Chernyim


Main actress

: Krystal Vee



Buy now

:

Thai movie สารวัตรหมาบ้า / The Cop was released in year 2013 and lasts 1h59mn. Movie director is MR Chalermchatri Yukol. He is the son of the famous Thai movie director MC Chatrichalerm Yukol. Behind the scene sequence. Wasan (สมชาย เข็มกลัด) is a Thai police inspector (สัรวัด). He drinks alcohol. His family relationship is very stressed. He is in conflict with another police inspector Chalad. Despite being an unusual police inspector, his boss still trusts him to solve a politician's teen daughter murder. He has three days to solve the case. Chalad (ชลัฏ ณ สงขลา) imposes a policewoman assistant, called Lin (Krystal Vee), to him. His team also includes Note Chernyim. Affected by a bad case a few years ago where children were shot by drugs traffickers, Wasan changed to become bad temper and impulsive. A man is suspected of kidnapping kids. After a failed attempt to catch him, Thai police catches him and Wasan shoots him. After doctor's investigation, the shot children kidnapper is not linked to the politician's daughter murder. Wasan and his team investigate on another man providing children for prostitution. The arrest in a bordel turns badly and two police assistants are killed. Wasan beats the shooter severely. Wasan is finally demoted due to excess of power usage. Meanwhile while sleeping at police station, his wife is killed, and his kids have disappeared. With a few colleagues, he storms ruffians' place, but his kids are not found. Wasan ends up in jail where he finds a disfigured ruffian, he caught himself many years ago. He thinks it is the ruffian's sadic revenge and Wasan has to beg him about information related to his children. Lin has a short relationship with Wasan. It is discovered that Lin has a double face, i.e. she is a hard-working policeman and she is also the daughter of a woman shot during a police case many years ago where Wasan and Chalad were involved. Lin traps Wasan and Note. Note is shot. About to shoot Wasan, Chalad shoots Lin and discloses he is the one who shot her mother as he wanted to keep her stolen money. Chalad is about to shoot Wasan to keep everything secret but...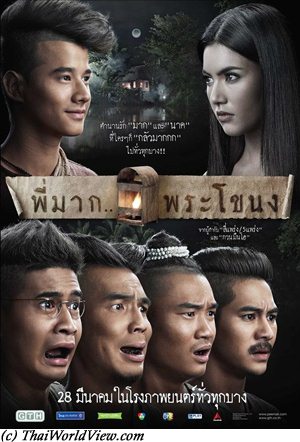 Year

: 2013



Thai title

:

พี่มาก..พระโขนง




English title

: Pee Mak



Rating

: 5/5


Director

:



Main actor

: Mario Maurer


Main actress

: Davika Hoorne



Buy now

:

While Phi Mak (Mario Maurer) is fighting as a soldier, his wife Nak dies during advanced pregnancy. Phi Mak is back with his four friends to Phra Khanong area. Mak doesn't know his wife is dead, neither his friends. People in the market refuses to sell to Mak anything. His friends understand the villagers are afraid of Nak, who is now a ghost. One of the friends, Chin, sees Nak extending her arm to catch a lemon fallen from the kitchen located on the first floor of the house. Mak's friends are trying to find stratagems to inform him without raising attention from Nak. Villagers who warned Mak are found dead. Upset by his friends behavior towards Nak, Mak is chasing them away. Friends want Mak to be aware. The four friends get confused and believe Mak is the ghost (ผี) and Nak is still an human. Finally realising their mistake, they end up in a Thai Buddhist temple but the monk is unable to protect them. Finally love is stronger (รักพี่มากมากๆ รักนากหนัก). Nak did nothing wrong as she just wants to stay with Mak but everybody tries to break their love. Nak and Mak stay together despite death showing that their love is stronger (รักไม่ธรรมดา). Thai movie Phi Mak (พี่มาก..พระโขนง) is a mix of light scary sequences, romance and comedy. It got the highest revenue in Thai movies history with more than 800M bath so making it the most ever popular Thai movie. It was even released in other Asian countries such as Hong Kong or Macau. Despite having been released for 15 times already, this new 2013 version features modern jokes, Mak as central character instead of Nak, Nak not being an evil spirit and a different ending. It is done as a movie for the whole family. The ending is more surprising and more romantic than the previous versions. Normally ghosts and humans cannot stay together so a monk always convinced Nak to rebirth in another life. Past reconstitution includes black teeth for actors.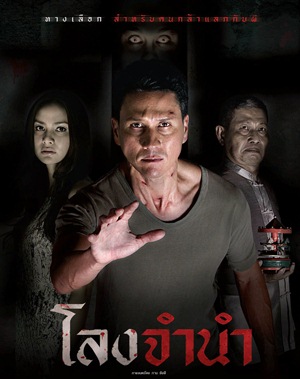 Year

: 2013



Thai title

:

โลงจำนำ




English title

: Pawn Shop



Rating

: 3/5


Director

:



Main actor

: Krissada Sukosol


Main actress

:



Buy now

:

Thai movie โลงจำนำ - Pawn Shop was released in year 2013. It is about spirit worshipping (การบูชาผี). The movie plays with the Thai words โลงจำนำ and โรงจำนำ (pawn shop). A middle age man owner of a pawn shop (โรงจำนำ) is having issues with his wife always complaining. Asking to become rich to his small spirit altar, the spirit accepts his request but he must kill his wife. Two young ladies including Som accept also to pay respect to ghost. They sell their soul (วิญญาณ) to the ghost (จำนำตัวเองกับผี). A lady customer looking to pawn her belongings accepts 1M baht if she also pays respect to the ghost. Dao and her boyfriend often argue. Many people including the boyfriend (Krissada Sukosol) accepts to pledge to the spirit versus 1M baht as they are in desperate need of money. Krissada boasts to be not afraid (ไม่กลัวมัน). They are put in a locked room and are facing their worst nightmares. The movie features beautiful graphics and sound. There is doubt if their scary visions are reality or nightmares. Krissada killed a young girl by accident by hurting her with his car at night time. He exchanges his life against the little girl's life (ปัญหาแห่งความตาย).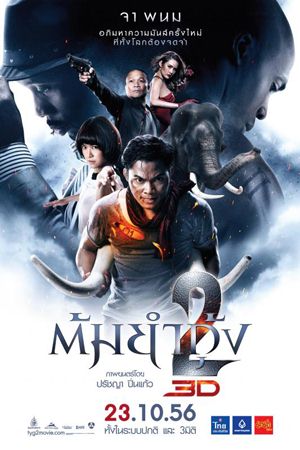 Year

: 2013



Thai title

:

ต้มยำกุ้ง 2




English title

: The Protector 2



Rating

: 3/5


Director

: Prachya Pinkaew



Main actor

: Tony Jaa,Mum Jokmok


Main actress

: Yanin Vismistananda



Buy now

:

Kham's (Tony Jaa) elephant is stolen as he refuses to sell it. His elephant is like a brother for him as they have been together since his youth. Kham follows the robbers up to Bangkok. He finds the leader but he has already been killed through a few severe hard punches. His two daughters (including Yanin Vismistananda), believing Kham killed their father, chase him. Kham meets again the Australian policeman (Mum Jokmok) but he lets him go knowing Kham is too nice to kill somebody. The ruffian having stolen the elephant is also an organiser of illegal fights. Through Bangkok, Kham is facing the ruffians through many thrilling fightings (against bikers on rooftop, in a factory, on metro railroad tracks, in a room on fire...). The ruffian leader is in fact working with some generals coming from a small kingdom. Following a rebellion in this Kingdom, a peace truce shall be signed in Phuket, Thailand. An elephant shall be given as a peace symbol. It is in fact Kham's elephant whose tusks have been filled with explosives. Many CGI are used in Tom Yam Koong 2 movie. A huge budget was spent but the box office sales were disappointing. Only 56M baht were reaped in Thailand. Even Tony Jaa didn't join the movie promotion in Thailand as he was already involved in "Fast and Furious" sequel 7. The movie was released in many other countries such as Hong Kong. Panna Rittikrai was also involved. Prachya Pinkaew was the director. It is a 1h44mn movie with non stop action. It took two years to be released.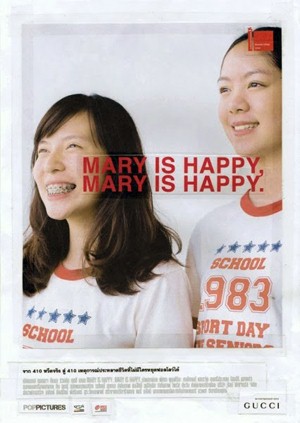 Year

: 2013



Thai title

:

แมรี่มีความสุข




English title

: Mary is happy, Mary is happy



Rating

: 2/5


Director

:



Main actor

: Krissada Sukosol


Main actress

:
Thai drama movie Mary is happy / แมรี่มีความสุข was released in year 2013 and lasts 2h07mn. The movie got four Thai cinema awards, i.e. best actress, best supporting actress, best movie and best photography. The movie got listed as part of Thai heritage movie list in year 2016. It is based on 410 tweets sent by a Twitter user. It features two teens, Mary and Em, wondering about their future. Actor Krissada Sukosol is having a role as teacher. Each tweet is shown on the screen for reading and is linked to a short video sequence. The movie highlights teens problems such as love deception, exams, end of school year, questions on their future, first love, studies...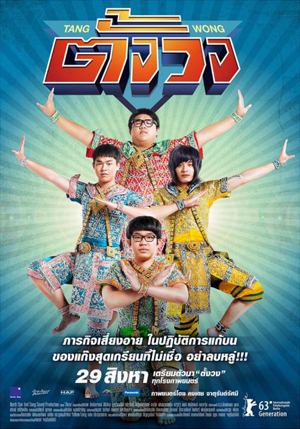 Year

: 2013



Thai title

:

ตั้งวง




English title

: Tang Wong



Rating

: 5/5


Director

: Kongdej Jaturanrasamee



Main actor

:


Main actress

:
Thai film ตั้งวง (Tang Wong) was released in year 2013. The movie takes place during red shirts protests in Bangkok in year 2010. A boy has bad scores and has a dream to join a sport class. His girlfriend suggests him to ask a vow to a local deity but he doesn't believe in spirit belief that much. Another couple in love takes a vow (บน) to keep their love forever. Two students take vow also as they are not studying well. But there is a need to promise something to the spirit in order to fulfill the vow (แก้บน). Vows are now filled. They are all reunited by circumstances. They had promised to dance (รำ) so they have to do it. To hire a troupe costs 8000 bath so finally an uncle accepts to pay for their dance lessons as he believes they cannot make it. Nut is their teacher. She teaches them Tang Wong (ตั้งวง), which is a graceful dance gesture with fingers set at 90 degrees. After a while, the early motivation disappears. The students get blamed by their science teacher for believing in supernatural things. Everybody in the school makes fun of them (ตัวตลก). One of them go to fulfill (แก้บน) alone at night time but gets recorded on YouTube. Em, one of teen student, is now father but flees his responsibilities. Nut, a lady boy, is supposed to get married but it fails. The teens' issues happen in parallel with the political protests. There is corruption in real life and supernatural life. The shrine is burnt so no need to dance anymore. There is a parallel with Ratchaprasong district in Bangkok burning following the 2010 riots. Fiang's father, taking part in protests, is finally safe. This movie also contains critics on Thai education. This is much more than a standard teen movie and it is dealing with interesting thoughts about traditional beliefs evolution between generations.
---