Increase or decrease font size for easier reading : A+ A-
Year 2012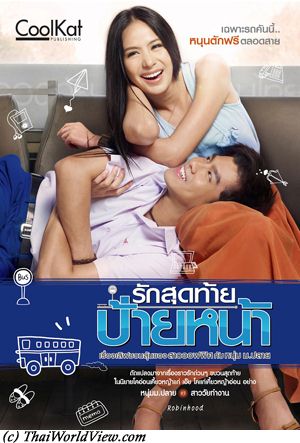 Year

: 2012



Thai title

:

รักสุดท้ายป้ายหน้า




English title

: First Kiss



Rating

: 2/5


Director

:



Main actor

:


Main actress

:



Buy now

:

The movie รักสุดท้ายป้ายหน้า (First Kiss) was released in year 2012. The movie starts with some cliches, i.e. an ugly teen girl called Sa wearing big glasses and braces trying to seduce the top boy พี่ Ong in her school. She dreams about him since years but she is an eternal fool. Sa finally meets him when he is back from studying overseas. The movie features typical sub characters including the gay friend and elder bachelor friend. She dreams about first kiss (จูบแรก). She keeps mixing reality and dreams. She finally kisses accidentally a student called Benz in the bus and lost her mobile phone while hitting him with her bag. He doesn't know how to call her as she is older than him (ป้า or พี่). She gets the phone back from the school. But the boy keeps interfering in her love story with Ong. Benz reveals to Sa that Ong is going to marry soon with Pam. Benz steals her phone again to prevent Sa to contact Ong. Sa has no choice but to enter Benz's school as a student to get back her phone. Benz is also a musician (อยากเป็นแฟน). Sa is already 26 years old so her friends start to insinuate that Benz will not marry her before many years if he ever does. Age difference is too big as he is only 18 years old (ม.๖). The father is a violent guy and refuses that his son goes out instead of studying. Meanwhile Ong is back admitting his wedding with Pam was a mistake and try to go back with Sa. Sa has mixed feeling between her old boyfriend (แฟนเก่า) and potential new boyfriend (แฟนใหม่). Benz has to face his father's bodyguards as he wishes to send him to study abroad and Ong trying to get back Sa. Ong has a child from his wedding with Pam. Finally there is no need to force ourselves on unwanted love and Sa sends back Ong to Pam. Sa wishes to be back with Benz but his father sends him abroad. 5 years have passed. Benz finally comes back for Sa. This romantic school teen comedy includes a few modern songs. Few original surprises are featured in the scenario and the movies finishes with a classic ending.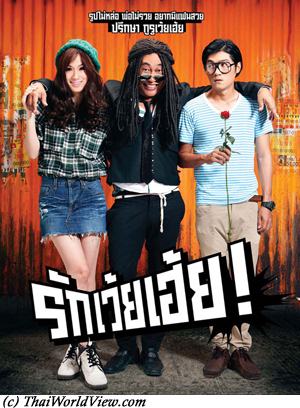 Year

: 2012



Thai title

:

รักเว้ยเฮ้ย




English title

: Rak Wei Hei



Rating

: 1/5


Director

:



Main actor

:


Main actress

:



Buy now

:

This movie (รักเว้ยเฮ้ย - 2012) deals about a romance in a local radio station. A programmer called Luak loves secretly the DJ called Taoi. His uncle Na Ma has to teach him how to seduce girls as he is single (ผู้หญิงสมัยนี้ ชอบคนดี พบคนเลว แต่งงานก้บคนรวย). Gags featured are similar to TV shows with drum sounds to highlight funny moments. Na Ma first starts to analyze her rubbish, then offers a dog, provides restaurant advice and also suggests a movie invitation. Luak is shy and doesn't dare to talk. Na Ma's advices are always a failure. Anyway Taoi starts to see the interest that Yuak has in her. They become boyfriend and girlfriend but jealousy happens as a young rich guy tries to seduce Taoi. Finally after speaking in a concert and declaring his love in front of a huge crowd, they reconcile. This romance comedy includes some katoeys (กะเทย) as stupid second roles as often seen in modern Thai romantic comedy movies (rom-com).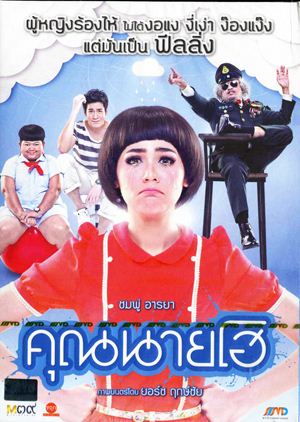 Year

: 2012



Thai title

:

คุณนายโฮ




English title

: Crazy crying lady



Rating

: 2/5


Director

:



Main actor

: Koeti Aramboy,Ray McDonald,Akom Preedakul


Main actress

:



Buy now

:

Thai movie คุณนายโฮ / Crazy crying lady was released in year 2012 and lasts 1h43mn. This movie is a modern Thai romantic comedy film (rom-com). Young lady O (อารยา เอ ฮาร์เก็ต) is very emotive and is always crying very easily. Nana (Koeti Aramboy), her brother, is a katoey rejected by her father (เกลียดกะเทย). O's father (Akom Preedakul) is always wearing military clothes and wishes to sacrifice himself for the Thai nation. Bol (Ray McDonald) is O's boyfriend. O has hard time with her family. Her father shoots by mistake her boyfriend in a paintball shooting game. Her brother hits severely another teenager mocking kathoey in a "takraw" ball game. It is hard for O to cope without her mother, who died already. Her boyfriend wants two separate worlds, i.e. one with her only and one with her family without him! She can always find comfort with her male friend Thiradet, being a doctor (คนที่จำเป็น vs คนสำคัญ). He is always listening and trying to find solutions for her. The doctor Thiradet (ธีรเดช เมธาวราวุธ) identifies O cannot have children soon due to high degenerence of her uterus. She needs to hurry up having a child. The doctor informs the father and his son. They put aside their differences and decide to help her. Her friends convince Boy to invite her in a resort. O is not yet ready as she is waiting for wedding first. She is not ready to enter into a relationship, so they split. Finally, the doctor and O enter into a relationship (แฟน). Unfortunately, it is not timely to have a child but they finally marry. O's family is finally stable.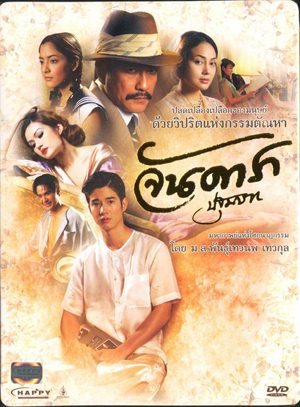 Year

: 2012



Thai title

:

จันดารา ปฐมบท




English title

: Jan Dara The Beginning



Rating

: 4/5


Director

: Pantewanop Tewakul



Main actor

: Mario Maurer,Phongphat Wachirabanjong,Chaiyapol Pupart,Kriengkrai Unhanan


Main actress

: Bongkoj Kongmalai



Buy now

:

Thai movie จันดารา ปฐมบท / Jan Dara The Beginning was released in year 2012 and lasts 2 hours. It features a beautiful picture as usual with director Pantewanop Tewakul. Khun Wang's wife, called Dara, just died during delivery. Khun Wang promises to remain single for the rest of his life. Nawat (Bongkoj Kongmalai) is the nurse hired to take care of the son. After 100 days of mourning, Khun Wang starts to behave very badly (สกปรก, ลามก) with women in his house. Nawat becomes his mistress. She is then pregnant. Khun Wang teaches his daughter Kaew to despise Jan (ไอ้จันทร์), who caused the death of Dara during pregnancy. Khun Wang hits him badly for this (ไม่ต้อง เที่ยง). Many years have passed. In year 1932, Jan (Mario Maurer) meets Aisin. Aisin has same face as his mother Dara. Ken (Chaiyapol Pupart) is Jan's close friend (เพื่อน รัก) and is a servant in their home. The movie happens same time as end of full monarchy in Thailand. Jan is a hard worker student and is not interested by girls. Since childhood, Jan and Ken have seen the father's depravation. Ken wishes to initiate Jan with women. He uses his girlfriend Soi (เปิดบริสุทธ์) to corrupt him. Aisin's father is played by Phongphat Wachirabanjong. Old lover Boonluang from Singapore comes to stay in Khun Wang's home. She has a handsome son, a young officer. Nawat is of course upset. Only Nawat protects Jan. Jan is looking for his sketch book so has to go to Boonluang room. She doesn't have the book anymore. It is with Kaew. Kaew, seeing the book, has dirty ideas so forces Ken to attach her and to make love to her. Jan misunderstands and believes it is a rape so he hits Ken. When Khun Wang goes home, he wishes to kill Ken. Jan opposes saying he is the one, who raped Kaew. Kaew also agrees this way. Khun Wang wishes to kill Jan and shouts that Jan is a son of robber (โจร) and not his own son. During the confusion, a domestic helper is killed as Nawat and Boonluang prevent Khun Wang to shoot Jan. Nawat is Jan's aunt and tells him the truth of her mother being raped by a robber many years ago. The mother, pregnant, had to marry with Khun Wang to hide the shame. Jan and Ken leave Khun Wang's home.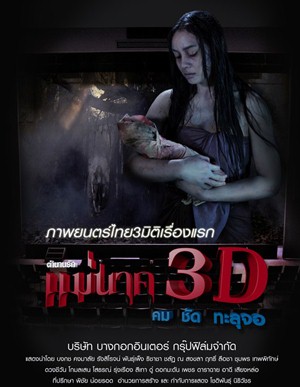 Year

: 2012



Thai title

:

แม่นาค 3D




English title

: Mae Nak 3D



Rating

: 3/5


Director

:



Main actor

: Doo Dook Kradon,Rith Luecha,Choomporn Theppitak


Main actress

: Bongkoj Kongmalai



Buy now

:

Thai movie แม่นาค 3D was released in year 2012. Veteran actor comic Doo Dook Kradon is playing relief character. During a temple fair (งานวัด), Mak is participating to a Thai boxing match. His opponent is Pleung, son of the subdistrict headman (พ่อกำนัน) (Rith Luecha). Pleung loses to Mak as Mak has the support of young lady Nak (Bongkoj Kongmalai). Mak and Nak wedding happens in the subdistrict headman's house making Pleung very upset (ให้นาคเป็นเมีย). Pleung uses a magician (หมอผี) to make a love philtre (น้ำมันพราย). The philtre touches Ploy instead of Nak. Ploy kills herself in Pleung's bedroom. Pleung wishes to use teacher (อาจารย์) Kong, who requires a foetus from a pregnant dead woman in order to create a child spirit (กุมารทอง). Unfortunately Nak, pregnant, dies while Mak is away. She is upset with Kong hurting her dead baby (นาคมา). Finally Phi Mak is back after being soldier (ไปรับราชการ) one year in Bangkok. He is not aware that Nak died already. Nobody dares to tell him the truth. He finds his house in bad shape. Finally Nak comes at nighttime but strangely her body is cold and has a strong smell. The famous scene when catching a lemon is impressive in 3D. Veteran actor Choomporn Theppitak is playing a monk. Kong promises to get rid of Nak but he finally dies. Nak takes revenge (ผีนาคอาละวาด) over those, who hurt her baby. Pleung's life is spared but he becomes crazy. During her body cremation, Nak looks for Mak. Mak asks her to stop her killings and to accept her death. Mak plans to ordain permanently as a monk (บวชไม่ศึกตลอดชีวิต). Nak finally leaves for heaven (พบกันทุกชาติ). Mak wishes a good departure (อนุโมทนาสาธุ).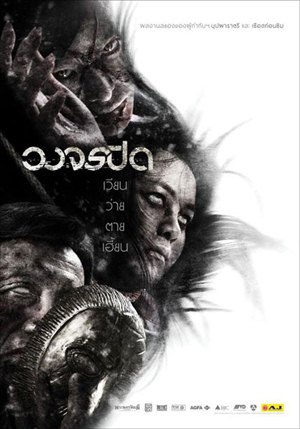 Year

: 2012



Thai title

:

วงจรปิด




English title

: Heaven and Hell



Rating

: 3/5


Director

: Yuthlert Sippapak



Main actor

:


Main actress

:



Buy now

:

Heaven and Hell (วงจรปิด) was released in year 2012. It features three short films by two different directors. In the first story two teens get their grandfather's heritage following his sudden death. Strange events happen in the house. One of the girls' boyfriend disappears. The gardener is accused. The governess suggests that the grandpa spirit won't let anybody get the heritage. The story is presented in a similar way as mute movies from decade 1920-1930s when dialogue was shown through some short text interludes. The lawyer tries to open the safe and finds four corpses inside. The owner's four daughters, who disappeared before... In another safe, the lawyer finds gold but he dies in the swimming pool. The policeman helping the teens is in fact interested by the gold also. They finally all die. The second story is about cashiers in a convenience store, who have all died tragically. Four deaths in two months happened. The owner's daughter accepts to help her father and takes care of the shop during daytime. There are some ghosts (ผี) cashier. She finds herself locked in the shop and is chased by spirits. In the third story a young lady gets killed by her boyfriend in the lift (นรกชั้น8). So her spirit starts to despise all men and gets revenge on those trying to repair the lift. Last episode mixes humor and reminds of movies previously directed by Yuthlert Sippapak such as Buppha Rahtree serie. All episodes have a common theme of getting footages through surveillance cameras.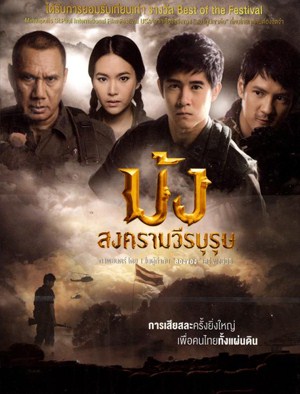 Year

: 2012



Thai title

:

ม้ง สงครามวีรบุรุษ




English title

: Hmong, blood for freedom



Rating

: 3/5


Director

:



Main actor

: Sorapong Chatree,Nard Poowanai,Suchao Pongwilai,Rith Luecha,Bin Banleurit


Main actress

:



Buy now

:

Thai movie ม้ง สงครามวีรบุรุษ (Hmong, blood for freedom) was released in year 2012. It is based on real facts in years 1962-1965. Mountain people (แมว / ชาวโมง) are harassed by ruffians (เจ้าหน้าที่). Their leader is Kamnan Saeng (Rith Luecha). Militaries (Sorapong Chatree,Nard Poowanai,Suchao Pongwilai) are worried by Communist influence. Thai soldiers attack a village believing there are communists inside (ใครเป็นชาวบ้านใครเป็นcommunist). For many soldiers, those mountain people have no value except for Sorapong. Bin Banleurit as soldier is shot by the mountain leader, who is also shot. Sorapong takes responsibility of the mountain leader's son. The mountain leader is only injured and joined the communist resistance (สหาย). His young daughter also joins him. Bin's helicopter is shot down. 15 years have passed. Keng (mountain leader's son) and Aya (Bin's daughter) are now adults. Ken asks Sorapong to perform his duty as Thai soldier in the mountains area. Sorapong is reluctant as he could face former former relatives. Which side would Keng choose (ทรยศแผ่นดินไทย)? Finally he lets him go. Aya and her students friends are captured while trying to find the remaining of her father's helicopter in the forest. While dispatched by helicopter on zone, Keng is captured. His real father remembers the pendant he gave him 15 years ago. Keng helps Aya to find the helicopter of his father and to perform proper Buddhist ceremony with the body remains. Keng's brother, who is a policeman, extracts him from the tribal village. Keng is back in Thai army. A government amnesty is given to all who joined the guerilla war. Hardcore communist members hesitate to surrender. Keng is looking for his father and sister. Other guerilla members don't trust Keng, who is a Thai soldier. Finally Thai soldiers attack the village. Keng's sister is killed and the father is injured. The guerilla is defeated. While raising the Thai flag, one Hmong tribe member shots Thai soldiers causing the Thai flag to fall. Keng prevents the Thai flag to hit the soil but gets deadly injured. He makes his father promises to stop fighting. This nationalist trend movie with many Thai stars from 1970s recalls movies from this era with stress on Monarchy and sacrifice to protect Thai Nation.



Year

: 2012



Thai title

:

อันธพาล




English title

: Gangster - Antapal



Rating

: 5/5


Director

: Kongkiat Khomsiri



Main actor

: Krissada Sukosol,Phongphat Wachirabanjong


Main actress

:



Buy now

:

Chot (Krissada Sukosol) defeats Saeng (Phongphat Wachirabanjong) in a one to one knife fighting. Dang and Chot take over Saeng's illegal business (นักเลง) such as drug, gambling, gold shop and prostitution. This movie offers a great 1950s atmosphere representation including old standalone theater (โรงหนังเก่า) with live dubbing. A few historical mistakes are present as posters of Sirikwan Nanthasiri (ภาพโฆษณาสุราไก่แดง)(1972) and movie poster of คนกินเมีย (1974) are used. Piak and Tong are working in the cinema and wish to become ruffians also. Four kings are holding the business. Poo (ดังใหญ่) wishes to extend his territory. Dang wishes to ordain for his mother (บวชให้แม่) but Poo is bringing trouble as he wants his own territory (ที่). Chot is the first to use a gun so the gangster period evolves from knife to gun (ยุคมีด / ยุคปืน). Chot tries to shot Poo but fails to reach his target as the gun is defective. Police arrests ruffians and jails them. Dang dies in a car accident while going to south of Thailand. Four years have passed. The movie highlights the booming industry of Thai cinema in 1950s / 1960s by showing big billboards advertising latest film releases. Police has taken over the mafia and being the one receiving protection fee. Chot is released from prison. Piak and Tong are waiting for him. Police is also waiting to put him back to jail. Chot keeps seeing the ghost of the woman he unfortunately killed while trying to shot Poo as his gun was built with poor quality. Chot has changed and is more receptive to small shop owners' problems. Some scenes are shot in a cinema showing "Hao Dong" (เห่าดง - 1958) famous movie. Chot is not as inflexible as before. Despite kidnapping a ruffian leader for execution, Chot gives him a last chance to fight back. Oti is a new strong ruffian. Piak defects from Chot's group to join Oti. Oti is a bloody fighter. He even shots with rifle the police leader. Through final shootings, Chot and his team attack Oti and his boss. Nobody survives. The movie Gangster - Antapal (อันธพาล) was released in 2012. The movie Gangster – Antapal (อันธพาล) is based on similar characters previously used in 1997's Dang Bireley's and Young Gangsters (2499 อันธพาล ครองเมือง) but it is not a remake. The movie goes beyond Dang character and shows the real gangster era through Chot's character. The movie includes past stories or souvenirs from elderly people.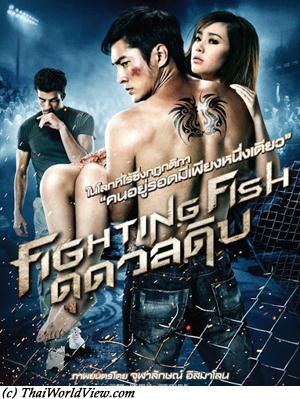 Year

: 2012



Thai title

:

ดุ ดวล ดิบ




English title

: Fighting Fish



Rating

: 3/5


Director

:



Main actor

: Suchao Pongwilai


Main actress

:



Buy now

:

Mike Thomas arrives in Bangkok for the first time and wants to discover Thai boxing (มวยไทย) at Lumpini stadium. On the way back, he gets robbed despite strong resistance. Out of money, he needs to sell his watch to a pawnshop. He meets Yo while fleeing police due to illegal betting. Yo has an handicapped girlfriend called Toon following a car accident. He needs money to cure her. Mike is a former Thai muay boxer, who quit his own country as he killed accidentally another boxer during a fight. Mike needs to find a job so asks Yo to help him. Yo brings him to a Thai boxing ring (สนามมวย) with no rules. Yo has to participate to get money. There are hidden heavy bets behind. Mike wishes to participate and wins his first match. Suchao (Suchao Pongwilai), mafia leader, likes his style. Mike's financial value in underground betting boxing world starts to go up after a few winning fights. Mike wishes to enter the fighting fish contest in order to gain 1.3M baht and help to cure Toon. The opponent is a strong fighter called Mad Dog. Same as Siamese fighting fishes contest, the rule is that the loser is killed after the fight is over. Yo asks to join to protect Mike as it is a deadly fight. He replaces Mike and gets defeated by Mad Dog. On the verge to be executed by the mafia thugs, he fights back and flees. Unfortunately Toon is kidnapped by the mafia. Mike and Yo has to rescue Toon from the mafia led by Suchao. Following impressive fightings, the mafia and its leader are defeated by Mike and Yo but Mike dies while protecting Yo and Toon.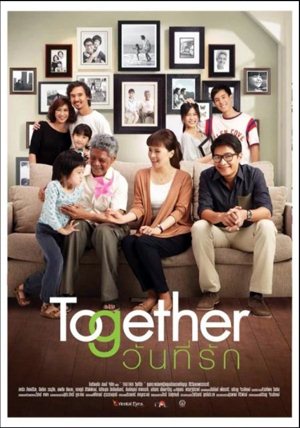 Year

: 2012



Thai title

:

วันที่รัก




English title

: Together



Rating

: 4/5


Director

: ษรัณยู จิราลักษณ์



Main actor

:


Main actress

: Ubolratana
Thai movie วันที่รัก - Together was released in year 2012 and lasts 1h52mn. Movie director is ษรัณยู จิราลักษณ์. Movie is about love, death through the butterfly symbol, crossed lives, good and bad memories. Thai princess Ubolratana is acting as character Oon. Oon's father is sick and forgets everything. He has Alzheimer's disease (โรคขี้ลืม). The family has to get used to this new life. Niphon (สหรัถ สังคปรีชา) is married to Oon. Another family has the father Chat becoming blind. The daughter is deaf already. The family has to get used to this new life also. Chat would like to divorce to allow his wife Nuan to have a happier life, but she refuses. Nuan meets Niphon. Nuan and Niphon, while being students, loved each other and had a child. It stressed their relationship. An uncle, Oon's father, helps the two youngsters. The two youngsters finally broke up. Nuan and Niphon meet again ten years later. They consider restarting their relationship, but time has passed and they have many family responsibilities so it is just impossible. Nuan finally is back with her husband Chat. Oon's stepfather abandoned her on the road when she was 6 years old. So she is doing the same now as a revenge. Finally, Oon takes her father back from the road.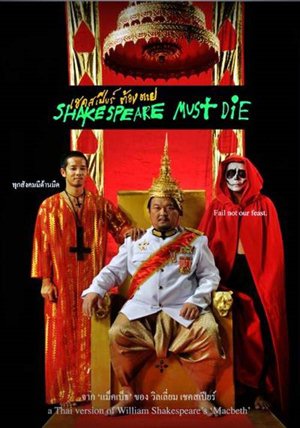 Year

: 2012



Thai title

:

เชคสเปียร์ต้องตาย




English title

: Shakespeare Must Die



Rating

: ?/5


Director

: Ing K



Main actor

:


Main actress

:
Thai movie เชคสเปียร์ต้องตาย / "Shakespeare Must Die" was banned in year 2012. An official movie trailer lasting three minutes can still be seen. This movie was banned as a risk to cause unrest in Thai society. It is presented as the Thai version of Shakespeare's Macbeth. MacBeth wishes to take the place of the King and is wearing red clothes. The leader of the country is seen as megalomaniac, power crazy, besotted with sorcery. The movie got funding of Ministry of Culture (under PM Abhisit). The banning happened while the government of PM Yingluck Shinawatra was empowered. Former PM Thaksin is in trial with film director Ing K as the movie is accused of being propaganda attacking him. Ing K is the same director, who made previously the movie Citizen Juling (2008), where a young lady teacher died while teaching kids in South of Thailand, and also "My Teacher Eats Biscuits" banned in 1997. The movie "Shakespeare must die" also includes a scene from 06 October 1973 during student protests showing a lynching and causing society concerns by reopening old wounds.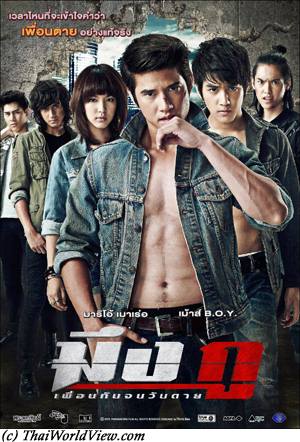 Year

: 2012



Thai title

:

มึง-กู เพื่อนกันจนวันตาย




English title

: Friends never die



Rating

: 4/5


Director

:



Main actor

: Mario Maurer


Main actress

:



Buy now

:

Friends never die - มึง-กู เพื่อนกันจนวันตาย is a 2012 movie about friendship and love. Kan (Mario Maurer) is the tough guy leader of a teen gang (ว่ายรุ่น) in Chiang Mai. He is the son of a rich businessman who is always in meeting and who believes love to his son is enough filled with money. His parents have never time for him. The movie features two couples, i.e. Song and Tidiu, Nem and Kan. They are all students. Song is accepted in Kan's group as he plays well football (เพื่อนกัน). Song has no friends. He went to Chiang Mai to avoid his mother dictatorship. A romance starts with Tidiu but it causes jealousy with other students. A misunderstanding happens between Song and Tidiu. Meanwhile Nem refuses to speak to Kan anymore as she still believes her brother died because of his friendship with Kan. She finally understands that Kan tried to help her brother involved in drug trafficking but it was too late. Kan has compensated his parents' lack of love with his friends. Following an argument with a daughter of a rich local notable, Kan's friend gets seriously beaten. Kan and his friends do their best to rescue him even if they are outnumbered. This increases their friendship. During New Year's Eve, Kan is deadly stabbed but refuses to tell his friends as he has promised a date and refuses to break promise. Song remembers Kan's advice, i.e. boys shall win but not die so he doesn't slain the one who deadly injured Kan. Despite Kan's departure, his inspiration stays with Song forever. This teen movie features heartthrob actor Mario Maurer and features feelings related to love / friendship (มีแฟนอย่าลืมเพื่อน).
---