Increase or decrease font size for easier reading : A+ A-
Year 1999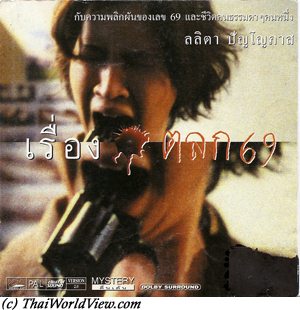 Year

: 1999



Thai title

:

เรื่องตลก69




English title

: 6ixtynin9



Rating

: 4/5


Director

: Pen-Ek Ratanaruang



Main actor

: Sithao Petcharoen


Main actress

: Lalita Panyopas



Buy now

:

Tum was sacked from a finance company. One day, she finds a noodle box that contains over a million baht. Her life was never the same again when gangsters started looking for the missing money. This movie got awards at Berlin and Brooklyn film festivals. The Culture Ministry registers 25 Thai classic films each year at the National Film Heritage Registry. This movie is part of the 25 films heritage list announced on 04 October 2015, which is Thai Movies Conservation Day.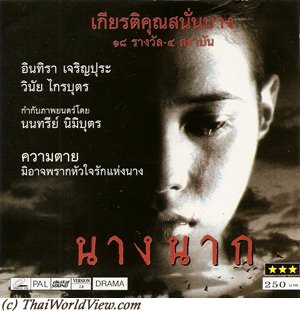 Year

: 1999



Thai title

:

นางนาก




English title

: Nang Nak



Rating

: 5/5


Director

: Nonzee Nimitbut



Main actor

: Vinai Kraibutr


Main actress

: Intira Jaroenpura



Buy now

:

Last century, during the reign of King Mongkut (1851-1868), a woman called "NAK" was married to a man called "TID MAK". They moved into a house in Bangkok's Phra Khanong district. After a while her husband was called off to war. Alas she was already pregnant. While her husband was away, she died with the baby still inside her body. So as Thai people believe, a woman who died with her baby creates a powerful spirit called "PHI TAI HONG THONG KLOM" (ผีตายโหงทองกลม). She became a ghost. As she still loved her husband deeply, she took a form of human being and waited for "Tid Mak" to return. Her husband didn't know anything about his wife's death. So when he came back home, his wife was waiting for him. Many persons did warn him that his wife was dead and that he was living with a ghost but he did not believe them. One day when "MAE NAK" was preparing the dinner and her husband bathing himself in the bathroom, a lemon fell from her hand. As the house was a Thai traditional house, it was built on piles and so the lemon fell on the ground 2 meters lower than the house's floor. So the ghost "MAE NAK" made her arm longer in order to get it. But her husband saw that, he understood that his wife was now a ghost. He managed to flee from the house and took refuge inside a Buddhist temple. "MAE NAK" terrorised the local population as an expression of her anger with them for helping her husband. Thanks to a monk, the spirit was imprisoned in an earthen pot and thrown in the river. It is one of the the biggest success in Thai cinema (it grossed more than 150 million baht in Thailand). It is the story of "MAE NAK PHRA KHANONG" (แม่นาคพระโขนง). The spirit "MAE NAK" (แม่นาก) is not a dreadful spirit. She kills only to keep her husband. The love of "MAE NAK" towards her husband is beyond death. Many scenes are shot at night time with no additional lighting so making an eerie atmosphere. This movie has won awards for the best director, best art director, and best sound at Asia-Pacific Film Festival in 1999. Since the beginning of the Thai movie industry in 1923, the story of "MAE NAK" has been made and remade 15 times over. It is a modern remaking of a traditional tale, which evokes nostalgia (traditional house, buffaloes in field, quiet river...). The Culture Ministry registers 25 Thai classic films each year at the National Film Heritage Registry. This movie is part of the 25 films heritage list announced on 04 October 2014, which is Thai Movies Conservation Day.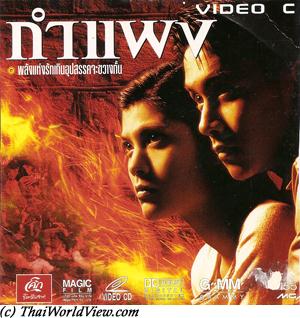 Year

: 1999



Thai title

:

กำแพง




English title

: The Wall



Rating

: 4/5


Director

:



Main actor

: Phairoj Jaising


Main actress

:
A rich young boy is fond of a girl living in a slum. The boy's father, who is deputy, has decided to expropriate the slum inhabitants in order to build an estate. The young boy decides to help the inhabitants to build a wall around the slum. Their love story is endangered by the slum inhabitants, who doubt about the young boy sincerity, and his father, who doesn't accept a poor bride and doesn't hesitate to destroy the slum by fire. Shall their love overcome all these obstacles?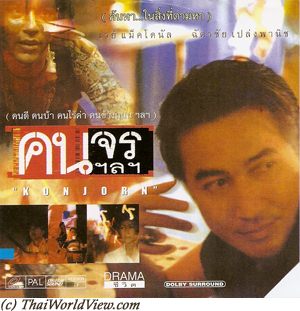 Year

: 1999



Thai title

:

คนจร




English title

: Konjorn



Rating

: 4/5


Director

: Attaporn Thaihirun



Main actor

: Chatchai Plengpanich,Ray McDonald,Suchao Pongwilai,Krailat Kriengkrai


Main actress

:
It depicts a well-to-do Thai-Chinese businessman called Mongkol, his wife, two daughters and son. Things go wrong when two Burmese immigrants hired by the family to do household work get into a fight with his son. They are arrested, but escape from the police and return to the family's house. There they kill the daughter and attack the remaining family members. Dang, a homeless man, witnesses the entire thing. Dang comes from a troubled past, his father was a police captain who was drunkard. His mother's lover subsequently murdered Dang's family. Dang, shocked by the event, became mad and started wondering the streets. As he witnesses the immigrants attack the family, he has his own uncontrollable flashbacks of his own family getting murdered. He tries to communicate with the police to tell them what he sees, but is unable to do so. He is finally the one to help the Thai-Chinese family. It puts the stress about how Thai people are oppressed by the police (i.e. ruthless policemen beating illegal Burmese immigrants, policemen asking and receiving bribes, policemen taking advantage of prostitutes, policemen modifying proofs and truth to get promotion). The multi-layer visual style might turn off normal audience but this is a rare example of avant-garde Thai indie film.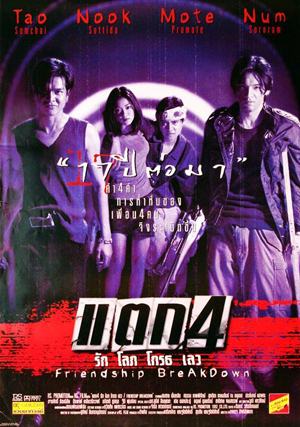 Year

: 1999



Thai title

:

แตก 4 รัก โลภ โกรธ เลว




English title

: Friendship breakdown



Rating

: 4/5


Director

: องอาจ สิงห์ลำพอง



Main actor

: Adul Dulyarat,Somchai Kemglad


Main actress

: Suthida Kasemsant



Buy now

:

Thai movie แตก 4 รัก โลภ โกรธ เลว / Friendship breakdown was released in year 1999 and lasts 1h26mn. It was released under VHS and DVD format. The picture is sharp and colorful but is only in 4:3 format. Movie director is องอาจ สิงห์ลำพอง. Four young close friends, three boys (Noi - ปราโมทย์ แสงศร, Ith - สมชาย เข็มกลัด, Bio - ศรราม เทพพิทักษ์) and one girl Nam (Nook - สุทธิดา เกษมสันต์ ณ อยุธยา), are working in a Japanese restaurant. Their friendship is strong. They even learn how to shoot as a game. Ith recognizes a man in the street as he joined an armored truck robbing before. It turned deadly. Ith uses the money from the robbery to pay for his friend's father's health expenses. Bio is accepted as police cadet (นักเรียนตำรวจ) and buys a ring for Nam. Noi is kidnapped by ruffians linked to the previous robbery as money was not shared equally. Bio and Ith cannot alert the police but Ith decides to go on his own and brings fake money. It turns badly as the ruffian is smart also. Noi is attached to a rope and is suspended on a bridge over a railway. Bio comes to help and has to shoot the ruffian dead. Unfortunately, Noi falls on the railway and hurts his head. Bio, by trying to help Noi, loses part of his leg cut by the train. Ith's friend's life is wrecked. Ith does business in Cambodia to sell weapons. Bio ends up in jail for murder. Bio befriends with another inmate (อภิชาติ ชูสกุล). He succeeds to flee. Two years passed. Ith and Nam often visit Noi. Nam's father (Adul Dulyarat) knows that Ith has befriended a ruffian's leader so he is not happy that his daughter is meeting Ith. Bio has become a hitman but focuses only on targets being a danger for the Thai society. Noi still cannot remember due to brain injury. The three friends meet again but Bio cannot forgive Ith. Ith has a business conflict with a partner Amnat so the partner hires a hitman to kill him. Bio gets the contract but finally doesn't kill Ith. Another hitman is hired. Ith and Nam plan to bring Noi to Chiang mai hoping he will get back his memory. Learning that the hitman puts a bomb in their plane, Bio intervenes. Shootings happen with ruffians. Ith and Bio become friends again. Ith dies while protecting his friends. Bio revenges his friend by shooting Amnat and dies under Thai police bullets.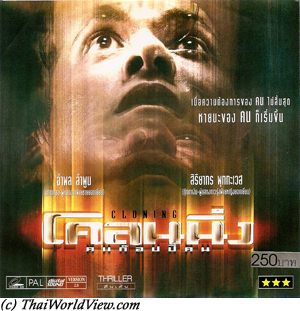 Year

: 1999



Thai title

:

โคลนนิ่ง คนก๊อปปี้คน




English title

: Cloning



Rating

: 3/5


Director

:



Main actor

: Amphol Lumpoon


Main actress

: Siriyakorn Pukkaves



Buy now

:

Niwat is a software engineer. During an exposition, he is hurt and sent to hospital. The doctor keeps a blood sample as he is secretly working on cloning. Thanks to a foreign professor, they succeed to clone humans. The experience goes wrong and Niwat's clone succeeds to escape. A bad businessman is also trying to catch the clone. The clone tries to get rid of Niwat and threatens Niwat's girlfriend. Will Niwat overcome his clone?
---