Increase or decrease font size for easier reading : A+ A-
Year 1998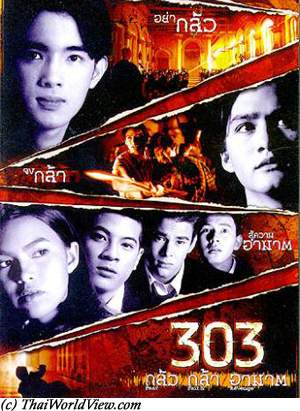 Year

: 1998



Thai title

:

303 กลัว กล้า อาฆาต




English title

: 303 Fear Faith Revenge



Rating

: 3/5


Director

:



Main actor

: Ananda Everingham,Jesdaporn Pholdee,Suchao Pongwilai


Main actress

:
In 2503, it is the start of the new school year at St George School. All young boys are from rich noble families (ผู้ดี) except one poor boy, Chaiden, from North of Thailand. He needs to help cleaning the church. There are strong rules and hazing. Chaiden and 4 teens from the same room declare friendship. By checking old school pictures, they found that a former student, Mum Rachawong, who was a model of excellence, kills himself in 2495. Nobody neither wants to know more, neither wants to speak to them more on this topic. They become friend with Nam Khaeng, young daughter of the director. They decide to call Mum Rachawong's spirit (วิญญาณ) to know the truth through an occult ceremony. They learn he was killed. The students decide to enquiry to know the truth. The 2495 school record miss many signatures. Weird crimes start to happen. One student dies by falling from balcony. A second student dies by electrocution in shower room. The main priest (หลวงพ่อ) would like all students to exit the school but the bad weather prevents it. A third student dies killed by a spade. Sisamut, one of the teen, is always afraid, weak, always follow orders and is the other teens' black sheep. Chaiden and two friends are arrested due to Sisamut's delation. Murders continue. Nam Khaeng has disappeared. Sisamut performs killings in the school as a revenge of being others' black sheep. Sisamut is possessed by a ghost who already committed a killing rampage a few years ago as the school management, including the main priest, was pushing for student hard selection and elite perfection. During this rampage many teens were killed including Mum Rachawong. Chaiden and his friends help to release Nam Khaeng just in time and succeed to defeat the ghost thanks to Mum Rachawong's supernatural help. A new management team now rules St George school. There is no more forced hazing.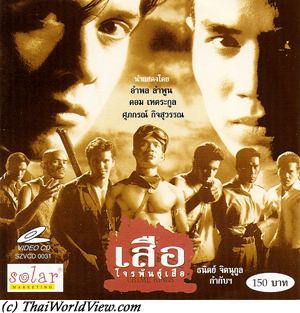 Year

: 1998



Thai title

:

เสือ โจรพันธุ์เสือ




English title

: Crime King



Rating

: 4/5


Director

: Thanit Jitnukul



Main actor

: Amphol Lumpoon


Main actress

:



Buy now

:

Thai movie เสือ โจรพันธุ์เสือ / Crime King was released in year 1998. It lasts 2h04mn. Just after World War II, many gangs were active in Thailand. One gang led by Seua Bai (เสือใบ) was robbing rich bad men to redistribute their money to poor peasants. This movie is based on a real story. This movie deals about the police chase towards Seua Bai and his gang. The former rocker turned screen star Amphol Lumpoon received a Best Actor Award for this movie. Thai Police has to catch Seua Bai (Amphol Lumpoon) and his team within 6 months. Two of his men steal villagers' money to gamble. They have to be punished. His girlfriend Lai wishes Bai to stop being given a robber and asks for their forgiveness. Police tries to locate Seu Bai and his team. Villagers don't speak as Seua Bai supports poor people. Fighting is happening in a gambling den as his men (ลูกน้อง) misbehave. Seua Bai is a smart robber so police fails to catch him. Soldiers attack a village, where they believe Seua Bai and his men are hiding during day time. Police and soldiers know the place as two members of Seua Bai's team disclosed the exact location against money. Seua Bai wishes to take revenge but he falls in a trap. During the fightings, Lai is killed. Seua Bai is finally captured while paying respect to Lai's funeral urn. Following the 1932 Thai revolution which transformed the government from an absolute to a constitutional monarchy, some people were unhappy to lose power. Some people wished to kill Bai as he was an Oxford erudite but they killed his wife instead. Bai had to become a thief to protect citizen against people abusing power. Seua Bai's teammates succeed to release him from prison following a daring escape. Seua Bai flees with Phi Bun to the South in Betong area. He tries to have a normal life but the family, who shelters him, faces issues with a local kingpin. Boolong, Phi Bun's girlfriend, is killed. Revenge is needed. Police ask Seu Bai to surrender but he doesn't want to give up as all his friends are dead...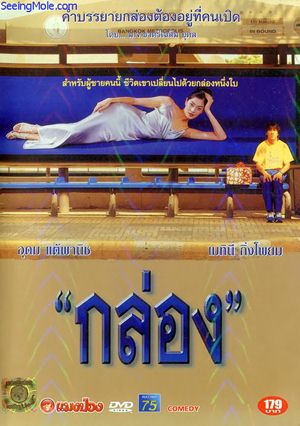 Year

: 1998



Thai title

:

กล่อง




English title

:



Rating

: 3/5


Director

:



Main actor

: Udom Taepanich


Main actress

: Metinee Kingpayom,Orasa Isarangkul,Juree Osiri,Marasri Isarangkul
Thai movie กล่อง, directed by ChatriChalerm Yukol, was released in year 1998. It lasts 1h36mn. A story is told by a comic show actor (Udom Taepanich - อุดม แต้พานิช). The people appearing in the story are in fact present in the theater. He reuses them. The story is about Cheut, who is a song composer and has only problems having debts, being annoyed by the landlord (Orasa Isarangkul), being exploited by ruffians or by policemen (asking for money for police charity but keeping for himself) and being unlucky. His wife (Metinee Kingpayom) always blames him (คนหรือควาย). He goes to a music producer but cannot get any appointment so even loses his musical compositions there. As he always gets cheated, bullied, annoyed, blamed (กง แกล้ง รังแก ด่า) so he decides to get suicide but he fails despite several attempts (ไม่เคยทำอะไรสำเร็จ). Wishing to plunge from a tall bridge, he misses the bus. He notices another passenger also waiting for the bus. Trying to talk to him, he realizes that the passenger is dead. He steals his box as anyway it cannot have any usage for a dead man. Cheut and his wife try to open the box without success. In the morning, the wife is very unhappy as she found from the newspaper that the dead man is a drug trafficker and that box certainly contains heroin. So they are in serious problem. Following multiple happenings, Cheut gets rid of the box. His wife, learning from TV that the deceased was finally a rich man and not a drug trafficker, asks him to get back the box asap. As the landlord is asking for the rent, Cheut's wife tells her there is certainly money in the mysterious box. Rumours spread fast (นินทา). People are greedy. People previously bad with him are now very polite, very attentive as they believe he is now a rich man. They all fail to open the box. Luckily the producer finds the songs written by Cheut and he becomes a rich man. He decides to throw away the box. The box is like Pandora box, a box for dreams. As their dreams are achieved, they don't need the box anymore.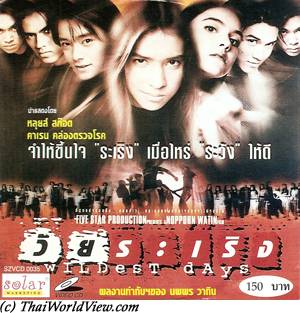 Year

: 1998



Thai title

:

วัยระเริง




English title

: Wildest days



Rating

: 3/5


Director

:



Main actor

:


Main actress

:
In a college, some boys and girls, coming for problematic families, always make a mess. The principal decides to expel them. An old teacher askes for a last chance in order to educate them. Despite early suspicion from the students, she tries to motivate them and give them back their pride. Will the old teacher succeed?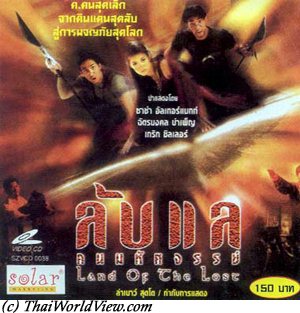 Year

: 1998



Thai title

:

ลับแล คนมหัศจรรย์




English title

: Land of the lost



Rating

: 3/5


Director

:



Main actor

:


Main actress

:
Two bad guys during a particular storm are able to enter another dimension. They arrive at a time similar to Ayuthaya. They rob jewels and kidnap a princess. When back to our modern world, the princess size and jewels are reduced to doll size. Two warriors are sent to rescue the princess and they have only 7 days before the door gets closed. Back to our modern world, their size is also reduced to dolls and they face many dangerous issues (becoming pet fror chidren, giant cat...). Thanks to help of two teens, one brother and one sister, they are able to locate the princess and rescue her. This unbelievable story also allows their parents' reconciliation.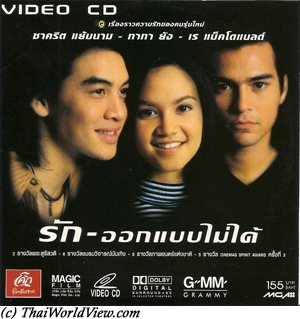 Year

: 1998



Thai title

:

รักออกแบบไม่ได้




English title

: O-Negative



Rating

: 2/5


Director

: Euthana Mukdasanit



Main actor

: Ray McDonald,Shahkrit Yamnarm


Main actress

: Tata Young



Buy now

:

Four young Thai people are very close friends. But when love appears, will they still be good friends?
---