Increase or decrease font size for easier reading : A+ A-
Year 1996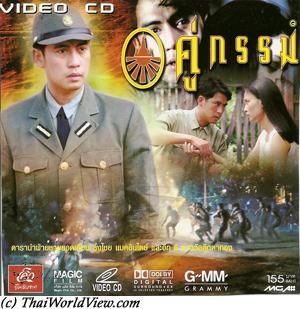 Year

: 1996



Thai title

:

คู่กรรม




English title

: Sunset at Chaophraya



Rating

: 3/5


Director

: Euthana Mukdasanit



Main actor

: Thongchai McIntyre


Main actress

: Suthisa Putnuch,Wilaiwan Watthanaphanit
This movie is about the tragic love during World War II between a Japanese officer called Gobori and a Thai lady. It is remake. Previous versions were shot in 1973 and 1988.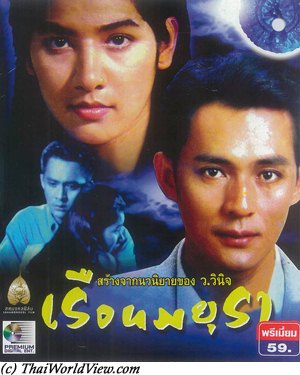 Year

: 1996



Thai title

:

เรือนมยุรา




English title

: House of the Peacock



Rating

: 4/5


Director

: Cherd Songsri



Main actor

: Saranyu Wongkrachang,Ruj Ronnapop


Main actress

: Darin Kornsakoon



Buy now

:

In 1775, a Brahmin priest casts an eclipse. It was during Ayuthaya period when fights with Burma were frequent. Lady Nok Yung and her suite stays in the house of the Peakcock (เรือนมยุรา), which is now out of the time realms and out of reach of Burmese soldiers. Lady Nok Yung made a wedding promise to a noble soldier called Wai Wongsa. Nowadays, on the way to Ayuthaya, a young man, called Pranai, just avoids bumping in a young lady crossing the road. She smiles and disappears in a tree. Is she a ghost or a tree spirit (นางไม้)? Pranai has same face as noble soldier Wai Wongsa. Pranai is the owner of a Siam antiques shop. Today it is Pranai's birthday. He is still single. His sister tries to marry him but to no avail. His sister tries to push young lady Fai. Pranai still wants to meet the mysterious girl. He stays near the tree. Nok Yung needs food for 20 people for one month. Pranai agrees to give but wants to know and understand. Nok Yung agrees to visit Ayuthaya area. She realizes that Sri Ayuthaya was burnt down. Nok Yung asks Pranai not to visit her again. Pranai learns meditation to see his past. Pranai's sister and Fai believes he is possessed by a ghost (ถูกผีเข้า). They use a sorcerer (หมอผี) to cure Pranai and chase the ghost. Meanwhile Arawee, a local young actor, lies to Yipoo, another lady staying in the house of the Peakcock, in order to seduce her by pretending he is an Ayuthaya soldier. He succeeds to enter in the house and so the spell protecting the house is broken. Inhabitants have to flee. The sorcerer and acolytes fight over the gold. Fai's father, called Fa Feun, prevents the robbing. Pranai helps Nok Yung and invites her in his home. Fa Feun loves Nok Yung and gives money to Pranai in order that he breaks up with Nok Yung. Pranai refuses and is looking for a way to send back Nok Yung into the past. Arawee is Waiwongsa's current reincarnation. Believing into karma (กรรม) and in order not to break her promise done 221 years ago, Nok Yung accepts to marry Arawee. Pranai is in despair. Finally Fa Feun convinces Arawee not to marry as Arawee is more interested in his acting career. Pranai is not willing to marry Nok Yung anymore as he believes she is too nice to live in 20th century. The house goes back to the past but Nok Yung finally stays happily with Pranai. This movie questions the old-fashioned morals that are being lost in modern Thailand. Some traditions are getting lost (smile, not speak loudly, no lies). Bangkok development threatens the country-side. We need to take care more of our heritage. The trailer is the TV serie shot in 2540.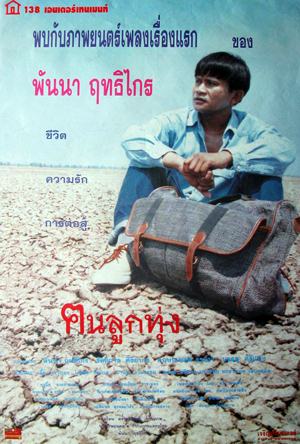 Year

: 1996



Thai title

:

ฅนลูกทุ่ง




English title

:



Rating

: 3/5


Director

: Panna Rittikrai



Main actor

: Panna Rittikrai,Krissanapong Rachata


Main actress

:
Thai movie ฅนลูกทุ่ง was released in year 1996. The movie is lasting 1h23mn. Panna Rittikrai is well known for its action movies but less for such romantic comedy. The movie is shot in Isan language. Many songs sung by Panna are featured in this movie. Panna was nicknamed as นักร้องเสียงเด็ก. This movie could be the "Mon Rak Luuk Thung" (มนต์รักลูกทุ่ง) of Isan with songs and gags. Kamoon (Panna Rittikrai) loves one of the village young lady called Nam Oi. One Bangkokian man is coming to the village hoping to get pure girls. The village lady is agressed by the two villagers. The Bangkok guy helped by two bodyguards including (Krissanapong Rachata) chases them away. The guy proposes a job to Nam Oi in Bangkok. The mother is reluctant but the father wishes to receive the money given as enticement. Finally Nam Oi accepts in order to support her older parents (ตอบแทนบุญคุณพ่อแม่). Panna is on the way to request Nam Oi's hand through an engagement procession parade but the Bangkok man is taking her with him. Panna realises she is gone. Under a misunderstanding, Pana believes she goes willingly with the Bangkok guy as a boyfriend. He tries to stop them but gets heavily beaten by the two bodyguards. An old teacher takes pity on Kamoon and teaches him martial arts. Meanwhile Nam Oi flees her job in Bangkok understanding the evil behaviour of the Bangkokian guy. She reaches her village as the same time as the ruffians chasing them. Kamoon is ready for a fight to protect her. As the Bangkokian guy claims a contract was signed and money given, the villagers help each other and gather the amount of money due per the contract. It shows the strong solidarity of Isan people and their continuous fight against life as living conditions are harsh in poor Isan. The Bangkokian guy sure to win proposes a fighting against his bodyguards with Nam Oi's hand and the contract sum as rewards. This time, Kamoon wins easily and the Bangkok guy accepts his defeat.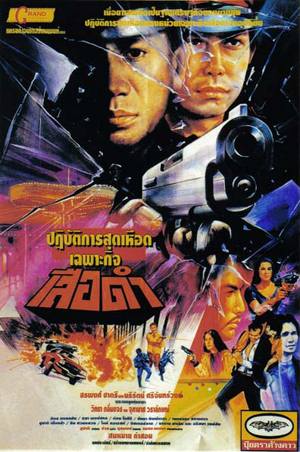 Year

: 1996



Thai title

:

เสือดำ




English title

:



Rating

: 2/5


Director

:



Main actor

: Sorapong Chatree,Chat Mongkolchai


Main actress

:
Thai movie เสือดำ was released in year 1996. It lasts only 1h17mn. Maybe some parts are censored. Mafia leader Wanchai is arrested by police. Chief investigator Sorapong Chatree is leading the interrogation. Wanchai refuses to talk until his daughter Chantra is back. Tongchai (Chat Mongkolchai) is an old associate of Wanchai. He is responsible of Wanchai's fall in order to take his place (หากหลัง). Chantra wishes to have her father released (ประการพ่อ) but Sorapong refuses the money offered to him. Chantra is upset and wishes to get rid of both Sorapong and Tongchai. Tongchai's ruffians try to kill Chantra. Sorapong tries to disrupt Tongchai's business. Gangster war is happening between Tongchai and Chantra. Chantra hires a hitman (มือปืน), who is a woman. She tries to kill Tongchai but only finds his girlfriend. Chantra, fed up by Tongchai's behaviour, decided to manage the case directly. The police is surrounding Tongchai and his ruffians while they are negotiating with overseas traffickers. Tongchai succeeds to flee but is shot by Chantra wishing to clean her family honor. Sorapong Chatree is still a key selling point on the movie poster but during the movie, all actions scenes are played by a new generation of actors.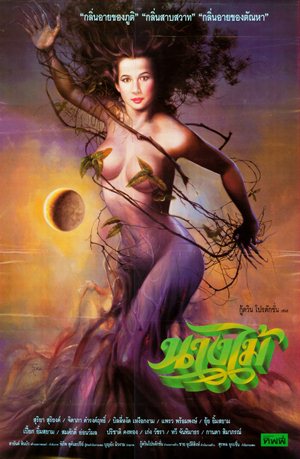 Year

: 1996



Thai title

:

นางไม้




English title

: Nang Mai



Rating

: 3/5


Director

:



Main actor

:


Main actress

:
Thai movie นางไม้ / Nang Mai was released in year 1996. It only lasts 1h16mn so probably it was cut or censored. It was released on VHS and VCD. Like many movies in decade 1990s, there is a mix of comedy, scary sequences, few sexy sequences similar to บ้านผีปอบ. It often features a beautiful poster but at the end it was a low production often targeted for Thai provinces. Actors and actresses include สุริยา สุริยงค์, จิดาภา ดำรงค์ฤทธิ์, แพรว พร้อมพงษ์, ยุ้ย ยิ้มสยาม, สมศักดิ์ อ่อนวิมล, เก่ง วัชรา, เปี๊ยก ยิ้มสยาม, ทวี จันทิมาธร, ปริชาติ คงทอง, กาญจนา สิมาภรณ์, อินทรี พัฒนาการ, เพชร ภาคภูมิ, สงัด เหงือกงาม. No well-known actors in this low cost budget movie. Song and his acolytes attack a beautiful young lady, called Kanda, walking alone at nighttime. She is put to sleep through chloroform and Song is about to rape her. Nang Mai spirit (นางไม้) possesses the young lady's body and chases Song away (ผีหลอก). Song is a lazy son. He plans to go to Bangkok to look for a job but it is just another excuses to get money from his parents. Phet is back to the village. He learns that his mother died while he was in Pattaya. He visits his sister Plaew who is now a slave servant (ขี้ข้า) due to family debts interest. Their land is also lost. Phet asks help to Nang Mai to get the land back. Sia is very interested by Plaew. An old uncle warns Phet about falling in love with a spirit (ถ้านางไม้หลงรักจะยุ่งมาก). Phet meets Dao, who is a Nang Mai, i.e. a spirit residing in a tree. Love happens. A government officer, being an old friend, promises to help Phet financially in order to release Plaew. Sia plans a bad plan about Plaew. Hopefully Dao helps Plaew again. Even the household spirit (ผีเรือน) allows Nang Mai Dao to enter the house. Phet and Dao become lovers. Plaew is released from debt. Sia and Song want to get rid of Phet and Plaew to avoid giving back their land. An occult master (อาจารย์) recommend to cut the tree where Nang Mai is hiding. The old uncle asks Nang Mai to stop killings (อย่าทำบาป, รักษาศีล). Villagers are upset as Phet is sheltering Dao (เลี้ยงผี). A final fight opposing the old uncle and the occult master occurs. Song is finally killed but Dao dies in Phet's arms.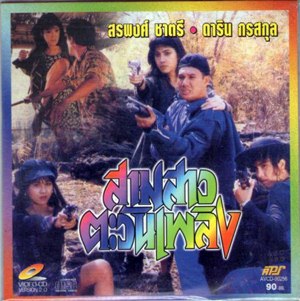 Year

: 1996



Thai title

:

สามสาวตะวันเพลิง




English title

:



Rating

: 3/5


Director

:



Main actor

: Sorapong Chatree,White Padungkan


Main actress

: Darin Kornsakoon
Thai movie สามสาวตะวันเพลิง was released in year 1996 and lasts 1h18mn. It was released under VHS and VCD versions. It was released on VCD by company APS. Hot scenes are censored so the remaining movie part lasts only 1h18mn. Border police led by Peuk (Sorapong Chatree) tries to catch traffickers led by Ton (ไวท์ ผดุงการ - White Padungkan) but they succeed to flee. Head of the police is upset with Peuk as he always fails. Three young ladies (Darin Kornsakoon, วิภาวดี รพีพันธ์, แสงดาว พรรณมณี) arrive in the remote city. They have issues with local ruffians. During a fight, one of the ruffians die accidently (รังแคผู้หญิง). Local subdistrict headman follows them (ตามไป) and asks Peuk to catch them. As their car is damaged, the three ladies flee through the forest. Peuk's leader is in fact helping the ruffians by providing insider information so no wonder that Pleuk's missions always fail. Ton wishes to get rid of the police leader as he shares only 60% with them. The three ladies plan to take refuge in a remote area and wait that the situation gets calm. Peuk arrests them. They meet Ton and shootings happen. Peuk escapes but the three ladies are captured by ruffians. Noi (Darin Kornsakoon) is Ton's former girlfriend. She broke up with him two years ago as he didn't want to stop being a ruffian. Local subdistrict headman is following behind. The three ladies need to escape from Ton but also need to escape from local subdistrict headman. During the escape, only two ladies Noi and Neui succeed to escape. The third one Noui is recaptured by the ruffians. The two ladies are back to release Noui (เป็นเพื่อนรัก). Peuk's boss is confirmed to be a corrupted policeman by the district sub headman. The ladies want to get justice, get back their money to start a new life and revenge (แก้แค้น) as Noui raped by the ruffians. The movie ends up in multiple shootings between Ton's ruffians, the three ladies, the subdistrict headman and his men, Peuk and his boss. Only Peuk and the three ladies survive. This is a grade B action movie targeted for Thai provinces and featuring action, a bit of erotism, a bit of humour.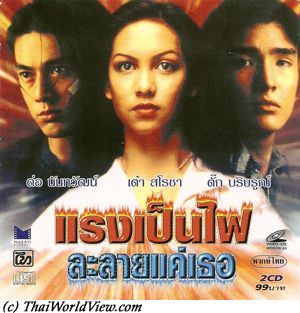 Year

: 1996



Thai title

:

แรงเป็นไฟ ละลายแค่เธอ




English title

:



Rating

: 3/5


Director

:



Main actor

:


Main actress

:
Pon and his friend are continually annoyed by some bad boys due to a debt. When the bad boys abducted Pon's girlfiend, a bloody confrontation happened.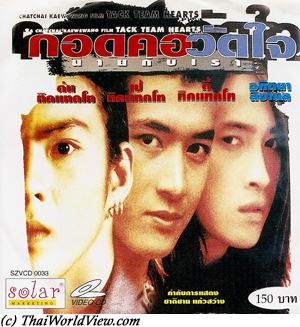 Year

: 1996



Thai title

:

กอดคอวัดใจ นายกับเรา




English title

: Tack Team Hearts



Rating

: 3/5


Director

:



Main actor

:


Main actress

:
It is about the life of two brothers. One is a honest guy helping poor children. The other one is a cheater, who is always stealing and betting. During a fight, the bad brother stabs a gangster, who is now seeking revenge. Problems are rising when both brothers love the same girl. The gangster kidnaps the girl. Are the two brothers going to help each other?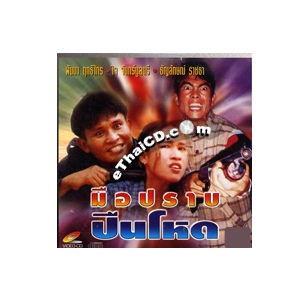 Year

: 1996



Thai title

:

มือปราบปืนโหด




English title

: Hard Gun



Rating

: 3/5


Director

: Panna Rittikrai



Main actor

: Panna Rittikrai,Tony Jaa,Jai Juntamooltree


Main actress

:



Buy now

:

Thai movie มือปราบปืนโหด (Hard Gun) was released in year 1996. It lasts 1h22mn. A group of four ruffians led by พี่ Biaw (Panna Rittikrai) needs to stay in a house until the police stops looking for them following a robbery. It shall be their last job. Nom is always complaining. Police led by inspector Phitak (Jai Juntamooltree) finds them and surrounds the house. Two ruffians get shot by Phitak including Nom, who is Biaw's younger brother. Upset that Nom is dead, Biaw shots Phitak but only injures him and flees. Phitak recovers and goes back to his uncle's home (พ่อบุญธรรม). His uncle is a local policeman. The uncle, following the death of his wife, keeps drinking alcohol. He fails to save his wife used as hostage by a ruffian. Biaw still wishes to get revenge over Phitak. He goes with Tony (Tony Jaa) up to the small city to kill Phitak. Once he finds Phitak, he shots without hurting him and kidnaps the uncle's daughter, Ann. The movie ends up with art martial fightings between Tony and Phitak as Phitak tries to release Ann. Biaw is so sure that Tony cannot be defeated but Phitak succeeds. The uncle this time doesn't fail and saves his daughter threatened by Biaw. The uncle starts a new life with confidence recovered and stops drinking alcohol. There is a mix of action and humour as Phitak is also facing local ruffians in the city. There are gags reminding Baan Phi Pop movies serie and such movies were targeted for Isan area, Northeast of Thailand.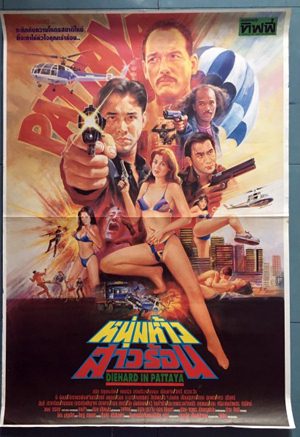 Year

: 1996



Thai title

:

หนุ่มห้าว สาวร้อน




English title

: Die Hard in Pattaya



Rating

: 3/5


Director

:



Main actor

:


Main actress

:



Buy now

:

Thai movie หนุ่มห้าว สาวร้อน / Die Hard in Pattaya was released in year 1996 and lasts 1h10mn. Part of the movie is probably cut or censored. It was released under VCD format by Lepso Company. Thai actors and actresses featured in this movie are สมิต กฤษณะโชค, หยาดรุ้ง อร่ามเรือง, วิภาวี แววตะวัน, ยุทธนา เดือนแจ่ม, บี๋ นัยนา, ภัทราพร พิมพ์จันทร์, หม่า ออน, ยงค์ อยุธยา, คมกฤษณ์ สิทธิพร, อ.สมชาย เขื่อนขุนทด, น้อย-ออย. A lady named Nancy steals a jeep from two ruffians. She refuses to give back the car despite the ruffians call her on the mobile phone left in the jeep. She talks to a man called Taksin and asks him for help (คู่บารมี) to neutralize a drug gang. Romance starts between them. Drug exchange occurs but ruffians keep both the money and drugs. Taksin is looking for her sister. Chat is introduced as policeman. Ruffians try to threaten a cafe. Chat and Taksin help but head of ruffians (เจ้านาย) is upset that some people resist to his bad influence. Ying is kidnapped. She is the cafe owner's daughter. Ruffians ask for 2M Baht ransom. Taksin accepts to help Nancy in order to clean Pattaya and to find his sister. The big boss is looking for young girls. They get drugged to be docile. Taksin finds Yot, who is responsible of the kidnapping of his sister. Taksin is aware that his sister is located in Pattaya Tai. Yot succeeds to flee and brings Ying to his boss. Ying is beaten and imprisoned with another lady. The ruffians find the car and kidnap Nancy despite fierce resistance. She is imprisoned with Ying and another woman named Bee. Taksin is worried as Nancy is not back. Taksin and Chat drive around Pattaya. While the boss is away, the girls succeed to flee thanks to Nancy. They hit the ruffians remaining behind. Ruffians have to change house. Policeman Chat tries to capture them, but they left the house already. Luckily, they see the jeep and follow it. They disrupt a drug exchange in a dockyard. Ruffians are shot. Thai society gets a respite as ruffians have been neutralized. Nancy disappears as mysteriously as she arrived.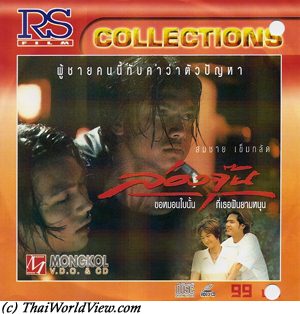 Year

: 1996



Thai title

:

ล่องจุ๊น ขอหมอนใบนั้นที่เธอฝันยามหนุน




English title

: Long June



Rating

: 4/5


Director

:



Main actor

: Sorapong Chatree,Suchao Pongwilai,Sahat Piempongsan


Main actress

:



Buy now

:

Thai movie Long June - ล่องจุ๊น ขอหมอนใบนั้นที่เธอฝันยามหนุน was released in year 1996. Teens June and Nok are close friends. They are living in Nakhon Pathom. June's father is played by Sorapong Chatree. The father is separated from the mother many years ago. June is helping to transport goods every Sunday. He meets his father, who doesn't recognize him. On the same day, his mother announced him she is going to live with uncle Tor (Suchao Pongwilai). June is disappointed. Later on uncle Tor is finally a bad guy beating his mother. Following altercation, June stabs him and has to flee to Bangkok with Nok. Many years ago, the father splits with the mother as he wanted to have a minor wife but she refused. June is arrested by police in Bangkok and they found his father's business card. His father bails him (ประการตัว). Nok escapes the police. June has two young brothers. The youngest one has no interest in June and keeps asking for gifts from the father. The head of school (Sahat Piempongsan) warns June about fighting in the school. Sorapong is a strong father, who doesn't trust June and had never any interest into him. June is fed up of this world where only adults (เป็นผู้ใหญ่) decide and are always right (ผู้ใหญ่ประเทศนี้มันไม่เคยผิดแล้ว). The teacher told him not to use bad mood (อารมณ์) to make decision. June accepts to recognise his mistakes when he makes error (ยอมรับผิด). Nok is now a drug leader. Romance with the daughter of school headmaster happens. June's brother buys drugs from Nok. The father is disappointed (ลูกไม่รักดี) to see his youngest son expelled from school due to drug usage. The father gets injured due to car accident and entrusts June to finish an important work but June needs to quit school. He feels to be the one to be sacrificed. He has issues with the workers. Finally he succeeds to make it on time and gets appreciation from his father. He also helps his younger brother beaten by drugs dealers led by Nok. Friendship happens a last time between June and Nok as Nok helps him. The family is now reunited and Sorapong is proud of June.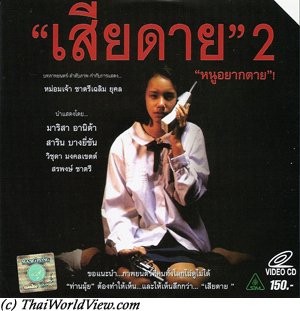 Year

: 1996



Thai title

:

เสียดาย 2




English title

: Sia Dai 2



Rating

: 3/5


Director

: ChatriChalerm Yukol



Main actor

: Sorapong Chatree


Main actress

:



Buy now

:

This second release deals about Aids. This movie shows the Thai society rejection and fear towards HIV people. The film has a informative goal as it shows a rich family confronted to Aids due to contaminated blood transfusion. It demonstrates that Aids is not limited to drug users and sex workers. It emphasizes the family love towards sick people. Sia Dai 1 (about urban teenagers and drug abuse) earned more than 50 million baht, while Sia Dai 2 (about Aids and discrimination) brought in less than 10 million baht.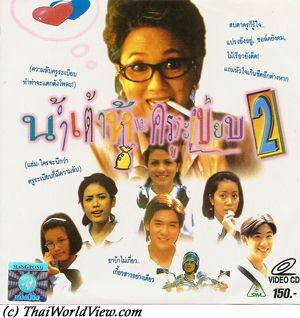 Year

: 1996



Thai title

:

น้ำเต้าหู้และครูระเบียบ




English title

:



Rating

: 1/5


Director

:



Main actor

:


Main actress

:
This comedy is about college students life with love, drug affair. The college principal enforces strong rules.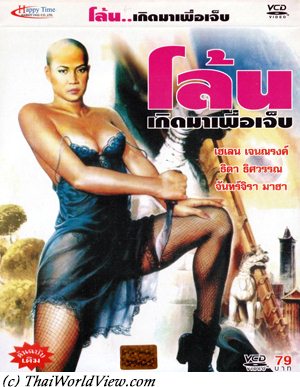 Year

: 1996



Thai title

:

โล้น...เกิดมาเพื่อเจ็บ




English title

:



Rating

: 3/5


Director

:



Main actor

:


Main actress

:



Buy now

:

Thai movie โล้น...เกิดมาเพื่อเจ็บ was released in year 1996 and lasts 1h04mn only. It was released under VCD format by Happy Time Marketing Co. The movie was probably cut or censored to allow a wider release under VCD format. Actors and actresses are เฮเลน เจนณรงค์, ธิดา ธิศวรรณ, จันทร์จิรา มาฮา, ชวน ชินวัตร, ธีระพงษ์ แอกทอง. Dao and her two friends are enjoying sunbathing at the beach. Some bad guys spy them. They take advantage that Dao walks alone around the rocks to kidnap and rape her. She is shocked and remains unable to speak. The father contacts Jan, the elder sister, who is a nun. She has no choice but to disrobe to help her younger sister. She meets an old friend Wit and they sympathize. She learns from him how to shoot with a gun and various fighting skills. She wishes to get revenge (แก้แค้น). As she is bald, she is wearing scarf on the head. She is going to bars at nighttime to find the men, who aggressed her sister. She kills a first one (เป็นยมบาล)(คนที่หนึ่งมันชดใช้กรรมไปแล้ว). A second one is killed (เจอกันที่นรก). As a second ruffian is killed, other three men start to be worried. They only know that the killer is a bald lady. A third man is killed by Jan as he was trying to rape Jan's friend. Ruffians are aware that Jan is no longer a nun, so they identify her as the bald lady, who killed one of them. The father is not aware that her daughter has disrobed (สึก). The leader Suchat follows Jan and invites her for his birthday party. It is a trick and she is captured. Fighting occurs and she kills a fourth man. About to be strangled, Wit helps her on time and she can also take revenge on Suchat.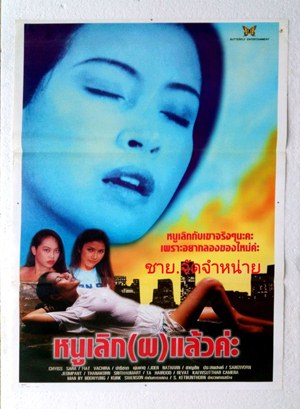 Year

: 1996



Thai title

:

หนูเลิก (ผ) แล้วค่ะ




English title

:



Rating

: 2/5


Director

:



Main actor

:


Main actress

:
Thai movie หนูเลิก (ผ) แล้วค่ะ was released in year 1996 and lasts 1h04mn. It was released under VHS format. It is an erotic movie with some X sequences added in post-production. This allows multiple releases depending on the audience. Lady Pon and young man Raem are in love. While Pon is away, Raem is cheating her with lady bar Fa. Moo is hired to sell drugs and forced to sell despite he is unwilling. Moo tries to sell in a karaoke where Fa is working. Raem brings Pon to his home being a bungalow. Pon needs to enter university so she is busy studying. Despite Raem is rich (ลูกเศรษฐี), he is living a useless life. Fa, Karaoke girl, loves sincerely Raem and gives him money. Fa knows Raem is lying to her. Raem is convincing Pon to stay in his bungalow. Lamyong is Fa's close friend. Fa is disappointed and heartbroken as she knows she is only a lady bar for Raem (อาชีพที่น่ารังเกียจ). Fa gives him money to look for Pon. Fa wishes to stop such job. Fa and Pon finally meet. Fa introduces herself as Raem's friend. Money is found under the bed by Lamyong, who has decided to stop working at nighttime. Lamyong doesn't know where this money is coming from. It is probably Moo's money. Pon knows that Raem cheats her. Fa sacrifices herself for Raem to have happiness with Pon.
---