Increase or decrease font size for easier reading : A+ A-
Year 1995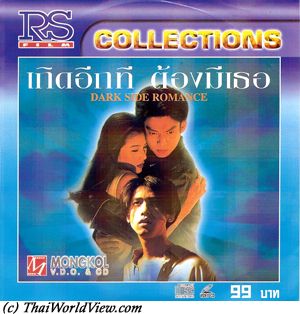 Year

: 1995



Thai title

:

เกิดอีกที ต้องมีเธอ




English title

: Dark side romance



Rating

: 4/5


Director

: Prachya Pinkaew



Main actor

:


Main actress

: Kullasatree Siripongpreeda



Buy now

:

Thai movie เกิดอีกทีต้องมีเธอ was released in year 1995 and lasts 1h51mn. Thaen feels bad because his girlfriend Bee just died. Thaen travels by bus. A lady called Phiang (Kullasatree Siripongpreeda) seats near him. The bus has an accident on the way to Chiang Mai. Both Thaen and Phiang die in the accident. They decide to continue to Chiang Mai. Humans cannot see them (วิญญาณใหม่). Once a body is cremated, the spirit can pass through objects. Phiang was coming to see her boyfriend Chen but he is now leaving to Bangkok for her funerals. At Chiang Mai train station, they find other spirits. They told them Thaen and Phiang must be back at the place they died in seven days in order to be reincarnated. The spirit needs to be free of any earthly attachment. Some rogue spirits, sicking vitality (พลังชีวิต) from other spirits, chase after them but Thaen and Phiang succeed to escape and take the train to Bangkok. Phiang looks after Chen. Phiang is going to her own funeral. Chen tries to be in contact with Phiang as he feels she is still around. Phiang is able to tell him that she is chased (ถูกตามลา) by other spirits. Chen and Thaen's friend drive a car to bring them back to Chiang Mai. They finally succeed to get back to the accident place despite the rogue spirits harming them. Real love occurs between Phiang and Thaen as Thaen is ready to sacrifice his own rebirth to save her.



Year

: 1995



Thai title

:

มนต์รักเพลงลูกทุ่ง




English title

:



Rating

: 4/5


Director

: Bin Banleurit



Main actor

: Bin Banleurit,Sombat Methanee


Main actress

:
Movie มนต์รักเพลงลูกทุ่ง (1995) is sponsored by Mitsubishi motors company Ltd as the movie starts by a real mitsubishi advertisement. During the whole movie, the brand can be seen very often on tractors or various signs. Such movies are often called Nang Isan (หนังสายอีสาน / หนังภาคอีสาน). Such movies were targeted for provinces and not really for Bangkok area (ออกมาฉายตามต่างจังหวัด). Thon (Bin Banleurit) tries to seduce Pin (คืนนี้พี่จะบอก) and wishes to marry her but her father (Sombat Methanee) is not willing to give her hand to Thon. Sombat is old fashioned (โบราณเป็นน้อย). Some villagers are willing to help Thon. Thon is having issues with Chatchana as Chatchana wishes also to seduce Pin. Fighting over Pin happens between Thon and Chatchana. Dao, Chatchana's girlfriend, arrives from Bangkok in the village. The green papaya salad (ส้มตำ) seller is Sombat's girlfriend and he always needs to find excuses to go to see her. Sombat forbids Pin to meet Thon again. A few romances happen in parallel (Ek and Tong Yoi). Dao, in order to make Chatchana jealous, announces her wedding with Thon! So Thon announces his intention to marry Pin! Misunderstandings happen (คนหลายใจ). A wedding procession (กระบวนแต่งงาน) led by Chatchana is on the way to Sombat's home but he warns Pin at the last minute (เกลียดพ่อ). Thon and Pin decide to flee. A race of farm multi purpose trucks is organized. The winner will marry Pin. Despite his Mitsubishi motor Thon loses! Chatchana knowing he will never get Pin's heart gives her to Thon. The movie lasts 1h56mn. It features new or quite unknown actors / actresses such as ศจีพันธ์ เจริญสุข-มรกต อุ่นบางหลวง-อาภรณ์ บุญเสนอ-ดลฤทัย ไอยรา. The sequences of successive gags in this movie remind some of the jokes found in Baan Phi Pop (บ้านผีปอบ) movies. There is typical usage of people having ill-favored face to look like ghost (ผี) same as actor Songthong two decades ago. Such Isan movies feature typical sequences with villagers peeping girls using sarong (ผ้าถุง) when taking a bath in local pond. Isan symbols such as farm multi purpose truck (รถอีแต๋น), green papaya salad are well featured. Movie มนต์รักเพลงลูกทุ่ง is a mix of romance, comedy and songs. Seven great songs are featured. This movie is inspired from the famous Mon Rak Luuk Thung (มนต์รักลูกทุ่ง) 1970 movie.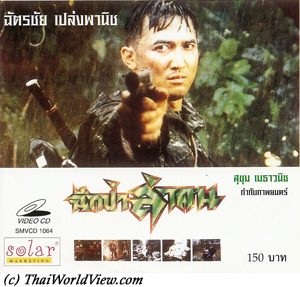 Year

: 1995



Thai title

:

ฉีกป่าล่าคน




English title

:



Rating

: 3/5


Director

:



Main actor

: Chatchai Plengpanich,Ron Rittichai


Main actress

:
Meuk (Chatchai Plengpanich) was fed up with city life (คนเมือง) so moved to live in the jungle in a mountain village. He married a local mountain girl and has one child. Some Bangkokian people come to the forest to have fun and to hunt wild animals. They damage the forest (ทำให้ป่าเดือดร้อน) as they use powerful weapons and have fun by abusing mountain people girls. Meuk goes to the city. When he comes back, his wife has disappeared. He finds her dead raped body. He wishes to revenge against the city people who ruins his life. The Bangkokian people are stopped by forest rangers due to illegal poaching but are released. It shows the inefficiency of rangers to fight against poachers. One of the Bangkokian poacher Sak is hit by an arrow. Solidarity inside the group starts to dissolve. Another man is hit by three arrows and following a misunderstanding is killed by his colleagues. Instead of being hunters, they become hunted by Meuk. One by one the poachers are killed. They reach their pick truck and flee but get lost in the forest. They can stand such situation and are only saved as the rangers car arrives on time. Meuk is injured two times and falls from a waterfall. They all behave same as animals and try to kill each other. Meuk has to kill the two rangers as they are interfering despite being told they shall not involve. The movie ends tragically as Meuk is shot by another mountain villager. The shooting takes place in beautiful Sayok waterfalls. This movie raises a few topics related to the forest destruction, impunity of poachers, lack of respect of mountain / forest villagers.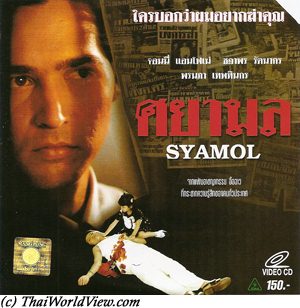 Year

: 1995



Thai title

:

ศยามล




English title

: Syamol



Rating

: 3/5


Director

: Apichat Halamjiak



Main actor

: Johnny Enfone


Main actress

:



Buy now

:

One night a woman is killed. Even if it seems to be a theft issue, the police will enquiry to find who has really killed the woman.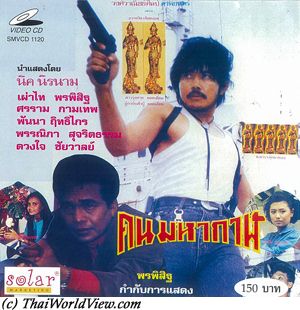 Year

: 1995



Thai title

:

คนมหากาฬ




English title

: Dangerman



Rating

: 1/5


Director

:



Main actor

: Nik Niranam


Main actress

:
Two policemen are working together to catch a mafia kingpin. One has a very hot temper, acts without thinking so taking high risk. The other is older and takes time for decision. This B-grade Thai movie got 5 awards. The main actor, Nik Niranam, is a famous Luuk Thung singer in Thailand.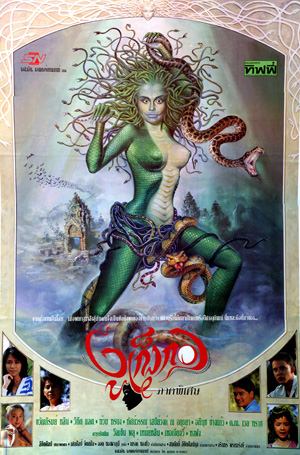 Year

: 1995



Thai title

:

งูเก็งกอง ภาคพิเศษ




English title

: Devil Medusa



Rating

: 3/5


Director

: จรินทร์ พรหมรังสี



Main actor

: Thuam Thoranong


Main actress

: Tasawan Saneewong
Thai movie งูเก็งกอง ภาคพิเศษ was released in year 1995 and lasts 1h34mn. It was released under VCD format in Thailand and under laserdisc format in Hong Kong. Chinese title is 人蛇大战之蛇魔转世 / Devil Medusa. It was released in 2001 and Hong Kong. It features the same content and lasts 1h30mn. It is Thai HK production. Thai actors and actresses include Tasawan Saneewong, Thuam Thoranong, ขวัญภิรมย์ หลิน, วิทิต แลต, miss เหม่ยหลิน, mister หงฟง. Movie director is จรินทร์ พรหมรังสี. A woman, called Suey (ขวัญภิรมย์ หลิน), helps a giant snake about to be killed by hunters. Later, as she is about to drown, the snake helps her. At nighttime, she is courted by the giant snake, so Suey becomes pregnant. The baby born from their love has hair made of small snakes. Suey is the shame of the village as there is no father. The village leader (Thuam Thoranong) wishes to know. Local villagers disdain the mother and her daughter Fa Sai. While playing with other children, she falls. Due to the pain, the snakes into her hair appear. Another child removes her bandana and her hair with snakes is disclosed (เป็นปิศาจ) to all. Villagers burn their house as they believe they are demons. The village leader tries to prevent them. Luckily, a storm occurs, so the fire is extinguished, and they can flee to take refuge in a cave. Their cave becomes full of snakes. The daughter grows and becomes a beautiful woman (miss เหม่ยหลิน). Fa Sai meets a Bangkokian young man, named Vitaya, studying forest and animals. As her mother is sick, she must go back to the city to buy medicine. Vitaya meets Fa Sai again and follows her. A snake attacks Vitaya and Fa Sai saves him. Vitaya and Fa Sai become lovers. Vitaya wishes to marry Fa Sai. Drug traffic is happening in the jungle. A Thai Chinese business is dishonest. Lakchai (วิทิต แลต), his son, likes Fa Sai. Lakchai wants the village leader to act as matchmaker (พ่อซื้อ) with Fa Sai but she is not interested. Lakchai has already three wives. He gets killed by a snake while trying to abuse Sai Fa. His father is looking for revenge. As he could not find Fa Sai, he kills her mother. This time, it is Fa Sai's turn to look for revenge. All members in the house are bitten by venomous snakes. After burying the mother, Vitaya and Fa Sai leave together.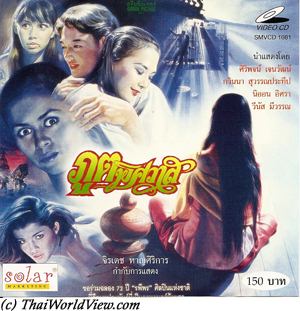 Year

: 1995



Thai title

:

ภูตพิศวาส




English title

:



Rating

: 3/5


Director

:



Main actor

:


Main actress

:



Buy now

:

Thai movie ภูตพิศวาส was released in year 1995 and lasts 1h34mn. ภูตพิศวาส was released 3 times under movie format (1964, 1980, 1995) and 4 times under TV series format (1980, 1995, 2004, 2018). ภูตพิศวาส 1964 version is still available under VCD format but the 1980 version is lost. The 1995 version was released under VHS and VCD version. A lady ghost sucks the blood of a young man. Three young men come to rest in a house located in a Buddhist temple in order to prepare exams in a quiet environment. Marut (ศิริพจน์ เจนวัฒน์) is the main character. The local temple undertaker (สัปเหร่อ), called uncle Hin, warns them to follow three rules, i.e. stay in the room after midnight, do not open door or windows at night time, ignore if somebody knocks at the door. One of the friend, Pamat, dies and his blood has been sucked. Ladies are seen wearing Thai traditional dresses. Manat, another friend, dies also. A lady cries at nighttime. Her name is Dao (กวินนา สุวรรณประทีป). She is a vampire (ผีดิบ). Marut has pity on her so she spares Marut's life. Dao needs to bring blood to her grandmother. Dao asks Marut for help as she is doomed (รับกรรม). First there is a need to move her coffin to another place. Bougna (นิออน อิศรา) is the fiancee chosen by Marut's mother. The grandma asks Dao to be back but uncle Hin refuses. Magical fighting occurs. The mother is now aware that Dao is a ghost. There is a big headache for her to manage Dao and Bougna. Uncle Hin discloses a way for Dao to become human again but her grandparents don't accept as they wish to continue using Dao as a slave. Marut needs to pray for 20 days (เจ้าชีวิต). A domestic helper informs Bougna so she tries to disturb the ceremony. Finally it succeeds (เป็นคนแล้ว). Marut is exhausted. Marut and Dao finally become lovers. The mother wishes to chase Dao but Marut refuses. Seeing Marut's love going towards Dao, Bougna uses a love philter (เสน่ห์ยาแฝด) to get back Marut. They marry. Hin breaks the spell and Marut finally goes back to Dao, being pregnant and being his real wife.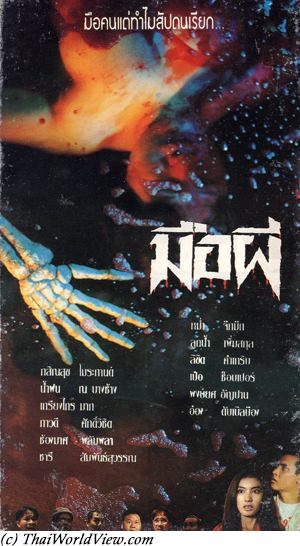 Year

: 1995



Thai title

:

มือผี




English title

:



Rating

: 2/5


Director

:



Main actor

: Mum Jokmok


Main actress

:
Thai movie มือผี was released in the year 1995 and lasts 1h22mn. It was released under VHS format. It is a mix of comedy and horror movies. Back to his home, a young man, named Sathi, hears weird noises in his home. He finally finds a skeleton hand in his fridge. Boonterm, young and beautiful lady, has disappeared. Her fiance Sathi cannot find her when visiting her. A burnt body is found later. A skeleton hand is left and belongs to Boonterm's body as her elder sister identifies a ring she offered to her. The elder sister wishes to find who killed her younger sister but the elder sister also dies very soon after. Mum Jokmok is local spirit doctor (หมอผี). He has ideas about Boonterm death but no proofs. Boonterm's spirit visits her former fiance Sathi. A man, named Likit, claims to have a strong secret master (อาจารย์). Nari has a love affair issue (ลงเสน่ห์ให้) with her husband. Likit wishes to make easy money and claims he can help through his master. He tells Nari's husband that her wife won the lottery, so he is back to see her! A local spirit doctor (หมอเสน่ห์) performs a ceremony on a lady while some men are peeping through the window. The ghost hand helps the lady being aggressed by three ruffians. Santhi goes back to the countryside and stays in a friend's home in order to escape the visions he has about Boonterm. The friend's aunt has a similar face to Boonterm's elder sister. Sathi feels uncomfortable. Later on, the ghost hand (มือผี) continues to harass him while he is playing pool. Finally, an old man recognises him in a restaurant and calls the police. He saw Sathi dragging a body. Sathi discloses he is the one who dragged Boonterm from her home and she died as her head hit a rock. He made a lie to hide his responsibilities. Police arrests Sathi.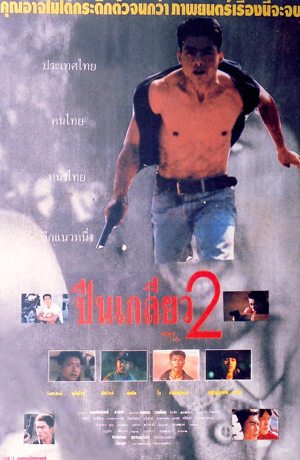 Year

: 1995



Thai title

:

ปีนเกลียว 2




English title

:



Rating

: 4/5


Director

:



Main actor

: Krissanapong Rachata,Jai Juntamooltree,Sompop Wong Ko


Main actress

:
ปีนเกลียว 2 is a Thai movie released in year 1995. This movie is a full packed action film. It was filmed in Khon Kaen area. The movie lasts 1h32mn. Such action movies were very popular in Isan area. Such movies are coming from Panna Rittikrai's trend. Action scenes are always real such as big jars broken on heads. Wut (Krissanapong Rachata / กฤษณะพงษ์ ราชธา) kills a ruffian per accident in a factory. His colleagues are chasing him by motorbikes and pickup car. Meanwhile the factory owner lies to the police telling them that Wut is a man addicted to drugs (ยาบ้า) so being a dangerous man. The chase starts in the forest and ends up in a market (หนีไม่รอด). Despite a rampage with shot guns, ruffians fail to kill him. Finally Wut surrenders to the police, who believes he is crazy with drugs. But the factory is in fact the one selling drugs! Wut finally flees by taking a policeman (สุรินทร์ สุขศีล / พัชรวัชร์ สุขศีล) in hostage. Wut tells the policeman that the factory ruffians have killed his friend and now want to get rid of him. He frees the policeman. Ruffians decide to follow Pom, Wut's girlfriend (ธัญญาลักษณ์ ราชธา), as Wut may takes refuge with her. Wut meets his girlfriend in a discotheque but ruffians led by Tom (Jai Juntamooltree) fail to kill him (ตามฆ่ากู) inside the discotheque. Some action even takes place in a theater (โรงภาพยนตร์แก่นคำ). The policeman follows them but the girlfriend helps Wut to neutralize him. Wut asks the policeman to check the factory as he is saying the truth. In fact Wut discovered that the factory where he was a truck driver was transporting drugs. Wishing to resign, the boss ordered to kill him but he succeeded to flee. Wut wishes to surrender (มอบตัว) but Tom tries to kill him. Tom kills Wut's girlfriend. Looking for revenge, Wut does a rampage in the factory and meets the policeman there. They are chasing the leader Sia (สมภพ วงศ์ก่อ) in his factory. The movie ends up with multiple shootings and hand-to-hand combats. Sia wishes to corrupt them through money but they are looking for justice (ความยุติธรรม). Sia ends being captured by the policeman and Wut doesn't do self justice.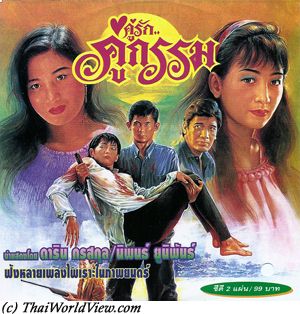 Year

: 1995



Thai title

:

คู่รัก คู่กรรม




English title

:



Rating

: 2/5


Director

:



Main actor

:


Main actress

: Darin Kornsakoon
Two friends in love with two ladies are confronting to bad tough guys who have interest in the two ladies also. This movie features three songs of the singer "Nipon Yunipan" (นิพนธ์ ยูนิพันธ์)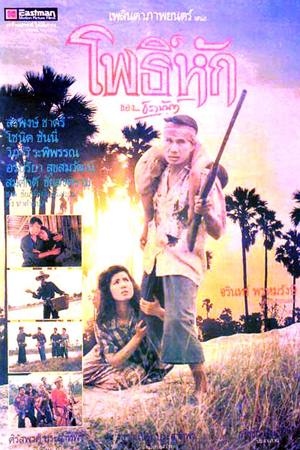 Year

: 1995



Thai title

:

โพธิ์หัก




English title

:



Rating

: 3/5


Director

:



Main actor

: Sorapong Chatree,Somsak Chaisongkram


Main actress

:
Thai movie โพธิ์หัก was released in year 1995. The movie lasts 1h26mn. Pliaw (Sorapong Chatree) is a poor farmer married to Bua. They have a young boy. Bua is the daughter of Pho Kamnan, who has always rejected this wedding. Pho Kamnan finally finds back Pliaw and Bua. Unfortunately Bua, sick of pneumonia, dies and Pliaw is accused by Pho Kamnan of having neglected his wife. Pliaw and his son flee. They find a shelter in Phujai Ming's house (Somsak Chaisongkram). Pho Kamnan knows that Ming hides Pliaw but two friends of Pliaw chase the ruffians away. Sri Prai is the daughter of Phujai. She likes Pliaw. Pho Kamnan hires fighters to storm Ming's house. Despite resistance, Ming and Pliaw's friends are outnumbered and defeated. Pliaw decides to fight back (จะลุย) as he has no choice (พีไม่มีทางเลือก). Pliaw and his friends storm Pho Kamnan's house but he succeeds to escape. As often in Isan movie, some additional funny words or jokes are added in the soundtrack background. Crossed romance and jealousy happen with Pliaw's best friend, who loves secretly Sri Prai. Pho Kamnan decides to get rid of Pliaw (ปิดบัญชี) and kidnaps Sri Prai to be used as a bait. The movie ends up with fightings involving Pliaw, his friends and Ming's family versus Pho Kamnan and his ruffians. Ruffians are all killed. Pliaw can now enjoy a new freedom. This is a small movie (หนังฟอร์มเล็กๆ) from Isan area with Sorapong Chatree still being a main actor. Sorapong was the main actor of many Thai movies during 3 decades! This movie is certainly one of the last movies where Sorapong still has the main role.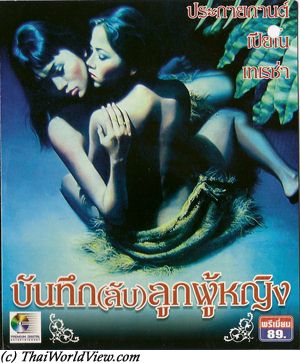 Year

: 1995



Thai title

:

บันทึกลับลูกผู้หญิง




English title

:



Rating

: 1/5


Director

:



Main actor

:


Main actress

:
A teacher brings her students for camping on country side in a park. The beautiful students face handsome park keepers. They also face ghosts in the forest so get separated into two groups. One group is rescued by forest people (คนป่า). Another group is hostage from a mysterious gorilla called King kong.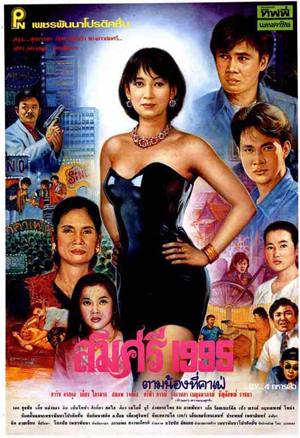 Year

: 1995



Thai title

:

สมศรี 1995 ตามน้องที่คาเฟ่




English title

:



Rating

: 3/5


Director

:



Main actor

: Sompop Wong Ko,Krissanapong Rachata,Jai Juntamooltree


Main actress

: Darin Kornsakoon
Thai movie สมศรี 1995 ตามน้องที่คาเฟ่ was released in year 1995 and lasts 82 minutes. This movie relates the plight of Isan migrants coming to Bangkok to earn money to support their family staying in remote villages. They often end up in low status jobs such as construction workers, server, singers... They are often abused. Relationships between couples are strained due to distance. Same acting team (Sompop, Krissanapong...) is featured as in Panna Rittikrai's action movies. Sri (Darin Kornsakoon) and Yot (Sompop Wong Ko) are going to marry. Sri's father has debts and has difficulty to reimburse as cows' value got down. Yot leaves the village to find a job and to help paying the debt. Mafia is giving them a warning. Krissanapong Rachata is also asking for 2000-baht debt. The father complains Sri is not helping enough. Sri leaves for Bangkok to find a job. She is aggressed in Bangkok and her bag is stolen. Luckily some other Isan migrants help her. She finds a job in a restaurant. She shares room with Pon. Pon's sister, a singer, Taew, has to accept Sia (เสี่ย) Jimmy's request to sleep with him. It is difficult for the restaurant owner to go against the influence of Sia Jimmy. Sri starts as server (เซิร์ฟเวอร์) with a 2000-baht salary and tips. She wishes to become a singer (นักร้อง). She sends money to her parents to support them to pay their debts. She forgets Sompop, who is still waiting for her letters. One of the orchestra musicians starts to have interest in Sri (คนบ้านนอก) as she has a good mindset. Aware of her singing skills, the manager promotes her as singer (นักร้องคาเฟ่). Yot, concerned of now receiving any news from Sri, decides to go back home. Jai Juntamooltree is a as customer. Yot learns from Sri's parents that she left to find a job to Bangkok. Sia Jimmy is interested by Sri but she refuses. He gives her one more chance to think about it. Sri's friends recommend her to back to countryside, but she refuses as she has not earned enough money to pay back the debt. Sri tries to find new excuses with Sia Jimmy but he is losing patience and tries to force her to follow him. Her friends interpose and the restaurant's owner has to calm down Sia again. Sri has no choice but to go back home. Meanwhile luckily Yot helps the musician aggressed by Jimmy's men. He brings Yot to Sri's house but she has just been kidnapped! Yot, the musician and his friends storm Jimmy's place. They defeat Jimmy's ruffians and Jimmy is arrested by Thai police. Yot and Sri can go back to countryside to marry.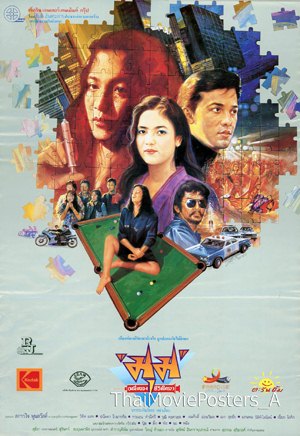 Year

: 1995



Thai title

:

มุม (หนึ่งของชีวิตใคร)




English title

:



Rating

: 4/5


Director

: สุธรรม สุริยวงศ์



Main actor

: Tuanton Kammeesri


Main actress

: Sakaojai Poonsawat
Thai movie มุม (หนึ่งของชีวิตใคร) was released in year 1995 and last 1h39mn. Movie director is สุธรรม สุริยวงศ์. It is Sakaojai Poonsawat's first movie. Teenager Mum (Sakaojai Poonsawat - สกาวใจ พูนสวัสดิ์) receives award of best student in her school, but she always looks sad. Even the Police inspector (สารวัตร), who gives her the award, notices it. Mum does not have a father and her mother Vilai (ปนัดดา โกมารทัต) is a nighttime singer. She did not come to the ceremony. She is often busy meeting Tuanton Kammeesri. She has no time for her daughter. It causes Mum to be very sad. Mum has one close friend called Ann. Ann invites Mum to a party. Mum is reluctant to go as she did not get her mother's authorization, but Ann promises to be back before midnight. Ann has already a boyfriend (แฟน). Mum meets Tom (วิทิต แลท) at the party. Meanwhile Tuanton recommends the mother to spend more time with Mum. Tom complains about adults imposing constraints to them. Everything adults do is good. Everything teens do is wrong. Those parties bring freedom to teens as there are no adults to forbid. Mum, Ann, and friends go to Pattaya. Mum drinks and smokes. A girl gives her an illicit substance. Mum starts to be addicted as her hands shake during school lessons. Tom is lazy and pushes his father (วุฒิ คงคาเขต), being a simple policeman, to give him more money. Tom and Mum become lovers. Tom joins a dance contest with a price of 50,000 THB. He wins as his teammates hit the main dancer opponent in the restroom. A photographer takes a picture of Mum kissing Tom holding the prize. The school headmaster complains to the mother Vilai as it gives a bad image of the school. The policeman warns Vilai about losing Mum (เสียคน). Vilai complains she has limited time as she is working at nighttime. Mum is jealous to see her mother giving all her love to Tuanton and none to her. She flees to another party while her mother is out. During the party, Ann sees Tom's former girlfriend, Pat, giving substance to Mum. She accuses her of trying to kill her friend Mum. A fight occurs between the two girls. Police are called by neighbors fed up with noise. The headmaster has to come as the mother Vilai is unreachable. The name of the school is tarnished two times. Vilai complains to her daughter, but Mum argues her mother is responsible for this situation as she never gave her love. She flees and takes refuge in Tom's place who quits his father. Vilai does not know how to contact her daughter. Mum is addicted and needs drugs (ติดยาเสพติด). She meets Pat to buy drugs, but the price has increased. As Mum does not have enough money, she asks Mum to become a prostitute (ขายตัว). She also gets revenge toward Mum by showing that Tom is selling himself to a foreigner to pay the drugs for his junky girlfriend. In fact, Tom and his friend rob the foreigner and flee. Meanwhile Police intervene and the drug dealer cuts Pat's throat believing she betrayed them. Meanwhile Mum flees home as she has a crisis. She does an injection, but it is an overdose. Ann discovers it and calls the mother Vilai. Mum is rushed to the hospital. It is too late as she dies from overdose. The mother blames Tom, Ann, and their friends, but she also owns her part of responsibility. The movie ends up with a message for parents to take care of their children.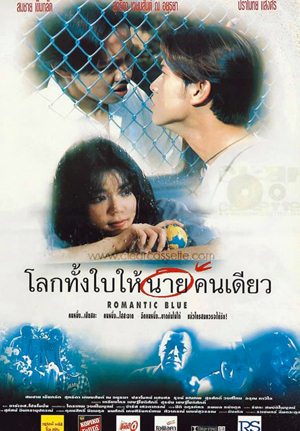 Year

: 1995



Thai title

:

โลกทั้งใบให้นายคนเดียว




English title

: Romantic Blue



Rating

: 4/5


Director

: Prachya Pinkaew



Main actor

: Ruj Ronnapop


Main actress

: Suthida Kasemsan



Buy now

:

Thai movie โลกทั้งใบให้นายคนเดียว / Romantic Blue was released in year 1995 and lasts 1h49mn. It was released under VCD and DVD format by RS Public Company Limited. Movie director is Prachya Pinkaew. This movie has won 4 Thai academy awards. It won the award for Best Movie of 1995 as well as being that year's highest grossing movie. The Romantic Blue movie used singer superstars to play the hero and the heroine. Romantic Blue movie was extremely well-received and set a new record for Thai films. Generating 60 millions THB at the box office, its revenue was at least double of the industry average at that time. Romantic Blue movie went on to represent Thailand and Thai films at several international film contests. Song โลกทั้งใบให้นายคนเดียว by สมชาย เข็มกลัด was also a superhit in 1995. Two brothers love the same girl Pon (Nook - Suthida Kasemsan). One brother is a hard worker, Mai (สมชาย เข็มกลัด), but has stopped his studies in order to work as a mechanic and to support his family. The other brother, Maen (ปราโมทย์ แสงศร), continues to study but is lazy and more interested in courting girls. Mai is working with Uncle Bo and repairs cars. Mai meets Pon as her father's car has troubles. The brothers' father (Ruj Ronnapop) is sick and is sent to hospital. Mai decides to participate with uncle Bo in a car robbery in order to pay the expensive hospital bills. The first robbery is successful but one of the ruffians is unhappy with Mai as he only succeeded to shift the parking guardian focus at the last minute. Mai is very stressed and is busy earning money to pay his father's bills. He has no time to meet Pon and tries to push her towards his brother Maen as he knows Maen loves her. Pon is upset and sad of this situation as she does not love Maen. Her mother announces to Pon that she found a school overseas for her so she will have to leave Thailand soon. Uncle Bo is aware that Mai forces himself to neglect Pon for the sake of his father and younger brother. Maen is aware of the illegal activities of his brother. Things get worse between the two brothers when the father dies. Moreover the ruffians' leader wants to get rid of potential witnesses. Uncle Bo is shot by the leader and Mai just succeeds to escape. The leader kidnaps Maen in order to force Mai to come out. The leader forces Maen to slap and insult Mai. Taking profit of the leader's inattention, Mai rushes into him and gets shot in the shoulder. They both fall from an unfinished building. Maen grabs his brother's hand before he falls to his death. Then Maen rushes his brother Mai to the airport so that he can wish Pon a safe trip.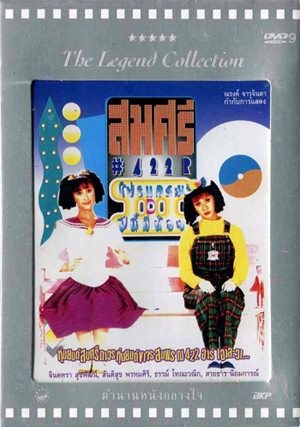 Year

: 1995



Thai title

:

สมศรี 422R โปรแกรม D ปีนี้มีน้อง




English title

: Somsri 422R Program D



Rating

: 3/5


Director

:



Main actor

: Santisuk Promsiri,Sombat Methanee


Main actress

: Jintara Sookkapat,Duangdao Jarujinda



Buy now

:

Thai teen movie สมศรี 422R โปรแกรม D ปีนี้มีน้อง / Somsri 422R Program D is the third opus of สมศรี 422 อาร์ / Somsri 422R, the Thai robot. It was released in year 1995 and it lasts 1h47mn. In Bangkok, there is a three kid's family with a father as crazy inventor. Mother is played by Duangdao Jarujinda. The father created Thai robot Somsri 422R before. Sompon is a new lady robot created by the father. Gags happen as ladies robots have unexpected behaviors such as going in male toilets or learning bad habits from humans... Funny competition do happen between the two robots. The grandfather (สุประวัติ ปัทมสูต) in Chiang Mai has difficulties with Sombat Methanee. He is always nagged by him and loses all competitions to him. Sombat has a very strong granddaughter. The grandfather wishes some help from Somsri (Jintara Sookkapat) in order to silence Sombat. It features various teen romances (including สายธาร นิยมการณ์). Animosities continue between the two grandfathers. Sombat even hires tough guys (มือดี) (including ชลประคัลภ์ จันทร์เรือง) to get rid of Somporn but they keep failing. Grandfather accuses Somsri to be jealous (ขี้อิจฉา) of Somporn. Ed (Santisuk Promsiri) is always supportive of Somsri (เป็นคนยุ่งจะตายไป). Competition shall happen both granddaughters (น้อง) per grandfathers' agreements. Somporn is the one to participate to the competition but she loses the first event due to cheating (โกง). As she is injured, Somsri replaces her and wins the last two events.



Year

: 1995



Thai title

:

บุญชู 8




English title

:



Rating

: 3/5


Director

: Bandit Ritthakol



Main actor

: Santisuk Promsiri,Sorapong Chatree,Kiet Kijcharouen


Main actress

: Jintara Sookkapat,Jarunee Sooksawad



Buy now

:

Boonchu and Mo are now married and Mo is pregrant. Boonchu helps to recover the village temple Buddha statue that has been stolen.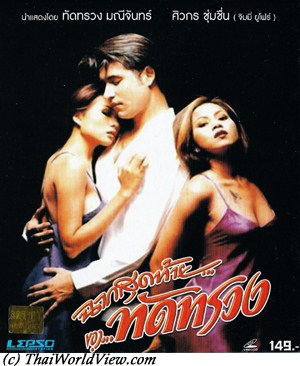 Year

: 1995



Thai title

:

ฉากสุดท้าย ของ ทัดทรวง




English title

:



Rating

: 3/5


Director

:



Main actor

: Apichat Halamjiak


Main actress

:



Buy now

:

Thai movie ฉากสุดท้าย ของ ทัดทรวง was released in year 1995 and lasts 1h36mn. Actors and actresses are ทัดทรวง มณีจันทร์, ศิวกร ชุ่มชื่น, ประกายกานต์ กอบเกื้อกูล, โรเบิรต์ ฟองออเดรซ, น้อย โพธิ์งาม, เทพยุดา ศรียาภัย. That Sruang (ทัดทรวง มณีจันทร์) comes from Nakhon Ratchasima. She is a sales lady. She quit her job in Bangkok as her former boss had a bad mentality. She has difficulties to find a new job. She is finally hired as secretary in a company whose boss knows one of her friend. The boss, called Rath, seems to like her a lot. That refuses his advances. He claims his innocence and covers her with gifts. Finally romance starts as That believes that her boss is sincere. A few hot scenes are subtitled by a warning that audience shall be advisable when watching them (วิจารณญาณในการชม). It is very first time for this countryside girl to meet high level society people from Bangkok. During a diner, everybody presents his wife or girlfriend but Rath, being drunk, presents That as being a sales lady only. She is upset and leaves. As Rath (เจ้านาย) only follows his impulsions, she leaves to go back to Isan. Back to Bangkok, he finally accepts to marry That (ลงทะเบียน). That opens a small shop. As That has difficulty to have her niece entering international school, she asks Rath a sum of 150 000 baht for the school debenture. Meanwhile young lady Sa is back from overseas and has already a lover. Sa shall marry with Rath. Both Rath and Sa are from high society and both have lovers from low society. Sa is upset as she finds a picture of That in Rath's bedroom. Rath doesn't come back so often to That's home as he is butterflying (ชีวิตของผมเป็นของผม). Sa discovers That as minor wife (เมียเก็บ) and announces to her that she is his fiance already but Rath and That are already officially married! This is causing Rath's father ire (Apichat Halamjiak) as he asks his son to divorce from That in order not to jeopardise his business with Sa's father. Her niece has issues at school with schoolmates as she is called country bumpkin (คนบ้านนอก). That is pregnant but Rath wishes she aborts. She moves to another place. As Rath's father cuts his money and job, Rath has to ask That for divorce. She accepts without any compensation. Rath marries Sa. That becomes a singer and sexy model. Sa is pregnant but the father is not Rath. Seeing a sexy magazine with pictures of That, he realises how stupid he was to believe high society girls will behave properly. He tries to get back with That but she doesn't need anybody now as she is able to raise her niece thanks to sexy pictures sales. One evening, during heavy rain, That and her niece are aggressed and beaten. The thugs were hired by Sa. That refuses any help from Rath. Rath's father is aware of the situation but they have to stay together (ต้องดูดี) and show good face to the Thai society. Rath goes to see That a last time to apologise about his behavior. She accepts his excuses. But they cannot go back together.
---