Increase or decrease font size for easier reading : A+ A-
Year 1994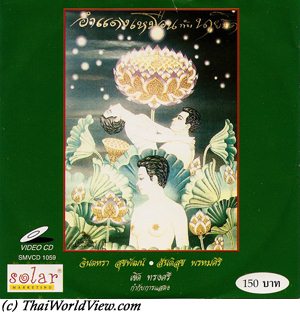 Year

: 1994



Thai title

:

อำแดงเหมือนกับนายริด




English title

: MUEN and RID



Rating

: 5/5


Director

: Cherd Songsri



Main actor

: Santisuk Promsiri,Man Teeraphol,Ron Rittichai


Main actress

: Jintara Sookkapat,Duangdao Jarujinda



Buy now

:

Prior to 1865, women had no status in Thai society. They were looked down on as object with no significant value. Their parents and husbands had the right in law to pawn or sell them, just as they could pawn or sell their cattle. Hence the old Thai saying: "Women are buffaloes, men are humans". Muen was the daughter of peasants in Nontaburi Province. During a storm, she almost drown and was saved by a young monk called Rid. As she was love with the monk, she wanted to be close to him and succeeded to convince the temple abbot to be able to go to the temple school. Despite Thai society obstruction that thought that knowledge was useless for women, she learnt how to read and write. Her parents were trying to force her to marry Poo, who had alread several wives. She managed to escape and took refuge with Rid, who has left the monkhood for her. When he discovered where she was, Poo claimed under the law that Rid had abducted his wife. Muen was arrested, and suffered abuse and mistreatment in Jail. But she never gave up hope, and managed to escape and submit a petition to King Mongkut. She condemned the law as being unfair, and condemned Thai society for condoning men's exploitation and abuse of women. She faced the death penalty for her temerity; Thai society had lived by and respected the laws she attacked for centuries. The King issued a Royal Decree granting her a pardon. Based on a true story, the film celebrates an early case of a struggle for women's rights in Thailand, which resulted in a decree promulgated by King Mongkut in December 1865.



Year

: 1994



Thai title

:

เมียงู




English title

:



Rating

: 2/5


Director

: ชัยณรงค์



Main actor

:


Main actress

:



Buy now

:

Thai movie เมียงู was released in year 1994 and lasts 1h27mn. It was released under VCD format by company Rose and company Happy Time Marketing. Movie director is ชัยณรงค์. Thai actors and actresses featured in this movie are เกรียงไกร มาก, ดวงเดือน แสงรัศมี, แอม ตรีรัก, สุกัญญา โพธิ์พันเมฆ, ยุ้ย ยิ้มสยาม, สงัด เหงือกงาม, ลูกน้ำ เพิ่มสกุล, ด.ญ.เกศสุดา หลวงสิริราช, แก้ว คุ้มสุพรรณ, อ๋อง ดับเบิ้ลบ๊องส์, ป้อม บ้านหล่อ, ปฐมชัย ชมสีเมฆ, ปั๊ก เครน, ดำ ยามาฮ่า, ทองมาก กล้า, จ๊อต พลูหลวง, สงวน พลูหลวง. Pai has a wife called Kwan but Kwan was not able to give him a child, so Pai is also married to Chon (เมียน้อย) and has one daughter Kwang. Kwan gets abused by a snake and becomes a "snake wife" (เมียงู). A bad local villager, called Lit, wants to abuse Kwan while Pai is away but the snake protects her. A second villager dies also so all the villagers do a snake battue to kill it. Kwan protects the snake by preventing villagers to check inside her house. Villagers suspect something fishy between Kwan and the snake. Villagers even use an Indian snake charmer (หมอแขค) but to no avail. While visiting a relative with her friend Baan Yen, Kwan and Chon meet each other accidentally. Pai is in trouble. Chon gets bitten by the snake, but a monk amulet protects her. Chon and Kwan meet each other again and fight. Put under pressure with the two women, Pai needs to choose (ใครเป็นน้อย ใครเป็นหลวง). Kwan had a lover in her previous life, but he got killed as Kwan's family rejected this union. The lover has reincarnated into a snake, which is now protecting Kwan. Villagers warn Pai that his wife is now a "snake wife" (เมียงู). He can see it by himself as he is spying Kwan. Pai and Chon use a sorcerer to kill the snake but as their daughter Kwang was the reincarnation of the man who killed Kwan's lover in previous life, she also dies. This movie is putting the stress on Buddhist karma and the consequences of previous acts.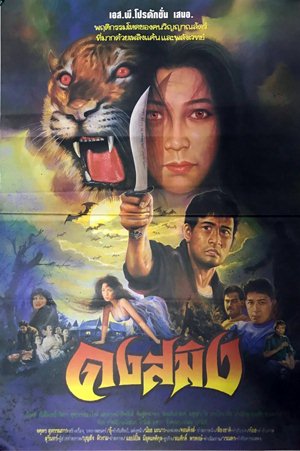 Year

: 1994



Thai title

:

ดงสมิง




English title

:



Rating

: 3/5


Director

:



Main actor

: Bin Banleurit,White Padungkan


Main actress

:
Thai movie ดงสมิง was released in year 1994 and 1h25mn. It was released under VCD format. Lady Yom is aggressed by a tiger spirit at night time. Niyom (White Padungkan) and Rat (Bin Banleurit) arrive in the village as government officials. Village leader (ผู้ใหญ่) Sing and her sister Chaoba welcome them. Mek (นักเลงใหญ่) doesn't welcome them. Mek loves Chaoba but it is not reciprocal. Mek despise Niyom and Rat as Chaoba appreciates them. The village leader Sing has a weird behavior. Another lady is killed in the village. Sing cannot come at the ceremony as he is sick. Sing discusses with an older man, being the village หมอผี Yong, about transferring his tiger fearful spirit to somebody else. Conflicts occur between the two men as the spirit doctor mentions to use Chaoba to transfer the tiger spirit. Sing doesn't want his younger sister to become the new heir (ทายาด). Sing fails to kill the spirit doctor Yong and is injured in the fighting. Niyom and Rat organize a hunt to find the suspected tiger. Sing is severely sick and dies. The spirit doctor wishes to burn immediately the body but Chaoba wishes to follow Thai tradition and keeps the body for 100 days. Chaoba starts to vomit so Mek believes she is pregnant with Rat. Yong believes the tiger spirit entered in Rat's body after Sing's death. Another death occurs. Mek accuses the two Bangkokian men. The villagers try to stone Rat, but Yong interposes. Finally, Chaoba changes a lot as she is the one possessed by the tiger spirit. Mek is killed while trying to abuse Chaoba. Sing got tiger oil filter (น้ำมันพรายเสือสมิง) from Cambodia. Yong, Niyom and Rat visit the doctor spirit to know how to release Chaoba from the tiger spirit. A ceremony is organized to expel the tiger spirit from Chaoba body. The spirit fights back but Chaoba recovers and becomes a normal person again.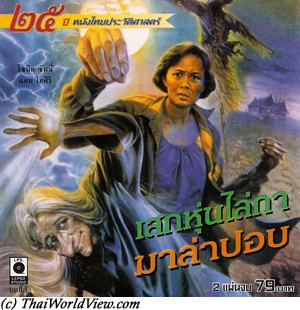 Year

: 1994



Thai title

:

เสกหุ่นไล่กามาล่าปอบ




English title

:



Rating

: 2/5


Director

:



Main actor

:


Main actress

: Natanee Sitthisaman
A "Phi Pop" (ผีปอบ) is an evil spirit believed to possess a person to eat his intestine while also forcing him to seek and consume raw animal organs and meat at night-time. Such evil spirit "PHI POP" is frightening a village. A young woman, who is coming back to her village, gives her life to contaminate the "PHI POP" as she is dying of AIDS.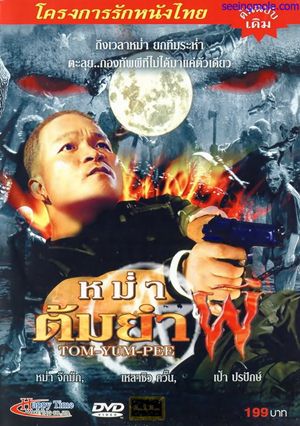 Year

: 1994



Thai title

:

หม่ำต้มยำผี




English title

: Devil of love



Rating

: 1/5


Director

:



Main actor

: Mum Jokmok,Pao Porapak


Main actress

:



Buy now

:

Thai movie หม่ำต้มยำผี was released in year 1994 and lasts only 1h09mn. It is a Hong Kong movie Cat III called 淫魔暴行 / "Devil of love" and shot in Thailand. It is a horror R movie (R - Restricted) lasting 1h17mn. It is available under VCD / DVD format and was released by Happy Time Marketing Co company. It is possible that this HK movie was never released in Thailand. Many years later, such movies were released in VCD / DVD format and were highlighting the presence of famous comic actor Mum Jokmok despite him having only a second role. Due to marketing purpose, as Mum Jokmok was popular, the movie name was changed to หม่ำต้มยำผี (Mum Tom Yam Ghost). The movie is censored in order to be released widely under VCD format as love sequences are blurred or even cut. Master Mum Jokmok is fighting versus Pao Porapak. Both have supernatural powers. Elder brother Kwan is back from overseas studies. A will is opened as his father died suddenly. The daughter Chiep and the son Kwan get 100% of the heritage. The young mother-in-law (แม่เลี้ยง) Oi just gets authorisation to stay in the house. If anything happens to the children, then the heritage will be hers. Nattaporn, Oi's lover, promises to manage this. Kwan is upset as his father died so fast. He has a bad relationship with the young mother-in-law. Kwan, his sister Chiep and her boyfriend have issues with ruffians hired by Oi in a discotheque. Nattaporn is doing black magic incantations to cause Kwan to have a motorbike accident. He falls in hell (เมืองผี) and meets his father! The father warns him about Oi and tells him how to go back to the earthen world. Nattaporn is some kind of vampire. Kwan is back as a ghost and contacts the lawyer, who is afraid of ghosts. Nattaporn kidnaps Chiep. Kwan asks for the lawyer's help. Kwan possesses Oi's body to kill Nattaporn but he fails. Master (อาจารย์) Mum is then involved in order to defeat Nattaporn. Following lengthy fighting, Nattaporn and Oi are defeated. The Thai version is cut too much to be appreciated and the release under a new name is just a commercial gimmick as Mum Jokmok has only a limited second role.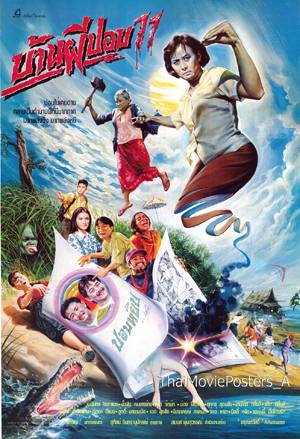 Year

: 1994



Thai title

:

บ้านผีปอบ 11




English title

:



Rating

: 2/5


Director

:



Main actor

: Mum Jokmok


Main actress

: Natanee Sitthisaman



Buy now

:

Thai movie บ้านผีปอบ 11 was released in year 1994 and lasts 1h26mn. it was released under VCD format. Movie director is อรุณสวัสดิ์. Thai actors and actresses featured in this movie are เมฆินทร์ ออกแมน, น้ำฝน ณ บางช้าง, น้อย โพธิ์งาม (comic actress), Mum Jokmok, ศุภกร อุดมชัย, ซานโต๊ส กลิ่นสี, ชลิต กลิ่นสี (comic actor), Natanee Sitthisaman, สุชาดา อีแมน, อู๊ดดี้ มาตามนัด, เอก สุขชัย, อิศราภรณ์ กรกนก, จ๊ะเอ๋ หาชา, บิลลี่ หงัด, จอห์นนี่ ผีเพื่อนรัก. Mum Jokmok asks a cartoonist to draw comics about ghoul ghost and provides him some sacred powder to be used in the drawing. The sacred powder and the drawing make the ghoul ghost (ผีปอบ) to be back. It is Pop Thong Kham – ปอบทองคำ - already present in บ้านผีปอบ 1. She brings Pop Yip - ปอบหยิบ (Natanee Sitthisaman) already present in other บ้านผีปอบ opus. Both try to catch four comic men in the village. They use various tactics, but it fails. They use the drawings from the artist and thanks to the powder, drawings become reality. They use two beautiful young ladies to attract the men. The team is going to a sacred mountain (ดอยผีฟ้า) to neutralise the ghoul ghosts. Mum Jokmok recognizes he was wrong to use powder from the sacred mountain for drawing. It has caused the ghoul ghosts to be back. Multiple chases are happening between ghost ghouls and the villagers. Many jokes are featured during those comic chases. They finally got rid of Pop Thong Kham.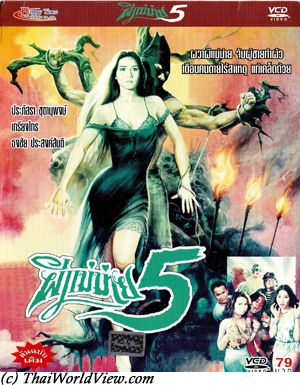 Year

: 1994



Thai title

:

ผีแม่ม้าย 5




English title

:



Rating

: 1/5


Director

:



Main actor

: Tongchai Prasongsanti


Main actress

:



Buy now

:

ผืแม่ม่าย 5 movie lasts 1h23mn. It was released in year 1994 and is available under VCD format. Similar to "BAAN PHI POP" (บ้านผีปอบ) serie, this movie is a mix of comedy and horror. The comedy takes a bigger part that the horror part. A young lady called Kun is aggressed in her house. The rapist is masked. The young lady fights back with a knife but finally gets stabbed. Plaew is her younger sister. Kun is accused by villagers of being now a ผืแม่ม่าย (widow ghost) as a young man is found stabbed. A group of Bangkokians led by Plaew return to a countryside village. This group features students enjoying party and เล่นผี. There are various characters in the group, ie the big comic, the small comic, the bad mouth mischievous comic, the playboy, the sexy girl... Plaew decides to go back to her village to understand what happened to her sister. She is welcomed by the local subdistrict headman, who is handicapped. Her friends (คนกรุงเทพ) follow her. Ceremony สะเดาะเคราะห์ is performed to chase away the widow ghost. One of the young villagers (Tongchai Prasongsanti) verifies that lady Throngsi is not a ghost (มีของดี เป็นคนดี). Plaew and Warut decide to dig to find the body. They are aggressed (จับตัวไป). Finally the responsible is the subdistrict headman, who simulates being handicapped. Plaew simulates being a ghost to reveal the subdistrict headman's fault but it is not enough. The real ghost frightens the subdistrict headman, who suddenly can walk. While fleeing, he falls and breaks his neck on a rock.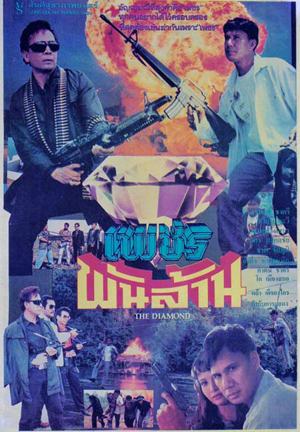 Year

: 1994



Thai title

:

เพชรพันล้าน




English title

: The Diamond



Rating

: 2/5


Director

:



Main actor

: Sorapong Chatree,Dam Datsakorn,Chat Mongkolchai


Main actress

:
Thai movie เพชรพันล้าน / The Diamond was released in year 1994. It lasts 1h20mn. In the opening sequence, Sorapong Chatree name is translated as Robert Cha Tree! Ruffians leaders are having a meeting (Phi Pat - Dam Datsakorn with no moustache, Chat Mongkolchai, Pracha) about sharing the profit of a 1000 diamonds traffic. The plan fails as the diamonds are stolen (เพชรพันล้านถูกปล้น). Each leader suspects the other groups. Chat tells Phi Pat that Pracha is involved. Meanwhile, Chit (Sorapong Chatree) gives a letter to Pracha's younger sister as he is not at home. Pracha is kidnapped. The sister suspects Chit. Chit promised to his mother to be a good guy as taxi driver and quits Pat's team. Phi Pat kidnaps his mother to force him to work for him. The sister visits Chit but she gets molested as he is drunk. He promises to take responsability of everything. Meanwhile Phi Pat's business is failing again as some diamonds are stolen again. Phi Pat suspects Chat this time as Pracha is out of action. Meanwhile the sister storms Phi Pat's house to release her brother Pracha but it fails. Phi Pat gets proof that Chat is a traitor so he storms his house but Chat succeeds to flee. Both Pat and Chat wish to get rid of each other. Phi Pat uses Chit to transport and exchange diamonds. Chat brings the mess and steals the diamonds thanks to a traitor (หักหลัง). The sister finally frees her brother Pracha. Pat asks Chit to get back the diamonds and to kill the traitor in order to get his mother released. Pracha and his sister succeed to release the mother and all together get rid of Pat and Chat. During decade 1990s Sorapong Chatree was still the main actor of some action movies targeted for countryside. Being 45 years old already, most of action scenes are played by other actors.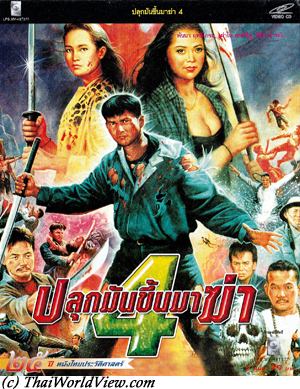 Year

: 1994



Thai title

:

ปลุกมันขึ้นมาฆ่า 4




English title

: Spirited Killer



Rating

: 3/5


Director

:



Main actor

: Panna Rittikrai,Krissanapong Rachata,Jai Juntamooltree


Main actress

:



Buy now

:

Thai movie ปลุกมันขึ้นมาฆ่า 4 was released in year 1994 and it lasts 86 minutes. In a village, a local shaman (หมอผี), called Duang, makes a ceremony (พิธี) to do a special medicine (ยาศักสิท) allowing old ladies to be young again (อมตะ) and young lads to be invincible. Two elderly people die by drinking the potion. As the others wish to inform the village leader (ผู้ใหญ่บ้าน), Duan kills them also. Only Piek (Jai Juntamooltree) succeeds to flee. The village headman (นายเจริญ สาดา) asks villagers to gather blades to get rid of shaman Duang. They catch him before he can cross the Mekong to Laos. Villagers hit him many times and his body falls in the river. Five years have passed. Farmers listening to Molam songs are attacked by a sole thief (โจร)(Panna Rittikrai) very strong in martial arts and blade fighting. Most of farmers are killed. Meanwhile Piek is listening Molam (หมอลำ) song by beautiful singer Fa. Piek claims he can handle this robber himself. Meanwhile some students from Japan and Thailand interested by the remote village are attacked by robbers. Krissanapong Rachata and a young lady push them away. The robbers are later killed by Panna. In parallel, a group of men are looking for special holy artifact in the village. They are attacked by Panna. Among them, Tony Jaa offers an unfortunate heroic resistance against Panna but this latter seems invincible as blades cannot hurt him. They believe he is an evil spirit (ผีดิบ). Later on, Piek tries to stop Panna but to no avail. A group of 20 people go outside the village to fight against the evil spirit and to identify his weaknesses. The evil spirit is in fact piloted by Duang, looking for revenge. All strong fighters unite against Duang and Panna. Finally a wise man gives a magic blade to Piek allowing to defeat and kill Duang. Without special powers, Panna is also defeated. In the second part of his actor career, Panna Rittikrai was often playing the bad guy.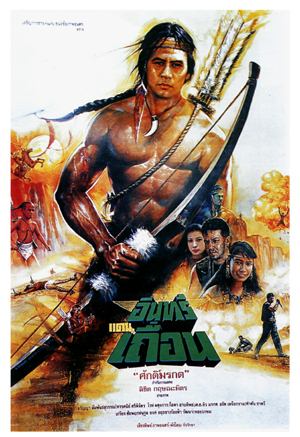 Year

: 1994



Thai title

:

อินทรีแดนเถื่อน




English title

:



Rating

: 3/5


Director

:



Main actor

: Bin Banleurit,White Padungkan


Main actress

:
Thai movie อินทรีแดนเถื่อน was released in year 1994 and lasts 1h25mn. It is available under VCD format with an average picture quality. Lepso company released it but changed the name to โคตรนักเลง. Movie director is ศักดิ์มรกต. Actresses and actors featured in this movie are Bin Banleurit, สรัญญา สัมพันธ์สุวรรณ, ทรรศนีย์ ศรีพิจิตร, White Padungkan, โอดา อาบทิพย์. An expedition occurs in the jungle and is led by Tot Ton (White Padungkan). A single man Dong, used to jungle fighting, attack them and kills them one by one. Injured, Tot Ton is rescued by a lady, called Kratae, living in a village located in the jungle. Strangers are not welcome in the village (คนแปลกหน้า). Tot Ton finds children playing with pure gold stones (ทองคำบริสุทธิ์). He must leave the village but promises to come back. Later, young strong man Lio Daeng (Bin Banleurit) defeats Dong. He is Kratae's husband and is also the village leader. Lio Daeng is a strong fighter (วิญญาณนักสู้). Tot Ton and other teammates (Ita, Fan...) are back for the gold. Ruffians kill villagers to get their gold. Ruffians wish to know where the gold is coming from. Lio Daeng is aware that the village was attacked. Only Lio Daeng knows where the mine is. Ruffians try to kill him but to no avail. Lio Daeng is captured by Ita following a fight with White. Dong helps him to flee but gets killed. Ruffians head to the gold mine and keep Kratae as hostage. Lio Daeng attack them. Ita uses Kratae as a bait to attract Lio Daeng. An earthquake occurs and gold falls from the small hills surrounding the mine. Ita and Fan kill each other as they don't want to share the gold. Lio Daeng gets rid of White but it is late for his wife...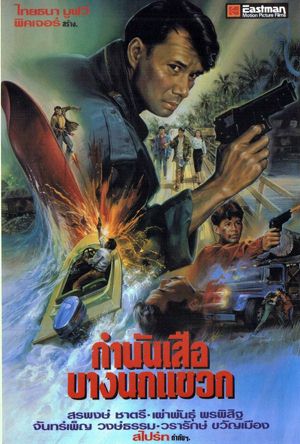 Year

: 1994



Thai title

:

กำนันเสือบางนกแขวก




English title

:



Rating

: 3/5


Director

:



Main actor

: Sorapong Chatree,Pao Porapak


Main actress

:
Thai movie กำนันเสือบางนกแขวก was released in year 1994 and lasts 1h28mn. It was released under cable TV. This movie is part of the last movies where Sorapong Chatree was still the main actor in Thai action movies. He was 45 years old already so Thai directors also tried to introduce new younger actors such as เผ่าพันธ์ พรพิสิฐ. Four ruffians commit a deadly robbery and flee by speed boat. Subdistrict headman Seua (Sorapong Chatree) chases them and shoots them. Young lady Manao is aggressed by Sia Lek. The village leader, her father, chases him. Teacher Rataya is also aggressed by Sia Lek and his teammates. New deputy district office (ปลัดอำเภอ) Han (เผ่าพันธ์ พรพิสิฐ) is nominated in this area. Surapon is a local leader. Boats have to pay a regular fee to him in order to be able to run business. A new bridge is going to be built so Sia Surapon tries to make it failed as it will jeopardize his business. Most of the villagers have debt with Sia Surapon (อิธิพลคุม). Han and Seua join to get rid of Sia Surapon. Subdistrict headman Seua forbids such illegal business. As retaliation, ruffians try to shoot him at nighttime. Sia Lek tries again to aggress Manao and the teacher Rataya but luckily Han and Seua help. Cheut and Phi Chit (Pao Porapak) have debts to Sia Surapon linked to their parents, who lost their land title, as they couldn't read the paper they sign. Sia Surapon hires Cheut to bomb the bridge. About to press the detonator, Cheut refuses as the teacher Rataya and children are crossing the bridge. Fighting erupts between Cheut and Sia Surapon's ruffians so Cheut has to flee. Cheut shares information about Sia Surapon's dirty business with Han. Cheut is shot by Surapon's ruffians and Han is captured but he refuses to join Sia Surapon. Sia Lek captures the teacher Rataya and Manao. Subdistrict headman Seua is aware. Subdistrict headman Seua and the village leader storm the hangar. The village leader is shot. Subdistrict headman Seua releases Han and then the two ladies. Subdistrict headman Seua and Han then face Sia Surapon's ruffians. Heavy shootings occur. Ruffians are neutralized.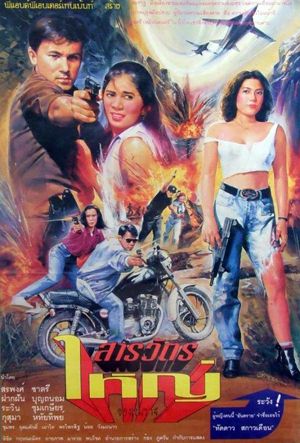 Year

: 1994



Thai title

:

สารวัตรใหญ่ ของเขมราฐ




English title

:



Rating

: 3/5


Director

: ก้อง ภูตวัน



Main actor

: Sorapong Chatree,Pao Porapak


Main actress

:
Thai movie สารวัตรใหญ่ ของเขมราฐ was released in year 1994 and lasts 1h17mn. Fighting scenes are played in accelerated motion. Actresses and actors include Sorapong Chatree, ระวิน ชุมเกษียร, เผ่าไท พรพิสิฐ, ระวิน ชุมเกษียร, ทัดดาว สกาวเดือน, ฝากฝัน บุญถนอม, Pao Porapak, กุสุมา หทัยทิพย์, ชุมพร อุดมศักดิ์, น้อย วังมะนาว. Movie director is ก้อง ภูตวัน. Police catch ruffians dealing with war weapons. Policemen, who caught ruffians, are then killed by hitmen. Police inspector Tak (เผ่าไท พรพิสิฐ) is killed. Village is waiting for a new Police inspector. Three ruffians attack a lady merchant and his brother. Luckily Sorapong, passing by, helps them. He is looking for a job and is recommended to policeman Jakinsak. Chinese big businessman Hong is looking to buy the school land from headmaster (ครู) Yai but Yai refuses. Hong is involved in many dirty businesses (drugs, gold smuggling...). Sorapong is the new Police inspector but he doesn't disclose his identity. Jakinsak (ระวิน ชุมเกษียร) is suspected to divulge information to ruffians so Sorapong has to investigate on him. Sorapong befriends with Jakinsak and his sister. Kanya (ทัดดาว สกาวเดือน), Chinese big businessman's daughter, is aggressed by two thugs working for her father but a young lad, called Sai and also working for her father, helps her. Later on, Sorapong helps Kanya as a thug steals her necklace. Sai betrays his regular associates and gives the drugs to Pao (Pao Porapak). Sorapong catches a thug selling drugs (ขายยา) and has to shoot him. Phi Eum is leading the ruffians' team and reports to Hong. Kanya proposes to Sorapong to work for her father Hong. Knowing that ruffians saw him, Sorapong declined the offer. Eum's team plans to burn the school but it fails. Pao buys gold and resells it to Hong. Phi Eum's men try to kill Sorapong (คนแปลกหน้า) but fail. Things turn worse when Eum kills Pao and Hong (เถ้าแก่) to steal the gold. Kanya is kidnapped. Sai tries to help but gets shot. Meanwhile Eum's ruffians shoot the headmaster Yai and kidnap Jakinsak's sister being a teacher. Alerted, Jakinsak and Sorapong follow ruffians and succeed to release the teacher. They force a ruffian to bring them to the ruffians' campement. Seeing Kanya being captured, Sorapong tries to release her but ruffians see him. Shooting occurs between ruffians and Thai police. Sorapong and Kanya are injured but they succeed in getting rid of Eum. It is disclosed that Sorapong is the new police inspector (สารวัตรใหญ่) and Sai is also a policeman.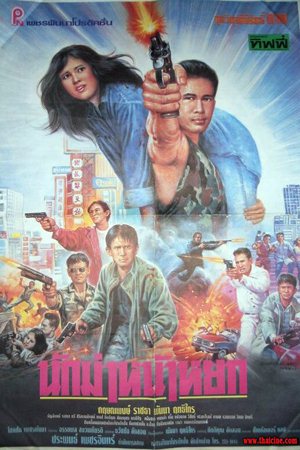 Year

: 1994



Thai title

:

นักฆ่าหน้าหยก




English title

:



Rating

: 3/5


Director

: ประพนธ์ เพชรอินทร์



Main actor

: Krissanapong Rachata,Panna Rittikrai,Jai Juntamooltree


Main actress

:
Thai movie นักฆ่าหน้าหยก was released in year 1994 and lasts 1h20mn. The movie was released under VCD format by APS company and under VHS format by CVD International company. Thai actors and actresses are Krissanapong Rachata, Panna Rittikrai, ธัญญลักษณ์, ทวี, เกมส์, คนึ่งชาย, เตี้ย. Movie director is ประพนธ์ เพชรอินทร์. Impossible mission soundtrack is used. A hitman on a motorbike kills a man. During normal time, the hitman, called Lit (Krissanapong Rachata), is working as an air conditioning repairman. He receives a new target to kill. He is working with a motorbike taxi driver. His boss Sang promises 200 000 THB. The new target is well protected. Lit wishes to stop and to live an ordinary life but he needs to spare money first. Kim, เตี่ย แจ่วบอง and Jai Juntamooltree are in the house of the new target. They are all killed. Somebody sees Lit and takes a picture. Some killers are then chasing Lit. Lit wants his money back from Sang. Sang worries that Thai police could find him if they catch Lit. A trick is prepared to get rid of Lit. Lit is injured and his friend, the motorbike taxi driver, is killed. Lit succeeds to flee and takes refuge in a short time hotel. He meets Om. She helps him as he is a nice guy. Ruffians are still looking for him. They go through the young girl Om, believed to be his girlfriend. As they have to flee, Lit explains his life background to Om. Om had a hardship life also. O, her brother, is disabled. Her parents are dead. Both of them have to do things they didn't want but had to do due to life circumstances. Lit and Om take refuge in the countryside, but ruffians find them. Lit neutralizes the hitman sent by Sang but spares his life. Unable to explain his failure to Sang, the hitman is shot by Panna, being a new hitman hired by Sang. Lit has no choice but to get rid of Sang. Sang promises him no money but death. Shooting happens. Sang and Lit and injured. Panna is shot dead. Before Thai police arrive, Lit gives the 200 000 THB to Om. Thai police arrest him, and it is time to pay for his bad deeds (ชดใช้กรรม).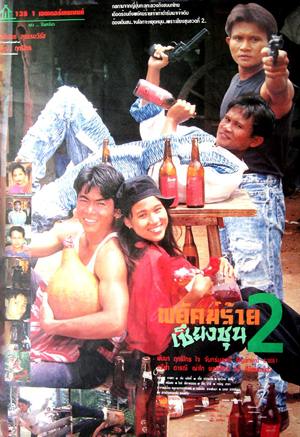 Year

: 1994



Thai title

:

พยัคฆ์ร้ายเชี่ยงชุน 2




English title

:



Rating

: 3/5


Director

: Panna Rittikrai



Main actor

: Krissanapong Rachata,Panna Rittikrai,Jai Juntamooltree,Tony Jaa


Main actress

:



Buy now

:

Thai movie พยัคฆ์ร้ายเชี่ยงชุน 2 was released in year 1994 and lasts 1h24mn. Multiple songs are featured. It was released under VCD format (Lepso company) and VHS format. Movie director is Panna Rittikrai. Santi (Panna Rittikrai) is playing a drunken fighter. Tony Jaa has a small role in this movie. Dao (ธัญลักษณ์ ราชธา), a young lady, is managing a small bar and has issues with the village leader's son (เตี่ย แจ่วบอง) always refusing to pay. Her boyfriend, Jai Juntamooltree, helps to push back the village leader's son and his acolytes. A businessman, visiting the village, promises a monthly salary of 100 000 THB in Japan for young ladies below 25 years old accepting to go there to work. Fa (ศรีฟ้า ดารณี) and Dao are interested. Santi is back to the village and punches the village leader's son harassing his younger brother Tia and Fa. Fa is considering the job as she needs money to cure her mother's eyes. Four ruffians, including Japanese leader and Krissanapong Rachata, arrive in the village to meet the village leader Kan (เผ่าไท พรพิสิฐ). They face issues with the villager leader's son, being a small nuisance, and Kim (กิม). Fighting occurs and the village leader Kan apologizes on behalf of his son. Panna and Jai fight following misunderstanding. The ruffians hire Fa and give 50,000 THB in advance to her father (เจริญ สาดา). Fa's friends ask her not to trust village leader Kan. His friends warn Jai as many girls end up in prostitution rings in Japan (ขายตัว). Tia decides to act and to stop the Japanese yakuza but he gets stabbed. Tia dies but warns the village leader before dying. Upset, Santi and other young men including Jai chase after ruffians before they can leave the village. Following multiple breathtaking chases and fights, Dao and Fa are released. Ruffians are killed.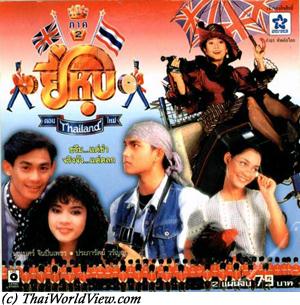 Year

: 1994



Thai title

:

มาดามยี่หุบ 2




English title

: Madam Yeehoob 2



Rating

: 3/5


Director

: Kumtorn Tubkunlai



Main actor

: Sor Asanajinda


Main actress

: Piyamas Monayakol
The full title is มาดามยี่หุบ ภาค 2 จากอังกฤษถึงประเทศไทย. Poo is Madam Yeehoob's daughter. They have been 18 years away from Thailand. They have arguments with Pittaya, young man, at the airport. In Yeehoob's Thai house, the maid is played by actress Nattanee Sitthisaman, who became famous thanks to บ้านผีปอบ movie serie. All visitors are afraid of her :) Pittaya is a young rich man. Somsri, a tour guid, is trying to seduce him but he only has interest in Poo. Meanwhile a photographer, called Teh, is looking for a new model. Somsri asks Teh to take compromising picture of Poo in Wat Po. Finally love quarreling happens as both Pittaya and Teh are fond of Poo. Madam Yeehoob buys a new car to visit her family in the countryside. When playing golf, Pittaya meets a countryside girl called Pla. He mistakes her as Poo as they have same face. Pla and Poo are twins (แฝด). The grandfather took care of Pla while Poo and Madam Yeehoo were in England. Madam Yeehoo wishes to send Pla to Bangkok to teach her modern life. Pla discovers hi-so life when she is invited for diner by Pittaya's father and she commits many funny breaches of etiquette. Meanwhile Poo shall learn countryside life and house chores. Many humorous scenes happen until Pittaya and Teh understood that there are two ladies so no need to be rivals. It is Kumtorn Tubkunlai's second movie based on twins. As usual his wife, Piyamas Monayakol, was playing in this movie.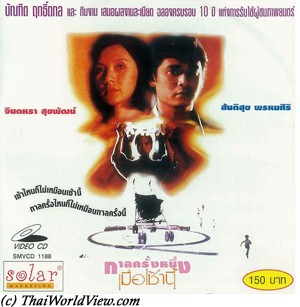 Year

: 1994



Thai title

:

กาลครั้งหนึ่ง เมื่อเช้านี้




English title

: Once upon a time... This morning



Rating

: 5/5


Director

: Bandit Ritthakol



Main actor

: Santisuk Promsiri,Charlie Trairattana


Main actress

: Jintara Sookkapat



Buy now

:

Nipha and Rong have three children, i.e. a teenage girl (Oh), a seven years old boy (Onn) and a young baby. They move to a new home but rapidly the children understand that they move with the mother and that their father is staying behind. Nipha and Rong are divorcing. The children are not happy to leave the father. The movie shows the divorce seen from the children's point of view and its impact on children. The children react badly when a new man tries to seduce their mother (ชู้). Nipha tries to eliminate all traces from their father's influence (games...). She has a busy schedule and uses a nursery to keep the baby. Oh and Onn decide to flee in order to live with the father. Meanwhile some young drug dealers chased by the police hide some drugs inside the baby cradle. Oh, unaware, takes the baby with the drug inside the cradle. They reach the father's home but he is not living there anymore. He has moved to Chiang Mai. Some homeless teens are used as drug traffickers by the local mafia. The teens need to get the drug back as the mafia head is very unhappy. Noklae is the teen group leader. Oh, Onn and the baby take the train to Chiang Mai. They alert their father through pager message (no mobile phone in 1994!). The mafia follows up also to Chiang Mai as one of the teen, Noklae, recognizes the cradle in Hualongpong train station. They miss each other at Lopburi. Next stop is at Lampang. Nipha drives up to Lampang and Rong also. Finally at Lampang, the mafia kidnaps the three kids to get back the drug. Nipha and Rong cannot prevent the kidnaping in time. The drug is destroyed as the baby had peeed on it. The mafia decides to sell Oh, the thirteen years girl, 30 000 baht to a whorehouse and to sell the baby to an illegal adoption centre in order to get back their initial drug investment. They abandon Onn as they have no interest in him. They also throw away Noklae as he was trying to protect Oh. All are back in Bangkok. The mamasan tries to force Oh and wishes to be called mother (แม่) but she only gets called witch (แม่มด). Noklae is taking care of Onn and decides to help Oh. Oh succeed to flee thanks to Noklae's help. They also succeed to get the baby back also but are finally captured by the mafia. To fend a customer, Oh has to cause a fire in the whorehouse. Noklae's friends inform Rong. The mafia and whorehouse members are arrested by the police. Nipha, Rong and the three children are reunited as a family. Noklae is put in a correction centre but finally escapes hopefully for a better life. This movie was 1995 Thailand oscar submission.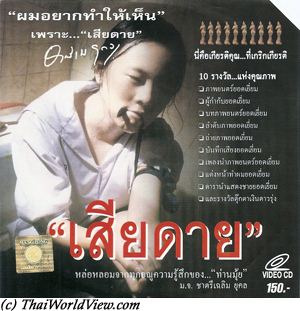 Year

: 1994



Thai title

:

เสียดาย




English title

: Sia Dai 1



Rating

: 4/5


Director

: ChatriChalerm Yukol



Main actor

: Sorapong Chatree,Krailat Kriengkrai


Main actress

: Sinaporn Philailak
The movie title means "What a pity!". It shows the useless life of teenagers, who are addicted. Most of them come from problematic families. They start sniffing glue, then switch to heroin. Some girls are even selling their body to get money to buy drugs. Some die due to overdose. Whith their parents' help and not rejection, they can hope to go back to a standard life. This movie got 10 distinctions at Thai awards. Sia Dai 1 (about urban teenagers and drug abuse) earned more than 50 million baht, while Sia Dai 2 (about Aids and discrimination) brought in less than 10 million baht.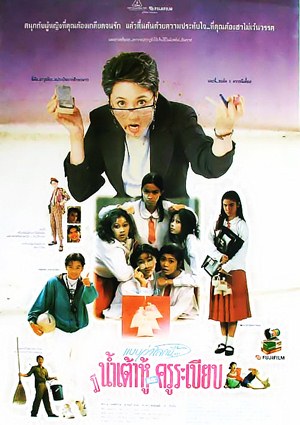 Year

: 1994



Thai title

:

แบบว่าโลกนี้มีแต่น้ำเต้าหู้กับครูระเบียบ




English title

:



Rating

: 2/5


Director

:



Main actor

: Sornram Teppitak


Main actress

: Suvanant Kongying,Duangta Tungkamanee
Thai teen movie แบบว่าโลกนี้มีแต่น้ำเต้าหู้กับครูระเบียบ was released in year 1994 and lasts 1h35mn. It was released under VCD format by Premium Digital company and by Lepso company. Second part was released in year 1996 with a shorter name น้ำเต้าหู้และครูระเบียบ 2. Sally (Suvanant Kongying - สุวนันท์ ปุณณกันต์), as new student (เด็กใหม่), moves to a new school from Suphanburi to Bangkok. She has now a few new friends (เพื่อนกัน) including Pot and Pom, a fat girl, but a teen girl called Honey looks her down (เด็กบ้านนอก). Severe rules by teacher Rabiep (Duangta Tungkamanee - ดวงตา ตุงคะมณี) are applied in the new school. Kan (Sornram Teppitak - ศรราม เทพพิทักษ์) is a volleyball team leader. All girls (นักเรียนหญิง) are crazy about him as he is seen as the school hero. Teacher Rabiep chases students smoking, students having romance instead of studying, male students reading secretly Playboy magazine in the school. There is a concierge always thinking to save water (ประหยัดน้ำ). As there is a sexist aggressor around the school, Sally and her friends put a plan in place to catch him and humiliate him. A special program is launched by the school following an idea of Sally. Students have to do activities outside the school. Those activities are useful for Thai society harmony such as cleaning Buddhist temple. Sally emphasizes that prayers to Buddha are important in Thai society balance. Kan convinces teacher Rabiep to have a feminine volleyball team. Teacher Rabiep is reluctant as she doesn't want the ladies to deviate from studies but she finally accepts. Wan, another popular boy, and Kan have arguments. Honey keeps trying to seduce Kan. Wan is a gay character (ตุ๊ด), so he finally ends up in love with Kan. Such teen movie uses all standard cliches. The girls join the volleyball team. Somebody steals their bras. A crazy man (โรคจิต) follows them. They suspect a policeman and then the school concierge. It is finally the school guardian. Romance starts between Kan and Sally. They have to win as teacher Rabiep is under strong pressure from her management. As Honey is jealous, she pretends having seen Kan kissing Sally. Concerned about the school's reputation, the school director wishes to stop the team. As teacher Rabiep refuses, she dismisses. The team finally wins the competition and teacher Rabiep is reintegrated in the school. She is like a mother for the students.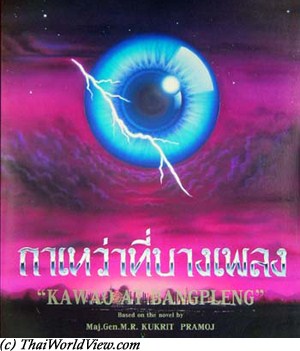 Year

: 1994



Thai title

:

กาเหว่าที่บางเพลง




English title

: Kawao at Bangpleng



Rating

: 5/5


Director

:



Main actor

:


Main actress

:
Loi kratong festival is happening in a village close to Sukothai on a full moon night. Everybody is making wishes (get a baby, get married after two years of work in Bangkok...). Even the Buddhist novices wish to join the festive mood. Suddenly a huge mysterious UFO appears. People are paralyzed. A strong beam hits people. The UFO disappears and nobody can remember anything. On the following day, many women including teen girls, grannies, nuns vomit and are diagnosed as being pregnant! So all the 200 women of the village are pregnant simultaneously. The temple abbot knows that the phenomena is not natural but has no explanations. A doctor and a teacher investigate. One night, a mysterious beam hit the women again. On the following day, they deliver their baby after a few months of pregnancy only. The children grow fast. After one year, they look like four years old children. They are also more intelligent. They then all go to school. After 2 months, the first year program is already finished. Their behavior is different from other Thai children. They don't play childish games and always look in the direction of the moon. The children born from the nuns want to stay in the Buddhist temple and are the leaders of the group. They become teens very fast. One night, one teacher finds the children eating raw chicken. On the following day he is found hanged. On the funeral day, everybody is crying except them. They have no feeling, no consciousness of cold, heat, rain. Their leader challenges the abbot on Buddhist precepts and beliefs. A second man looking for frogs during rain time is found dead. Police inspector authority gets challenged by the children group. Their leader can hypnotize people. The children are responsible of cows and porks disappearance in the village. A dreadful cemetery is found with all skulls. They have a plan to invade the planet Earth. One of the children has more human feelings than his colleagues. He convinced the others to help stop a flooding. Following huge telepathic efforts, some of the children start to be very sick and are sent to hospital. Some of them die. The group leader sees the parents grievance and the efforts done by the villagers to save the children. He also understands that this world of birth, suffering, death is the reality as mentioned by the abbot. The UFO is finally taking them away. It is based on a book written by Kukrit Pramoj. There were a controversy about plagiarism when it was released as a similar movie adapted from the book The Midwich Cuckoos(1957). This movie can be seen as the teenage confrontation with society, as a fight between 2500 years Budding teachings and modern concepts from outside.
---