Increase or decrease font size for easier reading : A+ A-
Year 1993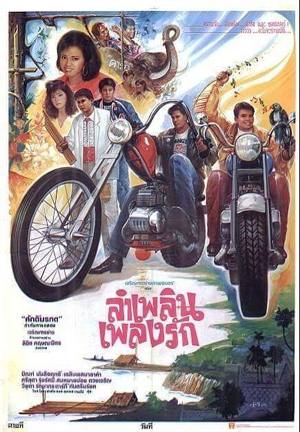 Year

: 1993



Thai title

:

ลำเพลินเพลงรัก




English title

:



Rating

: 2/5


Director

:



Main actor

: Bin Banleurit,White Padungkan


Main actress

:



Buy now

:

Thai movie ลำเพลินเพลงรัก was released in year 1993 and lasts around 1h19mn. It is a musical movie featuring six Isan molam songs (หมอลำ), i.e. music from northeastern Thailand. Jean-Michel Jarre music is also used as background music! Movie director is ศักดิ์มรกต. A village leader (ผู้ใหญ่) is upset as local young lad (singer เฉลิมพล มาลาคำ) is trying to seduce his daughter Chaba through molam songs. Bangkokian guys, White (White Padungkan) and Yai, try to seduce young lady Pim. White and Yai try also to seduce the daughter of village leader Chaba by offering expensive gifts to the father. Other villagers are upset by their behaviour (หนุ่มกรุงเทพ) so they ask a clarification to Chaba and her father. Meanwhile some artisans (including Chang Ek - Bin Banleurit) from Bangkok are coming to the village to perform some work. Kong, on behalf of Chang Ek, sends flowers to Pim. Kong is lying as he is not brave enough to declare his love, but he puts Chang Ek in an awkward situation towards Pim. The Isan local lads also buy a chopper to be at same level as the Bangkok guys. White takes profit of the village leader's credulity and proposes to bring Chaba to the village by riding his chopper. He in fact kidnaps her. Pim, seeing Chaba and White together, is puzzled and also captured. All realize that Chaba has been kidnapped. Chang Ek arrives the first and fighting occurs to release Chaba and Pim. The movie ends up with Chang Ek daring declaring his love to Pim. This movie is an Isan grade B movie featuring a simple scenario and nice molam songs, comic sequences, romance and a bit of action. Such kind of grade B movie was probably never released in Bangkok theaters and only targeted Isan audience.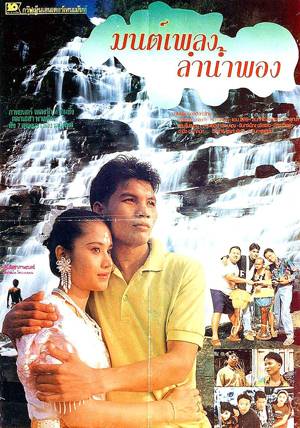 Year

: 1993



Thai title

:

มนต์เพลงลำน้ำพอง




English title

:



Rating

: 3/5


Director

:



Main actor

: Somsak Chaisongkram,Mum Jokmok


Main actress

:



Buy now

:

Thai movie มนต์เพลงลำน้ำพอง was released in year 1993 and lasts 1h32mn. This musical movie features seven Isan songs. It was released under VCD format. Movie director is จรินทร์ พรหมรังสี. Molam singer Boonmee (เฉลิมพล มาลาคำ) is heartbroken. His friends including Mum Jokmok try to help him. Boonmee loves Pat, daughter of the village leader but the father doesn't want a poor son in law. Surasak (Somsak Chaisongkram) is running out of money so he tries to befriend with the rich village leader in order to marry his daughter Pat. Seeing Pat close to Boonmee, he tries to break the relationship. He sends ruffians to hit and to threaten Boonmee and his friends. It is a lesson (รู้จักที่ไหนต่ำที่ไหนสูง). A fake letter received by Boonmee is leading to misunderstanding with Pat. Pat is upset as Surasak is even older than her own father! Boonmee's mother, following his son's plea, requests the village leader daughter's hand. He refuses (ดูถูกคนจน) and asks for dowry of 500 000 THB. Meanwhile Pat refuses to marry Surasak. To force her lightly, her father invents a 500 000 THB gambling debt towards Surasak. Pat has to accept to save her father's honor. Meanwhile Surasak's girlfriend, being pregnant, arrives to the wedding. The wedding is cancelled and Pat runs to find Boonmee. He promises to love Pat in front of river ลำน้ำพอง.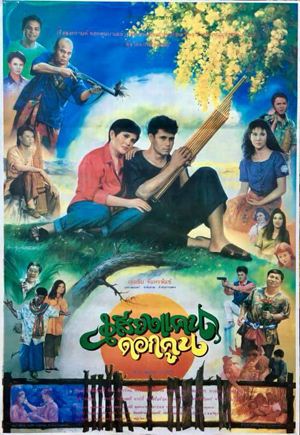 Year

: 1993



Thai title

:

เสียงแคนดอกคูน




English title

:



Rating

: 3/5


Director

: เด่นชัย จันทรพันธ์



Main actor

: Bin Banleurit,White Padungkan


Main actress

: Thida Thidarat,Siriporn Ampaipong
Thai movie เสียงแคนดอกคูน was released in year 1993 and lasts 1h25mn. It was released under VHS and VCD format. Movie director is เด่นชัย จันทรพันธ์. Thai actors and actresses include Bin Banleurit, Thida Thidarat, ศิริพร อำไพพงษ์ (famous Molam singer Siriporn Ampaipong), ลุงแนบ สนธิ สมมาตร, ดวงสุดา จันทร์สุข, วุฒิ วรชัย, ไกรสร เรืองศรี, ดาร์กี้ กันตรึมร็อก, ดวงใจ เพชรสุรินทร์, จ่าโทน คนโก้, ศิริประภา สุขสมวัฒน์, แอ้น สุขทอง, ภคินี สุนทรนาค, Mr Dan Olsen, พล โชกุน, White Padungkan, แรมโบ้ เทืองช้าง, แต้ม ตุกติก, เทพอรุณ, สัญญลักษณ์ ดอนศรี, เจิด ทานตะวัน, ศิลปินเกียรติยศ ส.ส.วิฑูรย์ วงษ์ไกร, ดารารับเชิญ สาววารินทร์, หนุ่มสยาม, หนุ่มโคราช. Movie director is เด่นชัย จันทรพันธ์. It is a musical movie with molam songs. It was a famous movie in the Isan area as multiple famous Isan people are playing. The movie features 9 songs. Movie advisors were Payoong Payakul and Surasee Phatham. The movie features beautiful views on Mekong river. In Isan village, Mr Dan Olsen, a foreigner, comes to visit uncle Khaen to buy reed-mouth organs (แคน), a musical instrument popular in Northeastern Thailand (สิละปินของประชาชน). Dokkhun (Tida) is uncle Khaen's daughter. Raining season is coming soon. Siriporn is going home. Bin (Bin Banleurit)(หมอแคน) is joining her also. A Songkran trip to another province is organized so Bin meets Dokkhun. Siriporn secretly loves Bin, who is younger than her. Uncle Khaen loves Siriporn, while Bin likes Dokkhun. So love stories are complicated. Another seller Athon tries to steal the business from uncle Khaen claiming his instruments are better. The instrument is not that important as the instrument player is the key. The village leader wishes to organize a reed-mouth organ contest to attract tourists. The foreigner's assistant loves Pan, Athon's daughter, so Athon plays on this to increase business chances. A villager, called Kraison, also secretly loves Pan. Bin has respect for Siriporn (ผู้ใหญ่ที่นับถือ) but no love. Dokkhun starts to appreciate Bin. Uncle Khaen is overprotective of his daughter. Bin thinks about going back to Nakhon Phanom as he cannot love Dokkhun due to her overprotective father shooting anybody coming close to his daughter. Siriporn is now aware of this love. Musician (หมอแคน) Kraison is leaving. Athon prefers a son-in-law being a salesman instead of a musician. Most of the romances are failing. As uncle Kaen has no musician to represent him for the contest, he has no choice but to consider Bin. Kraison declares his love to Pan. White Padungkan beats him but hopefully Bin passes by and helps him. The father promises his daughter Dokkhun if Bin wins (แคนจะดีต้องมีคนเป้าที่มีคุณภาพ). Bin wins the contest and Dokkhun's love.



Year

: 1993



Thai title

:

ท่านขุนน้อยน้อย แห่งสยาม




English title

: The Little Lord of Siam



Rating

: 4/5


Director

: Somdet Suntipracha



Main actor

: Saranyu Wongkrachang,Sor Asanajinda,Sithao Petcharoen


Main actress

:
A couple with 4 children (Lek, Klang, Yai) move to a new but old house that has a long history (บ้านความรัก). The old house (โบราณ) even belongs to some nobility Thai members during last century. Saran (Saranyu Wongkrachang) believes the house talks to him through an old uncle (Sithao Petcharoen) and through some dreams with old images. Some promoters want to buy the house to build a village centre. But Saran doesn't want to sell despite rumours of ghosts (ผี) and strange events. Some burglars looking for old artifacts leave the house in fear having seen a ghost. The father makes restoration work on the house (บ้านเรา). Ruffians are recruited to try any ways to have the family quit and sell the old house. A small children ghost spirit called Sin (ลูกของพระยา) helps to chase robbers away. He is the one displayed on an old picture. Only Lek can see him. His spirit (วิญญาณ) was stored inside the picture. Halloween is shown as a new tradition entering Thailand. Teen children want their father to hire a traditional healer (หมอผี), played by veteran actor Sor Asanajinda, to chase ghosts (บ้านมีผี). The father hesitates. The company offers to buy back the house ten times the initial price. Tension happens between the wife Chit and her husband. The wife believes her son is getting crazy as he is talking alone. Sin considers himself as as another child of Saran. Following Lek's plea, the traditional healer accepts to stop torturing the little ghost and explain to Lek how to use monks in order to release Khun Noi from Rama V period. Finally Noi leaves them in order to rebirth and stability is coming back inside the family. The Little Lord of Siam (ท่านขุนน้อยน้อย แห่งสยาม) was directed by Somdet Suntipracha, who is a member of Thai aristocracy. This movie reminds of other Thai movies such as "Tawipop" (ทวิภพ) or "House of the Peacock" (เรือนมยุรา) by director Cherd Songsri with a focus on protection of traditional disappearing heritage items or values.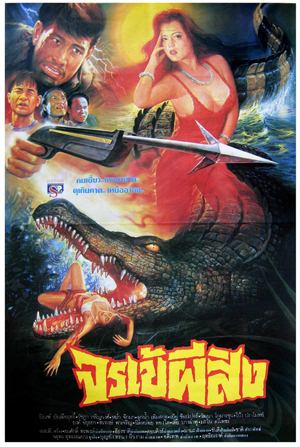 Year

: 1993



Thai title

:

จระเข้ผีสิง




English title

:



Rating

: 2/5


Director

:



Main actor

: Bin Banleurit,Mum Jokmok


Main actress

:
Thai movie จระเข้ผีสิง was released in year 1993 and lasts 1h24mn. It is available under VCD format released by company Lepso (1h24mn) and Yod Maa Nud Ltd (1h07mn so one VCD disc only but the image is colorful and sharp). It is typical Thai horror movie from decade 1990s featuring scary / comic sequences and targeted for provincial audience. Fx are poor due to small budget. The original 35mm movie picture in 16:9 format is cut on each side to fit TV 4:3 format. An old man called Lek is killed by a crocodile while trying to fish at nighttime. Young beautiful lady Chaoba (แม่คนสวย) is harassed by three villagers but she gets rid of them. Chook (Bin Banleurit) writes a love letter to Chaoba but he is using old style. He is planning to ask her hand to her parents. While Chaoba is bathing in the river, she is attacked by the crocodile. Chook meets Chaoba's father Prachot (Mum Jokmok) but she has disappeared. Chook believes Chaoba rejects his request for wedding. Local village headman (พี่ผู้ใหญ่) is requested for help. He decides to consult a local master (อาจารย์). The master identifies that Chaoba is dead and that a danger in the river is threatening the whole village. Meanwhile villagers organise a boat race. The crocodile (ไอ้เข้) disrupts the race. Chook has serious arguments with some villagers led by Chat. Chat is claiming Chook just loses the race and invents the crocodile story as a pretext. So a fighting occurs. The master requests three days to prepare special weapon to kill the crocodile. Chook is not willing to wait and wishes to kill the crocodile by himself. During a dream, Chaoba ghost is back and tells Chook to beware some villagers wishing to kill him. Chaoba's spirit (วิญญาณ) helps to chase away ruffians trying to kill Chook. The master tries to neutralize the crocodile, which rejects Chaoba from his body. Chook has to put a sacred thread around her neck. The spirit is captured into a earthen pot. This part reminds of movie Mae Nak Pra Khanong (แม่นาคพระโขนง). The master gives holy weapons to Chook and his friends to get rid of the crocodile. The crocodile is defeated but the master also dies being killed by the crocodile spirit.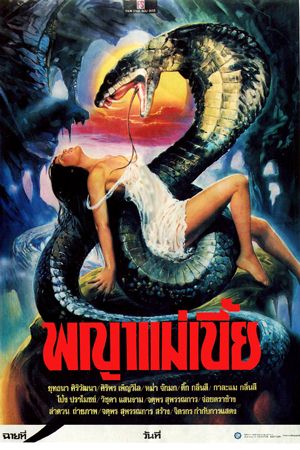 Year

: 1993



Thai title

:

พญาแม่เบี้ย




English title

:



Rating

: 2/5


Director

: จิตรกร



Main actor

: Mum Jokmok


Main actress

:



Buy now

:

Thai movie พญาแม่เบี้ย was released in year 1993 and last 1h25mn. It was released under VCD format by company Rose. Mae Bia (แม่เบี้ย) is a snake spirit protecting a woman. Three "Mae Bia" movies were released in 1989, 2001 and 2015. Phaya is a high-ranking title for nobility. So title พญาแม่เบี้ย highlights a powerful snake spirit. This B-movie may have surfed on the success of the 1989 movie version or the 1991 TV serie version by using a similar title, but it has a small budget. Many years after, such movies were released again in VCD format and highlighting the presence of famous comic actor Mum Jokmok despite he had only a second role. Thai actors and actresses featured are ยุทธนา ศิริวัฒนา, ศิริพร เพ็ญวิไล, Mum Jokmok, ติ๊ก กลิ่นสี, กาละแม กลิ่นสี, โป้ง ปราโมทย์, วิชุดา แสนงาม, จตุพร สุพรรณการ, จ่อยตราช้าง. Movie director is จิตรกร. The movie is a mix of comedy and horror. A few villagers including Mum Jokmok are trying to catch snakes. It turns badly as one of them is bitten by a snake and dies. The local shaman suspects a snake spirit (งูผีพญาแม่เบี้ย). Lamyong finds a big snake in her garden. She takes care of it and feeds it. The local village leader visits Lamyong but she is not interested in him. Being upset, the villager leader wants to force Lamyong to be her wife (เป็นเมียให้ได้). Hopefully the snake is protecting Lamyong. While Mum Jokmok and another villager peek at Lamyong taking a bath, the snake makes them flee. Mum Jokmok discloses there is a snake spirit in Lamyong's house, so villagers are now afraid of her. Young man Sadipap (ยุทธนา ศิริวัฒนา), a crocodile farm owner, is blamed by Chaba, Lamyong's sister, despite he is not responsible to spread rumours. Young lady Somsree arrives in the city but she cannot find any taxi so Sadipap agrees to send her back home. She is the local village leader's younger sister. Somsree is fond of Sadipap and is very enterprising. Is it love or desire? Sadipap is not sure. Lamyong's father wishes to donate to the local Buddhist temple. The monk asks the father what is going on in his house as villagers try to avoid him. Taking profit that Lamyong is alone, the village leader visits her and declares his love. As she refuses and pushes him back (ไม่เล่นตัว), he tries to abuse her, but she fights back. The snake finally saves her. Seeing the bad guys leaving, Sadipap comes to rescue Lamyong. Lamyong asks the snake not to harm Sadipap as he comes to help her. Somsree is jealous that Sadipap loves Lamyong and complains she is now his wife. She reports to her brother and asks him to prevent this love. The village leader uses poison to kill a poor lad to accuse Lamyong and her snake. The village leader asks the local shaman (หมอ) to get rid of the snake spirit but it fails. He tries again to convince Lamyong to stop seeing Sadipap but she refuses. Somsree asks Sadipap to stop seeing Lamyong (แม่มด) but Sadipap chases her away as he suspects her brother to have killed the poor lad. The ruffians kidnap Lamyong. The snake guides Sadipap and his friends to the place where Lamyong is held captive. Police arrive also. Somsree becomes crazy due to her fear of snakes. The village leader is bitten by a snake and Lamyong is released.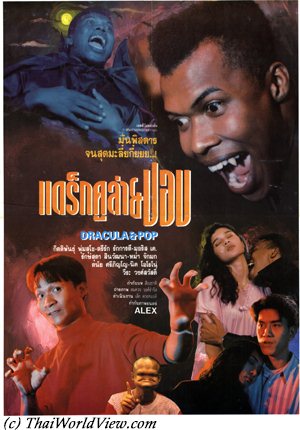 Year

: 1993



Thai title

:

แดร็กคูล่า&ปอบ




English title

: Dracula&Pop



Rating

: 2/5


Director

:



Main actor

: Mum Jokmok,Morris K


Main actress

: Trirak Rakkarndee
Thai movie แดร็กคูล่า&ปอบ / Dracula&Pop was released in year 1993 and lasts 1h20mn. It was released under VHS format and also under VCD format by Lepso. The movie is shorter than usual. Maybe some parts have been cut or censored. It is a horror comedy movie. Policeman Wut (กิตติพันธ์ พุ่มสุโข) is Kate's boyfriend (Trirak Rakkarndee). Kate's father is a doctor. The doctor imports a big box from overseas. Inside there is Dracula. As Thai Police is checking details, the box has to be thrown away. At nightime, Dracula (มอริส เค - Morris K) exits from the box looking for blood. ผีปอบ - Pop (Mum Jokmok) is also hanging around looking for blood and fresh intestines. Dracula from overseas meets Dracula Thailand, i.e. ผีปอบ! Both are vampires (ผีดิบ) but having different culture and different ways of getting blood. They work together to find fresh blood (ดูด). Police is investigating regarding the bodies found after their rampage. Dracula wishes to drink the blood of young lady Chaba (รักษ์สุดา สินวัฒนา) but Pop asks him not to kill her as she is his friend's daughter. Following Dracula's bite, she becomes a vampire also. Dracula uses her to attract men to suck their blood. Wut's police colleagues play comic roles being afraid of ghosts. Police chases the vampires. Wut wants to use Kate to attract the vampire. The plan works as Dracula notices Kate in a discotheque. It starts failing when Wut loses track of Kate as she gets hypnotized by Dracula… Finally, Dracula is captured but Wut's police colleagues, by having too naive, let him flee so he can reunite again with Pop.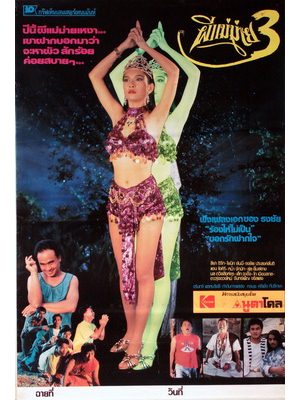 Year

: 1993



Thai title

:

ผีแม่ม้าย 3




English title

:



Rating

: 3/5


Director

: จรินทร์ พรหมรังสี



Main actor

: Tongchai Prasongsanti,Mum Jokmok


Main actress

: Lisa Tiruk



Buy now

:

Thai movie ผีแม่ม้าย 3 was released in year 1993 and lasts 1h38mn. It was released under VHS format and VCD format. Two songs are featured. Movie director is จรินทร์ พรหมรังสี. Thai actresses include ลิซ่า ธิรัก and แอน โอศิริ. Tan Tao and Mida love each other but the elder sister, Queen of the kingdom, rejects this love. An earthquake happens. They all die but the Queen curses her younger sister accusing her to be responsible for the city's demise due to her incorrect behavior. Back to modern times, two men in an Isaan village die due to a widow spirit (ผีแม่ม้าย). Boon Leua (Tongchai Prasongsanti) is concerned. The local spirit doctor (หมอผี) warn villagers. The news reached Tai Tan (Mum Jokmok) in Bangkok. Boon Leua has to wear ladies' clothes in order that widow spirits ignore him. At nighttime, the widow spirits are back to catch men. Despite Boon Leua wearing women's clothes, the widow spirits recognize him as a man and try to catch him. He succeeds to flee. Men cause her kingdom to disappear, so the Queen takes vengeance over all men. All men's souls (วิญญาณ) are tortured. Boon Leua wishes to marry young lady Pen. Yotin is a doctor from Bangkok and he doesn't believe in widow spirits. For him, deaths are natural. Boon Leua is jealous as Pen is showing interest in Yotin. Tai Tan is back in the village. He also refuses to believe but finally meets widow spirits in the forest. Typical comic chase sequences happen as people try avoiding ghosts, but they finally get caught! The four friends are condemned to be tortured by the widow spirits Queen. They flee so the Queen sends all her girls to chase them. They get help from Mida, who promises to send back their souls on the next day before their corpses are cremated. Five corpses (ศพ), including the village leader, are about to be cremated. Yoti recognises he was wrong and wishes to ordain to give them good deeds. They are back on time before the cremation (เข้าราง). Yotin, being Tan Tao in a previous life, and Mida (นางทรยศ) recognize each other. The Queen tries to break this love again, but it fails. Villagers use big lingams (ลิงค์) to chase away the widow spirits. Pen knows she has no more chance with Yotin so Boon Leua reiterates his love to Pen and succeeds.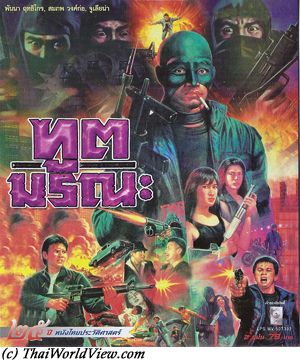 Year

: 1993



Thai title

:

ฑูตมรณะ มันส์เต็มพิกัด




English title

:



Rating

: 3/5


Director

: Panna Rittikrai



Main actor

: Panna Rittikrai,Krissanapong Rachata,Sompop Wong Ko


Main actress

:



Buy now

:

Thai movie ฑูตมรณะ มันส์เต็มพิกัด was released in year 1993 and lasts 1h18mn. It was released on VCD by Lepso (1h19mn) and of course on 35mm film (1h18mn). A man gives instruction to a hitman (มือปืน) by leaving a paper in a jar in a disaffected building. The hitman, wearing a mask, kills a few people in a house. Despite being busy with his girlfriend, Sia (เสี่ย) Manit has to meet Arun. Sia Manit uses Arun (Sompop Wong Ko) to convince villagers to sell their land as he plans to resell it to Japanese investors planning to build factories. Arun uses the local village leader (ผู้ใหญ่) to convince villagers. Each time, another buyer called Kamnoon had proposed more money than Arun, i.e. 150 000 baht for one rai so Arun is very upset. Some villagers such as Thaem (Panna Rittikrai) are not interested to sell (ไม่ขาย). Normally the land is only 40 000 baht per rai so there is certainly a hidden plan behind this offer. Sia Manit agrees to increase the price to 200 000 baht per rai. He calls his favorite hitman, i.e. his own girlfriend, for help also. Meanwhile Arun gathers his men including Jackie (Krissanapong Rachata). Arun sends his men to give a lesson to Kamnoon and to ask him to stop trying to buy the land. As a revenge, Kamnoon hires his usual masked hitman. Thaem and his friend Kon are facing Arun's ruffians but push them back. Kamnon's hitman starts to kill a few men linked to Arun. Sia Manit is very upset as Arun and his team always fail. Kamnoon proposes a deal to Sia Manit to share benefits but Sia Manit plans to trick him. Kamnoon asks his hitman to get rid of Sia Manit and Arun. Kot is killed. Sia Manit, his girlfriend, Kamnoon end up in the disaffected building and shoot at each other. The masked hitman intervenes and is in fact Arun! He shots Sia Manit, his girlfriend and Kamnoon hoping to get the whole deal for him. Thaem has called the Thai police. Refusing to surrender to Police, Arun gets shot. Such movie is precursor of Ong Bak movies with Tony Jaa. Panna Rittikrai is former B grade movies maestro and stunt choreographer of Ong-Bak. A Thai TV serie on Channel 7 with same title "ทูตมรณะ" was released in 1990 with Sorapong Chatree, Sombat Methanee, Rith Luecha, Suchao Pongwilai and Jarunee Sooksawad.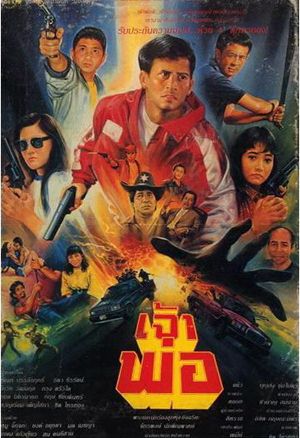 Year

: 1993



Thai title

:

เจ้าพ่อ




English title

:



Rating

: 2/5


Director

:



Main actor

: Bin Banleurit,Kowit Wattanakul,Krung Srivilai


Main actress

: Thida Thidarat
Subdistrict headman (กำนัน) Chom and businessman Anoon are in trouble as the former local head of the police is replaced by an incorruptible new police inspector (สารวัตร) Cheutchai (Bin Banleurit). Chom's business is disrupted by this new police inspector, who shot some robbers (ปล้นตลาด). Thuan and Wet (Kowit Wattanakul) are local villagers facing Chom and its thugs led by Chat. Chom is coming from Phetburi and has an alliance with Chot (Krung Srivilai), his counterpart in Chonburi province. Both subdistricts headmen are also local godfathers (เจ้าพ่อ). Noot and Raem are the daughters of subdistrict headman Chot. Romance and nice songs are happening between them and Wet / Thuan. Chom uses bad influence (อิทธิพล) to buy land and houses through coercion. Chom wants to force Thuan to sell his land but he refuses. Cheutchai helps him on time to exit a difficult situation as Chat and his men were beating him. Sairong, Thuan's sister, asks for the police inspector's help (ศัตรูกัน). Businessman Anoon often meets Chom and Ming (ผู้ใหญ่). Anoon needs to stop business with Ming as his ruffians hurt his own daughter, Tanya (Thida Thidarat), while trying to kill Cheutchai. Chom and Ming recruit hitmen to get rid of Cheutchai but it fails. Tanya and her friend Sairong are kidnapped by Chom's team led by Chat. Cheutchai is also captured while going to Chom's house to know the truth about Tanya whereabouts. Thuan and Wet then attack the house. Following various fightings and shootings, all ruffians and corrupted subdistricts headmen are killed. As usual 16:9 movie put in VCD format cut the movie edges leaving a weird feeling sometimes when watching the film.



Year

: 1993



Thai title

:

อสูรกาย คนไม่ใช่คน




English title

:



Rating

: 2/5


Director

:



Main actor

: Panna Rittikrai,Krissanapong Rachata,Sompop Wong Ko,Kim


Main actress

:
Thai movie อสูรกาย คนไม่ใช่คน was released in year 1993 and lasts 1h22mn. It was released under VHS format. Kam and Panna Rittikrai are both novices (ลูกศิษ) of deceased master (อาจานร์). Panna and Kam have a fight as Kam claims Panna and the master were always unfair to him. Kam is defeated and flees. He is helped by an uncle and his daughter. He claims to have been attacked by robbers (โจรป่า) to get pity from them. The uncle provides him a methodology to become invincible, but he needs to spend one year in meditation. Meanwhile a group of friends including Krissanapong Rachata decides to spend good time in Loei area. Krissanapong meets there his uncle (Sompop Wong Ko). They cannot enter in the forest as it is deemed as a dangerous place. Finally, they convince the village leader (นายเจริญ สาดา) to let them go there. They are doing camping in the forest. They face another group led by Kim (กิม) trying to rob them. There is extensive comedy part in this action movie. The father is killed as Kam wakes up one year later after meditation. He has become an invincible monster with a green face. Her daughter wishes to revenge. Fighting occurs with the robbers. A few friends and robbers are killed by the monster (ผีดิบ). As they cannot defeat him, the first advice is to flee (หนีไป! Finally, they unite together to defeat the monster (ตัวปิศาส) but it fails. Panna comes back and brainstorms with the lady to find a solution. Krissanapong reuses the same herbal plants to become invincible and be able to fight again the green monster. He finally succeeds to defeat him.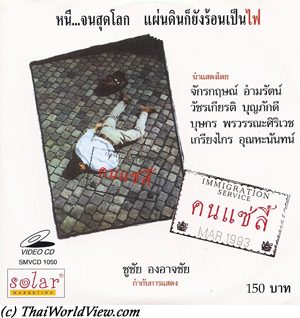 Year

: 1993



Thai title

:

คนแซ่ลี้




English title

: Immigration service



Rating

: 3/5


Director

:



Main actor

: Kriengkrai Unhanan


Main actress

:
Jack refuses to be a scapegoat and to be involved in a big corruption scheme managed by his boss. As a killer is trying to get rid of him, he has to flee in Switzerland. There he meets another Thai man, who has fled for similar issue. They wish to fight against the corrupted Thai society but there are too many people in the system and the numbers keep increasing. They alone cannot possibly change anything when the majority still sticks to the old system. A hitman finds Jack back in Switzerland. A young woman, who in fact Jack's boss daughter, is helping him. Is she truly helping Jack or protecting her father? This movie grabs 10 awards.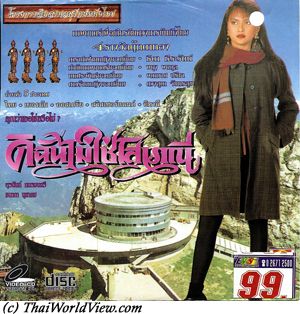 Year

: 1993



Thai title

:

ดิฉันไม่ใช่โสเภณี




English title

:



Rating

: 3/5


Director

: Payoong Payakul



Main actor

: Yuranan PamornMontri


Main actress

: Thida Thidarat



Buy now

:

It is about a young Thai lady leaving her country and going to Germany in order to find a husband through a wedding agency. It shows the harsh life of those ladies dreaming of a prince, the abuse of such wedding agency, the bad behavior of those foreigners wishing to "try" their wives before any wedding. This movie has got four Thai awards and was shot in five countries, i.e. Thailand, Germany, Italy, Switzerland and Austria. Thida Thidarat got the best actress award for this movie.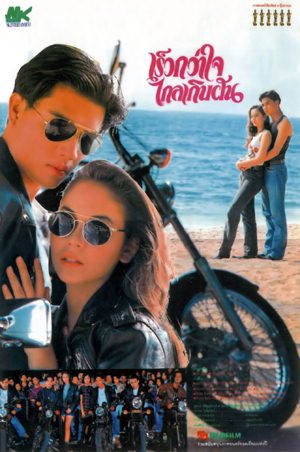 Year

: 1993



Thai title

:

เร็วกว่าใจไกลเกินฝัน




English title

:



Rating

: 3/5


Director

:



Main actor

: Suchao Pongwilai,Phairoj Jaising


Main actress

: Nat Myria,Mayura Thanabutr



Buy now

:

Thai movie เร็วกว่าใจไกลเกินฝัน was released in year 1993 and lasts 1h52mn. It was released under DVD format by company Happy Entertainment. This movie got six Thai cinema awards. Teenagers are having a bike race. Ek (เพ็ญเพชร เพ็ญกุล) helps a young lady, Kaew (นัท มีเรีย), who is aggressed by a thug. Suchao Pongwilai is Kaew's father. Her parents don't have time for her, so she is often out (เที่ยว). Kaew is trying to find back Ek. Schoolmates mention Ek can often be seen in a discotheque in Ratchada. They finally go out in a mall on the next day but Ek must be careful as Police is looking for him as bike races are illegal. As Kaew and her friends miss school a lot (ขัดเรียน), they get warned by the school director. Ek is also not happy with his family. Kaew is looking for companionship as she is lonely at home. Ek is racing with Kaew. Ek is arrested by Thai Police but wishes to continue as bike racing is a romping game for him. Kaew joins a model contest to raise interest from her parents. Her mother disapproves her daughter so Kaew flees. Ek and Kaew start a relationship. Ek continues to race. His opponent dies. Ek has to flee the Police and goes to Phuket. Kaew follows him there. Ek starts to take drugs (เล่นของ). Kaew is pregnant and worried. Ek would like Kaew to abort but she refuses. Ek's father is Phairoj Jaising. Ek's condition is getting worse as he is using strong drugs. Ek is going to brothel to buy drug. As the woman refuses to sell drugs at low price to him, a fight erupts. Ek is beaten by ruffians. Kaew brings him to hospital. Doctor finds he has Aids. Aware of it, Ek wishes to break with Kaew to ensure she can have a new life. Ek has difficulties to accept his disease (หมดทุกสิ่งทุกอย่าง). Ek breaks up with Kaew. Kaew calls her teacher as she is in despair. She is four months pregnant. She discloses the news to her parents. The mother is only worried to lose face. The father acknowledges they did bad of not taking care of their daughter. After going to hospital, Kaew is also diagnosed with Aids (เราต้องรับความจริง). Kaew is back to school. Other schoolmates suspect she has Aids as she is now very slim. Other kids try to avoid her worried about the disease. At that time people still believed they could get infected through clothes contact and using same utensils. Kaew thinks about suicide. Finally, her friends talk to her again after the teacher explains to them. Ek's mother (Mayura Thanabutr) asks Kaew to help and to ensure Ek takes his medicine. Kaew finds Ek doing motorbike. He is feeling bad (สร้างกรรมสร้างบาป). Ek wishes to join a last race. Kaew takes her child back from hospital despite nurses are unwilling. Finally, the child doesn't have Aids. Kaew cannot join Ek on time for this last race. Ek dies due to over speeding.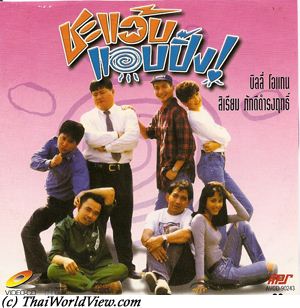 Year

: 1993



Thai title

:

ชะแว้บแอบปิ๊ง




English title

:



Rating

: 1/5


Director

:



Main actor

: Billy Ogan


Main actress

: Siriam Pakdeedamrongrit
The love story between two students is endangered by another young lady showing interest into the young man only to regain interest from her own boyfriend.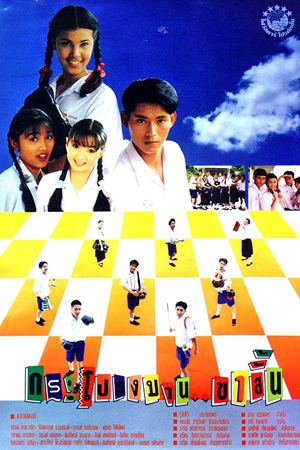 Year

: 1993



Thai title

:

กระโปรงบานขาสั้น 1




English title

: Skirts and Shorts 1



Rating

: 3/5


Director

: ชาติชาย แก้วสว่าง



Main actor

:


Main actress

:



Buy now

:

Thai movie กระโปรงบานขาสั้น 1 / Skirts and Shorts 1 was released in year 1993 and lasts 1h43mn. This movie was released on VCD format by company Solar and also by company BKP. A remastered version was released during decade 2010s by Five Star Production. Movie director is ชาติชาย แก้วสว่าง. It is a typical Thai teen movie where teachers look stupid and can be easily cheated by students. Teenager Saek (ธรรม์ โทณะวณิก) hits another schoolmate so he is fired from his school in Bangkok. He moves to Chiang Mai and promises to his uncle not to cause any troubles anymore. Some schoolmates led by Bom like to tease other students. Saek gets a new friend Lek. Lek brings him to see young girls dancing. The teacher Kaew Ta punishes them. Joke is done on teacher Charlie. Bom, rich student, accuses Saek in front of teacher Charlie. Young lady Bai Feun (ใบเฟิน)(ธัญญาเรศ รามณรงค์) meets Saek but a romance is not yet started. Plae, Bai Feun's friend, likes also Saek. Lek is punched by Bom but Saek restraints himself to avoid being fired from school again. Life continues in the school with Bom (เกเร) being finally caught by teacher Charlie. Plae understands that Saek likes Bai Feun and not her. Birthday of Bai Feun is happening soon. Seak is late as Bom's car pushes him on the road side. Plae is drunk. Misunderstanding occurs between Saek and Bai Feun as Plae, being drunk, hugs Saek. Once misunderstanding is clarified, romance happens. Bai Feun is aggressed by three thugs. Saek intervenes but is severely punched by them. Meanwhile Bom brings Bai Feun to hospital so he gets all the credit. Bom steals Saek's bicycle to dismount it. Fed up by Bom's behavior, Saek asks for fight and a boxing match is organized between them. Bom is punched in front of teacher Charlie. Teacher Charlie fires Saek from the school. On the way to train station, Saek helps Bom being aggressed by ruffians. Bom then tells the truth to teacher Charlie and Bai Feun. Bai Feun rushes to train station before Saek leaves Chiang Mai. She hopefully arrives on time…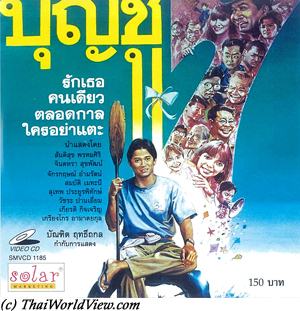 Year

: 1993



Thai title

:

บุญชู 7




English title

:



Rating

: 3/5


Director

: Bandit Ritthakol



Main actor

: Santisuk Promsiri,Sombat Methanee,Kiet Kijcharouen


Main actress

: Jintara Sookkapat



Buy now

:

Boonchu and Mo want to marry but Boonchu's mother doesn't want him to go to Bangkok and Mo's elder sister doesn't want her to live in countryside. Boonchu and Mo want to live in an old house close to a river. Mo's elder sister Challenges Boonchu to clean the area in one month in order to get her wedding authorization.
---