Increase or decrease font size for easier reading : A+ A-
Year 1992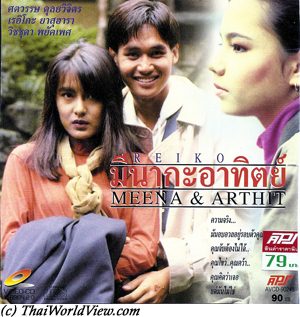 Year

: 1992



Thai title

:

มีนากะอาทิตย์




English title

: Meena and Arthit



Rating

: 1/5


Director

:



Main actor

:


Main actress

:
Meena has accepted to marry Arthit. Arthit meets a Japanese girl and starts to lie to his wife. Following a business trip in Japan, Arthit has argument with Meena and flee to stay with the Japanese girl. Will he stay with the Japanese girl or come back to his wife?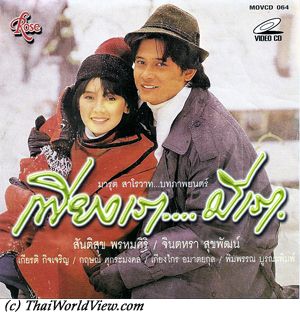 Year

: 1992



Thai title

:

เพียงเรามีเรา




English title

:



Rating

: 3/5


Director

:



Main actor

: Santisuk Promsiri


Main actress

: Jintara Sookkapat
A Thai father is inviting his daughter to visit him in Swiss. A friend proposes his son to take care about his daughter during her trip. After many misunderstandings, love is emerging between both youngsters.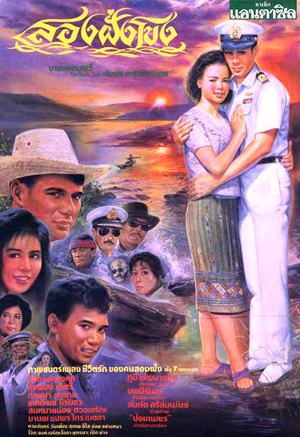 Year

: 1992



Thai title

:

สองฝั่งโขง




English title

:



Rating

: 3/5


Director

:



Main actor

: Likit Eakmongkol,Sorapong Chatree,Manop Aussawathep,Krai Kanchit,Choomporn Theppitak


Main actress

: Metta Roongrat
Border police led by Sarawat Sorapong Chatree is intercepting smugglers from Laos. Nawin (Likit Eakmongkol), navy officer (ผู้การ), is patrolling on a boat at the border between Laos and Thailand. Sorapong and Nawin often have to work together. Veteran actor Manop Aussawathep is head of navy soldiers. Beautiful landscapes are shown over the Mekong river being the border between Thailand and Laos. 7 molam songs are featured. Pim, molam singer in Laos, is kidnapped by ruffians. In fact Pho Im, head of ruffians (Krai Kanchit), gives to Pim's mother (Metta Roongrat) and Pim a deadline of two days for a wedding. Pol, who secretly loves Pim, helps her to flee in order to go to Thailand. Pim's father is a molam singer on Thai side (ฝั่งไทย). Choomporn Theppitak welcomes his daughter from Laotian side. Relief characters are people having similar face as famous actors Songthong. One of the other daughters Phan understands that Nawin has now more interest into Pim so she lets her new sister having happiness as she suffered a lot in Laos before. Action takes place in Amphoe Bong Chiem, most eastern part of Thailand. Pol follows up in Thailand and discovers that Nawin is also having interest in Pim. Pho Im decides to get back Pim from Thailand. Pol is disappointed and now works forcedly for Pho Im. He fails to bring back Pim to Laos as Nawin prevents him to do so. Another kidnapping tentative happens. Pol is captured by Nawin but finally stays at Choomporn's house as he was forced by Pho Im to try to kidnap Pim. Romance starts between Pol and Pim's Thai sister. Ruffians storm directly Choomporn's house to abduct Pim. Shootings are exchanged. Ruffians are finally neutralized. Pim's mother finally stay with Choomporn Theppitak as both Thai and Laos Mekhong river banks are inseparable. Movie สองฝั่งโขง is considered as a "small movie" (หนังฟอร์มเล็ก) dedicated for provinces audience.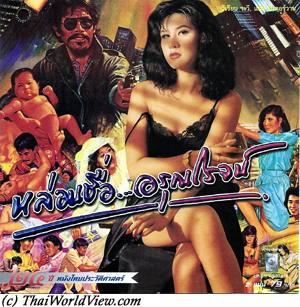 Year

: 1992



Thai title

:

หล่อนชื่ออรุณโรจน์




English title

:



Rating

: 1/5


Director

:



Main actor

:


Main actress

:
This B-grade Thai movie is about a woman called Chaowee, who is working as a callgirl. She finally married a man much older than her but her love is real. She has same age as her new husband's two children. Oran, her previous husband, is intimidating her through a secret document in order to get money from her. Asking 5 millions Baht causes her new husband's death through heart attack. Following the will, Chaowee gets more than 50% causing ire from her husband's daughter. The son tries to seduce Chaowee but without success. Oran and his friend Chatree conspire together to wreck the family by seducing the young sister. Chaowee uses her attractiveness to pursue her goals.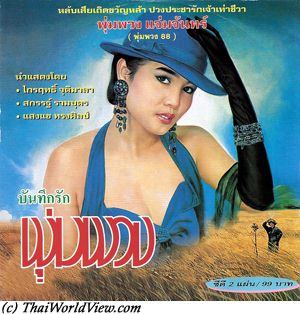 Year

: 1992



Thai title

:

บันทึกรักพุ่มพวง




English title

:



Rating

: 3/5


Director

:



Main actor

:


Main actress

:
This movie deals about Pumpuang's love life and her tragic death in 1992. Pumpuang Duangchan (พุ่มพวง ดวงจันทร์) was a Thai singer called the Queen of Thai country music (ราชินีลูกทุ่ง). This movie focus on Pumpuang's adult period already. While trying to be a famous singer, Pumpuang meets Pon, a saxophonist. He finally marries with Pumpuang (ผึ้ง) and they create their own orchestra. Pon likes gambling and keeps seducing girls. Oum is Pumpuang's younger sister. Pon promises Oum to transform her into another country music queen. Pumpuang starts a cinema career. The mother uses money to help for Buddhist temple construction so she is spending a lot. Pon's debts increase. One evening when going back from work, Pumpuang finds Pon and Oum together in a bed. They finally split as Pumpuang cannot accept this but Pon still stays in the familial house. A Thai leading actor (พระเอกหนังไทย) called Kraison starts to date Pumpuang. The mother is worried the actor will deceive Pumpuang. As the mother refuses the wedding, Pumpuang announces it to her fans. Kraison ends up at the police station due to some debts with his former wife Soo for 500 000 bahts. Pumpuang pays. Pumpuang is pregnant and they finally decide to marry. Due to some gambling debts and as Pon refuses to help anymore, Pumpuang's younger brother shoots Pon and ends up in jail. As Pumpuang's health continues to deteriorate, she takes a break from singing and goes to rest in Chiang Mai. Pumpuang finds that Kraison still meets secretly his former wife. Kraison asks to start a new life from scratch and to create an united family again. Pumpuang's blood disease is worsening. Money matters and potential heritage issues divide the extended family. The mother believes Pumpuang is witched (โดนของ) so she uses a black magician (หมอผี). The mother wishes to use black magic (ไสยศาสตร์) but to no avail. The mother forbids Pumpuang to see her husband. Through a final sad agony, she fails to see a last time her husband and her son. Following her death, her husband ordains as a monk. The movie really focus on Pumpuang's private life and problems with her family / husbands due to money. There is some possibility that the movie is extracted from a TV serie.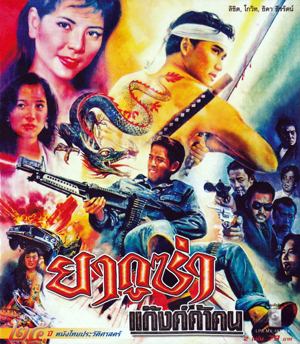 Year

: 1992



Thai title

:

ยากูซ่า แก๊งค์ค้าคน




English title

: Yakusa



Rating

: 2/5


Director

:



Main actor

: Likit Eakmongkol,Kowit Wattanakul,Chat Mongkolchai


Main actress

: Thida Thidarat



Buy now

:

Thai movie ยากูซ่า แก๊งค์ค้าคน was released in year 1992. It lasts around 1h20mn. This movie features a similar scenario to Thai movie ตำรวจเหล็ก where a journalist always interferes with the police investigations. Some cash transport cars are attacked (รถถูกปล้น) by ninjas. Police inspector (Sarawat - สารวัตร) Kiet (Likit Eakmongkol) is asked to work on this case. Yukasa, Japanese mafia, is causing troubles in Thailand including women trafficking. Inspector Kiet enquiries on a company sending people to Japan as he suspects them to provide fake passports. The owner Chakrit argues that the ladies are volunteered to work in Japan. Chat Mongkolchai is also involved. Chakrit helps Kiet's younger sister Plaew aggressed by three ruffians. Kiet doesn't believe in Chakrit's sincerity. A journalist (นักข่าว) called Dao (Thida Thidarat) is always around to take pictures. A local car seller opens a new shop selling Japanese cars. He seems to refuse Yakusa gang's pressure to pay protection fee. Shootings happen during the opening and 4 gang members are shot by Kiet and his colleague. Later on as they enquire in a snooker parlour about the dead gang members, shootings happen again with other members. Kriet is surnamed as มือปราบมหากาฬ. Weapons exchange shall happen with Yakusa gang. Kiet is informed thanks to a singer. The journalist Dao meets Somchai and Yoshida, leaders who are preparing the traffic. Dao learns about the weapon exchange thanks to Chakrit. Kowit Wattanakul is working with the ruffians. Dao's pager sound reveals her presence and shootings happen. As the weapons exchange fail, the gang enquiries who could be the traitor on their side? Kowit is identified as the traitor. Kiet then brings a mess in their drug warehouse. The journalist Dao is kidnapped. Plaew is also kidnapped. Kiet tries to release them but he also gets captured with Kowit, who is a Japanese undercover policeman. As they condemned to slow death, Chakrit releases them. Heavy gun fightings do happen against the ninjas and Thai ruffians, who are all killed. Chakrit also dies by committing hara kiri.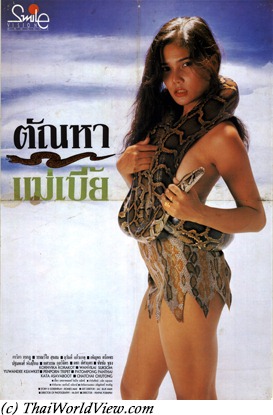 Year

: 1992



Thai title

:

ตัณหาแม่เบี้ย




English title

:



Rating

: 1/5


Director

: เพ็ญพักตร์ พรเพ็ญ



Main actor

:


Main actress

:



Buy now

:

Thai movie ตัณหาแม่เบี้ย was released in year 1992 and lasts 1h16mn. Main actors and actresses are กรวิภา กรกฎา, วรรณวิไล สุขสม, ยุวันดี แก้วเกตุ, เพ็ญพร ตรีเพชร, ปฐมพงศ์ พันธุ์ไทย. Movie director is เพ็ญพักตร์ พรเพ็ญ. It was released under VCD format by Lepso company under the false name เสน่ห์สาวนางงู. Sexy scenes are probably censored or cut as it is a short duration for a movie. Villager Pong is looking for งูผี, a big snake. He gets killed. A young man, Santit, willing to do business in herbal medicine (สมุนไพร) gets a recommendation letter from his father. He goes to the area where rumor of snake spirit is strong. The father's old friend is dead but his son, Pai, accepts helping after reading the letter. Santit comes with his girlfriend Mina and another friend named Tongchai. They enter the forest. Tongchai, Vina and helper Kraimuk get drunk on the first night. Tongchai almost dies in the snake spirit's arms. The expedition leader Prai asks them not to drink alcohol in the forest anymore as it is dangerous. Kraimuk drinks again and tries to abuse Vina. Later, Kraimuk is found dead by his colleagues. He was seduced by the snake spirit. Mina is Sansit's girlfriend but Santit is a bit tired of her. Santit meets a beautiful lady, Sitha, in the forest, who promises to give him herbal plants. It is the snake spirit… On the following night, the snake spirit tries to seduce Santit but hopefully Pai helps. Afraid of snakes, Vina asks to go home. Santit proposes she leaves first. Tongchai, drunk again, defies the snake spirit and almost dies. All want to leave but Santit asks to stay one more day. Santit meets secretly the snake spirit lady Sitha. She tries to chase Santit's friends away. Vina and Tongchai become lovers and leave. Pai is back to help Santit. Kraimuk's former red cloth has some magic power as it chases snakes' spirits (โดนวิญญาณ) away. Santit is back to meet Sitha. Pai is back before the next full moon with additional sacred weapons. He finally releases Santit and gets rid of the snake spirit Sitha.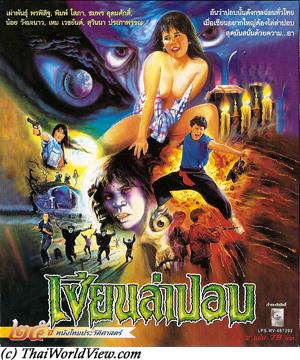 Year

: 1992



Thai title

:

เซียนล่าปอบ




English title

:



Rating

: 1/5


Director

:



Main actor

:


Main actress

:
"BAAN PHI POP" (บ้านผีปอบ) movies serie had a huge popularity and has generated even worst movies trying to surf on a similar business wave. This low budget movie mixes horror, comedy and Hong Kong action style fight. Unknown actors are featured. Such B grade movies are often short films around 1h15mn and take place in countryside village. The soundtrack is using popular foreign songs. Tawan is a young man, disciple of a Chinese master (อาจารย์). The Chinese master is in quarrel with another master called Dang. They were also disciplines before but Dang turned to dark side. Tawan is in love with Chantra, young lady owner of a noodle shop. Four ruffians are digging in the Chinese cemetery to get bones to make magic filter. They aggress Chantra. Two Chinese ghosts help Chantra. In fact Tawan was disguised to spy for people stealing bones in the Chinese cemetery. Master Dang decides to use a strong demon (ปีศาจ) to defeat the Chinese master. He needs virgin blood (สาวบริสุทธิ์) to make his demon invulnerable. He has Chantra in mind. The demon (ผีดิบ) kills Dang and captures Chantra. Tawan follows the demon and succeeds to defeat it to free Chantra. Some parts are censored. They are at least cut in the VCD version. There is a guess that some luring parts have been removed. Some sequences are precursory of Ong Bak (องค์บาก) movie as action scenes are repeated two times through different angles and timing to show the action skills. Panna Rittikrai (พันนา ฤทธิไกร), stunt choreography, has been well-known to play and direct similar movies. Such B-grade action and horror movies were popular from the mid-1980s to 1997. They were popular among taxi drivers, spicy papaya salad (ส้มตำ) vendors, security guards and Isan coolies. Folk people in the far-out provinces enjoyed watching such low-budget outdoor movies. Such B grade movies received only limited releases in small provincial theatres. They have been recently resurrected by Lepso Studio in the form of 39-baht VCDs. Many of those movies are bad, made to gain just enough money to invest in the next movie!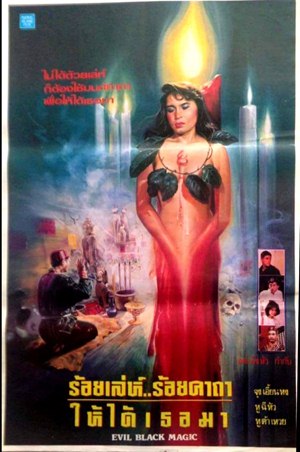 Year

: 1992



Thai title

:

ร้อยเล่ห์ ร้อยคาถา เพื่อให้ได้เธอมา




English title

: Evil Black Magic



Rating

: 2/5


Director

: Ho Meng-Hua



Main actor

: Bin Banleurit


Main actress

: Trirak Rakkarndee
Thai Movie ร้อยเล่ห์ ร้อยคาถา เพื่อให้ได้เธอมา / Evil Black Magic / 处女的诱惑 was released in year 1992 and lasts 1h31mn. It was released as a Cat III movie in Hong Kong as it includes erotic sequences. This Hong Kong movie was shot partially in Thailand and features some famous Thai actors and actresses. In Thailand, a sorcerer is digging in a cemetery. He brings back a woman corpse wearing a mask. A pin is put in her head and she becomes a lady vampire demon. The sorcerer sends her on a mission. Sophia (Trirak Rakkarndee) creates dwarves' spirits to counter the sorcerer. The lady is dancing in a discotheque. A young lady asks help from the sorcerer as she has issues with a chinese man. The sorcerer sends the lady vampire demon to manage the man. The man realises too late she is a ghost and gets killed. Sophia tries to neutralize the lady vampire demon as the killed man was her father. The lady vampire demon is chased by the dwarves. Back in Hong Kong, two men, Meng and Yi, love the same woman Mei. Jealousy and deception occur with Meng. Meng goes to Thailand as the Amah recommends him to visit a sorcerer. When he arrives at the sorcerer house, the sorcerer is doing a spell for a woman willing to seduce a man. It works well as Bin Banleurit has now desire for the lady. Meanwhile the sorcerer is not willing to spend time with Meng, so he chases him away. Meng has to stay outside under rain and harsh sun to show his determination. Then he has to stay in a room with corpses, snakes, lizards, scorpions, salamanders to show his willingness. He is accepted as a novice. Meanwhile the Thai lady has issues with her boyfriend Bin as he is seducing another lady. A lady fight occurs in a hotel room. The Thai lady complains to the sorcerer. He promises to help again. Meng hires a lady to get hair and blood from Bin. The spell works well as Bin is back with the Thai lady. While the master sorcerer is drunk, Meng takes his magic ring and uses the lady vampire demon to steal money. He is now checking for another target. He is impacted by black magic and replaces the sorcerer. Meng is now back in Hong Kong. He visits his two friends. They are going to marry. Frustrated, he injures himself. About to die, he asks them to visit his master, being a sorcerer. It is a trick to bring them to Thailand. To help Meng, the master asks for hair and blood. Being possessed, Mei flees her room to join Meng. Sophia is proposing to help Yi. Finally Mei is released from Meng's spell. Sophia neutralizes Meng and his body is burnt. Yi and Mei are back together.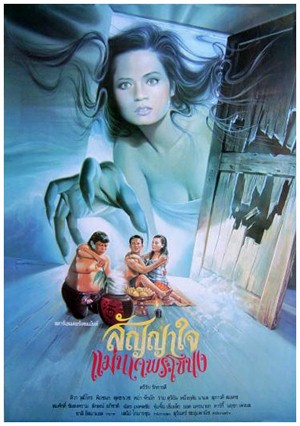 Year

: 1992



Thai title

:

สัญญาใจแม่นาคพระโขนง




English title

:



Rating

: 2/5


Director

:



Main actor

: Mum Jokmok


Main actress

: Trirak Rakkarndee
The movie starts in year 2411 / 1868. Lady Nak is married to Mak. Her husband Mak is away as a soldier in Bangkok. Nak dies when giving birth. The movie first part is shot in sepia color. Mak is back from Bangkok. A citrus falls on the ground while Nak is preparing food for her husband. As she extends her arm to get the citrus, Mak knows his wife is now a ghost and decides to flee from home. Villagers go to Buddhist temple to request help from the abbot. Nak's spirit is captured by the abbot, put in an earthen pot and thrown in the river. Later on a fishermen couple catches the pot in their net. By breaking the pot, they release Nak spirit. In parallel, following a sword fight, lady Champee takes refuge in Nak's house. Champee's brothers want to marry her to a rich man and not to Tui, Mak's friend. Tui is played by Mum Jokmok, famous Thai comic since the 2000s, who is starring in this movie before he becomes famous for his jokes and comic skills. Robbers kidnap Bunta, daughter of a rich merchant. As Mak is interfering, Nak protects Mak and helps him to defeat the robbers. Master Te's (อาจารย์) help is requested as news about Nak spirit is spreading fast. Nak puts him in an earthen pot as a revenge of her previous burden. Nak follows the robbers and makes them kill each other. Their leader becomes crazy. Bunta goes back to her home and invites Mak to visit her. A love story starts between Mak and Bunta. Nak comes to face Mak and Bunta. She comes to get back her husband so threathens to kill Bunta as she is now between her and Mak. Nak still remembers her love promise but not Mak. As Nak is dead, Mak believes the love promise is void. Phi Nak kinadps Bunta's father to force her to leave Mak. A Buddhist novice comes to the village and stops Nak. She finally listens to the Buddhist novice and leaves the human world. This is another typical Thai horror movies from the 1990s with the classic chase between ghosts and humans in accelerated motion with the Halloween horror movie music. In 1989 actor Ekapan Banleurit and actress Trirak Rakkarndee already played together in TV serie แม่นาคพระโขนง.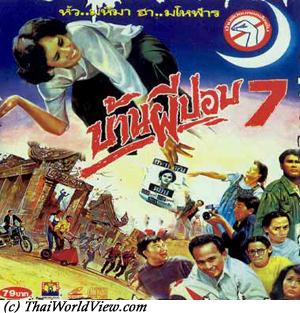 Year

: 1992



Thai title

:

บ้านผีปอบ 7




English title

:



Rating

: 2/5


Director

:



Main actor

: Kiet Kijcharouen,Tongchai Prasongsanti


Main actress

: Natanee Sitthisaman



Buy now

:

Thai movie Baan Phi Pop / บ้านผีปอบ opus 7 was released in year 1992 and lasts 1h31mn (35mm film). A villager called Somsree is killed. The village headman (ผู้ใหญ่บ้าน) really wants to get rid of Ya Yip (ผีปอบหยิบ), the "Phi Pop" ghost. So, he announces a 10 000 baht reward to catch Yip (Natanee Sitthisaman). A "Phi Pop" (ผีปอบ) is an evil spirit believed to possess a person and eating his intestine while also forcing him/her to seek and consume raw animal organs and meat at night time. Bangkokian doctors and nurses come to the village to check villager's health. Chat (Kiet Kijcharouen) is still the doctor helping villagers. It is his last participation in "Baan Phi Pop" movies serie. Mae Sri Nuan and another lady villager, Kam Thong, are Phi Pop ghosts but nobody is aware except Plung (จิระ แสงโชติ์), who is Kam Thong's boyfriend. He wishes to find a solution for Kam Thong to be back as a normal person. It is happy time in the village. Tank (Tongchai Prasongsanti), the village headman's son, is marrying Nong Oon. Many gags happen about his incapacity and unawareness about how doing marital duties. A beggar is wandering around the village and is mistaken as a Phi Pop ghost. Tank's father still continues to try seducing Mae Sri Nuan. Kam Thong's boyfriend, Plung, wishes to help her but cannot prevent her to eat raw intestines. Kam Thong flees and goes to mountain "Doi Phi Fa" (ดอยผีฟ้า). A search is organised to find her. The story goes outside the village for the first time and is shot in 'Khao Phra Wiharn' (เขาพระวิหาร) where is located the famous Khmer temple 'Prasat Preah Vihear' always under dispute between Cambodia and Thailand. A nun (แม่ชี) finds her and announces that only the local deity (เจ้าผีฟ้า) can help her. She goes to the old Khmer temple to pay respect to the deity. Ya Yip joins the villagers' trip to search for Kam Thong and, as expected, brings troubles (สร้างความวุ่นวาย). Kam Thong has a vision under a waterfall. Her ghostly status remains unknown and will be disclosed in the next sequel "Baan Phi Pop 8". This movie still features similar gags as previous "Baan Phi Pop" movies as it includes pursuits in accelerated motion. Such movies serie has its fans as 13 sequels were done. Latest gadgets used by Ya Yip include a stand-up- electric-scooter (ขี่มอเตอร์ไซค์). Such movies had small budget. Such movie was shot in 35mm format but still dubbed afterwards as it was cheaper and allows excessive funny voice dialogs and sound effects.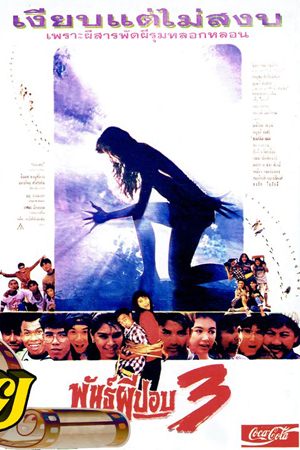 Year

: 1992



Thai title

:

พันธุ์ผีปอบ 3




English title

:



Rating

: 1/5


Director

:



Main actor

:


Main actress

:
Oncle Je has a new wife. She is a Phi pop spirit (ผีปอบ). น้อง Tum is her beautiful daughter. Teacher (อาจารย์) brings his cinema students to Kanchanaburi for outdoor outing. The teacher is a nuisance as he is always complaining. This version features a slight higher budget as there are original songs. Students tease the teacher as they disguise themselves as ghosts (ผีหลอก). But the real spirit Phi pop is wandering around and possesses a woman teacher. Tum has a hidden lover so her mother kills him and eats his intestines (ไส้). Two students are then killed by the possessed teacher. Other students found their teacher eating raw bloody intestines! The two Phi pop spirits meet in the students' camp and fight together. Students need to find a way to fight back the Phi pop spirits. By using a bait, the students succeed to capture the two Phi pop spirits in a cage. A real shaman (หมอผี) is needed as two Phi pop spirits escape and support each other. Continuous chase pursuits between the students and the Phi pop spirits happen (จับๆ จับๆ). Phi pop spirits are finally killed savagely by the smart students. Part of the movie takes place in the famous Prasat Muang Sing Historical Park in Kanchanaburi. As usual the "Phi pop" (ผีปอบ) movies franchise deal with a rural background and low level jokes. Phi pop movies franchise deal with a succession of gags, traditional sexy bath sequences with sarong (ผ้าถุง) and cheap 1970s Fx like. Following the success of "Baan Phi Pop" movies (บ้านผีปอบ) franchise, another team created this serie but it only last 2 episodes.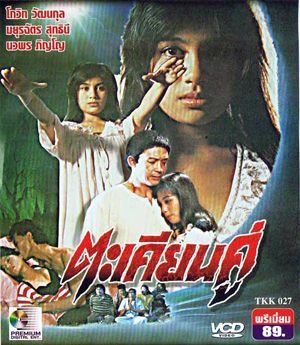 Year

: 1992



Thai title

:

ตะเคียนคู่




English title

:



Rating

: 3/5


Director

:



Main actor

: Kowit Wattanakul


Main actress

:



Buy now

:

Thai movie ตะเคียนคู่ was released in year 1992. The movie lasts 1h23mn. Young lady Champee (มยุรฉัตร สุทธินี) kills herself as she has been raped by some ruffians. Her close friend was Lampoo (นวพร ภิญโญ), daughter of village headman. At nighttime Champee is back to kill the ruffian Pajom, who is responsible of her death, but he has a talisman to protect him (ของดีป้องกันตัว). Pajom decides to hire Master (อาจารย์) Paen. Paen does a philter (ยาแฟด). The philter ends up in a failure and all protagonists are running all over (ตัวใคร ตัวมัน). Master Paen is killed. Phi Kaew (Kowit Wattanakul) is back from abroad. Kaew is looking for Champee. Young lady Booliaw keeps following Kaew. Kaew finally learns that Champee hanged herself. At nighttime Booliaw tries to seduce Phi Kaew but she is chased away by Champee ghost (ผีหลอก). Kaew wishes Champee to stop being a ghost and to be born again so he asks a master to manage it but it is also a failure. Champee is upset with Kaew and mentions she will leave only when she has finished to take revenge over those who hurt her. There is no additional bad karma for ghosts. Kaew now wishes to marry Lampoo. He cannot stay with a ghost (ผิดธรรมชาติ). Booliaw succeeds to seduce Kaew while he is drunk. Lampoo requests help from Champee. The ruffians use another master but it fails again. Champee kills all of the ruffians one by one. Finally Champee leaves and asks Kaew's father to organise a wedding between Kaew and Lampoo. As typical standards in Thai horror movies, the ghost lady is wearing white clothes and there is strong wind as a symbol that the ghost is coming.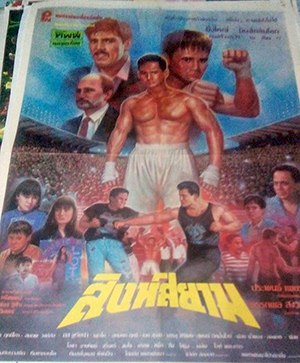 Year

: 1992



Thai title

:

สิงห์สยาม




English title

: King of the ring



Rating

: 3/5


Director

:



Main actor

: Panna Rittikrai,Krissanapong Rachata,Christoph Klüppel


Main actress

:



Buy now

:

Thai movie King of the ring / สิงห์สยาม was released in year 1992. The Filmark version, released under VHS format, lasts around 1h22mn. Thai boxing fightings festival is happening in local subdistrict. Ken Kiat is joining and accepts to face The Duke, the defending champion. Ryan (Panna Rittikrai) is his trainer. A sponsor believing in Ken pays the 2000 USD fee. Despite a difficult beginning, Ken defeats The Duke. The sponsor impressed by Ken suggests him to join a real Thai boxing school led by master Hunger. The Duke's trainer called Charles sends ruffians to beat them and to get back his money but to no avail. Ken meets Nancy by bumping in her bicycle. Ryan meets singer Ann thanks to Krissanapong Rachata's (กฤษณพงษ์ ราชธา) introduction. Ryan likes drinking alcohol. As another ruffian leader sends his men to kidnap Ann, Ryan is helping her. Ken wins 10 consecutive fights so causing Charles to lose a lot of money. Charles contacts a tall foreigner (Christoph Klüppel) and asks him to find a good fighter. He finds Chiba, a Japanese fighter. Charles claims that best Thai boxing fighters are now found overseas. To save Thai boxing honor, Ken accepts to fight against him. One day before the match, Charles' ruffians beat Ken on the head. Ken asks Nancy to keep this secret as he believes it is minor. But Ken is wiped out by Chiba and falls unconscious. Ryan wishes to get revenge immediately so master Hunger has to calm him down. While Ken is recovering, Ryan decides to get heavily trained to become a fighter in order to revenge Ken and to defeat Chiba. Ryan challenges Chiba. Charles accepts and he believes there is easy money to gain. Ryan finally defeats Chiba after an epic fight.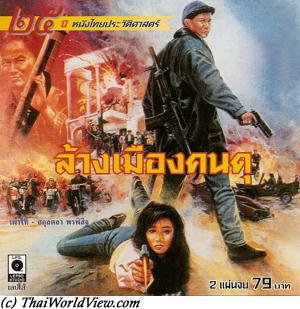 Year

: 1992



Thai title

:

ล้างเมืองคนดุ




English title

: Dangercity



Rating

: 2/5


Director

:



Main actor

: Panna Rittikrai


Main actress

:
Rise and fall of a local Thai mafia chief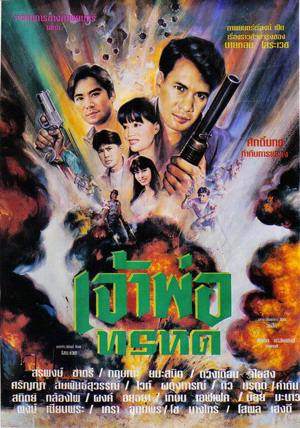 Year

: 1992



Thai title

:

เจ้าพ่อทรหด




English title

:



Rating

: 3/5


Director

:



Main actor

: Sorapong Chatree,White Padungkan


Main actress

:
Thai movie เจ้าพ่อทรหด was released in year 1992 and lasts 1h22mn. It was released under VHS format. It was produced by outdoor cinema Company Charoen (บริการหนังกลางแปลง เจริญการช่างภาพยนตร์) in Sri Saket. Owner was Mr Hom (คุณพ่อหอม โสระเวช). His company projected movies in outdoor places (Buddhist temple annual fair, family events...) and also produced movies for standalone theaters. They even produced a movie about Mr Hom, i.e. เจ้าพ่อทรหด featuring Sorapong Chatree and ดวงเดือน. At the end of the remaining 35mn film, there is a sequence featuring the real Hom (นายหอม โสระเวช) and his cinema company. The sequence is showing Mr Hom's family, the vehicles projecting films, the huge projection screens... Mr Hom died on 14 October 2012. Hom started as a kid having a dream. With only 12 baht he started washing dishes in a noodle soup shop. Hom kept money until he could open a small business of repairing watches. Finally, he opened an outdoor cinema business. Unfortunately, business conflicts erupted and Hom was shot in the back. But he was not killed. He ended managing one of the most famous outdoor movies company in Isan region. Hom has a watch repair small business and outdoor cinema company in Sri Saket. Ruffians led by Padung are bringing trouble in the city. Minibus owners (รถสองแถว) have to pay an illegal fee (ค่าคิว) requested by ruffians but drivers refuse. Hom (ดวงเดือน) found Padung is involved in many illegal businesses. When Hom plays dice, he realizes game is tricked. Fighting happens as Hom accuses ruffians of cheating. Manit (Sorapong Chatree) helps Hom being outnumbered. Manit and Hom sympathize as Manit also has an outdoor movie company in Bangkok called Kulab Tip movies. Village Chom refuses to sell his land to ruffians. Padung (White Padungkan) intervenes and shoots him. Hom accuses Padung's ruffians to have killed Chom. Padung tries to recruit him and asks for a protection fee. Hom refuses and so becomes a troublemaker for Padung. A Molam orchestra event is organised by Hom. Drunken ruffians bring troubles. Hom is shot by Padung. Hom may not be able to walk again. He has to use wheelchair. Hom has a family. Bosom is Hom's wife younger sister. Pradum decides to get rid of Hom by hurting his wife Rat. She is shot by a hitman during outdoor cinema performance. Manit comes to the funeral. Padung also comes to defy Hom. Padung's ruffian tries to kill Manit but he fails. Hom thinks about marrying Bosom. Padung hires Hom's outdoor cinema to perform in a Chinese cemetery to pay respect to ancestors. It is a trick as ruffians capture Bosom. Hom and Manit storm Padung's place. Heavy shootings occur. Both Manit and Hom are seriously injured but ruffians are all killed. Hom and Bosom finally marry.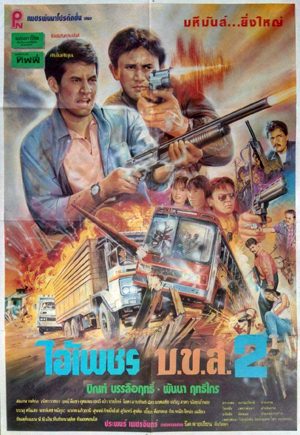 Year

: 1992



Thai title

:

ไอ้เพชร บขส. 2




English title

:



Rating

: 3/5


Director

: ประพนธ์ เพชรอินทร์



Main actor

: Bin Banleurit,Chat Mongkolchai,Panna Rittikrai,Krissanapong Rachata,Sompop Wong Ko,Rith Luecha,Pao Porapak


Main actress

:



Buy now

:

Thai movie ไอ้เพชร บขส. 2 was released in year 1992 and lasts 1h19mn. It was released under VCD format by Lepso company and VHS format. Thai actors and actresses featured are Bin Banleurit, Chat Mongkolchai, Panna Rittikrai, Krissanapong Rachata, กิม , เตี่ย แจ่วบอง, Sompop Wong Ko, Rith Luecha, อุดมพร, โอดา, Pao Porapak, น้อย, เจริญ. Movie director is ประพนธ์ เพชรอินทร์. This movie is an action movie with comedy sequences. Panna's team is fully present, and each team member has a role. Rith Luecha is the ruffian's leader. Rith wants to dominate the songthaew and motorbike (รับจ้าง) markets in Khon Kaen. His idea is to request a protection fee from all drivers as he would oversee the whole market (ดูแลคิ้ว). Phet (Bin Banleurit), a young strong man, is always helping other drivers. เจริญ สาดา refuses to sell his business to Sia Rith but he is forced. Ruffians threaten and hit drivers. Pao Porapak is the owner of a local restaurant. Friends fight back the ruffians so Rith decides to bring a hitman (มือปืน) (Sompop Wong Ko) to get rid of Phet. There is even a sequence happening in a Buddhist temple fair featuring Chinese opera. Chat claims he can handle by himself so there is no need for the professional hitman to intervene. He shoots Phet but only injures him but young lady Wan, part of Phet's friends, is shot dead. Her brother, Pao, promises to take revenge. As Chat failed, Rith sends Sompop to kill Phet. Phet neutralizes Sompop and spares his life so Sompop owns one life to Phet. Panna's younger sister is kidnapped by ruffians. Pao kills Chat but gets shot by Rith. Panna succeeds in releasing his sister from the ruffians. Meanwhile Phet blocks the road with a bus to prevent Rith from fleeing. Rith shoots Phet first but Sompop shoots Rith as Sompop owns one life to Phet. Then as he has no more debt towards Phet, Sompop can finish his job…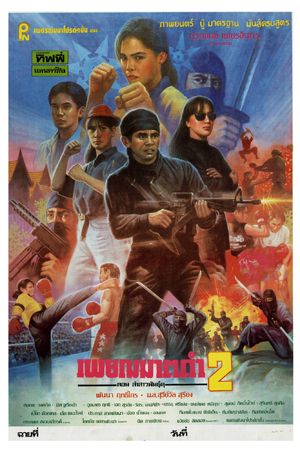 Year

: 1992



Thai title

:

เพชฌฆาตดำ 2 ตอนล่าสาวพันธุ์ดุ




English title

:



Rating

: 3/5


Director

: เพชรอินทร์



Main actor

: Panna Rittikrai,Krissanapong Rachata,Sompop Wong Ko


Main actress

: Suriwan Suriyong
Thai movie เพชฌฆาตดำ 2 ตอนล่าสาวพันธุ์ดุ was released in year 1992 and lasts 1h25mn. It was released under VCD format by APS company and Lepso company. Movie director is เพชรอินทร์. Father Khun Songsit is travelling with his daughter Rose. A van, placed in the middle of the road forces them to stop. Inside, young lady Lai Fong and three ninjas have come to kill Songsit. Songsit's younger brother wants the whole heritage. Khun Songsit is killed but his daughter Rose succeeds to flee. Songsit's younger brother orders Lai Fong to kill the missing daughter. In Khon Kaen, young lady Yupin (Suriwan Suriyong) is keeping glass bottles and plastic bottles (ของเก่า) to earn a living. Yupin's uncle is sick. Meeting Rose in Khon Kaen, Yot (Krissanapong Rachata), a mechanic, has pity over her and helps as she has nowhere to go. Meanwhile Yot has arguments with Tia (เตี่ย แจ่วบอง). Tia complains to his boss Khieng that he was beaten. Khieng (Sompop Wong Ko) is a Thai boxing team owner and has to protect his disciples (ลูกศิษย์). Tia is dishonest with Yupin and steals her money as she comes to the Thai boxing camp to buy old bottles. He gets beaten by Yupin. Yot belongs to another Thai boxing team. Khieng and the Thai boxing team's leader have arguments regarding Tia and Yot so they agree to settle through multiple fights including lady fights. Yupin needs to find 30,000 THB for her uncle's hospital fee. So she accepts to fight for Khieng's team. Yupin is the first lady in the Thai boxing school. On the other side, Rose accepts to fight to thank Yot for his kindness. Uncle Pat needs to teach Rose and Yot. Both teams train in parallel but training is very different. The ruffians learn that the daughter Rose was seen in the Khon Kaen area. Ruffians arrive in the village and disrupt the competition between the two Thai boxing teams. Panna Rittikrai is among the ruffians. The two boxing teams unify to defeat the ruffians.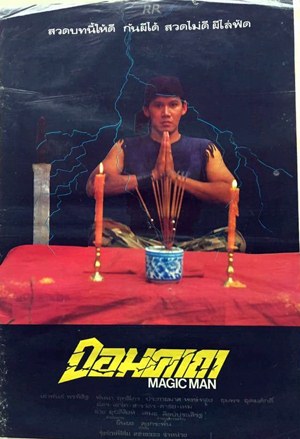 Year

: 1992



Thai title

:

จอมคาถา




English title

: Magic man



Rating

: 2/5


Director

: ยืนยง คงกระพัน



Main actor

: Panna Rittikrai,Chat Mongkolchai


Main actress

:
Thai movie จอมคาถา / Magic man was released in year 1993 and lasts 1h38mn. Movie director is ยืนยง คงกระพัน. The movie was released under VCD format by Lepso company. This movie is a mix of action, light horror and comedy. A master and his wife Yiu are attacked by a demon (ปีศาจ) Panna Rittikrai). Yiu is killed. The demon flees but before dying the master transfers his power to his young baby. Master Tak, passing by, takes care of the baby and names it Oon. Tak (Chat Mongkolchai) is a local master (อาจารย์). He resurrects two spirits (ผีดิบ) and teach them Thai boxing. Tak is satisfied by the progress of his favorite disciple Oon (เผ่าพันธ์ พรพิสิฐ). Panna (Panna Rittikrai), a fierce vampire (ผีดิบ ปีศาจ), asks Tak's support but he refuses. A fight occurs and Panna has to retreat. Tak's vampires have disappeared. Oon and Tak have to find them before they do any harm to the villagers. A young lady Maen is assaulted by four ruffians. Hopefully Oon and Tak help her. The two ruffians, who stole the two vampires, use them to rob valuables from travelers. A teacher has a group of fighters but they are out of a job. He simulates being a vampire to steal goods from travelers. The teacher is a former disciple of Tak. The two ruffians have a good life by using the two vampires. One of the ruffians loves lady Maen but it is not reciprocal. As revenge, the two ruffians launch the two vampires on Maen and the village leader. They have to flee. Tak, Oon and the disciples are resting in a small street restaurant but they get attacked by the two vampires launched by the two ruffians. Oon stops the vampires by putting a mystical drawing (ยันต์) on their face. The two ruffians flee. They meet Panna (ผีบ้า ผีลามก), who bites them so they become real vampires. A final fighting occurs between the vampires and Tak, Oon, the disciples.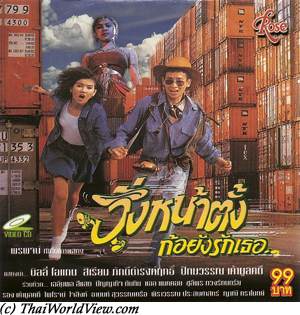 Year

: 1992



Thai title

:

วิ่งหน้าตั้งก็ยังรักเธอ




English title

:



Rating

: 1/5


Director

:



Main actor

: Billy Ogan,Rong Kaomulkadee


Main actress

: Siriam Pakdeedamrongrit
A young man opens a strange bottle containing a woman genius. This woman genius loves the young man but the young man wants the genius help to win the heart of another Thai lady.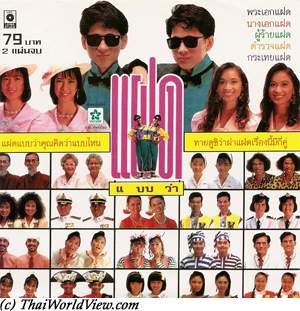 Year

: 1992



Thai title

:

แฝดแบบว่า




English title

:



Rating

: 2/5


Director

: Kumtorn Tubkunlai



Main actor

:


Main actress

: Piyamas Monayakol
Two twins are set apart when they were babies. As they are becoming adults, they have the feeling they miss another part of themselves. This movie is based on twins confusion gags and gather an impressive collection of twins.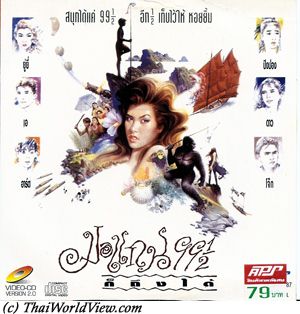 Year

: 1992



Thai title

:

มอแกน 99 ครึ่ง ก็ถึงได้




English title

:



Rating

: 1/5


Director

:



Main actor

:


Main actress

:
A group of young Thai tourists take a boat to visit a remote island. The boat is stranded and they will face many dangerous issues to escape from the island.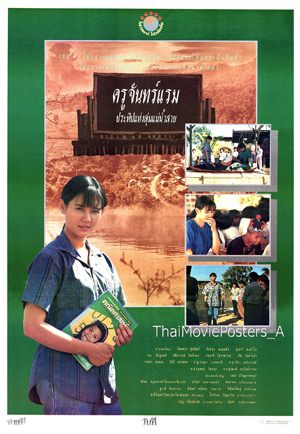 Year

: 1992



Thai title

:

ครูจันทร์แรม ประทีปแห่งลุ่มแม่น้ำสาย




English title

:



Rating

: 4/5


Director

: Phan Kam



Main actor

: Santisuk Promsiri,Suchao Pongwilai,Rong Kaomulkadee


Main actress

: Jintara Sookkapat
Thai movie ครูจันทร์แรม ประทีปแห่งลุ่มแม่น้ำสาย was released in year 1992 and lasts 1h57mn. It was released under VCD format by Solar company. A remastered version was released by Five Star Production (ไฟว์สตาร์โปรดักชั่น) in the decade 2010s and shown on Thai TV cable. Movie director is Phan Kam. Based on a true story, a young girl decides to become a teacher at 15 years old in order to promote reading awareness among mountain villagers, who cannot go to school as they are not recognized as Thai citizens. She also convinced local poor parents that children are not goods to be sold and not to listen to Bangkokians that promise false job offers. She also convinced villagers not to use drugs and young girls not to enter the flesh trade. Being a child in a poor family, Chan Raem performs very well at school and still helps her parents at home. Chan Raem sees the social issues faced by villagers, i.e. drugs selling, middle age lady trying to convince young girls to go working in Bangkok as masseuses (หมอนวด). Middle age lady uses sweet words such as gratitude (บุญคุณ) towards parents, promise of easy job, easy money. Her best friend Kam Kaew finally goes to Bangkok due to necessity (ความจำเป็น). Chan Raem cannot go to the next school level as her parents are poor. Seeing that mountain villagers' children cannot study, she decides to help. She doesn't get help from local authorities, so she does it by herself. Her father (Suchao Pongwilai) borrows 5,000 THB to help her. Local people should have knowledge and be able to read in order not to be abused by Bangkok people. Free school is open for mountain people's children and Chan Raem's parents are preparing the food for lunch time. As the number of children increases dramatically, it costs too much for the parents to bear the cost by themselves. Chan Raem convinces mountain villagers to help 1 THB a day to buy food. Rong Kaomulkadee pushes other villagers to accept. Time passes and Chan Raem becomes an adult and is played by Jintara Sookkapat. She gets help and support from her friend Santisuk Promsiri. Trees are planted. Kam Kaew is back and believes she has made the right choice to go to Bangkok. Chan Raem notices that many adults get lied to as they often sign debt contracts without reading the terms. Chan Raem invites adults to join evening lessons. Kam Kaew is back again from Bangkok. Despite having built a nice house, she has to live outside in a shack. Chan Raem learns she has AIDS stage 3 and will die soon. Her relatives reject her. Meanwhile, traffickers force young ladies to go to Bangkok as their parents sign a contract. Kam Kaew dies. Chan Raem makes an emotional speech to all parents if having a fridge is worth their child's life. Parents promise to reject traffickers. Understanding the risk caused by Chan Raem, traffickers try to oppose Chan Raem and local administration. Ruffians even mention to Thai Police that Chan Raem is running an illegal school (โรงเรียนเถื่อน). Ruffians put pressure by asking the father to pay back his debts immediately. Traffickers try to foul teacher Chan Raem by hiding drugs in the school but they are caught on time. The leader has to flee. Finally, Chan Raem's efforts are recognised. It appears in newspapers and Bangkok Bank sends a delegation to give clothes. The movie ends up as Chan Raem is going to Bangkok to get her price.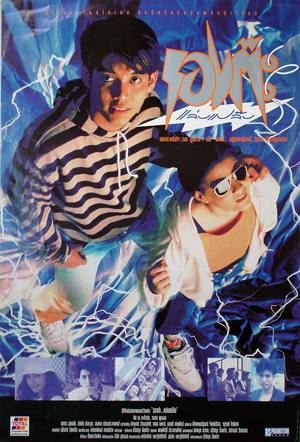 Year

: 1992



Thai title

:

รองต๊ะ แล๊บแปล๊บ




English title

: The Magic Shoes



Rating

: 4/5


Director

: Prachya Pinkaew



Main actor

:


Main actress

:



Buy now

:

Thai movie รองต๊ะ แล๊บแปล๊บ / The Magic Shoes was released in year 1992 and lasts 1h35mn. It was released under VCD format. Movie director is Prachya Pinkaew. It was his first movie. The main actor is ทัช ณ ตะกั่วทุ่ง, being a real famous singer. Teenager Tad (ทัช ณ ตะกั่วทุ่ง) is living with his grandfather. He loves dancing (นักเต้น). His grandfather recommends him to find some good shoes that can be like a partner. A dance contest between teens is happening soon. Tad sees Nike shoes at 4500 THB, but it is too expensive for him. Tad meets Ann (วาสนา พูนผล), a beautiful young lady, in a hairdresser. During nighttime, a big storm occurs and through strong lighting, the shoes get alive! The next day, the shoes vendor accepts to sell the shoes at 1000 THB as the shoes were damaged during the storm. When wearing the shoes, Tad becomes a better dancer as the shoes are alive. His friends notice it. He meets Ann again, but she already has a boyfriend called Dook (ภาณุเดช วัฒนสุชาติ). Dook is very arrogant. His younger brother won the dance contest before. He knows Tad has improved a lot so he bewares of him. Tad invites Ann in a MacDonald. Romance starts but jealous ruffians try to interrupt. The scene is reminiscent of the movie "back to the future". Dook threatens Ann that Nad will be beaten if she persists seeing him. Dook's brother sees that Nad has special magic shoes. Dook contacts the three comic ruffians to destroy the shoes. Despite running through a mall to escape, the ruffians destroy his shoes. So Tad cannot compete anymore. Ann convinces Nad to compete without his magic shoes. Dook's brother performs very well. Nad has no more shoes but luckily his grandfather comes also to the show, so Tad borrows his shoes. Mickael Jackson's song is featured during the competition. Nad's performance is awesome so Dook pays a referee to give a better mark to his brother. Nad's young friend (บริบูรณ์ จันทร์เรือง) is aware as he films the scene thanks to his video camera. He shares the tape so that everybody can know Dook is cheating. Dook and his brother flee. Tad is the winner and romance can blossom. The magic shoes are alive again!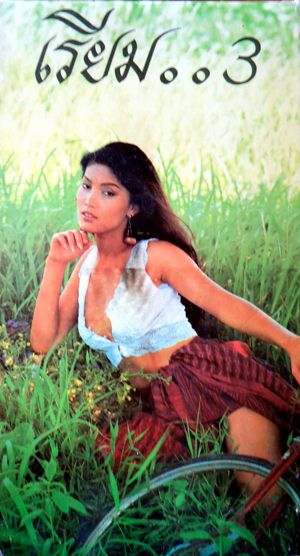 Year

: 1992



Thai title

:

เรียม 3




English title

:



Rating

: 2/5


Director

:



Main actor

:


Main actress

: Sarocha Sarakon
Thai movie เรียม 3 has been released in year 1992. The movie lasts 1h30mn. On the countryside, Riem (สโรชา สรากร) is about to marry Phi Boonchu. Her elder sister Prapleung (พี่สาว) is always jealous and still likes Boonchu, her previous boyfriend. Riem is almost hit by a car driven by a townsfolk (คนเมือง) called Tanawut. Thanks to her charms, Prapleung always tries to take Boonchu away from Riem. Boonchu has a weak character and often succumbs. Tanawut is looking to buy some land to build a factory and he wishes to seduce Riem. As Riem refuses to work in Tanawut's home, Tanawut hires Prapleung instead. Prapleung keeps trying to take Boonchu from Riem causing Riem to be disappointed. Riem just believes she has bad karma. Her father is back asking for money to pay bad debts. As Riem needs money, she finally accepts to work for Tanawut. He has to lie that Prapleung is already his domestic helper. Riem has a strong character. Prapleung insinuates that Riem is doing bad things outside as Riem didn't inform Boonchu that she is working for Tanawut. Finally Prapleung learns from Boonchu that Riem is also domestic helper of Tanawut (ดูแลบ้าน). Prapleung tries to convince Tanawut to keep only one domestic helper. Prapleung and Tanawut become lovers. A woman from Bangkok, called Chorada, arrives in hurry and is looking for Tanawut. She is Tanawut's fiancee (คู่หมั้นผมเอง). Prapleung keeps crying as she understands she has been deceived (กำลังสะใจ). As Prapleung takes Boonchu away from Riem again, Riem goes to consult the village guardian spirit complaining on her karma as she never hurts others but others hurt her feelings. Tanawut is passing by and consoles Riem but Chorada sees him and is upset. She tells to other villagers that Riem is trying to steal Tanawut from her so it reaches Prapleung. Boonchu, upset by Chorada, takes a strong revenge on her. Shocked, Chorada decides to go back to Bangkok. Tanawut takes opportunity to leave with her and announces his wish to marry her as he gets pushed by his mother. Upset, Riem goes in front of the guardian spirit's house (เจ้าที่) hoping not to lose Boonchu due to rumours propagated by Chorada. Prapleung tells she is more interested in Tanawut than Boonchu. Boonchu hears everything and now knows that Riem is pure. He tells the bad news to Prapleung that Tanawut left already. Prapleung failed to catch Boonchu / Tanawut and is left alone with her tears. Actress สโรชา สรากร also played in เรียม opus 1 and 2. She was famous during years 1992~1995 (movies บุหงา, ไฟกลางคืน, ตัณหาแม่เบี้ย...).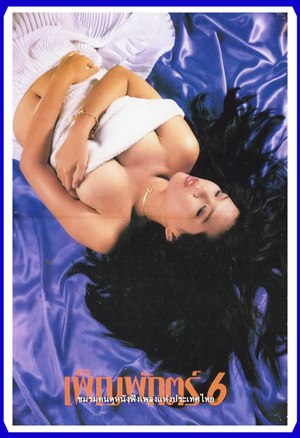 Year

: 1992



Thai title

:

เพ็ญพักตร์ 6




English title

:



Rating

: 2/5


Director

:



Main actor

:


Main actress

: Sarocha Sarakon
Pen is a top model (นางแบบ). She has a rich boyfriend, khun Ukrit. They are together since many years already but Ukrit still wants to keep this relationship as low profile. Pen's friend told her to meet other men as men are butterflies also. A young man Warut secretly loves Pen. Pen finds her boyfriend with another woman called Jentira. She decides to ask for explanations and then drinks to forget her misadventure (ผิดหวังกับความรัก). Warut meets Pen (นางแบบชื่อดัง) in a bar while she is drunk (คนอะไรไม่รักดี). Warut helps her to go home as she is too drunk. Pen losts a earring. Ukrit comes to apologize. He engaged with Jentira in England to please his parents (ตามผู้ใหญ่) and doesn't love her so much (จะเลือกใคร). As Warut is quite idle, Pen recruits the young man to play a boyfriend role is order to push back Ukrit. Pen presents Warut to the press as her fiancee. As expected, love emerges between Warut and Pen. Ukrit tries his luck again but to no avail. Pen goes to countryside to make a break. Pen is confused between Ukrit and Warut (คนอกหักกินเหล้า). Warut buys a new earring to her as a gift and reminder. Finally Pen comes back to Warut. It is the last opus of the เพ็ญพักตร์ six movies serie. It is a one hour movie only. After investigation, เพ็ญพักตร์ 6 is an erotic that has been cut! Luring parts have been removed so that Lepso Studio company can still sell it more easily in malls. The VCD cover is also fake and doesn't feature the real poster used during the theatrical release.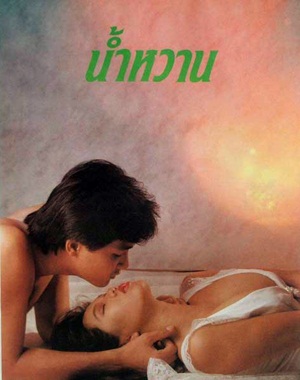 Year

: 1992



Thai title

:

น้ำหวาน




English title

:



Rating

: 3/5


Director

:



Main actor

:


Main actress

: Sarocha Sarakon
Thai movie น้ำหวาน was released in year 1992 and lasts 1h32mn. Main actress is Sarocha Sarakon. It was released under VHS format. Young lady Wan is out of job. She wishes to become a star. Her friend pushes to find a job. She meets a young man, called Korakot, on the street while wandering around. He is coming from overseas. Feeling lonely, he invites her for dinner and finally hires her to have some company during 7 days at a rate of 2000 Baht a day. She got a job! They become lovers. Korakot gives her money to buy beautiful clothes. Pasuda is Korakot's sister. Nam Wan is presented to her as girlfriend (คู่รัก). In fact Korakot hires Nam Wan in order that Pasuda stops chasing him! On the following day, she has to buy clothes again to play the beautiful girlfriend. Korakot is fed up with Thailand and thinks about going back overseas. In front of his friend, he doesn't have high opinion of Nam Wan, i.e. just a girl he finds on the street (อีตัว). Nam Wan is upset and wishes to leave on the spot. Korakot apologizes to Nam Wan. He was also upset to see Nam Wan buying clothes with a male friend. Nam Wan lost her parents when she was still young. After the death of her uncle, she went to Bangkok to find a job. Nights with Korakot are torrid. Pasuda visits Nam Wan. She tries to give a lot of money to Nam Wan in order that she goes out of Korakot's life. Nam Wan refuses. Korakot's friend wishes to book Nam Wan after Korakot's departure. She refuses. It is the last day of Korakot before his departure for overseas. Korakot wishes Nam Wan to become his minor wife but she is not interested. Nam Wan leaves on the last day but both of them are sad (อกหัก). Finally Korakot decides to stay in Thailand, to marry Nam Wan and asks for her hand.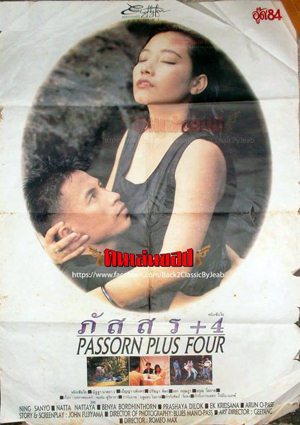 Year

: 1992



Thai title

:

ภัสสร+4




English title

: Passorn Plus Four



Rating

: 2/5


Director

:



Main actor

:


Main actress

: Ning Sanyo
Thai movie ภัสสร+4 / Passorn Plus Four was released in year 1992 and lasts 1h26mn. Mae (นักเขียน) is working on a book. Ann, his girlfriend, is a photographer (ตากล้อง). Pat sees her boyfriend Kwan at nighttime. Uncle Jon, Pat's father, doesn't appreciate Kwan (พวกเวร). Khun Anan visits Uncle Jon living in the countryside. Mae and Ann are joining Anan as they are looking for tranquility to write a book. As visitors are coming from Bangkok, Kwan cannot see Pat. On the following day, Anan and Ann meet Kwan as Mae starts writing the book. Seeing Pat learning guitar with Mae, Kwan is upset and ends up drinking alcohol with Ann at the waterfall. Kwan and Ann become lovers. Worried that Ann didn't go home last night, Anan, Jon and Mae look for her. Pat discovers Ann and Kwan sleeping together. Kwan doesn't know who to choose, Ann, the Bangkok girl, or Pat, the country girl. Disappointed by Kwan, Pat accepts to follow her father's advice to go studying in Bangkok. Mae promises to take care of her. Meanwhile Ann stays behind being in full love with Kwan. In Bangkok, Mae fulfills his promise to take good care of Pat as they become lovers. ภัสสร+4 is one of the numerous Thai erotic movies that were released at the beginning at the 1990s in second class movie theaters (โรงหนังชั้น 2). Actors are หนิง ชันโย, นัฐฐา นาถยา, เบ็ญญา บดินทร, ปรัชญา ดิลก, อรุณ โอภาส. Movie director is โรมิโอ แม็กซ์.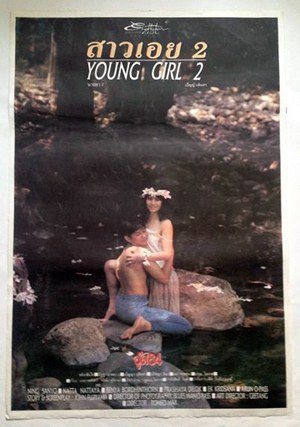 Year

: 1992



Thai title

:

สาวเอย 2




English title

: Young Girl 2



Rating

: 3/5


Director

:



Main actor

:


Main actress

:
Thai movie สาวเอย 2 / Young Girl 2 was released in year 1992 and lasts 1h20mn. A widowed father called Lek is fed up with his daughter always going out of the home in the forest. The father keeps drinking and gambling. He is thinking of giving his daughter as bride to his debtor. Meanwhile three young Bangkokian people [a young man called Chatree and a couple, i.e. Joi and Men] are fed up about Bangkok and think about going in the forest on province side to change air from the polluted city. Chatree is engaged with a fiancee chosen by his father but there is no love. Lek gets money agreement about his daughter Ratree with a Singapore boss (เถ้าแก่). About to be abused by the old man (ลามก), she escapes but is aggressed by a local villager. Hopefully Chatree is around and helps her. As she has nowhere to go, she sleeps in his car. Love story starts between Chatree and Ratree (สาวบ้านนา). The Singapore businessman complains to Lek. He is asking for his money back but it is spent in booze already. Joy and Men are back to Bangkok. Romance blossoms between Chatree and Ratree. The father and the businessman localize Ratree. Businessman is upset and asks Lek to sell his house to pay back his debts. Ratree flees to Bangkok with Chatree and her father misses her a lot. Ratree is aware that Chatree's father pushes him to marry his fiancee so she flees back to the forest. Chatree announces to break the engagement and goes back to find Ratree. Ratree' father asks for forgiving regarding his previous behavior.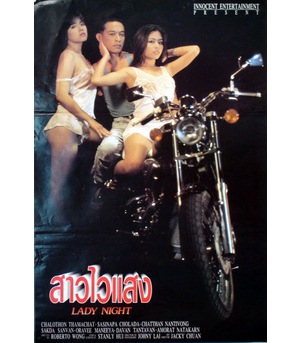 Year

: 1992



Thai title

:

สาวไวแสง




English title

: Lady night



Rating

: 2/5


Director

:



Main actor

:


Main actress

:
Thai movie สาวไวแสง / Lady night was released in year 1992 and lasts 51mn. Another VHS release lasts 1h00mn and features some luring sequences cut in the previous release. The whole movie probably lasts 1h20mn to 1h30mn. Movie director is โรเบอร์โต วอง. Main actors and actresses are ชโลธร ธรรมชาติ, ศศินภา ชลลดา, อรวี มนียา, ดาหวัน นันทวัน. Parts of the movie are cut or censored for the VCD and VHS public releases. Somsri's husband, Wichai, prepares a trip with his wife. Wichai mentions he is lucky that Somsri cooks delicious food as young girls nowadays just buy food from outside. He invites his colleague Komsan and asks Somsree to invite her beautiful friend Dao. On the way to the resort in Pattaya, they plan to stop by Kamsan's house. Unfortunately a puncture causes a flat tyre . As it is evening time, it is too late to find a station to repair the tyre. A villager and his wife propose to shelter them and share a delicious diner together (อาหารบ้านนอก). In the wooden village house, walls are thin, so Dao can hear Wichai and Somsri... In the morning, they finally leave for the resort. Dao and Komsan become good friends and even more. The two couples are having good time during holidays. Komsan's ex-girlfriend brings a mess and Dao is disappointed. Komsan chases her away but she still stays in the hotel. He finally declares his love to Dao in front of his ex-girlfriend to show his sincerity. They greet Wichai and Somsri before leaving for Bangkok by motorbike to avoid any additional interferences with the old girlfriend.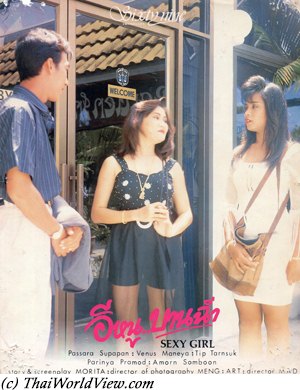 Year

: 1992



Thai title

:

อีหนูบานฉ่ำ




English title

: Sexy girl



Rating

: 2/5


Director

:



Main actor

:


Main actress

:



Buy now

:

Thai movie อีหนูบานฉ่ำ was released in year 1992 and lasts 1h10mn. It was released under VHS format. It is a rate R movie with love scenes being cut. Main actors and actresses are ซูซี่ กิลลี่, จิราภา ไกรทอง, คันศร พรสวรรค์, ต๊ะ ออริเฟลม, วิว ชาร์เจอร์, พิมพา เอื้อเฟื้อ, ลิม การ์ซิม, สถิตย์ สถาพร, ต้อย ไทเกอร์, สายฝน ปรีเปรม. Movie directors are พัสรา สุพาพัน, วีนัส มานียา, ปริญญา ปราโมท. Young lady Vee is looking for a job. Her brother in law, Noon, informs her that a photo shooting team is looking for new models. The photographer Tiripan is looking for new faces for advertisement. Vee suggests her friend Lin but Lin asks her to join also. Pat is Tiripan's assistant. Lin starts to have success and a producer offers her 100 000 baht to play in a movie. Tiripan quits the company to run his own business. Phi Noon tries to seduce Vee so he gets scolded by his wife. Tiripan finds a job for Vee in a hotel. Pat manages the movies queue for Lin as many movies directors are looking for her. Lin organises a small gathering with Vee and Tiripan to celebrate her success but she has to leave earlier due to busy agenda. Vee bewares of Tiripan. Lin is pregnant with Pat. Lin finds Pat is having an affair with a new model. Lin realizes that money is not only happiness. Tiripan declares his love to Vee. Lin tries to break this relationship but it fails. She cannot understand why Tiripan doesn't choose her, a cinema star, instead of a normal person, i.e. Vee. Pat brings Lin back (กวนรักคนที่รักเรา).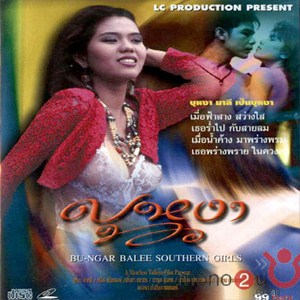 Year

: 1992



Thai title

:

บุหงา




English title

:



Rating

: 3/5


Director

:



Main actor

:


Main actress

: Sarocha Sarakon
Thai movie บุหงา was released in year 1992 and lasts 1h43 mn. The movie was released under VHS and VCD format. This movie recalls another Thai movie called พลอยทะเล (1987) as scenario is very close. Movie director is อรชร. Thai actors and actresses performing in this movie are บุหงา บาหลี, Sarocha Sarakon, ธนิต ธนิตพงษ์, มารุท สุนทร. Young man Proi is a fisherman and finds pearls in the sea by swimming deeply. Young lady Krathin (Sarocha Sarakon) asks for them despite Proi wishes to sell them. It makes the mother to be upset. Proi believes Krathin is somebody with good heart. Another man Fa loves Kratin but she loves Proi. Fa is richer than Proi but Krathin doesn't care. Fa tries to offer expensive gifts to Krathin. Another woman Deuan is watching them. Deuan loves Proi since childhood. Deuan, looking for Proi, is about to drown but it is a tactic to get interest from Proi. The mum is pushing her son Proi to marry Deuan (เด็กดีๆ). Fa is still trying to seduce Kratin. Kratin wishes to go to the city (ในเมือง). He is going to check เครื่องหอ with Kratin in preparation of their wedding. While Proi is in the city, Kratin is having happiness with Fa. It makes Deuan upset to see Kratin being inconsistent (ไม่จริงใจ). The mother shows to Kratin the pearl that Proi kept for their wedding. Kratin announces to the mother that Proi fell in the sea during a storm. Finally, Kratin accepts to live with Fa as he convinces her that Proi is dead. Luckily Deuan finds Proi's body stranded on a beach. She takes care of him during his recovery. Proi's mother is sick. Proi needs money but the pearl is now with Kratin. Following a dispute, Kratin wishes to leave Fa. Seeing the pearl, Fa keeps it and promises to marry Kratin. Proi asks for the pearl to Kratin but she claims not to have it. Kratin learns that Fa keeps it in a safe. She tells Deuan, who steals it while they are away. Kratin is chased by Fa. The mother recovers without needing expensive expensive. Proi throws the pearl back in the sea. Proi refuses to take back Kratin, who has lost everything. Erotic sequences between Proi and Krathin, Proi and Deuan, Fa and Krathin are featured.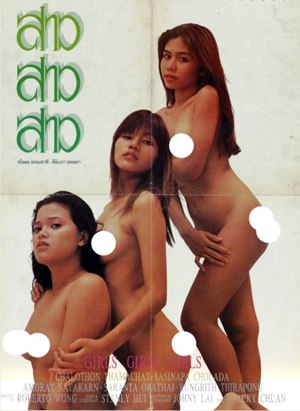 Year

: 1992



Thai title

:

สาว สาว สาว




English title

:



Rating

: 3/5


Director

: โรเบอร์โต วอง



Main actor

:


Main actress

:
Thai movie สาว สาว สาว was released in year 1992. Multiple versions were released such as VCD, censored VHS (1h11mn) from ST Video, partially censored VHS (1h01mn). The original uncensored version was never released and lasts 1h24mn. It includes porn sequences removed from the VCD or VHS versions. It was also renamed as ค่ายสวาท. Movie director is โรเบอร์โต วอง. It is an erotic comedy. Thai actresses and actors featured in this movie are ชโลธร ธรรมชาติ, ศศินภา ชลลดา, อมรรัตน์ นันทการณ์. Six ladies are entering a seminar near the sea (ค่ายสวาท). Their teacher is a lady. The goal of the seminar is to enhance their beauty and femininity. An uncle (ลุง), often present in Thai comedy movies, is being the guardian (ยาม). He is dreaming of being with one of the young ladies (สู้ลูก). Some men notice the young ladies. As they are not authorized to enter in the seminar, they disguise themselves as ladies to join the training (สมาชีกใหม่). They name themselves as Dok Soi and Pim Pa. Some seminar participants are concerned if there are ladies or katoey (กะเทาะ) among the girls. Dok Soi helps one of the ladies, Boon Ta, about to drown (จอม). After having a relationship, Dok Soi promises to marry Boon Ta. Some ladies suspect they are men. Pim Pa and Manee are also having a relationship. The teacher inspects at nighttime and finds that Pim Pa and Dok Soi are men. They are expelled but wish to talk a last time to their girls. Seminar is over. Boon Ta and Manee quit the ladies group to stay with their boyfriends.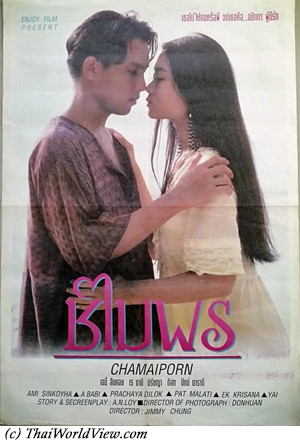 Year

: 1992



Thai title

:

ชไมพร




English title

: Chamaiporn



Rating

: 3/5


Director

: Jimmy Chung



Main actor

:


Main actress

: Ami Sinkoyha
Thai erotic movie ชไมพร was released in the year 1992 and lasts 1h32mn. An uncensored version was released under VHS format. Nat, as photographer, is shooting three models. Job is over but Nat stays behind as he is writing a book. While wandering on the beach, Nat finds a painting featuring a beautiful lady. He keeps it in his room. Later on, uncle Chao sees a woman on the house balcony. It is the lady on the painting! Her name is Amita (นางฟ้าที่รัก). As Nat is drunk every night, somebody prepares breakfast in the morning. Nat believes it is Nang Ui, uncle Chao's daughter. Nat meets Amita in his dreams. In the morning she is no longer there as she goes back in the painting. Nat refuses to eat and only drinks alcohol as the angel Amita doesn't exit from the painting. Finally she exits from the painting and calls him Ai Soon. Nat and Amita become lovers. Meanwhile Nang Ui is also having a lover called Phit. Ai soon was Nat's name in a previous life. Nat and Amita can stay together for only three days. As she exited from the painting, she can live three days only. Nang Ui spies them and sees Amita giving a treasure to Nat. Pht, Ui's boyfriend, needs money for his business. He wishes to open a resort for tourists. They kidnap Amita but Amita refuses to give them the treasure as it belongs to Ai Soon. Uncle Chao is aware as he hears them speaking. The uncle finally helps Amita. Phit asks to exchange the treasure versus the painting. Disappointed to be only a toy for Phit, Ui stabs him but he destroys the painting before. Amita disappears in the sea. If there is another life, then Nat and Amita shall meet again.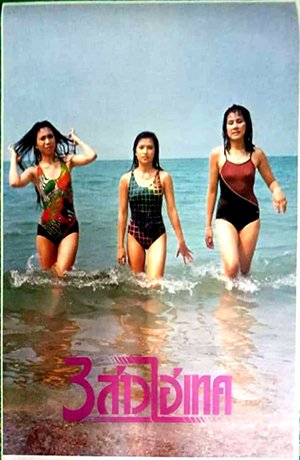 Year

: 1992



Thai title

:

สามสาวไฮเทค




English title

: Three high tech girls



Rating

: 3/5


Director

: อลิซ



Main actor

:


Main actress

:
Thai movie สามสาวไฮเทค / Three high tech girls was released in year 1992 and lasts 1h10mn. It was released under VCD format by company ST well known for its VHS releases. The VCD is censored and erotic sequences are cut. The movie is shot in ST office as multiple logos can be seen on doors or walls. Actors and actresses featured are รัชตะ เจริญรัตน์, ไพศาล เวชกรรม, หนึ่งฤทัย พิริยะ, พิมใจ วงชื่น. Movie director is อลิซ. In a restaurant with singers, a middle-aged lady invites Chai to her table. Chai, a singer, is already married and wishes to keep money to buy a house. His wife is worried due to her husband's job nature. As his wife is often sick, he has to find a right balance and to keep his fans happy. In a rich family, Prap Pon (คุณณผู้ชาย) and his wife Tip are often arguing. Tip is managing director of a company (เจ้าของ). Her husband often comes back home late due to meetings. In fact, he spends money on a girl called Chiep in the same restaurant as Chai. Prap Pon invites employee Nat for lunch. Prap Pon also tries to seduce Oon, who is responsible for company finances. Due to jealousy, Chai is shot by a man as he was meeting the middle-aged lady. Tip is aware that Prap Pon tries to seduce Oon. Tip indulges in alcohol and makes a scene to Prap Pon. She leaves home and has a car accident. Prap Pon meets Anita, Chai's wife in the same hospital. Oon becomes Prap Pon's mistress. Tip may become handicaped. Chai is back home but he is still walking with crutches. They don't have enough money. Anita contacts Prap Pon as she is in trouble (เดือดร้อน). She needs money. Tip decides to change her will to give everything to Prap Pon to convince him about her love. Prap Pon visits Nat to threaten her. Oon starts to be jealous. It is Tip's birthday. Prap Pon claims Tip wishes to organize her birthday and invites the 3 girls (Oon, Nat, Anita) in Pattaya. The sanctuary of truth under construction can be seen on Pattaya beach background. He finally announces to them that Tip cannot join. At nighttime, Prap Pon makes them drink a lot. Chai learns that Prap Pon sends his wife back home every day. Prap Pon has Nat's room key and abuses her as she is drunk. She is very upset against Prap Pon (ไม่ใช่ลูกผู้ชาย). He also tries to abuse Anita but is warned by Nat, Oon and Anita swap rooms causing surprise to Prap Pon. Tip waits for Prap Pon to come back for her birthday but in vain. Alerted by the three girls, Tip warns Prap Pon a last time. As he doesn't care and threatens her, she finally shoots him.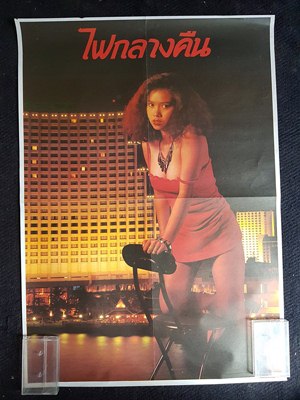 Year

: 1992



Thai title

:

ไฟกลางคืน




English title

:



Rating

: 3/5


Director

:



Main actor

:


Main actress

:
Thai movie ไฟกลางคืน was released in year 1992 and lasts 1h06mn. It was released under VHS format. It is not censored. Narin is a lovely (น่ารัก) singer. Her best friend is another lady named Nut. The manager Prakop is fond of Narin but he does not dare saying he loves her. He asks Nut's help. Nut replies that Narin is not interested in Prakop. So Prakop and Nut become lovers. Better love somebody who loves you instead of somebody who does not love you. Narin has a lover already. His name is Pot. Pot wishes to marry Narin but his mother does not want a daughter-in-law being poor and a singer. Narin is afraid to meet the mother. Nut and Prakop are going to marry. Finally, the mother meets Narin and tells her that Pot is already engaged. The mother wants to break the relationship, so she is rude with Narin. Nut tries to console Narin. Narin flees away (เลิกยุ่ง). Pot finally meets Narin again, but she is not willing to listen to Pot anymore. A misunderstanding happens between Pot and Narin because of Prakop. Narin meets a young man named Naran, who helps her as she is assaulted by two ruffians. Narin goes with Naran as she is sad not to have news from Pot anymore. Pot's mother buys an airplane ticket for her son to go overseas for a while. Naran tries to meet Narin again as he likes her. He offers flowers to her. Pot is back from overseas but Narin refuses to see him as their love is impossible. He quits his job, his home so the mother asks Narin to help. The mother will accept anything. Back home, she wishes them to marry, Naran still tries to meet Narin. As Pot and Narin resume a relationship, Nut pushes Narin to give an explanation to Naran. Naran finally understands and wishes the best to Narin.
---