Increase or decrease font size for easier reading : A+ A-
Year 1991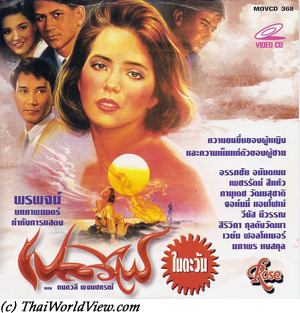 Year

: 1991



Thai title

:

เปลวไฟในตะวัน




English title

:



Rating

: 2/5


Director

:



Main actor

:


Main actress

:



Buy now

:

A woman confronted to a violent and mad husband. Afraid of him and the Thai society jusgement, she doesn't dare to quit him. She finally meets a nice man and leaves her husband. But this latter doesn't agree and try every evil trick to get his wife back...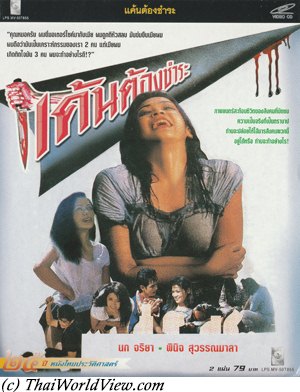 Year

: 1991



Thai title

:

แค้นต้องชำระ




English title

:



Rating

: 3/5


Director

:



Main actor

:


Main actress

: Jariya Somchana
Thai movie แค้นต้องชำระ was released in year 1991 and last 1h15mn. Main actors and actresses are Jariya Somchana (จริยา สมชนะ) and พินิจ สุวรรณมาลา. Parts of the movie might have been cut or censored for the VCD public release as the movie is shorter than usual. Daen (พินิจ สุวรรณมาลา) is working on a big tractor in a field on countryside. Young lady Deuan (Jariya Anfone), his wife, is preparing and bringing food for Daen. They meet at the waterfall. Another man, called Chai, likes Deuan a lot and keeps offering gifts to her. Daen is a bit worried. Daen dreams to have a big family with his wife Deuan and to have his own tractor. One day, three men aggress and rape Deuan but she couldn't see her faces. Daen promises to find them. Daen suspects Chai but it seems he is not responsible. Daen is upset (คิดมาก) that somebody aggressed his wife. He doesn't want to alert the village leader as Deuan couldn't see properly her aggressors as they were wearing hoods. Daen starts to have doubts on Deuan. He enquiries and talks to other village men (Plaew...) to try to find hints. Daen cannot find peacefulness. He wishes to become a monk once this issue is solved. He meets Plaew, whose behavior is weird when seeing Daen. While fighting, Plaek discloses his acolytes Win and Kae. Daen kills him and buries the body. Win theathens Deuan to disclose the truth to all villagers and asks for more favor in order to stay quiet. She accepts… Daen has to go to the district and to sleep there one night. Win and Kae, aware, take profit to visit Deuan. Daen is aware and goes back home early. It seems that Deuan is tolerating this (ติดใจ) as she doesn't tell the truth to Daen. Daen has to act to stop this. They believe it is due to sins in a previous life (กรรมเก่า). At nighttime during a storm, Daen shoots Kae. Win starts to be worried. He knows that Daen is chasing him. Chai knows and asks Deuan to act to prevent anymore killings. But it is too late. Daen also kills Win (สัตว์นรก). Once the killings are over, Daen wishes to become a monk to clean his sins.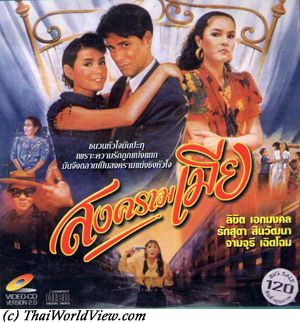 Year

: 1991



Thai title

:

สงครามเมีย




English title

:



Rating

: 3/5


Director

:



Main actor

: Likit Eakmongkol


Main actress

: Marasri Bangchang



Buy now

:

Pakpun, young rich man (ลูกเศรษฐี), has a famous and beautiful mistress called Maenma. She is a model (นางแบบ). But Pakpun is already married to Oon and has two children. Oon has a shock when learning the news from her husband but finally seems to allow (อนุญาต) and even authorises Maenma to live in the house compound (เมียดีๆ). Pakpun is coming from a rich family so it is normal for him to have a second wife (เมียน้อย / เมียหลวง). It seems unnatural that the main wife accepts so easily. A war is in preparation! It starts with a word war, i.e. why a famous beautiful model needs to steal somebody else husband instead of finding one herself? Money? ใจง่าย? Pakpun starts to feel uneasy (ไม่สบายใจ). Oon offers Maenma some money to leave away. Oon always speaks slowly and politely. Maenma loses temper very easily. Pakpun is divided between his two wives. Insults start such as 'นางบำเรอิง' (concubine) or 'Why Pakpun has to get another wife if the first wife was doing properly her duties?'. Oon has often vertigoes as she is now two months pregnant. Maenma wishes to defeat Oon. Oon asks Pakpun to become infertile (ทำหมัน) so he cannot have a child with somebody else. Maenma offers sour mangoes food as a gift but the food is poisoned to hurt the baby. Hopefully one of the maid eats the food first. The housekeeper accuses Maenma gift but Pakpun is not able to decide to break up with Maenma. Maenma needs to hurry up being pregnant even if it means using an old boyfriend to be the father! Pakpun sees them but Maenma argues Pakpun doesn't take care of her as she is only a minor wife. Her strategy is to make Pakpun jealous. This drives him crazy and he chases away Oon as he is waiting for Maenma the whole night. Upset Oon leaves the home without mentioning where she is going. Oon delivers a boy but refuses to go back to Pakpun's home. Maenma announces Pakpun that she is pregnant but Pakpun breaks up with her as the child cannot be from him as he is now infertile. The real father also refuses to take care of Maenma as he is leaving abroad a few years. Maenma is now alone. Upset she tries to shoot Oon but Pakpun uses his body as a protection wall. He is injured. Getting crazy and afraid to be sent to jail, Maenma kills herself. This movie highlights the issue of minor and main wife status in Thai society.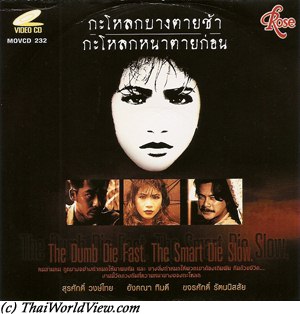 Year

: 1991



Thai title

:

กะโหลกบางตายช้า กะโหลกหนาตายก่อน




English title

: The Dumb Die Fast. The Smart Die Slow.



Rating

: 4/5


Director

: Manop Udomdej



Main actor

:


Main actress

:
After a bloody robbery, a man flees in South of Thailand. He gets a job as mechanics. Recognizing him in newspapers as a robber, the wife of his boss orders him to open her husband's safe. As the man accuses her of treachery, the perfidious woman kills her husband. Nevertheless the man refuses to open the safe fearing the police and the woman. His friend, also safe expert, joins them in South of Thailand. Then suspicion emerges between the three actors. Who will get the money and who will die? Manop Udomdej's movie depicts the dark side of humanity but made only 4 millions Baht in theatres.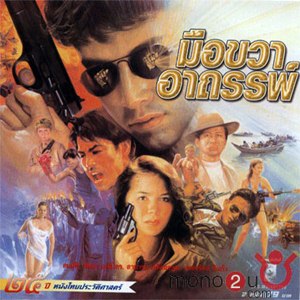 Year

: 1991



Thai title

:

มือขวาอาถรรพ์




English title

: Gold Fist



Rating

: 2/5


Director

:



Main actor

: Sombat Methanee,Panna Rittikrai,Sompop Wong Ko


Main actress

: Phetrat Srikaew



Buy now

:

Thai movie มือขวาอาถรรพ์ / Gold Fist was released in year 1991. Pan (Panna Rittikrai) and Wan (Sompop Wong Ko - สมภพ วงศ์ก่อ) are waiting and armed with guns. A trap is prepared to catch an armed convoy. A man with a gold fist (Sombat Methanee) wishes to get a special jewel transported. Ann's father is killed while protecting the jewel against robbery. Sombat needs to gather two emeralds (มรกต) to get special power. Ann wishes to revenge her father. Meanwhile ruffians attack a village where a traditional dance performance is happening. A young girl is kidnapped. During a pagan ceremony, she is stabbed by the leader Sombat to get her pure blood. Policewoman (Phetrat Srikaew) and ผู้คง Ton are sent to investigate on this case. Ann and her team are also looking for people having a gold fist. Being attacked, Ann gets help from Ton. Having located Pan and Wan, June and Denise play the silly tourists in order to be brought to Kanchanaburi. Champ (สามารถ พยัคฆ์อรุณ), a Thai boxer, is joining the group. The leader needs virgins (สาวพรหมจารี) to have pure blood and release the power from the two emeralds. Their attack to kidnap a young lady fails so they capture the policewoman by default. The two foreigners June and Denise are also kidnapped. Denise succeeds to escape and join other teammates chasing the ruffians. The ceremony (ทำพิธี) shall happen soon so the group has to rush in order to release June before she is stabbed by the leader with a gold fist...This movie features Thai actors / actresses (Panna Rittikrai, Sombat Methanee, สามารถ พยัคฆ์อรุณ, Phetrat Srikaew, เวย์น ฟอลโคเนอร์) and also American actors / actresses (Bobby Sands, Josette Prevost, Leslie Horan, Nancy Black, Corrine Foster) so certainly to appeal to both Thai domestic market and overseas market. It was Miss Thailand Phetrat Srikaew (เพชรรัตน์ ศรีแก้ว) 's first movie.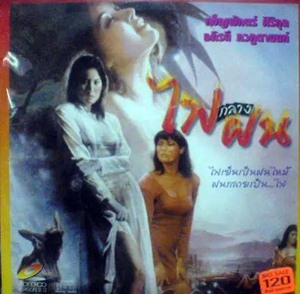 Year

: 1991



Thai title

:

ไฟกลางฝน




English title

: Triangle's rose



Rating

: 3/5


Director

:



Main actor

:


Main actress

: Penpak Sirikul, Apiradee Pawaputanon
Thai movie ไฟกลางฝน / Triangle's rose was released in year 1991 and lasts 1h29mn. It was released under VCD format by Lepso Studio. Picture is still colorful and sharp. The movie seems not to be censored but love scenes are pixelated. Movie director is สุทัศน์. Main actors and actresses are ชนาวุธ ศรีอุบล, อิทธิฤทธิ์ สิงหรัตน์, กลิ่นสี ชลิต, แก้ว มาลัยกร, อ๋อง ลิปตัน, Penpak Sirikul, Apiradee Pawaputanon. Rose calls her friend Fong to warn her about Penpak Sirikul. It is too late as Fong and her lover get shot by a hitman during a love scene. A drunk young man called Awut helps a sexy lady called Rose aggressed by two ruffians. He is former policeman (ผู้กอง). He gets injured. Rose gets sheltered in his home and tells her sad story. She is the daughter of a Laotian ambassador. When he fled from Lao, his treasure worth 18M baht fell in the Mekong river. Awut decides to help Rose to recover the treasure. Meanwhile ruffians try to kill Awut. Rose's hotel room is ransacked so they take refuge in brothel hotel to stay incognito. Awut recruits a boat captain to bring them to the remote place on the Mekong river. A former Laotian general contacts Awut but he refuses to be involved. Rose is kidnapped by Penpak Sirikul and her team. Awut succeeds to release her. See Proy (Apiradee Pawaputanon) is the captain's girlfriend. Awut hires additional friends to join him on this dangerous journey. One of them is alcoholic but he promises to stop drinking but he, of course, fails his promise. They are going inside the forest to search for the boat. Rose and Awut finally become lovers. They find a boat thanks to a Laohu villager. See Proy (Apiradee Pawaputanon) and the Laohu villager are captured by mercenaries. Willing to release See Proy, Awut and Rose are also captured by mercenaries led by the Laotian general. The Laotian general found them as See Proy is his mistress! Following multiple rebounds, Rose and Awut succeed to escape with the treasure thanks to the alcoholic teammate. Awut agrees to give away the treasure to help poor people.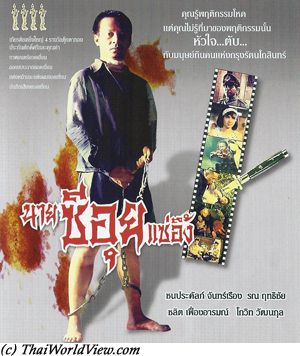 Year

: 1991



Thai title

:

นายซีอุย แซ่อึ้ง




English title

:



Rating

: 3/5


Director

:



Main actor

: Kowit Wattanakul,Ron Rittichai


Main actress

:



Buy now

:

Zee Oui is a Chinese emigrant looking for work in Thailand. He is coming after World War II and faces harsch discrimination from his Thai coworkers as he doesn't understand and speak well Thai. So he always has to change job. He is working hard but fails to gain enough money. He has psychic problems due to the Chinese-Japan war atrocities. He is not able to have a normal relationship with a woman. He believes that eating soup with human heart will give him supernatural power to face his nasty Thai colleagues. He then killed and raped a few Thai children in order to get their heart and liver to prepare his 'special' soup. Parents all over Thailand are worried and police is doing the enquiry to catch the children killer. Zee Oui starts to kill 3 girls in 1954 but always flee to another province after committing a crime. It takes four years for the police to catch him. He was then judged and sentenced to death. This movie are received four Thai film awards (รางวัลตุ๊กตาทอง). Three movies have been shot regarding Zee Oui's life (1984, 1991, 2004). It is based on a real story. The real Zee Oui now resides in a mummified state on display in Bangkok's Museum of Forensic Medicine.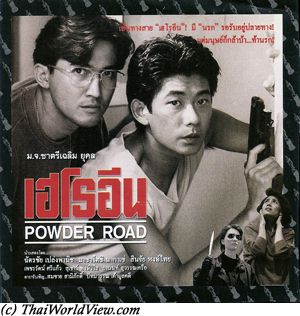 Year

: 1991



Thai title

:

เฮโรอิน




English title

: Powder Road



Rating

: 4/5


Director

: ChatriChalerm Yukol



Main actor

: Chatchai Plengpanich


Main actress

: Sinjai Hongthai



Buy now

:

It is a Japanese co-production. The heroin "road" actually starts in Chiang Rai, comes down the Mekong hidden in ice blocks, and from the ice, the drug gang operates on Pattaya transvestites by putting it into their tits. The movie also raises environmental issues by referring to a Japanese factory, which causes rice field dryness in a village, forcing inhabitants to work in Pattaya.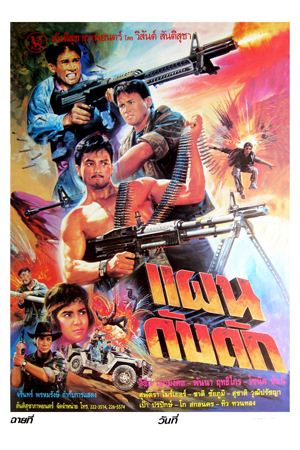 Year

: 1991



Thai title

:

แผนกับดัก




English title

:



Rating

: 2/5


Director

:



Main actor

: Likit Eakmongkol,Panna Rittikrai


Main actress

:
Thai full action movie แผนกับดัก was released in year 1991 and lasts 1h26mn. The movie is also called หักเหลี่ยมพระกาฬ. Two groups of ruffians meet to exchange drugs and money. Phayut, seconded by Chat (Panna Rittikrai), decides to betray his partner in order to keep the money and drugs. The partner's son, Keng, and daughter, Nat, wish to revenge their father's death but fail as there are only two. Phayut uses one of his men as a bait to fool the police. As his man is arrested, Phayut asks police inspector (สารวัตร) Likit (Likit Eakmongkol) to release the accused (ผู้ต้องหา) but Likit refuses. During the prisoner transfer, ruffians kill policemen and Phayut shots himself his man causing Chat's disapproval. A lady calls Likit as she wishes to provide information to him. This is a trap to accuse him to receive dirty money (รับสินบน). Likit has to leave Police temporarily in order to clean his name. Likit, Nat and Keng decide to unite against Phayut. Asulaman, a Philippines citizen, is looking for drugs but the deal fails to succeed. Chat warns Phayut that he doesn't like his way of working anymore (ไม่ชอบคนหากหลัง) and leaves the team. Phayut hires a hitman (โซนิค ซันนี่) to get rid of Chat and Likit. The hitman fails and finally joins Likit's team. Phayut kidnaps Asulaman to show him he is not as bad as rumours said (อย่าเล่นสกปรกอีกก็แล้วกัน). Chat and Likit guess it is another trick. Shootings happen but Phayut succeeds to flee. The hitman is captured but a policeman (หมวด) comes to help also. The team prepares a plan against Phayut (แผนกับดัก). Phayut ask support from other ruffians (โจรป่า). Shootings involving heavy machine gun happen but final fights are one to one fightings. Nat revenges her father by taking care directly of Phayut. Ruffians are defeated. Likit is finally reintegrated in the police. It is a low budget movie. Likit Eakmongkol is the main actor but all main fighting scenes are featured by Panna Rittikrai. Such movie has no direct sound recorded but the film was dubbed after. Additional funny words especially for second roles are added during post production and are a reminder of the famous dubbers activities in 1960s and 1970s. So for such 1990s production there was no more live dubbing but post dubbing.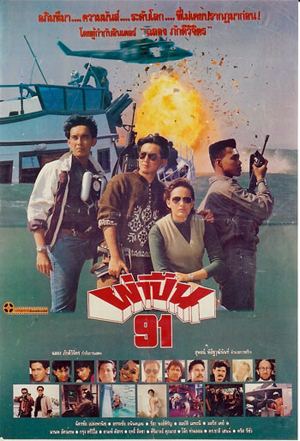 Year

: 1991



Thai title

:

ผ่าปืน 91




English title

:



Rating

: 4/5


Director

: Chalong Pukdeewichit



Main actor

: Chatchai Plengpanich,Morris K,Dam Datsakorn,Rith Luecha,Sombat Methanee,Manop Aussawathep,Krung Srivilai,Sithao Petcharoen


Main actress

:
Thai movie ผ่าปืน 91 was released in year 1991. Movie is directed by Chalong Pukdeewichit. The Thai cable TV version lasts 1h23mn. The original version lasts 1h38mn. Ruffians led by Dam Datsakorn and Rith Luecha storm a warehouse to steal weapons. The warehouse guardian (Sithao Petcharoen) is shot dead and two policemen are killed while ruffians flee. Sombat Methanee, company chairman, asks support from Police Captain (ผู้กอง) Passakorn (Chatchai Plengpanich) as they worked together before. Passakorn and his colleague Maurice (Morris K - มอริส เค) enquiry about the company managing the logistics. The secretary Pawinee (ริสา หงษ์หิรัญ) is not cooperative. The company manager Kangwan (ผู้จัดการ - Manop Aussawathep) is away. The secretary leaves with a briefcase. The briefcase is stolen following a robbing. Passakorn and the secretary follow the robbers. The robbers are led by Dam, seconded by Rith. Passakorn is captured and is about to be killed (เช็คบิลได้เลย) but the secretary Pawinee and a Japanese policeman called Ken (อรรถชัย อนันตเมฆ) save him. Ken is Pawinee's boyfriend. Passakorn meets again Sombat, who introduces him to his company manager Kangwan. Dam tries to get rid of Passakorn by threatening his girlfriend (อย่าให้พลาด) but it fails thanks to Maurice. Dam tries to embuscade Passakorn in a mall but he fails again as Krung Srivilai (คนที่หวังดี) provides some help to Passakorn. Passakorn wishes his girlfriend to find another job as she is working in a pub to welcome guests. Pawinee names Passakorn's girlfriend as Mae Nak! Ruffians try to kill Passakorn and chairman Sombat but they fail again. While in a pub, Rith and ruffians storm it to kill Passakorn. His girlfriend is shot dead by Rith. Upset, Passakorn chases Rith but he is stunned by Dam before able to get revenge on Rith. On a boat, Passakorn discovers that the ruffians' big boss is Kangwan! Tied, Passakorn is thrown in the water. Pawinee, being an outstanding diver, saves him again. Kangwan comes to Pattaya to do business for weapons (อาวุธร้าย M48) with foreigners. Chased by ruffians, Passakorn and Pawinee get help from Krung. Ken betrays Pawinee by failing to put a timing bomb on Kangwan's boat. Kangwan and Dam are doing business at the Cambodian border. Thai navy tries to stop them but they take hostages. Fighting happens causing Kangwan and Dam to be killed. Krung, showing his real face, wishes to take over the weapons. In a last move to show he wasn't a bad guy, Ken sacrifices his life to neutralize Krung.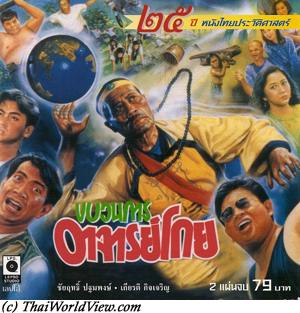 Year

: 1991



Thai title

:

ขบวนการอาจารย์โกย




English title

:



Rating

: 1/5


Director

:



Main actor

: Lor Tok,Mum Jokmok


Main actress

:
A few students face some ghosts in a village. The situation is getting worse as one of the ghost believe a student was her former husband during a previous life.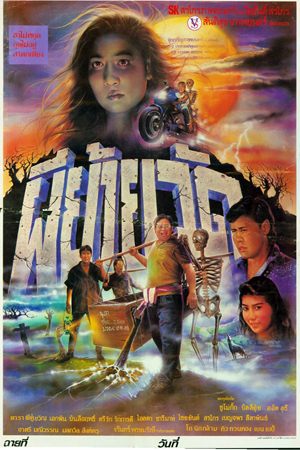 Year

: 1991



Thai title

:

ผีย้ายวัด




English title

:



Rating

: 1/5


Director

:



Main actor

: Ekapan Banleurit


Main actress

: Trirak Rakkarndee
A group of friends are playing cards with a group of bad boys. They win against them and gain a lot of money. A fight starts and the bad boys have to retreat. In order to take revenge, they kidnap one of the girl. Fearing for her integrity, she commits suicide. Her ghost comes back and takes revenge over the bad boys. She also chases part of her former friends as they hide her coffin and also to convince them to stop gambling. This movie's coming up next part is "ผีย้ายวัด 2".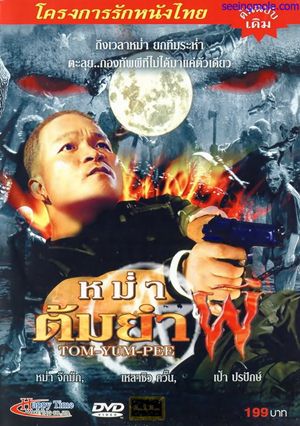 Year

: 1991



Thai title

:

ผีดิบดิบ




English title

:



Rating

: 1/5


Director

:



Main actor

: Mum Jokmok,Pao Porapak


Main actress

:



Buy now

:

Thai movie ผีดิบดิบ was released in year 1991 and lasts only 1h09mn. It is an horror R movie (R - Restricted). It is available under VCD format and was released by Happy Time Marketing Co company. Due to marketing purpose, as Mum Jokmok was popular, the movie name was changed from ผีดิบดิบ to หม่ำต้มยำผี (Mum Tom Yam Ghost). The movie is censored or cut in order to be released widely under VCD format but only 1h09mn remains. Some love sequences are blurred or even cut. Master Mum Jokmok is fighting versus Pao Porapak. Both have supernatural powers. Elder brother Kwan is back from overseas studies. A will is opened as his father died suddenly. The daughter Chiep and the son Kwan get 100% of the heritage. The young mother-in-law (แม่เลี้ยง) Oi just gets authorisation to stay in the house. If anything happens to the children, then the heritage will be hers. Nattaporn, Oi's lover, promises to manage this. Kwan is upset as his father died so fast. He has a bad relationship with the young mother-in-law. Kwan, his sister Chiep and her boyfriend have issues with ruffians hired by Oi in a discotheque. Nattaporn is doing black magic incantations to cause Kwan to have a motorbike accident. He falls in hell (เมืองผี) and meets his father! The father warns him about Oi and tells him how to go back to the earthen world. Nattaporn is some kind of vampire. Kwan is back as a ghost and contacts the lawyer, who is afraid of ghosts. Nattaporn kidnaps Chiep. Kwan asks for the lawyer's help. Kwan possesses Oi's body to kill Nattaporn but he fails. Master (อาจารย์) Mum is then involved in order to defeat Nattaporn. Following lengthy fightings, Nattaporn and Oi are defeated. The movie is cut too much to be appreciated and the release under a new name is just a commercial gimmick as Mum Jokmok has only a limited second role.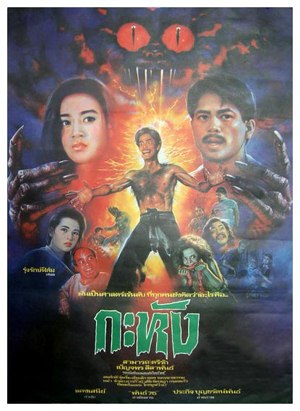 Year

: 1991



Thai title

:

กะหัง




English title

:



Rating

: 3/5


Director

:



Main actor

: Mum Jokmok,Joomjim Khemlek,Somsak Chaisongkram


Main actress

: Trirak Rakkarndee



Buy now

:

Thai movie กะหัง was ​released in year 1991. It lasts 76 minutes. The picture quality is average. It was sold by two VCD companies under the name หม่ำต้มยำผี2. The highlight of this low budget comedy horror movie with limited Fx is to have two famous spirits from Thai folklore to meet (ผีปอบ and ผีกะหาง). Lom (Mum Jokmok) and Joomjim Khemlek are talking about a young lady called Fon. Doctor Klam (หมอกล่ำ) (Somsak Chaisongkram) is an herbal doctor (สมุนไพร). His daughter Oon, is pregnant since 2 months with Phi Mek but she didn't tell her father. A bit of light erotism suggestion is featured as such movie needs to accommodate many tastes in rural audience. Nobody talks to Sai Jai (Trirak Rakkarndee) or her mother in the village except Phi Mek. Sai Jai doesn't know that her mother is an ogress (ผีปอบ). Phi Mek decides to flee with Oon as they know Oon's father doesn't like Mek so he will not approve the wedding. Fon is Mek's younger sister. Mek asks his friends to take care of his father and his sister while he is away. Friends argue to be the one to take care of the beautiful Fon. Klam is very upset and threatens to kill both Mek and Oon. At nighttime in the forest, a demon (ผีกระหัง) attack them. Oon is killed. Sai Jai's mother, who was following Klam, eats her intestine. Phi Mek is back to the village. Nobody knows who the demon is. It is in fact doctor Klam! Sai Jai's mother forbids her daughter to see Mek and to marry only once she is dead. At nighttime, the mother becomes an ogress (ผีปอบ), female ghost eating intestines, and chases for preys. She is then attacked and killed by the demon. Before dying, the spirit is transferred from the mother to Sai Jai. Sai Jai then becomes an ogress. Klam is identified by villagers as the demon. A spirit doctor (หมอผี) is called. Finally as both ghosts are chasing villagers, the spirit doctor succeed to neutralize them. Klam becomes ashes and Sai Jai is safe after the spirit is removed from her body.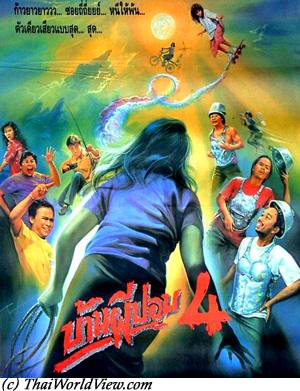 Year

: 1991



Thai title

:

บ้านผีปอบ 4




English title

:



Rating

: 1/5


Director

:



Main actor

: Kiet Kijcharouen


Main actress

: Natanee Sitthisaman



Buy now

:

The fourth opus of "Baan Phi Pop" (บ้านผีปอบ) continues with the same characters. Some students come to stay in a countryside house taken care by Ya Yip (หยิบ) and the local sorcerer. The students almost get all killed except three who succeed to flee. In the village a lady called Mae Srinuan gets interest from a few old bachelors. She is seen as a "Phi Pop" ghost but some bachelors don't believe in it. Mae Srinuan kills a young girl, called Tien, who was waiting for her boyfriend at night time. The three remaining stranded students arrive in the village. One of the students has the same face as the young villager girl who just died so it creates confusion in the village. The students help the Bangkokian doctors coming to the village to treat local villagers. During a last fight between Mae Srinuan and the local sorcerer, the local sorcerer gets stabbed and is reduced to ashes. Nothing new in this fourth opus with similar recipes as previous movies. Old "Phi Pop" characters die and new "Phi Pop" appears. Only Ya Yip remains. Similar pursuits in accelerated motion with various gags still happen. Villagers wear armours to prevent "Phi pop" ghosts eating their intestines. Villagers also use guns loaded with syringe to put to sleep Ya Yip but they confuse anesthetic and methamphetamine (ยาบ้า) so making Ya Yip overexcited! Each movie opus brings modern items in the village such as skateboard. Sometimes the movie serie looks like a cartoon where "phi pop" ghosts chase and try to catch the villagers and Bangkokian doctors. The villagers and Bangkokian doctors have to use more and more clever tricks and technics to escape the ghosts. The ghosts also try various technics to catch them and even use modern vehicles (skateboard, flying bicycle...) to run faster.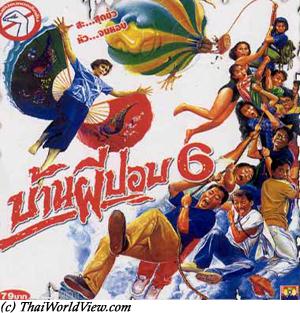 Year

: 1991



Thai title

:

บ้านผีปอบ 6




English title

:



Rating

: 1/5


Director

:



Main actor

: Kiet Kijcharouen


Main actress

: Natanee Sitthisaman



Buy now

:

This movie is Baan Phi Pop (บ้านผีปอบ) opus 6. Number 5 was skipped as another team made their own Baan Phi Pop serie. The first opus of the new serie was renamed from Baan Phi Pop 5 to พันธุ์ผีปอบ '34. Principal characters are still here in Baan Phi Pop 6. The district has gone through some modernisation as an hospital has been built. Ya Yip (หยิบ), the "Phi Pop" ghost, is resting at the hospital and performs a rampage with an axe. A "Phi Pop" (ผีปอบ) is an evil spirit believed to possess a person to eat his intestine while also forcing him to seek and consume raw animal organs and meat at night time. One of the hospital nurse, Kamthong, visits a village lady (Srinuan), who is sick and has the reputation to be a "Phi Pop" ghost (ปอบ) also. The village headman (ผู้ใหญ่บ้าน) wants to marry Srinuan (เราอยู่ได้เพราะว่าความหวัง). Following nuisances due to Ya Yip, the village headman is looking for a master (อาจารย์) to chase her (ไล่ปอบ). A charlatan arrives in the village. At night time Srinuan really becomes a "Phi Pop" ghost and kills some villagers to eat their intestine. As usual in Baan Phi Pop (บ้านผีปอบ) movies, there are continuous pursuits between Ya Yip, the "Phi Pop" ghost, and the villagers. This opus continues to mix gory horror and gags. New and old gags (Women in tight sarong - ผ้าถุง) spurt continuously. New weapons such as boomerang, ladder, flying bike, floating bike, flying ghost using fans as wings and a montgolfier are introduced. Many gags are similar to cartoon gags. There is good imagination from scenarists to find gags. Ya Yip is called ผีบ้า! The village headman refuses to believe that Srinuan is a "Phi Pop" ghost and continues to believe Ya Yip is responsible of the murders. Kamthong's boyfriend, Plung, is worried. Kamthong refuses Plung's request to stop visiting Srinuan as he is worried about a spirit (วิญญาณ) transfer between the two ladies. He decides to enquiry inside Srinuan house. The village headman chases the useless master as he couldn't stop Ya Yip. Plung brings one of the doctor to spy Srinuan at night time. Finally he decides to kidnap Kamthong to protect her. Srinuan tries to stop Plung causing Kamthong to be contaminated (ถูกวิญญาณปอบ) by the "Phi Pop" ghost.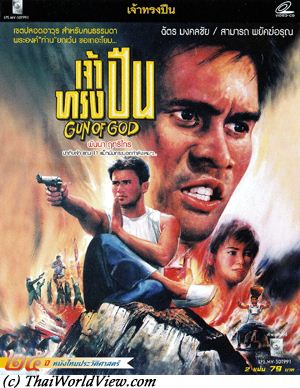 Year

: 1991



Thai title

:

เจ้าทรงปืน




English title

: Gun of god



Rating

: 2/5


Director

:



Main actor

: Panna Rittikrai,Chat Mongkolchai,Pao Porapak


Main actress

:



Buy now

:

Thai movie เจ้าทรงปืน was released in year 1991 and lasts 1h30mn. Hitman Tom (Pao Porapak) kills a man but then he is chased by people wishing to kill him. His boss is เจ้านาย Somkit (Chat Mongkolchai). Tom always supported Jao (Panna Rittikrai), a young mechanic (ช่างเทวดา). Following a killing where a child dies, Tom decides to stop being a hitman (มือปืน) and announced it to Somkit, who asks him to think again about it. Internal fightings happen between some local ruffians to control the area. Mongkol wishes to revenge against Somkit. Tom dies while protecting Somkit a last time. Jao arrives just when Tom is about to die. Before dying, Tom recommends Jao to take refuge in one of his friends' home. Masked killers get rid of Somkit's opponents including Mongkol. They stop by the restaurant to shoot Tom's friend and chase after Jao. Jao is shot but the bullets don't enter thanks to a holy Buddhist amulet provided by Tom before his death. He is rescued by Lung, who explained Tom's past to him. Jao decides to chase Somkit. This one assures him he is innocent but masked men capture Jao. The mastermind is indeed Somkit. The movie ends up with multiple fights involving Jao and his friends versus Somkit and his ruffians. This movie mixes action and comic sequences including low level jokes such as flatulence noise, gay fighter...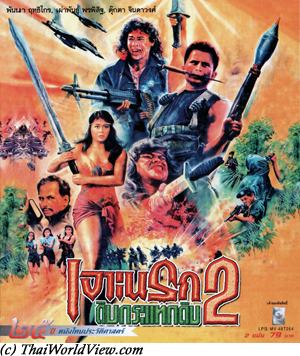 Year

: 1991



Thai title

:

เจาะนรก 2 ตอน ดิบกระแทกดิบ




English title

: Angel of death part 2



Rating

: 3/5


Director

:



Main actor

: Panna Rittikrai,Chat Mongkolchai


Main actress

:
เจาะนรก 2 ตอน ดิบกระแทกดิบ (Angel of death part 2) movie was released on a VCD manufactured by Thai company Lepso. It is coming from a VHS copy. The image is not sharp and the sound is weak. It is lasting 1h24mn. A man is followed up by a group of heavily armed thugs wishing to kill him. They seem invulnerable. He gets defeated and his sword is left behind in a cave. Panna (Panna Rittikrai) is a police inspector (ผู้กอง). Three thugs attack an hospital. They have big tattoos on the body. They also don't die when got shot. So Panna has to use a car to smash them. After investigation, the thugs were officially dead for one week already... In the jungle, Supree (Chat Mongkolchai) is leading a team attacked by some ruffians as Supree gave orders to warn the police regarding those invulnerable men. Some amazones are playing in a river. They are attacked but saved by Supree. Panna follows up bank robbers and defeats them again with difficulty and discovers that the robbers are dead since one month. A colleague suggest they are zombies (ผีดิบ). A legend mentions a village near the border where shamans have special powers. Panna decides to go at the border to this village. Supree's grandfather made this potion but it is now used in a wrong way. Supree and his amazones including his daughter get attacked by the zombies. Panna helps Supree's daughter. Supree is injured and captured. While fleeing the zombies in a cave, Panna finds the special sword. Only Supree knows the special herbs (ยาสมุนไพร) and refuses to disclose the secret despite being beaten by the zombies leader. The leader wishes to use the potion in a wrong way to become rich. Panna helps to release Supree. Police is coming to help and planes are bombing the ghosts. Panna defeats their leader through a final sword fight. Supree and his daughter are reunited. Panna Rittikrai's movies are always full of action. Some fights or ideas were reused later in famous "Ong Bak" movie. It is a low cost movie with stunts jumping just after the explosions but it is still quite well done.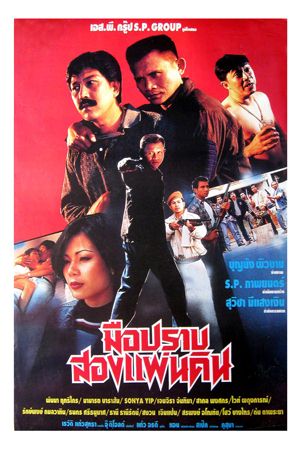 Year

: 1991



Thai title

:

มือปราบสองแผ่นดิน




English title

:



Rating

: 3/5


Director

:



Main actor

: Panna Rittikrai,White Padungkan,Akara Amarttayakul


Main actress

:
Thai movie มือปราบสองแผ่นดิน was released in year 1991 and lasts 1h25mn. This movie is typical action movie from decade 1990s directed by Panna Rittikrai. Such kind of movies were mainly released in Thai provinces, where action movies remained popular. In Bangkok, teen movies were booming. Main actors and actresses are พันนา ฤทธิไกร, มามารถ บาราสัน, Sonya Yip, เจนจิรา จันทิมา, รักษ์พงษ์ กมลวาทิน, White Padungkan, Akara Amarttayakul. Subdistrict headman Priu and village leader are threatened by ruffian leader Prasan and his men (including White Padungkan and Akara Amarttayakul). Meanwhile subdistrict headman Sing stops some robbers. Rit (Panna Rittikrai), being alcoholic, is attacked by two men and gets rid of them. Rit is living with Praew but there is no happiness. Ruffian So wishes to revenge (คิดบัญชี) against Sing as he spent many years in jail. Rit loved young lady Pim before but Sing won her heart, so he gets drunk often since that time. Akara Amarttayakul from movie ไชยา. Prasan and his men move to another jurisdiction to escape to subdistrict headman Sing. As this one becomes chief district officer, they fall back under his jurisdiction and they have to get rid of him. So, tries to kidnap Pim but he fails. Praew quits Rit for White as she is fed up that he is a drunkard. Seeing Rit beaten heavily and insulted (ตัวเมีย) by White and his teammates, she has pity of him and gets back to him. As he has alcohol crisis, she takes care of him. Sing and his friends including Pim and Praew decide to storm the ruffians' den (บ้านเมืองจะเป็นสุข). Heavy fighting occurs but Prasan and his men are all killed. Sing loses a man during the fightings.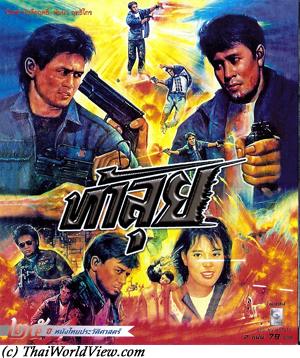 Year

: 1991



Thai title

:

ท้าลุย




English title

:



Rating

: 3/5


Director

:



Main actor

: Bin Banleurit,Panna Rittikrai,Lak Apichat


Main actress

:
Two ruffians leaders, Seua and Kachon, meet. A competition between the two mafia leaders is organized by recruiting expert hitmen (มือปืน). Various hitmen characters are depicted. An expert likes to use female make up before killing. Another expert needs to be drunk (ขี้เมา) before shooting accurately. Another one is selling sweets with his son. Another one is Han having great guns. Who will win (ใครเป็นหนึ่งคนเดียว)? Thanong (Bin Banleurit) is a former policeman who quit following a wrong shooting (เลิกวงการ). There is 10M baht for the winner. Seua wants to force Thanong to participate. The vendor finally meets the drunkard as his son is sick. He helps him. Kachon encourages six hitmen to support each other and fight against Han and Thanong as they have no chance in one to one duel. Seua kidnaps Thanong's pregnant wife to force him to participate to the hitmen contest. 100 hitmen gather for the contest including a Kathoey (กะเทย) and a glutton (กินก่อนยิ่ง) characters. Thanong warns his policeman friend Phan (Panna Rittikrai) to come to the contest with policemen. Han, knowing he was used as a toy, kills the two contest organizers. He even releases Thanong's wife but he is not interested in 10M baht. All he wants to be is to be the hitman number 1. As Thanong refuses to fight, he kills his wife to force him. Both Han and Thanong finally shoot each other. All other hitmen also die. The sweet seller with the support of the drunkard dies while protecting his son. Being a hitman is death guarantee at 99.99%. This B grade action movie is part of the numerous movies Panna Rittikrai has played in.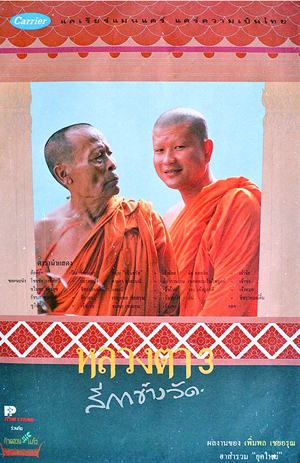 Year

: 1991



Thai title

:

หลวงตา 3 สีกาข้างวัด




English title

:



Rating

: 3/5


Director

: Permpol Choei-arun



Main actor

: Lor Tok,Kiet Kijcharouen,Rong Kaomulkadee


Main actress

: Chamaiporn Jaturaput
Thai movie หลวงตา 3 สีกาข้างวัด was released in year 1991. As it is linked to Buddhist religion, the story is sensible as based on a real story (อดีตพระนิกร-สีกาอร). The movie was even censored and cut a few times. Lor Tok is playing Luang Ta again. Waen (Kiet Kijcharouen) and Biu are playing temple boys (เด็กวัด) roles. Veteran actress Chamaiporn Jaturaput is playing a market woman (แม่ค้า). Luang Ta is always helping and listening to his community. He also faces various problems of daily life with its lies (people asking for money to ordain but claiming later that money disappears...). Oratai's elder sister, Phiya, is a nun (แม่ชี). She quit her home as her father was a drunkard. She ended up working in a brothel. Luang Ta visits a buddhist temple with Biu and Oratai. The monk there is having a huge number of followers and claims having been in paradise and hell already. Speech competition (เทศ) happens between the two monks. The monk (เณร) proposes to Oratai to be his follower (ลูกศิษย์). Oratai accepts. Later on, the monk is looking for opportunities to be alone with Oratai. Biu and Wen always disturb Phiya as Biu is fond of her. Luang Ta uses a funny stratagem to ensure they stop disturbing Phiya (สงบ). The monk gets massage despite still being young. Phiya, worried about her sister Oratai (สีกา), wishes to get her back (ชาวบ้านนินทา). A monk staying alone with woman is incorrect. It tarnishes Buddhism reputation as religion (เรื่องไม่ดีไม่งาม). Phiya, unable to get back her sister, consults Luang Ta. Luang Ta asks help from a senior monk in the hierarchy. Finally Oratai goes back to her sister. Some followers of this monk are upset about Luang Ta and his friends. They wish to kill them. If the monk is defrocked, then they will lose the good life they get through the money coming from donation! (คนชั่ว). They finally get arrested by the police. Oratai becomes a nun (แม่ชี) also. The movie ends up with compassion message as the market woman educates 4 children that are not hers. Director is Permpol Choei-arun famous for his drama and social movies.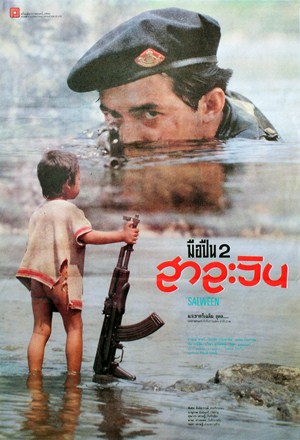 Year

: 1991



Thai title

:

มือปืน 2




English title

: Salween (Gunman II)



Rating

: 5/5


Director

: ChatriChalerm Yukol



Main actor

: Sorapong Chatree,Chatchai Plengpanich,Ron Rittichai,Sor Asanajinda,Suchao Pongwilai


Main actress

: Paweena Chareefsakul



Buy now

:

After WorldWar 2, Burma got its independance from England but the Karen minority problem was left unsolved. So an independance war between Karen and Burmese started. This movie takes place around Salween river, which the border between Thailand and Burma. Aound this area, there is no law, only guns decide. Different protagonists take part: a policeman acting like a outlaw and wishing to revenge his wife killed a few years ago, a young policeman coming from Bangkok with no experience in such difficult area, a Thai deceitful merchant playing Karen against Burmese in order to have access to rich forests full of teak logs, a Burmese general wishing to destroy the Karen stronghold around Salween river, a Karen captain wishing to defend his stronghold and giving in a wrong alliance with the Thai deceitful merchant. The war between Karen and Burmese is still going on and many people call it the forgotten genocide against the Karen people in Burma.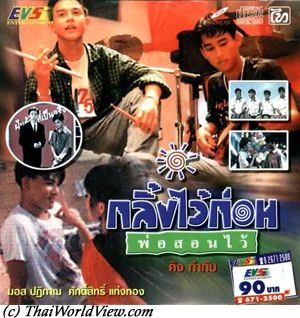 Year

: 1991



Thai title

:

กลิ้งไว้ก่อนพ่อสอนไว้




English title

: Rolling Stone



Rating

: 1/5


Director

:



Main actor

: Mos


Main actress

:
This teen movie focus on local superstar Mos. It is related to students everyday life in secondary school, i.e. jokes over teachers, students in love with their teacher, students working hard including the typical intellectual with glasses always stammering, lazy students, end of year final exams and associated cheating tricks, dream of girls, their first cigarette and so on... But there is still respect to the father and to the Buddhist values. It focus on their aspiration, their dreams of a better future and their difficulties in recomposed families. It highlights that people who do not study have no future. Some student succeed through music, some through sport. Their motive is "tomorrow will be our day" (พรุ่งนี้จะเป็นวันของเรา). The Culture Ministry registers 25 Thai classic films each year at the National Film Heritage Registry. This movie is part of the 25 films heritage list announced on 04 October 2014, which is Thai Movies Conservation Day.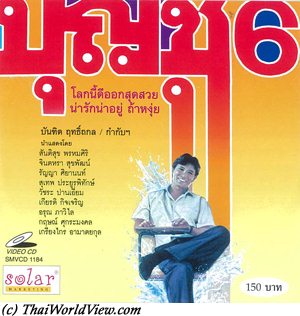 Year

: 1991



Thai title

:

บุญชู 6




English title

:



Rating

: 3/5


Director

: Bandit Ritthakol



Main actor

: Santisuk Promsiri,Kiet Kijcharouen


Main actress

: Jintara Sookkapat



Buy now

:

Boonchu is still studying at the university but some of his friends have started to work. Mo is working in a company where her boss Lolita likes to seduce men and tells lies to them. Lolita brings troubles to Boonchu's friends. Finally Boonchu succeeds his exams but goes back working in his village as a farmer. Will his friendship with Mo become love?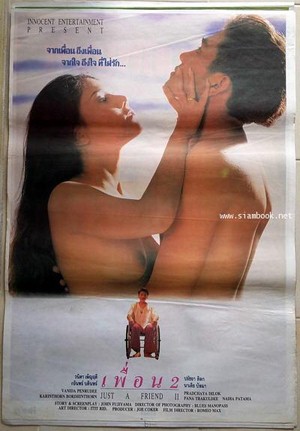 Year

: 1991



Thai title

:

เพื่อน 2




English title

: Just a friend II



Rating

: 3/5


Director

:



Main actor

:


Main actress

:
Thai movie เพื่อน 2 (Just a friend II) was released in year 1991 and lasts 1h27mn. The movie was released under VHS format many years ago. One version is censored but the hot scenes being pixelated. One version is uncensored. A small farming company is gathering their staff near the beach. Staff are having fun and drink. A young man called Bee (เจ้านาย) has a car accident and is paralyzed. He has to sit in a wheelchair. Da, his wife, is then very busy being responsible of everything in the farm. Phet, a young lady worker in the farm, and her boyfriend Samat wonder how she can tolerate. Bee is unable to perform his duty as husband so causing Da to be frustrated. Paen is the veterinarian's daughter. She is lazy. An injured young man, called Chat, arrives at nighttime. Paen takes care of him and finally they become lovers. As Da is very busy and tired, the veterinarian proposes that Chat (หลานชาย) helps Da as car driver. Bee accepts (ทำเลย). Paen is upset as Bee asks Chat to stay in their home so that Da can have a driver available anytime. Paen comes at nighttime to spy Chat but he reassures her through sweet words (ปากดี). Paen is afraid that Da would take Chat from her! Paen's father and Chat prepare a special concoction for Bee to recover. It works and every day Bee regains strength. Meanwhile Da and Chat become closer also. One evening, they got a flat tire so they have to sleep outside and finally become lovers. Upset, Paen asks for urgent wedding to Chat. Bee is happy about his recovery but doesn't know how to thank Chat (ตอบแทนอย่างไรดี). Hopefully Da thanks Chat… Being chased again by ruffians, Chat has to leave the farm.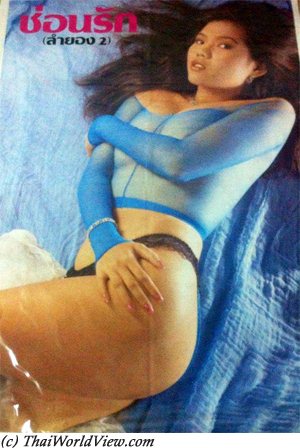 Year

: 1991



Thai title

:

ซ่อนรัก (ลำยอง 2)




English title

:



Rating

: 3/5


Director

:



Main actor

:


Main actress

: Sarocha Sarakon
Thai movie ซ่อนรัก (ลำยอง 2) was released in year 1991 and lasts 1h13mn. The hot scenes have been removed in order to allow a wider release of the Lepso VCD. Lamyong (Sarocha Sarakon) is a singer in a club. She gets many money garlands every night but is not ready to marry. Sia Cheut comes very night to see her but Lamyong refuses to go out with him. Her close friend is Nut. One day, a man called Pakorn proposes to Lamyong to record an album. Teewa, Pakorn's friend, brings her out. Lamyong is a shy lady. The recording of her first album is a success. Pakorn thinks about the second album and wishes Lamyong to quit her current work. She rests in a house located in countryside. Pakorn provides a decorator called Tuweet to embellish the house (ตกแต่งบ้าน). He is enamoured (หลงรัก) with Lamyong's beauty but he is already Nut's boyfriend. Tuweet announces he will make Lamyong loves him. Romance happens but Lamyong just wishes to be friend with Tuweet (พูดบ้าๆ). She still suffers from a previous failed love story as she discovered her boyfriend Nirut was already married (ความรักหรือความต้องการ). Finally Lamyong falls in love with Teewa as he takes care of her. Tuweet is disappointed (อกหัก) to see Lamyong with Teewa but he finally understands that Nut loves him. A misunderstanding happens between Lamyong and Teewa but they finally stay together. Nirut quits his new wife as he cannot forget Lamyong but it is too late as Lamyong has Teewa...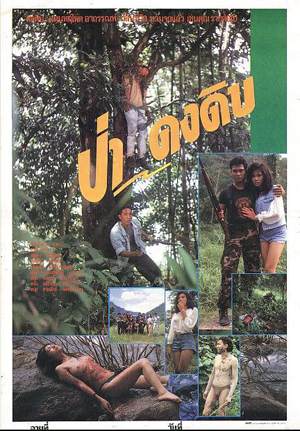 Year

: 1991



Thai title

:

ป่าดงดิบ




English title

: Ever Green Forest



Rating

: 3/5


Director

:



Main actor

:


Main actress

:
Thai movie ป่าดงดิบ / Ever Green Forest was released in year 1991 and lasts 1h12mn extracted from a 35mm film format incomplete version. A VHS version lasts 1h01mn. It is same version as the 35mm film version except that the hot scenes are cut. A group of armed young men and three young ladies are looking for an American plane that crashed in Thai deep jungle during Vietnam war. It seems there was 200M USD inside. Villagers told them the area is dangerous. Tiu is the leader. While making love with her boyfriend, Deuan is shocked (กลัว) as her lover dies instantly and falls in the stream. Kip, while bathing, sees also something not ordinary. Pong proposes to take good care of Kip if he finds the money. Pong sees a weird thing in the trees (ตัวอะไร) but cannot shoot it properly. The weird thing then takes advantage of Kip while she has lost conscience. Pong is accused by others. Another couple is attacked while bathing. Pong shoots at the green beast (สัตว์ประหลาด - ตัวสีเขียว) but Tiu doesn't believe him. Mongkol is found dead. It is the second death. The various people suspect each other. They use a woman as a bait (โดนผู้หญิงหลอก) as it seems the beast is attired by naked ladies. It fails. They try with Kip. Tia is killed. They finally chase the green beast but in scattered order so they are killed one by one. Lek, Sing and then Pong die. Tiu tries a last trick in order to lure the green beast but his gun is halted. A weird old lady chases the beast. Meanwhile Tiu and the three ladies run out of the jungle. They find a weird couple in the jungle and realize they use the green beast as a pet. They flee again. The incomplete movie ends up here.
---