Increase or decrease font size for easier reading : A+ A-
Year 1990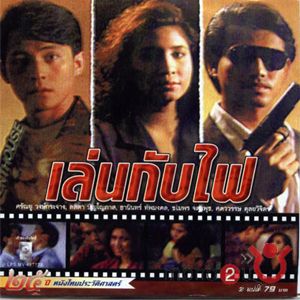 Year

: 1990



Thai title

:

เล่นกับไฟ




English title

:



Rating

: 3/5


Director

:



Main actor

: Sor Asanajinda,Saranyu Wongkrachang


Main actress

: Lalita Panyopas,Chamaiporn Jaturaput,Duangta Tungkamanee
Sida is a young lady, who is pregnant. Her boyfriend, Thong, dumps her away. Ashamed, she kills herself. She always had issues with her authoritarian grandfather. Her older sister, Sakul, refuses to be dictated by her grandfather. Her husband died already. She has a young three years old boy. She meets Plai, who is a butterfly man. Women are toys for him (ของเล่น). Thong is also a former boyfriend of Sakul and still loves her. Plai is having an affair (เรื่องสนุกสนาน) with Thip, Thong's sister. Thip wants to marry but Plai is not willing. Plai has a high interest in Sakul as she is the first woman not falling to his charm. There are conflicts between Plai and Thong. Sakul needs to use Plai as a false boyfriend in order to stop being followed by Thong. She plays with fire (เล่นกับไฟ) as Plai has still a butterfly reputation. Plai comes to stay in Sakul's home. Thong (บัดซบ!) has raped Sakul before. Sakul's son is in fact his son. Plai's mother doesn't want to hear about Sakul. Twenty years ago it was still an issue for a widowed woman having a child to get a new husband in Thai society. Plai and Sakul announces their wedding to beat back Thong and Thip. The authoritarian grandfather and Thong prepare a nasty plan. Plai goes for a last night with Thip but gets beaten by ruffians commanded by the grandfather. He is almost blind. Sakul brings Plai to Pattaya in order to rest. Thong gets crazy as he doesn't know where Sakul and Plai are hiding. He hits and kills Toei, Sakul's friend, to know where they are. Going back home, Sakul and Plai face Thong. A fight erupts and Thong gets deadly shot.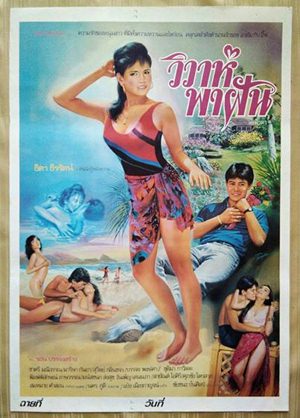 Year

: 1990



Thai title

:

วิวาห์พาฝัน




English title

:



Rating

: 1/5


Director

:



Main actor

:


Main actress

: Thida Thidarat
Thai movie วิวาห์พาฝัน was released in year 1990 and lasts 1h20mn. It is available under VCD format released by Lepso. Some parts of the movie might be censored or cut. This movie has same name as Thai movie released in year 1971 and featuring Sombat Methanee and Aranya Namwong. It is probably not a remake! Sunai (รอน) and Racha (Thida Thidarat) are newlyweds. It is honeymoon time and they invite five other young couples to stay in Sunai's resort. Another couple announces they will marry this month also (แต่งงานสองชั้น). All couples are having happiness. Following her friend's advice, lady Saranya consults an occult master (อาจารย์) in order to marry a man she loves. She leaves as the master is dishonest and tries to abuse her. While visiting an extension of the resort, a woman attacks Racha as she believes she is trying to take her husband away. A couple gets robbed. Luckily the car has a big mobile phone (by 1990 standards) so they can call for help. The ruffians come back to abuse (ปล้ำ) the lady. Sunai and Racha helps them on time and chase the ruffians. All friends are back to hotel and celebrate the new wedding. There is happiness among friends and happiness in the hotel rooms as couples. It is the last day before leaving for Bangkok. The friends are taking a final trip to river Kwai. One of the lady called Saranya is lost while wandering around the waterfall. Her friends are looking for her. A man is offering his help but tries to abuse her. Her friends are helping on her again on time. Sunai and Racha give happiness to their friends (สั่งสวรรค์ให้เขา) by inviting them again. This low budget movie was surely shot in a very short time and was probably only released in second class theaters (โรงหนังชั้นสอง). Presence of actress Thida Thidarat is certainly the main selling point.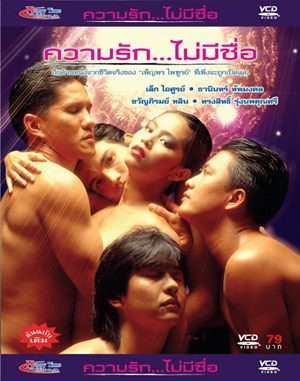 Year

: 1990



Thai title

:

ความรักไม่มีชื่อ




English title

:



Rating

: 3/5


Director

: Pantewanop Tewakul



Main actor

: Songsit Roongnoppakunsri


Main actress

: Pissamai Wilaisak



Buy now

:

Thai movie ความรักไม่มีชื่อ was released in year 1990. It lasts 1h46mn. Actors / actresses include ขวัญภิรมย์ หลิน, ทรงสิทธิ์ รุ่งนพคุณศรี, ธานินทร์ ทัพมงคล, เล็ก ไอศูรย์. Movie director is Pantewanop Tewakul. The movie recalls young lady Tim's love life. Tim (ขวัญภิรมย์ หลิน) is rushed to hospital as she tried to get suicide. A young man Tit (ธานินทร์ ทัพมงคล) recalls her life. Tim was studying arts (ศิลปิน). She had three brothers and sisters. An art student tried to seduce Tim and proposed to her to become his model (เป็นแบบ). They became lovers. The father left as he had another wife (พ่อทิ้งเราไป). The family was in a mess. The mother indulged in alcohol. Her art student had another girlfriend. Tim stopped her art studies to support the family. Thanks to a mother's friend (Pu), who just died, she became a model (ดารา). Young man Lut (ทรงสิทธิ์ รุ่งนพคุณศรี), main actor in a movie, was attracted by Tim. They became lovers (มีพรสวรรค์). She was rejected as main actress for Thai movie. Her dreams were shattered. She finally became official girlfriend of Lut (แฟน). Tim won a first prize as model. Her life seemed perfect. Tim became a main actress in Thai TV serie (ละครโทรทัศน์). She sympathized with the main actor (เล็ก ไอศูรย์) and finally decided to quit Lut. Lut was out of job and Tim was fully immersed in the model world. They were too different... One evening she found her new boyfriend (แฟน) in bed with another woman. She indulged in alcohol, got sick and was unable to play TV role properly. Tit was always here to help and even lent money to rescue the mother's business. Teewa, a movie director, pitied her and takes care of Tim. A new romance started. Tim met his mother played by Pissamai Wilaisak. The mother disliked her and asked her to break with her son as she couldn't accept such daughter in law. Tim finally met Don, a young Buddhist believer (รู้สึกบาป) on an island. They became lovers. One day, a woman visited her and announced to her that she was Don's wife and they had two children (บาปกัน). Meanwhile Tit (เพื่อนรัก ของผม) had become a famous singer. Fed up by men, Tim tries to get suicide.



Year

: 1990



Thai title

:

เจ้าสาวเที่ยงคืน




English title

:



Rating

: 1/5


Director

:



Main actor

:


Main actress

: Trirak Rakkarndee
Two women love the same man but the jealous one get rid of her rival by killing her. But her ghost is back in order to take revenge and to prevent any woman to approach her bridegroom. Will she hurt her sister who is trying to help and console her bridegroom?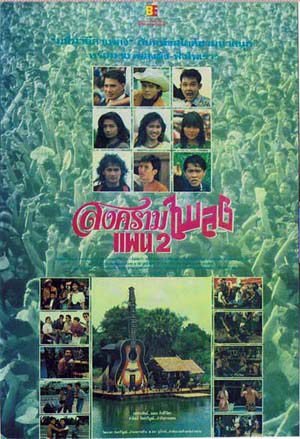 Year

: 1990



Thai title

:

สงครามเพลง แผน 2




English title

:



Rating

: 3/5


Director

: Sayan Chantaraviboon



Main actor

: Sorapong Chatree,Samart Payakaroon,Yodrak Salakjai,Note Chernyim,Manop Aussawathep,Boo Wibunnan,Ron Rittichai


Main actress

: Trirak Rakkarndee
Thai movie สงครามเพลง แผน 2 was released in year 1990 and lasts 1h52mn. The movie was released under VHS format and VCD format. This musical movie is featuring real singers such as Sorapong Chatree (สรพงศ์ ชาตรี), Samart Payakaroon (สามารถ พยัคฆ์อรุณ), สุนารี ราชสีมา, หรั่ง ร็อคเคสตร้า, ทิพย์ ธรรมสิริ, Yodrak Salakjai (ยอดรัก สลักใจ). Movie director is Sayan Chantaraviboon. Yodrak and Note Chernyim are performing in an attraction park. Yodrak tries to protect lady Trirak (Trirak Rakkarndee) aggressed by ruffians led by Ping. Mat (Samart Payakaroon - สามารถ พยัคฆ์อรุณ) stops his Thai boxing match to help also. But Yodrak (Yodrak Salakjai) and Mat are fired from the attraction park for breaking rules. They end up in Pon's house. Pon (Sorapong Chatree) is Yodrak's old friend. Pon is a former singer, who had great success. He is now disabled. Pon had an accident. A car overthrown Pon and his girlfriend. Out of job, all friends have to do small jobs to earn money. Romance occurs between Su (สุนารี ราชสีมา) and Yodrak. Music producers conflicts occur between producer Ron Rittichai from Grand Opinion and producer Phanom (พนม) from Diamond Note as singer Rang invites Thip to sing on the stage. It is songs war (สงครามเพลง / สงครามธุรกิจ) between them. This rivalry causes singers to be enemies (ศัตรู). Singers cannot even contact each other such as Rang and Thip. As they have difficulties to pay debts, Pon is upset but he still is trying to sell his songs. Rang promises to help. Ping tries to aggress Thirak again. The friends have issues with Ping, Boo's son, who threatens to burn Pon's house as a revenge. Pon succeeds to sell two songs thanks to Rang's help. Mat becomes a singer also. Lady from opposite side (สุนารี ราชสีมา) makes Mat to drink a lot. Producer Phanom copies Ron's producer strategy (ลิขสิทธิ์ใหม่ / ลิขสิทธิ์เก่า). Phanom is helped by ธีรพงศ์ เหลียวรักวงศ์ to coerce Mat. Mat is too busy with work. The lady doesn't let him go back home. When back home, he found that Trirak is going to marry with one of the sons of Boo Wibunnan. Mat misses being an ordinary man as there is no rest when being a superstar singer. Finally, they get on well again. Grand Opinion Producer Ron decides to call back Pon. Pon has finished to write a song in honor of his deceased girlfriend. Young lady Thip (ทิพย์ ธรรมสิริ) has similar face as her and will be the one to sing this new song. A concert is organised to differentiate the two producers. Pon and Mat arrive by balloon. Thip sings Pon's new song. It is a huge success. Shooting happens as a revenge and Pon is shot (ถูกยิ่ง). The two producers accept to do peace to ensure Pon's death has a meaning.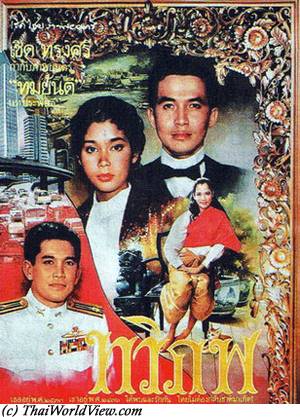 Year

: 1990



Thai title

:

ทวิภพ




English title

:



Rating

: 4/5


Director

: Cherd Songsri



Main actor

: Chatchai Plengpanich


Main actress

: Metta Roongrat
Mainee always dreams about a man from the past time. She buys an old mirror from Rama V (รัชกาลที่ 5) era. She has a fiance, who is officer. She identifies that the man from the past time is Khun Luang (คุณหลวง) Thet, who was involved in negotiation with French officials last century, when French soldiers tried to take away some Thai territories. She has visions. The old mirror becomes a bridge between the past and the present (กลับเวลาไปสู้อดีต). Her fiance is in competition with somebody from the past. Mainee navigates between the past and present. Love emerges between Mainee and Khun Thet. The movie highlights old traditions that have almost disappeared (children sitting below adults, no singing - ผู้ดีไม่ร้อง, No black clothes except for funerals - แต่งดำใครตาย, dress appropriately - ชุดสั้น, pray before sleeping - สวด). She is an human from future (มนุษย์จากอนาคต). As usual with director Cherd Songsri, there is a strong focus on culture with shown representations from the Thailand cultural Centre. Mainee keeps staying in her room. All her relatives are puzzled because she often disappeared (ไปในอดีตมา). They believe she is becoming crazy. Khun Thet goes to a meeting with French representatives to show them that Thai culture is deep and old. A French general believes that Thai people are uneducated. Mainee needs to choose between present or past. Mainee keeps giving advices to prevent Thailand becoming a French or English colony. The mirror is damaged. She decided to marry with Khun Thet but she misses her mum. Despite the damaged mirror she takes the risk to come back a last time to see her mum. Then she decides to stay in the past as it is more useful for the Thai Nation (ประโยชน์สำหรับชาติ). The mirror is broken. This movie mixes romance, Thai culture and Thai real history.



Year

: 1990



Thai title

:

สวรรค์ชั้น 7




English title

: Life's little big man



Rating

: 1/5


Director

:



Main actor

:


Main actress

: Darin Kornsakoon
It deals about a movie director getting crazy with women.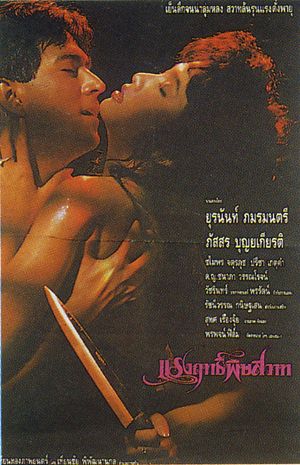 Year

: 1990



Thai title

:

แรงฤทธิ์พิษสวาท




English title

:



Rating

: 3/5


Director

:



Main actor

: Yuranan PamornMontri


Main actress

: Passorn Boonyakiat,Chamaiporn Jaturaput
Narit and Pat are a happy family with one daughter. They have a trip to Pattaya. There Narit meets Jenjira, a lonely beautiful young girl. Narit is doing commercial advertisements. As looking for a model for sport car advertisement, he meets Jenjira again. She seduces him. He starts to party. He was a good husband but starts to misbehave. Jenjira never had a father and her mother died when she was 12. Jenjira is too possessive and crazy. She hurts herself in order that Narit stays longer and takes care about her. Narit and Pat move to a new home. Jenjira wants to see Narit again but he prefers to break up in order to focus on his family and job. Jenjira is heart broken. She starts to call at his home. She announces that she is pregnant and that she will keep the baby. Jenjira shows up at Narit's apartment, which is for sale, and meets his wife feigning interest as a buyer. She blames Narit for having no responsability same as her father. She puts a snake inside their daughter's bird cage. Narit has to say the truth about Jenjira to Pat. Jenjira kidnaps their daughter O but finally releases her. Pat is hurt by a car. Jenjira starts to be violent and try to kill Narit as she is afraid to lose him to Pat. Through a final confrontation, Pat has to shot Jenjira in self-defense. It is the Thai remake of Fatal Attraction with Michael Douglas and Glenn Close.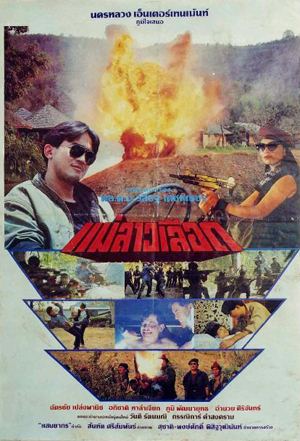 Year

: 1990



Thai title

:

แม่ลาวเลือด




English title

:



Rating

: 3/5


Director

:



Main actor

: Chatchai Plengpanich,Apichat Halamjiak


Main actress

:
Thai movie แม่ลาวเลือด was released in year 1990 and lasts 1h29mn. Tanoot (ธนุส) (Chatchai Plengpanich) has only two loves, his work and Thailand. Tanoot was commander of a special military unit called Bravo responsible to clean up corrupted people. He quits his job hoping to be able to start a new life. Tanoot goes to Chiang Mai in a guest house owned by a former subordinate called Kiet. He remembers many years ago when he helped mountain villagers in the area attacked by ruffians. At nighttime Kiet is stabbed by three men but he has time to tell a few words to Tanoot before dying. As a bloody knife is found under Tanoot's bed, he is accused by local police of the murder. Police beats Tanoot to force for some evidences. Finally Tanoot is released from police station thanks to the guarantee of a wealthy man (พ่อเลี้ยง). Some ruffians try to kill Tanoot. Some former colleagues join Tanoot. Later on, Tanoot and his colleagues including Sandy capture one ruffian and torture him to get information. Sandy is captured by the ruffians led by Sonmai. Tanoot is also captured while trying to locate her. Finally Tanoot is released by his colleagues. Drug organisation (องค์การ) gives three days to Soto get rid of Tanoot and his colleagues. Three explosions happen in malls. Siriwon (Apichat Halamjiak) is the big leader of the drug organisation. Sonmai hires a complete resort to attack Tanoot. Fighting happens in this resort but ruffians get defeated. Tanoot defeats Sonmai through a duel. Sandy and Tanoot can leave to enjoy happiness. Siriwon also dies. This story is the following opus of สารวัตรเถื่อน.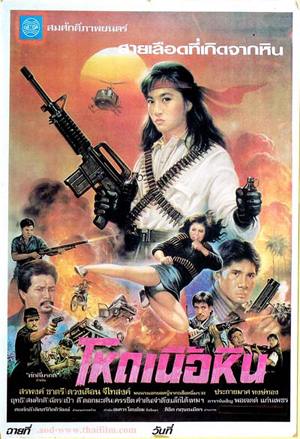 Year

: 1990



Thai title

:

โหดเนื้อหิน




English title

:



Rating

: 3/5


Director

:



Main actor

: Sorapong Chatree,Rith Luecha,Kanchit Kwanpracha,Chat Mongkolchai,Somsak Chaisongkram


Main actress

: Duangdeuan Jithaisong
Thai movie โหดเนื้อหิน was released in year 1990 and lasts 1h29mn. Two groups of ruffians meet in order to exchange drugs and money. Suddenly a young lady called Duangdeuan (Duangdeuan Jithaisong) shots all of them with a M16 rifle. Sophit, restaurant waitress, hears that a group of four guys will deliver heroin soon so she informs subdistrict headman Cheut (Kanchit Kwanpracha). Duangdeuan helps a young girl being kidnapped by ruffians so Duangdeuan seems to be kindhearted. Police, including Duang (Chat Mongkolchai) as policeman, and subdistrict headman Cheut prepare a plan to catch the drug dealers. Thanks to information given by Sophit, ruffians are killed and drug is seized. Mafia leader (พ่อเลี้ยง) Boonseum (Rith Luecha), father of Rith Luecha, is very upset with subdistrict headman Cheut (มึงกับกุเห็นกันดีแน่ๆ). Duangdeuan (นายหญิง) promises to take care of subdistrict headman Cheut herself (หน้าที่ของลูก) and kills him in a sudden attack. The younger brother of Cheut, Chat (Sorapong Chatree), comes back and plans to revenge his elder brother. Ruffians try to get rid of him but they fail. Boonseum wishes to use hitman Khao Yai (Somsak Chaisongkram). Khao Yai and his men attack Chat and he is left for dead. Hopefully village leader Duang helps him and his daughter Phakamat cures his injuries. They prepare a plan (สักวันต้องรับกรรมแน่). Sophit helps to hide Chat but then gets killed by Khao Yai for being a traitress. Chat kills Khao Yai and his men by himself. Fed up that others always fail, Duangdeuan decides to take care of Chat by herself. Going to Duang's house, she only finds Phakamat, who is then hurt and kidnapped. Chat has to help her while Duang is getting help from the police. Chat is an undercover policeman. The policemen and Chat storm the ruffians' house while they are selling weapons to the country traitors. Heavy shootings happen as Duangdeuan has got a machine gun. Almost everybody die. Both Chat and Duangdeuan blow up each other with grenades.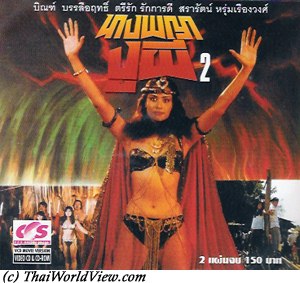 Year

: 1990



Thai title

:

นางพญางูผี 2




English title

:



Rating

: 3/5


Director

:



Main actor

: Bin Banleurit,Somsak Chaisongkram,Kowit Wattanakul


Main actress

: Trirak Rakkarndee,Sararat Rumreuangwong
Thai movie นางพญางูผี 2 was released in year 1990. It is the same story as movie งูผี (1966) featuring Mitr Chaibancha and Petchara Chaowarat. Snake hunters are afraid of a big holy snake (งูเจ้าแม่). Chat is the hunters' leader. His wife Lamai is pregnant. Both of them die following the spirit's wrath. Only the baby survives and is adopted by a villager, who named her Boonme. They have already a daughter called Kamfa. Years have passed and the two daughters are now adults. Boonme is lazy. Kamfa has always gratitude over her parents. Many deaths happen in the village located in North of Thailand. Somsak Chaisongkram is the subdistrict headman (กำนัน). Chatree (Bin Banleurit) is sent to investigate the multiple strange deaths but prefers to be seen as a tourist. He meets Kamfa (Trirak Rakkarndee) in a Buddhist temple during Songkran festival but also Boonme (สรารัตน์ หรุ่มเรืองวงศ์). Inta, a strong local villager, is jealous of Boonme's interest towards Chatree. Chatree asks the caretaker in cemetery to see the corpses but only snakes (งูผี) remain. They consult a local spirit medium (ปู่เจ้า) who gives them a charm to identify in which body the evil spirit (นางงูผี) is hiding. Boonme orders Inta to kill Chatree but he fails. The subdistrict headman's daughter is bitten by a snake and is now resting in the spirit medium's house. The evil spirit orders Kamfa to bring back the little girl to her. As she screams, Kamfa is wrongly identified as the evil spirit (นางงูร้าย) by villagers. Meanwhile Boonme kills her own father (ลูกอพรี). Villagers led by the subdistrict headman wish to burn Kamfa. Chatree tries to help but gets condemned also. Hopefully a wandering monk (พระธุดงค์) (Kowit Wattanakul) stops the fire. The monk gives a holy necklace (ประคำ) to Kamfa to neutralise Boonme but Kamfa gets a promise that Boonme will stop killing people so she doesn't use the necklace. The evil spirit needs human blood to keep her eternal youth (นางปีศาจ). Boonme uses her magical power to convince Chatree to follow her up to her cave. Finally Kamfa uses the holy necklace to wake up Chatree. Through a daring finale, Boonme tries to kill Kamfa but Chatree then uses the necklace towards Boonme. Kamfa and Chatree succeed to escape from the cave before it collapses.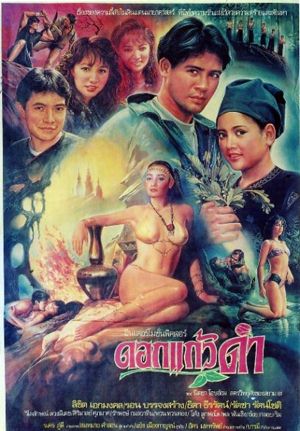 Year

: 1990



Thai title

:

ดอกแก้วดำ




English title

:



Rating

: 3/5


Director

:



Main actor

: Likit Eakmongkol


Main actress

: Thida Thidarat
Thai movie ดอกแก้วดำ / ลายแทงมหาภัย (renamed by Lepso Ltd) was released in year 1990. It lasts 1h31mn. A doctor called Tidi didn't go back home since one month. He went to Burmese border. There are rumours that he is enamored with a mysterious (คุณหมอลงเสนห์ผู้หญิงเจ้าฟ้า) and evil woman (นางผีร้าย) called Mae Nang. His sister called Lak is worried. Lak, a nurse, asks Palang to help as he is close friend with Tidi. Palang (Likit Eakmongkol) is engaged with Pat. Pat is very jealous (แม่หญิง) and upset as she was thinking to go to seaside for holidays with Palang. Palang is head of the forest rangers (หัวหน้าป่าไม้). YouPo (Thida Thidarat), a mountain village girl, likes secretly Palang. A troupe led by Palang goes inside the forest to look for Tidi. Cross hidden love happens between YouPo and Palang, between a young mountain man and Lak. Men wearing black powder are following them. Their leader Payak is interested in Pat. Mae Nang keeps the doctor alive to make special concoction for her. The doctor is kept inside a cave to do herbal medicine (ยาสมุนไพร) to resurrect dead people. Only 3 people go near the cave. YouPo follows them. As they aggressed by three warriors, YouPo's help is decisive. Meanwhile the camp is attacked. Payak wants Pat. Mae Nang is protected by vampires (ผีดิบ). She gives order to them through a talisman she always wears. Pat and Payak become lovers. Being threatened by Mae Nang, Payak has to capture Palang and his team. Pat used herself as a bait but it turns badly as shootings happen. Pat and Payak die. The herbal medicine done by doctor Tidi fails to work with Pat. Mae Nang, interested in Palang, decides to get rid of Tidi and wishes Palang become her new lover. Hopefully YouPo can intervene timely and removes the sacred talisman causing the vampires to kill Mae Nang. The vampires disappear as the talisman is broken. YouPo and Palang can be happy together.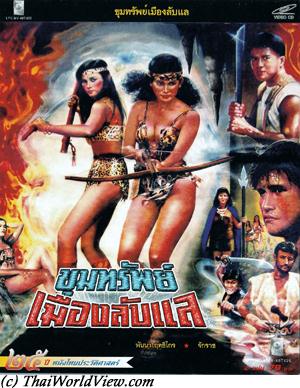 Year

: 1990



Thai title

:

ขุมทรัพย์เมืองลับแล




English title

:



Rating

: 2/5


Director

:



Main actor

: Panna Rittikrai,Chaiyan Sorakrai


Main actress

: Vivian Rawee



Buy now

:

Thai movie ขุมทรัพย์เมืองลับแล was released in year 1990 and the VCD lasts 1h23mn. A group of men including Panna Rittikrai are progressing in the jungle. They arrive in a village and their leader Tanin is looking for Pho Tao, who could guide them to the mysterious city of women (เมืองลับแล). Another group is following them a few hours behind. They are looking for a treasure (สมบัติ). While entering deep in the forest, they are attacked by men using spades and spikes. Their leader is Ah Mooyan (Chaiyan Sorakrai). A group of amazons helps them. They should have been killed for trespassing here but as they helped one amazon attacked by the men, their lives are spared. Some amazons start to quarrel as one of them called Vivian (วิเวียน ระวี) is fond of Tanin so she is accused to abandon the Amazon queen (เจ้าแม่). Some men are protecting the kingdom and cannot enter where the amazons are living. The second group lies about the first group's intention and unites with Ah Mooyan to grab the treasure. Ah Mooyan wishes to keep Vivian for him. The first group is attacked by a bunch of strong men and they are all captured. Despite a fierce resistance, Panna is left as dead. Vivian succeeds to release them by claiming the Amazon queen wishes to meet them. Then they are just attacked by the second group and Ah Mooyan's men but succeed to flee. Vivian and Tanin become lovers. Tanin and Panna are captured by Ah Mooyan and his men. Vivian comes to help with her amazons. Bloody and fierceful fightings happen between the amazons, Ah Mooyan's soldiers and Tanin's team. Ah Mooyan is finally defeated and killed. The second group attacks the Amazon Queen and uses a mystical statue able to send deadly laser shots. All ruffians are killed but the kingdom is almost destroyed as the Amazon queen and most of the amazons are dead. Her younger sister asks Vivian to follow her life and to go with Tanin. Part of the movie is probably cut to fit in a commercial VCD. This movie reminds a bit of movie แม่งู (1972) with similar amazons.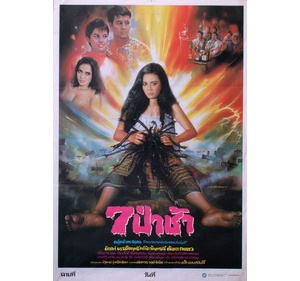 Year

: 1990



Thai title

:

7 ป่าช้า ตอนผีแหกท้อง




English title

:



Rating

: 2/5


Director

:



Main actor

: Bin Banleurit


Main actress

: Trirak Rakkarndee
พี่ Phai is a young man keeping buffalos. Young ladies Lampoo and Reun have interest in Phai. But Phai cannot forget his former girlfriend Riem, who has left for Bangkok. She is now married and pregnant. Riem comes back to countryside as her husband, Pradet, is a bad guy. She dies when giving birth to her child. Her husband arrives on time for the funeral ceremony. He tries to force her sister Reun to become his new wife but Riem's ghost prevents this. Pradet recruits a master (อาจารย์) to provide him corpse oil (น้ำมันพราย) to make love filters (ยาเสน่ห์) in order to seduce Reun and help him to get rid of Riem ghost, who is a powerful spirit (ผีตายโหงทองกลม) because it has the power of two people (the baby and the mother). But the ghost breaks sacred threads (สายสิญจน์) and chases them (there is always the classic gag when many actors enter a water jar one by one to escape ghost and then flee one by one as there is already another ghost in the water jar). They request support of a monk. Riem listens to monk advice and give them a last chance of redemption. Pradet recruits another master from Cambodia, who also fails due his lust following a beautiful lady, who is in fact an ugly ghost. Kathin festival (ทอดกฐิน) happens. During the ceremony Pradet tries to kidnap Reun but it fails again. Riem comes for Phai and asks him to marry her young sister, Reun. A third master is used by Pradet to stop Riem but it fails again. Pradet, afraid of Riem, becomes crazy paying for his bad karma. Riem leaves after Phai promises in front of Reun to marry her. "7 ป่าช้า" is related to people involving in black magic (เล่นของ) with human bones or potions such as corpse oil. This movie is typical of Thai horror movies in end of 1980s mixing horror and comedy (ghost wishing to play cards, ghosts playing คู่กรรม role), dog howling announcing ghost appearance, American Halloween movie soundtrack used...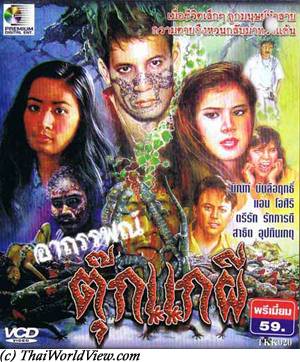 Year

: 1990



Thai title

:

อาถรรพณ์ตุ๊กแกผี




English title

:



Rating

: 1/5


Director

:



Main actor

: Bin Banleurit


Main actress

: Trirak Rakkarndee
A group of student is looking for house lizards. One of them is bitten by a magical house lizard and becomes bewitched. His behaviour starts to change; he protects and commands the house lizards. His girl friend also becomes bewitched. They start to transform themselves gradually in house lizard.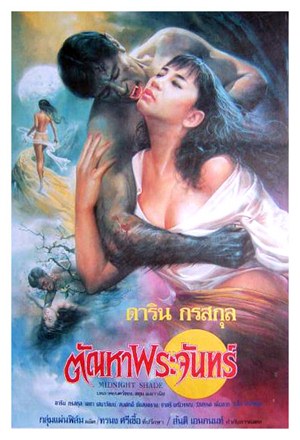 Year

: 1990



Thai title

:

ตัณหาพระจันทร์ 1




English title

: Midnights shade 1



Rating

: 2/5


Director

:



Main actor

: Somsak Chaisongkram


Main actress

: Darin Kornsakoon



Buy now

:

Thai movie ตัณหาพระจันทร์ 1 / Midnight Shade was released in year 1990 and last 1h24mn. It was released under VHS format and also VCD format by multiple companies (Lepso, Happy Time, APS). Thai actors and actresses featured are Darin Kornsakoon, เดชา เสนาวัฒน์, Somsak Chaisongkram, ชาตรี มณีวรรณ, วัสสรรค์ เพิ่มลาภ, จเด็จ อินทิแสง. Movie director is สันติ เอนกนนท์. Toranong Srichua was consulted as an advisor for this movie. Many Grade B Thai horror films from 1990s decade included erotic sequences and poor Fx effects. Budget was limited as the business target was often Thai provinces. A second opus of this movie was released in 1991. Young villager Yom is abused in her house by an invisible spirit (ผีเข้า). Sing (Somsak Chaisongkram), village leader, is living with his daughter Chaba (Darin Kornsakoon). Visitors from Bangkok are coming. Villager Mek loves Chaba but this love is not reciprocal. Mek doesn't like the Bangkokian guys to be around Chaba. Sing has a weird behavior… Sing recalls a relationship (ชู้) with another woman. He killed the husband during a fight as he was being uncovered. At nighttime Sing becomes a werecat following incantations and blood pouring on corpse oil (น้ำมันพรายเสือสมิง). He visits Yom again and kills her after having made love to her. He eats her flesh. Yom's husband has become crazy. Back home, Sing vomits so his daughter is concerned about his health. She asks one of the Bangkokian doctor to check him. Sing meets uncle Yong and asks him for help but Yong refuses as Sing is responsible of what is happening (ฅามกรรม). Sing wishes to avoid his daughter Chaba becoming a werecat like him. Sing finally dies and the spirit enters Chaba's body. As Chaba starts to vomit, Mek believes she is pregnant due to Bangkokian doctor. Villagers believe deaths are due to wandering tigers. Mek kills a villager and accuses the two Bangkokian visitors of being responsible for the deaths. Uncle Yong tries to convince people that the murders are linked to werecats (เสือสมิง). At nighttime Chaba, as werecat, kills Mek. Uncle Yong and the Bangkokian doctors help each other to chase the fearful spirit out of Chaba's body.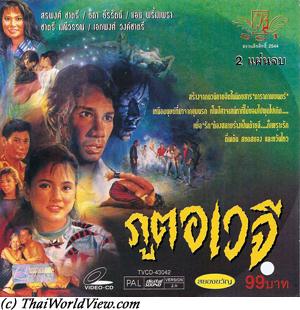 Year

: 1990



Thai title

:

ภูตอเวจี




English title

:



Rating

: 1/5


Director

:



Main actor

: Sorapong Chatree


Main actress

:
In a previous life, a powerful Thai lord has many slaves. Acting brutally, he took advantage of slave women. One of them finally commited suicide and her ghost killed the Thai Lord. One hundred years later, the Thai lord reincarnation is back and is trying to seduce his previous slave woman.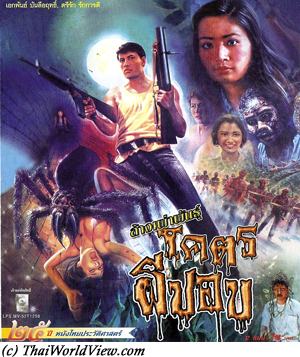 Year

: 1990



Thai title

:

ล้างเผ่าพันธุ์โคตรผีปอบ




English title

: Holocaust of the ogre clan



Rating

: 1/5


Director

:



Main actor

: Ekapan Banleurit,Lak Apichat,Joomjim Khemlek


Main actress

: Trirak Rakkarndee
Two young soldiers find a decomposed body in a bag floating on the river. They decide to bury it. A spirit exits from the tomb and transforms itself into a beautiful lady called Nuan (Trirak Rakkarndee). Nuan is given refuge in the soldiers' home as she claims she is on the way to Bangkok but it is already nighttime. Nuan loves immediately Cheut as he is kind hearted man. It generates jealousy from Khun, the subdistrict headman's (กำนัน) daughter, as she also loves Cheut since a long time. The subdistrict headman Son likes Nuan a lot and invites her to stay in his home as it is more comfortable than Cheut's home. Other ladies having interest in the subdistrict headman in the village start to be jealous of this Bangkok girl! The subdistrict headman follows up Nuan at nighttime but then she becomes a ghost again. The two ladies Kamlai and Kamlong visit an expert into magic (อาจารย์) to get special oil (น้ำมันพราย) to make a love filter (ยาเสน่ห์) to try seduce easier the subdistrict headman. Meanwhile the village ruffians flee away when Nuan, beautiful lady, taking a bath, becomes a ghost! The other villagers tell Cheut that Nuan is a ghost. He flees from home and shelters at subdistrict headman's home. They ask for a local shaman's (หมอผี) help. Nuan decides to get her husband back. But he refuses to join her again. Nuan forces Cheut's friend to play the bait. Cheut goes back to her as he is under a spell. Finally Nuan is defeated by the shaman. Many couples can now have happiness and marry. As often during years 1988s-1993s, Ekapan Banleurit and Trirak Rakkarndee are playing the main couple in those cheap horror Thai movies. Same old tricks are used with ghostly skeletons and simple basic FX effects. Such movie includes more gags than real horror. It was targeted for rural audience and not Bangkokian audience. The scenario is very similar to Mae Nak (แม่นาค) traditional old story where the young man loves and lives with a ghost without knowing it (ผีหลอก!). This movie is released by Lepso Studio. Image and sound quality are quite poor. Once again the title is wrong. It is named "ล้างเผ่าพันธุ์โคตรผีปอบ" (Holocaust of the ogre clan) but there is not a single ogre (ผีปอบ) in the movie. The VCD cover belongs to another movie called "ปีศาจแมงมุมสาว". The real name of this movie seems to be "ต้นตระกูลปอบ".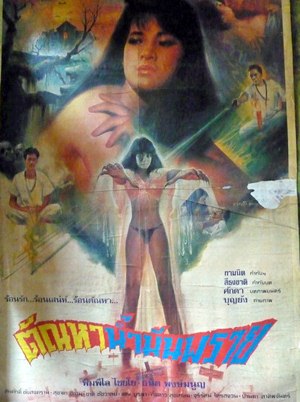 Year

: 1990



Thai title

:

ตัณหาน้ำมันพราย




English title

:



Rating

: 3/5


Director

:



Main actor

: Tanit Pongmanoon,Somsak Chaisongkram


Main actress

:
Thai movie ตัณหาน้ำมันพราย was released in year 1990. It lasts 1h25mn. Sanae (Somsak Chaisongkram) is a spirit doctor (หมอผี) abusing ladies. Teera (Tanit Pongmanoon) gives money to his mistress Pim (เมียน้อย) to build a house. Her younger sister Wan is worried that it may end up badly as Teera is already married with Nit (คุณจะเสียใจ). The movie features a few hot love scenes. Nit is very jealous and promises to Teera to handle this matter… Nit visits Pim and arguments occur (เสน่ห์แรง, แย่งผัวคนอื่น). Spirit doctor Sanae identifies that Teera was possessed (ถูกของ). He gives to Nit a potion to break the spell. Pim meets her former husband Sot, who went working to Singapore. He brings her to see Mae Mo, who gives her a statuette to place into Teera's home in order to have him going back to Pim (ทำเสน่ห์). Sot behaves like a pimp (แมงดา) as he is no money and his wife has now a new rich boyfriend. Having lost her husband, Nit goes to see again spirit doctor Sanae, who gives her a powerful statuette (กุมารพราย). He has to provide oil corpse (น้ำมันพราย) to Nit also. Pim needs also oil corpse from Mae Mo. Her domestic helper Pliu comes to get the philter from Sanae, who seduces her. Pim has to meet again Teera to use the philter on him. The two women argue again (นางกากี, อีตัว). Pim gets Teera back as she waits until nighttime to use the philter on him. Nit decides to use black magic from Spirit doctor Sanae. So it becomes a deadly war between Mae Mo and spirit doctor Sanae. The movie ends up tragically as Mae Mo and Sanae send spirits to kill each other. Teera lost his arms as the evils spirits dismember him. Pliu and Sot are also killed. Pim and Nit remain possessed as evil spirits.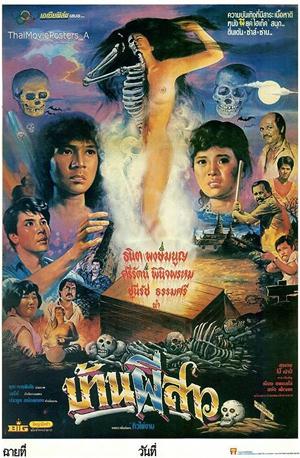 Year

: 1990



Thai title

:

บ้านผีสาว




English title

:



Rating

: 2/5


Director

: เสนีย์



Main actor

: Tanit Pongmanoon


Main actress

:
Thai movie บ้านผีสาว was released in year 1990 and lasts 1h39mn. It was released under VCD format by Lepso company. Movie director is เสนีย์. Thai actors and actresses featured in this movie are Tanit Pongmanoon, เมือง อพอลโล่, ศรีรัตน์ พินิจพรหม, ชนีรัช ธรรมศรี นำ, โป๋ เป่าปี่, สงัด เพ็ญแข, สุรเดช. Malai, daughter of village leader, and Praiyu (Tanit Pongmanoon) love each other. Ruffian Pleung loves also Malai. Ruffians use bad influence (ใช้อิทธิพล) towards villagers. Pleung's father (เมือง อพอลโล่) is sub district headman. Mae Proi, mother of Praiyu, gets harassed by ruffians due to her debts. Her land is a mortgaged property with the sub district headman. About to be expelled from their land, Praiyu gets forbidden by his mother to meet Malai. Another lady, named Rarai, also loves Praiyu. Praiyu's mother pushes him to consider Rarai instead of Malai. Praiyu stops to see Malai (ลบหน้า). Pleung pushes Malai and mentions Praiyu has now Rarai as new girlfriend. He mentions Malai's love towards Praiyu will be her death! Praiyu's friends hear that Pleung plans to kill Praiyu. Malai understands Praiyu's problems and promises to help. Malai is upset with Pleung and wishes to manage by herself. Fighting erupts again and Pleung is beaten. The sub district promises to avenge his son. Rarai wishes to help Malai as she considers her as her sister. Pleung's ruffians shoot Praiyu in order to kill him but he is only injured. Meanwhile Pleung tries to kidnap Malai. Rarai wishes to help Praiyu and her mother without thinking of any rewards. Meanwhile Malai has disappeared. She is found dead but her ghost is back... She wishes to go back with Praiyu. She wishes to get revenge towards the sub district headman and kills him. Pleung flees as Malai tries to kill him. Pleung takes refuge in a Buddhist temple and asks support from the abbot. Malai asks to talk to Praiyu and wishes him to love Rarai. The Buddhist monk prepares a ceremony but Malai refuses to be born again as she wishes to take revenge first. Pleung hires a spirit master to get rid of the ghost but he fails. Malai gets finally revenge over Pleung and can leave this world to pay for her karma.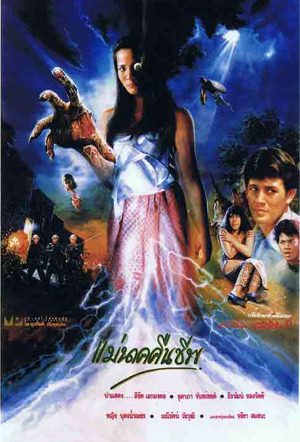 Year

: 1990



Thai title

:

แม่นาคคืนชีพ




English title

:



Rating

: 3/5


Director

:



Main actor

: Likit Eakmongkol


Main actress

: Metta Roongrat,Marasri Bangchang
Thai movie แม่นาคคืนชีพ was released in year 1990. It lasts 1h46mn. Marut (Likit Eakmongkol), working in a newspaper as writer (นักเขียน), is investigating on ghosts (ผี). Veteran actress Metta Roongrat is the mother of Marut. Marut decides to write the real story about Mae Nak (แม่นาค). With a friend, he goes to Buddhist temple Mahabut. Nobody wishes to answer to him. Marut takes pictures of the dancers (ละครชาตรี) and remarks a lady identified as teacher (ครู) Nuan Monapa (ชุดาภา จันทเขตต์) on the picture. Relief character is called Mongkon (ธีรวัฒน์ ทองจิตติ). Nom is Nuan's younger sister. Marut meets the teacher face to face but she claims she is not the one on the pictures. A man called Boonme (จ้องไว้แล้ว) has arguments with Marut and Mongkon as he believes they come to seduce teacher Nuan. Bad words fuse (หมาหมู่) so better use polite language (ภาษาดอกไม้). After a diner, Marasri Bangchang mother of Nuan, Marut and Mongkon are aggressed by ruffians led by Boonme. Ghost Mae Nak having same face as teacher Nuan helps Marut. Her previous husband called Mak is reincarnated through Marut nowadays. Marut has disappeared and his parents, Mongkon and Nuan are worried. A woman called Apinya and claiming to be Marut's fiancee threatens to sue Nuan's family. Mae Nak wishes to go living in Marut's home. So she visits Nuan and warns her not to visit Marut to avoid bringing confusion. Apinya is unhappy of Nuan being in Marut's home and called her bumpkin teacher (ครูบ้านนอก). Apinya, being slapped, quits the home and promises to come back with a spirit doctor (หมอผี). She decides to hire some ghost busters. They fail. Apinya decides to hire a real master (อาจารย์). Brahma statue asks Mae Nak to forget her love and to rebirth (หมดเวร). Apinya puts a sacred neck on Nuan and she becomes Mae Nak. Marut is now aware of the reality. He chases away Apinya and removes the necklace hurting Mae Nak. Mae Nak asks Marut to marry the real Nuan. Nuan and Marut get engaged. During one night, Nuan is kidnapped. Boonme is suspected. Marut decides to get Mae Nak's help. Apinya is the one behind the kidnapping wishing Boonme to have Nuan becoming his wife. Mae Nak arrives on time to save Nuan. Apinya to save her life promises to stop bothering Nuan. Mae Nak can now leave this world to rebirth.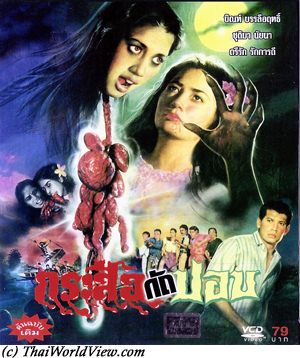 Year

: 1990



Thai title

:

กระสือกัดปอบ




English title

:



Rating

: 2/5


Director

:



Main actor

: Bin Banleurit,Note Chernyim,Joomjim Khemlek,Tongchai Prasongsanti


Main actress

: Trirak Rakkarndee
Dao (ดาว), a young lady, is living with her grandmother (ยาย), who is sick. They are poor. Pen, young man, just defrocked from monkhood. His father, village leader (ผู้ใหญ่), wishes to find a wife for him. Dao asks Pen to find a doctor as her grandmother is very sick. The grandmother gives Dao a ring, which is a family heritage. Em, Dao's friend, invites her to see an outdoor movie at the temple fair. It is a trick as another male villager called Chot wishes to meet Dao. Pen loves secretly Dao and is upset by other male villagers interest into Dao. Dao is feeling unwell and goes back home. She finds her grandmother died while sleeping. Due to the ring, Dao becomes a Kraseu (กระสือ), a filth-eating floating ghost with a head, a trailing heart and intestines. Kraseu steals the food from another ghost, a Phi Pop (ผีปอบ) who eats intestines. Villagers have now to flee two ghosts (ผีหลอก). Villagers identify Dao as the Kraseu ghost. The Phi Pop ghost has possessed (ถูกปอบเข้าสิง) another young villager lady called Raem (แรม). Her parents identify that she is a ghost as they saw her eating raw meat. Pen wishes to marry Dao as he doesn't know she has become a ghost. Chot finally wishes to marry with Raem so her parents are embarrassed as she is a ghost. Raem agrees to the wedding. On the wedding night, Chot wishes to reach the seventh paradise level (สวรรค์ 7) but it is a failure as his wife is a Phi Pop. Nevertheless Riem spares his life. Phi Kraseu and Phi Pop fight together. Riem's parents consult a master (อาจารย์). Within the first three months, the possessed can be saved (สุภาพเป็นคน) if the spirit is chased away. After it is too late. Another master is called as the first one failed. He recovers Dao successfully but the task is harder with Raem. Finally both ladies are safe but the love between Raem and Pen is stronger so Dao accepts Raem to become Pen's minor wife. Basic Fx effects similar to 1970s / 1980s Thai horror movies are used such as the infamous howling dog during nighttime. It is "Baan Phi Pop" similar recipe mixing comedy and light horror. The soundtrack is a patchwork of other stolen soundtrack such as Friday 13.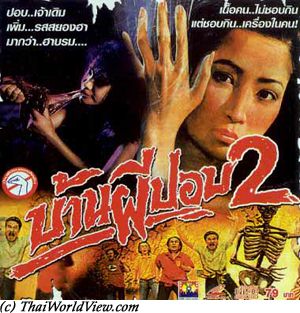 Year

: 1990



Thai title

:

บ้านผีปอบ 2




English title

:



Rating

: 1/5


Director

:



Main actor

: Ekapan Banleurit,Tongchai Prasongsanti


Main actress

: Trirak Rakkarndee,Natanee Sitthisaman



Buy now

:

The second opus of บ้านผีปอบ continues with the same characters. The hunter is killed. New murders happen and intestines are always missing inside the bodies. Those murders are done by the village head's daughter, Kradeung (กระดึง), who is possessed by a "Phi Pop" (ผีปอบ) spirit. It takes appereance of Pla Pleung to accuse her. A second "Phi Pop" spirit is also hanging around. It has the apperance of a middle age woman, Ya Yip (หยิบ). The two "Phi Pop" are fighting together over the village territory possession. Villagers now know that Kradeung is a "Phi Pop". They organize a "Phi Pop" hunt that turns to a fiasco. A powerful sorcerer (หมอผี) comes to the village. It gets rid of Ya Yip "Phi Pop" first but fails with Kradeung. Finally the doctor Ret and Pla Pleung succeed to remove the "Phi Pop" ghost from Kradeung body but the second "Phi Pop" is still hanging around... Same as the first opus, this movie mixes horror, comic and a few salacious jokes in a rural context. "Phi Pop" is a traditional ghost in villages so many gags are based on rural life, i.e. men drinking together at night time and believing ghost visions are due to alcohol, woman wearing a tight traditional sarong (ผ้าถุง) and bathing in a pond with male villagers dreaming the sarong will slip down, classic gag when actors chased by a ghost enter water jars and exit from other jars... There are always comic pursuits between ghost and actors in accelerated motion. This opus contains bad cuts or maybe some censure. The first opus was shot in 7 days but the further opus were shot within 10 to 20 days.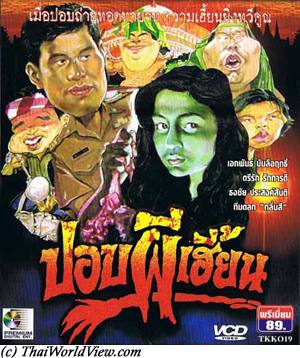 Year

: 1990



Thai title

:

ปอบผีเฮี้ยน




English title

:



Rating

: 1/5


Director

:



Main actor

: Ekapan Banleurit,Tongchai Prasongsanti


Main actress

: Trirak Rakkarndee,Metta Roongrat
Same actors from "Baan Phi Pop 1 and 2" are playing in this Phi Pop movie. Rich trader people (คนเศรษฐี) want to buy land from grant-mother Chom but she refuses. She is living with her daughter Kaew (Trirak Rakkarndee). Ruffians are sent to expel them but they are killed by the grant-mother Chom, who is a "Phi Pop" ghost. Many deaths happen in the village due to the presence of a "Phi Pop" ghost. Villagers are fed up and decide to use a sorcerer (หมอผี) to exorcise the village. The grant-mother Chom is defeated by the sorcerer and dies. Before dying, the "Phi Pop" spirit is transferred from the grant-mother to Kaew. Phalat (Ekapan Banleurit), the new village headman (กำนัน), promises to take care of Kaew. The rich trader tries to abuse Kaew but he gets killed by the "Phi Pop" ghost also. The son of the rich family has a poor girlfriend, Plaew, from the village. She is now pregnant so the son forces her to abort and causes Plaew's death. Being pursued by villagers, the "Phi Pop" ghost transfers from Kaew to Plaew. Plaew kills her bad boyfriend. Phalat has difficulty to reason villagers wishing to exercise their law versus the official law. They use a sorcerer again but this time it fails. In a hurry ending, another master neutralizes the "Phi Pop", who transfers again to another lady from the village. This movie uses same recipe as "BAAN PHI POP" (บ้านผีปอบ) movie serie, i.e. a mix of horror, comedy, a tint of salacious jokes. It opposes the village world (Chinese rich trader unable to speak Thai properly, watching movie in temple...) versus the Bangkok world (stereotype and mannerism from ผู้ดีจากกรุงเทพ...). This B type movie uses strong side lights and smoke for night scary scenes. The poor editing jumps easily from the night scene to day scene in a same sequence.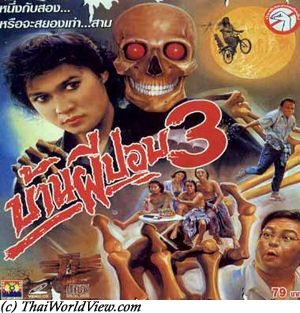 Year

: 1990



Thai title

:

บ้านผีปอบ 3




English title

:



Rating

: 1/5


Director

:



Main actor

: Kiet Kijcharouen,Tongchai Prasongsanti


Main actress

: Natanee Sitthisaman



Buy now

:

"Phi pop spirit" is back! Some people are found dead without intestines. Is Kradeung really back to a normal human being or still possessed by the "Phi Pop" spirit? New characters are introduced as actors Trirak Rakkarndee and Ekapan Banleurit are no longer part of the story. The movie highlights the opposition of villagers cured by local sorcerer (หมอผีคล้าย) and villagers cured by Bangkok doctors (หมอฝรั่ง), who offer free service. The local sorcerer wants to kill Ya Yip (หยิบ), the Phi pop spirit" roaming inside the village. But the Bangkok doctors protect Ya Yip believing the local sorcerer is crazy and bring her back inside the village. There is conflict between the local sorcerer and Bangkok doctors. The local sorcerer wants to keep his influence on the villagers. The daughter of the local sorcerer helps the Bangkokian doctor. Her father has changed his behavior recently being easily angry. The local sorcerer gets issues with his own wife and daughter as he is doing more harm than good to villagers. He is diagnosing a malaria case as a spirit possession (ผีเข้า) that needs to be chased (ผีไล่). Finally the local sorcerer flees from the village after stabbing Ya Yip. He was finally also a "Phi pop spirit"... Recipes are same as the previous movies. Many continuous funny but tiring and repetitives chases happen between Ya Yip "phi pop" and the villagers. Single villagers prefer watching the lady in swimming suit than the lady in sarong. The movie is still targeted for rural audience but with more and more urban life and taste influence. Funny comedian Kiet Kijcharouen (เกียรติ กิจเจริญ) is now here. He also participated to the complete Boonchu (บุญชู) movies serie.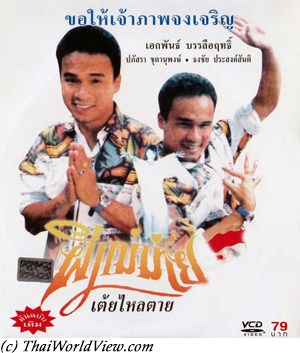 Year

: 1990



Thai title

:

ผีแม่ม้าย




English title

:



Rating

: 3/5


Director

:



Main actor

: Ekapan Banleurit,Tongchai Prasongsanti


Main actress

:
Thai movie ผีแม่ม่าย 1 was released in year 1990 and lasts 1h41mn. ผีแม่ม่าย serie include 4 movies (Part 1, 2, 3, 5). Actors and actresses featured in this movie are Ekapan Banleurit, ปภัสรา ชุตานุพงษ์, Tongchai Prasongsanti, วสันต์ อุตมะโยธิน, สมพล กง สุวรรณ, ชูศรี เชิญยิ้ม. ผีแม่ม่าย 1 movie is a mix of comedy, action, horror, light erotism and a few songs such ขอให้เจ้าภาพสูดชะเริเจริญ sung by Tongchai Prasongsanti. Mina and her husband Pop are having happiness, but Pop needs to go to Bangkok. Vina (Ekapan Banleurit) accompanies him but needs to go back as his mum is sick. Pop is aggressed and killed by three ruffians as he stole Mina's love from the subdistrict headman's son. His dead body is found later. The subdistrict headman's son Wanchai tries to kidnap Mina but hopefully Vina protects her. Comic characters are played by katoey such as Tung. Wanchai and his men take opportunity at nighttime to kidnap and rape Mina. She dies. Hell guardian ยมบาล allows her to go back to human world as ผีแม่ม่าย. A ordination ceremony is under preparation. Two ghosts ladies take Tung's spirit (วิญญาณ) with them. The Queen wants a real man and not a katoey so Tung is sent back to human world. He wakes up during his own funeral ceremony so bringing a big mess! Following story that happened to Tung, one elder หมอผี suggested that all young men shall wear women clothes to avoid being kidnapped by ผีแม่ม่าย and to wear a "PALAT KLIK" – ปลัดขลิก in front of each house. They are just trying to abuse people credibility and do quick business. Vina and her friends find Mina's body and also some shoes belonging to subdistrict headman's teammates. So, two of them are arrested. Mina, as a ghost, is back. She kills one of ruffians being imprisoned in jail. The subdistrict headman is also killed. Villagers are worried about those sudden unexpected deaths (โรคไหลตาย). A modern doctor tries to convince the villagers that the deaths are related to their way of living (No vitamin B1, hard work, overstressed, junk food) and not due to ghost widow (ผีแม่ม่าย). Mina continues her revenge. Wanchai asks help from the local shaman (หมอผี) as Mina makes a rampage (อาละวาด). Vira asks Mina to stop her killings but she cannot stop as she must get revenge. She anyway warns Vira that some widow ghosts (ผีแม่ม่าย) try to kidnap some male villagers. Mina finally stops her killing when Wanchai apologies and promises to ordain during his whole life as a monk to bring peace to her spirit. Villagers are now also convinced that the sudden unexpected death syndrome has a scientific explanation and is not linked to ghost widow.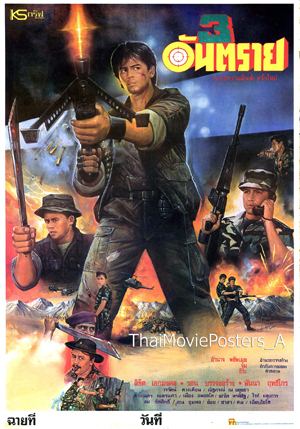 Year

: 1990



Thai title

:

3 อันตราย เดนสงคราม




English title

:



Rating

: 2/5


Director

:



Main actor

: Likit Eakmongkol,Panna Rittikrai


Main actress

:
Thai movie 3 อันตราย เดนสงคราม was released in year 1990. It lasts 1h25mn. It is a nationalist trend movie. Officer Mongkol (Likit Eakmongkol) has nightmares about war but he accepts a dangerous task to protect the country. His friend Seua joins him. While discussing with young ladies (สาว), there are attacked by three men, who assail them. The three men are shot by Krit (Panna Rittikrai) and Mongkol. Krit is a former friend met during Vietnam war. Young lady Duang Deuan and Mongkol like each other. Mongkol and his two friends accept their superior's mission to get rid of the ennemies (งานเสี่ยงอันตราย). Those enemies (ศัตรูเก่า) are not waiting and already try to kill Mongkol. Mongkol starts to recruit additional men. They are now nine. They train them very hard. Duang Deuan calls Mongkol as she is worried that some men watch after her house. It is a trick to attract Mongkol. Duang Deuan is even part of the ruffians team. Mongkol is captured and tortured by his old enemy. Their leader wishes to capture the two other officers also to get revenge to be a stateless man. The eight other Thai soldiers enter the forest to find Mongkol. Fightings happen. Panna's skills are well shown. The ruffians leader's girlfriend is used as a bait to kill some of the soldiers. Mongkol is tortured again. Duang Deuan asks the ruffians to kill him instead of torturing him. The ruffians leader Nai Ephon wishes to have Duang Deuan becoming his wife also! Disappointed by Nai Ephon, Duang Deuan releases Mongkol. For the nation, for the religion, for the King, they fight! Mongkol and his team attack the camp on two sides. Finally the ruffians get defeated but many soldiers have lost their lives. Only four are left. Duang Deuan even dies while protecting Mongkol.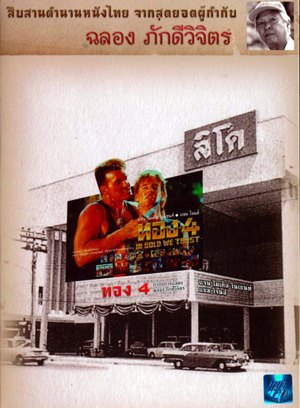 Year

: 1990



Thai title

:

ทอง ภาค 4




English title

: In Gold we trust



Rating

: 3/5


Director

: Chalong Pukdeewichit



Main actor

: Jan-Michael Vincent,Sam J. Jones,Christoph Klüppel,Toon Hiransap,Kowit Wattanakul,Rith Luecha,Boo Wibunnan,Somchai Samipak


Main actress

: Sherrie Rose



Buy now

:

Thai movie Thong 4 (ทอง 4 - In Gold we trust) was released in year 1990. The beautiful DVD version done by MGM lasts 1h13mn. The original Thai version in 35mm format lasts 1h36m. A group of foreign ruffians attack a convoy to steal the gold. Bodybuilder actor Christoph Klüppel, present in Thong 3, is back in Thong 4. They cannot open the safe. Leader of Hmong hill tribe Pol (Somchai Samipak) has two daughters. The Hmong have an agreement with the ruffians to share the gold as they need money to fight against the Vietnamese soldiers. The ruffians kill Pol betraying their promise and believing he has the key to open the safe. One of his daughter is captured. Moss is sent by US government to get back the gold and the captive US soldiers (เชลย). In fact, those US soldiers are treacherous MIA US soldiers. A team is made with foreigners and Thai actors as usual (Toon Hiransap as Yot, Rith Luecha, Kowit Wattanakul, Sherrie Rose...). Captain (ผู้กอง) Moss (Jan-Michael Vincent) is their leader. They jump by parachute near the Thai border and shall meet Pon's Hmong fighters. Enemies (ศัตรู) are waiting for them but Sai Kam, daughter of Pol, and his men help them. Hill tribe Hmong (ชาวม้ง) are suffering. The ruffians' leader sends one of his men as a bait to the Hmong village. As Vietnamese soldiers are aware of the safe, the ruffians' leader Jeff (Sam J. Jones) decide to hide it in the cave. The cave is also used as a den by Japanese soldiers. So fightings do happen. Thai veteran actor Boo Wibunnan is part of Japanese soldiers. The Thai-US team falls in the trap and they are all captured by the ruffians. The safe is now with the Japanese soldiers. The two teams have no choice but to collaborate. Jeff, the ruffians leader, is ruthless. A plane piloted by Boo Wibunnan kamikazes itself on US helicopter. Heavy fightings happen as Japanese soldiers are numerous. Almost all ruffians and soldiers die in fighting. Christoph tries to double everybody but is finally killed by the Japanese leader. Jeff shots Pol's daughter but is also killed by her. The gold is returned to the Hmong villagers. Moss decides to pass himself as dead to be able to stay with Sai Kam.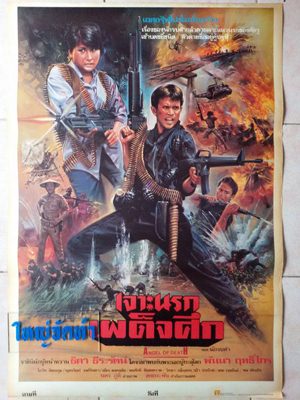 Year

: 1990



Thai title

:

เจาะนรกเผด็จศึก




English title

:



Rating

: 3/5


Director

: คงกะพัน



Main actor

: Panna Rittikrai,Chat Mongkolchai,Kowit Wattanakul,Somsak Chaisongkram,Pao Porapak


Main actress

: Thida Thidarat
Thai movie เจาะนรกเผด็จศึก was released in year 1990 and lasts 1h28mn. It was released under VCD format by Lepso company. Movie director is คงกะพัน. Captain (ผู้กอง) Suripon (Panna Rittikrai) leads some Thai rangers including Kowit Wattanakul to the Thai border. Heavy fightings occur but enemies are defeated. Tired Thai soldiers go home but they face various issues back home. Lom and another teammate face argument while eating in a market. A teacher, named Lin Thong, gets aggressed by three ruffians. Her students help her but it is not enough. Luckily Suripon, นักรบ, helps her. Other ruffians try to buy land title but the mother refuses. They kidnap the daughter. Luckily Kowit is around and helps the young lady. Phi Lom and his wife Naree can enjoy family time. Break is short as a new mission occurs. Vietnamese soldiers led by Chat Mongkolchai and Somsak Chaisongkram attack a village and kill all inhabitants. Vietnamese soldiers attack another village but Mayom (Thida Thidarat) and Pao Porapakfight back. Suripon and his men are sent in the same area. They discover that the village is empty. They face Vietnamese soldiers but push them back. Mayom and Pao follow the Thai rangers and are unsure if they are good or bad guys. For the nation and to protect Thai citizen, Thai soldiers are ready to sacrifice their lives and so their family happiness. Thai soldiers fall in ambush set up by Vietnamese soldiers. Many Thai soldiers die despite additional support of Mayom and Pao. Remaining Thai soldiers are looking for revenge (ล้างแค้น). Multiple grenade explosions occur. Suripon is getting a heavy machine gun to get rid of multiple opponents. Getting seriously injured, he uses a motorbike as a battering ram to defeat Somsak and have the whole camp to be destroyed. Only Mayom survives.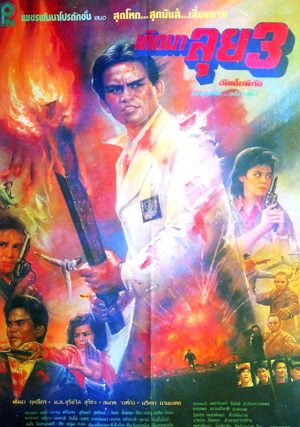 Year

: 1990



Thai title

:

เกิดมาลุย 3




English title

:



Rating

: 3/5


Director

: Panna Rittikrai



Main actor

: Panna Rittikrai,Sompop Wong Ko,Krissanapong Rachata,Jai Juntamooltree


Main actress

: Suriwan Suriyong
Thai movie เกิดมาลุย 3 was released in year 1990. It lasts 1h24mn. The first four minutes start with Panna Rittikrai presenting all actors and actresses in his movie. Panna kills a lawyer as he refuses to give him a testament. Afong (Suriwan Suriyong) is back from Hong Kong where she worked as lawyer assistant. Her former boss is dead and she gets death threats as she refused to forge a testament. 80% of the heritage goes to the daughter called Naen. Her former boss' new wife called Yen Feui wishes to get the whole heritage instead of only 20%. Wassana is the mother's name but she died already. A relative, subdistrict headman Jaem, brought the daughter to Tha Bo in Nong Khai province. Ruffians from Hong Kong led by Panna Rittikrai and accompanied by two tough bald guys are also looking for the lost daughter. All those people including local ruffians meet in Tha Bo. Subdistrict headman Jaem is upset with Vinai, local ruffian leader. The local ruffians led by Vinai decide to kidnap Naen (หลาน) to pressure him to sell his land. Panna and his two bodyguards interrupt as they are looking for the daughter also. Of course multiple fightings happen between all of the three groups as they have different interest. Afong's four friends take care of the two bald bodyguards and defeat them. Afong herself faces Panna Rittikrai through a fighting in white costume. She gets defeated. The four friends face Panna but gets defeated also. United, they finally defeat Panna through a daring final. The original movie features "Beat It" song from Michael Jackson but finally replaced by another music in the VCD certainly due to copyright issue. The movie ends up with some failed action sequences similar to Jackie Chan's movies. เกิดมาลุย movie franchise is a full action movies series. Other actors are สมภพ วงศ์ก่อ (Sompop Wong Ko), นริศรา, บรรลุ, สุรินทร์, น้อย, กิม.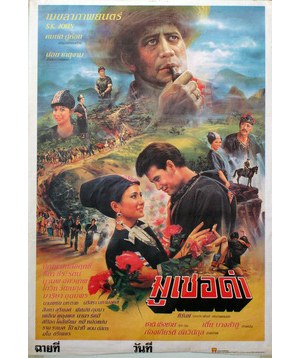 Year

: 1990



Thai title

:

มูเซอดำ




English title

:



Rating

: 3/5


Director

:



Main actor

: Bin Banleurit,Manop Aussawathep,Kowit Wattanakul


Main actress

: Thida Thidarat,Marisa Udomphon
Thai movie มูเซอดำ was released in year 1990 and lasts 1h36mn. It was released under VCD (Lepso update) and VHS format. Liso (Manop Aussawathep) succeed to steal old artifacts in a Buddhist temple in Burma. The temple guardians fail to stop them. Visitors from overseas come to buy heroin drugs at the Thai border. A mountain villagers' leader, called Prakhun, is selling illicit goods to them. Saen Kam, one of his girlfriends, wishes to have a child. Prakhun robs a bus and steals a young baby boy. Upset by his way of working, Liso breaks up with Prakhun. Meanwhile Liso's wife, Amiyo, is pregnant. A daughter is born. A few years have passed. A few inmates led by ruffian Win succeed to flee from forced work. They run through the jungle and reach Liso's house. Trying to rape Amiyo, they finally kill her. They are then captured by Prakhun's men. Prakhun hires them to work for him. Liso teaches fighting skills to his daughter Mio to be able to defend herself. The daughter Mio grows up and is played by Thida Thidarat as a young lady. Policeman Kowit Wattanakul (ตำรวจม้าป่า) is sent to the border area in order to capture back the inmates. Mio still wishes to get revenge (แก้แค้น) over those who killed her mother. Young man Sing Thiem (Bin Banleurit) meets Mio (นางฟ้า) while playing kite. Friendship happens. Kowit meets young lady Adee, Sing Thiem's sister. Sing Thiem is Prakhun's son, i.e. the child kidnapped many years ago. Sing Thiem disapproves his father's activities in drugs but has to help when his father asks him to do so. Some sequences remind of The Golden Triangle (สามเหลี่ยมทองคำ) movie in 1975. Former inmate Win loves Adee but love is not reciprocal. Mio finally sees Win in her village and recognises him as one of the killers. Kowit has arguments with Win and his men. Mio helps and is now aware that Kowit is a policeman looking for the inmates. This movie features hill tribes helping Thai government as they are Thai also. Sing Thiem has a talk with Kowit as he knows Kowit loves his sister Adee (Marisa Udomphon). A drug transport is stopped by the Thai soldiers. A traitor is suspected. Adee is suspected as she is seen speaking with Kowit. ชาวนาย wishes to get rid of Liso. His daughter Mio is captured and the Buddha statues are recovered. Sing Thiem and his sister know the truth about their father. Thai army is ready to storm. Heavy fighting occurs and ruffians have to retreat. Kowit is about to shoot Prakhun but shoots finally the wife Saen Kam as she makes a rampart. Sing Thiem is also injured. Mio also takes revenge over Win. Peace is back. Sing Thiem and Mio are going to marry.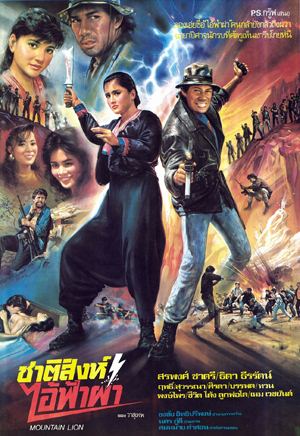 Year

: 1990



Thai title

:

ชาติสิงห์ไอ้ฟ้าผ่า




English title

: Mountain lion



Rating

: 2/5


Director

: สมหมาย คำสอน



Main actor

: Sorapong Chatree,Rith Luecha


Main actress

: Thida Thidarat
Thai movie ชาติสิงห์ไอ้ฟ้าผ่า / Mountain lion was released in year 1990 and lasts 1h30mn. It was released under VCD format by EVS entertainment company and also by Lepso Company (It was released under wrong name สั่งมัจจุราช by Lepso company). It is a VHS release copied on VCD. Movie director is สมหมาย คำสอน. Actors are Sorapong Chatree, Rith Luecha, Thida Thidarat, สุวรรณา, ศิรดา, บรรพต, ทวน, พงษ์ไพร, ชีวิต โต้ง ลูกพ่อโต, เหม เวชยันต์. This Thai action movie was shot at a period where Hong Kong and foreign movies were very strong in Thailand. Many Thai actions had limited budget and were like type B movies. Mountain Lion is one of them. Decade 1990s was also the end of movie posters drawn by hand. Movie ชาติสิงห์ไอ้ฟ้าผ่า poster was one of the last ones to be hand painted. Shootings do occur in the forest. Sorapong Chatree is injured. Two young ladies including Yanee (Thida Thidarat) are chased by robbers (โจร). A few armed men, led by Phet, help Yanee. Phet and his men are looking for the cave Tantawan, which is said to contain jewelry. The robbers are also looking for the cave. Yanee brings her savers to the cave. They enter in the cave and find a hermit jade statue. Yanee brings them towards her village. They are attacked during nighttime. Two men are killed by arrows. Young lady Manoe meets Sorapong in the forest. She brings him to village Dok Mai Hom. On the way to the village, Phet and his men are attacked by ruffians led by Rith Luecha. Hopefully Sorapong helps them. Ruffians have to retreat. They arrive in the village Dok Mai Hom. Village leader's right hand Bachi is unhappy to have strangers in the village. Romances occur between Sorapong and Yanee, between Phet (ชาตรี มณีวรรณ) and the village leader's daughter Takaew. Seeing Takaew and Phet together, Bachi tries to shoot him with a crossbow but he fails. Bachi pushes the village leader to give Takaew to him as wife. As village leader refuses, issues occur. Bachi quits the village to get additional help from Rith Luecha. Phet and his friends decide to stay in the village to help villagers against Bachi. Bachi knows Phet and his team have the jade statuette with them. Sorapong has to leave. Following an erotic dance, one of the men dies after visiting a villager lady at night time. He is killed by arrow. Bachi is suspected to be the shooter. The village leader asks Phet and his team to leave to avoid additional deaths. Bachi storms the village and follows Phet heading towards the forest. Phet and his team are all captured. Sorapong, feeling there is ongoing danger, goes back to the village and rescues Phet and his team. Rith and his team arrive also. Heavy shootings occur. Thai police also arrive. Ruffians are neutralized. The precious jade jewel, being a national heritage, is given to Thai police.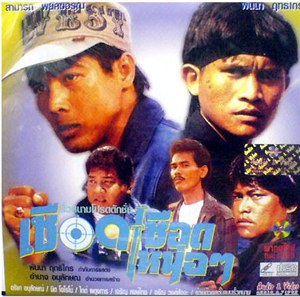 Year

: 1990



Thai title

:

เชือดเชือดเหน่อๆ




English title

:



Rating

: 3/5


Director

: Panna Rittikrai



Main actor

: Samat PhayakArun,Panna Rittikrai,Pao Porapak,White Padungkan,Sompop Wong Ko,Jai Juntamooltree


Main actress

:
Thai movie เชือดเชือดเหน่อๆ was released in year 1990 and lasts 1h20mn. Panna Rittikrai is the movie director. Actors are Samat PhayakArun (สามารถ พยัคฆ์อรุณ - Thai boxer), Panna Rittikrai, อำนาจ อนุลักษณ์, เจริญ, Pao Porapak, White Padungkan, เฉลิมพร, Sompop Wong Ko, Jai Juntamooltree. The movie is shot in Khon Kaen district. A sacred black effigy is exchanged against money. Sompop (Sompop Wong Ko) and his boss become the new owners of the effigy. Ruffians (including Jai Juntamooltree) take back the money. Amnat (อำนาจ อนุลักษณ์) is shopping in a mall. Amnat, out of money, robs Sompop's boss and steals the sacred effigy. Ruffians, led by Kop, want the dark effigy also but Sompop's boss doesn't have it anymore. It is within Amnat's hands. The Khmer Rouge leader sends two members to Thailand as he doesn't trust Kop. Back home, Amant finds two men (White Padungkan and เตี่ย แจ่วบอง) stealing his clothes. Ruffians are upset as they need the money linked to the black effigy to buy weapons. Meanwhile Panna and Pao Padungkan need to bring the sacred dark effigy back to their village. Multiple groups need the sacred effigy but for various reasons. Samat helps to release a young girl (ธัญลักษณ์ ราชธา) being kidnapped but he keeps the ransom money! Sompop hires Samat to get back the sacred effigy. Fighting occurs between ruffians, linked to Khmer rouge, and Amnat as they want the effigy back. Fighting occurs in front of former Prince cinema in Khon Kaen (โรงหนังปริ๊นซ์ ขอนแก่น). Amnat gets help from Panna and Pao. Later on, Amnat fights with Samat asking for the effigy. The effigy has disappeared as White and เตี่ย stole it. Multiple fights occur between the involved groups. Finally, Samat is the one to keep the effigy. He gives a copy to Sompop's boss to get money and gives the original to Panna and Pao! Ruffians are neutralized.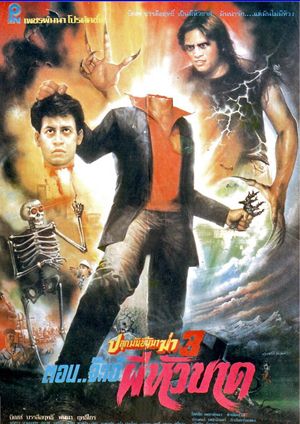 Year

: 1990



Thai title

:

ปลุกมันขึ้นมาฆ่า 3 ตอน จ๊ะเอ๋ผีหัวขาด




English title

:



Rating

: 3/5


Director

: ประพนธ์ เพชรอินทร์



Main actor

: Bin Banleurit,Panna Rittikrai,Pao Porapak,Chat Mongkolchai,Sompop Wong Ko,Krissanapong Rachata,Jai Juntamooltree


Main actress

:



Buy now

:

Thai movie ปลุกมันขึ้นมาฆ่า 3 ตอน จ๊ะเอ๋ผีหัวขาด was released in year 1990 and lasts 1h27mn. It was released under VCD format by Lepso Company and under VHS tape. Movie director is ประพนธ์ เพชรอินทร์. Thai actors and actresses featured are Bin Banleurit, Panna Rittikrai, นริศรา นามมงคล, Sompop Wong Ko, เผ่าไท พรพิสิฐ, Chat Mongkolchai, Pao Porapak, บรรลุ, สุพจน์, Krissanapong Rachata, Jai Juntamooltree. Thai movies serie ปลุกมันขึ้นมาฆ่า has four opus (1987, 1989, 1990, 1994) and focus on ghost (ผีดิบ) having strong fighting skills. Shaman (หมอผี) Bin Banleurit is performing a ceremony with a sacred black ginger root. Suddenly Chat Mongkolchai and Pao Porapak disrupt the ceremony. Bin is killed and beheaded. The sacred black ginger root (ขิงดำ) is stolen. Thanks to Kim (กิม), another strange shaman, Bin is resurrected and has to get back the black ginger root. Bin goes inside the city. A gang, led by young lady Sopha, is featuring a few members including เตี่ย แจ่วบอง and นริศรา นามมงคล. They steal Sompop's money. As he fights back, Bin helps to defeat him as Sompop is wrongly accused of being a robber. A Japanese buyer is ready to pay 50M THB for the black ginger root. Chat agrees. The bigger ruffians' group led by Chat wants to get rid of the small group led by Sopha. Chased by Chat and his ruffians, Sopha lies again to get help from Bin. Chat realizes that Bin is a ghost (ปีศาจ). Chat is waiting for his master Phao Tai (อาจารย์ เผ่าไท พรพิสิฐ) to fight against Bin. Kim helps Sompop. Sopha is in love with Bin (พี่ชาย) but it is an impossible love as he is dead already (ตายแล้ว). His friends are captured so it forces Bin to act again. Through mismatch, the sacred black ginger root (ขิงดำ) is finally inside Bin's bag. Bin cannot fight on holy day (วันพระ) so its opponents take advantage of this. Kim intervenes to help and Chat flees. Master Phao Tai sends a new ghost (Panna Rittikrai) to fight Bin. Master Phao Tai and his new ghost are defeated. Bin gets back the black ginger root and can leave with Kim.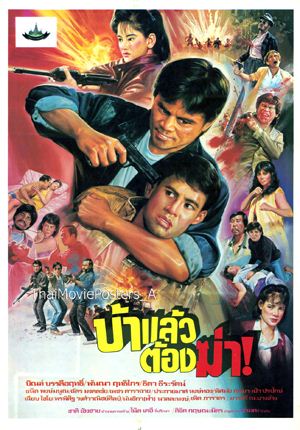 Year

: 1990



Thai title

:

บ้าแล้วต้องฆ่า




English title

:



Rating

: 3/5


Director

: อำมตะ



Main actor

: Bin Banleurit,Panna Rittikrai,Pao Porapak,Chat Mongkolchai,Paen Pleumsachai


Main actress

: Thida Thidarat,Marasri Bangchang
Thai movie บ้าแล้วต้องฆ่า was released in year 1990 and lasts 1h17mn. It was released under VCD format by Lepso company. Thai actors and actresses featured in this movie are Bin Banleurit, Panna Rittikrai, Thida Thidarat, Chat Mongkolchai, เพชร ดาราฉาย, ประกายมาศ หงษ์ทอง, พิศมัย ภุมมา, เพิด ภาราดร, Marasri Bangchang, Paen Pleumsachai, Pao Porapak. Movie director is อำมตะ. A teenage girl is aggressed by multiple ruffians but Panna (Panna Rittikrai) intervenes and knocks them down. Her mother (Marasri Bangchang) is sick so she had to buy medicine for her. Panna has dirty business with Pramat (Paen Pleumsachai). Thai Police, led by Charlie (Bin Banleurit), intervenes. Shooting occurs. Pramat is shot by Charlie. Charlie shoots multiple ruffians but Panna succeeds to flee. Roselin (Thida Thidarat) is a policewoman working with Charlie. Captain (ผู้กอง) Charlie disrupts mafia business. Cheut (Pao Porapak) is killed by Lin (พิศมัย ภุมมา) as he failed a drug exchange. Charlie's wife and son were killed by the mafia a few years ago. Charlie is suspended (พักราชการ) by his boss as he killed too many ruffians as revenge. Heum (Chat Mongkolchai) has to steal diamonds (ปล้นเพชร) per mafia leader Kampon's order. Four ruffians try to kidnap Saithip, Charlie's sister, per Sia's order but they fail thanks to firecrackers used to make them afraid of policemen shooting them. Charlie is just back to his village. Roselin and Thai police stop Panna and Lin transporting illicit goods in a truck. Foreigner John meets Vilod (Tanit Pongmanoon) to organize a diamond exchange. Diamond is stolen as ruffians shoot the foreigner John. Kampon is upset that Lin fails again. Heum gets money from Kampong but does not share it equally so Vilod is in trouble to cure his mother. Charlie chases away the ruffians harassing Saithip again. Charlie's boss calls him back to help with the diamond theft. Vilod has no money to cure his sick money so he steals a lady bag but gets chased by Charlie and Roselin. Being caught, he wishes to negotiate his freedom in order to cure his mother. He shares information related to the diamond theft. Vilod brings Charlie and Roselin to the ruffians' place. One of them succeeds to flee and informs Heum. Then Heum also flees to a new place. Ruffians kill Vilod's sister Vilai and his mother as retaliation. Kampon also prepares to move away. Vilod escapes from the Police and wishes to get revenge. He storms Kampon's house but gets shot. Charlie's sister is kidnapped so Charlie decides not to wait for orders and to storm Kampon's house. He gets help from Panna, who is an undercover policeman. Heavy fighting does occur. Ruffians are defeated but Charlie dies in his sister's arms. Panna saves Rosalin and shoots mafia leader Kampon.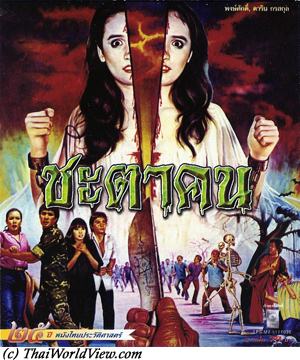 Year

: 1990



Thai title

:

ชะตาคน




English title

:



Rating

: 3/5


Director

:



Main actor

: Choomporn Theppitak


Main actress

: Darin Kornsakoon
Sia, local godfather, tries to corrupt a judge in a drugs case. As the judge refused, he gets killed (ไม่ยอมรับสินบน). Chem, his son, comes back from overseas. As the police is too slow, Chem takes his own revenge. He gets a list from his friend Thep regarding people that had issues with his father. Chem meets Kaet, a young lady, whose father is a small godfather. Chem has high interest into Kaet. Chem wishes to clean Thai society from bad people. He first check some liars pretending getting money for Buddhist temples (บริจาค). Those people harm Thai buddhism (จรทำร้ายศาสนา). Thep (รับจ้าง - คนกลาง) gets the job as middleman but Chem (มือปืน), the hitman, does the dirty job and gets paid. Chem always gives the money to a Buddhist temple. Kaet's father is threatened by Suthon, another mafiosi, who tries to force him to give his daughter as wife. The father uses Thep to find a solution to get rid of Suthon. Chem shall do the dirty job but doesn't want any money. Kaet sees him but Chem refuses to acknowledge his involvement. Kaet uses his name for a temple donation to thank him. Godfather (เจ้าพ่อ) Sunsit wants to get rid of Kaet's father. Chem refuses (ไม่ยอมรวมมือ) the job due to his personal honor code. Sunsit is unhappy that the hitman refuses the job and forces Thep to give his name by threatening his younger sister. Thep has to give up and is finally killed. Chem is shot and injured. Chen still wishes to clean society from bad people (สมควรตาย) but finally promises to Kaet to stop when Thep will be revenged. He finally punishes Sunsit and surrenders to the police to the despair of Kaet. Chem is played by actor พงษ์ศักดิ์ สวนศรี , who is more famous for his "Like" theatrical performances. (Nota: As often with Lepso Studio, the cover given with the VCD is wrong and belongs to another movie!).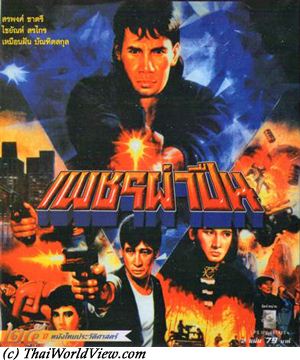 Year

: 1990



Thai title

:

เพชรผ่าปืน




English title

:



Rating

: 3/5


Director

:



Main actor

: Sorapong Chatree,Chaiyan Sorakrai


Main actress

: Sinaporn Philailak
Phet (เพชร), former hitman (มือปืน), receives an offer of 100 000 baht to kill one man. He shall shot Kamrung (คำรน), rich (รวย) man with a high position (ระดับ). It is the last time he wants to be involved in such killing. With his brother Porn (พล), they take care of their old father. There is a land title issue so Phet needs money. Phet shots successfully Kamrung. He sees Sophi, Kamrung's mistress, and falls for her. Kamrung's daughter Yuwadee (ยุวดี) wishes to know the truth about her father's death. The heritage needs to be shared between Sophi and the daughter. Porn, who is a journalist, helps her to investigate on the truth but a mysterious hitman tries to kill Yuwadee. Porn is able to help and save Yuwadee. It looks like Sophi would be the main beneficiary regarding Kamrung's death. Phet visits Sophi at nighttime. Heritage decision gives the house and land to Yuwadee but Sophi can stay until Yuwadee is married. The money and jewels have disappeared from the safe. The lawyer is corrupted by Sophi. Some ruffians put pressure on the newspaper editor to push Porn to stop investigating. Sia is the leader of the ruffians linked to Sophi. Sia hires Phet to kill his brother. Phet cannot do that and finally only the editor is shot in order to scare away Porn. Porn now knows his brother is involved. Sia sends ruffians to kill Phet as he cannot be trusted anymore but they fail. Sia's ruffians now try to kill Porn to stop the investigation. While rescuing his father, Porn is ambushed (วันนี้ตายแน่) but rescued by Phet. Sophi suggests to kidnap Yuwadee to catch the two brothers. Sophi plays men vs men (lawyer, Phet, Sia) using her charms. Porn needs Phet, the hitman, to testimony as a witness in order to accuse Sia. Yuwadee kidnapping fails thanks to Porn. The two brothers finally fight when they meet. Bad people pay for their sins as Sophi is shot by Sia and Sia is shot by Phet. There is a final duel between the two brothers and their father. Phet refuses to surrender to the police (ทำผิดต้องรับผิดชอบ) and prefers to die. Sorapong Chatree seldom plays the bad guy so it is interesting to watch this small low cost budget movie with a "Brother vs Brother" scenario, i.e. the good guy vs the bad guy even if Phet is only a bad guy forced by life circumstances (น้องมือปืน).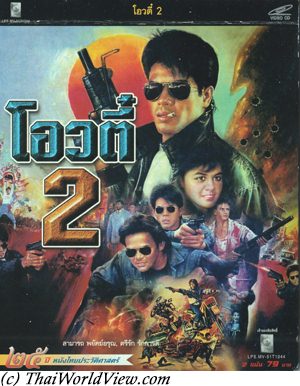 Year

: 1990



Thai title

:

โอวตี๋ 2




English title

:



Rating

: 3/5


Director

:



Main actor

: Samat PhayakArun,White Padungkan,Tongchai Prasongsanti


Main actress

: Trirak Rakkarndee,Marasri Isarangkul



Buy now

:

Thai movie โอวตี๋ 2 was released in year 1990 and last 1h30mn. It was released under VCD format by Lepso Co Ltd and previously under VHS format (1h34mn). Movie โอวตี๋ part 1 was released in year 1986. Main actor changed from Chatchai Plengpanich to สามารถ พยัคฆ์อรุณ. Oti (สามารถ พยัคฆ์อรุณ - Samat PhayakArun) is released from prison. He is a former ruffian (วงการนักเลง). His son is tall now. His mother is played by Marasri Isarangkul. His wife is sick, but she hides it. Local mafia leader Saeng asks help from him but Oti refuses (นักเลงหัวไม้). Former colleagues and enemies (ศัตรูเก่า) are looking for troubles with Oti. It is hard for Oti to have a new life as former people still try to interact with him. Oti is hired by Saeng to get rid of godfather (เจ้าพ่อ) Seua. Oti accepts for a last time and asks not to be disturbed anymore. Young lady Trirak Rakkarndee is ordered by Saeng to follow Oti and to ensure the job is done properly. She starts to appreciate Oti but Oti is married. Saeng has promised to leave him alone but... Oti kills godfather Seua while his powerful hitman Dam is out of town. Saeng wishes to get rid of Oti as he doesn't want to join him. Trirak tries to warn Oti but he is not willing to listen as he is worried Trirak will cause misunderstanding with his wife. Saeng's team puts a bomb under his car. Oti and his son escape to death but his wife and mother die. He shelters his son in his close friend Seeoui's home (Tongchai Prasongsanti). It is revenge time for Oti. ไอ้ Dam also wishes to revenge Seua and kill Oti. Among Saeng's team, there is also ไวท์ ผดุงการ (White Padungkan). To force Oti, Saeng kidnaps his son. Trirak still wishes to help Oti despite his refusal. Oti finally accepts and both storm Saeng's place. Heavy fighting and shooting occur. Ruffians are defeated. Saeng and Dam are killed. Oti surrenders to Police and is sent back to jail with Trirak.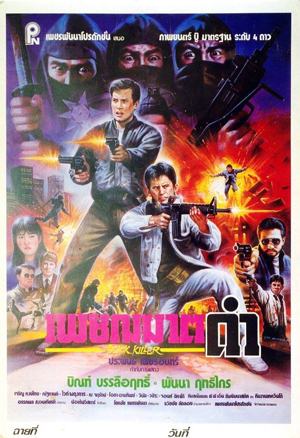 Year

: 1990



Thai title

:

เพชฌฆาตดำ




English title

: Black Killer



Rating

: 3/5


Director

:



Main actor

: Panna Rittikrai,Bin Banleurit,Tony Jaa


Main actress

:



Buy now

:

Thai full packed action movie เพชฌฆาตดำ (Black killer) was released in year 1990. The movie lasts 1h30mn. A young lady Candy is looking for uncle Chiem (เรื่องสำคัญ). Her parents have been killed in Japan. Three Thai ninjas are looking for documents showing corporate wrongdoing so are trying to catch Candy. Thanoo (Bin Banleurit) is a hitman hired to kill people but he is still having a good heart such as helping people who borrow money (กู้เงิน) at excessive rate. He normally kills only sinful people. Two Interpol policemen (ตำรวจสกล) are also looking for the young lady. Dam (Panna Rittikrai) is the leader of a small ruffians gang. Dam's team steals Candy' s bag containing important documents. Thanoo has been hired to shoot uncle Chiem. Uncle Chiem refused to sell his land to businessmen wishing to build a factory. Thanoo was lied to kill uncle Chiem presented as a corrupted village headman (กำนันอิทธิพล). Seua Leu has been hired to kill Thanoo once he completes the job. Seua Leu and Thanoo have a duel won by Thanoo but he is severely injured. Dam accepts to give the envelope against 100 000 baht. Finally all parties meet and final fightings involve the three ninjas and their boss versus Thanoo, Dam and Interpol officers. They finally win despite injuries. Seua Leu beats Thanoo in the final duel but loses to his kindness (แพ้น้ำใจ).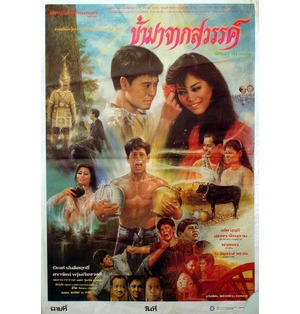 Year

: 1990



Thai title

:

ข้ามาจากสวรรค์




English title

:



Rating

: 3/5


Director

: พรเพชร



Main actor

: Bin Banleurit,Joomjim Khemlek,White Padungkan,Sompong Phonmitr,Somkuan Krajangsat


Main actress

:
Thai movie ข้ามาจากสวรรค์ was released in year 1990 and lasts 1h28mn. It was released under VHS format. Movie director is พรเพชร. Phuta (Bin Banleurit) and his father (Somkuan Krajangsat) are living together. The father has a new young wife named Malasee (พิสมัย ภุมา). Lamtien (สรารัตน์ หรุ่มเรืองวงศ์) is Phuta's girlfriend but her parents refuse this love as Phuta is poor. Phuta (ใจบุญ) is keeping cattle. White Padungkan (ไวท์ ผดุงการ) and Joomjim Khemlek are local drunken ruffians. They beat a beggar (ขอทาน) (Sompong Phonmitr) but Phuta helps. As the beggar has not eaten for days, Phuta gives him his meal. It is in fact an angel (เทวดา). He thanks Phuta for his kindness and promises to help him every time he will ask. Ruffians steal Phuta's cattle while Phuta is resting. Asking for help to the angel, Phuta gets back his cattle. Lamtien wishes to flee with him but Phuta cannot accept such way of acting. Malasee tries to seduce him (ความชั่ว) but he refuses her advances as she is his father's new wife. She complains to the father that Phuta tried to seduce her so the father chases Phuta from his home. Phuta misses his mother (บูชาแม่) so he takes her portrait before leaving. Lamtien's mother wishes to organize a wedding for her (สาวเต็มตัว). The angel gives a treasure but Phuta refuses to take it. At local temple fair, Phuta and Lantiem see White and Malasee together (น่าเกลียด). Phuta's father is getting seriously sick as Malasee is not taking care of him. After a fight, Phuta chases White and Malasee from his home. Lamtiem is now having a fiance as her parents force her (รักไปเอง). The mother gives Phuta a last chance to gather a dowry before the next day. The three ruffians, aware of the treasure and the angel, try to get it. The treasure belongs to Phuta as it is linked to his good deeds during previous lives. Ruffians ask for it and the angel finally accepts but the coffer only includes snakes (บุญไม่มี). The two coffers (บุญเก่า) are found near Phuta's bed when he wakes up. Indebted, White sells his Buddha amulet to ผีนรก. Phuta was always doing good deeds while others were misbehaving. Marasee and White finally kill each other. Phuta and Lamtien can have happiness.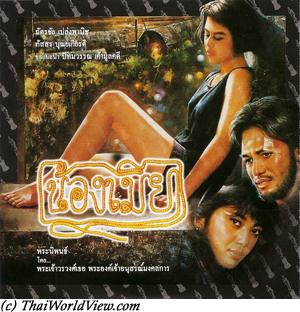 Year

: 1990



Thai title

:

น้องเมีย




English title

: Song for Chao Phraya



Rating

: 5/5


Director

: ChatriChalerm Yukol



Main actor

: Chatchai Plengpanich


Main actress

: Passorn Boonyakiat,Sulaleewan Suwanthat



Buy now

:

The director ChatriChalerm Yukol had done a remake of his own 1978 movie. New actors are playing and a similar scenario is used. This movie got three Thai awards. Four members of a family are living on a sand barge (เรือทราย). They navigate between provinces. Saeng, young man, is married to Plang. They have a young baby. Taptim is the young 15 years old sister-in-law. They are boat people (คนเรือ) since generations. The barge arrives in Bangkok. Plang is fed up with her life on the boat. She is still young and wants to have fun. She threathens Saeng to choose between his sand barge and her. She would like to sell the sand barge and change their life. Saeng bought the sand at high price but the Bangkokian trader only proposes a low price. The boat is leaking and needs repair. He refuses to sell as it means losing money. Plang believes she can be an actress (ดารา). Plang meets in a hair-dresser shop a gentle lady called Mrs Aree, who proposes to help her. Due to her provincial accent, Mrs Aree understands immediately who is Plang and sell her dreams. Mrs Aree is in fact a mama-san (มาม่าซัง). Taptim refuses to join Plang as she is afraid to become a prostitute in Bangkok. Plang quits the barge. Saeng is shocked and finally sells the sand at lower cost to have money and to look for his wife in Bangkok. Bangkok is so big. He walks bare foot alone through the streets, markets and malls to no avail. Taptim has to take care of the baby as both parents are out in Bangkok. Saeng meets the taxi driver who brought his wife to the hair dresser. The taxi is his home same as the boat is Saeng's home. There is mutual understanding between the two men (คนบ้านนอก). Aree is said to be working in a Patpong gogo bar. There are dozens of bars in Patpong. Mrs Aree is now said to be a woman recruiting girls for Chao Praya massage parlour. Saeng succeeds to get Mrs Aree's address but has spent a lot of money. Being drunk, he falls in the river while boarding the boat and so loses his money. Saeng has to sell his boat for 100 000 baht but once debts are paid, there is a few money left to buy a small boat. In Bangkok, business is business. The taxi driver is not as friendly as in first opus and will not transport Saeng for free. Saeng continues to walk and walk many days around Sukhumvit area but cannot find Plang. Meanwhile Plang is still dreaming. Mrs Aree introduces an old rich man to Plang. She is the birthday gift of a movie producer. It is a financial transaction. After a diner, Plang is drunk and sent to a motel. Meanwhile Saeng finds Mrs Aree but then there is a fight with the condominium guard. He is beaten and sent to jail. Realizing that the older man is trying to rape her, Plang fights back and flees but Mrs Aree's ruffians beat her. Taptim pays for Saeng's bail so that he can exit from jail. Saeng wishes to get Taptim as new wife. They all go back to countryside. Anyway they are reunited as a family. When aims are too high, the fall is tough. Bangkok is a symbol for poor up-country people, i.e. dream of wealth. Some people dream to get rich there but many of them come back home without money. Some countryside people arrive in Bangkok and get abused by Bangkokian people.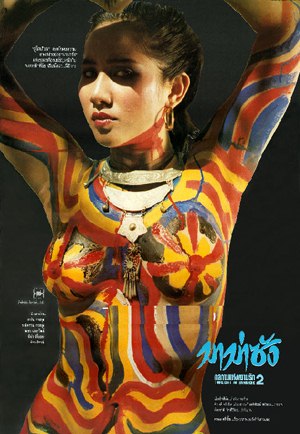 Year

: 1990



Thai title

:

มาม่าซัง กลกามแห่งความรัก 2




English title

: Twilight in Bangkok



Rating

: 1/5


Director

: Toranong Srichua



Main actor

:


Main actress

: Darin Kornsakoon
This is the second opus of "Twilight in Tokyo". The Thai lady is not dead but only hurt. Back to Bangkok, she takes revenge over her previous pimp by having her own business.



Year

: 1990



Thai title

:

หลงไฟ




English title

:



Rating

: 3/5


Director

: Ruj Ronnapop



Main actor

: Santisuk Promsiri,Waruth Woratum


Main actress

: Passorn Boonyakiat



Buy now

:

Kaew is a beautiful university student but she is coming from a poor family. Accompanying a friend for job interview, she meets a lady, Waew, that proposes her to work as escort girl and promises her easy money and life. Kaew has to leave her aunt's house as her uncle is trying to take advantage on her so she accepts to work as escort girl and gives 40% to the mamasan. She gets 30 000 Baht for the first night for the loss of virginity. She gets used to easy money. She starts to get advantage of the men that wish to marry her, her office boss and her university friend, Chon. Both of them buy her gold bracelets. Chon is a nice guy coming from country side (Santisuk Promsiri plays again a character similar to Boonchu) with only a 5000 Baht monthly salary. He even sends her money to prepare the dower. A german customer, Jacob, also proposes to marry her in Germany. But Kaew has higher goals. She is used to easy money and doesn't want to lower down her status. She starts to seduce the son of a rich family, who is already fianced. He rapidly gets fond of Kaew. The parents reject this love and enquiry on Kaew's side activities. They cut their son pocket money and his car. The relationship gets tense with Kaew as she is the one to support to him. They finally break up. Meanwhile Chon and Kaew's office boss understand they have been tricked and the police catches her. Kaew tries to have a new life but fails. Being too old for working with Waew as escort girl, she gets trapped with a brutal local pimp, who beats her and forces her to see many customers. She only escapes this hell by stabbing him. Wishing to get an easy life, she only gets pain. She finally leaves for Germany by answering positively to Jacob's offer. Arriving there, some local men take her passport and money. She understands she has been tricked in a local prostitution ring again. She needs to work hard to pay back her debt to Jacob. Fed up by this life with no future, she starts to deeply upset the local prostitution ring. Finally Jacob strangles Kaew. This movie shows the bad situation in which young Thai ladies can be trapped if they choose easy money way of life.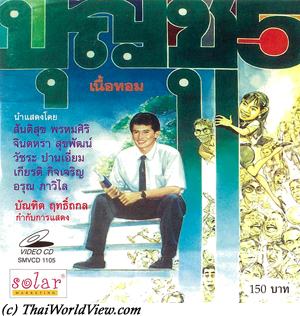 Year

: 1990



Thai title

:

บุญชู 5




English title

:



Rating

: 3/5


Director

: Bandit Ritthakol



Main actor

: Santisuk Promsiri,Kiet Kijcharouen,Tongchai Prasongsanti


Main actress

: Jintara Sookkapat



Buy now

:

Boonchu is studying hard in a Bangkok university. He decides to help another student, whose didn't get a loan due to the student committee overspending money. He tries to become the new head of the student committee through election but fails. He finally proves the student committee corruption.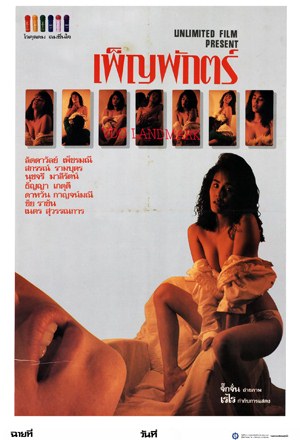 Year

: 1990



Thai title

:

เพ็ญพักตร์ ภาค 1




English title

:



Rating

: 3/5


Director

:



Main actor

:


Main actress

: Laddawan Petchmanee
เพ็ญพักตร์ ภาค 1 was released in year 1990. It lasts 1h20mn. The VHS is not censored. Five opus related to เพ็ญพักตร์ were released. Office employees including Pen (Laddawan Petchmanee) and Naree are talking together. Their boss (เจ้านาย) Tarong arrives late. His girlfriend Da visits him and convinces him to stop working today. Naree loves secretly Tarong. Pen is the one doing OT every day as she is too nice with her colleagues. Tarong, seeing Pen doing OT, invites her for diner. Pen has to work hard as she has to pay for the school of her three younger sisters. A scene shows the old standalone Scala theater in Bangkok. Yearly company trip is happening soon. The staff is going to Pattaya. Pen doesn't join them as she needs to help her aunt to sell flowers. Friends are thinking how to convince Pen to join them. She finally accepts. The boss offers flowers to Pen and invites her for dinner. They become lovers. Back to Bangkok, Da takes Tarong back. Naree makes joke of Pen as Tarong just played with her. As Tarong still thinks about Pen, Naree calls Da to warn her that Pen is seeing her boyfriend. Da threatens Pen not to try stealing her boyfriend and asks her to leave the company before she gets fired. Fed up by the situation, Pen leaves. Tarong is upset as Pen doesn't show up in office anymore. They finally get reunited in Pattaya and Tarong asks her for marriage.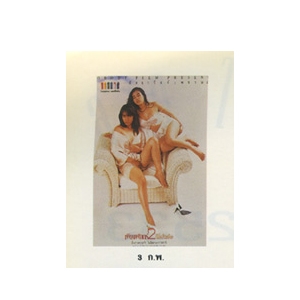 Year

: 1990



Thai title

:

เพ็ญพักตร์ 2 สะบัดช่อ




English title

:



Rating

: 3/5


Director

:



Main actor

:


Main actress

: Laddawan Petchmanee
Thai movie เพ็ญพักตร์ 2 สะบัดช่อ was released in year 1990 and lasts 1h30mn. Main actress is Laddawan Petchmanee (ลัดดาวัลย์ เพชรมณี). She was surnamed Pookie (ปุ๊กกี้). She played in movies เพ็ญพักตร์ opus 1 and 2. She is also famous for having played in the movie ลำยอง (1990) in a role of a young honest provincial girl coming to Bangkok and being abused by bad people. The movie เพ็ญพักตร์ 2 was released under VHS format. Pen (ลัดดาวัลย์) is alone while her "husband" Tairong is away. She is only a mistress (เมียเก็บ). She knows her husband is behaving as a butterfly, but she still loves him. She is staying in the countryside. In her house, there are only a couple of domestic helpers, i.e. Somchai and his girlfriend Jaew. The domestic helper keeps peeping Pen. Pen starts to be fed up to wait for her husband. Her best friend Chalai tells to endure. Two young men visit Chalai's home, i.e. Nat being Chalai's brother and Chet. Pen tries to get suicide by swallowing drugs (ยานอนหลับ), but hopefully Nat can help as he is a doctor. A romance starts between Chet and Chalai. Nat is visiting Pen to see if she has recovered. Romance also starts between Pen and Nat (กำลังมีชีวิตใหม่) on Pen's birthday. On the next day, a woman, called Da, visits the house. Da is Tairong's official wife. She is accompanied by a young man called Lek. She asks Pen to give her back Tairong, but Tairong hasn't come for six months! Pen allows them to stay. Da tries to seduce Nat. Da accuses Pen of having a lover while Tairong is away. Lek is having an affair with Jaew. A trip to the waterfall is organised. Da is sick after the trip. She wishes the doctor Nat would visit her often. She simulates being sick and puts some sleeping pills in the doctor's glass. So she can simulate having slept with him and make Pen to be disappointed by the doctor. Thanks to Jaew, the truth is disclosed. Nat finds in a newspaper that Tairong just married, so Pen is now free to have a romance with him.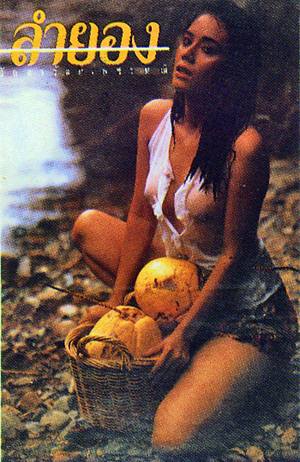 Year

: 1990



Thai title

:

ลำยอง




English title

: Lam Yong



Rating

: 3/5


Director

:



Main actor

:


Main actress

: Laddawan Petchmanee
Thai movie ลำยอง was released in the year 1990. It was released by Lepso Company under VCD format and lasts 1h17mn. The name was changed to สาวร้อน อ้อนรัก but it is in fact Thai erotic movie ลำยอง sold under another name. Most of the erotic parts of the movie have been removed in the VCD released by Lepso. Another version was released by Extra Twin Classic Company under VCD format and lasts 1h12mn. It is a shorter version but erotic sequences are not cut. This movie is about a young honest provincial girl, called Lam Yong, coming to Bangkok and being abused by bad people. Sia has a young lady singer (นักร้องมาจากต่างจังหวัด) brought to him. While the singer, called Lam Yong (ลัดดาวัลย์ เพชรมณี - Ladawan Petchmanee), is changing clothes in her room, Sia enters and rapes her. Fleeing from his home, the young lady is aggressed at nighttime by a violent thug. Hopefully a young man called Somchai is passing by and helps her. He gives her shelter in his home. Somchai is looking for a job. Somchai finally finds a job as secretary (เลขา) for a rich female boss (นายผู้หญิง). Lam Yong takes good care of the home while Somchai is working. Somchai and Lam Yong becomes lovers. Lam Yong is worried that the boss is a beautiful rich woman (คิดมาก). One night Somchai comes back at 2 AM. The lady boss brings Somchai to Pattaya where he forgets Lam Yong. Meanwhile Lam Yong is looking for a job and is hired in a pub to welcome guests. The boss notices her and invites her to sing on the stage (เคยประกวดที่งานวัด). Lam Yong refuses to be sent back home by the boss. Meanwhile Somchai has become lover with his lady boss. On the following day, Lam Yong faints as she is pregnant and not resting enough. The boss brings her home as the same time as Somchai is going home so Somchai believes that Lam Yong has a hidden lover. He keeps drinking causing the lady boss to be fed up. Meanwhile she meets her Bangkokian lover. Somchai ends up in the club where Lam Yong is singing. Causing a mess as his wife is a singer, the pub's owner explains to him the truth and he finally gets on well with Lam Yong again. He is ready to take care of his new family.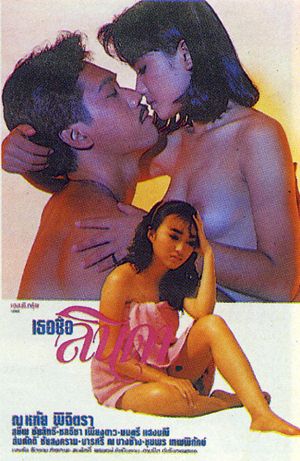 Year

: 1990



Thai title

:

เธอชื่อลินดา




English title

:



Rating

: 3/5


Director

:



Main actor

: Choomporn Theppitak,Somsak Chaisongkram


Main actress

: Marasri Bangchang,Nahatai Pijittra
Thai movie เธอชื่อลินดา was released in year 1993 and lasts 1h30mn. It is an uncensored movie. Wat and his girlfriend Lin (ชลธิชา เพียงดาว) are handling a gogo bar business. Drunkards are a continuous problem. Lin needs to send money for her mother (Marasri Bangchang) and younger sister Linda (ณหทัย พิจิจตรา - Nahatai Pijittra) to study but the drunkard stepfather Det (Somsak Chaisongkram) steals the money. He spies the young lady bathing and tries to abuse her. Linda hits him with a bottle and flees to Pattaya to stay with her sister Lin. She starts working as cashier in the bar. One night, while going home, she is aggressed by two thugs. Hopefully a young man called Prakorn (มนตรี แสงมณี) helps her. Linda meets an older man called Sia Somkat (Choomporn Theppitak). While Lin sends her mother back to Bangkok, Wat declares his love to Linda. Linda is fed up by the hypocrisy of all men she meets. She meets Prakorn again and he teaches her drawing. Meanwhile Wat still wants Linda to become his wife. His sbires try to drug her but finally Lin is the one to be drugged. A second tentative happens. This time Wat abuses of Linda when she is sleeping. Crisis happens between the two sisters when Wat announces to Lin that Linda is his wife now. Linda leaves and takes refuge in Prakorn's home. She avoids seeing Wat. After 2 months, Prakorn realises that Linda is pregnant. To avoid abortion and sin (บาป), Prakorn accepts to recognise the child. Wat finds where Linda is hiding. Fighting erupts and Wat stabs Prakorn. Prakorn ends up at hospital but Linda has no money to pay the bill. She has to resort to call Sia Somkat and sells her body (ขายตัว) to get money. Prakorn is shocked but understands that Linda had no choice. Wat still chases after Linda as he wants the baby. While Linda is out, he shoots Prakorn. The Thai police, passing by, shoots Wat and his ruffians. Disappointed by life, Linda drowns herself in the sea. The movie ends up with a warning saying that suicide is bad and not a solution to problems.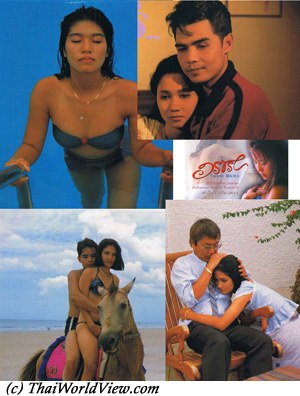 Year

: 1990



Thai title

:

อรชร




English title

:



Rating

: 3/5


Director

:



Main actor

:


Main actress

:
Thai movie อรชร was released in year 1990. The VCD 1 lasts 57mn. Da and Pen (ชลธิชา เพียงดาว) are good friends. Pen meets young lad Chim on the beach in Hua Hin. She is upset as Chim treats her badly. Pen's father wishes his daughter to marry. Da and her boyfriend wish to help also. Pen is lonely (กลุ่มใจ). Da finds a solution, i.e. arrange a fake wedding with a man called Karin Korakot. It will be real wedding but the newlyweds will live in separated room. It should stop the pressure from the father. Pen realises that Karin is in fact Chim! Karin asks for 1M baht. A former boyfriend Vichit comes again but Pen considers him as a brother (พี่) only. Karin abuses of the situation. Vichit is very upset (เมาชีวิต). As her father visits them, Pen has to sleep in same room as Karin. Vichit still has hopes with Pen but Karin acts as her strong husband to chase Vichit away. The father insists to have a grandchild as soon as possible. Karun is willing to execute his father-in-law's request but Pen is not willing...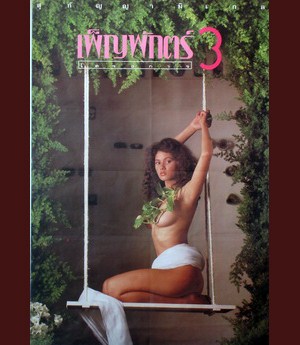 Year

: 1990



Thai title

:

เพ็ญพักตร์ 3




English title

:



Rating

: 3/5


Director

:



Main actor

:


Main actress

:
Thai movie เพ็ญพักตร์ 3 was released in year 1990 and lasts 1h44mn. It is available under an uncensored VHS format. The lady owner, Pen (สุกัญญา มิเกล), wishes to expand her resort Penpak. The resort manager Suchao and Pen like each other but each time the secretary disturbs them. A businessman (นักธุรกิจ) wishes to meet Pen but she refuses to sell her property to him even for 10M baht. The business man knows Pen is alone and targets to play on her loneliness (เหงา) to have her selling the resort to him. Nawi and พี่ Vina, her friends, visit her from Bangkok. Nawi is Pen's former boyfriend. He wishes to resume relationship but Vina tries to prevent this to happen A weird scientific called Montree is hanging around the resort looking for historical evidences linked to a Japanese treasure buried around during World War 2. On the way to check those evidences, they help a young man called Manoo whose car is damaged. Manoo was hired by the businessman to convince Pen to sell her resort. To prevent Vina to disturb Nawi and Pen, the resort manager takes good care of her... While Pen is bathing with the secretary, Manoo takes pictures of Pen for the businessman to blackmail her. The scientific always disturbs Pen in sensitive moments. As Manoo asks her hand for wedding, they become lovers. The businessman is aware of the scientific's searching activities of a lost Japanese treasure so that is why he wants to buy the resort. Two ladies, used by the businessman, try to steal the map from Montree. Manoo pushes Pen to sell the resort but she asks for more time. As Pen is devastated after receiving a blackmailed letter, Manoo feels pity towards her and gives her the original reel films before leaving to Bangkok. Montree finally finds an old Japanese treasure from WW2 inside the resort. The bad businessman is uncovered and chased away. Pen and Suchao can finally have happiness together. 5 opus were released in Penpak movies serie.
---