Increase or decrease font size for easier reading : A+ A-
Year 1989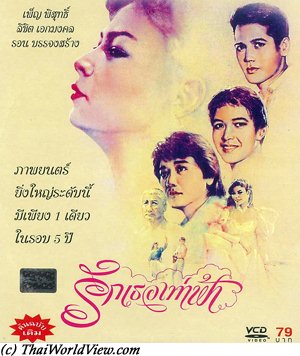 Year

: 1989



Thai title

:

รักเธอเท่าฟ้า




English title

:



Rating

: 3/5


Director

:



Main actor

: Likit Eakmongkol,Sor Asanajinda


Main actress

: Aranya Namwong,Pen Pisut



Buy now

:

Tik loves a young man called Mike but Tik's mother doesn't like him. She wants Tik to marry Boonsot, son of her friend. Tik, being drugged on her mother's orders, is raped by Boonsot to force her to become his wife. The wedding day turns to a tragedy. Tik's father has a fatal heart attack. Boonsot is caught by the police a few days later as he is a drug dealer. So Tik's mother decides to become a nun. Tik goes to see Mike again but Mike already has a new girlfriend. The doctor, who previously treated her father, has also interest in Tik. Finally Boonsot, who escapes from prison, saves Tik from the lawyer Khanit, who tried to rape and kill her. Being arrested again, he declares that he has always loved Tik (รักTikเท่าฟ้า) sincerely.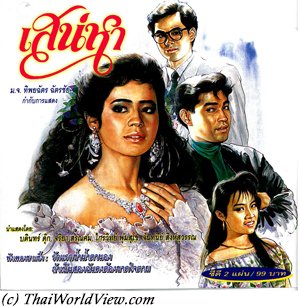 Year

: 1989



Thai title

:

เสน่หา




English title

:



Rating

: 4/5


Director

:



Main actor

: Bordin Duke


Main actress

: Jariya Anfone,Pissamai Wilaisak,Jhanthanee Singsuwan
Thai movie เสน่หา was released in year 1989 and lasts 1h43mn. It was released under VHS and VCD format. Multiple songs are featured in the movie. Young lady Nok (จริยา แอนโฟเน่) and Kamsen like each other (มีนัด). Nok is friend with a group of singers. The male singer Dook (บดินทร์ ดุ๊ก) is close friend with Nok. Kamsen hires Nok to promote his resort overseas. Kamsen's mother is played by Pissamai Wilaisak. Dook feels heartbroken as he knows Nok is more interested in Kamsen than him. The female singer Oi (จันทนีย์ สิงห์สุวรรณ) loves Doot. While Dook is sick, Oi takes care good care of him. The band is hired to play in the Erawan resort. Nok is pregnant and Kamsen plans to marry her. The mother heard bad rumors on Nok and asks her son to break up. As he refuses, she finds an excuse to send her son overseas in order to talk to Nok. She believes the child father is not Kamsen but the singer. Disappointed by the mother's behavior and harsh words, Nok prefers to leave. As Nok's child has no father, Dook proposes to marry her (ลงทะเบียน)(รักเหมือนเพื่อน). Back from overseas, Kamsen learns that Nok has married the singer. He feels heartbroken as his mother doesn't tell him the truth of course. The child is born. It is a daughter. Dook takes good care of the daughter. Seeing his kindness, Nok and Dook become real wife and husband. Nok is getting severely sick. A huge hospital fee has to be paid. As Dook has not enough money, he sacrifices himself and contacts Kamsen. Kamsen pays the bill. Nok and her daughter have to move back with him. Seeing he cannot win back love from Nok and from his daughter missing Dook, he lets them go back to stay as united family with Dook. Oi is heartbroken for a second time.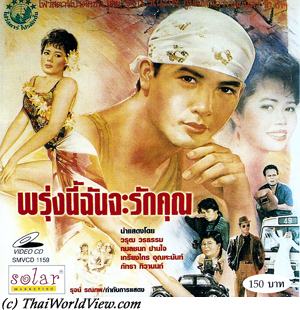 Year

: 1989



Thai title

:

พรุ่งนี้ฉันจะรักคุณ




English title

:



Rating

: 3/5


Director

: Ruj Ronnapop



Main actor

: Waruth Woratum,Kriengkrai Unhanan


Main actress

:
This movie is a remake. The previous version was shot in 1980. A man called Non helps a woman, called Oon, drugged by a taxi driver, who wants to rape her. Oon believes that Non raped her and flees. Non loves Oon but cannot find her anymore as she leaves for France. Oon's sister meets Noon and is fond of him. Non asks her in marriage. When Oon comes back from France, many confusions happen until love emerges between Non and Oon.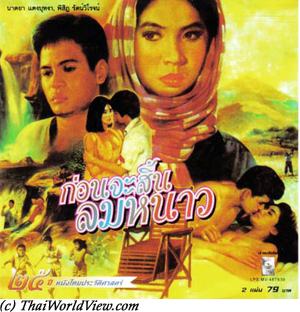 Year

: 1989



Thai title

:

ก่อนจะสิ้นลมหนาว




English title

:



Rating

: 2/5


Director

:



Main actor

:


Main actress

: Nardtaya DaengBunga
Pete, singer, and Noon, actress, are in love but don't often see each other due to busy schedule. Noon introduces to Pete her younger student sister. Noon also meets a doctor during a short stay in a hospital. Due to distance, their love fades and temptation is high. Will they stay together?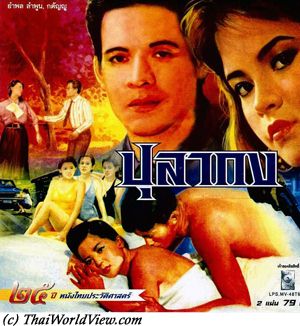 Year

: 1989



Thai title

:

ปุลากง




English title

: Pulakong



Rating

: 3/5


Director

:



Main actor

: Amphol Lumpoon,Ruj Ronnapop


Main actress

:



Buy now

:

Khaem (เข้ม)(Amphol Lumpoon) is playing in an underground casino (บ่อนพนัน). He is a young man coming from a good family. His father has never time to take care about him as he is busy with his factory. The father is worried about his family name as Police often raids casinos but Khaem has no choice to find money (ไม่มีทางเลือก). The father is divorced. Khaem decides to go his own way and wishes to be a policeman. He has a good personality (บริสุทธิ์ทั้งใจทั้งกาย). Khaem is a new policeman (ผู้กองใหม่ ) sent in far South. He meets Toon (ตุ่น), who is a female teacher (ครู) in south of Thailand. Toon and Khaem know each other since childhood. Toon has come to far South of Thailand as she likes countryside life (ชีวิตบ้านนอก) despite harsh life (no electricity at night time, robbers). They were both sent to Pulakong (ปุลากง), which is a remote district in South of Thailand, where villagers are muslim and mainly speak Malaysian. Teacher Toon is helping the village to develop. She helps to resolve villagers problems. There is reminder that they are all Thai whatever the religion they follow. There are many robbers (โจร) and ruffians in the far south (คนร้ายไม่ชอบคนดี, สัตว์นรก). The teacher helps a robber Saliman but it turns bad. Hopefully Khaem can help on time. Saliman loves Noon also. He changes his behavior (เปลี่ยนตัวให้มีค่าสำหรับสังคม) but Toon sees him as a friend only. Khaem and Toon have love for each other but none dares to speak the first. A drama happens in the village. Toon's best Muslim friend suicides herself after an unwanted pregnancy with a Buddhist teacher. Shocked she decides to go back to Bangkok. Meanwhile Khaem is injured at the border. He is cured in Bangkok and a personal nurse is taking care of him. Believing there is no possible love with Khaem, Toon goes back to south of Thailand. Khaem follows her there and declared her love to her. This romance movie includes a few themes related to South of Thailand (different religion but same nation, help to local development, living in harmony), to people redemption (Saliman the robber can become a good man), to the family (parents to give time to their children).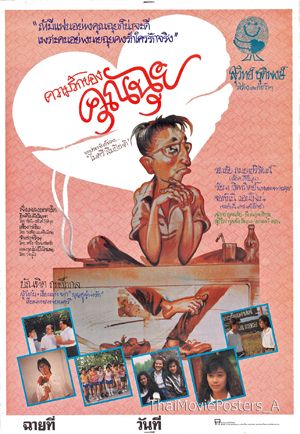 Year

: 1989



Thai title

:

ความรักของคุณฉุย




English title

:



Rating

: 3/5


Director

: สุวิทย์ ชุติพงษ์



Main actor

:


Main actress

:
Thai movie Thai movie ความรักของคุณฉุย was released in year 1989 and lasts 1h37mn. It was released under VHS format. Movie director is สุวิทย์ ชุติพงษ์. A few songs are featured in the movie. A second opus was released in year 1993. Chui is having love, but he doesn't disclose his dream girl. His friends wonder who the unlucky girl is! Chui is living in a Buddhist temple and is a temple boy (เด็กวัด). There is a beautiful young lady waiting for the bus just like Chui. Her name is Dalika (รัชนา ธิดาทิตย์). His friends give advice for him to seduce the young lady. It fails. The three friends are invited by Wu for his birthday party. Dalika is also present at the party. His friends ask him to follow his feelings (ตามใจ). He is chosen to do the inauguration dance and his friends push for Dalika to be chosen also. He makes funny moves. He meets Dalika at the bus stop in the morning, but in the evening Wu (จอห์นนี่ แอนโฟเน่) is bringing her back with his car. So his friends ask him to focus on the morning session. Dalika will move to a new house soon. Hard for Chui to compete with Wu. There is a sports event at the university, so his friends advise Chui to participate and to win in order to impress Dalika. Chui gets bitten by Dalika's dog when visiting her house. He needs to get multiple vaccine injections to avoid rage. Chui prepares himself to join the walk contest. Dalika requests Chui's help as her dog has disappeared. Sport contests happen. Wu wins the tennis challenge. Chui wins the walk challenge as his friends use Dalika's name to motivate him. Wu is upset about this situation. Dalika claims that Chui is only a friend. Wu brings Dalika to a love hotel, but she refuses and flees. He apologizes. On the way to Dalika's house, Wu has an accident and Dalika ends up at hospital. Chui visits Dalika every day but Wu doesn't visit claiming her parents don't let him in. He already has a new girlfriend. Chui meets Sorapong in the hospital. He is the groom chosen by Dalika's parents, so he asks Chui to stop visiting every day. Chui is sad. He declares his love to Dalika in a letter. Dalika is also confused about what to do. Her parents mention her reputation is tarnished, so they have to marry her asap. Exams are happening. Both are accepted. Chui invites Dalika to an end of year party. When going back home they meet Sorapong, who speaks badly with Chiu again. Chiu is heartbroken and leaves. Dalika wishes not to marry Sorapong, but her father doesn't agree. Dalika goes to the Buddhist temple where Chiu lives but he has already left. The abbot recommends her to visit a Buddhist temple located on a mountain. She finally meets Chiu again on the top of Doi Suthep while Chiu is running a marathon!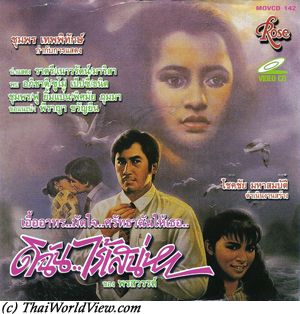 Year

: 1989



Thai title

:

ดิฉันไร้เสน่หา




English title

:



Rating

: 2/5


Director

:



Main actor

: Apichat Halamjiak


Main actress

: Naowarat Yooktanun
Jenkila is a dynamic business woman. Following a business conflict, some adversaries try to kill her by throwing her body in the sea. Fortunately, a fisherman called Pukthon rescues her. Despite their social background differences, she marries him. Pukthon is entitled as company manager. But the fisherman is deceitful and flirts with many women. Disappointed by her husband, Jenkila has an accident and is handicapped. Her husband still continues to flirt and leave alone his disabled wife. The company lawyer asks him to stop his shameful behavior but he refuses. Jenkila lets him do as he previously saved her life. Finally exasperated as he didn't bother to stay with her on her birthday diner, she shoots him. This movie can also be identified through another name "บุญหล่นทับ".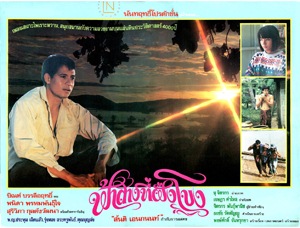 Year

: 1989



Thai title

:

ฟ้าส่างที่ฝั่งโขง




English title

:



Rating

: 3/5


Director

:



Main actor

: Bin Banleurit


Main actress

:
Thai movie ฟ้าส่างที่ฝั่งโขง was released in year 1989 and last 1h28mn. It is a romantic song movie. It was released under VHS format. Movie director is สันติ อเนกนนท์. It was first movie for Thai actress พนิดา พรหมพันธุ์ใจ. Multiple molam songs (หมอลำ) are featured in this musical romantic movie. Khaem (Bin Banleurit) is a villager leaving near the Mekong river. Khaem has an university diploma but has still no job so he is working as fisherman in his village. His family is poor. Young lady Siripon (พนิดา พรหมพันธุ์ใจ) has just finished her studies and is visiting her friend Araya (สุริวิภา กุลตังวัฒนา). Another male villager called Chatree likes Siripon. Both Chatree and Khaem try to seduce Siripon (คนเอาใจ) while visiting old prehistoric rocks along the Mekong river at Pha Taem National Park. Laotian side can be seen (มิตรภาพ). Khaem's father keeps drinking. He wishes his son could have a better life as he studied in university but finally, he ends up as doing same job as him, i.e. catching fish (หาปลา). Romantic balad on the Mekong river occurs with Siripon. Siripon likes Khaem and her friend Araya likes Chatree (น้องรักพี่เพราะว่าพี่รักน้อง). Siripon's parents are worried to have her staying long time on the countryside near the Mekong river. Khaem's father has a crisis. Siripon's father comes to pick up his daughter. Chatree finally gets interest in Araya as he knows he has no chance with Siripon. Khaem's father is now handicapped so he has difficulties to walk. Khaem trains him every day. Siripon is back to the city. Her mother is upset that Khaem visits Siripon and forbids any relationship as he has a poor background. Araya is going to marry Chatree. The father succeeds to convince the mother to change her mind after understanding that Khaem is a good guy. So Khaem and Siripon's love can finally blossom.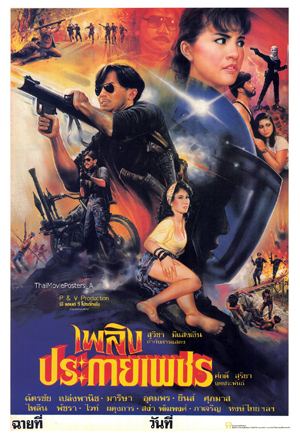 Year

: 1989



Thai title

:

เพลิงประกายเพชร




English title

:



Rating

: 3/5


Director

:



Main actor

: Chatchai Plengpanich,Pao Porapak


Main actress

:
Thai movie เพลิงประกายเพชร was released in year 1989 and lasts 1h25mn. It is a full action-packed movie but unfortunately the transfer from 35mm film to VHS was poorly done. Main actor is Chatchai Plengpanich. Additional actresses and actors featured are มาริษา อุดมพร, ไพลิน พัชรา, ยีนส์ ศุภมาส, male actor ไวท์ ผดุงการ. Two ruffians leaders, i.e. Sia (เสี่ย) Boonsung and Sia Pheum, are destroying the local forest. The ruffians' leaders know it is a bad job destroying forests (ทำร้ายป่า) and against the law but it allows then getting rich fast. A man called เพลิงประกายเพชร is wearing an opaque helmet and is protecting the forest in Isan region while riding a motorbike around. He is also putting some posters to warn people damaging the forest. Hired by Sia Boonsung, Dot, a hitman, tries to kill policeman Moo Daeng (Chatchai Plengpanich) but shoots other policemen instead. Moo Daeng catches him and sends back the bones to Sia Boonsung as a warning. The ruffians' leaders suspect Moo Daeng to be เพลิงประกายเพชร. Everybody wants to know who is เพลิงประกายเพชร. Young lady Duang Kaew meets Chat Chaiyaphum (Chatchai Plengpanich), unwilling to unveil he is a policeman. Chat kills three men attacking Duang Kaew. Moo Daeng releases Dam, captured by ruffians. Duang Kaew is his sister. Puangkae, sister of Sia Pheum, is captured by Moo Daeng's team and used as a bait (ตัวประกัน). The ruffians' leaders hire additional hitmen (มือปืนรับจ้าง) to fight back. Moo Daeng like Duang Kaew and visits her often so Pao Porapak (นักบู๊พเนจร) tries to trap him there. Soi is Sia Boonsung's sister. The hitmen storm Moo Daeng's base and kill many of his teammates. Meanwhile Wai (ไวท์ ผดุงการ) brings Puangkae out of danger and another man brings Soi out of danger also. Moo Daeng and his two last colleagues succeed to kill the ruffians but more are still left around a hangar (โกดัง). Puangkae breaks her lover's promise to Wai (ทรยศ). Duang Kaew is taken as hostage by Puangkae. Sia Boonsung refuses to listen to his sister Soi asking him to surrender and flees to take refuge in Sia Pheum's home. Moo Daeng and Dam decide to storm the place. War weapons are used such as shoulder-fired missiles and M16 rifles. นักบู๊พเนจร shots Dam. Through a daring finale, Moo Daeng kills both ruffians leaders and gets his life saved thanks to Wai who diverts Puangkae about to kill Moo Daeng and sacrifice his life to protect the forest (รักษาป่า). Without people like Moo Daeng and Wai, Thailand will be a desert (ประเทศของเราจะเป็นทะเลทราย).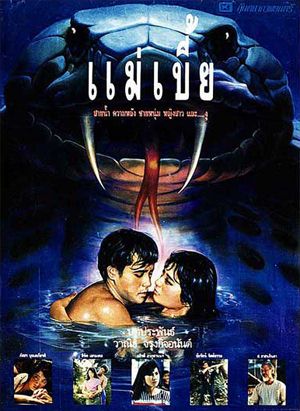 Year

: 1989



Thai title

:

แม่เบี้ย




English title

: MaeBia



Rating

: 3/5


Director

:



Main actor

: Likit Eakmongkol,Sor Asanajinda


Main actress

: Passorn Boonyakiat,Apiradee Pawaputanon
Mekhala is a rural young attractive lady living in a old house. Tourists groups are frequently visiting the house to buy local products. Chanachol, urban educated businessman, is visiting the house and there is an immediate match between Mekhala and him. Mekhala is living with Pa, Lung and a little girl. The previous owners of the house and their child drowned but the corpse of the child was never found. Chanachol has the feeling that he already comes before in this old house. Chanachol is already married and have two children. Finally Chanachol has a liaison with Mekhala. A supernatural jaleous cobra is protecting Maekala. The cobra tries to send Chanachol away but Mekhala refuses and protects Chanachol against the snake. Phot, a local resident, also wishes to marry Mekhala but she refuses. The cobra sends him away. Phot comes back to Mekhala's house in order to catch and kill the cobra. He gets bitten and dies. Meanwhile Chanachon's wife realises that her husband has an extra-marital affair. She tries to threathen Mekhala. Still loving strongly Chanachon, Mekhala decides to break with him in order not to wreck his family. Chanachol cannot stand this separation and go back to the old house. On the way back, the cobra makes him fall from the boat and he drowns. It seems that Mekhala's previous suitors ended up dead and a new one is already courting Mekhala...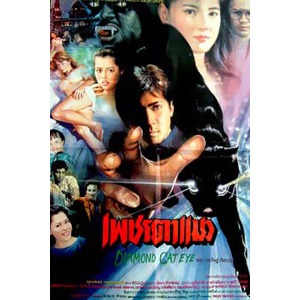 Year

: 1989



Thai title

:

เพชรตาแมว




English title

: Diamond Cat Eye



Rating

: 3/5


Director

:



Main actor

: Apichat Halamjiak,Dam Datsakorn,Yuranan PamornMontri


Main actress

: Thida Thidarat
Thai movie เพชรตาแมว (1989) lasts 1h34mn. Chai (Apichat Halamjiak), Chat coming with his daughter, Dam (Dam Datsakorn) are involved to catch a mystic cat spirit (แมวดำตาเพชร). They wish to get a diamond located in the cat's eyes. Some hunters fail to kill it so they are going in a remote mountain to catch it in his cave. The cat makes the hunters to kill each other. Chat finally gets the diamond and before dying, he asks Chai to give it to his daughter when she is adult. Years have passed. Kong Yot (Yuranan PamornMontri) is a policeman (หมวด) and Chai's good friend. Busarat (Thida Thidarat), Chat's daughter, is the real owner of the diamond. She was raised by Dam. Sia, older man, wishes to marry Busarat but she doesn't love him. Niphon uses a professional masseuse (หมอนวด) as a fake nurse to take care about Chai. He wishes to get the diamond also. But the nurse is thinking about a wedding being interested by the heritage but Kong Yot is around. Kong Yot hires real Busarat as nurse as he knows she is dedicated as he met her before in hospital. Three ladies now claim to be Busarat. One dies by falling in the stairs being shocked seeing somebody disguised like a ghost. Niphon (Kowit Wattanakul) gets blamed as he guaranteed she was real Busarat. Another supposed young lady, foreigner Natalie, asks for the diamond also. She is lover with the house driver. They end up in jail as identified as dishonest people by Kong Yot. Chai finally gives the diamond to another Busaba following nightmares. Chai wishes Busaba's father to be with her. Back to her province, gun shooting happens with Sia as he still wants Busaba to be his wife. Dam is injured during the shooting and Busaba realises she is the real daughter of Chai as she doesn't have the same blood group as Dam. Niphon and fake Busaba are lovers. Finally Niphon's wife, Niphon and fake Busaba kill each other due to greed. Only the real owner can keep the diamond safely. Busaba, identified as Chat's daughter, receives the diamond and following a dream involving the spirit (วิญญาณ), she brings it back to the cave. She can have now happiness with Krong Yot. A former version of this movie was released in year 1972 featuring Phairoj Jaising and Naiyana Shewanan. A TV adaptation through a ละคร was released in year 1999.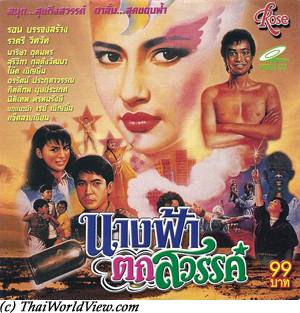 Year

: 1989



Thai title

:

นางฟ้าตกสวรรค์




English title

:



Rating

: 1/5


Director

:



Main actor

: Note Chernyim


Main actress

: Ratree Witawat
A teacher is dealing with problems linked to a haunted house. A bad medium is using spirits to force the teacher to sell her old house.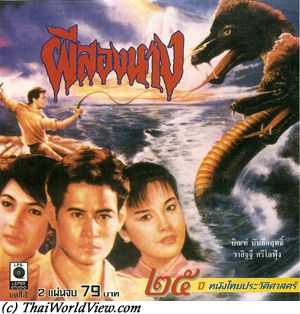 Year

: 1989



Thai title

:

ผีสองนาง




English title

: Heavenly Spell



Rating

: 3/5


Director

:



Main actor

: Bin Banleurit,Suchao Pongwilai,Paen Pleumsachai


Main actress

:
Thai movie ผีสองนาง was released in year 1989 and lasts 1h13mn. It was released under VCD format by Lepso company. A VHS version was released in Hong Kong under the name of Heavenly Spell / 菩薩咒 / Heavenly Devil in year 1991. It was also released again in Thailand under the name of นิกายมนต์ดำนรก. Main actors and actresses are Bin Banleurit, Suchao Pongwilai, Paen Pleumsachai, วาสิฎฐี ศรีโรฟุ้ง, ศศิมาภรณ์ ไชยโกมล. Thai movie ผีสองนาง is based on a real legend in Nong Khai province. Two sisters drowned in the Mekong river with a treasure chest while escaping Vientiane during the Thai looting in year 1828. They become ghosts protecting the treasure chest. They can metamorphose themselves into giant mystical snake or พยานาค. The shrine is located in a Thai Buddhist temple in Sri Chiang Mai. A convoy led by two noble Laotian ladies is transporting a treasure. They are attacked by Thai robbers. Seeing the beautiful ladies, the robbers wish to abuse them. A young Thai man interposes but he is outnumbered. They have to flee. Both ladies fall in the river. The young man is only able to rescue one lady. The other lady drowns. The treasure has fallen in the Mekong river also. Later on, a shrine is built on the river bank as homage to the drown lady. A local young girl, named Lamyai, refuses to give respect to the shrine. At night time, the spirit kidnaps Lamyai. Snakes prints are seen. Lamyai is the district officer's (Paen Pleumsachai) daughter. He asks help from witchdoctor (หมอ) Chook (Bin Banleurit). Chook promises to help to recover his daughter. He dives in the river to find Lamyai. Chook fights and defeats a big snake (งูเจ้าแม่). Lamyai doesn't wake up but finally the snake spirit accepts to release Lamyai's spirit to ease tensions in the village. The snake spirit changes its appearance to lie to old villagers to get unction (ยาทำแผล) to cure the injury caused by Chook at its neck. If the snake spirit gets cured, it will be danger (อาละวาด) for villagers again. Chook makes special ceremony (พิธี). The snake spirit (พญานาค) hires two others black magic sorcerers to fight against him. Another witch doctor warns Chook (ของดีในตัว) that the snake spirit will try to hurt him again (ปล้ำ). Chook has to face a Cambodian black magic sorcerer looking for troubles. Chook dives in the river and gets the treasure back. Suchao Pongwilai is pushed by the snake spirit to defeat Chook. Knowing that the snake spirit has no more treasure, Suchao decides to play his own game to defeat both Chook and the snake spirit. He even destroys the ghost shrine (ไม่มีที่พักอัศาย). Finally understanding that Chook uses white magic and not black magic like the cheating sorcerer Suchao, the snake spirit helps in order to defeat Suchao. The snake spirit forgives Chook for taking initially the treasure chest and the ghost shrine is rebuilt. Do good deeds, get rewards. Do bad deeds, get death.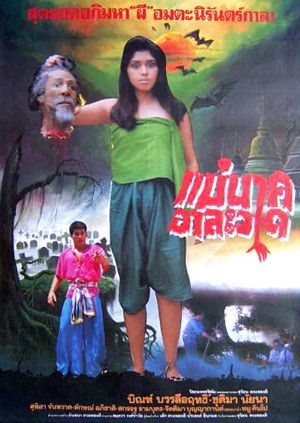 Year

: 1989



Thai title

:

แม่นาคอาละวาด




English title

:



Rating

: 2/5


Director

: สุริยน ดวงทองดี



Main actor

: Bin Banleurit,Lak Apichat


Main actress

: Chutima Naiyana



Buy now

:

Thai movie แม่นาคอาละวาด was released in year 1989 and lasts 1h32mn. It was released under VCD format. Thai movie แม่นาคอาละวาด is another movie based on Mae Nak story. Thai word อาละวาด means "act violently". Movie director is สุริยน ดวงทองดี. Thai actors and actresses featured in this movie are Bin Banleurit, Chutima Naiyana, สุทิศา จันทวาด, Lak Apichat, สกรรฐ์ รามบุตร, จิตติมา บุญญากานต์, หมู คินโป. This film is a remake of previous movie แม่นาคอาละวาด shot in 1973. It is a mix of horror and comedy. Same as many Thai horror movies from 1980s-1990s decades, it includes the classic chases when people run away from ghosts. It also features traditional funny characters (ตัวตลก) such as the big friend. While her husband Mak (Bin Banleurit) is away, Nak (Chutima Naiyana) is going to deliver her baby. As the movie happens in the countryside, it is still the old way to deliver babies. Nak dies during childbed. Mak is in Bangkok. During the funeral ceremony, a black cat jumps on the coffin. It is a bad traditional omen. The coffin breaks and Nak opens her eyes. All villagers flee. Later on, Master Dap has arguments with Sin, son of the sub district headman. Master (อาจารย์) Waen is mandated by Sin to get corpse oil (น้ำมันพราย) to make magic filter (ยาเสน่ห์) to use as a weapon (อาวุธ) to fight Master Dap. The master tries to get corpse oil from Nak but she cuts his head. Mak is going back home. Nak is waiting for him. She makes delicious food for him. The food is in fact rotten (อาหารผี) with worms but Mak cannot see it. Mak realizes that Nak is a ghost as at night time her appearance changes to a putrefied body. He flees from home and takes refuge at Master Dap's home but Nak is chasing after him. Nak still loves Mak and was waiting for his return since her death. Lek and her father Bukan visit Pa Khanong district. Mak previously stayed in Bukan's house. Lek is fond of Mak. She is in competition with Soi, another village lady and previous friend of Nak. A new master tries to neutralize Nak and puts her in a pot closed with a cloth covered with sacred words. The pot is thrown in the river. Meanwhile Mak marries with Lek. A couple of fishermen catch the pot and free the spirit. Nak takes revenge over Sin and the master. Mak and Nak still love each other but cannot stay together (คนละโลก). Only next life, a new love could be possible. Mak is not happy with Lek's hindrance. Finally Lek is too afraid and flees to Bangkok. Nak entrusts Mak with Soi. Nak leaves on her own decision. Compared to other movies, no monk or sorcerer (หมอผี) forces Nak to quit the earthly world.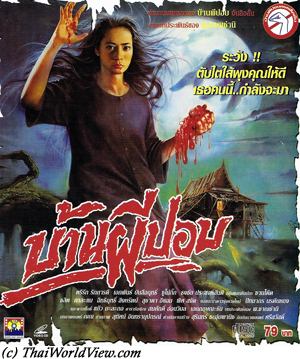 Year

: 1989



Thai title

:

บ้านผีปอบ




English title

:



Rating

: 2/5


Director

:



Main actor

: Ekapan Banleurit,Tongchai Prasongsanti


Main actress

: Trirak Rakkarndee



Buy now

:

A "Phi Pop" (ผีปอบ) is an evil spirit believed to possess a person to eat his intestine while also forcing him to seek and consume raw animal organs and meat at night-time. A birth happens in a village. Umbilical cord needs to be buried as "Phi Pop" ghost loves such fresh bloody food. The man, who was supposed to perform this task, is found dead. Villagers suspect a "Phi Pop" is responsible of the murder and they believe a "Phi Pop" is living inside the body of an old grandmother. The grandmother, called Thongkam (ทองคำ), is cured and helped by a young woman called Pla Pleung. Some medical students drop by villages and provide free caring for villagers. Khun Ret is the chief doctor. One night, while camping, they are attacked by the grandmother "Phi Pop". They are saved by Pla Pleung. The village head brings a sorcerer (หมอผี) to exorcise the grandmother. He hits her with a stick. Confrontation between the sorcerer and docter Ret happens. The sorcerer retreats. The same night the sorcerer is killed by the "Phi Pop". The village head's daughter has strong interest into doctor Ret and is jealous regarding other women being close to him, i.e. Pla Pleung and Ret's assistant. A hunter arrives in the village to get rid of "Phi Pop". Things get out of control as the villagers don't listen to doctor Ret anymore. Pla Pleung and the grandmother has to flee. The village head's daughter kills Ret's assistant as no ladies shall be between her and doctor Ret. The grandmother sees this and transfers her saliva to the village head's daughter, who now becomes a "Phi Pop". The grandmother dies but a new "Phi Pop" is now in the village and nobody knows it yet... This first opus includes a small budget (400 000 Baht), a mix of light horror, comedy and tint of erotism. The movie was shot in 7 days. Characters are similar to traditional theatre "Like" (ลิเก), i.e. the leading actor (พระเอก), the leading actress (นางเอก), the jealous girl (นางเอก), the funny and hilarious friends (ตัวตลก). There are always comic pursuits between ghost and actors in accelerated motion. This horror movie is dedicated for countryside spectators with a story happening in rural village. Bangkokian people are seen as outsiders and are not trust. They are well known to have seduce girls then dropped them. Pla Pleung had some concerns on doctor Ret. "Baan Phi Pop 1" was even shot in 16mm format so reduce the costs. Dubbing was done later in studio.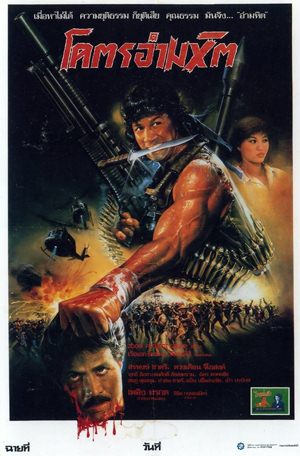 Year

: 1989



Thai title

:

โคตรอำมหิต




English title

:



Rating

: 2/5


Director

:



Main actor

: Sorapong Chatree,Somsak Chaisongkram,Rith Luecha,Chat Mongkolchai


Main actress

: Duangdeuan Jithaisong
Thai movie โคตรอำมหิต was released in year 1989. It lasts 1h30mn. This Thai movie was only released under VHS format many years ago. It reminds of a Thai Rambo version. Phayu (Sorapong Chatree) and his men (ทหารรับจ้าง) are facing Vietnamese soldiers. They defeat them but have only three men left. Vietnamese army is led by Somsak Chaisongkram. Phayu is back to his village and helps a captain aggressed by ruffians. Those ruffians (กลุ่มนักเลง) attack his father's house claiming for a 20 years debt. Phayu is chased, gets injured and falls in the river. He is rescued by a villager and his daughter Surita (Duangdeuan Jithaisong). Villager Praka seems Phaya as a threat towards his love to Surita and is worried about enemy (ศัตรู) looking for Phayu. Somsak asks help from Rith Luecha and Chat Mongkolchai to find Phayu. Meanwhile three men wearing soldier's clothes do a rampage in a village. One has same face as Phayu! Surita is worried if Phayu goes back to his village. Praka doesn't support Surita's interest in Phayu and tries to kill him by jealousy. Phayu's parents and younger sister have all been killed by bandits (โจร). Revenge is mandatory for Phayu. The other man with similar face as Phayu is called Phayak and is in fact his elder brother. Praka brings the bandits to Surita's home. He dies while protecting Surita, who gets shot also. Phayak also dies. Phayu's storms the ruffians' camp. He places some hidden grenades on the way to his village as he knows ruffians will chase him. It ends in a bloody and deadly fighting.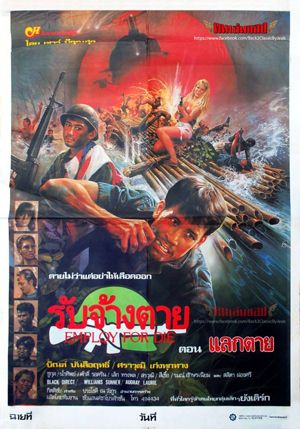 Year

: 1989



Thai title

:

รับจ้างตาย ตอน แลกตาย




English title

: Employ For Die 2



Rating

: 3/5


Director

: เชาว์ มีคุณสุต



Main actor

: Bin Banleurit,Williams Sunner


Main actress

: Audrey Laurie
Thai movie รับจ้างตาย ตอน แลกตาย / Employ For Die 2 was released in year 1989 and lasts 1h19mn. It was released in VCD format 4:3 by Solar company and Lepso company. As the movie length is quite short, it is probably cut or censored. Movie director is เชาว์ มีคุณสุต. เชาว์ มีคุณสุต is a famous director for Thai action movies. Thai actors and actresses featured in this movie are Bin Banleurit, ศราวุฒิ เก่งทุกทาง, เล็ก ทรงพล, ศักดิ์ รอดริน, ซูกุด น้ำจัน. There are a few foreign actors, i.e. Black Direct, Williams Sunner, Audray Laurie (Audrey Laurie). In the past, featuring foreign actors was giving a higher status to a Thai movie and presenting it as an international production, but the foreign actors in "Employ For Die 2" are just unknown actors and actresses having short roles. This movie is the second sequel of Thai movie จ้างตาย / Employ For Die released in year 1988 and featuring Chatchai Plengpanich as main actor. For the second sequel, Bin Banleurit is the main actor. The movie slogan is ตายไม่ว่าแต่อย่าให้เลือดออก (Dying is no matter but bleeding shall be avoided). Overseas, the movie is known as Cannibal Mercenary 2 and seems to be based on the Thai VCD release. This is a typical 1980s Thai war movie. During the anti-communist years, movies with soldiers and mercenaries fighting in the jungle were popular. Most of these movies were low-profile, though some were popular as they played to the national sentiment. At the end of the 1980s, when the communists were defeated, such action films faded. Communist enemies were then often replaced by drug traffickers. The movie opening credits part is using Wagner's Ride of the Valkyries being a reference to the movie "Apocalypse Now". Leu (Bin Banleurit) is ordered by his boss to form a mercenary team to stop drug propagation in Thailand and to get rid of a dangerous drug lord called Bad Dog and being protected by scores of tough men. Despite being reluctant to perform the job as most of his teammates died in the previous mission, Leu has to do it. Bad Dog is having foreigners in his team. Leu has to form a new team to search for Bad Dog. Five former soldiers join him. Every new team member has a reason to join, such as a need of 300,000 THB to cure a sick mother, money for relatives… All of them know they have little chance to survive on such a difficult mission. They enter the jungle to find Bad dog's stronghold. They are on an unofficial mission so even Thai police and army can shoot them. They are mercenaries (คนรับจ้าง), so they are employed for die. During their progression, they meet another group looking to escape from the Thai army. They join but have to split soon as their missions (ภารกิจ) are different. On the next day, they are attacked by strong black men, part of Bad Dog's team. One mercenary is killed through a machete. Aware of mercenaries entering his territory, Bad Dog orders his men to kill them. During the progression in the jungle, they meet a beautiful foreign lady. She joins them, but it is a trick. She pushes one of the mercenaries in an acid bath. Only four mercenaries are left. They are also concerned about dying too. Dissension occurs within the group. On the way to the stronghold, they find lost migrants including one lady with a baby. They have pity on them and give them their food. Same as them, the migrants cannot go back and have to move forward despite the risk. Some migrants walk on mines and die. Only the young lady and her baby are left. The group continues their journey on a raft and survives an attack by strong swimmers. One of the mercenaries eats แมลงสาบผี, being cockroaches in corpses. They are attacked again, but push back their opponents. They finally arrive in Bad Dog's stronghold. Two mercenaries are killed while trying to protect the baby. The last friend sacrifices his life and explodes grenades on him to get rid of Bad Dog. Leu would like to exchange his life (แลกตาย) with them as he promised that no team members should die. He promised to take care of the baby.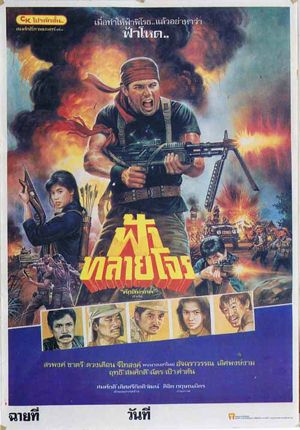 Year

: 1989



Thai title

:

ฟ้าทลายโจร




English title

:



Rating

: 2/5


Director

:



Main actor

: Sorapong Chatree,Chat Mongkolchai,Rith Luecha,Somsak Chaisongkram,Pao Porapak


Main actress

: Duangdeuan Jithaisong
Thai movie ฟ้าทลายโจร was released in year 1989 and lasts 1h32mn. It is available under VCD format released by Lepso company. It was renamed as ถล่มพระกาฬ by Lepso. As often with war movies from 1985 to 1995, it is very violent with a lot of blood to make it more realistic. Hanfan (Sorapong Chatree) and his men ambush a group of soldiers. By capturing a soldier, they can identify where the enemy camp is. Heavy fighting happens and many soldiers are killed on both side. Hanfan is the only survivor but he is also injured. He is rescued by villagers. Meanwhile ruffians led by Chat Mongkolchai storm the village. The men (โจรป้า) rape the girls and kill all inhabitants. Only two young ladies (including Duangdeuan Jithaisong) are left and are hiding in a cave inside the mountain with Hanfan. They help Hanfan but he wishes to go to the ruffians' camp in order to release some of his men (ทหารชุดดำ) held captive there. Somsak Chaisongkram is head of the camp and Pao Porapak is one of his soldiers. The doctor of the camp disagrees with Somsak's harsh methods. Hanfan kidnaps the doctor (ขายชาติ) to know where his men are held captive. Somsak, aware that Hanfan is still alive, sends his men to chase him. The soldiers find where the two young ladies are hiding and capture them. Meanwhile additional soldiers enter in the jungle but they fall in a trap. Only two survive and are captured. Somsak and his men torture the two ladies. Hanfan storms the place, releases them and kills Somsak. Hanfan releases the doctor but she is captured by Chat's team. Other ruffians led by Rith Luecha join them. The doctor is aggressed by two ruffians including Pao Porapak but Hanfan helps again on time. Rith tortures Hanfan's soldiers. Disgusted, the doctor steals some documents for Hanfan. She is followed by Chat and other ruffians as they wish to track Hanfan. Fightings happen between Hanfan and the ruffians. They shot the doctor but Hanfan kills them all including Chat. Hanfan and two ladies storm the ruffians' place to get rid of them. Severe fightings happen and the two ladies are killed. Similar to a a Thai copy of Rambo II, Hanfan succeeds to get a huge machine gun with ammunitions over the shoulder. All ruffians including Rith are killed.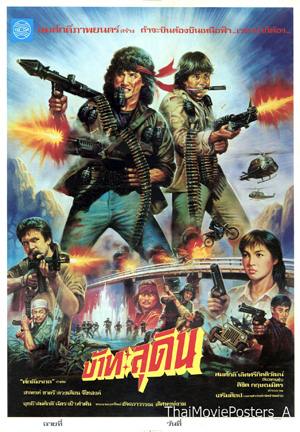 Year

: 1989



Thai title

:

บ้าทะลุดิน




English title

:



Rating

: 1/5


Director

:



Main actor

: Sorapong Chatree,Rith Luecha,Somsak Chaisongkram,Pao Porapak,Chat Mongkolchai,Paen Pleumsachai


Main actress

: Duangdeuan Jithaisong



Buy now

:

Four men bloodily rob a bank and kill all guards and employees. They have long hairs. They are part of a mafia gang. Ayu (Sorapong Chatree), a former ranger, is arrested when buying medicine for his sick mother as he has also long hairs. He is accused without proofs and beaten by the Police to get his confession. He flees from the prison with another inmate Pao (Pao Porapak). They are chased by the police in the jungle. Two mafia groups also affront each other in the jungle. One group is lead by a young lady. She is injured but rescued by Ayu. Unfortunately Ayu arrives home too late. His mother is already dead. His teammate Pao is in fact a covered policeman who wants to trick the robbers. The mafia group kills Ayu's family members and catches him. The young lady is the daughter of the mafia group's boss that got killed recently. She spared Ayu's life. Ayu is rescued by the policeman Pao but he decides to take revenge over the mafia group. Similar to a a Thai copy of Rambo II, Ayu carries a huge machine gun with ammunitions over the shoulder. A butchery happens with heavy spurts of blood. All policemen are killed. Everybody dies including the mafia leaders and Ayu. Sorapong Chatree played in many serie B action movies in year 1989. In 1980s, action movies were still very popular and actors often carried machine guns in those films.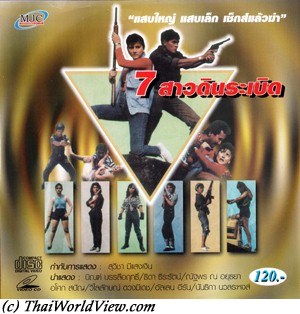 Year

: 1989



Thai title

:

7 สาวดินระเบิด




English title

:



Rating

: 3/5


Director

:



Main actor

: Bin Banleurit,Dam Datsakorn,Chat Mongkolchai


Main actress

: Thida Thidarat
Thai movie 7 สาวดินระเบิด was released in year 1989 and lasts 1h30mn. It was released under VCD format and also VHS format. The former VHS release was migrated to VCD format. The image is pretty sharp. Ruffians led by Dam Datsakorn and Ko (Chat Mongkolchai) are shooting at Thai police led by Pukong Aki (Bin Banleurit). Ruffians succeed to flee. While fleeing through the forest, they storm a house, kill the father, rape his three daughters and then kill them. The fourth daughter, called Usa (Thida Thidarat), asks for Aki's support. She wishes to get revenge. She learns that Ko has a scar. She is selling insurance life in order to approach them. One of the men wishes to go out with Usa but she refuses. Upset, he goes with a young prostitute. The mamasan argues it is her first time. After having made love, she shoots him dead as a revenge of the three girls killed. Another of the ruffians is killed by a lady while repairing a car. Ruffians start to be more alert while Aki is also investigating those deaths. All those ladies are Usa's friends helping for revenge (ล้างแค้น). Six ladies and Usa make a group of 7 ladies so giving the movie name as 7 สาวดินระเบิด (7 dynamite ladies). A third ruffian is killed by another lady (เด็กเวร). Ruffians start to be stressed and investigate on the relatives of the three previously killed ladies. One of the ruffians' leaders sees their domestic helper called Wilai putting some special powder (ยาพิษ) in the food. Another lady helps Wilai on time. Aki suspects Usa to be involved (ความหวังดี) as all murders are related with women, who know Usa... One of the ladies, called Sawanee, injures one of the ruffians, who succeeds to flee. Dam and Ko are now aware it is linked to Usa. Usa is captured (เรามาใช้นามสกุลเดี่ยวกันดีกว่า) and the ruffians asks the six other ladies to surrender in order to spare Usa's life. Aki intervenes. Aki is captured by ruffians also. The six ladies storm the ruffians' den but heavy shooting occurs. Ruffians are defeated but Sawanee dies by protecting Aki.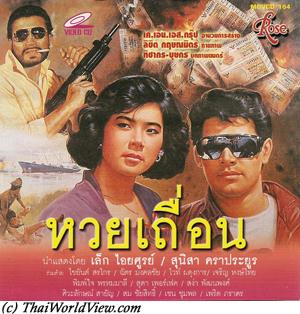 Year

: 1989



Thai title

:

หวยเถื่อน




English title

:



Rating

: 2/5


Director

:



Main actor

:


Main actress

:
A man wons the biggest price at the underground lottery. But mafia refuses to pay him. He complains so much that the local mafia boss get rid of him and his family. But the son is back and ready for revenge...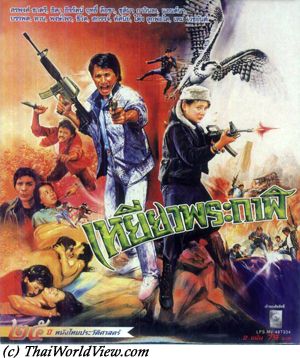 Year

: 1989



Thai title

:

เหยี่ยวพระกาฬ




English title

:



Rating

: 3/5


Director

:



Main actor

: Sorapong Chatree,Rith Luecha


Main actress

: Thida Thidarat,Chutima Kawinla
Thai movie เหยี่ยวพระกาฬ was released in year 1989 and lasts 1h23mn. Parts of the movie are censured. Some sexy scenes are present in the 35mm format release. It was released under VCD format by Lepso Studio company. Police decides to storm Arong's house knowing he is selling war weapons at the border. Following heavy fightings, Arong is injured but succeeds to flee. Young lady Feung Fa (Thida Thidarat) and her friend พี่ Tong are playing with knives when injured Arong arrives. Feung Fa is looking for a doctor. Meanwhile three ruffians shot her parents and Arong. One of the ruffians is injured. She wishes to find them and kill them as revenge. Ruffians continue their rampage as a lady is killed after a love scene. Feung Fa chases one of the three men and gets information on the two other men before killing him. Itti (Sorapong Chatree) wishes to help her but his motives are unclear. Ithit doesn't like such persecutors (รังแก) so he decided to help Feung Fa. Tong dreams of marrying with Feung Fa. He has the funny role (ตัวตลก) of supporting the leading actor Sorapong Chatree. Ruffian Seua Hin tries to neutralize Feung Fa but Ithit helps again. Feung Fa believes police cannot help as her village is in a remote place so it is lawless. Villagers needs to help themselves against the dark bad influence (อิทธิพล). A second killer is neutralized (ผีเฝ้าบ้าน). Feung Fa is still chasing Seua Hin, the third ruffian. Kham, the ruffians' leader, supports him. Kham (Rith Luecha) likes Buatong, sister of Buakaew (Chutima Kawinla). It creates tension between the two sisters. Feung Fa tries to catch the third ruffian by herself. Ithit is in fact a police chief. Ithit finds where Kham is hiding and goes to get more help from police rangers. Meanwhile Feung Fa and Tong are captured. Ithit and the police rangers succeed to free Feung Fa following an usual gun fight. Kham and his ruffians are killed. Other actors and actresses featured are แอนด์นา, บรรพต, ทวน, พงษ์ไพร, ชีวิต,สกรรจ์, ทัศนีย์, โด้ง ลูกพ่อโต, เหม เวชยันต์ แสดงนำ.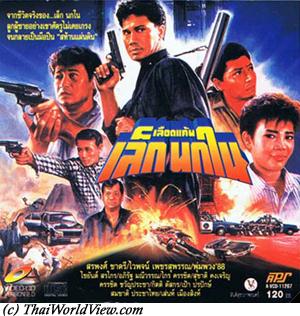 Year

: 1989



Thai title

:

เลือดแค้น เล็ก นกใน




English title

:



Rating

: 3/5


Director

:



Main actor

: Sorapong Chatree,Kanchit Kwanpracha,Chaiyan Sorakrai,Krai Kanchit,Pao Porapak


Main actress

: Pumpuang Duangchan
LepsoStudio also sells this movie but names it incorrectly as มือปืนสะท้านเมือง or 7 สิงห์แดนนรก. This movie is based on a real story. Life's circumstance changes Lek's existence and forces him to kill 12 men. A few village headmen (ผู้ใหญ่บ้าน) have a meeting to decide who will be the next subdistrict headman (กำนัน). Current subdistrict headman Liem wants to push his own son to be his successor. His son is a local police officer. They use bad influence (อิทธิพล) to control the subdistrict. Village headman Naparn tries to oppose. Naparn has two sons, Lek (Sorapong Chatree) and Porn. One night village headman Naparn and Porn are killed. Subdistrict headman Liem hire a hitman (มือปืนรับจ้าง) to kill also Lek. During the funeral (งานศพ), the police officer asks Lek to follow the law (หน้าที่ของกฎหมาย). Lek decides to do his own justice as it will be too difficult to find proofs against a subdistrict headman backed up by a policeman son. The subdistrict headman Liem and one of his son are killed by Lek, who has to flee. The subdistrict headman Liem's second son is not killed as he is a policeman. Liem's ruffians team asks support to subdistrict headman Sing (Kanchit Kwanpracha). Various intimidation and murders are performed by the ruffians team. Lek's family members or friends are killed one by one. They were innocent. Lek cannot remain neutral (เป็นคนดีไม่ได้). Lek has no choice than to exit from his retreat. He shoots a few ruffians. Then Lek quits the province to find a new job. He gets a job in a sawmill (โรงเลื่อย) in Saraburi. The boss is a lady (Pumpuang Duangchan). As he saves her from a log accident, they become sweethearts (แฟน). The ruffians find his retreat. A first murder tentative fails. Understanding that the ruffians will never let him safe, he decides to get rid of them (ต้องฆ่าให้หมด) to solve this endless situation. Lek prays every evening as life's circumstance forces him to kill ruffians to protect people he loves. Lek refuses to become an official hitman as he will not kill people who didn't hurt him. He attacks directly the ruffians' HQ. Sing and the ruffians are afraid for their lives. They ask help from another subdistrict headman. Lek and his remaining friends decide to raid his house to get rid of them. Police arrives to separate both groups. Believing that Lek is injured, his wife hurries up to go there and convince him to surrender (มอบตัว). After a trial, Lek and his friends are condemned to life imprisonment but are finally released after 12 years in jail. The real Lek was then killed by a hitman in 1993.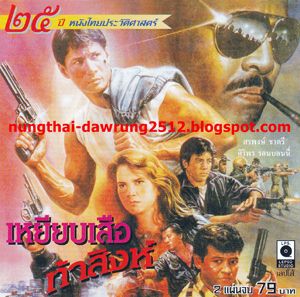 Year

: 1989



Thai title

:

เหยียบเสือท้าสิงห์




English title

:



Rating

: 3/5


Director

:



Main actor

: Sorapong Chatree,Dam Datsakorn,Chaiyan Sorakrai


Main actress

:
Thieves (ผู้ร้าย) plan to rob a bank van. Pen (Sorapong Chatree) asks 40% of the gains. During the robbing, Pen is injured and left behind by his colleagues. He is captured by the police but other ruffians come back to shoot all of them to avoid leaving proofs behind. Mot (Chaiyan Sorakrai) is a policeman wishing to solve the bank robbers case. Pen flees from the hospital. Montri (Dam Datsakorn) is the ruffians leader. Pen has fight with his former colleagues and get support from Kum, his old friend. Later on, Kum gets beaten by Montri's ruffians. Kum is ready for revenge over Montri. Pen and Mot are brothers (สายเลือดเดียวกัน) so Mot is dismissed from this case by his superior. Mot wishes to catch his own brother. Pen did such job in order to pay studies for Mot, his younger brother. Pen didn't study high so he had to do such illegal activities to get money to pay for his young brother's education. Ruffians kill Pen's father as he refuses to disclose where his son is hiding. Police head uses a policewoman to make Montri fall. It is a failure and her life is saved thanks to Pen and Mot. Mot quits police. A mysterious informer keeps giving hints to the police woman. It is Mot pushing for this case to be solved. Surat is another ruffians leader behind. Pen protects Mot from behind. Montri is looking for fake money and contacts Surat. Police, ruffians, Mot and Pen all meet during the transaction. During final shootings, Pen sacrifices his life to save Mot. Mot finally understands that his brother was a good guy. This end of decade 1980s action movie is part of movies, where Sorapong Chatree getting older has to share the leading actor role with younger actors such as Chaiyan Sorakrai. Similar to Thai movie เพชรผ่าปืน (1990), Sorapong Chatree plays the bad guy forced by life circumstances and Chaiyan Sorakrai is his younger brother wishing to stop him.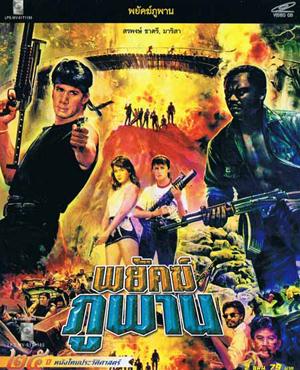 Year

: 1989



Thai title

:

พยัคฆ์ภูพาน




English title

:



Rating

: 3/5


Director

:



Main actor

: Sorapong Chatree,Pao Porapak,Pipop Pupinyo,White Padungkan


Main actress

:
Thai movie พยัคฆ์ภูพาน was released in year 1989 and lasts 1h29mn. It was released under VHS and also under VCD by Lepso Ltd Company. Ruffians are blocking the road to the market and are asking for a passage fee (ค่าผ่าน). A black man, called Cha, is beaten as he refuses to pay. In (Pipop Pupinyo), as restaurant owner, is married to Da (ยีนส์ ศุภมาส). Da's sister, Saeng, stays with them (น้องเมียกู่). Klong (Sorapong Chatree) is stopping by In's restaurant to have a drink based on 12 fresh eggs! He is selling coffins (ขายโลงศพ) because he heard many people are dying in this area! A fighting with ruffians happens as they ask him to leave the area. Local kingpin Nai Chawaen has bad business reputation. He is assisted by White Padungkan. Another ruffians' team is led Kraison and assisted by Pao Porapak. Nevertheless, both ruffians' teams meet for business. They suspect a third party is involved as business disruption is occurring. Saeng (มาริษา อุดมพร) is aggressed by ruffians asking for protection fee. Klong helps her. A romance starts between Saeng and Klong. One night, ruffians storm In's restaurant to kidnap his wife and sister in law. Klong helps again. Cha's uncle is shot by white's team. White puts the blame on Klong so that Cha wants to take revenge. Cha joins White's team. Paorak warns Klong proactively so Klong joins his team. Kraison is looking left-hand (มือซ้าย) to support him as he has already a right-hand (มือขวา) through Pao Porapak. Another money drugs exchange occurs between the two groups but it ends up with shootings again. Klong pushes them against each other. Nai Chawaen finally gets both money and drugs. Saeng and her sister Da are kidnapped to attract Klong. Meanwhile Kraison's team wishes to take profit to attack Chawaen's team. In brings additional support with policemen. Final battle occurs. Ruffians are all killed. Cha is also killed during the fightings. The area is now safe with both ruffians' team being neutralized.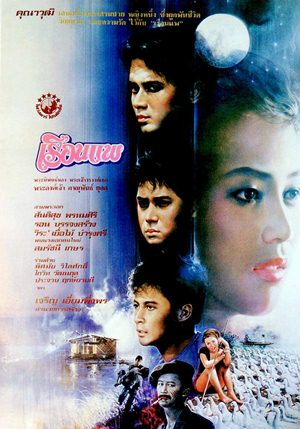 Year

: 1989



Thai title

:

เรือนแพ




English title

: Houseboat



Rating

: 5/5


Director

:



Main actor

: Santisuk Promsiri,Prachuap Ruekyamdee,Kowit Wattanakul


Main actress

: Pissamai Wilaisak
Thai movie เรือนแพ was released in year 1989 and lasts 2h06mn. It was remastered in decade 2010s by Five Stars company. It is a remake of the 1962 version. Three young guys are living together. They are Lin, wishing to be a musician, Kaew (Santisuk Promsiri) wishing to be a Thai boxing champion and Chen (รอน บรรจงสร้าง) wishing to be a policeman. So, one uses his voice, one uses his strength, one uses his brain. They are good friends with young lady Deuan (สมรัชนี เกสร). Her mother, played by Pissamai Wilaisak, accepts to rent to them an old house on the river. Friendship starts to break as debts issue occurs. The three friends start to misunderstand each other. Kaew starts to have success with Prachuap Ruekyamdee as sponsor. Chen passes policeman exams. Lin quits his music band. A thunderstorm occurs. The house is seriously damaged. Kaew and Deuan fall in water. Deuan and Kaew then become lovers under impulsion (ความรักหรือความใคร่). Deuan has still not chosen between Kaew and Chen. Chen bought an engagement ring, but he finds Kaew and Deuan kissing together. Kaew will join important boxing match. There is an opportunity to win 100 000 THB. Lin has no success as singer. Deuan's father has debts with Chao Pho Lieng Chiang Mai so he wants her to marry him. Old traditions are น้ำเน่า but Deuan has to respect parents' gratitude (กตัญญู). Kaew's fight shall be a tricked match but Kaew finally wins as he is pushed by Prachuap to behave like a real man. Kaew gets shot and beaten by his trainer, who lost a lot of money on wrong bet. Finally, Kaew gets saved by Prachuap. Kaew comes back for the wedding of Deuan. Kaew wishes to flee with Deuan. A fighting occurs. Kaew shots a few men including the groom. Prachuap recommends him to take shelter in Han's home. Han (Kowit Wattanakul) raises ducks with friends but it is only a way to keep low profile. Kaew joins him to commit robbery. Chen is mandated to capture Kaew. Kaew threatens Chen that he will not let himself capture easily as he doesn't want to end up in jail for 30 years. Han's HQ are in a pub, where the owner trades stolen goods. Lin finds a singer job in this pub. By chance, Chen, enquiring on the robberies, meets Lin in the pub. After seeing them, Han believes Lin is an undercover cop. A few days later, Han's ducks farm is stormed by Thai police as one of Han's teammates discloses the location to get lighter punishment from Thai justice. Han's colleagues are shot. Only Han and Kaew succeed to escape. Going back to the pub to get money, a shooting occurs with owner. Seeing Lin, Han shoots him. Feeling bad after seeing his friend being killed, Kaew shoots Han and flees. He goes back to the old house on the river. Deuan asks him to surrender but Kaew refuses. Police has to shoot through the old house, where he is hiding...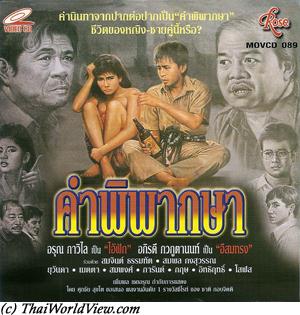 Year

: 1989



Thai title

:

คำพิพากษา




English title

: The judgement



Rating

: 5/5


Director

: Permpol Choei-arun



Main actor

: Somjin Thammatat


Main actress

: Apiradee Pawaputanon
Fak is a brilliant Buddhist novice and villagers expect him to become the next village abbot but Fak decides to defrock in order to take care about his aging father, who is working as a school caretaker. Fak is sent to military duties. When he is back, his father has a new young wife, Somthong, who has mental deficiency. His father dies of a heart attack. As Somthong doesn't remember her address, Fak pities her and let her stay. During a temple fair, she brings trouble by announcing she is Fak's wife. Fak loses face and is bullied by the whole village. After the father, she takes the son!! Some bad words are even censured in the movie by a blank. Stepmother (แม่เลี้ยง) or wife(เมีย)? It becomes the local joke and villagers believe she is Fak's wife already. Nobody believes him when he claims the opposite. Fak is a nice guy that can never say no. So he is exploited by the headmaster (ครูใหญ่) and other villagers. Somthong is half crazy but nobody believes she has a mental deficiency. She is looking for Fak (เห็นฟักไหม) and shows her breast. She gets beaten by villagers as she behaves crazily and is irrespective to elders (เกรงใจหมาดีกว่า). Once again Fak pities her behavior issues with villagers. Officials keep complaining on her. Fak starts to be rejected (รังเกียจ) by villagers. For New Year Fak gives to subdistrict headman (กำนัน) an envelope with money as tradition. The story highlights the corruption of local officials. It is time to cremate (เผาศพ) his father's body but nobody wants to join despite all efforts done by the father for the community. Only one villager joins, i.e. the cremator. The headmaster doesn't join also. Same as the cremator, Fak is rejected by the villagers. Fak starts to drink heavily to forget his problems as he lost face. Society (ชาวบ้าน) did bad with him so it forces him to change his behavior. Every month he saves some money from his salary and the amount is managed by the headmaster. The Buddhist abbot tries to convince him to stop drinking (อายคน) but Fak cannot fulfill his promises. If he lies to monks, then who can trust him? One day he wakes up late as he was drunk. The school children wake him up to open the school door and tease him as Somthong has fallen asleep close to him. He is cross and throws a rock to them. One kid is hurt on the face. As the child's father has complained, the headmaster forces him to leave his job (โดนไล่ออก). He has 5000 baht left with the headmaster. His only remaining friend is the cremator. People on the margins of society stay together. Fak gets beaten by villagers so his leg is stiff forever. Modern development through electricity arrives in the village. The headmaster's wife wants a television and a fridge. The headmaster uses Fak's savings. On one side those officials look good as they collect money for the Buddhist temple, on the other side they are taking profit on Fak. Fak has become a real alcoholic. Nobody believes him when he claims that the headmaster stole his money (โกงเงิน) as he is a drunkard. He acts outside the society norms (ไม่เคารพผู้ใหญ่). As Fak keeps repeating the robbery to everybody, he becomes a nuisance. He is caught by the police. A villager group comes to put pressure on Fak. He needs to show gratitude (น้ำใจ) as the headmaster is a good citizen (คนดีฯหายาก). There is a sad music to announce Fak's coming death as strong alcohol has its toll. Somthong doesn't understand that Fak is dead. Now everybody is afraid of her in the village. The movie is about people judging the others without knowing all the circumstances, about hypocrite people (ผู้ดี), who behave well face to society but badly behind the society, about how rumours and gossiping can hurt people. This movie is based on the novel 'คำพิพากษา' by Chart Korpjitti. Chart Korpjitti was only 27 years old when he wrote this great novel in 1981. Following the success of the novel, this movie and a ten-hour television series were done but both were award-winning commercial flops!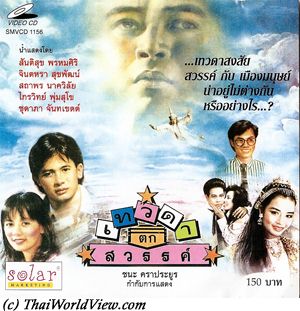 Year

: 1989



Thai title

:

เทวดาตกสวรรค์




English title

:



Rating

: 4/5


Director

:



Main actor

: Santisuk Promsiri,Kiet Kijcharouen,Suchao Pongwilai,Kriengkrai Unhanan


Main actress

: Jintara Sookkapat,Mayurachath Muarnprasitivej
Thep is part of a group of deities (Thewada - เทวดา) that comes to earth. Thep fails to go back to heaven. People in a slum (สลัม) are expelled from their home as a big company wishes to build a hotel. A journalist from CH8 (ข่าว 8) called Aep is showing the truth. Ruffians try to bring troubles but Thep protects Aep. Aep believes he met a crazy guy (เจอคนบ้า). As Thep has nowhere to go, he welcomes him in his home. Aep's sister, Kaew, is blind and makes flowers. Aep is having issues with a colleague, Watee, at the office. Other deities come to pick up Thep but Thep prefers to stay believing he is more useful in human world (มนุษย์). Aep is doing an enquiry on a kid that was kidnapped. He always highlights the opposition between poor and rich society. Aep interviews show real society so they are disturbing to his boss. Aep is worried (กลุ้มใจ) as her boss doesn't value his work. Thep starts to understand society hypocrisy (Good people – คนดี – only pretending, Charitable work – งานกุศล - is not only for those going to temple, do we value people only by their name particule – ทาน ?) Deities can be same as humans. As Thep is not willing to go back yet to heaven so he is helping Aep to do kindness (ช่วยทำความดี). Wattee and his boss (หัวหน้าผู้หญิง) are lovers. Wattee threatens her to nominate him at a higher position. An eye donation (บริจากตา) happens for Kaew. The donor is not compatible but Kaew accepts her fate. Meanwhile Wattee has no scruples. He dumps his girlfriend to pursue high professional hopes. He gets one video tape featuring a drug case but it is stolen by Da, one of the employee as it features her husband. She tries to protect her wedding and child as her husband is playing cards and dealing with drugs. Thep challenges the heaven that goodness should be seen before he heads back. To avoid bringing trouble to Da, the chief editor takes the responsibility of the missing tape. Things get worse as Da tries to get suicide as her husband has fled with her daughter. The deity leader tries to get back Thep but to no avail. Finally Da and her daughter are reunited. Through Kaew and the chief editor's action, Thep can see kindness on earth. Wattee is still jaleous with Thep and Aep. He sends some ruffians to neutralize them. Thep can vanquish them and Wattee is sent to jail as his boss doesn't support him (ตอบแทนความดี!). As Wattee is now in jail, it is time for Thep to go back to heaven. It was originally a Thai TV serie done in 1986 and then adapted to cinema in 1989. Another TV serie remake was done in 1998.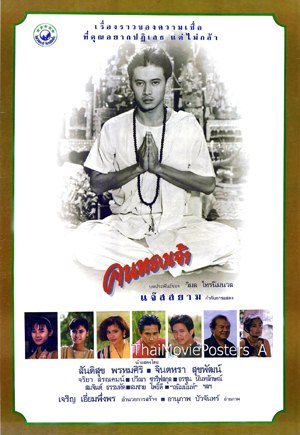 Year

: 1989



Thai title

:

คนทรงเจ้า




English title

: Silhouette of god



Rating

: 5/5


Director

: แจ๊สสยาม



Main actor

: Santisuk Promsiri,Somjin Thammatat


Main actress

: Jintara Sookkapat,Paweena Chareefsakul



Buy now

:

Thai movie คนทรงเจ้า / Silhouette of god was released in year 1989 and lasts 1h58mn. It was released under VHS, VCD and DVD format by BKP company and VCD format by Solar company. A remastered version was released by Five Star Production in the decade 2010s and shown on Thai TV cable. Movie director is แจ๊สสยาม. The movie received four Thai cinema awards. The Culture Ministry registers 25 Thai classic films each year at the National Film Heritage Registry. This movie is part of the 25 films heritage list announced on 04 October 2014, which is Thai Movies Conservation Day. Kam (Santisuk Promsiri) is married with one kid. As the river near their house starts to flood, he must put his livestock in a safer place. He puts them near a shrine (เจ้าพ่อ) on a land which belongs to him as he rents it. Villager Mek is upset as it is near a sacred shrine (ที่ศักดิ์สิทธิ์). Mek asks the spirit to help him to seduce Pagna (น้องพงา) (Jintara Sookkapat), daughter of Phujai. Phujai (Somjin Thammatat) asks Kam to remove his animals but Kam refuses as he does not believe in spirits (ไม่นับถือ). His son falls in the water and dies. Villagers say it is the spirit's revenge. Kam refuses to believe and decides to cut the tree. Maybe due to insolation or spirit's action, he loses conscience on the first attempt to cut the tree. Still stubborn (ไม่ยอม), he finally attaches his buffaloes near the tree. One evening as a storm is happening, his wife starts to give birth, but it does not happen well despite the local midwife's help. Unable to help, she asks him to pay allegiance to the spirit (แก้บน) to save his wife (ปวีณา ชารีฟสกุล). Kam promises to be a medium (คนทรอง) for the tree spirit. It looks like Kam still wishes the tree spirit and the villagers to pay for the bad sins they caused to him. Mek's wife, Phayia (จริยา สรณคมน์), wishes to find a way to get her husband back as he is now fond of Pagna. The spirit tells that her real-life love (คู่ชีวิต) is Kam and makes some filter for her to get back her husband. Finally, Kam and Phayia become lovers. Mek, upset that his wife Phayia (พเยีย) often visits the spirit medium, suspects a relationship between them (ชู้กับเมียเขา) but is unable to catch them. He believes Kam is lying (หลอกลวง) to villagers, indulges in alcohol and wishes to kill Kam. Meanwhile Phujai benefits from the money given as donations to the spirit medium. The spirit performs ceremony to change people's bad luck (สะเดาะเคราะห์). Phujai wishes his daughter to win Songkran beauty contest to be an "angel" (เทพิ) and to find a rich husband for her. Phujai uses a weak-minded man to get rid of Mek. Kam's wife is happy being rich and does not care about the relationship of Kam with other women. Phujai is worried being accused that he masterminded Mek's death. Kam convinces him to hide deeply in the jungle. Then Kam selects four servants (บริวาร), i.e. Mek's former wife (Phayia), Phujai's daughter (Pagna), his own wife and the midwife's niece. All his former enemies are neutralised. This movie leaves the viewer still wondering if Kam is acting or really possessed.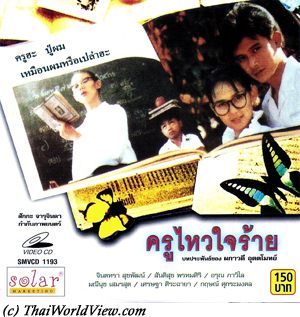 Year

: 1989



Thai title

:

ครูไหวใจร้าย




English title

:



Rating

: 3/5


Director

:



Main actor

: Santisuk Promsiri,Settha Sirachaya,Kiet Kijcharouen


Main actress

: Jintara Sookkapat



Buy now

:

A new lady teacher (ครูคนใหม่) called Sawai (Jintara Sookkapat) is arriving in a remote school (ตำบลเล็กๆ) in northern Thailand. Veteran actor Settha Sirachaya is the school director (ครูใหญ่). Kampaeng (Santisuk Promsiri) doctor is an old friend (เพื่อนที่ดีตลอดไป) also working in the area. Sawai gives strong lessons to pupils not following school rules (มันเกินไป). Strong warnings are given against cigarette and alcohol. Wai puts to herself some strict rules to be a model for pupils. Kampaeng understands it will be almost impossible to have a romantic relationship with Wai as she puts her duty first. Kampaeng gets an award to go studying in Germany but he doesn't want to be far from Wai. He finally leaves convinced by Wai. Many years have passed. Wai is still single. Teacher Wai gets called evil (ใจร้าย) but parents don't dare to tell her as they are all former pupils of teacher Wai. Wai starts to realise what people think about her. Teacher Wai has often back pain recently. She has to go urgently to hospital. Many people around teacher Wai promise to change their behavior and wish Wai to recover fast. They all finally realize that behind her severity, teacher Wai is working hard to build good people. Teacher Wai finally comes back and is welcomed in the village by a huge number of students and parents. This movie highlights dedication of some hardworking teachers going in some remote areas to spread knowledge, Buddhist basis and putting school values even before their private life. Movie ครูไหวใจร้าย was shot in 1989 and includes famous stars Santisuk Promsiri and Jintara Sookkapat. Veteran comic Kiet Kijcharouen, always present in "BOONCHU" (บุญชู) movies serie and "BAAN PHI POP" (บ้านผีปอบ) movies serie, is also present.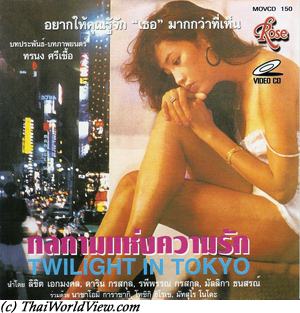 Year

: 1989



Thai title

:

กลกามแห่งความรัก




English title

: Twilight in Tokyo



Rating

: 3/5


Director

: Toranong Srichua



Main actor

: Likit Eakmongkol


Main actress

: Darin Kornsakoon
It deals about a young Thai lady, Waew, sent to Japan to become an escort girl (โสเภณี). Her parents are poor farmers. Waew is the elder sister and has decided to sell her body in Tokyo in order to support her parents and younger sister (น้องสาว). She discovers the sad life there, the huge debt to pay back. Anyway she supports her family by sending money back home. She wishes her father to build a new house instead of the shack, in which they are living. Homesick, she goes back home and discovers that her father has lost all the money she has sent due to unscrupulous investments and gambling (การพนัน), her mother has become a nun (บวชชี), her sister is partying everyday after learning that Waew is a prostitute. The younger sister's moraly is tarnished by living in Bangkok. Money has destroyed her family (เสียผู้เสียคน). Fed up by her family who doesn't understand and compassionate about her burden, she goes back to Japan. Disappointed by her pimp's selfishness, she kills herself. In 1989, the movie got Thai movie "best scenario" award (รางวัลตุ๊กตาทอง). In 1980s many Thai girls went to work as prostitutes in Japan so director Toranong Srichua wanted to show their fate through his movie. He went to Japan with a 32 people team during 15 days to shoot the movie. Even a Yakusa gang (แก๊งยากูซ่า) helped to close Shinjuku street (ถนนชินจูกุ) for 5 hours. Actress Darin Kornsakoon became famous thanks to this role. In 1980s, movies were shown in a limited number of cinemas in Bangkok. Toranong Srichua's movies often got only secondary grade cinemas but thanks to "Twilight in Tokyo" movie, the film was released in first grade cinemas and it was full at each session.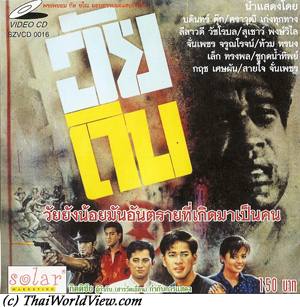 Year

: 1989



Thai title

:

วัยดิบ




English title

:



Rating

: 4/5


Director

:



Main actor

: Suchao Pongwilai


Main actress

:
Four friends at university just get their diploma. Among them, the main characters are a young lady called Na and a young man called Panit. Panit's father is a policeman. He catches people involved in drug trafficking. He disrupts drug selling gangs. His son gets university diploma (ปริญญา) but he is late to the diploma ceremony as he is always too busy. Na finds a job in a touristic hotel but Panit is still looking for a job. It is difficult to find a job nowadays. Panit meets friends involved in drug trafficking. They want him to work with them as he is worried (กลุ้มใจ) and cannot find a job. He comes back home drunk as he tried drugs. Drug dealers are freed following a procedure mistake. His friends are worried regarding Panit's new behavior. Panit shares the same flat with his father. Panit starts to take drugs (ติดยา). Panit's father is strict. There is no mother at home. The father discovers that Panit is now addicted (ทำไม). The policeman cannot understand that his son with high education can be a drug addict (ยังมีความรู้). The father forgives his son as he is also responsible of the situation by being always out of home. The policeman consults a monk. Panit continues to indulge in drugs not only joints but also heroin injections. He becomes a thug. The movie shows how drugs can change people life despite high studies if parents don't follow enough and if meet bad friends. Panit's father is suspended from the Police due to his expeditious way of working. Panit's girlfriend is raped and killed by other thugs. He takes revenge and kills accidently one thug. Meanwhile the father is reinserted in police and needs to arrest the killer (ผิดกฎหมาย). Vina is sad (เสียใจ) as her brother is dead. The thug that Panit killed is Vina's own brother! Panit is more and more addicted to drugs and has deep crisis. Vina and her friends try to help but drugs have done big ravage. Friendship (เพื่อนรัก) is still here. Panit recognises his failures (ฉันผิด) and that his father is a good man (พ่อเป็นคนดี), who follows the law (รักษากฎหมาย). Panit was his father's hope (เป็นความหวังของพ่อ). He dies when his father was going to arrest him.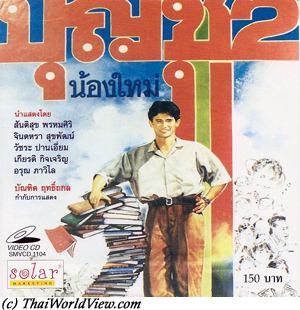 Year

: 1989



Thai title

:

บุญชู 2 น้องใหม่




English title

:



Rating

: 3/5


Director

: Bandit Ritthakol



Main actor

: Santisuk Promsiri,Sor Asanajinda,Kiet Kijcharouen


Main actress

: Jintara Sookkapat



Buy now

:

Boonchu is coming back to Bangkok to study. He is working part time with a family relative in the university library. During the year, Boonchu helps Mo and his friends to find money to support a remote village and also helps when the money is stolen. Finally Boonchu passes his exams successfully.
---