Increase or decrease font size for easier reading : A+ A-
Year 1987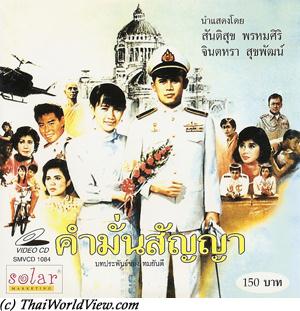 Year

: 1987



Thai title

:

คำมั่นสัญญา




English title

: The Promise



Rating

: 4/5


Director

:



Main actor

: Santisuk Promsiri,Somsak Chaisongkram,Ruj Ronnapop


Main actress

: Jintara Sookkapat



Buy now

:

Thai movie คำมั่นสัญญา was released in year 1987 and lasts 1h59mn. It is the first movie for Santisuk Promsiri. Lin (Santisuk Promsiri) and Da (Jintara Sookkapat) are close friends since childhood. Somsak Chaisongkram, Lin's father, was Da's father subordinate in Thai army. He saved his life during Vietnam war. So special bound exists between them. As Somsak is a poor widower with one boy, the chief installed him as gardener in his house. Da's father is also part of Thai nobility. Somsak reminds his son his position and their duty (บุญคุณ) towards Da's family as he is concerned this childhood friendship could become love. Lin is fully aware. Once being a soldier, Lin asks to be sent on countryside in province. Da is upset as she feels it is treacherous act. Somsak becomes a monk. Somsak and Lin feel that Lin cannot marry Da as their family is inferior status and they do respect Da's family status (ฐานะ), which always supported them. Lin was considered and treated as a son by them. Lin promised to never forget Da (คำมั่นสัญญา). Ruj Ronnapop and his wife Pranee are close friends to Da's parents. Their son Boorana asks Da for wedding. Da doesn't love him. She feels bad as she expects Lin to ask for her hand, but it never happens. Lin intends that family status is more important that real love. Da finally married with Boorana. Lin comes to their wedding and leaves for France for 6 months. Da is not having happiness. Boorana often drinks alcohol, join parties with soldier friends and has a mistress. Boorana complains to Da that her father doesn't help him to climb hierarchy ladder but her father checks capability first so Boorana is jealous of Lin. Somsak starts to be sick. Lin is back from France with gifts. Da is unhappy as her husband has a mistress. Her parents die in helicopter crash. The doctor identifies she has a cancer. Her life is wrecked. She finally divorces. Pranee wants her son Boorana to get half of her money but Ruj as an honest soldier refuses and mentions his son came with nothing, so he shall leave with nothing! Lin promises to stay to take care of Da. As she cannot be cured, she dies peacefully with Lin taking of her until the end.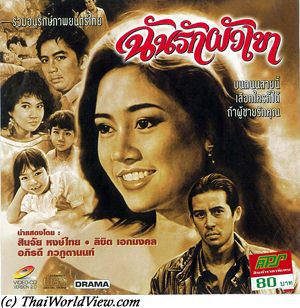 Year

: 1987



Thai title

:

ฉันรักผัวเขา




English title

:



Rating

: 4/5


Director

: Manop Udomdej



Main actor

: Likit Eakmongkol,Apichat Halamjiak


Main actress

: Sinjai Hongthai,Apiradee Pawaputanon
Am is singer in a music club. A young mysterious man called Win is coming every evening. Am refuses to sing a specific song "The last night" (คืนสุดท้าย) for him as it reminds her bad memories. She is living with her mother. She often thinks about her previous fiance, who lied to her as he had already a wife. She is now a singer and needs to be hostess with customers. A producer and a journalist are looking for new singers. They notice Am. Nowadays being capable (สามารถ) is not enough, the journalist would like to request more from Am but she doesn't play such bad game. She made a first music album with the producer. The journalist writes a bad article on Am regarding her relationship with a married man in order to boost record sales. She feels bad and drinks too much. Win brings her home. It is bad journalism. The journalist gets 2 baht per record sold. The journalist claims that nowadays talent (สามารถ) is nothing without advertisement (โฆษณา). The producer makes new songs for her, i.e "I love her husband" (ฉันรักผัวเขา) and "My heart hurts because of you" (ใจเจ็บเพราะว่าเธอ). Am accepts to sing these two songs even if she is worried that it will only corroborates the false news. Am is invited at the journalist's birthday in Cha Am. He tries to force her as he claims her success is due to him but Win knocks out the journalist and helps her. Win and Am become friends and start a relation (แฟน). The journalist continues to write bad news article on Am's love life. ช่างมันฉันไม่แคร์ - she decides to ignore the news. Am discovers that Win has two children already with a woman called Kae. They are married but live separately. Kae has already a new boyfriend (มีใหม่แล้ว). As Win is not yet divorced, Am refuses to go inside his house to protect her honor (ขายหน้า). Win's wife refuses to divorce in order to bring him troubles and to get more money. It is a difficult situation for Am as she is a middle of a broken family. The kids want the mother to stay. Kae calls the journalist. Another dirty (สกปรก) news article is published. Kae takes the two kids to use them as a means (เครื่องมือ) to force Win. She teases (แกล้ง) Win to prevent any happiness for him. She finally agrees for divorce as her children don't love her and her new boyfriend threatens to leave her. Unfortunately when happiness seems to be possible, Win dies in a car accident when going to Pattaya to meet Am. She sings his song "The last night" (คืนสุดท้าย) as a last homage for Win while crying. This movie highlights modern items in Thai society, i.e. the bad journalism, the stigmata of being a woman breaking a married couple.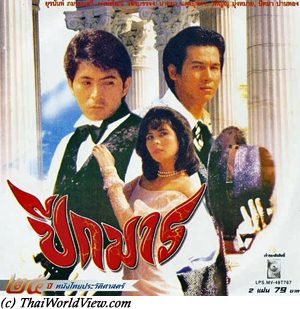 Year

: 1987



Thai title

:

ปีกมาร




English title

:



Rating

: 3/5


Director

:



Main actor

: Yuranan PamornMontri,Phongphat Wachirabanjong


Main actress

: Nardtaya DaengBunga
Salai is in her thirties. She is pregnant and is about to deliver. Her husband Phu is staying with his mother. His mother is very possessive and doesn't like Salai. She even don't trust her to educate her own baby. She makes life a hardship for everybody up to the point Salai is fed up and asks for divorce. She finally takes a break and goes back to Isan to work as archaeologist at an old Khmer temple (Prasat Hin Khao Phanom Rung). She meets a young man in his twenties called Laiseu, who immediately loves her. He is courting her but she refuses. She comes back to Bangkok. The mother wants to force the divorce. Phu is weak with his mother and always listen to her. Laiseu continues his courtship with Salai but nothing happens between both. One day, Phu sees Salai and Laiseu together so believes she is unfaithful to him. Phu hits Salai very hard and rapes her. She is sent to hospital. Her lawyer friend suggests her to sue her husband. In 1980s Thai society it was unbelievable to sue a husband for such motives as it was considered as private couple issues. Only in 2007, The Thai national assembly has passed into law the nation's first marital rape bill. Salai now carries a gun to protect her-self. Laiseu also asks Phu to leave Salai alone and without troubles. Finally for the sake of their child, they reunite and Phu finally speaks strongly with her mother in order to get his independance. This movie was adapted later to a Thai TV serie (ละคร).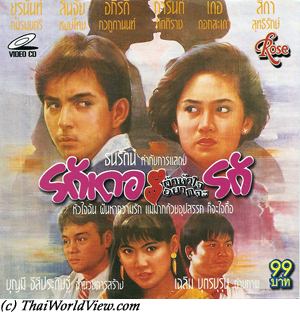 Year

: 1987



Thai title

:

รักเธอถ้าหัวใจอยากจะรัก




English title

:



Rating

: 2/5


Director

:



Main actor

: Yuranan PamornMontri


Main actress

: Sinjai Hongthai,Apiradee Pawaputanon
A woman becomes suddenly very rich after a legacy. Many men are trying to seduce her. A notorious womaniser is also trying and almost win her heart. But the woman discovers this bad reality and breaks up. The man decides to change his behavior and tries to reconquest her. Will he succeed?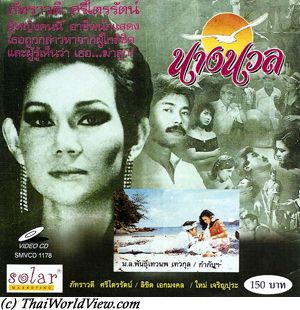 Year

: 1987



Thai title

:

นางนวล




English title

:



Rating

: 3/5


Director

: Pantewanop Tewakul



Main actor

: Likit Eakmongkol


Main actress

: Mai Charoeunpura,Thitima Sangkapitak
Thep is coming to his home in South of Thailand. He is the son of a famous TV serie star. He decides to teach students acting and meets a girl called Nuan, whose dream is to be a TV serie star. Thep's mother then comes to South of Thailand for holidays with her boyfriend, who is a famous TV serie producer. Willing to change her life, Nuan tries to seduce Thep's mother's boyfriend. She finally goes to Bangkok following his advice. There he takes care about her and she starts a TV serie star career. But being pregnant he forces her to abort and dumps her. In her foolish dream to continue to be a TV serie star, she accepts to play in porn movie. She finally comes back to South of Thailand in her hometown where this lovestory tragically ends.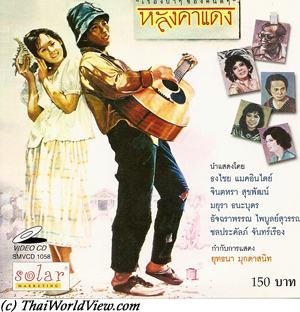 Year

: 1987



Thai title

:

หลังคาแดง




English title

: The Red Roof



Rating

: 3/5


Director

: Euthana Mukdasanit



Main actor

: Thongchai McIntyre


Main actress

: Jintara Sookkapat,Mayura Thanabutr,Amara Asavananda



Buy now

:

A man is wrongly sent in asylum by a greedy woman, who wants to get her husband's fortune. There he meets another woman left alone by a family in the asylum and decides to help her to get away. This movie features a few songs by Bird.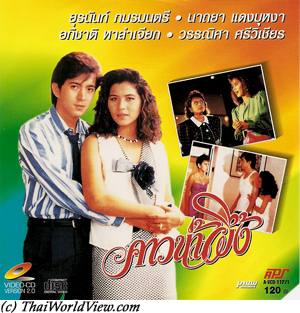 Year

: 1987



Thai title

:

คาวน้ำผึ้ง




English title

:



Rating

: 2/5


Director

:



Main actor

: Yuranan PamornMontri,Apichat Halamjiak


Main actress

: Nardtaya DaengBunga,
After a few years abroad, a man is coming home to Thailand. His former fiancee is now married to another man but the marriage is a failure. Will they ever find happiness together?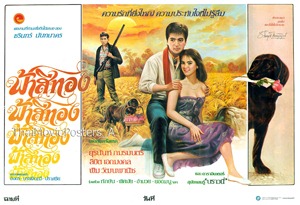 Year

: 1987



Thai title

:

ฟ้าสีทอง




English title

:



Rating

: 3/5


Director

: Charin Nantanakorn



Main actor

: Yuranan PamornMontri,Likit Eakmongkol,Taksin Jampol


Main actress

: Marsha,Pissamai Wilaisak
Thai movie ฟ้าสีทอง was released in year 1987 and lasts 1h48mn. The movie was shown on True Thai film cable TV channel. Movie is directed by Charin Nantanakorn. Young man Yothin is taking care of a huge agricultural domain. His dream is to have it becoming prospere (สีทอง) instead of being barren. His dog is even named as Si Thong. His parents (including Pissamai Wilaisak) are leaving in the city. Yothin is waiting for his brother Yuratit (Yuranan PamornMontri) to be back from England to help him. Pho Lieng Panat (Taksin Jampol) and his daughter Nit (Marsha) are living in the opposite domain. PhoLieng Panat and Yothin have often being in conflict before. Yothin is found shot dead. Yot (Likit Eakmongkol), domain intentant, suspects Pho Lieng Panat but he has no proof. Yuratit promises to continue what his brother started and to find who killed his brother. Yuratit helps young lady Nit whose vehicle is stuck in mud but Yot and also the father Pho Lieng Panat disapprove as each side sees each other as enemy (ศัตรู). The father Panat goes overseas for two weeks so Yuratit and Nit sympathise. A fire is lit in Nit's farm. Yuratit comes to help and saves a kid being endangered during a fire. Yot is the one, who started the fire, as he still believes Pho Lieng Panat killed his boss Yothin. Romance starts between Nit and Yuratit. Yot looks like not being happy with this relationship. Three ruffians tried to steal the money inside the safe of Nit's company. Nit suspected that those ruffians also lit the fire but finally she learns that Yot started fire in her farm's hangar. Nit believes orders are coming from Yuratit. The father is back and forbids to Yuratit to enter his farm (ไร่) anymore. Yuratit's parents visit the farm while Yuratit is away in the farm fixing the domain. While visiting the farm by carriage, the horse gets nervous as Nit uses her riffle to chase cattle away. The father is injured by falling from the carriage. Nit visits him every day as she feels guilty. Later, on Panat, Nit's father, is shot and injured. Panat believes Yuratit and his father are behind this shooting. Yuratit and his father visit Pho Lieng Panat to clear all the misunderstandings. Panat assures he has nothing to do with Yothin's death. Yuratit then suspects Yot. The two men fight as Yot is willing to get the whole domain for himself. Yot kept pushing both domains against each other. Yuratit is injured but Nit also injured him before he can kill Yuratit. Yot flees but the dog Si Thong revenges his master Yothin. Peace is back in both domains.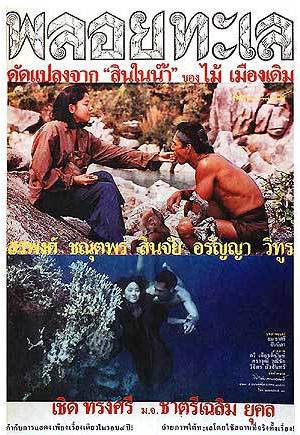 Year

: 1987



Thai title

:

พลอยทะเล




English title

: The Gem from the Deep



Rating

: 5/5


Director

: Cherd Songsri



Main actor

: Sorapong Chatree,Witoon Karuna


Main actress

: Sinjai Hongthai,Aranya Namwong,Juree Osiri,Chanutporn Wisitsopon
Thai movie พลอยทะเล was released in year 1987 and lasts 1h55mn. Movie director is famous director Cherd Songsri. Sorapong Chatree with his short haircut, killing smile and strong body really shines and plays in a great movie compared to the many average action flicks he played in 1980s. Happiness is present on a small island between Kratin (กระถิน), young lady (Sinjai Hongthai), and Rung (รุ่ง) a young man (Sorapong Chatree). They love each other but any wedding decision is linked to their parents. Kratin's parents reject this love. Rung is a diver, collecting seashells and fishies for a living. The movie shows nicely life of island, people collecting coconuts thanks to monkeys, collecting eggs from giant turtles. Beautiful landscapes are shot. Kratin is jealous of Sangpao (สำเภา), another young woman (Chanutporn Wisitsopon) that Rung considers as a sister only (น้องสาว). As Kratin's parents cannot accept such love and wedding, they consider fleeing to the city. While diving, Rung finds a red pure gem (พลอยทะเล, น้ำดี). He plans to sell it to cure his mother (Juree Osiri) but makes the mistake to show it to another villager, father of Kratin. This one and his sons, arguing that Rung behaves badly with his daughter, try to kill him to steal the gem. Rung gives the jewel to Kratin and fights back. In front of Kratin's eyes, he is left for dead. He is only injured and succeeds to reach his mother's home where Sangpao rescues him. Kratin is sent to the city. She meets Sieng, the fishery lady boss (นาย)(Aranya Namwong), who recruits her as domestic helper. Rung recovers slowly and is still upset that the gem is not anymore with him. Sangpao takes care about Rung. A love story is about to start but it doesn't bloom as Rung and Sangpao still have Kratin in mind. Kratin really believes Rung is dead so she is sad. Sieng's brother, Samrien (Witoon Karuna), likes Kratin a lot and starts to seduce her. They become lovers. Kratin shows him the gem. Samrien decides to keep it until their wedding in order to avoid it is stolen by somebody else. One day, Sangpao finds Kratin in the city and informs her that Rung is not dead. Samrien refuses to give back the gem, refuses to let Kratin go and promises her that she will become the fishery owner. The movie shows the fishery work from a cultural point of view. It is bad fate (เวรกรรม) that Kratin saw Rung dead but now it is too late as she needs to have gratitude over the boss and her family. Finally Rung discovers the truth about Kratin and Samrien. Sangpao has to intervene to avoid Rung becoming violent. Sangpao and Kratin have arguments as Kratin cannot give the gem back. Rung also asks Kratin as he needs to cure his mother but she tries to manipulate him. Samrien refuses to give it back to Rung as he believes half of it belongs to him. The fisherman, who brought Rung and his mother to the city, asks for his money but Rung cannot pay him as he hasn't got the gem yet. During a fight the mother is stabbed and dies. A big storm is now happening. Samrien is endangered on a boat. Kratin asks Rung to help Samrien as his boat is stuck. Samrien encourages him not to go but Rung accepts as he is kind hearted so he releases the boat but disappears in the sea. Countryside people have often bigger heart than city people. This gem has caused many people to die. In the morning, the sea sends back Rung's body. He is still alive and Sangpao had been waiting the whole night for him praying. Kratin finally finds Rung stranded on the beach. They promise love to each other. Kratin goes back to Samrien's home to get the gem from a safe but it is no longer in the box. Rung doesn't care about it anymore but Kratin refuses to follow him as she doesn't want to live poorly on the island. It causes Rung's ire as it shows she is more interested by the gem than Rung. He understands that only Songpao really loves him. Sangpao is the one, who gets the gem. A fight between Samrien and Rung occurs as Samrien still wants the gem. Rung defeats him and decides to go back to his island. Sangpao goes back with him. Samrien breaks up with Kratin. Rung sends the gem back in deep sea.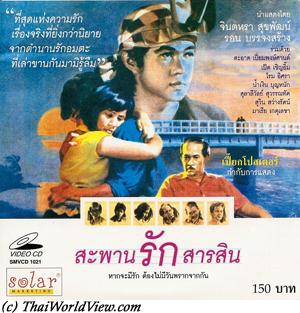 Year

: 1987



Thai title

:

สะพานรักสารสิน




English title

:



Rating

: 4/5


Director

: Piak Poster



Main actor

: Ron Banjongsang,Sahat Piempongsan,Sawin Sawangrat


Main actress

: Jintara Sookkapat,Namgneun Boonnak,Sulaleewan Suwanthat



Buy now

:

Thai movie สะพานรักสารสิน lasts 1h35mn. It was released under VCD many years ago but a HD version remastered is available since year 2015. It is based on a real story happened in 1973 on Phuket island. Sulaleewan Suwanthat is playing the mother. Kotham (Ron Banjongsang) is a good son as he is working in a farm of rubber tree and coconut and giving all his money to his mum. He is also driving local small bus to help his friend. He meets Hiu (Jintara Sookkapat), an university student who has good heart (น้ำใจ) to protect him with her umbrella while he is changing a bus wheel during a thunderstorm. Hiu's father (Sahat Piempongsan) is aware that his daughter is seating in the front with Tom so he forbids her. Kotham buys a doll (ตุ๊กตา) for Hiu knowing she likes it. Romance starts between Hiu and Kotham . While enjoying a local festival, Hiu is surprised by her father and slapped (ลูกไม่รักดี). Back home, she is severely beaten by her father, who even disapproves his daughter going to university. The father meets khun Arun, an administrative officer, as he wishes him to marry her swiftly. Hiu offers herself to Kotham but he refuses (บูชา Hiu). They finally decide to flee on a remote island. Kotham becomes a diver to catch pearls and seashells. Police finds them and Kotham ends up in jail as Hiu is not yet 20 years old. The local Kamnan (Sawin Sawangrat) convinces the father to remove the complaint on Kotham. But the father doesn't forgive. He hits his daughter with a stick in front of Kotham. Hiu is pregnant. Kotham loses his mother. The father still wants his daughter to marry Arun. Only suicide appears a solution for the youngsters. The mother and Kotham's friends wish to stop them but they are too late. The two corpses are found later clinched to each other. As they are inseparable even in the death, Hiu's father orders to bury them together. This movie has also been registered as National Heritage per the 2016 list released by the Thai Film Archive.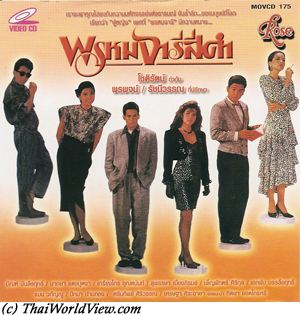 Year

: 1987



Thai title

:

พรหมจารีย์สีดำ




English title

:



Rating

: 2/5


Director

:



Main actor

: Kriengkrai Unhanan,Bin Banleurit


Main actress

: Supansa Nuengpirom,Penpak Sirikul
A young lady will soon marry a playboy handsome guy but another lady seduces him. Disappointed, the young lady tries to suicide and finally quit Thailand. Sixteen years after she comes back to Thailand and starts a revenge by luring the lady's son.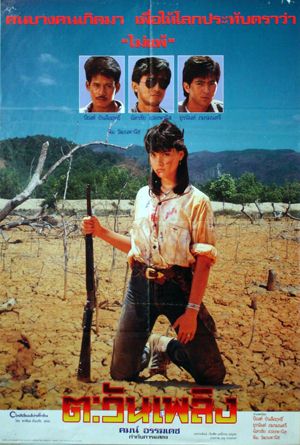 Year

: 1987



Thai title

:

ตะวันเพลิง




English title

:



Rating

: 4/5


Director

: Kom Akadej



Main actor

: Chatchai Plengpanich,Yuranan PamornMontri,Bin Banleurit


Main actress

: Marsha
Thai movie ตะวันเพลิง was released in year 1987 and lasts around 1h44mn. Movie is available under VHS format. Movie director is Kom Akadej. Vin (Chatchai Plengpanich) is a hunter group leader. They hire Chon as a driver but Chon (Bin Banleurit) is upset with the hunters' behavior as they shoot cattle. Young lady Rung Tawan (Marsha), owner of a ranch and raising cattle, is leaving alone. Patana (Yuranan PamornMontri) is her former husband and business partner but they split. Patana is alcoholic and useless. Rung Tawan finds that people went on her domain as she finds beer cans, cigarette packets and one cattle was killed. Police is not helping. She suspects a group of hunters led by Vin. She has strong arguments with them as she asks for compensation. No weapons are found in their car as they were hidden in their camp. Following a car chase with Rung Tawan, one ruffian is slightly hurt so they take revenge by putting snakes and mice in her home. But one of the hunters wants a bigger revenge. Chon tries to calm them down but to no avail. So at nighttime, they use fireworks to frighten her and break her windows. She runs away but they chase her by motorbike. Chon rescues her. On the next day, Patana is surprised to find Chon being at Rung Tawan's side. Being drunk, he did not help and is now jealous. Hunters chase her again and try to rape her. Patana takes a rifle but as he is shaking and is afraid, he flees away. Hopefully, Chon helps Rung Tawan again. Rung Tawan slaps Patana for being a useless drunkard and coward. Hunters are upset by Chon's behavior. Vin's girlfriend tries to entice Chon by provoking him. Being upset, Vin has a fight one to one with Chon. Chon is chased from the group and has to leave his knife, shoes behind per Vin's threat. Rung Tawan, taking her rifle, storms the hunters' camp. Shooting occurs. Rung Tawan shoots their car tank reservoir and it explodes. She flees away. Chased by hunters, she gets help from Chon. They get split inside a hangar. Police announces that the hunters left the area. Patana tries to stop drinking alcohol and finally succeeds. Chon is back and Rung Tawan takes care of him as he is weak. Rung Tawan has to choose between Chon and Patana. Hunters are back (คิดบัญชี). Epic final fighting does occur between Chon, Rung Tawan, Patana and the ruffians led by Vin...



Year

: 1987



Thai title

:

ฆ่าด้วยเสน่หา




English title

:



Rating

: 3/5


Director

:



Main actor

: Chatchai Plengpanich


Main actress

: Apiradee Pawaputanon
One night a woman is killed and her body is chopped in several pieces. A policeman is investigating the woman's life in order to find the culprit.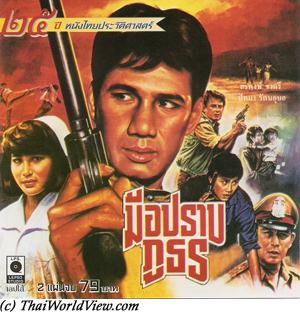 Year

: 1987



Thai title

:

มือปราบภูธร




English title

:



Rating

: 2/5


Director

:



Main actor

: Sorapong Chatree,Apichat Halamjiak


Main actress

:
One important political man is responsible of a forest illegal logging. His tough men threaten villagers living close to the forest. Three men, including two former policemen, are helping to get rid of the tough men.



Year

: 1987



Thai title

:

สารวัตรเถื่อน




English title

:



Rating

: 3/5


Director

:



Main actor

: Chatchai Plengpanich,Pisarn Akraseranee,Uten Boonyong


Main actress

: Sinaporn Philailak
Thai movie สารวัตรเถือน was released in year 1987 and lasts 1h34mn. An honest police inspector (สารวัตร) is killed by ruffians. He was a good man (รักษาความดี). The ruffians' leader Songyot (Uten Boonyong) is trying to buy land from local villagers. When they refuse, they get killed. The police inspector's assistant called Chatien (Pisarn Akraseranee) tries to continue his legacy by refusing to bend to external influence of powerful notables. Chatchai Plengpanich arrives in the city. Being chased by ruffians, he punches four of them. Chatien is under risk to be expelled from the police as the new police inspector doesn't like him and frames him (รับสินบนง่อๆ). The new police inspector is friend with the ruffians' leader Songyot. Chatchai disrupts the ruffians' drugs trafficking. Chatchai tries to motivate Chatien to remain a good cop (เลือดและวิญญาณของจ้าเป็นตำรวจ). Chatien is fired from police but gets encouragement from Chatchai to stop drinking. Ruffians wish to know who Chatchai is (คนแปลกหน้า). A new chief district officer's assistant called Palat arrives in the city. Chatchai is finally the chief of the police station (สารวัตรใหญ่). Chatchai does the cleaning among the bad behavior of the local policemen (ตำรวจภาษาอะไร). The new police inspector is arrested. Chatien discovers that Songyot is trafficking weapons also but is then captured and tortured. Through an explosive final, Chatchai neutralises the ruffians, arrests Songyot and releases Chatien. Chatien then becomes a new local police inspector. This movie highlights the fact that Thai policemen have to do their duty towards citizen and not towards their own interest.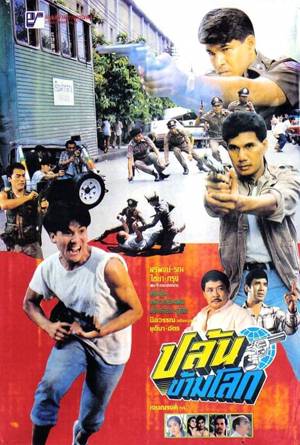 Year

: 1987



Thai title

:

ปล้นข้ามโลก




English title

: Faithful Spirit



Rating

: 3/5


Director

:



Main actor

: Sorapong Chatree,Krung Srivilai,Chaiya Suriyun,Chat Mongkolchai,Somchai Samipak,Ron Rittichai,Lau Wan-Fung


Main actress

: Chutima Kawinla
Thai movie ปล้นข้ามโลก / Faithful Spirit / 手足情 was released in year 1987 and lasts 1h36mn. It is a Hong Kong Thai coproduction. A VHS was also released in Japan and lasts 1h30mn featuring a sharp picture. In Hong Kong, during a police operation, a policeman Saichai (Hong Kong actor Lau Wan-Fung) is surprised to see one of his friends being part of the gangsters they are chasing. He prevents another policeman to shoot his friend, who can flee. The head of the police has now doubt on Saichai's integrity and suspends him from police duty. Saichai is very upset. He has a fight with some gangsters and during the fight, a policeman, trying to arrest them, is killed accidentally. Saichai is accused to have killed this policeman. His friend proposes to Saichai to flee to Thailand and to stay with uncle Chuan. In Thailand, ผู้กอง Sorapong Chatree tries to catch a kidnapper having taken two foreign teachers in hostage. Inspector (สารวัตร) Ron Rittichai (รณ ฤทธิชัย) succeeds to enter in the room and shoots the kidnapper. Uncle Chuan is involved in diamond trade. Palang (Chat Mongkolchai) is disappointed that Chuan wishes to retire. Three ruffians belonging to Palang shoot uncle Chuan and his wife. Khun Kamton (Krung Srivilai) is the big boss. Kamton asks for additional money from all godfathers. Fed up, the godfathers pushed by khun Prasong (Chaiya Suriyun) gather 200 000 baht to get rid of him and a hitman kills Kamton. Uncle Chuan recovers gradually. Saichai promises to take care of Palang. Following a fight in a restaurant, Saichai kills Sia Palang. Godfather Prasong knows that the killer is a former Hong Kong policeman. By threatening Saichai to have him expelled from Thailand, Godfather Prasong hires him to kill other godfathers. One time, he fails as police intervenes. Saichai believes Prasong tried to betray him. Police fails to catch Saichai. Saichai gets a Thai girlfriend called Mary (ชุติมา กาวินละ). Three Hong Kong men are sent to jail following a failed robbery. Saichai knows them. Godfather Prasong is finally arrested by Sorapong following a drug case foiled by Thai police. Somchai Samipak is playing head of Police. Saichai succeeds to release two of his friends. The third one succeeds to escape as police intentionally wants to find other Hong Kong men thanks to him. Police surrounds the house where the Hong Kong men are hiding. They refuse to surrender. Ron Rittichai has to do the dirty job to neutralize the Hong Kong robbers...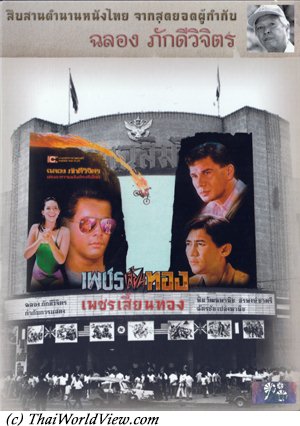 Year

: 1987



Thai title

:

เพชรเสี้ยนทอง




English title

:



Rating

: 4/5


Director

: Chalong Pukdeewichit



Main actor

: Sorapong Chatree,Chatchai Plengpanich,Adul Dulyarat,Rith Luecha,Somchai Samipak,Sayan Chantaraviboon


Main actress

: Marsha,Jariya Anfone



Buy now

:

Thai movie เพชรเสี้ยนทอง was released in year 1987 and lasts 1h48mn. It was released under DVD format by Happy Home Entertainment company. Movie director is Chalong Pukdeewichit. It was actor Tin Settachoke's (ตฤณ เศรษฐโชค) first movie. Policeman Borapon (Sorapong Chatree) shoots a young ruffian being part of a biker gang. The young ruffian hit policemen trying to stop him. Borapon claims it was self-defense, but youngsters accuse Borapon of abuse of power. Those kids are coming from rich families so Borapon loses at court. He is separated from his wife Rutika (จริยา สรณคม - Jariya Anfone). At nighttime Borapon follows his former wife working as DJ in her nightclub. Songklam (Rith Luecha) and Chakrit (Chatchai Plengpanich) are acting as bodyguards of Nat (Marsha) in the nightclub. Borapon's wife is having a new boyfriend going to invest in her club. It makes Borapon very upset. Youngsters are playing fun of Nat, Songklam and Chakrit after seeing them in a mall. Somchai Samipak is uncle of one of the youngsters, i.e. Chetanan (Tin Settachoke). Borapon follows his wife and her boyfriend. While they are drinking, the boyfriend is shot by Songklam, who succeeds to flee. Borapon is accused. He has to take leave from Thai police (พักราชการ). Nat is businessman Orachun's daughter. Orachun (Adul Dulyarat) plans to transfer his business to Chakrit. It is Nat's birthday. Her father is always busy. The youngsters are part of the musicians performing at the birthday. Orachun is satisfied of the music group performance and wishes to greet the singer. When knowing that the singer, Chetanan, is son of former associate Wat, Orachun orders to kill him. The killing fails. Aware of this, Somchai orders his nephew Chetanan to come to Phuket. In Phuket, youngsters meet Borapon and promise to get revenge. Orachun stole money from Wat before when Wat and Orachun were business partners (ลงทุนด้วยกัน). Wat was killed by Orachun's ruffians. Chetanan kidnaps Nat while she is doing windsurf and holds her captured on a remote island in Krabi (ใช้กรรม). It is his plan to revenge against Orachun. Head of police in Phuket is Sayan Chantaraviboon, playing a cameo role. People believe Nat has drown. Rutika arrives in Phuket to ask for money to Orachun. Bullet analysis shows that Borapon is not guilty. Nat makes her captors drink. A fisherman, named Tim, helps her to flee but he has bad ideas in mind. Chetanan helps Nat on time but he gets severely beaten by Tim before. Romance starts between Chetanan and Nat. Tim warns Orachun that the youngsters are staying on a raft on Phi Phi island. While Chetanan is away, Orachun and his men storm the raft and release Nat. One of Chetanan's friends (เอ็ม สุรศักดิ์ วงษ์ไทย) is killed. Rutika comes again to get support from Orachun regarding her debts but she is chased away. Orachun is just looking to take over her business and has no intention to help her. Being ruined, she realized that only Borapon was always nice with her. While having diner, Songklam shoots Rutika. It is part of Orachun's plan to take over the discotheque. Both Borapon and Chetanan are looking for revenge and storm Orachun's home. Heavy shootings occur. Songklam is shot by Borapon. Chakrit and Chetanan shoot each other. Borapon prevents Orachun to shoot Chetanan by injuring him first. Orachun is arrested and admits he was wrong.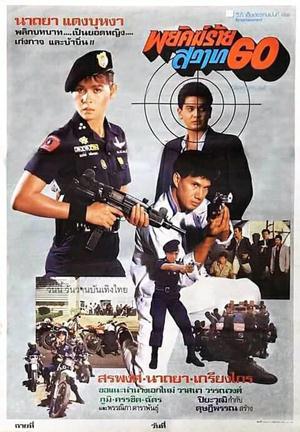 Year

: 1987



Thai title

:

พยัคฆ์ร้ายสวาท 60




English title

:



Rating

: 3/5


Director

:



Main actor

: Sorapong Chatree,Kriengkrai Unhanan,Kanchit Kwanpracha,Pumi Patanayut,Chat Mongkolchai,White Padungkan


Main actress

: Nardtaya DaengBunga



Buy now

:

Thai movie พยัคฆ์ร้ายสวาท 60 was released in year 1987 and lasts 1h32mn. It was released under VCD format by Lepso company. It is a small Police movie with Sorapong Chatree and three subordinates (ลูกน้อง) with highlights on policewomen. James Bond movie is used as soundtrack. Three overseas gangs from Hong Kong, Japan and Thailand gather for business. Police inspector (สารวัด) Toma It (Sorapong Chatree) has to work with policewoman Nee (Nardtaya DaengBunga) to neutralize those gangs. Two other assistants including Oratai (วาสนา วรรณวงศ์) join them. Policewoman Oratai is acting as a singer. Drug exchange occurs outside the club. Shootings happen. White Padungkan has a short role and gets killed. Police intervenes and drug is seized. Amnat (Kanchit Kwanpracha) is the Thai mafia boss. Hiu (Kriengkrai Unhanan) is the Japan mafia boss. Wang Kae (Pumi Patanayut) is the Hong Kong mafia boss. Amnat has betrayed the other mafia leaders. Wang Kae and Chat Mongkolchai arrive in Thailand. Amnat's team fail to kill them. They bring diamonds. Hiu asks all mafia leaders to put disagreements aside and focus on Thai police first as the dirty business is endangered. Nee's younger sister Prissana wished to go overseas for work and suddenly disappears. Nee wants to know where she found a job. She is aware of a hairdresser shop proposing easy overseas job, It is owned by Amnat's girlfriend, Chamfa. Chamfa introduces Nee to the Japanese manager Saekino, who invites her to a restaurant. It is his tactic to kidnap girls and then send them overseas for prostitution. Police teammates come to help. Nee releases the girls kidnapped in a warehouse. Ashamed, Prissana gets suicide. The mother wishes Oratai to leave Police as she doesn't want to lose another daughter. Nee cannot disappoint her father already dead. Police are aware of a drug exchange, so Toma It and his team trap the ruffians. Ruffians suspect there is a traitor among them. Police use Oratai to infiltrate ruffians. Saekino has been released from jail. Ruffians capture Nee's mother. Nee succeeds to release her mother and kills Saekino. Oratai is part of the new batch of women brought by Champa. Ruffians have identified that Oratai is a policewoman. Song, the traitor among the ruffians, helps Oratai to flee. Police start to surround the warehouse. Ruffians start to evacuate ladies. Oratai releases the ladies captured in a bus. Ruffians' leaders try to flee. Thai Police succeed to neutralize all of them and all leaders are killed or captured.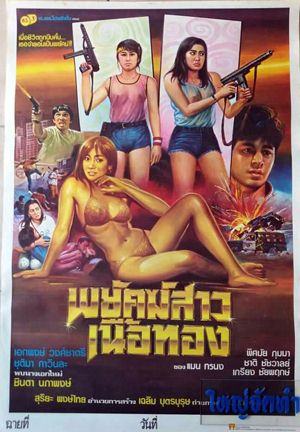 Year

: 1987



Thai title

:

พยัคฆ์สาวเนื้อทอง




English title

: Angel Force



Rating

: 3/5


Director

:



Main actor

: White Padungkan


Main actress

: Chutima Kawinla
Thai movie พยัคฆ์สาวเนื้อทอง was released in year 1987 and lasts 1h24mn. It was released under Betamax format. Sexy scenes are cut. It was also released internationally by Filmark movie under the names "Angel Force" / "Angel of hell" through a VHS (1h26mn). It is a mix of sequences shot in Hong Kong and sequences of the Thai movie พยัคฆ์สาวเนื้อทอง. Policeman Bandit (เอกพงศ์ วงศ์ชาตรี) and young lady Reudi are friends. A drug exchange turns sour as one gang betrays the other. Bandit is assigned to this task. Some ladies are involved in this gang, but it is yet unknown what their task is. Bandit has to investigate and is acting as a taxi driver. Oon (Chutima Kawinla) is working as sexy dancer in a club. Bandit helps Oon aggressed by two ruffians. She is living with her sick mother and her daughter. Sompon wishes her daughter Reudi to become a sport champion (team ชาติ). Stepmother Chom is jealous that the dancer Oon and Sompon are still in contact. The dancer Oon is Sia's mistress (เมียเก็บ). Oon is also acting an intermediate between drug buyers and drug sellers. As her mother is sick, Oon needs a lot of money. Oon meets Rong, her old husband (แฟนเก่า). Rong is aware of her dirty business. Upset with her husband Sompon, Chom goes in a club to find happiness. Sompon is upset that Chom comes back home late. He chases her from home. Chom prepares a revenge and hires again two ruffians (รับจ้าง) to get rid of Oon. They failed the first time. Rong loses against White Padungkan at pool game. He has 6000 THB debt and fighting erupts. Rong needs to find money urgently so he asks money again to Oon. Meanwhile Bandit tries to get more information from Reudi as he highly suspects her father involvement. A Chinese dealer is arriving in Thailand. Oon steals the Chinese dealer's drug by betraying him. Meanwhile the two ruffians, hired by Chom, enter in Oon's home but she is not here. They hit Rong waiting for money from Oon. Bandit arrests the two hitmen (มือปืน). Rong believes Oon sent the two ruffians to kill him. As he hits Oon, Oon's daughter shoots him. They flee but Bandit and police arrest them. The Chinese dealer is upset that Oon and Sompon betrayed him. His team tries to kidnap Sompon's daughter, but it fails as police intervenes. Ruffians are shot. Oon tells the truth regarding Sompon so Bandit arrests him (ทำหน้าที่).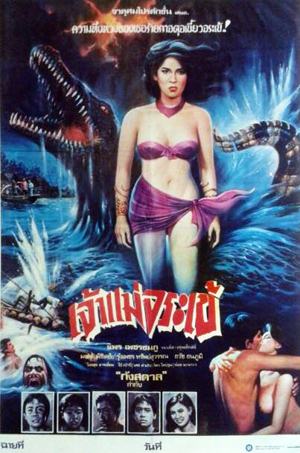 Year

: 1987



Thai title

:

เจ้าแม่จระเข้




English title

:



Rating

: 2/5


Director

: กังสดาล



Main actor

:


Main actress

:
Thai movie เจ้าแม่จระเข้ was released in year 1987 and lasts 1h47mn. It is a low budget horror movie with erotic sequences (หนังผีแนวโป๊). This movie (鱷魚女妖) was also released in Taiwan under VHS format. It is the next opus after "จระเข้ศรีวันทอง" with same movie director กังสดาล. On actors and actresses' side, there are no change also. Most of them are unknown actors and actresses. A crocodile fight occurs. It involves Chao Mae Sri Wan Thong, being a female spirit able to transform herself into a crocodile, versus master Pin (หมอปราบจระเข้), trying to kill the female spirit. Chao Mae Sri Wan Thong (เจ้าแม่จระเข้ศรีวันทอง) makes a promise with young man Tong (ธง) valid for three months. She agrees to stop killing people if Tong stays with her. Master Pin sends young lady Soi to seduce Tong in order to irritate Sri Wan Thong. It works as Sri Wan Thong becomes a crocodile again and kills Soi. Sri Wan Thong breaks her promise to stop killing people. Sri Wan Thong wishes to get revenge over Master Pin. Administrative assistant (ปลัด) comes to the village and wishes to seduce Malai, subdistrict headman's daughter. The local subdistrict headman has two daughters, i.e. Malai and Sai. Sri Wan Thong, as a crocodile, interrupts a village feast and kills villagers. The administrative assistant hires Master Pin for 50,000 THB in order to get rid of female spirit Sri Wan Thong. Villager Nuan loves Tong but love is not reciprocal. Tong considers her as a sister only. Fight occurs between Tong and Nuan's brother. Master Pin defies Sri Wan Thong but gets killed by her. Both daughters don't want to marry the administrative assistant. The subdistrict headman asks Tong to help as Master Pin is now dead. Malai jumps in the river. Phi Tuan helps as Sri Wan Thong, as a crocodile, attacks Malai. A hunt to kill the crocodile is launched. The administrative assistant also joins the hunt. It fails as the crocodile crunches the administrative assistant. Tuan wishes to catch the crocodile as Sri Wan Thong is his former wife. Tuan asks Sri Wan Thong not to perform a rampage (อาละวาด) anymore in the village. Nuan is disappointed that Phi Tong doesn't love her. She becomes crazy. Sai loves secretly Phi Tong also. Female spirit Sri Wan Thong is upset with all those young ladies being around Tong. Nuan meets Sri Wan Thong and tries to chase her. As Sri Wan Thong becomes a crocodile, Nuan is killed. Tuan fails to kill the crocodile as Sri Wan Thong is pregnant with him. Tong finally kills Sri Wan Thong to stop further killings in the village and Tuan keeps the crocodile eggs, i.e. his children...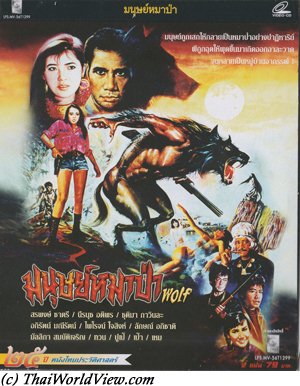 Year

: 1987



Thai title

:

มนุษย์หมาป่า




English title

: Wolf



Rating

: 2/5


Director

:



Main actor

: Sorapong Chatree,Phairoj Jaising,Lak Apichat,Pao Porapak


Main actress

:
Thai movie มนุษย์หมาป่า / Wolf was released in year 1987. It lasts around 1h30mn. Two versions were released, one on VHS version and one on VCD format released by Lepso (renamed as จิ้งจอกผีสิง). On VCD version, luring scenes are censored but longer action sequences are present. Sompon (Sorapong Chatree) leads a group in the forest (เดินป่า) looking for treasures. Four years ago he was the only survivor. His life was saved by the daughter of the village leader called Pailin (นีรนุช อติพร). Ghosts (ผี) are guarding a cave with treasures. Pao Porapak is part of Sompon's team. The group is attacked by robbers (โจรกลุ่มน้อย). Some villagers protect the cave and are under the spell of Mae Mo, a local sorceress. Villager leaders are Phairoj Jaising and his son Lak Apichat. Another group is following Sompon as they are eying for the treasures also. Sompon's group reaches the caves first. The villagers attack the second group but they succeed to escape. During nighttime, ghosts attack Sompon's group. ผีผู้หญิงกลัวพ่อ ผีผู้ขายกลัวแม่ so Sompon asks the teammates to get naked to chase the ghosts away. In the second group, a rapist tries to abuse a lady so internal fightings occur. Mae Mo discourages Pailin and Sompon's love story. At nighttime, Sompon is transformed as a werewolf (หมาป่า) but the spell is not strong enough. The second group chases the first one from the caves. At nighttime they are attacked by ghosts and the remaining members are killed by villagers through torture. Sompon refuses to flee. A duel happens between Sompon and Lak. As Sompon wins, it shows the triumph of love towards fake magic from sorceress Mae Mo. Other actresses include อภิรัตน์ มณีรัตน์, มัลลิกา สมบัติเจริญ.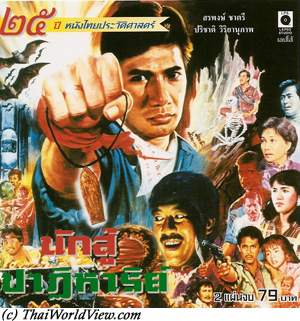 Year

: 1987



Thai title

:

นักสู้ปฏิหาริย์




English title

:



Rating

: 2/5


Director

:



Main actor

: Sorapong Chatree


Main actress

:
A famous and bad sorcerer is killed. But his spirit ("VINJAAN" - วิญญาณ) is still living and teachs his son about supernatural powers such as bullet invincibility and teleportation. Ten years after, the son masters all skills. He takes revenge but is not going on the same dark side as his father.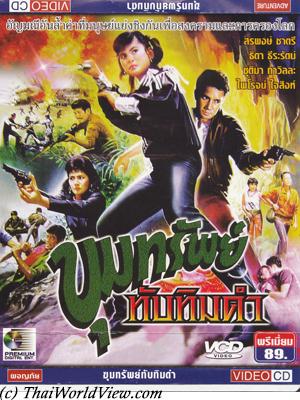 Year

: 1987



Thai title

:

ขุมทรัพย์ทับทิมดำ




English title

: Forbidden ruby



Rating

: 2/5


Director

: Payoong Payakul



Main actor

: Sorapong Chatree,Phairoj Jaising,Lak Apichat,Pao Porapak


Main actress

: Thida Thidarat
Thai movie ขุมทรัพย์ทับทิมดำ / Forbidden ruby was released in year 1987 and lasts 1h28mn. It was released under VCD format by Lepso company and VHS format before. It was also released internationally under the name "Magic emerald" by Filmark under VHS format (1h26mn). Payoong Payakul is movie director. The movie features the same village as Thai movie มนุษย์หมาป่า. So it looks like movies ขุมทรัพย์ทับทิมดำ, มนุษย์หมาป่า, มหัศจรรย์สุดขอบฟ้า are part of a trilogy. Praisanee (Thida Thidarat) has issues with four ladies warriors as she enters a forbidden part of the forest. Their master (อาจารย์) stops the fighting. Two villages are opposing each other. One is led by Chao Mae and one is led by Jaising. Mae Mot (แม่หมด) sanctuary, old heritage, is protected by the two villages and they keep arguing. Jaising's villagers are attacked by Chao Mae's villagers led by Pao Porapak. Five of them die. The leader Chao Mae (เจ้าแม่) is a lady. Chao Mae maintains discipline among her male warriors by offering ladies to them or even herself. Chao Mae's villagers attack Jaising's village while Lak Apichat, village leader Phairoj Jaising and his daughter Praisanee are away. They promise to get revenge. Three men arrive in Chao Mae's village for a weapons deal to get rid of Jaising's village. They get full hospitality from Chao Mae. Another groupe including Macawan (Sorapong Chatree), Kaewta, Warun, Phit and lady Pissamai is visiting the forest to find old jewels. They are aware to be near ancient dangerous villages. The weapons exchange fails thanks to Praisanee. Another weapons exchange fails again following heavy shootings. Praisanee and villagers arrests Macawan's team to understand why they enter the forest. Chao Mae needs blood to stay healthy. Macawan decides to help Praisanee. While visiting the Mae Mot sanctuary, Phit dies. Pissamai is captured by the Chao Mae's villagers. She is aggressed and killed by them. At night time, Praisanee enters in the village to release her but it is too late. She then faces Pao Porapak and defeats him. Unfortunately, Pissamai is dead already. Both groups of villagers enter the sanctuary and heavy shootings occur. Praisanee gets the magical weapon from Mae Mot and gets rid of opponents such as Chao Mae, Pao Porapak… Peace is back in the area.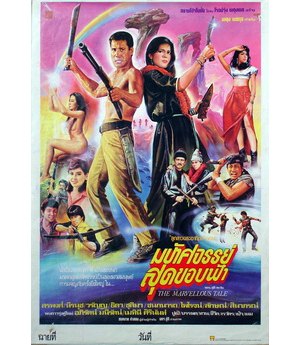 Year

: 1987



Thai title

:

มหัศจรรย์สุดขอบฟ้า




English title

: The Marvellous Tale



Rating

: 2/5


Director

: Payoong Payakul



Main actor

: Sorapong Chatree,Phairoj Jaising,Lak Apichat,Pao Porapak


Main actress

: Thida Thidarat,Chutima Kawinla
Thai movie มหัศจรรย์สุดขอบฟ้า / The Marvellous Tale was released in year 1987 and lasts 1h35mn. It was released under VHS format. The Marvellous Tale is the international version, released by IFD. Movie director is Payoong Payakul. Five years have passed. Young man Iti is still remembering young lady Monoko (Chutima Kawinla) met during a trip to a remote village. He convinces a few friends to join him, and a group is created to go back to the village. Tatsanee (Thida Thidarat), daughter of an archeologist, and Chatchai are part of them. They meet weird monsters (มนุษย์ปีศาจ). They are inoffensive during daytime but attack the group at nighttime. They are chased away by using fire. Ati cannot find Monoko as she has moved to a new village. A bunch of ruffians including Ta Moo Yan (Pao Porapak) asks for protection money (เก็บเงิน) to villagers managing a local market. As villagers have no money, Ta Moo Yan's team hit them. Pen Yiem (Sorapong Chatree) interposes. Fighting erupts, but Ba Song (Lak Apichat) stops all of them and retreats. Pen Yiem meets Monoko. Chao Mae (เจ้าแม่) is upset that her men were chased from the market, so she gives order to burn it. The group led by Ati sees five ladies dancing naked on a cliff. Ati recognizes Monoko among them, but she flees. The group is then attacked by Chao Mae's villagers. Thanks to Pen Yiem, they succeed in escaping. Pen Yiem refuses to accompany them to the sacred land border as it is too dangerous. Phairoj Jaising leads another village. Villagers' delegations meet each other. Only one village can protect the sacred land. A fighting contest occurs between both villages with the best fighters being involved. Jaising's villagers win the contest. Chao Mae's men capture Ati's group. The men are attached under a scorching sun. Pen Yiem helps Jaising's villagers, who are attacked again by Chao Mae's villagers. Pen Yiem also releases Ati's group. Meanwhile young lady Dao, a member of Jaising's village, also helps. Pen Yiem declares his love to Dao. Distrust happens between both villages as Chao Mae's villagers don't accept peace despite being defeated in an official contest. Fight and shooting still happen between the two villages as Ba Song is pushing for confrontation. Being defeated, Ba Song comes back to the village and kills Chao Mae. He then kills Ta Moo Yan through a fierce duel as he wishes to become new village leader. Ati wants to meet Monoko. They are finally captured by Jaising's villagers. Pen Yiem forces Jaising to find a solution. Jaising agrees to release them, but they need to go through hell gates first. Pen Yiem defeats Ba Song so Ati and his men are allowed to leave. As Dao has helped outsiders, she is condemned to go through the hell gates...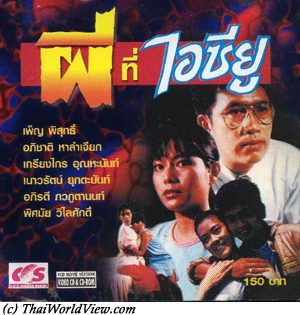 Year

: 1987



Thai title

:

เหตุเกิดที่ห้องไอซียู




English title

: Ghost in ICU room



Rating

: 3/5


Director

:



Main actor

: Apichat Halamjiak,Kriengkrai Unhanan


Main actress

: Pissamai Wilaisak,Naowarat Yooktanun,Apiradee Pawaputanon,Pen Pisut
Doctor (หมอ) Bucha saves Mrs Kamala life through reanimation. Mrs Kamala has heart problems since years and had helped to donate (บริจาค) money for the hospital construction. Mrs Kamala and her family, including her two daughters Koi and Kung, come to rest at a seaside resort. Doctor Bucha is married to Noon, who is always very jealous and doesn't like he spends too much time with patients. Koi and Kung are dragged in a dirty trick by Noon's brother following a party but the doctor, aware, can help the two sisters. Noon is jealous of Koi and Kung as she has concerns to protect her husband. Koi knows Bucha before Noon. Bucha and Noon is an arranged wedding and not a love wedding. Korn's brother, Nat, is a lazy guy, who wishes to marry Koi as she is coming from a rich family. A ceremony is organised for the new hospital building offered by Kamala. Noon jokes about entering ICU room to be close to her husband. This is a bad omen as she has a car accident while following her brother stealing goods from her home. But Noon spirit (วิญญาณ) is still around (พี่หมอค่ะ). A nurse trying to seduce Doctor Bucha is found dead. Bucha is accused by the police. Noon now threatens Koi and asks her to stop seeing doctor Bucha. At nighttime Noon frightens Mrs Kamala causing her to have a heart attack. Mrs Kamala seems to be dead but she suddenly resurrects being possessed by Noon. Mrs Kamala starts to behave like Noon and tries to seduce Doctor Bucha. A domestic helper understanding that Mrs Kamala is now a ghost gets killed also. Mrs Kamala's husband decides to consult a monk on spirit chasing. A sacred cloth is given. Mrs Kamala tries to kill her own daughter Koi but the usage of the sacred cloth neutralizes successfully the evil spirit. Bucha and Koi can now have happiness. This movie is 1h16mn only.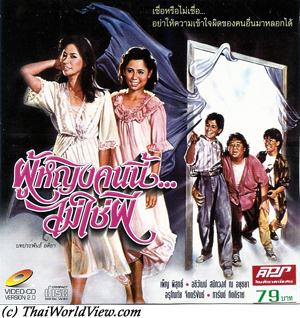 Year

: 1987



Thai title

:

ผู้หญิงคนนี้ไม่ใช่ผี




English title

:



Rating

: 1/5


Director

:



Main actor

:


Main actress

: Pen Pisut
A woman has a very weird behavior. She is behaving like a ghost. His husband doesn't know what to do as doctors cannot find anything wrong. Her best friend, believing that she is possessed, decides to help by using a spirit doctor. A strange old man is seen wandering around the house. The old maid, taking care of the possessed woman, seems to know him. The husband, fed up by his wife's behavior, is spending time outside with a mistress. The best friend's willingness to help ends tragically by her death. Her boyfriend continues to investigate to reveal the truth.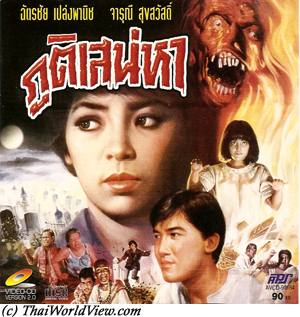 Year

: 1987



Thai title

:

ภูติเสน่หา




English title

:



Rating

: 1/5


Director

:



Main actor

: Chatchai Plengpanich


Main actress

: Jarunee Sooksawad
A woman is killed by three bad boys. Then she becomes a fearful ghost called "PHI TAI HONG" (ผีตายโหง). These spirits died of violent death (murder, crash car and so on...). The velocity of their death surprised them. She starts to kill many people and takes revenge. Her family tries to ease her wrath. Will she harm her own family?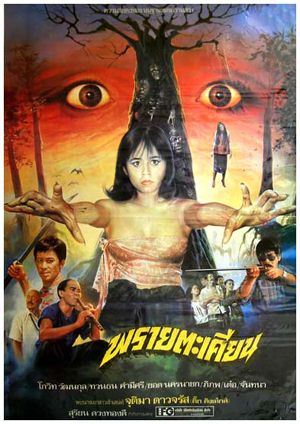 Year

: 1987



Thai title

:

พรายตะเคียน




English title

:



Rating

: 3/5


Director

:



Main actor

: Kowit Wattanakul,Tuanton Kammeesri,Pipop Pupinyo


Main actress

:



Buy now

:

Thai movie พรายตะเคียน was released in year 1987 and it lasts 1h31mn. Young lady Lam Duan (จุติมา ดาวจรัส) wants to marry with พี่ Tien (Kowit Wattanakul) but he is poor, so her parents push her towards another wedding with Leut. Leut (Tuanton Kammeesri) fights with Tien as he asked for her hand so he cannot bear that she keeps seeing Tien. A one to one fighting happens and Tien defeats Leut. Leut has to cancel his wedding with Lam Duan. A few months later, while Lam Duan is pregnant, Leut and his ruffians see her buying groceries. They kidnap her and rape her. Ashamed, she hangs herself (ผูกคอตาย) in front of a Takhian tree. Lam Duan is dead but her spirit still wants to stay with Tien. As usual, such Thai old movies feature comic sequences to relief from scary sequences. Comic roles are played by various second roles. Uncle Hin (Pipop Pupinyo) is a spirit doctor (หมอผี). He has to stop Lam Duan (ผีตะเคียน) before she becomes too dangerous (ออกอาละวาด). Lam Duan threatens to kill anybody, who would disclose her secret to Tien. As she was pregnant, Lam Duan has become a fearful spirit (ผีตายโหง). Tien is finally aware as his friends disclose the secret. She gets revenge over Leut and his ruffians by killing them. Uncle Hin builds a new spirit house (ศาลพรายตะเคียน) so she accepts to stop her killings and also to accept her death. Lam Duan accepts Oi, daughter of uncle Hin, to take care of Tien. The movie was also sold under the name "อภินิหาร เจ้าแม่ตะเคียน".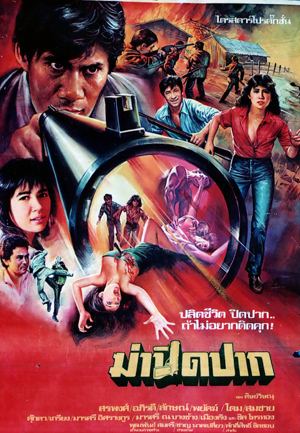 Year

: 1987



Thai title

:

ฆ่าปิดปาก




English title

:



Rating

: 3/5


Director

:



Main actor

: Sorapong Chatree,Lak Apichat,Sahat Piempongsan


Main actress

: Apiradee Pawaputanon,Sarinthip Siriwan
Ithipon (Sahat Piempongsan) and Decha are two mafia leaders fighting for drugs control. They have a deal worth of 4M baht but Ithipon doesn't go by himself and sends a bait. It was a trick as the bait is killed and Ithipon doesn't get the drug in exchange of the money. Sa (Apiradee Pawaputanon) and Jak (Sorapong Chatree) are loving each other but Jak is coming from a poor background (ธานะไม่เหมือนกัน) so Sa's mother doesn't like him so much. Mot is a local police inspector always looking for proofs to arrest Ithipon and Decha. Jak's mother is played veteran actress Sarinthip Siriwan. It was one of her last movies. Protection fee (ค่าคลุม) needs to be paid by the mother, small restaurant owner, to the mafia led by Ithipon. As Jak refuses to pay, a fight erupts and one of the thugs is killed with his own knife while trying to stab Jak. Jak takes refuge in Decha's clan. His father is killed as a revenge by Ithipon's ruffians. A rich businessman fed up by Ithipon's continuous requests asks Decha to get rid of him. Ithipon is shot at his home. Jak and Jon (Lak Apichat) are seen there despite Jak only injured Ithipon. A hitman being there is the one who killed Ithipon. Police inspector Sak is Sa's promised fiance but she doesn't love him. Sa's father is kidnapped. Following arguments with Jon and other thugs to release Sa's father, Jak gets injured (เพื่อนทรยศ) but succeeds to help the father. Jon promises to get revenge. Sa's parents thank Jak for having released the father and wish him good luck. Jon finds Jak and tries to kill him. Following fierce fighting, Jon is finally the one to die. Jak wishes to take revenge over Ithipon. He shoots him and his remaining thugs. But police is now chasing Jak, Afraid he flees but finally surrenders when the police reminds him his duties over his mother and girlfriend Sa. Thai movie ฆ่าปิดปาก released in year 1987 has a length of 1h23mn. The original film is certainly longer but may have been cut by Lepso to fit in VCD format.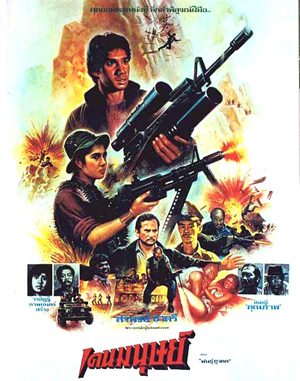 Year

: 1987



Thai title

:

เดนมนุษย์




English title

:



Rating

: 2/5


Director

:



Main actor

: Sorapong Chatree,Chat Mongkolchai,Somsak Chaisongkram


Main actress

:
Some ruthless ruffians kill villagers and threaten them as their leader, called Chun, was arrested by the police following a denunciation. Winai, head of forest rangers, is captured by the mafia in order to exchange Chun. Chun's daughter, called Plae, is leading the capture. Nai, a soldier, is living with his wife in a neighbouring village. While he is away, his wife Waew is raped and killed by the ruffians. Nai complains to the police. The local police head proposes to him to share the 200 000 Baht reward to get back Winai. Meanwhile the ruffians succeed to free Chun during a prison transfer. Nai helps Chun and his daughter to escape the police chase. His target is to infiltrate Chun's ruffians team and find who kills his wife. Chun's teammates also wish to get the 200 000 Baht reward. Once Nai arrives in the village, one of the leader, called Chat, refuses to exchange Chun with Winai and kills Chun. Nai is captured and put prisoner in a cage. Chun's daughter, Plae, has arguments with Chat and flees the campement. She frees Nai. Chat wishes to exchange Winai versus the money reward. Chat needs money to build a bigger team of ruffians. Nai takes revenge over the ruffian who killed his wife and succeeds to free Winai, head of forest rangers. Similar to a a Thai copy of Rambo II, Nai carries a huge machine gun with ammunitions over the shoulder. All ruffians are killed. Police arrives late. Nai and Plae defeats Chat and the rogue policeman doesn't get any reward. It is a typical 1980s Thai action movie based on revenge plot, mistreated villagers and corrupted policeman.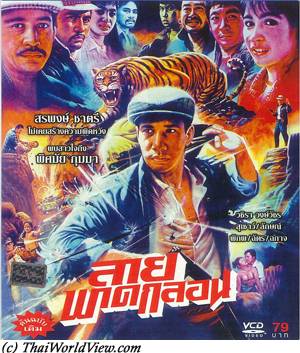 Year

: 1987



Thai title

:

ลายพาดกลอน




English title

:



Rating

: 3/5


Director

:



Main actor

: Sorapong Chatree,Suchao Pongwilai


Main actress

:



Buy now

:

San is a soldier. His father and sister, called Samon, are working in a mine concession looking for precious stones. The father finds a big ruby. The head of the concession wants to buy it at a low price but the father refuses. While San is at the Thai border, the head of the concession uses tough men to get the gem. San's father is killed but the gem is not found. The head of the concession takes San's sister as his girlfriend as she believes he is a nice man. Back to the village, San knows that the head of the concession is responsible of his father's death and has arguments with his sister. The concession head uses tough men to get rid of San and he is badly injured. He takes refuge in a Buddhist cave and is rescued by a wandering forest monk. He gives him a sacred Buddha amulet for protection. People with good intention are protected by the Buddha sacret amulet. Thanks to the sacred amulet, bullets cannot hurt San. San finally overcomes the head of the concession and his tough team. This movie is typical of 1980's action movies where the main actor always faces local god father protected by many tough men. He fights without support from the police. Local people enjoyed such kind of movie enhancing family relationship, Buddhist traditions and moralistic story.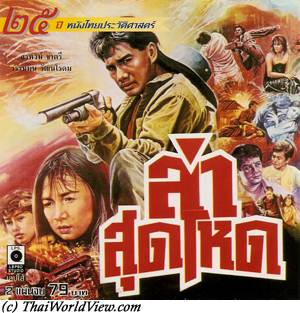 Year

: 1987



Thai title

:

ล่าสุดโหด




English title

:



Rating

: 2/5


Director

:



Main actor

: Sorapong Chatree


Main actress

:
A man living with his family in the forest is apart from the society. When his wife and daughter are killed by bad tough guys, he seeks revenge.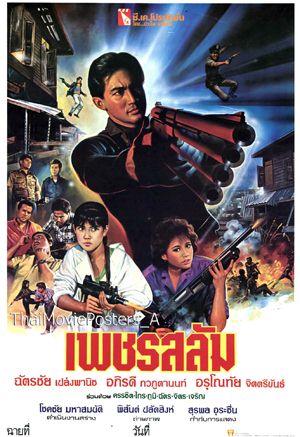 Year

: 1987



Thai title

:

เพชรสลัม




English title

:



Rating

: 2/5


Director

: สุรพล อุระชื่น



Main actor

: Chatchai Plengpanich,Kanchit Kwanpracha,Krai Kanchit,Chat Mongkolchai,Pumi Patanayut


Main actress

: Apiradee Pawaputanon,อรุโณทัย จิตรีขันธ์
During a parliament session inauguration, two members of a party are shot by a hitman. One dies. The son, called Ek (Chatchai Plengpanich), decides to investigate in order to find the murderer and motive. Ek locates Saeng, the hitman but this one is killed as he didn't do his job properly. Saeng's sister, Sopha, sees Ek's face and believes he shot her brother. Damrong, deputy (ผู้แทน) of the same party is also shot and killed. Wadee (Apiradee Pawaputanon), his girlfriend, also wishes to know the motive. Police suspects bad politics motives. Pramod is the political opponent of Damrong. San, policeman, is investigating on this case. Ek is captured by some ruffians while investigating. Chat is the ruffians' leader who killed Saeng. San helps Ek on time but Chat is shot before disclosing any information. Sopha comes to apologize to Ek on her behalf of her dead brother. Wadee wishes to continue Damrong's goal to build a school in a slum. There is style opposition between Sopha, pure lady working as singer at nighttime and Wadee. A romance starts between Ek and Sopha. Ek needs also to spend time with Wadee on the project to build a school. Ek identifies that the head of ruffians was driving the motorbike used by Saeng to shot Damrong. He is linked to Pramod and his acolyte Vinai, highly suspected as corrupted politicians. By investigating on Pramod and Vinai, Ek is captured but released by Wadee. Pramod gets rid of Vinai as he is getting too cowardly and afraid of investigations so he cannot be trusted anymore. Ek is accused of Vinai murder. Meanwhile Sopha succeeds to get Pramod's secret documents showing his involvement in illicit business. Ek's uncle is killed while trying to protect Sopha. Sopha is kidnapped. As they cannot wait for the police, Ek and Wadee have no choice but to storm Pramod's home in order to rescue Sopha. It is a typical action movie from 1980s decade related to ruffians and featuring many shootings and fights.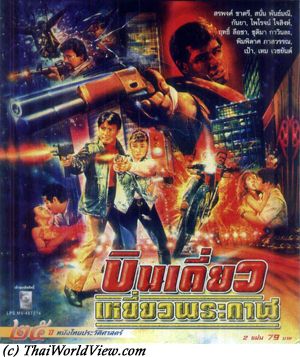 Year

: 1987



Thai title

:

บินเดี่ยวเหยี่ยวพระกาฬ




English title

:



Rating

: 1/5


Director

:



Main actor

: Sorapong Chatree,Rith Luecha,Phairoj Jaising,Lak Apichat,Pao Porapak


Main actress

: Thida Thidarat,Chutima Kawinla
Thai บินเดี่ยวเหยี่ยวพระกาฬ was released in year 1987 and lasts 1h18mn. It is an estimation only as the movie seems to have been released in level 2 standalone theaters (โรงชั้นสอง) only. It is a low budget movie. The soundtrack belongs to other movies such as "Shaft". There are quite a few nice sequences with Sorapong Chatree but the overall film editing is average. It is in fact a movie made with other movies sequences from Sorapong Chatree so that is why the editing is so poor! The numerous love sequences seem here only to ensure the movie can last 1h18. A new police officer (ผู้กอง) Kamtenthong (Sorapong Chatree) arrives in North of Thailand. A ring leader called Dam has dirty businesses such as helping people to cross Thai border illegally, drugs traffic, smuggling of weapons. Many fights and shootings happen between wealthy men (พ่อเลี้ยง) teams. Dam (Rith Luecha) benefits of it until police starts to involve into his business also to stop the numerous killings. Finally police rushes into Dam's ranch and neutralize the ruffians and hitmen. But the leaders are not here. Dam's secretary, Pen, is the one informing the police. It causes the ruffians' leaders to believe the other team betrays them as police is always there when weapons trading is happening. Dam is finally also neutralized through a final shooting. Pen was an uncovered policeman. It is a typical Thai action movie from 1980s mixing some Hong Kong style action sequences such as flying jump. Year 1987 was very prolific with action movies as Panna Rittikrai started to release his own action movies also. Movie บินเดี่ยวเหยี่ยวพระกาฬ features a few actors from 1970s action movies such as Phairoj Jaising but they look quite tired except Sorapong Chatree.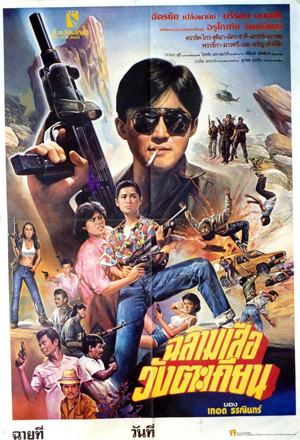 Year

: 1987



Thai title

:

ฉลามเสือวังตะเคียน




English title

:



Rating

: 3/5


Director

:



Main actor

: Chatchai Plengpanich,Chat Mongkolchai,Krai Kanchit,Kanchit Kwanpracha


Main actress

: Marasri Bangchang,Nareerat Monsiri
Thai movie ฉลามเสือวังตะเคียน was released in year 1987. The movie lasts 1h33mn. Three ruffians chase two young ladies. They only succeed to catch one girl. Dao Reuang (อรุโณทัย จิตตรีขันธ์) succeeds to flee. She tells her mother (Marasri Bangchang) the whole story. The father tries to rescue his daughter but finally both are killed. Later on a group of soldiers (ทหารเรือ) led by หมวด Tieng (Chatchai Plengpanich) storm a ruffians' place heavily armed. Then Tieng arrives in a small city. He helps a night lady called Rarai. Her father wanted to become rich thanks to jewels (พลอย) but he died before. Chat Mongkolchai is a local notable. Tieng wins back his land titles against subdistrict officer Krai Kanchit. Tieng authorises the notable to stay on the land but claims he will marry his daughter Kaew (Nareerat Monsiri). Ruffians try to kill him at nighttime but they fail. The ruffian leader, called เจ้าพ่อ Wang Takhien (Kanchit Kwanpracha) or Athon, is concerned of losing his influence (บารมี) and power (อำนาจ) towards villagers. He decides to get rid of Tieng and threatens the local doctor also through some shots on his office (สถานีอนามัย). Village leader (ผู้ใหญ่) and sub district officer Krai are also involved and corrupted with Athon. Chat's wife called Soi also. Tieng and the village leader shot each other because of Soi. Tieng is seriously injured but his friends protect him while he is recovering. Soi is the mistress of Athon. She is pregnant. Soi pushes Kaew versus Dao as both have interest in Tieng. Ratana is Athon's son and he wishes to have Kaew as his wife. Rarai has her own plan to replace Athon. Subdistrict officer Krai kidnaps Kaew and kills her father. A hitman shots the doctor and Dao's mother. Tieng and his friends decide to storm the ruffians place in order to release Kaew. Heavy fightings do occur. Everybody dies except Tieng, Kaew and Dao.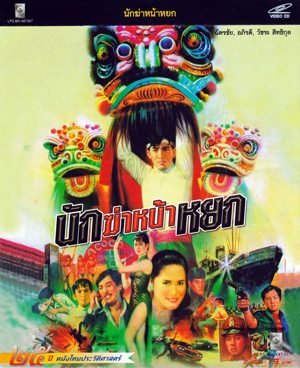 Year

: 1987



Thai title

:

นักฆ่าหน้าหยก




English title

: Ninja Force of Assassins



Rating

: 3/5


Director

:



Main actor

: Chatchai Plengpanich,Krai Kanchit,Pumi Patanayut,Somsak Chaisongkram


Main actress

: Kanchana Jindawat,Apiradee Pawaputanon,Marasri Bangchang



Buy now

:

Thai movie นักฆ่าหน้าหยก was released in year 1987 and lasts 1h33mn. It was released under VCD and VHS format in Thailand. Parts of the movie are censored. An international version released by Filmark is named as "Ninja Force of Assassins". It is a mix of the Thai movie นักฆ่าหน้าหยก and Ninja sequences shot in Hong Kong. The Filmark version is shorter but it keeps violence and nudity sequences removed from Thai VCD. Film director is ศุภสิทธิ์. Actors and actresses include Chatchai Plengpanich, Kanchana Jindawat, Krai Kanchit, Pumi Patanayut, Apiradee Pawaputanon, Somsak Chaisongkram, Marasri Bangchang, วัชระ สิทธิกูล, เทิดพร มโนไพบูลย์, เพชร, เด่น ปรีชา, โจ๊ก ท่าฉลอม. Kata's father is hit by a car and dies. He was refusing to bend to ruffians' bad influence. Kata (Chatchai Plengpanich) wishes to revenge his father, who was a policeman. Ruffians' leader Tong is shot during a lion dance performance by Kata and his acolyte Yot. New leader is Krai Kanchit. Police suspects the killer to be a professional hitman (มือปืนรับจ้าง). Wee (Kanchana Jindawat) sees Kata shooting a ruffian's leader in Don Muang. Kata earns the name as มือปืนหน้าหยก as he is handsome. Wee's brother is police leader Chatree (Pumi Patanayut). Krai, Lin Jung (Apiradee Pawaputanon) and his team are also concerned about who is shooting them one by one. Kata gets close (ร่วมมือ) to Lin Jung. Wee knows that Kata is a hitman but doesn't disclose the truth to her brother as Kata is doing good for the society by getting rid of bad men. Ruffians, having clarified that there is no internal war between them, decide to gather to get rid of Kata. Somsak Chaisongkram chases him in a mall and Kata is beaten. Police head Chatree is upset to see Wee having issues when being with Kata. She was shot and almost kidnapped. Wee is hiding something to him. Lin is upset to see Kata with Wee. Lin loves Kata, but she knows she has no way to become his official girlfriend (แฟน). She is playing double game. She is helping Wee, being captured by ruffians to attract Kata in a trap. She is identified as traitor by ruffians and later Lin is found dead. Ruffians take revenge on Yot's aunt (Marasri Bangchang). Chatree has no proofs but reminds Kata that law shall be applied for all (หน้าที่ของกฎหมาย) but Kata refuses. Kata and Yot storm the hangar where ruffians are exchanging drugs. Fiercely fighting is occurring as Kata is having a submachine gun. Ruffians are defeated but Yot is killed. Krai is finally captured by Chatree.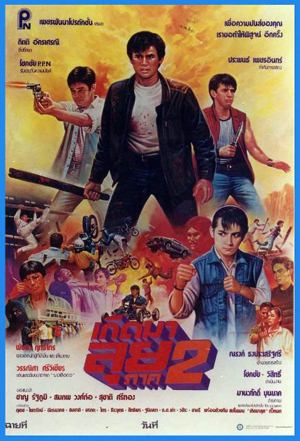 Year

: 1987



Thai title

:

เกิดมาลุย 2




English title

:



Rating

: 3/5


Director

:



Main actor

: Panna Rittikrai,Sompop Wong Ko


Main actress

: Vanessa Sriwichien
Thai movie เกิดมาลุย 2 was released in year 1987. Only 54 minutes and a 3 minutes trailer are left to be seen. Lung Saen Fong (ทนาย) and Panna Rittikrai go to Bangkok by bus. Lung (ลุง) Saen Fong has some important documents to give to Panna. He also gives him a watch. The bus is attacked on the way. Lung Saen Fong is kidnapped and Panna beaten. As Lung refuses to speak, they believe the documents should be with Panna. Three ruffians defeat Panna to steal the documents. Looking for Lung Saen Fong, Panna sells the watch to buy some food as his wallet was stolen by the ruffians. Lung is from Hong Kong and speaks Thai. His daughter is looking for him. Panna gets an additional colleague (Sompop Wong Ko) to work on this case as his boss is not so happy of his performance. In a club, Saen Fong's daughter and his friends show Saen Fong's picture in case something remembers him. On the following day, one of the friend is attacked by ruffians but policemen (ตำรวจสกล) Panna and Sompop chase them away. Meanwhile the ruffians decide to drug Saen Fong and to transport him away. A chase happens in tuk tuk and cart but they fail to catch the ruffians. Later on, Lung Saen Fong escapes while a ruffian is sleeping. This is trick to find where the real documents are hidden. Ruffians defeat again Panna and Sompop. They also kidnap Saen Fong's daughter called Anna (วรรณิศา ศรีวิเชียร). They have 3 days to provide them the documents. The documents are stored in a microfilm hidden in the watch. But Panna sold it to a dwarf before. He gave it to his father, who is not willing to sell the watch below 10000 baht! Following fights with the thugs, Panna and Sompop get the watch back. Finally final epic fightings happen between Panna / Sompop and the strong ruffians in order to release Anna.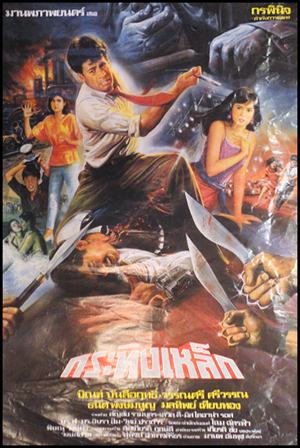 Year

: 1987



Thai title

:

กระทิงเหล็ก




English title

:



Rating

: 3/5


Director

:



Main actor

: Bin Banleurit,Tanit Pongmanoo


Main actress

:
Thai movie กระทิงเหล็ก was released in year 1987 and lasts 1h26mn. Movie director is กรพินิจ. Chen (Bin Banleurit) and Prang (Tanit Pongmanoon) are roommates. Chen is working in a factory (โรงงานเหล็ก). Prang is working in a print shop. Chen meets a young lady called Pat (วรรณศรี ศรีวรรณ) in a mall but first encounter is bad. A company owner wishes his daughter Pat to replace him as he is getting old. So, he asks Panthet, GM of company, to transfer knowledge to her. Panthet, through Saen, is doing illegal business as many products sent from the factory are not written in the bank accounts (บัญชี). Pisit, involved in the illegal business, is beaten to stay quiet. Pat asks to check accounts in full details. Saen causes an accident for Pat to be injured but Chen helps her on time. The ruffians try to kill Pat again. Chen helps her ontime gain. Pisit is killed as he stole important documents he gave to Chen. Before being killed, he tells ruffians that documents are with Chen. Pisit tells Saen name to Chen before dying. That night as Chen is not at home, Prang invites his girlfriend, but ruffians storm his flat and beat him. He is finally killed despite fierce resistance. Chen beats Saen but needs to stop as he has no proof. He drinks to forget his friend's death. Panthet's girlfriend sleeps with Chen while he is drunk in order to steal the documents. Panthet finalizes a deal related to diamonds. Expensive necklace is replaced by a fake one. During a catwalk, Chen recognises one of the models wearing the necklace as Panthep's girlfriend so fighting occurs between Saen, his men and Chen. Final fighting occurs with Panthep as Chen wishes to revenge his dead friend. After successful revenge, he ends up being arrested by the Thai police.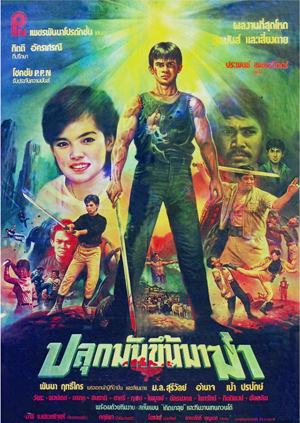 Year

: 1987



Thai title

:

ปลุกมันขึ้นมาฆ่า




English title

:



Rating

: 4/5


Director

:



Main actor

: Panna Rittikrai,Pao Porapak


Main actress

: Suriwan Suriyong
Thai movie ปลุกมันขึ้นมาฆ่า was released in year 1987 and lasts 1h35mn. It was released under VCD format. Four episodes were released, i.e. in year 1987, 1989, 1990, 1994. Panna Rittikrai had small budget for his movies but the result was extraordinary as Panna always made his movies through true feelings and dedication. Villagers capture Duang, an expert in black magic, who caused many troubles in the village. About to be lynched, they finally attach him to decide about his fate the next day. During the night, Duang succeeds to flee. Five years have passed. A group of travelling villagers is facing a weird young man played by Panna Rittikrai. He assaults them and kills most of them through extraordinary fighting skills. The village leader is worried as a group of Japanese visitors is coming to the village to see a sacred item. A group of Chinese visitors is also coming to the village for the sacred item, but they face Panna. Most of them are killed by Panna. The group of Japanese visitors, led by Suriwan Suriyong, faces ruffians (โจรร้าย) led by Pao Porapak. Ruffians are defeated. Learning that the Japanese group has arrived, the village leader sends his best two men to neutralise Panna. They also fail. All groups (Thai, Japanese, Chinese) gather to defeat Panna but they fail as he is like a ghost (blades don't hurt him). The village leader informs villagers and they decide to quit the village afraid to be killed by Panna. Duang, the former expert in black magic (หมอผี), enters the village. He was chased by the village leader five years ago and created fighter Panna through black magic incantations to take his revenge. Panna enters the village to chase the three groups. They cannot find any weak point. The black magic expert enters in the village again to see their defeat. The three groups try to defeat him in order to neutralize Panna. He seems also invincible (ฆ่าไม่ตาย). Only when he receives by accident a sarong (ผ้าถุง), feminine object, on his head then spike and blade can enter in his body, so he dies. Panna falls dead at the same time but then resurrects again. Only when a white magic expert gives holy weapons to Suriwan, then Panna can be defeated.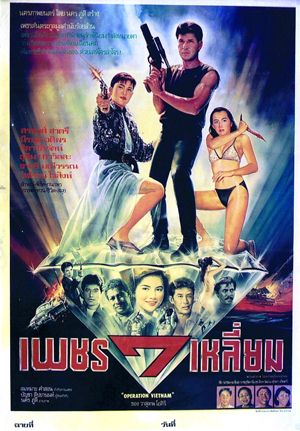 Year

: 1987



Thai title

:

เพชร 7 เหลี่ยม




English title

: OPERATION VIETNAM



Rating

: 3/5


Director

: สมหมาย คำสอน



Main actor

: Sorapong Chatree,Phairoj Jaising,Lak Apichat


Main actress

: Thida Thidarat,Chutima Kawinla



Buy now

:

Thai movie เพชร 7 เหลี่ยม / OPERATION VIETNAM was released in year 1987 and lasts 1h29mn. It was released under VCD format by company Lepso. It is a transfer from VHS to VCD. It was also sold under name ตัดเหลี่ยมเพชร. Erotic scenes are not censored. Movie director is สมหมาย คำสอน. Thai actors and actresses featured in this movie are Sorapong Chatree, นีรนุช อติพร, Thida Thidarat, Chutima Kawinla, ชาตรี มณีวรรณ, Phairoj Jaising, Lak Apichat, พิชิต, กนกพร, บรรพต, ทวน, ชีวิต, สมุย. Mercenaries Taisan and Tongchai are hired to bring back an expensive family lineage jewel from Vietnam to Thailand and to give it back to the owner in Bangkok. Young lady Venbin is joining them. They have to cross Cambodia and face dangers in the jungle. One morning, Tongchai disappears with the jewel. Taisan chases after Tongchai (คนทรยศ). Taisan dies during a fight with Tongchai. Venbin falls from a cliff to escape from Tongchai. Jewel owner, Prasong, is upset by this news. Sukit, his wife and his daughter Tida (Thida Thidarat) are also concerned as they were waiting for their family jewel. Sukit needs to involve Thai police. Meanwhile inmate Kritchai (Sorapong Chatree) is just released from prison. Young lady Nissa (Chutima Kawinla) picks him up. Kritchai meets Prasong (Phairoj Jaising) and is hired. Thai police assign Chatree (ชาตรี มณีวรรณ) to this case. Tongchai is inviting singer Saeng Dao to his table in a nightclub. Tongchai visits Sukit and asks for 20M THB to give back the jewel. Ruffians try to get rid of Tida but fail. Meanwhile Prasong stays with his lover Chutima. He is sending a ruffian, called Waew, to get rid of the family owning the jewel. It fails again. Tongchai is back to the bar to listen to Saeng Dao singing and offers a diamond ring to her. Kritchai and policeman Chatree are monitoring him. Chatree takes a picture of Tongchai to verify his identity first. Prasong's team includes Kritchai, Chot (Lak Apichat) and Nissa. Father, Tida and her friends go for a ride. The father is shot and killed. Prasong is suspected. Nissa tries to seduce Thongchai in order to get the family jewel. She proposes a meeting with her boss Prasong to organize a money exchange. Tongchai and Prasong's team meet but suddenly Thai police storms in. Heavy shooting occurs and ruffians are neutralized. Kritchai helps as he is on Thai police side. Thai government gives back the diamond to Tida. Romances happen between Chatree and Tida, between Kritchai and Saeng Dao.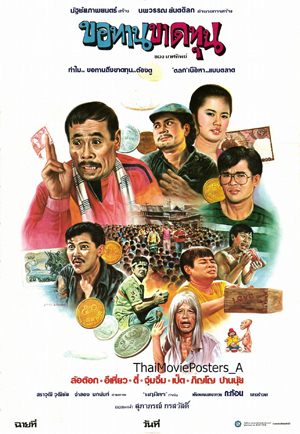 Year

: 1987



Thai title

:

ขอทานขาดทุน




English title

:



Rating

: 1/5


Director

: นฤมิตร



Main actor

: Lor Tok,Joomjim Khemlek,Pinyo Parnnui,Supakorn Srisawat


Main actress

:
Three comics are doing shows on the street and ask for tip money. They found a suitcase full of banknotes on the street. They give it back to the owner and refuse any reward. The owner, called Truat, is impressed by their kind heart, so recruits them. Truat is sick and doctor tells him he doesn't have a lot of time left to live. He asks them to get a specific medicine for him. If they don't help him, he will give all his heritage to social organizations. He has only half of the paper giving hints on this medecine. The other part is located in Pattaya with a psychic called "Chi Fat". Then they now need to find a beggar. Later on they have to find a girl named Madonna. Then they face two brigands groups (Red versus Yellow) wishing to get their money. Then they help a man following a weird operation in hospital. They find love during their quest of the medecine paper. This is a typical Thai weak comedy from 1980s decade with a "katoey" (กะเทย) in the funny and silly role.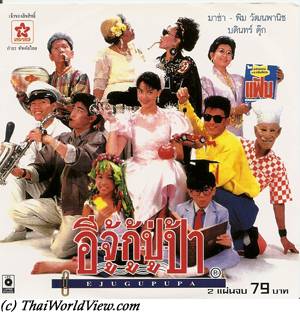 Year

: 1987



Thai title

:

อีจู้กู้ปู่ป้า




English title

: Ejugupupa



Rating

: 1/5


Director

: Kumtorn Tubkunlai



Main actor

: Kamthorn Suwanpiyasiri


Main actress

: Marsha,Piyamas Monayakol,Sulaleewan Suwanthat,Sarinthip Siriwan
A young woman is back from Germany. Her older relatives are quarreling in order to take care about her and find the best husband for her. But the young lady has other ideas in her mind...



Year

: 1987



Thai title

:

เหยื่อ




English title

:



Rating

: 5/5


Director

:



Main actor

: Ron Rittichai


Main actress

: Mayurachath Muarnprasitivej,Jintara Sookkapat,Chosri Misommon
A couple has two teen boys, Long and Lit (elder brother). They don't spend a lot of time with their children as they need to work hard and late to pay back their mortgage. The father often goes on long business trips in provinces. Having no time for their children will bring bad consequences. The wife's younger sister, Sai, is staying as maid. The couple has issues with their teen boys. The boys are playing in illegal underground den, do small smuggling to earn extra money despite the pocket money given already by parents, wander with bad guys (นักเลง). The parents are worried that their kids may be caught by the police following raids on illegal casinos. The maid suggests to buy a video player so that they stay home. They wish to watch porn and violent movies. They borrow tapes from bad guys. It gives them bad ideas such as rape and they starting peeping Sai bathing. The teens are lazy and expect everything is due to them (ลูกแบบเทวดา). Watching violent movies makes Long tense. So he tortures and kills a cat. Watching porn movies arouse the teens (เกิดอารมณ์จะปล่อยที่ไหน). They think about Sai to teach them as she had a boyfriend before. Long drinks alcohol and still frequents the bad guys, who propose to bring him to prostitutes. He is always in bad mood (หงุดหงิด). Lit tries to rape Sai in the bathroom and Long hits her violently on the head. Blood flows. Sai is dead. The teens are murderers that need to hide their crime. They lie that Sai fled away with her new boyfriend in order to avoid that their mother calls the police for disappearance. They hide Sai's corpse inside the garden well. A house lizard (จิ้งจก) falls in front of Long. It is a bad omen as house lizards should never fall from ceiling or walls. A new maid is found to take care of the house. She is a young divorced lady called Sawin. They prevent the new maid to check inside the well as there is a very bad smell. Since Sai's death, Long feels bad and always stay alone. Sawin is not shy and entices Lit. They become lovers. Long becomes jealous. Long's bad friends are arrested for rape. Long starts to panic. He complains that Lit throws away brotherhood versus his girlfriend. They decide to get rid of Sai's corpse while Sawin is going out. Sawin finally discovers the corpse. Long tries to drown Sawin. A fight between the two brothers. Sawin flees and alerts the neighbours. The teens are jailed. The mother becomes crazy. The father blames the society for allowing such bad movies sales and distribution. But watching movies at home is internal affair. เหยื่อ means victim (indirect or direct). This movie is also a warning to parents not giving enough time to their children. Giving them too much freedom can have terrible side effects.



Year

: 1987



Thai title

:

พิศวาส




English title

:



Rating

: 2/5


Director

:



Main actor

: Kriengkrai Unhanan


Main actress

: Penpak Sirikul,Patama Panthong
A young lady is oppressed by her tutor that has brought her since her youth. She wants to get freedom and be able to choose her own life. She decides to flee, finds a safe place to stay in Chiang Mai area and discovers love also. Her tutor, becoming crazy due to such ingratitude, does everything possible to get her back...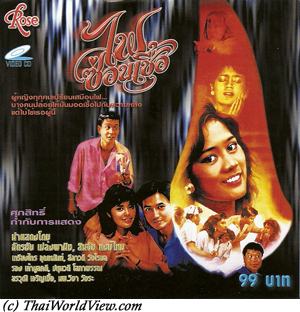 Year

: 1987



Thai title

:

ไฟซ่อนเชื้อ




English title

:



Rating

: 2/5


Director

:



Main actor

: Chatchai Plengpanich,Kriengkrai Unhanan


Main actress

: Sinjai Hongthai
One woman is jealous of her sister, who has found a nice husband. Despite all her attempts, she cannot find the right mate. Her jealousy will lead her to madness.



Year

: 1987



Thai title

:

เธอร้องไห้เมื่อคืนนี้




English title

:



Rating

: 2/5


Director

:



Main actor

:


Main actress

:
A young woman is marrying a young man during their studies but the marriage is a failure. The young woman is getting addict with alcohol and cigarettes. She starts to torment her own daughter. Will her meadness lead to kill her own daughter?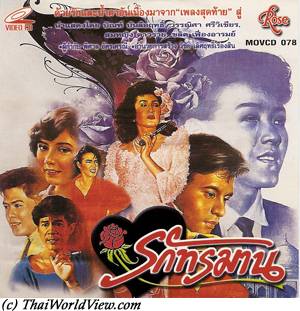 Year

: 1987



Thai title

:

รักทรมาน




English title

:



Rating

: 3/5


Director

: Pisarn Akraseranee



Main actor

:


Main actress

:
It is about "KATOEI" (กะเทย - man dressed like a woman). It deals about their difficulty to find true love. It is the part 2 of the movie "The Last Song " (เพลงสุดท้าย).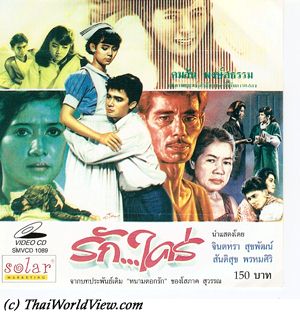 Year

: 1987



Thai title

:

รักใคร่




English title

:



Rating

: 5/5


Director

:



Main actor

: Santisuk Promsiri,Somsak Chaisongkram


Main actress

: Aranya Namwong,Jintara Sookkapat
Khun Num Yao (Aranya Namwong) is a middle age lady (ผู้ดี). She is practising illegal abortion on teens or rich ladies having affair and then unwanted baby. Her son Ran is hot tempered (ใจร้อน) and is butterfly man (หลายใจ). She also pays for Tap Tim studies, who is the daughter of her domestic helper. Tap Tim is not strong in studies but always willing to (เรียนไม่เก่งแต่ตั้งใจ). She wishes to be a nurse. Ran has a bad mindset but is intelligent and always studies well. He has become a doctor. In 1980s decade, abortions were not authorized in Thai hospitals. Patients needed to bring proofs in front of the police that the unwanted baby was due to a rape. Khun Num Yao knows it is illegal (ผิดกฎหมาย) but is is necessary (ความจำเป็น). She doesn't hope for gratitude (บุญคุณ). Adults have fun in modern society without responsabilities (ผู้ใหญ่สนุกอย่างเดียวไม่รับผิดชอบ). People have fire (ไฟ). She even helped her own son's girlfriends to abort. Pa Kong, Tap Tim's mother, is always helping Khun Num Yao during illegal abortions. Tap Tim succeeds to be a nurse. She is invited to Hua Hin by Ran, who is partying with friends. She is helping her mother to arrange food in the seaside resort. Ran has a dirty mindset (เรื่องลามก) in the heart despite high studies. She hates Ran. Tam Tim needs to compensate the good deeds received (ตอบแทนความบุญคุณ) and have to help Khun Num Yao for abortion as her mother is sick. She is unhappy and she has studied nurse job to save people and not to kill them (ทำบาปฆ่าคน). There is a deranging allegory between the mother killing life and the son creating life in the hotel room with girls. Pa Kong relates old story to her daughter. Ran's real mother asked to abort when she was already seven months pregnant. The child had survived and Khun Num Yao has adopted Ran as her own child. Tap Tim is confused (สับสน) but now better understands Ran's behavior (ไม่ได้รับอบอุ่นจาก Khun Num Yao). Ran hops between girls. Tap Tim's friend, Pol, is sick and has been dumped by Ran. Ran lies to himself and to the girls. Pol is pregnant. Thap Tim, fed up, tells him the truth (บัดซบ, ไม่ไช่มนุษย์, ปัญหาสังคม) to Ran regarding his real origin. Ran cannot stand the truth and breaks everything in his room. Ran disappears. Thap Tim decides to leave Khun Num Yao's home and brings her mother to go to countryside. She helps poor villagers and works in a dispensary (สถานีอนามัย) as nurse (นางพยาบาล). One day a little girl is really sick. There is a need for a doctor's help. They go to the next big village. Doctor Ran is there. He helps the girl but refuses to talk to Thap Tim. Ran is addicted to drugs in order to forget his past. Thap Tim helps for his redemption (เป็นคนดีได้). Finally the whole family is reunited. Ran is now having confidence into himself and asks his mother to stop doing this illegal job. She accepts. Ran will spend two years outside thailand to finish studies regarding proper abortion. Thap Tim promises to wait. The movie raises the hot topic regarding abortion legalisation in Thailand.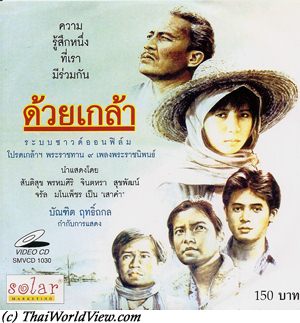 Year

: 1987



Thai title

:

ด้วยเกล้า




English title

: The Seed



Rating

: 5/5


Director

: Bandit Ritthakol



Main actor

: Santisuk Promsiri,Krailat Kriengkrai


Main actress

: Jintara Sookkapat



Buy now

:

After each annual Royal Ploughing Brahminic ceremony, farmers are rushing to get grains of rice paddy (ข้าวนายหลวง) as they believe they are sacred. Saokam, a farmer from Northern Thailand, has been to Bangkok to Sanam Luang (สนามหลวง) and brings back gifts and royal rice seeds for family and relatives. Saokam takes some seeds to grow in his field. He gives some to friends and neighbours including lady Buarian, the local shopkeeper and usurer, who keeps one seed for worship. Saokam has three children including one daughter called Kaew. Saokam's house is destroyed by a storm. Saokam has only one week to pay back debts. One son, Ang, wants to sell the rice fields and go to city. The debt cycle with the usurer has no end. Saokam has to sell his buffalo but it only pays the debt interests. This year following a drought there is no rain and no more water. Only the usurer has a well. There is fight over water with villagers as Buarian refuses to sell water until villagers pay back debts. Ang, fed up by this life, goes out of home and gets refuge in hill tribes (ผู้ดอย). They trade opium between Burma and Thailand. Fortunately, Saokam's second son is working with the King's project to produce artificial rain (ฝนหลวง). Big dark clouds are created and bountiful rain happens. Everybody rejoices except lady Buarian selling water. She has no mercy (เมตตา). Some farmers have to mortgage their own fields to pay debts and Buarian takes advantage of her neighbor's poverty by increasing rate. She fires some farmers from their house as they cannot pay back debts. She doesn't want to give a delay for them to plant rice as water has been plentiful. Their son, Neung, is soldier but his salary is not enough to pay debts. Villagers help each other and Saokam accommodates them in his home. Kaew is the girlfriend of the son of the usurer but he claims he cannot help as it is his mother's decision. Ang is back but his family refuses the money got from opium trade (เงินบาป). He leaves again to see his girlfriend Nacha at the Burmese border. The rice grows well. Neung is now a soldier as Burmese-Thai border. The father has to sell at low cost his rice to pay back the debt and even has to give the small amount they keep for their own consumption. The rice trader has an arrangement with the usurer. Kaew breaks up with the usurer's son. Family members help each other. In addition, Saokam's son also persuades other farmers to join the Royal Agricultural Projects and build a cooperative. The new worry is to grab Ang from the opium traders before a clash happens with army. Neung promises Kaew that he will help. During a clash with army and opium traders, Neung protects Ang but gets hurt and is responsible of one soldier's injuries also. He is fired from Army. Ang apologises for his wrongdoings. The movie ends up on a positive way. Farmers are out of debt cycle by following Royal Agricultural project, rice is abundant, Neung receives Army's appreciation by helping to catch the opium trader ring leader. Usurer gets bankrupted having no more customers and needs to leave. This movie was made to celebrate of His Majesty's 5th Cycle Birthday. "Good" films are sometimes rejected by the audience. An example was this movie, produced to commemorate the Thai King. Although the film received many awards, no distributors would take it. The Culture Ministry registers 25 Thai classic films each year at the National Film Heritage Registry. This movie is part of the 25 films heritage list announced on 04 October 2015, which is Thai Movies Conservation Day.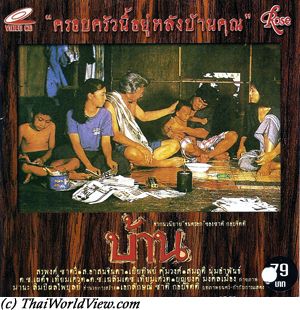 Year

: 1987



Thai title

:

บ้าน




English title

:



Rating

: 4/5


Director

: Chat Korbjitti



Main actor

: Sorapong Chatree,Sor Asanajinda


Main actress

: Piathip Kumwong
This sad story relates the story of a man coming from countryside with his family to earn a living in Bangkok. They are living in a slum. He has two kids. He has to work hard on construction side. Their dream is to have their own home (บ้าน). His daughter is selling flowers on a street. His son is helping his mother to prepare the flowers. They have a third child. The family borrows money to build a house. His grandfather is also joining the family in Bangkok. The man becomes a fisherman and has to leave home from long periods. His wife has an affair and gets pregrant. He expelled her from home. His daughter is having an affair with a young man and he also expelled her from home. The fishing boat is caught in Cambodian seas and he is sent in jail for 6 months. His grandfather get hurt on his back and cannot walk properly anymore. His son is sent to youth jail as he robs metal to buy medicine for his grandfather. Feeling useless, the grandfather gets suicide. When he is back from Cambodia, his family is wracked. This movie depicts life in urban slums of Bangkok with all its suffering and hardship. It was the object of much enthousiasm and praise among foreigners in Thailand and Thai intellectuals. Everyone in the story suffers from an unkind fate. The problems of the whole family stem from its leader only.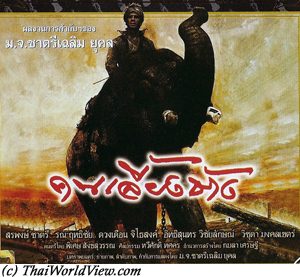 Year

: 1987



Thai title

:

คนเลี้ยงช้าง




English title

: The Elephant Keeper



Rating

: 5/5


Director

: ChatriChalerm Yukol



Main actor

: Sorapong Chatree,Ron Rittichai


Main actress

: Duangdeuan Jithaisong



Buy now

:

It is about forest exploitation by rich people. Boonsong is an elephant keeper, who is having debts with a local and influent pawner. The pawner is supported by a local corrupted police officer. Kamroon is a ranger fighting against illegal loggers in order to protect the forest. Some gunmen try to get rid of Kamroon but Boonsong helps him. Boosong has to do illegal logging in order to pay back his debt to the pawner. Kamroon wants to help him but is killed by the corrupted policeman, who also wants to suppress Boonsong... This movie puts the stress on forest diminishing size due to overexploitation and illegal logging, elephants lacking work as the forest is getting smaller, corrupted policemen, influential people escaping troubles, illiterate poor people exploited by rich Chinese pawners, companies possessing official logging concessions and cheating by adding illegal logging, the helplessness of the simple people as well as the animals caught up in this struggle. The film failed at box office and lost around 7 millions baht. The long history of debate around the Chinese control over business in Thailand is one of the most deep and daring assertions in this movie. This movie touches deeply controversial issues such as the Thai state failing to protect its people against illegal interests. During the filming in the Northeast of Thailand local gangsters, probably working for illegal logging interest, attacked the film crew and one member was killed. The Culture Ministry registers 25 Thai classic films each year at the National Film Heritage Registry. This movie is part of the 25 films heritage list announced on 04 October 2014, which is Thai Movies Conservation Day.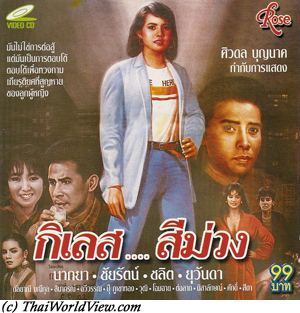 Year

: 1987



Thai title

:

กิเลสสีม่วง




English title

:



Rating

: 2/5


Director

:



Main actor

:


Main actress

: Nardtaya DaengBunga
It is about of feminist association fighting for women rights. They help women forced to prostitution, women beaten by their drunk husbands, women raped in police jails. They strongly punish the men doing bad acts. Their gaining popularity annoys a local felonious politician. This one is using gunmen to get rid of the association. Can they win?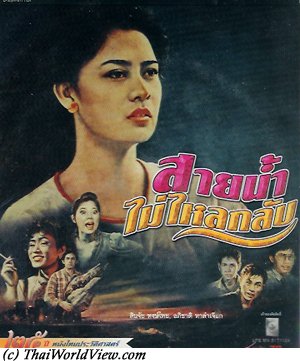 Year

: 1987



Thai title

:

สายน้ำไม่ไหลกลับ




English title

:



Rating

: 5/5


Director

:



Main actor

: Apichat Halamjiak,Somsak Chaisongkram


Main actress

: Sinjai Hongthai,Piathip Kumwong,Linda Khatancharoen
A young lady called Feun (Sinjai Hongthai) is working in a hairdresser shop and washes customers' hair. Khun Warut (Apichat Halamjiak), one customer, has interest in Feun. Phaen (Piathip Kumwong), Feun's stepmother, tries to push her to go out with Warut. Feun's father (Somsak Chaisongkram) indulges in alcohol and is seriously sick. Aniwat is Feun's close friend and wishes to marry her when he finishes his studies. Pressured by Phaen, Feun accepts a dinner invitation from Warut. Aware of this, Aniwat feels betrayed. Warut asks for Feun's hand. Phaen pushes her to accept. Troubled, she wishes to talk to Aniwat. But seeing him with another lady, she finally accepts Warut's offer. Warut starts to be more daring with Feun knowing they will marry soon. The wedding shall be a very small ceremony without Warut's parents. In fact, Warut is already married with three children. Phaen was aware. Warut and Feun don't understand each other. Feun likes to stay home but Warut likes to go to disco. Phaen is not interested in Feun's father but only in money that Warut gives to Feun. Warut doesn't come back home a few days already. While doing shopping with Warut, Warut and Feun meet Warut's wife. Feun understands that Warut lied to her (โลกลวง). She flees but is hit by a car. She is rescued by a DJ who introduces her to another lady called Luang. Feun cannot go back home as she doesn't want to be forced by Phaen again or to meet Warut again. Luang is working as a call girl. First Feun looks for normal jobs (waitress) but she still faces men harassment. She cannot find proper jobs (อยากเป็นคนดีแต่สังคมไม่ยอม). So she has finally no choice than working same as Luang as she is worried about her father. It is a difficult job as some men are crazy or violent. She enters in a whirlpool of sex and easy money. One day, one of her guest is Aniwat! Aniwat still believes Feun is a good person despite doing this job (ต้องการเงิน). Aniwat still loves Feun. Feun accepts to start a real love relationship with Aniwat. Their love is spoilt by meeting some former customers while dining and by a liver disease due to alcohol high level of consumption. Aniwat's friend tries to break this relationship. Feun's friend finds that Aniwat is already fiance with a teacher. Knowing this, she indulges in alcohol again and ends up in hospital. Despite cutting part of her liver, she will not survive long. She leaves the hospital and stays near the sea. Knowing Aniwat's wedding, she ends up in hospital again. Her friend forces Aniwat to visit her to hospital so that he can understand her real love and the pain he caused her. Feun dies in front of him. Movie สายน้ำไม่ไกลกลับ highlights society hypocrisy as it is allowed or understood that a man can have multiple mistresses but the opposite is not accepted. It highlights a society where men harassment is still excessive.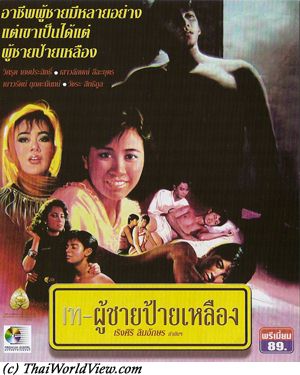 Year

: 1987



Thai title

:

เท-ผู้ชายป้ายเหลือง




English title

:



Rating

: 3/5


Director

:



Main actor

:


Main actress

: Naowarat Yooktanun,Sarinthip Siriwan
Yut is a young man selling his body to other men. He has no choice based on family survival necessity (ความจำเป็น). He is living with other men having the same job. Gik is also a poor lady student. She meets Pon that declares his love to her. Gik gets pregnant but Pon doesn't want to keep the baby. Yut meets Da (Naowarat Yooktanu), a lonely woman, who is rapidly fond of him. Da invites him to stay with his mother in her home and also pays for his studies. Da has already a baby. At the university, Yut meets another young lady called Mem. Mem is just a friend but Da is very jealeous and her love is excessive. Da is the mistress (เมียน้อย) of an older man, who is Mem's father! Yut decides to quit Da, who cannot bear it. She eats pill to die. She legates her money to him so that he can build his future through study and not through selling his body. Everybody has its own secrets and own problems. Hapiness doesn't come easily. Everybody want love and warmth (อบอุ่น). This movie highlights love misunderstandings and twisted loves between friends, children and parents.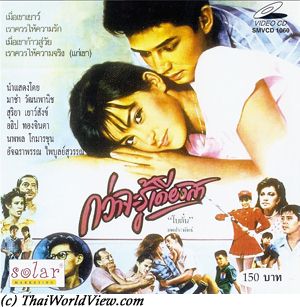 Year

: 1987



Thai title

:

กว่าจะรู้เดียงสา




English title

:



Rating

: 4/5


Director

:



Main actor

: Suchao Pongwilai


Main actress

: Pissamai Wilaisak,Marsha



Buy now

:

Thip (ทิพย์), a 16 years old teen, is part of a family of well off people (เป็นลูกผู้ดี). She is not a villager kid (ลูกชาวบ้าน) so her mother doesn't want her to mingle with people of lower status. Her mother (Pissamai Wilaisak) plans to find a good husband for Thip. The mother is very strict and Thip is not allowed to go out without her mother's authorization. She forbids almost everything (อะไรๆก็ห้าม) despite her husband's advice (รู้จักโลก). Thanks to her friend, Thip meets Chaya (ไชยา), a young teen boy, working in a bicycle repair shop. He is very strong at football. Everybody is fed up with the mother's behavior as she is too excessive (ไม่สบายใจทุกคน, ไม่สนุกสนานหมือนเด็กอื่น, จะไม่ใครเหลือ). The husband spends long hours and nights working at the family factory. Believing that her husband is having an affair at the factory, the mother decides to work late also so Thip has more time to meet Chaya. Love emerges between Thip and Chaya. The mother wishes to put her in a boarding school (โรงเรียนประจำ) as she has no time for her (ไม่มีเวลาดูแล). Thip learns to drive and often spent time with Chaya at the Rose inn... Thip becomes pregnant. As the mother discovers that Thip has a boyfriend, she becomes so upset. Afraid to announce her pregnacy, Thip finally flees with Chaya. They go to Bangkok. Afraid to tarnish her family name, the mother forbids anybody to announce the news. The mother uses a hit man (มือปืน) to take revenge over Chaya's father, who has claimed the blame was on Thip (แม่มีเงินและอิทธิพล). Bangkok people are not honest (ระวังตัว) with provincial people. Thip and Chaya have a hard life in Bangkok. They meet a lady called Chalem, who is in fact interested to use Thip in a call girl ring. Thip is not used to do chore house or cook food so she experiments a harsh life. Their couple is under hard pressure. Chaya finds a small job (30 baht ซ่อมจักรยาน). Thip needs to become a domestic helper (คนใช้) as they don't have enough money. She is hired by a teacher despite she has a husband already. Thip and Chaya live in separated place (ดีอย่างหนึ่งเสียอย่างหนึ่ง). Chaya smokes now and meets ruffians. Meanwhile the teacher's husband tries to rape Thip. She has to flee but she cannot find Chaya as he moved out. He is now addicted to drugs. Thip's parents are now separated so she has no choice but to ask Chalem to find an escort job for her. She doesn't want to go with guests. Chalem wants her to abort but finally keeps the baby, who is a girl. Chaya is smashed by a car while fleeing following a robbery. Thip is sold to a prostitution ring in North of Thailand. During a bordel inspection, a relative of Thip recognizes her. Thip gives him the baby and then finally suicides herself. This movie highlights Thai society modern issues (lack of care and time for children, teens pregnancy, abortion, prostitution...).
---