Increase or decrease font size for easier reading : A+ A-
Year 1986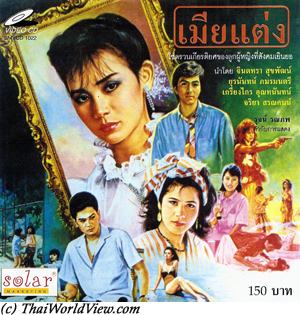 Year

: 1986



Thai title

:

เมียแต่ง




English title

:



Rating

: 3/5


Director

: Ruj Ronnapop



Main actor

: Kriengkrai Unhanan,Yuranan PamornMontri


Main actress

: Jintara Sookkapat,Pissamai Wilaisak,Sarinthip Siriwan
Arunprapai is a woman who has a good look and qualities. Her mother arranges a wedding with Kongkai. Her family life is not happy as Kongkai still visits Prungchat, his former lover. Divorcing seems to be the only solution choice even if relationships start to improve. Prungchat claims she is pregnant of Kongkai to force him to divorce from Arunprapai. The whole thing is just a lie, so he finally goes back to Arunprapai who is pregnant of him.



Year

: 1986



Thai title

:

พ่อจอมยวน แม่จอมยุ่ง




English title

:



Rating

: 3/5


Director

:



Main actor

:


Main actress

: Jintara Sookkapat,Pissamai Wilaisak
Chang comes back in the village after staying many years in Isan. He is employed in a construction company. The boss gets mocked as his new wife is half his age. Fon and Fa are two young ladies raised by the District Chief Officer as their real father died. Fon has a sharp tongue. Chang is not yet married and has strong interest into Fa but her younger sister Fon is protecting her. So Chang needs to convince Fon that he can change his behavior and bad habits (alcohol, party, gambling, laziness) and become a good guy. In order to stabilize their son, Chang's parents decide to help him by asking Fa's hand but there is confusion as they ask for Fon! As Fon is fed up by Fa's guidance as elder sister, she accepts. Fon forces Chang to change his behavior as she is her fiance but he is reluctant. He is fed up with a life with no liberty. When a new district officer shows interest in Fon, he is pushing for her to leave him. Finally Fon and Chang declare their love and stay together.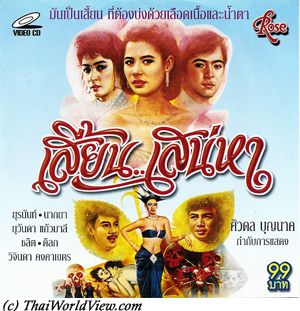 Year

: 1986



Thai title

:

เสี้ยนเสน่หา




English title

:



Rating

: 1/5


Director

:



Main actor

: Yuranan PamornMontri


Main actress

: Nardtaya DaengBunga
An Asian young woman is working as a maid for a Thai man. He finally wants to marry her and recognizes her daughter as his daughter. Due to problems, he has to flee and disappears. Before he organizes a false wedding with his associate in order for him to take care of his new family. The former associate finally tries everything to get all his whole wealth, even by pushing the daughter against the mother.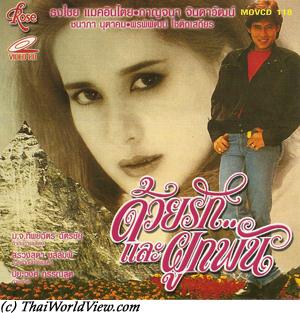 Year

: 1986



Thai title

:

ด้วยรักและผูกพัน




English title

:



Rating

: 1/5


Director

:



Main actor

: Thongchai McIntyre


Main actress

: Kanchana Jindawat



Buy now

:

In Switzerland, a Thai professional photographer seduces a Thai tourist guide. He promises to make her a star. Back in Thailand, will he keep his promise?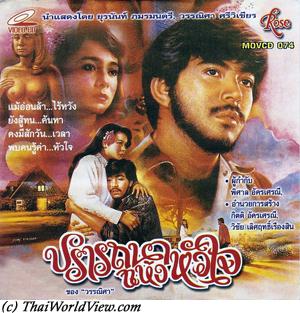 Year

: 1986



Thai title

:

ปรารถนาแห่งหัวใจ




English title

:



Rating

: 2/5


Director

:



Main actor

: Yuranan PamornMontri,Pisarn Akraseranee


Main actress

:
A mother-in-law gets rid of her daughter-in-law by pushing her in a waterfall. She wants to promote her lazy son as company CEO. But the daughter-in-law is rescued by an artist, who is heart-broken. Love emerges between both and wrong doers get punished.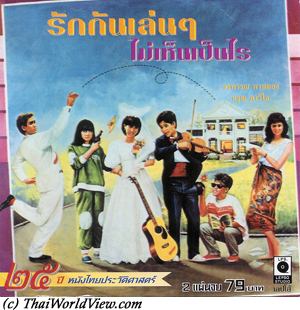 Year

: 1986



Thai title

:

รักกันเล่น ๆ (ไม่เห็นเป็นไร)




English title

:



Rating

: 1/5


Director

:



Main actor

:


Main actress

:
A young couple get married but only for the fun. Now they have to discover what is love and what life together means.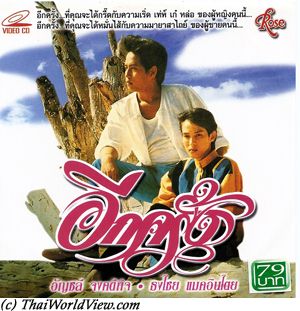 Year

: 1986



Thai title

:

อีกครั้ง




English title

:



Rating

: 1/5


Director

: MC Dhibbayachat



Main actor

: Thongchai McIntyre,Nirut Sirijanya


Main actress

: Ancharee Jongkadeekit



Buy now

:

Two men and two women. The two men love the same woman so problems arise between the two women...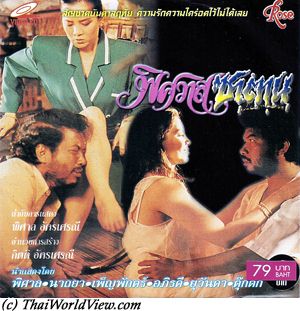 Year

: 1986



Thai title

:

พิศวาสซาตาน




English title

:



Rating

: 1/5


Director

:



Main actor

: Pisarn Akraseranee


Main actress

: Penpak Sirikul,Nardtaya DaengBunga,Apiradee Pawaputanon
A dangerous man and some teammates try to escape during a prison transfer. Only the man can escape but is seriously injured. He finally ends up in a strange house where only a few women are living. Despite his bad past, the women do believe in his redemption and will fight among each other for him.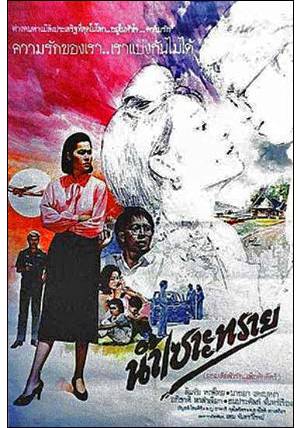 Year

: 1986



Thai title

:

น้ำเซาะทราย




English title

:



Rating

: 3/5


Director

:



Main actor

: Apichat Halamjiak


Main actress

: Sinjai Hongthai,Nardtaya DaengBunga
Teacher Wan (วรรณรี) is married with Pim (ภีม) and has two kids. She is quite old fashioned. She is a dedicated housewife, spends a lot of time to educate kids and take care of the home (เป็นคนดี). She has a high self esteem of herself as she believes she has never done anything wrong. Pim doesn't value his wife's kindness and efforts. He starts to be fed up with Wan. Wan's closest friend is Pukrong (พุดกรอง), a lonely (ความว้าเหว่) and young rich widow (แม่มาย). They know each other for 20 years. Pong, Pim's friend, tries to seduce Pukrong but she is not interested beyond friendship. Pukrong is somebody who dares (คนกล้า). Pim is seduced. Pukrong and Pim become lovers. They have to see each other in discreet places to avoid being seen by others (ขาดกันไม่ได้). Pong starts to be a nuisance as he tries to follow Pukrong everywhere so hindering her love with Pim. Pim has rent a house (บ้านของเรา) so that they can see each other discreetly and happily (รางรัก). Back home, Wan notices a perfume smell on Pim's shirt similar to Pukrong's expensive perfume. Meanwhile Pukrong has decorated "their" home with expensive furniture. Pong announces to Wan that he is aware that Pim and Pukrong are having an affair (เป็นชู้กัน). Pukrong admits in front of Wan and Pim. Pim is seen as a traitor (ผัวทรยศ). Pim is unable to make a proper decision. Wan asks for divorce (ไม่มีทางตกลง) and Pim goes back to Pukrong. Pong pushes Wan to fight back Pukrong to get her husband back (ภรรยาถูกต้อง). Pong pushes Pukrong to go out to have a new life. He presents to her a handsome and honest military colonel called Neephon. If Pim is having happiness outside why Wan cannot have happiness? Pukrong is now pregnant. Pim is upset that another man is inside Wan's life and is taking over his own duty as father. Pukrong starts to be upset by this situation and makes the link with her own son she haven't seen for years. Pukrong misses her son in America and finally decides to go there with her new born child. This way she also gives a chance to Pim and Wan couple. Wan refuses to accept Pim to come back. Pim remains alone. It is a remake of 1973 "น้ำเซาะทราย" movie. The scenario is almost identical. Sinjai Hongthai has always played the modern and liberated woman in many 1980s movies.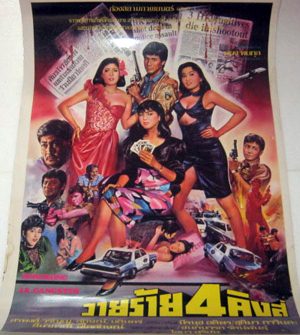 Year

: 1986



Thai title

:

วายร้าย 4 คิงส์




English title

:



Rating

: 2/5


Director

: Payoong Payakul



Main actor

: Sorapong Chatree,Chaiya Suriyun,Lak Apichat


Main actress

:
Thai movie วายร้าย4คิงส์ was released in year 1986. It was released under VCD format by Lepso Studio Company and lasts 1m27mn. Movie director is famous action movie director Payoong Payakul. Main actors and actresses featured in this movie are Sorapong Chatree,Chaiya Suriyun,Lak Apichat, นีรนุช อติพร. Some sequences of the movie (four minutes) are censored in Thailand as it features various daring sequences such as the three robbers with three prostitutes. Those sequences can be seen in the international release "Shoot Out" done by Filmark production. "Shoot Out" movie mixes the Thai movie "วายร้าย4คิงส์" and some action sequences shot in Hong Kong. During a jewelry robbery, two women are kidnapped. The three robbers finally release their hostages and flee inside the forest. By using grenades, the robbers succeed to flee the police. The head of police is Chaiya. Sarawat Sorapong receives duty to catch them. The head of police recommends him to check with a singer called Riem in a bar frequented by Hong Kong and Singapore citizens. Apichat provides support to the robbers, who are coming from Hong Kong. Riem is in fact undercover policewoman. Despite bring identified by Riem, the Hong Kong thieves succeed to flee and try to catch a plane to Saudi Arabia. They are caught at embarking gate in Don Meuang airport. The head of ruffians sends two Charlie's angels to get back the three Hong Kong men. On trial day, Apichat succeeds to release two Hong Kong guys through a daring escape. One fails to escape and is caught back by the police. Fai Chai is another local Thai helping them. The boss doesn't leave his teammates (ลูกน้อง) in difficulty. As Fai Chai is identified, Thai police storms the house where ruffians are hiding. All are killed. Thai police saves face (ตำรวจไทยไม่ขายหน้า).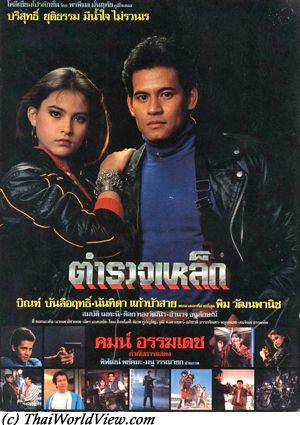 Year

: 1986



Thai title

:

ตำรวจเหล็ก




English title

:



Rating

: 4/5


Director

: Kom Akadej



Main actor

: Bin Banleurit,Sombat Methanee,Kom Akadej,Pipop Pupinyo,Chat Mongkolchai


Main actress

: Marsha,Nanthida Kaewbuasai
Thai movie ตำรวจเหล็ก was released in year 1986. Kom Akadej is the movie director. The movie lasts 1h40mn. Sombat Methanee is a police police commander (ผู้บังคับ) enquiring on a murder. Chanyut was found dead in his swimming pool. 2000M baht have disappeared following the murder. Bin (Bin Banleurit) finds an earring there. Pim (Marsha playing in her first movie) is a journalist (นักข่าว). Muat (หมวด) Bin kills two ruffians having shot policemen. Singer Chengila (Nanthida Kaewbuasai) is harassed by (ขอตัว) Nai Chareun Phran, son of an influential banker and also targeting to be a parliamentary. Fighting happens in the club. Bin arrests Nai Chareun Phran but he is released thanks to his father. Investigations on hitmen are ongoing. Pim enters illegally in a Chinese temple to take pictures of a ceremony. Hitman Chat Mongkolchai is present. A money exchange shall happen between Chat and the son of Sia in order to release Sia. Pim recognizes Bin and reveals by mistake that Police is part of the Chinese lions dancers. Shooting happens and all ruffians are killed. Bin is looking for information on another hitman called Seua Weng. Weng is looking to flee overseas so looking to exchange Thai baht in dollar. He is shot by another fierceful killer, Ai Tong Bai boon Sung, before being able to flee. Bin suspects Kaewbuasai should be related to Chanyut as he found she is wearing only one earring. Chengila was the girlfriend of Chanyut. Chengila has seen the murderer, i.e. Nokhun, famous lawyer (ทนายความใหญ่) and even took a video. Entertainment place Chao Praya 3 is the place where the killer is coming every day to see a girl. Nai Chareun Phran, helped by his lawyer (Kom Akadej) frames Bin in a trap. Chengila blacklists the lawyer Nokhun by asking 200M Baht. The lawyer puts some fake policemen in front of Chengila's condo but Bin arrests them. As usual Pim is here to take pictures. Bin suspects Chengila is not telling the whole truth to him as there should be a reason why fake policemen kept watching her flat. Later on the killer erupts in the disco and tries to shoot Chengila. She escapes thanks to Bin, who is injured. She flees but finally gets shot by the hitman. Before dying, she calls the police and talks about a tape hidden in the bathroom. Bin's assistant finds it and the lawyer is identified as the killer. Nai Chareun Phran is afraid and sends the killer to get rid of the lawyer. He is only injured and ends up at the hospital. The lawyer tries to corrupt Bin's assistant but to no avail. The killer erupts in the hospital and kills Bin's assistant. The lawyer succeeds to flee. Final scene is happening around a political meeting scene. Nokhun injures Nai Chareun Phran and both get arrested. Bin with Pim's succeed to neutralize the killer.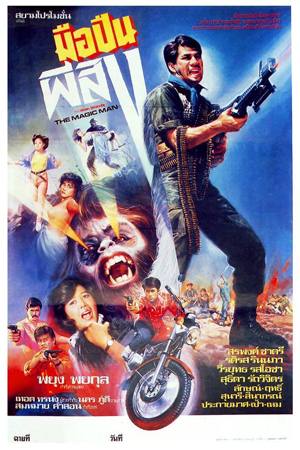 Year

: 1986



Thai title

:

มือปืนผีสิง




English title

: The Magic Man



Rating

: 3/5


Director

: Payoong Payakul



Main actor

: Sorapong Chatree,Lak Apichat,Pao Porapak,Rith Luecha


Main actress

: Thida Thidarat,Sinaporn Philailak
Thai movie มือปืนผีสิง was released in year 1986. It lasts 1h25mn. It is a mix of Thai footage and Hong Kong footage done by Filmark production. The movie is in Spanish language. The international title is "Mad Move". The Thai footage lasts one hour. The Thai actors are not even mentioned in the credits. Director is Payoong Payakul. A lot of sexy scenes are still present but might be removed from the Thai VCD. Lepso released it under the name นักรบผีสิง. Actresses also include ธิดา ธีระรัตน์, สินาภรณ์ พิไลลักษณ์ (Sinaporn Philailak – sexy star), สุนารี. Actors also include วีรยุทธ รสโอชา. Below summary is then partial. Sorapong Chatree is a soldier in black uniform. All his colleagues are dead. Sorapong is seen holding a machine gun and shooting enemies. Lak Apichat is visiting a family. Lak offers money the family but the father refuses. Later on, ruffians kill the whole family. Sorapong is back and finds his family dead. In a sawmill, shootings happen with ruffians. Both Sorapong and Lak are involved in the shootings. As Sorapong believes Lak is responsible of his parents' death, they both fight. Sorapong finally understands that Lak is innocent. Pao Porapak and Rith Luecha are parts of the ruffians. Sorapong finally catches the ruffians, who shot his family. Out of strength, Sorapong collapses and wakes up in a monk's cave. He needs to pacify his heart. While being in a brothel, ruffians have fighting with Lak. Sorapong still has atrocious visions about war. The ruffians send a beautiful lady to seduce Sorapong but it fails. Outside of the room, Pao is waiting and Sorapong is captured by the ruffians. At nighttime Sorapong becomes a werewolf and defeats his captors. The leader's girlfriend abuses the confidence of Bonnie (รติรส รินนภา) but the werewolf stops her. The werewolf abuses her as a revenge. Meeting Lak, the werewolf follows him and by paying respect to a Buddha statue, the werewolf becomes Sorapong again. Rith refuses to believe the stories about a werewolf but finally following the proofs, he gathers a big team to fight back. Finally Sorapong's team acts first. The movie ends up in shootings and two final fights between Lak and Pao, between Sorapong and Rith.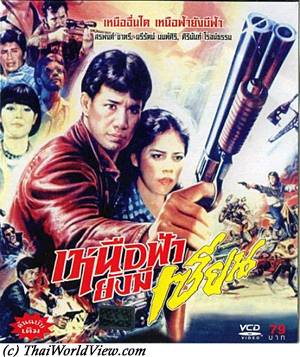 Year

: 1986



Thai title

:

เหนือฟ้ายังมีเซียน




English title

:



Rating

: 2/5


Director

:



Main actor

: Sorapong Chatree,Lak Apichat,Krai Kanchit


Main actress

: Nareerat Monsiri



Buy now

:

A man comes back in a Hat Yai city district, which is ransacked by a local mafia. He is looking for an old friend. He decides to stay and acts as a local astrologer. But local mafia dislikes him and wishes him to leave through threats. He is collaborating with the police to stop them. This movie also highlights the police's extra judicial killings.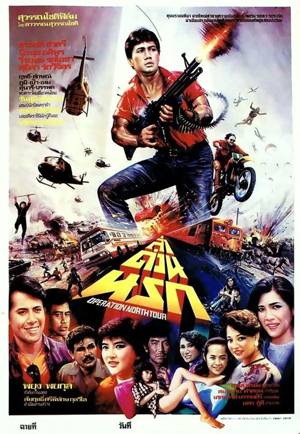 Year

: 1986



Thai title

:

ล่าด่วนนรก




English title

: Operation North Tour



Rating

: 2/5


Director

: Payoong Payakul



Main actor

: Sorapong Chatree,Rith Luecha,Lak Apichat


Main actress

: Prissana Chabaprai
Pen and Tong (Sorapong Chatree) meet each other in a bus going to Chiang Mai. Nobody knows the real reason of Tong arrival to Chiang Mai. He just comes to rest and to see a friend called Den. A few people are killed by a hitman (มือปืน) and acolytes in a pool club. Tong is witness of the murder. He shots one killer. Pen's business is also threatened by local mafia. Chiang Mai area is dominated by two local mafia heads. A lady called Gnam seduces Tong to know the truth regarding his visit to Chiang Mai but to no avail. Gnam is linked to mafia. The two mafia rings fight each other. During a shooting at the Chiang Mai airport by another hitman, a young man called Suchai helps to protect Saichai, daughter of Somchai (Rith Luecha), mafia leader. Suchai gains the trust of Somchai. The two mafia leaders decide to unify their efforts instead of fighting. Gnam is killed during a fight between Tong and a ruffian. Finally Suchai gets information that both mafia team will gather in Don Pui area to sell drug. Gun fights happen between mafia and the police helped by Tong, Den and Suchai. Similar to a a Thai copy of Rambo II, Tong carries a huge machine gun with ammunitions over the shoulder. The movie features fightings shot with a Hong Kong action movie style. As often during such Thai action movies, it is revealed that the main characters were undercover policemen. Many Thai action movies in 1980s decade include influence from Hong Kong movies and American movie Rambo II fighting style.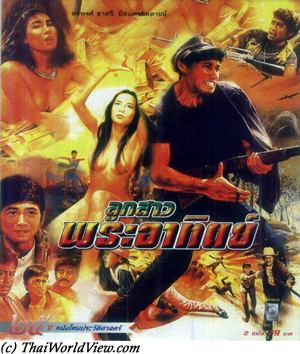 Year

: 1986



Thai title

:

ลูกสาวพระอาทิตย์




English title

:



Rating

: 1/5


Director

:



Main actor

: Sorapong Chatree,Pao Porapak,Lak Apichat


Main actress

:
A Japanese soldier is stranded in Thailand. His plane crashed. He is rescued by a Thai family. The Japanese gets married with their daughter but she dies when giving birth to a daughter. Twenty years have passed. An armed group arrive in the village. They are looking for the old Japanese gold that is supposed to be hidden inside a cave. Yem (Sorapong Chatree) is protecting the group. Another armed group is already occupying the area. Gun fights occur between the two groups. Following various fights, kidnapings and so on... the Japanese former soldier triggers an explosion inside the cave so that nobody can get the gold. Phra Athit (พระอาทิตย์) means sun but also gold. This movie has nothing to do with the movie "ลูกสาวพระอาทิตย์" shot in 1968. It is a typical grade B action movie from decade 1980s with kung fu fights and gunfight sequences. It includes a little of romance and a lonesome hero who prefers to stay in the forest than going back to modern world. Favorite sentence of such movies is "cha tham arai to pai" (จะทำอะไรต่อไป) - What shall we do next? During the anti-communist years, Sorapong Chatree played soldiers and mercenaries in perhaps 100 action films. Most of these were low-profile, though some were popular as they played to the national sentiment.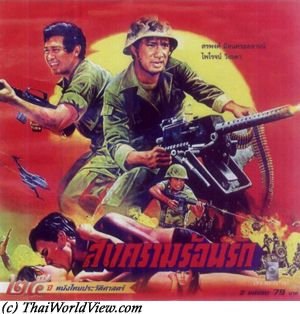 Year

: 1986



Thai title

:

สงครามร้อนรัก




English title

:



Rating

: 2/5


Director

:



Main actor

: Sorapong Chatree,Phairoj Jaising,Porjed Kaenpetch,Dam Datsakorn


Main actress

: Wiyada Umarin,Moeifa
During Vietnam war some Thai soldiers are facing the Vietcong resistance. It is their last days of their engagement. One of them, Athit, has a Vietnamese girlfriend called Cheut Cheun, but needs to be separated from her. Athit promises to come back. Due to the South Vietnam invasion by North Vietnam, he cannot keep his promise. Many Vietnamese boat people then flee to Hong Kong. Cheut Cheun's father forces his daughter to leave Vietnam in order to secure a better future for her. The smugglers are part of the mafia. Those evil men rape the young girl on the boat. The boat is hijacked by Thai ruffians and the boat people are put in a cage. The young girls are transferred to another boat by the ruffians, who wish to send them to Thailand. Athit and his friend Wat accidentally see Cheut Cheun. She was sent to a bordel. Athit promises to help. Cheut Cheun refuses to obey the mamasan (มาม่าซัง) so faces wrath from her and is tortured (ทรมาน). The mamasan considers the girls (เด็กผู้หญิง) as things and now wishes to send them to singapore due to the deranging noise made by Athit. It is difficult for Athit to free Cheut Cheun due to the mamasan's bad influence (อิทธิพล). He wishes to buy a ticket to send her back to Vietnam. He convinces the police to investigate and helps to gather proofs. He doesn't have enough money to buy her back so he tries to organize an escape but it fails. His friend Wat is killed. The police finally arrests (จับ) the mamasan and her ruffians. This movie highlights the boat people phenomena and the mafia taking profit of it. The main actress is from Philippines. She might had less concern that Thai actresses to play sexy scenes. Soundtrack from Dario Argento's horror movies is used.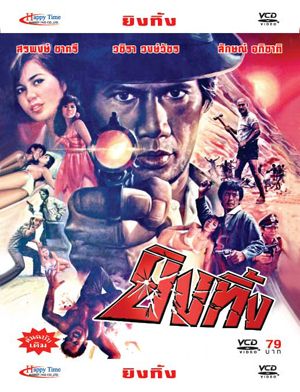 Year

: 1986



Thai title

:

ยิงทิ้ง




English title

:



Rating

: 3/5


Director

:



Main actor

: Sorapong Chatree,Lak Apichat,Chat Mongkolchai,Pipop Pupinyo,Choomporn Theppitak,Pao Porapak,Paen Pleumsachai


Main actress

: Sinaporn Philailak



Buy now

:

Thai movie ยิงทิ้ง was released in year 1986 and lasts 1h20mn but parts of the movie are cut. Ruffians shoot a van transporting money (ปล้นเงินเดือน). Lak Apichat is injured. Police arrives and catches ruffians but Wong (Chat Mongkolchai) and Pon (Pipop Pupinyo) succeed to flee. Pon hides the money but is also arrested later so Wong doesn't know where the money was hidden. Wut (Sorapong Chatree) is police inspector. He is married to Na (วชิรา วงษ์วัชร์), who complains he doesn't give enough time to his family (เป็นหน้าที่). Head of police Choomporn Theppitak enquiries if Lak is involved in the robbing or not. Choomporn gives the case to Wut. By enquiring, Wut meets Wong and Pao Porapak but they succeed to escape due to the mistakes of other policemen. Wong and Pao succeed to release Pon. Choomporn asks Wut to get them back but Wut requests an assistant (ผู้ช่วย), i.e. Lak. As Pon is reluctant to give back the money, Wong kidnaps his wife (พิศมัย ภุมมา). Meanwhile Wut and Lak are chasing Pol also. They fail to catch Wong and Pao despite Pol leads them to their house. Wut verifies that Mon (Sinaporn Philailak) doesn't hide Wong anymore. Choomporn starts to lose patience as Wong is still not captured by Wut. By spying Mon, Wut finally gets back the money but Wong succeeds to escape. Wong kidnaps Na in order to force Wut to give back the money. Following fightings and shootings with ruffians, Wut, Lak and Na defeat them. Lak ends up in jail as he still has to pay for his previous bad behavior. A four minutes trailer is also still available. It features sexy scenes cut off from VHS release.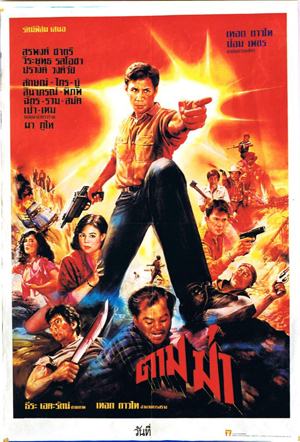 Year

: 1986



Thai title

:

ตามฆ่า




English title

: Twinkle Ninja Fantasy



Rating

: 4/5


Director

:



Main actor

: Sorapong Chatree,Lak Apichat,Krai Kanchit,Boo Wibunnan,Chat Mongkolchai,Pipop Pupinyo,Pao Porapak


Main actress

: Sinaporn Philailak
Thai movie ตามฆ่า was released in year 1986 and lasts 1h46mn. The VHS release is very sharp. The movie was also released overseas by Filmark movie production. It is called "Twinkle Ninja Fantasy". It is mixing the Thai movie and Ninja sequences shot in Hong Kong. Vin (Lak Apichat) organises gambling on a mining site. Manager (ผู้จัดการ) Somchai (Krai Kanchit) decides to give him a harsh lesson. Kiet (Sorapong Chatree) interposes as Somchai is going too far. Fighting erupts and You (Sinaporn Philailak) has to stop them. The big boss Thana (Boo Wibunnan) refuses to fire Kiet as he is a good staff. You is Thana's girlfriend but she is also Somchai's mistress. As Kiet has to transport important company goods, Somchai plans to get rid of him. As Kiet's sister has a domestic accident, Kiet cannot go. Vin then leads the convoy, which is attacked by ruffians. Only Vin succeeds to escape as the ruffians believe he falls from a cliff. You pushes to marry with Thana (แม่เลี้ยง) but this latter wishes to inform his son coming back from overseas first. As the convoy is robbed, Somchai accuses Kiet to be the mastermind behind. Pinyo tries to convince Vin to accuse Kiet but as he refuses, he is beaten and left for dead. Thana doesn't trust Somchai so he wishes to replace him by his son. Aware, Somchai hires Chat Mongkolchai to attack the next convoy led by Thana and Kiet. All staff die including Thana. Only Kiet escapes but his sister gets killed as he takes refuge in his home. Somchai now plans to kill Thana's son called Virayut (วีรยุทธ รสโอชา). While exiting the train station, ruffians chase and shoot Virayut. Luckily doctor Wana (ปรางค์ วงศ์วัช)(แสนสวย) passes by and saves his life. Pipop Pupinyo and Pao Porapak storm the doctor's house to find the son. Wana chases them on time before any killing occurs. Virayut wishes to kill Kiet as You brainwashed him that he is the killer. Ruffians try to kill again Virayut but they fail so they kidnap the doctor Wana. Meanwhile Virayut follows Lak to find Kiet. Following fighting, Virayut understands that Kiet is innocent. Understanding that Somchai doesn't love her, You tries to release Wana but it is too late and she gets killed. Kiet gets revenge over Chat Mongkolchai by putting a grenade in his mouth. Knowing that Somchai is planning to flee overseas by boat, Thai police, Kiet, Vin, Virayut storm the pier to release Wana. The boat succeeds to escape but Kiet and Virayut are on board. Through a final fight, Somchai is killed. As often in Thai movies, it is discovered that Virayut is a Bangkok police officer. Before going to Bangkok, he promotes Kiet as new manager and Vin as intendant. This Thai includes many stereotypes from 1980s Thai action movies.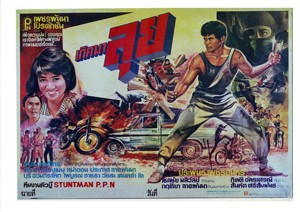 Year

: 1986



Thai title

:

เกิดมาลุย




English title

: Born to Fight



Rating

: 3/5


Director

: Panna Rittikrai



Main actor

: Panna Rittikrai,Krissanapong Rachata


Main actress

:



Buy now

:

Thai movie เกิดมาลุย / Born to Fight was released in year 1986. It lasts 94 minutes. It is first movie directed by Panna Rittikrai. This movie was released under VCD format (unfortunately in 4:3 to match old TV format and not 16:9) in Thailand and blu-ray format in USA in 2016. Panna sold his home to finance his first movie เกิดมาลุย shot in years 1985~1986. Other actors have to pay also to be part of this movie! At the beginning, main actor was supposed to be Toon Hiransap and the main actress was supposed to be Suriwan Suriyong but finally Isan actors were used! Panna Rittikrai's first movie เกิดมาลุย was not successful in Bangkok. Sieng Fong is a Hong Kong lawyer fleeing from Hong Kong to Thailand as he has got important papers showing the corruption of his boss. He takes refuge in uncle Kosi's home. Five ninjas are chasing him and storm uncle Kosi's home. Two young teens, seen later in Panna movies (Krissanapong Rachata and yyy), are getting an art martial training from Thong (Panna Rittikrai). Five masked men come to defy Thong and to check his skills. Thong defeats them and is hired by a Hong Kong policeman to find back Sieng Fong. Sieng Fong and uncle Kosi's daughter are gone to Nong Khai. Uncle Jaem helps Thong to find them. Multiple fights and motorbike chases are featured as ruffians try to block Thong. A final fight again the five ninjas shows many skills (sword fighting, martial art...) and ideas (action sequence replayed a second time with a different angle, action sequence shown at slower speed...) that were reused in other famous Panna's movies including Ong Bak and Tom Yam Goong. Panna's movies remain famous for their action scenes genuineness.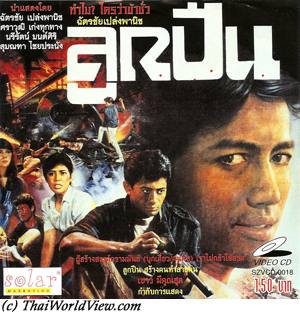 Year

: 1986



Thai title

:

ลูกปืน




English title

:



Rating

: 3/5


Director

:



Main actor

: Chatchai Plengpanich


Main actress

:
It is the story of two brothers. One is a killer ("MEU PEUN" - มือปืน), who wants his brother to study at university and supports him with the money earned from murders. Once studies finished, the brother becomes a policeman and discovers his brother's job. What is he going to do? Shall he forget the gratitude ("KATANJOO" - กตัญญู) towards his brother?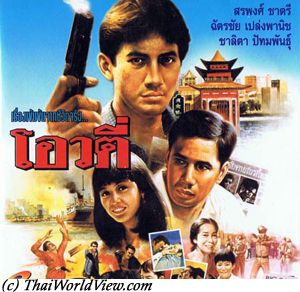 Year

: 1986



Thai title

:

โอวตี่




English title

:



Rating

: 3/5


Director

:



Main actor

: Chatchai Plengpanich,Sorapong Chatree


Main actress

: Chalita Puttamapun
Oti (Chatchai Plengpanich) is a tough guy sent to prison because he hit two guys flirting with the girl he loves. He is living in Yaowarat, Bangkok Chinatown district. When he was a child, his father was killed in front of him. He is now out of prison. He has a hot temper or ใจร้อน. He is violent due to his difficult childhood. The policeman (Sorapong Chatree) who caught him earlier is now an inspector (สารวัตร). He is helping Oti to find a job. He is also causing trouble to local mafia. They try to get rid of him without success. During a trip of the inspector abroad, Oti is involved in a fight during a Chinese temple festival. By mistake, he shot the son of a local godfather. To protect his mother against revenge, he has to shot this godfather. Oti is now employed by another godfather as a hitman. He has now a lot of money but his mother doesn't want dirty money or a new house. She wants a son that respects law. She wants to be proud of her son. She rejects him. The new godfather uses another hitman to kill the inspector but he is only injured. Bashed by his mother again, Oti kills the hitman and flees to South of Thailand. He has to come back to Bangkok as his boss tries to have him killed. He helped his girlfriend kidnapped by the godfather's tough guys. Finally as his girlfriend is pregnant, he surrenders to the police and promises to become a good father when he will exit from prison. A second opus with different actors was released four years later.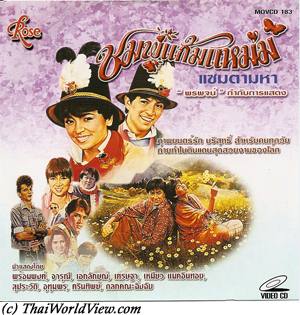 Year

: 1986



Thai title

:

ชมพู่แก้มแหม่ม




English title

:



Rating

: 3/5


Director

:



Main actor

: Yuranan PamornMontri,Lor Tok,Settha Sirachaya


Main actress

: Jarunee Sooksawad
A mother is separated from her Thai husband and move to Austria with her daughter. During her childhood, the daughter has also a half-Thai friend. When growing up, the daughter wants to know her Thai father and decide with her best friend to gather the money to buy the air ticket to Thailand. They try different opportunities (play Molam, simulate red cross helpers, get money from wish fountains).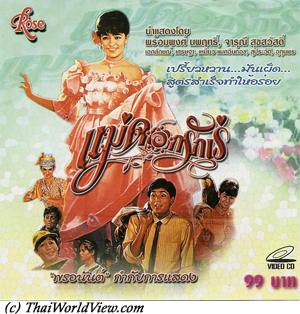 Year

: 1986



Thai title

:

แม่ดอกรักเร่




English title

:



Rating

: 3/5


Director

:



Main actor

: Prompong Nopparith


Main actress

: Jarunee Sooksawad
In a remote village two young people love each other. As the man has a nice voice, he decides to go to Bangkok to become a singer. Having some financial problems, her fiancee also has to go to Bangkok to work. She fails to find him and is rescued by two nice guys after being attacked by a taxi driver. After many funny confusions, her fiance is marrying another woman and she is marrying her rescuer.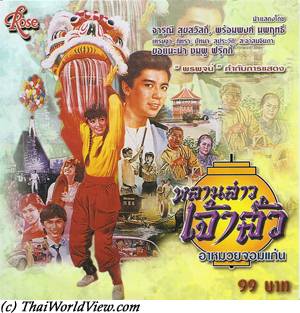 Year

: 1986



Thai title

:

หลานสาวเจ้าสัว




English title

:



Rating

: 3/5


Director

:



Main actor

: Prompong Nopparith,Sor Asanajinda,Settha Sirachaya


Main actress

: Jarunee Sooksawad,Patama Panthong
Two friends are unfortunately making funny mistakes by trying to seduce two young ladies. During Chinese New Year, while trying to earn money in order to repair their mistakes, one of the young lady discovers that she is the Mr Liu's daughter. As Mr Liu is very rich, will it change their frienship and love?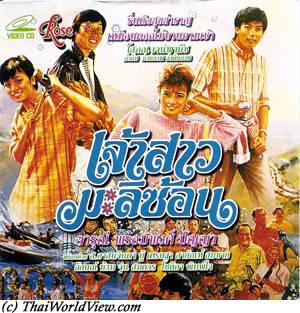 Year

: 1986



Thai title

:

เจ้าสาวมะลิซ้อน




English title

:



Rating

: 3/5


Director

:



Main actor

: Prompong Nopparith,Sor Asanajinda


Main actress

: Jarunee Sooksawad
Two young woman from different backgrounds (one from a rich family and one from a poorer family) are bothered by bachelors they don't love. Having a similar appearance to each other, confusions between them happen and finally bachelors are replaced for everybody's happiness. But the son of a local kingpin is still fond of one of the lady...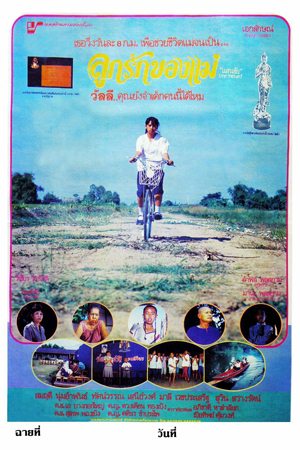 Year

: 1986



Thai title

:

ลูกรักของแม่




English title

: Walli 2



Rating

: 3/5


Director

:



Main actor

: Apichat Halamjiak,Sawin Sawangrat


Main actress

: Tasawan Saneewong,Piathip Kumwong



Buy now

:

As Wally is living without a mother and with a blind grandmother, her father stops being a monk in order to take care about his daughter. Many people gossip that he is interesting by donations given by many Thai people. Wally's sad life continues with the loss of her father and then grandmother. She finally succeeds her university graduation.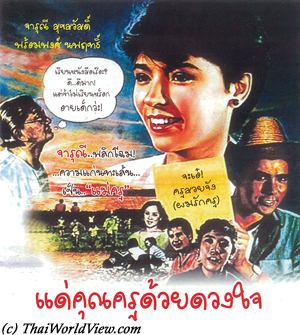 Year

: 1986



Thai title

:

แด่คุณครูด้วยดวงใจ




English title

:



Rating

: 3/5


Director

:



Main actor

: Prompong Nopparith,Phairoj Jaising,Sor Asanajinda


Main actress

: Jarunee Sooksawad
This movie is divided into two parts, a first comic part when Thewan, a student, in order to seduce Nuanchan acts like a company owner. But he is only the company owner's car driver! Finally Nuanchan finds out the truth. The second part is more dramatic when Nuanchan decides to become a teacher in a remote Thai village. She succeeds to find money to have a big school built. She even convinces older people to learn how to read to reduce illiteracy. Due to a sudden cancer detection, she has to handover the job to Thewan. She has to leave her job as school teacher to go abroad for treatment so causing despair and cries from the village inhabitants who love her so much. This film highlights the importance of literacy at all ages.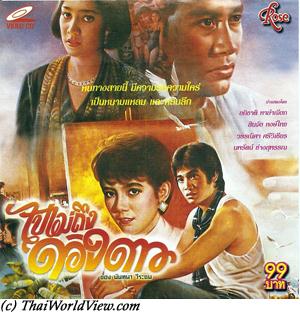 Year

: 1986



Thai title

:

ไปไม่ถึงดวงดาว




English title

:



Rating

: 2/5


Director

:



Main actor

: Apichat Halamjiak


Main actress

: Sinjai Hongthai
A married couple is having bad time as there is no more love between them. Each partner is looking for a new mate. As the husband is finding a new lovely woman but the wife is having trouble with her new lover, this is leading her to a tragic madness.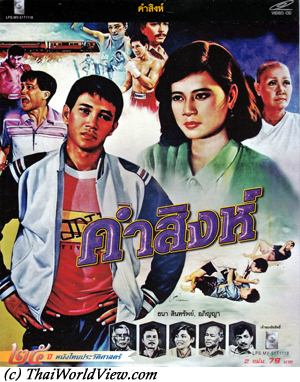 Year

: 1986



Thai title

:

คำสิงห์




English title

:



Rating

: 5/5


Director

:



Main actor

: Krailat Kriengkrai,Suchao Pongwilai,Sompong Phonmitr,Kowit Wattanakul


Main actress

: Marasri Bangchang
Thai movie คำสิงห์ was released in year 1986 and lasts 1h54mn. Kam sing (ธนา สินทรัพย์) is a Thai boxer leaving for Bangkok and recalling his past while travelling by train. He is coming from a poor family. Due to debt, his father had to give the land title (จำนองที่ดิน) as compensation so they are finally expelled from their house. Her mother (Marasri Bangchang) sent him to learn Thai boxing in a Buddhist temple as he is always fighting. He befriends with Bulong (Krailat Kriengkrai). The rich local man Boon increases the interest rate so much so they have no way to pay back to get the house. They finally steal the debt recognition from him through a fight. Police is now looking for Kam Sing and Bulong. Kam Sing and the rich man's daughter Nit (อภิญญา คุ้มตะบุตร) know each other since childhood. Kam Sing finally decides to flee to Bangkok. Her mother doesn't wish him to become a Thai boxer (เจ็บตัว). Suchao Pongwilai is the heartless owner of ring. Sompong Phonmitr tries to abuse from Kam Sing. As all chances have been exhausted (หมดสภาพ), Bulong fights on a Thai boxing ring but is severely injured to the brain. While getting Bulong out of hospital, they are caught by police. Kam Sing ends up in jail as he was the one to hit Boon. Kam Sing is sent to isolation quarters (คุกมืด) as Kam Sing hits an inmate wishing to have relationship with him. His mother, tired by his behavior, becomes a nun (บวชชี). Knowing this, Kam Sing promises himself to become a good guy and to do something his mother would be proud of him. He decides to become a professional Thai boxer. Kam Sing wins all his fights as he is training very hard. He shall now face Kowit Wattanakul, Thai boxing champion. To trick the match, Suchao Pongwilai puts Kowit in a lower category so Kam Sing needs to lose weight to match 70kg causing him to become much weaker. Following an epic fight, Kam Sing finally defeats Kowit. He is back to his town and is shown as an example. He left as a pariah and comes back as a champion. He can now show to his mother that he really changed.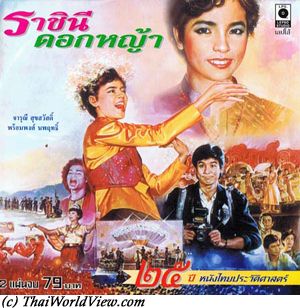 Year

: 1986



Thai title

:

ราชินีดอกหญ้า




English title

:



Rating

: 4/5


Director

: Surasee Phatham



Main actor

: Prompong Nopparith,Doo Dook Kradon


Main actress

: Jarunee Sooksawad
A Molam performers group is going to quit playing (ลาเวที). They are going to play Manora performance for the last time. Benchawee is the main young lady singer. A photographer called Somwit wishes to join them. He wants to convince them not to stop as Molam is part of Isan culture but it seems too late. Finally they accept to resume one time as a donor pleads them. Molam is not so popular anymore. Mainly old people are watching. Molam performers have difficulties to compete face to modern Thai country (ลูกทุ่ง) music and need to renew their style. Molam is an art (ศิลปะ). Somwit understands the need to write down songs in order to have records as it is mainly passed orally from one generation to another. There are many kinds of Molam song style such as Molam Ploen (หมอลำเพลิน) , Molam sing (หมอลำซิ่ง) and so on... Somwit wishes to bring the Molam band to radio broadcasting. Somwit decides to mix Molam song with modern Thai song (หมอลำยังไม่ตาย). An example is "Siang Isaan" as a modern Molam music group. Sawit wants to bring Benchawee to Bangkok to increase her popularity. They meet an unscrupulous producer who only wants to abuse Rawee. They continue to tour around Thailand and start to become famous. Somwit has to go back for personal affairs in Bangkok but fails to come back. Benchawee misses him and has then difficulties to sing properly. Somwit finally comes back mixing Molam songs with a modern dancing music. Benchawee becomes the Molam queen. This movie highlights that traditions can survive and stay popular by adapting to the modern tastes. The producer realizes his mistake. Yearly best singer competition is going to happen. Who will be the next queen of singers? Duang Chan Duang Chai, Thai country music singer, has fans all over Thailand but Benchawee has only Isan fans but Isan workers are everywhere so spreading their culture. A vote happens and Benchawee is aware that she won. Somwit brings Benchawee to meet his parents. His father refuses this wedding as he is coming from high society. For him an Isan girl is same as a Lao girl so denigrating both. The game is cheated and Duang chan Duang Chai Chan is announced as winner. Molam couldn't be accepted by Bangkok elite (คนเศรษฐีโกหก) So Benchawee couldn't win. The elite has chosen but Thai people have chosen also. Benchawee's concert is a huge success while Duang Chan Duang Chai concert is a complete failure as spectators flock to see Benchawee singing. She becomes the queen of grassroots (ราชินีดอกหญ้า) instead of the queen of flowers (ราชินีดอกฟ้า). The perjury is disclosed as hidden votes are found. It is fun to see Jarunee Sooksawad singing Molam songs (หมอลำสาวบ้านนอก). Lao and Thai languages are used in this movie shot in year 1986. The movie lasts 2h03mn. It got three rewards (รางวัลสุพรรณหงส์) during Thai film industry ceremony.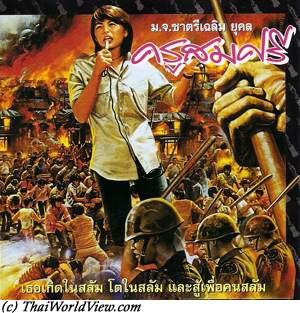 Year

: 1986



Thai title

:

ครูสมศรี




English title

: Somsee



Rating

: 5/5


Director

: ChatriChalerm Yukol



Main actor

: Sor Asanajinda,Settha Sirachaya,Ron Rittichai,Sor Asanajinda


Main actress

: Chalita Puttamapun



Buy now

:

It is about a big company, which wants to expel slum inhabitants in order to build a modern complex. A young teacher called Somsri is representing the slum and is fighting against the company. This movie shows the power of big Thai companies over slums, Thai rich people power over poor people and the Thai useless bureaucracy. Hopefully a Thai official and a lawyer are helping the teacher Somsri as the slum inhabitants are fully in their rights. Unfortunately, the big company doesn't hesitate to use strong ways such a fire, threats and gunmen. The slum finally wins but the lawyer and teacher Somsri lose their life. The movie is based on an activist teacher in the Klong Toei slum area. The idea on which the movie was based is the real life of teacher Pratheep Ungsongtham. She was called the slum angel.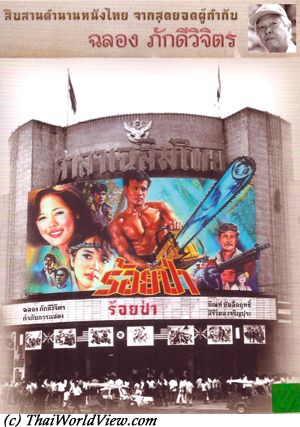 Year

: 1986



Thai title

:

ร้อยป่า




English title

:



Rating

: 5/5


Director

: Chalong Pukdeewichit



Main actor

: Bin Banleurit,Somchai Samipak,Taksin Jampol,Manop Aussawathep,Rith Luecha


Main actress

: Mai Charoeunpura



Buy now

:

Thai movie ร้อยป่า was released in year 1986 and directed by veteran Chalong Pukdeewichit. Luang Ta is taking care of an orphaned boy called Seua (ลูกศิษย์วัด). Seua (Bin Banleurit) sympathizes with young girl Paew but gets an enemy as Anirut (ลูกผู้ดี). Years passed. They are now adults. Luang Ta dies. Seua goes to Lampang to do forest staff studies. He meets Srinuan. In Srinuan's disco, he protects Somchai (Somchai Samipak) as พ่อเลี้ยง against a murder tentative. During studies, he finds that teck forest has few trees left (ตรวจป่า). He meets Boon Ying and presents himself as new forest staff (พนักงานป่าใหม่). He tries to prevent ruffians led by Theum (Taksin Jampol) to cut illegally trees (ทำรายป่าไม่ได้). Seua gets his degree and is sent at Thai Burmese border. He realises that Paew was the one to support him financially during his studies. พ่อเลี้ยง Ithi (Manop Aussawathep), owner of a company allowed to cut 2000 trees, tries to corrupt Seua (เก็บเงินของคุณเลย) to cut more trees. Ruffians are sent to kill Seua but Theum and Leum being around help him. แม่เลี้ยง Saenthong (Mai Charoeunpura) wishes to get authorisation for her trees. Seua has issues with Nok (Rith Luecha), leader of elephant keepers. Seua checks the trees deeply in the forest and gives approval (ราชการดีๆยังมีอยู่ครับ). Back to the village, they found that Nok has taken all elephants. Hopefully Theum lends them some elephants to ensure the company is not stuck. Seua rejects Saenthong's love as he still thinks about Paew. Ithi is the one trying to close Saenthong's company as he is joining shares (ร่วมหุ้น) with a Bangkok company led by Anirut, engaged with Paew. Leum is captured and killed by ruffians with a chainsaw. Saenthong is also kidnapped. Seua revenges Leum through a chainsaw fighting with Nok. It is time for Seua to neutralise Ithi. Hopefully พ่อเลี้ยง Somchai and Theum give a hand to Seua as he is in a bad situation versus many ruffians. All ruffians are killed. Police arrives. Theum prefers to die gun in the hand instead of surrendering. Suea leaves as a lonely cowboy saddened by the death of Theum. An earlier version with Mitr Chaibancha and Petchara Chaowarat was released in year 1963.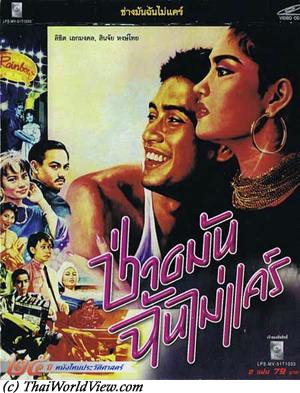 Year

: 1986



Thai title

:

ช่างมันฉันไม่แคร์




English title

: I don't care



Rating

: 4/5


Director

: Pantewanop Tewakul



Main actor

: Likit Eakmongkol


Main actress

: Sinjai Hongthai,Wiyada Umarin,Thitima Sangkapitak



Buy now

:

Pim is a very busy business woman. She is independent, smokes, drinks beer. She wears men clothes like suit and tie. She is a modern 1980s emancipated woman compared to Thai traditional standards. She only believes in herself. A young man called Bird and his friend are living together in a small flat. They have always no money. Pim needs a new model for an advertisement and is looking for one in Siam Square. She meets Bird in a cafe. Pim has a suitor called Komsan, who asks her for wedding. Pim is 30 years old already but she doesn't want to follow traditional ways, i.e. have husband, have children, stop working and stay home. So she refuses. Bird is recruited for underwear commercial shooting. Bird is younger than Pim. He follows Pim to a camping on Pattaya beach. Bird's mother needs 5000 baht. Bird needs to work again. He is Chippendales dancer in the "Rainbow" bar, a club for women, and then male prostitute for ladies. Bird is coming from Northeastern Thailand and has almost no studies knowledge. He is impressed by Pim (แม่โฆษณา) and her leadership. Pim considers herself same as prostitute selling her brain. Bird is fed up with his life as a gigolo. He only meets crazy ladies looking for sex only. One night, Komsan tries to force Pim but Bird chases him. They both tell their life. Pim has been traumatised by the Thai students massacre on 6 October 1976. Pim met Komsan during those events and loved him. But then Komsan changed a lot being mainly interested in money (เงิน) and power (อำนาจ). Regarding Bird, he is a farmer son and his real name is Wang. Pim has choice between Komsan, rich man and ละครพระเอก, and Bird. She is looking for a simple man (คนง่ายๆ). A love story starts between them. Bird is a good hearted man. Bird is often treated as a buffalo (ควาย) in his job as he is coming from countryside and doesn't have high studies knowledge. Bird leaves his job but then needs to do it again to get money to cure his sick friend. Pim's friend knows Bird. Due to jealousy, she announces Pim's relationship with Bird to Pim's boss and Komsan. But Pim doesn't care (ช่างมันฉันไม่แคร์). She quits her job and decides to stay with Bird despite society and family reprobation. The particular punch of this story, apart of from its depiction of low life in Bangkok, was provided by the fact that Pim has been a member of the young radicals in the 1970s. The 6 October 1976 students massacre in Thammasat University has never been fully investigated. When Pim meets old friends, they sing old songs for life (เพลงชีวิต) reminding them about the 1976 events.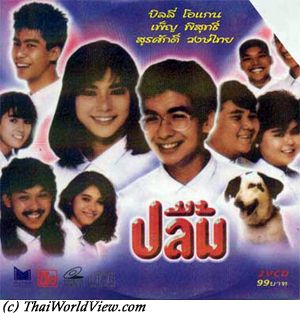 Year

: 1986



Thai title

:

ปลื้ม




English title

:



Rating

: 3/5


Director

: Thanit Jitnukul



Main actor

: Billy Ogan


Main actress

: Pen Pisut
Pleum is a teen comedy and romantic movie. It involves many male characters such as Beng, Nat, Duang (ด้วง), Somchai and a few female characters such as Ah, Parn, Fon (น้ำฝน). Waen's friends bring him for a last surprise party as he is going abroad. All remaining friends move to a new house. They have concern that the house is haunted. The rent is cheap as it is an old house. The teens experience life in community. The boys try seduction games with girls but it is a failure (ไม่กล้า). Nat tries to be Parn's boyfriend (แฟน). Friends help each other and give hints to succeed. Somchai is trying with Fon (จีบผู้หญิง) but he is too timid (ปิ๊งๆผู้หญิง). Jealousy and misunderstanding happens between Nat and Parn. Somchai needs to fight Fon's boyfriend through a Thai boxing fight to win Fon. Fon's presence dynamizes Somchai to win the match. Nat and Parn finally also reconcile. It is a good mood movie with modern 1980s songs and a succession of funny gags even if there is a lack of real scenario. This movie got success in 1980s thanks also to the song ตัดใจไม่ลง. The movie made 10M baht at the box office and got a best director award in Thai cinema ceremonies (รางวัลสุพรรณหงส์ทองคำ). It is the second part of Thai movie "ซึมน้อยหน่อย... กะล่อนมากหน่อย" which includes only new actors so new faces! So it was a new kind of comedy style for 1980s teens including jokes (หน้าแตก), language shortcuts, songs style teen public was used to. Many other similar teens movies followed up this trend but they were not as successful.
---