Increase or decrease font size for easier reading : A+ A-
Year 1985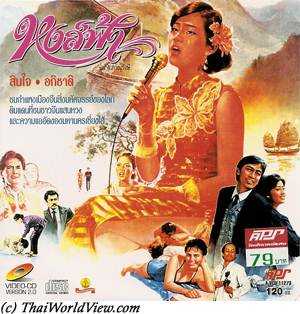 Year

: 1985



Thai title

:

หงส์ฟ้า




English title

:



Rating

: 3/5


Director

:



Main actor

: Apichat Halamjiak,Thuam Thoranong


Main actress

: Sinjai Hongthai,Piathip Kumwong
A Thai man meets a poor Chinese lady called Hong Fa during a business trip, gets married and brings her back to Thailand. But his mother has high ambition and wants him to marry a Thai influent political man's daughter. So she does everything to break the relationship and also keeps their child. Hong Fa becomes a singer and is finally sent to prison after her manager tries abusing her. The wedding with the Thai influent political man's daughter is finally a failure. After 15 years, Hong Fa is released from jail. Will she be able to see her child again?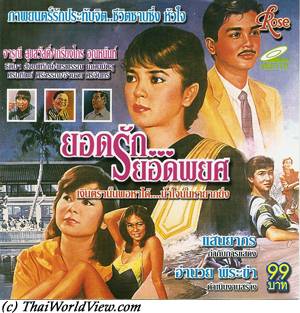 Year

: 1985



Thai title

:

ยอดรักยอดพยศ




English title

:



Rating

: 3/5


Director

:



Main actor

: Kriengkrai Unhanan


Main actress

: Jarunee Sooksawad,Sarinthip Siriwan
Two sisters are reunited together after the elder comes back from USA. A man is seduced by the younger sister's wit but he was the elder sister's lover in USA. How the sisters are going to manage this delicate situation?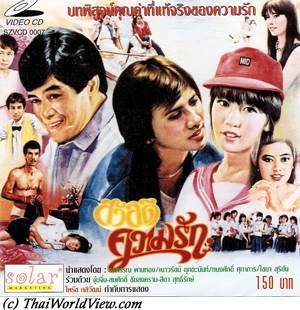 Year

: 1985



Thai title

:

สวัสดีความรัก




English title

:



Rating

: 3/5


Director

:



Main actor

: Chaiya Suriyun


Main actress

: Naowarat Yooktanun
A girl and her young mother-in-law are living together after her father's death. This movie deals about their relation with men, love and wealth.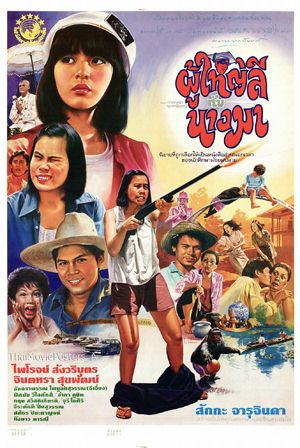 Year

: 1985



Thai title

:

ผู้ใหญ่ลีกับนางมา




English title

:



Rating

: 3/5


Director

: สักกะ จารุจินดา



Main actor

: Phairoj Sangwaribut,Tongchai Prasongsanti


Main actress

: Jintara Sookkapat,Ampha Pusit,Pissamai Wilaisak,Juree Osiri,Kingdao Daranee
Thai movie ผู้ใหญ่ลีกับนางมา was released in year 1985 and last 1h35mn. It was released under VCD format by Solar company. A remastered version was released by Five Star Production (ไฟว์สตาร์โปรดักชั่น) in the decade 2010s and shown on Thai TV cable. It was the first movie of actress Jintara Sookkapat. Other actors and actresses are Phairoj Sangwaribut, Tongchai Prasongsanti, Ampha Pusit, Pissamai Wilaisak, Juree Osiri, Kingdao Daranee, กฤษ สวัสดิเกียรติ, จิระศักดิ์ ปิ่นสุวรรณ, ศศิธร ปิยะกาญจน์, สักกะ จารุจินดา. Movie director is สักกะ จารุจินดา. ผู้ใหญ่ลีกับนางมา story has been produced as Thai TV series six times already (1971, 1977, 1987, 1996, 2003, 2009). Ma's grant- mother (Juree Osiri) just died so Ma (Jintara Sookkapat) comes back from Bangkok to visit her domain in Isaan region. She had not met her grant-mother for many years as she went to Bangkok to study. A man called Phujai Li (Phairoj Sangwaribut) has organized all funerals without consulting her. Ma already has a fiance called Pradit but she discovers he is unfaithful, so she breaks up and goes back to the countryside. She does not want to sell her 300-rai land. She wants to handle by her-self. A local farmer called Wao helps her. Wao is in fact Phujai Li, spying secretly to see how Bangkokian people can adapt to countryside. Phujai Li's mother (Pissamai Wilaisak) sends a local lady, called Pin, to help Ma. Ma accepts this lady (อัจฉราพรรณ ไพบูย์สุวรรณ) with her two children to stay in her home to help her as she was also dumped by her husband. There is often no official wedding in the countryside. People just stay together so social problems occur when separation happens. She finally works hard to maintain the farm. Anger happens when Ma understands that Phujai Li and Wao are the same person. Finally, Ma forgives Phujai Li. The Isaan village uses a cat in their rain-making procession (ประเพณีแห่นางแมว). The cat is carried around the village in a small cage, while the villagers make noise with musical instruments, to attract the attention of celestial gods. It works as rain is coming. Ma is busy preparing rice fields. Phujai Li loves Ma but she is still shocked by her fiance's behavior. On top of this, Phujai Li is chased by another local lady (Ampha Pusit). Phujai Li asks his mother to ask for Ma's hand as he does not dare. Ma accepts to become Phujai Li's fiancee even if she is not happy that he did not ask himself. Phujai Li decides to become a monk for one rainy season. As Pradip, older fiance of Ma, tries to befriend her, Phujai Li refuses to enter monkhood. Finally, Phujai Li becomes a monk for three months following his mother's wish to see him in yellow robes (ชายผ้าเหลือง). Pradip is chased away. Phujai Li and Ma can marry happily.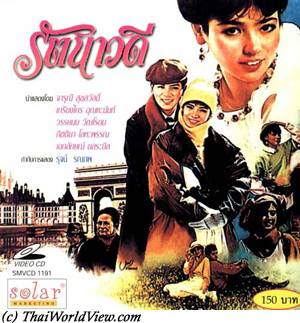 Year

: 1985



Thai title

:

รัตนาวดี




English title

:



Rating

: 2/5


Director

: Ruj Ronnapop



Main actor

: Kriengkrai Unhanan


Main actress

: Jarunee Sooksawad,Sarinthip Siriwan



Buy now

:

Princess (มจ.หญิง) Rattanawadee and her maid are going to London. Her brother's friend, Sadet, is working at the embassy. He was supposed to pick her at the airport but he fails to be on time. Rattanawadee is upset and very angry. She goes to complain at Sadet's home. She mistakes Sadet as the car driver. To avoid losing face, Sadet simulates being the car driver, called Lek, and propose them an Europe tour as a compensation for Sadet's lateness. They visit many countries in Europe including France (Versailles, Chateaux de la Loire...). Lek can speak many languages and is very cultured (รู้จักเยอะ) for a driver (คนขับรถ). Lek faces issues and jealousy from a hiso British Thai man called Wisan and willing to seduce Rattanawadee. The trip continues to Hamburg, Liechtenstein and then to the Swiss lakes. Love starts slowly to emerge. Jealousy also changes side as they meet a Thai tourist, Sasi, having high interest in Lek. Rattanawadee wishes to push Lek to marry Sasi as she is coming from a rich family but Lek will marry somebody for love and not for money. Sasi is rich (รวย) but has no manner (มารยาท). Finally Lek is uncovered as Prince Sadet working for the London embassy. After a short ire from Rattanawadee to have been abused, reciprocal love is declared. This movie has a typical scenario similar to many 1980s romantic movies where the two protagonists don't know their real status and identity. It looks like European countries discovery for Thai people. Whoever car driver or princess everybody expects love.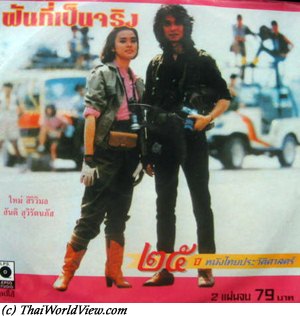 Year

: 1985



Thai title

:

ฝันที่เป็นจริง




English title

:



Rating

: 2/5


Director

:



Main actor

:


Main actress

: Mai Charoeunpura
Kratae's team (กระแต ) is hired by a Japanese company to shoot beauty of Thailand. They go to Sukhothai, Lopburi and its numerous bats coming from caves, Chachoengsao provinces. Two teams are in fact in competition. The second team is lead by Khae (เข้). Then they all go to Phitsanulok to shoot the flying vegetables (ผักบุ้งลอยฟ้า). They attend to many festivals (ประเพณีเก่า) in various provinces such as Phi Ta Khon in Dansai, Loei Province. It is also a way to show provincial food (Isan) and fruits. The two teams compete together (ผู้ชายเก่งกว่า - สู้กัน). Following a race, their equipment is damaged. So they have no choice than collaborate. They go to the Cobra snake festival in Khon Kaen, to the Phichit Boat Races, to Erawan Cave in Udon Thani, to Kaeng Khut Khu at the Laotian border (Chiang Khan) and finally to Phuket island. This movie shows many unseen touristic sites in Thailand. This movie is about tourism in Thailand with a love story as background. It is nice to see Phi Phi island without nowadays massive tourist development. The Japanese company was trying to locate some old Thai treasures thanks to the two Thai teams. Their bad stratagem is nosed out on time.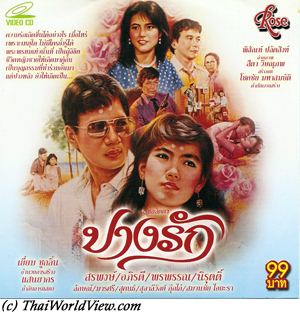 Year

: 1985



Thai title

:

ปางรัก




English title

:



Rating

: 3/5


Director

:



Main actor

: Sorapong Chatree,Nirut Sirijanya,Lak Apichat


Main actress

: Apiradee Pawaputanon
The father of a young lady is killed during a car accident by a rich young man. The young lady becomes a staff in his company to get her revenge. In fact two brothers are leading the company and she confuses them. She refuses the love of one of the brother assuming he is responsible of her father's death. Will love be the strongest?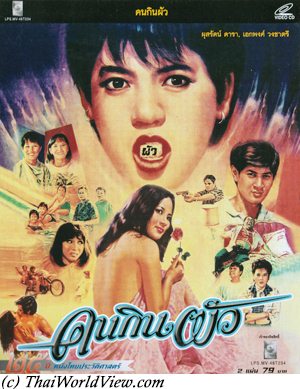 Year

: 1985



Thai title

:

คนกินผัว




English title

:



Rating

: 3/5


Director

:



Main actor

: Rong Kaomulkadee,Boo Wibunnan,Thuam Thoranong


Main actress

:
Thai movie คนกินผัว was released in year 1985 and lasts 1h46mn. The movie is available through VCD and VHS format. Movie director is พิมพานนท์. Actors and actresses featured in this movie are ผุสรัตน์ ดารา, เอกพงศ์ วงศ์ชาตรี, แข ลดา, Rong Kaomulkadee, Boo Wibunnan. Young lady Dalika (ผุสรัตน์ ดารา) is having a rich boyfriend, called Pracha, but they cannot marry as the man hasn't divorced yet. Pracha is shot by a hitman in Bang Saen. Dalika gets help from Niwat and Sampan (Thuam Thoranong). Dalika's mother (แข ลดา) always keeps trying to marry her daughter to a rich man. She has two daughters, Kim and Dalika. As Pracha is dead, the mother needs to find a rich new bachelor. Niwat finally marries with Dalika. He doesn't inform his nephew Kingpan (เอกพงศ์ วงชาตรี) currently in USA. Being already old, Niwat dies during the honeymoon due to heart disease. Rong Kaomulkadee has a comic role. Kingpan is finally back. Kingpan wishes to save money as his uncle business is losing money. So he imposes budget reduction (เศรษฐีขี้งก). Dalika has to move from Bangkok to Bang Saen in order to work in the hotel. Kongpan has bad feelings over Dalika (ดูถูกตลอดเวลา). Hotel customer Boo Wibunnan is interested in Dalika. Dalika and Kingpan will only get the heritage if they do marry (แบ่งสมบัติสักที) but Kingpan refuses. Kingpan has a wife, called Vicky, in America already. After talking to Sampan, he needs the money for the wedding. This time Dalika refuses. Upset by his behavior, she keeps refusing. Dalika asks him to pay phone bill for USA as it is personal bill. Boo Wibunnan dies following electrocution so her third wedding tentative is a failure. Dalika still refuses to marry Kingpan as she doesn't want a fourth man to die. Seeing Kingpan unhappy and drunk, she finally accepts to marry him (แต่งในนาม) for his happiness with Vicky. On the wedding night, King gets sick. Dalika takes good care of him and they become lovers. Upset with Vicky, Kim falls in the sea after trying to kill Vicky. Ready to leave Thailand, Vicky hears Kingpan and Dalika love declaration. Dalika is pregnant with Kingpan. Knowing this, Vicky has pity over Dalika and announces Kingpan she is going back to USA alone.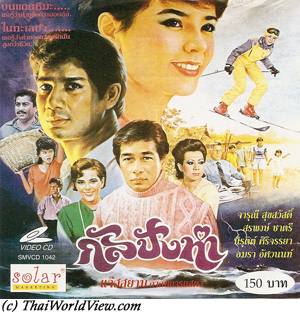 Year

: 1985



Thai title

:

กัลปังห่า




English title

:



Rating

: 3/5


Director

:



Main actor

: Sorapong Chatree,Nirut Sirijanya


Main actress

: Jarunee Sooksawad
A young wealthy Thai lady is coming back to Thailand after having spent a few years abroad. She quarrels with one of her father's employee, a fisherman. Despite their social differences and thanks to his kindness, she finally appreciates the fisherman's world. But her parents want to marry her to another man. Her mother fires the fisherman. Will the young lady ever find happiness?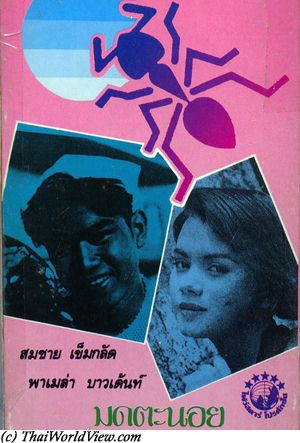 Year

: 1985



Thai title

:

มดตะนอย




English title

:



Rating

: 3/5


Director

:



Main actor

: Toon Hiransap,Settha Sirachaya,Lak Apichat,Sithao Petcharoen,Rong Kaomulkadee


Main actress

: Apiradee Pawaputanon,Pissamai Wilaisak,Thitima Sangkapitak
Young lady Tanoi comes unexpectedly in Khun Nai's house. She claims to be part of the family and wishes to get her share of heritage (มรดก). A lawyer acknowledges the fact but Tanoi will get full heritage when getting married only. Until this date, the heritage is still under Khun Nai's guidance. Tanoi is coming from countryside and is strong at boxing (ต่อย). She has arguments with the neighbour Doctor Chiwan. Tanoi's mother was chased from home twenty years ago by Khun Nai. She doesn't want to take revenge (อย่าชนะความชั่วกับความชั่ว). Tanoi decides to study abroad to show her worthiness to all including Doctor Chiwan. Chakrin, son of Khun Nai, has high interest into Tanoi. There is opposition between countryside lifestyle and Bangkok city lifestyle as Tanoi is coming from salt fields area. She goes back to visit her village with Chakrin. One of the villagers still loves Tanoi. An usual fight between ladies happen. Those fights are always a success with Thai audience with lakorn or 1960-1980s decades movies. Following a car accident, the villager and his sister Saen Dao stay in Doctor Chiwan's home to be closer to Tanoi. While Tanoi is studying abroad, the mother Khun Nai plays cards and sells the furnitures belonging to Tanoi. Khun Nai's daughter indulges herself in alcohol. The mother needs to flee as she cannot pay her debts. After five years abroad, Doctor Chiwan doesn't recognize Tanoi and is mistaken by her as a driver. She is a new Tanoi. She even forgives Khun Nai and her daughter but this latter accepts only to plan to kill Tanoi in order to get the full heritage. Tanoi is kidnapped but saved by Doctor Chiwan and the police. The movie ends happily and bad people are punished. Khun Na's daughter receives the acid she wanted to throw on Tanoi. Saen Dao and the villager have to accept that their love to the doctor and Tanoi are impossible. Doctor Chiwan recognizes his mistake to having looked down poor Tanoi. It is a typical 1980s movie with the leading actress being cross with the leading actor and facing issues with the jealous mother and her daughter. This movie shows the social ascension of a poor lady and that through education the poor lady can become a good person (ผู้ดี). Bad and rich people seem to win over good and poor people but finally there are justice and karma impacts (กรรม).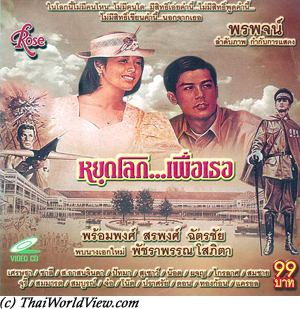 Year

: 1985



Thai title

:

หยุดโลกเพื่อเธอ




English title

:



Rating

: 3/5


Director

:



Main actor

: Sorapong Chatree,Chatchai Plengpanich,Prompong Nopparith,Sor Asanajinda,Settha Sirachaya,Suchao Pongwilai


Main actress

:
During World War II in Thailand, three men love the same woman, one is a Japanese officer whose former wife looks like same the Thai lady, one is a dumb Thai man, the last one is a Thai man collabotating with Japanese soldiers but in fact being an insurgent helping British intelligence.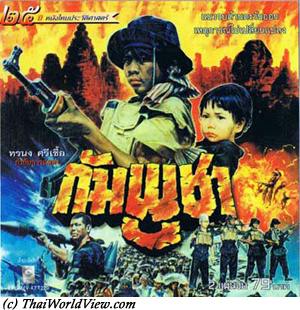 Year

: 1985



Thai title

:

กัมพูชา




English title

: Kampuchea



Rating

: 3/5


Director

: Toranong Srichua



Main actor

:


Main actress

:



Buy now

:

This story takes place in Cambodia in year 1979. It deals about the story of a young boy called Som Bak (ซอม บัค) whose life is impacted by war. Many wars were suffered by his village through French, US bombs, Red Khmer (เขมรแดง), Vietnamese invasions. Villagers are fleeing to Thailand. His father wishes to train his young son to fight and be able to kill people. The movie takes place the year Vietnam invaded Cambodia / Kampuchea to chase the Red Khmers. Vietnamese are using tanks and strong artillery so Khmer soldiers are wiped away. No prisoners are spared. Gas is used. Som Bak is now able to use a M16. As Vietnamese soldiers are coming close to the village, the family needs to flee to the border. Som Sak's parents die during the village attack. Vietnamese soldiers are shown as ruthless soldiers killing civilians and applying torture to get information from prisoners. Som Bak needs to bring his young sister at the Thai border (ชายแดนไทย) as Thailand is a land where peace is present. Som Bak and his sister are captured by Vietnamese soldiers but released as they are only children. There is an impressive reminder of the killing fields with a temple full of skulls. Som Bak then recalls atrocities told by his father regarding civil war in Cambodia and what Khmer red soldiers have done to civilians. On the way to the border he meets some children soldiers (สหาย). They are going to battle field refusing to leave Kampuchea. Feeling ashamed, Som Bak gives her sister to an aunt and goes to battle field. He helps to contact the HQ by going around enemy lines so that they can send some troops to help defending a strategic bridge. Thanks to those additional troops, the Khmer soldiers push back the Vietnamese soldiers. As a retaliation, they shell the civilians fleeing to Thailand. Som Bak's young sister is part of them. Knowing that her young sister is now out of danger in Thailand, Som Bak stays in Cambodia to fight against invaders as it is his duty to protect his own land. This movie was released overseas in few countries like Spain under the name " Kampuchea La Historia jamas contada". It is often wrongly dated as year 1974. This movie has of course some nationalist traces. This movie is often considered as Thai remake of movie "Killing Fields" by Roland Joffe.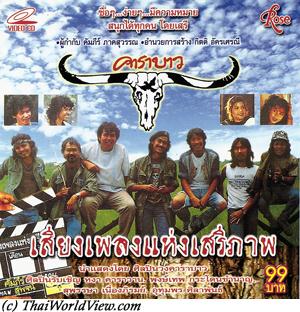 Year

: 1985



Thai title

:

เสียงเพลงแห่งเสรีภาพ คาราบาว




English title

:



Rating

: 2/5


Director

:



Main actor

:


Main actress

: Supansa Nuengpirom



Buy now

:

It deals about the creation of the famous Thai pop group Carabao. So it features many Carabao songs.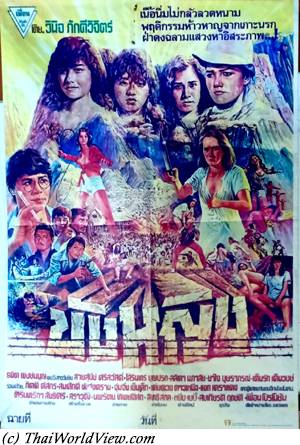 Year

: 1985



Thai title

:

ขังหญิง




English title

:



Rating

: 3/5


Director

: วินิจ ภักดีวิจิตร



Main actor

: Tanit Pongmanoon,Somsak Chaisongkram,Joomjim Khemlek


Main actress

:
Thai movie ขังหญิง was released in year 1985 and last 1h30mn. It was released under VCD format by Lepso company. Thai actors and actresses include Tanit Pongmanoon, สายสุนีย์ ศรีสวัสดิ์, โสรินทร์ บุญปรก, พาต้า ศรีดาวทอง, กิตติ ดัสกร, Somsak Chaisongkram, Joomjim Khemlek. Movie director is วินิจ ภักดีวิจิตร. Thai movie ขังหญิง recalls Thai movie แหกค่ายโลกีย์ released in year 1984. Wut delays his wedding with teacher Anita as he claims his parents do not agree. But he is having an affair with another woman, so Anita shoots him. She ends up in jail and is sent on a remote island. Many women are held prisoners (นักโทษ) on this remote island. Men are the keepers including Joomjim Khemlek and Thong Kam (กิตติ ดัสกร). Dasapranee (Somsak Chaisongkram) is the head of the keepers. Some keepers are women such as Suda and Jenny. Jenny is also an inmate, but she gets special treatment. Inmate Taiwan shot her husband and her best friend as they were having an affair together. All women in this prison have killed their boyfriend or husband. Woman keeper Jenny likes Anita, but her friends protect her. Rules (กฎ) are very strict and punishment is hard. Doctor Prasadee (Tanit Pongmanoon) tries to help. Some men abuse the women. Jenny tries to abuse Anita, but Taiwan helps again. Taiwan gets whipped by Suda. Doctor Prasadee brings her to hospital as she is seriously injured. Anita convinces Somsak that Taiwan is innocent. Another inmate, Oradee, is found to be pregnant. Other women suspect doctor Prasadee but he claims he is not the father. Dasapranee also claims he is not responsible. There is also an ongoing traffic of drugs on the island. Thong Kam gives drugs to women to make them addicted and docile. Some women try to flee. The traffic is done by a few men including Thong Kam. Taiwan is aware that Thong Kam is responsible for Oradee's pregnancy, so he tries to kill her but fails. A stranded man arrives on the island. He is friends with Thong Kam and has come to prepare an insurrection. Taiwan has arguments with Suda and ends up in a security jail. Taiwan's friend, Varadee, sleeps with Somsak to have her released. Ruffians take over the island and force the inmates to dig for gold. Dasapranee is injured and the doctor succeeds to flee. Varadee is rejected by Thong Kam as she is just an addict. The doctor releases Dasapranee and a few inmates. Shootings happen between Prasadee, Dasapranee and the ruffians led by Thong Kam. Inmates do rebel against their keepers. Many of them die including Taiwan and Varadee. Finally, Thong Kam is also shot. Prasadee and Anita leave the island while Dasapranee has to continue running the prison.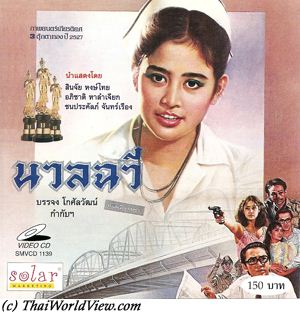 Year

: 1985



Thai title

:

นวลฉวี




English title

:



Rating

: 3/5


Director

:



Main actor

: Apichat Halamjiak,Krailat Kriengkrai,Somsak Chaisongkram,Sompong Phonmitr,Somkuan Krajangsat


Main actress

: Sinjai Hongthai,Sarinthip Siriwan,Wiyada Umarin



Buy now

:

Thai movie นวลฉวี was released in year 1985 and lasts 1h56mn. It has received three Thai awards. Somsak Chaisongkram and two other men carry a dead body at nighttime. Utit (Apichat Halamjiak) is waiting for them and they take the body away by car. On the following day, Sompong Phonmitr finds a woman body floating in the river. It makes news headlines. The body is identified to be a nurse called Nuan Chawee (Sinjai Hongthai). This movie deals about the police enquiry to find who has killed the nurse. Utit (Apichat Halamjiak) is her husband, a doctor, and is claiming her dead body. Utit is interrogated by police. นาย Cheut and his wife, also a nurse, are suspected. Tuwit (Krailat Kriengkrai) is suspected as he used to love Nuan but as this love was not reciprocal, he married another lady. The movie has flashbacks between the investigation and Nuan's story. Nuan and the doctor met each other in the hospital. Nuan fell in love with him and accepted to become his girlfriend. The doctor was going to be sent to Lampang. Nuan was waiting eagerly for the doctor to be back. Nuan presented her father (Somkuan Krajangsat) to doctor Utit as she hoped Utit would ask her hand for wedding. The love was not shared. Utit started to be fed up with Nuan (รำคาญ). Nuan was upset. Fed up by the doctor's lack of responsibility (ไม่ยอมรับผิดชอบ), she threatened to shoot him if he didn't marry. Under pressure, doctor Utit accepted. But the doctor's mother (Sarinthip Siriwan) refused to accept Nuan. Nuan and her father complained to the hospital's director. It caused Utit to be very upset and he hit Nuan. Nuan saw doctor Utit with another girl (Wiyada Umarin). Two brothers were involved in the murder. As Nuan learnt Utit had also married Umarin 6 days after her, she threatened the doctor to go to justice. Utit was fed up with Nuan as she could really mess up his future and position in the society. Wiyada saw her a competitor. So everything was in place to get rid of Nuan and to kill her with the help of the local undertaker (สัปเหร่อ) Somsak and the two brothers as intermediates. Wiyada and doctor Utit finally recognize their culpability. It is based on a real story, which happened in year 1959.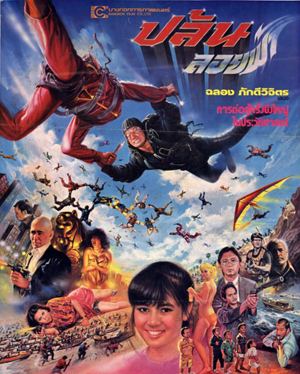 Year

: 1985



Thai title

:

ปล้นลอยฟ้า




English title

: Eye of the condor



Rating

: 3/5


Director

: Chalong Pukdeewichit



Main actor

: Sorapong Chatree,Sayan Chantaraviboon,Thep Po-ngam,Krung Srivilai


Main actress

:
Many guests including Indian merchant Imadoo (Krung Srivilai) are invited to a diamond show to see the famous Diamond Rasamee. Komkrit (Sorapong Chatree), young playboy, is also present. Following a mess during the show, the power supply is cut and Komkrit succeeds to steal the big diamond. The diamond owner dies due to heart crisis. His son promises to take revenge. Komkrit flees thanks to a delta-plane. Komkrit is always accompanied by a dwarf. Komkrit has been hired by ruffian Araki to steal the diamond. Araki is dishonest and tries to get rid of Komkrit. Following a fight, the diamond falls from the window. Two skilled policemen, Den, coming back from America, and Ms Pisawat are responsible to catch Komkrit (โจรปล้นเพชร). Den is a blunderer. Komkrit and his dwarf assistant are looking for the diamond into a slum they believe it falls in. They are aggressively welcomed by a bunch of other dwarfs. Their younger sister (น้องสาว) is Pheung. A romance starts between Pheung and Komkrit. Araki is also looking for Komkrit. The diamond is finally found on the roof of Pheung's house. Following fights and chase with ruffians and police, the diamond is lost in an ice factory. Den forces Komkrit to help the police if he wants to escape prison. The diamond is found in soft drink ice bag. One of the dwarf swallows it. Araki's team and also Imadoo's team fight each other to get the dwarf. Imadoo claims this jewel is a sacred item for his Indian religion. Komkrit finally gets back the diamond following a fight with Araki's ruffian in the air on parachute. Meanwhile Pheung and the dwarfs are taken as hostages (ตัวประกัน) and have to be exchanged against the diamond to save their life. The police and Komkrit storm Araki's secret base at nighttime. It is also storing a huge stock of weapons. Final part of the movie is a typical James Bond sequence with an impressive number of jet- skis invading the island. Traitors to Thailand are punished. Diamond is finally given back to India. As usual with director Chalong Pukdeewichit, his movies include a mix of action, comedy, a few foreign actors and a spice of sexy actress. The movie ปล้นลอยฟ้า is known overseas under the name "Eye of the condor".



Year

: 1985



Thai title

:

ไกรทอง 2




English title

: Kraithong 2



Rating

: 3/5


Director

: Sompote Sangduenchai,Neramit



Main actor

: Sorapong Chatree,Sombat Methanee,Sor Asanajinda,Lor Tok,Lak Apichat,Der Doksadao


Main actress

: Ampha Pusit,Aranya Namwong,Supansa Nuengpirom,Duangcheewan Komolsen



Buy now

:

Thai movie ไกรทอง 2 was released in year 1985. It was released under VCD and DVD format by Tiga Company and lasts 1h33mn. The Betamax version lasts 1h49mn. The main difference is longer sequences with a Chinese master (อาจารย์). Main actors and actresses featured in this movie are Sorapong Chatree, Sombat Methanee, Sor Asanajinda, Lor Tok, Lak Apichat, Ampha Pusit, Aranya Namwong, Supansa Nuengpirom, Der Doksadao, Duangcheewan Komolsen. This time Kraithong faces a man, who has also the power to change himself into a fearful crocodile. Thong (Suphansa Nuengpirom) and Kaew (Ampha Nuengpirom) are Kraithong's wives. Wimala (Aranya Namwong) and Malaiwan (Duangcheewan Komolsen), former Chalawan's wives, are staying in a cave under the river. Sor Asanajinda is a powerful hermit. Sor asks Wimala (แม่นาง) not to disturb humans anymore. Meanwhile a crocodile takes away a baby and his father. The mother goes to Chinese shrine to ask help from a Chinese master (Lor Tok). Der Doksadao and เหี่ยว are playing medium assistants in the Chinese shrine. A funny and long sequence featuring the master showing his surnatural skills towards Der Doksadao is present in the betamax but cut in the VCD version. A government official offers a reward to kill the crocodile. The crocodile continues his rampage and attacks a floating market, humans and even a buffalo. Kraithong visits a master mentioning that crocodile Chalawan is back. The crocodile is in fact half human (Lak Apichat) half spirit (จระเข้ผีสิงห์). Lak agresses Chalawan's wives in the cave. The Chinese master, despite his supernatural skills, is killed by the crocodile. Some scenes where Lor Tok is featuring his flying skills are cut from VCD but present on the BetaMax. The crocodile then attacks the house where Thong and Kaew are living. After a rampage, Kaew is kidnapped by the crocodile played by Lak Apichat. Wimala wishes to use Lak to take revenge over Kraithong. Chalawan is back per incantations from Sor. He is upset that his wife Wimala replaces him so fast. So Wimala pushes Lak to kill Chalawan. Upset about Kaew, Kraithong heads towards the cave. He faces Lak, already injured by Chalawan, and succeeds to defeat him. Chalawan then defies him again. Following an epic fight, Chalawan is defeated again and Kraithong brings Kaew back.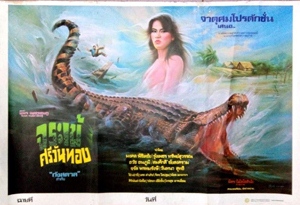 Year

: 1985



Thai title

:

จระเข้ศรีวันทอง




English title

:



Rating

: 2/5


Director

: กังสดาล



Main actor

: Somsak Chaisongkram


Main actress

:
Thai movie จระเข้ศรีวันทอง was released in year 1985 and lasts 1h25mn. It was released under VCD format by company Rose. Sexy sequences are cut from the VCD. Movie director is กังสดาล. It features actors and actresses มงคล พิชิตชัย, แพร เพชรชมพู and รุ้งเพชร ทรัพย์สุวรรณ. The story of Wan Sri Thong was released in two parts, i.e. จระเข้ศรีวันทอง (1985) and เจ้าแม่จระเข้ (1987). A crocodile attacks a villager. Later on, villagers shoot and injure that crocodile. Two villagers help a young lady being injured and called Wana. She is in fact crocodile spirit Sri Wan Thong (ศรีวันทอง) fleeing villagers ire. Tong and Tuan help young lady, Soi Klin, aggressed by a crocodile man managed by master (หมอ) Pin. Her father was just killed by the crocodile man. Tuan meets Wana (แพร เพชรชมพู) inside the forest. As she has no more relatives, Tuan asks her to stay with her sister but she prefers to stay in the forest. Tong discloses to Soi Klin, Tuan's younger sister, that Wana is crocodile spirit Sri Wan Thong. Tuan refuses to believe Tong. Villagers Phi Am and Phi Man are fishing. Phi Man is killed by the crocodile spirit. Phi Am has to announce the bad news to wife Rarai. The villagers organize an urgent meeting. Phi Am refuses to respect Sri Wan Thong anymore and promises to kill the crocodile spirit. Master (หมอ) Fak is hired. Master Fak (Somsak Chaisongkram) is arriving in the village. Drunken Phi Am urinates on Sri Wan Thong's shrine. Master Thong asks Sri Wan Thong not to kill Phi Am. Many ladies (Sai, Nuan...) like Thong. It makes Sri Wan Thong to be jealous as she loves secretly Thong. Master Fak, hired by the subdistrict headman, tries to capture the crocodile. It is a failure and Phi Am is killed during the mess. Meanwhile Tuan is looking for Wana. Sri Wan Thong, alias Wana, pushes Tuan to fight with Thong until Thong sends a magic amulet over Sri Wan Thong so Tuan realizes that Wana is Sri Wan Thong! Sai is brought back home by master Fak. She claims to hurt her ankle to entice master Fak. Sai becomes Sri Wan Thong and kills master Fak. Sri Wan Thong wishes to get an agreement with Thong. She agrees to stop killings if master Thong stays with her for three months. The story continues in movie เจ้าแม่จระเข้ (1987).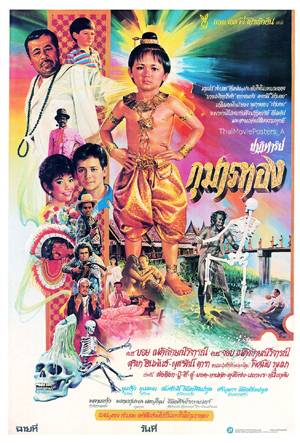 Year

: 1985



Thai title

:

ปาฏิหาริย์กุมารทอง




English title

:



Rating

: 2/5


Director

: พลายแก้ว



Main actor

: Lor Tok,Suriya Chinaphan,Supakorn Srisawat,Boo Wibunnan,Doo Dook Kradon,Krong Kangkengdaeng


Main actress

:
Thai movie ปาฏิหาริย์กุมารทอง was released in year 1985 and lasts 1h28mn. The movie was released under VHS format and VCD format by Solar. Director is พลายแก้ว. Thai actors and actresses featured in this movie are Lor Tok, Suriya Chinaphan, Supakorn Srisawat, Boo Wibunnan, Doo Dook Kradon, ทานทัต วิภาตะโยธิน, Krong Kangkengdaeng, นภาพร หงสกุล, หนึ่งฤทัย, ผุสรัตน์ ดารา, ยอด. A wandering monk, giving advice to the local community, has a magical baby spirit statuette (กุมารทอง). He leaves the statuette behind as he is entering the forest for meditation. Village leader Boo Wibunnan is having a gambling den. Boo is married to a new young wife (พิศมัย ภุมมา). Tok (Supakorn Srisawat) is Boo's right hand. A teacher (Suriya Chinaphan) is trying his best to teach children as the school lacks money. The monk leaves the statuette to an old couple. The baby spirit asks them to keep the secret. A couple is having an issue as the husband is losing a lot of money by gambling in Boo's place. The grandma and grandma are worried about their grandchild. The gambler even sells his kid on a bet. Master (อาจารย์) Lor Tok arrives in the village. He is a fake master. The baby spirit warns him to behave properly and uses him to defeat Boo, who is abusing the local community. First many villagers win money through a lottery organised by Boo. Boo then challenges Lor Tok to organise a lion dance contest to win back his money. Boo loses again a lot of money. Money is used to improve the local school facilities. The teacher and Pim (ผุสรัตน์ ดารา), Boo's daughter, get on well. Boo is upset with this relationship. Boo and his new wife believe Pim is betraying them. The teacher is beaten and captured while visiting Pim in her room. They finally succeed to escape. Boo hire hitmen (including Doo Dook Kradon) to get rid of master Lor Tok. They fail. Tok suggests a master from Malaysia. The master is resurrecting a vampire (ผีดิบ). The baby spirit and its skeleton associate defeat the vampire also. Villagers can enjoy a peaceful life without gambling. This comedy includes many comic actors from decade 1980s.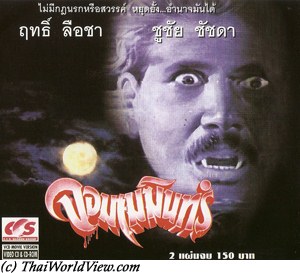 Year

: 1985



Thai title

:

จอมเมฆินทร์




English title

:



Rating

: 1/5


Director

:



Main actor

: Rith Luecha,Note Chernyim,Krai Kanchit


Main actress

:
This movie related to a vampire is another B grade Thai horror movie. Dead bodies are found in a village. Doctor Solot is ordering his caretaker to find bodies part. Nobody in the village can meet or see doctor Solot. Doctor Solot has one exorbitant eye and needs to finish a mysterious job. He wishes to make a perfect creature with dead elements. Meanwhile a few Bangkokian friends (Eung, Dong, Vichak) arrive in the village. The Frankenstein creature created by doctor Solot is defeated. At the same time a vampire spirit (วิญญาณ) is released unfortunately by a villager lady called Tengnam. The spirit was prisoner of the bottle previously by the local sorcerer (หมอผี). The vampire, called Maekin (เมฆินทร์), takes possession of doctor Solot's body. He is looking for beautiful ladies blood. He likes a young lady called Eungkam. A nun (Nang Suchatada) arrives in the village. The vampire wishes to get nun Suchatada as his wife. The nun, the Bangkokian friends and Eungkam unify their efforts to fight against the vampire. The local sorcerer contacts an hermit (ฤาษี) to know how to get rid of the vampire. Three weapons are needed to kill the vampire, i.e. jasmine flower (ดอกมะลิ), a magic sword and blood from virgin. Tengnam is also under the vampire spell. She gives poisoned fruits to the local sorcerer who dies. Anyway the nun succeeds to get all ingredients to fight the vampire. The vampire is defeated by the nun but many villagers and Vichak die. This B grade movie has a little budget, simple Fx effects and features many deaths. It is a remake of the movie shot in 1973 with Sombat Methanee.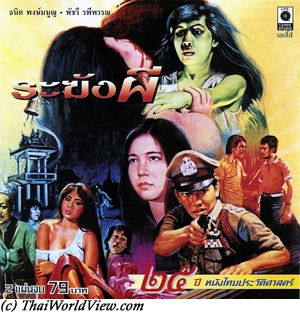 Year

: 1985



Thai title

:

ระฆังผี




English title

:



Rating

: 3/5


Director

:



Main actor

: Tanit Pongmanoon,Sithao Petcharoen,Somsak Chaisongkram


Main actress

: Praew Mardmarud
Village leader (ผู้ใหญ่) Krai is a rich man. His wife Lamduan (ใจสัตว์) is having an affair with An, a local ruffian. Meanwhile An has made Dokmai, a local lady villager, pregnant and swears (สาบาน) to marry her. The child shall be born soon. Chot, Dokmai's brother, is upset by this situation but cannot complain as An is his boss. There is a temple fair with musical folk drama (ลิเก) and a bell is offered to the temple. A nice Buddhist countryside ceremony is shown with the temple bell consecration. It ends tragically as the village leader is pushed into the bell in hot fusion and dies. An becomes the new village leader. A new visitor arrives in the village. His name is Chok and he has been hired by An to protect Pen and her sister Pol, daughters of former Village leader Krai. Lamduan is only their stepmother (แม่เลี้ยง). An will give their heritage back when they get married but he already started to spend a lot. An forgets Dokmai. Village leader ghost (ผีผู้ใหญ่) appears and visits his daughter Pen to tell her the truth and to beware of An. Chok is a hitman (มือปืน) so Pen doesn't trust him either. The ghost kills three ruffians involved in his murder. An still refuses to recognize Dokmai's pregnancy. Dokmai dies in a fire set in her house by An's ruffians. Chot promises to revenge. Lamduan orders to burn both Pen and Pol but Chok helps them on time. Dokmai ghost appears to kill Lamduan as she has taken away An from her. The village leader ghost tries to kill both Lamduan and An as they planned to kill him. Luckily for them the abbot (หลวงพ่อ) amulet chases the ghost away. An recruits a master (อาจารย์) but he is useless. Dokmai ghost strangles Lamduan while she was having a bath so without any Buddhist amulet protection. An hires another master to fight the two ghosts (โจรเราไม่เลี้ยง). Dokmai ghost is neutralised. Chok is an uncovered policeman. He wishes to capture An but this latter escapes and is followed up by Krai ghost. Finally Chot and An kill each other (ทำความชั่วตายจากความชั่ว). Parts of the movie are missing.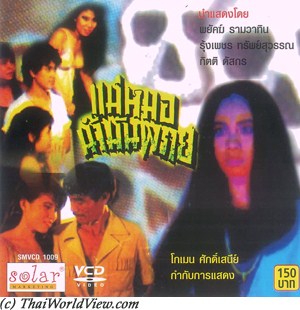 Year

: 1985



Thai title

:

แม่หมอน้ำมันพราย




English title

:



Rating

: 2/5


Director

:



Main actor

: Tanit Pongmanoon,Joomjim Khemlek,Somsak Chaisongkram


Main actress

: Praew Mardmarud
A young girl is found abandoned. She is rescued and adopted by a policeman called Wichai. The policeman is a widower and has two daughters, called Sari and Yupin. Nit is Sari's boyfriend. Nit and his friend Jem are killed by local mafia but are still alive as they have magic skills (วิชา). Local mafia was hired by a witch (แม่หมอ), who is looking to get rid of Nit. She uses the body of the young girl to spy inside the house. She needs more force (พลัง) and is trying to get Nit's heart and body. An entertainment girl, called Waddee, is in love with the father Wichai and convinces him to play big money in an underground casino. Wichai, as a policeman, is using government money to play cards. He loses everything. The dictrict officer (นายอำเภอ) gives Wichai one month to get back the money. Nit and his friend decide to help the policeman and go to play in the underground casino. Thanks to magic skills, they can see inside the dice cup. They get back one million baht. Meanwhile the witch possesses (ถูกผีเข้า) the maid Tawin and then Jin, boyfriend of Yupin. Nit has protective amulets (ของดี) so can chase the witch from their bodies. It is a typical horror movie from the 1980s with a mix of horror, a joke and a slight salacious content. Jem provides a love filter (น้ำมันพราย) for a lady to get back her husband but the thrown bottle reaches a car so creating a crazy situation where the car is in love with the woman. The witch also possesses Yupin. During a final battle with Nit, the witch is defeated.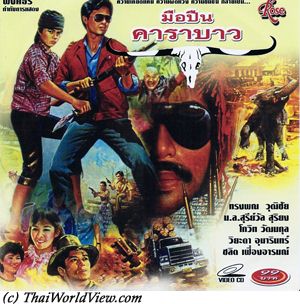 Year

: 1985



Thai title

:

มือปืนคาราบาว




English title

:



Rating

: 2/5


Director

:



Main actor

:


Main actress

: Suriwan Suriyong,Wiyada Umarin
After a double crime, a man flees to the Thai border to stay in his brother's home. On the way, he helps villagers to get rid of local kingpins. His brother is also having problems with the local mafia and is finally poisoned. The man won't let the local mafia get away with this crime...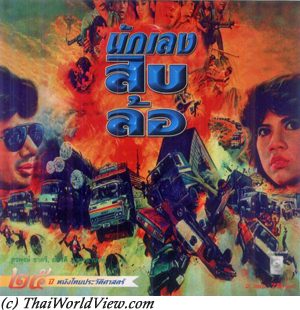 Year

: 1985



Thai title

:

นักเลงสิบล้อ




English title

:



Rating

: 2/5


Director

: Choomporn Theppitak



Main actor

: Sorapong Chatree,Rith Luecha,Nard Poowanai,Lak Apichat,Sayan Chantaraviboon,Somkuan Krajangsat,Doo Dook Kradon,Choomporn Theppitak


Main actress

: Apiradee Pawaputanon,Wiyada Umarin



Buy now

:

Thai movie นักเลงสิบล้อ was released in year 1985 and it lasts 1h37mn. Wut (Sorapong Chatree)(ลูกพี), son of owner of a truck company (รถสิบล้อ), comes urgently from Thailand following request from Lak (Lak Apichat) as his father just died (งานศพ). Sarawat (Nard Poowanai) tries to arrest him as he is over speeding to be on time to the funeral. A bomb explodes during the funeral. His mother (เจ้าภาพ) dies also. Revenge shall happen as his parents' death is a murder. The one, who carried the bomb, is identified as a lady, called Pim (พิมพ์ใจ พรหมมาลี), working in a karaoke. Sia Song (Somkuan Krajangsat), her boyfriend, is aware they spend the night together. Decha (Rith Luecha) is his right hand. Young lady Suntalee (Apiradee Pawaputanon) is leading a mining site and also selling durians (ทุเรียนแม่ค้า). Through a daring tentative, Wut and his team empty Decha's truck causing Sia to lose a lot of money. Umarin is selling trucks. Sia Song is also the shop owner. Wut enquiries on Sia through Song. Sarawat has arguments with tough men but refuses corruption money. As he is always accused to be too strict, he removes his policeman insignia to teach a lesson to the tough drivers. Sia Song orders to shoot Wut but he is only injured him. He gets closer to Suntalee and tells her that he is an undercover policeman. Four men, part of Suntalee's team, plan to betray her in order to steal precious stones (พลอย). Challenged and overwhelmed by the ruffians (คุณจะไม่มีโอกาสเห็นขาอ่อนฉัน), she gets help from Choomporn Theppitak. The traitors join Sia Song's team. Sarawat and Wut try to prevent ruffians doing dirty business at the border. Weapons are hidden in rice bags. They chase Decha driving a big truck carrying teak trees. Drug is hidden in teak trees. Wut and the trucks encircle Sia Song forcing him to surrender. Many great famous Thai actors are present in this movie but the directing is a bit weak. Luk Thung (ลูกทุ่ง) countryside music about trucks is featured in this movie. Trucks (สิบล้อ) in Thailand are ornamented with many drawings and colors.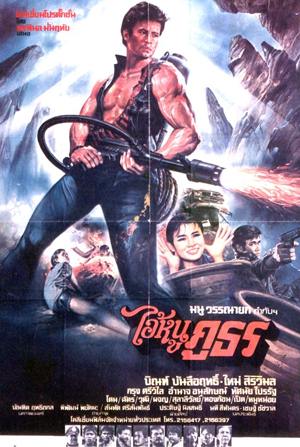 Year

: 1985



Thai title

:

ไอ้หนูภูธร




English title

:



Rating

: 4/5


Director

:



Main actor

: Bin Banleurit,Chat Mongkolchai,Krung Srivilai


Main actress

: Mai Charoeunpura,Sulaleewan Suwanthat
Thai action movie ไอ้หนูภูธร was released in year 1985 and lasts 1h40mn. Movie director is มนู วรรณายก. The movie was released under VHS format before year 1988. It was never released under VCD or DVD format. Thup (Bin Banleurit) is a truck driver delivering goods. His close teammate is named Noi. Thup is getting delivery orders from a warehouse managed by subdistrict headman Chai. Ruffian Chat Mongkolchai is working for subdistrict headman Chai. Each time, they refill petrol, the trucks must pay 20 THB extra fee (ค่าน้ำมัน). This is extortion and it makes Thup and his friends, Krong and Kamsai, very upset. Thup meets his old soldier friend played by Krung Srivilai. Thup still has his mother (Sulaleewan Suwanthat) and a younger sister called Thien. Thup realises that the ruffians try to hide opium in the goods he has to transport. He refuses and quits the warehouse. Subdistrict headman Chai threatens him to keep quiet. Thup helps Rung (Mai Charoeunpura) having her truck stuck in a trench. Subdistrict headman Chai calls local banks and has Thup blacklisted in all local companies. Thup cannot find a new job. Luckily Rung proposes him to work for her and to transport jars (โอ่ง) from Bangkok. He has arguments with Chat and his men when visiting Krung's restaurant. Ruffians try to prevent him to pay back his truck, but it fails. Thup and Noi are ambushed by Chat and his ruffians. Noi is shot by ruffians. It is time for revenge. Thup, helped by Krong and Kamsai, storm a restaurant and shoot Chat and three of his men. Police try to arrest Thup but he flees. Ruffians storm his home and shoots his mother. His sister and Rung are captured. Thup storms subdistrict headman Chai's warehouse to know where his sister and Rung are held prisoners. Chai tells the location and is then arrested by the Police. To avoid long term jail, he also discloses the ruffians' den location, i.e. a remote cave. Thup, Krong and Kamsai enter the place while police and Thai soldiers also try to overcome the place. Thup finds his sister having been killed. The big boss is Krung. Thup is disappointed that Krung, as a soldier, who served Thailand, can behave like this. Thup gets a flamethrower and takes revenge over Krung, who hurt his family very badly.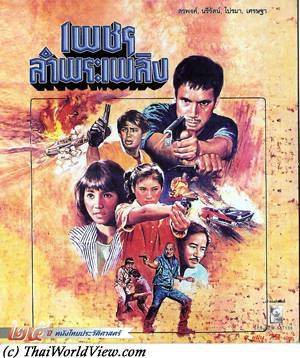 Year

: 1985



Thai title

:

เพชรลำพระเพลิง




English title

:



Rating

: 3/5


Director

:



Main actor

: Sorapong Chatree,Pipop Pupinyo,Krai Kanchit


Main actress

: Nareerat Monsiri



Buy now

:

Some Thai Soldiers are fighting at the border against some communist invaders. Phet (เพชร) and Chat (ชาติ) are two key members of this unit. They deserve a rest. Phet brings Chat back to his village. Meanwhile the village headman (ผู้ใหญ่) is killed by a professional killer (มือปืน). Khun Thana, a local influent man, is responsible of his death. Mae Ploy, a child called Haeng, Phet and Chat are witnesses of the murder. Thana wishes to suppress all witnesses. As the future of the country (ชาติ) is endangered if children don't go to school, Phet and Chat decide to protect Haeng and the school. Luckily for the two soldiers, the two teachers, Porn (ครูศิริพร) and Plang (ครูปราง), are also beautiful ladies. Phet captures one of the killer in the city. Thana tries to use his influence to release the killer. Phet meets Lady Kanya (กันยา), a local company owner, having issues with local mafia. Jealousy starts between Kanya and Porn regarding Phet. Following a gun fighting in the school, a student is killed. A car chasing happens in the city and finally the child killers are punished. Phet is captured but succeeds to escape. Phet is played by Sorapong Chatree with a beard. A barber scene is inspired from Sergio Leone western spaghetti movies. Kanya (ขายชาติ) proposes to Phet to steal army weapons but he refused and is held prisoner. As Phet has disappeared, Chat and the two teachers look for him. Chat helps to release Phet. Two former solder friends (ทรยศชาติ) are now working for Thana. They complain that Thai government didn't support them properly. Finally following Phet's touching words, they change side and sacrifice themselves for the nation (เป็นคนไทย). The two former soldiers sacrifice their life to destroy the ruffians' explosive stock. It is a typical action movie from 1980s with nationalist aspect and highlighting children education importance for the future of the country. It is only a 68 minutes movie so part of the movie might have been cut.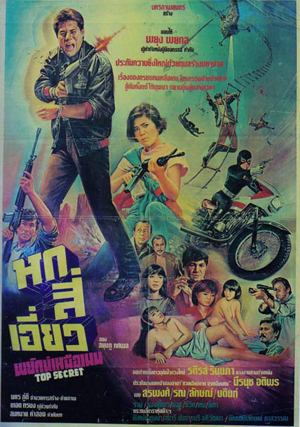 Year

: 1985



Thai title

:

หกสี่เอี่ยว พยัคฆ์เหนือเมฆ




English title

: Top Secret



Rating

: 3/5


Director

: Payoong Payakul



Main actor

: Sorapong Chatree,Lak Apichat,Sithao Petcharoen,Ron Rittichai


Main actress

:
Thai movie หกสี่เอี่ยว พยัคฆ์เหนือเมฆ was released in year 1985. Payoong Payakul is movie director. The movie is lost in Thailand but a sequence of 47 minutes is left to be seen. Lak Apichat is playing a police inspector (สารวัตร) role. Veteran actor รณ ฤทธิชัย is playing a ruffian role. Sithao Petcharoen is playing a comic role as useless policeman. In Thai the countryside, goods exchange shall happen between Sing and a group of soldiers led by Reuang (Sorapong Chatree). They arrive by parachute. Sing plays double role and kill the soldiers including Reuang. A bit later, Sing and his ruffians are also killed by mysterious men wearing black clothes. So nobody knows where the goods (สินค้า) end up. Reuang survives and agrees to look for the culprits. Reuang is arrested by the police. Ruffians learning that he is not dead wish to capture him to identify where their goods are hidden. They succeed to release him but Reuang admits he has no clues where the goods are. Later on, Apichat and a policewoman catch Reuang to know where the goods are hidden but to no avail. Reuang is seen by all as the key entry point (กุญแจดอกสำคัญ). Those goods are important at Thai national level. Reuang accepts to collaborate with the police. The left sequence ends up here. Movie หกสี่เอี่ยว พยัคฆ์เหนือเมฆ was also used in IFD movie Top Secret.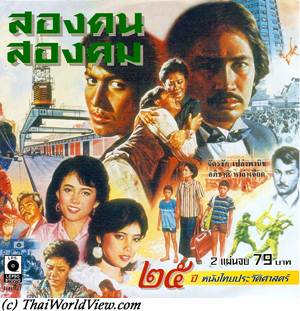 Year

: 1985



Thai title

:

สองคน สองคม




English title

:



Rating

: 3/5


Director

:



Main actor

: Chatchai Plengpanich,Apichat Halamjiak


Main actress

: Pissamai Wilaisak
It is the story of two brothers. One is a heroin mafia boss, who wants his brother to study at university and supports him with the money earned from dealers. Once studies finished, the brother becomes a policeman and discovers his brother's job. What is he going to do?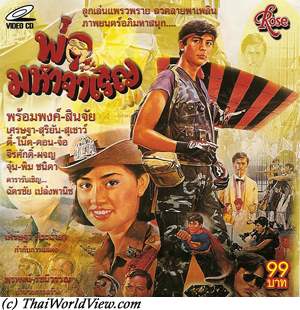 Year

: 1985



Thai title

:

พ่อมหาจำเริญ




English title

:



Rating

: 2/5


Director

:



Main actor

: Prompong Nopparith,Chatchai Plengpanich,Note Chernyim


Main actress

: Sinjai Hongthai
A Thai thief is accomplishing spectacular robberies with his associate. One day, he is caught by a policewoman. In order to avoid being jailed, he has to help her to get a precious diamond back.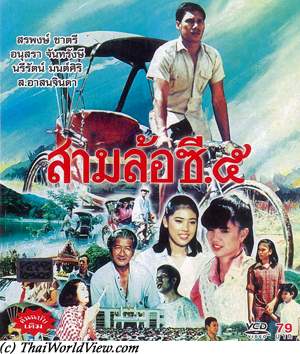 Year

: 1985



Thai title

:

สามล้อ ซี.๕




English title

:



Rating

: 3/5


Director

:



Main actor

: Sorapong Chatree,Sor Asanajinda


Main actress

: Nareerat Monsiri
Lek has been educated in a Thai Buddhist temple. His mother, fed up by the drunkard behavior of her husband, has become a Buddhist nun. Lek is now a teacher. He saves one of his student from drowning. His mother Namphrao thanks him and has interest with Lek but nothing happens between them. Namphrao has to go abroad but continues to send letters to Lek. Finally Lek got married to Lamai, the daughter of a rickshaw driver. His teacher salary is not enough so Lek has to work at night time as a rickshaw driver. He receives praises from the Thai administration for his dedication over children. He even become the rickshaw's president association. Namphrao is back and it causes jealousy from Lamai. Wishing to open a new business, Namphrao withdrews money from the bank but her money is stolen by robbers. Lek helps to retrieve the money but his family is kidnapped by the robbers. Robbers are killed by the Police and Namphrao leaves Thailand to let Lek and Lamai to have happiness.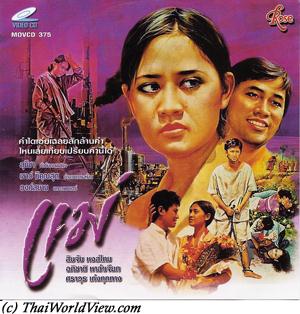 Year

: 1985



Thai title

:

แม่




English title

:



Rating

: 3/5


Director

:



Main actor

: Apichat Halamjiak


Main actress

: Sinjai Hongthai
It is about the strong love between a mother and its child.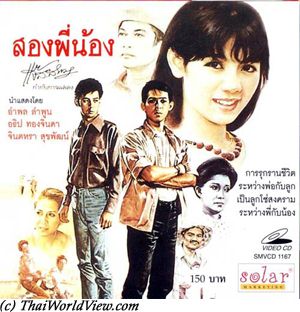 Year

: 1985



Thai title

:

สองพี่น้อง




English title

:



Rating

: 4/5


Director

:



Main actor

: Amphol Lumpoon,Chana Sriubon


Main actress

: Mayurachath Muarnprasitivej,Pissamai Wilaisak,Jintara Sookkapat
Ken's mother left early when he was a baby as she has a mysterious decease. Even the father doesn't know the real reason. The father marries again and has another boy called Ann (Amphol Lumpoon). Growing up, there is always animosity between Ann and Ken. Ann believes their father loves Ken much more than him. Having hot and bad temper, it creates jealously up to the point Ann hits Ken. Willing to clarify with Ann, the father chases him and has a serious car accident. He is disabled. A friend doctor sends his fresh graduate daughter Bin Kaew (Jintara Sookkapat) to help for his recovery. The father is the head of a big farm. Being disabled, the intendant Tiu needs to replace him. The father is strong and strict with his son Ann. The father does not forgive his son's past mistakes. One brother is doing everything good. One brother is doing everything bad. Ken has difficulty to live without knowing why his mother left many years ago. A love story starts between Ann and Bin Kaew. Ann discovers that every month Tiu is going in a remote area in the mountains. Puzzled, he follows secretly Tiu and finds he brings food to a lady. This lady is Ken's mother. She has leprosy disease so hides her-self since 20 years. She is ashamed and doesn't want anybody to know she is still alive. Thinking doing good, Ann brings Ken to see his mother. Ken has still in mind his beautiful mother picture. He cannot stand the vision of his mother aged and disfigured by the leprosy. He flees away. Nobody knows where he is. A few days later, he decides to go to see his mother again but she has commited suicide already disappointed by her son rejection. Ann and Bin Kaew finds Ken on top of the mountain trying to suicide. Unfortunately despite Ann's desperate efforts, Ken falls from the cliff and dies. Ann brings Ken's body to his father and this one has an hemorrhage in the brain. On his bed, before dying, he forgives to his son Ann so that Ann can move forward in his life and not be eaten by remorses.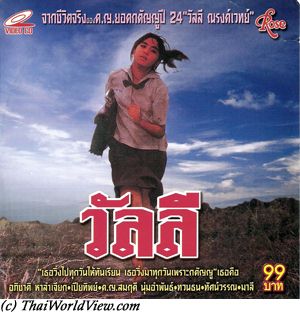 Year

: 1985



Thai title

:

วัลลี




English title

: Walli



Rating

: 4/5


Director

:



Main actor

: Apichat Halamjiak


Main actress

: Piathip Kumwong,Tasawan Saneewong,Malee Wetpraseri



Buy now

:

It is based on a true story. Wally is a girl living with her blind grandmother and mother. Her mother is sick and Wally has to run every day 8 kilometers to go to school and go back to take care of her mother. Villagers think that there is an evil spirit "PHI POP" (ผีปอบ) in the mother's body and hurt her badly. Unfortunately Wally doesn't have money to cure her mother. Wally's bad fate and gratitude ("KATANJOO" - กตัญญู) towards her mother stirs up Thai people and she receives many donations including money and bicycles. But it is too late to cure her mother...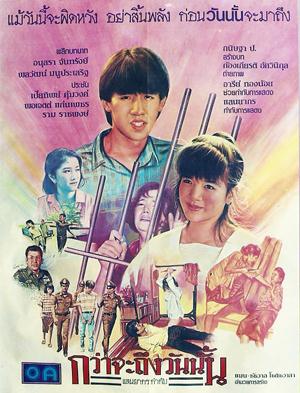 Year

: 1985



Thai title

:

กว่าจะถึงวันนั้น




English title

:



Rating

: 4/5


Director

:



Main actor

: Porjed Kaenpetch


Main actress

: Piathip Kumwong
Ploeun (Piathip Kumwong) is a domestic helper in Chat's house. She has a baby but her husband is currently in prison. The owner of the house, while his wife and kids are away, try to abuse Ploeun. While protecting herself, Chat is stabbed accidentally. Ploeun gives the baby to a temple abbot who renames the baby as Pol. Ploeun surrenders to the police (มอบตัว). Ploeun is sent to jail for ten years. The abbot finally gives Pol to a couple unable to have children as he worries about the child's future if it stays in the Buddhist temple. The couple has finally a daughter called Ann and the secret about Pol's birth is kept. Bad influence (อิทธิพล) is everywhere even inside the prison. Ploeun is condemned to 10 more years in prison following a tragic conflict with another nasty inmate. Pol and Ann are now grown up adults. Ann is fond of a pub singer called Sak. Famous song "กว่าจะถึงวันนั้น" (When that day will happen) is featured. Finally Ploeun exits from prison. The abbot is dead already but she succeeds to find her son. She doesn't dare to tell him the truth in order to avoid damaging his future. She finds a job as domestic helper in the parents' home. She over takes care about Pol so raising concerns by the main house supervisor. Pol is having trouble with his sister as she keeps seeing the singer. He even slaps her to stop this relationship. Exceeded the main house supervisor reveals to Ann that Pol isn't her real brother (ปากเสีย / ปากหมา). Ploeun is ready to stab the house supervisor to protect her son's future. Finally hearing a conversation, Pol knows the truth. Unsure about his future, he starts to work on a construction site (ฝึก). The singer Sak asks 300 000 baht to Ann for a business. Ann believe they will marry (เป็นเขย). As her mother is not so willing, Ann empties her bank account and put her jewels in a pawnshop. Sak loves nobody except money. Finally as Sak is unfaithful with Ann, arguments happens. As Pol is looking for his sister, he arrives at the peak of the arguments. Gun is used. Sak is found dead. Pol is arrested by the police and his step parents reject him arguing it was a waste to have educated him as the blood from his real mother was anyway stronger. In prison, Pol is aware who is his real mother (รับกรรม). During the trial, Ann finally reveals that she is the one who shot the singer. Knowing she was in danger, knowing that the singer made a sex video tape to blackmail her, the tribunal gives a light sentence. Moral of the movie is that good behavior is not always linked to birth circumstances as the birth state doesn't preclude if people will be good or bad. Movie "กว่าจะถึงวันนั้น" was released in year 1985. It is a movie coming from TV Channel 9 through a digital recording but as usual some dialogues are censored by a blank when actors are using strong words.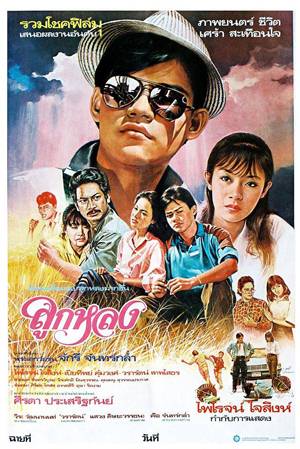 Year

: 1985



Thai title

:

ลูกหลง




English title

:



Rating

: 3/5


Director

: Phairoj Jaising



Main actor

: Phairoj Jaising


Main actress

: Piathip Kumwong,Janthana Siriporn
Thai movie ลูกหลง was released in year 1985 and lasts 1h38mn. Phairoj Jaising is the movie director. A man (Phairoj Jaising) and a woman (Piathip Kumwong) have couple issues as they come from different background. Jaising often goes home late being drunk. Jaising loses his job because of Chirasak (จิระศักดิ์ ปิ่นสุวรรณ). Following another fight with his wife, Jaising flees with his child. Piathip doesn't know where to find Jaising. Chirasak proposes her to become her new husband and to give her an adopted child to raise. She accepts the child named Nat but refuses to marry again. 20 years have passed. Nat (จักรี จันทร์กล่ำ) is now an adult but he is spending a lot of money. His mother Piathip never says no. She is worried about his frequentations. His girlfriend, Pon, claiming to come from rich family, is in fact coming from a poor background and is being pushed by her brother (แมงดา). Pon hires Janthana Siriporn to play her mother. They rent a house to look richer. Going on week-end together, Nat's car hits a young lady, called Kaew (ศิรดา ประเสริฐกันย์), crossing the street. She is Jaising's daughter! Nat is worried about Kaew so he stays behind to visit her every day. Pon goes back home first to borrow money from Nat's mother. Jaising asks her daughter to be careful about Bangkokian young men (หนุ่มกรุงเทพ). Some local young men unhappy about Nat's behavior decide to give him a lesson. They fail. The mother Piathip and Pon come to the poor house to get Nat back. As he isn't there, Kaew gets insulted. Finally, Jaising chases Nat from his home when he knows he is the son of Piathip. Nat accepts to marry Pon following his mother's insistence. Learning the event through newspaper, Kaew asks Jaising to go to the wedding. The wedding is finally broken as it is disclosed that Pon has many debts and Janthana also discloses Pon is not her daughter. Chirasak explains the truth to all parties. Kaew and Nat can have happiness together.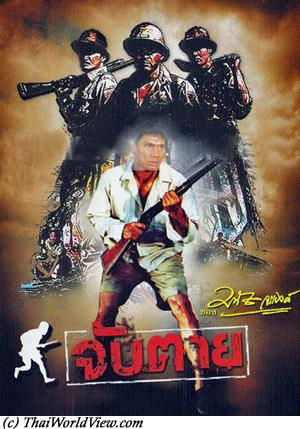 Year

: 1985



Thai title

:

จับตาย




English title

:



Rating

: 3/5


Director

:



Main actor

: Sorapong Chatree,Ron Rittichai


Main actress

:



Buy now

:

Some prisoners (นักโทษ) are used by Rangers police to cut trees in the forest. Porn (Sorapong Chatree) is a quiet prisoner (ครับนาย). Some of the rangers are good men but some are bad guys eager to shoot prisoners when they flee or force them to overwork. Porn is well appreciated by the Rangers police leader as he is always helpful and calm. Krasit, one of the Rangers police, doesn't like Porn as he is too soft. Kasit is spreading rumours of homosexuality (กะเทย) about the two men. Porn is said to have a beautiful girlfriend called Wan in the neighbouring village so Kasit wants to know more. Porn lies to his mother and his girlfriend about his prisoner status. He claims he is still a worker (พนักงาน). Krasit succeeds to steal Porn's girlfriend by telling the truth to Wan's mother. The Rangers police leader is nice and believes in prisoners' redemption so he is giving a lot of autonomy to Porn in the forest. Porn cannot stand Wan's decision (ไม่ทำใจ) and wishes to try to convince her a last time. In one year he shall be released. He is not a criminal (ผู้ร้าย) but Wan's mother forces her daughter to meet Krasit as she is not happy that Porn is a prisoner. Porn was coming from Mae Hong Son and was mistakenly trapped in a brawl. Krasit and Porn fight each other and Porn has no choice than fleeing. Wan cannot follow up. The Rangers police starts to chase Porn in the jungle. Porn has an arm injury as Krasit shots him and then he falls from a cliff. Kasit wants to catch him and kill him (จับตาย). Porn gets refuge with Wan and they flee together. The Rangers police leader cannot help anymore despite Wan's request. Mlabri people (known locally as Phi Tong Luang - ผีตองเหลือง - or "spirits of the yellow leaves") help Wan to go deep inside the forest. The Rangers police follows Wan to know where Porn is hidden. Deadly fights happen in the forest between the Mlabri people and the bad policemen. Krasit dies. Porn finally disguises his death by putting his clothes on a dead body disfigured due to disease.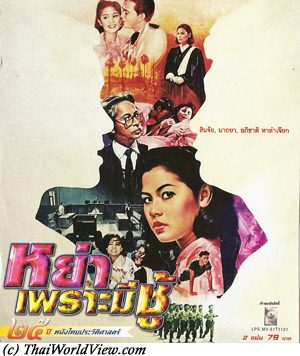 Year

: 1985



Thai title

:

หย่าเพราะมีชู้




English title

: The Accusation



Rating

: 5/5


Director

: Manop Udomdej



Main actor

: Apichat Halamjiak


Main actress

: Sinjai Hongthai,Nardtaya DaengBunga
The English title is the Accusation. Phan is a modern woman, teacher and writer. She is married with Phukphan and there is no love in the couple anymore (ชีวิตคู่น่าเบื่อ) but she needs to endure. They have strong arguments and her husband wishes to push her for divorce. He is an army officer. She finally receives a registered letter suing her for divorce due to adultery (ชู้). It makes newspaper headlines. She wishes to fight back and asks her friend Wan, a lawyer, to help but she refuses as Phan doesn't have strong evidences to refute the accusation. Wan finally changes her mind but has to face a famous lawyer on the other side. They start enquiries on Phukphan's past. The trial starts. The judge would like them to divorce silently to avoid noise and shame but it is too late. They both had a very busy schedule. Phukphan accuses his wife to have an affair with soldier Chayo. The trial raises issues related to sex affairs and private diseases (ติดเชื้อ). Crude details are given during the trial regarding intimate preferences of the husband such as a sadism. He blames his wife for not giving him what he wanted (อารมณ์เพศ). Real crude details are given during the trial. It was quite shocking during 1980s Thai society period. The lawyer is a woman. The defendant is a woman facing the establishment and men hostility. The accuser even tries to use fake testimony involving a policeman. Phukphan wishes to go with another woman. As Phan doesn't want to initiate the divorce, he planned to accuse her of adultery. Who wants to marry a woman who divorces her husband? it is wrongly seen as shameful by Thai society. A woman that asks for divorce is seen as a bad woman. She tried to support hoping her husband would change but he didn't. The movie exposes the horrible realities of her relations and his own sordid sexual life. Phukphan's lawyer claims that Phan's bad behavior is coming from the modern Thai novels she is writing. She finally wins the trial. This movie is widely admired by younger educated and intellectual Thai people. It nevertheless caused a major scandal by its sexual frankness and by the implication that a senior military figure could be guilty of socially inadmissible practices. In 1980s, Sinjai Hongthai played the modern woman in many movies (ฉันรักผัวเขา, ครั้งเดียวก็เกินพอ) directed by Manop Udomdej. She always has to fight for her rights.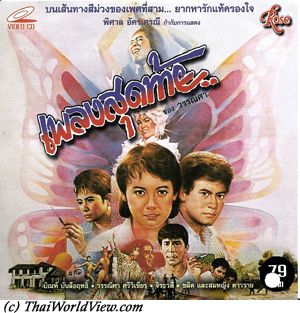 Year

: 1985



Thai title

:

เพลงสุดท้าย




English title

: The Last Song



Rating

: 3/5


Director

: Pisarn Akraseranee



Main actor

: Bin Banleurit


Main actress

: Janthana Siriporn
It is about "KATOEI" (กะเทย - man dressed like a woman and behaves according to the gender role of a woman) and "tom boy" (ทอม - girl who behaves according to the gender role of a boy). It deals about their difficulty to find true love and the way society reacts to them. At that time, society was generally quite conservative and katoeys were viewed as abnormality. The public outcry the film raised helped push it under the national spotlight. The film's theme song became a hit. A remake was done by the same director in year 2006.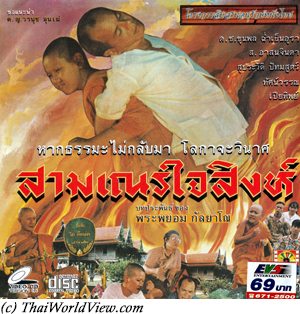 Year

: 1985



Thai title

:

สามเณรใจสิงห์




English title

:



Rating

: 5/5


Director

:



Main actor

: Sor Asanajinda,Pao Porapak


Main actress

: Tasawan Saneewong,Piathip Kumwong



Buy now

:

Thai movie สามเณรใจสิงห์ was released in year 1985 and lasts 1h38mn. It is available under VCD format. Some of the actresses and actors are ด.ช.ขุนพล ฉ่ำเย็นอุรา, สุประวัติ ปัทมสูตร, วรนุช ลุนเผ่, โชติช่วง พุทธสิน. Thai movie สามเณรใจสิงห์ is a powerful movie about Thai Buddhism and people greediness. The story was written by a Thai monk. A family has four kids. The wife Sae (Tasawan Saneewong) is managing a small restaurant selling food and drinks. The husband is a drunkard. He has a group of 4 friends (including Pao Porapak) always drinking together. He keeps asking money to his wife to buy alcohol. The grandmother is rich and keeps supporting her daughter. One son called Sing Chai is still going to school. Two other daughters and another son are not doing much except asking for money, partying, taking drugs. One day, one of the son's friend tries to steal money from the grandma by threatening her with an artisanal bomb. It ends badly as the grandma dies and the son loses his leg in the explosion. Sing Chai believes there is a waste of money and injuries as a huge and expensive funeral is organised with outdoor movies, firecrackers... Luang Ta (Sor Asanajinda) is always around. It is Buddhist lent (เข้าพรรษา) coming and Sing Chai is sad to see his family going towards this wrong path. Sae and her husband argue on money, so she gets beaten and then asks for divorce. Sae then keeps playing cards. One day one of the daughter Usa is found dead having been raped by thugs but her parents don't care. Unable to support this anymore, Sing Chai enters monkhood as novice. Sae has a new lover, i.e. the village leader, who keeps borrowing money from her. Sai, one of Sae's daughter, is also his mistress. Luang Ta keeps smoking and delivers sermons in old fashioned way. Novice Sing Chai delivers sermon in a modern way. It makes Luang Ta upset as a novice becomes more popular than him. Even Piathip Kumwong is not visiting Luang Ta anymore but novice Sing Chai to get advice. Sae, knowing that the villager leader and her daughter Sai betrayed her (คนทรยศ), wishes to get suicide. Novice Sing Chai helps her on time and the mother becomes a nun. Young teen girl Chantana is back to the village and invites novice Sing Chai to get alms everyday (รับบาตร). Sing Chai is feeling awkward caught by human feelings toward Chantana. Luang Ta tries to catch him doing improper things (ศึกแน่ๆ). Sing Chai is even accused of committing a murder. Village leader Gneun, father of Chantana, is causing troubles. Luang Ta recognizes he was wrong to try to accuse Sing Chai. Gneun is finally shot by Sai as he was refusing to recognize his paternity. Sing Chai rejects his mother due to bad feeling but recognizes his mistake. He still hopes to convince his father to stop drinking alcohol. On the way to his father's home, a fire occurs. Sing Chai saves his father but the handicapped son is unable to flee. Mother Sae (ยอมแม่) is sick and dies while listening sermon. The father (ยอมพ่อ) becomes a monk also. The movie ends up on Sae's funeral where Sae's voice in background regrets to have led such a bad life.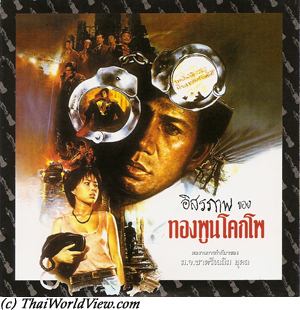 Year

: 1985



Thai title

:

อิสรภาพของ ทองพูน โคกโพ




English title

: Freedom of Citizen (Citizen II)



Rating

: 5/5


Director

: ChatriChalerm Yukol



Main actor

: Sorapong Chatree,Suchao Pongwilai,Krailat Kriengkrai


Main actress

:
It is the second opus of the movie Citizen. As the Citizen I movie's main actor has died, Sorapong Chatree was used instead. It is about Thongpoon Khokpoh, a convict going out of prison, and looking for his son. His son refuses to meet him as he was left over many years. His father was in prison and his mother lives abroad with a foreigner. Thongpoon wishes to get reunited with his son. The movie deals about the lack of freedom about ex prisoners, i.e. difficulty of reinsertion, difficulty to find a job, bad image - an old convict will always be a bad man. He sympathizes with a young girl, who is a pickpocket. People don't trust Thongpoon as he is former convict but he is also not trusting the young girl when she brings back money, thinking she has stolen it. A pickpocket will always be a thief. Thongpoon is a nice guy, never wishing to break rules, never lying or doing something against law. So people call him stupid or buffalo! Thongpoon has difficulty to find a job as he is too honest and always says he is a former convict. Once you're in jail, you're always in jail, in this society. Once you get out of jail, you are still branded by the evidence. He is still an outsider. Through a misunderstanding, he is also confronted to bad policemen (Suchao Pongwilai) who don't believe Thongpoon can seek redemption but the head of police trusts Thongpoon. When a car bumps him, he refuses to sue the car driver and blames his own careless mistake. Finally the car driver seeing his kindness recruits him in his restaurant for tourists. Unfortunately one of his former inmates abducts his son and threatens Thongpoon to hurt his son if Thongpoon doesn't kill his boss, who has an issue with local mafia. Thongpoon's choice is difficult and is put in analogy with an ongoing Ramayakian dance (Rama facing demons) in the restaurant. Finally Thongpoon simulates his boss' murder in order to be reunited with his son and has to work hand in hand with the policeman, who formerly looked down on him, to stop the gangsters. The policeman acknowledges his misjudment on Thongpoon. Thongpoon, his son and the young girl are leaving to Udon Thani. This film highlights conflicts between poor people (Thongpoon, the pickpocket girl), the government officials (policemen) and wealthy influential businessmen.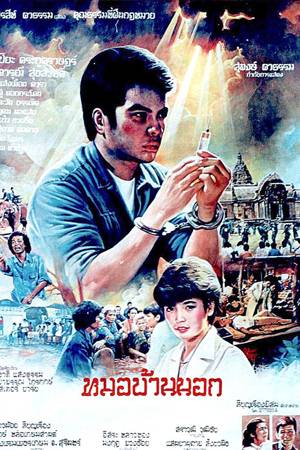 Year

: 1985



Thai title

:

หมอบ้านนอก




English title

:



Rating

: 5/5


Director

: Surasee Phatham



Main actor

: Piya Trakulrard,Doo Dook Kradon


Main actress

: Jarunee Sooksawad
Thai movie หมอบ้านนอก was released in year 1985. Directeur is Surasee Phatham. The movie was shot in Surin province. Phanom (Piya Trakulrard) became village doctor as one of his relatives died due to lack of doctor. Mountebanks (หมอเถื่อน) have no diploma so they are illegal. Some are charlatans such as Doo Dook Kradon but Phanom is useful. Such illegal doctors have their utility to the community as official doctors are often absent from remote areas. Doctor หมอผู้หญิง Kwanta (Jarunee Sooksawad) is the first doctor with diploma in this district (แพทย์ปริญญาจากกรุงเทพฯ). She asks Thai Police to stop the fake doctors selling fake medicine to villagers (ชาวบ้าน). A policeman is shot in the village. Kwanta doesn't have the right equipment so Phanom is helping to remove the bullet. Phanom wishes to stop doing this job as there is now Kwanta as official doctor. Illegal village doctors are arrested by Police. Kwanta disrupts local illegal business so some people try to kill her (ฆ่าคนดีๆ). Phanom is injured instead. Police believes Phanom is behind the murder tentative on Kwanta. Finally the mastermind is arrested. Phanom surrenders to the police and requests to help a villager a last time. He saves an elder man through a blood transfusion. In the jail, he assists to a TV show showing Kwanta receiving an award. She gives a praise to Phanom and succeeds to get an official diploma for him so that he can practice legally.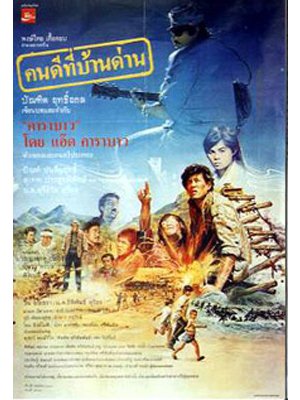 Year

: 1985



Thai title

:

คนดีที่บ้านด่าน




English title

:



Rating

: 5/5


Director

: Bandit Ritthakol



Main actor

: Bin Banleurit,Manop Aussawathep,Lak Apichat,Pumi Patanayut,Suchao Pongwilai,Chat Mongkolchai


Main actress

: Suriwan Suriyong
Thai movie คนดีที่บ้านด่าน was released in year 1985 and lasts 1h44mn. It released in Thailand under VHS format. Movie director is Bandit Ritthakol. A few engaged songs feature justice (ความยุติธรรม). Carabao songs (such as มหาลัย) are featured in the movie. Students are coming to countryside to help villagers. The village leader is called Meui (Manop Aussawathep). Lak Apichat is one of the friendly villagers. Students offer free medical services, help to reinforce school temporary building. Nat (Suriwan Suriyong) is the local school teacher. Nat is separated for two years ago with student Chanuan (Bin Banleurit). Chanuan wishes to resume relationship with Nat but she refuses as she doesn't want to suffer again. Her decision to go in this poor remote village is linked to Chanuan's previous bad behavior. Some villagers such as Wan (Pumi Patanayut) don't welcome students (อาศัยพัฒนาหมู่บ้าน). Local influential man Boonsong is working with Wan to replace Meui. Boonsong gives free wood to build the school. Boonsong forbids anybody to go in some parts of the forest. They cut illegally trees in the forest per student Waen's discovery (ทำร้ายป่า). Arguments occur between students as they don't agree on the way to manage this. The majority decides not to be involved as it is outside their mandate. Wan of course protects Boonsong as he is supporting the villagers to keep them quiet. Meui wishes that Chanuan quits the village as arguments occur with Nat as she doesn't want to forgive him. Waen complains Thailand will become a desert (ทะเลทราย) with all those trees cut illegally. Waen wishes Chanuan to bring some pictures to newspapers. Waen and Chanuan see men led by Chat Mongkolchai and Ong Nai (Suchao Pongwilai) cutting trees. Waen dies shot by ruffians led by Boonsong (คนที่มีอิทธิพล). Mon people are working for Boonsong and get paid in medicine and weapons to be able to fight against Burmese military government (การฆ่าและการต่อสู้ไม่เหมือนกัน). Ong Nai understands Chanuan as he is also a former student, but he cannot help. During the weapons trading, Boonsong's ruffians shoot the Mon people. Only Ong Nai escapes. Ruffians storm the student's place and burn the school as they believe one of them hides the camera. As they threaten Nat, Uan interposes and gets killed. Chanuan has not enough proofs to accuse Boonsong and Wan. To avoid more deaths, students must leave by train. Chanuan decides to go back to rebuild a school as a memorial to Waen and Uan. Students follow him. School has been burnt. Nat and Chanuan resume friendship. Ong Nai has a debt towards Boonsong. He gives Waen's camera back to Chanuan and promises to manage Boonsong per the forest laws... Meanwhile Nat and the children have been kidnapped by the Boonsong's ruffians. They succeed to escape but are chased by ruffians. Meanwhile Thai army, Chanuan and Meui face the ruffians. Shootings happens and Meui is killed. Ruffians send big logs on the Thai army and children but luckily nobody is injured. Chanuan and Lak chase ruffians. Lak loses his life while protecting Chanuan. About to escape, Boonsong is shot by Wan. Wan gets the credit to have stopped Boonsong despite Chanuan claiming he was right hand of Boonsong. Thai army leader mentions to Chanuan that it is time for students to go back to Bangkok. Nothing they can do against what is good or bad here. Wan is nominated as new village leader. Nat refuses to go back to Bangkok as she needs to take care of the kids. Despite adversity, she has to stay and not flee. The only solution for Chanuan to protect Nat and the Baan Dan villagers is to shoot Wan... After shooting Wan, Chanuan is arrested but remains คนดีที่บ้านด่าน in the villagers' hearts.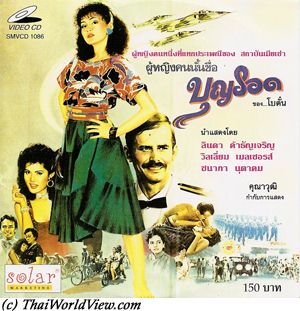 Year

: 1985



Thai title

:

ผู้หญิงคนนั้นชื่อบุญรอด




English title

: Her name is Boonrawd



Rating

: 4/5


Director

: Wichit Khunawut



Main actor

:


Main actress

: Linda Khatancharoen,Sarinthip Siriwan
Boonrawd is coming from a poor Isan family but she is proud and wants to succeed in work and family. During Vietnam war she works in a Pattaya restaurant and also opens a small bakery. An American officer, who speaks Thai language, wants to become her friend as he appreciates her strong spirit and mind. She faces the discrimination of prostitutes (Boonrawd is strong minded and refuses to become a prostitute for easy money), American GIs (they think all Thai women can be bought), Thai people (discrimination when she is seen with the American officer). Boonrawd faces pressure from her mother who wants her to become a prostitute (same as her sister) in order to pay her mother's lottery bills. She finally overcomes all difficulties and marries her American officer.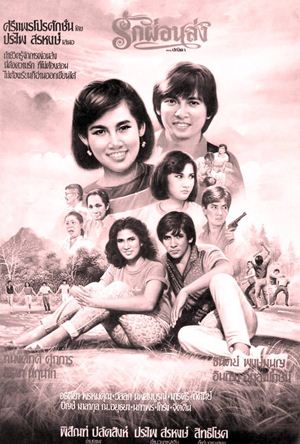 Year

: 1985



Thai title

:

รักผ่อนส่ง




English title

:



Rating

: 2/5


Director

:



Main actor

: Tanit Pongmanoon


Main actress

: Marasri Bangchang
Thai รักผ่อนส่ง was released in year 1985. The movie was released many years ago through VHS video tape but then never under VCD or DVD format. This teen romantic comedy movie (หนังวัยรุ่น) was never famous and was released at a time where teen movie popularity was getting strong. A few minutes trailer is still available also to be seen. The main actors and actresses are ทนงศักดิ์ ศุภการ, สิริยา นฤนาท, Tanit Pongmanoon, อินทิรา อิ่มสมโภชน์, อธิติยา พรหมคุณ, วัลลภ นพสมบูรณ์, Marasri Bangchang.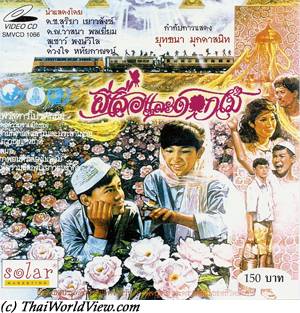 Year

: 1985



Thai title

:

ผีเสื้อและดอกไม้




English title

: Butterfly and Flowers



Rating

: 5/5


Director

: Euthana Mukdasanit



Main actor

: Suchao Pongwilai


Main actress

: Duangjai Hathaikarn



Buy now

:

This movie is focusing on a poor Muslim community in South of Thailand close by the Malaysian border. A teenager boy, called Huyan, has to sell ice cream to help his father as his father is not rich enough to pay education for his three children. His teacher and his best friend, a girl called Mimpi, are sorry about this decision. The teacher asks Huyan to continue to pass this year exams as education is important for his future. He can sell ice creams in the school thanks to the teacher kindness. Huyan has one smaller brother and sister. He has no mother any more. Business competition is hard as other ice cream vendors have bicycles to go from one place to another but Huyan needs to walk. Her friend Mimpi goes to Malaysia but promises to come back. Everyday Huyan waits at the train station hoping for her return. He finally sees and goes to the Malaysian border with her as he forgot to exit the train. During the trip, Huyan meets other youngsters making a living by smuggling rice. Meanwhile his father is looking for him and gets hit by a train. He is disabled and cannot work anymore. The son has remorse. He has to take responsibility of the whole family. There is a swift change from the school protected environment to adult responsibilities. He helps to smuggle rice between Malaisia and Thailand. It is illegal as no taxes are paid on the rice. He has no choice based on family survival necessity (ความจำเป็น). To escape controllers, he has to go on top of the train wagons where youngsters risk their live if they fall. He has also to run away to escape the police. But he gets money and can send back his brother and sister to school. Following the tragic death of his friend, he decides to stop doing this illegal business and to sell flowers. Movie Butterfly and Flowers got Best Picture from the Hawaii Film Festival in 1986. It made only 5 millions baht in Thailand, most of that in Bangkok. This movie is part of the first 25 films heritage list announced on October 4 2011, which is Thai Movies Conservation Day.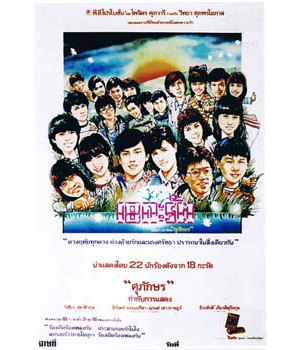 Year

: 1985



Thai title

:

18 กะรัต




English title

: 18 carats



Rating

: 2/5


Director

: ศุภักษร



Main actor

:


Main actress

:
18 carats is a Thai Teen (วัยรุ่น) movie regarding love emerging between students in their university. Many artists from company นิธิทัศน์ Promotion joined the "18 carats" project. Singers such as ไก่ or สุเทพ were coming from different bands and sang duo songs (เพลงคู่). Three music albums were released in 1985. All the artists involved in this three albums project then participated to the movie "18 carats" featuring the best songs. ใจเธอใจฉัน (your heart - my heart) remains the most famous song and was even featured again in the 2003 movie แฟนฉัน (My Girl). The movie highlights friendship and teen love (ความรัก, รักกัน, ชอบกัน, คู่รักกัน, แฟน, น่ารัก). A group of male friends try to seduce a group of female friends. So various technics, jokes and romances happen (ผู้ชายปากหมาทุกคน, ต้องกล้า). This movie is similar to a Bollywood movie as many songs are featured but actors have no dubbing skills when singing.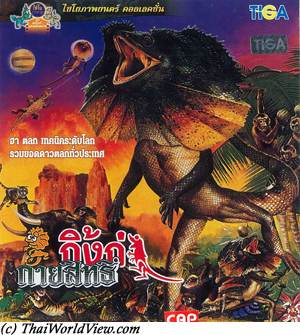 Year

: 1985



Thai title

:

กิ้งก่ากายสิทธิ์




English title

:



Rating

: 3/5


Director

: Sompote Sangduenchai



Main actor

: Lor Tok,Lak Apichat,Sithao Petcharoen,Der Doksadao


Main actress

:
This movie deals about a giant chameleon, which is the gardian of a magical diamond. It is stolen by an alien. The chameleon sent a "Yak" to get it back. Meanwhile the chameleon wanders through the human world and faces many weird aventures. He is facing a deadly crocodile frightening humans living on rivers, facing hunters that want to catch it etc...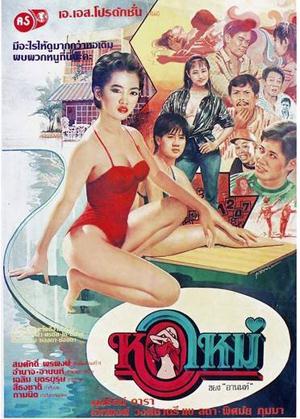 Year

: 1985



Thai title

:

หอใหม่




English title

:



Rating

: 3/5


Director

:



Main actor

: Supakorn Srisawat,Note Chernyim


Main actress

:
Thai movie หอใหม่ was released in year 1985. This is a comedy movie with a few luring scenes. It was released under VCD format by Lepso Studio Company and lasts 1h10mn. The Betamax version lasts 1h30mn. It is based on the popularity of dorms (หอพัก) during 1980s as many provincial people came to work in Bangkok. Mother Ning is married to a younger husband named Samran (Supakorn Srisawat). She has also a son named Wat (เอกพงศ์ วงชาตรี), being soon a lawyer, and an adopted daughter named Praprasee. The mother trusts Samran and Praprasee too much. Wat loves Praprasee like a sister and not like a future wife despite the mother Ning pushing for such wedding. Praprasee wishes to marry Wat to have a bigger share in the mother's fortune. The mother is having a business of room rental. Samran is very lazy and doesn't help on anything. Samran has an affair with Praprasee (ทำชั่ว). Praprasee and Samran wish to invest into a new dormitory building (หอใหม่). It is a 6M Baht investment. As the mother doesn't trust Samran, she plans to put the building under Praprasee's name. Samran is responsible to check that rents are paid on time. Various young ladies are staying in the dormitory (a beauty student, a tourist guide - ผุสรัตน์ ดารา...). Samran is having affairs with some tenants. A lady called Payong is having affair with him for money only but Samran is jealous when Payong meets other men such an older photographer (หี่ยวฟ้า) or a movie director. Payong dreams to be a cinema star (ดารา) so she is ready to do everything to reach stardom. Wat helps a tourist guide called Neeramon, who is aggressed by ruffians. She is staying in the new dormitory. They start a relationship. Samran and Praprasee try to trap Wat so that Neeramon believes he is unfaithful. It fails and the infamy between Samran and Praprasee is disclosed. Note Chernyim makes Burapa pregnant but he refuses to take responsibility. Saran takes advantage of Burapa distress. Burapa accuses Sapran to make her pregnant. Prapasee suggests to Saran to use an illegal doctor for abortion. As Burapa's abortion is a failure, police arrests Saran as abortion is illegal in Thailand. Praprasee refuses to give back the new dorm but finally dies in a car accident. After exiting prison, finally Samran is employed as a domestic helper. There is an allegory comparison between the new dormitory building (หอใหม่) and the old one (หอเก่า) and between the old lady (Mother Ning) and the young ladies (Praprasee, Payong, Neeramon, Burapa).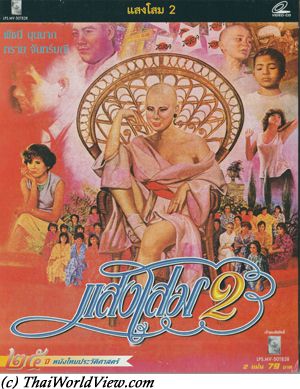 Year

: 1985



Thai title

:

แสงโสม 2




English title

:



Rating

: 3/5


Director

: ยอดมาลา



Main actor

:


Main actress

: พัชนี บุนนาถ
Thai movie แสงโสม 2 was released in year 1985 and lasts 1h29mn. Movie director is ยอดมาลา. The first part, called หล่อนชื่อแสงโสม, was released in year 1984. The movie แสงโสม 2 is the second opus of Thai movie หล่อนชื่อมาลี, which is related to the problems of a young provincial lady in Bangkok. Movie แสงโสม 2, same as movie อีโล้นซ่าส์, is featuring a bald sexy lady. It was released by company Lepso under VCD format. Hot scenes are cut but the remaining part is a social drama about prostitution. Another version was also released under VHS format (1h42mn). Erotic sequences are pixelated. A third version was released under VHS format under the name ดอกรักบานเมื่อฉันรักเธอ. Saeng Som's husband was sadique so she was always getting beaten. As she stabbed him, she ends up in prison. After a few years, Saeng Som (พัชนี บุนนาถ) exits from prison with a few bahts left only. She is looking for her son Kaew. Saeng Som needs to go to Chiang Mai to see him but she has no money for the ticket. The bus driver tries to abuse her (อุ่นเครื่องก่อน). Saeng Som finally does hitchhiking and a truck with two drivers takes her. On the way, they rape her. She is finally rescued by a nice man called Pakpum having pity of her. He brings her to Chiang Mai. In Chiang Mai, she is looking for Wanna, a woman, who is taking care of her child. Bang Oon, a masseuse (อาบอบนวด), informs her that Wanna has disappeared. Saeng Som doesn't want to do her former job (อาชีพเก่า) as she promised to her son before but she has no choice (กะหรี่) as she is a former inmate (สังคมไม่ให้อภัย). She cuts her long hair and becomes bald. She has a lot of success with customers. She doesn't dare to tell her real job to Pakpum. She also refuses that Pakpum helps her as she wants to stay independent. A romance finally starts between them. Her dream is to send her child to study overseas. She meets Mano a former boyfriend falling from bank businessman to selling Isan sausages (ไส้กรอก). Bang Oon, being pregnant, finds a sponsor but he is not giving a lot of money to her as he is under pressure from his main wife (เมียหลวง). He finally refuses to take care of the child. Pakpum wishes to marry with Som but she is reluctant. Later on Pakpum sees Som with Mano and misunderstands her (ผู้หญิงสกปรก). Som finally meets Kaew and Wanna, being sick. She tells Wanna that she is also sick and doesn't have a long time to live. Finally Pakpum sees Som in the massage parlour. Pakpum understands Som's motivations. Kaew finds that his mother lies to him and she is still doing massage job (หมอนวด). Kaew doesn't want to meet his mother anymore (แม่เลว, ความชั่ว). Pakpum still wants to marry Som. Saeng Som has problems (มดลูก) as she is going with too many customers, but she cannot stop as she needs to earn money to send her son to study overseas (เสียสละ). Mano cannot meet Saeng Som anymore. She is also disappointed to see Pakpum with another lady (ผู้ชายบัดซบ). She learns that Pakpum is owner of a brothel. Being scolded by Saeng Som, Pakpum wishes to do good things. He releases kidnapped girls from the brothel but gets shot by the mamasan. Saeng Som shots her back and ends up in jail again. She asks to see her son a last time before he leaves for overseas. Bang Oon, unwilling to have her child without a father and to suffer like Kaew and Saeng Som, kills herself.
---