Increase or decrease font size for easier reading : A+ A-
Year 1984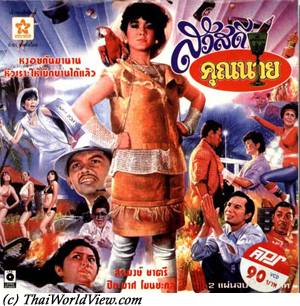 Year

: 1984



Thai title

:

สวัสดีคุณนาย




English title

:



Rating

: 3/5


Director

: Kumtorn Tubkunlai



Main actor

: Sorapong Chatree,Supakorn Srisawat


Main actress

: Piyamas Monayakol,Wiyada Umarin
A HiSo family (วงผู้ดี) has a special domestic helper (คนใช้พิเศษ) called Kaew. She can break glass with her strong pitched voice. The daughter has her fiancee (คู่หมั้นชาย), Duangtawan, studying in England. He needs to come back (ธุระสำคัญ) to Bangkok following his father's request. There was a wedding promise between the parents. But Duangtawan wants to check his future wife's mindset first so he disguises himself as the family's car driver (คนขับรถ). His own driver, Phat Thai, becomes the Mom Chao (หม่อมเจ้า) and visits the HiSo family. Kaew (นางตัวดี) simulates herself as the Madam (คุณนาย) as her boss is out for holidays. Finally Duangtawan and Kaew start to be very close as Duangtawan appreciates her simplicity and frankness despite simulating being a Madam. The movie shows Thai society equality through food, i.e. rich / poor people can also sit on the floor, eat papaya salad (ส้มตำ) and sticky rice (ข้าวเหนียว). The Madam is asking for an engagement diner. As Duangtawan's father confirms, she comes back earlier than expected. Quiproquo happens again as Madam's daughter tries to seduce the car driver as she believes he is the real Duangtawan. She brings him to a short time motel (ข่มขืนเขา). Finally Duangtawan tells to Kaew the truth about his real identity but she flees ashamed of her own condition. Through a final quiproquo, the truth is revealed to all. It is finally discovered that Kaew is also the granddaughter of rich family. It a nice small movie but it lacks the craziness and dances that can be found in Bollywood movies.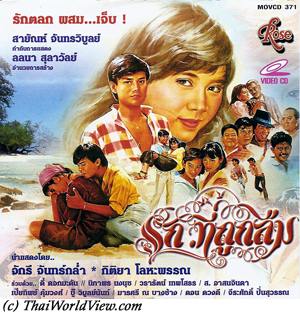 Year

: 1984



Thai title

:

รักที่ถูกลืม




English title

:



Rating

: 3/5


Director

:



Main actor

: Sor Asanajinda


Main actress

: Lalana Sulawan,Piathip Kumwong
A young man has promised to marry a young girl, who is finishing her studies abroad. But he is in fact a womaniser. After her return to Thailand, the young woman discovers this bad reality and breaks up. The young man decides to change his behavior and tries to reconquest his former love. Will he succeed?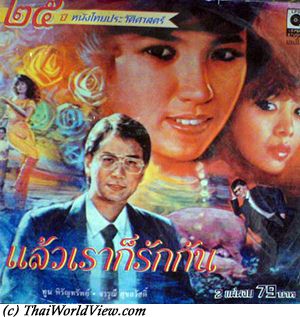 Year

: 1984



Thai title

:

แล้วเราก็รักกัน




English title

:



Rating

: 3/5


Director

:



Main actor

: Toon Hiransap,Settha Sirachaya,Pete Thongjure


Main actress

: Jarunee Sooksawad,Penpak Sirikul
Chalita (Jarunee Sooksawad) is managing an hotel. Penporn, daughter of the managing director Burin, is singing some songs with Kit, the new young singer recruited by Chalita. Chalita trusts Kit and lets him go out with Penporn to have fun. They join a car racing but have a serious accident. Penporn may not walk again. Kit is safe. The manager Burin is very upset by this accident as he has always considered Penporn as his own daughter (หลาน) as Penporn's parents die when she was still a baby. Chalita is fired as she let Penporn have fun with Kit. Chalita is upset as she is not directly responsible of the accident (เรื่องของดวง). Chalita finds a new job in another hotel. Burin, realizing his mistake, wishes to recruit Chalita again by offering a salary two times higher but she refuses. Burin has a strong character, never listens to others (ไม่เห็นใจคนอื่น) and always needs to win (ต้องชนะคนอื่น). Burin believes money can buy everything. Asunee, sexy young lady, is recruited as replacement of Chalita. Kit (ลูกผู้ชาย) affirms to be responsible and will take care about Penporn. Burin forbids Kit to see Penporn again. Kit is seen by Burin as a playboy singer (นักร้อง). There is a strong contrast between Chalita and the sexy Asunee doing Aerobic in front of Burin! Finally Chalita convinces Burin to let Kit visit Penporn. It will help to give comfort to Penporn and hopefully speed up her recovery. Penporn doesn't like Asunee as she is not sincere (จิตใจ). In fact Asunee wishes to marry Burin. The hotel managed by Chalita is much more successful than the one managed by Asunee. Despite efforts from Burin (even buying the hotels she is working in), Chalita refuses to come back to work for him. To protect Penporn and Kit against Burin's ire, Chalita finally accepts. But Burin continues to use dirty tricks (ชั่วร้าย) to try to split Penporn and Kit. Burin even asks Asunee to sleep with Kit in order to break the relationship between Kit and Penporn. But Chalita fights back. Asunee is chased away. Through collaboration (ร่วมมือ) between Burin, Chalita and Kit, Penporn succeeds to walk again! This movie is another romance movie with Toon Hiransap and Jarunee Sooksawad, famous star duo in decade 1980s.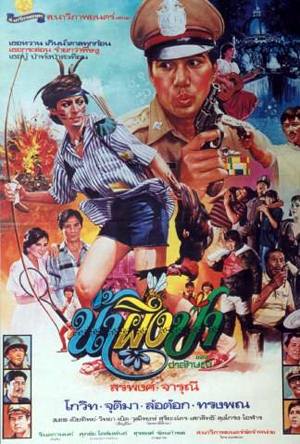 Year

: 1984



Thai title

:

น้ำผึ้งป่า




English title

:



Rating

: 3/5


Director

:



Main actor

: Sorapong Chatree,Lor Tok


Main actress

: Jarunee Sooksawad,Piathip Kumwong
Two sisters, Chom and Prakai Kaew bear children at the same time. Chom's husband is a bad guy (โจร). Following serious arguments with Chom, he comes to take his child back but Chom gives him Prakai Kaew's child. 17 years passed. Pheung (Jarunee Sooksawad) is a young smart lady living in a village. Her best friend is Phet, a fat cheerful teenager. As they have debts with the local Chinese merchant, they set up a King Kong show at the local temple fair to earn money in order to pay back the debts. It turns to a disaster. Wit, her father, is a reseller of stolen jewelry. Police catches Wit's colleagues. Pheung escapes nearly the police (หนีตำรวจ). A policeman, called Sing, only gets her necklace. Pheung's father is violent and drinks alcohol. He doesn't really love his daughter (ไม่รักลูก). Sing shows the necklace to a local notable who recognize the necklace as her missing granddaughter's necklace. As Prakai Kaew died already, Chom has taken care of Prakai Kaew's daughter, who is in fact Chom's real daughter as Chom exchanged the two girls during the kidnapping. Her daughter is called Lai. The grandfather invites Nam Pheung to stay with her real family. Pheung reaches her new home (บ้านหรือวัง). She is renamed as Nam Pheung. Chom is not happy and refuses to recognize her as her daughter. Her friend Phet can join Nam Pheung. There are typical gags when countryside (บ้านนอก) people enter high society (ผู้ดีสังคม). Policeman Sing is Lai's boyfriend. Chom uses ruffians to hurt Nam Pheung but it fails as she knows how to fight. Sing is very interested in Nam Pheung (สนใจเด็กคนนี่). Meanwhile Wit is in trouble with his former colleagues. Wit and Chom were lovers ten years ago. Lai is Chom and Wit's daughter. Chom wants to push Lai to be the wife of a Thai prince. She invents a pretext (ถูกของ) due to black magic for not having recognized Nam Pheung. Nam Pheung is in fact Prakai kaew's daughter. Chom prepares an evil plan again. Nam Pheung is kidnaped by Wit's ruffians. Sing, the prince rescue her. Chom is punished. It is a typical 1980s romance movie following Lakorn style with the leading actress (นางเอก) as Nam Pheung, the leading actor (พระเอก) as Sing, the bad girl (นางอิจฉา) as Lai and Chom, the funny supporting comedian (ตัวตลก) as Phet. Those romance movies were edulcorated with no kiss between the main stars.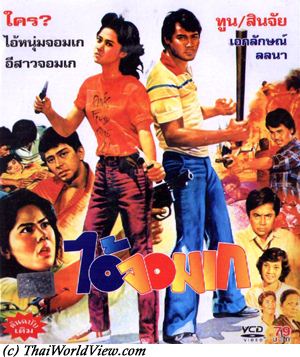 Year

: 1984



Thai title

:

ไอ้จอมเก




English title

:



Rating

: 3/5


Director

:



Main actor

: Toon Hiransap,Sayan Chantaravi​boon,Pipop Pupinyo,Chat Mongkolchai


Main actress

: Sinjai Hongthai,Lalana Sulawan



Buy now

:

Keng (Toon Hiransap) is staying in relatives' rich house. The mother is not happy to see Keng at her home despite he is a relative (สอนมารยาท). The mother has two sons (Pochet and Kira) and one daughter called Chan. Chan (Sinjai Hongthai) teaches Thai boxing (สอนมวย) to Keng. Keng wishes to take revenge over ruffian Wo as he is responsible of his mother's death. Keng is Kliaw's young brother (น้องชาย). Kliaw is married to Kira (Sayan Chantaraviboon). Keng has also a school friend called Waew. Pochet loves secretly Waew (Lalana Sulawan) but Waew is already the minor wife of a rich man, i.e. Kira! Chan always protects Keng against Pochet (ลูกไม่รักดี). One day Keng sees Kira with Waew! Following the mother / Pochet's opposition and being only protected by Chan, Keng finally leaves their house. Keng finished drunk and Kliaw / Chan having pity takes care of him. Fed up, the mother decides to use Kam, a ruffian leader, to give Keng a lesson (สั่งสอน). Wo is part of Kam's team. Chan protects Keng against the ruffians as Keng is too afraid to fight. Wo is a pimp (แมงดา) as he is extorting money from Waew. Seeing Wo strangling Waew, Keng finally gets the strength to fight and gives a harsh lesson to Wo (สู้คนได้). Waew is now aware that Kira is Kliaw's husband. To revenge his mother death, Keng decides to hit Wo with Chan's help. The mother (ไม่เกรงใคร) tries to push another woman called Wan into Kira's arms to replace Kliaw. Finally Kliaw decides to leave also the house with Keng. Tired by this stressed situation, Kira stops his relationship with Waew. Pochet asks Waew's hand. As all domestic helpers have left, the mother has to clean the house and to do the cooking as Wan is useless. Wan is a rich man's mistress (เมียเก็บ) already. The mother now knows the real value of Wan and Kliaw. As Pochet is unfaithful with her, Waew shoots him accidentally. Wo, passing by, wishes to terminate Pochet but Waew protects him with her body so being the one to die. The ruffians (including veteran actors Pipop Pupinyo and Chat Mongkolchai) kidnap Chan and her mother. They request 1M baht ransom. Kliaw, Pochet, Keng and Kira storm the ruffians' place to release Chan and the mum. The ruffians are defeated. Finally the mother makes apologies regarding her behavior and the whole family can get happiness back. Thai movie ไอ้จอมเก was released in year 1984. This action romance features a leading actress practising kung fu. In many 1980s movies, actresses such as Apiradee Pawaputanon, Jarunee Sooksawad, Suriwan Suriyong played similar active roles.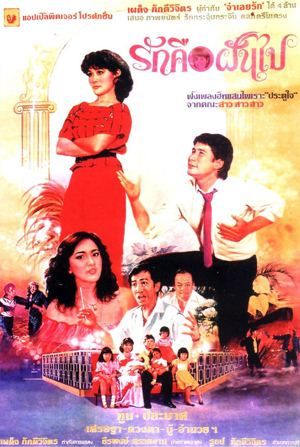 Year

: 1984



Thai title

:

รักคือฝันไป




English title

:



Rating

: 3/5


Director

:



Main actor

: Toon Hiransap,Settha Sirachaya,Boo Wibunnan


Main actress

: Piyamas Monayakol
Thai movie รักคือฝันไป was released in year 1984. It features actors / actresses Toon Hiransap, Piyamas Monayakol, Settha Sirachaya, Boo Wibunnan, ดวงตา. Director is เผด็จ ภักดีวิจิตร. It was released as VHS tape but never as VCD or DVD. The trailer is still available also. รักคือฝันไป plot is based on the music of group สาว สาว สาว, who was very famous in the early eighties. The song ประตูใจ was a big hit. It is a comic romantic movie. Of course the movie features many songs of the Thai group สาว สาว สาว.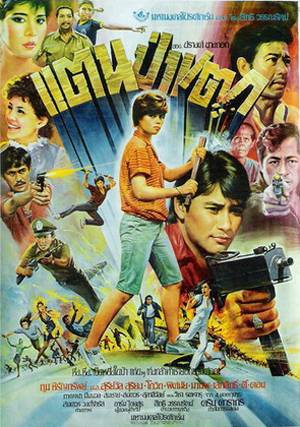 Year

: 1984



Thai title

:

แตนป่าแตก




English title

:



Rating

: 3/5


Director

:



Main actor

: Toon Hiransap,Somkuan Krajangsat,Kowit Wattanakul,Somchai Samipak,Manop Aussawathep


Main actress

: Suriwan Suriyong,Pissamai Wilaisak,Sulaleewan Suwanthat,Malee Wetpraseri
Thai movie แตนป่าแตก was released in year 1984. It features Toon Hiransap as main actor and Suriwan Suriyong as main actress. The movie is lost in Thailand but a sequence of 27 minutes remains to be seen. Other actors are Kowit Wattanakul, Pissamai Wilaisak, Manop Aussawathep, เสกสิทธิ์, กาญจนา นิ่มนวล, Somchai Samipak, Somkuan Krajangsat. Suriwan Suriyong was named as Queen of Thai action movies (นางเอกนักบู๊). Taen (Suriwan Suriyong) is very skilled in fighting. Ruffians storm a farm and steal the cattle. Somkuan Krajangsat is the local village headman but always late. Suriyong catches the killers but gets blamed by the village headman as she is doing his job! Her mother is played by Sulaleewan Suwanthat. Tim (Toon Hiransap) in a magician show. He realises Taen is part of a rich family, being the real (แท้ๆ) granddaughter (หลาน) of Yai Malee Wetpraseri. Ann and her mother Pissamai Wilaisak don't welcome Taen as they are worried about sharing heritage. The father, played by Somchai Samipak, has no issue with Taen. Kowit Wattanakul is Ann's boyfriend. Fed up by intrigues from Pissamai and her daughter, Taen wishes to go home (ไม่สบายใจ). Taen's father was a bandit (เสือ).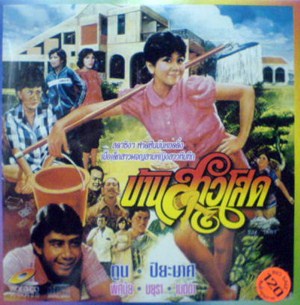 Year

: 1984



Thai title

:

บ้านสาวโสด




English title

:



Rating

: 3/5


Director

:



Main actor

: Toon Hiransap,Boo Wibunnan,Somchai Samipak,Somkuan Krajangsat,Supakorn Srisawat


Main actress

: Piyamas Monayakol,Metta Roongrat,Pissamai Wilaisak,Mayura Thanabutr,Pornpan Ketmamatsu,Janthana Siriporn,Manat Boonkiet
Thai movie บ้านสาวโสด was released in year 1984. The TV cable version lasts around 1h55mn and is coming from channel "true thaifilm". So cigarettes, alcoholic drinks and even sexy posters on the wall are blurred. Two songs are featured in this movie. A first version of this movie was released in year 1970 with Mitr Chaibancha, Kanchit Kwanpracha and Petchara Chaowarat. Three sisters are still single, i.e. Yip (Metta Roongrat), Teuan (Pissamai Wilaisak), Waraipon (Mayura Thanabutr). One is her mid- forties, one is her mid-thirties, one is her mid-twenties. Yip likes women more than men. A lawyer (อำนวย ศิริจันทร์) discloses the father's testament. They get heritage from their father including the house to share. If they ever marry, they lose any rights to the house. Being singles, they challenge each other who will get married first. A friend will send her son Ting (หลาน) to stay in their house after having studied in Bangkok. The domestic helpers (Janthana Siriporn...) leave as there are fed up by miser Teuan. Plaew (Piyamas Monayakol) is hired as new domestic helper. The three ladies get interest into Ting (Toon Hiransap), 26 years old, as he is very handsome (หน้าหอม). Ting meets Tangwon (Boo Wibunnan) and Metti (Supakorn Srisawat). They wish to rent the house behind บ้านสาวโสด. Businessman Somchai Samipak has a new wife. His daughter is Plaew but she left home as she is unhappy with her new stepmother Vichanee (Pornpan Ketmamatsu). Plaew is suspected by Ting to be the daughter of a rich businessman. Ting's parents are played by Somkuan Krajangsat and Manat Boonkiet. Teuan is worried that Plaew will take Ting from them. Ting's father already found a fiancee for his son. Thanks to โกร่ง กางเกงแดง, Ting is hired as a driver (คนขับรถ) by Somchai. Plaew and her sister wonder why Ting behaves this way. The new young wife Vichanee is Metti's mistress but she asks Ting to keep quiet on this and she provides a photo album on Plaew (คุณหญิง) to Ting. Vichanee also become mistress with Ting (ความต้องการ). Ting fails to show that Plaew is in fact a rich businessman's daughter. Ting's parents are worried that their son gets enamoured with a domestic helper (เด็กคนใช้). Following a family trip to Pattaya, Ting's parents meet Plaew's parents and both of them are uncovered! Romance can finally start between Ting and Plaew.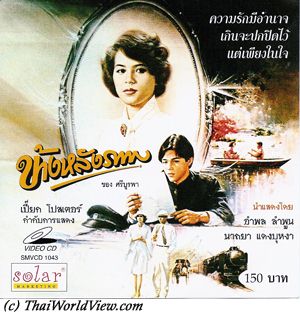 Year

: 1984



Thai title

:

ข้างหลังภาพ




English title

: Behind the Painting



Rating

: 3/5


Director

: Piak Poster



Main actor

: Amphol Lumpoon


Main actress

: Nardtaya DaengBunga
This movie is about the impossible love between a young man and a married woman older than him. The action takes place in Japan. The movie highlights the restricted existence of unmarried women and the pressure for them to marry, whatever the circumstances. This movie is based on a romantic novel written by Kulap Saipradit (กุหลาบ สายประดิษฐ์). Behind the Painting is widely regarded as one of the best-written novels in the Thai language.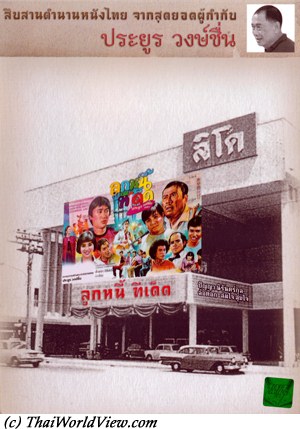 Year

: 1984



Thai title

:

ลูกหนี้ทีเด็ด




English title

:



Rating

: 4/5


Director

:



Main actor

: Lor Tok,Note Cheunyim,Doo Dook Kradon,Rith Luecha,Der Doksadao


Main actress

: Piathip Kumwong,Malee Wetpraseri



Buy now

:

Thai movie ลูกหนี้ทีเด็ด was released in year 1984 and lasts 1h36mn. The movie was released under DVD format by company Happy Home Entertainment. The movie features many songs. A music orchestra (วงดนตรี) has difficulty to make a living. Part of the members include Note Cheunyim, Rop (ปัญญา นิรันดร์กุล), Doo Dook Kradon, Tranee (Der Doksadao). Their producer is Rith Luecha but they have no success. Rith Luecha is married to Bun Reuang (Piathip Kumwong). They have never time to take care about their daughter Ro Rak (จิตต์โสภิณ ลิมปิสวัสดิ์). พี่ Niaw as new producer tries to find new ideas. The group doesn't have expected success (หมดตัว) as concert halls remain almost empty. Last chance is to release a tape but Phi Niaw (Lor Tok) has to sell his house (ขายไม่ออก). His secretary Suphanee is also his wife. His friends ask Rop to marry Ro Rak as she is coming from rich family. He needs to seduce her first but he is not expert at all (กำลังโบ้เบ้ / อย่าลีลา). Rith is having affairs while his wife Bun Reuang is always out on charity events with a high society woman (คุณหญิง). Phi Niaw lost his car, his house and about to lose his wife as the other orchestra members suggest to use Suphanee to seduce Rith. The music orchestra is looking for a new style (เพลงสตริง) to be popular. Bun Reuang chases all of them away after seeing Rop trying to seduce her daughter and after knowing that Rith has given money without asking for reimbursement as Tranee always introduces beautiful ladies to him to ease loan requests... They leave for upcountry. Ro Rak hides in their van. Police is called by Bun Reuang. Rop is almost arrested for kidnapping a teen but finally released as the problems are coming from the fact that the parents are not talking each other. Bun Reuang needs to organize a concert for orphan children (เด็กกำพร้า) so she needs a music orchestra. Only Tranee's orchestra is available...so she has to remove her complaint regarding unpaid debts. The concert is a huge success. She saves face. Rop and Ro Rak renew their friendship.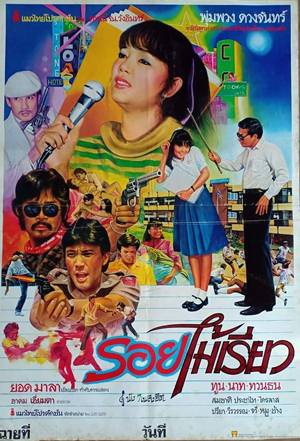 Year

: 1984



Thai title

:

รอยไม้เรียว




English title

:



Rating

: 3/5


Director

:



Main actor

: Toon Hiransap,Nard Poowanai,Tuanton Kammeesri


Main actress

: Pumpuang Duangchan
Thai movie รอยไม้เรียว was released in year 1984. Main actors and actresses are Toon Hiransap, Pumpuang Duangchan, Nard Poowanai, Tuanton Kammeesri… The movie was released under VHS format many years ago. It was never released later under VCD format. The movie is currently lost in Thailand. A sequence of 4 minutes and 30 seconds is left to be seen and was found at the end of a VHS tape. Unfortunately the movie was erased by another movie so only a short sequence is left to be seen. According to the poster, the movie features seven songs. In the remaining sequence being the end of the movie, Mali (Pumpuang Duangchan) and Yot (Toon Hiransap) arrive to a school by car. A teacher, played by Nard Poowanai, helped her to build a new life. Mali is going overseas and comes a last time to pay her respect to her teacher.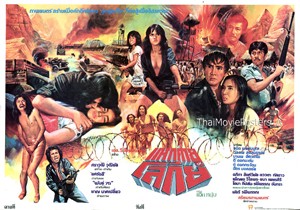 Year

: 1984



Thai title

:

แหกค่ายโลกีย์




English title

: Virgins in the Tiger Cage



Rating

: 1/5


Director

:



Main actor

: Tanit Pongmanoon,Supakorn Srisawat,Doo Dook Kradon,Manop Aussawathep,Chat Mongkolchai


Main actress

:
Thai movie แหกค่ายโลกีย์ was released in year 1984 and lasts 1h30mn (Taiwanese version). It was released in Thailand under VCD format by Lepso company. It was released in Taiwan under the name Virgins in the Tiger Cage / 玉女刧. Mandarin language is used. The VHS was probably released in Taiwan by a local company. Movie director is ศราวุฒิ วุฒิชัย. Tanit Pongmanoon, วัลลภ นพสมบูรณ์, Supakorn Srisawat, Doo Dook Kradon, Manop Aussawathep, Chat Mongkolchai are the Thai actors playing in this movie. Below summary is based on the Taiwanese version. Many ladies have been kidnapped by ruffians and are held prisoners in a remote camp in the jungle. They have to wear inmate clothes. Five more ladies have been captured. Among the ruffians, there is a ruthless lady with a whip, who like women. The ruffians disagree and fight together. Around 70 girls are held captive and are forced to work. Some conflicts erupt between girls also as the ruthless lady has a favorite. At night time, a few inmate ladies try to escape. Four succeed to go far in the jungle but ruffians are chasing them, but they are finally captured back. They are tortured in front of others to give example. Inmate ladies are forced to work hard in the camp. One of them trying to flee again and is shot dead by Chat. Supakorn Srisawat tries his luck at nighttime in the women dorm but he gets punished by the girls. Tanit starts to love one of the ladies called Chaba. He has a plan to release all ladies. He explains to them the camp details so that they can get M16 guns stored in one hut. Fightings occur between ladies and ruffians. All protagonists die except Tanit and Chaba. Tanit is finally arrested by Thai police as he was involved in the camp management. This movie reminds about movie สัตว์สาวในกรงเสือ / Girls in the Tiger Cage (1976).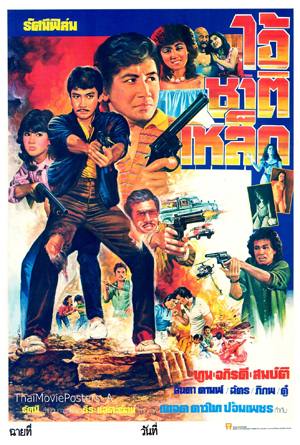 Year

: 1984



Thai title

:

ไอ้ชาติเหล็ก




English title

:



Rating

: 4/5


Director

:



Main actor

: Toon Hiransap,Dam Datsakorn,Sombat Methanee,Doo Dook Kradon,Pipop Pupinyo,Chat Mongkolchai


Main actress

: Linda Khatancharoen,Apiradee Pawaputanon
Thai movie ไอ้ชาติเหล็ก was released in year 1984 and lasts 1h50mn. It is available under VHS format. The picture quality is very sharp. Policeman Ran (Toon Hiransap) has to take over an important task, i.e. intercept a truck hiding illicit goods. Cannabis (กัญชา) is seized. The ruffians' leader Linda (Linda Khatancharoen) is upset so she wants to meet Police inspector Ra (หัวใจเป็นเหล็ก). Tanum (Dam Datsakorn) is working for her. Doo Dook Kradon and Tiu (Sombat Methanee) are playing foreign tourists and visit a gogo bar. Back to countryside, Tiu learns that his wife Jan was raped and killed while he was away. Doo discovers that his wife is living with Pipop Pupinyo now (เมียพี่มีชู้). Unable to give a lesson to Pinyo, Doo receives help from Tiu! Both Ran and policewoman Apiradee Pawaputanon are given to mission to find the drug traffickers in Isan. Waew (Chat Mongkolchai) has arguments with Ran, disguised as a ruffian (นักเลง อาละวาด). Waew receives some help from Tiu and Doo. Tanum, following a recommendation from Waew, hires Tiu and Doo as drivers. Following some shootings and fightings, Ran is framed by Waew and Tanum. As Ran's gunshot unfortunately another policeman and a ruffian, Ran is accused in front of other policemen to be a rogue policeman. Ran is arrested and dismissed as police officer. Anyway he continues his investigation in order to clean his name. Waew takes profit of the ruffian's death to abuse his wife. Tiu kills Waew as he is one, who raped his wife. Tiu and Doo flee. They take refuge in Linda's house per Tanum's advice. As Tanum fails a few times during drug transportation, a waitress played by Apiradee is suspected. She is kidnapped. Seeing Tiu and Linda close together, Tanum is upset and frames him by warning the Police regarding the next drug transportation. Ran releases Apiradee. Tiu escapes to the Police. Tiu is very upset as nobody told him what was inside the truck. This time, Tanum tries to shoot him but Doo is killed instead. Tiu kills Tanum through a fierce fight. Linda's birthday happens in weird conditions. Ran is captured and refuses to join the ruffians in drug trafficking. This time Apiradee releases Ran and they quickly go to the pier to catch all ruffians. Tiu and Linda are arrested. It is seldom seeing Sombat Methanee playing a bad guy. Life conditions push Tiu to become a bad guy as he followed Linda's asking for help. Being arrested, Linda asks Ran for compassion towards Tiu as she is the one sole responsible but Tiu will still have to answer about his acts to Thai justice.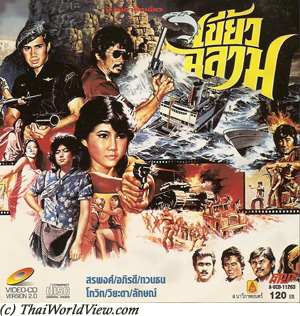 Year

: 1984



Thai title

:

เขี้ยวฉลาม




English title

:



Rating

: 2/5


Director

:



Main actor

: Sorapong Chatree,Rith Luecha,Lak Apichat,Pipop Pupinyo,Tuanton Kammeesri,Kowit Wattanakul


Main actress

: Apiradee Pawaputanon,Wiyada Umarin
A policeman's wife and son are killed during a gun fight. The policeman enquires and discovers that a mysterious organization, which is going to betray Thailand, is responsible of their deaths.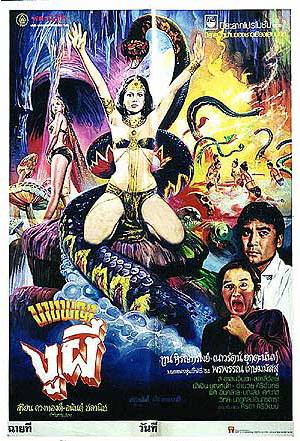 Year

: 1984



Thai title

:

นางพญางูผี




English title

: Ghost Snake Queen



Rating

: 3/5


Director

:



Main actor

: Toon Hiransap,Sor Asanajinda


Main actress

: Naowarat Yooktanun,Pornpan Ketmamatsu,Namgneun Boonnak
Some villagers are hired to catch snakes. A big snake (งูใหญ่) remains to be caught. Chat is one of the villagers. His wife is about to deliver. During a storm, Chat is killed by a huge snake and the baby girl is possessed by a snake. The little girl renamed Boonmee is rescued by a family, who also has a baby girl called Kamfa (Naowarat Yooktanun). They are now grown up beautiful women. Boonmee (Pornpan Ketmamatsu) always think her parents love Kamfa more than her. It is Songkran day. Some Bangkokian people, undercover policeman Cha (Toon Hiransap) and professor Phalat (Sor Asanajinda), come to the village. Young and old people often die in the village so they come to investigative. Nobody knows the real death cause. Some bodies are kept in Wat Khun Duang. Songkran is celebrated there so Cha meets Kamfa and Boonmee. Brother (พี่) Inta is jealous. Both ladies like Cha very much. The temple coffins only contain snakes but no corpses. Villagers afraid of the evil (งูผี). In order to get rid of the evil spirit, there is a need to identify in which body the spirit has taken refuge in. Boonmee brings jealousy in Ita's heart versus Cha. The subdistrict headman's daughter is bitten by a snake. Cha goes to city to bring back a real doctor as he doesn't trust the local shaman (หมอผี). Boonmee (นางปีศาจ) causes the spirit to possess Kamfa and to kill the subdistrict headman's daughter. Villagers now believe Kamfa is the evil spirit (งูผีร้าย). Boonmee kills her own father to prevent him to help Kamfa. Kamfa is captured and will be burnt (เผ่า) in front of the subdistrict headman's house. Cha comes on time but Inta and villagers prevent him to help. Cha and Kamfa shall die on a real stake. A forest monk (พระธุดงค์) stops the fire and announces Kamfa is not the evil spirit that villagers are looking for. The monk asks Kamfa to put a sacred necklace around Boonmee's neck to neutralize the spirit. Kamfa is concerned that her mother shall not stand losing her husband and then one daughter. Boonmee apologizes to her sister and promises not to kill anyone again. The old sorcerer spirit has to bite villagers and drink their blood to remain young. Boonmee seduces and hypnotizes Cha. Kamfa and Phalat have to find a way to release Cha. Boonmee captures her own sister to give her for sacrifice to the snake spirit showing no gratitude to her mother. At nighttime the mother sneaks in the cave and sends on time the sacred necklace on the spirit's head breaking all spells. Evil is defeated and the cave is sealed. It is a remake of 1966 Thai movie "งูผี" with Mitr Chaibancha and Petchara Chaowarat. Compared to 1966 version, Boonmee is much more temptress and is helped by a bunch of sexy amazones. Modern disco and even James Bond soundtrack are used. It is a typical horror movie from 1970-1980s mixing scaring and funny sequences. A second opus of นางพญางูผี was released in 1990 with Bin Banleurit.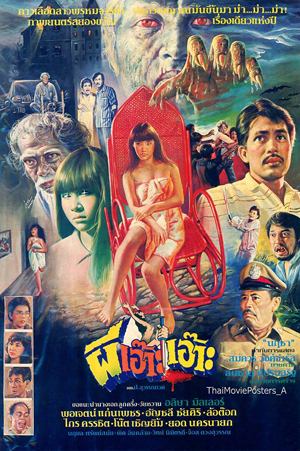 Year

: 1984



Thai title

:

ผีเอ๊าะ เอ๊าะ




English title

:



Rating

: 3/5


Director

:



Main actor

: Porjed Kaenpetch,Lor Tok,Note Chernyim


Main actress

:
A Thai husband called Sankap comes to rest with his wife Oon, a domestic helper and his teenage daughter, Kaew in a remote house. Ting is the mute (ใบ้) guardian of the old house. He is similar to a Quasimodo. Strange and scary noises can be heard at nighttime especially in the attic. Bones (ที่เก็บกระดูก) are found there. Kaew has her periods for the first time (เป็นสาวแล้ว). Through hidden passages in the house walls, the guardian spies the family. Through incantations, the guardian is calling an old spirit in front of a skeleton. The spirit needs a virgin (หญิงพรหมจารี) and pure blood. The spirit extends his life since more than 100 years thanks to virgin blood (บริสุทธิ์). Kaew is finally possessed (ถูกผีเข้า), speaks with a male voice and has extreme strength (แรงมาก). She tries to strangle the domestic helper. While the husband is out to get a doctor, Kaew continues her rampage towards her mother and the domestic helper. The mother and domestic helper are not strong enough face to a hell spirit (ผีนรก). The domestic helper is killed. The Thai husband arrives too late with a doctor. The doctor is even thrown out of the window and dies. Vichan (Porjed Kaenpetch), Sankap's friend, visit them and is surprised to find the house very quiet and the two corpses. He has difficulties to believe in ghosts until the spirit wakes up. Vichan suspects the guardian so follows him up inside his hut. Oon suggests to call a shaman (หมอผี). The guardian is neither mute neither handicapped. Some zombie try to catch Vinchan. Meanwhile the spirit lies to Oon and convinces her to open the locked door. Fight happens between the spirit and Sankap. Despite cutting its arms and head, Sankap is overcome by the spirit. Sankap and Oon are killed. A purification fire started by Vichan burns the skeleton and wax effigies. Spirits are defeated. Vichan promises to take care of Kaew. Compared to other contemporary 1980s Thai horror movies, this movie doesn't have much comic relief despite Lor Tok and Note Chernyim acting, so it is more similar to western standards despite having simple Fx. It could be the Thai version of "The Exorcist"!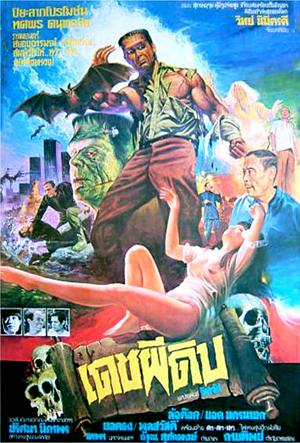 Year

: 1984



Thai title

:

เดชผีดิบ




English title

:



Rating

: 1/5


Director

:



Main actor

: Lor Tok


Main actress

:
Dr Montree is a middle age man celebrating his birthday. He receives a big gift from England. It contains a coffin with an embalmed body inside. During the next full moon happens, the body wakes up. It is a vampire (ผีดิบดูดเลือด) but a foreign vampire (ผีฝรั่ง). Few gags happen as the foreign vampire has difficulty to get along with Thai ghosts. This vampire has the physical appearance of Frankenstein. He brings a young lady to his coffin and makes her his wife. A love story starts between human and ugly vampire. The vampire wishes to change his voice as it is too sharp. He proposes an exchange to Dr Montree. The vampire can now sing folk (ลูกทุ่ง) songs with a pitched voice. When the vampire realizes he lost his masculinity, he chases Dr Montree (เอาของกูคืนมา) to get it back. This is really a crazy movie and Lor Tok's performance is not enough to avoid the sinking. This movie uses Culture Club's Boy George as soundtrack. It lasts only 1h10 so either the montage is really bad or it has been censored. เดชผีดิบ first movie with Sombat Methanee was released in year 1968.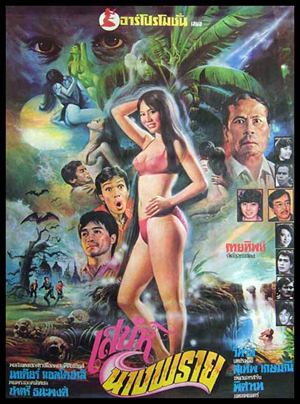 Year

: 1984



Thai title

:

เสน่ห์นางพราย




English title

:



Rating

: 2/5


Director

:



Main actor

: Lor Tok,Note Chernyim,Krai Kanchit


Main actress

:
Thai movie เสน่ห์นางพราย was released in year 1984 and lasts 1h42mn. It was released under VCD format by company Lepso. Three young adults (an engaged couple and a bachelor called Itthi) visit a countryside village and deliver books to the subdistrict headman (กำนัน)(Krai Kanchit). The subdistrict headman has a young new wife called Mon and a young daughter called Chamrien from his first wedding. Both women have sexy tempers. Chatree loves Wan, his fiancee (คู่หมั้น), a lot. Itthi is a young bachelor, played by Note Chernyim. They want a quiet place to rest and to study to prepare exams. The subdistrict headman likes to talk to monks (คุยกับพระ) and is very interested by Buddhist prayers (สนใจ). His main wish is to extend the local Buddhist temple (ทำบุญ). So his wife Mon is very bored. She is having an affair with villager Jom (เก็บเรื่องนี้เป็นความหลับ). Mon is also wandering around Chatree. Meanwhile Chamrien is wandering around Itthi. The subdistrict headman's male helpers, Jom and Kaem, are unhappy about this and complain about Bangkok people (คนกรุง). At nighttime, a ghost (Nang Phanee) appears. Chatree sees Nang Phanee bathing in a river (classical Thai movie scene with the Thai actress using a tight sarong [ผ้าถุง] and bathing in a stream). Nang Phanee is ภูติรักยั่วสวาท, i.e. a ghost, who still wishes to seduce men, The charm of Nang Phanee causes instant love from Chatree. The following day, Nang Phanee also seduces Itthi. Wan believes Chatree is becoming crazy (คนบ้า) as he is giving kisses to an invisible ghost. Nang Phanee enjoys playing tricks with Chatree and Itthi. Mon declares her love towards Chatree to Wan. The subdistrict headman's helpers try to abuse Wan (สาวกรุงเทพ) but Nang Phanee defeats them. The subdistrict headman's helpers are chased from his house. They contact a master (อาจารย์) (Lor Tok) to have him doing magic filters (ทำเสน่ห์ให้). He is half crazy. He is also contacted to remove infidelity from the body of sub-district headman's wife and the students. He needs to face Nang Phanee and chases her (ไล่ผี). But the master is in fact very smart. He chases another ghost and keeps Nang Phanee for him!!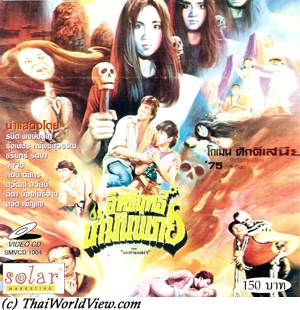 Year

: 1984



Thai title

:

อิทธิฤทธิ์น้ำมันพราย




English title

:



Rating

: 1/5


Director

:



Main actor

: Tanit Pongmanoon,Joomjim Khemlek,Somsak Chaisongkram,Supakorn Srisawat


Main actress

: Praew Mardmarud



Buy now

:

Thai movie อิทธิฤทธิ์น้ำมันพราย was released in year 1984. The VCD released by Solar Marketing Ltd lasts 1h52mn. A previous version released on VHS lasts 1h47mn. The movie mixes comedy, scary, sexy sequences. An Indian master imprisons a sorcerer, called Mae Mo (แม่มด), in a pot believing she is neutralized. Phi Chim (Somsak Chaisongkram) and Yupin are having a baby. She is pregnant for three months. An old grandmother gives a ring and transmits some power (มรดก) to young lady Yupin. At nighttime, Yupin becomes a fearful spirit (ผีกระสือ). Some animals are killed, and their blood was suck. Jim (Tanit Pongmanoon) and Nit (Joomjim Khemlek) are requested by a monk (อาจารย์) to investigate. Meanwhile a new fake master (Supakorn Srisawat) arrives in the village. Villagers ask for his help (ผีออกอาละวาด) to neutralise the spirit (ปล้ำผี). Of course, he completely fails. Mae Mo wishes Yupin to open the pot (กระบอก) in which she is held prisoner. As Yupin refuses, Mae Mo forces her and threatens to disclose the truth to her husband Chim. Only Nit can open the pot so Yupin needs to convince him. Jim and Nit meet a young lady, called Saree, at a waterfall. Nit and Jim promise to find her real father. Funny chasing sequences happen between fierceful spirit Yupin and villagers as she wishes to suck their blood. Yupin succeeds to convince Nit to open the pot and Mae Mo is released. Magical fights happen between Nit, Jim and Mae Mo. Mae Mo is finally defeated and Yupin becomes human again.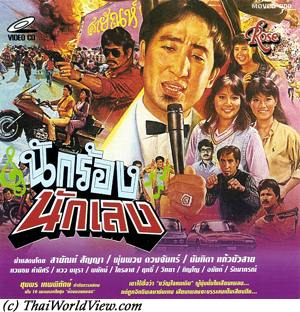 Year

: 1984



Thai title

:

นักร้องนักเลง




English title

:



Rating

: 2/5


Director

:



Main actor

: Sayan Sanya,Rith Luecha,Tuanton Kammeesri,Krailat Kriengkrai


Main actress

: Pumpuang Duangchan,Nanthida Kaewbuasai,Ratanaporn Intarakamhaeng



Buy now

:

The story script relates the conflicts between a singer and bad tough guys. Many songs are featured during the story. Both main actors are famous Luk Thung (ลูกทุ่ง) or Thai country music singers.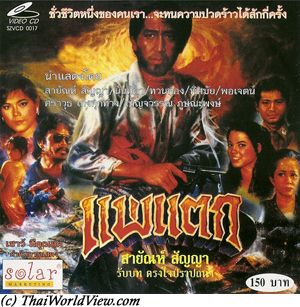 Year

: 1984



Thai title

:

แพแตก




English title

:



Rating

: 3/5


Director

:



Main actor

: Sayan Sanya,Porjed Kaenpetch


Main actress

: Pissamai Wilaisak,Nanthida Kaewbuasai
Phai (Sayan Sanya) is living with his mother and younger sister called Kaew. Wut is Phai's friend and becomes policeman. Wut is Kaew's boyfriend. Phai loves a local prostitute, called Rampeung, but his mother despises her. The local mafia doesn't want to release Rampeung so Phai has serious arguments with them. Phai learns that Kaew has a blood cancer. There is a need to change her blood but it is expensive. He cannot tell the truth in order that Kaew keeps high moral. People start to believe he has a devious relationship with his sister as he takes care of her too much. He cannot accept Kaew and Wut's wedding as it would cause Kaew's death. His mother chases him from home. Before living home, he tells the truth to his mother causing her to indulge into alcohol when knowing the truth. While wandering, he prevents a gunman to kill an entrepreneur called Chat. Chat gives him shelter in his home. Dao (Sayan Sanya), Chat's daughter, is fond of him. Wut is now a policeman. Kaew's mother refuses the wedding also. Wut become an inflexible policeman. Love and duty are different things. Chat and Somjet, a local mafia leader, are involved in various bad traffics. Chat is killed by Somjet but it is believed that Phai killed Dao's father. Rampeung is shot while protecting Phai. Dao understands that Phai is innocent. Kaew is sent to hospital. Phai goes back home and fight successfully against Somjet. A storm destroys his house. Phai believes his mother and sister are dead. He kills himself due to despair despite Wut's last attempt to save him. Both main actors are famous Luk Thung (ลูกทุ่ง) or Thai country music singers. Both Sayan Sanya and Nanthida Kaewbuasai perform songs during the movie.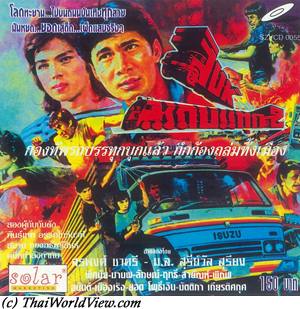 Year

: 1984



Thai title

:

สิงห์รถบรรทุก 2




English title

:



Rating

: 2/5


Director

:



Main actor

: Sorapong Chatree,Manop Aussawathep,Rith Luecha,Lak Apichat


Main actress

: Suriwan Suriyong,Pissamai Wilaisak
First movie episode สิงห์รถบรรทุก was shot in 1977. Siarat (Sorapong Chatree) is the owner of a truck company and is recently married. Phayap is the head of local mafia. His team is responsible of killing the owner of a truck company but they manage to accuse Siarat. Malin (Suriwan Suriyong), daughter of the assassinated truck owner, wishes to take revenge over Siarat but her mother (Pissamai Wilaisak) tries to prevent her as there is no proof yet. Malin believes wrongly Phayap's sayings. Two hitmen shot and kill Sairat's wife, Saisanee. Siarat wishes to take revenge over this murder. Meanwhile Siarat's former friends from the first movie episode, Chan, Kaewkarawet and Rawan, come back. Phayap tries to buy land from poor farmers but Chan (Manop Aussawathep) helps to chase the ruffians. Siarat doesn't know yet who killed his wife, Phayap group or Malin group. Phayap calls for other ruffians' help from Sisaket. Malin has great fighting skills. Suriwan Suriyong was often used as leading actress for action movies. She shows to Siarat that women can do same as men. Malin and Siarat are now friends as Phayap is identified as the treacherous man. Phayap sells weapons illegally to drug dealers. Phayap kills Siarat's friend Master (อาจารย์) himself. Siarat and Malin bring dozen of trucks to attack Phayap's team but the fields are mined. Gunfire happen between both groups until Phayap is neutralized through bloody sequences. It is a typical action movie from 1980s based on revenge script, kung fu fights, gunfire fights and issues resolved without the direct intervention from the police (it is only known at the movie end that Sairat's friends were under cover policemen), katoei (กะเทย) used as supporting comic roles. The movie image is very damaged for a 1980s movie. This hommage to trucks world was certainly very successful in countryside where movies were projected from the backs of trucks on to sheets hung between trees at fairgrounds.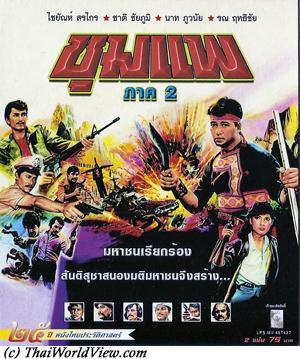 Year

: 1984



Thai title

:

ชุมแพ 2




English title

: Chom Phae 2



Rating

: 3/5


Director

:



Main actor

: Nard Poowanai,Kecha Plianvithee,Chat Mongkolchai,Manop Aussawathep,Chaiyan Sorakrai,Ron Rittichai


Main actress

: Apiradee Pawaputanon



Buy now

:

Chom Phae 2 (ชุมแพ ภาค 2) movie starts by a 5mn section of Chom Phae 1 with actors Sombat Methanee, Dam Datsakorn and actress Piyamas Monayakol. Chatom, the ruffians leader, is captured by the police. Duangjai and Duangpol are his daughters. Police Officer Chayo, promised to Duangpol, refuses to release Chatom. Duangjai hires Chat, a famous thief, in order to help liberate her father. The plan is audacious but successful. Chatom needs now to buy weapons for 20M baht to ruffian leader พ่อ Saen. Weapons are finally stolen (โปลน) and not paid. Saen is upset by Chatom's outrageous beahavior and his daughter Surin tries to calm him down. Both Surin and Duangjai want their fathers to stop being ruffians leaders but they just cannot stop. Chatom's ruffians try to kill Saen but a mysterious masked fighter (Surin!) helps him. Every time Chatom tries to sell the weapons, police is aware. Chatom suspects Chat to inform Chayo. Chatom resurrects Seua Sing (from Chom Phae part 1) as his twin brother to try to kill Police Officer Chayo. Chatom's ruffians try to sell weapons to neighbouring guerrilla (คนเลวชาติ) in the jungle but Saen's team led by Surin fights back. Chatom ruffians kidnap Surin to know who is the spy inside their team. Hopefully Yot helps to release Surin. Chat is finally captured but released by Surin. He joins Saen's team. To get rid of him, Chatom wishes to recruit Hamuyan, a strong hill tribe fighter. Hamuyan is coming from a hill tribe (พี่น้องแมว) and is expert in fighting skills. Hamuyan is recruited by Chatom to kill Chat. Hamuyan accepts as Chat is supposed to be a bad guy and Hamuyan needs money. Police officer Chayo intervenes before they can kill each other. Surin (Apiwadee) is doing well in fighting skills also. Following the failure, Chatom orders to kill Hamuyan but his sbires fail to execute properly. Later on Hamuyan helps Chat and Surin in difficulty against some ruffians. Chat and Hamuyan decide to go back to the mountain to prevent retaliation from Chatom on the hill tribe. Hamuyan's sister Nai Ying prevents a bomb to explose when Chat's car with Hamuyan passes by but she gets shot. Chatom and his ruffians attack the hill tribe village but are welcome by an explosive reception from Chat, Hamuyan and the hill tribe fighters. Police led by Chayo arrives on time. Even Surin joins the shootings. Finally Chatom and Saen kill each other. Chat was finally an undercover policeman. It is a typical 1980s Thai action movie featuring multiple fights, shootings, undercover policeman. Chomphae 1 was released in 1976. The real part 2 is supposed to be movie "ทุ่งลุยลาย" with Sombat Methanee released in 1978. This Chom Phae 2 doesn't feature the main leading actor, i.e. Sombat Methanee and tries to bank on the box office success of part 1.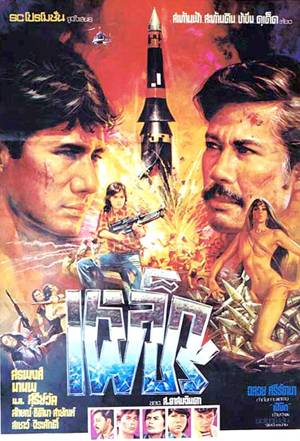 Year

: 1984



Thai title

:

เหล็กเพชร




English title

:



Rating

: 3/5


Director

: Sor Asanajinda



Main actor

: Sorapong Chatree,Manop Aussawathep,Sayan Chantaravi​boon,Suchao Pongwilai,Lak Apichat


Main actress

: Suriwan Suriyong,Metta Roongrat,Thitima Sangkapitak
Thai action movie เหล็กเพชร was released in year 1984. The movie is lost in Thailand but a two minutes trailer remains to be seen. The movie producer is Sor Asanajinda. Main actor is Sorapong Chatree. Suriwan Suriyong is the main actress and Manop Aussawathep is playing her father. Other actors are Metta Roongrat, Lak Apichat, Sayan Chantaraviboon, Suchao Pongwilai, Thitima Sangkapitak… The trailer shows some fighting over a moving truck transporting tree trunks. In year 1967 Sor directed the same movie เหล็กเพชร in 16mm format. Sopha Sataporn was then the main actress. The 1967 version is still available.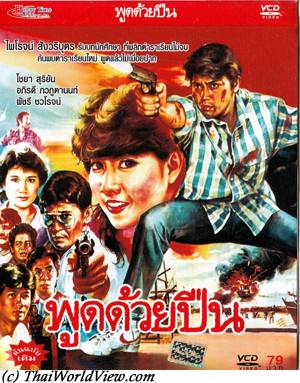 Year

: 1984



Thai title

:

พูดด้วยปืน




English title

:



Rating

: 3/5


Director

:



Main actor

: Phairoj Sangwaribut,Chaiya Suriyun,Lak Apichat,Pinyo Parnnui,Krailat Kriengkrai


Main actress

: Apiradee Pawaputanon



Buy now

:

Thai action movie พูดด้วยปืน was released in year 1984 and it lasts 89 minutes. Eh (Phairoj Sangwaribut) is a student. His friend Tor is beaten by two thugs. The leader takes revenge as Tor sent him to jail 3 years ago. The two thugs then try to attack Eh but he succeeds to get rid of them. His girlfriend is Sa (Apiradee Pawaputanon). Tor is back home but he is blamed by his father for being useless and being a gay. Eh is back to Choomporn as his parents have been killed. His father, a politician, was killed by ruffians (Lak Apichat, Pinyo Parnnui) as he refused to withdraw from next election. His wife was killed also. Police inspector (สารวัตร) suspects Ah Kadet (Chaiya Suriyun) but he has no proofs. Eh has to sell the house and land as his parents were indebted. He entrusts his sister Eoh to his father's friend. He decides to stop studying. Eh stays with Chom (Krailat Kriengkrai). Eh gets a shot gun and gets revenge by shooting one of the killers. Ruffians get revenge by shooting Eh's parents' friends but Eh refuses to provide hints to the police. Lak is shot but Eh is injured. The boss hires two thugs from Bangkok to work with Pinyo to get rid of Eh. They are the two thugs, who got beaten by Eh so they want to take their revenge. Pinyo (สัตว์นรก) is then killed also. The two thugs get punished again. Ah Kadet pushes Tor to kill Eh if he wants to get back his parents' belongings. Finally Eh gets rid of Ah Kadet in a shipyard. Eh shall marry with Sa next month but Tor, unaware of Ah Kadet's death, shall still execute his orders...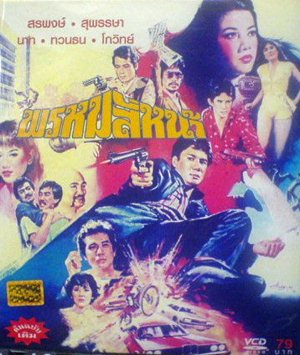 Year

: 1984



Thai title

:

พรหมสี่หน้า




English title

:



Rating

: 3/5


Director

:



Main actor

: Sorapong Chatree,Pumi Patanayut,Nard Poowanai,Tuanton Kammeesri,Kowit Wattanakul,Krai Kanchit,Pipop Pupinyo,Rith Luecha,Chat Mongkolchai,Paen Pleumsachai,Somsak Chaisongkram,Pao Porapak


Main actress

: Supansa Nuengpirom,Piathip Kumwong,Wiyada Umarin
Thai movie พรหมสี่หน้า was released in year 1984 and lasts 1h44mn. It was released under VCD format and also under VHS format. สุรพล กรสวัสดิ์ is the movie director. Many actors and actresses are featured in this movie such as Sorapong Chatree, Pumi Patanayut, Nard Poowanai, Tuanton Kammeesri, Kowit Wattanakul, Krai Kanchit, Pipop Pupinyo, Rith Luecha, Chat Mongkolchai, Paen Pleumsachai, Somsak Chaisongkram, Supansa Nuengpirom, Piathip Kumwong, Wiyada Umarin, โสธรณ์ รุ่งเรือง, วรารัตน์ เทพโสธร. Wan (Sorapong Chatree) calls from Germany for his father's birthday party. A bomb, hidden in the birthday cake, explodes. The whole family almost dies. His elder sister (Piathip Kumwong) and also the family car driver (โสธรณ์ รุ่งเรือง) survive. Teen Ta (ด.ญ. กระแต) has also survived but she is now paralyzed. Wan, a former soldier, is back from Germany. Police is too slow for Wan so he decides to manage by himself. His father was a businessman. Wan watches the birthday video and identifies a man offering a gift and leaving soon. He is a ruffian living in Chiang Mai. Wan learns through that ruffian that Pumi Patanayut is involved and was the one to order to bring the cake. Pumi Patanayut is working for mafia leader (พ่อเลี้ยง) Nard Poowanai. Noun (Tuanton Kammeesri) is a journalist refusing corruption and doing inquiries on Nard. Mai (Supansa Nuengpirom) is a young lady, whose mother was also killed by Nard due to business conflict. Kowit Wattanakul is close friend of Wan and introduces him to Mai. Mafia leader Nard Poowanai is trying to become member of parliament and is supported by Wiyada Umarin, his girlfriend. Wan starts to get revenge. Nard's right hand is first killed by Wan. Nard suspects Mai. Then Wan shots Kamlee (Paen Pleumsachai) and warns Nard that soon it will be his turn. Wan is introduced to the ruffians as new shareholder with Mai. It is a trick to be close to the ruffians and the next one to be killed is Pumi Patanayut. Noun is investigating on those killings. Wan and Kowit are identified to be behind the murders. Kowit is shot by ruffians while visiting uncle Sai (Pipop Pupinyo). Wan has no choice but to continue in order to get rid of mafia leader Nard. Nard hires a hitman to get rid of Wan but it fails. Chat Mongkolchai kidnaps โสธรณ์ in order to find where Wan is hiding. As Mai is passing, she is kidnapped and โสธรณ์ is killed. Chat (หน้าตัวเมีย) wants to force Mai to sign documents. Wan successfully releases Mai and chases after Nard until he kills him. Wan is finally pardoned by Thai police thanks to Mai's plea.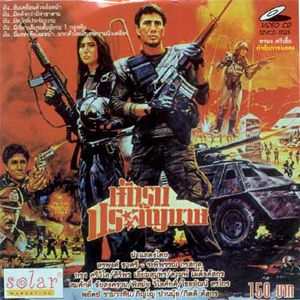 Year

: 1984



Thai title

:

นักรบประจัญบาน




English title

: Cobra Thunderbolt



Rating

: 4/5


Director

: Toranong Srichua



Main actor

: Sorapong Chatree,Krung Srivilai,Chaiyan Sorakrai,Dam Datsakorn,Somsak Chaisongkram,Pinyo Parnnui


Main actress

: Pissamai Wilaisak
Thai movie นักรบประจัญบาน was released in year 1984 and lasts 1h47mn. Toranong Srichua is the movie director. The Thai VCD has a good image quality but is 4:3 format. A Japanese VHS version is in 16:9 format but only lasts 1h29mn. It is a Sahamongkol production. A group of heavily armed Thai terrorists (including Dam Datsakorn, Somsak Chaisongkram, Pinyo Parnnui) are trained in Thailand. The Thai army commander asks to neutralize them asap. Tet (Krung Srivilai), previous military officer and now disabled, is sitting on a wheelchair and is pushed by his wife (Pissamai Wilaisak). He is providing advices to Thai army commander. Det (Sorapong Chatree) is Tet's previous best fighter (นักรบ). Tet was his superior (ภูพาน) in year 1971. Both Tet and Det were the only survivors following heavy fightings at the Thai border. Tet lost use of his legs. The Daily News Press director sends his best journalist Ann (ศิริพร เอี่ยมสุนทร) to enquiry on a factory building illegally war weapons. The factory owner is Somsak Chaisongkram. The journalist receives threatening to stop her investigation on the factory. Meanwhile Tet demonstrates to Thai army commander his latest armored vehicle (รถวิเศษ). His own daughter (ระพีพรรณ กรสกุล) is the driver. Somsak is also very interested but Tet refuses to sell to him. Somsak sold weapons to communists causing Tet's former military unit to be decimated. Ruffians storm Tet's house and kidnap his wife. Police inspector (Chaiyan Sorakrai) wishes to help but Tet prefers to handle by himself as those kidnappers are not standard ruffians. Det, learning the news from a newspaper, decides to flee while doing community work in order to help his former boss. Ann helps him to find Tet. During tentative exchange with Somsak, Tet's wife is killed through a remote bomb hidden on her body. It is war. Tet provides proofs to Ann that Somsak sold weapons illegally to Cambodia, Lao and Vietnam. Tet is kidnapped. A bomb is put in Daily news' office by a renegade police officer but Police inspector Chaiyan stops it on time. Police locates the terrorist camp and tries to destroy it. Det uses the armored vehicle. Tet's daughter joins him with an individual flying machine. As policemen get difficulties, they wipe the terrorist opposition and release Tet. For this movie, Krung Srivilai made his head bald and was sitting in a wheelchair during whole movie. Toranong Srichua used his movie as a reference to show what risks could happen in Thailand in the future. Some happened (domestic terrorists, police officer betraying country, remote bombs on people…).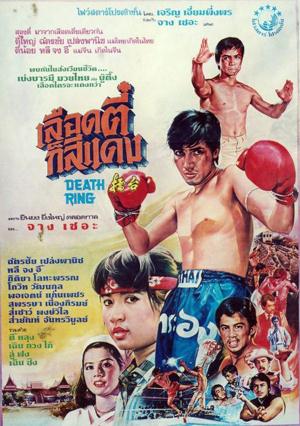 Year

: 1984



Thai title

:

เลือดตี๋ก็สีแดง




English title

: Death Ring



Rating

: 3/5


Director

:



Main actor

: Chatchai Plengpanich,Sayan Chantaravi​boon,Porjed Kaenpetch,Suchao Pongwilai,Kowit Wattanakul


Main actress

: Supansa Nuengpirom
The master's daughter, In Mai, sees her lover Dialin Chi in secret. Her father already has plan to marry her to another man called Hang Fai. But he surprises them together. A fight erupts between Hang Fai and Dialin Chi as he lacks respect to his fiancee. Hang Fai uses cowardly a knife during the kung fu fight and finally gets stabbed. Dialin Chi has to run away. He takes refuge in Thailand during three years. Uncle Lu promises to revenge his son, Hang Fai. Many years have passed. In Mai has now a son called Dai Cheung. Uncle Lu's second son is still looking for Dialin. Dai Cheung is looking for his father in Thailand as he earned a living by being a boxer there. Dai Cheung contacts Miss Ko and Fan, the assistant, for boxing job opportunities. Dai Cheung finds a job as sand bag training partner but Thai boxer Salek refuses to use him. They become friends. Salek dreams about a fight with a strong Thai boxer called the leopard. Salek has recognized Dai Cheung's father picture but would not tell who he is. Following arguments, Miss Ko has barred Salek from any Thai boxing match. Dai Cheung succeeds to be recruited as sand bag training partner by the Leopard in order to work up his style but is heavily beaten. He doesn't think Salek can beat the Leopard. Finally it is discovered that Salek is also Dialin Chi's son with a Thai woman. Miss Ko accepts to organise a fight between Salek and the Leopard. The match happens despite Dai Cheung trying to prevent Salek to assist. Salek gets killed on the ring following the Leopard's hard punches. His half-brother is dead. Dai Cheung decides to become a Thai boxer to revenge his half-brother. He trains hard to be able to get a fight versus the Leopard. Finally following a difficult fight, he succeeds to defeat the Leopard but uncle Lu's family members are still around for revenge also... This Hong Kong action movie particularly shines when Chatchai Plengpanich and other Thai actors are around. Hong Kong Kung Fu actors are Lee Chung-Yat and Ti Lung.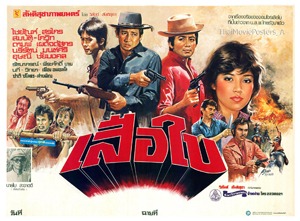 Year

: 1984



Thai title

:

เสือใบ




English title

: Seua Bai



Rating

: 3/5


Director

:



Main actor

: Chaiyan Sorakrai,Sombat Methanee,Dam Datsakorn,Chat Mongkolchai,Kowit Wattanakul


Main actress

: Nareerat Monsiri



Buy now

:

Bai (Chaiyan Sorakrai) is the son of poor farmers. Some cows disappear in the village. Ying, son of local subdistrict headman, is suspected (ชาวบ้านเดือดร้อน) to sell the cows to gamble. A fist fight happens between Ying and Bai as Bai challenges him on the money origin. Ying and his friends are strongly defeated by Bai and his brother Chom. Yiem (Dam Datsakorn), Ying's father (พ่อ), doesn't accept this and threatens to kill Bai if he doesn't apologize. Yiem hits Bai's father. Wishing to clarify the situation with Yiem, Bai and Chom end up fighting with Ying and his ruffians again. Ying shots Chom and Bai has no choice but shooting Ying also. Chom is only injured but Ying dies. Chom and Bai have to flee but subdistrict headman (กำนัน) Yiem promises to revenge his dead son. While fleeing, Bai helps Malee (Nareerat Monsiri) threatened (รังแก) by ruffian Riem (Chat Mongkolchai). Sia Thong is another godfather lending money then taking land and cows when villagers cannot repay. Bai has to play the robin woods to get back the illegal contracts from Sia Thong. Malee is Seua Fai's (Sombat Methanee) young sister. Yiem's ruffians kill Chom. Bai and his friend Sakorn (Kowit Wattanakul) take refuge in Seua Fai's territory. Romance starts between Bai and Malee. Seua protects villagers and punish those acting badly. Yiem's ruffians team perform robbery (ปล้น) by using Bai's name. They hide their face. The action is taking place during World War II with Japanese soldiers occupying Thailand. Bai and Seu Fai team help each other to neutralize a petrol stock maintained by Japanese soldiers. While visiting his mother, Bai is surprised by Yiem's ruffians. He succeeds to escape but a traitor is leading Yiem to Bai's hidden refuge. Yiem is bringing the police with him. Shootings happen. As Sakorn is seriously injured, he stays behind to stop Yiem's ruffians. Meanwhile Yiem sends teammates to kidnap Bai's parents so Bai's team has to split into two parts. Following his mother's request, Bai finally surrenders to the police. No thief can escape police. The real historical Bai is coming from Suphanburi province. He was a thief (โจร) very active after World War 2. He stayed in prison from 1953 to 1963. The real man Seua Bai (เสือใบ) has a small speech at the end of this movie. He is highlighting that his illegal life should not be followed. Other versions of Seua Bai were in 1971 (สุภาพบุรุษเสือใบ), 1998 (เสือ โจรพันธุ์เสือ). In 1971 version, the part related to the fight against Japanese invaders is much longer.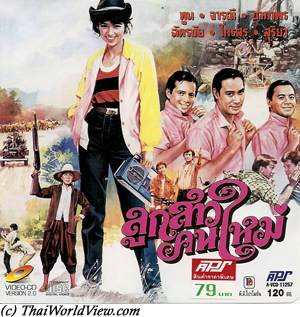 Year

: 1984



Thai title

:

ลูกสาวคนใหม่




English title

:



Rating

: 3/5


Director

:



Main actor

: Chatchai Plengpanich,Toon Hiransap


Main actress

: Jarunee Sooksawad,Apaporn Kornthip
A young poor lady Oi is leaving Bangkok and finds her-self adopted in a farmer family lead by a strong mother with her three sons. She is the new daughter. Many funny situations happen as the three sons are fond of Oi.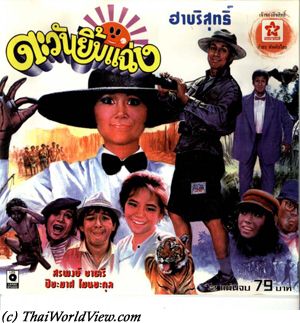 Year

: 1984



Thai title

:

ตะวันยิ้มแฉ่ง




English title

:



Rating

: 3/5


Director

: Kumtorn Tubkunlai



Main actor

: Sorapong Chatree,Sor Asanajinda


Main actress

: Piyamas Monayakol,Janthana Siriporn
In Nan province, animist forest people (คนป่า) are discovered. They are called "Phi Tong Leuang" (ผีตองเหลือง) or Mlabri ethnic group. They do not possess anything and share everything within the group. They are exploited by Bangkokian people to cut trees in forest. They stop to cut trees because deities (ผีฟ้า) are angry. A professor sends a group of students including a young lady called Doktawan to study and to catch a "Phi Tong Leuang" in the forest. In Ta Wa Dung village, people from Chinese origins are living. They are far from civilization and are friend of the Mlabri ethnic group. Cheng is a young man living in Ta Wa Dung village. The students mistakes Cheng as a Mlabri ethnic group member and catches him. Cheng is same as French Asterix and his magic potion. Cheng gets high strength when getting exposed to sun. As he wishes to visit Bangkok, he lets himself captured. There, he is exposed like an animal in a cage. Doktawan educates him to modern world (radio, music, dance). A romance happens between Cheng and Doktawan. The illegal logging company sends ruffians to get rid of Cheng so he has to flee. Police catches him and sends him to hospital for crazy people as he is walking half naked. Meanwhile Cheng's parents are worried and decide to go to Bangkok to search for him. They arrive in Bangkok with elephants and horses to look for him! Finally Cheng is reunited with his family but it is discovered that he is not a Mlabri so he needs to help Doktawan to find real Mlabri ethnic group members. Meanwhile the illegal logging company wants to kill all Mlabri people to be able to exploit the forest. Gun fight happens in famous Earth Pillars site at Sao Din. Police arrives on time to rescue the students and Mlabri. This is a typical Thai comedy from the 1980s decade with a "katoey" (กะเทย) in the funny and silly role, gags from "Raiders of the Lost Ark" and "The Gods Must Be Crazy" (1981). There is very bad taste as the illegal logging company ruffians often carry a nazi flag to emphasize their badness. In 2009 the operator of a waxworks museum in Pattaya has been forced to cover up a giant billboard of Adolf Hitler giving a Nazi salute after complaints. This movie includes first introduction of hidden advertisement with beer brand name promotion.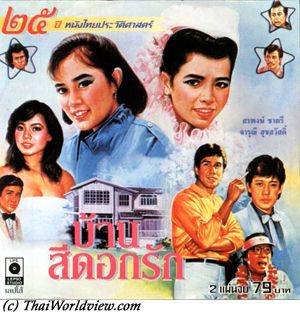 Year

: 1984



Thai title

:

บ้านสีดอกรัก




English title

:



Rating

: 3/5


Director

:



Main actor

: Sorapong Chatree,Thongchai McIntyre,Suchao Pongwilai,Krung Srivilai


Main actress

: Naowarat Yooktanun,Jarunee Sooksawad,Pornpan Ketmamatsu
A young lady Apple is supposed to get married. On her wedding day, another lady comes to get back her husband (หลอกเรา). Apple is disappointed again. Apple is part of a group of three ladies, who are close friends and always help each other. One is Pen (Naowarat Yooktanun), one is sexy Nook (Pornpan Ketmamatsu) and the last one is Apple (Jarunee Sooksawad). They decide to focus on money first instead of love as all men are liars anyway. They find a job in the same company. At night time, they play an escort role in a gambling casino (บ่อน) in order to try finding rich men but the police raids the place. Apple gets refuge in Chatri's car as she mistakes it as a taxi in order to escape to the police. Apple tries her luck again in her search for a rich man (เศรษฐี) in a sport club. They meet Krit (Thongchai McIntyre), who invites them to Chiang Mai in his countryside house. Apple asks Chatri (Sorapong Chatree) to drive them to Chiang Mai. As his car is broken, they just dropped him to go for hitchhiking. Chatri also is also rescued by Krit. He knows the game played by the three girls and have strong sarcasms over them. While wandering in the forest, they have arguments with illegal loggers. They are kidnaped but succeeded to flee except Nook. Krit saves Nook. They finally go back to Bangkok as they run out of money. Pen put the furnitures in a pawn shop (โรงจำนำ) to get money. Krit orders the furnitures to be replaced. Apple is fed up with rich people so she leaves her friends. The movie ends happily with the three ladies getting married. This movie is a typical romantic comedy from 1980s led by local superstars Sorapong Chatre and Jarunee Sooksawad. It also shows modern women vision and status in 1980s Thai society.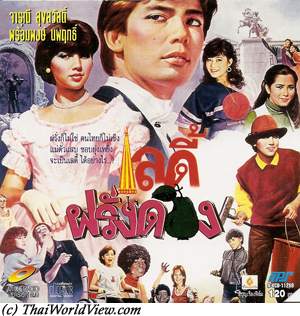 Year

: 1984



Thai title

:

เลดี้ฝรั่งดอง




English title

: Lady Farang dong



Rating

: 3/5


Director

:



Main actor

: Prompong Nopparith,Settha Sirachaya


Main actress

: Jarunee Sooksawad,Aranya Namwong,Ampha Pusit
Vickie, Thai lady, is seduced by an Austrian man, who is already married. Being pregnant, she decides to go back to Thailand. Before leaving, she leaves her daughter, Diana, to the Austrian man. Being an adult, Diana decides to go back to Thailand to find her mother. Will she succeed?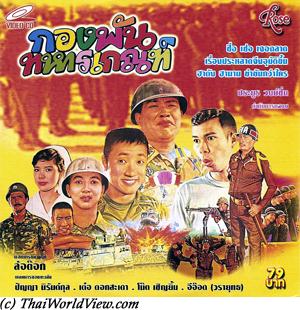 Year

: 1984



Thai title

:

กองพันทหารเกณฑ์




English title

:



Rating

: 4/5


Director

:



Main actor

: Lor Tok,Rith Luecha,Note Chernyim,Der Doksadao,Sawin Sawangrat


Main actress

:



Buy now

:

Thai movie กองพันทหารเกณฑ์ was released in year 1984. It was released under VCD format by Rose company and lasts 1h36mn. The original movie is certainly longer than that as some missing sequences can be seen in the damaged 35mm film. The movie features singer ปัญญา นิรันดร์กุล, Note Chernyim, Lor Tok, Der Doksadao, Rith Luecha, Sawin Sawangrat, วรายุฑ มิลินทจินดา, อำนวย ศิริจันทร์, ชลิดา เสาวดี as main actors and actresses. ชลิดา เสาวดี was only 17 years old when playing in this movie. Movie director is ประยูร วงศ์ชื่น. This popular movie started a trend of Thai military comedy movies. It features a mix of action and comedy. Chatree, a singer, is having his last concert as tomorrow he needs to do military service for two years. Various other characters must join also such as Noo Daeng (Der Doksadao), Note Chernyim, Pan (วรายุฑ มิลินทจินดา playing กะเทย role), Lor Tok as a policeman also sent to military service as he escaped it during many years. Soldiers have duty to protect nation (ป้องกันประเทศชาติ), Buddhism and the King. Rith Luecha is their instructor putting the stress on discipline (ระเบียบวินัย). Head of the training camp is อำนวย ศิริจันทร์. New recruits get bags and need to train. Chatree (ปัญญา นิรันดร์กุล) is enamored with a nurse, named Chatlalai (ชลิดา เสาวดี), but she has a doctor boyfriend already. To calm Chatree down, the doctor gives him a big injection shot. Training with weapons, rifle, grenades occur (ทหารใหม่). As Chatree keeps trying to seduce Chatlalai, the doctor gives him a heavy laxative. The nurse's father is playing by Sawin Sawangrat. Lor Tok warns Chatree that Sawin is off to the border for a few days. Chatree befriends with an uncle and he doesn't know that the uncle is Chatlalai's father and military camp big boss! Chatlalai discovers that the doctor is already married so she is very disappointed and ends up at hospital. Chatree keeps visiting her and comforts her. Comic sequence when Note is visiting Pan to tease him but Rith is hiding under the blanket. Thai soldiers also protect citizen as they have issues with ruffians harassing a lady so fighting occurs. Lor Tok proposes that Chatree sings at the Thai Army day (วันกองทัพไทย) to apologize to Sawin. During the Thai Army day, parade and orchestra with Chatree singing are featured. Thai soldiers need to go to Burmese border. Tanks and troop transport vehicles are sent. This movie probably acted as a showroom for Thai army to show its capabilities in 1984. Rith dies during fighting. Having walked on a mine, he wanted his men to avoid being injured. Chatree is back from war, having arm and leg. He claims to be disabled (พิการ) to ensure Chatlalai has pity on this but he is lying. The movie ends up with Chatlalai chasing Chatree to kick him.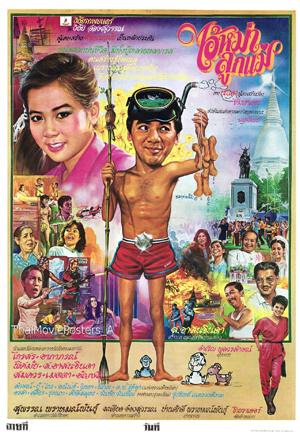 Year

: 1984



Thai title

:

ไอ้หม่าลูกแม่




English title

:



Rating

: 5/5


Director

: Sor Asanajinda



Main actor

: Somkuan Krajangsat,Lak Apichat,Boo Wibunnan,Sor Asanajinda,Pipop Pupinyo,Krai Kanchit


Main actress

: Pissamai Wilaisak,Orasa Isarangkul,Metta Roongrat,Apaporn Kornthip,Malee Wetpraseri
Thai movie ไอ้หม่าลูกแม่ was released in year 1984 and lasts around two hours. The TV cable version lasts 1h40mn and the VHS version lasts 1h42mn. They include various different sequences so the original movie should last around two hours. Sor Asanajinda is movie director. This movie is a drama comedy movie. This movie features many actors and actresses including ด.ช.ไอ้จุก (แห่งขวานฟ้าหน้าดำ), ศศิธร, รุ่งนภา กลมกล่อม, ศักดิ์สมุทร, วันชัย วันเพ็ญ, new actress รุ่งทิพย์ เนตรวงศ์งาม. Father Nio (Somkuan Krajangsat) is married to Yui (Pissamai Wilaisak). They have two children, i.e. a daughter called Nuan (Orasa Isarangkul) and a boy called Neun (ไกรสร แสงอนันต์). Nio is very avaricious and complains that his wife is doing temple donations too often (ทำบุญ). Another family has lady See (Metta Roongrat) as family leader. She has two children i.e. Oi (Lak Apichat) and Pae (Apaporn Kornthip). Neun is going to temple fair with Pae. See wishes her daughter Pae to marry Boo (Boo Wibunnan), a rich but old bachelor. The two families are always in conflict so a wedding between Neun and Pae is a challenge to happen. Sor Asanajinda and Malee Wetpraseri visit relatives with their daughter Kaet (อัญชลี ชัยศิริ). Kaet (นางฟ้า) shall stay in countryside a few months as she is pregnant... Pae is also pregnant with Neun. Father Nio refuses to pay the dowry (สินสอด). See asks for 10,000 THB. Nio only offers 1 baht! Finally, Yui steals 5,000 THB from her husband. Oi steals 5,000 THB from his mother See. So, wedding can happen. But due to Nio and See conflicting, it fails and both Neun and Pae are chased away from their families as they stole money from their parents. Thanks to a recommendation, Neun finds a job by working for Pipop Pupinyo. Kaet goes back for Bangkok and leaves the child behind. As there is a need for money to pay for house windows, Neun asks Pipop for money advance. His wife agrees but she asks for endearment from Neun. Pipop comes back home and fighting occurs with Neun. The wife tries to interpose and gets stabbed by accident. Pipop accuses Neun of having murdered his wife. Neun must flee. Pae and Neun's child is born. Krai (Krai Kanchit) and Pipop commit burglary and murders under the name of Neun. See, Pae's mother, is indebted by playing cards. See and Oi arrange a wedding with Boo. They lie that Neun has a new wife to convince Pae. It makes Neun upset. วิทยา สุขดำรงค์ recommends him to calm down. Neun needs to flee police called by Oi. Neun takes refuge in Bangkok in Kaet's family as a car driver. Kaet's husband, Anoon (อนันต์ สัมมาทรัพย์), has another wife so Kaet is heartbroken and Sor recommends her to build a new life (ตั้งต้นไม้). Oi sympathises with Kaet's husband being a teacher. หมอเสน่ห์ is hired by Pae's family so Boo fires them. A romance between Kaet and Neun happens. Grandma Malee doesn't accept it. Nio is killed by Krai following an external affair. Yui's house is burgled. Neun arrives too late but hopefully Nio's money was well hidden. Neun meets Pipop and Krai fleeing after the robbery. They finally shoot each other unable to share the money. Yui, Neun's mother, sends a parade to ask for Kaet's hand. Neun gives 100,000 THB as promised for Kaet's hand and builds a big house on the land given by Sor. During a drinking session, Anoon discloses to Oi, that Neun is a stupid countryside man as he is marrying Kaet while both of her children are from himself! Despite having university diploma, Anoon behaves badly and the diploma has no value (กระดาษชำระ) as it didn't teach him to behave correctly in life. Informed by Oi, Neun keeps drinking and meets Pae, working in a club as partner. Pae ended up as Prostitute (กะหรี่) and lost her childcare. Anoon even receives 100,000 THB from Sor to keep quiet. Anoon gets beaten by Neun but is only worried about the money. Upset that Kaet lied to him (หลอกลวงเขา), Neun burns the new house (ไฟไหม้เรือนหอ) and surrenders to the Thai Police. Before being arrested, Neun asks Kaet to give money to Pae every month so that she can stop working and take care about their child. This movie highlights poor people versus rich people. Poor people have better heart than rich people.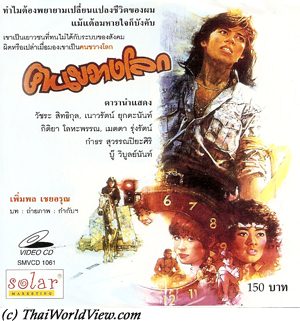 Year

: 1984



Thai title

:

คนขวางโลก




English title

:



Rating

: 5/5


Director

: Permpol Choei-arun



Main actor

: Kamthorn Suwanpiyasiri


Main actress

: Naowarat Yooktanun,Metta Roongrat
Chun is the unique child of a rich family. His father and mother always fight. The husband is cheating his wife and asks his son to keep the secret. Nobody understands or cares about him. Chun is like a beatnik, having long hair and driving an old beetle car. Chun is studying art painting. But even judges don't understand his work. He is fed up with life and rules. Thai students are not educated to challenge rules, the system or think by themselves. Only weak people fear the settled system. Society askes him to stop involvement in politics and focus on studies. He rides a horse in Bangkok to avoid traffic jam and promote his paintings. He challenges his art teacher and makes him upset. When seeing his father doing dangerous business involving risks for the staff health in a factory, he denounces him to the press but nothing is done as they are corrupted. So he makes an union to fight for staff right. His father is disappointed that his son betrays him. His uncle has a plan to have him come back in the society standard rules and be able to take over the company as his father is going old. The uncle orders he cannot see his girlfriend Wee as he is an ungrateful son. Chun goes in gogo bar and blames everybody for the society decadence, Thai men providing young girls to foreigners, indulgence in alcohol... He is expelled by the doormen and beaten by them. He is rescued by Nao, freelance working girl, who initiates him to love. He disappears for 4 days. A love story starts between them. Nao introduces him to her younger sister, who is Wee's best friend! Chun understands that Nao is a prostitute so leaves her. Everybody is lying to him, i.e. the father indulging with young men, the mother indulging in playing cards, Nao selling her body... He gets refuge in a slum. As money runs out, he sells his paintings. Nao recognizes his paintings and finds Chun but he rejects her due to her duplicity. Nao acknowledges but she has no choice as women are puppets that men are using. She does it for her sister to study as they have no more parents. Puzzled, Chun tortures himself same as hermit (ฤาษี). He is very sick so Nao calls his parents. A fight happens between ruffians sent by his parents and slum kids. Chun is sent to visit a psychiatric doctor for crazy people. Did he receive a good education from his parents? His father tries to change him so that he can work in the family factory but to no avail. He identifies himself to Van Gogh. He is forced to live a life like a prisoner with no freedom. His father wants to put him in an hospital for crazy people. Chun is ready to suicide himself. His slum friends and Wee rescue him just on time. This movie is a criticism of Thai education system. People are not themselves. They need to follow society precepts and cannot challenge them.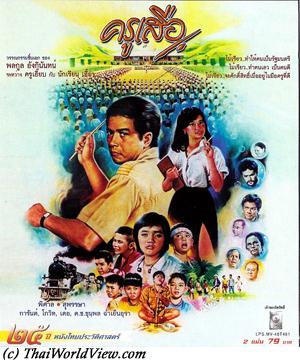 Year

: 1984



Thai title

:

ครูเสือ




English title

:



Rating

: 4/5


Director

:



Main actor

: Pisarn Akraseranee,Boo Wibunnan,Kowit Wattanakul,Der Doksadao


Main actress

: Supansa Nuengpirom
A Thai Chinese type businessman is offering land (ค่าที่ดิน) for school extension. Kru Seua (ครูใหญ่), school headmaster, is accepting on behalf of the school. Kru Seua (ครูเสือ) has a good reputation with all villagers (ครูดี). A new Bangkok sexy lady teacher Boot (ผู้ช่วย) is arriving at the school. Miss Boot has high expectations but Kru Seua reminds her that all teachers have same level, same room, same toilets as it is countryside school (โรงเรียนบ้านนอก). So all teachers have to follow the rules, show good behavior including appropriate clothing and proper speech! Kru Seua chases pupils up to the waterfall as they try to escape his mathematics lesson. Pupils are punished using the old way, i.e. beaten severely with a stick. Teacher Boot tries to intervene and to oppose but to no avail. Kru Seua is respected by the villagers but Boot believes his teaching methods are outdated (โบราณ) and promises herself to win over him. Some children behave badly, steal other people belongings or play betting games (ทำดียาก - ทำชั่วง่าย). There is even a small mafia (นักเลงแทนนักเรียน). Kru Seua encourages pupils to share food as some of them do not have enough to eat. A mother has her son Pleun, being a former convict, released from prison after three years. His wife has gone and his son is sick. He needs money. Chinese businessman's grandson comes to study at Kru Seua's school but he has a bad behavior believing he can do anything as his grandfather funds the school. Kru Seua refuses his entry as all children shall be the same in school (short hair, same uniform). The Chinese businessman argues his donations give him any right but then where is the virtue (บุญ) of doing donation if there is a hidden compensation? The child brings itching powder in the classroom. Finally unable to accept more, Kru Seua cuts himself the boy's hair very short (หน้าที่ของครู). The grandfather goes to police to fill a complain. Kru Seua refuses to bend to bad influence. Meanwhile the kid is kidnapped by Pleun. Kru Seua knows the kidnapper Pleun who is a former student in the school. Kru Seua is an easy man, eating simple food from villagers by using hands. A romance starts between Kru Seua and Boot. Boot tries to convince Kru Seua not to dismiss following the pressure he received from the Police and the Thai Chinese businessman. They finally find Pleun at old Prasat Muang Singh Khmer temple. Kru Seua convinces him to release the child and to surrender to the police. The former convict has always seen Kru Seua as his third parents (พ่อแม่ที่สาม). Kru Seua has decided to quit his job. Despite excuses from the Thai Chinese businessman and his son, despite cries from the children and Boot, Kru Seua seems inflexible. Will he change his mind? Many Thai movies produced in years 1978 to 1984 were related to teachers such as ครูชายแดน, ครูบ้านนอก, ครูสมศรี, ครูจันทร์แรม, ครูปิยะ. Teachers are always supposed to be a reference and show perfect behavior to Thai pupils.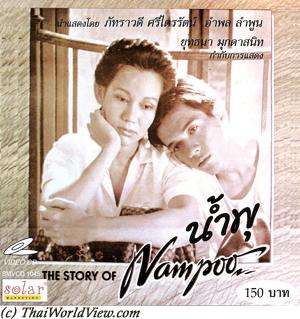 Year

: 1984



Thai title

:

น้ำพุ




English title

: The story of Nampoo



Rating

: 4/5


Director

: Euthana Mukdasanit



Main actor

: Amphol Lumpoon,Suchao Pongwilai


Main actress

:



Buy now

:

It deals about a young man entering the drug realm and his lapse until death. It is a real-life story of a teenage heroin addict, who is neglected by his middle-class parents. The former rocker turned screen star Ampol Lumpoon received Best Actor Awards for this movie. In 1984, Ampol Lumpoon snatched Best Actor award at The First Southeast Asian Film Festival for his role as a drug-addicted teenager. He eventually made his name known in 1984 with Namphoo, which broke the blockbuster record held by the classic Phlae Kao and made Bt17 million at the box office. It was to be his most successful movie. This movie was praised by critics, academics and intellectuals.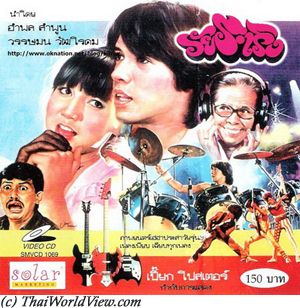 Year

: 1984



Thai title

:

วัยระเริง




English title

:



Rating

: 3/5


Director

: Piak Poster



Main actor

: Amphol Lumpoon


Main actress

: Sulaleewan Suwanthat
Students in class 650 are teenagers. They spend time to make jokes. Their new teacher (อาจารย์) Sri Nuan doesn't understand them and only blame them. So they often flee school and spend time in Siam Square. Teachers have difficulties to educate this class. Teenager Phong uses money from his school fees to buy music instrument and doesn't wish to pursue business studies to replace one day his father as the head of recording studio company. He doesn't go to school anymore. His father is upset. Phong stops going back home and spends time playing music. His grandmother, Pradit, who is also a teacher, blames his father for not giving enough time for his son. She knows the difficulties to teach teenagers. She asks Phong and his friends to stay and play music in her backyard so that she knows where they are. She asks Phong to create a song regarding Europe countries location with a modern rock music. It is an immediate success with the teenagers. They learn and have fun at same time. The grandmother is smart. She knows that teenagers need to study what they like in order to get better results. During a school outing, one of the children of class 650 saves another teen from drowning. The teacher Sri Nuan must acknowledge her mistake and that those kids have also a positive added value to Thai society. During the year end exams, the children of class 650 have very good results thanks to the songs of teacher Pradit. The songs start to be well known but Thai kids cannot buy them. Record producers including Phong's father are queueing for a contract but the group manager is the grandmother so she knows how to defend the kids rights and interests again the business vultures. Finally the father accepts to sign a contract to avoid a competitor to get the deal. They become stars now. Finally they come back to the school year end spectacle to perform. To the puzzlement of all, they perform traditional Thai music. Elders shall respect youth aspirations but youth shall also respect elders achievements as both of them have values. It is Amphol Lumpoon's first role.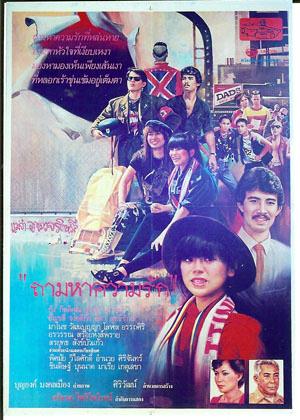 Year

: 1984



Thai title

:

ถามหาความรัก




English title

: Ask for love



Rating

: 5/5


Director

:



Main actor

:


Main actress

: Pissamai Wilaisak
Movie "ถามหาความรัก" relates to the difficult teen period. Axsara, young lady, decides to change her clothing style and she is not accepted in school anymore as an uniform is requested. Teens have feelings that adults don't understand and don't listen to them. Axsara's father has no time for her and her new stepmother doesn't like her. Axsara meets poor teens stealing to make a living. Dao, another young female student, is close friend with Axsara. Dao hears a conversation saying she is not the real child of her parents and about an aunt asking her mother to beware about heritage. She feels hurt and sad. Axsara makes Dao to change a lot, i.e. go to disco, wear daring clothes and challenge her parents. Axsara's father gives her room away to his new wife's family. Disappointed by this decision, Axsara decides to quit the home and invites Dao to join her. Dao's parents give 50 000 baht reward to who will bring their daughter back. Sat, an ugly pushing detective, proposes help to Dao's parents for 100 000 baht and expenses. Axsara and Dao take refuge in poor teens' home selling and repairing second hand products. Dao wishes to meet her real mum. As the police captures most of the pickpockets gang, they flee to Chiang Mai to find Dao's mother. Sat is following them closely. Axsara's father recognizes his mistakes and to have given only love (ความรัก) and no warmth (ความอบอุ่น). Axsara and Dao need to find a job to survive in Chiang Mai. Axsara cannot stand this situation anymore as it hurts her mindset (จิตใจ) and body (ร่างกาย). She wants to go back to Bangkok. Finally Dao is the strongest one not bending in front of adversity. Dao finally finds her mother who is a mamasan in a brothel. The pure love (ความรักบริสุทธิ์) she was dreaming of is ironic. Dao's real mother rejects her as Dao's birth is an accident with a short time customer and she is not a wanted child. She is just a shit she rejected at birth. Finally Dao understands who really loves her so she wants to go back to Bangkok to stay with her adoptive parents. For Sat, people are money only as he has no feelings. Finally Sat brings her back but he refuses any money from Dao's parents as Dao was the one to decide to go home. Sat starts to understand feelings now. Famous Thai group Carabao's songs and music are used in this movie soundtrack as this band symbolizes rebellion against establishment. This teen movie gives a lot of interesting messages about parents education.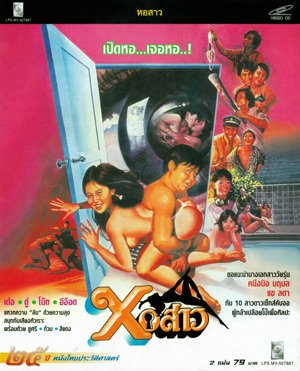 Year

: 1984



Thai title

:

หอสาว




English title

:



Rating

: 2/5


Director

:



Main actor

: Pipop Pupinyo,Doo Dook Kradon,Thuam Thoranong,Note Chernyim,Der Doksadao,Supakorn Srisawat


Main actress

: Chosri Misommon
Thai movie หอสาว was released in year 1984. The VCD lasts 1h13mn only so this version is cut or censored. All sexy scenes are removed. Choosri (Chosri Misommon) and Chat (Thuam Thoranong) are the dorm owners. Chat dislikes a young man called Sing (Note Chernyim), who visits often the young ladies in the dorm. The female dorm (หอสาว) has harsh rules to follow. Young lady Plaew needs to find fast money as she needs to support her poor parents. Doo (Doo Dook Kradon), one of the dorm guardian, is stealing bras (โรคจิต) inside the dormitory. Bantoop (Pipop Pupinyo), another dorm guardian, is forbidden by his wife to go upstairs in the dorm as she doesn't trust him. Plaew meets a movie director, who promises to make her as a star but he is just a liar. Another dorm lady proposes her to become a model (นางแบบ) first. The men are using periscope to spy ladies in their rooms (บุญตาของเรา). Plaew becomes close friend and even lover with another lady. As Plaew is alone, Choosri's son becomes close to Plaew as she feels lonely. When the lady finds that Plaew is now having a boyfriend, arguments occur (ไม่ธรรมชาติ). A new tenant called Jarunee arrives. It is a katoey so she is fired from the dorm. Two other ladies find one sponsor to pay for their rent. Chat is getting favors from one tenant as she is used to drugs (ขอยาเธอ). It ends up badly as she dies from overdose. Sing is arrested by the Thai Police as he was the one selling drugs to the ladies in the dorm. Despite being an average film, the movie highlights some challenges faced by Thai society in decade 1980s (drugs, upcountry women coming to Bangkok, homosexuality, mistress, prostitution...). Choosri decides to stop doing dorm business (ฉันไม่ทำแล้ว) as there are only problems to manage. New actresses include คนึงนิจ นฤมล and แข ลดา. The movie's selling argument highlighted on the poster is about 10 young daring ladies (10 สาวดาว).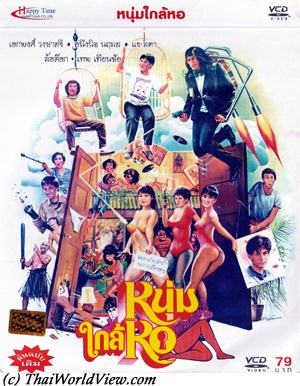 Year

: 1984



Thai title

:

หนุ่มใกล้หอ




English title

:



Rating

: 2/5


Director

:



Main actor

: Lor Tok,Pipop Pupinyo,Thep Thienchai,Doo Dook Kradon,Rong Kaomulkadee,Thuam Thoranong,Note Chernyim,Pao Porapak


Main actress

: Chosri Misommon
Thai movie หนุ่มใกล้หอ was released in year 1984 and it lasts 1h39mn. It is a light sexy comedy and it reminds of the Italian 1970s comedies. The dorm owner (หอสาวแม่) forbids her girls to approach men (สตรีที่ดี). She raises some orphan girls (เลี้ยงเป็นลูก). Pipop Pupinyo is used as a bodyguard to prevent intruders in the dorm. Doctor Lor Tok opens a dorm for men (หอชาย) on the opposite side! Among Lor Tok's disciples, there are veteran actors Doo Dook Kradon, Rong Kaomulkadee, Thuam Thoranong, Note Chernyim. The mother forces Pipop and another guard to take medicine to moderate their ardor (ไม่ไว้ใจ, อารมณ์เพศ). The young men take their revenge by giving to the mother a laxative so that they can be alone with the girls. On the following night, they even cut the water to force the girls to bathe in the swimming pool. Lor Tok tries to provide special medicine (ยาพลังเพศ) to convince Pipop to join them. The mother complains all men are dirty (ลามก). As a new male joins the dorm, the guys change their tactics and use the new handsome guy (รูปหล่อ) to seduce the mother (สุภาพ, แข็งแรง). He succeeds to be invited by the mother as an additional guard when the young ladies sunbathe (สาวอาบแดด). Basically the mother is doing the opposite she was teaching to her girls. They protest against their mother (อย่าทำผิดอีกเลย)! Lor Tok insults her as a mix of madonna (แม่พระ) and witch (แม่มด). Thep Thienchai, as a toilets cleaner, is also involved. Lor Tok is arrested by the police following complaints of Chosri Misommon. Finally the young men fall in love with the ladies. Lor Tok is released from prison and is back with two disciples (ลูกศิษย์) including Pao Porapak. As the two thugs plan to kidnap some girls, the young men intervene to catch them. The ladies dorm's owner decides to remove the fence between the male and female dorms as she recognizes that women cannot live without men. Lor Tok is finally arrested again for selling porn videos. The movie ends up with sexy sequences showing what Lor Tok has secretly filmed. Those sequences present in the 35mm film have been removed from the VCD released by Happy Time. Note Chernyim only plays in a few sequences. There was disagreement on his salary for this movie so he was replaced by Doo Dook Kradon.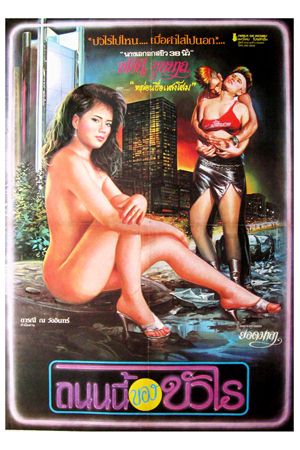 Year

: 1984



Thai title

:

ถนนนี้ของบัวไร




English title

:



Rating

: 3/5


Director

:



Main actor

:


Main actress

:



Buy now

:

Thai movie ถนนนี้ของบัวไร was released in year 1984 and it lasts 1h34mn. This movie didn't pass the censorship. Hot scenes are cut but the remaining part is a social drama about prostitution. Tuk Tuk driver Kamsai goes home late. He is living with his mum, his wife Bua Rai, his wife's younger sister (เด็กวัยรุ่น) and their young daughter. Everybody is asking money to Kamsai and Bua Rai, i.e. the younger sister (flirting with Bob instead of studying) and the mother (playing cards - เล่นไพ่ - and losing a lot). Bua Rai is hairdresser. One of her customers, Phi Songsree, told her to contact her in case she needs money... The younger sister and Bob indulge in sex and drug. Bob is always complaining about his mother in law, who holds all his money following his father's death. Kamsai's mother is so indebted that she has to use house property title (ใบซื้อขายบ้าน) of her son and loses it. Meanwhile Kamsai is aggressed by three ruffians, who steal his money. He ends up at hospital. He is now handicapped and there is a 10 000 baht hospital fee to pay. Bua Rai cannot use title deed (โฉนดที่ดิน) as the mother lost it. She has no choice but to go to see Phi Songsree to get 10 000 baht. Bua Rai has to prostitute herself to pay back the debt and earns money to sustain the family. The mother and younger sister are fully aware and take profit of it. Kamsai finally exits from hospital. Kamsai would rather stay half paralyzed rather that Bua Rai sells her body (ขายตัว). Coming late, Bua Rai still gets sarcasm from the mother as she just lost playing cards. Kamsai cannot stand to be unable to perform his husband duty. Bua Rai lies to Kamsai about her real job. He gets concerns when she has to go to Pattaya. Kamsai tries hard to recover. He is proud of his wife (เมียดีๆ). Bua Rai finds her sister injecting drugs to herself. Kamsai can now walk and finds that Bua Rai is not working as hairdresser anymore. Meanwhile Bua Rai's younger sister also resolves to prostitution to be able to buy drug (ยา) for her and Bob. Bua Rai discovers her sister also prostitutes herself (บัดซบ). The younger sister rejects her elder sister. Kamsai also understands that his wife is a prostitute (อิกะหรี่) and beats her. Everybody forgets she is doing this for the family. The family is about to explode (เราด้องการเงิน, ใจง่าย). The younger sister and Bob enter prostitution and steal bags. Kamsai indulges in alcohol. Rejected by Kamsai, forbidden to see her daughter, Bua Rai leaves the house and explains in a note that she has no choice as his mother sold the house. She ends up at hospital, where her younger sister just died following a shooting. She decides to get suicide. Hopefully Kamsai and the daughter arrive on time to save her and promise to build a new life (ชีวิตใหม่).
---