Increase or decrease font size for easier reading : A+ A-
Year 1983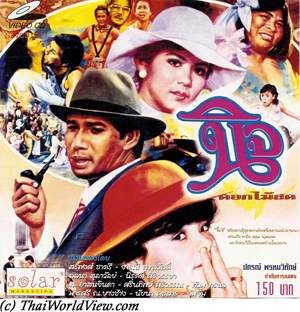 Year

: 1983



Thai title

:

นิจ




English title

:



Rating

: 3/5


Director

:



Main actor

: Sorapong Chatree,Sor Asanajinda,Joomjim Khemlek,Thuam Thoranong


Main actress

: Jarunee Sooksawad,Lalana Sulawan,Sarinthip Siriwan,Marasri Bangchang
Two young people are married following their parents agreement but the man doesn't love his wife and still continue to visit his mistress. Despite all her attemps, the young lady cannot succeed to get love from her husband and left. His husband finally understands that her mistress has an awful mind and try to get her wife's love back. Is it too late?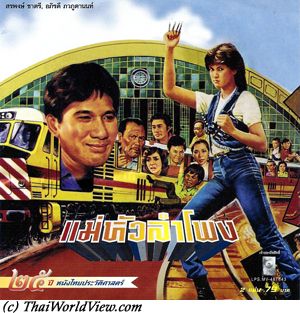 Year

: 1983



Thai title

:

แม่หัวลำโพง




English title

:



Rating

: 3/5


Director

:



Main actor

: Sorapong Chatree,Lor Tok,Nard Poowanai


Main actress

: Apiradee Pawaputanon,Wiyada Umarin,Mayura Thanabutr
Aissa is a girl coming from a poor family in a slum. She acts and fights like a boy. Her best friend is a boy called Tom. while still being young children, they are separated as Tom's parents are moving away but they promise each other to be united again. Once becoming an adult, Aissa has to face mafia people in the slum where she is living. Matter turn worse when her sister is kidnapped by the mafia. She then tries to fight them in her own way. Tom, now being a policeman, also fights against the local mafia. They help each other ignoring their real identity.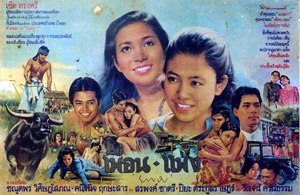 Year

: 1983



Thai title

:

เพื่อน-แพง




English title

: PUEN-PAENG



Rating

: 5/5


Director

: Cherd Songsri



Main actor

: Sorapong Chatree,Piya Trakulrard


Main actress

: Chanutporn Wisitsopon
During childhood, young boy Lor (ลอ) is educated in a house where the father has two daughters already, i.e. Pheuan and Phaeng. Lor is always helping and supporting the youngest girl Phaeng (กวนตั้งแต่เป็นเด็ก). Phaeng (แพง) is always crying when Lok and Pheuan (เพื่อน) start playing games without her. Lor considers her as a younger sister. All the three friends are now adults. The movie features a nice representation of Thailand countryside life, i.e. rice harvest as a community with songs to encourage themselves and to make the work more fun, catch fishes in traditional way with a ingenious fish net, get lotus from pond, traditional way of doing rice fields with buffalo cart. Phaeng always tries to ruin Lor's courtship with Pheuan. Both start to be upset with Phaeng. Ien, another villager, tries to seduce Phaeng during the temple fair (หนังใหญ่). Lor is a perfect bachelor as he does not drink, does not play cards and is working hard. He is fianced with Pheuan and his wedding shall happen soon. Ieng asks Phaeng for wedding through his father but Phaeng refuses categorically as she doesn't love him. Finally Lor finally smiles regarding Phaeng's stubbornness. Jealousy starts between the two women especially as Lor is fiance with Pheuan. Phaeng tries to conquer Lor back by doing dishes he likes. He eats all the sticky rice not because it is delicious but because she made efforts to do it. Lok is surprised to know through Pheuan that Phaeng also loves him as he always considered her as a younger sister (น้อง). Lor promises in front of Buddha amulet to love Pheuan. If he fails the promise, he shall die! Lor cannot talk to Phaeng anymore following promise to Pheuan. Phaeng disappears and Lor misses her. Lor falls severely sick as he catches malaria. The doctor's assistant, Boontim, is a former love of Pheuan. The doctor's assistant offers gifts to Pheuan. Her heart starts to tangle. The assistant makes Pheuan discover the modern life (cosmetics, tennis, dance, car). Boontim asks Pheuan in marriage. Phaeng challenges Pheuan regarding her love towards Lor. Pheuan and Boontim represent the urban Thailand. Phaeng and Lor represent the rural Thailand. Boonpheng is a liar and a butterfly. Pheuan goes back to Lor (ปลาตัวเล็ก) and get all credits when Lok recovers from malaria. It makes Phaeng sad. Lor discovers a letter where Phaeng's friend writes the whole story about Pheuan's bad behavior behind Lor's back. Lor knows Phaeng's real value. They finally spent a night together despite Lor being married to Pheuan. Phaeng is now pregnant and refuses to say who is the father despite being severely beaten by her father. Lor decides to flee with her. Pheuan is aware of this and intentionally forgets to tell Phaeng that a ladder level is broken. During early morning Phaeng falls and finally dies due to internal bleeding while trying to find Lor. Disgusted by Pheuan's behavior, Lok finally chooses to go back with Phaeng, the only woman who loved him more than her own life, and drowns himself. The movie got many awards in 1983 (best actress, best director...). Cherd Songsri is famous for such Thai period films showing the power of love. This movie highlights feelings such as love, belief, promise, faithfulness. Cherd Songsri previously also directed the movie "The Scar" (แผลเก่า). The Culture Ministry registers 25 Thai classic films each year at the National Film Heritage Registry. This movie is part of the 25 films heritage list announced on 04 October 2015, which is Thai Movies Conservation Day.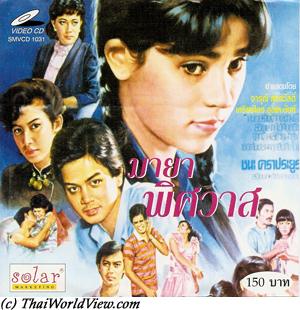 Year

: 1983



Thai title

:

มายาพิศวาส




English title

:



Rating

: 4/5


Director

: Chana Kraprayoon



Main actor

: Kriengkrai Unhanan,Suchao Pongwilai,Manop Aussawathep


Main actress

: Jarunee Sooksawad,Pissamai Wilaisak,Mayurachath Muarnprasitivej,Nipaporn Nongnuch
Dokbua (ดอกบัว), a young lady, is hurt by Chala's car. She is a poor girl coming from Chiang Mai to Bangkok in order to work but she was told a falsehood regarding the job nature. As she has nowhere to go, she can finally stay as a maid as Chala gets pity on her harsh life. Chala's HiSo family includes various members. Pen is a middle age woman. She is the new wife of Chon, who is paralyzed. Chita is Chon's sister. She never got married. Chon has three children, Chala, Chet and Lek. There is always a bad and oppressive ambiance in the family. Chala only spends money but does not earn anything. In fact Chala gives the money to a poor family. Chet and Pen are lovers. All men in the house fight over Dokbua. Pen wants to use Dokbua to take care about her paralyzed husband ardors so that she can have more free time with Chet. Dokbua played the stupid girl but she is in fact very intelligent. Only Chala knows Dokbua has entered the house with a specific idea. What is her goal and her hidden secret? This HiSo house is same as hell (นรก). People are doing bad deeds (มีบาป). Ten years ago, Chon, the father always partied in the house and brought girls. It only stopped when the father became paralyzed. Lek, the youngest daughter, has a boyfriend called Tat. Tat also tries to seduce Dokbua. Pen has a new plan and introduces Dokbua to a rich man called Tawat. Pen gets money in exchange of providing young girls to rich men. There are arguments between Tawat and Chon. Dokbua prefers to stay with Chon. Tawat takes over Chon's company as he looses face regarding Dokbua. It causes a heart attack to Chon. Dokbua talks to Chon privately on his hospital bed while he is dying. Chon is afraid about hell (กลัวนรก) due to his previous bad deeds. Before dying he updates his testament and gives nothing for his children. Everything goes for Dokbua. Chita relates Chon's story to Chala. Chon was behaving like a ruffian when he was young. After having a second kid the father starts to misbehave again with girls so the mother called Lamyong hanged up herself. Dusit was a former business associate of Chon but they had arguments. Chita and Dusit were in a love story and Chon made it broken up. Dusit later has another wife but Chon never forgave to Dusit and Dusit was shot in the back. Dokbua is Dusit's daughter. Dusit is still alive but is paralyzed. Tat still tries to seduce Dokbua as Lek is now a poor girl. Chet also tries to be nice. This hypocrisy causes Tat and Lek to break up. Pen and Chet also break up. Pen cannot stand it. Pen shots Chet and becomes crazy. Lek behaves as a bad girl. The whole family ends up in a turmoil even if Dokbua didn't intend to be such a mess. Finally Dokbua and Chala declares their love for each other. Dokbua gives all heritage to Chita. This movie highlight the high society hypocrisy. Chana Kraprayoon is famous for directing drama / romance movies and Thai TV series. This movie was adapted in a Thai TV serie in 2007. Jarunee Sooksawad got an award for her Best Actress performance in this movie.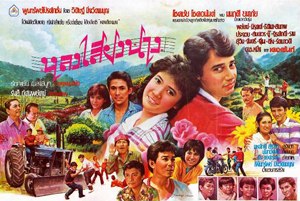 Year

: 1983



Thai title

:

หลงเสียงนาง




English title

:



Rating

: 3/5


Director

: Rangsee Thatsanaphayak



Main actor

: Sawin Sawangrat,Somkuan Krajangsat,Prachuap Ruekyamdee,Nirut Sirijanya,Chokchai ChokAnan


Main actress

: Monrudee Yamaphai,Thitima Sangkapitak
The musical movie "หลงเสียงนาง" is now very difficult to find in Thailand. It is easier to find a Cambodian copy (VHS tape only) than the Thai original version. In the Cambodian version, some songs are still in Thai language and not Khmer language! Many songs are featured including the hit "Long Sieng Nang" (หลงเสียงนาง). The movie scenario is quite similar to "Mon Rak Luuk Thung" (มนต์รักลูกทุ่ง), i.e. a romantic musical comedy. The movie director is Rangsee Thatsanaphayak (รังสี ทัศนพยัคฆ์). He directed around 100 movies! This movie features four veteran actors (Sawin Sawangrat, Somkuan Krajangsat, Prachuap Ruekyamdee, Nirut Sirijanya as Yot) and two veteran actresses, i.e. Monrudee Yamaphai as Chalita (ชลิตา) and Thitima Sangkapitak as Chontima (ชลธิมา). The main actor is seldom seen in Thai movies, i.e. Chokchai ChokAnan (โชคชัย โชคอนันต์) as he played in two movies only. Chokchai ChokAnan is a Thai country music singer, who became famous thanks to the song "หลงเสียงนาง". This song was even adapted in Khmer language (ลา..ลา..ลา.....). Chokchai ChokAnan is half Thai and half Indian. He is playing character Nat. A car from Bangkok is arriving with two young ladies in the village. Yot and Nat, two close friends, tease the two Bangkokian ladies with their motorbike. Finally the two couples tease each other. The Bangkok ladies wish to discover rural life and try to drive a tractor. Nat tries to seduce Chalita through love songs but she is reluctanct. Finally love emerges but the father forbids the young ladies to see the boys. They have to use tricks to see each other. Chalita is finally fianced by her father to an older Chinese Bangkokian businessman. Nat is upset but Chalita was forced. Nat sends a little boy to sing a song telling his disappointment. Chalita has to talk to him through songs (รักคุณคนเดียว). Finally the Bangkokian businessman cannot be trust as he steals money from Chalita's father. Thanks to Nat and Yot, through a final gunfight battle, the businessman and his ruffians are defeated. The father now recognizes the young men's value and accept their love with his daughters.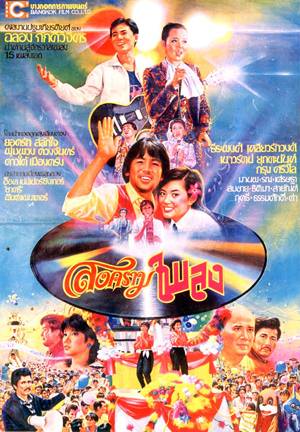 Year

: 1983



Thai title

:

สงครามเพลง




English title

:



Rating

: 4/5


Director

: Chalong Pukdeewichit



Main actor

: Krung Srivilai,Rith Luecha,Manop Aussawathep,Settha Sirachaya,Somchai Samipak,Sayan Chantaraviboon


Main actress

: Pumpuang Duangchan,Naowarat Yooktanun,Thitima Sangkapitak



Buy now

:

Kata (Krung Srivilai) / Leuachai (Rith Luecha) and Manop Aussawathep always have music orchestra (วงดนตรี) competition (สงครามเพลง). Manop's group thinks it has won by using Settha Sirachaya as singer but the group led by Kata uses singer Pumpuang Duangchan. It degenerates and brawl fighting happens between the two groups. Everybody ends up in jail. Police inspector (Somchai Samipak) summon the two orchestra leaders by telling them that music orchestra (วงการเพลง) is an art (วงการศิลาปิน) and should not end up in fighting. Apika (Naowarat Yooktanun) pays the bailing fee (ค่าปรับ). Kata wishes to have the most famous orchestra with Pumpuang as superstar. Manop's group needs to find a new singer able to compete with Pumpuang. They decide to hire heartthrob singer Yotrak salakchai. Many Luk Thung (ลูกทุ่ง) songs are featured in this movie. Sayan Chantaraviboon is featured as the owner of a recording studio. Kampi is younger brother of Kata. Kampi loves secretly a lady called Tosaen (Thitima Sangkapitak). Kampi writes love songs towards Tosaen and those songs are used by Manop's orchestra. Apika, daughter of Manop, discovers that songs are written by Kampi and refuses to buy them anymore believing it is a trick of Kata again. Tosaen becomes lover with Kata. A romance starts between Yotrak and Pumpuang, between Apika and Kampi. It causes concerns to both Kata and Manop (น้องชายของศัตรู). Pumpuang flees so Yotrak leaves the orchestra to find her. Pumpuang is indebted to Kata but she chooses freedom and love towards being a singer. Kata and Manop decide to launch strong fighting (สงครามเพลง / สงครามเลือด) against each other. Amid a battle between the two groups, Pumpuang convinces them for a truce. Tosaen tries to get back Kampi. Leuachai is not ready for truce. Apika quits Kampi as Tosaen left on purpose a bra in his car. During a concert, Leuachai tries to shoot Kata and Manop but finally gets punched by Kampi and then slot by Police. It is the end of violence in music orchestra contest. Tosaen tells the truth to Apika so she can be reunited with Kampi.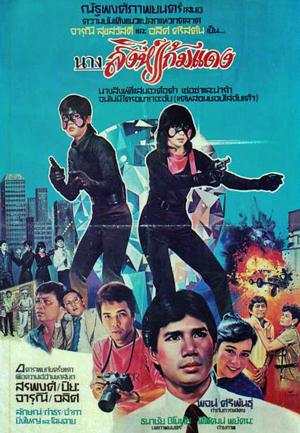 Year

: 1983



Thai title

:

นางสิงห์แก้มแดง




English title

:



Rating

: 3/5


Director

:



Main actor

: Sorapong Chatree,Kamthorn Suwanpiyasiri,Lak Apichat,Piya Trakulrard


Main actress

: Jarunee Sooksawad,Ampha Pusit
Witaya (Sorapong Chatree) is responsible of the security inside Pa's company. Pa has two daughters, Plaew and Fai. They rob their father's money from a safe and donate (บริจาค) 500 000 baht to a blind pupil school. The two sisters give the money under the father's name (กุศล)! While robbing money, they do wear mask with red cheeks (แก้มแดง). They sign their crime with a name card displaying a lioness logo (นางสิงห์). The father is rich and selfish. He never gives any money to charitable organizations but is very generous with his minor wife (เมียน้อย), Toi. Thep, Toi's brother, is part of the company administration council. Plae is also accepted in the company council. The two sisters steal clothes and personal effects from Vitaya to offer them to a poor school (คนยากคนจร). Another time they steal his BMW car. The two sisters continue to harass him but understand that he is a good man. Meanwhile Thep needs more money as he is gambling a lot. Toi has another boyfriend. As Toi cannot always ask money to Pa, Thep decides to steal money from the company safe and uses the lioness logo to accuse them. As the money is not given to a charitable organization, police and Witaya are puzzled regarding the robbers. The two sisters, as the mysterious lionesses, also make a statement about their innocence. A new exhibition showing old artifacts is organized. Thep and Witaya are responsible of the security. Honor of the company (เสียชื่อ) is engaged so a new robbery cannot happen. Thanks to video surveillance, Thep knows who is hiding behind the lionesses' masks and plans to accuse them about the old artifacts successful robbery. Plaew and her sister are aware of the plan thanks to a hidden microphone. They succeed to get back the artifacts but Thep knows and threatens to announce their real identity to the press. He asks for salacious favor to Plaew, who calls his wife Wilai to join them in order to be safe. Thep wants to marry Plaew and becomes the son-in-law (ลูกเขย). Wilai heards his plans and shares the information with Plaew. Thep is finally caught by the police while trying to rob things (ปล้นสินค้า). Hopefully the video tape has been replaced by Wilai (ทำดีได้ดีทำชั่วได้ชั่ว) so Thep cannot prove his accusations over Plaew and his sister. Pa dumps his minor wife. Witaya knows the lionesses' real identity but keeps the secret as love emerges with Plaew.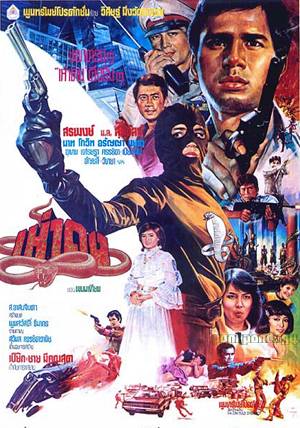 Year

: 1983



Thai title

:

เห่าดง




English title

:



Rating

: 4/5


Director

: เปี๊ยก มีคุณสุต



Main actor

: Sorapong Chatree,Nard Poowanai,Pipop Pupinyo,Kanchit Kwanpracha,Kowit Wattanakul,Settha Sirachaya,Uten Boonyong


Main actress

: Suriwan Suriyong,Aranya Namwong,Piathip Kumwong,Mayura Thanabutr,Marasri Bangchang,Anchalee Chaisiri
Thai movie เห่าดง was released in year 1983 and last 1h55mn. A remastered version was released by Five Star Production (ไฟว์สตาร์โปรดักชั่น) in the decade 2010s and shown on Thai TV cable. As usual on Thai television programs, bad things are blurred such as smoking a cigarette, alcohol bottle or putting a gun on a temple. The movie was also released under VHS format. The movie director is เปี๊ยก มีคุณสุต. A first version of movie "เห่าดง'' was released in 1958 with leading actress Amara Asavananda. The 1983 version featured leading actress Suriwan Suriyong and it was her first movie. The movie song is "จะไปดูหนังไทย บ๊ะ ต้องเห่าดง ดาวดัง สรพงษ์ ผิวคล้ำ นำแสดง สุรีย์วัล สุริยง มาประชันขันแข่ง อรัญญา ก็มา ร่วมกันในเห่าดง". Pleng (เพลิง)(Nard Poowanai) and Kam (Piathip Kumwong) have arguments. Kam complains Pleng is not sincere. Pleng must choose between being a ruffian (นักเลง, การพนัน) versus being an honest military officer (ยุติธรรม). They break up. The military head, Prachom (Kanchit Kwanpracha), promises to help Pleng but this latter refused due to his strong character (กระดูกแข็ง). Pleng has arguments with a debtor, who insults his mother. He stabs him, flees and quits the army. Finally, Pleng becomes a ruffian (เสียคน). Both Prachom and his wife (Marasri Bangchang) are upset by Pleng's decision. Pleng meets dancer Anchalee (Anchalee Chaisiri) in a restaurant. Pleng has a fight with the restaurant owner Prayak (Uten Boonyong) and gets injured. Anchalee takes care of him. Pleng is accepted in the ruffians' team by leader Prayak. Prayak and Chinta (จินดา)(Aranya Namwong) have a child called Bayan. Bayan is in fact a child being kidnapped. Prayak and Chinta need to flee the police and go overseas. Pleng promises to take care of Bayan. Many years have passed. Bayan has now grown up and is renamed Prao (พราว)(Suriwan Suriyong). She has learnt fighting skills (การต่อสู้). While doing shopping, a young policeman called Wut (วุฒิ)(Sorapong Chatree) contacts Prao as Prissana but it is a mistake. But in fact, Prao and Prissana are twins (ลูกแฝด)! They were separated 15 years ago following a robbery by Prayak in Prachom's home. Prissana is Wut's sister. She is engaged to a policeman (Kowit Wattanakul). Hao Dong is a mysterious judiciary punishing ruffians and warning police in advance (ผู้หวังดี). Behind it is Pleng, who always felt guilty to have quit the army. During a last event, Pleng gets shot and killed while helping Wut. Young lady Prao replaces her father Pleng as judiciary. She avenges Pleng by putting a bomb in ruffian leader's car. Wut pretends to be Niwat, insurance representative, in order to investigate the daughter, Saisree (ไซซี)(Mayura Thanabutr), regarding her father's death. In a discotheque, Saisree recognises Prao as they studied together in Japan. Prao studies martial arts including Ninja skills. Wut suspects Prao to be Hao Dong but proofs are not enough. Wut likes Prao (ตํารวจมีหัวใจเหมือนกัน!). Chita and Phayak come back from overseas to support Prao. Prao still wants to catch the real leader of the mysterious society (วงการ). Saisree is now the head of a Chinese style secret society. Both Prao and Saisree want to avenge their father's death. Ruffians are aware that Hao Dong is behind Saisree's father's death, so they want to avenge. Saisree asks Wut to lie to Prao and to attract her in a trap. He refuses. As Saisree loves Wut, she protects him while the ruffians wish to shoot him. Saisree is shot, but Wut succeeds to escape. Prissana is kidnapped by ruffians in order to attract Prao. Wut, the police and Prao storm the ruffians' headquarters. Chita and Phayak, wearing Hao Dong uniforms, are also killed in the fighting, so Prao cannot be accused. Prao is reunited with her parents. A double wedding Prissana / Chao and Prao / Wut can happen.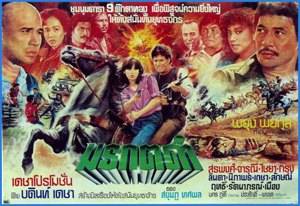 Year

: 1983



Thai title

:

มรกตดำ




English title

:



Rating

: 2/5


Director

:



Main actor

: Sorapong Chatree,Chaiya Suriyun,Rith Luecha,Krung Srivilai,Kecha Plianvithee,Lak Apichat


Main actress

: Jarunee Sooksawad,Nipaporn Nongnuch,Ratanaporn Intarakamhaeng,Linda Khatancharoen
Fighting is happening in a village. All villagers are killed by mercenaries led by Rith (Rith Luecha). Fighters, riding horses and wearing black clothes, led by Maneerak (Jarunee Sooksawad) are chasing them away. Maneerak has a mixed of Ninja and cowboy skills. Two groups are fighting for this area control as it contains precious gems. One group includes Maekin (Krung Srivilai), Kecha (Kecha Plianvithee), Maneewong (Nipaporn Nongnuch) and Maneerak. The opposite group includes Rith, Lak (Lak Apichat) and Runfa (Linda Khatancharoen). Maneerak, Maneewong and Runfa are three sisters. Their father died before. Rith's ruffians are looking over workers digging for gems. Yutta (Sorapong Chatree) finds a big black emerald (มรกตดำ) and flees away but is chased by the guards. The black stone (ก้อนหิน) is a sacred item. It helps to get rid of the guards and a blind monk appears to Yutta to encourage him to take good care of the stone. A mysterious man called Chaiya (Chaiya Suriyun) keeps surveying the two groups. Yutta is involved despite him in the fightings between the two groups as he helped Maneewong and then sold some gems. Yutta loves Runfa but she cannot be trusted as she steals the black stone while he is sleeping. This time, Yutta helps Maneerak, younger sister of Maneewong. The black stone belongs to Tibet and Runfa tries to sell it. Maneerak is able to get the black stone as Rufa's domestic helper stole it. Maneewong wishes to get the full heritage of her father. Maneerak visits her mum (Ratanaporn Intarakamhaeng) in a Buddhist retreat on a hill. Yutta follows her but Maneewong and her lover Maekin are just behind. Duel happens between Yutta and Maekin. Everybody is now looking for the black stone. Maekin kills Rith during the fighting between the two groups. Yutta gets rid of Lak. Finally both Yutta and Maekin are discovered to be undercover police officers (ผู้กอง). Chaiya(Chaiya Suriyun) is an undercover military officer. Chaiya and the mother make everybody realize greed. Understanding is back in the family and Yutta will bring back the black stone to Tibet with Maneerak. This 1h37mn movie is part of Thai Tom Yam western style. The Thai movie poster mentioned that nine Thai stars, having received Thai cinema awards before, are featured in this movie.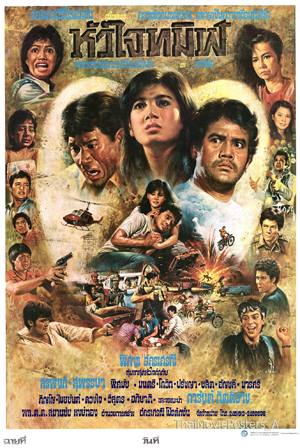 Year

: 1983



Thai title

:

หัวใจทมิฬ




English title

:



Rating

: 3/5


Director

: Pisarn Akraseranee



Main actor

: Sorapong Chatree,Kowit Wattanakul,Pinyo Parnnui,Chaiyan Sorakrai


Main actress

: Supansa Nuengpirom,Pissamai Wilaisak,Marasri Isarangkul,Duangjai Hathaikarn,Anchalee Chaisiri
Thai movie หัวใจทมิฬ was released in year 1983 and lasts 1h17mn. It was released under VCD format by Lepso Company and Rose Company. Movie director is Pisarn Akraseranee. Pissamai Wilaisak and her mother Marasri Isarangkul are heads of a drug cartel. A drug exchange occurs but it is a trick by the Thai police led by officer Kincha (Sorapong Chatree) and Kowit Wattanakul. They surround the ruffians' den. Heavy fighting occurs as ruffians are using war weapons such as machine guns. Marasri, seriously injured, takes grenades and races towards police cars. Kincha ends up at hospital and remaining ruffians flee. Kincha's wife (Duangjai Hathaikarn) asks him to stop as she is worried her children will have no father. Knowing who is the policeman leading the assault in the newspaper, Thong Kam (Pissamai Wilaisak) promises to get revenge. Sifa (Anchalee Chaisiri), Pinyo Parnnui, Montree Jenuksorn (มนตรี เจนอักษร), ปรัชญา อัครพล, ชลิต เฟื่องอารมย์, อภิชาติ อรรถจินดา and Chaiyan Sorakrai are part of the crazy ruffians. Sifa, being pregnant, gets married with วิสูตร ตุงคะรัตน์ (Thai Elvis Presley). The wedding doesn't end up well as the husband has a mistress. He sets up a bomb in the car. Both Sifa and her brother Chaiyan die. Montree gets revenge over Elvis but gets shot by Kincha. Another ruffian is captured. Mother Thong Kam is very upset. Kowit and Waen (Supansa Nuengpirom), Kincha's younger sister, are close friends. Ruffians kidnap by mistake Waen as she used her brother's car. Back home Kincha finds his family was killed. Thai police use the captured ruffian and organises a fake escape to identify where ruffians are hidden. Thai police storms the area and all ruffians are killed including the mother. One ruffian, named Karan (การันต์ กิตติราช), succeeds to escape with the younger sister Waen. He follows his mother's orders despite she is dead. He helps when Waen is bitten by a snake. Thong Kam was a raising mother, who trained them to be tamil. Waen starts to understand and to pity her kidnapper. He is injured by Kowit but still able to flee. He helps again Waen aggressed by crazy campers. Love occurs. Finally, Thai police surrounds the Buddhist cave, where they are hiding. Waen tries to convince her brother Kincha not to shoot at เจนอักษร. He doesn't understand her sister. Karan has to exit from the cave hearing Waen crying. As he is carrying a gun, Thai police shoots him. หัวใจทมิฬ is another violent movie shot by Pisarn Akraseranee.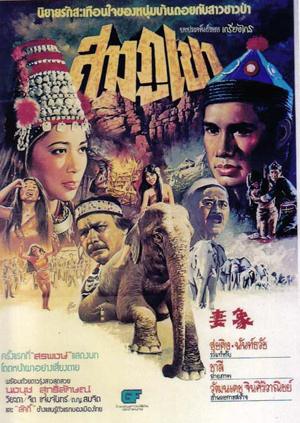 Year

: 1983



Thai title

:

สาวภูเขา




English title

: Elephant Wife



Rating

: 3/5


Director

:



Main actor

: Sorapong Chatree,Sukon Koewliam


Main actress

: Wiyada Umarin
The Thai movie สาวภูเขา / 象妻 - "Elephant Wife" is in Mandarin language and lasts 1h28mn. Such HK movies normally last around 1h30mn (TV format) but the Thai version was often more than 2 hours. This movie is lost in Thailand but as it was a Thai HK co production, it could still be found in Hong Kong under VCD format. A baby girl is abandoned a house. Sukon Koewliam raises the little girl and names her Amena. The little girl is very close to an elephant called Sida. A few years later, they have issues with a local shaman, who burns their house at nighttime. Sukon Koewliam dies in the fire. Years have passed. The little girl is now a beautiful young lady. She meets Sorapong Chatree, who is injured. Love emerges between Sorapong and Amena. Sorapong has to go back to his hill tribe village. There he rejects his wedding with Wiyada Umarin causing the village chief's ire. Sorapong succeeds to flee and meets Amena again. The local shaman and his daughter chase him. They cannot capture him but catches Amena. The shaman's daughter forces Amena to eat special poisonous worms. Amena becomes crazy and her skin is cracked. It is identified that Amena is probably the lost daughter of the village chief. As she is now crazy, the shaman and his daughter wish to execute Amena. Sorapong brings elephants in the village including Sida to release Amena. The chief leader whips himself Amena ignoring she is his daughter. Sorapong protects her and tells the leader that Amena is his lost daughter. Amina is cured but Wiyada tries to poison her again. She is finally the one to ingurgitate the poisonous worms! The bad shaman is stamped by elephants. Sorapong and Amena can now have happiness together.



Year

: 1983



Thai title

:

แก้วขนเหล็ก




English title

: The Dracula



Rating

: 3/5


Director

:



Main actor

: Toon Hiransap,Somphob Benjatikul,Rith Luecha,Somchai Samipak


Main actress

: Apiradee Pawaputanon,Mayura Thanabutr,Pornpan Ketmamatsu
Thai movie แก้วขนเหล็ก / The Dracula was released in year 1983 and lasts 1h22mn. It features some background music by Jean-Michel Jarre and also from James Bond movies. Movie director is สุริยน ดวงทองดี. Wat (Toon Hiransap), Dom (Somphob Benjatikul) and Nin (Apiradee Pawaputanon) are discussing. Dom just gets a heritage (มรดก). It is an old haunted abandoned house. He decides to stay there and so starts restoring it (ตกแต่งห้อง). Rose (Mayura Thanabutr), his fiancee (คู่หมั้น), finds that he changed a lot. An old uncle tells the story of the house. Sir Maekin (ท่าน เมฆินทร์) (Rith Luecha), previous prince (ลูกเจ้าพระยา), wished to marry a young lady (played by Apiradee) but the father refused as the lady was already promised to somebody else. So Maekin kidnapped the lady. His father (Somchai Samipak) imprisoned him for a few days until the wedding was over but Maekin disappeared. Legend said that he become a ghost. Toon helps an old uncle aggressed by two ruffians. He gives him a ring supposed to push back ghosts. One night, Dom is possessed by vampire Maekin. Rose's birthday will happen soon. Dom places a transparent coffin in the house's underground (ห้องใต้ดิน). Dom becomes normal while holding a Buddha amulet, which burns his hand. Maekin possesses him again. Wat uses Tibetan prayers to neutralize the vampire (ผีดิบ). The vampire possesses Wat's young brother (ปรัชญา) in order to shoot Wat. Under Maekin's influence, Dom kidnaps Nin. Wat has no choice but to affront the vampire and use the special ring… A first version was released in year 1971 with Petchara Chaowarat and a later one in year 2003.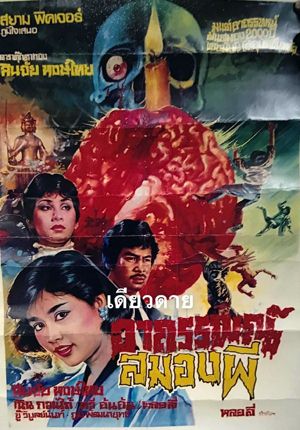 Year

: 1983



Thai title

:

ปีศาจมันสมอง




English title

: The Black Magic with Buddha



Rating

: 3/5


Director

: Lo Lieh



Main actor

: Lo Lieh,Boo Wibunnan,Pumi Patanayut


Main actress

: Candice Yu,Sinjai Hongthai
Thai HK movie ปีศาจมันสมอง / 腦魔 / The Black Magic with Buddha was released in year 1983. It lasts 1h32mn. The movie is lost in Thailand but was recovered from HK. The remaining version has Chinese and English subtitles but has been dubbed also in Thai. Thai VCD was released under the name ปีศาจมันสมอง. A poster under the name อาถรรพณ์สมองผี can also be found. Ben went to Indonesia to recover some sacred item. It is a mummy brain. He shall worship it, asks for a single wish and then destroys it thanks to holy water. If he is greedy, it will backfire on him. He is now back to Bangkok. He wishes to marry Annie (Candice Yu) but Annie's brother Kit (ภูมิ พัฒนายุทธ) refuses until Ben has 1M USD in bank. Boo Wibunnan is Annie's father. Ben asks a wish to the sacred brain. He asks money to his sister. As she refuses, he curses her. Later on, the evil spirit kills her. He then inherits 1M USD and can marry Annie. He worships again the brain to have a happy wedding. Strange accidents happen around his home, animals without brain are found dead. Ben asks for 2M USD from his father-in-law for a risky gold investment but Kit refuses. Kit finally dies as Ben asks the spirit to help him. Annie breaks accidentally the holy water bottle while cleaning Ben's room. Mary, Kit's wife (Sinjai Hongthai), and the father come to stay with Ben and Annie. The spirit starts to be more menacing. Ben buries the brain and puts a big stone on it to avoid it can escape. Annie and Mary decide to put a Brahma shrine in their house to stop the bad luck happening to the family. Annie changes a lot. She becomes vegetarian and refuses contacts with Ben. The spirit also attacks Ben. Ben decides to consult a famous master (อาจารย์) (Lo Lieh) who exorcises him but he cannot remove completely the evil spirit. Ben finally becomes a living evil spirit with his face becoming a brain. The master and Brahma god join their effort to fight and destroy the evil spirit.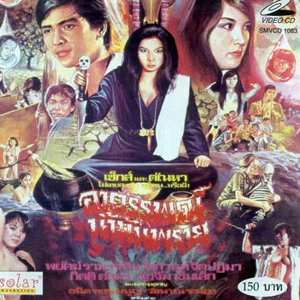 Year

: 1983



Thai title

:

อาถรรพณ์น้ำมันพราย




English title

:



Rating

: 2/5


Director

:



Main actor

: Tanit Pongmanoon,Joomjim Khemlek


Main actress

:



Buy now

:

Thai movie อาถรรพณ์น้ำมันพราย was released in year 1983 and lasts 1h53mn. It was released under VHS format. Later on, it was released under VCD format but reduced to 1h43mn as the erotic scenes were censored. Main actors and actresses are พยัคฆ์ รามวาทิน, ใจกานต์ จิตปฏิมา, กิตติ ดัสกร, Tanit Pongmanoon, วัลนา ณ ระนอง. Five young ladies are killed in the village. A local master is requested for help. Jim (Joomjim Khemlek) doesn't believe in the local master (อาจารย์) but he believes in a local witch (แม่หมอ) called Jintana. Men like to request love oil filter to witch Jintana. Nit (Tanit Pongmanoon) and Loi, wandering by, are helping young lady Pim, aggressed by two men, i.e. Cheut and Yong. Cheut and Yong are then suspected of the five murders. Cheut has a conflict with Loi as he wanted to marry Pim. Witch Jintana helps villagers. Her assistants keep the big amount of money donated to her. Witch Jintana prepares to resurrect her deceased daughter Jit. Jit is back as a ghost and wishes to meet Nit. She is disappointed that Nit has new girl friends. Cheut kills Loi's father and kidnaps Pim to rape her. Meanwhile Loi is neutralized by Yong. Nit realises that Jit is a ghost. While Nit was away, Cheut took advantage of Jit and raped her. She then suicided herself. As a ghost, she takes revenge over Cheut. Jit doesn't want to be reborn as she believes she lost Nit's love. So Witch Jintana prepares a love philter for her. Jintana is having an affair with one of her assistants named Chao Mek. Witch Jintana needs blood to stay young and beautiful. Her assistant and lover Chao Mek gets blood by killing young ladies. Mae Mo asks Chao Mek to kidnap Kanchana, Nit's friend. Loi and Nit try to stop him but to no avail. Finally a master breaks the spell. He neutralizes Jit and the witch Jintana. Having lost the witch, Chao Mek becomes crazy.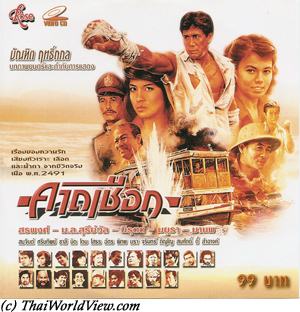 Year

: 1983



Thai title

:

คาดเชือก




English title

:



Rating

: 4/5


Director

: Bandit Ritthakol



Main actor

: Sorapong Chatree,Manop Aussawathep,Pipop Pupinyo,Nirut Sirijanya


Main actress

: Suriwan Suriyong,Mayura Thanabutr
After many years spent in jail, a man is coming back to his home town but he is not welcomed. His mother has become addicted to opium. Now being officer, he decides to expel the local drug kingpin from the town. But the local mafia strikes back and tries to get rid of him. Will he succeed? It is the first movie directed by Bandit Ritthakol.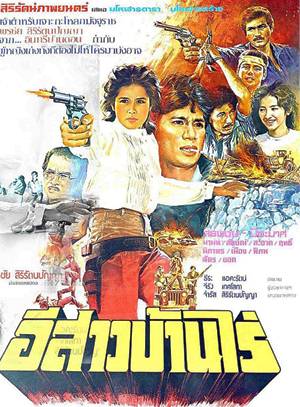 Year

: 1983



Thai title

:

อีสาวบ้านไร่




English title

:



Rating

: 3/5


Director

:



Main actor

: Sorapong Chatree,Manop Aussawathep,Lak Apichat,Sahat Piempongsan,Rith Luecha,Pipop Pupinyo,Chat Mongkolchai


Main actress

: Piyamas Monayakol,Nipaporn Nongnuch
Thai movie อีสาวบ้านไร่ was released in year 1983. Main actor is Sorapong Chatree and main actress is Piyamas Monayakol. The movie is lost in Thailand but a trailer of three minutes is still available. Other actors include Manop Aussawathep, Lak Apichat, Sahat Piempongsan, Rith Luecha, Nipaporn Nongnuch, Pipop Pupinyo, Chat Mongkolchai. The three minutes trailer show various sequences such as Piyamas Monayakol being a fearful young lady able to use guns and fight also, brawls involving Sorapong Chatree. It looks like Piyamas Monayakol is back to her hometown after studying in Bangkok and have then issues with some local ruffians (Rith, Chat, Pipop, Manop). Thanks to Sorapong and Lak, she fights back against ruffians. A love story is also happening between Sorapong and Piyamas. A first version of movie อีสาวบ้านไร่ with Sombat Methanee and Aranya Namwong was released in year 1970. The 1970 version features songs but the 1983 is a pure action movie with no songs.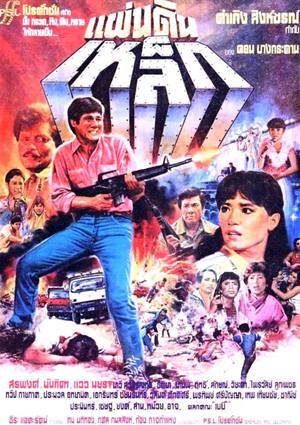 Year

: 1983



Thai title

:

แผ่นดินเหล็ก




English title

:



Rating

: 3/5


Director

:



Main actor

: Sorapong Chatree,Rith Luecha,Lak Apichat,Manop Aussawathep


Main actress

: Thitima Sangkapitak,Nanthida Kaewbuasai,Wiyada Umarin
Thai movie แผ่นดินเหล็ก was released in year 1983. It was also released under another name เสียงเพลงนักเลงโหด and using another movie poster. This movie is lost in Thailand but a sequence of 46mn is left to be seen. Kamnan is starting to prepare his birthday when ruffians come to ask for his land. Hopefully his son (Sorapong Chatree) chases them away. His friend Daeng, injured, is cured by Doctor Oon (Thitima Sangkapitak). Sorapong meets the daughter of a petrol station owner (Nanthida Kaewbuasai). Maen (Lak Apichat) makes Daeng enter as luk thung singer in Rith's nightclub. Decha (Manop Aussawathep) wishes to hire the new singer. Arguments happen between ruffians. A few luk thung songs are featured in the nightclub. Decha is looking for a hitman (มือปืน) to get rid of his enemies (ศัตรู). Sorapong being around accepts the job. Nanthida has issues with ruffians asking cover fee (ค่าคุ้มครอง) as she is going to visit her land. Hopefully Maen and his friends help her. During one evening, Sorapong shoots Rith in his nightclub but misses him. The two remaining movie reels end up here. This movie was not famous and is a kind of action / song movie (หนังเพลง).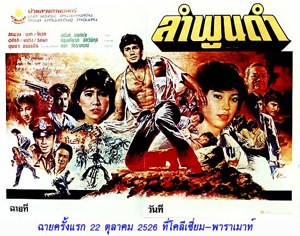 Year

: 1983



Thai title

:

ลำพูนดำ




English title

: Desconocida



Rating

: 4/5


Director

:



Main actor

: Sorapong Chatree,Nard Poowanai,Kowit Wattanakul,Suchao Pongwilai,Pipop Pupinyo,Paen Pleumsachai,Krai Kanchit,Rith Luecha,Somjin Thammatat,Pumi Patanayut,Somsak Chaisongkram


Main actress

: Apiradee Pawaputanon,Thitima Sangkapitak,Piathip Kumwong,Ampha Pusit,Mayura Thanabutr
Thai movie ลำพูนดำ was released in year 1983. The movie was also released in Taiwan under the name "Desconocida" in VHS format. This version was released by Taiwanese company New Ship Film Enterprise Co Ltd and lasts 1h26mn. The movie is in Mandarin language. The original movie has been cut to fit in standard TV format so making the story cutting to be awkward. Other versions released in Thailand last 1h30mn (Cable TV version) or 1h47mn (VHS version). This movie features many famous actors / actresses from decade 1970s~1980s. Young lad, called Paen (Sorapong Chatree), visits famous monk (หลวงพ่อ) in a local Buddhist temple to discuss about his problems. His mother and sister are treated as mistresses by local kingpin Mek. Mek (Somjin Thammatat) also tries to steal the family land. The monk gives to Paen an unique Buddhist amulet called ลำพูนดำ to protect him. Paen is arrested by four policemen led by Paen Pleumsachai. They bring him to a remote area to execute him per Mek's orders but bullets don't enter (นั่งเนี่ยว) as he is protected by the sacred amulet given by the monk. Paen shoots them back. Policeman Nard Poowanai, as หมวด, is also trying to catch him. Kingpin Mek and subdistrict headman Chat (Krai Kanchit) (ลูกน้องมือขวา) are concerned that Paen succeeded to escape. Paen has many enemies (ศัตรูเยอะ). Two ladies Lom (Piathip Kumwong) and Phit (Thitima Sangkapitak), Paen's mother and sister, are visiting the village leader. Both are the village leader's mistresses and Lom is also seduced by Chat (เป็นชู). Thai police is still looking after Paen. Paen takes refuge in a village but the village leader (Pumi Patanayut) warns the police. Paen succeeds to flee by having an hostage called Lamai (Mayura Thanabutr). Paen learns who are his enemies through Somsak Chaisongkram. Paen kills three ruffians (มือปืน). Ruffians kidnap young lady Lamai but Paen releases her and injures the village leader trying to abuse her. Young lady Booklee is kidnapped to become Mek's new minor wife. Khun Mom Sasingha (Kowit Wattanakul) meets Chaba (Ampha Pusit), niece (หลานสาว) of Kamnan Chat. He presents himself as a customer of the underground casino (บ่อน). Pipop Pupinyo is looking for troubles with Sasingha but gets beaten. Chat is then jealous that Sasingha is too close to Chaba. Seua Rit (Suchao Pongwilai) is hired by the village leader to get rid of Paen. Mek's daughter, Pumarin (Apiradee Pawaputanon), is coming back from overseas following successful studies. Her real father is Rit but he doesn't want her daughter to know that her father is a thief so the truth was never disclosed to Pumarin. Paen behaves as a Robin Wood (โจร) by giving free goods to poor villagers. A pact is agreed between Paen, Khun Mom Sasingha and Klot (Rith Luecha). Klot wishes to get revenge on Mek as he killed all his family members and kidnapped his niece Booklee. Paen refuses to meet his sister Phit anymore. Both Chat and Lom are buried alive as Mek discovers they are having an affair. Meanwhile Rit kills pregnant Lamai and her mother as they refused to disclose where Paen is hidden. Phit is having an affair with Seua Rit. Per her strategy to protect her brother, Phit claims to Mek that she has been raped by Rit so that Rit cannot harm Paen anymore. Paen releases Pumarin aggressed by ruffians kidnapping her. Klot gains the trust of Mek in order to better spy him. Paen wishes to get revenge on Mek but police surrounds him. The Buddhist amulet saves Paen one more time. Phit protects Paen a last time by shooting Mek but this latter shoots her before dying. Paen listens to Pumarin and surrenders peacefully to the police. A sequel released in year 1988 was called ลำพูนแดง.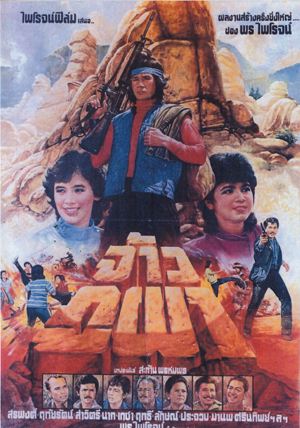 Year

: 1983



Thai title

:

จ้าวภูผา




English title

:



Rating

: 4/5


Director

:



Main actor

: Sorapong Chatree,Nard Poowanai,Lak Apichat,Prachuap Ruekyamdee,Pipop Pupinyo,Somkuan Krajangsat,Manop Aussawathep,Rith Luecha,Chat Mongkolchai,Pao Porapak,Kecha Plianvithee,Krailat Kriengkrai


Main actress

: Sarinthip Siriwan,Sawitri Samiphak,Hatairat Amatavanich
Thai movie จ้าวภูผา was released in year 1983 and lasts 2h04mn. It was released under VHS format only. Phanum (Sorapong Chatree) is getting trained by teacher (อาจารย์) Pipop Pupinyo in a training camp located on a mountain. Phanum has stayed in the training camp for two years but he cannot remember who he is. A man called Chan, who brought him there, has disappeared already. He decides to leave the camp to enquiry on his past. He is now skilled enough in martial arts (ใช้ได้). He meets young lady Feui (สาวิตรี สามิภักดิ์) aggressed by three ruffians. Feui's brother is Lak Apichat. Fortune teller (หมอดู เทวดา) Feng (Prachuap Ruekyamdee) is also looking for Chan. Young lady Yeewa (ฤทัยรัตน์ อมตะวณิชย์), daughter of village headman Kwat (เจ้าพ่อใหญ่). Feui's Father is Somkuan Krajangsat. It seems that Chan has ennemies looking for him. Chan is currently working for village headman Kwat (Manop Aussawathep). Sarinthip Siriwan is playing Kwat's wife. Chat Mongkolchai is village headman's assistant. Today is Kwat's birthday celebration. Somebody offers an ominous gift (ของขวัญวันตาย), i.e. a coffin (โลงศพ). A hitman, offering a gift, shots Kwat three times. Phanum and Feng are arrested as suspected to be involved as they were not invited to the party. Lit (Rith Luecha) sent the killer in order to be the new village headman (กำนัน). Kwat survives as he was wearing a bullet jacket. Feng has to demonstrate his divine skills to show they are not involved in the murder tentative. The birthday celebration continues but during the evening Lit's ruffians bring the mess. Fighting (การต่อสู้) between Pao Porapak and Panum happens. Nakorn (Kecha Plianvithee) learns about Panum and send two hitmen to get rid of him and Chan. Chan is played by Nard Poowanai. Nakorn's ruffians are killed by Chan. Chan has to flee again. Two ruffians sent by Lit fail to shoot Panum. Panum is divided between Yeewa and Feui. Chan helps Panum and Feng attacked by ruffians while sending money to a wood sawmill. A master (อาจารย์) helps Panum to remember his real name as Ek. Nakorn is Ek's uncle. Ek was back from studying abroad. His father was killed (ถูกฆ่าตาย) and Ek lost memory while being injured. Thanks to master (อาจารย์), Ek recovers memory. Through the final, they storm the ruffians' place and all of them are shot. Unable to choose between Yeewa and Feui, Ek marries both of them!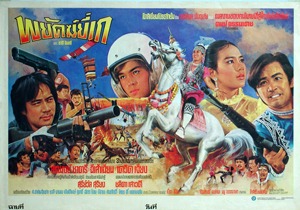 Year

: 1983



Thai title

:

พยัคฆ์ยี่เก




English title

: The Opera Hero



Rating

: 5/5


Director

: Kom Akadej



Main actor

: Sorapong Chatree,Sor Asanajinda,Manop Aussawathep,Pipop Pupinyo,Panna Rittikrai,Somsak Chaisongkram,Kom Akadej,Note Chernyim,Supakorn Srisawat,Chat Mongkolchai,Rith Luecha


Main actress

: Suriwan Suriyong,Piathip Kumwong
Thai movie พยัคฆ์ยี่เก was released in year 1983 and last 1h50mn. It was released under VHS format. A Hong Kong version, also released under VHS format, lasts 1h30mn. The movie is directed by Kom Akadej. Two Hong Kong actors are featured, i.e. David Chiang and Norman Chu. On the movie poster released in Hong Kong, they are of course shown preeminently. A Likay (Thai folk traditional theater) troupe led by teacher Pong (ครู) (Sor Asanajinda) performs in Sukhothai. The main Likay actor is played by Tuan Tong (Sorapong Chatree) and gets a lot of flowers offered especially by ladies including Piathip Kumwong, wife of the village leader (ผู้ใหญ่). It makes the village leader (Manop Aussawathep) to be very upset so he storms the Likay theater with his ruffians (Pipop Pupinyo, Panna Rittikrai and Somsak Chaisongkram) to fight with Tuan Tong as he cannot accept that his wife (แม่ตัวดี) spends money on a Likay handsome actor. Both end up at the police station but the police head (Kom Akadej) finally releases Tuan Tong as he did nothing wrong. Back to the Likay theater, Tuan Tong is beaten by ruffians. A local doctor, called Thongdee, always gives free health care to the Likay troupe. Chased again by the ruffians, Tuan Tong and Note Chernyim have to steal David Chiang's jeep to flee. David Chiang, Suriwan Suriyong and Supakorn Srisawat (ดี๋ ดอกมะดัน) are brothers and sisters. Getting back his jeep, David meets Chompoo, Tuan Tong's sister, (ชลิดา เสาวดี) so he even learns Likay skills as he is enamoured. Suriwan is expert in deltaplane. A jewellery money exchange turns badly between Manop and Sothon (โสธร รุ่งเรือง). Sothon is shot by Chat Mongkolchai but he succeeds to flee. He hides the jewellery inside the Likay theater. David is also looking for Sothon so it creates a misunderstanding between Tuan Tong and David. Sothon is killed by ruffians using a deltaplane shooting harpoons but they are still looking for the missed jewellery. They burnt the Likay theater as retaliation. Teacher Pong sells one diamond to rebuild the theater. He has hidden the real jewellery through the fake jewels used in Likay costumes. As Chat failed to capture Pong and is even shot by David, he is replaced by โดม สิงโมฬี. Ruffians storm the Likay theater again during a performance. Teacher Pong is shot by the ruffians with harpoons and killed. Chompoo is captured as she is wearing half of the real jewellery. The ruffians are led by Norman Chu, doctor Thongdee (ชาลี อินทรวิจิตร) and Rith Luecha. David and others Likay male actors (Note Chernyim...) are also captured. Tuan Tong and Suriwan storm the campment. Multiple fightings and shootings happen. Most of the protagonists die except Tuan Tong, Suriwan and his sister.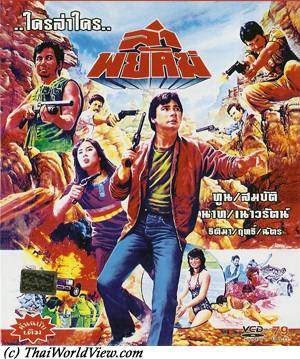 Year

: 1983



Thai title

:

ล่าพยัคฆ์




English title

:



Rating

: 3/5


Director

:



Main actor

: Sombat Methanee,Toon Hiransap,Rith Luecha,Nard Poowanai,Chat Mongkolchai,Sukon Koewliam,Paen Pleumsachai,Doo Dook Kradon


Main actress

: Naowarat Yooktanun,Thitima Sangkapitak



Buy now

:

Thai movie ล่าพยัคฆ์ was released in year 1983 and lasts 1h51mn. It was released under VHS format (1h51mn) and under VCD format (1h34mn). Cha (Sombat Methanee) and Phayak (Toon Hiransap) are soldiers (รับจ้างชายแดน). Being attacked and overwhelmed by enemies, Cha forces Phayak to flee as he has a family to take care to take care. While Phayak is away, ruffians led by Klam (Chat Mongkolchai) raid his house. They, including Paen Pleumsachai, kidnap his father Sukon Koewliam and his sister Phayao (Thitima Sangkapitak). His sister is deceived by Khun Amnat (Nard Poowanai), the local mafia leader, as he simulates a fake release. Klam shot the father but bullets cannot hurt him (ยิงไม่เข้า) as he is wearing a sacred protective Buddhist amulet so they hit him very badly. Phayak goes back home. Nuan (Naowarat Yooktanun), Phayak's friend, is also harassed by the ruffians (วันนี้ไม่อยากทำบาป) led by Phalat (Rith Luecha). Phayak's father dies. Doo Dook Kradon is the caretaker. Phayak gets the protective amulet from his father mouth and is aware how his father was killed. Meanwhile Cha is left as dead at the border. Following tortures to the head by thugs, he loses his memory and is now always drunk. Phayak decides to revenge his father. It is typical 1980s-decade movie when the main actor needs to seek revenge by himself as he cannot rely on Thai police. Khun Amnat uses bad influence and power to control the area (มีอำนาจ). Police believes him. Ruffians try to get rid of Phayak but Klam fails. Phayao sends a letter to meet her brother Phayak. Her brother is upset with her as she has a new husband (ผัว) just one day after their father died. Khun Amnat uses Cha to shoot Phayak but he survives thanks to the sacred amulet (ของดี). Phayak needs to flee as police now tries to catch him as he shot a few ruffians belonging to Amnat's team. Khun Amnat uses Phayao to convince her brother to surrender (มอบตัว) and uses Cha again to kill him. Phayao complains she has no more shelter (ไม่มีที่พึ่ง). It is a trick to steal his amulet. Menawhile Nuan's father is killed and Nuan is kidnapped. Phayak needs to face Cha in order to release Nuan. Hopefully Cha recovers his memory on time. Phayao knows now that Khun Amnat is a lier so she takes back the amulet and flees from his home but she is shot by him. As usual, bad guys are finally punished and Nuan is released. No extra judicial killing this time as Khun Amnat is handovered to the police. Thai people believe that sacred powerful Buddhist amulets from famous Buddhist monks can protect them during fighting. Such amulets were used by Thai soldiers during Vietnam war. Other Thai actions movies featuring Buddhist amulets protection are เสาร์ 5 (1976), ลำพูนดำ (1983), ลายพาดกลอน (1987), ลำพูนแดง (1988)...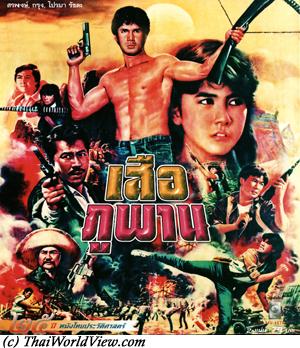 Year

: 1983



Thai title

:

เสือภูพาน




English title

:



Rating

: 2/5


Director

:



Main actor

: Sorapong Chatree,Krung Srivilai,Somsak Chaisongkram,Boo Wibunnan,Pipop Pupinyo,Chat Mongkolchai,Krai Kanchit,Pao Porapak


Main actress

: Nareerat Monsiri



Buy now

:

Thai movie เสือภูพาน was released in year 1983. The movie "เสือภูพาน", released under VCD by Lepso ltd, lasts only 56 minutes so for sure the original movie was cut a lot so making the whole story a bit difficult to understand. The movie เสือภูพาน was already released by Happy Time ltd so this version might be longer. Another online version lasts 1h07mn. It was also released under as an international title as "Spy Inferno" (1h26mn). It is a mix of Thai footage and Hong Kong footage done by Filmark production. The movie is in Spanish language. The Thai footage lasts more than one hour. The picture quality of "Spy inferno" is much better than the Thai VCD release. Some scenes are present only in the Filmark version and some only in the Thai VCD version. The Thai actors are not even mentioned in the credits. Soldiers led by Phupan (Krung Srivilai) are attacked by traitors. As their leader is injured, they have to retreat. This group of traitors is led by a big chief (Boo Wibunnan). The big chief leader wears Vietnamese clothes with a communist red star. They are traitors to the Thai nation. His ruffians' team includes Somsak Chaisongkram, Chat Mongkolchai, Krai Kanchit, Pao Porapak, ชูชัย ชัชดา and Pipop Pupinyo. They terrorize and ransack the local population. Kamnan (กำนัน) Lit is taking orders from a female boss (หัวหน้า) called Melan (Nareerat Monsiri). Only two men, Seu (Sorapong Chatree) and Phupan, are organizing resistance against them. Seu's parents and younger sister were killed by the ruffians. The international version shows the village attack by the ruffians. Subdistrict headman (กำนัน) Yeun refuses to sell his land to the ruffians. Lit tries to intimidate Yeun. Seu helps a singer aggressed by Somsak Chaisongkram (เล่นผัวเมียกัน). Seu is kidnapped by the ruffians but refuses to divulge information on Phupan. The doctor Bua helps Seu to flee. A chase is engaged to catch them back. Kamnan Lit kidnaps Yeun to force Yeun's daughter (ไปรมา รัชตะ) to be his wife. Her friend Promod helps to release Kamnan Lit. There is a secret informer (หูตา), called Number 13, inside the ruffians' team. The traitors move to another secret place but Bua leads the Thai army there. Melan is finally uncovered as the hidden informer inside the ruffians. The Thai army, helped by Seu, storm the ruffians' headquarters but faces strong opposition. Seu appears in hill tribes clothes. All ruffians are killed. Bua dies in the fightings. Thai movie เสือภูพาน reminds of movies such as ชุมแพ 2 (1984) or เสือภูเขา (1979) where a hill tribe character has strong fighting skills.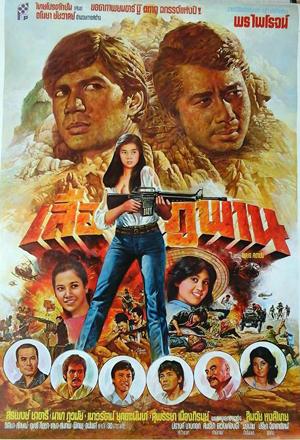 Year

: 1983



Thai title

:

เสือภูพาน




English title

:



Rating

: 2/5


Director

:



Main actor

: Sorapong Chatree,Nard Poowanai,Pipop Pupinyo,Kecha Plianvithee,Lak Apichat,Rith Luecha


Main actress

: Naowarat Yooktanun,Supansa Nuengpirom



Buy now

:

Thai movie เสือภูพาน was already released in year 1983 with another poster. This version was targeted for Thai provinces. Some investment was done with a new poster. Actors and movie director are updated (หนังรวมมิตรย้อมแมว). Similar to practices done by Lepso company, poster is changed and movie is maybe changed. It could be real movie เสือภูพาน or another one... It is a bit similar to Thai movie แผ่นดินเหล็ก, which was released again later under the name เสียงเพลงนักเลงโหด.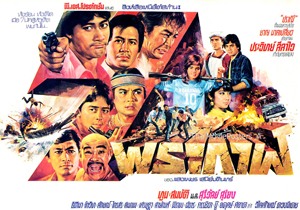 Year

: 1983



Thai title

:

7 พระกาฬ




English title

:



Rating

: 3/5


Director

: ประวิทย์ ลีลาไว



Main actor

: Sombat Methanee,Toon Hiransap,Pipop Pupinyo,Sayan Chantaraviboon,Lak Apichat,Somphob Benjatikul,Kowit Wattanakul,Settha Sirachaya,Kanchit Kwanpracha,Chat Mongkolchai,Sahat Piempongsan,Boo Wibunnan,Somchai Samipak,Adul Dulyarat,Paen Pleumsachai,Pao Porapak


Main actress

: Thitima Sangkapitak,Suriwan Suriyong
Thai movie 7 พระกาฬ was released in year 1983 and lasts 1h55mn. It was released under VHS format and VCD format. It was also released overseas by IFD under the name "US Catman 2 - Boxer Blow". Movie director is ประวิทย์ ลีลาไว. Thai movie 7 พระกาฬ was released multiple times. First time was in year 1967 with Mitr Chaibancha and Petchara Chaowarat. Second time was in year 1983. It was also released as a TV series in year 2004 on CH7. This movie features many famous actors and actresses from decade 1980s. Kanchit Kwanpracha, Sing (Chat Mongkolchai) and Reudi (Thitima Sangkapitak) are having a secret meeting. Kanchit needs to gather seven mercenaries. All of them (Han Meuang Thong - Sombat Methanee, Pipop Pupinyo, Thong Bai as Likay actor – Sayan Chantaraviboon, Boonmee - Lak Apichat, Somphob Benjatikul, Kowit Wattanakul, Settha Sirachaya...) are in jail for multiple murders. Kanchit's team attacks police vehicles during a jail transfer and all seven men can flee in various directions. Reudi receives mission from Kanchit to neutralize Police officer Sattha (ไกรสร แสงอนันต์), who shall capture back the seven inmates. Pho Lieng Saen (Sahat Piempongsan) recruits Boonmee to get rid of his enemy Han Meuang Thong! Sia Mongkol (Boo Wibunnan) wishes to recruit Kowit for a special job. Following a fighting during a Likay performance, Thong Bai has to flee again. Pho Lieng Saen accepts to freeze his revenge towards Han Meuang Thong as the big boss has a more important plan to be performed before. Somchai Samipak, father of Han Meuang Thong, refuses to meet his son anymore. Sattha and Somphob Benjatikul help him as he gets aggressed by Pho Lieng Saen's ruffians looking for his son. Soi (Suriwan Suriyong), daughter of Pho Lieng Saen, meets Prai (Toon Hiransap) and gets help from him as she is harassed by Pao Porapak. Anan (Adul Dulyarat) and his men capture Somphob Benjatikul and Settha Sirachaya. Various mafia leaders (พ่อเลี้ยง), linked to Kanchit, wish to hire the seven men. Kanchit plans to use all of them to perform special secretive actions. Pho Lieng Saen hires Bai and Boonmee. Despite his promise to put aside his own revenge, he sends Boonmee to kill Han Meuang Thong but it fails. Reudi claims to be Han Meuang Thong's wife in order to trap his father. She kidnaps Han's family, i.e his father Somchai and his sister วิไลลักษณ์ ดวงมีเดช, in order to force him to do something against Thai nation. As police disrupts their activities, Police officer Sattha is kidnapped to know who the traitor among the ruffians is. Prai releases him. Then Prai releases Han Meuang Thong's father and sister. Kanchit wishes to prepare a revolution in Thailand to take power through a new political party. Paen Pleumsachai. The seven mercenaries are supposed to do actions to disrupt Thai nation. Aware through Prai, they refuse to betray their country (ขายชาติ) and fight against the ruffians. Ruffians are neutralized. The seven mercenaries saved Thailand, but they still need to go to jail again.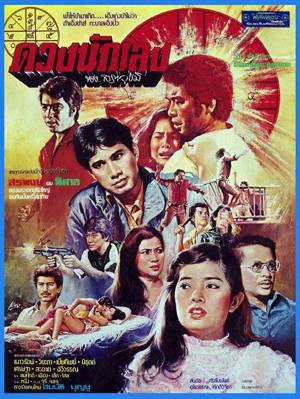 Year

: 1983



Thai title

:

ดวงนักเลง




English title

:



Rating

: 4/5


Director

: Winit Pukdeewichit



Main actor

: Sorapong Chatree,Nirut Sirijanya,Pisarn Akraseranee,Settha Sirachaya,Sahat Piempongsan


Main actress

: Wiyada Umarin,Naowarat Yooktanun,Piathip Kumwong
A mysterious man arrives on a rainy night in a remote city and enters in the hotel bar. The hotel is half owned by young lady called Chonko (Wiyada Umarin). A crazy guy (Settha Sirachaya), always drunk (ขี้เมา), asks him to avoid troubles as bad ruffians are the real leaders here. The mysterious man is called Mek Suriya (Sorapong Chatree) and plays the judiciary guy against the ruffians terrorizing the drunkard (รับรองความปลอดภัย). Alcohol and cigarette are blurred on this movie digitalized from True Cable TV. Bamrong (Nirut Sirijanya) is playing cards against ruffians but lost accusing the ruffians to cheat. Mek ensures that the fight against Bamrong and a ruffian is fair. Mek and Bamrong win back the other half of the hotel from Dang, one of the ruffian working for godfather (เจ้าพ่อ) Sagnop. Serinya (Naowarat Yooktanun) arrives in the hotel and asks help for her brother Seri (Pisarn Akraseranee) who has just been beaten by ruffians. Serinya has come to teach Sagnop's children. Serinya and Seri meet Sagnop's wife (Piathip Kumwong), Sumalee. Sagnop (Sahat Piempongsan) is a strong godfather and doesn't hesitate to punish those who try to cheat him (เก็บใช้ในเมืองผี). Sagnop sends 5 hitmen to clear the issue with Mek. Mek always pays respect (ไหว้) to his Buddhist amulet after hitting some ruffians. Ruffians terrorized the city until Mek dares resisting them. One of the ruffians hitman defies Mek for an outdoor gun duel. It is a trick as other ruffians are hidden in the bush. The hitman is finally defeated and a strong message is sent to their big boss. Mek and Bamrong are too strong to be ordinary ruffians as they are well trained. Other ruffians storm the hotel bar but get defeated again by Mek (ผมไม่เคยตาย / อยากลองดู). Serinya and Seri are undercover policemen. They love each other (คู่รัก). Bamrong and Mek decide to go to Don Luang, Sagnop's ranch, to be become his associates (ลูกน้อง). Sagnop is fond of Serinya and orders to kidnap her. Serinya has to marry with Sagnop but Sagnop is already married to Sumalee. Sumalee rescues Seri and bursts into tears follow up her many years of dispair with Sagnop. In the morning, Sumalee announced to Sagnop her decision to quit him, to go to Bangkok with her children and Seri. Sumalee is finally shot by Sagnop's ruffians as Sagnop cannot accept this. Sagnop orders to kill Seri. Mek and Bamrong, warned by Serinya, go to help him. Bamrong is Sumalee's young brother. One of Bamrong's nephew (หลาน) dies in a shoot out. Revenge is in the air... A final shoot out involving ruffians and army happens during Sagnop and Serinya's wedding. Entertaining Molam dances are featured during the wedding. Sagnop and his ruffians are defeated. Mek Suriya, the mysterious judiciary, leaves (พี่ลาก่อน). The highlight of the movie is the first movie involving two big stars, i.e. Sorapong Chatree and Pisarn Akraseranee. Movie Duang Nak Leng (ดวงนักเลง) is not available on VCD or DVD in Thailand. Some digital versions from TV are available around such as a 1h29mn from Channel 9 (cut version) and a True Move Cable TV version of 1h54mn. It feels like a Tom Yam Thai western movie.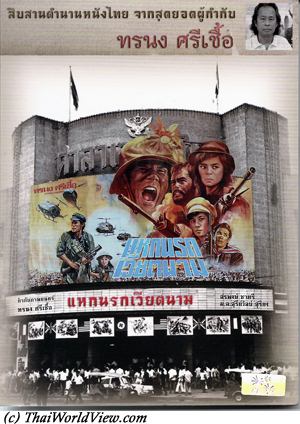 Year

: 1983



Thai title

:

แหกนรกเวียดนาม




English title

: Refugee



Rating

: 3/5


Director

: Toranong Srichua



Main actor

: Sorapong Chatree,Manop Aussawathep,Lak Apichat,Krailat Kriengkrai,Kowit Wattanakul,Somsak Chaisongkram,Chaiyan Sorakrai


Main actress

: Suriwan Suriyong
In South Vietnam, protests happen to ask for US GI departure. The movie takes place in 1975 when America was leaving Vietnam. During Vietnam war, Thailand sent soldiers to South Vietnam to support USA as a partner. Last Thai soldiers (including veteran actor Lak Apichat) are about to leave also but their leader called Cobra (Sorapong Chatree) need them to perform a last task. Cobra and his team get support from Susan, a south Vietnamese soldier. They need to extract Nai Pol from the airport. Nai Pol is an important prisoner (นักโทษสำคัญ). Thanks to Vietnamese uniforms (สหาย), they succeed to infiltrate the base and release the prisoner. Salambo (Suriwan Suriyong), daughter of Nai Pol, joins them. A boat is waiting to evacuate them from Vietnam but Vietnamese soldiers will not let them go so easily. Arrived at the beach, thousands of boat people try also to flee. Susan refuses to leave and dies there. Some boats with Vietnamese soldiers are following them. In the sea, they find 3 stranded people, a banker, a prostitute and a mercenary. To avoid being captured, they have to stop by an island and dynamite their boat to destroy the military boat chasing them. But they have no way to quit the island. Another Vietnamese boat with their tough leader (Manop Aussawathep) arrives on the island to chase the Thai soldiers. Traps are placed in the jungle. Communist soldiers are displayed as heartless, i.e. killing helpless villagers (Krailat Kriengkrai). Dissensions appear as the banker, the mercenary and the prostitute want to go their own way. Tension and stress happen in the humid jungle causing some Thai soldiers to become crazy and less aware of dangers. Vietnamese soldiers defeated America but Thai soldiers are not willing to die one by one. Pol has hidden some microfilms in his leg. It contains the list of Vietnamese sympathizers in Thailand. So it is very important to avoid Bangkok becoming another Saigon. It also contains proofs that USA considered sending a nuclear bomb on Hanoi. The movie ends with various harsh fightings between Thai soldiers and Vietnamese soldiers. Only a limited number of Thai soldiers leave the island alive. Movie แหกนรกเวียดนาม / Refugee is directed by Toranong Srichua, a Thai veteran director well known for his action movies. This movie had a 12M baht budget.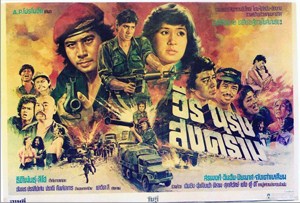 Year

: 1983



Thai title

:

วีรบุรุษสงคราม




English title

: Jungle heat



Rating

: 3/5


Director

:



Main actor

: Sorapong Chatree,Der Doksadao,Doo Dook Kradon,Supakorn Srisawat,Pipop Pupinyo


Main actress

: Piyamas Monayakol,Preeya Roongrueng,Sulaleewan Suwanthat
Thai movie วีรบุรุษสงคราม / Jungle heat was released in year 1983. It is a Thai / Hong Kong / Taiwanese coproduction. Multiple versions were released, i.e. a Thai version never released on any VHS / VCD format and targeting local Thai market, a Hong Kong / Taiwanese version for international market. The Thai version is lost but an incomplete version lasting 1h20mn was shown before in Thai film archives. The overseas version was released under the name of Jungle Heat. An IFD version lasts 1h17mn. It is available through various VHS versions in Japan (lasting 1h30mn), Philippines, Taiwan and China. Some Thai actors are still part of the international version such as Piyamas Monayakol, Pipop Pupinyo, Preeya Roongrueng. Main actors and actresses in Thai version are Sorapong Chatree, ฉิน ฮั่น, Piyamas Monayakol, ถัง เต้า เหลียน เฉิน ซิง, อุ้ย ผิง เอ้า, ฟาง เฟย เซิน, Preeya Roongrueng, Pipop Pupinyo, Sulaleewan Suwanthat, Der Doksadao, Doo Dook Kradon, Supakorn Srisawat. Sorapong Chatree is the main actor of the Thai version. During the Vietnam war, a few men are hired and trained to drive US trucks among Vietcong lines. A US captain hires Tony and his men, but the drivers are not aware of the risks. The drivers get a three weeks training. The drivers are going out to have fun at night time. One of them, Rick, meets bar lady Piyamas Monayakol and romance starts. A new member Chiang Sing joins them. Their trucks have brakes issues, so accident occurs. They are finally captured by the Vietcong (including Pipop Pupinyo) and tortured. The movie features many strong torture sequences such as acid pouring on the head, prisonners burnt with petrol by a rat on fire, scie usage... They succeed to escape. They complain to the lieutenant. As they need money, they finally go again to evacuate weapons as the war is just over but they are attacked by the same Vietcong members. Rick is missing. Piyamas misses him and blames Tony to have abandoned him. US soldiers cannot help as war is over. Tony and his men decide to act first. Following fierce fighting in a cave, Tony and his team release Rick. Being attacked by other Vietcong members, they get support from US lieutenant. War is over and the team has run out of money. Upset as the team spent money to save him, Rick joins a dangerous motorcycle competition. He loses his life while competing and Piyamas gets a lot of money, but she throws it away as money cannot replace the love she lost.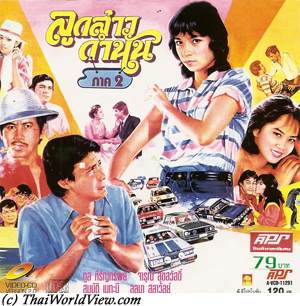 Year

: 1983



Thai title

:

ลูกสาวกำนัน 2




English title

:



Rating

: 3/5


Director

:



Main actor

: Toon Hiransap,Sombat Methanee,Rong Kaomulkadee


Main actress

: Jarunee Sooksawad,Lalana Sulawan,Ampha Pusit
This funny movie is the second opus about the daughter of a district officer. Teng Mo has just married when another woman claims that she is already the wife of her husband! Funny moments happen until Teng Mo and her husband fall in love again.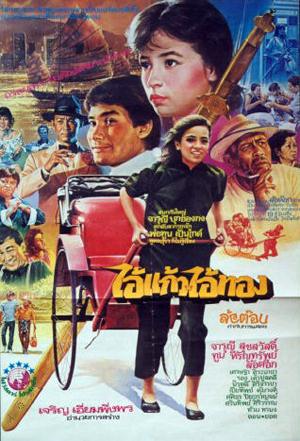 Year

: 1983



Thai title

:

ไอ้แก้วไอ้ทอง




English title

:



Rating

: 3/5


Director

: Lor Tok



Main actor

: Toon Hiransap,Songthong,Settha Sirachaya,Lor Tok,Nirut Sirijanya


Main actress

: Jarunee Sooksawad,Piathip Kumwong,Wiyada Umarin
Ai kaew Ai thong is a romantic comedy featuring Jarunee and Toon. Kaew and Thong are released from prison. Thong is 70 years old and has nowhere to go so Kaew invites him to stay together. His mother chases Kaew away as he sold old artifacts from the family home (แม่ด่า). They need to find ways to make a living such as waiters in a Chinese restaurant. They are finally expelled as food is spilled on customers. They find a new job in a house as gardeners. Maem is the house owner's beautiful daughter. The Chinese restaurant owners have a son Jun who is slightly retarted (ปัญญาอ่อน). They wish their son to marry Maem as her parents own land. So they need to teach him how to seduce a woman. It failed miserably as he falls from balcony into the pond. Kaew dives to help him and gets higher credit from Maem. Kaew and Thong simulate being prince and servant in front of other domestic helpers in order to enhance their status in the house towards Maem. Maem is a strong young lady (คนสวยปากร้าย). Kaew lies to Maem regarding a fake golden necklace in order to get a kiss. Jun parents hire a lady (Wiyada Umarin, veteran actress, often playing such role) to teach Jun how to perform husband duties on bed. As the golden necklace becomes dark after one day, their stratagem fails. Maem condemns them to dig a big hole. While digging, they find an old Chinese sword (ดาบ). The father sends Maem, Kaew and Thong to Hong Kong to sell it. As they cannot sell it, they have to find odd jobs to pay for food and accommodation. Maem is driving a rickshaw. In 1980 rickshaw usage in Hong Kong was already low. Thong is driving a kaido boat. Kaew is doing the tour guide on Cheng Chau island. They are waiting for the father to send tickets back home but the father is very avaricious and expect them to buy the tickets from the spade sale. Feelings start between Maem and Kaew. A ruffian Khun Seu (นักเลง) loves a singer (นักร้อง) and chases after her. Maem is involved as rickshaw driver and helps the singer to flee. To escape from Seu, the singer pays for their tickets back to Thailand. Jun cannot marry Maem anymore as he caught decease from little virtue woman. Knowing that they cannot sell the sword as the Chinese family linkage was broken, the father chases Kaew and Thong from his home causing Maem's despair as Kaew is a kind man (คนมีเมตตา). They finally find a last descendant in Thailand and gets 20M baht for the sword. Kaew can now ask for Maem's hand but performs a last trick to avaricious father. it is a typical good mood romantic comedy from 1980s decade featuring superstar Jarunee and Toon.



Year

: 1983



Thai title

:

เลขาคนใหม่




English title

:



Rating

: 3/5


Director

: Phan Kam



Main actor

: Sorapong Chatree,Sor Asanajinda


Main actress

: Jarunee Sooksawad
A business man is looking for a secretary. He finally finds one, who is going to upset his life!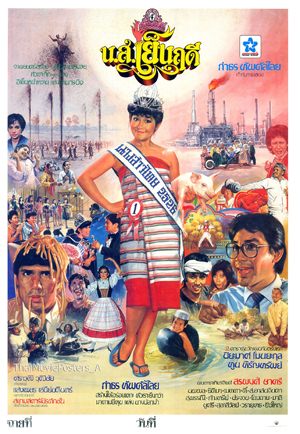 Year

: 1983



Thai title

:

น.ส.เย็นฤดี




English title

:



Rating

: 2/5


Director

: Kumtorn Tubkunlai



Main actor

: Sorapong Chatree,Toon Hiransap,Supakorn Srisawat,Sor Asanajinda,Prachuap Ruekyamdee


Main actress

: Piyamas Monayakol,Metta Roongrat,Thitima Sangkapitak,Suphanee Jitthieng,Malee Wetpraseri,Chosri Misommon,Sulaleewan Suwanthat



Buy now

:

A 70 years old man discovers he has a hidden daughter. Of course his daughter in law doesn't want to share the heritage with this girl and tries many stratagems...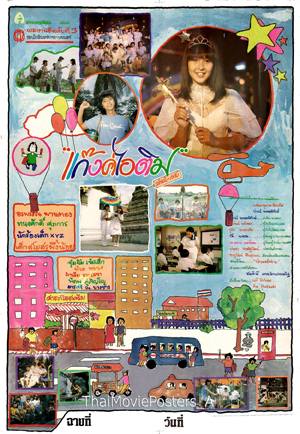 Year

: 1983



Thai title

:

แก๊งไอติม




English title

: Gang Ice-cream



Rating

: 3/5


Director

: ปกรณ์ พรหมพิทักษ์



Main actor

: Joomjim Khemlek,Thuam Thoranong,Pipop Pupinyo


Main actress

: Marasri Bangchang



Buy now

:

Thai movie แก๊งไอติม was released in year 1983 and lasts 1h38mn. It was released under VCD format by Solar company. Multiple songs are featured. Movie director is ปกรณ์ พรหมพิทักษ์. It is school time for children. Joomjim Khemlek is managing a few poor kids selling ice cream for him. Thip (อรพรรณ พานทอง), as teacher, is teaching slum children. Her mother Bangransi (Marasri Bangchang) believes it is useless. She would like her daughter to teach in rich schools. Poor kids are influenced by their parent's behavior such as illegal betting (การพนัน). The kids need to earn money to help their parents. Some kids have no more parents. An older teacher is also upset by their influence on other children. Thanks to gambling (หาเงินไม่ถูกต้อง), the kid Dam is able to fulfil his dream, i.e buy a bicycle. Thuam Thoranong, as headmaster (ครูใหญ่), is quite open minded thanks to Thip but an older lady teacher forbids some kids to sell ice cream in school as it causes children to spend all their pocket money. The poor children try to sell somewhere else, but it is not successful as competition is hard. Teacher Thip decides to help them and to buy their ice cream to support them but they refuse as teacher Thip is always nice (ใจดี) to them and trying to teach to behave properly. As teacher Thip is smart, she finds ways for them to succeed in their small business. Elder ice cream seller Chat (ทนงศักดิ์ ศุภการ) is secretly fond of teacher Thip. Teacher Thip proposes a special program to teach those kids out of scolarisation. The headmaster accepts. Thip mixes the children so they know each other better (ต้องรักกัน). Friendship occurs when Dam helps one of the children about to drown. The poor kids are not able to sell ice cream anymore as a Jumbo shop opens near the school. Thip's mother finds a new position of teacher for her daughter. The Jumbo owner refuses to join force with the slum children as he is not willing to share benefits (รวมหุน). Joomjim hires Pipop (Pipop Pupinyo) as hitman. Pipop kidnaps the ice cream shop owner's daughter and becomes uncontrollable. Chat is the one to help (ทำดี ได้ดี). Finally, all kids get a job in Jumbo shop and also some shares. Thip is back to celebrate their achievement.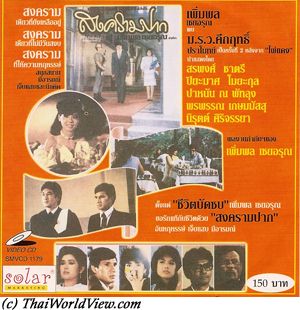 Year

: 1983



Thai title

:

สงครามปาก




English title

:



Rating

: 4/5


Director

: Permpol Choei-arun



Main actor

: Sorapong Chatree,Lor Tok,Nirut Sirijanya,Der Doksadao


Main actress

: Piyamas Monayakol,Wiyada Umarin,Pornpan Ketmamatsu
Atawut is working in governement as speaker. He is married to Pim and they have a young son. He has also a mistress called Nat. He claims buying hot fresh food to his wife when coming back late but the driver just heats it up on the car engine! His wife, Pim, starts to be aware. A lawyer, who loves Nat, is waiting that Nat is fed up flirting with a married man. Atawut is coming from Isan area, Northeast of Thailand. He wants to participate to local elections in the "People" party (พรรคประชาชน). He wears blue-cotton farmer clothes (มอฮ่อม) during his meetings. Pim, his wife, comes from a high society family but he is coming from a poor Isan family. He wins because his wife gives away money so that he can get popular. She couldn't allow her family name to be tarnished in case of defeat. Atawut cannot bear it, gets drunk and goes with Nat. But he is lying to his mistress also. He is a womaniser up to the point local newspapers publish a picture of him and a local cinema star. Meanwhile Pim's younger sister, Pamela, comes back from America. Fed up by Nat and Pim, Atawut takes a break and goes to Chiang Mai. There he meets Pamela visiting Chiang Mai also. Nat announces it to Pim and its circle (สังคมผู้ดี). She is insulted as a pandering lady (นางบำรุง). Pim looses face and decides to divorce. Atawut asks her to think twice in order to protect his representative title invoking that having mistress is common issue in Thailand. But this is not acceptable for women! As he sees his wife eating with another man (in fact for business purpose), Atawut loses temper. He uses a gun and injures Pim. The trial starts. The man who loves Nat is Atawut's lawyer. Atawut misses his family. He stays humble and simple. He finds an old Isan friend selling Thai coffee (โอเลี้ยง). His friend is not unfaithful. Atawut is rich but not happy. His friend is poor but happy. Atawut will loose child and everything due to his bad behavior. Parents of both sides try to corrupt the judge by offering gifts but despite living in small house, he refuses. Trial is over and the child shall stay in custody with the mother. Finally both side misses each other so much and for the good sake of the young son go back together for an happy ending. This movie raises many 1980s society issues, i.e. men able to cheat wives as a common society issue, corruption in elections, corruption in justice, divorce in high society, men vs women behavior.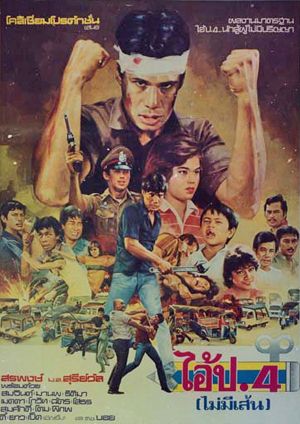 Year

: 1983



Thai title

:

ไอ้ ป.4 (ไม่มีเส้น)




English title

:



Rating

: 4/5


Director

:



Main actor

: Sorapong Chatree,Pipop Pupinyo,Kowit Wattanakul,Panna Rittikrai,Note Chernyim,Manop Aussawathep,Chat Mongkolchai,Somsak Chaisongkram


Main actress

: Suriwan Suriyong,Metta Roongrat,Sarinthip Siriwan,Thitima Sangkapitak
Leu (Sorapong Chatree) is a poor Tuk Tuk (สามล้อ) driver and has difficulties to find money to pay his son Tawan school fees. The headmaster (Sarinthip Siriwan) has limited understanding. One day fightings erupt with ruffians asking for protection fee to a Tuk Tuk driver. Leu and his friends (Panna Rittikrai, Note Chernyim) help. Leu hits violently Pipop Pupinyo. Yot (Manop Aussawathep) is head of ruffians. Kowit is a policeman but he cannot help that much. Wan (Thitima Sangkapitak) is owning a street restaurant, where Tuk Tuk drivers always eat. Tuk Tuk needs to pay a parking fee despite it is a public road. Leu is aggressed again while driving his Tuk Tuk so he is late at school to pick up his son. Teacher Panit (Suriwan Suriyong) sends his son back home. The teacher Panit complains on Leu not taking care enough of his son. Fighting erupts with ruffians looking for troubles with the teacher Panit but she has good fighting skills also. Panit is in fact the daughter of Yot. Ruffians fight again with the Tuk Tuk drivers as they refuse to pay extortion fee. They all end up in police station. Thanks to bad influence (อิทธิพล) of gangster Sia Boon Mak, ruffians are released first. The owner of Tuk Tuk cars pay finally for the release fee as the drivers are just renting the cars so they have no money. Leu is very late picking up his son so he meets the teacher again at his home. Sia Boon Mak (นักเลงใหญ่) forces Yot to work with him as he threatens his daughter. Brakes are damaged on Leu's Tuk Tuk as a warning. Tawan's mother, former teacher, died many years ago in a bus accident. Both Leu and Yot ended their studies at ป.4 level. Panit would like her father Yot to stop his dirty ways to do business (วิธีการสกปรก) by exploiting other poor people. Yot argues he had no choice as the society doesn't give a lot of opportunity to succeed for people ending their studies at low level (ป.4). Following his daughter pressure and wishing to change his life, he agrees to stop. Meanwhile Sia Boon Mak's ruffians cause Leu's Tuk Tuk to have an accident and his son dies. Leu promises to revenge and refuses to see Panit anymore. Panit proves him that her father is not involved in his son's death. Yot is now on Leu's side. Leu fails to kill Sia Boon Mak but injures him. As revenge Yot is shot and killed. Wan is kidnapped and killed by Sia Boon Mak. It is too much and Leu assisted by Panit and an army of Tuk Tuk drivers storm Sia Boon Mak's den. Police led by Kowit finally arrives. Leu doesn't perform self justice and lets police to arrest Sia Boon Mak. Justice will be performed but Leu has to lose his son for this justice to happen… Movie director is มนู วรรณายก. This movie was released in VHS format but never in VCD or DVD formats.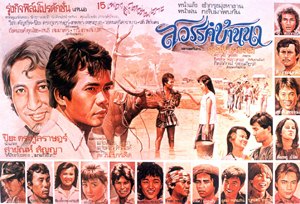 Year

: 1983



Thai title

:

สวรรค์บ้านนา




English title

:



Rating

: 5/5


Director

: Surasee Phatham



Main actor

: Piya Trakulrard,Ed Carabao,Doo Dook Kradon


Main actress

:
Thai movie สวรรค์บ้านนา was released in year 1983. The movie lasts currently 2h03mn. Due to its success it was released two times. But on the second release, some sequences and Carabao songs have disappeared. A 2h15mn version was shown on VHS and cable TV. The original length is 2h30mn. Director is Surasee Phatham who directed many famous social movies. Main actors and actresses are Piya Trakulrard, แสงเดือน ดารา, แสงดาว, ตะวัน, Doo Dook Kradon, ดี๋, Ed Carabao, สุชาติ, สนธิ, อุดม, ชวลิต, ทองมี มาลัย, ดาวใต้ เมืองตรัง, เทพพร เพชรอุบล, สนธิ สมมาตร. This movie is about Isan, northeastern region of Thailand. The movie features fourteen great songs. Isan people come to Bangkok for work but then they have to go back to home when rainy season is coming in order to take care of rice fields (ทำนา). They face harsh life in Bangkok. Most of Isan workers have manufacturing job in factories, work in bar / nightclub, work as Tuk Tuk driver, toilets boy (boy ห้องน้ำ)... Teuk (Carabao Ed - แอ๊ด) is fired from the bar in which he is performing as people don't like his songs. A group of ten friends including Sitha (Piya Trakulrard) and Fai invite him to discover life in countryside (ชีวิตชนบท) as it is time for rice season. Isan people dream to go back home to build their paradise (สวรรค์บ้านนา). As there is a rice crop only once a year they have no choice but to go working in Bangkok. Souvenirs (ของฝาก) are brought by them when they come back to the village where only old people and children stay. Nang wishes to be a molam singer (นางเอกมอลำ) but her father doesn't allow. Villagers help each other and shared work happens in the rice fields using buffalo. Romances are happening. The movie is showing how the rice season is happening. The movie shows Isan culture such as "Bun Bang Fai" (บุญบ้างไฟ) festival parade. The rocket competition is ending in fightings between groups. Many men are disappointed (อกหัก) as Sitha and Nang love each other. The father wishes to choose his daughter's husband by himself (ชอบลูกเสียงหรือลูกสาว). One villager is coming back from Saudi Arabia having a big house, building a new house for his father, having latest TV, Hi Fi and listening to western music but his wife is gone (ชู). A local villager called Kaew, being jealous about Sitha, talks to Nang's father. Nang is not allowed to meet Sitha anymore. Buddhist Lent festival (วันเข้าภรรษา) is coming. This movie is showing life in Isan with rice culture (ทำนา) and its various steps, religious ceremonies, harsh life in Isan, special dishes (ลาบเลือด…), hunting... Sitha is disappointed as misunderstandings happen with Nang. Sitha's friend convinces his father (ชาวนา) to sell his rice fields to pay for the fee to go to Saudi Arabia. Nang's father sends her to the city to try to break their relationship. On the day of Nang's fiancailles with villager Kaew, Nang flees with Sitha. Nang's father, afraid to lose his daughter, promotes her as molam main singer (นางเอกมอลำ) in his band and accepts finally Sitha. Rice season is over (หมดหน้านา). A farewell to local spirits (ปู่ตา) before departure to Bangkok is done. Famous Carabao song Pu Tao (เพลง ผู้เฒ่า) is sung by Ed. Everybody is back to work in Bangkok. One goes to Saudi Arabia. Ed finally composes some famous songs following his stay in Isan. Only old people are left when young people go back to work in Bangkok. When this movie was released in year 1983, it makes Isan people working in Bangkok to wish going back to home! In 1983, people were still using mail to communicate so this movie got a huge success. Outdoor cinemas in Isan were all asking for this movie! All the films were lost as it was shown and shown until the film was damaged beyond repair. Luckily, the movie was released again in year 1993. By merging various versions of the film reels, it is possible to get a duration of 2h18mn so quite close to the original length of 2h30mn.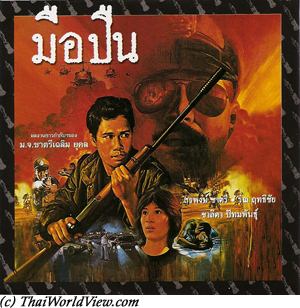 Year

: 1983



Thai title

:

มือปืน




English title

: Gunman I



Rating

: 5/5


Director

: ChatriChalerm Yukol



Main actor

: Sorapong Chatree,Krai Kanchit,Ron Rittichai


Main actress

: Chalita Puttamapun,Janthana Siriporn



Buy now

:

It is about the story of Sommai, a barber, who is acting as a gunman ("MEU PEUN" - มือปืน) in order to get money to cure his sick boy. He is an veteran soldier who has fought in Laos but was left behind by his superior Tanu after saving his life. Now his previous superior is a policeman involved in gunman investigations. Tanu has a reputation for killing criminals. Applying gratitude ("KATANJOO" - กตัญญู) towards his previous mate, the investigation is going slowly until a younger policeman gets involved... This film highlights conflicts between poor people (the gunman and his family), the government officials (policemen and soldiers) and wealthy influential businessmen. This movie has received 5 Thai awards. The opening scene in Gunman I, when the camera moved along and made viewers feel as though they were riding on a motorcycle with the lead character, has remained famous.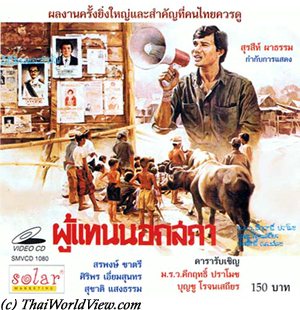 Year

: 1983



Thai title

:

ผู้แทนนอกสภา




English title

: The MP outside the Parliament



Rating

: 5/5


Director

: Surasee Phatham



Main actor

: Sorapong Chatree,Doo Dook Kradon,Supakorn Srisawat


Main actress

:



Buy now

:

After successful studies in Bangkok, Boonchai (บุญชัย) represents his party for member of Parliament election in rural Northeast of Thailand. Many other candicates register to the election to become member of Parliament. There are candicates of important parties with impressive list of diploma they got abroad but can they understand the poor people problems? There is a candidate backed up by the government, who is spending a lot of money to have huge billboards and is offering free gifts with his voting number. There is a funny candidate that wishes to clean the political dirt with a broom and bring light to democracy with a lantern. Boonchai has left Isan many years to study in Bangkok and has gone through the 1976 revolution. He got voting number 8. He announced to his girlfriend, who is a teacher lady, that he is trying to become member of Parliament to help the local people but she is worried as politics is a difficult and dangerous matter in Thailand. Some candidates give money for people to buy alcohol, some others give free medicine to buy the hearts and votes of local people but they don't bother to discuss with them and listen to their problems. They just promise more gifts to come. The money they spend to buy vote, they will get it back when they are elected. Boonchai is visiting villagers also on his small motorbike but he has no gifts to offer. He is not coming only for one day to change farmers life by bringing gifts but with ideas for the next four years to change their life. One taxi driver, seduced by his program, offers Boonchai to drive him anywhere he wishes. The government candidate doesn't care to visit the people as the "stupid buffalo" farmers can be bought with money. Meanwhile other candidates compete on gifs and on the biggest speakers to make their voice louder. They look like more fruit sellers! Boonchai is a local child of the region so he knows the farmers problems. He eats same food as farmers, works with farmers and propose them solution to improve their daily life and revenue increase by shifting various cultures all over the year. Villagers like his project up to the point that he starts to be a real political threat to the candidate backed up by the government. This latter decides to use bad tactics, i.e. villagers are threatened that they will not receive subsidies any more if anybody in a village votes for him, Boonchai is also accused to be a communist. Finally he is beaten by 4 tough men but it makes him more popular as many villagers support him. He is comforted to fight against adversity. The evil candidate tries to use drunkards to disturb his political meetings but they are expelled by his supporters. The evil candidate plans an outdoor cinema projection in order to disturb Boonchai's meeting hoping that people would prefer entertainment to serious politics. But it fails also. The evil candidate decides to send a team to kill Boonchai at night time when he is back from late political meetings. He succeeds to escape to assassination and villagers protect him. People voice is growing against bad politicians. Villagers provide him a gun to defend him-self. The evil candidate decides to use a hitman to get rid of Boonchai. Boonchai dies but he still wins the election as local people vote massively for him. Good men disappear and corrupted men remain... This movie gives a real image of Thai politics thirty years ago. But did nowadays Thai politics really improve? Former PM and politician MR Kukrit Pramoj appeared in this movie. Mr Kukrit showed up briefly at the beginning of the film, playing a party leader who gives a talk to the candidates. Not long after that, a new law prohibited political parties from attracting votes by playing in films.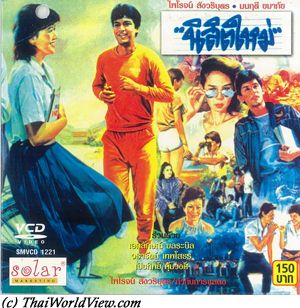 Year

: 1983



Thai title

:

นิสิตใหม่




English title

:



Rating

: 2/5


Director

:



Main actor

: Phairoj Sangwaribut


Main actress

: Monrudee Yamaphai,Piathip Kumwong
Wattee is a university student. In a hurry as he has forgotten one book, he borrows Pla's bicycle. Some other students believe he intends to steal the bicycle. He needs to prove that Pla has given him the bicycle keys but Pla is sick for a few days. He is judged by university court of justice but he is saved by Pla just in time. A love story starts between Wattee and Pla but former Pla's boyfriend still wants to marry with her. His family and Pla's mother prepare a plan in which Pla's mother company is bankrupted. Pla has no choice than to marry her former boyfriend in order to save her mother and her company. Things end up well as Wattee is able to tell the truth to Pla before she leaves to England. This movie highlights the Thai modern society changes in which young people choose their mate by themselves and not following their parents' wishes anymore.
---