Increase or decrease font size for easier reading : A+ A-
Year 1981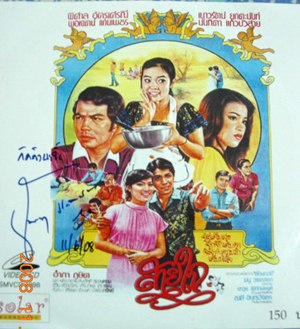 Year

: 1981



Thai title

:

สายใจ




English title

:



Rating

: 3/5


Director

:



Main actor

: Pisarn Akraseranee,Porjed Kaenpetch,Sawin Sawangrat,Somsak Chaisongkram


Main actress

: Naowarat Yooktanun,Sarinthip Siriwan,Nanthida Kaewbuasai,Ampha Pusit,Janthana Siriporn
Thai movie สายใจ was released in year 1981. It lasts 1h45mn. Yae Suk (Naowarat Yooktanun) and Den (Pisarn Akraseranee) have a car accident. They find an arrangement for the damages (ค่าเสียหาย). Her parents are Sarinthip Siriwan (คุณหญิง) and Sawin Sawangrat. Da (Nanthida Kaewbuasai) is her sister. Yae Suk is selling old items from her grandfather to allow the family to survive (หมดตัวแล้ว). But the parents either gamble the money or bet on horses. The father meet Somsak Chaisongkram and Saksit (Porjed Kaenpetch) while playing cards. The father invites them for lunch as he has the idea to marry his daughters in order to get money from the dowry (ค่าสินสมรส). A family gathering for all parties including Ampha Pusit happens to know each other. Da doesn't like Saksit as she believes he is just a gambler. He loses on purpose. Saksit pretends he can buy anything (ซื้อความนับถือความรักไม่ได้). Pho Lieng is also interested by Da and even tries to abuse her. Saksit helps her on time. They all go for a hike in the mountain but accidents occur. Finally Saksit and Da sympathize. Pho Lieng sends men to get rid of them. They have to spend the night in the forest but finally defeat the ruffians. As his daughters spent night outside home, the father claims his family name is tarnished (ขายหน้า). Da refuses to get sold (ถูกขาย). One old family friend mentions that the family name is already tarnished since a long time as the father and mother are strong gamblers. It shouldn't be the daughters' duty to pay for their gambling vice. Misunderstanding happens between Da and Saksit. Den helps to solve the issue. They finally get reunited also.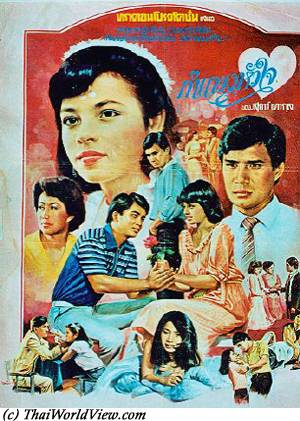 Year

: 1981



Thai title

:

กำแพงหัวใจ




English title

:



Rating

: 3/5


Director

: Sor Asanajinda



Main actor

: Sorapong Chatree,Sor Asanajinda,Yuranan PamornMontri,Sukon Koewliam


Main actress

: Jarunee Sooksawad,Thitima Sangkapitak,Pissamai Wilaisak,Metta Roongrat,Chosri Misommon
A theater (โรงละคร) employing veteran actors is closing. One of the main actress, Valla, finds herself out of job. Uncle Pongpat (Sor Asanajinda), one of his fan, asks Walla (วัลลา) for wedding. Valla (Pissamai Wilaisak) has already two young children, i.e. Viraya (วีรยา) (Jarunee Sooksawad) and Chat. Pongpat has also two young children already, i.e. Tor (Sorapong Chatree) and Athon (อาทร). Valla was an actress (เล่นลาคร) so Athon always underestimated Viraya and Chat. They never got along. Children have now grown up. Athon has studied overseas and developed a passion for painting. Back to Thailand, he meets a young lady and loves her immediately. He is not aware that she is Viraya! He keeps chasing her. In fact Athon and Tor love the same woman, Viraya. Ton has its own gallery and insists to make a painting (เขียนภาพ) of Viraya. Tor is not aware who Athon is now painting. Busamalee (บุษมาลี) (Thitima Sangkapitak) is another lady fond of Athon also. Athon now believes Tor and Viraya are already sweethearts (คู่รัก) so he wishes to go back studying abroad as soon as possible. Busamalee is disappointed when realizing Athon doesn't love her. Ton is now aware that Viraya is Valla's daughter. Athon has often craziness crisis. So Athon is violent with Viraya believing she lied to him on purpose. He rapes her in his painting gallery. Busamalee also goes to study abroad. Viraya tries to get suicide. Tor suspects a man behind but Viraya refuses to tell who by refusing to disclose what is deep buried in her heart (กำแพงหัวใจ). To avoid any further suicide tentatives, Tor decides to marry Viraya as soon as possible. Tor discovers Viraya's portrait in Athon's room so now understands the truth. Pongpat has a heart attack when learning this and dies. Athon becomes the new house owner. Viraya delivers a boy but the child dies during the delivery. Tor asks Viraya to forget the past but she cannot. Athon is back from overseas with Busumalee. They are engaged. The painting gets an award so Busumalee knows something has happened between Athon and Viraya. She is upset and spent the night out. She spends the night with Chat, Viraya's brother, who revenges her sister by sleeping with Athon's fiancee. Viraya and Athon finally meet. Athon tries to abuse Viraya again, claiming he always loved her, but she fights back successfully. She can now really forget Athon and enjoy happiness with Tor. The movie กำแพงหัวใจ is Yuranan PamornMontri's first movie.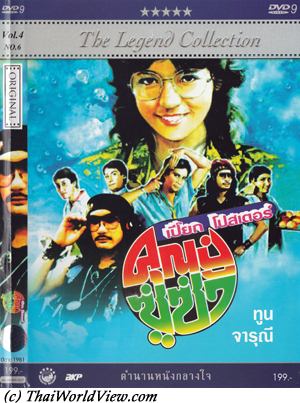 Year

: 1981



Thai title

:

คุณปู่ซู่ซ่า




English title

:



Rating

: 2/5


Director

: Piak Poster



Main actor

: Toon Hiransap,Der Doksadao,Somchai Samipak


Main actress

: Jarunee Sooksawad,Juree Osiri,Sulaleewan Suwanthat,Janthana Siriporn,Chaweewan Boonprok,Patama Panthong



Buy now

:

Thai movie คุณปู่ซู่ซ่า was released in year 1981 and lasts 1h59mn. It is available under DVD format released by BKP. Movie director is Piak Poster. Invited to a wedding party, Et (Toon Hiransap) is still single and is a playboy. He meets Juree Osiri. Et has inherited from his grandfather so he doesn't need to work. He doesn't want to marry as he likes freedom. He invites young lady Pat (Patama Panthong) to Pattaya. Kaew (Der Doksadao), his domestic helper, invites a lady (Janthana Siriporn) in his home while he is away. A little girl called Mot comes to their home. She is Et's relative daughter. As her family has financial issues, the relatives leave Mot with him. Et gets issues with police as he goes to teenager's party (ซวยจริงๆ). Mot's teacher is Thip (Jarunee Sooksawad). As there is nobody to stay with Mot, Thip stays to be her friend as both Kaew and Et are out every night. Et is going out with Chaweewan Boonprok. Enamoured with the teacher Thip (ครูสวยฉิบหาย), Kaew suggests bad ideas to Et in order to seduce Thip such as using sedative (ยานอนหลับ) or inviting her while there is nobody at home. All ideas fail and Thip is very upset with Et as she complains he lives a bad life only spending money and bringing no value to Thai society (ประโยชน์ต่อสังคม). Thip decides to change. Thip's father (Somchai Samipak) is a bakery's owner. Et succeeds to be hired in the bakery and launches successful cakes having tits shape. A co-worker (Sulaleewan Suwanthat) complains he is salacious (ลามก). Worried that Et will bring shame to his father and their business, Thip fires him. Apologizing for his behavior and feeling very sad, Et quits the bakery. While helping the father aggressed by two robbers, he is injured by them. Finally Thip understands Et is a good guy. Et promises to quit his bad behavior and acts as an adult. The second part of this Thai movie is named as คุณย่าเซ็กซี่ was released in year 1982.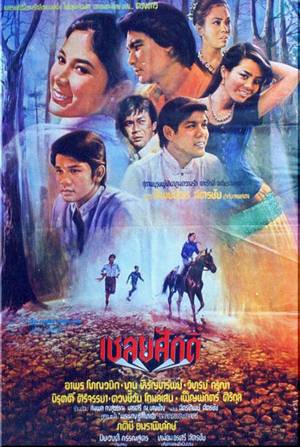 Year

: 1981



Thai title

:

เชลยศักดิ์




English title

:



Rating

: 3/5


Director

:



Main actor

: Toon Hiransap,Nirut Sirijanya,Aphorn Tonawanik


Main actress

: Penpak Sirikul,Duangcheewan Komolsen,Marasri Bangchang
Two Royal family clans (ตระกูล) have strong continuing conflicts (ความอาฆาตแค้น). One clan is อัศวราช, clan from the leading actor Yothin, and สันตติวงศ์, clan from the leading actress Alissa. M.C. , father of Alissa and Atisak, is dying. He wishes to clear up the conflicts between the two clans. Yothin (โยธิน) and Atisak (อติศักดิ์) from opposite clans have a gun duel. Yothin loses and needs to be Atisak's prisoner (เชลย) for one year. He has to stay in Atisak's estate located in countryside. He meets Alissa, Atisak's younger sister and Anoun, the younger brother. Yothin cannot get anywhere without authorization from Atisak or Alissa (เขาเป็นทาส). Prince (เจ้าแสนไทย) Saenthai, Atisak's friend, speaks sweetly with Alissa (อลิสา) but doesn't have real interest into her. Yothin becomes Anoun's personal instructor. Alissa and Atisak can force Yothin's body to execute tasks but they cannot control his spirit (จิตใจ). Yothin has a fiancee already Piromya (ภิรมยา) but he doesn't dare to see her and didn't tell her he is now under Atisak's orders. Saenthai has a high interest into Piromya. Prince Kanfa (เจ้าขวัญฟ้า) is having an affair (เมียน้อย) with Kaew, a domestic helper. He is acting as a butterfly with women but he wishes to marry Alissa. Yothin and Piromya still love each other. But Piromya is attracted by Kanfa. Piromya breaks up with Yothin when she learns that Yothin has become Atisak's slave. Piromya try to console with Kanfa. Yothin's father is sick but Yothin refuses to visit him to avoid having gratitude (บุญคุณ) to Atisak and Alissa. As Piromya is now pregnant, Kanfa needs to marry her but he cannot forget Alissa. Kanfa kidnaps Alissa to force her to become another wife. Yothin organises a hunt to find her. Piromya wishes to see the face of the traitor Kanfa (ผู้ทรยศหัวใจ) and dies in pregnancy while looking for Kanfa. Despite knowing Piromya's fate and being wrong, Kanfa refuses to let Alissa go. Though an unfortunate occurrence of circumstances, Kaew stabs Kanfa. Yothin flees with Alissa and Anoun. Love emerges between Alissa and Yothin. Unfortunately Anoun dies drowned in rapids while trying to help a dog. Atisak gives back his freedom to Yothin. Yothin leaves and promises to Alissa to come back as a friend (มิตร) and not a prisoner (เชลย) anymore. This movie is based on a story written by Princess Watnanokom Prawit (วัฒโนดม ประวิตร). It was adapted two times as movies (1959 and 1981) and three times for Thai television (1983, 1991 with Likit and Jintara, 2010).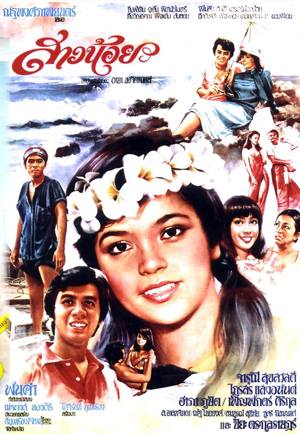 Year

: 1981



Thai title

:

สาวน้อย




English title

:



Rating

: 4/5


Director

: Phan Kam



Main actor

: Piya Trakulrard,Sor Asanajinda,Kraison Saenganan,Boo Wibunnan,Sompong Phonmitr


Main actress

: Jarunee Sooksawad,Ampha Pusit,Penpak Sirikul,Chosri Misommon
Thai movie สาวน้อย was released in year 1981. Main actors are Jarunee Sooksawad, Kraison Saenganan (ไกรสร แสงอนันต์) and Piya Trakulrard. Other actors are Ampha Pusit, Penpak Sirikul, Sor Asanajinda, Chosri Misommon as friendly governess, Boo Wibunnan as film producer, Sompong Phonmitr. Movie director is Phan Kam. The movie lasts 1h43mn. A first version was released in year 1958 with Charin Nantanakorn as main actor and ทรงศรี เทวคุปต์ as main actress. The 1958 movie is still available in Thailand. It was shot in Koh Si Chang but the 1981 version happens in Koh Samet. The shooting took one week there. Sao Noi is a romantic movie. Suwalee (Ampha Pusit) is engaged with Siem (Kraison Saenganan). Siem's father called Pla wishes to marry a young lady called Marasee (Penpak Sirikul)(แม่เลี้ยง) but Siem knows she is a bad lady. Marasee uses ruffians to hit Siem. He loses memory, ends up on a remote island and meets Nit (Jarunee Sooksawad). Love emerges between them causing Nit's friend, Cheut (Piya Trakulrard), to be disappointed. Pla finds back his son. Siem brings Nit to Bangkok to his father's home. Following surgery, Siem (Kraison) remembers Suwalee but forgets Nit. As Nit sees Marasee having an affair with another man, Nit is accused of stealing jewellery and leaves their home. Luckily she succeeds to become a movie star. Real old standalone theaters are shown with huge real billboards of Jarunee Sooksawad (โรงเพชรรามา - Pratunam, โรงเมโทร - Ratchathewi, โรงหนังแกรนด์ - Wang Uurapha). She even wins a Thai oscar award. Disappointed by Siem and despite fame, Nit wishes to go back to her island. Cheut, looking for Nit, punches Siem, who then recovers his memory. He rushes to the island to find Nit. They finally reconcile. Cheut ends up with Suwalee.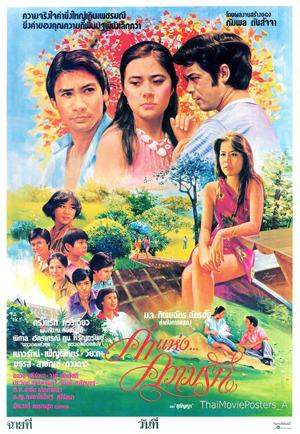 Year

: 1981



Thai title

:

ค่าแห่งความรัก




English title

:



Rating

: 3/5


Director

: ม.จ.ทิพยฉัตร ฉัตรชัย



Main actor

: Toon Hiransap,Pisarn Akraseranee,Sayan Chantaraviboon,Yuranan PamornMontri


Main actress

: Penpak Sirikul,Naowarat Yooktanun,Wiyada Umarin,Duangdao Jarujinda
Thai movie ค่าแห่งความรัก was released in year 1981 and lasts 1h36mn. Movie director is ม.จ.ทิพยฉัตร ฉัตรชัย. Actors and actresses featured are Toon Hiransap, Penpak Sirikul, Naowarat Yooktanun, Wiyada Umarin, Pisarn Akraseranee, Sayan Chantaraviboon, Duangdao Jarujinda, Yuranan PamornMontri, มธุรส รัตนา, ฉลวย ศรีรัตนา, วงศ์ ศรีสวัสดิ์, ประวิตร สุจริตจันทร์, จันตรี สาริกบุตร. Doctor Kengkrai (Toon Hiransap) is always drunk. This is due to his wife Pakpong (Penpak Sirikul) having external affairs but he is unable to divorce her as they have two kids. Sura (Naowarat Yooktanun) is Pakpong's younger sister. Piplin (Wiyada Umarin) is the eldest sister. Sut (Pisarn Akraseranee) helps Kengkrai as he has a car accident and is unable to drive drunk. Sut and Sura have arguments. Sut is hired by Kengkrai as driver and as a helper for his children. Kengkrai has two children but his wife is not taking care of them. Uncle Sut becomes a second father for the children, Moo and Maew. Arguments happen between Sut and Pakpong as she is jealous of him, being loved by her children. Sayan Chantaraviboon, from a rich Thai southern family, greets Sut. Doctor Kengkrai still has a big domain. The doctor has to sell his land as he needs money to pay his wife's debts. Phi Luang, brother in law, wishes to buy the land. Kengkrai has concerns selling the land as it belongs to his children. A mysterious rich man from south of Thailand, Khun Paradon, buys the land for 5M THB by offering higher bid than Phi Luang. The land will remain under Moo and Maew names. The brother in law is upset. Sut is upset against the rich people (ผู้ดี) as Sura listens to him (สัตว์ป่า) talking to Yot. A lost letter indicates Pakpong's bad intentions towards the doctor. Her lover finds the letter and threatens to disclose everything as she wishes to break up. Sut forces the lover to give back the letter and to disappear. Sut has a strong character. He succeeds to clear all issues and problems. Pakpong promises to change (แม่ที่ดีต่อไป). A romance between Sut and Sura is about to start (ไม่กลัวแต่ไม่ไว้ใจ). Paradon (Yuranan PamornMontri) is coming to meet Sura and asks her hand. Piplin gets beaten by her brother and the mother is upset as Pakpong didn't privilege her own family for the land sales. The mother thinks about money only. Paradon challenges Sura on the land. The real Paradon is Sut, who is doing tricks to check Sura's real heart. Sut's secret is finally disclosed and romance can blossom.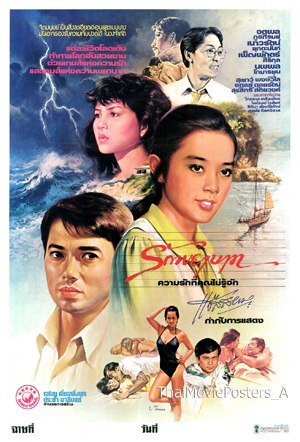 Year

: 1981



Thai title

:

รักพยาบาท




English title

:



Rating

: 3/5


Director

: แจ๊สสยาม



Main actor

: Jatuphol Poopirom,Suchao Pongwilai,Surasit Sattayawong,Krailat Kriengkrai


Main actress

: Naowarat Yooktanun,Penpak Sirikul
Thai movie รักพยาบาท was released in year 1981 and lasts 1h56mn. A remastered version was released by Five Star Production (ไฟว์สตาร์โปรดักชั่น) in the decade 2010s and shown on Thai TV cable. The movie was released under VCD format by Solar company. Movie director is แจ๊สสยาม. It was the last movie of famous Thai actor Jatuphol Poopirom, who died in a car accident on 20 March 1981. Children Pim and Paen are two close friends. They get separated as Paen is going to study in Bangkok. Reaching adult age, Pim is played by Penpak Sirikul and Paen by Naowarat Yooktanun. Both stop studies and start to work. Paen is working in Chatree (Suchao Pongwilai)'s company. Pin also finds a job in Chiang Mai. Claiming he has a letter for Pim, Pim's boss tries to rape her but he has a heart attack. Pim flees. She meets San (Jatuphol Poopirom) by hazard. He helps Pim as she does not know where to go. Finally, a romance starts between them and they become lovers. San has to go to Chiang Rai for business for three days and promises to send her to Bangkok. San has a car accident while driving to Chiang Rai. Chatree nominates Paen as his personal secretary. Pim waits but San is not coming back. She has to leave the hotel. She goes to Bangkok and faces a taxi driver, who steals her luggage. She has nowhere to go and feels hungry. She collapses and somebody brings her to hospital. The doctor (นพพล โกมารชุน) pities her and finds a job for her in his aunt's company. A romance starts. Pim is pregnant with San as father. Abortion is forbidden by law so the doctor refuses to help. He finally changes his mind but Pim has decided to do it by herself. She loses a lot of blood but luckily the doctor saves her again. She wishes to get revenge over San. Pim befriends Lin, an actress, so she wishes to become an actress. Pim meets Adul Dulyarat, a movie director, and becomes his mistress. San meets Paen. A romance starts and he wishes to marry Paen. Paen resigns from Chatree's company and gets married to San. Chatree still loves Paen but Paen considers him as a friend only. San is looking for a job but refuses to ask help from Chatree. Bancha (Surasit Sattayawong), a rich businessman, is contacted by Paen to help San. He accepts to help as he is impressed by Paen's strong love over San. Adul wishes to introduce Pim to Bancha as he plans to marry her. Pim meets San at Bancha's birthday party. Pim leaves Adul to live with Bancha and marries him. Pim does everything to make San upset. She wears the ring San offered to her and discloses who she is. They become lovers again. Pim pushes San to divorce Paen. As Paen refuses to divorce, Pim suggests to San to kill Paen. Paen announces she is pregnant, so San decides to break up with Pim. Meanwhile Bancha is also aware of the situation through Krailat Kriengkrai. Pim storms the place when San and Paen are staying. When realising that San's wife is her old friend Paen, she renounces her wish to shoot San. She wishes good luck to them. In the parking lot, she gets shot by Krailat and dies. Bancha did not forgive…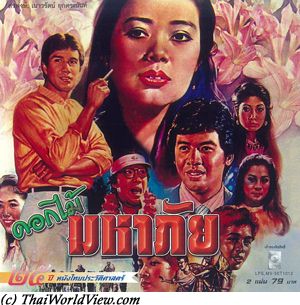 Year

: 1981



Thai title

:

เสือมังกร




English title

:



Rating

: 3/5


Director

:



Main actor

: Sorapong Chatree,Manop Aussawathep


Main actress

: Naowarat Yooktanun,Ampha Pusit
This movie deals about a group of Chinese refugees in North of Thailand area, who are the survivors of the 93rd Division of Chiang Kai Chek's Nationalist Army, the Kuomintang, who fled from China after communist victory and settled in these mountains in 1949. They live close to the borders with Laos and Myanmar in the middle of the poppy-growing area of the Golden Triangle. In return for the Kuomintang's military help, the soldiers and their families were given Thai ID papers that permitted them to live in this area. These ex-soldiers of the Kuomintang had to find ways to survive. They grow poppy and also levy a forfeit on the opium convoys that passed through their territory. In this movie, Thai villagers are fed up with Chinese villagers behavior that grow poppy to make opium. They want them to stop to harm Thai society. A group of Chinese villagers kidnap Lannoi, a young Thai lady. Her brother, Seua, a strong Thai young man, fights and wins to get her back but finally encourages her to stay to better know Chinese customs and marry a Chinese villager. She marries Fong Fong but there is no love. She discovers some Chinese customs (concubines, smoking opium, foot binding, women doing hard chores, cemetery with tombs, Chinese food...). She finally understands that Fong Fong loves her. Knowing that an opium convoy will exit soon from the village, she alerts the Thai villagers. A fight occurs and Chinese villagers have to step back. Lannoi admits she is the one to have warned the Thai people because Chinese people should stop opium commerce that harm society. Arguing happens between pro and con opium people. Finally Lannoi is condemned to death and shall be shot by Fong Fong, who do it dejectedly. Seua comes back to Chinese village for vengeance. Many pro opium fighters are killed and even Fong Fong is killed by one Chinese fighter. Following this disaster, Fong Fong's father promises they will stop growing poppy from now on.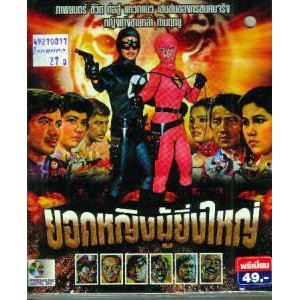 Year

: 1981



Thai title

:

ยอดหญิง ผู้ยิ่งใหญ่




English title

:



Rating

: 2/5


Director

:



Main actor

: Sombat Methanee,Yodchai Meksuwan,Kecha Plianvithee,Pipop Pupinyo,Lak Apichat,Boo Wibunnan,Thuam Thoranong,Paen Pleumsachai,Krong Kangkengdaeng


Main actress

: Wassana Sitthiweth,Piathip Kumwong,Duangcheewan Komolsen.Suphanee Jitthieng
Thai movie ยอดหญิง ผู้ยิ่งใหญ่ was released in year 1981. The version seen only lasts 1h05mn so too many scenes were cut making the storytelling bit weird. Boss (เจ้านาย) Bancha (Kecha Plianvithee) is trafficking weapons. Pipop Pupinyo is part of his team. A mysterious masked vigilante man, wearing black clothes, is trying to stop him. It is Nam (Sombat Methanee). A truck carrying weapons is stopped by Thai Police thanks to Nam. Nam warns Bancha but a fighting erupts with his tough guys. Nam gets help from a mysterious masked vigilante woman, wearing red clothes. Nam meets Nissa (Wassana Sitthiweth), daughter of the police head. Yot (Lak Apichat) helps Pat (Piathip Kumwong) kidnapped by ruffians. Ruffians kidnap Sia / เสี่ย Boo Wibunnan's child and shoot him in the shoulder. Hopefully red and black masked vigilantes follow the car but get attacked by yellow masked men (องค์การสีเลือง). Two ladies Pat and Nissa (นกสองตัว) are captured by Bancha's team, who are preparing to betray Thailand. Yodchai Meksuwan and Darlin (Duangcheewan Komolsen), from Malaysia, are police members. Bancha threatens the police head to kill his daughter Nissa if their business is disrupted again. Nam simulates joining the yellow gang in order to be able to release the ladies. Nam cannot reach agreement so a one to one (ต่อสู้แบบลูกผู้ชาย) fight must happen. Police finally arrives. Pat sacrifices her life to save Nam. Lak helps to release Darlin, who is identified to be the mysterious red masked vigilante woman. All ruffians are captured or killed. The identity of the gang leader (ลืมชาติ) is then known... Other actors are เศกสิทธิ์, Suphanee Jitthieng,โดม สิงโมฬี, Krong Kangkengdaeng.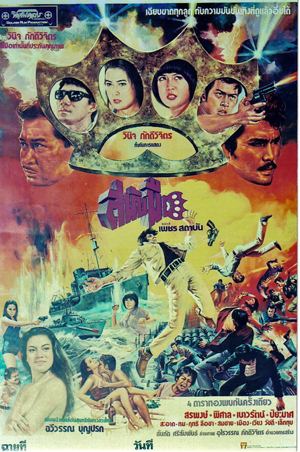 Year

: 1981



Thai title

:

สนับมือ




English title

:



Rating

: 3/5


Director

: วินิจ ภักดีวิจิตร



Main actor

: Sorapong Chatree,Pisarn Akraseranee,Rith Luecha,Sahat Piempongsan,Somchai Samipak


Main actress

: Naowarat Yooktanun,Piyamas Monayakol,Chaweewan Boonprok



Buy now

:

Thai movie สนับมือ was released in year 1981 and lasts 1h46mn. The movie was released under VCD format by TripleX company. Movie director is วินิจ ภักดีวิจิตร. Dao (Piyamas Monayakol) is a pickpocket. Ek (Sorapong Chatree) is a policeman and San (Pisarn Akraseranee) is his colleague. Dao is captured by them. Ek, having pity on her, hires her as a maid. Umarin (Naowarat Yooktanun), a policewoman, stands in Don Meuang. She tries to trick ruffian Rith Luecha, coming to get diamonds. Following failed diamond exchange at the airport, Ek chases Rith by car. Ruffians succeed to flee by motorbike. Diamonds in a suitcase are stolen by another biker. Head of the ruffians' organisation is upset that Rith failed. Boonleut (Sahat Piempongsan), Ek's boss, encourages Ek and San. Ek and Umarin shall marry. Umarin is a bit worried that Dao stays at Ek's home as a domestic helper. San is having a romance with young lady Nida (Chaweewan Boonprok) and is trying to find who is the ruffians' big boss but nobody ever saw him before. San learns that the organisation wants to get rid of Ek. A shooting in a golf course is foiled thanks to Dao. Nida informs San about a drug deal in Pattaya on a boat. Somchai Samipak, as head of police, gives instructions to Ek and others. San intercepts the ruffians going back to the beach through a speed boat. He shoots them and keeps the suitcase full of money. Meanwhile Ek and Thai police stop the boat trafficking the drugs. Dao is aware that San keeps the money and asks for 50%. San gives 1M THB to a school. Ruffians including Meuang (เมือง อพอลโล่) try to kill Ek again but they fail again. Dao uses a knuckle duster (สนับมือ) to kill one ruffian but does not disclose who she really is. Thai police wonder who is helping them. Nida is shot by Meuang. San is about to be killed also but Dao helps him. Meuang discloses to the organisation boss that Dao is the one using a knuckle duster. Ek discovers that Dao gives all her salary to her poor mother. Back to home, both Dao and Ek are captured by Rith. San uses Umarin as a bait. Umarin is captured and San follows the ruffians to know where their location is. Nai Boonleut is unveiled as the head of the secret organisation. Boonleut wants the money and his diamonds back. Meanwhile San warns Police colleagues and helps to release Ek. Thai police storm the ruffians' den. Heavy shootings happen and ruffians are neutralized.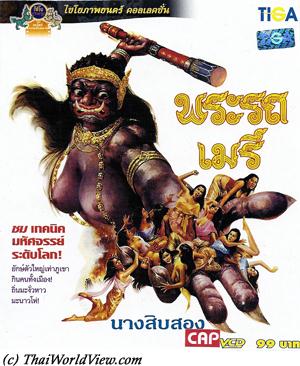 Year

: 1981



Thai title

:

พระรถเมรี




English title

:



Rating

: 3/5


Director

: Sompote Sangduenchai,Neramit



Main actor

: Toon Hiransap,Dam Datsakorn,Ron Rittichai,Sithao Petcharoen,Sompong Phonmitr,Sukon Koewliam


Main actress

: Ampha Pusit,Supansa Nuengpirom,Duangcheewan Komolsen,Janthana Siriporn,Metta Roongrat



Buy now

:

This movie is based on Southern Thai Local Literature. Twelve daughters are abandoned by their parents, who are too poor to educate so many children. The twelve daughters are rescued by a "Yak" woman who promises to take care about them as her own daughters. She deceived them and force them to drink a potion that transform the young girls into beautiful maidens. They escape and are rescued by a Prince, who falls in love with the youngest girl, called Sip Song. He agreed to marry the twelve girls. Once again, the "Yak" woman deceived and force them to drink a potion that makes them 8 months pregnant. The Prince, disappointed by this unexpected pregnancy, expels them and they are imprisoned in a cave, where the "Yak" woman has their eyes removed in order to make an ever young potion for her. Blind and with no food no eat, the ladies eat their new born babies except the son of Sip Song who is raised by a gentle "Yak". The son is called Phrae Rot Meri. Getting older he ran a cock fight to make a living for the 12 ladies. Becoming an adult, he has a deal with the Prince and goes to the "Yak" country to get more magic potions in order to get freedom for the 12 ladies including his mother. But the "Yak" woman is doing all possible tricks to stop him...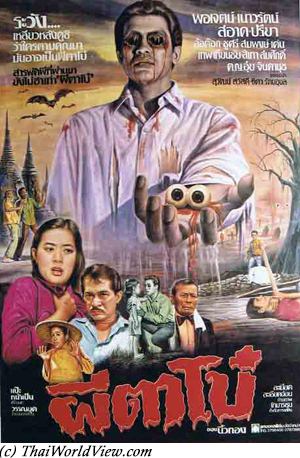 Year

: 1981



Thai title

:

ผีตาโบ๋




English title

:



Rating

: 3/5


Director

:



Main actor

: Porjed Kaenpetch,Lor Tok,Sahat Piempongsan,Sithao Petcharoen,Sompong Phonmitr,Thep Thienchai,Somsak Chaisongkram


Main actress

: Naowarat Yooktanun,Preeya Roongrueng,Chosri Misommon



Buy now

:

A fake taxi driver (No taxi meter in 1981 on taxis!) captures a young lady student. His boss, a mysterious and unscrupulous doctor (หมอ) Kampon, takes away her eyes. One of the eyes cannot be used as the fake taxi driver punches her. Da, the doctor's wife, is blind following a car accident so Kampon needs to find new eyes (ดวงตา). Noi (Naowarat Yooktanun) and Pol,a young couple, are married but have financial difficulties. Pol is looking for a job. The bad servants capture a drunken tramp to steal his eyes. His eyes cannot be used as they are sick (ตายฟรีๆสองคน!). So Kampon shall select next time the donor by himself. Kampon meets Pol and is immediately interested by his eyes. Nang Soi (Preeya Roongrueng), Kampon's servant, is possessed by the two dead spirits (ผีเข้า), i.e. the lady student and the tramp, while walking near their graves. A shaman (หมอผี) is needed. The shaman recommends to put drawing representing religious mystical symbols (ยันต์) and sacred threads (สายสิญจน์) in front of the house to repel ghosts. Kampon's servant comes to take Pol to work. It is a trick to take his eyes to give to his blind wife. The body is thrown away in the same cemetery as the previous bodies (ศพ). Noi has bad premonition about her husband. One of servant Off wishes to help some villagers friends to make love filters so he tells them where to find a fresh dead body, i.e. Pol, to make corpse oil (น้ำมันพราย). Thanks to Pol's eyes, Da can see again. A shaman (อาจารย์) wakes up Pol's spirit by wishing to get corpse oil (ผีตาโบ๋). It turns to a fiasco. Pol wants his eyes back (เอาลูกตาของกูคืนมา) and wishes to kill Kampon. Noi is worried about her husband and visits Kampon to get news. There is opposition between the modern doctor (นักวิทยาศาสตร์) and the ghost. The doctor has to accept ghost reality and asks help from a traditional shaman called Ket! Pol ghost visits his own house and discusses with his youngest daughter. Only young children are not afraid of ghosts. Pol ghost terrorizes local villagers. Pol appears in Noi's dreams and asks her to remove the sacred items in front of Kampon's house. He is now able inside the house, gets revenge and his eyes back. Shaman Ket cannot help and escapes death as Noi asks Pol ghost to stop his killings. Pol ghost is reduced to ashes and worms as the sunny morning arrives. There is a short funny apparition of legendary comic actor Lor Tok as a guy stealing coconuts at nighttime. As usual in 1980s movies, there is mix of slight horror and comedy with simple Fx effects.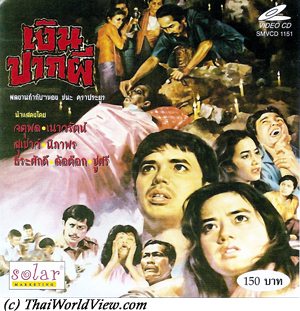 Year

: 1981



Thai title

:

เงินปากผี




English title

: Ghost Money



Rating

: 3/5


Director

: Chana Kraprayoon



Main actor

: Jatuphol Poopirom,Lor Tok,Suchao Pongwilai


Main actress

: Naowarat Yooktanun,Nipaporn Nongnuch,Chosri Misommon
Malee (Chosri Misommon) is married to Lor Tok, an alcoholic caretaker. Lor Tok has a daughter called Lao (Nipaporn Nongnuch) and a son called Lo. Malee has also a son from a previous wedding. He is called Mon (ทะลึ่ง). Lor Tok is a husband believing his wife more than his children so relationship is very bad between his children and the new wife. Teacher Awan (Naowarat Yooktanun) meets Pop (Jatuphol Poopirom) visiting the countryside per invitation from his friend, a policeman played by Suchao Pongwilai. The father doesn't give money anymore to his children so Lo thinks about stealing the coins from dead corpses (เงินปากผี). With two friends (Biaw and Pui), Lo goes in a Buddhist temple at night time to steal coins from corpses stored in a morgue. The teacher brings Pop to a famous sacred cave where birds can be heard but not seen. Many people died there. The three children spent all their pocket money so decide to go to the sacred cave to look for additional coins. They dig up a coffin with a corpse still in perfect condition (ผีเขมร). One of the kids forces to open the mouth in order to get the coin so causing the dead spirit to be very upset. Biaw dies because of the ghost. The boy Lo wishes to give back the coins to the spirit but Mon has stolen the coins and plan to sell them in Bangkok. The policeman enquiries on the coins found on Biaw. Biaw's mother gives the coins to the teacher. The spirit then possesses the teacher and frightens Pui at night time. Pui is found with burnt hands. As Lo recognises his stealing, the spirit doesn't hurt him but forces him to watch Pui digging endlessly. The spirit is now after Malee and sends hell birds (นกนรก) to punish her as she is a liar. Pui finally dies. A spirit doctor (หมอผี) arrives in the village and warns the teacher Awan that she is possessed. He asks to meet her in the sacred cave to perform an exorcist ceremony (พิธี) but he is found dead. The spirit kills both Malee and Mon. Villagers finally request the help of a Buddhist monk in order to neutralize successfully the evil ghost. In 2014, this movie was fully restored in beautiful colorful HD version by Five Star company.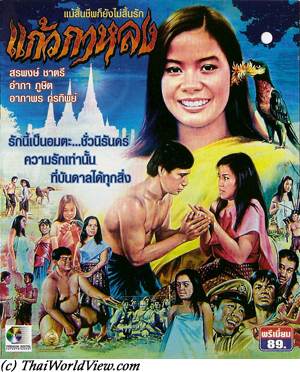 Year

: 1981



Thai title

:

แก้วกาหลง




English title

:



Rating

: 3/5


Director

:



Main actor

: Sorapong Chatree,Joomjim Khemlek


Main actress

: Apaporn Kornthip,Ampha Pusit
Kaew is a slave at the beginning of 20th century. He has an affair with Kalong, his master's daughter. They love each other and she becomes pregnant. Being aware of the situation, the master beats Kaew every day and Kalong is secretly hidden and kept by the master's servants. One of them, drunk, kills Kalong while she is giving birth. Kalong becomes a ghost and kills those who hinder her. Following the abolition of slavery by Rama V, Kaew quits his master's home and settles in another village where he meets a lady called Sonklin. Love goes beyond death and Kalong searches for Kaew. She finally finds Kaew and stays with him. Kaew ignores that his wife is a ghost. Finally Kalong is recognized as a ghost and wants to kill Sonklin and brings Kaew with her. A buddhist monk has to calm down Kalong so that she accepts her death and wishes to meet Kaew again in their next life. The scenario has many similarities with "MAE NAK" ghost (แม่นาค) story. Same as Mae Nak, there is art of compromise in film ending instead of one party winning. This is part of Thai culture. It is a remake of the movie shot in 1967 with legendary stars Mitr Chaibancha and Petchara Chaowarat.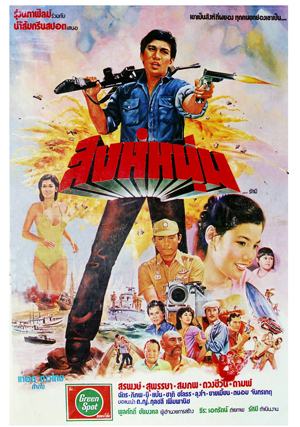 Year

: 1981



Thai title

:

สิงห์หนุ่ม




English title

:



Rating

: 4/5


Director

:



Main actor

: Sorapong Chatree,Chat Mongkolchai,Dam Datsakorn,Pipop Pupinyo,Paen Pleumsachai,Boo Wibunnan,Somphob Benjatikul


Main actress

: Supansa Nuengpirom,Duangcheewan Komolsen
Thai movie สิงห์หนุ่ม was released in year 1981. In Thailand, the movie is lost but the movie last 35mm film reel was preserved by a collector and lasts 24mn. This Thai movie was also released in Sweden by company HB Video-film. พ่อเลี้ยง Hin (Chat Mongkolchai) meets Wattana (Dam Datsakorn) for illegal business. Sakda / Sing (Sorapong Chatree), named as สิงห์หนุ่ม, a policeman, always causes them problems. He stops their drug traffic at the border. Hin decides to attack Sing through his family. His wife is raped and killed. Sing takes revenge but Hin succeeds to flee. Sing sympathized with Pipop Pupinyo and this latter helps him to be recruited by Srisuda (Duangcheewan Komolsen). Srisuda likes Sing a lot. Boo Wibunnan, Hin and Wattana build a traffic together. Policeman Tawan (Somphob Benjatikul) stops their boats trafficking in Thai waters. Srisuda is upset but she is not willing to sell her boats to Boo. Hin's ruffians are jealous to see singer Salika (Supansa Nuengpirom) talking to Tawan so a fight occurs. As Tawan is outnumbered, he gets some help from Sing and his friends. Somphob needs help from Sing and his ruffians to neutralize the ruffians. They all agree. Meanwhile ruffians plan to use the singer Salika to pressure policeman Tawan. Srisuda accepts to take care of Sing's daughter but asks Sing to move in her house... Last ruffians' operation fails again. Pipop is suspected to be a traitor and is killed. Ruffians shoot Srisuda and kidnap Sing's child. During the chase and the shootings, the child is killed. Ruffians then kidnap the singer Salika. Police storms the place but Watttana flees by boat with Salika. Sing follows and releases her.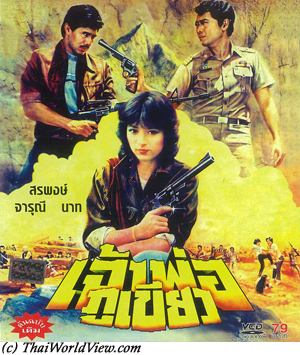 Year

: 1981



Thai title

:

เจ้าพ่อภูเขียว




English title

:



Rating

: 3/5


Director

:



Main actor

: Sorapong Chatree,Nard Poowanai,Kecha Plianvithee,Lak Apichat


Main actress

: Jarunee Sooksawad,Duangjai Hathaikarn



Buy now

:

Palan Phuthai is coming back to Chayaphum area after having spent a few years in prison as a former hit man. During the bus trip, he becomes friend with the bus fare collector, who promises to present him his sister called Taew. Back in Chayaphum, things have changed. Following a dispute with a dishonest placement company sending Thai workers abroad, his mother and brother died. He has to take care of a small baby that he confides to the district officer's wife. The district officer knows that Palan has become a good person. Palan has arguments with the dishonest placement company as they take money from poor people and never send them abroad for work. The boss of the placement company is a local godfather called Kamthorn, who is also involved in illegal logging. Palan robs important documents from the placement company and even abducts Kamthorn's daughter, Busaba, to force him to stop his illegal activities. It fails as Palan has to exchange the small baby against Busaba. Taew become Palan's wife. Kamthorn tries to get rid of Palan and the district officer by using a hit man, former friend of Palan. Finally Kamthorn dies and Palan gives his gun back to the district officer as justice has won.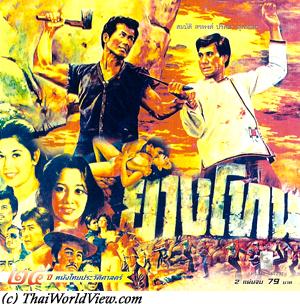 Year

: 1981



Thai title

:

ยางโทน




English title

:



Rating

: 3/5


Director

: Payoong Payakul



Main actor

: Sombat Methanee,Sorapong Chatree,Phairoj Jaising,Dam Datsakorn


Main actress

: Supansa Nuengpirom,Prissana Chabaprai
While Yot (Sorapong Chatree), young man, is away from his home, three ruffians raid his house and kill his parents. They were looking for a red jade (หยกแดง). Yot promises to punish the three robbers. Than (Sombat Methanee) is a farmer who has a family. He refuses to sell his rice to the local village headman (กำนัน) as the offered price is too low. The local village headman uses strong power (อำนาจ) and bad influence (อิทธิพล) to coerce villagers. Yot helps Than to beat the local ruffians. They sympathize. At nighttime ruffians come again but Yot shoots one of them. In the following morning, the local village headman comes with the police to arrest the two men. Following a misunderstanding between thugs, Yot and Than can flee. Yot continues his way to find the murderers of his parents. He finds two of them and learns that a rich man (เศรษฐีใหญ่) from Phrae and Nan provinces has ordered to get the red jade. Meanwhile the local village headman chases Than up to his home and shoots his wife. This is his final crime as Than shoots him also. Arrived in Nan, Yot receives help from the local mafia head Sai Wan as he had arguments with a prostitute in a local hotel. Sai Wan recruits Yot. Meanwhile Than enters Pho Liang Rak's ruffian team. Fights happen between the local mafia teams. Yot identifies that Pho Liang Rak is responsible of his parents' death. Pho Liang Rak and his team are neutralized but then Yot and Than fight over the red jade. They finally realize they are brothers. They decide to sell the red jade to build a Buddhist temple. This movie is a Thai Tom Yum (ต้มยำ) western from decades 1970s-1980s.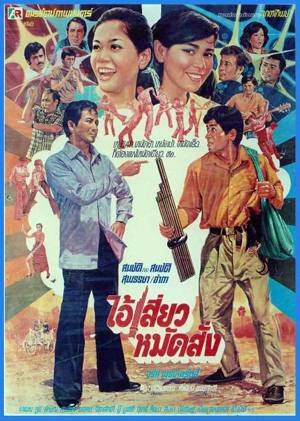 Year

: 1981



Thai title

:

ไอ้เสี่ยวหมัดสั่ง




English title

:



Rating

: 3/5


Director

:



Main actor

: Sombat Methanee,Lak Apichat,Boo Wibunnan,Adul Dulyarat,Manop Aussawathep,Sayan Chantaraviboon,Rith Luecha


Main actress

: Supansa Nuengpirom,Ampha Pusit,Chosri Misommon
Thai movie Ai Sio (ไอ้เสียวหมัดสัง) was released in year 1981 and lasts 2h03mn. Sio (Sombat Methanee) from Isan area is going to Bangkok for the first time to find a job. Some people promise him a fake job in Saraburi. They drug him with sedative pills (ยานอนหลับ) and steal his money. Sio speaks Isan language only. Sio finds the three men again and a fight erupts. Very strong, Sio kills them during the fight thanks to his strong punch. Sio ends up in jail with two other men, Lak Apichat and Boo Wibunnan, who are pickpockets. They become friends. Released from prison, Lak and Boo meet Phi Kang (Adul Dulyarat), who has serious issues with ruffians led by Boonchai (Manop Aussawathep) wishing to buy his garden. There are gems (พลอยแดง) in his garden soil. His children are Sayan Chantaraviboon, Supansa Nuengpirom and her elder sister played by Ampha Pusit. Sombat is having two roles in this movie, i.e. Sio and Sia! Sia Songsak is another local ruffian and his mother is played by Chosri Misommon. Some people confuse Sio and Sia. Sio has to punch people mistaking him as Sia. Sia finally finds Sio. Fighting erupts between both of them. Through the fight, Sio kills Sia due to his strong fist punch. Each time he gets hit below the stomach, Sio loses his temper. Afraid of being arrested by police again, both Sio and Boo leave for Chantaburi. Arriving there, they are involved in another fight and befriend with young men. Boo brings them to work with him. Sio likes fair justice (รักความยุติธรรม). Ruffians propose a 5 to 5 fight. Rith Luecha is one of the fighters. If they lose, they have to sell the garden. Thanks to Sio, they win. Trying a last solution, the ruffians kidnap the two daughters. Even Saran, now able to fight, joins them. Through final fighting, ruffians are neutralized. Sio is injured while protecting Supansa. US movie Rocky soundtrack is used.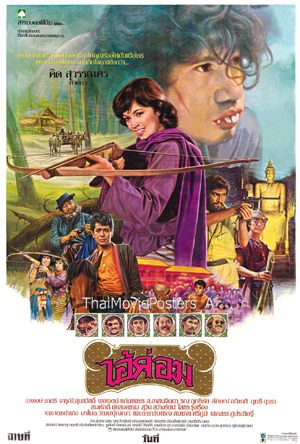 Year

: 1981



Thai title

:

ไอ้ค่อม




English title

:



Rating

: 3/5


Director

: คิด สุวรรณศร



Main actor

: Sorapong Chatree,Porjed Kaenpetch,Sor Asanajinda,Lak Apichat,Somsak Chaisongkram,Ron Rittichai,Rith Luecha,Sawin Sawangrat


Main actress

: Jarunee Sooksawad
It has a scenario based on the tale "The beauty and the beast". An deformed man, hated by all, is helping an endangered young woman.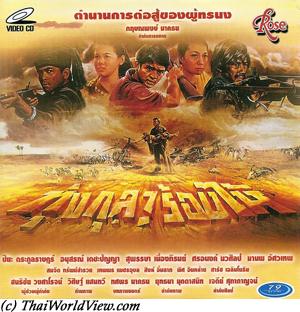 Year

: 1981



Thai title

:

ทุ่งกุลาร้องไห้




English title

:



Rating

: 3/5


Director

:



Main actor

: Manop Aussawathep


Main actress

: Supansa Nuengpirom
Some immigrants settle in a village in dry Isan (Northeast of Thailand) area. They are not welcomed by the already inhabitants. Incidents happen between the two communities. Who is responsible of these incidents?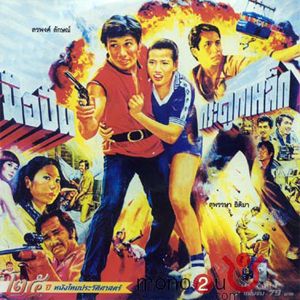 Year

: 1981



Thai title

:

มือปืน กระดูกเหล็ก




English title

: Iron Bone killer



Rating

: 3/5


Director

: Payoong Payakul



Main actor

: Sorapong Chatree,Nard Poowanai,Dam Datsakorn,Porjed Kaenpetch,Lak Apichat,Phairoj Jaising,Sithao Petcharoen


Main actress

: Thitima Sangkapitak,Supansa Nuengpirom,Moeifa
Thai movie Iron Bone killer / มือปืน กระดูกเหล็ก was released in year 1981. It is directed by famous action movie director Payoong Payakul. It lasts 1h56mn. While driving back from an underground casino, Kit Meka (Sorapong Chatree) finds a dead man lying on the road with a pod full of money. Kit gets shot and injured by two men but succeeds to flee after shooting them. Another car chases him. He takes refuge at a doctor's home but the ruffians do a rampage there. He finally ends up in a neighbouring house where a young enthusiastic lady welcomes him warmly. He leaves to go to funeral of his friend Phi Kamnan Pan. He meets Seua Tot (Nard Poowanai) and Moeifa there. Kit escapes to ruffians again and is rescued by a young lady called Pim. The ruffians' leader, Pho Luang (Dam Datsakorn), is upset that his men are not able to catch Kit named as มือปืน กระดูกเหล็ก so he has to be involved himself. Pho Luang's girlfriend is called Taorung (Thitima Sangkapitak). Porjed Kaenpetch, playing a policeman, is investigating on the ruffians' activities. Pim is the niece (หลานสาว) of Seua Tot. Lak Apichat is part of Seua Tot's team. Kit helps Tot betrayed by one of his teammates. Meanwhile Pim is disfigured and raped by Pho Luang's ruffians. Seua Tot promises revenge. Tot takes revenge on Pho Luang's mother. They also kidnap Pho Luang's wife Taorung and ask for 500 000 baht (ผู้นรก) ransom. Pho Luang and his men chase after them. They take refuge in a Christian village (หมู่บ้านศาสนา). Kit and Seua Tot's team diverge and split. Seua Tot's team falls into an embuscade and Seua Tot is left for dead. Fed up to always been chasen, Kit decides to counterattack. Kit shoots Pho Luang's men and through a final fight, both Pho Luang and Kit fall from a cliff but only Kit survives. Ot (Phairoj Jaising) takes over Pho Luang's illegal business. Some ruffians led by Ot try to kill Kit. Kit ends up facing the policeman Pat (Porjed Kaenpetch). Pat is former lover of Taorung and still loves her. Taorung's heart is still split but promises forever love to Kit (ดวงเดียว). Meanwhile Kit only sees himself as a staff of Taorung. He meets Farung (Supansa Nuengpirom) and asks her father (Sithao Petcharoen) to teach him Thai boxing. Ot and his men decide to get rid of Kit. Pat chases the ruffians and ends up in a duel with Ot. Kit helps Pat before Ot can shot him. Seua Thot also saves Kit but dies, being shot by Ot. All ruffians being neutralized, Kit ends up with both Taorung and Farung.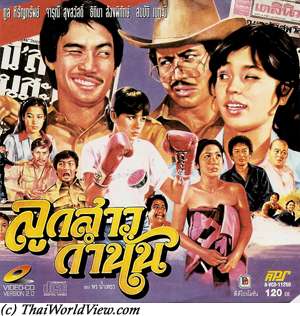 Year

: 1981



Thai title

:

ลูกสาวกำนัน




English title

:



Rating

: 3/5


Director

:



Main actor

: Toon Hiransap,Sombat Methanee,Lak Apichat,Boo Wibunnan


Main actress

: Jarunee Sooksawad,Ampha Pusit,Thitima Sangkapitak
This funny movie is about Teng Mo, the daughter of a district officer.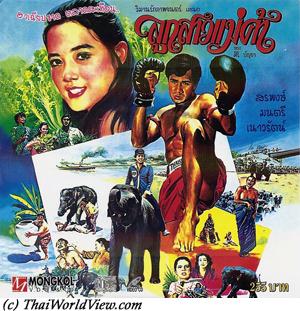 Year

: 1981



Thai title

:

ลูกสาวแม่ค้า




English title

:



Rating

: 3/5


Director

:



Main actor

: Sorapong Chatree,Sawin Sawangrat


Main actress

: Naowarat Yooktanun
A young feminine seller is in love with a Thai Boxer but her family doesn't want her to marry him. So her family tries to present other bachelors to her. The Thai Boxer becomes famous and is contacted to cheat a boxing match. As he refused, he is seriously injured by the mafia. Will their love story become a reality?.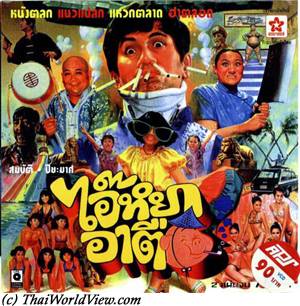 Year

: 1981



Thai title

:

ไอ๊หยา อาตือ




English title

:



Rating

: 3/5


Director

: Kumtorn Tubkunlai



Main actor

: Sombat Methanee,Boo Wibunnan


Main actress

: Piyamas Monayakol



Buy now

:

An old 700 years old Chinese mummy is displayed in a Thai museum. Despite the numerous police guards, a robbery happens and the original mummy is replaced by a copy. A thief is injured during a shooting with police. The head of police goes to pick up his daughter Chim coming back from England at the airport and realises that her daughter's boyfriend, called Sak, has same face as the thief. Meanwhile the thief, called Kimtheun, dies at the hospital. The head of police wants Sak to replace the dead thief at the hospital so that his thievish colleagues come to free him and so the police will be able to locate the mommy. Sak cannot refuse if he wishes to marry the head of police's daughter! A Chinese descendant and owner of antique shop is the one to order the robbery. A thievish colleague comes to the hospital not to help Sak but no kill him in order that he cannot talk anymore. Sak flees and takes refuge in the colleague's car trunk. He arrives in Chinese Viharnra Sien shrine in Chonburi province. Sak has to act like Kimtheun and discovers that he has one older wife and two children. Sak doesn't speak Chinese very well. Hopefully he can argue that his head injuries cause him to lose memory. There is some light mockery of old Chinese customs in Thailand (boss with numerous concubines and much younger that the main wife, strong accent when speaking Thai, mixing of Chinese and Thai words Atia for father - Ama for mother, eat pork crazily). Next plan is to steal the Democracy Monument's two golden offering bowls in Bangkok. Arguments and comic situations happen when Chim finds Sak with the Chinese wife. Sak claims he is Kimtheun. Chim starts to be suspicious. Kimtheun's youngest brother knows well a Chim's friend so Sak is broken cover when Chim and her friends visit the Chinese shrine. Sak needs to tell the truth to Chim. Sak argues he didn't do anything with Kimtheun's wife as she cut off her husband's manhood before and gave it to ducks as Kimtheun was too unfaithful (Surgeons in Thailand have become experts at re-attaching things). Sak and Chim follow up the antique shop owner up to Baan Beung in his secret cave where he hides the mummy. Being discovered, the boss hides himself inside the mummy armour. Sak and Chim need to replace the false mummy by the real mummy before Chinese authorities find the trick. It would cause the father to lose his job. During the mummy inspection, the mummy becomes alive as the antique owner doesn't want to go to China causing a big fear to everybody. Finally Sak and Chim happily marry. Director Kumtorn Tubkunlai has directed many comedies related to Chinese culture background. It is similar style and gags as the Pink Panther movie.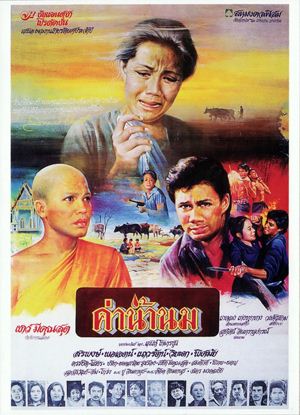 Year

: 1981



Thai title

:

ค่าน้ำนม




English title

:



Rating

: 5/5


Director

: เชาว์ มีคุณสุต



Main actor

: Sorapong Chatree,Porjed Kaenpetch,Chat Mongkolchai,Somsak Chaisongkram,Kanchit Kwanpracha,Pipop Pupinyo,Joomjim Khemlek


Main actress

: Pissamai Wilaisak,Naowarat Yooktanun,Wiyada Umarin,Yotsoi Komarachoon,Sulaleewan Suwanthat,Preeya Roongrueng



Buy now

:

Thai movie ค่าน้ำนม was released in year 1981 and lasts 1h55mn. It was released under VCD format by Solar company and under DVD format by Happy Home Entertainment. It is a remake of the movie ชายผ้าเหลือง shot in 1974. This movie has a similar scenario to the version shot in 1974 but it focuses more about the mother suffering. Previous cinematographic versions were released in year 1953 and 1960 (with Mitr Chaibancha and Preeya Roongrueng). The story is about the love of a mother (Pissamai Wilaisak) towards her two sons, Khun Thong (Sorapong Chatree) and Salika (Porjed Kaenpetch). The mother Bua is widow since her husband was killed by bandits robbing her house. Pissamai wishes to have her two sons becoming monks in order to see them with brown robes (ชายผ้าเหลือง). She needs money to prepare the ceremony. She asks to borrow 2000 THB from the local subdistrict headman but he is unwillingly. Hopefully his daughter Kratin (Wiyada Umarin) pushes him. Another young lady, named Lamduan (Naowarat Yooktanun), also helps by offering money. While Salika is away having sweet talks with Malai (Yotsoi Komarachoon), bandits including village leader Chat Mongkolchai and Somsak Chaisongkram attack Bua's house. The mother is slightly injured and bandits flee away. One of them, Na Kha, is injured to the leg by Salika. The next day, Khun Thong realises Na Kha's injury is not done when chasing bandits but when attacking his home. He now understands that Na Kha previously killed his father 10 years ago during a similar robbery. Khun Thong, in self defense, shots Na khan. The mother's love becomes painful because Khun Thong has become an outlaw (เสือ). Malee, Na Kha's daughter, is then upset with Salika as he is Khun Thong's brother. Malee's mother is played by Preeya Roongrueng. In real life, Preeya Roongrueng is also Yotsoi Komarachoon's mother. Na Khan's son (โสธร รุ่งเรือง) uses Khun Thong's name to raid other houses so Khun Thong has no way to quit. Khun Thong is a Thai Robin Wood and gives help to the poorest. Khun Thong is still a good son and keeps the money he robbed for his mother and his younger brother to enter monkhood (บวชให้แม่). Rejected by both his mother and brother, who refuse dirty money (เงินโจรต้องอยู่กับโจร), Khun Thong decides to work as a peasant and carpenter to earn money from his hard work. But fate is against him. His girlfriend Kratin is trapped by Na khan son's gang, raped and killed. Khun Thong is accused again. His mother is disappointed by his behavior, saying it was not worth to educate him for becoming an outlaw and that feeding milk to him (ค่าน้ำนม) was such a waste. He becomes an outlaw again to catch Na Khan's son. Meanwhile, Na Kha's son is upset with his sister Malee as she is pregnant with Salika. Sulaleewan Suwanthat protects Malee against her brother's ire. Khun Thong wants his teammates (Kanchit Kwanpracha, Pipop Pupinyo, Joomjim Khemlek) to surrender and become good people. Finally he catches Na Khan's son, who recognizes all the evil he has done under Khun Thong's name. It is too late as her mother doesn't want to talk to Khun Thong anymore. Willing to die, he misbehaves a last time to force his mother to shoot him. Before dying, Khun Thong and his mother confirm their filial love and Khun Thong can grab Salika's yellow robe as his brother has become a monk. It is certainly one of the best roles of Sorapong Chatree.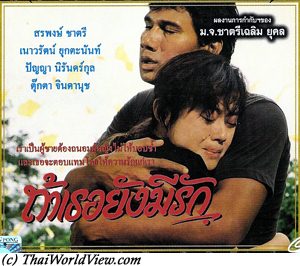 Year

: 1981



Thai title

:

ถ้าเธอยังมีรัก




English title

:



Rating

: 3/5


Director

: ChatriChalerm Yukol



Main actor

: Sorapong Chatree


Main actress

: Naowarat Yooktanun,Tukata Jindanuch
Cheut is a man deceived by love and women. He buys a car to go to South of Thailand with two friends he met by chance. One lady is called Nut, who has been deceived by a man also. Reung is a man who just exits from prison and goes back to the South, hoping his former wife is still loving him. Many funny experiences happen to them during their journey. During the progress of the journey, they start to forget the past and look to the future with hope.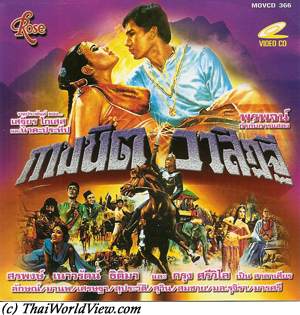 Year

: 1981



Thai title

:

กามนิต วาสิฎฐี




English title

:



Rating

: 3/5


Director

:



Main actor

: Sorapong Chatree,Krung Srivilai,Manop Aussawathep,Lak Apichat,Settha Sirachaya


Main actress

: Naowarat Yooktanun,Thitima Sangkapitak



Buy now

:

It is about the love between the young people, Kamanit and Vasinee. It takes place in India 2000 years ago and features many songs. Coming back to his city, Kamanit is captured by outlaws. While pretending that Kamanit is dead, a fellow man convinces Vasinee's parents to give him her hand. Kamanit, who searched for the Buddha, hoping the Buddha would heal his broken heart. One night he met an old monk and sat talking to him all night because the monk seemed to be able to answer all of his questions. The next morning he bid farewell to the monk and continued in his search for the Buddha, without realizing that the monk he had been talking to all night was the Buddha himself. Even when he was gored to death by a bull, he still didn't realize who he had been speaking to.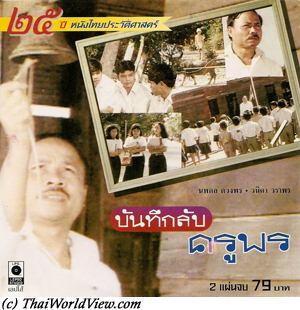 Year

: 1981



Thai title

:

บันทึกลับครูพร




English title

:



Rating

: 3/5


Director

:



Main actor

: Noppadol Duangporn


Main actress

:
It shows the importance and abnegation of teachers working in Thai remote rural villages in order to intruct poor children.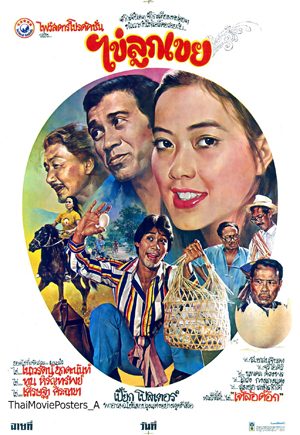 Year

: 1981



Thai title

:

ไข่ลูกเขย




English title

:



Rating

: 5/5


Director

: Piak Poster



Main actor

: Toon Hiransap,Sor Asanajinda,Lor Tok,Settha Sirachaya,Somchai Samipak,Noppadol Duangporn,Krong Kangkengdaeng


Main actress

: Naowarat Yooktanun,Juree Osiri
Thai movie ไข่ลูกเขย was released in year 1981 and lasts 1h50mn. A remastered version was released by Five Star Production (ไฟว์สตาร์โปรดักชั่น) in the decade 2010s and shown on Thai TV cable. The movie was released under VCD format by Solar company. The movie director is Piak Poster. This is a social Romantic Comedy. Mother Juree Osiri wishes to marry her daughter Rose (Naowarat Yooktanun) to Jongsak (Settha Sirachaya), a rich but insipid man. Her husband is played by Somchai Samipak. Tuan (Toon Hiransap) is going to the village to bring improvements. He meets Rose as her car splashes him with mud. As her car refuses to start anymore, he forces her to apologize before bringing her by bicycle to the village. Tieng (Sor Asanajinda) is the village leader and father of Tuan. Tuan is seen as a crazy guy by many villagers. Rose takes her revenge by taking his clothes away while he is bathing in a stream. She forces him to apologize to get his clothes back. As the school headmaster has to go to the city for a meeting, Tuan is the one to help with the children. At that time, there was one teacher for all class levels! Rose realizes that Tuan is a clever man. He is hiding his real identity. Following a conference in Bangkok, Rose's mother is charmed by a young man protecting the poor farmers rights versus the rich Bangkokian society. Turn spends time with Lok Tok to understand his tricks to beat local administration. Noppadol Duangporn wishes to become the new village leader. At nighttime, Tuan hacks Rose's radio in order to sing a song. She tries to unveil him but cannot. Finally, Rose befriends with Tuan. Noppadol informs the mother Juree. Juree complains to Rose that she is coming from a wealthy family with a high status so she shouldn't befriend a farmer. The father Somchai Samipak tries to temporize his wife. Noppadol has an objective to replace Tieng so he goes to meet the chief district officer in the city, Tuan tricks them by emptying their petrol tank and puts a laxative in their drinking water. The next day, they try to get revenge, but Tuan is good at Karate. Meanwhile Rose finds papers and pictures showing the real identity of Tuan. Tuan claims he had no choice as villagers would not trust a civil servant from Bangkok. It was the only way to see the real village problems, the good and bad things done by villagers. They go for a walk and get stuck by a storm. Juree, the mother, coming to inspect her daughter, is then very worried. On the next day, she refuses her daughter Rose to come here again. Upset, Rose claims she sees people value by their achievements and not by their money. She claims Tuan and she are now wife and husband in order to stay in the village. The mother is upset as her daughter marries a poor farmer (คนบ้านนอก). Her husband, Somchai, knows the truth, but doesn't disclose it. Juree tries to bring back her daughter to her home, but she fails. As the village leader is reaching retirement, a new village leader has to be elected. Noppadol is facing Krong Kangkengdaeng. Krong is winning by far as he is more popular. There is a new bailiff (ปลัดอำเภอ) nominated in the area. It is Tuan! Through a good speech, he reminds villagers that he, as a civil servant, is here to serve them and not the opposite! Rose goes back to her home with Tuan. The mother is upset as he keeps singing. On the next day, Jongsak comes to flirt with Rose, but Tuan exits his room wearing a bailiff uniform. Tuan apologizes to the mother and discloses his real identity. The mother is now delighted that her daughter marries Tuan.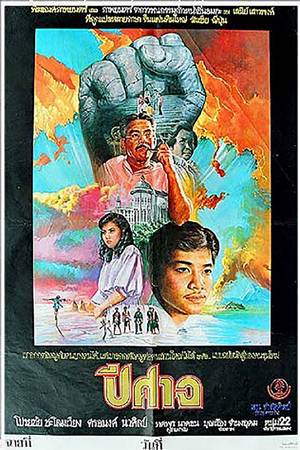 Year

: 1981



Thai title

:

สาย สีมา นักสู้สามัญชน




English title

:



Rating

: 5/5


Director

: หนุ่ม '22



Main actor

: Somchai Samipak


Main actress

:
Thai movie สาย สีมา นักสู้สามัญชน was released in year 1981 and lasts 1h40mn. The movie was never released on the market under any kind of format. The movie reels were still available in Thai film Archives. Thai film archives released the movie under YouTube in the year 2021. Movie director is หนุ่ม '22. Thai actors and actresses featured in this movie are โปรยชัย ชโลมเวียง, ศรอนงค์ นวศิลป์, บัญญัติ สุรการวิทย์, เซอิจิ อุโดะ, ทาดาชิ โอโนซากิ. The Thai movie สาย สีมา นักสู้สามัญชน (1981) is based on the novel "ปีศาจ". The movie was elected as Thai National Film Heritage (มรดกภาพยนตร์แห่งชาติ) in 2021. The novel Pisat / ปีศาจ was released in year 1953. The movie takes place after World War 2. Young boy Sai Seema is going to study in Bangkok with a monk. He is leaving his family and getting the opportunity to study in Bangkok. Now being an adult, Sai Seema (สายสีมา)(โปรยชัย ชโลมเวียง) meets young lady Ratchanee at a high-so party. Ratchanee comes from a rich family. Her father denigrates the commoners and see his family as high-so (ผู้ดี). Ratchanee (รัชนี) has got a university diploma, but she is not working. She follows her father's guidance but wishes to work. Her best friend is a teacher and they studied at university together. She encourages Ratchanee to do something as not using her knowledge towards society is a waste. Ratchanee's father doesn't like his daughter to meet commoners. The teacher compares herself with Ratchanee and believes she has more happiness and freedom being poor. Pressed by his daughter Ratchanee, the father finally accepts that she works in a company as he knows the owner. Both parents are reluctant as they are rich, so their daughter shouldn't work. Sai Seema is also working there as a lawyer. Ratchanee has a small argument with Sai, mentioning high-so people cannot understand how real people are struggling beyond simple external vision (แตกต่างฟ้ากับดิน). Spying his daughter, the father doesn't want her to eat with men at lunchtime. The teacher thinks about teaching poor children in the countryside as it has more value and usefulness than teaching kids in cities. At the beach, Ratchanee sees Somchai Samipak flirting with younger ladies. She realizes that high-so people have two faces, i.e. private and public face. Ratchanee meets Sai later at the beach. There is a reflection if people's high position in society is linked to destiny or to good / bad deeds. Sai believes it can be changed. Unlike his lawyer associate, Sai is not interested in easy money. Sai meets Ratchanee's father, but the meeting doesn't go well. Following a legal case, Sai goes back to his village to try to solve it by reaching an agreement instead of going to court. His associate doesn't understand him. His former teacher asks Sai to help him to sue villagers, who own him money, but he refuses despite gratitude (กตัญญู) he has towards the teacher as the villagers are poor and are same as his family. He asks the teacher to freeze for one to two years, but he refuses. Sai wishes to bring Ratchanee so that she can see the difficult life of people in the countryside with no electricity, no water, and no hospital. It makes her father angry as high study should be used to make big money. It is not Sai's point of view, not forgetting his roots and wishing to help villagers, who get abused as they have no knowledge of the laws. Ratchanee meets a young man, Klai See, coming back from overseas study following her parents' arrangement. The teacher meets her friend there. In the countryside, older generation pay deep respect to officials (ราชการเป็นนาย). They should not… The subdistrict headman Sin claims to have title deed (โฉนดที่ดิน) and threatens to expel people living there for decades if they don't pay rent to him. They refuse and conflict happens. The chief district officer tries to find a middle solution and so is finally transferred. Sai promises to help as he is also a son of farmers. While walking along the river, Sai is shot and injured. He talks to the group of people he suspects to have shot him. He claims he has no hidden agenda and does not get paid for such a lawyer job. Ratchanee's parents are upset that Sai often visits their daughter. They call him Pisat (devil) and are worried he will corrupt their daughter with his ideas of equality, support for poor people etc... Her parents want her to marry Klai See, but she refuses. His lawyer colleague messes up a case and lies to the defendant. Later, the colleague invites Sai to meet the lawyer of the opposite side, but it is a corruption tentative. Sai refuses. The farmers were the one to transform the arid land into a garden for generations, so they deserve more than the small offering of the opposite side. The father invites Sai to a diner to announce Klai See and Ratchanee's engagement. He also takes the opportunity to humiliate Sai, but he is the one humiliated. Sai has no wish to join a high-so family as they do represent the past. At nighttime, Ratchanee flees her home to be with Sai. She is ready to lose everything.
---