Increase or decrease font size for easier reading : A+ A-
Year 1979



Year

: 1979



Thai title

:

35 กะรัต




English title

:



Rating

: 3/5


Director

:



Main actor

: Phairoj Sangwaribut,Somsak Chaisongkram


Main actress

: Aranya Namwong,Mayurachath Muarnprasitivej
It is about a love story between a young man and a woman older than him. This love story is mixed with a dramatic family story linked with a diamant 35 carats.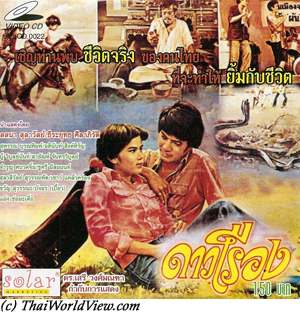 Year

: 1979



Thai title

:

ดาวเรือง




English title

:



Rating

: 3/5


Director

:



Main actor

: Jamroon Nuatjim


Main actress

: Lalana Sulawan
This is the story of a woman, who has a very bad character. One day, a young official comes in the village. Will he succeed to win her heart?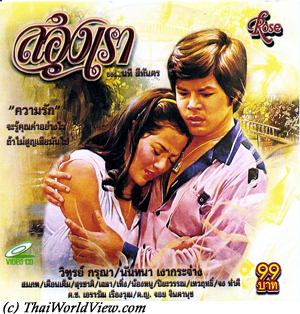 Year

: 1979



Thai title

:

สองเรา




English title

:



Rating

: 3/5


Director

:



Main actor

: Witoon Karuna,Somphob Benjatikul


Main actress

: Nantana Ngao Krajang,Deuan Tem Salitul
Teewa (Witoon Karuna) is a photographer and writer. He is also a butterfly hopping from one woman to another (น้ำผึ้งดวงตา) such as Tuk. He is sweet talker (ปากตรงกับหัวใจเสมอ). It is lust (ความใคร่) before real love (ความรัก). He meets one of his books fan called Rat (Nantana Ngao Krajang) at the party. They get on well but she asks more time to be ready as Teewa was heading directly to a motel. Romantic scenes with Teewa and Rat are shot partially in Ancient City (เมืองโบราณ). Rat's friends warn her about Teewa (เจ้าชู้ที่สุด). Rat's father wishes to send her to America to study. Separation is very difficult (ไม่อยากห่างคุณ). Rat needs to study four years. They see each other a last time in Ayutthaya, symbol of eternal love (เจ้าฟ้ากุ้ง). They promise to wait each other. Teewa has opportunity to go to America for business trip but he is not able to find Rat as she changed address. He doesn't receive news anymore. Teewa starts to indulge in alcohol and finally quits his job. Teewa has a car accident. Tuk gives her blood to save him. They marry and have a child. Four years have passed. Rat finally comes back and contacts Teewa. She also married in America with a fellow Thai student and didn't dare to tell it to Teewa. It is painful (ทรมานใจ) to see other during social parties as love is still here. They secretly meet in Sukhothai. A difficult choice between love and society dictates has to be done. Teewa is thinking to divorce Tuk and marry Rat. Finally seeing their current families wrecking away, they decide it is wiser to stop their impossible love. Movie สองเรา ("two of us") was released in 1979. Same as character Rat, actress Nantana Ngao Krajang stopped her career in 1980 and went to America with her family.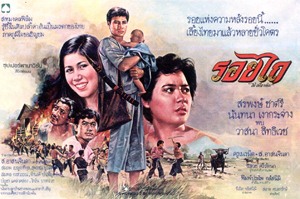 Year

: 1979



Thai title

:

รอยไถ




English title

:



Rating

: 5/5


Director

: Neramit,Sor Asanajinda



Main actor

: Sorapong Chatree,Sor Asanajinda,Somphob Benjatikul,Sompol Kongsuwan


Main actress

: Nantana Ngao Krajang,Wassana Sitthiweth
Thai movie รอยไถ was released in year 1979. The movie lasts 1h48mn. Four versions were directed 1950, 1960, 1979, 1989. Same main actor (Sorapong Chatree) and same main actress (Nantana Ngao Krajang) as "The Scar" (แผลเก่า) - 1976 are playing. Other actors are สุพรรณ บูรณะพิมพ์, Sompol Kongsuwan, จำนง, จิตติน, โกร๋น บางกรวย. Movie directors are Neramit (เนรมิต) and Sor Asanajinda. Talui (Sor Asanajinda), หมอลุย, is a bit crazy but respected as a father by Leu. Leu (Sorapong Chatree) losts his two buffaloes by gambling to Plien. Phan (Wassana Sitthiweth) blames him for this. Leu is brother in law (พี่เคย) of Phan. Leu is married to Pheuan (Nantana Ngao Krajang) and is having one child. Finally Leu defeats the ruffians by fighting as they are unrespectful to Phan. The ruffians (นักเลง) are wishing to take Phan and Pheuan as wives. Oon (Somphob Benjatikul) always wanted to marry Pheuan but he was too late. Bua, the mother, is helping Oon. Bua is upset with Leu as he is poor and lost his mother's heritage by gambling. Oon tries to reignite his love (ย้อนรัก) with Pheuan, who is now considering fleeing from Leu. Pheuan has pity on Leu (ข้าวเปล่าอร่อยดี) and her son so she keeps crying. While Leu is busy repairing the roof, Oon forces her to come as she is still undecided until the last minute. Wedding is happening soon. Oon is worried that Leu will bring a mess and wants to avoid a bloody celebration (ฉลองกับเลือด). Likay is organized. Leu brings his son to Phan and promises to get revenge up to Bangkok as he suffered a lot. Meanwhile Leu hears about the forthcoming wedding. He finally escapes with Pheuan but ruffians are chasing them. He gets injured through a fight versus too many opponents. Talui diverts their attention thanks to firecrackers and helps him to flee. Oon prevents the village headman to use a gun to shoot Leu. The village headman is upset having his men injured so they are looking after Leu. Talui helps Leu same as a father towards a son. Phan takes care of Leu and his son while Leu is sick. Leu understands Phan would have been a better wife than Pheuan. Meanwhile Talui prepares some tricks against the ruffians. The movie ends tragically. Loi, Pheuan and Phan's brother, and Talui die while protecting Leu's house. Even their mother die also. Oon, recognizing his mistake, accepts to give back Pheuan but Leu refuses. He realises too late that Talui is his real father. Having nothing left, he finally quits the area with Phan.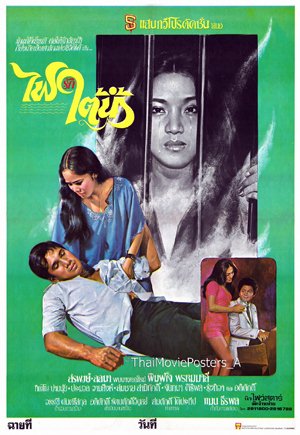 Year

: 1979



Thai title

:

ไฟรักใต้น้ำ




English title

:



Rating

: 3/5


Director

: Man Teeraphol



Main actor

: Sorapong Chatree,Somchai Samipak,Pinyo Parnnui


Main actress

: Lalana Sulawan,Janthana Siriporn
Thai movie ไฟรักใต้น้ำ was released in year 1979 and lasts 1h34mn. The movie was available on VHS. It is a movie recording on TV CH3 many years ago. It was first movie for actress พิมพ์ใจ พรหมมาลี. Movie director is Man Teeraphol. It is businessman Somchai's (Somchai Samipak) birthday party. His daughter Tum (Lalana Sulawan) is managing the party with the help of Bun (Sorapong Chatree), being a dedicated staff. Su (Janthana Siriporn) is Tum's close friend. Vinny is Tum's sister. Bun meets attractive young lady Jit (พิมพ์ใจ พรหมมาลี) at the party. On the next day, Jit starts trying to seduce Bun. Bun is a clerkman without money and is very shy. He lives in a slum. Jit invites Bun to go out. Vinny sees Bun and Jit together. Bun and Jit become lovers. Jit wants to marry Bun. Bun does not move to Jit's home as he does not want to be perceived as profiting from a richer woman (กอดเมียน้อย). They marry but Bun wants to keep money on his own for the wedding. Jit works for the government. Jit has a strong libido. Peung (Pinyo Parnnui) is mute and is a musician in Pattaya hotel. Jit has a manager, who is her former lover. Jit is not fully happy with her married life. Jit spends a lot of money as she must join official events (งานสังคม), so it makes Bun upset. Bun works hard so he does not have time for his wife at nighttime due to tiredness. Jit needs sex (ต้องการ). Having dinner with her boss, he drugs her. Vinny and Su see Jit in the car and see her running out from a short time hotel. Jit fled from the hotel before her boss could do anything to her. They share the news with the father Somchai and Tum. Back home, she drinks a lot and argues with Tum, who is sending Bun back home. Bun slaps Jit, who quit their home. Back to Pattaya hotel, Jit drinks a lot as she complains Bun does not understand her. The boss just wants a mistress and makes many promises to Jit. She is not interested. Finally, Peung and Jit become lovers. Jit is not yet divorced but is having an affair with Peung (ชู้). Tum is aware through Vinny. Jit needs desire (ความใคร่). Bun is sick as he works too much. He is just husband in name (ผัวในนาม) so he is also upset. The ladies bring Bun to Pattaya to try to find a solution. Bun sees Jit with Peung. He punches Peung and slaps Jit. At evening time, Bun drinks a lot. Peung, wishing to get revenge, hits him with a stick. He then tries to strangle Tum. Jit, looking for Peung, intervenes and has no choice but to stab Peung. Jit ends up in jail and recognizes her mistakes, but it is too late. She wishes good luck to Bun and Tum together.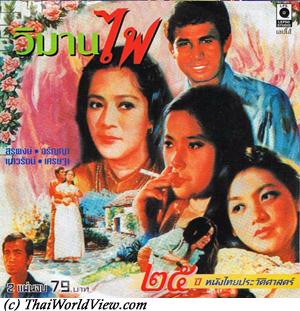 Year

: 1979



Thai title

:

วิมานไฟ




English title

:



Rating

: 3/5


Director

:



Main actor

: Sorapong Chatree,Settha Sirachaya


Main actress

: Aranya Namwong,Naowarat Yooktanun,Pornpan Ketmamatsu
Phumaret is a young man going to a funeral but he is late. His father was a friend of the deceased man. There he meets the three daughters of the deceased man. The eldest daughter Nid provides him a job in the family company, a house to live in and money as salary advance. Phumaret is fond of Noi the second daughter but finally asks Nid for wedding due to her kindness. Disappointed by Noi's refusal, Phumaret also seduces the youngest daughter and marries her secretly one day before his wedding with Nid. The youngest daughter becomes pregnant and a row happens between her, Nid and Phumaret. Nid, being so disappointed and heart broken, stabs her young sister and is confined in a hospital for insane persons. Phumaret decides to become a monk in order to compensate the bad deeds he has done with the three sisters.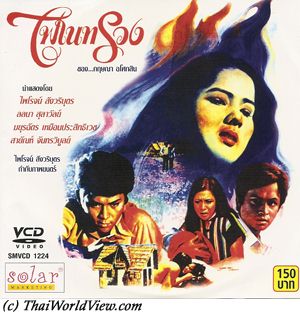 Year

: 1979



Thai title

:

ไฟในทรวง




English title

:



Rating

: 2/5


Director

:



Main actor

: Phairoj Sangwaribut,Sayan Chantaraviboon


Main actress

: Lalana Sulawan,Mayurachath Muarnprasitivej
Long, a young man, falls in love with Yuenda, a young girl still doing her studies. Pop, Yuenda's brother, who is already married, is extremely protective over his younger sister. Anyway a love story blossoms between Long and Yuenda. Yuenda fails her studies and is not willing to do another year. Disappointed by her exams failure, she decides to visit her father a few days. Pop is also coming with her and on the return trip he declares his love for her. He forces her to enter into an incestuous relation. Finally this relation becomes consensual. Shall love come from the heart of body sensations? Pop becomes more and more jealeous when Yuenda meets Long. He announces his relation with Yuenda to Long. Long is shocked. Pop's wife tries to break up the relation by sending Yuenda far away with Long. They take refuge in a remote farm but Pop finds them. They flee away but have issues with three bad guys who stabbed Long. Pop grabs Yuenda so that she cannot visit Long in hospital. Finally Pop's wife manages that Long and Yuenda get married. Pop decides to abduct Yuenda to prevent the wedding but he dies in a car accident.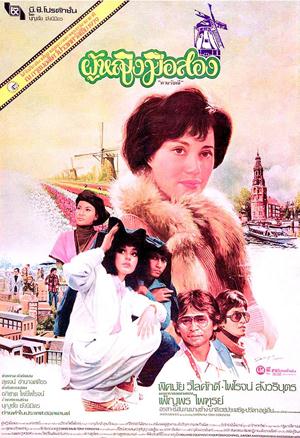 Year

: 1979



Thai title

:

ผู้หญิงมือสอง




English title

:



Rating

: 3/5


Director

:



Main actor

: Phairoj Sangwaribut


Main actress

: Pissamai Wilaisak
Thai movie ผู้หญิงมือสอง was released in year 1979. It features Phairoj Sangwaribut as main actor and Pissamai Wilaisak as main actress. Other actors are เพ็ญพร ไพฑูรย์, อรสา, ช.อ้น, มาลี, ปรีดา อยู่เย็น. The movie is lost in Thailand and only a three minutes trailer is left to be seen. The story is about a romance about one man and two women. One of the woman is Pissamai as old woman (สาวแก่ / มือสอง) and a younger teenage woman (เพ็ญพร ไพฑูรย์). Who will Phairoj Sangwaribut choose? Almost the whole movie was shot in Holland. This is the main selling point of this movie.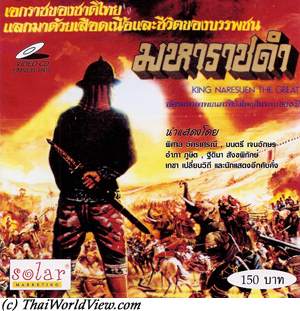 Year

: 1979



Thai title

:

มหาราชดำ




English title

: King Naresuen The Great



Rating

: 3/5


Director

: Toranong Srichua



Main actor

: Pisarn Akraseranee,Kecha Plianvithee,Somsak Chaisongkram,Pumi Patanayut


Main actress

: Ampha Pusit,Thitima Sangkapitak



Buy now

:

This movie is about King Naresuen The Great. The King Naresuan was famous for having a duel on elephants with the Burmese Crown Prince and won against him in year 1593. King Naresuan regained independence from Burma for the kingdom of Ayuthaya.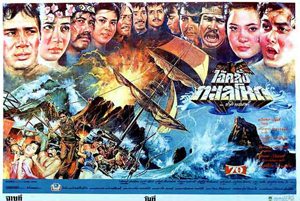 Year

: 1979



Thai title

:

ไอ้คลั่งทะเลโหด




English title

:



Rating

: 5/5


Director

:



Main actor

: Sorapong Chatree,Phaophan Phongnathee,Manop Aussawathep,Prachuap Ruekyamdee,Adinan Singhiran,Taksin Jampol,Dam Datsakorn,Somsak Chaisongkram,Rith Luecha


Main actress

: Wiyada Umarin,Duangcheewan Komolsen,Nantana Ngao Krajang
A woman is about to deliver her baby. The husband brings his wife on a boat but it is caught in a storm. Their village on the island is wiped away by a tsunami. A boy is born on the boat. The boat is then attacked by a group of pirates (Manop Aussawathep, Prachuap Ruekyamdee, Adinan Singhiran and Taksin Jampol). The baby life is spared and is named Ai Klang. During his youth, Ai Klang is trained to use all weapons. Salai (Wiyada Umarin) likes Ai Klang since her childhood. Ai Klang (Sorapong Chatree) has a reputation of having extraordinary skills as storm child (ลูกพายุ). He is disliked by some pirates (Dam Datsakorn, Somsak Chaisongkram, Rith Luecha and Phaophan Phongnathee) on the island. During a boat attack, the father is injured and the diviner predicts a bad omen for the village (ดาวบอก). Ai Klang and Sarapat, the other son (ลูกพ่อ), keep arguing over Salai. Their pirate (สลัด) village is located on an island. Normally they never keep survivors to avoid their hidden village to be discovered. Sarapat keeps a young lady called Chom (Duangcheewan Komolsen) for his father. She becomes in fact his mistress. Salai's family members are accused of theft. In fact, their crime is to have seen Sarapat and his mistress Chom together. Through a deadly game, two are shot but the father survives as Ai Klang fails, on purpose, to hit him three times. Ai Klang rescues a young lady Malai (Nantana Ngao Krajang) whose boat is wrecked on the island. It causes Salai's jealousy. While bringing her back to her father, Ai Klang is recognized as pirate and needs to flee. Ai Klang learns from Salai's father that he is not the real son of the pirates' leader. While the father is away, the bad pirates get rid of Salai's father despite Ai Klang's resistance. Ai Klang is attached to a pole during rising tide but Salai helps him before he gets drowned. Sarapat takes over the island while his father is away. When the father is back, he is captured. While Sarapat and his men celebrate their victory, the island volcano wakes up. Ai Klang and a number of men faithful to the father attack the renegade pirates. Fight is fierce but they win. Salai is killed during the fightings. Ai Klang ends up fighting with his father as he killed his real parents twenty years ago. He is unable to kill him as twenty years together have created strong filial bonds. To acknowledge his mistake, the father announces that they all stop to be pirates! But it is too late as finally a tsunami wipes the island. Just before, the father sent Ai Klang and Malai to take refuge on higher grounds. ไอ้คลั่งทะเลโหด was released in year 1979 and features an impressive list of famous 1970s Thai actors. Star wars movie soundtrack is used. The movie was never released officially in VCD or DVD format but a VHS telezin version can be found around. It is supposed to be one of the few Thai movies shot in 70mm format.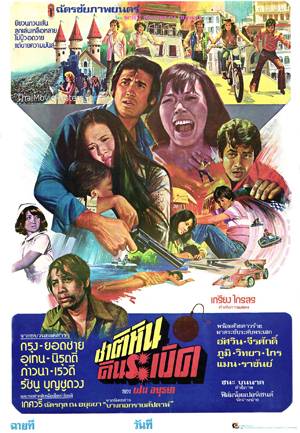 Year

: 1979



Thai title

:

ชาติหินดินระเบิด




English title

:



Rating

: 3/5


Director

:



Main actor

: Krung Srivilai,Yodchai Meksuwan,Nirut Sirijanya,Uten Boonyong,Doo Dook Kradon,Krai Kanchit,Pumi Patanayut,Wittaya Sukdamrong


Main actress

: Pawana Chanajit,Rewadee Pattaphong,Ratchanoo Boonchuduang
Thai movie ชาติหินดินระเบิด was released in year 1979. Main actors and actresses include Krung Srivilai, Yodchai Meksuwan, Pawana Chanajit, Nirut Sirijanya, Rewadee Pattaphong, Ratchanoo Boonchuduang, Uten Boonyong, Doo Dook Kradon, Krai Kanchit, Pumi Patanayut, อัศวิน รัตนประชา, จิระศักดิ์ ปิ่นสุวรรณ, Wittaya Sukdamrong, ราชันย์ กาญจนมาศ. Movie director is เกรียง ไกรสร. The film is lost in Thailand but a sequence in 35mm format can still be seen. The picture is very damaged and reddish. It lasts ten minutes. During the remaining sequence, Nirut and Doo Dook Kradon are in prison. Pumi Patanayut is about to burn Nirut's wife and her child. Policeman Krung tries to help but he is finally captured. Police surrounds the school where ruffians are hiding and having kids as hostages. Yodchai Meksuwan is playing a blind man. Pumi Patanayut is the head of ruffians. Krung and Nirut enter the school to release Nirut's son. It is successful.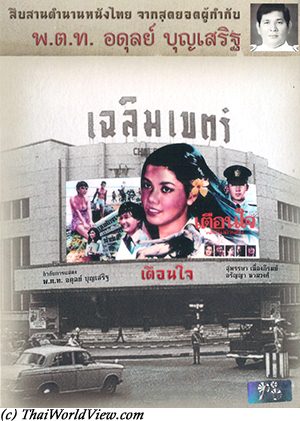 Year

: 1979



Thai title

:

เตือนใจ




English title

:



Rating

: 4/5


Director

: Adul Phijit



Main actor

: Tuanton Kammeesri,Surasit Sattayawong,Lor Tok,Thep Thienchai


Main actress

: Supansa Nuengpirom,Aranya Namwong,Monrudee Yamaphai,Ratanaporn Intarakamhaeng



Buy now

:

Surasit (Surasit Sattayawong) and Ratanaporn (Ratanaporn Intarakamhaeng) have a teenage daughter called Teuan Jai (Supansa Nuengpirom). New soldiers selection (ทหาร) is happening. Lor Tok is their instructor. Strong regulation (ระเบียบ) is taught to them. Young lady Teuan Jai meets one cadet in the bus while going to university. Monrudee Yamaphai as student is her close friend. Tuanton (Tuanton Kammeesri) is married to Aranya Namwong (เมียตำรวจ). He has often nightmares. He is still a low rank policeman making his wife unhappy about his status. Suphansa receives a love letter from one of the soldier. Finally a group of five young soldiers cadets and five young ladies students including Teuan Jai meet each other. They all go to Pattaya. All boys have same goal to serve their country. There are drunkard ruffians at the street entrance leading to Teuan Jai's home. Arguments happen with the young soldiers cadets (นักเรียนเป็นทหาร). One evening, Teuan Jai is raped and killed (มนุษย์ใจสัตว์). A wallet is found with prints on it. The police officer Tuanton investigates on the issue. He visits by night the murdering place and the corpse storeroom (ห้องเก็บศพ) to look for evidences. Thep Thienchai is arrested but he is not the culprit. This murder has caused big emotion and Thai police has to broadcast a message encouraging young ladies to wear appropriate clothing. There is a comparison of young Thai people doing sacrifice to become soldiers and other young people behaving very badly. People having usefulness for the country versus people being a burden. Finally the policeman catches the killer thanks to scratches proofs in his shoulder. As he refuses to acknowledge the murder despite proofs found, the policeman has to force him by using some beatings. Tuanton is finally expelled from the police. This movie is based on a real story, which happened in 1961, where a group of hooligans raped and killed a young student called Teuan Jai PhuangNak. The DVD lasts 1h32mn but the original film is longer. The movie director is Adul Phijit (อดุล พิจิตต์).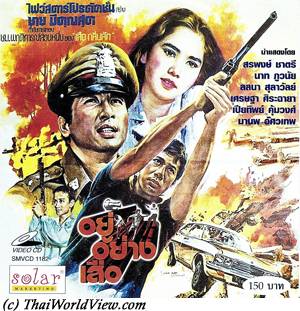 Year

: 1979



Thai title

:

อยู่อย่างเสือ




English title

:



Rating

: 3/5


Director

: Chai Meekunsut



Main actor

: Sorapong Chatree,Settha Sirachaya,Manop Aussawathep,Nard Poowanai


Main actress

: Piathip Kumwong,Lalana Sulawan,Duangcheewan Komolsen
An intensive deforestation is taking place in North of Thailand. Seua (Sorapong Chatree), young man, is back to his native city and is looking for a job. He met Duang, a former girlfriend. Priaw, Duang's brother, drives him to a neighbouring city, Mae Sot, where job opportunities are soaring. Seua meets Pop, an old friend, in order to get job recommendations. Seua is married but he comes alone. They have a drink in a bar. Two interesting characters are working in the bar, i.e. lady Toi (แม่เพลิงไฟ) and ladyboy (กะเทย) Aree, who is a musician and singer. Pop is shot while they are having a drink. A Police inspector (สารวัตร) is investigating the murder but no clues can be found regarding the murderer and cause. It seems to be linked to a corruption and bad influence case. Kamsaen, rich and influential man (พ่อเลี้ยง) , has a beautiful daughter called Kamyat. Pop was a family member but he was not well appreciated as he tried to seduce Kamyat. Seua tries to meet Kamsaen but to no avail. Some ruffians sent by Sinkon, Kamsaen's close assistant, try but fail to drub Seua. Truth has to be hidden and it is a strong message that Seua should stop investigating on Pop's death. The bar manager is shot also. Seua is seriously beaten at the head as he refuses to stop investigating. While driving, Sinkon is also shot by the hitman. A former policeman, Natheum, passing by, sees the hitman's face. All witnesses are killed one by one. Illegal forest concessions (ตัดไม้เถื่อน) business is suspected. Threatening letters are now received by Seua. A plan is prepared with the police inspector. They break over the ruffians directly inside the forest. Shootings happen between police and the ruffians. They release Kamsaen and his daughter held prisoners inside a hut. The ruffian leader succeeds to escape and is still unknown. Natheum is Seua's old friend. While having a drink in the bar, he recognizes Aree as the hitman. Kamsaen has been simulating his capture and is in fact the real headmaster. Toi is his mistress. Kamsaen is killed while trying to resist to the police. Seua, carrying a Magnum 357 gun, revenges his friend Pop by shooting Aree. The magnum 357 is certainly influenced by inspector Harry movies with Clint Eastwood. This movie is a typical action movie from decades 1970s-1980s and features the finest Thai actors and actresses.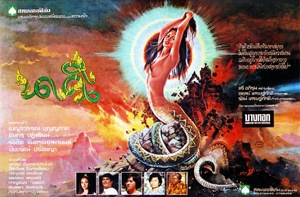 Year

: 1979



Thai title

:

นาคี




English title

: Nakee



Rating

: 3/5


Director

: รัตน์ เศรษฐภักดี



Main actor

:


Main actress

:
Thai movie นาคี was released in year 1979 and lasts 2h04mn. Director is รัตน์ เศรษฐภักดี. Actors and actresses are เบญจวรรณ บุญญกาศ, ทินกร ปฎิพัฒน์, รังสิต จันทรนิยมานนท์, ปิยะรัตน์ ปรัชชญา, สุทัศน์ อินทรานุปกรณ์, ศรีพงษ์ มานิตย์, ก. เก่งทุกทาง, กาญจนา กิจสง่า, ทองฮะ. This movie doesn't feature any famous actors or actresses. The same story was also released two times through Thai TV series (in 1988 with Ekapan Banleurit and in 2016). Following the popularity of Thai TV serie Nakee in year 2016, the 1979 version was released again in DVD format. A VHS version was also released many years ago. It is a shorter version lasting only 1h26mn but the image is much sharper and recorded from TV channel 3. A few songs are featured as this was often a tradition in 1970s movies (หนังเพลง). There are also some Molam songs. Phi Kaem has captured a big snake (งูขาว) for a foreigner. One young lady is upset by this as she believes it is sacred deity (งูเจ้าแม่). She even claims to be Nakee (เจ้าแม่นาคี) herself. At nighttime the snakes escape. The snakes hunters are all killed. The young lady remains with her baby. 20 years have passed. A group of students with their teacher (อาจารย์) are investigating on an old site in Isan area. They found a Nakee mummy (รูปปั้น). One of the students sees the mummy becoming a real woman but nobody believes him. While they are travelling on a raft, an eclipse occurs. The raft hits the cliff and all fall in the water. Four students only are left over following the accident, 3 men and one woman. An undertaker helps to keep 4 corpses. The remaining students are unsure if it is their friends or not. The undertaker opens the coffins but only snakes can be found. The undertaker himself falls in a coffin and dies. Two students died because of snakes. As the village leader refuses to launch an investigation as they are afraid of Nakee, the students and teacher threaten to complain to police. As one of the students, called Kosakon, insults the snake deity as a lure invented by the local shaman (หมอผี), the villagers throw him in a dark cave, where resides Nakee. The student finds a beautiful lady in the cave and they become lovers. Her name is Kam Kaew (คำแก้ว). The student is under the influence of Kam Kaew (ตกในอำนาจของคำแก้ว). An old man is back to the village and warns the student that his wife is a ghost (ผี). The old man wishes to take revenge over Nakee. The student Kosakon puts a sacred necklace around Kam Kaew's neck to neutralize her. She takes refuge in her cave. She has to fast 100 days to become human per advice of เจ้าปู่ศรีสุทโธนาค. Meanwhile villagers decide to storm the cave. The villagers wish to burn the mother and Kosakon in order to force Nakee to exit from the cave. About to become a human, Nakee gives up in order to help Kosakon. She becomes a giant snake and kills the bad villagers. Kosakon wishes to be reunited with Kam Kaew but she is now dead. The only way he can help her is to become a monk and to pray for her redemption in next life.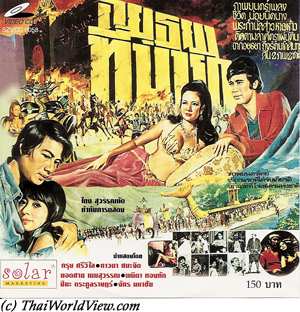 Year

: 1979



Thai title

:

อยุธยาที่ข้ารัก




English title

: The last day of Ayudhya



Rating

: 3/5


Director

:



Main actor

: Krung Srivilai,Yodchai Meksuwan,Piya Trakulrard,Surasit Sattayawong,Tawan Siriwat,Lor Tok,Pipop Pupinyo,Pan Borapet


Main actress

: Pawana Chanajit,Chosri Misommon,Somjit Sapsamruey,Marasri Bangchang,Sulaleewan Suwanthat



Buy now

:

Thai movie อยุธยาที่ข้ารัก / The last day of Ayudhya was released in year 1979 and lasts 2h18mn. The movie features many songs. The Thai chief soldier (Tawan Siriwat) is a traitor. Young lady Lam Duan (พนิดา ทองทัต) helps the Thai King (Surasit Sattayawong) to flee. Ayutthaya city is burnt and destroyed as the traitor opens the door to Burmese soldiers. Resistance is on. Lam Duan and her husband Reuang (Yodchai Meksuwan) try to kill the Burmese King but they fail and are sentenced to death. They promise to love each other every life (ทุกชาติ) and to kill the Thai traitor. 200 years have passed. Lam Duan is reborn under MouMou's name. Reuang is reborn under Decha's name. Sulaleewan Suwanthat is playing MouMou's mother. Dam (Pipop Pupinyo) kidnaps the subdistrict headman's daughter. Decha (Yodchai Meksuwan) likes painting and falls for Noi (Pawana Chanajit), a good heart prostitute. Decha is hired (นับสืบ) by a rich lady (Somjit Sapsamruey) to find her lost granddaughter (หลานสาวเศรษฐี). Dam buys a young lady called MouMou (พนิดา ทองทัต) for 3 nights from her parents but she refuses and escape after hitting Dam. Decha finally helps her but she doesn't trust believing he is another rapist. They take refuge in a cave. At nighttime, Decha dreams that MouMou is Noi and makes love to her. He promises to be responsible of his acts. Chased by Dam's ruffians including Pan Borapet, MouMou splits with Decha to attract the ruffians. She is unfortunately shot by ruffians and falls from a cliff. Toon (Lor Tok) is Decha's assistant. Lor Tok as medium (คนทรง) convinces the grandmother that Noi is her lost granddaughter. If Decha marries Noi, lost granddaughter, then they will have 1M baht to share! On the wedding day, MouMou is back. She wants to get her husband Decha back. Krung was the one to rescue MouMou when she falls from the cliff. He wishes to marry her but she refuses as she loves Decha, her husband in this life and previous life as Reuang. In order not to lose 1M baht, Noi has to accept to share Decha with MouMou. One day in alternance (โควตา) but jealousy makes it impossible to happen. Krung Srivilai has finally a small role in this movie but he is displayed on the poster as the main actor. Decha and Noi plan to send MouMou to a psychiatric hospital. She rebels and when facing Tawan Siriwat, she reminds he was the traitor in Ayutthaya and stabs him. The rich lady realises that her missed granddaughter is MouMou and not Noi! MouMou flees and reaches Ayutthaya. There, disappointed by life, she becomes a nun.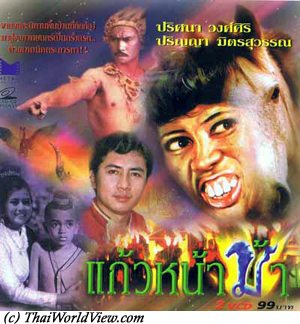 Year

: 1979



Thai title

:

แก้วหน้าม้า




English title

:



Rating

: 3/5


Director

:



Main actor

:


Main actress

:
This movie is about a famous folktale of Thailand. Nang Kaew Na Ma has a face similar to a horse. She finds the lost kite of Prince Pinthong and accepts to give it back because he promises to marry her. She now stays inside the King palace. She loves the prince but love is not reciprocal. He doesn't want to fulfill his promise. She harasses him up to his room. The King gives her an impossible mission to perform within 7 days, i.e. bring a part of mystical Mount Meru. If she succeeds she can marry the Prince Pinthong. She goes on her journey. She found an hermit on the way. He does have on pity her and provides her new powers. She is now able to remove her horse face and to appear as a beautiful woman at anytime. He also provides her a magic boat to perform her task. She brings back a rock from Mount Meru. The prince flees from the palace but she follows him. He flees again to marry another princess and takes a boat to the princess kingdom. Kaew Na Ma also goes to this Kingdom and changes her appearance into a beautiful villager. Prince Pinthong sees the beautiful lady in the waterfall and makes her pregnant. On the way back to his kingdom, the Prince Pinthong's boat is wrecked on a remote island. There are giants eating human flesh. Kaew Na Ma transforms herself in a soldier to fight and overcome the giants. Prince Pinthong brings back two daughters from the giant King. Back to Prince Pinthong's kingdom, Nang Kaew Na Ma shows him a baby she claims to be their son. He has to acknowledge this fact even if he claims he didn't do anything with Kaew Na Ma. Another giant decides to take revenge on Prince Pinthong and the Kingdom. The prince needs Kaew Na Ma again to fight the giants. She overcome them again. Finally as the Prince Pinthong sees that Kaew Na Ma is really good hearted, he declares his true love to Kaew Na Ma. She changes her appearance into a beautiful woman forever. This story has been adapted in multiple Thai TV series also.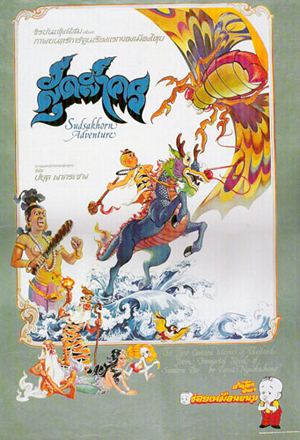 Year

: 1979



Thai title

:

สุดสาคร




English title

: Sudsakorn



Rating

: 3/5


Director

: Payut Ngaokrachang



Main actor

:


Main actress

: Nantana Ngao Krajang
Thai cartoon สุดสาคร / Sudsakorn was released on year 1979 and lasts 1h12mn. It was released only on VHS format. There is a sequence showing how the cartoon was made (การผลิดหนัง). This cartoon was done through traditional way at the end of decade 1970s. Hundreds of thousands of drawings were done. Director is Payut Ngaokrachang (ปยุต เงากระจ่าง). Payut Ngaokrachang wished to make the first Thai animation film and faced many difficulties while making this animation film (resource issues, money issues...). He almost became blind after having worked for 3 years on this animation film. His daughter, the veteran actress Nantana Ngao Krajang, can be seen in the introduction sequence as a painter. This cartoon is featuring a character from a Thai literary work, Phra Aphai Mani, by the poet Sunthorn Phu. A prince, called Phra Aphai Mani (พระอภัยมณี), flees from a lady Yak by riding a mermaid. The mermaid is pregnant and delivers a baby son. His name is Sudsakorn. Luang Ta (หลวงตา / พระฤๅษี) helps. Sudsakorn is human and not half fish. Finally the hermit takes the child away to raise it. The hermit trains the kid to be able to fight also. Sudsakorn dominates a shark but he fails to master a mystic unicorn (ม้านิลมังกร). Sudsakorn wishes to find his father. The hermit provides some magical items (ไม้เท้าวิเศษ) to Sudsakorn in order to fight against enemies. He leaves his mum (ลาก่อน แม่.). On the way to find his father, Sudsakorn, riding his unicorn, is attacked by ghosts (ผีสิง). Following fierceful fightings during 7 days and 7 nights, the hermit gives Sudsakorn a hand too. The hermit warns him about ghosts ( ผีดิบ). Sudsakorn meets a naked beggar on another island. Pretending teaching some new magic to him, the beggar (ชีเปลือย) pushes Sudsakorn from a cliff and steals the unicorn. The beggar uses it to reach the kingdom. Once again Luang Ta helps Sudsakorn to escape. Sudsakorn chases the old beggar. He is finally forgiven by the local king, who also adopts Sudsakorn. Sudsakorn travels on a fleet. Butterfly ghosts (ผีเสื้อยักษ์) attack the fleet but Sudsakorn defeats them.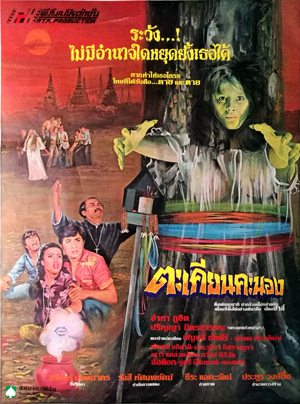 Year

: 1979



Thai title

:

ตะเคียนคะนอง




English title

:



Rating

: 3/5


Director

:



Main actor

: Lor Tok,Lak Apichat,Chao Klaewklong,Lor Tok,Tawan Siriwat


Main actress

: Ampha Pusit,Anchalee Chaisiri,Chosri Misommon
A young woman is coming to her village to see her father. She announces him that you will soon marry with a Bangkok teacher (ปริญญา มิตรสุวรรณ). A tough guy, who is fond of her, rapes her and she dies. But her spirit is back and threatens villagers. The spirit looks for justice and wants to stay with the Bangkok teacher forever...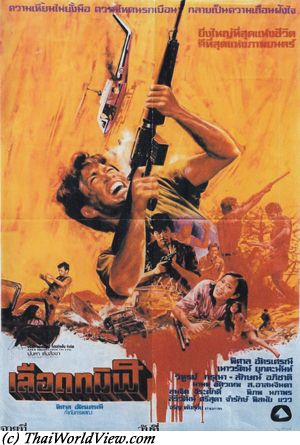 Year

: 1979



Thai title

:

เลือดทมิฬ




English title

: Revenge



Rating

: 4/5


Director

: Pisarn Akraseranee



Main actor

: Pisarn Akraseranee,Lak Apichat,Witoon Karuna,Pipop Pupinyo,Sor Asanajinda,Manop Aussawathep


Main actress

: Naowarat Yooktanun,Somjit Sapsamruey
Thai movie เลือดทมิฬ was released in year 1979 and lasts 2h04mn. The movie was never released in Thailand but a VHS with Swedish subtitles was released in decade 1980s in Sweden. This movie was also shown on Thai TV cable under a 1h32mn short version. Movie director is Pisarn Akraseranee. Movie starts with a speech about Thai soldiers protecting Thailand, Buddhism, the King and sacrificing their life to perform their duty. Da (Lak Apichat), Tong (Pisarn Akraseranee), Witoon (Witoon Karuna) are three soldiers and friends. The three friends end up in a bar during a recreation. Da fight against Wang (Pipop Pupinyo) regarding a lady. Tong is back to countryside to meet his parents Sor Asanajinda, Somjit Sapsamruey and his sister Prang. He meets Song (Naowarat Yooktanun), daughter of local mafia leader (เจ้าพ่อ) Boonleut. Boonleut wishes to get their land. Yord (Manop Aussawathep) is used as ruffian to force them. Yot (จีรศักดิ์ ปิ่นสุวรรณ) is another tough guy working for Boonleut. Sri Thong has become Yot's wife but she still loves Tong as she was forced by Yot. Today is Naowarat's birthday party. Upset that Sri Thong told the truth to Tong, Yot decides to send her working to a brothel (เข้าซ่อง). Sri Tong hangs herself following multiple rapes by Yot's men. While Tong is guarding Sri Thong's body, Boonleut, Yot and his men storm Tong's home, killing his parents and raping Prang. Tong kills two men and is now aware that Boonleut, Yot and Yord are behind. Police cannot help. Tong refuses to incinerate his parents' bodies until he has done justice himself. Prang, following shame and her parents' death, also hangs herself. Tong's life is in havoc. Tong wishes to revenge. He storms the ruffians' place and axes many of them. He then chases Yord by car and speed boat but Boonleut and his men embuscade him. Tong escapes death as police arrives at the right time. Tong flees from hospital and takes refuge in North of Thailand in Da's home. Da, Tong and Witoon are back with war weapons. They storm the ruffians' home and perform a rampage. Yot is hanged by Tong. Tong loses sanity as he shoots unarmed members of Boonleut. Yord is also killed and Song, Boonleut's daughter, is captured. Tong behaves badly with Song (เหมือนคนบ้า, สัตว์นรก, ไม่ใช่คน) but finally recognizes he is wrong as she is not responsible of her father's behavior. Song understands Tong and flees with him. Romance start between Tong and Song. Meanwhile police is chasing them as Boonleut believes Tong forces his daughter to follow him. About to be captured by Police, Thong asks Song to shoot him as he doesn't want to end up all his life in jail. Song follows him… เลือดทมิฬ is a powerful and violent movie.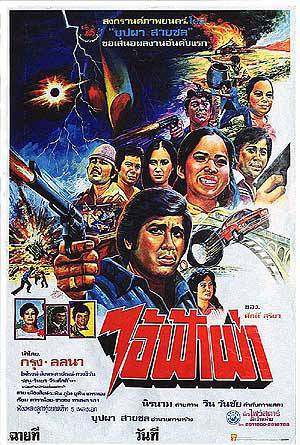 Year

: 1979



Thai title

:

ไอ้ฟ้าผ่า




English title

:



Rating

: 3/5


Director

:



Main actor

: Krung Srivilai,Sawin Sawangrat,Phairoj Jaising,Boo Wibunnan,Sayan Chantaraviboon


Main actress

: Lalana Sulawan,Duangcheewan Komolsen,Ratchanoo Boonchuduang
A new baby is born and is called Ai Fa Pha (ไอ้ฟ้าผ่า) as it is born during a storm. Many years have passed. Yoo (Krung Srivilai) is back from university. His surname is Fa Pha. He is expecting his girlfriend Anoolok (Lalana Sulawan) to wait for him at the bus station but he is welcomed by three ruffians when getting off the bus. Even police led by Phalat, a corrupted official (ราชการเลวๆ), wants to catch him. Yoo takes refuge with his old friend bandit (เสือ) Beung (Phairoj Jaising). The sub-district headman (กำนัน) Pho is having forced land promises of sale with many villagers including Sin (Sayan Chantaraviboon). Beung is a mix of Robin Wood and thief forcing bad guys such as the local rice reseller to be more honest. Yoo and Beung want to help Sin who is treated like a slave by the sub-district headman family. Sin loves Kru, the daughter of Kamnan Pho. Beung kills both the brother and the father. Phalat accepts bribe (ใช้อำนาจ) from a Thai Chinese businessman. Beung wants to arrange a wedding between Sin and Kru but finally Kru becomes Yoo's fiancee as Sin doesn't want to be forced anymore! Phalat wishes to marry Anoolak. But she is still awaiting for Yoo. Her father was forced to fiance her with Phalat due to some debts. Phalat organizes kidnapping of Anoolak. She finally escapes thanks to Sin. Beung shoots the Chinese businessman to stop corruption. Young lady Nokarin likes Beung, an eternal bachelor. Fa Pa, convinced by his family and Anoolak, finally surrenders to the police and his complaints are heard by the district officer. Palat and his acolytes are dismissed (ยุติธรรม). The weddings Yoo / Anoolak and Sin / Kru can happen. But Palat wishes for revenge. They storm the wedding ceremony and shoot guests. The ruffians are defeated but Sin and Beung are shot dead while trying to protect each other. It is linked to their karma. Good deeds are recompensed but bad deeds are paid. Beung's killings are finally paid despite he killed bad people only. A few romantic songs are performed during the movie.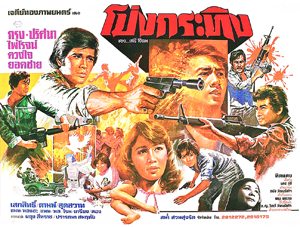 Year

: 1979



Thai title

:

โป่งกระทิง




English title

:



Rating

: 3/5


Director

:



Main actor

: Krung Srivilai,Dam Datsakorn,Yodchai Meksuwan,Phairoj Jaising,Man Teeraphol


Main actress

: Prissana Chabaprai,Duangjai Hathaikarn
Thai action movie โป่งกระทิง was released in year 1979. Main actors are Krung Srivilai and Prissana Chabaprai. This movie is lost in Thailand. The three last reels are only left to be seen. Phairoj Jaising and three ladies (Duangjai Hathaikarn, Prissana Chabaprai) including Kaew are having issues with ruffians. They decide to fight back. Shootings are exchanged with ruffians. Krung Srivilai as policeman (หัวหน้าสถานีคนใหม่) tries to arrest the ruffians. Det (Dam Datsakorn) and Man Teeraphol are the ruffians' leaders. Yodchai Meksuwan is subdistrict headman. Det is using bad influence (อิทธิพล) over the area. Det and Phi Khun are buying weapons (อาวุธ). Their den is surrounded by policemen led by Krung but they refuse to give up. Heavy shootings happen. Det is finally captured.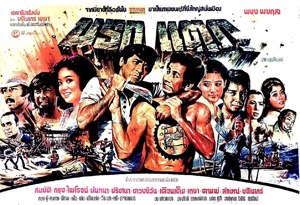 Year

: 1979



Thai title

:

นรกแตก




English title

:



Rating

: 3/5


Director

: Payoong Payakul



Main actor

: Sombat Methanee,Krung Srivilai,Phairoj Jaising,Dam Datsakorn,Kecha Plianvithee,Lak Apichat,Pipop Pupinyo,Boo Wibunnan,Phirapon Piyawan


Main actress

: Nantana Ngao Krajang,Prissana Chabaprai,Duangcheewan Komolsen,Deuan Tem Salitul
Thai movie นรกแตก was released in year 1979. It features Sombat Methanee and Krung Srivilai. This action movie is lost in Thailand but a trailer lasting 1 minute 30 seconds is left to be seen. The short trailer shows Sombat (ยิ่ง มหายศ) receiving sacred tattoos from a famous monk from South of Thailand so giving him mystical power, a knife fight between Sombat and Dam. Other actors are Phairoj Jaising, Pipop Pupinyo, Dam Datsakorn, Duangcheewan Komolsen, Kecha Plianvithee, Lak Apichat, Nantana Ngao Krajang, Boo Wibunnan, Prissana Chabaprai. This movie was a mixed of action and mystic (หนังบู๊ผสมไสยศาสตร์) same as เสาร์ 5 (1976). There are ghosts (ผีดิบ) and pirates (โจรสลัด). Director was Phayung Phayakul (พยุง พยกุล). The main actress in this director's movies is always his own wife, i.e. Prissana Chabaprai.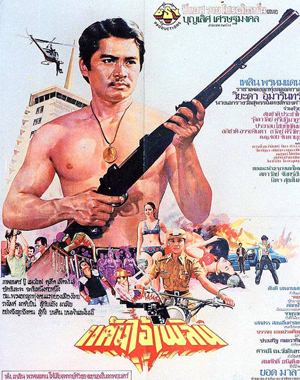 Year

: 1979



Thai title

:

แค้นไอ้เพลิน




English title

:



Rating

: 3/5


Director

:



Main actor

: Pleun Promdaen, Tawan Siriwat


Main actress

: Wiyada Umarin
Thai movie แค้นไอ้เพลิน was released in year 1979. It features Pleun Promdaen (เพลิน พรหมแดน) as main actor and Wiyada Umarin as main actress. The movie is lost in Thailand. Only a one minute trailer and a few other sequences from damaged film are left. It is an action movie with a special actor, i.e. a country folk singer speaking little but hitting hard. The left sequences show action scenes such as two men hanging on helicopter or shooting sequence. Other actors are Tawan Siriwat and two new actresses นิดา and ลดาวัลย์. The movie was not successful at box office.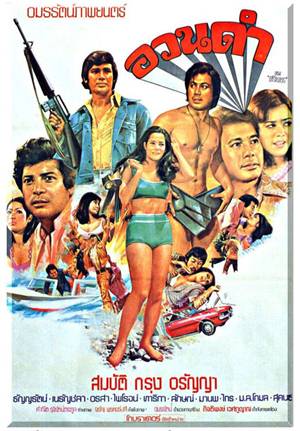 Year

: 1979



Thai title

:

อวนดำ




English title

:



Rating

: 3/5


Director

:



Main actor

: Sombat Methanee,Manop Aussawathep,Krung Srivilai,Phairoj Jaising,Prachuap Ruekyamdee,Krai Kanchit,Sukon Koewliam,Lak Apichat


Main actress

: Aranya Namwong,Sulaleewan Suwanthat,Tanyarat Lohanan,Orasa Isarangkul,Tharika Thidathip
Thai movie อวนดำ was released in year 1979. 1h40mn is left to be seen. Lom (Sombat Methanee) is hired to protect the interests of a company involved in fishery in Mahachai. The owner's daughter called Nori (Aranya Namwong) is concerned about Lom's righteousness. The movie dares a scene with two actresses (including Orasa Isarangkul) kissing each other. Net (Manop Aussawathep) brings money to local mafia leader Prachuap Ruekyamdee. Bulam (Tanyarat Lohanan), selling soup, is upset with these two ladies. So she uses Net and his ruffians to bully the ladies (รังแกผู้หญิง). Lom (Sombat Methanee) being around kicks the ruffians. Net asks Lom for one to one fighting on the next day. Krai, Sukon Koewliam, Lak Apichat are part of Lom's team. Lom defeats Net and wins. Grand mother (Sulaleewan Suwanthat) takes care about the girls. While scuba diving, Nori finds some war weapons on an island. Ruffians, aware that Nori discovered their hidden hideaway, put a bomb in her boat but she escapes to death. Bulam is now bullied by the ruffians but this time, Don Manora (Krung Srivilai) helps her. To join Net's team, Don agrees to knock out Lom but he fails. Don flees with Bulam. Don wishes to meet นาย Prachuap as he wishes to work for him. At nighttime he investigates their warehouses and finds boxes full of M16 weapons. Prachuap is upset as his stock of weapons hidden on the island has disappeared. Simulating being a spirit doctor (หมอดู), Phairoj Jaising is visiting the ruffians site. He meets เสีย Prachuap's girlfriend (Tharika Thidathip). Jaising is undercover policeman. He is recognised and captured. Don succeeds to release him and flees with Bulam. The ruffians succeed to kidnap the ladies again. Fightings happen with the police. Ruffians are overcome. Net tries to flee with the van with the girls and runs over Prachuap. He finally crashes the van in a ravine causing his death and death of Bulam also. Nori finally understands that Lom, Don and Jaising are all policemen.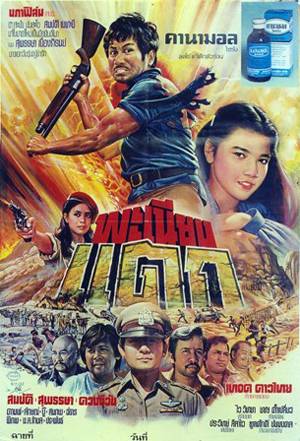 Year

: 1979



Thai title

:

พะเนียงแตก




English title

: Illegal Miner



Rating

: 4/5


Director

:



Main actor

: Sombat Methanee,Somphob Benjatikul,Boo Wibunnan,Dam Datsakorn,Chat Mongkolchai,Pipop Pupinyo,Lak Apichat


Main actress

: Supansa Nuengpirom, Duangcheewan Komolsen
Thai movie พะเนียงแตก was released in year 1979 and lasts 1h51mn. It was also released overseas in Sweden under VHS format and renamed as Illegal Miner. It was distributed by HB Video-film company. Midnight Express film music is used in this movie. A gold transfer is attacked and robbed. Police head nominates Sathan (Somphob Benjatikul) to investigate this robbery. The gold transfer was arranged by Anan, owner of a gold mine. Anan (Boo Wibunnan) is married to a new young wife called Dao (Duangcheewan Komolsen). Dao is also the mistress of ruffian Titio (Dam Datsakorn) so she keeps transferring information to him. Phaniek (Sombat Methanee), a former policeman, is now a drunkard (ขี้เหล้า). He was framed and accused of murdering his wife and her lover. He spent five years in jail. Pipop Pupinyo and Lak Apichat always push him to drink. Anan's daughter, Salika (Supansa Nuengpirom), is coming back from Penang after finishing her financial studies. Dao and Salika don't get on together as Salika starts to have a look in her father's company accounts so Dao is worried she will find the irregularities she has done. A second gold transfer is arranged but it is attacked again by ruffians led by Titio. Phaniek was part of the team protecting the gold transfer as he wanted to ensure that his good old friend Saeng was safe. Unfortunately, Saeng is killed despite Phaniek trying to help him. Lak and Pipop are aware somebody succeeds to escape but they are not aware it is Phaniek. Titio asks them to find and kill the survivor. Sathan has arguments with Lak and Pipop as they also treat Phaniek as a dog. Sathan and Phaniek become friends. Phaniek realises that Sathan is Saeng's son. Sathan is struck between taking revenge and following his duty as policeman. Salika is named as new company boss by her father. Phaniek brings Sathan to work in the mine. Salika hires them despite Titio opposing. Chat Mongkolchai is close friend (เพื่อนรัก) with Titio. Anan and Salika realize that Dao and Titio have stolen money since a long time by forging accounts. Phaniek and Sathan get rid of Chat. Titio is fired by Salika. Titio prepares a revenge and plans to attack the next gold transfer by himself. Ruffians are pushed back by police led by Phaniek and Sathan. But Salika is kidnapped by Titio… Salika is released thanks to Dao, worried that Titio wishes to harass Salika. Ruffians are neutralized. Anan forgives Dao and Phaniek stops drinking alcohol!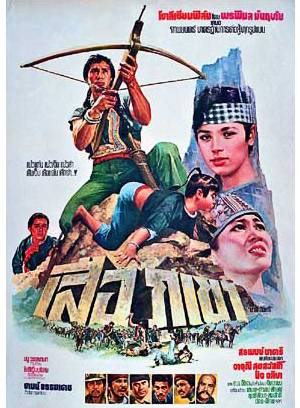 Year

: 1979



Thai title

:

เสือภูเขา




English title

: The Mountain Lion



Rating

: 4/5


Director

: Kom Akadej



Main actor

: Sorapong Chatree,Manop Aussawathep,Rith Luecha,Lak Apichat,Dam Datsakorn,Chat Mongkolchai,Somsak Chaisongkram


Main actress

: Jarunee Sooksawad,Nit Alisa
Lao Thong (Sorapong Chatree) is a Hmong leaving in Northern part of Thailand. He has a wife called Siew Fa and a young boy named Soo Noi. While he is away, his wife Siew Fa has been kidnapped by ruffians, who have been threatening the mountain villagers since years. Lao Thong's nickname is the Mountain Lion (เสือภูเขา) as he can run very fast. Lao Thong goes after the ruffians and find their camp. Their leader is Museudam. Lao Thong and Siew Fa have to kill Chayo, Museudam's brother, in order to escape from the ruffians' camp. They need to flee with their son from the Hmong village as Museudam seeks for revenge. Unfortunately Lao Thong and his family are captured by another ruffians group. Hopefully their leader, Cha Teun, is a former sergeant who knows well Lao Thong. Some ruffians believe they are undercover policemen so Lao Thong has to fight and defeat them to win his freedom. Opium trade has always been a huge traffic in Northern Thailand due to Golden Triangle (Burma, Laos and Thailand). Lao Pho (Lak Apichat) is a Hmong village working with the police border to neutralize local ruffian gangs. Cha Teun's gang is attacked by the Police. Cha Teun believes that Lao Thong is the traitor who warned the police. Then both gangs decide to take revenge over him. They decide to hire another Hmong as only a lion can catch a lion. His wife, Siew Fa, is injured. Na Cha (Jarunee Sooksawad), Lao Pho's sister, helps them. Museudam and Cha Teun try to hire Lao Pho (แมวไม่ฆ่าแมว) but to no avail. So Museudam kills Lao Pho's father and accuses Lao Thong so he suceeds to convince Lao Pho's to chase Lao Thong. Na Cha fights very well but is in fact a girl. Siew Fa finally kills herself to avoid being the one slowing her family down. Lao Thong takes revenge over the ruffians, who disband. The two ruffian groups even kill each other and only Cha Teun succeeds to flee as his own gang is wiped away. A love story starts between Lao Thong and Na Cha. Na Cha succeeds to convince her brother that the culprit is Museudam and not Lao Thong. Museudam kidnaps Lao Thong's son. Lao Thong, Cha Teun, Na Cha and Lao Pho storm the ruffians' campement. Ruffians are defeated but Lao Pho dies while protecting Lao Thong. The Mountain Lion is one of the most famous movies directed by Kom Akadej. It is shot within beautiful Thai northern landscapes. It was one of the few Thai movies dealing about Hmong community. The Mountain Lion - เสือภูเขา (1979) movie remains famous for its Kung Fu scenes. This film was one of the first to mix elaborate stunt work and well choreographed fight scenes.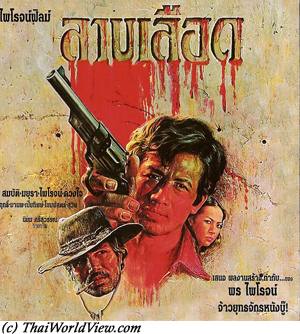 Year

: 1979



Thai title

:

ลาบเลือด




English title

:



Rating

: 3/5


Director

:



Main actor

: Sombat Methanee,Phairoj Jaising,Manop Aussawathep,Sawin Sawangrat,Rith Luecha,Pipop Pupinyo


Main actress

: Piathip Kumwong,Mayura Thanabutr,Duangjai Hathaikarn



Buy now

:

Drunk ruffians are terrorizing a shop while listening to an old Boney M song. Sukol gives them a lesson. Seuabin (Rith Luecha) is the leader of the ruffians. They kidnap villagers and force them to work as slaves (ทาส). Sukol (Sombat Methanee) is working in a gambling den (บ่อน). He meets his old friend Phairoj Jaising. They were former Thai soldiers during the war in Laos. Both of them have been requested to meet in this remote Isan city by their old friend Siaw (Manop Aussawathep). Siaw requests help as his two sisters, Bao (Mayura Thanabutr) and Mon (Duangjai Hathaikarn), have disappeared. They are part of the working slaves (ทำไร่กัญชา) and have been lured by fake job offers. Bao is sick but to get medicine from the guards, women have to offer their body. No problem (มาเลย) for Chai (Piathip Kumwong), who is a former kind hearted prostitute, in order to help Bao. As usual Pipop Pupinyo is playing the ruthless ruffian also. Sukol loves to eat Larb Luat dish (ลาบเลือด). Phairoj, simulating to be an up country bumpkin, is recruited as worker by the agency offering expensive fake jobs. Seua Ling (Sawin Sawangrat) is the big boss. Meanwhile showing his fighting and shooting skills, Sakol is recruited by Seua Ling. Rivalry happens between Sakol and Seuabin as both are skilled gunman (มือปืน). When Chai is sick, nobody is helping her (ใจหมา). She dies during the night refusing Mon to sacrifice herself for her. Sakol asks Siaw to provide explosives. Sawin has an important 500 kg shipment to be done so extra ruffians come. New plan is to release all inmates and not only the two sisters. Seuabin prepares a putsch against Seua Ling as he is upset that Seua Ling is too friendly with Sakol and also wishing to get a bigger share of money. The plan seems to go wrong when Seuabin captures and tortures Sakol to know the truth. Phairoj organises the inmates uprising and uses weapons hidden by Siaw in the field. Through a thrilling and explosive final, all ruffians are defeated or killed. Finally Siaw offers his two sisters to Sakol and Phairoj as rewards. ลาบเลือด is a 2h08mn Thai western.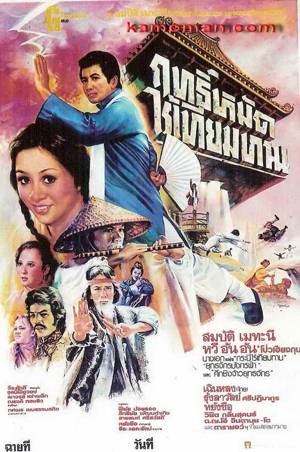 Year

: 1979



Thai title

:

ฤทธิ์หมัดไร้เทียมทาน




English title

: Writing Kung Fu



Rating

: 3/5


Director

:



Main actor

: Sombat Methanee,Bolo Yeung


Main actress

: Runglawan Sripatimakul
Thai HK movie ฤทธิ์หมัดไร้เทียมทาน / "Writing Kung Fu" / 文打 was released in year 1979 and it lasts 1h20mn. Two versions were released. One for the Hong Kong market with John Cheung. One for the Thai market with Thai actor Sombat Methanee. Thai version is lost. Robbery happens during tea war. John Cheung is playing a teacher for poor children. The teacher is expelled by the ruffians from the city. They always tease him. He cannot support it anymore. Only a little girl follows her. He brings her back to his mother (Runglawan Sripatimakul). Runglawan encourages him to teach children as scholars are needed for the country development. Two men, one blind man and his assistant, seek revenge towards a strong thug (Bolo Yeung) following murders in Vietnam. Money to build the school is stolen. The ruffians' leader claim scholars are useless. Children better learn Kung Fu than going to school. The strong thug rapes and kills the daughter. Her mother is found dead also. The ruffians' leader's sister has to beware of the strong thug as he befriends with her father. The blind and his assistant try to take revenge but they fail. Another beggar also fails but before dying he trains the teacher, who can transform himself from a coward chicken into an eagle. The teacher invents a new Kung Fu with movement simulating writing Chinese characters. Meanwhile the strong thug kills all the ruffians including the leader's sister. The teacher chases after him and defies him. Following a difficult fight, the teacher is about to be defeated but succeeds to give a fatal blow to the strong thug. Before dying, the children tell him a last time that they want to come back with him to study.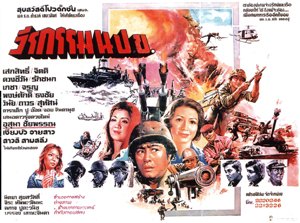 Year

: 1979



Thai title

:

วีรกรรม นปข




English title

:



Rating

: 3/5


Director

:



Main actor

: Kecha Plianvithee


Main actress

: Duangcheewan Komolsen
Thai movie วีรกรรม นปข was released in year 1979. The movie is lost in Thailand but a few minutes trailer remains to be seen. It is a war movie highlighting sacrifice, patriotism (หนังแนวรักชาติ) and duty. Known actors are Kecha Plianvithee, Duangcheewan Komolsen and actor เสกสิทธิ์ สวัสดิ์รักษ์. This movie was not so successful as it lack a famous main actor as selling added value.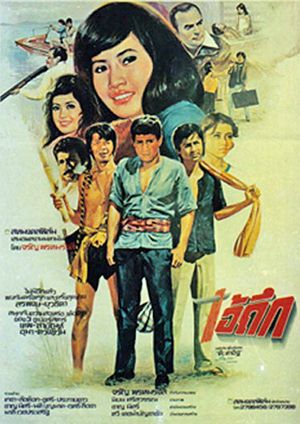 Year

: 1979



Thai title

:

ไอ้ถึก




English title

:



Rating

: 3/5


Director

:



Main actor

: Sorapong Chatree,Sayan Chantaraviboon,Kecha Plianvithee,Rith Luecha,Lor Tok,Thep Thienchai


Main actress

: Chosri Misommon,Duangcheewan Komolsen,Yuwathida Surasawadee
Movie ไอ้ถึก was released in year 1979 and lasts 1h58mn. It is a funny comedy showing the discovery of Bangkok and its modernism by three bumpkins. Lazy husband Sayan (Sayan Chantaraviboon) is chased from home by his wife (Chosri Misommon). His friends are Yiem (Sorapong Chatree) and Phabai (Thep Thienchai). The three friends are fired from their respective home (อยู่วัดตั้งแต่เกิด, home, mistress). They need to find ways to survive. They decide to go to Bangkok (บ้านนอกเข้ากรุง). Various funny situations happen as they are not used to Bangkok modern way of life. They have arguments in a restaurant with ruffians (นักเลง). The ruffians were hired by two young ladies to release their sister Nong Suda kidnapped by Decha (Kecha Plianvithee) and Rith Luecha. The ladies hire the three friends instead. They succeed to release Suda. During the escape, they also take a case belonging to Decha. Ruffians want to get back the suitcase (กระเปาะขอคืน) as it contains important documents related to their business. The three ladies bring the three friends around Bangkok (Happy Land attraction park, Pattaya). They also discover hotels and massage (นวด). As a fighting erupts in the massage parlour, Khun Prangsee (Duangcheewan Komolsen) brings them to her home. They finally befriend with her husband played by Lor Tok (คุณผู้ชายมาแล้ว). After multiple failed trials, Decha finally gets back his suitcase but also kidnaps again Suda and her sisters. The police believes the three friends are responsible of the kidnapping. A fair (งานฉลอง) organized by Khun Prangsee's husband turns to a disaster as police tries to arrest them. By fleeing, the three friends bring the Police by luck to Decha's house. Ruffians are captured. Ladies are released and the three friends are innocented. They prefer to go back to their village than staying in Bangkok. The three ladies bring them to their village but finally flee as Yiem's house collapse on them, as it is discovered that Sayan is already married, as Phabai offers a weird amulet (ปลัดขลิก)!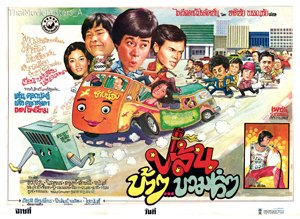 Year

: 1979



Thai title

:

ปล้น บ้าๆ บวมส์ๆ




English title

: The Mad Robbery



Rating

: 3/5


Director

: เพชร ราชภรณ์



Main actor

: Der Doksadao,Thep Po-ngam,Sithao Petcharoen,Thuam Thoranong,Sompong Phonmitr,Dam Datsakorn,Lak Apichat,Pipop Pupinyo,Somsak Chaisongkram,Boo Wibunnan,Sukon Koewliam


Main actress

: Nipaporn Nongnuch,Duangcheewan Komolsen,Malee Wetpraseri,Chosri Misommon
Thai movie ปล้น บ้าๆ บวมส์ๆ / The Mad Robbery was released in year 1979 and lasts 1h43mn. A remastered version was released by Five Star Production (ไฟว์สตาร์โปรดักชั่น) in the decade 2010s and shown on Thai TV cable. It was released under VCD format by Lepso company. Movie director is เพชร ราชภรณ์. A group of six friends (including เด่น ดอกประดู่, Der Doksadao, Thep Po-ngam) are doing magic tricks and selling medicine to cure toothache, but it fails to be a good business. Running out of money, they decide to rob a bank. Sithao Petcharoen and Thuam Thoranong are among the policemen being warned about a robbery. Sompong Phonmitr, as head of police, orders the Police to surround the bank. The six friends succeed to flee by disguising themselves as ladies. They put a fake bomb around a group of ruffians (Dam Datsakorn, Lak Apichat, Pipop Pupinyo, Somsak Chaisongkram, อนันต์ สัมมาทรัพย์...), who promised to get revenge knowing it was a trick. The bank boss is Boo Wibunnan. The police head is upset with three policemen as they let the six fake ladies escape. They must catch them back to erase their mistakes. The six friends have a car accident but get help from truck drivers led by young lady Ae (Nipaporn Nongnuch). Ae invites them to her home. There, they find Boo, Ae's father, playing cards with other men. Luckily, Boo does not recognize them. Boo is losing money. As Tok is knowing card tricks, he gets the money back. The six friends prefer to leave afraid that Boo would recognize them. They decide to look for a job in Bangkok. Ae invites them to her home in Bangkok and guarantees that her father will find jobs for them. Going to Bangkok, Tok leaves the bank bag full of money to his aunt Malee Wetpraseri. The friends then separate to avoid being caught by the police. Tok meets his old old friend Elvis (วิสูตร ตุงคะรัตน์ - Thai Elvis), who invites him. In Ae's house, the friends meet the aunt Chosri Misommon and Ae's elder sister Ann (Duangcheewan Komolsen). The ruffians try to take revenge over the six friends, but finally they give up as they see the Police chasing the friends. Back at his aunt's house, Tok finds she has died, and the money has disappeared. At the funerals, Sukon Koewliam announced to Tok that aunt Hom had used the money to donate to the local Buddhist temple to build a sacred chapel. Thai people finally catch the six friends and Boo recognizes them as robbers of his bank!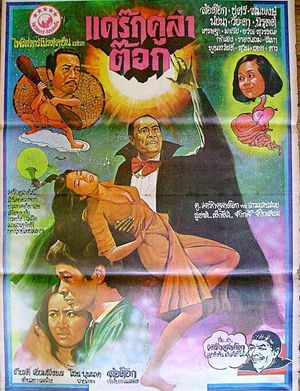 Year

: 1979



Thai title

:

แดร็กคูล่าต๊อก




English title

:



Rating

: 3/5


Director

: Lor Tok



Main actor

: Nirut Sirijanya,Sawin Sawangrat,Settha Sirachaya,Lor Tok,Sithao Petcharoen,Sompong Phonmitr,Kokheng


Main actress

: Naiyana Shewanan,Wiyada Umarin
Klom (Nirut Sirijanya) and Sae (Naiyana Shewanan) love each other. They wish to die together as their love story is impossible as Klom is poor and Sae's father wants her to marry kamnan Oi's son. Oi (Sawin Sawangrat) is an influential local ruffian. The son CheunKlan is played by veteran actor Settha Sirachaya. Some local ghosts (ผีกระสือ and ผีกระหัง) wish to help them as there are already enough spirits in the graveyard (ป่าช้า)! The male spirit helps Klom to give a lesson to CheunKlan and his sbires (มือปืน). The spirits have invited Dracula (ผีฝรั่ง) for a meeting in Thailand to discuss about issues they are facing (overpopulation in cemetery, people doing less donations to spirits...). The two fathers want CheunKlan and Sae (ลูกไม่รักดี) to get engaged. Dracula (Lor Tok) wants to discover Thailand (spicy food and disco). Dracula meets Oum (Wiyada Umarin), a young lady just dropped by her boyfriend. Sae simulates to be possessed (ผีเข้า) but both fathers hire a spirit doctor (หมอผี) to chase the spirit. Sae finally passed away (สิ้นใจ). To help Klom, the two ghosts prepare a plan, one is going to see the hell guardian (Sithao Petcharoen) to ask for clemency and one is possessing the body to prevent decay (เน่าเปื่อย). Klom visits hell to find Sae. He sees some people tortured as they did behave badly in their previous life (member of Parliament having lied and having made false promises...). Corruption is present in hell also! Finally Klong finds Sae in the heaven and get authorization to bring her spirit (วิญญาณ) back to earth. Meanwhile Dracula falls in love with Oum but later on kidnaps also Sae who is back from heaven. This comedy movie starts with a funny idea, sarcastic comments on Thai society but ends up crazily (บ้าบอ) with the real movie director complaining on Lor Tok acting as Dracula. Finally all flee in front of a real ghost. Veteran actor Sithao Petcharoen got a Thai cinema award for his comic role as hell guardian. A second part called หักเหลี่ยมแดร๊กคูล่า was released 7 years later in 1986.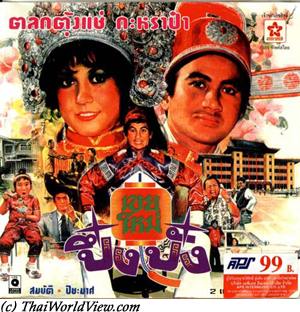 Year

: 1979



Thai title

:

เขยใหม่ปึ๋งปั๋ง




English title

:



Rating

: 2/5


Director

: Kumtorn Tubkunlai



Main actor

: Sombat Methanee,Boo Wibunnan


Main actress

: Piyamas Monayakol,Runglawan Sripatimakul,Chosri Misommon,Janthana Siriporn



Buy now

:

Kimtom is a young man part of a wealthy Chinese family established in Thailand since a few generations. Wo is a young lady part of a Thai traditional high society family (ผู้ดี). Kimtom and Wo love each other but both families refuse this union. The Chinese family wants a rich bride for Kimtom. The Thai family wants a famous family name to match their rank. The Thai high society family despises Chinese customs (strong accent - พูดไทยไม่ชัด, laugh loudly, No good manners - มารยาท, burping during diner). Kimtom wants to prove that Wo's mother is wrong. Wo's mother is pushing towards the son of a Thai rich family linked to old aristocracy. His name is Samkhan (สำคัญ). Kimtom comes to the diner dressed with Chinese traditional old clothes. As Wo's mother thinks that Chinese food is savorless (รสชืดชืด), she makes a very spicy curry for Kimtom! Kimtom's family makes a 2M Baht donation (บริจาค). Wo's family complains about new rich people (เศรษฐีใหม่) versus old aristocracy (เศรษฐีเก่า). It is Wo turn to go for a diner with the Chinese family. Funny situations happen as she doesn't know how to use chopsticks. Finally both families agree for a wedding but the wedding needs to include Chinese and Thai ceremonies. Kimtom doesn't feel well because Wo's mother doesn't accept him. The movie raises issues regarding multiracial weddings. There should be no border for love. The wife needs to stay in the husband's home according to Chinese customs. But Wo's mother keeps her at her home. Misunderstandings keep happening (ทำประชด). Wo is pregnant. The Chinese family wants a boy first. Then both families fight over the education of the child. Finally as Kimtom helps to prevent a robbery on Wo's mother jewels and they move to their own house, happiness and understanding happen again.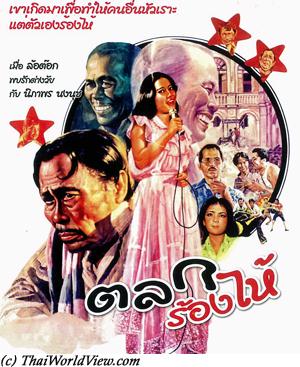 Year

: 1979



Thai title

:

ตลกร้องไห้




English title

:



Rating

: 4/5


Director

:



Main actor

: Lor Tok,Sahat Piempongsan,Sukon Koewliam,Thuam Thoranong


Main actress

: Nipaporn Nongnuch,Malee Wetpraseri,Chosri Misommon



Buy now

:

Four comics have no success as their comical shows in slums or market are failures. One of them knows famous and rich comic Lor Tok and thinks to ask him to be their teacher (ครูบาอาจารย์). During one TV show, Lor Tok sees a young beautiful lady called Kloi (Nipaporn Nongnuch) singing a song related to old men attractiveness. He wants to know more about her. Lor Tok wishes to be her sponsor (ผู้อุปการะ) to help her to become famous. Lor Tok has become a capricious star (ดาราดังมาก, ลืมตัว, สร้างบารมี) believing his fame can allow him all excesses. Lor Tok rejects the four comics' request to be their teacher and mentor. He has a wife and daughter already. His wife is unhappy as he changed a lot since being a star. Lor Tok wishes to drop everything for Kloi and promises house, car, career to her but she is afraid. His wife, fed up, considers to quit him (เลิก). Lor Tok has only Kloi in mind and refuses all movie, interview or show proposals as they are too low for a superstar like him. So he starts to alienate people around him. Lor Tok has no gratitude (ไม่มีกตัญญู) for show owners who helped him before when he was not famous (ไม่มีวันดับ). Following heavy drinking, Lor Tok has a car accident with Kloi. Lor Tok's wife flees away. His manager has to sell the house and two cars to cover the hospital expenses. He now lives with his daughter in a rented small bungalow. He keeps indulging in alcohol and had often serious pains in the chest. Finally without money, Lor Tok stops drinking and looks for show representations to pay for his daughter school fees. Nowadays people like comic groups and not anymore individual comic so he has no more success. The four guys are now a famous comic troupe in Thailand. His daughter is back with her mother. Finally Lor Tok accepts to play as a team with the four guys he denigrated before. He succeeds to regain fame (เป็นอาจารย์) and during a singing contest, Lor Tok sings a touching song regarding his life errors. At the end of the song, he dies following heart attack. On his cremation day, all his former friends including Kloi pay sincere homage to him.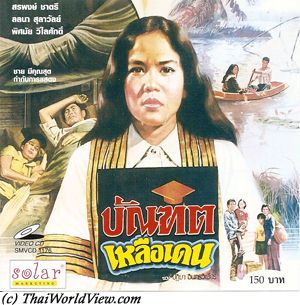 Year

: 1979



Thai title

:

บัณฑิตเหลือแดน




English title

:



Rating

: 5/5


Director

: Chai Meekunsut



Main actor

: Sorapong Chatree,Manop Aussawathep


Main actress

: Pissamai Wilaisak,Lalana Sulawan,Nipaporn Nongnuch
A farmer couple with two young daughters quit their land to find jobs and a better life in Bangkok. Wan and her younger sister Wannee have now grown up. Their father wants them to study up to university and become บัณฑิต (graduate). Unfortunately he died before during an accident on a construction site. The mother is working in a short time motel and washes bed sheet. As Wan studies are expensive and the mother has a small salary, the mother has no choice but to accept sexual proposals from a customer called Atasit in order to get money for her daughter studies. Meanwhile Wan meets a young man called Narat and a love story starts. Following her mother disease and expensive hospital fees, Wan has also no choice than to sell her body to Atasit to get money. Atasit wants to meet her again but this transaction was only financial and based on necessity (ความจำเป็น). Narat asks to marry Wan. Meanwhile Atasit also seduces the younger sister Wannee for similar financial issues. Wan asks him to stop but he refuses. All the women of the same family have the same fate with Atasit because they are coming from a poor background. The mother tries to help her daughters. The daughters try to help their mother. The movie ends up tragically. Wannee dies due to miscarriage and heavy loss of blood. Wan decides to kill Atasit to have him pay for his sins but her mother kills him first in order to take the judicial blame and avoid ruining all the efforts done by her and her former husband to have Wan become a successful graduate. Finally Atasit was Narat's father... This damned life mixing poor people from the country side and rich Bangkokian people ends up in a wreckage for all.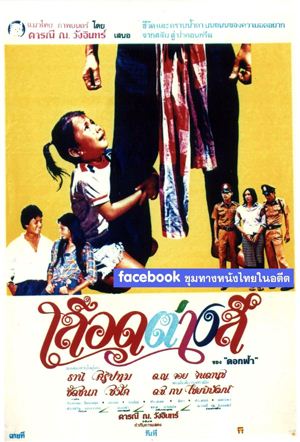 Year

: 1979



Thai title

:

เลือดต่างสี




English title

:



Rating

: 3/5


Director

:



Main actor

:


Main actress

:
Thai movie เลือดต่างสี was released in year 1979. Main actors and actresses are unknown. Movie director is ดารณี ณ วังอินทร์. The movie is lost in Thailand but a sequence in 35mm format can still be seen. The picture is very damaged and reddish. It lasts thirty-five seconds. During the short sequence, a mother delivers a baby but finally dies. A young woman is arrested by two policemen.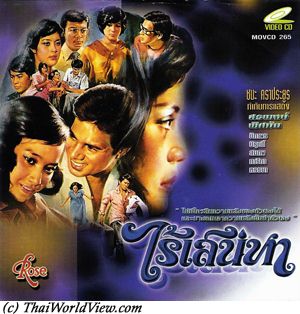 Year

: 1979



Thai title

:

ไร้เสน่หา




English title

:



Rating

: 3/5


Director

:



Main actor

: Sorapong Chatree,Nirut Sirijanya


Main actress

: Pissamai Wilaisak,Chosri Misommon
Long ago, two sisters loved the same man but the elder married him. The younger never accepted this failure and became too emotive. Years after, when a bachelor comes to visit her sister's daughter, she reminds her past and thinks that he comes for her. She starts becoming crazy and tries to spoil their love using even a killer. Will she succeed?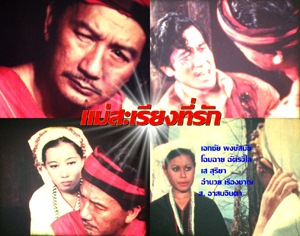 Year

: 1979



Thai title

:

แม่สะเรียงที่รัก




English title

:



Rating

: 3/5


Director

:



Main actor

: Sor Asanajinda


Main actress

:
Thai movie แม่สะเรียงที่รัก was released in year 1979 and lasts 1h14mn. This movie had a limited diffusion as it was a movie to promote Christianity in Thailand. Ruffians block the road in the mountains of Northern Thailand. A man called Thep is driving around. They rob Thep, steal his car and shoots him twice. A bus of tourists stops but finally nobody helps. Father Tao (Sor Asanajinda) and his son Suey carry the injured driver, named Thep, a Bangkokian man. Another car stops and doesn't help either. The Karen village has no car. The closest doctor is 50 kilometers away. Other villagers don't want to help. So Suey is going. Thep is upset as it will take long time to get a doctor. Other refuse to help as Thep is a stranger. Kila, Tao's daughter, also a Christian, helps. Hard journey for Suey, who is running barefoot through the mountains to get doctor's help. Poor villagers help but rich people don't help. Thep becomes nasty with Kila due to suffering. Thanks to Suey, a doctor arrives on time. Suey gives his blood also. There is no recognition from Thep (ใจดำ). One of the villagers, Bookay, bring jealousy in Suey's heart as the daughter Kila needs to act as a nurse close to Thep. The injured man Thep wishes to stay in the village as people have good heart (นัำใจดี). The doctor gives him a bible. Party is organised. Songs are performed. Romance starts between Thep and Kila. Suey is heart broken. Somebody releases an elephant in order to injure them. Hopefully Tao can help on time thanks to Suey warning him. Suey blames Bookay (โฉมฉาย ฉัตรวิไล) to have released the elephant. Suey helps a third time. Bookay blames him for keeping helping despite he is losing Kila (เสียคนรัก). Suey helps without hoping to get anything in return as it is part of his religion fundamentals (เมตตา) and faith in god (พระองค์). Bookay recognises her mistake (ความอิจฉา). Thep decides to stay in the village and changes his religion (ชีวิตใหม่). Thep steps back to let Suey and Kila love blossom. He finally goes back to Bangkok.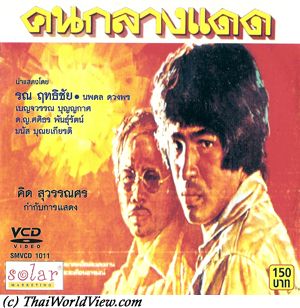 Year

: 1979



Thai title

:

คนกลางแดด




English title

:



Rating

: 5/5


Director

:



Main actor

: Noppadol Duangporn,Ron Rittichai


Main actress

:



Buy now

:

Phlaew and Na have a small company producing ice and transporting it to customers. They share profit 50-50. They are living in a Bangkok slum where families support each other. Phaew is a nice guy. He is sending local children to school and help to send Maew, little girl having respiratory problems, to hospital. Poor children from slum have no time to do homework after school because they sell flowers, newspapers at traffic light intersections. It is a hard job to sell garlands and get revenue when it is the rainy season. Poor people has no time to study as they need to earn money to survive but get blamed by teacher when they arrive late to school or when they couldn't do homework because they were too tired. There is a contrast between rich children playing piano and poor children playing with bamboo. They dream of changing lifes, i.e. sell clothes instead of selling flower garlands. Elders are gambling and drinking. There are internal family fighting on savings. Pa, middle age woman, borrows money from local mafia den. Pa and Na lose at horse betting and Pa cannot reimburse the mafia den. Pa's husband fled away because of her gambling habit and because her daughter got handicapped by a cart while the mother played cards. Pa gets hit by mafia tough men because she cannot give money back. Phlae celebrates his birthday with all poor kids and Na. Alcohol helps them to forget their problems temporary. Phlaew discovers that Na was unfair with him since two years because he doesn't know how to read. Na didn't share the revenue honestly. Phlaew asks for 30 000 Baht to pay back Pa debts and to do good for her daughter Phae. Pa encounters Na when going to give back money to mafia. He convinces her to bet on Thai boxing following a tip he got. When he realizes that the money they bet is coming from Phlaew it is too late. Meanwhile the mafia tough guys are looking for Pa. They look after her daughter Phae to locate the mother. The local insane guy, who tries to protect Phae and Maew, is hit by a knife. Due to the fear, Maew died due to her respiratory problems. Phlaew asks for revenge. One of the participants brings them to the boss, who is getting and selling land from slums in order to build modern buildings. A deadly fight erupts in which Na gets shot. The boss gets badly hurt but survives. Slum people get caught by the Police. Before dying Maew, the little girl, has writen a text to celebrate the Bangkok 200 years anniversary. Bangkok development is done on the back of poor people. Bangkok is not an angel city anymore. People in slum are moved from one place to another following Bangkok development. To chase people from slums, their houses are often burnt. This movie highlights their difficult and poor living condition (youngsters addicted to cheap drugs, poverty, insalubrity...) but they still have a good heart towards each other in a similar way to people living in up-country villages. "คนกลางแดด" means the people under the sun. Slum people same as villagers are second class citizen. This movie has also been registered as National Heritage per the 2016 list released by the Thai Film Archive.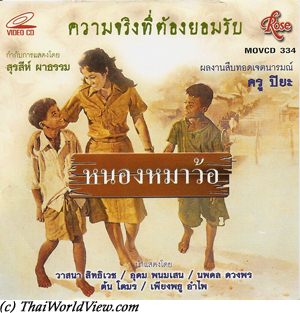 Year

: 1979



Thai title

:

หนองหมาว้อ




English title

:



Rating

: 5/5


Director

: Surasee Phatham



Main actor

: Noppadol Duangporn


Main actress

: Wassana Sitthiweth



Buy now

:

The teacher called Piya is dead but the young lady teacher continues to stay in the village. Farmers have many debts, so are forced to sell at low price the harvest before reaping. They are being cheated. The young lady teacher convinces the farmers to unite themselves in cooperatives in order to sell in common after reaping and to get the "real" market price. One hundred chariots leaded by buffaloes bring the rice into the city. But the powerful buyers don't agree... Her life is in danger.



Year

: 1979



Thai title

:

ไผ่แดง




English title

: Red bamboo



Rating

: 5/5


Director

: Permpol Choei-arun



Main actor

: Sorapong Chatree,Suchao Pongwilai,Krailat Kriengkrai


Main actress

: Lalana Sulawan



Buy now

:

Red bamboo is a novel writen by famous writer M.R. Kukrit Pramoj in 1954. It was reprinted 19 times and translated in 9 languages. It is adapted from "The Little World of Don Camillo". The movie deals about the opposition between the new faith (Communism) and the old faith (Buddhism). It is about the conflicts that arose between traditional Thai village life and the forces of modernization that were transforming the country. It takes place in Isan region, northeastern part of Thailand. It is the hot season. Kwen is a local villager but he is seen as a communist even if he doesn't fully understand the doctrine foundations. He wants to refuse the help from government. Monk and government are working together to give food to poor villagers. Evan Luang Pho Buddha statue is magically giving advice to the abbot, Sompan, as sometimes he has also doubts ansd weaknesses. Kwen, the red communist, helps villagers and challenges the local power regarding debt cycle and the current society behavior. When Kwen was a child, he was friend (สหาย) with Sompan. Kwen believes that religion is hurt by the politics as they are too close. The government uses the Buddhist religion as an ally. Both Sompan, the abbot, and Kwen, the red communist, want to help poor people but not in the same way. The abbot is seen as a traitor (ทรยศ) by the communists. The rain finally comes. Kwen thinks that religion is only helping people when they are hungry in order that later they do donations to the temple. A Chinese moneylender, called Sia, is present in the village. The villagers believe time has arrived and that communist rebellion will happen. They plan to get weapons and arrest the monks. Kwen warns his friend Sompan but he refuses to leave. Finally the rebellion was only a falso rumour. Tom is one of Kwen's partisan. Tom doesn't want to ordain 15 days but finally accepts to ease his aging mother (ไม่นับถือศาสนา). Sompan is first reluctant to accept. Another Kwen's partisan, Thip, causes trouble. Thip's girlfriend, Kathiem, is three months pregnant. Kathiem would like to follow up traditions but Thip refuses (ไม่ย่อมแต่ง) to follow as traditions are a threat to own liberty (เสรี). Love shall prevail over traditions. Finally the wedding happens. On top of this Tom is not willing to disrobe. So Kwen is angry with Sompan (หลอกชาวบ้าน). A fake monk raises belief into spirits in order to get money from villagers but he is expelled by Sompan. Meanwhile the Chinese moneylender gets some villagers' land and rent it to them! There is still no school in the village. Sompan and Kwen support each other to help financing the school (บริจาค). As the money is not enough, Sompan gives money from the temple to help build the school (โรงเรียนประชาชน). Tom and the subdistrict headman's daughter like each other so Tom disrobes. Tom's mother has no land anymore as she sold it to get money from the Chinese moneylender. There is an issue to decide on the location of the school. The two villages are separated by a small bridge. A meeting is organized in the Buddhist temple to solve the conflict (โรงเรียนใหม่). The school shall be built on the bridge so it is really in the middle of the two villages. But the soil now belongs to rich moneylender Sia. Sia already agreed with the district Chief Officer to build a dam so arguments raise between Sia and the villagers. The soil transfer is found as illegal as it was not officially stamped. Ruffians come with guns. So the villagers have to flee but Kwen prepares a plan to fight back. Kwen wishes to fight against corrupted officials. Villagers capture Sia and his ruffians during nighttime. Finally a high ranking official recognizes that Sia is a dishonest man and thanks the villagers for their action towards him. The school can now be completed. Collaboration between Kwen and Sompan is finally successful as Kwen accepts to ease down his communist aspirations. In 1990, a Thai TV serie (ละคร) based on the same story was produced This movie has also bee registered as National Heritage per the 2016 list released by the Thai Film Archive.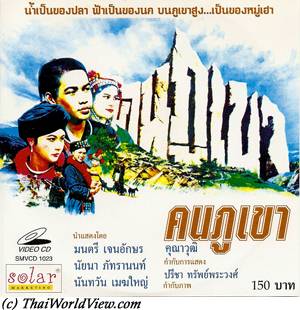 Year

: 1979



Thai title

:

คนภูเขา




English title

: Mountain People



Rating

: 5/5


Director

: Wichit Khunawut



Main actor

:


Main actress

: Nunthawan Mekyai



Buy now

:

It is about life of a highlander. Chased from his village, it narrates his struggling life. This movie shows hilltribes life (Yao, Akkha, Lao), customs and animist beliefs. It also shows the way that Thai people treat them (cheating them, corrupting them by selling them goods they don't need, encouraging them to produce opium). A VCD released by Solar Company lasts 2h05mn. A recent remastered version on VCD and DVD lasts 2h12mn.
---