Increase or decrease font size for easier reading : A+ A-
Year 1977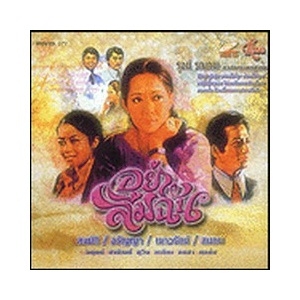 Year

: 1977



Thai title

:

อย่าลืมฉัน




English title

:



Rating

: 3/5


Director

: Ruj Ronnapop



Main actor

: Sombat Methanee,Sawin Sawangrat,Sayan Chantaraviboon,Somphob Benjatikul,Adul Dulyarat


Main actress

: Aranya Namwong,Naowarat Yooktanun,Chosri Misommon,Marasri Isarangkul,Tharika Thidathip
Thai romance movie อย่าลืมฉัน was released in year 1977. The movie lasts around 2 hours 04 minutes and was released under VCD format. Movie director is Director is Ruj Ronnapop. Khaem (Sombat Methanee) and Suriyong (Aranya Namwong), both students, are in love. They shall marry. Finally Suriyong, due to filial duty (บุญคุณ), has to marry an older rich man, who is a banker. Khaem is disappointed and goes overseas. Suriyong never had chance to explain to him (มีเหตุผล). Fed up to be at home, Suriyong looks for a job and is engaged as secretary (เลขา). Her new boss is just back from overseas and is Khaem himself! Working relationship is difficult as Khaem makes it hard for Suriyong due to resentments. Khaem is also giving hard time to his managers (ผู้จัดการ) Somkit (Sawin Sawangrat) and Boon (Sayan Chantaraviboon). Khaem has a new girlfriend (แฟน) called Kaelong (Naowarat Yooktanun). Suriyong still wears the ring given by Khaem. Khaem spies Suriyong as she sees a man called Eua meeting her. For Eua (Somphob Benjatikul), Suriyong is only her stepmother (แม่เลี้ยง). He has no other feelings despite Khaem's suspicion. Alita, Khaem's gig from overseas, is back to Thailand and brings him trouble. Khaem is aware that Suriyong has two children but those two children are in fact from the previous wife of the banker, who died earlier. One night, while bringing the kids for holidays, Khaem becomes lover with Suriyong. There is misunderstanding as Suriyong believes it was arranged to trick her. Suriyong becomes pregnant. Khaem is upset to always see Suriyong with Eua so he writes a harsh letter to her. Khaem asks for a wedding with Kaelong as soon as possible. Finally Suriyong plans to flee overseas (หายกลุ้มก็กลับมาเอง). Khaem, realising his mistakes and misunderstandings due to jealousy, rushes to airport in order to find Suriyong before she leaves Thailand…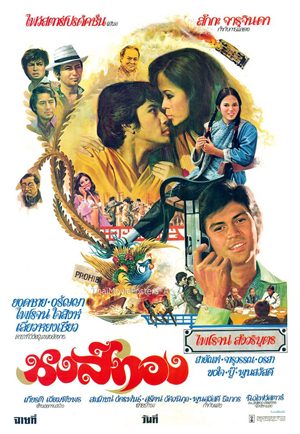 Year

: 1977



Thai title

:

หงส์ทอง




English title

:



Rating

: 3/5


Director

:



Main actor

: Phairoj Sangwaribut,Yodchai Meksuwan,Phairoj Jaising


Main actress

: Aranya Namwong
Srongklot, a young man, on a trip to Hong Kong, meets Hong, a young Thai-Chinese lady, selling souvenirs on the Peak. She steals his camera but gets caught explaning that her grandma is very sick and poor. Having issues with local mafia, he has to flee and is rescued by Hong. His brother convinces him to go back to Thailand but he has to leave behind Hong as she cannot get a visa for Thailand. Back to Thailand, he meets Kaekai a lady already married but separated with her husband. Her husband refuses to divorce and sends tough men to hit Srongklot. Kaekai kills her husband and kills her-self. Srongklot, being blind after the attack, goes back to Hong Kong to cure his eyes and heart with Hong. Half of the movie is filmed in Hong Kong so it is very interesting to see Hong Kong with boat people in Aberdeen and the landscape from the Peak without high skycrapers.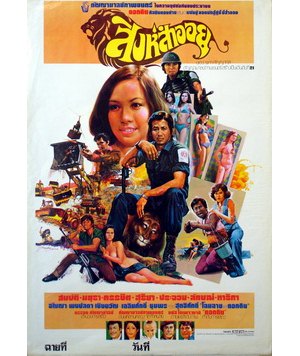 Year

: 1977



Thai title

:

สิงห์สำออย




English title

:



Rating

: 3/5


Director

: Dokdin Kanyaman



Main actor

: Sombat Methanee,Dokdin Kanyaman,Prachuap Ruekyamdee,Suriya Chinaphan,Choomporn Theppitak,Lak Apichat,Kanchit Kwanpracha


Main actress

: Mayura Thanabutr,Tharika Thidathip
Thai movie สิงห์สำออย was released in year 1977 and lasts 2h05mn. As usual with movies directed by Dokdin Kanyaman, it mixes several tastes, i.e. action, romance, comedy, mild erotism. Main actors and actresses are Sombat Methanee, Mayura Thanabutr, Dokdin Kanyaman, Lak Apichat, Kanchit Kwanpracha, Prachuap Ruekyamdee, Choomporn Theppitak, Suriya Chinaphan, Tharika Thidathip, ธัญญา ธัญญารักษ์, พงษ์ลดา พิมลพรรณ, เชิงขวัญ ปิโยบล, เฉลิมศักดิ์, ด.ช.สุทธิศักดิ์, โฉมฉาย ฉัตรวิไล. Ek (Sombat Methanee) is the son of a rich businessman. As he is a bit lazy, the rich businessman put some special clauses in the testament before dying. Ek must become a policeman to keep his rights to heritage. He is sent to Nakhon Phanom to investigate on some illegal traffic happening at the border. As a cover job, Ek is selling goods and is having arguments with Dokdin Kanyaman, another seller. Noon (Mayura Thanabutr), daughter of a local headteacher (พงษ์ลดา พิมลพรรณ), is visiting her mother in Nakhon Phanom. Her mother is taking care of poor children. Her father is Prachuap Ruekyamdee. Relation is tense with her father as he has a new wife (เมียน้อย) called Pantip. Ruffians storm the police station. Ek and Dokdin neutralize them. Suriya Chinaphan, Ek's teammate, meets young lady Moon there. Wan Dao and Yoti (Kanchit Kwanpracha) have business conflicts with Cheung (Lak Apichat) but they finally collaborate. Cheung and Wan Dao become lovers. Cheung's team is attacked by police led by Ek while transporting illegal goods in the jungle. Ek is injured but Dokdin is helping him to hide. Ruffians are looking for Ek to get revenge. Dokdin brings Ek to hospital and they finally flee. Ek needs to marry within three months to receive the heritage (มรดก) per the testament. Ek wishes to marry Noon but his lawyer (Choomporn Theppitak) wishes him to marry his engaged fiancée. Ek refuses as he hasn't realized that his engaged fiancée and Noon are the same person. Dokdin used a similar scenario in movie ไก่นา (1971). Yoti has arguments with Ek. Pantip is also Yoti's mistress. Ruffians storm again the school. Ladies resist. Moon hits Cheung badly and it makes him crazy. Ruffians burn the school buildings and Moon is raped by Cheung. The head teacher (แม่ครู) is kidnapped. Prachuap is aware that Pantip betrays him (ควายแก่) as policemen saw her kissing Yoti. They shot each other. Ek and his teammates storm the camp. Fierce fightings do happen. Noon takes revenge over Cheung and gets reunited with Suriya. Dokdin marries a teacher also.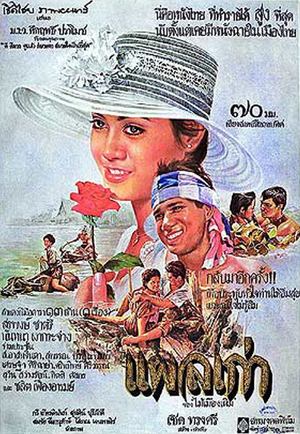 Year

: 1977



Thai title

:

แผลเก่า




English title

: The old scar



Rating

: 5/5


Director

: Cherd Songsri



Main actor

: Sorapong Chatree,Sor Asanajinda,Settha Sirachaya


Main actress

: Nantana Ngao Krajang,Sarinthip Siriwan
The movie is built same a theatrical "Likay" (ลิเก) with traditional music. It portrays the Thai culture and way of life though a romance. Peasant Riem loves Kwan but the love is not reprocical. He loves singing Likay. Traditional peasant way of life, watching over buffalo, rice planting, getting fish from rice fields, ceremonies where young men invite girls they like to dance, Songkran ceremony with small pagoda made of sand are gracefully shown. They finally love each other with a promise in front of the local deities tree. But Riem family refuses this love story. Choi, local gangster, injures Kwan with his sword making a scar. This scar is the symbol of their love that nothing can break. Riem's father wants to sell her to the local gangster Choi. Riem's father is local "Kamnan" (กำนัน) but has many debts with Choi as he likes to gamble and drink alcohol. Riem is enslaved with chains. Kwan infliges a scar to Choi also but when he tries to free Riem, it is too late. Her father and Choi have brought her to Bangkok. There she is integrated to a rich Bangkokian family as she has the same face as their deceased daughter. A young man called Somchai is courting her. Riem discovers high society Bangkokian life with balls and European orchestra. The contrast is flagrant with village life and Kwan playing flute on his buffalo. Kwan arrives in Bangkok and searches for Riem. He cannot find her. He chases Choi to know where he sent Riem but during a sword fight, Choi is killed. Three years have passed. Knowing that her mother is sick, Riem goes back to visit her. Kwan has chance to meet Riem but Kwan also understands that she forgot him. He asks again for the support of the local deities. Riem misses her home and Kwan. She finally comes back as her mother is dying. In the past, her mother marries her husband for money in order to be secure but was never happy with him. So she advises her daughter to listen to her heart as love is more important than money. Riem promises to tell Kwan her decision in front of the local deities tree. On the same day, seeing that his father is getting older and older, Kwan promises him to honor his wish to see his son in yellow robes (ชายผ้าเหลือง) as a monk. Learning that Riem is forced to go back to Bangkok, he decides to help her but faces opposition from Riem's family and Somchai. Finally Somchai shot Kwan fatally and he drowns in front the local deities tree. Riem stabs herself and drowns with her beloved Kwan. Kwan's father will never see his son in yellow robes (ชายผ้าเหลือง) as a monk. Historically, Cherd Songsri's movie is a classic tale of star-crossed lovers and was one of the first Thai films to be a success internationally due to the precise representation of rural Thailand. It got Top award at Festival des 3 Continents in Nantes, France in 1981. This movie is part of the first 25 films heritage list announced on October 4 2011, which is Thai Movies Conservation Day.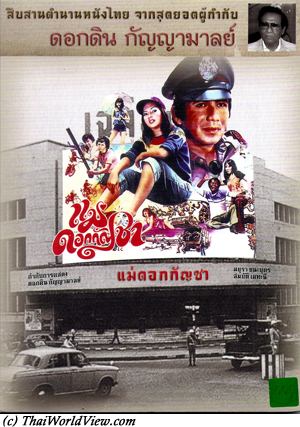 Year

: 1977



Thai title

:

แม่ดอกกัญชา




English title

:



Rating

: 4/5


Director

: Dokdin Kanyaman



Main actor

: Sombat Methanee,Dokdin Kanyaman,Choomporn Theppitak,Prachuap Ruekyamdee,Lak Apichat,Suriya Chinaphan


Main actress

: Mayura Thanabutr



Buy now

:

Yuak (Dokdin Kanyaman) is involved in a shooting with police. He is part of a drug gang selling cannabis (กัญชา) hidden in garlands sold by kids. Yuak is finally arrested and spends 6 years in jail. His release happens just during Songkran period. His relative has taken care of his now grown-up niece, Klong (Mayura Thanabutr) (เด็กสลัม). Local policeman warns Yuak (หม้าว้ด) to beware of any misconduct if he doesn't want to go to jail again. Klong's mother Kae Son has left and stopped sending money to her. The mother went to live with a ruffian called Rot (Choomporn Theppitak). He is a violent man stealing Klong's school fee. Rot is now involved in cannabis traffic also and has a new wife. While Yuak, Klong and Songthai (Suriya Chinaphan) are playing music, police arrests some drug traffickers nearby. Afraid of police, Yuak flees in front of inspector Pheung's (Sombat Methanee) despite being innocent. They are arrested and then released but Pheung gets scolded by Klong. Prachuap (Prachuap Ruekyamdee) is a doctor fighting drug usage. He is the father of one of Klong's best friend, Phanit. Pheung is Phanit's brother. Pheung's girlfriend, Chat, dislikes immediately Klong as she is having a famous family name (สกุล) which is improbable as being a poor girl from slum (สลัม). Klong and Yai have issues with Rot and it ends up at the police station but Rot flees before as he is involved in narcotics. Yai is severely sick. Klong has no money to cure her so one of her friends in the slum sacrifices herself with men to find the money. Following an advice from Yuak, it is discovered that Chaiyut (Lak Apichat), Chat's secret lover, is involved in drug trafficking with Rot. Following gunfight with Pheung, Rot is shot. Chatchai, Phanit's boyfriend, is also involved in the traffic. Songthai helps Phanit to flee from Chatchai. Phanit and her friends are addicted so a detoxification is needed with special herbs tea by Yuak. Prachuap hits Songthai believing he mistreated his daughter. It is a weird situation as despite having a father fighting against drug usage, a policeman brother fighting against traffickers, Phanit is still a drug addict. Prachuap finds that Klong is the lost granddaughter (หลาน) of a rich heiress. Romance starts between Klong and Pheung. The old lady caused Klong's parents to split up as she couldn't accept a poor maiden for her son. So knowing this, Klong leaves her being very angry. Pheung understands Klong's kindness versus Chat's selfishness. Meanwhile Chat organises the kidnapping of the old lady. Klong and Pheung help on different side to neutralize Chaiyut and his team. The old lady is freed. Ruffians are shot by Pheung. Happiness can resume in the family. Dokdin's movie แม่ดอกกัญชา is a high criticism of usage of cannabis in Thai society, either in poor neighborhood or either high society. Cannabis sinners are shown on a torn tree (Buddhist symbolism). Dokdin's movie highlights drug traffic, prostitution and drug taking in slums. As usual, Dokdin movie mixes comedy, romance and action.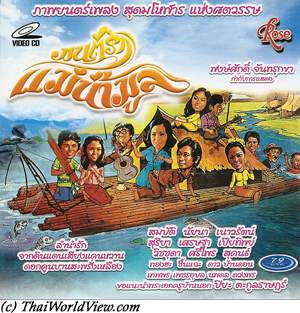 Year

: 1977



Thai title

:

มนต์รักแม่น้ำมูล




English title

:



Rating

: 3/5


Director

:



Main actor

: Sombat Methanee,Sukon Koewliam,Settha Sirachaya,Suriya Chinaphan,Piya Trakulrard,Noppadol Duangporn


Main actress

: Naowarat Yooktanun,Piathip Kumwong,Naiyana Shewanan
This folk-music movie is similar to "mon rak luuk thung". It features folk or "LUUK THUNG" songs. It is about love stories between villagers from Ubon, i.e. a teacher and his fiancee staying in Bangkok, a farmer wishing to be a singer and his fiancee, a school director and a nurse.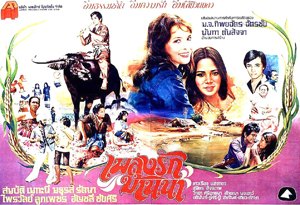 Year

: 1977



Thai title

:

เพลงรักบ้านนา




English title

:



Rating

: 3/5


Director

:



Main actor

: Sombat Methanee,Boo Wibunnan,Adinan Singhiran,Doo Dook Kradon


Main actress

: Chosri Misommon,Anchalee Chaisiri
Thai movie เพลงรักบ้านนา was released in year 1977. It features Sombat Methanee as main actor, มธุรส รัตนา and Anchalee Chaisiri as main new actresses. A four minutes trailer and a 1h30mn movie are still available. The full movie with 12 songs including 3 by Sombat is not available anymore. A partial version was released many years ago on Thai TV CH7 but in a shorter release with only one song featured. Other actors featuring in this movie are Boo Wibunnan, Adinan Singhiran, Doo Dook Kradon, Chosri Misommon. A young man (ไพรวัลย์ ลูกเพชร) from Suphanburi is sheltered in Sri Prai and her sister's home as he has nowhere to go but he has nice singing skills. Worrying he would seduce his two daughters, the father finally chases him. Duan (Sombat Methanee) rescues Sri Prai aggressed by ruffians. Romance between Duan and Sri Pai happens. The story is about two sisters coming from a rich family and who love two poor men to the despair of their father. Finally the two poor men help their future father in law as a businessman is trying to buy his land knowing that a road is going to be built soon. The two new actresses are Anchalee Chaisiri born in 1956 and มธุรส รัตนา born in 1957.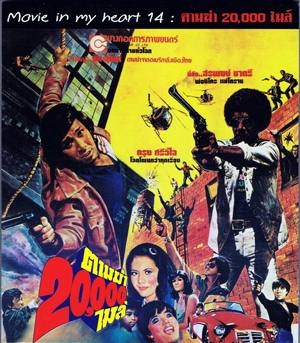 Year

: 1977



Thai title

:

ตามฆ่า 20,000 ไมล์




English title

: Project G-7



Rating

: 3/5


Director

:



Main actor

: Sorapong Chatree,Krung Srivilai,Nirut Sirijanya,Lak Apichat,Somchai Samipak


Main actress

: Pawana Chanajit,Piathip Kumwong,Tasawan Saneewong,Sasima Singsiri



Buy now

:

Thai movie ตามฆ่า 20,000 ไมล์ was released in year 1977 and lasts 1h47mn. Movie director is วินิจ ภักดีวิจิตร. The movie is taking place partly in USA. The movie was released on VCD format in Thailand by company XxX (Triple X) and Lepso Company (TV recording). It was also released overseas under VHS format as an IFD movie named Project G-7 (1h27mn), mixing some part of the original Thai movie and some new sequences shot in Hong Kong. Don (Krung Srivilai) is flying to San Francisco, USA. He met Nit (Piathip Kumwong), working as air hostess, in the plane. Plao (Sorapong Chatree), half black and half Thai man, is a FBI officer and has to work with Don. Thai drug is sold to USA and dealer Chan Sopon is suspected as big money transfers are done by him from Thailand to USA. Police is doing enquiry on a double murder, i.e. a woman and her lover were killed. The killer is Aran (มือฆ่าระดับโลก) (Nirut Sirijanya). The husband, Chan, is a rich businessman and also a generous donator to local Buddhist temple but he claims to have nothing to do with this murder. His mistress is Nit, air hostess. Sasima Singsiri and Tasawan Saneewong are lady journalists enquiring on Chan's suspect wealth. Fighting in a car dealer and a car chase occur. So Don and Plao disrupt Chan's business by catching his heroin. Chan is upset and orders his men to get rid of Don and Plao. The two lady journalists are undercover Thai policewomen. While having a break and having good time on a beach, a hitman misses to shoot Plao and one of the journalist ladies is killed. Plao's wife and his daughter are also killed per retaliation. Plao and Don storm Chan's place but he is gone overseas to Thailand already. Back to Thailand, Lak Apichat and เมือง อพอลโล่, part of Chan's team, follows them. Attacked by ruffians, Thai police woman Krissuda (Pawana Chanajit) comes on time to help Plao and Don. Aran and other ruffians fail to kill them once again but Plao is injured. Ruffians are convinced there is a police traitor among them as Thai police arrests Chan's drug traffickers. Nit is the one helping Thai police. Somchai Samipak is playing the head of police. Aware of ruffians' activities near a golf, Don and Tatsanee are captured and tortured by ruffians (ขายชาติ). Trying to warn Thai police for help, Nit is identified as the traitor. Aran loves secretly Nit since a long time. As Aran disobeys Chan's order to kill Nit, Nit is finally killed by Lak. Plao and Krissuda come to help after being informed by Nit just before her death. Police storms the place. Aran kills the leader Chan as revenge as he loved also Nit. Through a final duel, Plao kills Aran.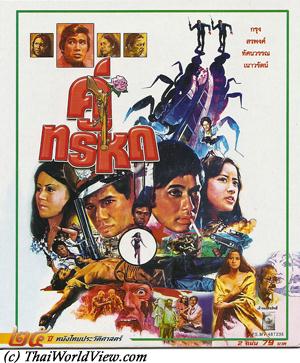 Year

: 1977



Thai title

:

คู่ทรหด




English title

:



Rating

: 4/5


Director

:



Main actor

: Settha Sirachaya,Krung Srivilai,Sorapong Chatree,Adul Dulyarat


Main actress

: Naowarat Yooktanun,Tasawan Saneewong
Ithipon (Sorapong Chatree) is a police inspector (สารวัตร). He doesn't have a car (รถแข่ง) as he refuses any corrupting money from the mafia. Yot (Krung Srivilai) is another policeman, who has a hot temper (รุนแรง) and uses easily guns to stop robbers (ผู้ร้าย). In a single day, he shot four robbers. It makes big headlines in newspapers. Ithipon always follows the law (ความยุติธรรม) and wants to give a good image of the police to Thai citizens. His family is poor. It includes his sister, Am, and his mother. Am is still a student and is addicted (ติต) to marijuana (กัญชา). Ithipon needs to solve many issues linked to the facts that policemen do not always behave well in private life also (club singer pregnant and dropped...). Ithipon sometimes acts like a social assistant. Ithipon's team deals with heroin dealing case, prostitution cases, rape case, police corruption but also everyday ordinary cases. This movie shows the kind of crimes faced by Thai society in 1970s. Yot, by killing some drug dealers, puts the mess again (มือปราบจับตาย) as no proofs and information can be got from dead bodies. Yot's behavior is linked to his past when he was ten years old. His mother was murdered by a carpenter who was acquitted due to lack of proofs despite he saw him with his own eyes! So nowadays he has become a harsh policeman. Yot has been suspended (ถูกราชการ) following the drug failure case. Rich people use their power to influence police. A businesswoman wishes to have her son released! Ithipon needs to arrest his own sister Am as she was caught smoking opium (ติตยา) in an illegal den. Ithipon remains inflexible. The law is same for all so he refuses to help his sister and has to perform his duty (นาที). Yot continues to shoot illegally some bad people and wish to clean the Thai society. Ithipon meets Eewa, his former girlfriend. Ithipon is poor so he couldn't marry with Eewa. As Eewa's parents were sick, Eewa had no choice than becoming the mafia leader Kongwan's mistress. As her parents are both dead, Ithipon proposes to take care of Eewa and hides her. Kongwan's ruffians are looking for Eewa. They storm Ithipon's home, hurt the mother and kidnap him. As Ithipon refuses to speak and to accept dirty money every month, Kongwan drugs him with heroin to make him dependent and to know where is Eewa. Finally Ithipon breaks down and tells them where Eewa is. Being inflexible with law, what did Ithipon gain? His mother is injured, his sister is in hospital and he is also addicted now (ตรงกับกฎหมายไม่ได้อะไร). His family is wrecked and his sister despises him. Eewa is kidnapped by Kongwan again. While being under treatment Ithipon flees from hospital. Being beaten by drug sellers, he is rescued by Pen. She was a prostitute Ithipon helped before to leave this profession. As a way to thank him she takes care about him until he can recover. Redemption is always possible (ยังมีทางแก้). Both his sister and mother have died. Yot continues to do his own justice by cleaning Bangkok from bad guys. Ithipon starts his own revenge by storming and burning Kongwan's heroin warehouse and by shooting ruffians. Kongwan orders to kill Ithipon. He shoots Eewa as she was going to warn Ithipon. Ithipon is injured again. The violence cycle has no end. There is a dirty policeman inside the police station, who always informs Kongwan. Kongwan does the cleaning of informants as a trial against him is ongoing. Yot won't let him go away. While leaving the hospital and going back to his slum house, Ithipon is shot by Kongwan. But this time Kongwan cannot escape his responsibilities and is caught by the police. Ithipon finally wins by following the law (ชนะตามกฎหมาย). This movie includes the 1970s top actors and features a funky "Shaft" 1970s soundtrack. This interesting movie deals about Thai police hardship and difficulty to have a clean police due to low monthly salary and extra judicial killings. It is still an issue nowadays. In 2011 senior police officers own a big illegal casino in the heart of Bangkok. It was was overseen by local police and allowed in only high-stakes gamblers.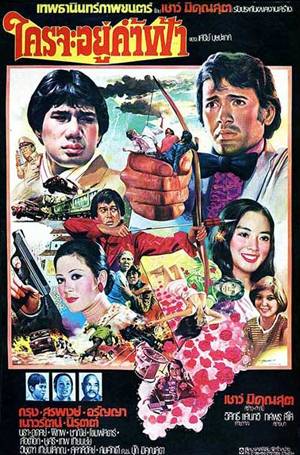 Year

: 1977



Thai title

:

ใครจะอยู่ค้ำฟ้า




English title

: The man from hell



Rating

: 3/5


Director

:



Main actor

: Krung Srivilai,Sorapong Chatree,Nirut Sirijanya,Adul Dulyarat,Lor Tok,Pipop Pupinyo,Somsak Chaisongkram


Main actress

: Naowarat Yooktanun,Aranya Namwong
Krung Srivilai is getting married. Some partygoers people take Krung for a last drink to celebrate. His wife will wait for him. While Krung is having a few drinks, his wife is raped by four men including Pipop Pupinyo (wearing a wig) and Somsak Chaisongkram. He discovered her body recovered by roses. The crime is signed by Red Roses gang. Krung promises to take revenge. He helps his wife's sister (Naowarat Yooktanun) being attacked by the gang also. Nirut Sirijanya and his brother take profit of gang rivalries to take some suitcases full of money and drugs. The brother has issues when protecting a young lady against ruffians but inspector Sorapong Chatree is helping. Lowu is the Chinese leader of Red Roses gang. Both Nirut and Krung are captured by the gang but succeeded to escape. Khun Ling (Aranya Namwong) or White Rose is arriving from Singapore. Only the White Rose knows the identity of Red Roses gang's real leader so she is welcomed at the airport by Sorapong before the gang can kidnap her. Meanwhile Krung falls in love with Naowarat. Krung is captured again. He is framed in a murder. Krung kills one of his wife's assassin but is then facing inspector Sorapong as he cannot break the law either. Red Rose gang leader is played by veteran actor Adul Dulyarat. Naowarat is kidnapped by the gang. The leader recalls Krung far souvenirs when he was a soldier. The gang leader's wife and daughter were killed by Thai soldiers during shootings. Since that day, he wishes to take revenge over Krung. To get Naowarat released, Krung has to shoot White Rose, who is a danger for the gang. As Krung and White Rose were lover in the past, it is a difficult decision. While Sorapong and White Rose are having a diner, Krung shoots her but it is only a trick. Nirut's brother and his mum are killed by Lowu. Nirut's brother was working as police informer. Nirut wishes to revenge also. Nirut and Sorapong storm the cave where the gang is hiding. They release Krung and Naowarat. Khun Ling shots herself the gang leader. The movie "The man from hell" or ใครจะอยู่ค้ำฟ้า (1978) is currently available through Ocean Shores video tape in English only. It is weird to have Sorapong, Krung with an English dubbing but as least Thai music was kept. The movie has sometimes a weird directing. As the movie is only 1h26mn, it is highly probable that it was cut for an international version as most Thai Movies during 1970s last almost two hours. 5 Top Thai stars are starring in this movie, i.e. Krung Srivilai, Sorapong Chatree, Nirut Sirijanya, Naowarat Yooktanun, Aranya Namwong. Fantastic bell-bottoms are worn by Sorapong Chatree.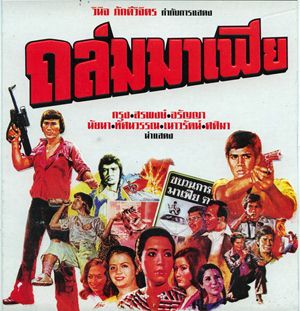 Year

: 1977



Thai title

:

ถล่มมาเฟีย




English title

: Mafia defeated



Rating

: 4/5


Director

: วินิจ ภักดีวิจิตร



Main actor

: Paen Pleumsachai,Pipop Pupinyo,Krung Srivilai,Lor Tok,Sayan Chantaraviboon,Chat Mongkolchai,Somchai Samipak,Sorapong Chatree,Sukon Koewliam,Nirut Sirijanya,Lak Apichat,Manop Aussawathep,Kecha Plianvithee,Boo Wibunnan,Kanchit Kwanpracha,Adul Dulyarat,Man Teeraphol


Main actress

: Naiyana Shewanan,Chosri Misommon,Tasawan Saneewong,Aranya Namwong,Naowarat Yooktanun,Sasima Singsiri
Thai movie ถล่มมาเฟีย (Mafia defeated) was released in year 1977 and lasts 1h54mn. It was released under VCD format by company XxX (Triple X). One song is featured. Movie director is วินิจ ภักดีวิจิตร. Thai actors and actresses featured in this movie are Paen Pleumsachai, Pipop Pupinyo, Krung Srivilai, Lor Tok, Sayan Chantaraviboon, Chat Mongkolchai, Naiyana Shewanan, Somchai Samipak, Sorapong Chatree, Chosri Misommon, Sukon Koewliam, Tasawan Saneewong, Nirut Sirijanya, Lak Apichat, Manop Aussawathep, Kecha Plianvithee, Aranya Namwong, Naowarat Yooktanun, Boo Wibunnan, Kanchit Kwanpracha, Adul Dulyarat, Sasima Singsiri, นรา นพนิรันดร์, Man Teeraphol, ชินดิษฐ์ บุนนาค, เมือง อพอลโล, จวบ, โจ๊ก, สุเทพ เหมือนประสิทธิเวช. This movie includes an impressive number of 30 Thai stars from decade 1970s. Sorapong Chatree, Nirut Sirijanya, Lak Apichat play bad guys in this movie. Normally they always play on the good guys side. Five ruffians including Paen Pleumsachai and Pipop Pupinyo are waiting (มาไม่ดี) for Yot Baramee from Suphanburi. Yot (Krung Srivilai) was just released from prison. Ruffians accuse him of murder but get defeated by Yot. Yot's friends are Lor Tok, Dip (Sayan Chantaraviboon), Han (Chat Mongkolchai) and Baan Yen (Naiyana Shewanan). Krieng (Man Teeraphol) accuses Yot to have killed his father. To avoid causing more issues in the village, Yot leaves for Bangkok with Dip and Lor Tok. Kamnan Somchai (Somchai Samipak) has three children, Mike (Sorapong Chatree), Baan Yen and Yot, being an adopted child. Somchai recommends Yot to contact Mike in Bangkok. Chosri Misommon is playing a crazy secretary, working in company Mike Engineering. Yot, Ding and Lor Tok are looking for job in Bangkok. Mike is not so willing to help as he has only low skills jobs to offer. Songtaew driver (Sukon Koewliam) and receiver (Tasawan Saneewong) have issues with ruffians asking for protection fee. Yot and Dip help and fighting with ruffians occurs. Thai mafia is very powerful and has strong influence. Yot is upset with Thai mafia and would like to stop them. Saem (Nirut Sirijanya) and Lak Apichat, mafia members, visit bars to get money donations (ทำบุญ). Saem and Lak threaten bar owner Chindit (ชินดิษฐ์ บุนนาค) so they have arguments with Yot and Dip, having a drink there and always wishing to help. Policeman Samit (Manop Aussawathep) arrests them. Chindit helps to release them from jail. Sompong (Kecha Plianvithee) is having Watanee (Aranya Namwong) as new girlfriend. His daughter Busalin is back from studying in USA. Busalin (Naowarat Yooktanun) is welcomed in Bangkok by Mike. Saem and Lak try to shoot Yot and Dip, but they succeed to flee thanks to Watanee's car passing by. Mike is part of mafia team working for Sompong. Mike orders Chindit's bar to be closed seven days but Yot and Dip interfere again. Satra (Kanchit Kwanpracha), part of mafia team, asks to kill Yot. Sompong threatens to kill Yot's friends if he refuses to work for him. Satra accuses Mike. Baan Yen is captured by ruffians, who kill her father Somchai and Han. Yot is accused of the murders. Mafia Italy Don Vito (สุเทพ เหมือนประสิทธิเวช) is visiting Thai mafia to show unification. Learning his father's death, Mike tries to shoot Yot despite they are brothers (น้องชาย). Han is not dead and discloses that Krieng is responsible of the murders. The one behind is Satra pushing Mike and Yot against each other. Baan Yen understands the truth. Surapong (Adul Dulyarat), head of police, and his team storm the mafia's den. Yot and his friends are leading. Busalin understands that his father and his ruffians are betraying Thailand (ทำร้ายชาติ). The movie ends up in multiple shootings with Mike and Satra shooting each other, Yot shooting Sompong. Mafia is defeated.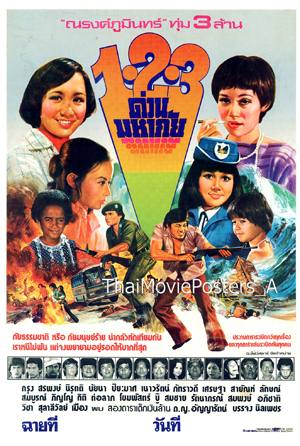 Year

: 1977



Thai title

:

123 ด่วนมหาภัย




English title

:



Rating

: 3/5


Director

: ณรงค์ ภูมินทร์



Main actor

: Sorapong Chatree,Krung Srivilai,Somchai Samipak,Sayan Chantaraviboon,Settha Sirachaya,Lak Apichat,Nirut Sirijanya,Boo Wibunnan,Sompong Phonmitr,Pinyo Parnnui,Pan Borapet


Main actress

: Piyamas Monayakol,Naowarat Yooktanun,Naiyana Shewanan,Khomapat Attaya,Ratanaporn Intarakamhaeng,Sulaleewan Suwanthat
Thai movie 123 ด่วนมหาภัย was released in year 1977 and lasts 1h35mn. It was released under VCD format. Movie director is ณรงค์ ภูมินทร์. Five young men (including Pinyo Parnnui) have issues with ruffians and are also searched by police, so they decide to leave for Hat Yai by bus. Many people are joining this trip to Hat Yai including Sorapong Chatree as soldier, Krung Srivilai, Somchai Samipak having issue with his wife, Sayan Chantaraviboon following Piyamas Monayakol as steward, musicians (Settha Sirachaya, Lak Apichat), doctor Nirut Sirijanya, Boo Wibunnan, Naowarat Yooktanun being late, Naiyana Shewanan, ภัทราวดี ศรีไตรรัตน์ with her two children, Khomapat Attaya, Ratanaporn Intarakamhaeng, Sompong Phonmitr, Sulaleewan Suwanthat, ruffian เมือง อพอลโล่... People were allowed to smoke in buses before. Some ruffians try to stop the bus and chase them. Shootout occurs. Strangely, Lak has a M16 in his instrument case and uses it to push back ruffians. He then threatens passengers to rob them. Krung tries to stop him, but two other acolytes with Lak neutralize him. The bus is stuck in mud due to heavy rain. Passengers push the bus and a fight occurs. Lak is about to shoot Krung, but Naowarat shoots him first. The bus continues its trip, but is stopped again. This time, they are stopped by professional robbers and brought to a remote camp. Sorapong and Krung agree to flee. At nighttime, they neutralize the guards. Fighting and shooting occur. Some bus passengers are killed, such as ภัทราวดี and Sayan. Robbers and other groups chase the bus to get revenge. More passengers are killed, but they succeed to flee. Through the radio, they do learn that there is a ruffian among them, who placed a time bomb in the bus. It is hidden inside the aunt's bag, but she is unaware… Pinyo jumps in the water with the bag and sacrifices his life. Doctor Nirut helps Ratanaporn to deliver her baby in the bus.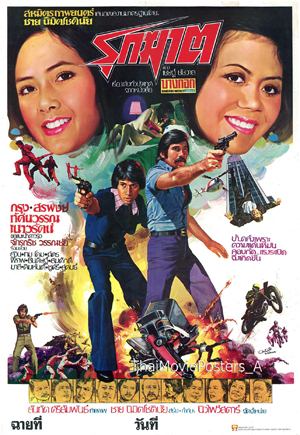 Year

: 1977



Thai title

:

รุกฆาต




English title

:



Rating

: 3/5


Director

:



Main actor

: Krung Srivilai,Sorapong Chatree,Pipop Pupinyo,Sawin Sawangrat,Sukon Koewliam,Chat Mongkolchai


Main actress

: Naowarat Yooktanun,Tasawan Saneewong



Buy now

:

Ruffians are waiting along the road. They rob money from a police van. A young man called Thonglop (Krung Srivilai), driving a truck, is passing by and gets involved despite him. Ruffians want to get rid of him as he is a potential witness. Thonglop takes refuge at his grandmother's (ยาย) home. The grandmother is killed by the ruffians as she refuses to disclose where he is hiding. Thonglop promises to revenge her and is actively looking for the ruffians' leader (ผู้กำกับ). The leader name (หัวหน้าโจร) is Mek. Thonglop meets an old lady friend, Than. Than is Thanoo's daughter (ลูกสาว). Thonglop helps Than and this father aggressed by two ruffians. Thanoo is a business man. Than and Thonglop collaborate to catch Mek. They found that Mek is often going to Khorat in Northeast of Thailand. Thanks to the unexpected help of a taxi driver (Sorapong Chatree), Mek is captured and he discloses that the real leader is in fact Amasadon (พี่ใหญ่). Thonglop uses the taxi driver called Krongket to track Amasadon. A friendship is developing between Thonglop and Krongket. InThira is Amasadon's younger sister. Without knowing it, she is doing some money laundering for Amasadon through a company providing jobs to taxi drivers. Krongket follows Inthira and helps her as two ruffians steal her bag. Thonglop wants to use Inthira as a bait (ตัวประการ) to catch Amsadon. Thonglop keeps Inthira as hostage. Than finds Inthira's bag inside Thonglop's car. So she starts to wonder which game Thonglop is playing. Fake policemen try to catch Thonglop but they face Krongket who resists. Ruffians wish to catch Than to force an exchange with Inthira. Mek and Amasadon start to be divided. A final confrontation between all protagonists shows that Thanoo was the real mafia boss. Ruffians are caught. Both Inthira and Than are safe. At the end, it is finally disclosed that Krongket is a police inspector (สารวัตร). This 1970s movie includes action and humor. It features two 1970s keys actors, i.e. Krung Srivilai and Sorapong Chatree. โอ้มาดา and รุกฆาต movies both released on the same day in 1977. They were the first movies featuring leading actor Sorapong Chatree and leading actress Naowarat Yooktanun together. During the following years, they played 100 movies together!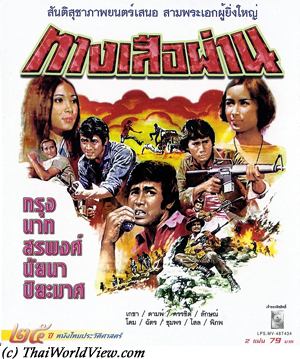 Year

: 1977



Thai title

:

ทางเสือผ่าน




English title

:



Rating

: 3/5


Director

: Choomporn Theppitak



Main actor

: Krung Srivilai,Nard Poowanai,Sorapong Chatree,Pipop Pupinyo,Lak Apichat,Dam Datsakorn,Kecha Plianvithee,Chat Mongkolchai,Kanchit Kwanpracha,Choomporn Theppitak


Main actress

: Piyamas Monayakol,Naiyana Shewanan
Krieng (เกรียง - Krung Srivilai) and Krai (ไกร - Sorapong Chatree) are brothers. They have a sister called Kaew. The third brother is away. They are part of a poor family and their father is sick. Ruffians are terrorising the local villagers (ปล้อนบ้าน). Krieng and Krai want to report a killing (แจ้งความ) to the village headman but he is out of town. The village headman has two children, Sarapee and her brother Han (หาญ - Dam Datsakorn). Han uses a lot of bad influence (อิทธิพล) and is always accompanied by ruffians. Han is committing extortion under the name of Seua Hin (เสืออินทร์). Sarapee is Krieng's love. Some villagers refuse to sell their land to Boonthong (บุญทอง), a local rich businessman. Boonthong is using Han to push them. He has a beautiful daughter called Angkap (อังกาบ - Piyamas Monayakol). Angkap is Krai's love (นางฟ้ามาแล้ว). Han doesn't appreciate his sister to go out with Krieng so this one is beaten by ruffians. Han also loves Angkap. Han is collaborating with Boonthong. Angkap is promised by her father to Han. The third son, Kan (กาญจน์), played by Nard Poowanai, is back. While Krieng and Krai are working in the fields, Kaew and the father are killed. The three brothers are looking for revenge. The village headman is not aware that his son is smuggling with Boonthong. Ket (เกตุ – Lak Apichat) is one of Han's ruffians but he has a nice heart and always warns Angkap if something fishy is under preparation. Han is always looking for arguments with Krieng even during a temple fair. Han uses Ket to shoot Krai in the back while performing Thai folk dance (รำวง) as he is jealous of his relation with Angkap. Ket is playing double game as a fake bullet is used to shoot Krai. Ket warns Angkap that Han plans a night attack to get rid of Krai. Warned by Angkap, the three brothers prepare a surprise for Han and his ruffians. The ruffians fall in a trap and only Han and a few guys escape death. Han takes revenge over Ket by raping and killing his wife. Ket recognizes that Han's missing short button is the one he found near his wife's dead body. Following fist fights and car motorbike chase between Ket and Han, Han finally succeeds to flee. Han kills Boonthong to get his money and recruits more mercenaries. The three brothers and Ket are ready to fight back but they need to face 50 ruffians having M16 guns. Police lead by Mot is coming to help. Ruffians take Sarapee as hostage. A final face to face between the father and Han, the ruffian son, happens. Following a misunderstanding the village headman shoots his own son. Ket also dies. It is moralist ending. Ket is an unknown hero and law remains stronger than filial bonds. It is a 2h03mn movie. This movie features the new 1970s generation of Thai leading actors, i.e. Krung, Sorapong, Nard (สามพระเอกผู้ยิ่งใหญ่).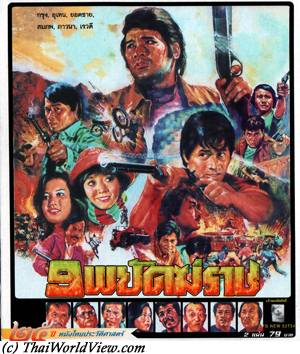 Year

: 1977



Thai title

:

9 พยัคฆ์ราช




English title

:



Rating

: 2/5


Director

:



Main actor

: Krung Srivilai,Yodchai Meksuwan,Uten Boonyong,Pinyo Parnnui,Sithao Petcharoen,Somphob Benjatikul,Sompong Phonmitr


Main actress

: Pawana Chanajit,Rewadee Pattaphong
This movie is one of the many Thai action movies released during decade 1970s. This movie involves a quatuor of famous Thai actors, i.e. Krung Srivilai, Yodchai Meksuwan, Uten Boonyong, Pawana Chanajit. Side characters are Pinyo Parnnui, Sithao Petcharoen, Somphob Benjatikul as a ruffian, Sompong Phonmitr. The daughter Kaessini (Rewadee Pattaphong) is back. She succeeded getting an university diploma. She wishes to use her knowledge for the benefits of the villagers. The villagers have serious issues with local ruffians. Krung is coming from Bangkok. Krung beats a few ruffians. Yodchai Meksuwan is playing a fake medium and provides fake medicine (ยาเทวดา). Yodchai is recruited by Krung. Thugs leader wants to force villagers to sell their land. As they refuse, he kidnaps Pawidee (Pawana Chanajit) in front of her father (Sompong Phonmitr). Shootings happen at the teacher's home. The movie sold by Lepso VCD company seems incomplete or cut as the release of Pawidee is not shown. Frequent fightings happen between ruffians (นักเลง) and Uten and Sa ong. Similar to The Magnificent Seven movie, Krung and his three friends resist to the ruffians. As the ruffians prepare a plan to kill them, Krung prepares a strike back offensive. Ruffians are the ones to fall in a trap. Heavy fightings and shootings happen. All ruffians are defeated or killed. Sa ong is killed. Movie '9 พยัคฆ์ราช' was released in year 1977 and lasts 1h43mn. The Lepso VCD has an horrible sound. Thai action movies were very popular in decade 1970s. This movie gathers many famous stars (Krung Srivilai, Yodchai Meksuwan, Uten Boonyong) but the result is average.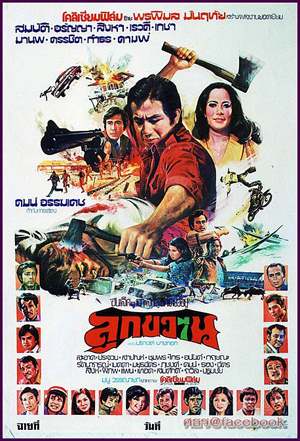 Year

: 1977



Thai title

:

ลูกขวาน




English title

:



Rating

: 3/5


Director

: Kom Akadej



Main actor

: Sombat Methanee,Kom Akadej,Dam Datsakorn,Choomporn Theppitak,Sahat Piempongsan,Kecha Plianvithee,Krai Kanchit,Chat Mongkolchai,Lak Apichat,Prachuap Ruekyamdee,Kamthorn Suwanpiyasiri,Kanchit Kwanpracha,Manop Aussawathep,Pipop Pupinyo,Somsak Chaisongkram,Sayan Chantaraviboon,Chana Sriubon


Main actress

: Aranya Namwong,Ratanaporn Intarakamhaeng,Metta Roongrat,Rewadee Pattaphong
ลูกขวาน is a Thai movie released in year 1977. It lasts 1h54mn. This action movie, directed by director Kom Akadej, features a great bunch of Thai actors. Sing A (Sombat Methanee) arrives too late as his father Nae Klam died already. His father was a big mafia boss (นักเลง) so smaller bosses (Chun - Dam Datsakorn, Kam - Choomporn Theppitak, Pon - Sahat Piempongsan, Krong - Kanchit Kwanpracha) want to become the leader instead. The movie features fighting between those smaller bosses in order to become the big boss. Back from overseas, Sing A is welcomed by KoLit (Kecha Plianvithee) and by his mother (Ratanaporn Intarakamhaeng). Krai Kanchit challenges Sing A but as he is defeated, he finally joins Sing A's team. Ruffians are using axes (ขวาน) for fighting so giving the movie name, i.e. ลูกขวาน, "axe child". Many groups want to get rid of Sing A. Prachom (Lak Apichat) gives a hand to Sing A aggressed by motorbikes on the beach. Kam (Choomporn Theppitak), married to Metta Roongrat, is one of the small leader wanting to kill Sing A. Nop (Kamthorn Suwanpiyasiri) and Sai (Prachuap Ruekyamdee) are close friends with Sing A. Sing A finally sympathizes with Nolee (Aranya Namwong), daughter of Nop. Phi Pon (Sahat Piempongsan) and his team start hostilities and take over a mine. Mek (Chana Sriubon) and Wan are having a love affair. Tan (Manop Aussawathep) orders to kill Sing A. KoLit and Mek defeat Pipop Pupinyo and his guys trying to enter in their ranch. Krong is shot and injured by another gang. Tan refuses to work with Phi Pon (ขายหน้า). Chat Mongkolchai and his ruffians attack Mek's house but get defeated by KoLit and Mek following a long boat race. Wedding is happening between Mek and Wan. Chun is looking for troubles during the wedding but gets punched by Sing A. Tan is burnt in his car by Phi Pon's team and becomes blind. As a revenge, Phi Pon gets killed by Kanchit. Tan relearns to shoot using his ears instead of eyes. Pinyo and his ruffians kill Sing A's mother but get axed by KoLit and Mek. Kam is arrested by the police. Aranya has a cancer but Sing A still wishes to marry her. Tan takes his revenge over those who caused the fire making him blind. All mafia leaders are now out of the game except Chun. A feast is organized but Chun's ruffians (Somsak Chaisongkram) are bringing a mess. Honor needs to be washed with blood (เลือดต้องล้างกับเลือด). Chun's house is stormed and Chun himself is killed but remaining people including Sing A get caught by police. This Kom Akadej's movie is a non stop action movie featuring around twenty key actors / actresses from decade 1970s.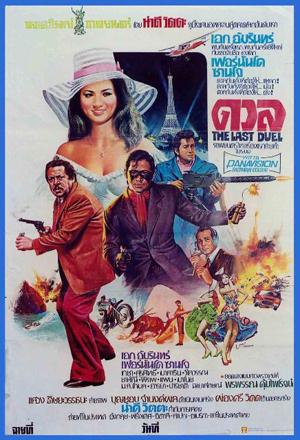 Year

: 1977



Thai title

:

ดวล




English title

: The last duel



Rating

: 2/5


Director

:



Main actor

: Ek Amarin,Kecha Plianvithee,Chanee Yotchai,Paen Pleumsachai,Pipop Pupinyo,Surasit Sattayawong


Main actress

: Wilaiwan Watthanaphanit
Thai movie ดวล (The last duel) was released in year 1977. It lasts 1h31mn. It seems that the movie was never released on VCD or DVD but only shown on Thai TV channel 11. The soundtrack is unfortunately very bad and barely audible. It features a bunch of actors always playing ruffians such as Kecha Plianvithee, Chanee Yotchai, Paen Pleumsachai and Pipop Pupinyo. Ek Amarin (เอก อัมรินทร์) is the main actor. Kecha and Surasit Sattayawong are friends with an overseas ruffian. They kill a couple to steal money and also take their daughter. Their teenage son promises to get revenge. 20 years have passed. Kecha's birthday is happening. Narin from France is present. Ek spoils the party and promises to get revenge against the ruffians one by one. He finally gets stopped by Narin (ไม่น่าเป็นโจร). Ek reverses the situation and brings Narin in a cave as a prisoner. He finds that Narin has a necklace and a birth tattoo on her back showing that she is his lost sister separated from him when their parents were killed by ruffians. Ek gets rid of Chanee and Surasit through duels. He also kills Pipop in one to one duel. One of the overseas ruffians leaders is chased by speed boat, then by car but Ek gets defeated. Ek is tortured, attached to a pole and left for dead. He is finally released by Narin. Ek is then chased by a motorcycle, a helicopter and then a F1 car but still survives! Finally Ek shots also Kecha. The movie moves to Spain into a with a five minutes corrida sequence that looks like more a documentary. He also shots the last ruffian, who was a Spanish citizen. Revenge cycle is over. This movie got limited success despite bringing some foreign stars. Ek Amarin is also less famous than other Thai cinema stars of the 1970s decade.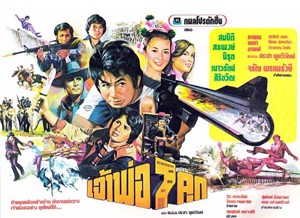 Year

: 1977



Thai title

:

เจ้าพ่อ 7 คุก




English title

:



Rating

: 3/5


Director

:



Main actor

: Sombat Methanee,Sorapong Chatree,Chaiyan Sorakrai,Kecha Plianvithee,Dam Datsakorn,Pipop Pupinyo,Manop Aussawathep,Nirut Sirijanya,Surasit Sattayawong


Main actress

: Naowarat Yooktanun,Sirikwan Nanthasiri
Thai movie เจ้าพ่อ 7 คุก was released in year 1977. It features two major Thai cinema stars together, i.e. Sombat Methanee and Sorapong Chatree. The remaining sequence lasts 1h22mn. Papum (Sombat Methanee) succeeds to escape from prison four times but he is recaptured by the Thai police each time. Sorapong is a soldier. Chaiyan Sorakrai as another soldier gets killed in the fightings. Sorapong is married and has one kid. While he is fighting at the border, his father is killed and his wife is raped by ruffians led by Jit (Kecha Plianvithee) and including Ming and Pipop Pupinyo stealing the cattles. Sorapong finds Pipop and kills him. Before he learns from Pipop that Ming is now in jail so Sorapong surrenders to police in order to be sent to jail. Sorapong ends up in same jail as Papum, who is still trying to escape (นักโทษวิเศษ). He also befriends with Ming. The three guys now prepare to escape. There is a famous scene, where Sombat as prisoner smashes a rat and eats it raw. The three men succeed to escape through some pipes thanks to a file given by Sorapong to Papum in order to cut his chains. After obtaining information on Jit, Sorapong kills the ruffian Ming following a one to one fight. Papum and Sorapong go to north of Thailand to find Jit. They join a group including พ่อเลี้ยง Chawalit (Manop Aussawathep), Nirut Sirijanya and Malee (Sirikwan Nanthasiri). They go through the mountains by small paths. Papum meets Naowarat Yooktanun. Love emerges. Surasit Sattayawong is the hill tribe village leader (ผู้ใหญ่). Two groups are exercising influence, i.e. Jit and Chawalit, around the mountains. Meiyo, Naowarat's younger brother, is shot by Jit's ruffians as he listened to them talking about Papum and Sorapong. Malee has disappeared. The two groups prepare to fight. Nirut releases Malee but they are chased by ruffians. Malee gets shot and dies. Papum and Sorapong escape murder tentative. The two groups confront each other and heavy shootings happen. Final fights between Papum and Dam Datsakorn, between Sorapong and Jit occur. Naowarat helps Papum. Sorapong kills Kecha but gets severly injured and dies. Papum ends up 10 years in prison but Naowarat waits for him. This movie features an impressive list of famous Thai actors and actresses from decade 1970s.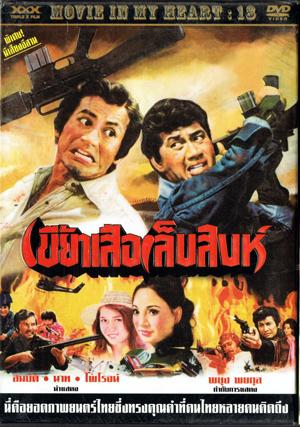 Year

: 1977



Thai title

:

เขี้ยวเสือเล็บสิงห์




English title

:



Rating

: 3/5


Director

: Payoong Payakul



Main actor

: Sombat Methanee,Phairoj Jaising,Nard Poowanai,Dam Datsakorn,Pipop Pupinyo,Pan Borapet


Main actress

: Rewadee Pattaphong



Buy now

:

Thai movie เขี้ยวเสือเล็บสิงห์ was released in year 1977. It lasts 1h48mn. Director is Payoong Payakul. Atit (Sombat Methanee), a mercenary (ทหารรับจ้าง) is back to his village in Isan. His father was kidnapped. Some ruffians try to kill him but Atit is faster to shoot them. He meets his old friend Akan (Phairoj Jaising), now Turkish bath manager. Seua Suk (Dam Datsakorn) and Pan Borapet storm the school as village header Thong complained to the police about their ruffians' activities. Teacher (Rewadee Pattaphong) is his daughter. Mokara (Nard Poowanai), a policeman, acting as a telecom company employee, hides a microphone inside Mien Wo's phone. Athit helps Mokara, aggressed by three ruffians, so they sympathize. He promises to help to find his kidnapped father. Mokara identifies that Mien Wo is the ruffians' leader (นายผู้หญิง) behind the kidnapping. Mokara requests the help of Seua Suk to identify ruffians around. They accept to work together. Upset by this, Mien Wo's team kidnaps the daughter of the village leader Thong to have a guarantee (ตัวประกัน). The dream team composed of Athit, Mokara, Akan, Seua Suk and others prepare to storm the ruffians' place. Pipop Pupinyo is leading the resistance but ruffians are defeated. A foreigner, Athit's friend, tries finally to betray him and to flee by helicopter with the father. Following a daring fight, the foreigner falls from the helicopter but Seua Suk dies while helping Athit. The DVD movie is certainly composed of two sets of partial reels as sometimes the image is colorful and sometimes it is reddish.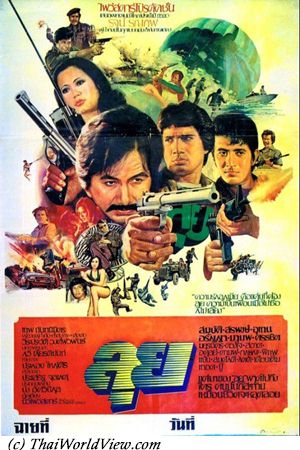 Year

: 1977



Thai title

:

ลุย




English title

:



Rating

: 5/5


Director

: Ruj Ronnapop



Main actor

: Sombat Methanee,Sorapong Chatree,Kanchit Kwanpracha,Pipop Pupinyo,Somsak Chaisongkram,Uten Boonyong,Paen Pleumsachai,Dam Datsakorn,Adul Dulyarat,Boo Wibunnan,Sahat Piempongsan,Manop Aussawathep


Main actress

: Mayurachath Muarnprasitivej,Duangjai Hathaikarn,Aranya Namwong
Thai movie ลุย was released in year 1977 and lasts 2h03mn. It was released under VCD format by company Solar Marketing. A remastered version was released by Five Star Production in the decade 2010s and shown on Thai TV cable. Movie director is Ruj Ronnapop. Lui (Sombat Methanee), Nai (Kanchit Kwanpracha), Lui's Father, Pipop Pupinyo, Somsak Chaisongkram, Deuan (Uten Boonyong) are part of a secret mafia organization. Paen Pleumsachai and his men attack Deuan. Lui and other colleagues arrive to help but his father dies in the fighting. Lui is a hitman in the organization. Lui is married to Sai Nam (Mayurachath Muarnprasitivej). Fed up to be a hitman for 10 years, Lui has decided to stop in order to take care of his wife Sai Nam and his son. He informs his friend Deuan. The secret organization (องค์การ) is not willing to let him go so easily as he knows all the internal secrets. They send two hitmen to kill him. They fail but, before being shot, one of them lies that Deuan is the one who disclosed Lui's location. Another three hitmen led by Somsak are sent but are also killed by Lui. The organisation asks Nai to manage but he refuses as he believes Lui has done nothing wrong. The organisation decides to send Nai to Hong Kong as they lose some trust with him. Ruffian Tio shall be the one to manage Lui. Kanchai Insree (Dam Datsakorn) is hired by Tio (Adul Dulyarat) to kill Lui as Deuan refuses to do the job. A bomb is put in his car. Unfortunately, his wife and son are killed. Lui shoots Deuan as revenge as he believes he is the culprit. Lui takes Boi, Deuan's son, to raise as his own son. Aunt Dou (Duangjai Hathaikarn) is helping. Boi reveals the truth to Lui, i.e. Deuan was beaten as he refused to kill Lui. Pipop and others are killed by Lui. Kanchai is also killed but before dying, he shouts to Boi that Lui is the one, who killed his father Deuan. Lui meets Prakasit (Sahat Piempongsan) by luck in a mall. Chasing happens but Lui spares his life as Prakasit hides behind his daughter. They take refuge in Kanchanaburi. Boi grows up there and learns how to shoot. He is played by Sorapong Chatree. Lui is now having a moustache. Ruffians led by Tio are still looking for Lui. Tio is having good time with girls managed by แม่ Soi (Aranya Namwong). Tio is killed by Lui. They invest in a Pattaya hotel by buying shares in order to prepare a future for Boi, Aunt Dou and Soi. Boi meets a young lady Not (เดือนเต็ม สาลิตุล) looking for a hotel room with her friend Metta. Nai is back from Hong Kong. Three ruffians' leaders are left. Metta is Sakdan's son trying to identify where Lui is hiding. Lui is warned by Soi. Lady Not is Prakasit's daughter. Lui takes care of Sakdan. Kamphet (Manop Aussawathep) kills Soi as she refuses to disclose where Lui is hiding. Nai arrives at the hotel. Boi hears Lui and Nai talking together and that Lui killed his father Deuan through a misunderstanding. He wishes to kill uncle Lui as revenge despite Aunt Dou explaining to him. Thanks to Metta, ruffians now know where Lui is hiding. Boi is willing to shoot Lui and Lui accepts it. He uses an empty gun to shoot the man, who killed his father, but cannot shoot the uncle, who raised him. Ruffians storm Lui's place. Both Nai and Lui are injured. They chase Boi away. Boi faces Metta and is knocked out by him. Nai is shot by ruffians. Lui is shot multiple times by ruffians. Ruffians are celebrating their victory. On his last breath, Lui shoots at the explosives he put under his house. Ruffians are wiped out. Lui dies in Boi's arms.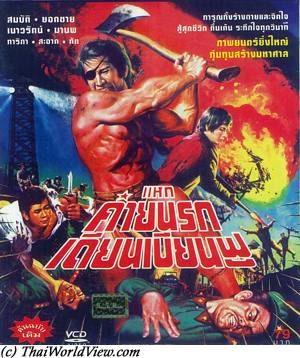 Year

: 1977



Thai title

:

แหกค่ายนรกเดียนเบียนฟู




English title

:



Rating

: 2/5


Director

:



Main actor

: Sombat Methanee,Nard Poowanai,Yodchai Meksuwan,Sor Asanajinda,Manop Aussawathep


Main actress

: Naowarat Yooktanun
During Dien Bien Phu battle, a few Thai soldiers are captured and imprisoned in a Communist Vietnamese working camp. They face difficulty through hard labour and few food given. Those who try to escape are killed. Rivalries appear between inmates, especially with those collaborating with the Vietnamese wardens. Life is hell there. The head of the working camp is a sadist. Thai inmates decide to flee. After a hard battle inside the camp, they need to reach the border to be safe but the head of the working camp has not given up...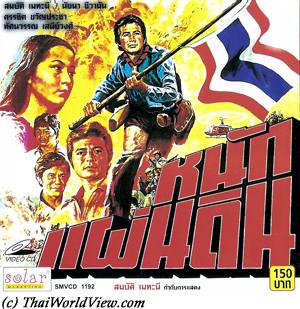 Year

: 1977



Thai title

:

หนักแผ่นดิน




English title

:



Rating

: 4/5


Director

: Sombat Methanee



Main actor

: Sombat Methanee,Prachuap Ruekyamdee,Kanchit Kwanpracha,Lak Apichat,Manop Aussawathep


Main actress

: Naiyana Shewanan,Tasawan Saneewong



Buy now

:

Ruffians attack a bus and put fire into it. Hopefully military can help on time but some passengers die. Who was behind the ruffians? A local villager Chat is having financial difficulties. Nemana and Data, owners of the local sawmills, lend money to poor people with high interest. Chat bought a truck. He is close friend with Tai (Sombat Methanee), who is a village scout (ลูกเสือชาวบ้าน). The Village scouts was a right-wing group sponsored by the King and Queen of Thailand to promote national unity in 1970s. Villagers are helping each other. Due to debts (หนี้) Chat needs to give his rice fresh crop to Nemana. Poor (จน) people just work for the rich! Nemana gives him back the truck against his wife's rice fields guarantee and allows him to cut trees in forest. He befriends with Prachan, who is Nemana's close associate. Despite Nemana's promise, some other ruffians try to catch Chat so he has to fight back for his life. As he shots two men, he has to flee to Bangkok. They lie to him as the ruffians are not dead. He is driving a taxi in Bangkok. He gets framed by Prachan who puts drugs in his car (เล่นละคร) in order to increase Chat's dependence to him as Chat needs to pay back his gratitude. He accepts to join their team. Nuan and Tai marry. Chat, due to easy money and lust, forgets his pregnant wife Bua (กรุงเทพสวรรค์คนมี นรกคนจน, คนลืมตัว). Back to the village Chat complains about the corruption of officials and how to benefit from it! Tai wishes to fight against this corruption that is bad for the country, fight against the bad parliament members. Tai and Chat disagree so fight (คนโทรยศแผ่นดิน). Nemana and Tai have a disagreement regarding rice selling. Tai pushes his democratic concept as villagers can sell to anybody (สหาย). It is democracy versus communism. Nemana proposes to share power and influence (แบ่งอำนาจ). As Tai refuses, they kidnap Nuan, his wife, who is teacher in order to force Tai to join them. Tai refuses their ultimatum and decides to act at nighttime. Faced to a Buddha statue, Tai prays in front of the Thai King and Queen pictures. Thai Buddhism, the monarchy and the nation were high symbols against Communism in 1970s. Patriotic songs are played in the background (รักชาติ). Tai has to use a floating wing similar to a hang-glider to enter silently their camp. He succeeds to release Nuan but they are captured while trying to escape from the camp. Chat's mother dies on a mine while trying to convince her son (คนขายชาติ) to release Tai. Through his treachery he loses his mother (สร้างกรรม). He changes side so frees Tai and Nuan. Chat dies while holding the Thai flag. Tai takes over the Thai flag. Meanwhile villagers holding Thai flags and singing patriotic songs go towards the camp. Thai army is joining them. The ruffians are defeated and some of them injured or killed. Through high compassion, soldiers give help and priority to treat them. Tai successfully removes the red (communist) flag and replaces it by the Thai flag generating cheers and dances. The song "Nak Phaendin" was released in 1975. It is was a patriotic song (เพลงปลุกใจ) against the communist influence (คอมมิวนิสต์). During 1975-1980 years, Thailand was surrounded by Communist countries (Laos, Cambodia, Vietnam) and was at high risk to fall also. This movie from an historical point of view shows nicely this trouble period and how the government propaganda was done.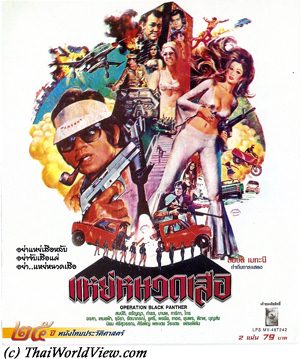 Year

: 1977



Thai title

:

แหย่หนวดเสือ




English title

: Operation Black Panther



Rating

: 3/5


Director

: Sombat Methanee



Main actor

: Sombat Methanee,Manop Aussawathep,Pipop Pupinyo,Kamthorn Suwanpiyasiri


Main actress

: Aranya Namwong,Moeifa,Tharika Thidathip



Buy now

:

Cheutchai (Sombat Methanee) spends a lot of time to read James Bond novels so behaves similarly and weirdly (บ้าๆ บอๆ). This movie reminds of French movie "L'animal" with Jean-Paul Belmondo. Cheutchai is mistaken as another Cheutchai by some ruffians at Bangkok airport. He is brought to a meeting of a mysterious secret organisation (องค์กร). They are all wearing animal mask to hide their real identity and call themselves by number. Traitors are killed by a black panther. Cheutchai is given a mission by sexy number 9, Sareuthai, to kill a politician. He is recruited as a hitman but doesn't shoot the politician so causing the ruffians' ire. He flees through a two driving sides Mini British car. There is a car chase through Bangkok, then until the top of the Golden Mountain and then through a side car. Cheutchai needs to hide in a brothel to escape the ruffians and then in a gogo bar. He finally flees with dancer Aranya and takes refuge in her home. Cheutchai asks help from Sareuthai. She suggests him to kill the organisation leader and gives him the building map. Sareuthai is later killed by the black panther due to her betrayal to the organisation. Cheutchai decides to enter in the building at nighttime but he is captured. Being joked on his qualification as Thai scout (ลูกเสือ), he punches back. During 1970s the Thai scout organisation was seen as a protector of Thai kingdom against external threats such a red communists. He succeeds to escape thanks to Aranya. Police arrives on time to rescue them. Cheutchai and Aranya neutralize the organisation leaders (ทำร้ายชาติ) at Don Meuang airport. In 1976 Don Meuang airport was still used for international travel. Aranya was in fact an uncovered policeman. This movie is a mix of action and comedy. The VCD includes two soundtracks. The second soundtrack in Isan language adds many oral jokes absent in the original Thai soundtrack. The movie features also a funky 1970s music soundtrack. It is produced by "Methanee film" company and Sombat Methanee is also the film director. It is a two hours movie.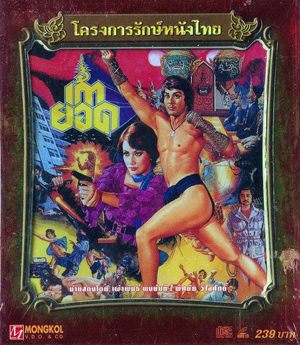 Year

: 1977



Thai title

:

เก้ายอด




English title

:



Rating

: 3/5


Director

:



Main actor

: Phaophan Phongnathee,Tat Ekathat,Krai Kanchit


Main actress

: Pissamai Wilaisak,Sirikwan Nanthasiri,Metta Roongrat
Thongchan (Phaophan Phongnathee - เผ่าพันธุ์ พงษ์นที) takes part successfully in a harsh training camp. He wishes to take part in a specific mission but is rejected and even imprisoned. He decides to flee. He escapes the base thanks to a plane. Lady Arunee (Metta Roongrat) (คุณหญิง) is married to Thongchai, an influential politician. Tat (Tat Ekathat), friend of Thongchai, is organizing his protection. Despite this protection, a murder tentative through injection is done on Thongchai. His son Thongchan is back and accuses Arunee but he gets arrested by Tat. Thongchan succeeds to flee. He gets involved in a political protest. Traitors (คนขายชาต) are trying to bring insurrection (วินาศกรรม) in Thailand. Ratchada (Pissamai Wilaisak) is distributing leaflets during protests and discovers a bomb. She is kidnapped by the ruffians. Witness of the kidnapping, Thongchan helps Pissamai as she is thrown away from the van driving at full speed. Thongchan rescues Pissamai and brings her to a safe hotel room. Ruffians use poisonous spiders to try to kill her but it fails. A mysterious organisation (องค์การ เก้ายอด) is using drugs to convince young people to follow them. Members wear Yak (ยักษ์) mask. A mysterious leader tries to stop Ratchada and Thongchan but they succeed to escape. Real 1973 or 1976 protests footage are used. Protests are politically motivated (ศัตรูของชาติ). The organisation has no pity for its own member as Thomas Cheng (Krai Kanchit) and Nancy (Sirikwan Nanthasiri) get killed. Arunee is also strangled. Tat is identified as the traitor leader. It turns ugly when Thongchan, Ratchada and Thongchan's father, Thai PM, are kidnapped. To avoid signing papers giving full power to the criminal organisation, the father sacrifices his life to release his son. Through a final confrontation, Thongchan, Thai boxing expert, defeats the ruffians using his martial arts skills. Thai Army arrives on time. The hidden den explodes and finally it is revealed that both Thongchan and Ratchada are undercover secret service officers. Thai movie เก้ายอด was released in year 1977 just a few after the tragic events of 1976.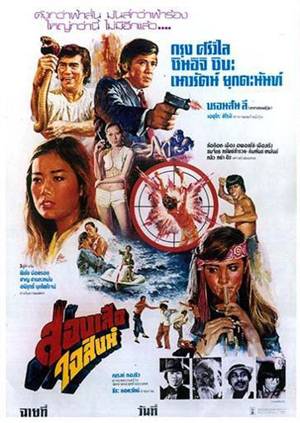 Year

: 1977



Thai title

:

สองเสือใจสิงห์




English title

: Soul of Bruce lee



Rating

: 3/5


Director

:



Main actor

: Krung Srivilai,Sonny Chiba


Main actress

: Naowarat Yooktanun,Somjit Sapsamruey
At the Thai border, Sonny's parents are killed by ruffians. He promises to take revenge. He gets a training in a martial arts camp. Sonny (Sonny Chiba) is now an adult. His master is assassinated by Sam, a former disciple. Sonny finds him but gets defeated. While being seriously injured, he is cured by a young hill tribe lady called Lipa (Etsuko Shihomi). Krung (Krung Srivilai) arrives to Bangkok by airplane. He has a meeting in Pattaya to deliver some diamonds. The ruffians try to double him through a mysterious man called Mr Chan in Hong Kong. The ruffians leader tries to put a beautiful Chinese girl in Krung's way but it is not enough. Krung flees away with the drug and money but gets severely injured. Naowarat Yooktanun has also a small role and is taking care of Krung while he is sick. Krung has been separated with his mother (Somjit Sapsamruey) twenty years ago. Meanwhile the ruffians team leader tortures a policeman (Tadashi Yamashita) but the head of the organisation prevents his thugs to kill him. Sonny helps him to flee. Some ruffians are looking for troubles with Sonny. Krung comes back to help Tadashi and releases him. While fleeing through a daring operation including parasailing, Krung gets shot by the head of the organisation. Sonny is now living in a Buddhist temple. He is using electrical training device and needs to eat weird white powder to always calm down. Sonny and the policeman Tadashi get friends. Accelerated electrical shots are used by Sonny as a training in order to improve his muscles reactivity. Lipa (Etsuko Shihomi), young hill tribe lady, is killed while he is away. Sonny and the policeman storm the ruffians island. The old master was in fact the mastermind. The head of the organisation is defeated through a final fight involving Sonny and Tadashi. Without drug to calm down, Sonny finally dies also. This movie is a Hong Kong / Thai / Japan co production and it was released in year 1977. Thai name is สองเสือใจสิงห์. English name is "In the soul of Chiba" or "Soul of Bruce lee". The scenario is bit confusing to follow up but people looking for Sonny Chiba's action scenes won't be disappointed.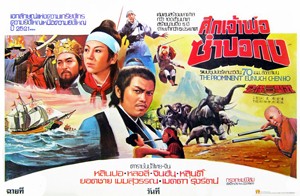 Year

: 1977



Thai title

:

ศึกเจ้าพ่อซำปอกง




English title

: Prominent Eunuch Chen Ho



Rating

: 3/5


Director

:



Main actor

: Yodchai Meksuwan,Lo Lieh


Main actress

: Metta Roongrat
Thai HK movie "Prominent Eunuch Chen Ho" / 鄭和下西洋 / was released in year 1977. It features Thai actors Metta Roongrat and Yodchai Meksuwan. A 7 minutes extract is still available. A Thai monk is kidnapped. Metta Roongrat tries to stop the kidnappers but she is killed. Chief Marshall defeats one of the kidnappers, who flees. The runaway is killed by Lo Lieh. The emperor has been kidnapped (maybe he was hiding in Thailand as a monk).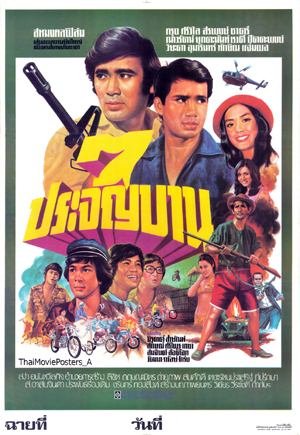 Year

: 1977



Thai title

:

เจ็ดประจัญบาน




English title

:



Rating

: 3/5


Director

: วิเชียร วีระโชติ



Main actor

: Krung Srivilai,Sorapong Chatree,Taksin Jampol,Nirut Sirijanya,Sayan Chantaraviboon,Lak Apichat,Kecha Plianvithee,Somjin Thammatat,Lor Tok,Tawan Siriwat,Pan Borapet,Chanee Yotchai,Krong Kangkengdaeng


Main actress

: Naowarat Yooktanun,Rewadee Pattaphong,Wiyada Umarin
Thai movie เจ็ดประจัญบาน was released in year 1977. Main actors and actresses include Krung Srivilai, Sorapong Chatree, Naowarat Yooktanun, Rewadee Pattaphong, Wiyada Umarin, Taksin Jampol, Nirut Sirijanya, Sayan Chantaraviboon, Lak Apichat, ศรีไพร ใจพระ, Kecha Plianvithee, Somjin Thammatat, Lor Tok, วัฒนา กีชานนท์, Tawan Siriwat, Krong Kangkengdaeng, Pan Borapet, Chanee Yotchai. Movie director is วิเชียร วีระโชติ. The film is lost in Thailand but a sequence in 35mm format can still be seen. The picture is very damaged and reddish. The sound is almost inaudible. It lasts around 50 minutes. During the remaining sequence, the seven mercenaries can be seen. The team includes Krung, Sorapong, Nirut, Lak, Sayan, Taksin and ศรีไพร ใจพระ. They help each other. A mission towards Thai nation is given by their boss. Multiple fighting and shootings against ruffians happen. A romance is happening between Sorapong Chatree and Naowarat Yooktanun. Taksin Jampol is playing famous role of จ่าดับ จำเปาะ role, i.e. a mercenary / a gunman wearing คาดเชือกกล้วย and red pants (กางเกงในสีแดง). The movie "เจ็ดประจัญบาน" was a sequel of movie "หนึ่งต่อเจ็ด" also released in 1977. Movie "หนึ่งต่อเจ็ด" is a lost movie. It featured Krung Srivilai, Sorapong Chatree, Rewadee Pattaphong, Tharika Thidathip, Taksin Jampol, Nirut Sirijanya, Sayan Chantaraviboon, Lak Apichat, ศรีไพร ใจพระ, Aranya Namwong, Kecha Plianvithee, Dam Datsakorn, Adul Dulyarat, อัศวิน รัตนประชา, Pipop Pupinyo, Siripong Isarangkul, Pramin Jarujareet, สมุย. It was a remake of the previous version released in 1958. Thai movie "หนึ่งต่อเจ็ด" (1958 version) featured Surasit Sattayawong, Wilaiwan Watthanaphanit, วิภา วัฒนธำรงค์, Sarinthip Siriwan, Adul Dulyarat, Sor Asanajinda, ทม วิศวชาติ, สมชาย ตันฑกำเนิด. Movie director was Sor Asanajinda. It is a movie mixing action and comedy. The movie made more than one million THB.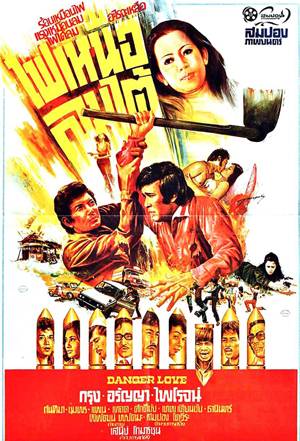 Year

: 1977



Thai title

:

ไฟเหนือลมใต้




English title

: Danger Love



Rating

: 3/5


Director

:



Main actor

: Krung Srivilai,Phairoj Jaising,Choomporn Theppitak,Thep Thienchai,Pan Borapet


Main actress

: Aranya Namwong,Kantima Daraphan,Janthana Siriporn
Thai movie ไฟเหนือลมใต้ was released in year 1977. It features Krung Srivilai as main actor and Aranya Namwong as main actress. The movie is lost in Thailand but a sequence of 1h01mn remains to be seen. Sia (Choomporn Theppitak) is playing pool. Krot (Krung Srivilai) arrives in the game room and shoots him. He then flees. Sia killed Krot's whole family so Krot is taking revenge. Chit (Phairoj Jaising) is upset that his older brother Sia was shot by Krot, a close friend. Chased by ruffians, Krot succeeds to flee by a train going to Hat Yai. A hitman called Takro is killing many people. He finally gets killed due to a trick played by 3 ladies including Linda (Janthana Siriporn) (ไม่น่ามาฅายเพราะว่าข่าอ่อนแบบนี้เลย). The local mafia leader needs to find a new hitman and asks for Krot. Meanwhile Chit finds Krot again and gives him a lesson as he is drunk. Krot succeeds to flee thanks to a taxi driven by Aranya Namwong. Aranya finds a woman picture in Krung's jacket pocket. Probably his former wife killed by Sia. Krot shots 3 drugs traffickers. Chit still tries to catch Krot and a fighting happens on a moving truck. Aranya is in fact a policeman. Krot shots Aranya with a sniper rifle despite Aranya saw him. Krot flees and boards a plane to Chiang Mai. His co passenger is similar to Aranya! Her father just died. Two songs are featured in nightclubs. Linda is also killed by Krot. Aranya is surprised that he is so cruel (หน้าตาดีแต่ใจโหดร้าย). Krot is a professional killer (มือปืนรับจ้าง). Police wants to get him alive to know who are the sponsors behind (ผู้ติดต่อ). So Aranya is assigned to this dangerous task. The remaining sequence ends up here. It could be that Aranya plays two roles. Other actors are กันทิมา, แพน, เทิด, ศักดิ์ชัย, ธานินทร์. A summary of the movie is still available through old Thai stars magazines.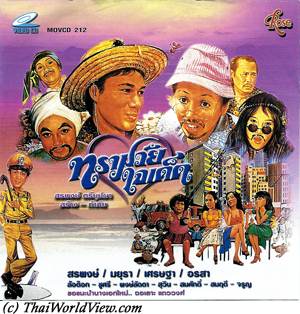 Year

: 1977



Thai title

:

ทรามวัยใจเด็ด




English title

:



Rating

: 3/5


Director

:



Main actor

: Sorapong Chatree,Lor Tok,Settha Sirachaya


Main actress

: Mayura Thanabutr
Four young women want to become policemen. They face harsh selection inside the police school. One of them is coming from a wealthy family but still wants to be a policeman same as her father. The trainer is aware of this and is helping them though gags during the selection and their first assignments.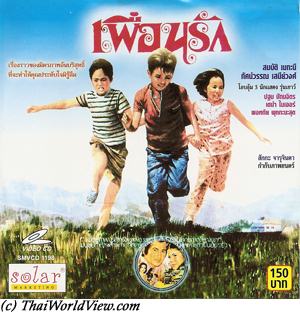 Year

: 1977



Thai title

:

เพื่อนรัก




English title

:



Rating

: 3/5


Director

:



Main actor

: Sombat Methanee


Main actress

: Tasawan Saneewong
It narrates the pure friendship story between two young boys and one young girl. They flee to Bangkok in order to try to find one of the boy's mother. During their journey, they discover the adult world, suffering, separation and death.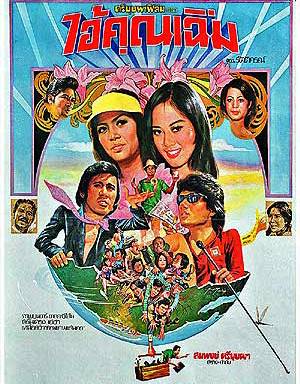 Year

: 1977



Thai title

:

ไอ้คุณเฉิ่ม




English title

:



Rating

: 3/5


Director

:



Main actor

: Sorapong Chatree,Krung Srivilai,Lor Tok,Rith Luecha,Kanchit Kwanpracha,Sayan Chantaraviboon


Main actress

: Naowarat Yooktanun,Mayura Thanabutr
Three beggars are friends and helping each other. One is polishing shoes, one is singing, one is simulating being a blind man in order to be able to sell lottery tickets. One of them has opportunity to work for a businessman and starts a romance with the businessman's daughter. Another one is courting another businessman's daughter. A local mafia gang is kidnapping the two businessmen. Police promises to help but the local police head is part of the mafia gang. The three beggards will manage to release the two businessmen.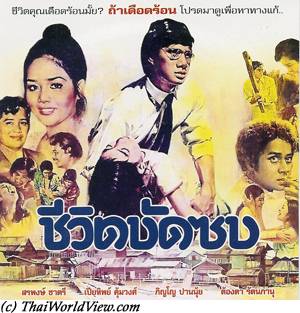 Year

: 1977



Thai title

:

ชีวิตบัดซบ




English title

: Damned life



Rating

: 5/5


Director

: Euthana Mukdasanit,Permpol Choei-arun



Main actor

: Sorapong Chatree,Pinyo Parnnui


Main actress

: Piathip Kumwong



Buy now

:

Teacher Tom and his hairdresser wife Reusi are living in a slum. They have a daughter. Tom is very dedicated to his job and study books every evening. His wife is bored and wishes to have a more exciting life. Following a friend invitation to a high society party, she goes alone as Tom believes it is not his world. There she meets a rich man and becomes her lover. She starts to go back home very late and doesn't go to her daughter's school activities. Following arguments between Tom and Reusi, they finally agree to divorce and Reusi announce to him that he is not the real father of their daughter! The slum is also full of robers and drug sellers. By unfortunate incident, Tom contributes to the arrest of one drug seller. This latter wishes to take revenge on Tom. Reusi is finally dumped by her rich lover. Tom and Reusi finally stay together for the good sake of their daughter and start to have hapiness again. One stormy night when Tom is out for working late, 4 drunk men lead by the drug seller enter in Tom's house, rape his wife and kill his daughter. Tom chases them and kills them one by one but his life is wrecked. What a damned life... This movie about slum dwellers earned Bt1 million at the box office. In 1977 this movie was almost a clone of the popular newspapers' front pages as it dealt with drugs, rape, divorce, violence. Virtue is not rewarded. Sorapong Chatree got his first Thai cinema reward thanks to this movie (ตุ๊กตาทองตัวแรกของพระเอกสรพงษ์ ชาตรี).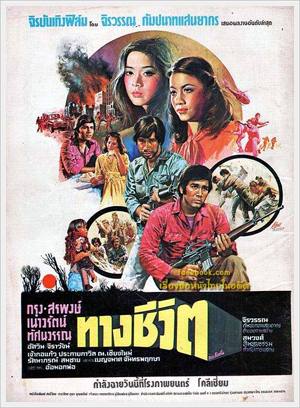 Year

: 1977



Thai title

:

ทางชีวิต




English title

:



Rating

: 3/5


Director

:



Main actor

: Sorapong Chatree,Krung Srivilai,Somchai Samipak


Main actress

: Naowarat Yooktanun,Tasawan Saneewong,Ratanaporn Intarakamhaeng
Thai movie ทางชีวิต was released in year 1977. Main actors and actresses are Krung Srivilai, Sorapong Chatree, Naowarat Yooktanun, Tasawan Saneewong, Ratanaporn Intarakamhaeng, Somchai Samipak. Movie director is สมวงศ์ ทิมบุญธรรม. The movie is lost in Thailand but a sequence in 35mm format can still be seen. The picture is very damaged and reddish. It lasts thirty seconds. During the short sequence, Krung, Sorapong and Tasawan Saneewong can be seen. There is a fighting in a club. Paratroopers are jumping from a plane. A full summary extracted from Thai movies magazines is still available.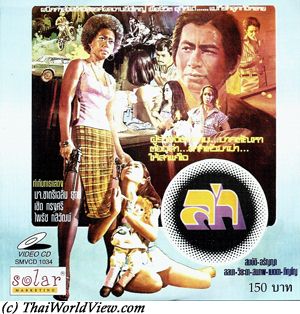 Year

: 1977



Thai title

:

ล่า




English title

: The Hunter



Rating

: 4/5


Director

:



Main actor

: Sombat Methanee,Somsak Chaisongkram,Somphob Benjatikul,Pinyo Parnnui,Lak Apichat


Main actress

: Aranya Namwong,Wiyada Umarin,Lalana Sulawan,Metta Roongrat
A group of ruffians (Pinyo Parnnui) indulging in drugs and alcohol is terrorizing a slum. Mateson (Aranya Namwong) is married to Atisak. They have child called Pheung (Lalana Sulawan). Atisak has a mistress so Mateson has no choice but to divorce. The house remains under Atisak's name as she made the mistake to give him money in order for her parents to believe he was a richer bachelor (ผู้อุปถัมภ์). They have to move in a slum to get cheap rent. They get some support from their aunt (Metta Roongrat). Mateson is looking for a job. Karucha (Sombat Methanee) interviews her. Hearing the unfair rumors on Mateson, he decides to recruit her. Karucha has also a daughter. A fight happens between Karucha and Atisak as they meet in a restaurant. Police, led by police inspector Lak Apichat, is looking for evidence that the ruffians are selling drugs in the slum. Karucha wishes to marry Mateson but she refuses. Meanwhile police shoots the ruffians. Their leader, injured, consigns a bag of heroin to Pheung. When Mateson is back, drug is given to police. Ruffians promises to take revenge on the mother and the daughter. Police is looking after their house. One evening as Karucha couldn't send them back home as his daughter has to be sent to hospital, they get caught in a serious storm and the ruffians catch them inside the slum as the taxi refuses to go up to their home. Both get raped. Mateson still refuses to go in Karucha's home. Pheung remains in a shocked state despite support of the doctor (Wiyada Umarin). The ruffians get released later. Mateson decides to take revenge by herself as men never take responsibility. She frames Atisak in a trap by disguising herself as a black prostitute. Atisak's new girlfriend, being jealous, shoots him. She learns how to make up well. She then shots three ruffians by attracting one of them by playing a junky. All those killings start to have an impact on Mateson's spirit. People start to make a link between the ruffians killings one by one and the number of dolls given to the daughter. Killing happen in atrocious ways such as acid and cut by a train on railway. Two are left, i.e. the leader Yong (Somsak Chaisongkram) and Paew (Somphob Benjatikul). Paew discovers that she is Mateson but finally all die. Mateson has become crazy. She succeeds to kill them one by one but her eager wish to take vengeance leads her to madness. This 2h10mn movie was produced by ChatriChalerm Yukol.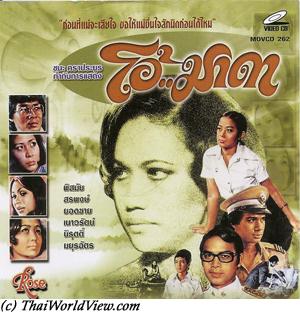 Year

: 1977



Thai title

:

โอ้มาดา




English title

:



Rating

: 3/5


Director

: Chana Kraprayoon



Main actor

: Sorapong Chatree,Yodchai Meksuwan,Nirut Sirijanya


Main actress

: Naowarat Yooktanun,Pissamai Wilaisak,Mayurachath Muarnprasitivej



Buy now

:

It is about a woman, who is tyrannizing her family by imposing her wishes in order to become a lady (คุณหญิง - "KHUN JING"). Fortunately for her family, her dreams are going to fail...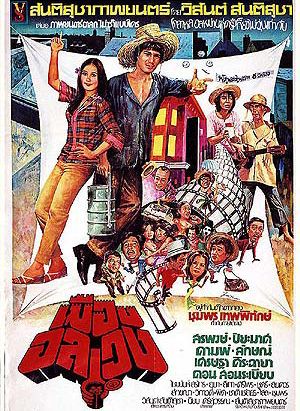 Year

: 1977



Thai title

:

เมืองอลเวง




English title

:



Rating

: 2/5


Director

: Choomporn Theppitak



Main actor

: Sorapong Chatree,Dam Datsakorn,Lak Apichat,Settha Sirachaya,Sithao Petcharoen


Main actress

: Piyamas Monayakol
A young company owner is fed up with life. He is rich and successful but doesn't have real friends. People are only interested in his money. He decides to quit his life and to become a beggar in order to have more freedom. Being a beggar, he meets new friends and become a gardener. Unfortunately a mafia gang is looking for all beggars in the district in order to find him and ask for a ransom. His new friends will help him.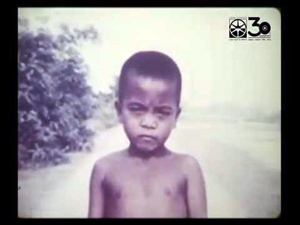 Year

: 1977



Thai title

:

! อัศเจรีย์




English title

: Exclamation



Rating

: 3/5


Director

:



Main actor

:


Main actress

:
Thai short movie ! อัศเจรีย์ was released in year 1977. It lasts 16 minutes. This short movie / documentary is part of the first 25 films heritage list announced on October 4 2011, which is Thai Movies Conservation Day. This movie is about childhood inequality. Some upcountry children do not have chance to eat normally, to sleep normally, to go to school like other children. Parents are not here. Some children need to help in being garbage collectors. There are also references to the Vietnam war. It was directed by สุรพงษ์ พินิจค้า. He sent his short film to participate to Bangkok Bank's documentary contest in year 1977. The jury didn't dare to give the first prize but they also didn't dare to give nothing so it received a special price. The directing style is unique. It is looking more as a photo slide ware than a standard documentary.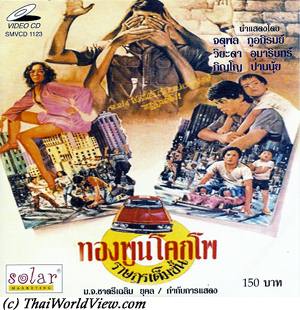 Year

: 1977



Thai title

:

ทองพูน โคกโพ ราษฎรเต็มขั้น




English title

: Taxi Driver (Citizen I)



Rating

: 5/5


Director

: ChatriChalerm Yukol



Main actor

: Jatuphol Poopirom,Pinyo Parnnui,Somsak Chaisongkram,Boo Wibunnan


Main actress

: Wiyada Umarin,Marasri Isarangkul



Buy now

:

Thai movie ทองพูน โคกโพ ราษฎรเต็มขั้น / Taxi Driver (Citizen I) was released in year 1977. Thongpoon (Jatuphol Poopirom) is a Thai farmer coming from Udon Thani and going to Bangkok. Thongpoon sold his rice field in Udon and has spared money during five years to buy a taxi. This taxi represents the future for him and his young son. It is his dream to have his own taxi. Thongpoon is gullible. Rich Bangkok people cheat him by claiming having no change but Taen, a kind-hearted prostitute, gives him a note without asking change back. Her name is Taen (Wiyada Umarin) and she has issues with Somsak Chaisongkram (แมงดา) as she is pregnant. Thongpoon helps chasing Somsak away and becomes her regular taxi driver. He picks up her at her working place (อาบอบนวด). Thongpoon proposes to Taen to take care about his son but not easy to stop such job well paid. Thongpoon meets also Pinyo Parnnui, who claims to be a Thai soldier having fought in Vietnam and now being paralyzed. When his taxi get stolen by bad boys, his life alters. As they also steal his money, he is expelled from his home by his landlord (Marasri Isarangkul) as he cannot pay the rent. He ends up working on a construction site. His goal is to get back his taxi by all means. Pinyo brings him where the ruffians mingle but he gets beaten again. A business card lost allows to identify Boo Wibunnan as garage owner. He then forgets Taen and son. He refuses money from Taen to buy a new taxi as he doesn't want to be a pimp (แมงดา). He storms Boo's garage and kill the ruffians trying to stop him. This madness leads him to prison. This movie highlights the impossible fight between poor and rich influential people, the analogy between the buffalo and the taxi for poor Isan people in Bangkok. Jatuphol Poopirom got a Thai award for his performance. It was his first movie. Sorapong Chatree was supposed to play the main role of Thongpoon but he was not available for the shooting so new comer Jatuphol Poopirom replaced him. As Jatuphol Poopirom died during a car accident in 1981, Sorapong Chatree played the main role in Citizen II. ChatriChalerm Yukol drove around Bangkok for weeks with cab drivers gathering anecdotes for "The Citizen".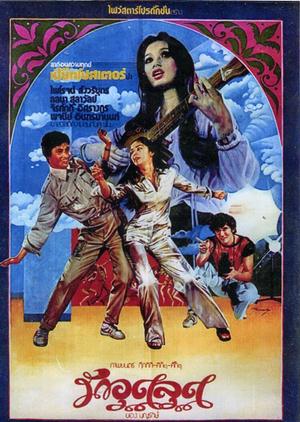 Year

: 1977



Thai title

:

รักอุตลุต




English title

:



Rating

: 3/5


Director

: Piak Poster



Main actor

: Phairoj Sangwaribut,Somkuan Krajangsat


Main actress

: Lalana Sulawan
Tam is now a junior lawyer (ทนายความ) but he wishes to get a new job as he doesn't fit well with lawyer job requirements. He is too nice to be a strong lawyer. While going to his new work, his taxi hurts another car (ขึ้นอุบัติเหตุ). There are arguments as Tam helps the taxi driver to get more damage fees from the rich car owner. The rich owner car is his new boss! So Tam quits his new job. He finds a new job as fire extinguisher seller but it is a failure again (ตกงาน). So finally Tam finds a job as model (นายแบบ) for a modern clothes designer. He meets Nit, a lady working as singer and model. Tam wishes to have friendship only. O starts to be jealous as many ladies like pictures of Tam in magazines. Tam doesn't understand O's reluctance (ไม่เสียอะไรเลย). To challenge him, O becomes a model also but Tam cannot stand other men commenting about his wife. They both stop this job. They finish their model career dancing on a podium with flashy clothes as it was the disco era. Tam still meets Nit but as a friend. Tam is hiding money from his wife as pocket money. Tam knows Nit's elder sister as he is the one to condemn her when he was still a lawyer (กลุ้มใจ). Will this friendship turn into love? Tam starts to go back home late and giving bad excuses. Et, a photographer, also loves Nit. O sees Tam and Nit in a car. Troubles happen (เรื่องใหญ่). Tam argues that Nit is already Et's girlfriend. Nit asks Et to play her boyfriend role to avoid troubles between Tam and O. Finally Nit falls in depression as she loves Tam but Tam is already married. Et helps her to recover and to forget Tam. Tam finally finds a job in Bangkok bank and happy couple life is resumed with O. This is the second opus of Wai On La Won by director Piak Poster. Same recipes as previous movie Wai On La Won (วัยอลวน) are applied, i.e. modern songs such as ชูวับ ชูวับ, use of English words in Thai sentences. The movie made 9 millions baht at the Thai cinema box office.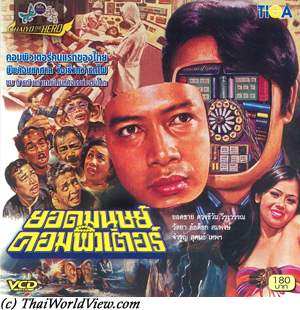 Year

: 1977



Thai title

:

ยอดมนุษย์คอมพิวเตอร์




English title

:



Rating

: 3/5


Director

: Sompote Sangduenchai



Main actor

: Yodchai Meksuwan,Lor Tok,Phirapon Piyawan,Thep Thienchai,Jamroon Nuatjim


Main actress

: Duangcheewan Komolsen



Buy now

:

Four boys are born with strange features, one has very big ears, one has a tail, one has very big hands, one has big nose sinus. Becoming friends, they spend most of their time playing and sleeping. Becoming adults, their fathers banish them from the village as they are doing nothing to help the community. Just as they leave, a local mafia gang threatens the villagers to get help to cultivate opium and to provide food for their members. Meanwhile one lady wants to marry one of the boys but wishes that he can remove his tail. He refuses. At night time, while he is sleeping, she cuts his tail. He flees away but looses a lot of blood. A crazy scientific professor finds and decides to save him by using technology. He becomes the Thai Six Million Dollar Man! He then gathers his three other friends to free the villagers from the mafia gang.
---