Increase or decrease font size for easier reading : A+ A-
Year 1976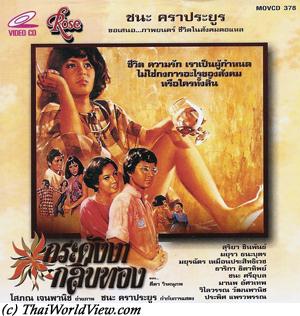 Year

: 1976



Thai title

:

กระดังงากลีบทอง




English title

:



Rating

: 3/5


Director

: Chana Kraprayoon



Main actor

: Manop Aussawathep,Chana Sriubon


Main actress

: Mayurachath Muarnprasitivej,Mayura Thanabutr
It is about a love story between a young boy and a woman older than him. The boy's parents refuse to let such a marriage. Will he follow his heart or the Thai society pressure?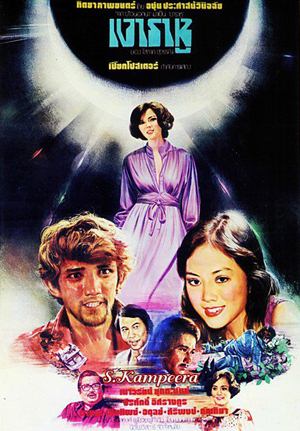 Year

: 1976



Thai title

:

เงาราหู




English title

:



Rating

: 5/5


Director

: Piak Poster



Main actor

: Jirasak Isarangkun Na Ayuthaya,Manop Aussawathep,Adul Dulyarat


Main actress

: Naowarat Yooktanun,Piathip Kumwong,Kantima Daraphan



Buy now

:

A young girl called Tong, living in a slum, is going to stay with her aunt (น้า) Malika (Piathip Kumwong). Many years ago Tong's mother helped Malika who was 6 months pregnant but her boyfriend refused to take care of the baby. As the mother dies of disease, Malika promises to take care of Tong. Malika is Khun Boontaeng's minor wife (เมียน้อย). Khun Boontaeng is avarious so is not so happy to see Tong (หลานสาว) with Malika. He wishes to put her in board school (โรงเรียนประจำ) in order to have full time happiness with Malika. Next week a doctor friend called Tiu will come at their home. Alcohol is needed as he is inconsolable since his wife's death (พ่อม่าย). They finally meet Tiu (Manop Aussawathep) at the golf club. Tiu has a 15 years old son. There is reflection about true love and purchased love (ซื้อความสุข). Many years have passed. Tong (Naowarat Yooktanun) is now a grown up beautiful student wishing to become a a graduate (บัณฑิต). Relation has turned sour with Boontaeng due to his major wife (เมียหลวง). Tiu offers Malika to open a business. Malika wishes Tong to study accountability (เรียนบัญชี) to help take of the company finances. Finally as Boontaeng dies, his wife wants to get back the house! Malika asks Tiu's help who then accepts to host them. Malika manages later to have Tiu signing documents to have her responsible of his fortune. Malika doesn't want to face same fate as with Boontaeng. Even Tiu's son (ลูกชาย), Tom, shall get nothing but he anyway never visits his father. Maybe he is ashamed to have an alcoholic father (ขี้เมา)? Tom gets a monthly salary from his father but sends somebody to get it on his behalf. Tiu continues to indulge in alcohol (ลูกไม่รักดี). Malika doesn't believe in true love. They come to rest in Cha Am in their seaside resort. His son Tom is a rebel with tainted blond hair and hanging around with hippie students. He is staying in a tent with his friends near his father house and denigrates Tong. Tiu is found unanimated on the floor during the night. As Malika is gone with the car, Tong has many difficulties to convince Tom to get a doctor. Tiu remains handicapped and almost paralyzed. He cannot speak properly anymore. Malika refuses to take care of him as she is too busy with her business. She has money but wants now society reconnaissance (เกรด). Tong has to take care about Tiu. Malika gets full power to manage Tiu's asset with the son's approval as he doesn't care about heritage anyway. A rich man Namkeun (Adul Dulyarat) wants to do a join business with Malika. Malika makes many social donations (บริจาคมากเกินไป) so starts to have financial problems. So she pushes Tong to marry him. Tong accepts not because of love but because of gratitude towards Malika (กตัญญู). Tong moves to Phuket (ความรักเกิดยาก). Tong doesn't want to be compared with her aunt Malika as she has studied high enough to take care about herself so she doesn't dream about the heritage of Namkeun. Namkeun has a secret, i.e. following a car accident he cannot perform husband duties anymore. Wiphat is the manager (ผู้จัดการ) taking care of Namkeun's Business activities. It is Tom! Tom believes Malika and Tong are professional experts to grab older rich men. Tom is not upset about his father's heritage but about the house as it is coming from his mum. Being denigrated by Tom and raped by her husband, Tong decides to go back to Bangkok. Due to her foolish expenses, Malika has fired many domestic helpers and sold home furnitures. In fact Malika even sold the house to Khun Namkeun as wedding fee with Tong. Tong promises to Tiu to get the house back in order to give it back to Tom. Malika dreams to become Khun Ying Malika (คุณหญิง) and spends a lot of money on various donations. Tom puts Malika in hospital as she has become crazy with her nobility wishes. He knows that the house now belongs to Tong. Following a drunken evening, Tong gets hurt by her sadistic husband again. Falling from the stairs, Tom brings her to a doctor. During her delirium, she talks to Tiu announcing she succeeds to get the house back. The only solution to save her is to have Namkeun finding a sadistic partner like him. While being cured by the doctor, one of the domestic helper takes benefit to start a relationship with Namkeun. She is sadistic also. Finally Namkeun offers divorce with Tong. She can go back to Bangkok to live happily with Tom, Tiu and even Malika released for mad house. This interesting 1976 movie deals with various modern society themes such as minor and main wife, reconnaissance and status. Main actor is Jirasak Isarangkun Na Ayuthaya, who played only a few movies during 1970s decade. Movie เงาราหู directed by Piak Poster is 2h23mn long. A Thai TV serie with Pete Thongjure was released in 1995.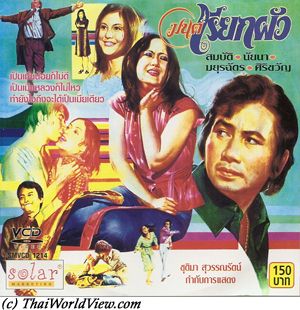 Year

: 1976



Thai title

:

มนต์เรียกผัว




English title

: The Spell



Rating

: 5/5


Director

:



Main actor

: Sombat Methanee,Prachuap Ruekyamdee,Somsak Chaisongkram,Somchai Samipak


Main actress

: Naiyana Shewanan,Mayurachath Muarnprasitivej,Sirikwan Nanthasiri,Sulaleewan Suwanthat,Phong Lada Pimolpan
Thai movie มนต์เรียกผัว was released in year 1976 and lasts 2h16mn. It is a Five Star Production and a remastered version was released in mid-decade 2010s. Previously it was released under VCD format by Solar company (2h12mn). Movie director is ชุติมา สุวรรณรัตน์. This is a romantic family drama movie putting focus on couple life. Plak (Mayurachath Muarnprasitivej) doesn't trust her husband Cheut (รักงาน) as he is working always late having meetings with Somchai Samipak and manager Sak (Prachuap Ruekyamdee). Ram (Somsak Chaisongkram) and aspiring model Rose (Sirikwan Nanthasiri) have a relation. Ram promises to visit her parents to officialise their relationship. Plak remains very upset as for his job, Cheut (Sombat Methanee) has to meet models. She believes he is having affairs, but she cannot catch him. It makes Cheut's life miserable and they often quarrel. Cheut is drunk one night and meets waitress Deuan (Naiyana Shewanan). On the following day, she is aggressed and raped by two ruffians. It is a strong scene and probably one of the first movies where the main actor is unable to help the main actress. Another movie was Thon (โทน) where Chaiya is unable to help Aranya on time. It was a new trend from 1970s movies being more realistic than previous decades. Deuan's mother is played by Sulaleewan Suwanthat. Plak's mother is played by Phong Lada Pimolpan. Rose is pregnant with Ram but he refuses to take responsibility of the baby (คนใจสัตว์) and hits her. He forces Rose to trick Cheut in order to accuse him about the pregnancy. Another day, the ruffians threaten Deuan again but Cheut and Prachuap are luckily there. They help Deuan and a fight occurs with ruffians. Cheut brings back Deuan home. Deuan's mother takes care of eight poor children and raises them so Deuan's work is important to have money for all expenses. There are children from poor prostitutes, who cannot raise them. Cheut finds a job for Deuan in Sak's company in order to work daytime instead of nightime. Plak brings trouble to Deuan so she wishes to change job. Cheut wants to have a child but Plak keeps eating birth control pills. Deuan continues to bring troubles at Cheut's office. He gets closer to Deuan as she has everything he wishes Plak had. By hazard, Plak is present in a shop where Sak buys dresses for Deuan on behalf of Cheut. Sak organises a meeting between the two ladies to ease the tension. Deuan acknowledges she loves Cheut but gets pity from him (ความสงสาร) and not real love (ความรัก). She doesn't wish to break his marriage and mentions that Plak is a bad wife not taking care properly of his husband. Plak wants to take revenge over Cheut and goes out with Ram. Ram brings Plak to a short time hotel. He tries to abuse her but hopefully Sak, passing by, helps her. The next day, Cheut gives a lesson to Ram in a bowling alley but Ram promises to get revenge. Deuan visits a doctor and finds she is pregnant with Cheut. She has a worrying heart disease. The doctor warns she could lose her life by giving birth. But she is willing to take the risk as she knows Cheut wishes a child and she wishes to thank him for all his kindness towards her family. Plak changes her behavior and tries to be a good wife caring about her husband. On the opposite side, Cheut becomes harsher. Plak feels that Cheut changed a lot and that his love has moved to another woman. Cheut comes back home very late even on her birthday. Plak is at hospital and Cheut takes care about Deuan being sick. Ram tricks Cheut by mentioning to Rose's brother that he is one who refused to take responsibility. Cheut is kidnapped while going to Deuan's home to bring her for child delivery. Meanwhile Plak prepares to leave home for UK knowing she has lost Cheut due to her continuous jealous behavior. As Cheut is still not coming to bring Deuan to hospital, Deuan calls his home and talks to Plak without being aware. Decided to do a last good thing for Cheut, she brings Deuan to hospital and then goes towards airport. Cheut gets beaten by Rose's brother but finally Rose confesses Ram is the father. General fighting occurs and Rose shoots Ram going to stab her brother. Cheut arrives at hospital before the delivery. Reading the letter that Plak left for him, he rushes to airport being puzzled by Deuan's sentence that it is probably the last time they meet. He brings back Plak to hospital mentioning that such hasty departure decision should be discussed with cold heart. A child is born but Deuan has died. Plak promises to take care of all children. This movie highlights the difficulties of life for main wife (เมียกลาง) and mistress (เมียน้อย), their place in society, the choice for the husband between two wives and the way some Thai men can abuse women in Thai society (Deuan feeling ashamed of having been raped and not going to police to fill a complaint, Ram refusing assuming Rose's pregnancy).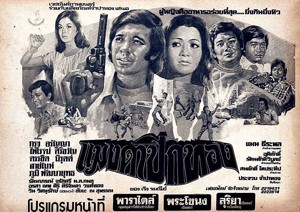 Year

: 1976



Thai title

:

แมงดาปีกทอง




English title

:



Rating

: 3/5


Director

:



Main actor

: Krung Srivilai,Phairoj Jaising,Kanchit Kwanpracha,Pumi Patanayut,Sayan Chantaraviboon,Nirut Sirijanya


Main actress

: Aranya Namwong,Sirikwan Nanthasiri,Orasa Isarangkul
Thai movie แมงดาปีกทอง (Pimp with golden heart) was released in year 1976. The movie is lost in Thailand. It was found in Taiwan under the name "Phoenix the Invincible" as it was released in VHS format. "For your eyes only" (1981) song is featured so the Taiwanese version was released 5 years minimum after the Thai version. This version was released by Taiwanese company New Ship Film Enterprise Co Ltd and lasts 1h27mn. The movie is in Mandarin language with no English subtitles. The movie was also found in Europe under the name "Lady Killer". It lasts 1h28mn and was released under VHS format by company Budget Label. The original movie has been cut to fit in standard TV format 4:3. Krung Srivilai enters as a robber in a house to steal money from a safe. He is the son of the victim! He steals his own father as he needs money! Krung is living with two close friends, i.e. Sayan Chantaraviboon, a steward and photographer, and Pumi Patanayut. Krung and his father despise each other. Krung keeps asking money from his father. He is finally disheritated and his father recommends him to find a lady to nurture him. Trying to gain easy money, Krung loses a big amount to Phairoj Jaising during cards games. Phairoj doesn't give him any credit as he knows Krung has been disheritated. Krung meets Aranya Namwong having problems with her car. Aranya is coming from a rich family. Nirut Sirijanya is her brother. Krung is working as gigolo to earn a living. Sirikwan Nanthasiri meets Krung in a bar. She is Phairoj's girlfriend. Ruffians argue in a pool bar but Kanchit Kwanpracha stops them. Kanchit then spends good time with Sirikwan. Kanchit joins Phairoj's team and takes active part to develop the business. Krung is going out with Orasa Isarangkul as he keeps acting as a gigolo. Finally, Kanchit wants more money from Phairoj for his business participation. It makes Phairoj upset. During a birthday party, two guys (including Pumi) are bothering Aranya but Krung helps. It is a trick as Krung knows well Pumi. Krung and Aranya sympathise and a romance starts. Phairoj's ruffians fail to kill Kanchit. As Phairoj's ruffians fail to get rid of Kanchit through a fight, they finally shoot him. Before dying, Kanchit gave a secret notebook to Sirikwan. Nirut, Aranya's brother, doesn't want her to meet Krung again as he only takes profit of women as gigolo. Krung claims to have changed and has stopped working as a gigolo. Phairoj loves Aranya also. Aranya's father meets Krung but it turns sour. The father is bankrupted so he has to promise his daughter to Phairoj. Phairoj hires Aranya as secretary. Krung has to find 2M USD to pay the father's debts but no way to find such amount. Aranya is not happy working with Phairoj but she has to pay back her father's debts. Fighting in a disco involving Krung and his friends happens again. Sirikwan asks Krung to keep a secret notebook. Phairoj wishes to break with Sirikwan in order to be with Aranya. Sirikwan accepts but threatens him to provide a secret notebook to the police if he doesn't give her a huge amount of money. Phairoj shots Sirikwan. Krung, having the notebook, informs the police. The secret notebook includes all details about Phairoj's illegal business. Thai police is storming Phairoj's den. About to be caught, Phairoj takes Aranya as hostage. Krung risks his life to save her and shows he really cares for her. Krung is injured but Phairoj is shot dead.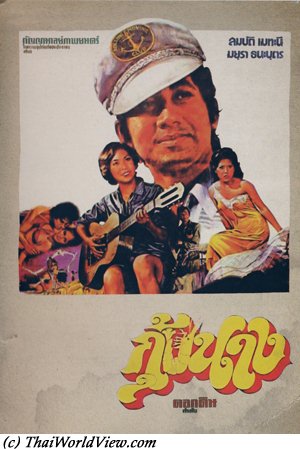 Year

: 1976



Thai title

:

กุ้งนาง




English title

:



Rating

: 3/5


Director

: Dokdin Kanyaman



Main actor

: Sombat Methanee,Dokdin Kanyaman,Prachuap Ruekyamdee,Sayan Chantaraviboon,Choomporn Theppitak,Lak Apichat


Main actress

: Mayura Thanabutr



Buy now

:

Thai movie กุ้งนาง was released in year 1976 and lasts 2h22mn. It is directed by Dokdin Kanyaman. A group of people is stranded on remote island. Their boat is out of petrol. Doctor (หมอ) Niran (Sombat Methanee) is engaged with So but it is arranged by parents so there is no real love between them. His friends include Wetit (Sayan Chantaraviboon) and Cheut (Choomporn Theppitak). They get help from young lad (น้องชาย) Kung (Mayura Thanabutr) seen as กะเทยใจดี. On (Dokdin Kanyaman) helps reluctantly. ตา Prachuap Ruekyamdee is very upset that they helped strangers. Kung is 17 years old and has never quit the island. To avoid similar issue as the mother dumped by a man 17 years ago, Prachuap tries to avoid any contact between Kung and external world so he even lies to her about her sexe genre. Dao, a widowed lady, asks help from doctor Niran as the clinic, launched by her former husband, is not doing well. Niran hesitates as he works for public hospital only. Cheut organises a plan so that Dao and Niran can be together alone. He organises a beach party where Niran drinks a lot. Dao and Niran become lovers. Niran accepts to work for Dao's clinic. Man (Lak Apichat) and another ruffian threaten Prachuap regarding sales of coconuts. Prachuap refuses to sell to them as he has already a contract with another company. Prachuap gets sick and ends up in hospital. Doctor Niran takes good care of him to thanks him and Kung to have helped him before. Kung stays in Niran's house to be close to the grandfather. Kung realizes that On and the grandfather lie to her regarding the differences between a boy and a girl. She realizes that she is a girl! Meanwhile Dao starts to be more and more demanding and very jealous. Niran is upset as Dao thinks about money only and is not generous with patients. Niran brings Kung to a brothel to teach him boy's life (ครู). Niran treats Kung as a male mate so many hilarious sequences occur. Prachuap goes back to his island with Kung. Niran follows them a few days later to announce to Kung that Prachuap has a final stage cancer. Meanwhile Man and his ruffians kidnap Kung. On is also captured. Finally Kung is released by the ruffians as he accepted to marry the ruffians' leader sister, who is pregnant. Niran is back with Dao and Kung has to take care of the pregnant lady. Always looking for easy money, Dao is now involved in illegal business with Cheut. Diamond exchange fails as police intervenes. Dao flees but a ruffian chases her. As same time, Kung brings the pregnant lady to doctor Niran for baby delivery. Dao is shot dead by the ruffian. Kung is injured but succeeds to shoot the ruffian. Finally Kung confesses to Niran that she is a girl. Niran knows it since a long time! Romance can finally happen between them.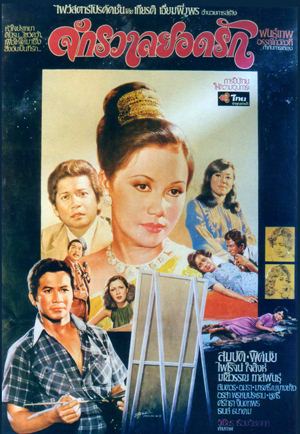 Year

: 1976



Thai title

:

จักรวาลยอดรัก




English title

: My dearest world



Rating

: 3/5


Director

: พันธุ์เทพ อรรถไกวัลวที



Main actor

: Sombat Methanee,Somkuan Krajangsat,Phairoj Jaising


Main actress

: Pissamai Wilaisak,Marasri Bangchang,Chosri Misommon,Amara Asavananda
Thai movie จักรวาลยอดรัก was released in year 1976 and lasts 1h59mn. Movie director is พันธุ์เทพ อรรถไกวัลวที. Chakawan (Sombat Methanee) meets young lady Sakuna overseas when hanging around a red district. Chakawan asks Sakuna (Pissamai Wilaisak) to be her painting model before he leaves for Philippines. Urot (มณีวรรณ ภาสพันธุ์), Sakuna's friend, recommended her to work at nighttime. Sakuna accepts the model job as she is not interested in nighttime working job. Chakawan forces her to have a relation in his hotel room. Sakuna refuses to meet him anymore. Later on, Sakuna receives a letter from her fiance Khanat, who is studying overseas. Back to Thailand, Sakuna starts to work as a secretary in a company owned by Somkuan. Somkuan Krajangsat is Chakawan's father! Amayichi (Phairoj Jaising) is a new manager from Japan and is working in Somkuan's company with Chakawan. Sakuna is pregnant but she refuses to tell who the father is (ลูกไม่ตั้งใจ). Chakawan wishes to take responsibility but he has another wife, Linda, in the Philippines. Vadika, Kaem's (Marasri Bangchang) daughter, is hired as a new secretary. Chosri Misommon, Sakuna's mother, asks for money. Amayichi gives a lot of tasks to the new secretary as he saw her with Chakawan so he is concerned for Sakuna. By keeping her busy, she will have no time to be around Chakawan. Sakuna's mother spends a lot of money gambling (30,000 THB). She asks her daughter to pay her debt. Sakuna still thinks about doctor Khanat. For the sake of her future child, Sakuna moves in a house rented by Chakawan (ทำหน้าที่). Mother (Amara Asavananda) visits Chakawan and Sakuna. Somkuan and Amara had Chakawan as son but finally Somkuan stayed with Kaem. Somkuan doesn't want his son to do the same mistake as he did. Khanat asks Sakuna to fly to Canada as he received a worrying letter from Sakuna's mother. Upset by her situation, Sakuna tries to get suicide. Amayichi takes care of her. Linda stops her relationship with Chakawan knowing he has another pregnant wife. Chakawan disappears for a few days. Sakuna has an accident as she jumps out of the car after an argument with Kaem. The baby dies. Chakawan is upset as he believes she did it on purpose. Chakawan pays Sakuna's mother expenses so the mother doesn't want to lose such a good son-in-law. She wants her daughter Sakuna to forget Khanat. Amayichi tries to help (ความเข้าใจ). Situation is difficult as both still love each other but nobody is willing to disclose his heart, so they remain blocked on misunderstanding. Everybody wants to find solutions for them, i.e. Somkuan, the mother and Amayichi. Sakuna announced to Khanat that she will not follow him overseas. Chakawan is going to leave Thailand for Australia. Amayichi is saying goodbye at the airport. He announces he is going to marry Vadika. Inside the plane to Australia, Chakawan is reading a farewell letter from Sakuna saying she is sitting the row behind Chakawan...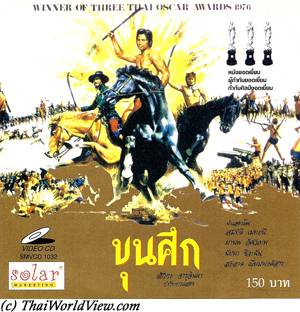 Year

: 1976



Thai title

:

ขุนศึก




English title

: The War Lord



Rating

: 4/5


Director

:



Main actor

: Sombat Methanee,Manop Aussawathep,Sahat Piempongsan


Main actress

: Naiyana Shewanan,Duangdao Jarujinda
It deals about the opposition between two men during Ayuthaya period. One is part of aristocracy, one is a commoner but both love the same woman. The commoner is forced to live in clandestinity. But thanks to courageous performances during war, he deserves respect and title. This movie has won Three Thai oscars. A remake was done in 2003.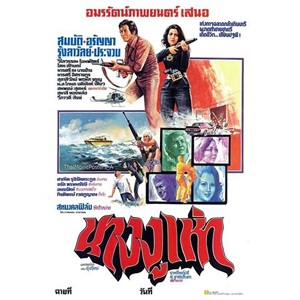 Year

: 1976



Thai title

:

นางงูเห่า




English title

:



Rating

: 4/5


Director

: กิตติพงษ์ เวชภูญาณ



Main actor

: Sombat Methanee,Prachuap Ruekyamdee,Adinan Singhiran,Preuhat Boonlong,Lak Apichat,Sompong Phonmitr,Sukon Koewliam


Main actress

: Aranya Namwong,Runglawan Sripatimakul,Wilaiwan Watthanaphanit,Khomapat Attaya,Marasri Isarangkul,Marasri Bangchang,Sulaleewan Suwanthat
Thai movie นางงูเห่า was released in year 1976 and lasts 1h32mn as incomplete version. The movie was shown in Thai Film Archives in 2017. Movie director is กิตติพงษ์ เวชภูญาณ. One song is featured. Famous robber Cobra lady / นางงูเห่า, as Tai (Aranya Namwong), flees the police, led by Sompong (Sompong Phonmitr), after another daring robbery. Policemen fail to catch her. Tai and her brother Lak (Lak Apichat) steal jewelry from Preuhat Boonlong and Marasri Isarangkul. They also steal another couple, i.e. มล.โกมล ปราโมช and Marasri Bangchang. Prachuap Ruekyamdee, her father, is waiting for Tai outside. They have to flee the police again. The car is hidden in a truck. Police are surrounding their place as there is a traitor among the team. Adinan Singhiran sacrifices himself to attract police attention so that others can flee. Kan (Sombat Methanee) helps a young lady called Choompu (Khomapat Attaya), whose necklace has been stolen. Tai meets Kan at a waterfall while Tai is bathing. Tai's family is still hiding from the Thai police. Lak and her mother (Wilaiwan Watthanaphanit) recommend Tai not to meet Kan again as he could be an undercover policeman. Tai meets Kan again (คนกรุงเทพปากหวาน). A romance starts. Tai's grandmother (Sulaleewan Suwanthat) is about to die and tells her that Prachuap is not her real father. Choompu likes Kan and lies that Tai already has a husband. Tai is disappointed that her father forced her to go down a wrong path. She flees and meets a monk that recommends her to go back to the right path. Kan is a policeman and receives the duty from his boss (จรูญ สินธุเศรษฐ์) to catch the cobra lady. Tai asks for a meeting one to one with the head of the police. Kan comes also. Tai is aware Kan is there. She has important information to share about Thailand security. After doing bad things, she wants to do good things for the nation. Chased by the police, her family is now involved in weapons traffic instead of jewelry traffic. The lady boss (Runglawan Sripatimakul) appreciates Tai and gives her more responsibilities. A new mission is to kill policeman Kan, who is becoming a threat for them... Ruffian Dom (โดม สิงห์โมฬี) said he can manage by himself. Tai helps Kan against Dom. Kan asks Tai to surrender and he will wait for her, but she refuses. Kan gets finally captured by ruffians. Lak and her father release police inspector Kan and open the gates to let police enter. Meanwhile Tai still pretends to be loyal to her boss but the lady boss sees that Tai betrays them. Shootings occur. The lady boss shoots Lak and his father Prachuap. Tai shoots the lady boss but it is too late as Lak and her father are dead. Kan arrests Tai. Finally, Tai is released as she is the lost daughter of the rich people she robbed before!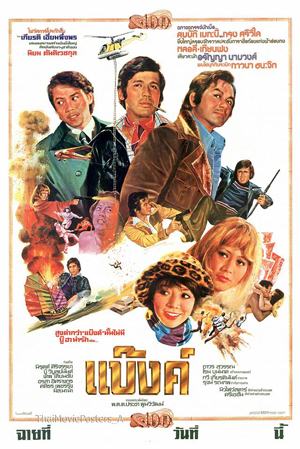 Year

: 1976



Thai title

:

แบ๊งค์




English title

: Bank



Rating

: 3/5


Director

:



Main actor

: Sombat Methanee,Krung Srivilai,Lo lieh,Thep Thienchai,Nirut Sirijanya,Boo Wibunnan,Somchai Samipak,Ruj Ronnapop


Main actress

: Aranya Namwong,Pawana Chanajit,Orasa Isarangkul,Sulaleewan Suwanthat,Sasithorn Phetrung
Thai movie แบ๊งค์ was released in year 1976 and lasts 1h51mn. A remastered version was released in decade 2010s. Shaft movie (1971) soundtrack music is used. Boo Wibunnan is using armored car from bank to transport money. During transportation, the convoy is attacked and money is stolen. An ambulance car is used to be discrete, but police is chasing them. Robbers throw some money to cause a traffic jam and to block the police. The police identifies that 10M THB was stolen but it is fake money. As the fake banknotes are very good quality, Thai police wants to keep it low profile to avoid Thai population to be worried about fake money. Thai police calls back Lit (Sombat Methanee) to investigate. He is currently busy shooting a romance movie directed by Ruj Ronnapop and with actress Orasa Isarangkul. Thep Thienchai, Lit's friend, puts the fake money in the bank. Thep is kidnapped as Boo and Somchai Samipak believe Thep is part of the gang, who stole their money. Lit is following them as he wishes to know who produces the fake money. Releasing Thep, Lit wishes to join Boo as partner. Another 10M bath transaction shall happen soon. A plane brings the money. Police intervenes. Ruffians are neutralized. Lit succeeds to enter in the plane before it takes off. The pilot is his friend Po (Krung Srivilai). Po is just a transporter as he doesn't know where the money is coming from. He receives orders from Hong Kong. Lit flies to Hong Kong and meets inspector Fe (Lo lieh, Hong Kong actor). Some men follow Lit. Fe and Lit find Po again. Po's multiple trips to Hong Kong have intrigued Hong Kong Police so they dispatched a policewoman named Teresa (Aranya Namwong) acting as a singer to check Po. Lio, the bar owner, doesn't like Teresa to mingle with Po so he sends tough men to give a lesson to Po and Lit but it fails. During the fighting, Nirut Sirijanya is injured. Po and Lit send him home and meet his younger sister Lin (Pawana Chanajit). Lio is their uncle and educates them as their parents are dead. Lio is suspected to be the fake banknotes producer. Lio tries to abuse Lin. Lin is going to Chinese University of HK. Sulaleewan Suwanthat brings her to school every day. For their safety, HK Police keeps Lin and her brother. Her brother, being addicted to drugs by Lio, flees after stabbing a policeman. He informs Lio that HK and Thai police are investigating on him. Ruffians attack Lit and Po again in order to catch Lin but it fails. Po takes the opportunity to meet Sasithorn Phetrung. Lin identifies that Nirut is often going in a Chinese temple. HK Police investigates. Under the temple, there is a secret factory producing banknotes. Nirut's father, still alive, is producing fake money for Lio. Knowing that his daughter is now safe with HK Police, he wishes to stop doing this bad business. Fighting erupts with Lio. Lio shoots Nirut and his father then burns the whole temple. Back to his club, he wishes to flee overseas with Teresa, but he is shot by the paralyzed lady, being his club business partner and who is in fact a man! The partner shoots Teresa and flees with the money. Lit and Fe chase the man by car up to Pa Sha Wan and then by boat. About to flee by helicopter, Lit shoots him and all the banknotes fall in the sea...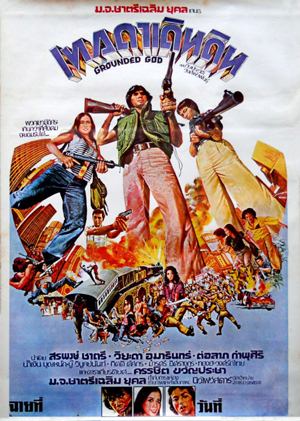 Year

: 1976



Thai title

:

เทวดาเดินดิน




English title

: Grounded god



Rating

: 4/5


Director

: ChatriChalerm Yukol



Main actor

: Sorapong Chatree,Boo Wibunnan,Kanchit Kwanpracha


Main actress

: Wiyada Umarin,Namgneun Boonnak,Marasri Isarangkul



Buy now

:

Thai movie เทวดาเดินดิน / Grounded god was released in year 1976 and lasts 2h24mn. It was released under VCD format by Solar company and lasts 2h10mn. The cable TV version lasts 2h24mn (but some parts are censored through pixelation). It was remastered by Five Star production in the decade 2010s. It was also released through a Thai TV series in 2001. Movie director is ChatriChalerm Yukol. Thai actors and actresses are Sorapong Chatree, Boo Wibunnan, Wiyada Umarin, Namgneun Boonnak, Kanchit Kwanpracha, Marasri Isarangkul, ต่อลาภ กำพุศิริ, กิตติ ดัสกร. This movie mirrors the youthful chaos of the year 1976. The movie was shot at the time of the 1976 violent crackdown on leftist students and protests that occurred in Thammasat university, bangkok. This movie reminds of Stanley Kubrik's violent "Clockwork Orange'' movie and Bonny and Clide story. It is unofficially claimed that Oliver Stone was inspired from this Thai movie for his controversial "Natural Born Killers'' as many parallels are seen. Two young guys including Sorapong Chatree and Toi (ต่อลาภ กำพุศิริ) are dealing with heroin. The police led by inspector Adul (Kanchit Kwanpracha) fail to catch them. He promises to catch them within 15 days. A journalist takes pictures. Young lady Viyada is robbing malls. The two guys take refuge in Viyada's home as Sorapong knows Viyada. They are modern Thai hooligans. The three young hooligans are living thanks to small thefts (stealing goods, wallets...). They are in rebellion with society (ปัญหาสังคม), i.e. they like damaging public installation, breaking windows, frightening and robbing middle class people, eating in restaurants without paying. Toi is keen on drugs also. Police inspector Adul has never had time for his family even on wedding day or children's birthdays. Journalists called them เทวดาเดินดิน (Grounded gods) as they can do whatever they want, they always escape, and nobody can catch them. They have nothing to lose and know they will die sooner or later. When robbing a house and neutralizing the occupants, they get a gun. While stealing a car, they face a strong foreign owner, who fights against them. He is shot dead by Sorapong so they flee to Southern provinces by train. Sorapong, one of the hooligans, is rebelling against the system as when he was a soldier, he was told to kill communist villagers but those people were good people worshipping the King of Thailand so he lost faith in Thai official institutions. Adul was Sorapong former military superior so it is becoming a personal affair. They become more and more violent. They are caught in a whirlpool. They rob banks and shot policemen. Followed by police, they finally find refuge in the South of Thailand around Yala where they continue their bank robbing. Boo (Boo Wibunna), an ordinary bank staff, decides to join them. They get too much media coverage. Surrounded by the Police, they hide in the jungle and are captured by a Muslim community. Wiyada is injured in the leg. The community is fighting against Thai institutions also but have real motives. It is precursory regarding current violent events happening in South of Thailand. Helping during a fighting where the village is attacked, they are allowed to quit the muslim community. Back in Bangkok, they try to get help from their drug dealer, being an old woman, but they get expelled. Wiyada's injury is getting worse. Wiyada wishes to die in Pattaya near the sea. Chased by the police, they end up in a high tower. The hooligans finally die under Thai Police bullets. This movie also highlights criticism of newspapers looking for scoop and raising them as heroes.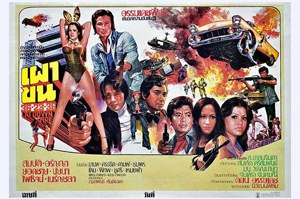 Year

: 1976



Thai title

:

เผาขน




English title

: Lay Down and Die



Rating

: 3/5


Director

: Kom Akadej



Main actor

: Sombat Methanee,Manop Aussawathep,Phairoj Jaising,Kanchit Kwanpracha,Yodchai MeksuwanBoo,Choomporn Theppitak,Dam Datsakorn,Boo Wibunnan,Kom Akadej,Pipop Pupinyo,Pan Borapet


Main actress

: Aranya Namwong,Naiyana Shewanan,Moeifa,Chosri Misommon,Neranchala Thaleungsak
Thai movie เผาขน was released in year 1976. The movie was never released on VCD or DVD in Thailand but a collector saved the film from 16mm format into VHS many years ago. The copy was not so good and was in red color as the film was already old. It lasts 1h44mn and is incomplete. The movie was also released in Italy under the name Lezi Puca Se (Lay Down and Die). It was also released by IFD Films and Arts, a Hong Kong company, under the name Bionic Heroes (1977) and lasts 1h25mn. The VHS rip is still colorful and sharp but the original Thai version has been reduced and cut to fit VHS standard format. Some sequences missing in the Thai remaining version are present in the international release. Enemies are trying to enter Thailand. At the border, Fon (Sombat Methanee) refuses to meet his younger sister Naiyana. He has to investigate who is providing weapons for Thai enemies. The enquiry leads him to a bunny bar, owned by Manop Aussawathep. Both Aranya Namwong and Pong (Phairoj Jaising), sister and brother, have resentments against Manop as he failed to honour the promise to their father to take care of them. They are used by him for low jobs. Pong (Phairoj Jaising) keeps having arguments with Dam, Manop's right hand. Boo Wibunnan is shot by Kanchit Kwanpracha, who ends up in jail. Aranya is having issues with Ah, an older man, who is trying to rape her as she was sold by Manop. Pong shoots him deadly. Pong and Aranya are then chased by the police. Prisoners Kanchit and Yodchai Meksuwan escape from the prison and are chased by the police. Some ruffians led by Dam Datsakorn try to shoot them while they are fleeing. They split to increase the chance for escape. Yodchai meets Pong and Aranya. They bring him temporarily with them to avoid police but then get rid of him on the backside of the road. Manop Aussawathep's girlfriend is played by Moeifa. Both Pong and Aranya fail to kill Manop. Kanchit wishes to revenge also on Manop as he believes he was betrayed. Manop pacifies everybody and Yodchai joins the team also. Dam, Yodchai and Kanchit do a heroin traffic in the train. Naiyana Shewanan spies them. Manop, as head of the traffickers, is upset as his latest traffic was discovered by the police so there must be a spy in his team. Manop decides to use Aranya for a Thai boxing match in order to exchange drugs versus money among a busy crowd. The niece of Manop is Pissamai (Neranchala Thaleungsak). Pissamai and Pong become very close. Chosri Misommon is playing Aranya's Thai boxing trainer. Choomporn Theppitak is playing a drug trafficker. Aranya wins her Muay Thai boxing match. Nayana spies Kanchit and his ruffians charging drugs in a truck. Yodchai convinces the ruffians that he will manage Nayana by himself. As Manop tries to abuse Pissamai, Pong helps her and they flee together chased by Dam. Meanwhile Fon shows to Aranya that Manop uses her as a mule only as drugs is hidden under banknotes. They also flee. Pong is captured while trying to release Nayana. Fon flees with Aranya and Pissamai. While trying to capture drug dealer Choomporn, Fon is finally neutralized by Pipop Pupinyo, Pan Borapet and Kanchit. They are transferred to the ruffians' base by helicopter. Fon is attached to a rope under the helicopter. He falls in a lake. Ruffians are attacking a border station to let enemies enter Thailand. Some ruffians are changing side such as Kanchit trying to protect Yodchai, who was the one always informing the police. The movie highlights police and military helping each other to push back enemies of Thailand. Pong and Pissamai die in each other's arms while fighting for Thailand. Director Kom Akadej is also having a small role as policeman. The movie features a very big number of famous Thai actors / actresses from decade 1970s.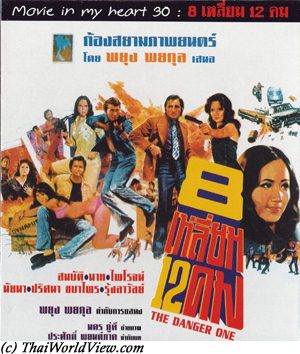 Year

: 1976



Thai title

:

8 เหลี่ยม 12 คม




English title

: The Danger One



Rating

: 3/5


Director

: Payoong Payakul



Main actor

: Sombat Methanee,Dam Datsakorn,Nard Poowanai,Phairoj Jaising,Pipop Pupinyo,Phirapon Piyawan


Main actress

: Prissana Chabaprai,Naiyana Shewanan,Runglawan Sripatimakul,Moeifa,Khomapat Attaya



Buy now

:

Payoong Payakul is the director of the Thai movie "8 เหลี่ยม 12 คม". His wife Prissana Chabaprai is also playing. The movie was released in year 1976 and lasts 1h44mn. The image is a bit reddish and damaged as being the last copy still available on the market. The selling point of the point, according to the poster, is the presence of six movie stars (ดาราเอกโคจร) including Runglawan Sripatimakul, Prissana Chabaprai, Naiyana Shewanan, Nard Poowanai, Sombat Methanee, Phairoj Jaising. The movie features also a few ดาวยั่ว (วิกาวดี, Khomapat Attaya, Moeifa, มิสหลาบยัง) acting in a few daring sequences. A jewellery robbery does happen. Khom (Sombat Methanee) and Chitchai (Dam Datsakorn) are involved. An overseas buyer is now expected in a few days. Anita (Naiyana Shewanan) is the younger sister of Chitchai. Chitchai fails to steal the jewellery suitcase from Khom. Khom sent Krissana (Nard Poowanai) to study in England. Krissana now becomes a policeman. Khom promises it is his last job in order to avoid facing Krissana as a policeman. Tonachai (Phairoj Jaising) with two ladies called Rita and Rosana always help Khom. Chitchai requests the diamonds to Khom earlier than expected. Tonachai has many enemies (ศัตรู) and has a fighting in an underground parking. Chitchai sent some ruffians (Pipop Pupinyo, Phirapon Piyawan...) but it fails. In the morning, Khom brings the 10M baht jewellery for Rita to check. The hotel groom exchanges the small suitcases while they are not aware. Police head asks Krissana to neutralise this jewellery ring. Krissana starts by entering Chitchai's nightclub, i.e. the Suzi bar, by claiming being a life insurance seller. Chitchai's ruffians aware that Krissana is certainly a cop tries to kill him but without success. Khom is concerned that he may face sooner or later Krissana (ปัญหาตัดสินใจไม่ถูก). Krissana gets information from Anita, who is his girlfriend. Khom believes the diamonds have been stolen by Chitchai's team. Rita is in fact part of Chitchai's team also and is finally shot by them. Chitchai captures Khom. The jewels are going to be used in a weapons deal exchange. Aware of the exchange place, Tonachai and the ladies head there. Krissana brings policemen there and also helps to release Khom. The HQ is then stormed and Chitchai is captured. Chitchai recognises his mistakes and is finally happy about the relationship of Rita and Krissana.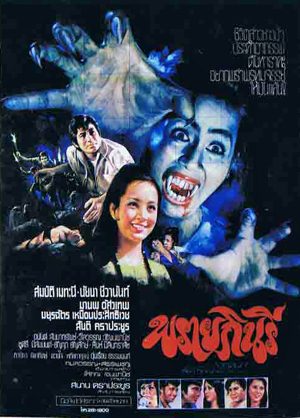 Year

: 1976



Thai title

:

พรายกินรี




English title

: The Tiger Devil



Rating

: 3/5


Director

:



Main actor

: Sombat Methanee,Manop Aussawathep,Adul Dulyarat,Pipop Pupinyo


Main actress

: Naiyana Shewanan,Malee Wetpraseri,Wilaiwan Watthanaphanit,Mayurachath Muarnprasitivej,Chosri Misommon,Duangjai Hathaikarn
Thai movie พรายกินรี (The Tiger Devil) was released in year 1976 and lasts 1h35mn. The movie is certainly cut as it is only available from cable TV programmes. Malee (Malee Wetpraseri) and Kinaree (Naiyana Shewanan) are travelling together after leaving a Christian community. They are aggressed on the way to their village by two men including Manop Aussawathep. They step back when understanding that Kinaree, who was fighting strongly, is a lady (นางฟ้า). Pipop Pupinyo, the village leader, remembers that many years he wanted to burn Kinaree as she was accused to be a tiger devil spirit. A monk stopped the burning and gave a sacred necklace to prevent Kinaree to become a spirit again (เวรกรรมของหลาน). She has to keep until being 20 years old. Kinaree and her grandmother were expelled from the village but are now back. One young villager tries to abuse Kinaree while she is bathing in the waterfall. When angry, she becomes the tiger devil spirit again and kills the villager. The grandmother Malee falls and gets injured. Per Kinaree's request, Manop searches for a doctor. Doctor Sombat Methanee then checks Malee but she finally dies. Pipop, afraid of Kinaree, leads the villagers to burn her again. The doctor decides to bring Kinaree in Bangkok but faces Manop, who is jealous. The doctor and Kinaree succeed to flee Manop and the angry crowd. They are back to Bangkok. New characters are present in the doctor's home, Chosri Misommon as domestic helper, Wilaiwan Watthanaphanit as mother, Mayurachath Muarnprasitivej as his fiancee Dao (ปากเสียใหญ่), friends such as Chom (Duangjai Hathaikarn) and Chatree (Adul Dulyarat). She is used in the kitchen but is useless (เด็กเวร). Dao has a lover (เล่นชู) called Chai (อนันต์ สัมมาทรัพย์). There is a ballroom event. Dao tries to humiliate Kinaree (ชาวป่า) during the ball but to no avail. She hires the car driver to hurt Kinaree but she becomes a tiger devil spirit (ผีเสือ) again and kills him. Today is Kinaree's birthday. Dao aware that Kinaree could be a spirit is willing to challenge her. She removes her necklace and slaps her. Horror happens with Chai is killed and Dao injured by the tiger devil spirit. Police shots the spirit a few minutes before Kinaree's 20th birthday. Kinaree becomes a full human but dies due to her injuries in the doctor's arms. Another version of Kinaree was released in year 1969 (กินรี) with Sombat and Suthisa. In this older version, Kinaree doesn't die.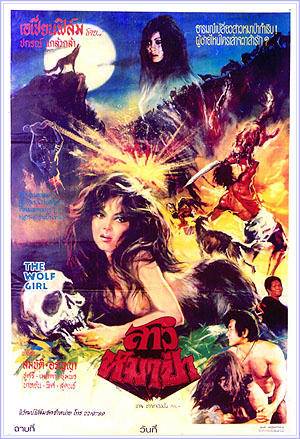 Year

: 1976



Thai title

:

สาวหมาป่า




English title

: The Wolf Girl



Rating

: 3/5


Director

:



Main actor

: Sombat Methanee,Sukon Koewliam,Choomporn Theppitak


Main actress

: Aranya Namwong,Chosri Misommon,Metta Roongrat
Thai movie สาวหมาป่า was released in year 1976. The movie is lost in Thailand but it is still available overseas in mandarin language under the name 狼女 - "The Wolf Girl". A VCD is lasting 1h37mn. Recently it was shown on Thai TV CH3 dubbed in Thai language. A black magician (หมอ) is talking to the lord Hang Pao and gets a spade. He wishes to get the unborn baby of the lord's wife in order to a create a Kuman Thong (กุมารทอง)(powerful protective spirit) as the lord had a lot of bad luck recently. The lord wishes to discover who killed his father and hopes the Kuman Thong can help him. The wife, played by Aranya Namwong, pregnant and about to deliver, hears them and then flees. Chosri Misommon helps her to deliver. Two babies girl are born. During the night Aranya flees with one baby and lets the other with Choosri with a golden necklace. While trying to escape from the wolves (หมาป่า), she falls from a cliff and dies. The black magician kills many ladies to get an unborn male baby but it is always a girl. Meanwhile the baby girl is raised by the wolves. Her twin sister called Arunee has been raised by Choosri. She is working in the family restaurant where Anan (Sombat Methanee) comes to court her. Metta Roongrat is the Lord's new wife but she is still not pregnant so the lord is having mistresses to get more babies. Choomporn Theppitak is the Lord's assistant. Artisan (ช่าง) Anan has arguments with Choomporn. The Lord remembers his former wife as Arunee has the same face. So later on, he sends an engagement parade to ask for her hand but Arunee refuses. Metta, still wishing to get pregnant, misleads Anan and forces him. Metta disguises herself into Arunee to deceive Anan (หลอกลวง). Arunee seeing them is disappointed and angry. Metta still provides young ladies to the local Lord. Anan goes to see Metta in order that she explains the truth to Arunee but she drugs him. The Lord Hang Pao decides to bury alive Anan but the wolf girl saves him. As a female wolf, she needs a male... Meanwhile the Lord brings one of his pregnant mistresses to the black magician. She is killed in order to create successfully a kuman thong. Discovering that Metta is having an affair with Choomporn, the Lord orders the kuman thong to kill them. The Lord wants to get back his two daughters but the black magician warns him it is dangerous. A final fight happens between the Lord and the black magician as the Kuman Thong discloses that the black magician is the one who killed the Lord's father. The wolf girl intervenes but is injured. Anan saves her and flees the collapsing cave while lord Hang Pao sacrifices his life while holding the black magician.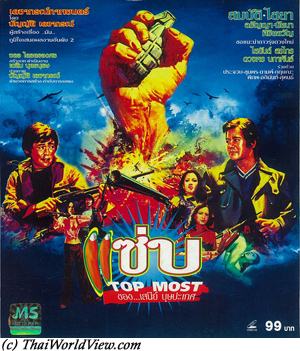 Year

: 1976



Thai title

:

แซ่บ




English title

: Top most



Rating

: 3/5


Director

:



Main actor

: Sombat Methanee,Chaiya Suriyun,Prachuap Ruekyamdee,Dam Datsakorn


Main actress

: Aranya Namwong,Naiyana Shewanan,Sirikwan Nanthasiri
Prakan (Sombat Methanee) and Wi Ok Hen Lom (Chaiya Suriyun) are Pa Wieng's sons. Pa Wieng is the head of a team of bandits (โจร). Once Prakan knows Pa Wieng is not his real father, he flees to find his real father, Sing. A couple, Karn and his girlfriend Duang, is fleeing as Pa Wieng's ruffians are following them up. Karn dies but Duang is saved by Prakan (Sombat Methanee). Pa Wieng is Prakan's stepfather (พ่อเลี้ยง). Prakan is now considered as a traitor (ลูกหมา, ทรยศ) as he tried to flee. Wi Ok Hen Lom is always following Prakan remotely and helps him when needed. Prakan and Duang arrive in the adjacent district. Luang (Dam Datsakorn) is the subdistrict headman (กำนัน) and her sister Deuan (Aranya Namwong) is the village headman. They control very strictly the subdistrict. Sing was the former village headman but his authority has been neutralized. Prakan wants to find the former village headman (ผู้ใหญ่บ้าน) Sing, who is his real father. But Sing refuses to recognize him as his son. Prakan and Duang (เพื่อนรัก) are captured by Deuan (คนเก่ง). Sing's daughter, Kotko, supports them. Prakan helps to protect their oil stock and gets back his freedom. Finally Sing recognises Prakan (ลูกพ่อ). Luang believes Prakan is a undercover policeman (ตำรวจชายแดน). Saming is another mafia leader and is Luang's best friend. Saming and Luang destroy Prakan's house but Deuan doesn't agree (ไม่เห็นด้วย, ไม่ยุติธรรม). It is war declaration with Prakan. Prakan uses rape as weapon to revenge himself against Deuan. Luang asks the district officer (นายอำเภอ) to arrest them but Deuan provides an alibi to Prakan. Luang decides to give Deuan to Saming but Prakan rescues her on time (มารับเมีย). Now Prakan has two wives (มีเมีย2คน), Deuan and Duang! Kotko and Duang are kidnapped. Pa Wieng comes to help but dies in the fight against Luang and Saming. As expected, ruffians are defeated. It is a typical action movie from 1970s decade when local authorities were not respecting the law and were local kingpins. It is also a very bad habit in Thai movies and Thai TV series (ละคร) to use rape as an expression of love. In 2006, a Thai movie with the same name was released but it was a comedy.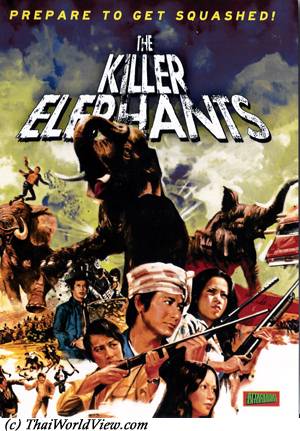 Year

: 1976



Thai title

:

ไผ่กำเพลิง




English title

: Killer Elephants



Rating

: 5/5


Director

: Kom Akadej



Main actor

: Sombat Methanee,Yodchai Meksuwan,Kanchit Kwanpracha,Pipop Pupinyo,Dam Datsakorn,Sayan Chantaraviboon,Kom Akadej


Main actress

: Aranya Namwong,Naiyana Shewanan,Mayurachath Muarnprasitivej
Ruffians are chased by police officer Ching Ming (Yodchai Meksuwan) but he failed to catch them. He meets his old friend Kau Fei (Sombat Methanee). Ruffians are hiding in a Surin timber yard. A big fight happens as Ching Ming wishes to jail them. Hopefully Kau Fei helps Ching Ming but there is no way to know where is the big boss behind. Local police is trying to catch Kau Fei but elephants prevent police to follow up Kau Fei. He has been accused of murder but he was framed. The head of ruffians (Kanchit Kwanpracha) framed him as Kau Fei refuses to sell his farm land to him. Ruffians burn the houses on the farm land. Ching Ming and Kau Fei help people stuck in their home. Ching Ming likes a lot a local lady Shao Feng (Naiyana Shewanan). Kau Fei decides to take revenge by entering in the boss home. He is not here so he captures madame Shu (Aranya Namwong). Ruffians try to rescue her by entering the farm through the forest but they are welcomed by guns and elephants. Kau Fei still loves Shu despite she was forced to go with the boss. Ching Ming tries to arrest Kau Fei but to no avail. Kau Fei comes to town to make trouble inside the boss' favorite nightclub. Shu is now pregnant with Kau Fei. As Shu is about to deliver, Ching Ming helps to bring her to hospital. The boss aware of this wants to use her and the baby as a bait. Taking profit of Surin elephant carnival (เทศกาลของเมืองสุรินทร์), Kau Fei sends a few elephants and villagers to pick up Shu. Kau Fei does a rampage in the boss' house and even injures him but Mau Tien, another ruffian, finishes him. Mau Tien (Dam Datsakorn) becomes the boss and decides to kidnap Shu and two nurses to attract Kau Fei to the plains. Kau Fei and the villagers rescue Shu and the two nurses. Then a crazy rampage of the elephants on the ruffians' camp happens. They are pushing huts and cars with real people inside. Big explosions and houses in fire happen. Even Ching Ming intervenes and helps Shao Feng. He finally lets Kau Fei go to Cambodia. The Thai movie "Killer Elephants" - ไผ่กำเพลิง was released in Thailand in 1976. Main actors are Sombat Methanee and Aranya Namwong. The movie director was Kom Akadej, who got the "international name of Som Kit in the credits, which is a version of his middle name, Somkit. All the other actors got Chinese style names, probably to cash in on the Hong Kong market and the rest of the worlds wish for more Kung Fu movies. The Killer Elephants cannot be found anymore in Thailand except at the Thai Film Archive, the original Thai version. Joseph Lai and his IFD Arts and Entertainment prepared this international version, which is the most common version outside Thailand. This DVD was released by Swedish company Attackafant Entertainment directed by Fred Anderson, a well known lover of Thai cinema. This DVD is the first official ไผ่กำเพลิง DVD release ever. The "Killer Elephants" movie rights in Thailand belongs to Coliseum film (บริษัท โคลีเซี่ยมฟีล์ม), company from Kom Akadej. Up to now no VCD / DVD was released in Thailand with correct rights according to Thai law. Only a video tape was released long time ago. Coliseum film company would sell the rights for all Kom Akadej's movies and not only for 'Killers Elephants' movie. Thai Company XxX (Triple X) was only interested in 'Killer Elephants' movie so up to this day Thai people are still waiting for a Thai version of ไผ่กำเพล to be released again. The movie also includes also famous supporting actors such as Yodchai Meksuwan, Naiyana Shewanan, Mayurachath Muarnprasitivej, Kanchit Kwanpracha, Pipop Pupinyo, Dam Datsakorn, Sayan Chantaraviboon. The finest batch of Thai actors during 1970's! Only Sorapong Chatree and Krung Srivilai are missing. Pipop Pupinyo, Kanchit Kwanpracha and Dam Datsakorn were the regular bad guys in Thai cinema and so of course even in The Killer Elephants! The same story was also released as Thai TV lakorn in 2004.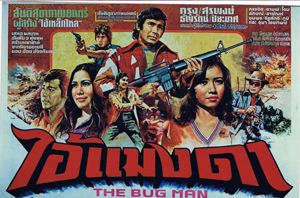 Year

: 1976



Thai title

:

ไอ้แมงดา




English title

: The Bug Man



Rating

: 3/5


Director

: Chai Meekunsut



Main actor

: Krung Srivilai,Sorapong Chatree,Kanchit Kwanpracha,Pipop Pupinyo,Dam Datsakorn,Sayan Chantaraviboon,Lak Apichat,Chat Mongkolchai


Main actress

: Tanyarat Lohanan,Piyamas Monayakol
A Thai man just marries a hill tribe girl called Bokram. His wife is kidnapped by ruffians. He is in fact a man collecting girls for brothels! A mysterious man raid two brothels looking for a lady called Choimai. He is a strong puncher. His name is doctor Chai (Krung Srivilai) and is fiance with Vui, a gym sport woman (นักกีฬาgym). He has lost memory and cannot remember his own fiancee. Hong (Sorapong Chatree) is a well-off son involved with ruffians. Choimai is now prisoner in the prostitution ring leader's house. His name is Yai (Dam Datsakorn) and he is also smuggling weapons. Choimai is in fact Chai's sister. She escapes (ขายตัวกับผู้ชาย) and takes refuge in Dong's home, another ruffian, who is also a brothel owner. Trap is put in place by Yai to capture Chai at Turkish massage place (อาบอบนวด). An electronic device is put near his brain to force him acting on any orders from Yai. Yai uses Chai to give a punchy lesson to Hong. Brothels are similar to slavery as women are chained together. The mamasan (มาม่าซัง) pretends to help Choimai but it is another trap also. She is only interested by her ring and necklace. Brought by three ruffians in a remote place, Hong luckily drives by and helps her. She is welcomed in Hong's parents home (คนสตรี). Hong decides to change his behavior and stop frequenting ruffians. Inside Yai's group, Chai takes revenge over those who kidnapped Choimai. Dong traps Hong (เพื่อนทรยศ) as he has betrayed them. Hong tries to crash him with an old French Citroën DS car. It fails but Hong is finally captured by Yai. Choimai surrenders to Yai to spare Hong's life. Vui is also kidnapped. Chai only simulated being a robot following Yai's orders. Chai succeeds to release Vui. They enter inside Yai's remote camp and gun fights, explosions occur between Yai's ruffians and Chai's friends. Ruffians are defeated. The Lepso VCD image is quite damaged and colorless. It is a recording from TV. Anyway this Thai action movie features part of the finest bunch of 1970s Thai actors. In this movie, Krung Srivilai, best Thai actor in 1974, meets Sorapong Chatree, best Thai actor in 1975. This movie was the most popular movie in 1976. In the title แมงดา means pimp.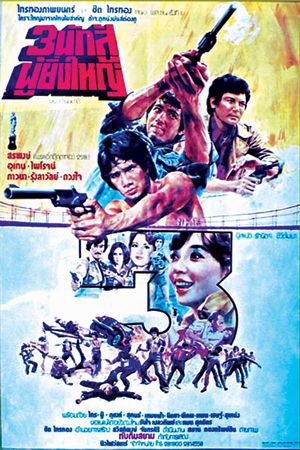 Year

: 1976



Thai title

:

3นักสู้ผู้ยิ่งใหญ่




English title

:



Rating

: 4/5


Director

: ทับทิมสยาม



Main actor

: Sorapong Chatree,Phairoj Jaising,Sukon Koewliam,Pipop Pupinyo,Uten Boonyong,Boo Wibunnan,Krai Kanchit,Pan Borapet


Main actress

: Pawana Chanajit,Moeifa,Duangjai Hathaikarn,Runglawan Sripatimakul
Thai movie 3 นักสู้ผู้ยิ่งใหญ่ was released in year 1976 and lasts 2h33mn. Movie director is ทับทิมสยาม. A remastered version was released by Five Star Production (ไฟว์สตาร์โปรดักชั่น) in the decade 2010s and shown on Thai TV cable. The movie was also released by Lepso Studio under VCD format. The VCD picture is quite poor and colorless. It certainly comes from an old TV program recording. The VCD lasts 2h12mn. Thai actors and actresses in this movie are Phairoj Jaising, Sorapong Chatree, Pawana Chanajit, Boo Wibunnan, Moeifa, Runglawan Sripatimakul, Pipop Pupinyo, Pan Borapet, Krai Kanchit, Uten Boonyong, Sukon Koewliam, Duangjai Hathaikarn, ภุชงค์ นาคราช, เชษฐ์, สุเหน่ง, sexy actresses (ดาวยั่วดวงใหม่) รินใจ เปลวทิพย์ and แมน ศุภมิตร. Wealthy man (พ่อเลี้ยง) Yan shall meet Sia (คนอิทธิพลมาก) Boo. Sia is played by actor Boo Wibunnan, who always plays the mafia leader, half Chinese half Thai, speaking a Thai language mixed with Chinese words. Yan is calling Lot (Phairoj Jaising) for support as a 20M THB deal is involved. They have to go to Pattaya. Taptim (Pawana Chanajit) is staying in a hotel with her father Boo (Boo Wibunnan). Her mother-in-law Nam Moei (Moeifa) is also there. Yan is staying in the same hotel and asks Lot to take care of Yu Mei, his mistress, while he is going out for business. Yan fails to reach a business agreement with Boo. Boo's men take compromising pictures of Lot and Yu Mei. Meanwhile Jom (Sorapong Chatree) and See Thong, his wife, get a job as a clerk in Yan's mining company. Sola, Yan's daughter (Runglawan Sripatimakul), is back from overseas. Pipop Pupinyo has arguments with Pan Borapet as he hurts one of his teammates. Pipop knows Yan well. Pan and Krai wish to hurt Boo's workers, so they send men to attack a woman at nighttime. Upset by this night attack, Jom, Lot and Sola storm their camp and take their weapons. Unwilling to settle, Boo and his men enter Yan's mining company to complain. Finally they retreat as Taptim realizes some men, working for her father, did behave badly. At nighttime, Boo's men enter Yan's company dormitories and assault ladies. The overseer is corrupted and has opened the door to ruffians. He now accuses Yan of being unable to protect his staff. While Jom is away, See Thong is raped and killed. Jom quits his job in Yan's mine in order to get revenge. Chiep (Uten Boonyong) arrives in the city. He stays in Sukon Koewliam's house where his two daughters, including Duangjai Hathaikarn, are fond of him. As Chiep is having a strong punch, Sia Boo wishes to recruit him and he accepts. As Taptim has studied in university, Chiep tries to convince her that her father activities are wrong (เดือดร้อน) towards villagers. As she is a university graduate, she shouldn't tolerate this. Jom ends up in Seua Hin's territory. Ruffians believe Jom is a hidden cop but Pipop confirms he is working for Yan. Knowing his will to avenge See Thong, Seua Hin's team trains him to become a strong fighter. Boo's team puts the compromising picture of Lot and Yu Mei together, so Yan spies them and catches them together. He chases both of them from his domain. Yan and his daughter Sola are then alone to manage the mine with no protection. Upset, Yu Mei joins Boo's team. Taptim is looking for a solution to the conflict between Yan and Boo. She decides to visit Yan with Duangjai and Chiep. Upset, Boo forbids his daughter to go anywhere. As Chiep shoots one of Sia's ruffians trying to rape a villager, he is considered as a traitor (ทรยศ) and imprisoned. Jom joins Yan as he has finished his training. Moeifa drugs Yu Mei so that she cannot refuse Sia's advances. Moeifa's plan is to take the team control with Lot. Yu Mei is punished and killed by Lot. Knowing Yu Mei's death, Yan requests a one to one duel with Sia. Yan shoots Sia Boo but then Lot cowardly shoots Yan also. Lot is the new leader. Meanwhile Taptim helps Chiep to flee. Jom and Chiep fight back in order to defeat Lot and his ruffians. The area now becomes ruffians free.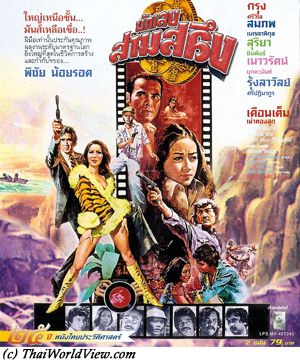 Year

: 1976



Thai title

:

นักเลงสามสลึง




English title

:



Rating

: 3/5


Director

:



Main actor

: Krung Srivilai,Songthong,Suriya Chinaphan,Somsak Chaisongkram,Kecha Plianvithee,Somphob Benjatikul


Main actress

: Naowarat Yooktanun,Deuan Tem Salitul,Runglawan Sripatimakul
Ket (Krung Srivilai) promises to his dying boss to go to Khao Kiaw to find the children he never had time to care of. Viwe (Songthong), an independant ruffian is wandering around Khao Kiaw. Kraison and his sister Mon are besieged in a restaurant by ruffians. Viwe agrees to help them but is asking for money as reward. Ket, having his lunch, helps them by shooting the ruffians. They all flee. Later in the village, Ket helps a young lady called Kaem (น้องสาวคนสวย) (จะไม่มีวาสนาเห็นขาอ่อนของฉัน) harassed by a few ruffians (Somsak Chaisongkram). Ket is looking for uncle Pran. Ket learns from Kaem that uncle Pran was shot a few months ago. Kaem brings Ket to meet Pran's children, i.e. Plaew (Naowarat Yooktanun) and Prai (Suriya Chinaphan). Kaem is Prai's girlfriend. Pracha (Kecha Plianvithee) is the ruffians leader. They all refuse to sell their land to Pracha. Pracha wants to know who is the man who resists to his ruffians. Plaew hires Ket to protect her fields (ไร่). Many beautiful "luk thung" (ลูกทุ่ง) are performed by Krung and Naowarat. Plaew bewares of Ket as he insolent (ทะลึ่ง). Pracha hires Viwe to kill Kraison. The ruffians take revenge over Ket by torturing him but this time Kraison helps to release him. Kaem loves Ket but Ket sees her as a young sister only (ที่ใครที่มัน). Prai is framed by Pracha's mistress and has to kill one of the ruffians to be able to flee away. Viwe asks for additional bonus to Kraison to avoid killing him. It ends up in a fight. Ket, Plaew and Prai threatens Pracha to stop harassing them for a last time but Pracha is preparing his revenge. While a Buddhist ceremony (ผ้าป่า) happens in the village, Plaew is kidnapped. Ket follows Pracha's ruffians in order to release her. Gun fights happen. Pracha and his ruffians are killed. Viwe, always helping people for money, is also shot dead. The movie end is a bit weird as it is discovered that Kraison killed many years ago Ket's brother so he has to revenge his dead brother. Ket is arrested by the police following his bad acts. Plaew promises to wait for him. Thai movie นักเลงสามสลึง (1976) or "the three ruffians" features many famous Thai actors from 1970s decade. Krung Srivilai was then at his zenith. A James Bond soundtrack is used. It lasts 1h50mn. The VCD has one audio track with Thai and one audio track with Lao. This movie is a mix of romance, action and features many songs.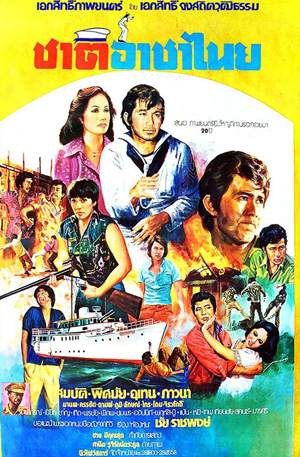 Year

: 1976



Thai title

:

ชาติอาชาไนย




English title

:



Rating

: 3/5


Director

:



Main actor

: Sombat Methanee,Uten Boonyong,Manop Aussawathep,Kanchit Kwanpracha,Krai Kanchit,Dam Datsakorn,Lak Apichat,Choomporn Theppitak,Boo Wibunnan,Paen Pleumsachai


Main actress

: Pissamai Wilaisak,Pawana Chanajit,Moeifa
Thai movie ชาติอาชาไนย was released in year 1976. It features Sombat Methanee as main actor and Pissamai Wilaisak as main actress. The movie is lost in Thailand but there is a short trailer of 1mn30s left to be seen. Other actors and actresses are Uten Boonyong, Pawana Chanajit, Manop Aussawathep, Kanchit Kwanpracha, Krai Kanchit, Dam Datsakorn, Lak Apichat, Choomporn Theppitak, Boo Wibunnan, Moeifa. The short left trailer allows to see a brawl involving Sombat, Kanchit, Dam, Krai, Choomporn and Paen Pleumsachai. Sombat hits Kanchit as he refuses to betray? The movie was previously released in year 2500 with Ratanaporn Intarakamhaeng, เชาวน์ แคล่วคล่อง, Somkuan Krajangsat, ทม วิศวชาติ and กมลพันธ์.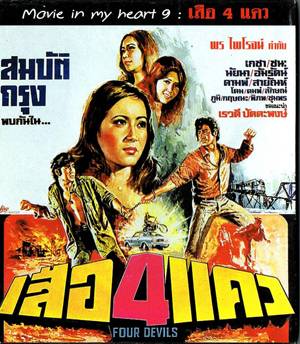 Year

: 1976



Thai title

:

เสือ 4 แคว




English title

: Four Devils



Rating

: 4/5


Director

:



Main actor

: Sombat Methanee,Krung Srivilai,Choomporn Theppitak,Kecha Plianvithee,Pipop Pupinyo,Dam Datsakorn,Chana Sriubon,Kom Akadej,Lak Apichat,Sayan Chantaraviboon,Pan Borapet,Paen Pleumsachai,Pumi Patanayut


Main actress

: Naiyana Shewanan,Rewadee Pattaphong



Buy now

:

Thai movie เสือ 4 แคว was released in year 1976. It lasts 2h20mn. Pleung (Krung Srivilai) and Chat (Sombat Methanee) are always fighting in a prison. The head of prison decide to transfer them to another prison. To avoid any issues during the transfer, they are hogtied together. During transfer, Pleung's teammates attack the police armed escort. Pleung and Chat flee together. Choomporn Theppitak is playing a policeman. They do realize that they have a common enemy called พ่อเลี้ยง Do Tawan (Kecha Plianvithee). Do Tawan is aware that Pleung is now free. Choi (อัมรัตน์ ขัตติยา) is Do Tawan's girlfriend. Four devils [เสือ4แคว] (Pipop Pupinyo – Seua Wang, Dam Datsakorn - Seua Nan, Seua Ping - Chana Sriubon, Seua Yom – โดม สิงห์โมฬี) are called by Do Tawan to kill Pleung. 1M Baht reward is promised for the one who succeeds to kill Pleung. น้อง Kaew (Rewadee Pattaphong), a teacher, is Do Tawan's younger sister. She knows the secret behind her brother. Do Tawan (โจรใจบาป) is selling drugs. Pleung, a former teammate, asked him to stop but ended up in jail because of Do Tawan. Pleung's younger sister Wallin (Naiyana Shewanan) is still kept captive by Do Tawan (ตัวประกัน). A bomb is hidden in her bungalow. Kaew prevents her brother from abusing Wallin. ภูมิ พัฒนายุทธ, Kan (Kom Akadej), Wai (Lak Apichat), Suki (Sayan Chantaraviboon) meet Chat in the restaurant (เอาเต็มที่). He claims to be เสือ4แคว. They sympathize with Chat, who sends them to help Pleung against the 4 devils. Meanwhile, Chat plans to enter Do Tawan group in order to spy them and release Wallin. Pleung, being attacked by Seua, decides to fight back and attack them directly also causing Dam to flee. Do Tawan hires Chat. Seua Ping's team includes veteran actors Pan Borapet, กฤษณะ อำนวยพร and Paen Pleumsachai. Chat pushes the teams against each other. Chat succeeds to exchange Wallin with Kaew simulating a kidnapping. Meanwhile Choi helps to provide information on Do Tawan's business. Chat is identified as the traitor. Chat shall be smashed by a train but Pleung helps him on time. Knowing that Chat is not dead, Do Tawan moves his stock of drugs in a safer place. Pleung identifies the place and decides to attack it. Chat, being finally a policeman, also comes with reinforcement. All ruffians are killed by the Thai A-team. Unable to flee, Do Tawan prefers to explode the warehouse to avoid surrendering. Pleung has to go back to jail but Chat promises that his efforts to catch Do Tawan will be taken into account to reduce the severity. This movie features a huge number of famous Thai actors and actresses.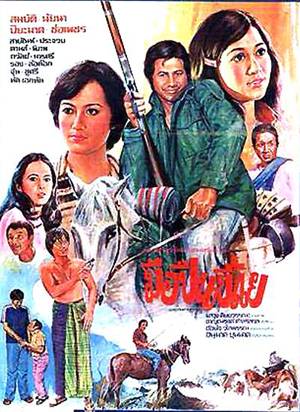 Year

: 1976



Thai title

:

มือปืนขี้แย




English title

:



Rating

: 3/5


Director

:



Main actor

: Sombat Methanee,Dam Datsakorn,Prachuap Ruekyamdee,Pipop Pupinyo,Rong Kaomulkadee,Tawan Siriwat,Sayan Chantaraviboon,Tat Ekathat,Lor Tok,Kokheng


Main actress

: Piyamas Monayakol,Chosri Misommon,Marasri Isarangkul,Naiyana Shewanan
Thai movie มือปืนขี้แย was released in year 1976. This action and comedy movie is lost in Thailand but the first reel lasting 26mn and a 3mn trailer are still available to be seen. Fightings happen with Dam Datsakorn and Pipop Pupinyo as they discover that Sombat Methanee is travelling hidden in their truck. Sombat is accompanied by a tall actor reminding Richard Kiel playing in James Bond movie Moonraker. Comic actor Rong Kaomulkadee is the driver. Sombat Methanee is looking for Kamnan Tawan Siriwat in order to find his mother (Marasri Isarangkul). He finds her but he wishes to identify now who killed his father. Sayan Chantaraviboon wishes to impress young lady KamPoo (Piyamas Monayakol). But he gets bullied by Chosri Misommon and Tat Ekathat. Policeman Raem Prachuap Ruekyamdee meets a friend's daughter, who is now a teacher (ช่อเพชร). Lor Tok is Thai boxing trainer (อาจารย์). Sayan wishes to learn from him as he is not able to fight against anybody. Dao (Naiyana Shewanan) meets Sombat but clash happens between them. Other comic actors are Kokheng and Joomjim Khemlek as policeman.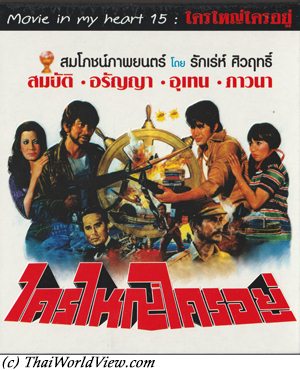 Year

: 1976



Thai title

:

ใครใหญ่ใครอยู่




English title

: The great outlaw



Rating

: 4/5


Director

: เสนีย์ โกมารชุน



Main actor

: Sombat Methanee,Uten Boonyong,Dam Datsakorn,Taksin Jampol,Kecha Plianvithee,Tat Ekathat,Pan Borapet


Main actress

: Aranya Namwong,Pawana Chanajit,Moeifa



Buy now

:

Thai movie ใครใหญ่ใครอยู่ / The great outlaw was released in year 1976 and lasts 2h08mn. The movie was released on VCD format in Thailand by company XxX (Triple X). Movie director is เสนีย์ โกมารชุน. Lom is having a boat transportation business on the river. Nai Prakit's ruffians (including Pan Borapet and เมือง อพอลโล่) are threatening Lom's team (Tat Ekathat). Nai Prakit (Kecha Plianvithee) wishes to marry Lom's daughter, i.e. Nam Rong (Aranya Namwong) but Lom refuses. Nai Prakit's team shoots Lom's boats and crew. Lom's staff decides to leave as they are afraid to be killed. Nam Rong proposes to talk to Nai Prakit in order to find a solution. Threatened by ruffians, Nam Rong gets help from an unknown man named Chuey (Sombat Methanee). She hires him! Peace is proposed to Nai Prakit but he is refused. Chuey is the son of an old friend of Lom. Lin See Thong (Uten Boonyong) arrives in the city and comes to eat sweets at Sida's shop (Pawana Chanajit). Fighting occurs with ruffians as one of them dislikes Lin See Thong trying to seduce Sida. Lin See Thong asks to join Nai Prakit's team. Rampeung (Moeifa) is Prakit's girlfriend. Prakan (ลูกรัก)(Dam Datsakorn) is back per his father's request. Prakit needs his help to destroy Lom's business and gets rid of Chuey. A new policeman (Taksin Jampol) arrives also in the city. He is a strong punch man and trashes ruffians lacking respect to him. Prakan, using small speed boats, disrupts Lom's boat fleet and prevent Lom's goods to be sold on the market. Two ruffians, Mek and Sing, intend to get rid of Lin See Thong as he is getting too close to Nai Prakit. Rampeung seduces Lin See Thong. Mek and Sing ask Nai Prasit to beware Rampeung and Lin See Thong. Ruffians try to storm Lom's house at night time. Shooting happens. Police arrive very fast and ruffians have to retreat. Nai Prakit suspects there is a traitor among them. Even Taksin dares to enter in Nai Prakit's house (บ้านเจ้าพ่อ). Speed boat fighting occurs as Chuey prepares resistance to the ruffians. Action scene is managed as well as in James Bond movies. Chuey defeats Prakan. Nai Prakit kills Rampeung as she sacrifices her life mentioning the police radio found belongs to her despite it belongs to Lin See Thong. Lin See Thong is kept prisoner in his room as Nai Prakit isn't sure he is innocent or not. Ram Rong is kidnapped by Prakan. Lom and Chuey enter Nai Prakit's home. Meanwhile Thai police is informed, and they arrive by boat. To win time and to allow Thai police to come, Lin See Thong asks for a fight one to one with Chuey to show his sincerity to Nai Prakit. Heavy shootings occur. Lom is shot. Nai Prakit and Prakan are captured. Both Chuey and Lin See Thong are undercover policemen. Policeman Taksin mentions that nobody is big enough to be above the law!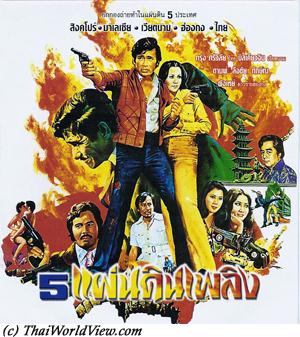 Year

: 1976



Thai title

:

5 แผ่นดินเพลิง




English title

: Five overseas missions



Rating

: 2/5


Director

:



Main actor

: Krung Srivilai,Dam Datsakorn


Main actress

:
Important documents have been stolen from a Thai official by crime syndicates. These documents could damage the security of Thailand if they fall in the hands of communist countries. Thai secret services put in place two teams to recover the documents. Those teams have to go to Thailand, Singapore, Hong Kong to get back those documents. Will the Thai people who hold these documents betray their country?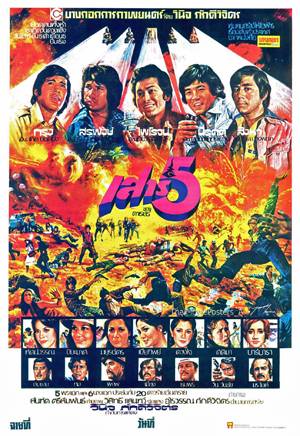 Year

: 1976



Thai title

:

เสาร์ 5




English title

:



Rating

: 2/5


Director

: วินิจ ภักดีวิจิตร



Main actor

: Krung Srivilai,Sorapong Chatree,Phairoj Jaising,Nirut Sirijanya,Pipop Pupinyo,Somchai Samipak,Choomporn Theppitak


Main actress

: Piyamas Monayakol,Tasawan Saneewong,Piathip Kumwong,Mayurachath Muarnprasitivej,Duangjai Hathaikarn,Sasima Singsiri



Buy now

:

5 friends are reunited for a mission in Northeast of Thailand. They were soldiers during Vietnam war. They receive sacred powerful Buddha amulets from a famous Buddhist monk in order to protect them during fighting. They have to swear, holding Thai flag, that they are willing to sacrifice their life for the nation, the religion and the monarchy. Sent on mission, they are facing a bunch of thieves, foreign people having a secret base with powerful rockets to threaten Thailand. Finally with the support of five women soldiers, they defeat the villains. Five major actors and actresses from the 1970s were featuring in this action movie.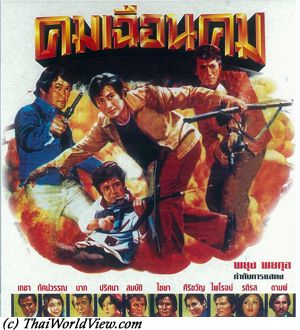 Year

: 1976



Thai title

:

คมเฉือนคม




English title

: The outlaw man



Rating

: 3/5


Director

: Payoong Payakul



Main actor

: Sombat Methanee,Phairoj Jaising,Nard Poowanai,Chaiya Suriyun,Kecha Plianvithee,Dam Datsakorn


Main actress

: Tasawan Saneewong,Prissana Chabaprai,Sirikwan Nanthasiri



Buy now

:

Three men are arrested by the Thai police following a trip to Hong Kong as they are suspected to sell drugs. They are released as no proofs are found. They met a guy called Daeng in the cell and befriended together. A young lady, Maria, Tawai's assistant, pick them up. Daeng is trying to join Tawai's secret organization, which is buying and selling weapons and drugs. Such organization undermines Thailand. As Tawai orders Daeng to kill Krit (Sombat Methanee), Daeng reveals that he is a hidden policeman and convinces Krit, who is a drug smuggler, to join his side. Policemen and gangster groups go to the golden triangle, border between Thailand, Laos and Burma. Heavy fightings happen between both groups. The country traitors are killed or captured. Some policemen are killed but they didn't die in vain as they give their life for the nation, the religion and the monarchy. It is a typical action movie of mid 1970s in which Thailand needs to be protected against external red communist threat. There is a rupture with traditional movies as Thai actors shake hands, listen to western music and kiss ladies in front of spirits shrines.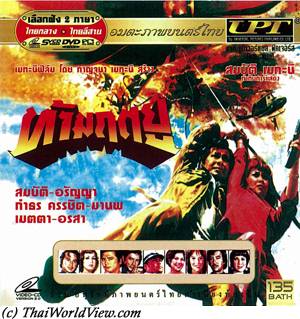 Year

: 1976



Thai title

:

ท้ามฤตยู




English title

:



Rating

: 3/5


Director

: Sombat Methanee



Main actor

: Sombat Methanee,Manop Aussawathep,Kanchit Kwanpracha,Kamthorn Suwanpiyasiri,Krai Kanchit


Main actress

: Aranya Namwong,Metta Roongrat,Moeifa



Buy now

:

During Vietnam war Tua (Sombat Methanee) and his friend Kamleu help to extract American soldiers from the enemy field. A new mission is given to them. They need to eliminate a Lao mafia leader called Kosi. This is the third tentative (รับจ้าง) to get rid of Kosi. It takes place in 1972. Tua is sent on mission to Vientiane. Tua is having a few James Bond secret gadgets. He is captured by a mafia team led by Madam (Moeifa). He claims he has come to Vientiane to kill Mafiosi (เจ้าพ่อ) Kosi. Madam frees him in order to know where Kosi is hidding. Tua meets Jenny, Kosi's daughter. Kosi neutralizes Tua and believes that he is an American agent (มือปืนรับจ้าง) sent to kill him. Kosi is in business conflict with Madam. During a heavy gun fight between the two groups, Kosi is saved by Chinese soldiers and sent to Muang Sing in Northern Laos. Madam is killed. The mission has now changed. Tua and his friend Kamleu now need to extract Kosi from the Chinese soldiers and hand over him to American soldiers. Jenny is also captured by Chinese soldiers. Tua meets Kupan, an old friend who is now involved in drug trafficking. He understands that Kosi was involved in trug trafficking and weapons smuggling to support Red communists. Kosi has been transfered in an island close to Pattaya. Following a final batle involving a turtle shape submarine, Kosi is killed and his treacherous organisation destroyed. It is a typical action movie from mid 1970s with Sombat Methanee, who is directing this movie and also playing the main actor role. It is inspired from James Bond movies' theme with a main actor having gadget agent secret and behaving like a Don Juan. It still includes some Thainess with Tua asking for help from his Buddhist amulet. It is available in both Lao and Thai languages.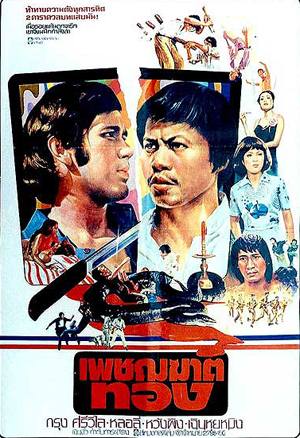 Year

: 1976



Thai title

:

เพชฌฆาตทอง




English title

: Big Boss 2



Rating

: 3/5


Director

:



Main actor

: Krung Srivilai,Lo lieh


Main actress

: Wang Ping
Movie เพชฌฆาตทอง is a Thai HK co production released in year 197x and featuring Krung Srivilai and Lo lieh as main actors. Chinese name is 唐山弟子 and English name is "Big Boss part 2". A three minutes trailer is available. The movie was never released on VHS or VCD. A 10 minutes sequence is available on line. It seems there is not so much link with the first opus featuring legendary Kung fu star Bruce Lee except trying to wave on the success of this first opus. Some parts are filmed in Thailand with Krung taking part to fighting and shooting on a river with a M16. A young lady (Actress Wang Ping) is looking for some gold. Krung is part of her team. Main actor (Lo lieh) arrives in Thailand and wishes to take revenge on the man who killed his father. It is the same man that owns the gold that the young lady is looking for. So she decides to use Lo lieh but without mentioning the gold...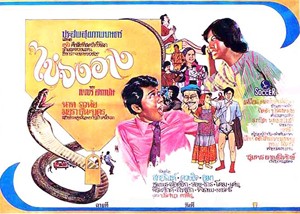 Year

: 1976



Thai title

:

ไข่จงอาง




English title

:



Rating

: 3/5


Director

: Choomporn Theppitak



Main actor

: Nard Poowanai,Sayan Chantaraviboon,Krai Kanchit,Rong Kaomulkadee,Choomporn Theppitak,Lor Tok


Main actress

: Mayura Thanabutr,Duangjai Hathaikarn,Marasri Bangchang
Thai movie ไข่จงอาง was released in year 1976. The movie is lost in Thailand but a remaining sequence of 28 minutes is left to be seen. Veteran actress Marasri Bangchang is collecting debts reimbursement. She is married to younger man called Insee (Rong Kaomulkadee) but his little bird gets burnt by hot soup poured by his wife as he is courting younger lady (แม่ค้า)! This comedy features three male friends (Sayan Chantaraviboon, Nard Poowanai and Pong) looking for fun. Three ladies friends (Nit – Mayura Thanabutr, Pip - Duangjai Hathaikarn, Tip…) realise that their three husbands are going to have fun together but their wives surprise them (อยากตายไหม). Pong is a doctor so he is lying about his friends' health in order to get some compassion from their wives. Other actors are Krai Kanchit, Lor Tok, อุมา, โดม, เด่น, ปริศนา ดาริน, หมึก.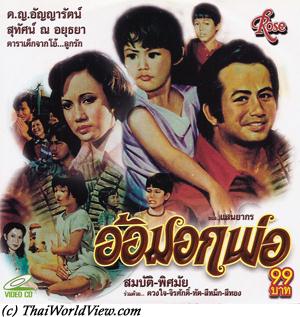 Year

: 1976



Thai title

:

อ้อมอกพ่อ




English title

:



Rating

: 3/5


Director

:



Main actor

: Sombat Methanee


Main actress

: Pissamai Wilaisak,Metta Roongrat
It deals with the difficulties of a family with harsh life, their everyday struggle.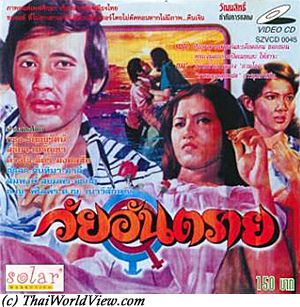 Year

: 1976



Thai title

:

วัยอันตราย




English title

:



Rating

: 5/5


Director

:



Main actor

: Krung Srivilai


Main actress

: Tanyarat Lohanan,Duangjai Hathaikarn,Moeifa,Neranchala Thaleungsak
Husband Rat is butterflying outside (รักกินขโมย) with mistress singer (นักร้อง) Na while his wife Potchanee is at home with two children, Tik and Tup. He spends a lot of money on his singer and comes back late every night (แม่ใหม่). A friend warns the wife Potchanee where is her husband (ผัวชั่ว). Potchanee surprises them together. Arguments are raised (วิชาผูกชาย) sharply. One of the daughter, hiding in the car, hears everything. The wife shoots the singer, her husband and her daughter by mistake so she kills herself. The movie introduction sets the tone. It is about love, crave and death (ใคร่, ตาย, รัก). The daughter Tup finally didn't die. She is now an adult and living with her younger sister Tik, who is studying at university. Tup is a doctor in order to help other people. She also wants her younger sister to do activities useful for the society (ประโยชน์สำหรับสังคม). Tup has a boyfriend called Krienkrai. Krienkrai's younger brother, Kong, likes Tik a lot. The two brothers love the two sisters. Krienkrai wishes to marry with Tup but she is always delaying as understanding (ความเข้าใจ) is important for her as she is afraid of being married and facing same issue as her mother. If Krienkrai wants love, Tup will give him. If Krienkrai wants crave, he shall go somewhere else (ไปหาที่อื่น). So Krienkrai is going out with Moeifa (กะหรี่) to have crave with another woman. She wishes to train his younger brother (เด็กน้อย) also! Ruffian Yot (คนจิงจกสังคม) is leading a prostitution ring. One of his prostitutes, Kathin, flees but she is caught back. Luckily the two brothers pass by and help her. She has syphilis. The doctor gives an educational description of all sexual deceases with crude and real pictures. Pat, young lady, has issues with her parents. Her mother is sick as her father doesn't have mood to do his bedtime husband duties so she is depressed. Pat leaves home and is kidnapped by ruffians. Luckily Pat is rescued in time by Kong. Kong helps to bring happiness on her face. if parents are not happy, children will behave badly (ไม่อบอุ่น). Passage to teen age is dangerous (วัยอันตราย). Tik is ready to lose Kong so that Pat can have happiness. During a storm Pat and Krienkrai have a short time sexual relation. Krienkrai still wishes Tup to stop being a doctor after their wedding. Pat is now pregnant. Who is the father? Kong is suspected by Tik. Pat's mother suggests abortion. Krienkrai is drunk everyday but refuses to marry Pat. Pat refuses to abort. Kong knows the truth (เลวกว่าหมา). Kong decides to recognize the baby as his brother is too coward. Kit understands Kong's decision. Pat refuses that Tik or Tup sacrifice themselves and promise not to kill herself. The ruffians lead by Yot notice Pat and Tik in a mall. They kidnap them. Hopefully Kathin, the lady that Krienkrai helped before, is still working there again (สังคมไม่รับ) and promises to help Pat and Tik. Pat is raped and hurt in the tummy by Yot. Tik succeeds to escape thanks to Kathin. She calls Kong, Krienkrai and the police for help. They neutralize the ruffians. Finally Krienkrai accepts to recognize the child. He blames Tup for refusing to give him some lust before so causing all this mess to happen as he needs to go outside (ระบาย)! Tup still loves Krienkrai especially after such sacrifice and continues to dedicate her life to medicine. The movie features great music from 1970s. The movie highlights that lust (กิเลส) and desire (ตัณหา) are present in all people. Impact will depend on how each individual can succeed to control himself. It also features academic educational messages on sexual deceases, birth control (correct use of contraceptive) and basic sexual teaching about unique father conception. "Wai Antarai" is really part of the new kind of movies that appear during 1973-1976 freedom era. It was the first Thai movie about sex education (เพศศึกษา).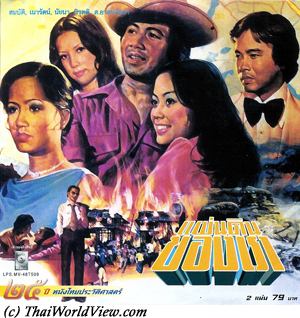 Year

: 1976



Thai title

:

แผ่นดินของเรา




English title

:



Rating

: 4/5


Director

: Sor Asanajinda



Main actor

: Sombat Methanee,Sor Asanajinda,Nirut Sirijanya,Phirapon Piyawan


Main actress

: Naowarat Yooktanun,Naiyana Shewanan
แผ่นดินของเรา is the movie introducing famous Thai actress, Naowarat Yooktanun, for the first time. Sor Asanajinda, Thai national artist, is the movie director and also actor. A father comes to rest in a house close to sea with his three grown up daughters, Yai (อัจฉรา) the elder, Eung and Pak (ภัคคินี), the youngest. Tamlong (ธำรง), is the one who has transformed this hostile land into an oasis due to his hard work. Pak is the youngest daughter and always dares doing things. All the three girls are impressed by Tamlong's strong personality. During a boar chase, Tamlong saves Pak's life but is injured at the leg. During his recovery at Pak's parents home, Pak and Tamlong declare their love to each other. Tamlong is twice older than Pak (ผู้ชายแก่ๆ). Wedding takes place. Pak marries before her elder sister Yai so Yai is quite upset as according to Thai traditions, she should have married first. Yai is still waiting for her fiance Narin (นเรนท์) to go come back from his studies in France. Pak and Tamlong settle on their new land (แผ่นดินของเรา). Finally Narin and Pak meet. Both of them are hot temper (คนผีทะเล). Yai is too old style (โบราณ), too traditional for Narin. He is fond of Pak. He gets fun of Pak having married an older man. While wandering in their domain, Pak is bitten by a snake but Narin helps her on time. Love feelings start between both of them. Narin becomes jealous of Tamlong and considers stopping his engagement with Yai. Finally Yai accepts Narin advances knowing he is hot temper. Being forced by his parents, Narin shall finally marry Yai next month but it is not a love wedding. Yai is too reserved for Narin. Narin is modern as he studied abroad so he doesn't like Thai traditional stuff anymore and wants external signs of love similar to western behavior. Finally Narin and Pak start an affair as Pak is convinced by Narin's true love. But Pak doesn't dare to leave Tamlong for Narin and is worried to hurt her sister Yai. Tamlong knows something has changed. Pak is challenged by Narin about her real feelings. On the wedding day, Pak and Narin disappear and send a letter to Yai and Tamlong to explain their decision. While fleeing on a boat, Narin and Pak are robbed by ruffians so they run out of money already. Pak discovers harsh life with Narin as he is not a good lawyer and being addicted to alcohol also. They live in a slum. Pak needs to become a street vendor (แม่ค้า). Yai is pregnant with Narin so she feels ashamed. Yai takes refuge in Tamlong's home to hide her pregnancy to her parents. Pak discovers that Narin has a mistress. A night he is out, a fire burns the slum. They lose everything. As Narin is sick, Pak needs to prostitute herself. Tamlong finally finds Pak and asks her to come back to their land. Pak cannot leave Narin as he is sick (ไข้ป่า) and she still loves him. She values Tamlong's kindness (ความดี, น้ำใจ), who forgives her and gives her money. Narin is sent to jail following a robbery. He refuses to see her again trying to push her to get a new life. Pak finally goes back to Tamlong's land to die there due to severe sickness. This 1976 movie highlights society conflicts between modern and traditional patterns.



Year

: 1976



Thai title

:

เหมือนฝัน




English title

:



Rating

: 3/5


Director

:



Main actor

: Nard Poowanai,Dam Datsakorn,Taksin Jampol


Main actress

: Pawana Chanajit,Mayurachath Muarnprasitivej,Metta Roongrat,Moeifa,Chosri Misommon,Sasima Singsiri
Thai movie เหมือนฝัน was released in year 1976. It lasts 2h09mn but is still incomplete. Sakuna (Mayurachath Muarnprasitivej), Ot's young sister, shots a man in a nightclub (คนทรยศ). Yeah Nut (Metta Roongrat), a singer, and Kachen (Taksin Jampol), nightclub's owner, believe Ot (Dam Datsakorn) is responsible but he refutes any implication. Yeah Nut and Kachen go upcountry side to meet Meuan (Nard Poowanai), the younger brother of the dead man. He is responsible of a temple school. Meuan decides to go to Bangkok. Yeah Nut likes secretly Meuan. It seems a part of the movie is missing there but Meuan is recruited by Kachen to work as gigolo. Meuan has a girlfriend (แฟน) called Mascilla in Bangkok but still needs to perform his gigolo job with demanding customers such as Moeifa. A hitman (นักเลงรับจ้าง) tries to kill Kachen but Meuan foils this plan. Meuan needs to meet his new customer called Linda. Ot decides to use Sakuna to neutralise Meuan. Meuan is finally the one to catch Sakuna! Meuan, while looking for Linda, gets a pieing from Luuk Maew (Pawana Chanajit). Chosri Misommon is playing a role as Linda's domestic helper. Luuk Maew is Linda's daughter and she dislikes Meuan. Aware that Meuan is going to Kanchanaburi with Linda, Ot prepares a plan to get rid of him. As Linda and Meuan are not back after one week, Mascilla and Luuk Maew go there to look for them. Everybody meets at the same restaurant along the river. General fighting happens and all ends up in police station. Linda and Mascilla decide to fight over Meuan (ถึงเก่ายังไม่มีสนิม). They have arguments about beauty comparison and money (ซื้อความสุขจากเขา). Meuan gets slapped by Linda. Luuk Maew is kidnapped. Meuan is fed up of his job. He indulges in alcohol and has arguments with Linda, Mascilla and Kachen as he feels other people just use him. Meuan kidnaps Sakuna (ตัวประกัน) to exchange her with Luuk Maew. During the exchange, Meuan is injured and Tawat (สมชาย ศรีภูมิ), who kidnapped Luuk Maew, is killed. Sakuna promises to revenge over Meuan. Luuk Maew loves Meuan but finds Linda in bed with Meuan (หลอกลวง). She flees away. Meuan requests his money to Kachen. Meuan plans to give his money back to the temple school he funded. All protagonists meet in the temple. Sakuna wishes to kill Meuan but Yeah Nut wishes to protect him. They end up killing each other. Meuan, injured but helped by Fan, finds strength to bring the money to the temple school. Both Kachen and Ot stop fighting as they have their dead young sisters to take care.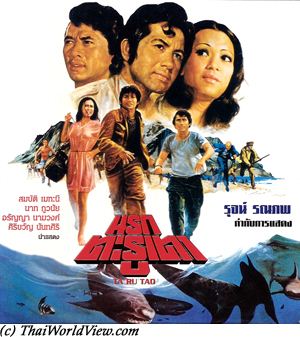 Year

: 1976



Thai title

:

นรกตะรูเตา




English title

: The Hell of Tarutao



Rating

: 3/5


Director

: Ruj Ronnapop



Main actor

: Sombat Methanee,Nard Poowanai,Manop Aussawathep,Adul Dulyarat,Pipop Pupinyo,Phirapon Piyawan


Main actress

: Aranya Namwong,Sirikwan Nanthasiri



Buy now

:

This movie is based on a true story. Koh Tarutao was an island penal colony for prisoners (นักโทษการเมือง) having participated to the failed royalist rebellion in 1933. Through World War II, Tarutao island housed the country's most extreme incarceration center. A lack of supplies during the war left many prisoners to perish from disease or starvation. Two political prisonners arrive on Tarutao island with a bunch of other convicts. Nasty guardians monitored them. Sad and horrible events happened such as male prisoners raped, prisoners eaten by sharks or killed by guardians while trying to escape, prisoners harshly ransacked by guardians, lady raped by chief warden, prison director and doctor killed by chief warden. There is no way to escape from Koh Tarutao (มีแต่ตายกับตาย). The two political prisonners always fight together. They finally try but fail to escape. They are punished to be eaten by crocodiles but are saved by the two young ladies (หญิงสาวชาวเกาะ), who are residents on the island. They get in love and prepare an escape together thanks to the doctor and their father, crazy about money. The escape turns into a bloody tragedy. Only a few succeed to escape.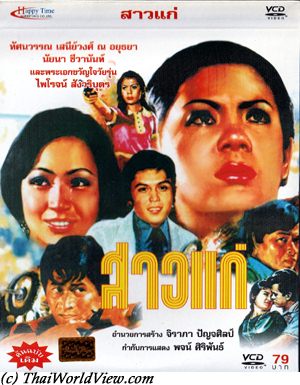 Year

: 1976



Thai title

:

สาวแก่




English title

:



Rating

: 3/5


Director

:



Main actor

: Phairoj Sangwaribut,Manop Aussawathep


Main actress

: Naiyana Shewanan,Tasawan Saneewong,Mayurachath Muarnprasitivej
Thai drama movie สาวแก่ was released in year 1976 and it lasts 1h45mn. Doctor Pim (Phairoj Sangwaribut) and nurse พี่ Yot (Tasawan Saneewong) are boyfriend / girlfriend. She is 12 years older. Her close friend is Jaem (Mayurachath Muarnprasitivej). Chaninee (Naiyana Shewana) brings her father to hospital. Pim helps to cure him. Many people in the hospital gossip (นินทา) about Pim and Yot. Jaem has even some concerns about the couple (ความเหมาะสมผู้หญิงกับผู้ชาย). Knowing he fails to be chosen to be sent overseas as doctor, Pim involves in alcohol and Yot has to bring him back home. Finally Yot and Pim become lovers as Pim is pushing for it under alcohol influence. Chalat (Manop Aussawathep), a policeman, is introduced to Yot by Jaem as she believes Pim and Yot don't go together properly as she is much older than him. The doctor opens a clinic with Yot as assistant. Yot sold her land to pay for the clinic. They are still calling each other "พี่ Yot" (Sister Yot) and doctor (หมอ). Pim meets Chaninee another time as her father is sick again. The father finally dies. He presents Yot as elder sister (พี่สาว) to Chaninee. Yot wishes to marry to stop all rumors (คนนินทาไม่มีวันหยุด). Jealousy happens as Yot is aware that Pim is seeing Chaninee. She complains Pim changed since he is meeting Chaninee. Yot announces she is pregnant since 2 months. She wishes to die! Pim goes to Pattaya beach to relax and meets Chaninee by accident there. Yot follows him there in order to know the truth. Yot keeps reminding Pim about the favors and help (ท่วมบุญคุณ) she gave him. Finally Pim accepts to marry her in order that the child has a father. Yot remains very jealous. The baby is born. Yot complains she is not happy despite performing her wife's duties (ทำหน้าที่ให้ดีที่สุด) as good as she can. Jaem recommends Yot to give him some freedom and she keeps complaining that Pim has to kindness towards her (ไม่รู้จักบุญคุณ). Jaem is now with an older man with 4 kids. She claims it is better for a woman to marry an older man than a younger man. Fed up and following arguments with Yot, Pim quits the house. Pim announces he loves Chaninee but as respect for Yot, he will not quit her. Jaem and Chalat bring Yot out. Seeing Chaninee, Yot argues with her but Chaninee claims she didn't see Pim since his wedding. Yot shoots Chaninee but hopefully Chalat is here to stop her. Chalat promises to take care of Yot so that both couples can have happiness.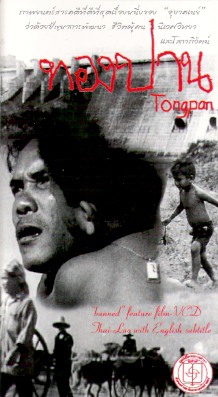 Year

: 1976



Thai title

:

ทองปาน




English title

: Tong Pan



Rating

: 5/5


Director

: Euthana Mukdasanit,Surasee Phatham,Isan Group



Main actor

:


Main actress

:
Tong Pan is a poor peasant from Isan, Northeast area of Thailand. He has three kids and his wife is sick. He is now living in Chiang Khan as he has to move earlier from his former home flooded due to a dam construction. He is invited by a student to partipate to a seminar regarding the contruction of a new dam in Pak Chong area. He is going there hoping for changement into peasants' life. He is only a hired peasant, he has no more land. He got only 2000 Baht a year and cannot even get a forward payment from his greedy landlord to cure his sick wife. Following the October 1973 uprising, government wants to add more democracy in the decision making. Foreign engineer, professors, governmental agency officials, local inhabitants including Thong Pan join the seminar. The foreign engineer explains the great advantages of the dam from an economic point of view. But local inhabitants cannot understand spoken English! They use local Isan dialect. The governmental agency officials complain that nobody thinks about Thailand's future. It is good for the country for selling electricity abroad and anyway it is difficult to find advantages for all. The minority shall sacrifice it-self as long as it good for the majority. There is a parallel between the theory discussed at the seminar and the reality that local peasants are experimenting (houses and land flooded, no more water in rice fields during dry season and flood during rainy season as water is released from dam, no more fishes to catch, no trees to build house as forests have been cut, sickness, poverty, electricity for the rich not for the poor...). Finally participants remind that it should be good to get the feedback from locals. But Thong Pan is already gone as he knows nothing can change. One local raise that they want fertile land but also complains about officials corruption, thieves, illegal sawmills that cut forests, missing healthcare for them as they can never visit doctors. When Tong Pan reaches home, his wife is already dead. Tong Pan movie was banned following the 1976 demonstrations. Participants and directors were sent to jail or exiled following this 1976 uprising. The Culture Ministry registers 25 Thai classic films each year at the National Film Heritage Registry. This movie is part of the 25 films heritage list announced on 04 October 2011, which is Thai Movies Conservation Day.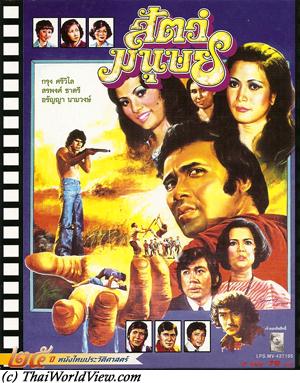 Year

: 1976



Thai title

:

สัตว์มนุษย์




English title

:



Rating

: 5/5


Director

:



Main actor

: Sorapong Chatree,Krung Srivilai,Jamroon Nuatjim


Main actress

: Aranya Namwong,Piathip Kumwong
Chot (Sorapong Chatree) and his sister Choi (Aranya Namwong) are children of poor farmers. Chot loves Soi, who is the subdistrict headman's daughter (กำนัน). They love each other but Chot cannot have any hope as he is too poor (เด็กเรียนควาย). Chot helps his sister Choi as she was going to be raped by three ruffians (สัตว์นรก!) that are protected by the local subdistrict headman. Saeng, son of the subdistrict headman, requests a young lady called Bua as a payment for her mother's debt. Bua takes refuge in Chot's father home. Meanwhile Chot is arrested as he hit earlier the three ruffians. It is unfair and the family has no money to pay the bail (ประกัน). The father needs to ask a local Chinese moneylender for 10 000 baht to pay the bail. There are always issues between Saeng and Chot. Saeng would like to kill Chot. One night, Saeng's ruffians rob the 10 000 baht reimbursement and kidnap Bua. The subdistrict headman and village headman are not helpful to poor people. The village headman prevents Chot and other men to look after the ruffians as Chot shot one of the robbers. Bua is then found dead. Choi is very upset as Bua's death is due to the village headman (ผู้ใหญ่บ้าน) inactivity and his refusal to take responsability (ไม่รับผิดชอบ) as he prefers to help rich people only. As the headman hits her sister, Chot, in full anger, shots him and then needs to flee. Chai is the local Chinese moneylender's son. He is no respect for others. Chai (ลูกเศรษฐี) tries to shoot birds in a Buddhist temple despite the abbot's request to stop. Chot, who took refuge in this temple, prevents him to do so as a temple shall remain a peaceful haven. If we accept human sins, what kind of future will Buddhism have? (ถ้าเรายอมให้มนุษย์ทำบาป ศาสนาจะมีอนาคตอะไร). Pliu, future lawyer, promises to marry Choi. Chot succeeds to get back the 10 000 bath from Saeng (ตอบแทนความชั่ว). The father refuses the money believing his son is now a brigand (โจร). Heavy floods happen. All crops are devasted. The father has no more money to invest in new crops. Be good and there is nothing good happening to them (ความดีไม่เอาแล้ว). The father receives 3000 bath to plant new crops but Choi must accept to be the moneylender's domestic helper (เป็นขี้ข้าดอกเบี้ย). As Chot was injured, he cannot help. Only the Buddhist abbot helps him. Choi is drugged by the moneylender and raped. Then she is forced by Chai. She fell in hell (ตกนรก). She supports this situation as respect to her father (กตัญญูสำหรับพ่อ). Tia, the moneylender, likes Choi very much and decides to take her as minor wife. She accepts in order to remove her father's debt but this one doesn't understand his daughter (sent her to be a maid and not a wife - ส่งให้เป็นแม่บ้านไม่ได้ส่งให้เป็นเมีย) and decides to stop any relationship with her (ไม่มีลูกสาวแล้ว, คนอยู่ละโลก, ผู้หญิงขายตัว). Money has destroyed his world and family. The father has a heart attack and dies. Choi is now pregnant. Most likely the father is Chai and not Tia, the father. Tia's wife puts everybody under his own responsibility. Wishing to do good one time in his life, Tia promises to give a house and one million bath for Chai to marry Choi (ฮี่ควาย). Saeng then threathens to kill Tua if he doesn't handover a bus line. Rich and influent people are sinful (สัตว์มนุษย์) behaving worst than animals. Finally Tia asks Choi to convince Chot to give a lesson to Saeng versus a promise to help Chot against authorities. During the fight Saeng accidentally dies. Chot surrenders (มอบตัว) and is finally forgiven by the tribunal thanks to lawyer Pliu. Choi continues to behave badly with no respect, no care for anybody except himself. He finally has a business conflict with Tia and dies, being shot by Soi. This movie has a deranging question regarding karma. People who do good and follow up Buddhist precepts are the poor losers. The moneylender, the subdistrict headman's family do not follow the law and are the one reaping the profit. Is it worth to be always good people when injustice prevails? Actor Sorapong Chatree got a best Thai actor award for this movie.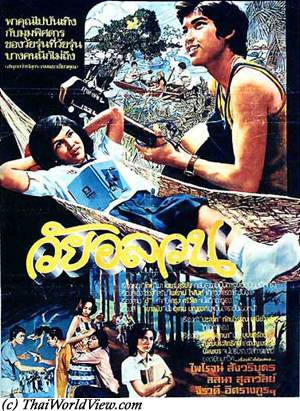 Year

: 1976



Thai title

:

วัยอลวน




English title

: Wai On La Won



Rating

: 3/5


Director

: Piak Poster



Main actor

: Phairoj Sangwaribut,Somkuan Krajangsat


Main actress

: Lalana Sulawan
Tam (ตั้ม) is an university student. He takes additional jobs as he doesn't come from a rich family. He rents a house to a strict owner, who has two daughters. Tam tries to seduce the first daughter but she is already engaged. Tam is an evening teacher (อาจารย์) and teaches the second teen daughter called O (โอ๋), who is quite stubborn (ดื้อ) and not willing to learn (ไม่ตั้งใจเรียน). The father believes O is having an affair with Tam. The father is old style (แบบโบราณ ). He decides to send O every day (จะส่งเรียน) to school. Tam continues to support her secretly through messages hidden in books (No sms and chat in 1976!). Love emerges between O and Tam despite the father's surveillance. Tam needs to use tricks to deceive the father. In parallel Tam is still following lawyer studies. He needs to find trick to get money to finish to pay his studies. The father threatens Tam to force him to leave but to no avail. Finally O and Tam can get married. This movie serie by Piak Poster included four opus, i.e. วัยอลวน (1976), รักอุตลุต (1977), ชื่นชุลมุน (1978), วัยอลวน 4 (2005). This first opus was a break with 1970s movies as it was the first successful teen movie including new modern actors (Phairoj and Lalana) and especially modern music. It was the first teen movie, which changed the local trend where the main actor had to be always polite, good looking with a robust body. The director, Piak Poster, used a new actor, Phairoj Sangwaribut, who was quite slim. At the beginning, the movie was a failure. No theaters were interested to show it as the 6th October 1976 sad events just happened. Piak Poster shown it to the students and good feedbacks started to spread. Nice modern songs and guitar performances helped to popularize the movie. Finally it reaped 8 millions Baht. ตั้ม and โอ๋ became popular nicknames in that period.
---