Increase or decrease font size for easier reading : A+ A-
Year 1974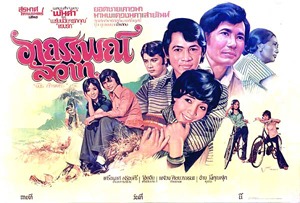 Year

: 1974



Thai title

:

อาถรรพณ์สวาท




English title

:



Rating

: 3/5


Director

: Phan Kam



Main actor

: Yodchai Meksuwan,Sayan Chantaraviboon,Manop Aussawathep,Boo Wibunnan


Main actress

: Pawana Chanajit,Chosri Misommon,Marasri Bangchang,Duangnapa Autthapornphisan
Thai movie อาถรรพณ์สวาท was released in year 1974. This หนังชีวิตรัก movie is lost in Thailand but 59 minutes are left to be seen. Other actors are Duangnapa Autthapornphisan (ดวงนภา อรรถพรพิศาล), จิระศักดิ์, จรัสศรี, ขุนแผน. Movie director is Phan Kam. Nok (Pawana Chanajit) needs to leave for Bangkok. Her friends, including Tao and Kung (Sayan Chantaraviboon), are already missing her. They are close friends (ลูกทะเล). Nok's mum (Marasri Bangchang) sends her in Bangkok to finish her studies. She shall stay in her mother's best friend home. In Bangkok, Nok meets Kata (Yodchai Meksuwan). Chosri Misommon is playing a domestic helper. Kata doesn't welcome Nok as she reminds him a former love that failed and so bad souvenirs. Boo is debtor recover. Walin (Manop Aussawathep), close friend with Kata, likes Nok also. Nok and Yodchai play jealousy games towards each other. Due to debts, Yodchai's mother succeeds to marry Nok and Kata but there is no real love between them. Kata is ashamed as people shall gossip if it is a wedding due to money arrangement. In reality, Nok's mother doesn't have money anymore also! As his mother warns him on his family name status (ตระกูล) if Nok has any bad behavior, Kata starts to enquiry about all activities of Nok. As Nok's mother is bankrupted, Kata's mother is upset to have organised this wedding and tries to find Nok in compromising situation to have an excuse to cancel the wedding. Nok learns that her mother is ruined and gets sick. While Kata is on business trip and Kata's mother refuses to call a doctor, Kung brings Nok out of this heartless home. Kata's mother puts the blame on Nok but Kata is fully aware of his mother's tricks and decides to get Nok back. Finally Kata accepts to give back her freedom to Nok. Going back, he has a car accident. On the hospital bed, Nok declares her love to Kata. The movie ends happily.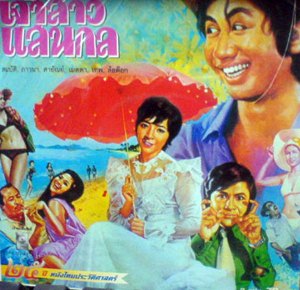 Year

: 1974



Thai title

:

เจ้าสาวแสนกล




English title

:



Rating

: 3/5


Director

:



Main actor

: Sombat Methanee,Sayan Chantaraviboon,Preuhat Boonlong,Lor Tok,Thep Thienchai


Main actress

: Pawana Chanajit,Sasima Singsiri,Metta Roongrat
Thai movie เจ้าสาวแสนกล was released in year 1974. It lasts 1h53mn. Rataya (Pawana Chanajit) is fleeing her father to avoid a forced marriage (หนีแต่งงาน). Her father (Preuhat Boonlong) promised to marry to an older man called Yiu (Lor Tok). As the father has debts with Yiu, he has no choice. Ran (Sombat Methanee) is fed up being a company owner. He wishes to have a break and asks Varun (Sayan Chantaraviboon) to replace him for a while. Many people believe Rataya drown in the river while fleeing her father but Ran saw her swimming away. An old lady aggressed by thugs (ลูกอัปรีย์) mistakes her as a ghost (ผี). Rataya takes refuge in a friend's home called Too (Sasima Singsiri). Ran wants to be a staff (ลูกช้าง) for a while instead of being a boss. Comic actor Thep Thienchai is even having a small role. Interested by Rataya, Ran succeeds to be hired by Yiu as domestic helper under the name of Yim. Rataya makes Yiu believe that she is a ghost now (ผีหลอก). Yim is fully aware but doesn't disclose the secret. Too asks Yui to cancel the debts with Rataya's father in order to avoid the ghost harassing him but he prefers to do good deeds (ทำบุญ). Rataya disguised as a ghost tries to get the document (โฉนดที่ดิน) but it ends badly as Yiu's daughter called Nut shoots at her. Unfortunately she is not injured but Yiu is now aware of the trick. On the way to get back his wife (รับไม่ได้), Yiu is attacked by two masked robbers being Too and Rataya. Yui gives Rataya an ultimatum of 10 days. Yim has a plan to replace Rataya by another lady called Prai (Metta Roongrat). Finally Yui announces he is not able to perform husband duty! Yim gives him a special medicine but it is finally a laxative medicine (มีปืนก็ไม่มีลูก, ยิงเท่าไรก็ไม่ดัง). Rataya starts to suspect that Yim is more than a domestic helper as he can speak English. Yiu gives back the property title and the debt reconnaissance is burnt. Aware that Yim's real name is Ran, Nut, daughter of Yui, is suddenly interested in Yim. Seeing Yim arguing with Nut, Rataya flees away. Movie ends happily, i.e. Ran with Rataya and Yiu with Prim. A TV serie based on the same story was released in year 1992.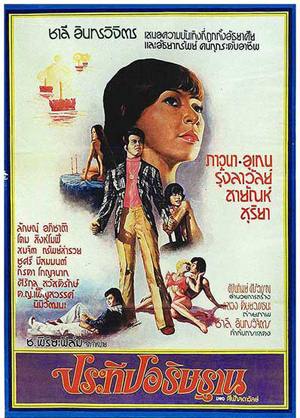 Year

: 1974



Thai title

:

ประทีป อธิษฐาน




English title

:



Rating

: 4/5


Director

:



Main actor

: Uten Boonyong,Sayan Chantaraviboon,Suriya Chinaphan,Lak Apichat


Main actress

: Pawana Chanajit,Chosri Misommon,Somjit Sapsamruey,Runglawan Sripatimakul
Thai movie ประทีป อธิษฐาน was released in year 1974. It lasts 1h57mn. It was shown on Thai TV cable. Pan (Pawana Chanajit) and Kalan (Uten Boonyong) meet during Loi Krathong. Kalan announces to her that he is her future boss as Hotel manager! Chosri Misommon is Pan's aunt. She always asks for money as she keeps gambling. Pan's mother had a lover as her husband didn't take care of her and her daughter. Upset, the husband wished to bring her to her lover for clarification but a car accident happened on the way and both died. So Pan stayed with her aunt. Sek (Suriya Chinaphan) loves Pan and always does courtship her as a gentleman. Kalan's mother is played by Somjit Sapsamruey. Somjit introduced Da (Runglawan Sripatimakul) to Kalan and wishes for a wedding. The mother believes Pan cannot be trust as cashier as her aunt Chosri is a big spender (การพนัน). Aunt Chosri ends up in jail. While nobody wants to be the guarantor, Kalan offers the money to bail her out. Pan is promoted to manager assistant (ผู้ช่วยผู้จัดการ). Karun (Sayan Chantaraviboon), the second son, is back from overseas but he has heart disease. He likes Pan also. An American tourist is always trying to seduce her also. So four men have hopes on her. Finally she marries Karun. The aunt gets a big amount of money (ใช้หนี้). She knows she doesn't love him. Karun is unable to perform husband duties per a congenital disease. Kalan was former lover of Pan's mother but Kalan confirms it was a platonic love. Smoking scenes and love scenes are blurred. Pushed back by Kalan, Da goes with Lak Apichat to Hua Hin. They become lovers. Karun, being over jealous on Pan, ends up at hospital. Kalan decides to marry with Da to avoid any more jealousy crisis. Unfortunately fightings happen at Kalan's wedding as Karun sees Pan talking to Sek. Pan flees. Kalan announces to Da that he cannot love her as he knows she is pregnant with somebody else (Lak). Kalan finally finds back Pan. Meanwhile Karun is getting crazy and even shoots two people at night believing it was Kalan and Pan. Being a bad girl, Da quits Kalan. Finally Kalan and Pan can have happiness. This is a romantic drama from 1970s with much more realistic story compared to 1960s decade movies.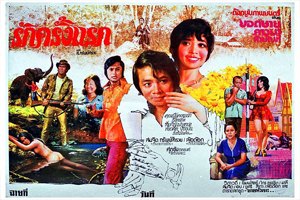 Year

: 1974



Thai title

:

รักครั้งแรก




English title

:



Rating

: 3/5


Director

: Lor Tok



Main actor

: Yodchai Meksuwan,Sayan Chantaraviboon,Op Boonthit,Sithao Petcharoen,Lor Tok,Krai Kanchit


Main actress

: Pawana Chanajit,Chosri Misommon,Somjit Sapsamruey,Malee Wetpraseri,Khomapat Attaya,Manat Boonkiet
Thai movie รักครั้งแรก was released in year 1974. Main actors and actresses include Pawana Chanajit, Yodchai Meksuwan, Sayan Chantaraviboon, Malee Wetpraseri, Somjit Sapsamruey, Op Boonthit, Chosri Misommon, Sithao Petcharoen, Lor Tok, วิภาวดี ตรียะกุล, Khomapat Attaya, Krai Kanchit, Manat Boonkiet. Movie director is Lor Tok. The film is lost in Thailand but a left sequence in 35mm format can still be seen. The picture is very damaged and reddish. It lasts six minutes. During the remaining sequence, Nim (Pawana Chanajit) loves Seum (Yodchai Meksuwan), being a poor man. Sorasak (Sayan Chantaraviboon) is her promised fiance per her parents' arrangement. Sorasak's mother is Manat Boonkiet. On Nim's birthday, an official engagement ceremony shall happen but Nim declares her love to Seum in front of her family. Sorasak loses face and punches Seum afterwards. Nim's parents are mother Mom Somjit Sapsamruey and father Op Boonthit. Chosri Misommon has pity over Nim. Seum teaches Nim to play music with old instrument. Seum is Nim's first love. This movie highlights the dilemma between a chosen marriage by parents and children's own love choice.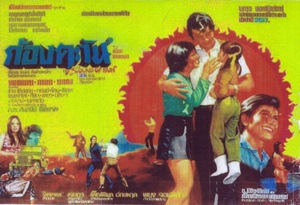 Year

: 1974



Thai title

:

ก้องตะวัน




English title

: THE SOUND OF SUN



Rating

: 3/5


Director

:



Main actor

: Yodchai Meksuwan,Manop Aussawathep,Pipop Pupinyo,Thep Thienchai


Main actress

: Pawana Chanajit,Khomapat Attaya
Thai movie ก้องตะวัน / THE SOUND OF SUN was released in year 1974 and lasts 1h56mn. This movie was never released in Thailand under VHS, VCD or DVD. Kiet (Yodchai Meksuwan) and Daojai (Pawana Chanajit) are stuck in the countryside as their car engine is broken. Thep Thienchai is playing Kiet's domestic helper called Ouam. The sun reverberation is particularly strong in this countryside area. They are married for 7 days. It is not a reciprocal love. Wanna, doctor's wife, is often out with Daojai. The doctor is always obedient to his wife. Kiet is sick while Daojai is away. To create interest from Daojai into Kiet, the doctor lies about a critical disease if she doesn't care more about her husband. Everything is back to normal and they do have a daughter called Sanit. One day, an old friend of Kiet, called Dom, asks him for help. The friend invites him to discuss in a bar and a lady, called Lomrak (Khomapat Attaya), pushes him to drink a lot. He finally sleeps there being drunk. Life goes back to normal but Lomrak keeps calling Kiet (หลงรัก). Kiet keeps going back home late (เมียน้อย) so Daojai is very worried. Very drunk, Lom brings back Kiet at home and meets Daojai (แม่บ้าน). Kiet wishes to use the marital room with Lomrak. Kiet slaps Ouam blaming him. Daojai, Sanit and Ouam quit the house on the same night. They take refuge in a relative's home, who is often drunk. At nighttime, Choei tries to abuse (ปล้ำ) Daojai. Kiet keeps drinking heavily (ทำผิด). Kiet has to sell his car to pay debts. He is fired from his company as 400 000 baht have disappeared from the banking accounts. Kiet is broke (หมดตัว). Kiet discovers that Lomrak is Dom's wife and that they stole his money. Dom's ruffians including Pipop Pupinyo teach him a lesson. The ruffians leave him for dead. Daojai meets อา Montri (Manop Aussawathep). Kiet starts a new life by being a car driver. Daojai and Montree see him on the road side. Daojai misses Kiet but she doesn't want to be weak in front of him so she rejects his apologies and even prevents her daughter to meet Kiet. She mentions that Montri is her new husband. Kiet and Montri have a man-to-man explanation but Dom appears and tries to shoot Kiet. To avoid any issues with Thai justice, Dom has to get rid of Kiet as he is aware of his illegal activities. Dom runs his jeep over Kiet's leg. Due to extreme sun reverberation in this countryside area, Dom loses control of his jeep and crashes into a tree killing Lomrak. A mysterious local doctor takes care of Kiet and he can recover within seven days. Kiet, Daojai and their daughter are back together.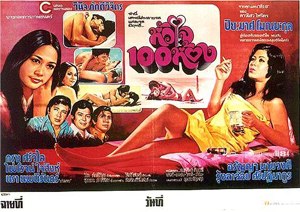 Year

: 1974



Thai title

:

หัวใจ 100 ห้อง




English title

:



Rating

: 3/5


Director

:



Main actor

: Krung Srivilai,Phairoj Jaising


Main actress

: Aranya Namwong,Piyamas Monayakol,Runglawan Sripatimakul
Thai movie หัวใจ 100 ห้อง was released in year 1974. It is a lost movie in Thailand but a sequence of 1h11mn remains to be seen. Klom (Krung Srivilai) (คุณผู้ชาย) comes back home late and is drunk. Klom asks Bang, domestic helper, to bring Khun Klang (Piyamas Monayakol). Klom is very upset. Tam Niem (Phairoj Jaising) is visiting Oon (Aranya Namwong), modern woman smoking and drinking beer. Such characters were not present in 1960s Thai movies. Such characteristics were only for the bad girls but not for the main actress. As soon as Oon left the room, Tam Niem calls another woman called Pan to propose a meeting at 1PM. Krung, married man, calls also Pan for a meeting at 1PM (ดวงใจคนสวย). A third man then calls her. Pan has many boyfriends (ความรักหรือความอยาก). Pan is a modern lady also smoking. Krung gives her 1000 Baht. The third man leaves when she is sleeping and steals the 1000 Baht. Oon calls Klang and argues with her as she believes Klang wishes to steal Klom from her. Klang is still a university student. Klom likes to go to bars and is always flirting (เจ้าชู้). He is also interested in Klang. Klom and Oon had a baby. Klom complains that Oon quit him and so doesn't allow her to come back. An older woman called Mayura, boss of a hotel, hires her lover Tam Niem as manager. Tam Niem is more interested in her daughter (Runglawan Sripatimakul) but he still keeps visiting Oon. Oon complains that Tam Niem visits her only for lust (อารมณ์ใคร่). Tam Niem brings Oon out and they meet Klom. Despite they are separated, there is jealousy to see each other with another partner. Tam Niem also likes Klang. He wishes to marry her as she represents the purity but maybe Klang has to marry Klom due to gratitude (บุญคุณ). Klom still pays for her studies despite he is separated from Oon. Tam Niem has finally a love story with Mayura's daughter, who wishes to marry him. Tam Niem is not in hurry. Oon is now pregnant and Tam Niem is considered to be the father. Klang is very upset with him. Tam Niem promises to marry Oon. Meanwhile Klom, aware that Tam Niem also plans to marry Mayura's daughter, calls Mayura to warn them that Tam Niem is already married with Oon. Tam Niem admits that he loves only Klang so Oon wishes to suicide. Mayura needs to revenge her daughter (เสียตัว). As Oon is about to use a gun to kill herself, Mayura shots Tam Niem three times. Oon falls from the stairs seeing Tam Niem dead. The remaining sequence ends with Oon recovering on a bed with Klang and other family members around. Using women as handkerchief has caused Tam Niem's demise.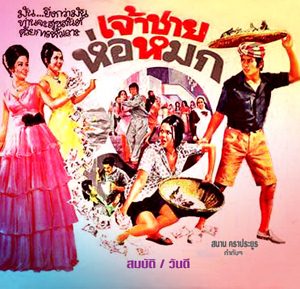 Year

: 1974



Thai title

:

เจ้าชายห่อหมก




English title

: Curried fish prince



Rating

: 3/5


Director

:



Main actor

: Sombat Methanee,Thuam Thoranong


Main actress

: Wandee Sritrang,Khomapat Attaya,Jomchai Jarintorn,Viphavadi Triyakul,Chosri Misommon,Malee Wetpraseri,Metta Roongrat
Thai movie เจ้าชายห่อหมก (Curried fish prince) was released in year 1973. The movie was never released in Thailand under VHS or VCD format. Nevertheless the 35mm film was recorded by a collector and lasts 2h08mn. Chosri Misommon is playing a domestic helper. Mom Pa is waiting for her lost son, Kinarin, who had gone to study abroad and didn't send any news for years. Many years passed and she is getting severely sick. To please her and to speed up her recovery, Metta announces that her son is coming back very soon so she has to organize an event (งานต้อนรับ). The father (Thuam Thoranong) and Metta Roongrat have idea to find a man with a similar face in order to please Mom Pa. The father remembers to have seen such man (พ่อค่า) in Ayutthaya selling curried fish (ห่อหมก). His name is Cheui (Sombat Methanee). His sister, Khomapat Attaya, is also playing a market merchant (แม่ค่า). The grandmother is played by Malee Wetpraseri. Cheui accepts under the pressure of his sister wishing to change her life. He has to learn with moult difficulty good manners from high society (สังคมผู้ดี). Cheui disappears the day before as being caught by a former girlfriend. Seeing her son again, Mom Pa recovers. Mom Pa wishes her son to marry Kantima (Wandee Sritrang). Kantima is upset with Cheui as he is playing too well his role and she refuses to sacrifice herself as she is part of those who paid to hire Cheui. She knows he is coming from a low background (คนจร) so he should behave and not try to abuse about his position of being the fiancé. Real Kinarin (also played by Sombat Methanee) is back but he lost his arm due to airplane accident. Cheui's self declared girlfriend tries to bring a mess but it fails. Cheui is back home as his seven days contract is over. Kinarin, seeing that his mum is happy and Kantima loving Cheui, decides to go back to England to let others having happiness. The rich family still needs Cheui so they use his mother Malee Wetpraseri to convince him again. Kinarin will go back to England and needs Cheui to replace him. Metta is going to England with Kinarin (ท่านพี่). Finally Cheui and Kantima marry. In this romantic comedy movie actor, Sombat Methanee is playing two roles, i.e. Cheui and Kinarin.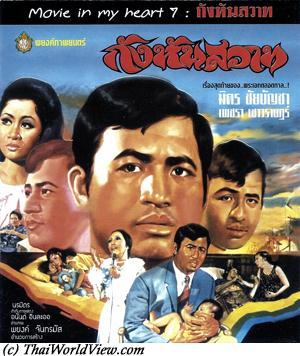 Year

: 1974



Thai title

:

กังหันสวาท




English title

:



Rating

: 5/5


Director

: Neramit



Main actor

: Mitr Chaibancha,Sukon Koewliam,Krai Kanchit


Main actress

: Petchara Chaowarat



Buy now

:

It is the last movie fully completed by Mitr Chaibancha before his death. The movie was shot in 1970 but only released in 1974 as the team was not in the mood to complete the movie after Mitr Chaibancha's death. The movie features Thai superstars Mitr Chaibancha / Petchara Chaowarat and also Margareth Lin, Hong Kong actress. Lit (Mitr Chaibancha) is Lin's boyfriend (แฟน). He is coming from a well-off family (ลูกผู้ดี) but Lin is coming from a poor family (คนจน). Lin's mother is worried as she doesn't see any future to this relationship. Her friend Tiu also tells her this love is impossible. Lit's parents introduces Duangporn, a young lady from Hong Kong, to him. They often played together during their childhood. She is perfect (สวย, เรียบร้อย, มีความรู้). Lin is informed by Tiu, who saw Lit and Duangporn together but Lit loves Lin so he is not willing to marry Duangporn despite his parents' pressure. Duangporn is aware of Lit's hidden love. At evening time, she makes him drink alcohol so that he has no strength to go out to see Lin (เด็กสมัยนี้ไม่อายหรอก). Lin waited whole night. Lit has to go back to Bangkok without seeing Lin in order to bring Duangporn back home. He simulates a car engine issue so that Duangporn has to go first. He then can see Lin freely. They spend the night together but Lin's mother doesn't trust Lit as she believes Lit only plays with a countryside girl (เด็กบ้านนอก). Lit is too shy to say the truth to his parents and only tells the truth to Duangporn. She is so sad so she tells the truth to Lit's parents also. Lit's parents pressure Lin's parents to forbid any more meeting (ติดต่อ) together. Duangporn goes back to Hong Kong to finish her studies. But Lin is pregnant. Lit's mother refuses any wedding but Lit's father accepts that Lin can stay in their home. Lin needs to become a high society (ผู้ดี) lady in a short time but it is not an easy task due to the pressure put by Lit's mother. During a party Lin meets her friend Tiu, working as waiter, so being very happy and causing Lit to lose face. Lit goes during 6 months to Hong Kong with his father to open a company. Lin's mother is very sick. She dies while Lin is giving birth. Lit's mother makes a deal with Lin's father. She gives him 20 000 bath to get the baby and to never see again them again again (ดูถูกคนจน). Lin is hit by a car and sent to hospital. Meanwhile her father spent all the money gambling. Lit comes back to Thailand late and is is not aware of anything. Only Tiu helps Lin at the hospital. Lin's father lies to Lit saying that Lin flees away with Tiu and abandoning her baby. Duangporn tries to comfort Lit who keeps indulging in alcohol to forget Lin. They finally marry. Tiu is having issues with ruffians as he needs to reimburse Lin's hospital fees to them. Lin needs to sing to earn money to reimburse them. Many nice old songs are sung by Lin. By luck Lin meets an old friend of Lit. The truth is now known and all the evil done by the mother uncovered. Lit's father arranges to pay back the debt but during a fight with the ruffians, Lin is injured at the head. It takes time for her to recover. Duangporn welcomes her back home. One night, Lin hears Lit and Duangporn discussing. She hears that Duangporn has decided to go back to stay with her father in order that Lin and Lit can have happiness. She leaves their home unwilling to break Duangporn happiness with Lit as she has been so kind to her. She learns that Tiu has been killed by ruffians. Seeing no future to her life she wishes to die. Finally a nun convinces her to enter Buddhist nuns' community to find happiness and inner peace. Despite Duangporn's request she confirms her final decision. Strong compassion and gratitude feelings happen in this movie.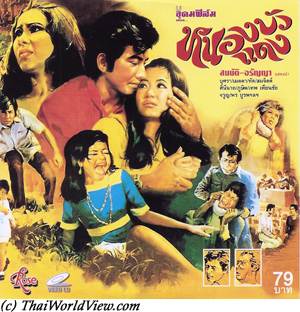 Year

: 1974



Thai title

:

หนองบัวแดง




English title

:



Rating

: 3/5


Director

: Sor Asanajinda



Main actor

: Sombat Methanee


Main actress

: Aranya Namwong,Metta Roongrat



Buy now

:

Nam's sister, Phi Luuk Nok, has suddenly and mysteriously died. Phi Luuk Nok had a few months old child. It seems she died of a heart attack (หัวใจไหว). So Nam (Aranya Namwong) decides to go to her sister's house to investigate. The house is located in Nong Bua Daeng (หนองบัวแดง). Her brother in law, Phuatai (Sombat Methanee), is a weird man having half crazy and handicapped domestic helpers (คนบ้าคนใบ้). Nam asks to see her sister's body (โลงศพ). The coffin contains a man body. Rumours said that Phi Luuk Nok was Phuatai's wife in legal name only but she had the baby with somebody else. Nam believes that Phuatai killed her sister. One night Nam becomes Phuatai's wife (ภาระผูกพัน with Phuatai) but there is no love. She starts a small revolution in the house by buying expensive furnitures and a new diamond ring (ซื้อที่จำเป็น). Many secrets are around Phuatai. He often visits a fifty years old lady called Than. Thanks to Saree's advice, Nam discovers a mysterious bungalow located in Baan Rim Dong. A defigurated man (คนหน้าผี) lives inside. His name is Toon and he is Phuatai's elder brother. Nam sister's corpse is inside a cupboard in Toon's bungalow. Toon was Phi Luuk Nok's real husband and he hid the body to avoid cremation. Toon was always crazy about women (บ้าผู้หญิง) and was disfigured by a fire when hiding from a jealous husband. Nam is now pregnant. Phuatai believes that his brother Toon is responsible also of the pregnancy. Heart-broken Nam leaves for Bangkok. Nam's father, Dam, wishes to clean his honor with a gun. When arriving in Nong Bua Daeng, Phuatai has died already. It is only a parody to protect himself but a tragedy then happens. The father kills Saree. He wants everything to be for his daughter Nam. It started 20 years ago. Dam was married with Than. They have a daughter, i.e. Nam. But Dam had a mistress so Than left him. A man called Boriphat took Dam's mistress. Dam then killed Boriphat and then Phi Luuk Nok, who is in fact the daughter of Boriphat and his mistress. Finally Dam is killed by Toon. The heavy secret is now revealed. Nam and Phuatai can now have happiness (เป็นสุขแล้ว).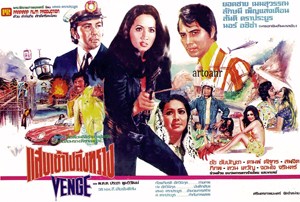 Year

: 1974



Thai title

:

แสบเข้าไปถึงทรวง




English title

: Vengeance



Rating

: 3/5


Director

:



Main actor

: Dam Datsakorn,Yodchai Meksuwan,Pipop Pupinyo


Main actress

: Lakshmi Pensaengdeuan,Somjit Sapsamruey,Jomchai Jarintorn
This 1974 movie "แสบเข้าไปถึงทรวง" is lost in Thailand but is still available in Malaysia under the title "Dendam Perawan" / "Vengeance" as it features a Thai Malaysian actress (Lakshmi Pensaengdeuan - ลักษมี เพ็ญแสงเดือน). Summary might be a bit inaccurate as the movie is dubbed in Malaysian only. Yodchai (Yodchai Meksuwan) is fiancee together with a young Malaysian lady called Ning. Dam (Dam Datsakorn) sees the jewels offered as gifts. Dam, being the fiancee's sister, decides to rob the jewels and kills the middle age lady to succeed. A little boy sees him but he is thrown across the stairs. The mother has time to write the murderer name with her blood. Ning does her enquiry inside Bangkok low cost hotels to find Dam. She is able to drive fast car, knock out ruffians and throw knife. She finds Dam's house but he is not here. Fighting happens with ruffians but Yodchai comes to help on time. Ning goes to Malaysia to continue the investigation. Her friend is a pilot and loves her secretly. Dam is aware that Ning is looking for him. The pilot finally starts a romance with another Malaysian lady. Dam's ruffians try to stop her. They get beaten one by one! Finally they find Dam's secret home. Following violent fighting, Ning and Yodchai are defeated. Ning is put in Dam's car trunk. The pilot and Yodchai still follow them to prevent Dam escaping by helicopter. Ning defeats herself Dam and refuses to give him any chance opting for self justice. Unfortunately her friend, the pilot, has died during the fighting. This movie is mainly shot in Malaysia. The actress Lakshmi has the main role. Thai veteran actor Yodchai Meksuwan has a second role. The movie features great views of Kuala Lumpur with old buildings and old mosques. The movie features a few famous Malaysian actors, i.e. Noor Azizah, S. Roomai Noor, Karim Siraj.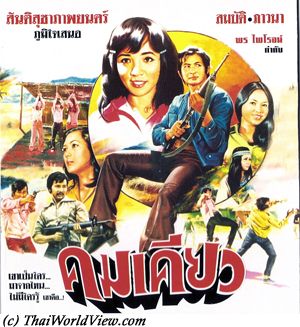 Year

: 1974



Thai title

:

คมเคียว




English title

:



Rating

: 3/5


Director

:



Main actor

: Sombat Methanee,Dam Datsakorn,Lak Apichat,Choomporn Theppitak


Main actress

: Pawana Chanajit



Buy now

:

Thai movie "คมเคียว" image and sound are quite poor and damaged. Phanmitr company issues a warning that they have used the last known copy of the movie to release this VCD (สภาพฟิล์ม 16 ม.ม.สโคป เรื่อง คมเคียว). So movies fans should be happy to watch it before the last copy disappears from our world. This movie was very popular in 1970s. Hang Seuk, a ruffian leader, and his band are terrorizing villagers. Hang Seuk (Dam Datsakorn) wishes to kidnap Kathin to have her becoming his wife. Kwan (Lak Apichat), her fiance, tries to oppose them but to no avail. Kwan is buried except his head. If he survives 7 days then he will be released. A mysterious man coming through a raft helps to release Kwan and promises to help the villagers. Choomporn Theppitak is the village doctor and helps another lady called Chaba to recover after being assaulted by ruffians. The mysterious man names himself "small red mouse" (หนูแดง)! He trains the villagers with weapons. Hang Seuk doesn't touch Kathin but she doesn't dare going back to the village as nobody would believe her so she stays with him. Hang Seuk's sister, Siroon (Pawana Chanajit), promises things will get better. Nai Seua is a ruffian leader controlling a territory near Hang Seuk's area. Putao is a village leader having a beautiful daughter called Saeng Sao. The mysterious man is recommended as Putao's nephew and is renamed Kachen. Hang Seuk and Seua are friends but in fact a competition is happening between them. Hang Seuk promised his sister Siroon's hand to Seua before so he needs to find a way to break the promise. Hang Seuk needs a strong man to get rid of Seua. Putao recommends his mute nephew Kachen. If Kachen defeats Seua then the wedding promise is cancelled. Seua doesn't wait for the fight and sends ruffians to kidnap Siroon. Hopefully Kachen is around but is injured while protecting Siroon. The mysterious man's real name is Diaw Khom Thong. He realises that Hang Seuk is not that bad. The real bad ruffian is Seua. The village doctor helps Saeng Sao who was bitten by a snake. Kwan has to warm her body as she has a cold fever. Villagers start to rebel such as Kwan. Kachen defeats Seua in one to one fight with knife. Hang Seuk knows that Kachen is not mute as he heard Siroon's love declaration to him. A fight happens between Kwan and Hang Seuk. Kathin convinces Kwan and Hang Seuk to pacify as Hang Seuk will be father soon. Meanwhile the three ladies get captured by Seua. All gather to fight back Seua and defeat him following strong gun fights. The movie ends happily as Kwan will marry Saeng Sao, Hang Seuk with Kathin and Diaw Khom with two ladies, i.e. Siroon and Chaba! Thai movie "คมเคียว" is a typical movie action from 1970s decade with a hero taking justice into his own hands to protect villagers against ruffians.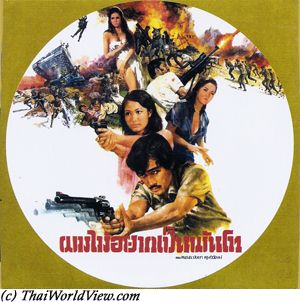 Year

: 1974



Thai title

:

ผมไม่อยากเป็นพันโท




English title

: I Don't Want To Be a Lieutenant



Rating

: 3/5


Director

: ChatriChalerm Yukol



Main actor

: Somphob Benjatikul


Main actress

: Naiyana Shewanan,Sasima Singsiri
It deals with the story of Phanto, a member of Thai secret service, who goes to Cambodia to be a spy. He is looking for informations useful for Thai security and has to face many threats especially from the "red communists".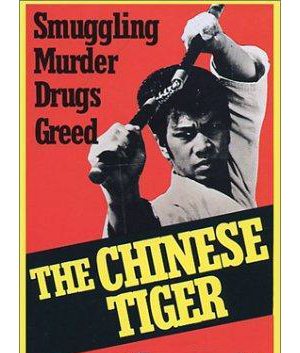 Year

: 1974



Thai title

:

ไอ้เสือตี๋




English title

: The Chinese Tiger



Rating

: 3/5


Director

:



Main actor

: Larry Lee,Pan Borapet


Main actress

: Louise Lee Si-Kei
Thai Hong Kong ไอ้เสือตี๋ / "The Chinese Tiger" / 唐山猛虎 movie was released in year 1974. It lasts 1h30mn. Chinese citizen manage a company providing goods shipment from Thailand to Hong Kong. An employee is killed. Ruffians take advantage to hide drugs among the cereals. Goods are shipped to Hong Kong. Pan Borapet is hired to kill Limin (Larry Lee) in order to stop investigation but he fails. Limin's brother as courier is arrested by Hong Kong police as drug was discovered. Mr Choi is behind this. Limin decides to go to Hong Kong to investigate. Young lady Fefei (Louise Lee Si-Kei) is used as drug mule by the gang. Ruffians try to stop Limin but his Kung Fu skills are too good for the ruffians. Limin identifies that drugs exchange is happening in a high class restaurant through Fefei. Limin joins the transporters and assist to a fighting between the big boss and two ruffians trying to take over their business. Limin is the troublemaker from Thailand! Limin defeats the big boss and his brother is released. Fefei has to go to jail. She promises to visit Limin in Thailand when she has purged her sentence. Back to Thailand, Limin has to fight against the ruffians, who hid the drugs inside his company goods.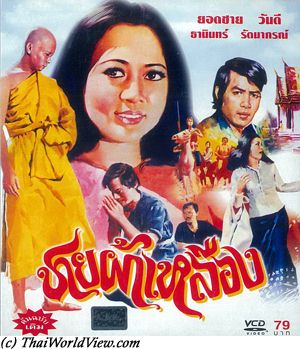 Year

: 1974



Thai title

:

ชายผ้าเหลือง




English title

:



Rating

: 3/5


Director

:



Main actor

: Yodchai Meksuwan


Main actress

: Wandee Sritrang,Metta Roongrat,Ratanaporn Intarakamhaeng
Thong and Boon Yen have two boys, called Phet and Ploy. Phet is the elder. Robbers, lead by Yoi, kill Thong when raiding his house. Twenty years later, following her mother's wish to see him in yellow robes (ชายผ้าเหลือง) as a monk, Phet goes to Bangkok with his uncle to buy materials. Every Thai mother expects his son to become a monk before being married. It bring many Buddhist good deeds to the parents. Meanwhile robbers, lead by Yoi, injure Ploy when raiding the family house. Phet, discovering that Yoi killed his father and injured his brother, shoots him and then becomes an outlaw. Yot, Yoi's son, uses Phet's name to commit more burglaries. Phet's mother convinces Phet to surrender to the district officer. Yot and his robbers team fires at Phet's team and at the district officer so bringing a misunderstanding between Phet and the officer. if nobody can let Phet becomes good, he will then be an outlaw forever. His mother is disappointed by his behavior, saying it was not worth to educate him for becoming an outlaw and that feeding milk to him (ค่าน้ำนม) was a waste. Ploy is preparing to become a monk. Phet finally catches Yot and brings him to the district officer. Phet refuses to stop being an outlaw and grabs a girl to live with him. His mother shoots at him. Before dying, Phet and his mother confirm their filial love and Phet can grab Ploy's yellow robe as his brother has become a monk.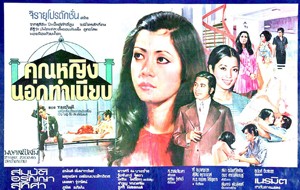 Year

: 1974



Thai title

:

คุณหญิงนอกทำเนียบ




English title

:



Rating

: 4/5


Director

: Neramit



Main actor

: Sombat Methanee,Jamroon Nuatjim


Main actress

: Aranya Namwong,Mayurachath Muarnprasitivej,Suthisa Putnuch,Metta Roongrat,Chosri Misommon,Marasri Bangchang
Thai drama movie คุณหญิงนอกทำเนียบ was released in year 1974. It features Sombat Methanee as main actor and Aranya Namwong as main actress. The movie is lost in Thailand but a sequence of 48 minutes remains to be seen. It is the final sequences of the movie. Supasatee (Aranya Namwong) also called Sajee has arguments with the son, who treats her as a minor wife (เมียเก็บ). The father is Chit (Sombat Methanee). His younger sister (Metta Roongrat) also doesn't accept that Sombat has a new younger mistress. Sajee and Chit deny any wrongdoing. Chit sends Sajee back to the slum through his mercedes so people are gossiping including her own grandmother (Chosri Misommon). Her own grandmother tells her not to forget her own roots but Sajee wishes to climb the social ladder without taking in account other people's critics. Chit is celebrating the birthday of Suthisa, his wife (Suthisa Putnuch). Metta brings doubt in Suthisa's heart but is in fact disappointed that Chit would choose Sajee over her! It causes Lady Suthisa to die as she has a fragile heart already. Even Kaew (Mayurachath Muarnprasitivej), Sajee's best friend and Chit's daughter, believes Sajee wants to take the place of Suthisa. Finally romance happens between Sajee and Chit. The grandmother believes Sajee will be back as same as lotus, she comes from dirty slum soil so she cannot adapt to rich soil. Kaew is pregnant. Sajee has to find an abortion doctor for her. One day while driving with Chit, she sees a woman hit by a car. It is her own mother. Sad event showing she starts forgetting her roots. Chit is also having heart issues. His new wife Sajee gets rejected as Lady nomination (คุณหญิง) as she is not coming from a proper background. Chit ends up at the hospital where Sajee asks to modify the heritage terms. Worried about heritage, Chit's children cause their father's death by asking too many questions instead of letting him rest. On the opening of the testament, Chit's children realize Sajee is not asking for a single baht and is just going back to her slum. Rich people looked wrongly at Sajee. She was the one having a good and true heart.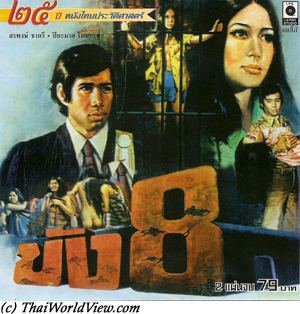 Year

: 1974



Thai title

:

ขัง 8




English title

:



Rating

: 3/5


Director

:



Main actor

: Sorapong Chatree,Krung Srivilai,Kom Akadej


Main actress

: Piyamas Monayakol,Ratanaporn Intarakamhaeng,Marasri Bangchang
Thai movie ขัง 8 was released in year 1974 and is showing realistic life in prison. Thai movie ขัง 8 was released in year 1974 and is showing realistic life in prison. Dao (Piyamas Monayakol) finds her fiance in bed with another woman (แฟนใหม่). As he is going to break the engagement with her, Dao shoots him. Policeman (Kom Akadej) arrests Dao. Her mother (Ratanaporn Intarakamhaeng) keeps crying. Dao is condemned to prison (ติดคุก) and discovers the harsh life there. Elder prisoner is played by Marasri Bangchang. Prassadee (Krung Srivilai) is the prison supervisor. Oratai has arguments with Dao as she wished Dao to be her husband (เป็นสามี). As they fight, both of them are condemned to isolation quarters. Oratai finally recognizes her mistake under the pressure of Prassadee. Dao faces adversity in prison with its internal harsh rules (ระเบียบ) and lack of freedom. Her lawyer Songkram (Sorapong Chatree) visits her and he succeeds to get her released for a retrial. Dao is reunited with her family again. Outside of prison, she realises who is or is not her real friend. She needs to convince a friend to be her witness (พยาน) for the retrial. Songkram promises to help. The father dies. Songkram confesses that he is helping Dao as he has gratitude towards her father. The father refused a debt reimbursement but asked him to promise to marry Dao. Per gratitude over the father (บุญคุณ), Songkram asks for Dao's hand. As tomorrow will be the trial decision, Dao asks him to wait. The tribunal condemns Dao to full life imprisonment. She has to do at least 8 years to hope for any pre-release (สั่งกรรมก็รับกรรม). Songkram promises to wait. Songkram continues to visit Dao regularly but is also now Tuk's boyfriend. Dao learns about his wedding and is of course disappointed. Her surname is นางฟ้าขัง8. When she exits from prison after five years for good behavior, she finds Songkram and her younger sister Tuk have a child. Anyway she is not resentful. It was the first movie of Piyamas Monayakol. A remake was done in year 2002.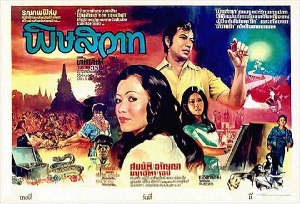 Year

: 1974



Thai title

:

พิษสวาท




English title

:



Rating

: 3/5


Director

: Ruj Ronnapop



Main actor

: Sombat Methanee,Ruj Ronnapop,Somchai Samipak,Thep Thienchai


Main actress

: Aranya Namwong,Mayurachath Muarnprasitivej
Thai movie พิษสวาท was released in year 1974 and lasts 2h20mn. The movie is only available on VHS and was never released on VCD or DVD. The picture is very colourful and sharp. Akanee (Sombat Methanee) has a dream where he cuts the head of a woman. The following day, his friend Chet (Ruj Ronnapop) introduced him to a lady called Chorasinee (Aranya Namwong). She is expert in ancient artifacts (นักนิยมของเก่า). She notices a special jewel owned by Akanee. Akanee is very confused as she is the same lady he just beheaded in his dream. Chorasinee seems to know a lot of things about him. She is able to recall many strange past events. Thip (Mayurachath Muarnprasitivej) loves secretly Akanee. Chorasinee often comes and disappears very fast. She warns Akanee about things not to be done wrongly a second time as nobody has two chances in life! During a charity performance, Chorasinee promises to play an evil lady (นางปีศาจ). Somchai Samipak is interested by her. It seems that Akanee met her in a previous life when he was a prince. She asks her life back to Akanee (ถ่วงชีวิต). Robbers try to steal Akanee's jewel but get punished by an invisible spirit. Chorasinee invites Akanee, Thip and Chet to her home in Ayutthaya. Thep Thienchai welcomes them. During Ayutthaya period, Akanee protected the treasure of the Siamese King. Akanee, to ensure the treasure is not stolen, killed all the guards so that their spirits (วิญญาณ) protect the treasure forever. A lady called Ubon was loved by Akanee's love. Akanee cut Ubon's head also. Somchai's wife is concerned that Chorasinee goes in his car. Chorasinee's duty is to keep the Siamese King's treasure. She is Ubon's resurrection. Somchai wishes to marry Chorasinee and become rich (มหาศาล). Somchai is somebody dishonest as he killed a dealer before to steal his drugs and to keep the agreed money. Somchai is found dead at Chedi Saam Ong. Strange events occur as Thip's painting, formerly showing a beautiful Chorasinee, is now showing an ugly evil spirit (นางปีศาจ). Akanee asks Chet to go to Ayutthaya as he wishes an archeologist team to dig at a specific place as he believes there is a dead body there lying since centuries. A skeleton with a spade is found. It is the Prince's skeleton. Chorasinee invites Akanee to follow her. Thip and Chet follow up. They arrive in a mysterious place and a judgement is occurring per Chorasinee's request. She complains that despite their love, Akanee killed her and gave her a never ending task to look after the treasure. Thip, loving Akanee, agrees to take over but Akanee refuses. Finally the spirit guardian asks Chorasinee to choose somebody to replace her, i.e. Akanee or Thip. She finally accepts to continue doing such role as she cannot choose Akanee as she loves him, she cannot choose Thip as she would lose Akanee's love. Her spirit is then released. Akanee becomes a monk for the rest of his life. They should meet again in another life.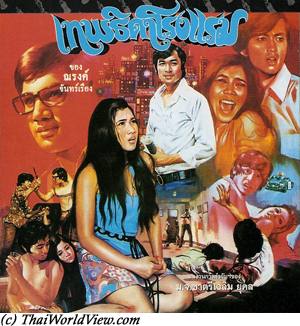 Year

: 1974



Thai title

:

เทพธิดาโรงแรม




English title

: The Angel



Rating

: 5/5


Director

: ChatriChalerm Yukol



Main actor

: Sorapong Chatree,Somphob Benjatikul


Main actress

: Wiyada Umarin
It is about Malee, a Thai country girl, coming to Bangkok and forced to prostitution. She is the hotel angel as she is very kind to everybody. This movie shows the difficult life of prostitutes, i.e. being beaten by pimps, visiting unofficial abortionist in order to terminate unwanted pregnancy, committing suicide, being forced and humiliated by customers, fearing Police, difficulty to have a stable relationship with a man, getting deadly diseases, being denigrated by Thai society. Three girls are depicted. One girl, Malee, all you have to do is give her one smack and she's willing to be a prostitute. She said it's better than working in the fields. The phrase "มาลีเป็นกะหรี่ที่สวยที่สุด" (Malee is the most beautiful prostitute) remains one of the most famous iconic sentence from this movie. It is said by Malee's pimp (Sorapong Chatree). Another girl, you have to beat her up quite a bit before she's willing to be a prostitute. And the last one, the third girl, no matter what you do she won't be a prostitute. She'll jump down, kill herself, but you can't change her. Malee continues to stick to this life because she can have a place to live, food, money to send to her parents in order to build a house. In a famous movie sequence, Malee opens her blouse many times to show her nudity to customers and then her father in the same gesture opens his new home windows paid by Malee hardship. But Malee understands that she has no future as her youth is rushing away. She is not interested by becoming a pimp and grab younger girls so she decides to study tailoring. Being cheated by her boyfriend but having her diploma, Malee can hope for a brighter life and quit this job. Finally she reclaims her dignity. ChatriChalerm Yukol lived for nine months in a brothel when he was writing "The Angel". During the popular uprising on October 14 1973, ChatriChalerm Yukol was shooting this movie, then took the camera out and filmed the demonstration on Ratchadamnoen Avenue. The footage was inserted in the film and was a big success when the movie was shown. This movie has also been registered as National Heritage per the 2016 list released by the Thai Film Archive.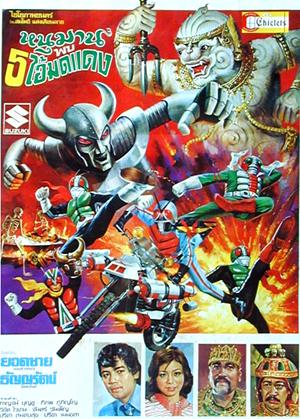 Year

: 1974



Thai title

:

หนุมานพบ 5 ไอ้มดแดง




English title

: Hanuman and the Five Kamen Riders



Rating

: 4/5


Director

: Sompote Sangduenchai



Main actor

: Yodchai Meksuwan,Phirapon Piyawan


Main actress

: Tanyarat Lohanan



Buy now

:

Producer-director Sompote Sangduenchai has made movies covering the "Thai-style kaiju" and costumed Ultraman movies made in years 1970s and 1980s. He has reused footage from other Kamen Rider movies so making this movie montage a little bit strange from time to time with a succession of sequences without link. There are kitsch fx effects from 1970s decade including super computers with many big lights and weird sounds. Those movies are under Chayo productions. All Chayo movies (ไชโยภาพยนตร์) have Sompote's specific touch. King Dark, monsters' leader, needs to drink blood from women or children. Hopefully the Five Kamen Riders (ไอ้มดแดง or red ants) can always stop them. Those Japanese characters are adaptated to Thai customs. The five Kamen riders always succeed to be there when problems with monsters (สัตว์ประหลาด) occur. King Dark refuses to drink blood dog so he needs to find a way to get rid of the Five Kamen Riders. Three men fall in hell (ตกนรก) as they stole Buddha statue heads. A kid tries to stop them but is shot dead. He is reincarnated into Hanuman. Sinners (ทำบาป) are punished and Buddha heads are restored. Yama (พระยม), the hell god, checks his hell book (บัญชี is a map!) and they are condemned to many torments. Sompote Sangduenchai's adaptation is certainly not a film for children as many naked women and men are tortured in the representation of Buddhist hell. The monsters help one of the sinners to escape hell in order to fight the Five Kamen riders. He succeeds to capture famous Doctor Wisut. Doctor Wisut refuses to help but the monsters kidnap his girlfriend Julie to coerce him. He has no choice but to accept doing a Frankenstein creature to fight the Five Kamen riders. The new creature has the same face as Frankenstein in foreign movies. A succession of fights take place and King Dark's aliens are defeated. King Dark needs to move to Ayuthaya (เมืองใหม่). The Doctor is forced again to do a machine to make monsters to catch young ladies for their blood. Their blood is not good as they eat bad food. So they break their promise by taking Julie's blood (กินเลือดสาวบริสุทธิ์จะมีอายุนาน, มีพลัง). The Five Kamen Riders are finally defeated by King Dark but Hanuman helps them (ทำให้ฟื้น). They make an alliance against the monsters. They enter in their headquarters then free doctor and Julie. King Dark flees and starts a rampage in Bangkok same as Godzilla. Nobody can stop him except Hanuman. Hanuman fights in a Thai relax dancing way (สบายสบาย) and defeats King Dark. The traitor is brought back to hell (ตกนรกอีก) and his head is cut (ทำบาปก็ต้องใช้บาป). The movie is worth as it is a Thai adaption of Japanese characters by famous director Sompote adding a lot of Thainess. A 1976 agreement limited Sompote's copyright to only nine movies made by Sompote Sangduenchai in the 1970s.
---